Lizards and snakes were on my agenda for a three week trip to the deserts and mountains of southern California. I was there the last week of May and the first two weeks off June. First off was a visit to one of the regional parks in San Diego. The Great Basin Fence Lizards (
Sceloporus occidentals longipes
) were incredibly numerous and this one posed very nicely for the camera.
Not be undone the San Diego Tiger Whiptails (
Aspidvscelis tigris stejnegeri)
were active by late morning which is typical of whiptails.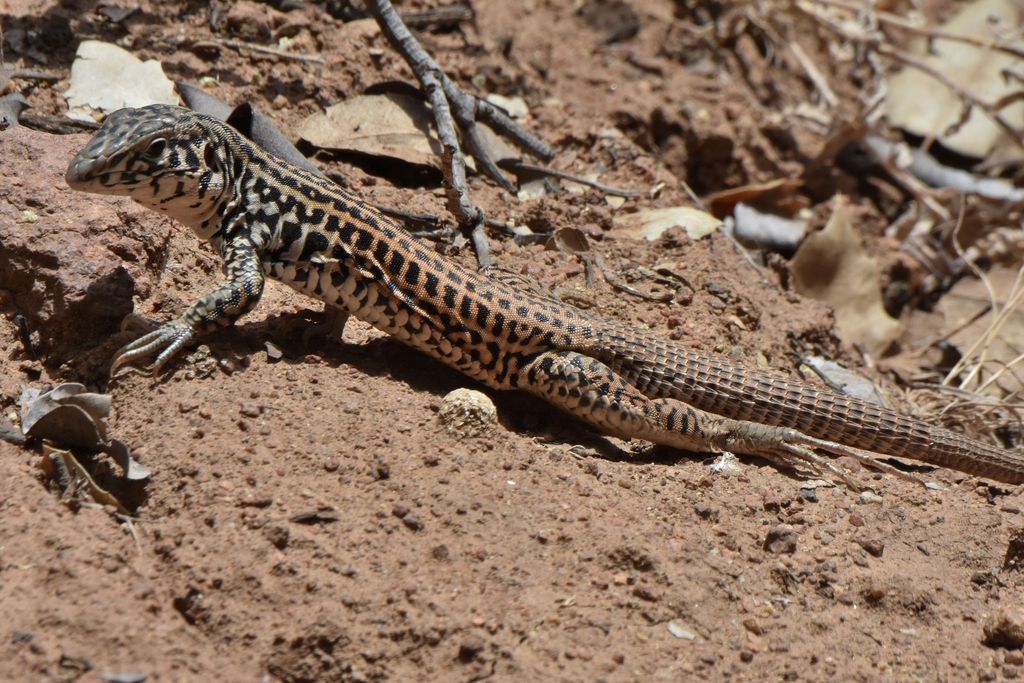 The Orange-throated Whiptail (
Aspidvscelis hyperythra
) was on my target list but a sign at the visitor center mentioned that the Orange-throated whiptails are not commonly seen. Much to my delight a trail adjacent to the visitor center proved them wrong. The first one I saw was a male which had a vibrantly colored orange throat and was very close to the trail. I quickly snapped some pictures but I was puzzled that the image was so small. I usually set my 70-400 mm lens at 400 mm when looking for lizards to photograph. For some reason I retracted the lens while at the visitor center and forgot to extend it to its maximum when I went on my quest. I did get some "decent" shots but the whiptail had already moved further away. I went back another day just to get a good picture of a male but without success.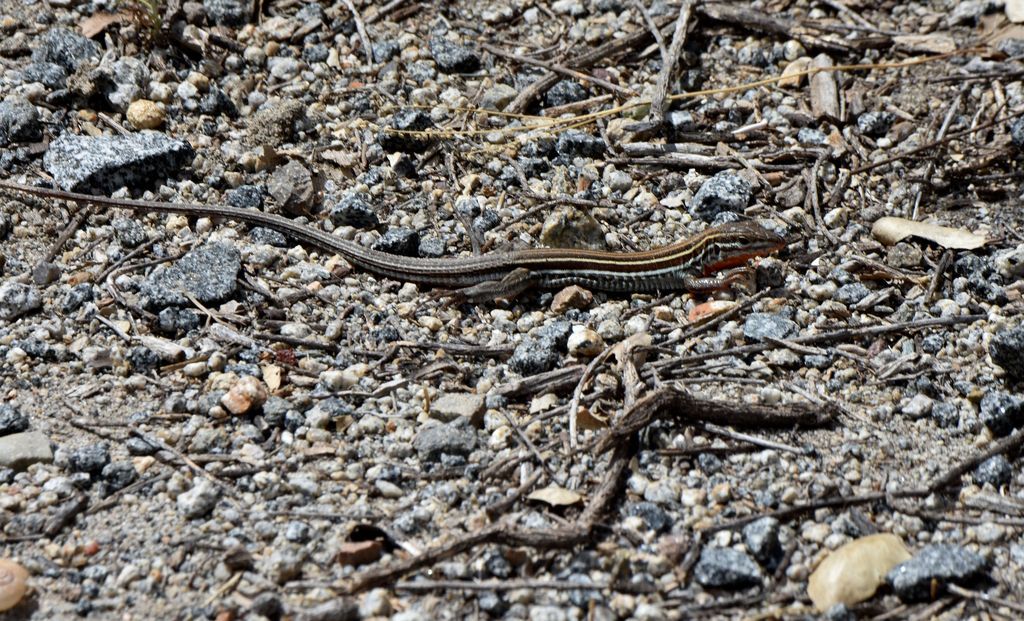 I was lucky to get a good shot of a female Orange-throated whiptail just as she was just going to go on the move. The female has either a pale orange tinted throat or lacks orange coloration.
The second day may not have provided another opportunity to get a better picture of the male Orange-throated Whiptail but I was nonetheless rewarded with the appearance of the Red Diamondback Rattlesnake (
Crotalus ruber
) crawling onto the asphalt path. The snake moved off into the brush and took a defensive stand.
Unfortunately park employees came upon the scene and encouraged the snake to go back into the ravine from which it came.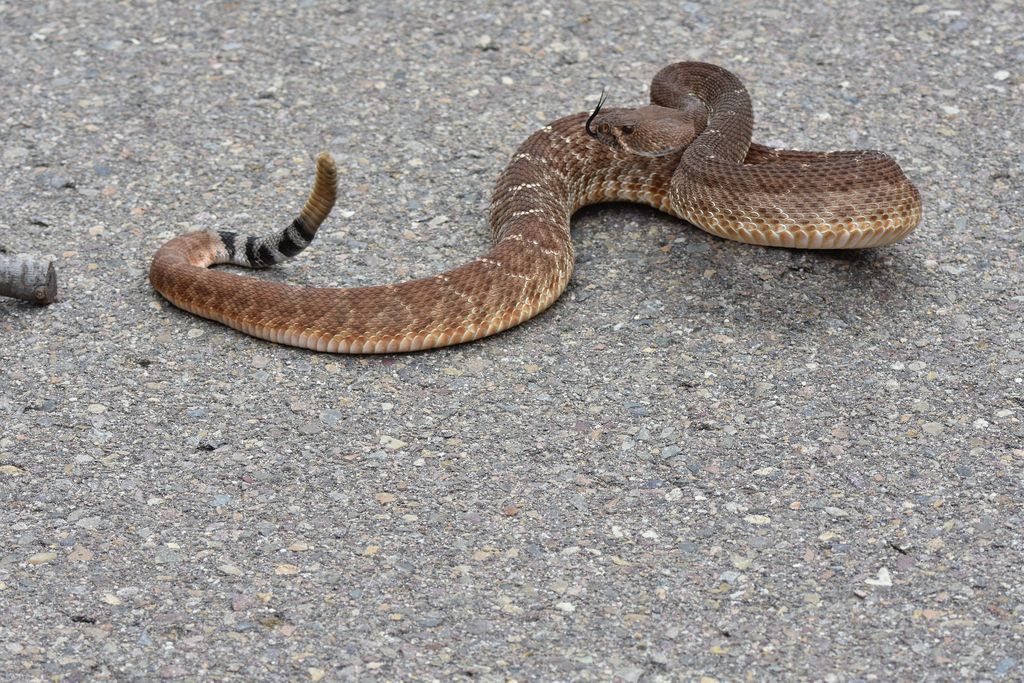 I spotted one other herp that was not on my viewing list. I heard a small plane flying above, looked up, and I was surprised by what I saw. I did not realize that geckos could fly.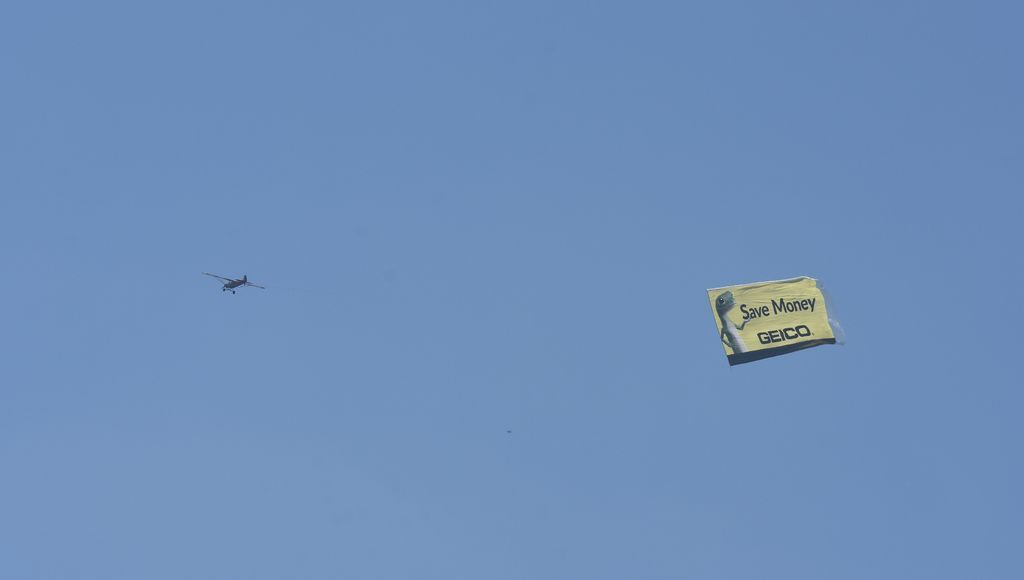 Next on the itinerary was Anza-Borrego Desert State Park. I arrived late in the evening and pitched my tent in gale force winds. Fortunately the wind was calm the next morning as sunlight crept over the landscape.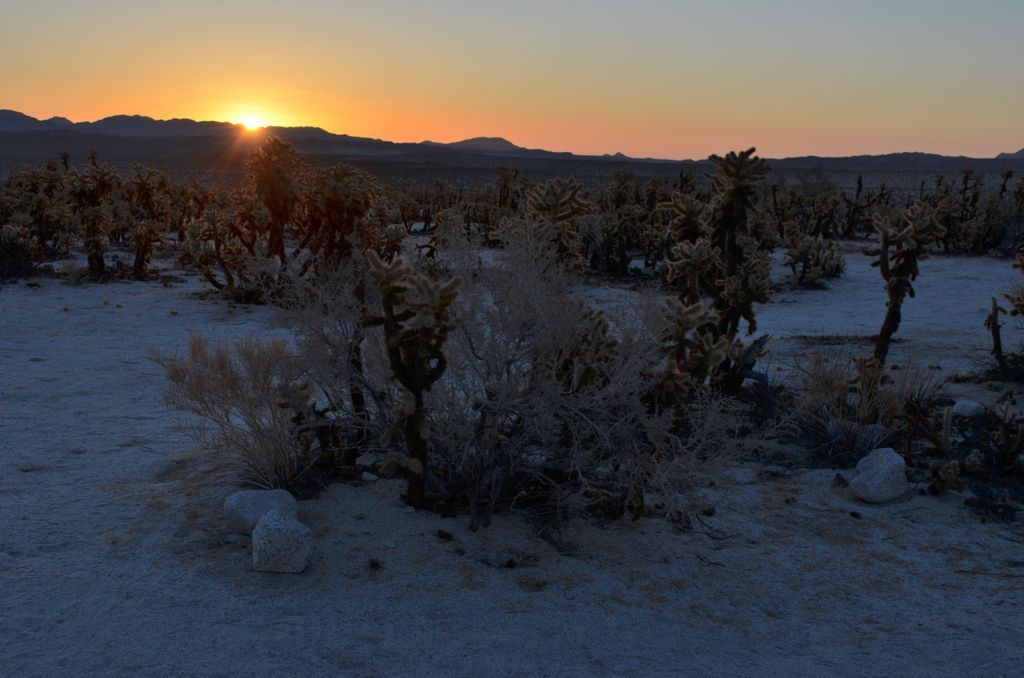 I left camp very early to hike up a trail so I would be present prior to the emergence of any lizards.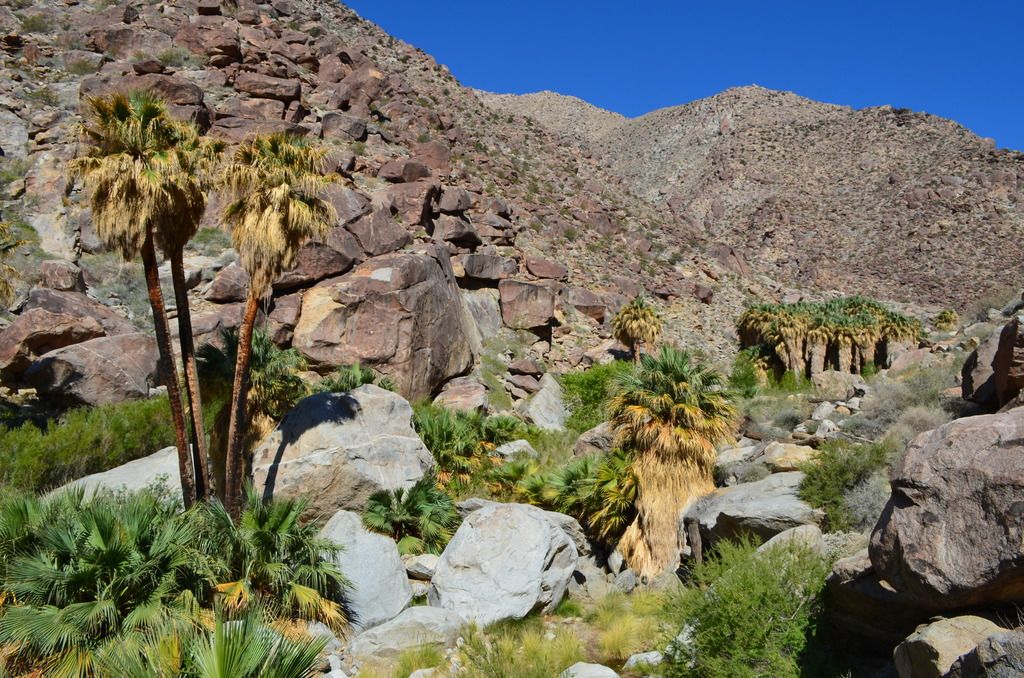 Lizards began appearing just as the sun rays first penetrated the canyon. First up was a Banded Rock Lizard (
Petrosaurus mearnsi
).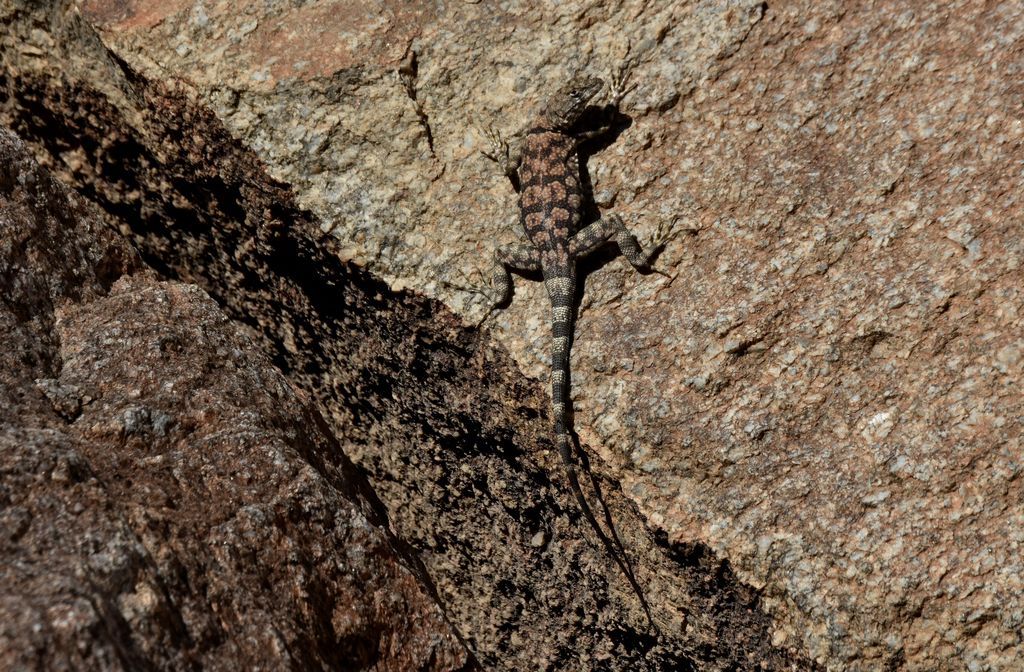 This was soon followed by a Granite Spiny Lizard (
Sceloporus orcutti
) grabbing some early morning sun.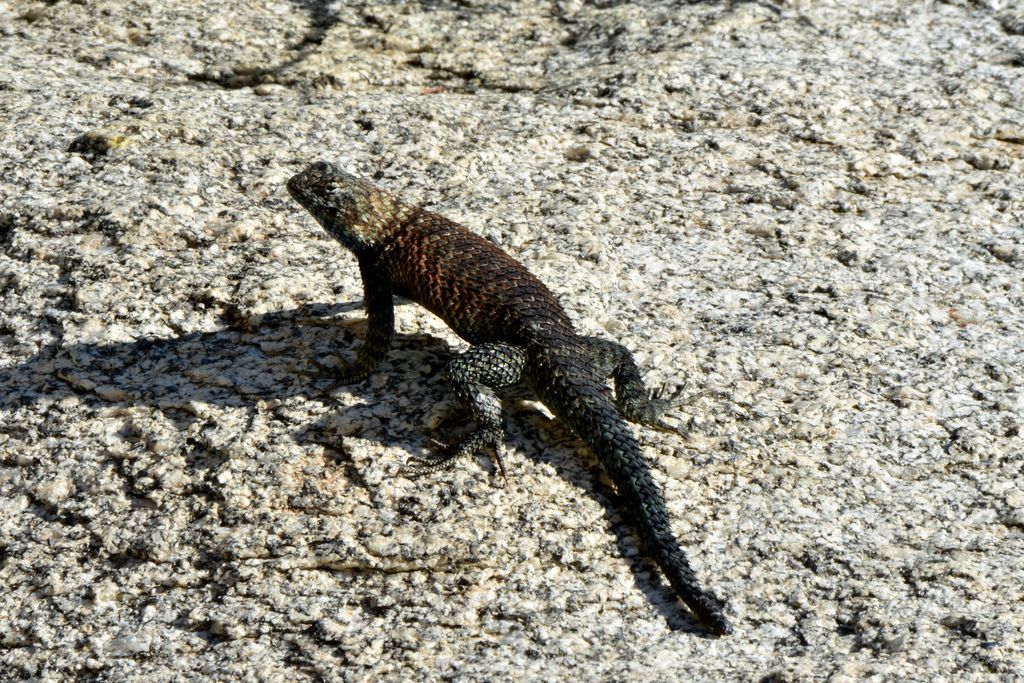 I spotted a male Black-tailed Brush Lizard (
Urosaurus nigricaudus
) perched on the edge of a log. He was very photogenic and not perturbed by the presence of hikers passing him by.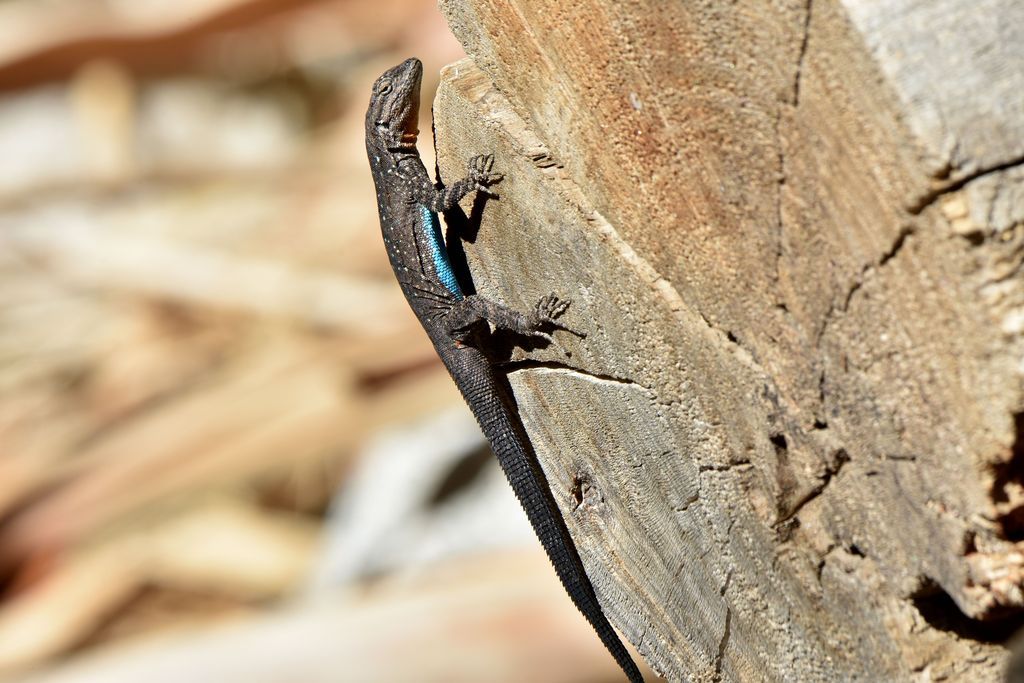 What would a trip to the desert be without spotting a male Western Side-blotched Lizard (
Uta stansburiana elegans
).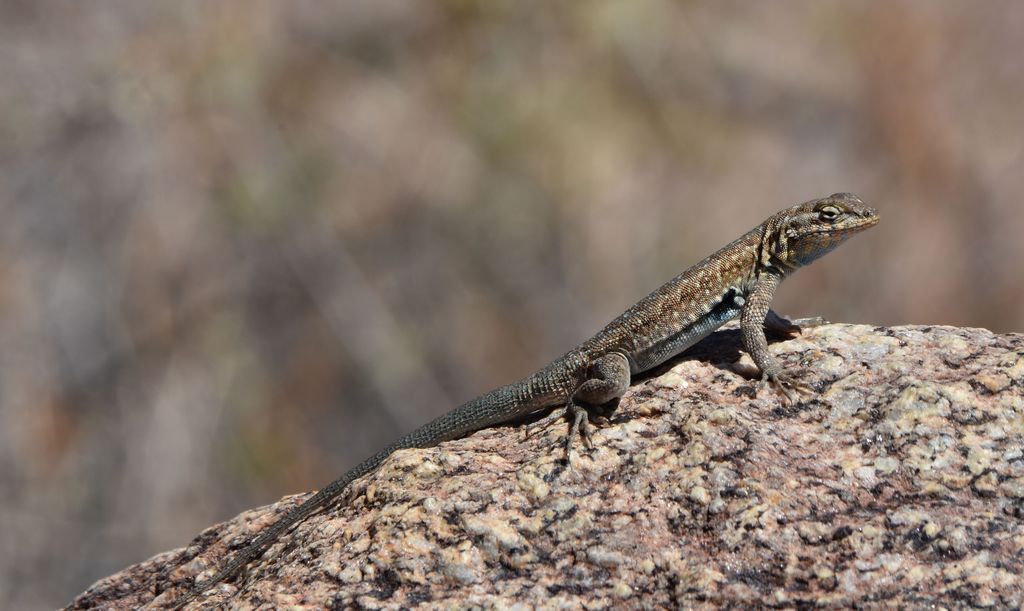 Female Western Side-blotched Lizards were also out catching the morning rays.
A Great Basin Whiptail (
Aspidvscelis tigris tigris
) played hard to get but I did manage a photograph of one "escaping" to the base of a bush.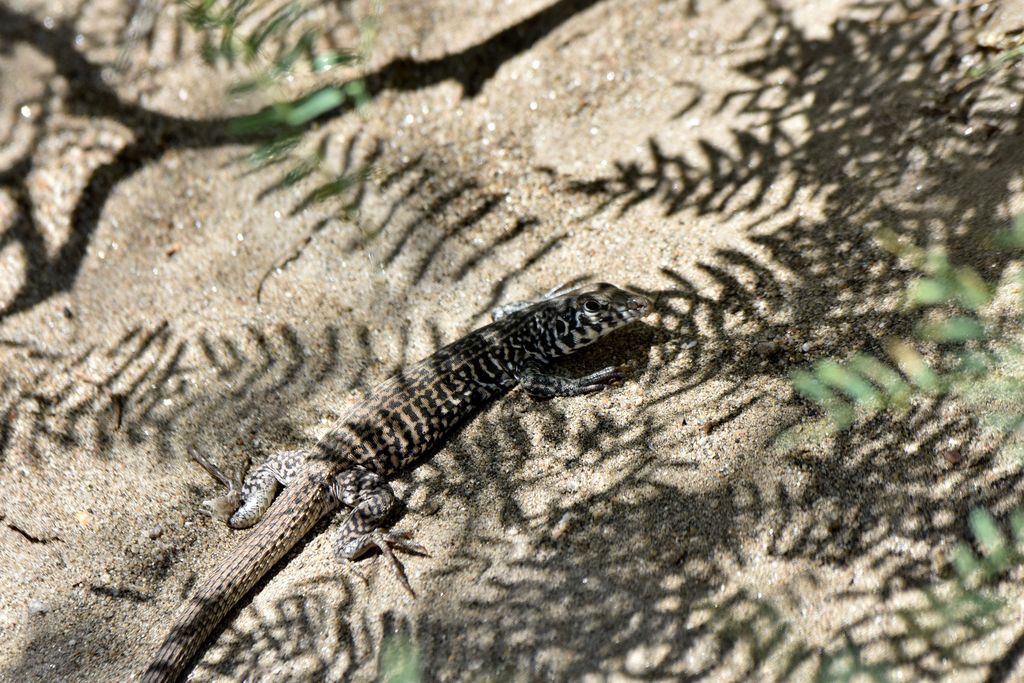 In the early afternoon a female Western Zebra-tailed Lizard (
Callisaurus draconoides rhodostictus
) made its presence known as it ran across my path but stopped for a photo session with me.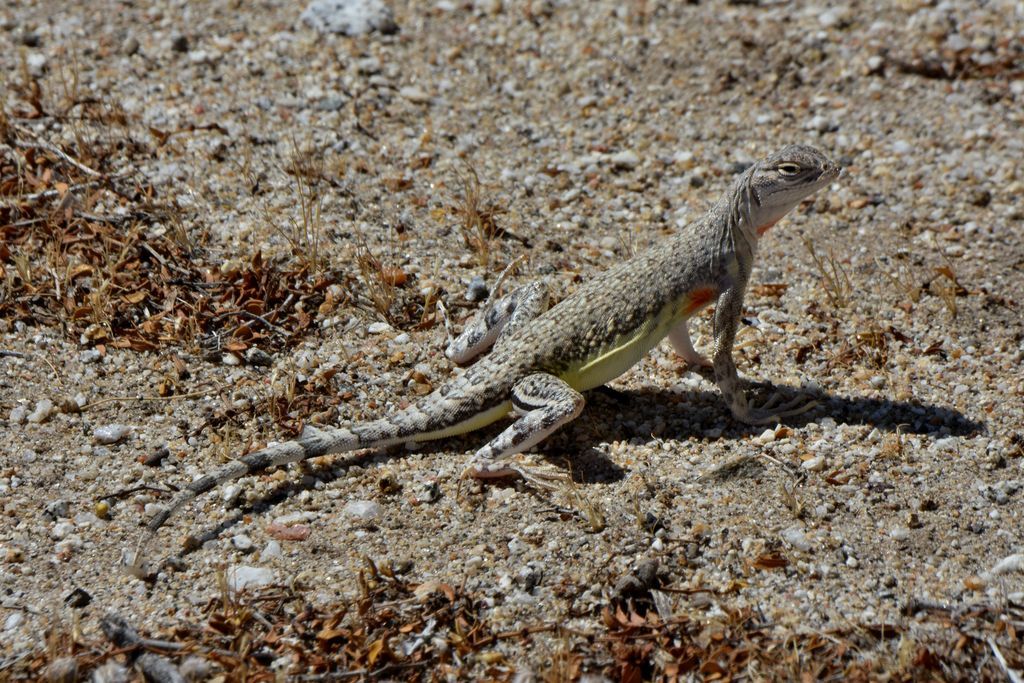 . It was becoming rather warm as the lizard went up on all fours with toes up to dissipate the heat.
After sunset I stopped by a pool which had a few Pacific Chorus Frogs (
Pseudacris regalia
).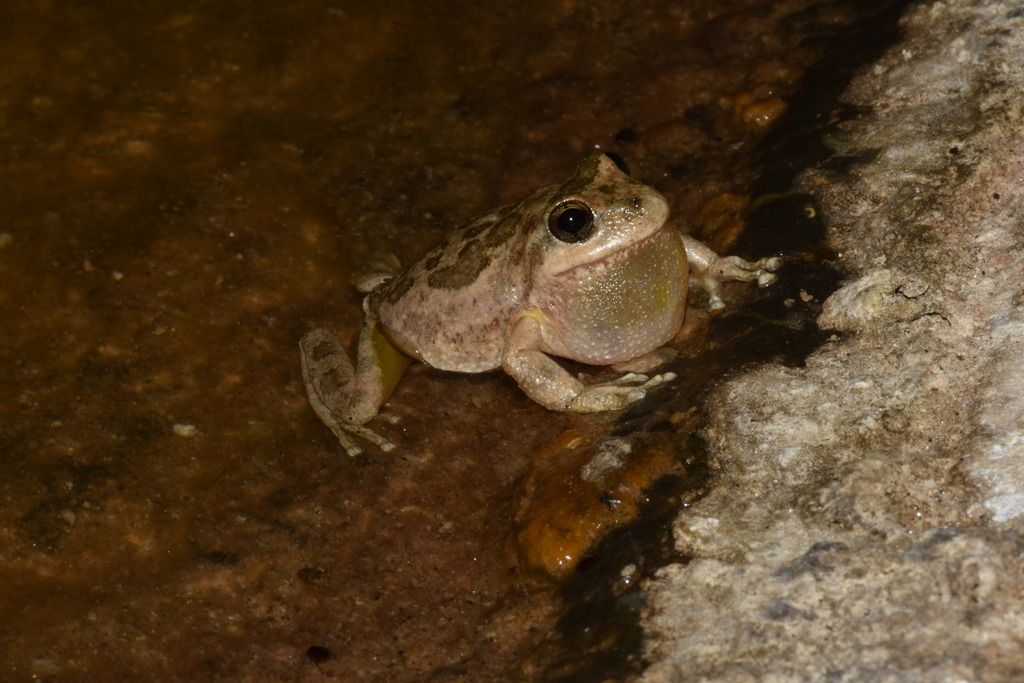 Red-spotted Toads
(Bufo punctatus
) were also present.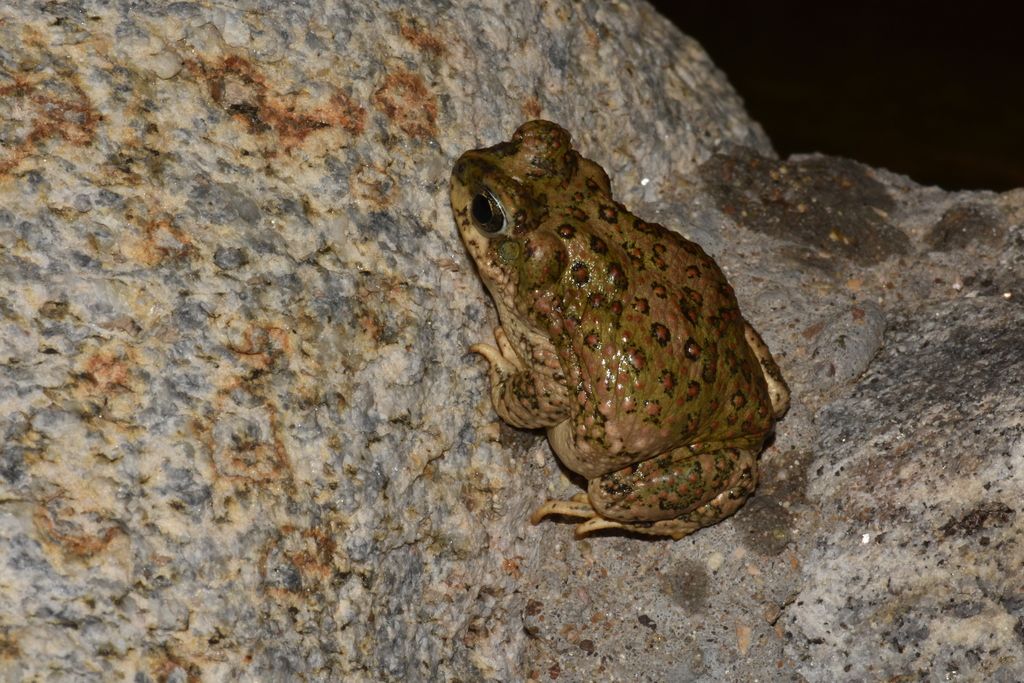 I encountered some other herps that were not on my list. These can be spotted anytime of year, day or night, and in all weather conditions.
Then I was off to the Coachella Valley to hopefully see the Coachella Fringe-toed Lizard. Visitors are not allowed in the Coachella Valley National Wildlife Refuge so I hiked its fenced border and adjacent land but without success.
However other lizards were more accommodating at a local nature preserve. There to greet me at the start of a trail was an old friend of mine, the Desert Iguana (
Dipsosaurus dorsals dorsalis
). Millions of years ago I did research on the lizard brain regions that participate in behavioral temperature regulation using the Desert Iguana for the research subject. What do you feed a Desert Iguana while living in central Illinois? Why dandelion flowers when in bloom and canned sweet peas. Who knew?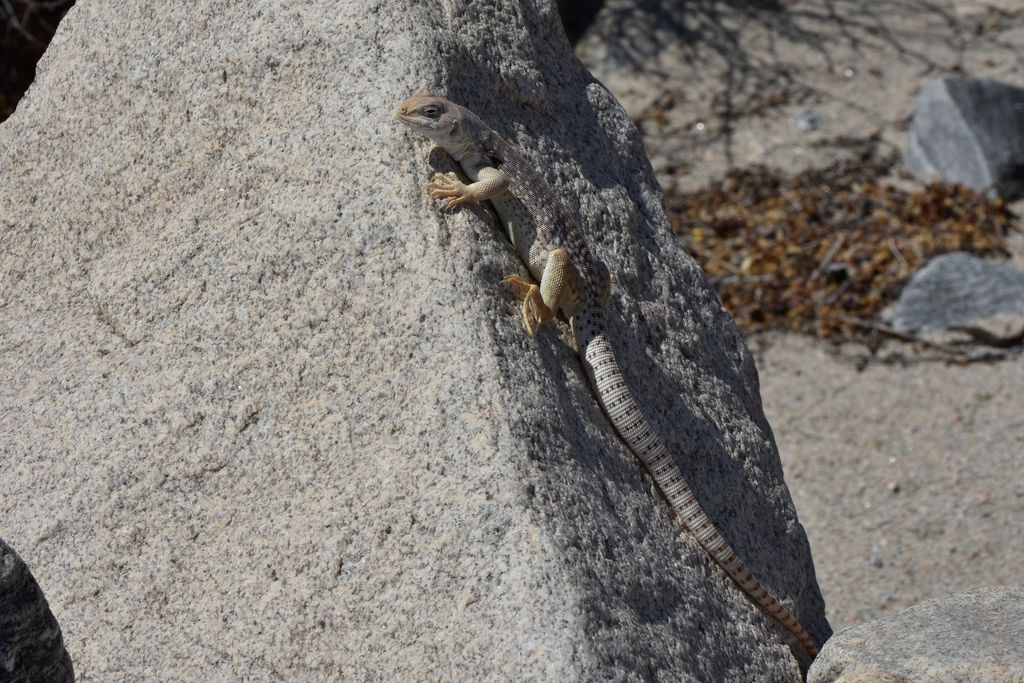 It was in the early afternoon but the temperatures were "only" in the lower 90's so Dips was just trying to warm up. Desert Iguanas can sustain body temperatures up to 110 degrees.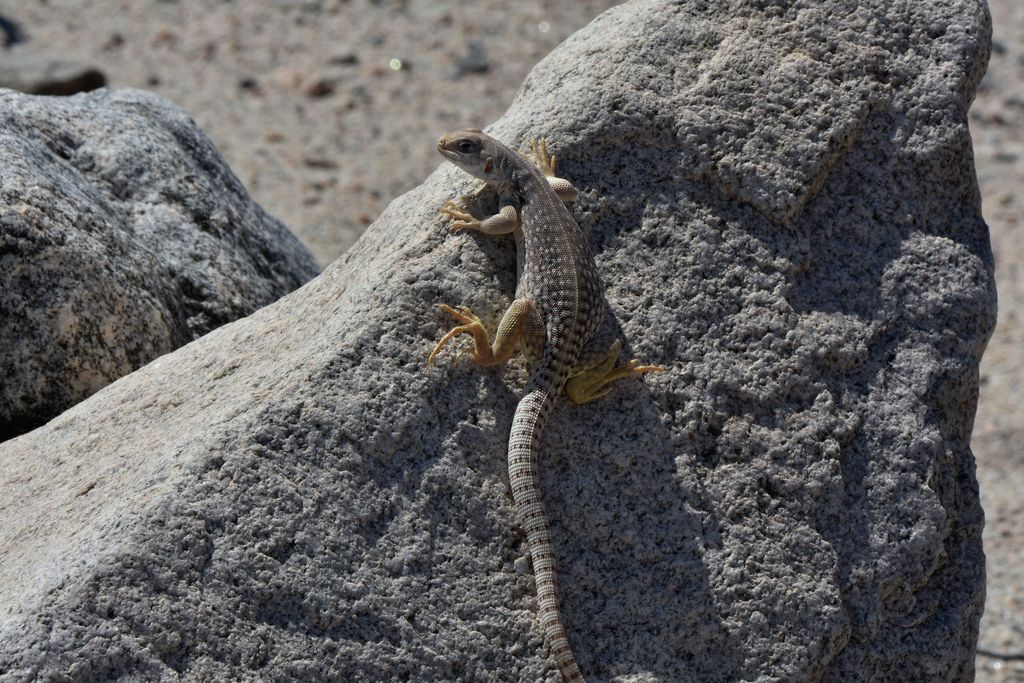 A juvenile Desert Spiny Lizard (
Sceloporus magister magister
) was very accommodating to have its picture taken.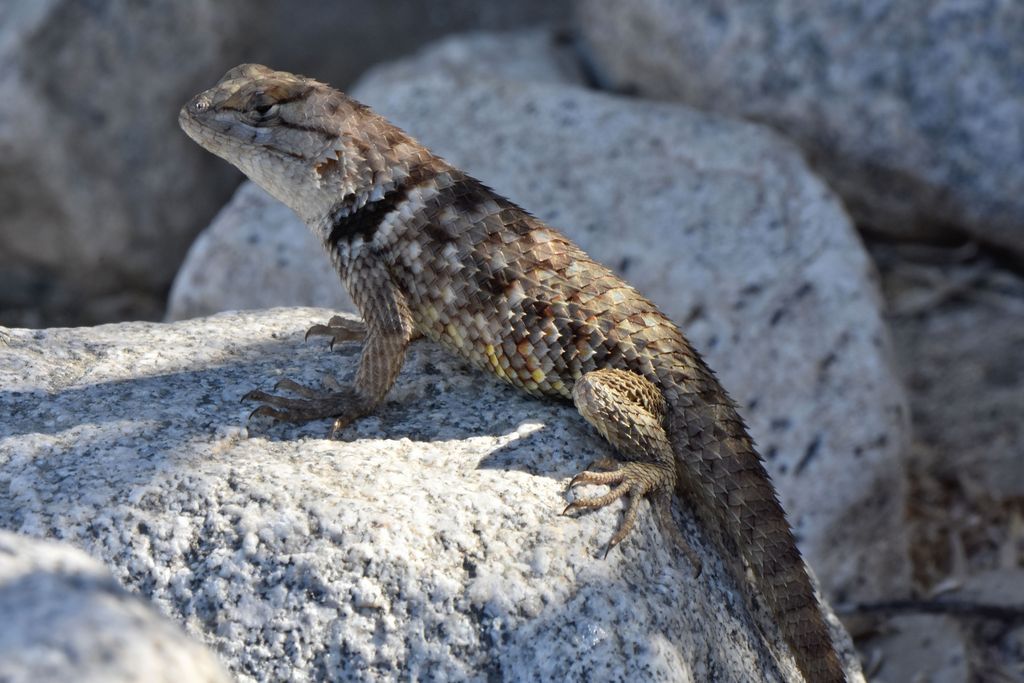 I went searching for a Flat-tailed Horned Lizard but was only rewarded with this very nice male Western Zebra-tailed Lizard.
A female Western Zebra-tailed Lizard did a head-bob display and prominently displayed its "dewlap".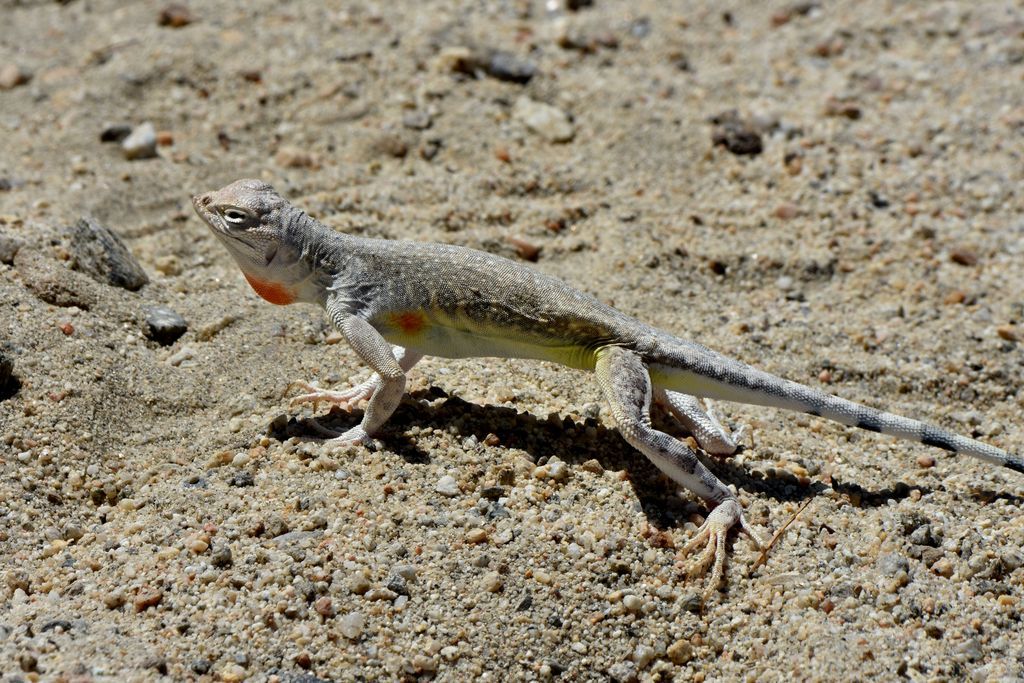 Also present in this nature preserve were the ubiquitous male and female Side-Blotched Lizards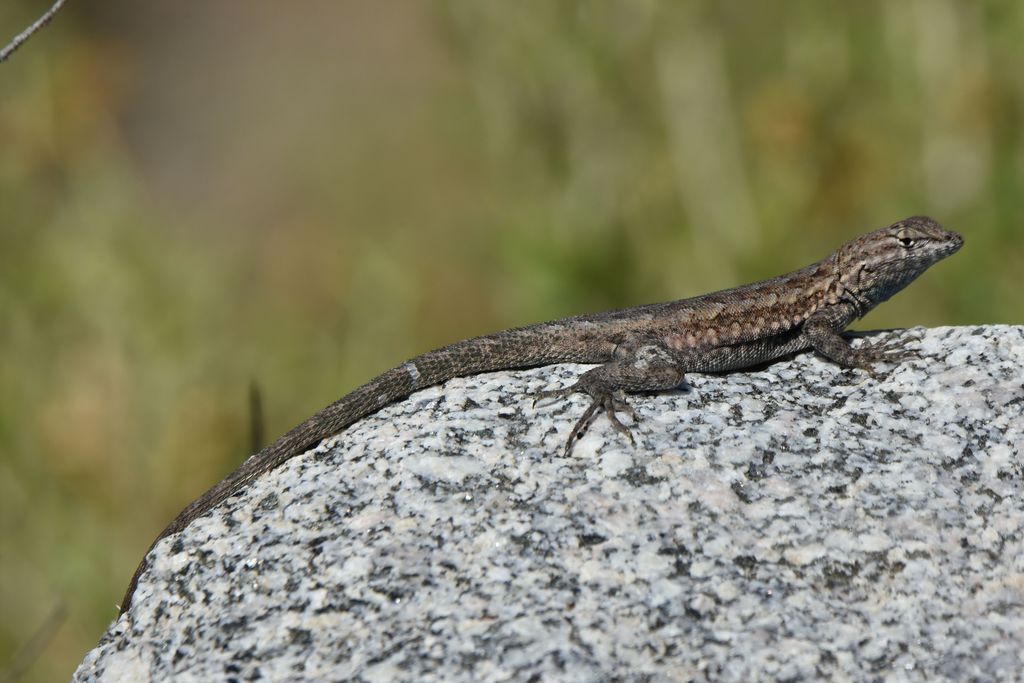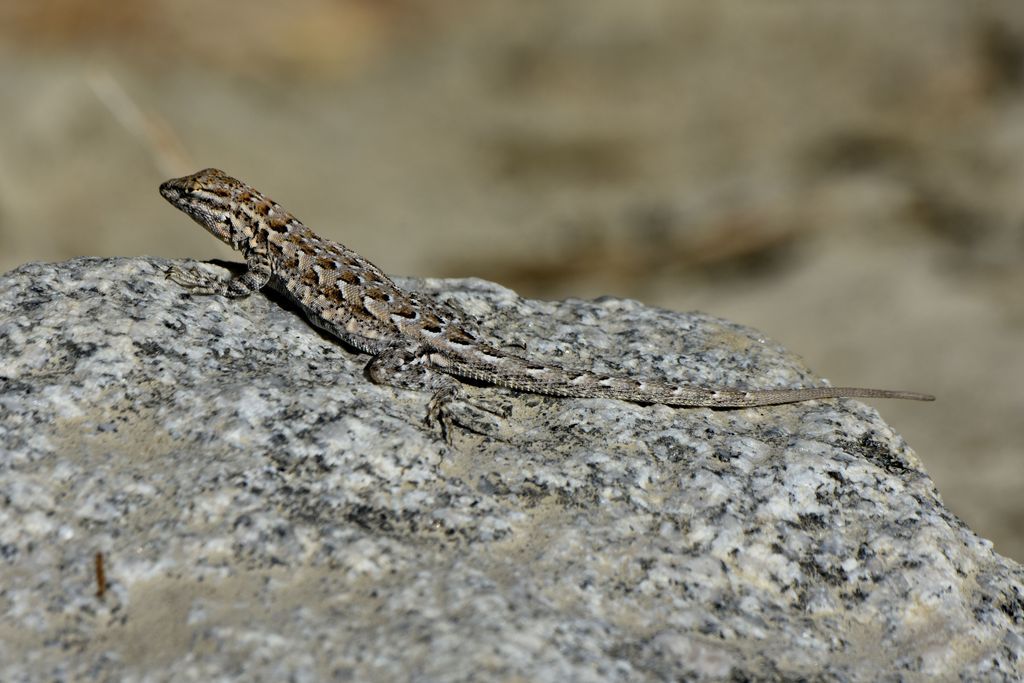 Daytime desert temperatures were becoming rather uncomfortable so I headed to the cooler climate of the mountains of the San Bernadino National Forest.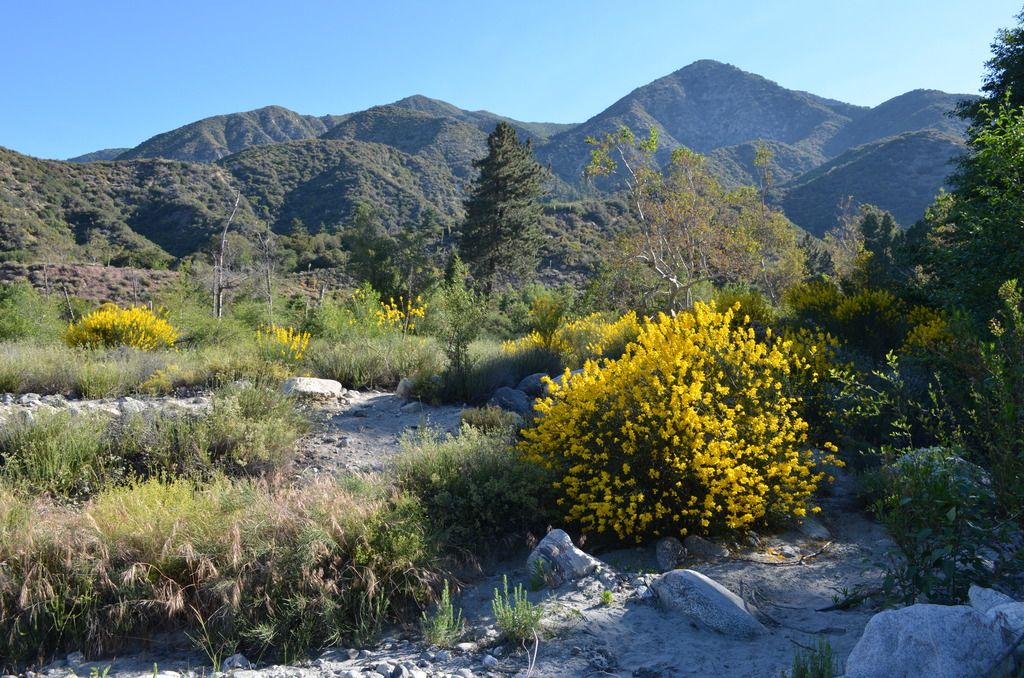 In the early morning a male Great Basin Fence Lizard (
Sceloporus occidentals longipes
) displayed to its neighbor.
Another Fence Lizard scouted the terrain from a convenient perch.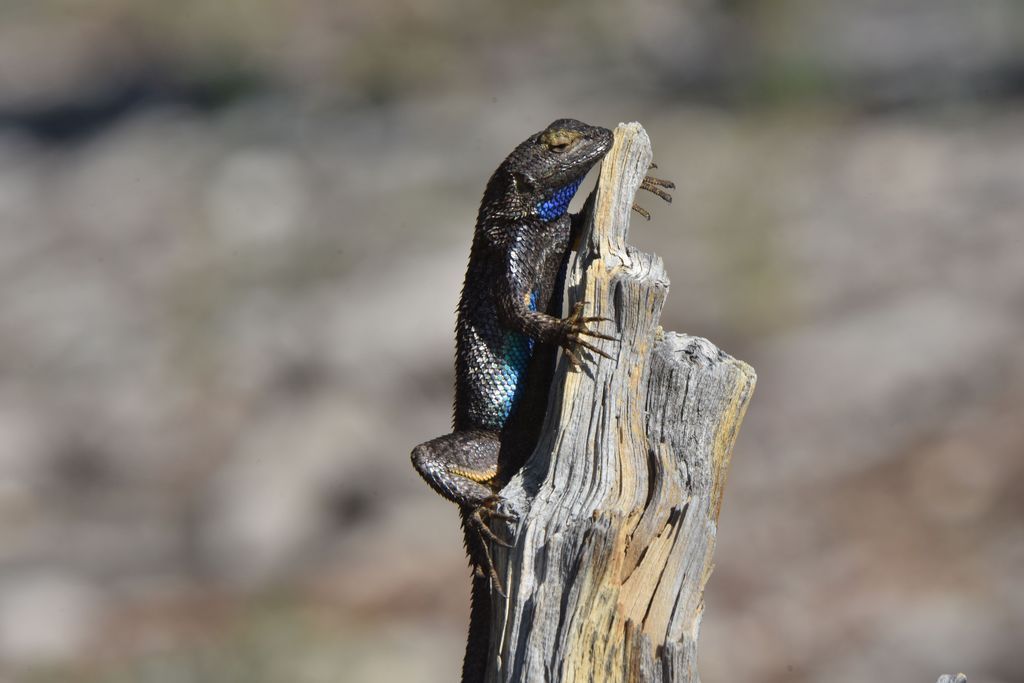 Fence lizard displaying did have its ultimate desired effect as seen here with this couple engaged in the act.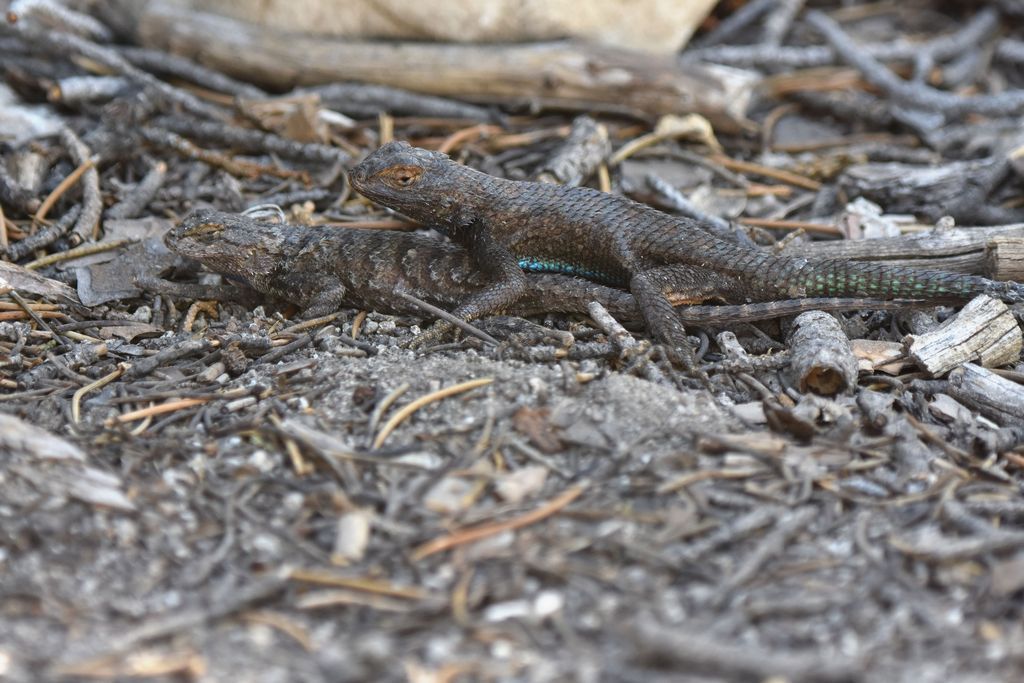 The mountains provided an opportunity to see the Southern Sagebrush Lizard (
Sceloporus vandenburgianus
) like the male shown here.
Numerous female Southern Sagebrush Lizards in full breeding regalia were present at a parking lot. What an incredibly colorful
Sceloporus
!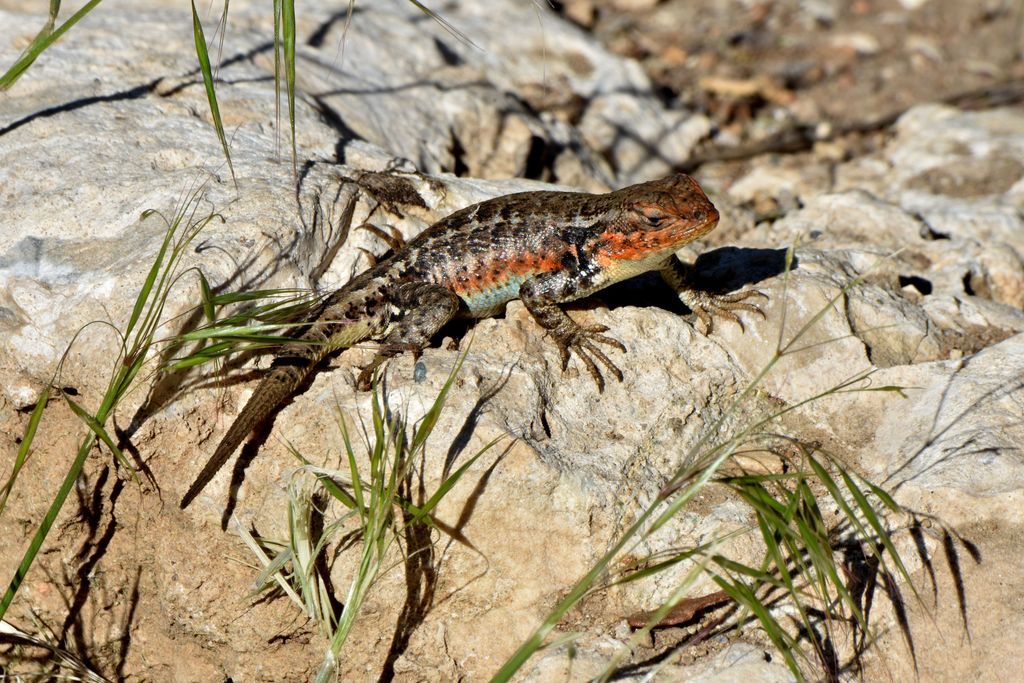 This female is on the berm of the parking lot.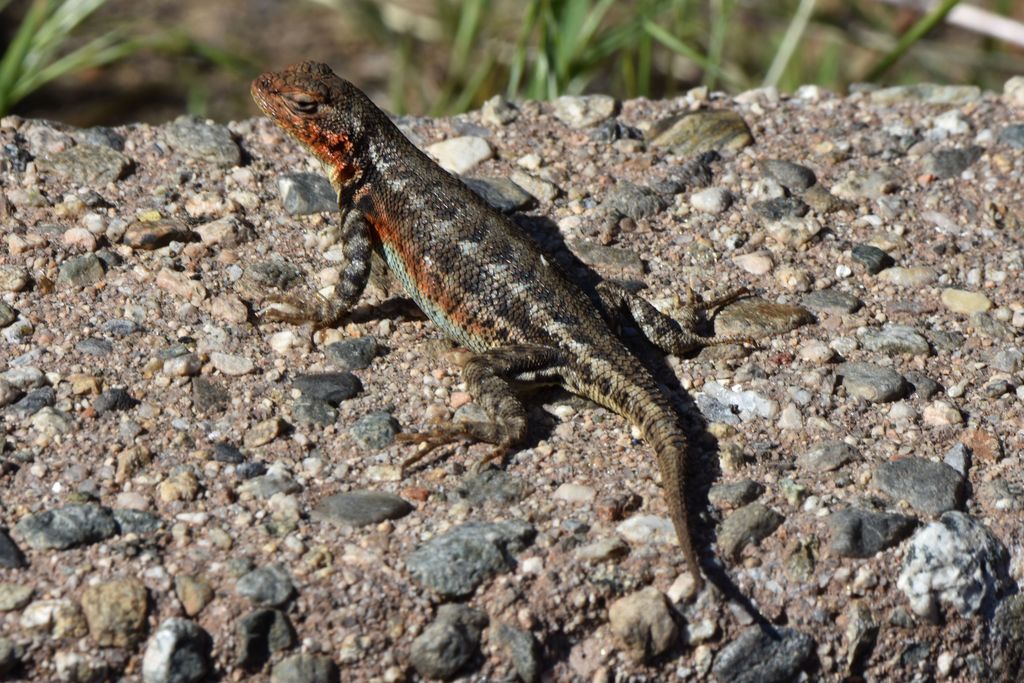 This beautiful mountain lake was just begging for its photo to be taken.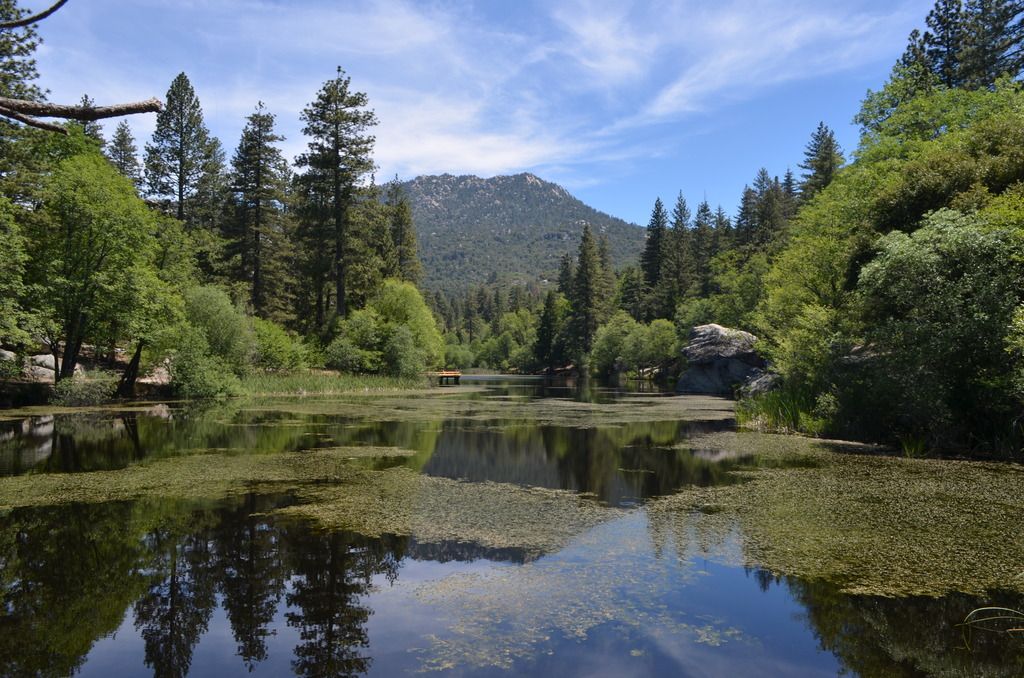 Situated on the rocks bordering a lake were a number of Granite Spiny Lizards. Who could resist a photograph of this juvenile Granite Spiny Lizard who was not disturbed by my presence enabling this close-up shot. Juveniles are heavily barred with brown striping.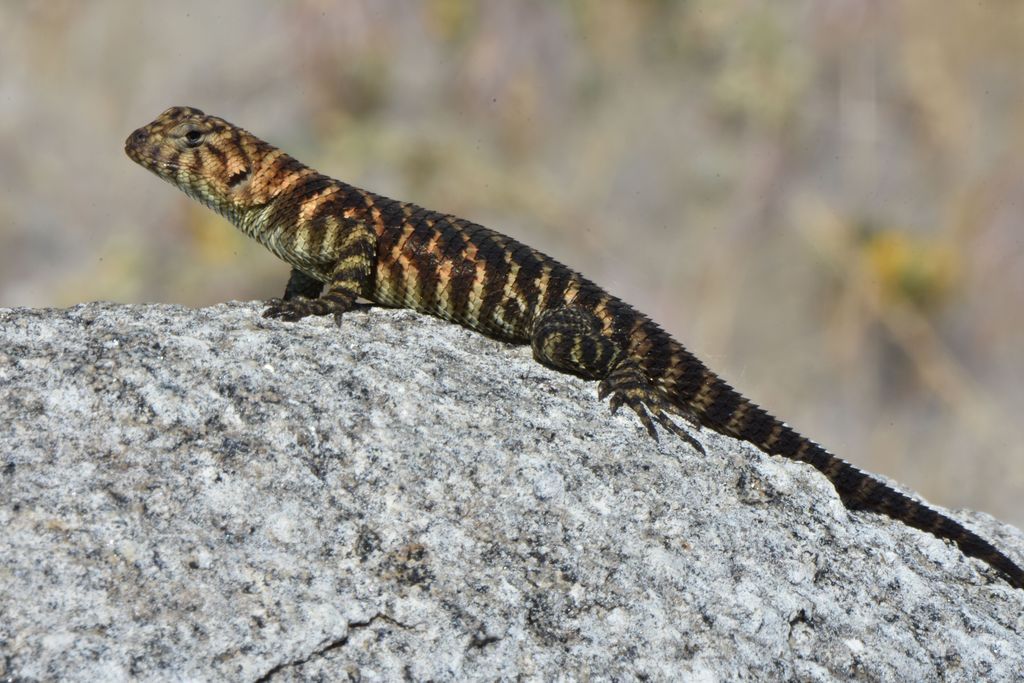 Female Granite Spiny Lizards retain the brown barred pattern but it is not as prominent as in the juveniles.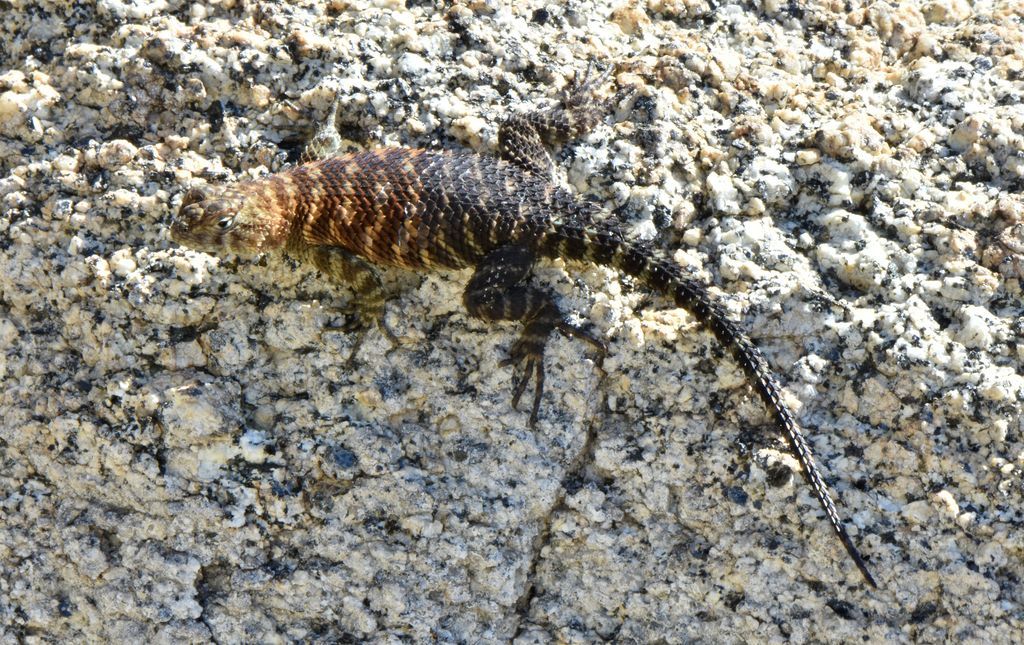 Male Granite Spiny Lizards have dark blue coloration in addition to the brown barring.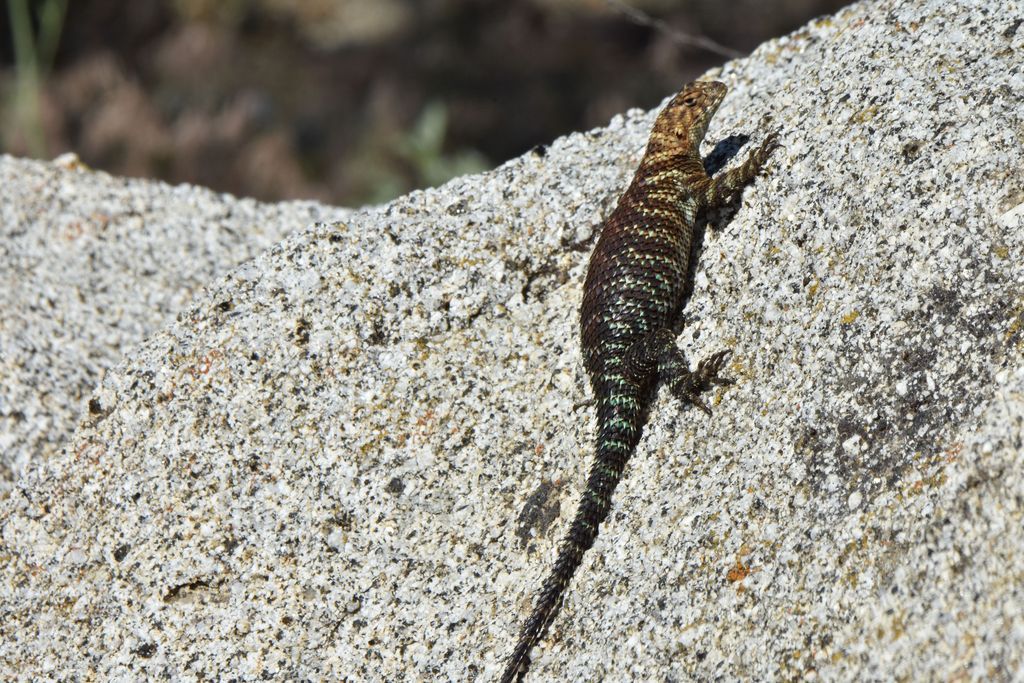 What about snakes? I did spot this California Striped Racer (
Coluber laterals lateralis
) along a trail.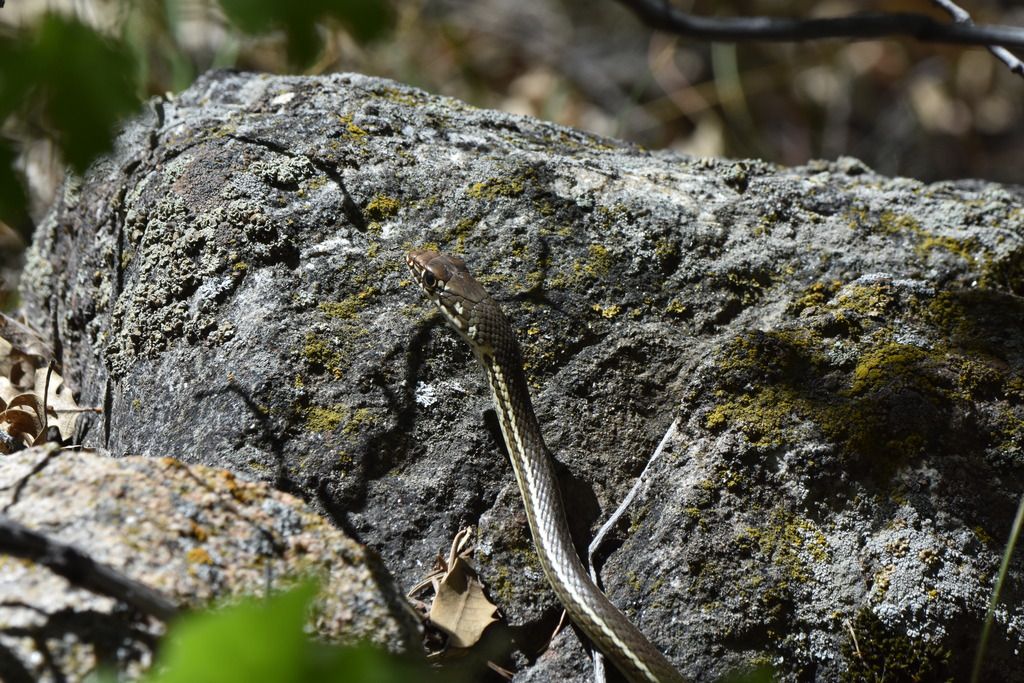 This blue dragonfly was just asking to have its picture taken. Does anyone know the species?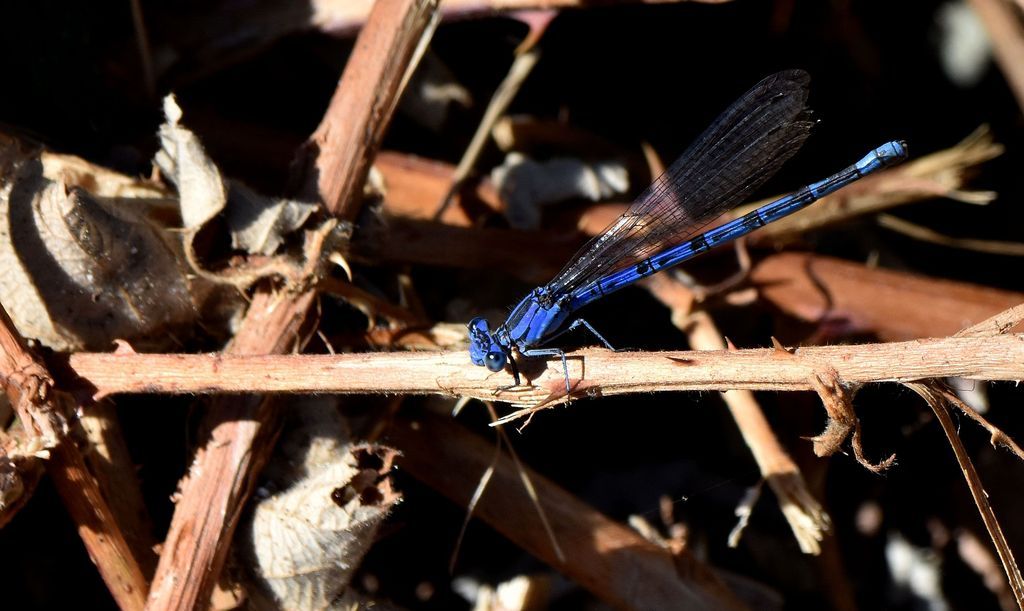 So much for the mountains. I will relive my visit to Joshua Tree National Park in Southern California Herping Part 2.