I head out at 8:15pm to herp a trail which I'd already scouted/herped from 4-7:30pm earlier in the day. Though the trailhead starts right on the edge of the mountain town I'd been exploring for two days, it gives a feeling of remoteness almost immediately. The next day I will hear that a foreign tourist headed out on this trail last year and was never seen again, and that the trail had been completely removed from the area maps handed out to tourists. Even before I heard that story, I had the distinct feeling it could happen, with landscapes that look like they could hide a lot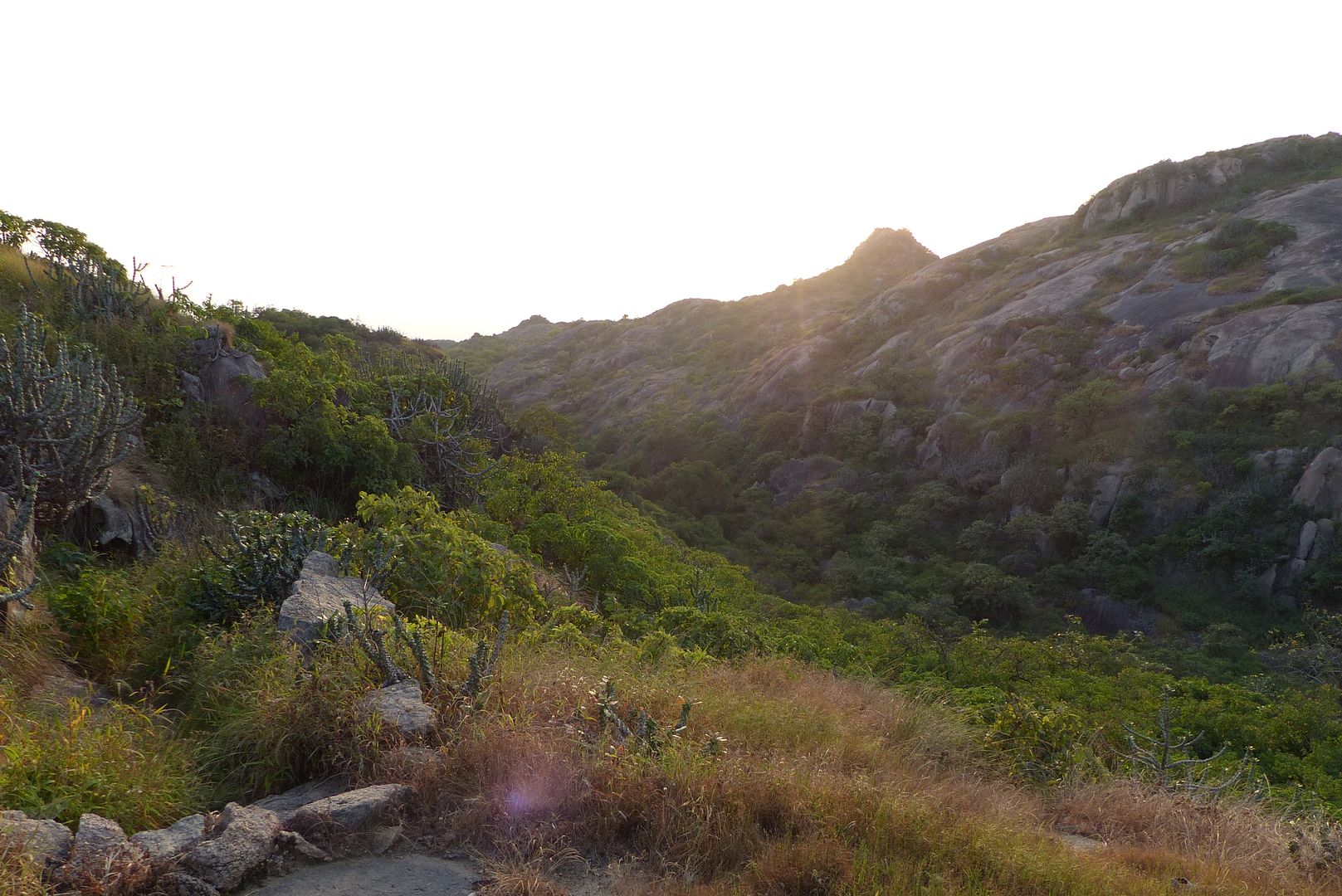 and a "main trail" which appeared not to have been used for weeks, perhaps months.
My uneasy feelings about the scantiness of the trail and the possible dangers that lurked there led me to make a much less ambitious plan for night herping than I had in the evening scout. Instead, I would just focus on the first section of trail, scanning bushes for cat snakes, the ground for green keelbacks, and streams for stream frogs.
As I hike up the road in the dark to my target area, I'm stopped at least three times.

"Aage mat jao, katernak hai." (Don't go further, it's dangerous.)

"Kuu?" (Why?)

"Janwar bahut hai." (There are many animals.)
Or just a minute later from another guy.
"Roko, mat jao." (Stop, don't go.)

"Kuu nahi?" (Why not?)

"Baloo bahut hai." (There are many bears.)

"Accha!" (Good!)
The thing that was killing me about these warnings is that they came while I was still in town. Was it really so dangerous that even walking in town alone at night on the wrong road was risky? Or did my headlamp lead them to assume I was hitting a trail?
Confidently, arrogantly, I brushed off the warnings like I had the myriad previous warnings I had gotten the previous night and earlier this day. This time, however, when I got to the trail all the fear in their voices began to get to me. Last night's hike had been on a paved road with a temple at the end, and a motorcycle passed me every 15-20 minutes. The morning's hike, where I had seen my first sloth bear, was on a berry bush-covered trail like this one, but that trail was 5 meters wide and that had been in broad daylight.
Blurry picture of a sloth bear as it disappears into bushes.
Today's trail is not only through berry bushes in the dark, but at many points the bushes are brushing my shoulders at either side or even touching. Occasionally playing in my mind is the video I saw earlier this year of a sloth bear eating an Indian man's face while he was still alive. I began a search pattern – take three steps forward focused on looking for snakes on the ground, the peer ahead as far as possible for eyeshine of dangerous game, slowly scan the brush for cat snakes, then take three steps forward again. Often I added an extra check behind me, and a repeat look ahead before I took more steps. I kept reconsidering the bravado with which I had answered the last naysayer – do I even want to see a bear right now? Daytime bears are great. In the dark on this narrow trail? I realize that I hadn't seen any bear sign yet (while my earlier sighting had followed copious sign) and thought a good test would be what I would do if I found fresh sign now. And I knew for certain that I would turn around and head back straight the way I'd came.
So those were the thoughts in my mind that led me through the next hour of somewhat adrenaline-heavy/heartbeat-accelerated herping. With my slow pace I covered less than a kilometer. I managed to find a stream frog I hadn't gotten yet, but no snakes to compliment the
Ptyas mucosa
and blind snake I'd found on my evening run-through. Just past 9pm, as the trail continued to wind further up into the mountains, I decided there were no snakes ahead and practically ran back down.
At the trailhead I encountered three Indian guys having a drink next to their parked motorcycle. They were shocked to see me come down.
"Bahut katernak janwar hai – aapko dar nahi lagte hai?" (There are many dangerous animals – aren't you scared?"

"Nahi, yh mere addat hai, mere papa chiriya ghar me caam karte te or mere puri zindigi ye cheez kiya he." (No, it's my habit, my dad worked in a zoo and I've been doing this my whole life.)
Safely off the trail, my bravado is back. One of the men tells me that he is a guide, and we make a little small talk. I tell them about the sloth bear this morning, and they were surprised I was alone.
"Aapko dar nahi laga ta?" (Weren't you scared?)

"Nahi, veh mujhse dar lagte hai, na?" (No, they're scared of me, aren't they?)
At their skeptical laughter I push further.
"Jab humko dekte hai veh humse baag jate hai, na?" (They run from us when they see us, no?)
I don't think I've made a good enough case in their eyes. I bid farewell and head back to my hotel.
As I walk back those outskirt streets I came in on, I scan my lights on every tree I find. I can't believe that I haven't seen a civet or flying squirrel at least on this trip – all the tree scanning I've done has resulted in nothing bigger than a dove. Sure enough, I soon spot a Common Palm Civet well up in a tree. Despite my new camera and a powerful headlamp, I can barely reach him for a good shot. I back up to the edge of the road, my back to the dark hill behind me, and take shot after shot trying to get a decent pic. My headlamp isn't hitting full power anymore, so I sit cross-legged on the side of the road and switch out the batteries. My camera dies from all the flashes, so I switch out that battery as well.
On the ground, my back to the bushes on the dark hill behind me.
My camera shows that I spent a good ten minutes photographing that civet.
As I photograph it, I notice four wild hogs gathering in a marsh on the side of the road to my back, about 50 meters or so further down the road. Once I ID them I pay them no more mind.
Here's the best pic I could get of that civet.
The more relevant thing is the 10+ minutes it took me to get it.
Ten minutes with my back to the dark brush behind me.
I finally stop photographing the civet, pack my camera, and head on. But I've barely gone 25 meters when I see more eyeshine on the pig-side of the road. It's something little, on the ground, just behind the bushes less than 20 meters off the road right where the marsh begins. I can't see anything but eyeshine but I get the impression it might be a small cat (perhaps biased from having seen a jungle cat in the dark on a hike in another city just four days earlier). I can't see anything but eyeshine though. I step off the road and head towards it. It moves, but I pick up the eyes again just a bit further away. The brush in front of it is still keeping me from seeing anything but eyeshine. I cut the original distance in half, and am now only 10 meters away, but I still can't see what it is. I consider taking a shot with the flash just to see if it shows anything.
Suddenly a second set of eyes appear, 2-3 meters to the left of the first and slightly closer to me.

There's two! I pan from the first to the second, and the second set of eyes bursts into action with far more noise than I expected. It goes to the left and slightly towards me, and with no time to think I instinctively track its motion with my headlamp. A fraction of a second after it started moving, it passes through a gap in the brush, and for a fraction of a second I see the gorgeous coat of a full-grown adult leopard less than 10 meters in front of me.
The only sensible thing to do at this moment was to walk backwards carefully until I was back on the road, keeping the headlamp in front of me. I get back to the middle of the road, and am surprised to see that the cub's eyes (for I am now certain that's what it must be) haven't moved. Those little eyes continue to look at me, 25 meters away. I scan up, and find mom's eyes about 30 meters away, a few meters higher up on the hill than before and at least 10-15 meters away from the cub now.
I had been stalking a leopard cub with mom nearby.
I had just spent 10 minutes photographing a civet with a leopard family behind me.
But I don't have a photo of the leopard. I consider what to do, and decide quickly that you don't fool around too much with leopard families. So I retreat to the nearest house, about 100 meters further down the road on the opposite side. A man is walking around to the front of the house and I shout,

"Hey, leopard vahe hai!" (There's a leopard over there!)
He doesn't seem to believe me, so I give more details.
"Look, there are pigs down over there, and there is a leopard over there,"
shining my headlamp to lay out the scene. From about a hundred meters away though, I can't make out the eyeshine anymore.
He calls some people out, and soon the whole extended family is standing outside the house. In my mind the men were going to come down and join me on the road, and with safety in numbers I would be able to get close enough to at least attempt a photo. But despite their skepticism, no one is even stepping away from the house to come down to the road, much less getting any closer to the potential leopard. They keep asking questions, and I keep laying out what I saw (omitting the cub detail for now because I'm afraid it will make them even more incredulous) and pointing out where I think the leopard is right now.
"No, no, look to the right."
I pan my headlamp to the right.
"Look, it's just pigs."

"No, I told you about the pigs already. The pigs are there, the leopard is there. I saw its spots and everything."

"No, no, it's just pigs."
I'm now standing on a half-meter retaining wall that defines the edge of their side of the road. I walk along the wall another 20 meters back the way I'd come (slight additional feeling of security on it because it makes me bigger) and soon enough can catch the eyeshine again, a bit higher up than before. I rush back.
"Look, it's right there! You see that tree? 10 meters higher up and 10 meters to the left! I see the eyes right now!"

"No, it's just pigs."

"No, the pigs are down there, the leopard is up there!"

"No, it's pigs."

"Look at how all the pigs are looking over there! They're not looking at us even though we're right here, they're looking over at the leopard!"
In fact, the pigs are rigidly standing all in identical positions, facing the leopard a good 60-70 meters away from them.
An SUV comes down the road with a family inside, the first car to pass since the incident began. They stop (much closer to the leopard than the house) to ask what I am looking at.
"There's a leopard up there, I just saw it."

"You saw it now?"

"Yes!"
The driver gets out. The car's presence makes me bold enough to step back down onto the road. The driver stands next to his door on what happens to be on the leopard-side of the road, while I step in front of the car's headlights. I scan the hill and find the eyes again, 40 meters away.
The moment my light hits them, the leopard bursts through the brush with a loud growl.

I have no idea which direction it went.
The driver flees back into the car with a speed I have never seen a middle-aged Indian man reach. I quick-step to put the SUV between the leopard and myself. I have no idea where it's gone. I wait hopefully for an invitation to join the family in the car. It doesn't come. At this moment fear has nearly caught exhilaration – maybe I'm only 60-40 in favor of being happy about being out there at this moment. I grew up reading
Man is the Prey
over and over again, and have plenty of statistics about leopard attacks and man-eating leopards memorized.
"Was that a bear?"
the driver's wife asks.
"No, that was a leopard, that was a leopard,"
he repeats with a shakiness in his voice.
I scan the hill but can't find the eyes. I get up on the retaining wall again and rush back to the house.
"Did you hear that? Did you hear that? I told you it was a leopard!"

"What?"

"The leopard growled just now! They heard it too!"

"What did he say?"
At first I thought they were making fun of me and asking what the leopard said. Then I realize they're asking what the driver said. I understand that not knowing my background, they don't trust the crazy foreigner, and would rather know what the local had to say about the whole thing.
"He said it was a leopard. Pakka (for certain), it was a leopard."
The SUV goes up and down the road, turning its headlights to try to spot the leopard again. Eventually he comes back.
"It's gone. It ran away."
He urges me to go home. He's right. I walk back in total disbelief over what has happened. As I get back to my hotel, I think of both my early-morning hike tomorrow, but more importantly my planned 7km night-hike for herping through a remote area where I'm certain to see no one.
Can I do that?
Seriously starting to think it might not be a good idea.
Here's a little diagram of the spot it happened at, in the bright light of day.
Photo from where I was standing: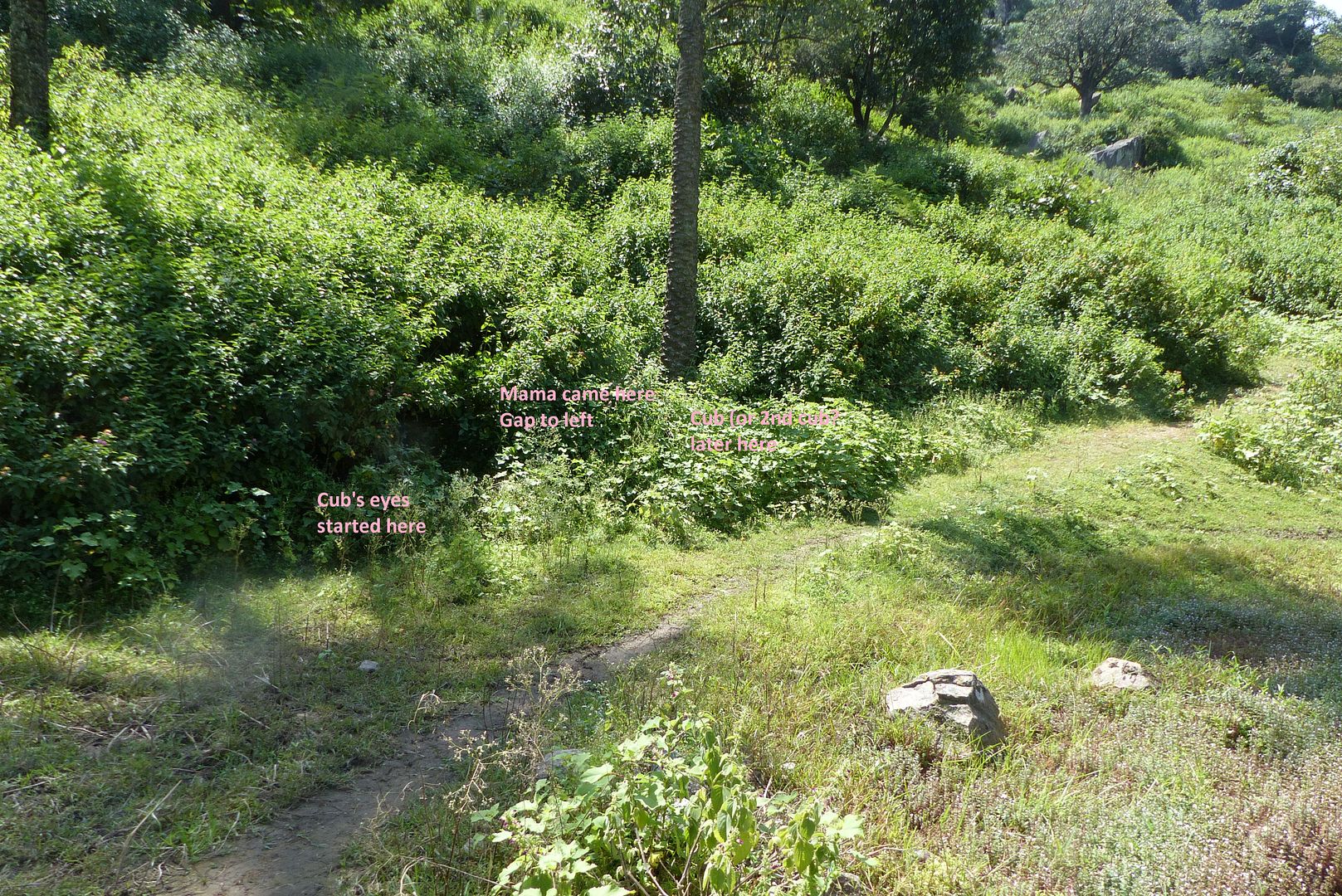 Whole scene: