Not far out of Kuching was our final destination in Sarawak, Kubah national park. The park occupies the flanks of a sandstone mountain and this forest paradise is clearly visible from the bustling shopping streets of Kuching. Despite its close proximity to the city the park is difficult to access via public transport and there are no restaurants or shops so we decided to go for the self catering hostel option, we went shopping for supplies and jumped into a taxi. We arrived at the national park and were greeted by the warden who seemed really pleased to see us, he even gave us a briefing and a quick slide show on his lap top we were shown to our rooms and as the place was virtually empty we had our own room in a challet type building, and the only other occupants were two local guides for a group of birdwatchers.
We wasted no time and were soon out in the forest exploring. The sign at the entrance to Kubah states the park is the park of palms and frogs, we were not that enthusiastic about palm trees, but apparently Kubah has more palm tree species than any other place on earth which was pretty impressive. Last year a tiny species of frog named
Microhyla nepenthicola
was discovered in Kubah national park (although the validity of this species has recently been questioned). This frog is the smallest frog in Southeast Asia at 10 mm and have the unusual habit of breeding in pitcher plants. The warden gave us the rough location of the picture plants and we set off. In no time at all we had located the plants, each of the pitchers had numerous tiny white tadpoles swimming in the cups.
Microhyla
tadpoles are very strange looking, very disc shaped and usually lacking pigmentation, The tadpoles were really tiny and close to metamorphosing. A tiny frog (at first we thought it was a bug) jumped and we had found our first
Microhyla
, it was pretty cool to see, especially as this frog was spitting distance from the parks major road for all these years and was unknown to the world.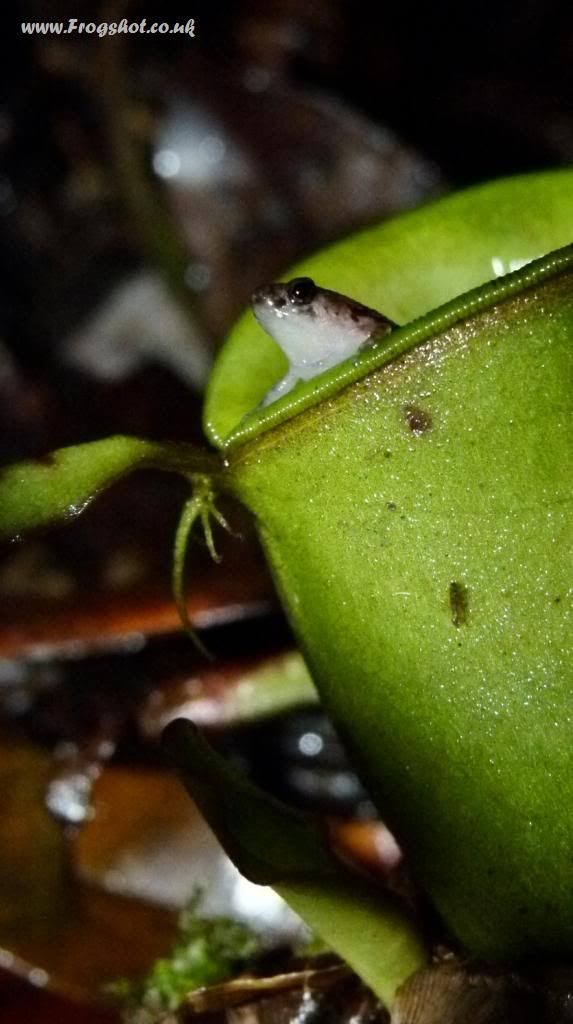 Tadpole in focus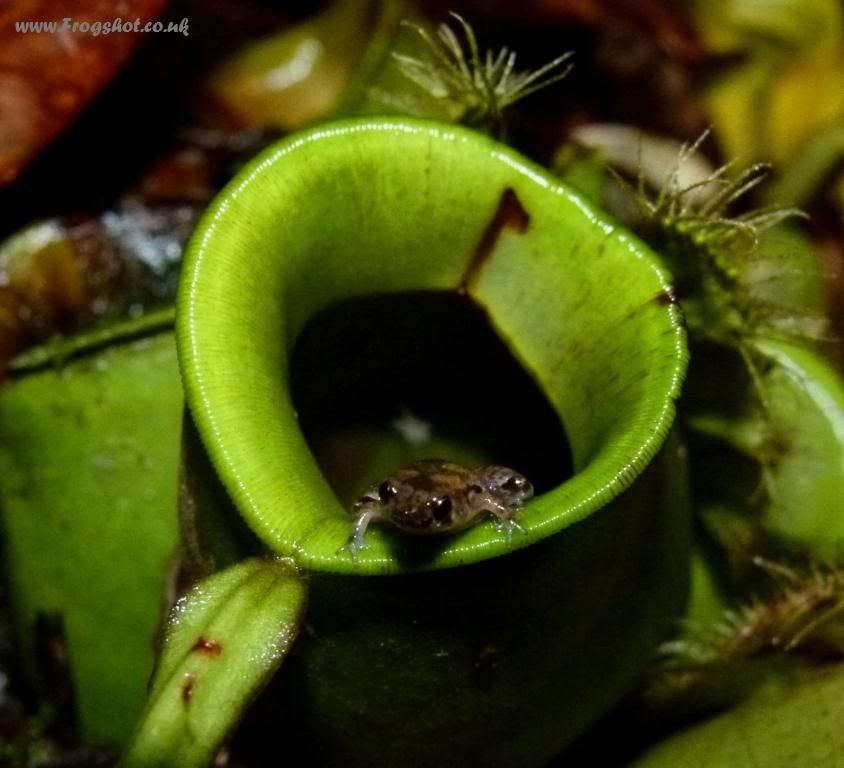 After dark we set off up the mountain. First stop was the frog pond. On route to the pond there were countless
Limnonectes
sitting at the roadside and in the seepages,
Tentatively ID'd as
Limnonectes paramacrodon
.
Limnonectes leporinus
, a large species of frog, the females (according to some sources) can reach up to 18cm SVL. They are commonly collected and eaten in Borneo.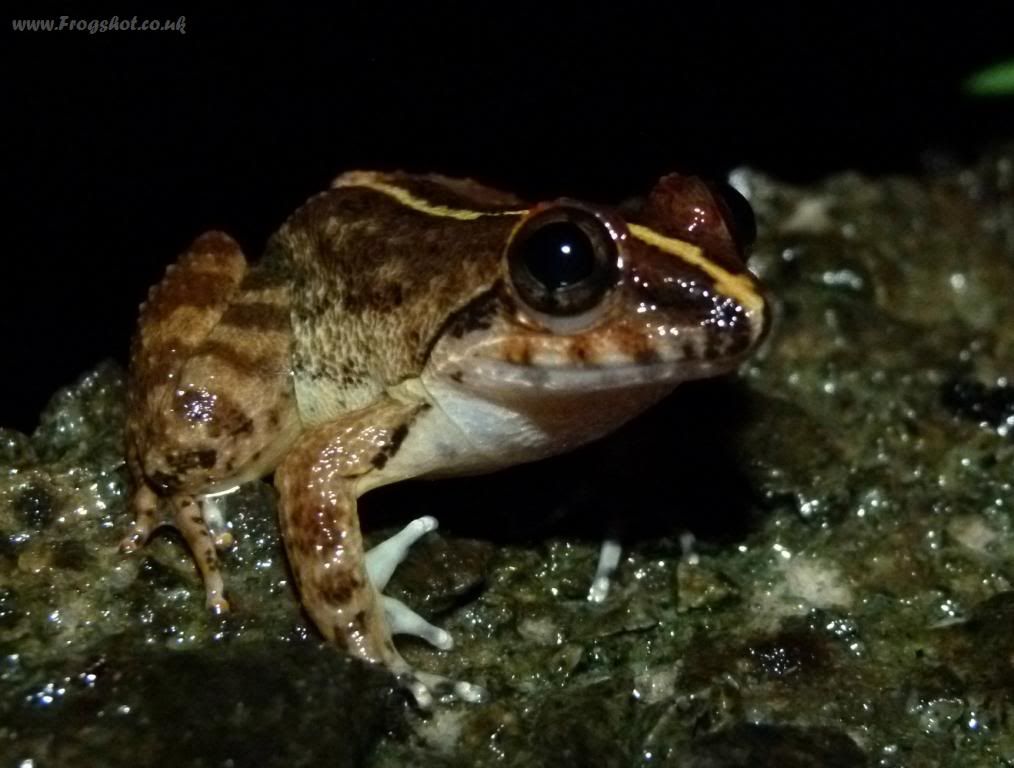 Tentativelky ID'd as
Limnonectes kuhlii
, as I mentioned on my Kinabalu post,
Limnonectes kuhlii
is probably a species complex.
The pond surpassed expectations with a great board walk around the edge and even some frog signage, it was fantastic. We spotted many Rhacophorid frogs and some old frog foam nests, the tadpoles having long since dropped of into the water. There was also an area of leaf litter surrounding the pond which teamed with small and extremely jumpy
Microhyla
frogs. The best find around the frog pond was a frog known as a Mahogany frog.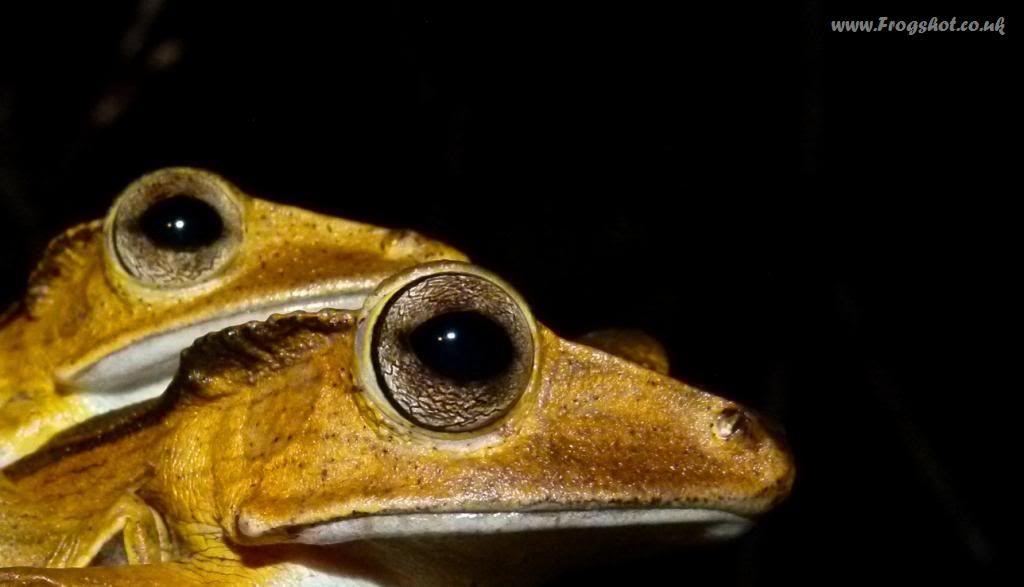 Amplectant
Polypedates otilopuis
.
Polypedates leucomystax
.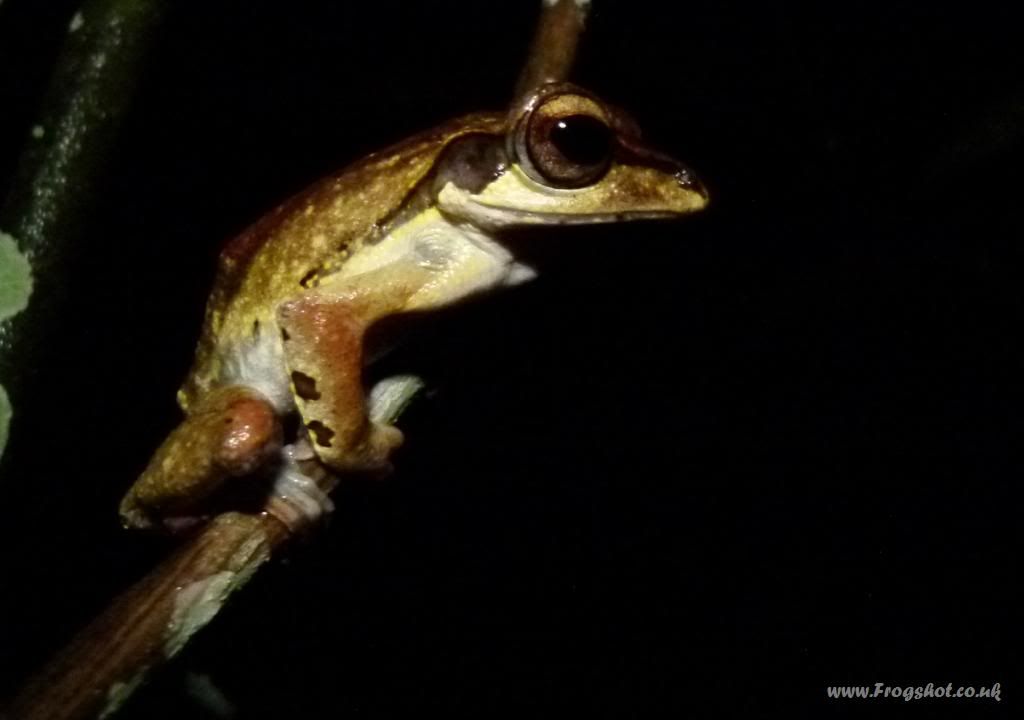 Polypedates macrotis
.
The distinctive chuckle gave away several calling
Rhaacophoris pardalis
which I failed to photograph.
Rhacophorid foam nest.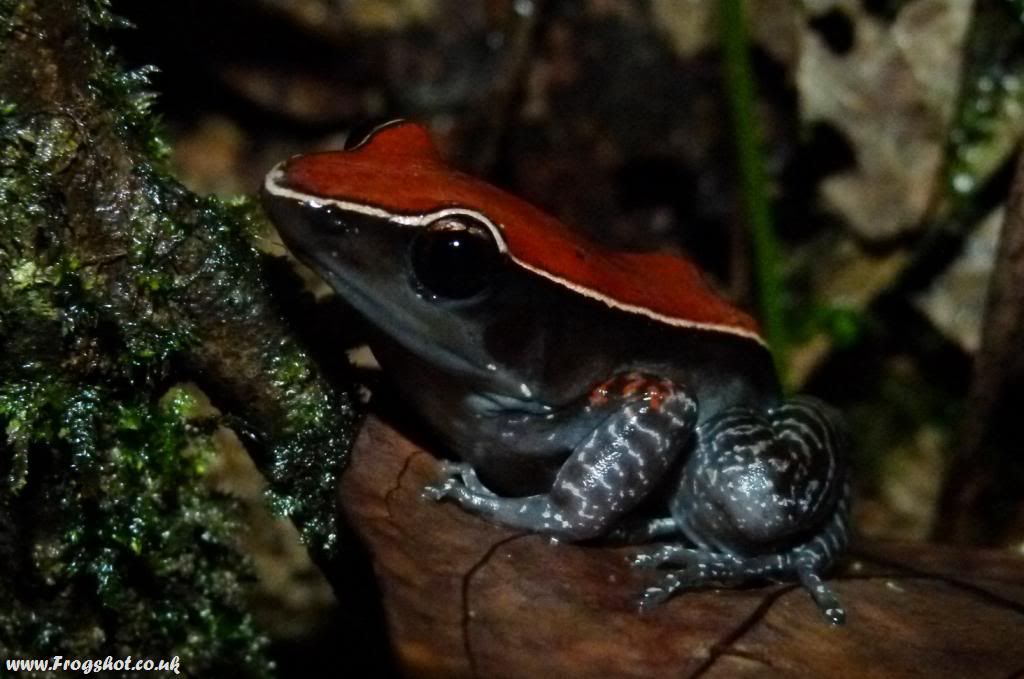 Mahogany frog,
Hylarana luctuosa
, was the highlight of the frog pond area. In the photo the frog looks very conspicuous but they were incredibly hard to spot in the wet leaf litter, I was crawling on my hands and knees for a while before I found these. Their tadpoles are probably longer than the adult frogs and very strong, they are apparently able to escape form predators such as draognfly larva.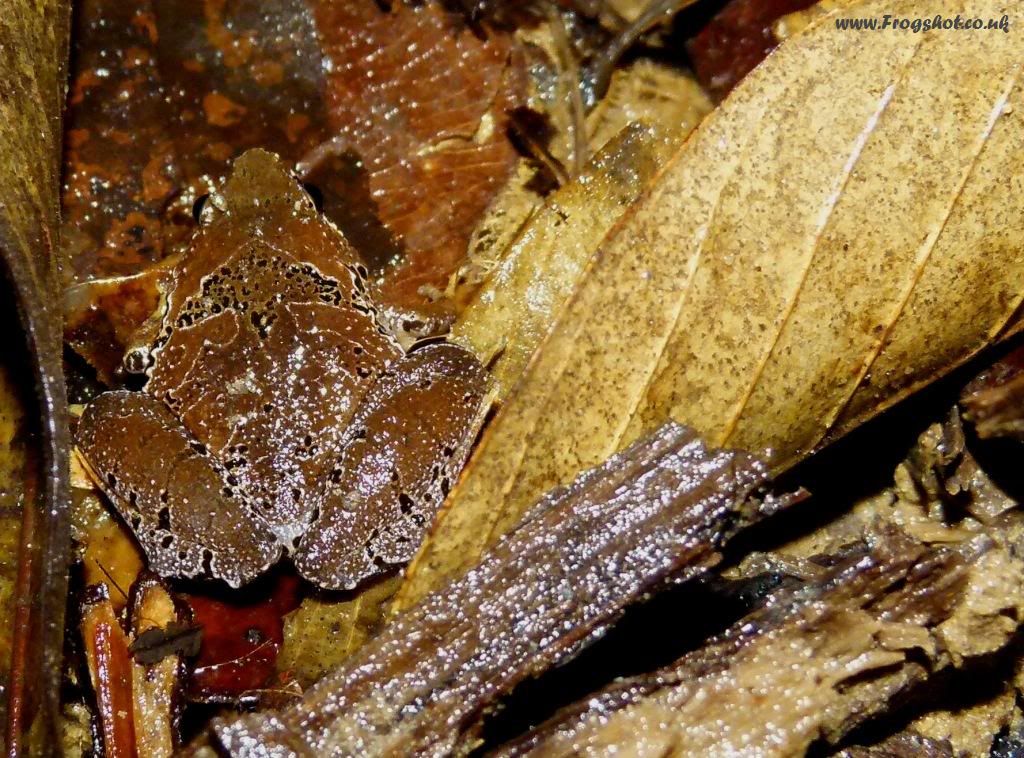 Microhyla malang
, a species of
Microhyla
described this year.
We continued our search along the road and we found a couple of snakes and eye shine indicated a feeding civet up in the canopy. There were geckos everywhere, flying geckos, bent toed geckos and cat geckos and so many frogs we couldnt believe it. From giant leaf frogs sitting silently in the leaf litter ready to pounce on anything that would fit in their mouths to tiny little Microhylas that were the loud mouths, all noise and hiding under the leaves. It was the best and the easiest herping I have ever done, the road wound its way up through a wide variety of habitats from open glades to dense forests, at times little streams and seepages flowed at its side and we could take detours off the road to explore torrents and small waterfalls.
Dendrelaphis pictus
.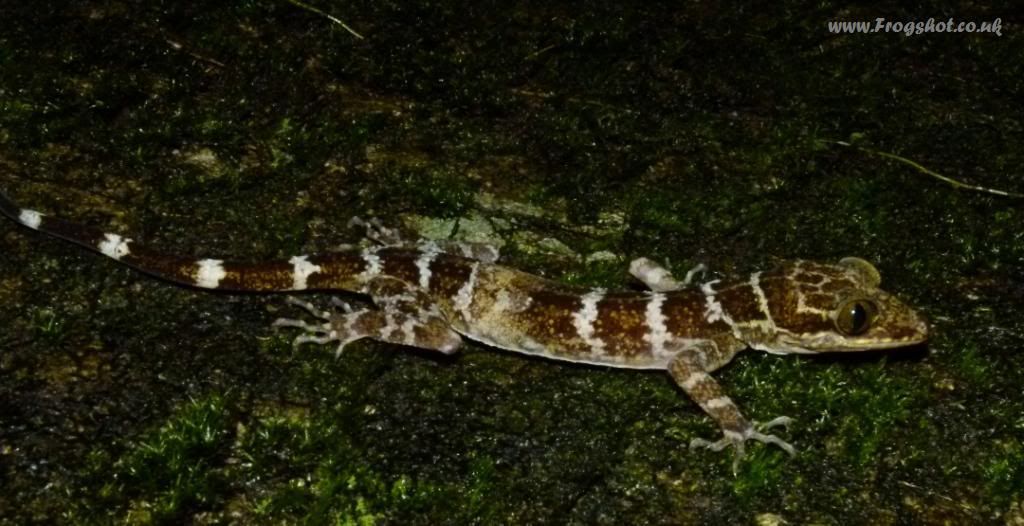 Some nicely coloured
Cyrtodactylus consobrinus
.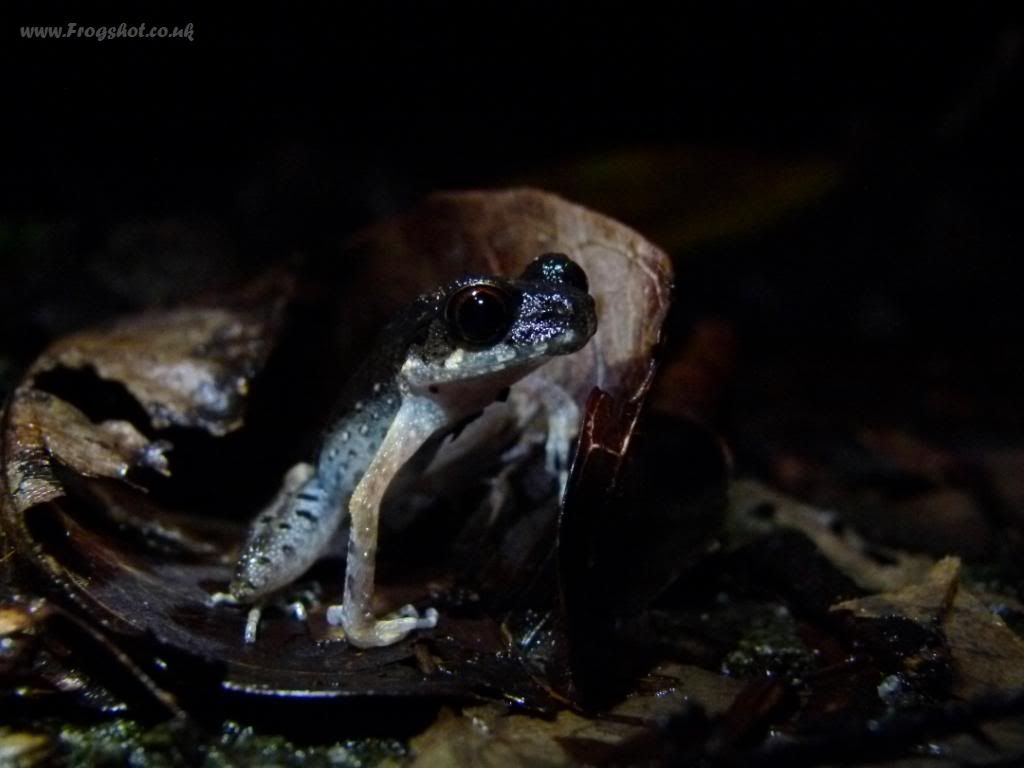 A nice megophryid frog,
Leptolalax gracilis
, these were really noisy frogs and were found where there was thick leaf litter, they usually called a fair distance away from the water.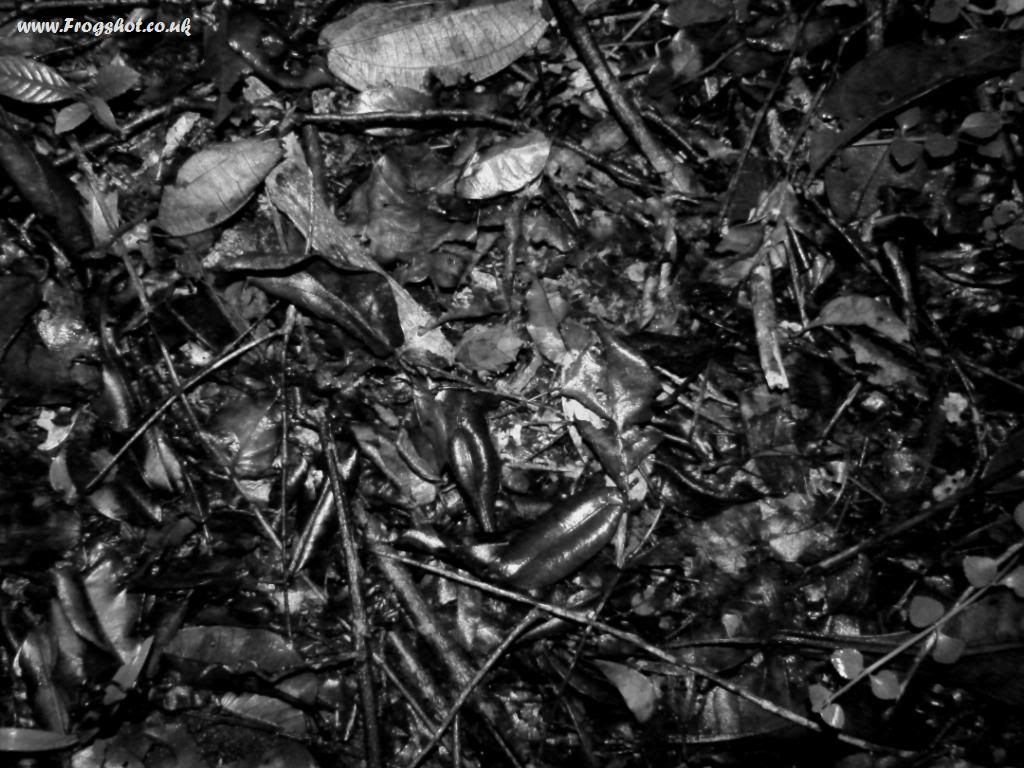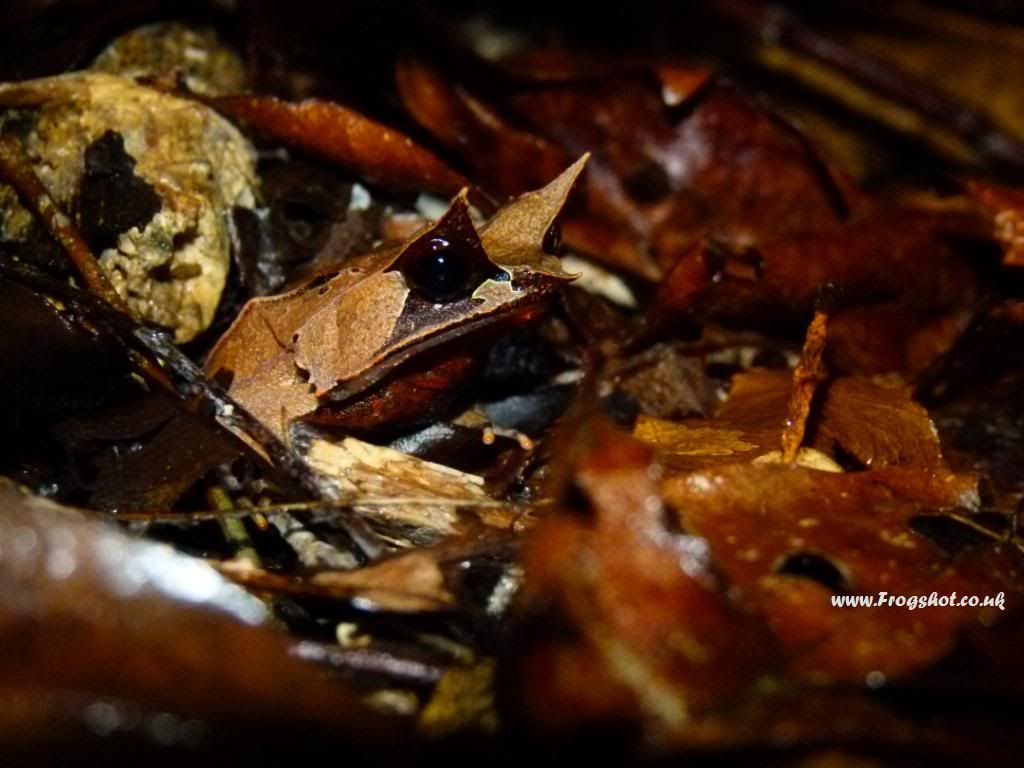 The first
Megophrys nasuta
we found was a juvenile (S
VL about 5cm) it was only spotted due to its strong eyeshine
and then we found the beast!
THE most beautiful Megophrys nasuta, the camouflage was just incredible
A sleeping
Ahaetulla nasuta
, the only brown morph I have every seen.
The final herp of the night was this very cute juvenile flying gecko,
Ptychozoon horsfieldii
.
We collapsed into bed, We were woken early, too early by the bloody bird watchers having breakfast at 5am - noisily! we managed to get more sleep after they had headed off into the forest and we both smirked at each other when the heavens opened half an hour later, not great for birds.
After breakfast we set off into the forest to do a trail imaginatively named the waterfall trail. Surprisingly we actually saw some pretty cool birds including a Raffles's malkoha and a racket tailed Drongo. It was steep going and a slide down the ridge we climbed for about an hour before we reached a pretty spectacular waterfall and river. It started to rain but I went for a swim anyway it was really refreshing. We sheltered from the rain before beginning the long hike up the mountain side.
Forest fruits and flowers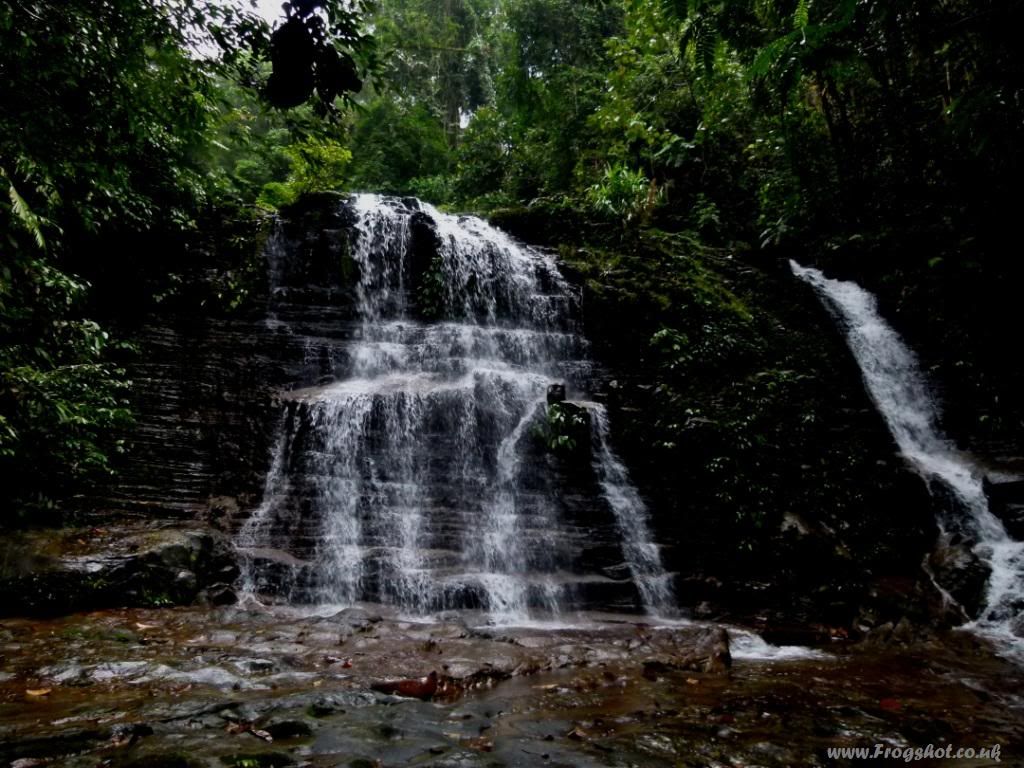 The waterfall.
We also hiked up to a viewing platform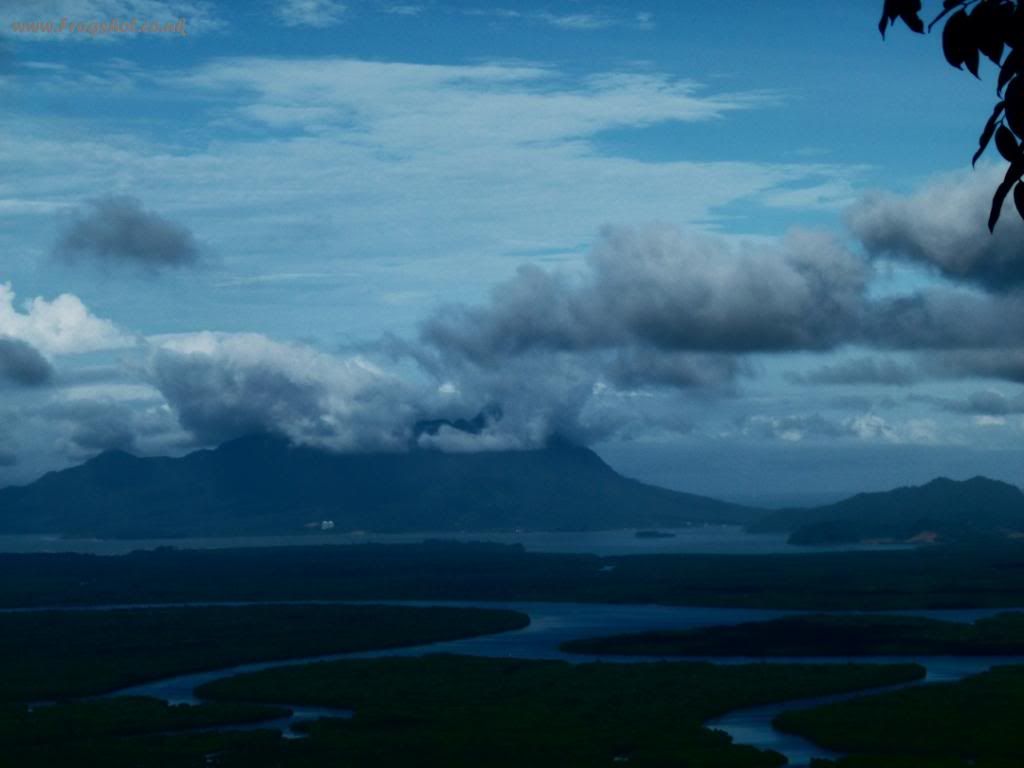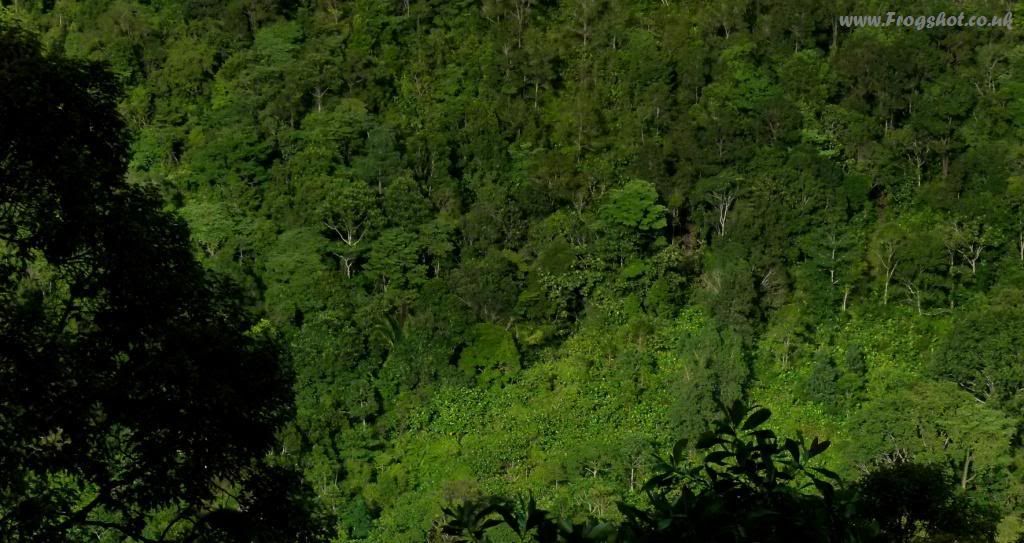 That evening we deicided to do some more herping and made our way down to the waterfall through about 2km of forest, another fantastic evening. We stopped off via the frog pond to see who was about, again not disappointed
A small
Tropidolaemus wagleri
on the hunt for frogs
The trail was pretty good for herps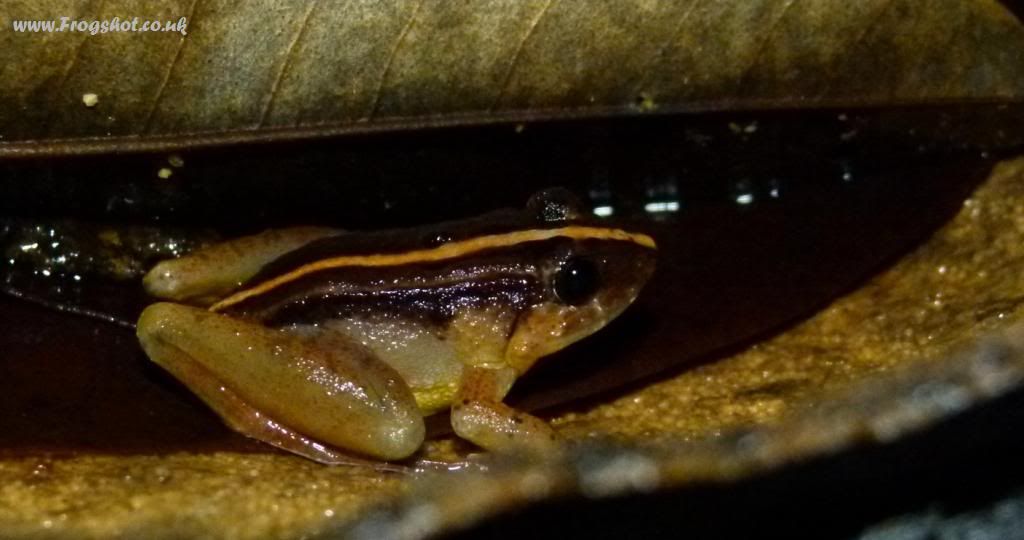 Limnonectes palavanensis
, another guardian frog. Eggs are laid in a terrestrial nest, the eggs are guarded by the males and when they hatch the tadpoles climb onto the males back and he carries them to a pool of water where they can continue their development, a great way to stop the eggs being eaten by aquatic predators.
Leptobrachium abbotti
were frequnetly encountered deoo in the forest in leaf litter.
The eyeshine gave away the presence off this tiny microhylid frog (
Kalophrynus
species), it was actually in a curled up leaf on the path
I was very surprised to see some mammals, the first creature crashed through the undergrowth a meter in front of me, it was so fast I failed to get a photo, but a fleeting glimpse gave its identity away, a long tailed porcupine. For something relatively small it made a lot of noise, our hearts were racing.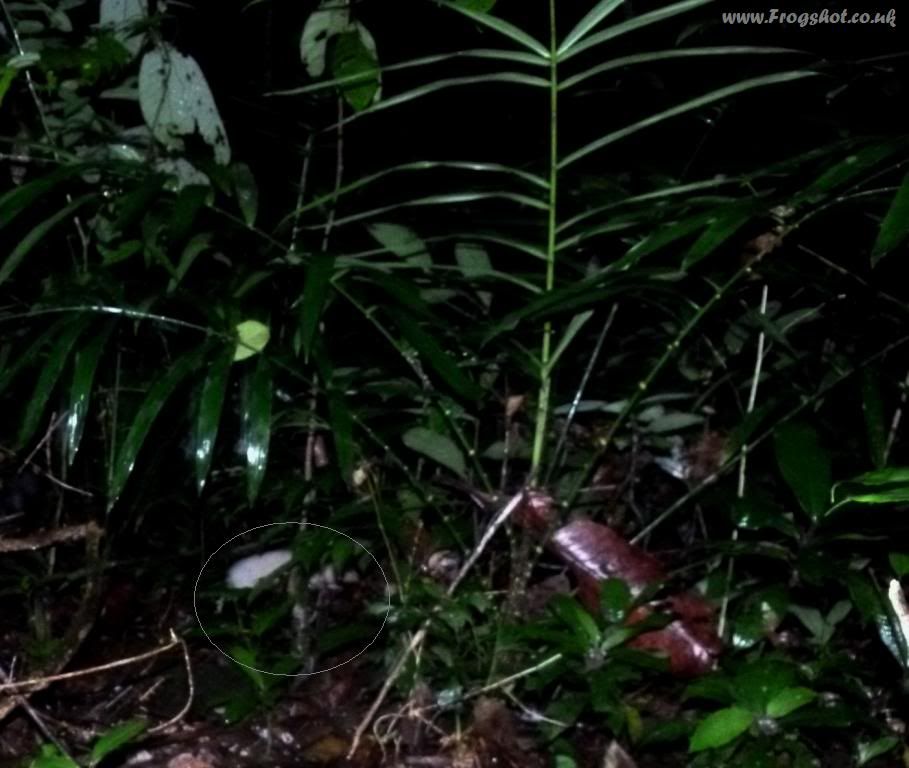 A little bit further on a white rodent scurried away, managed to get a photo of its arse as it disappeared into a thick stand of vegetation. The strong musty odour gave us no doubt we has seen a moonrat - great name for an animal and a species I have long wished to encounter.
There were also a few reptiles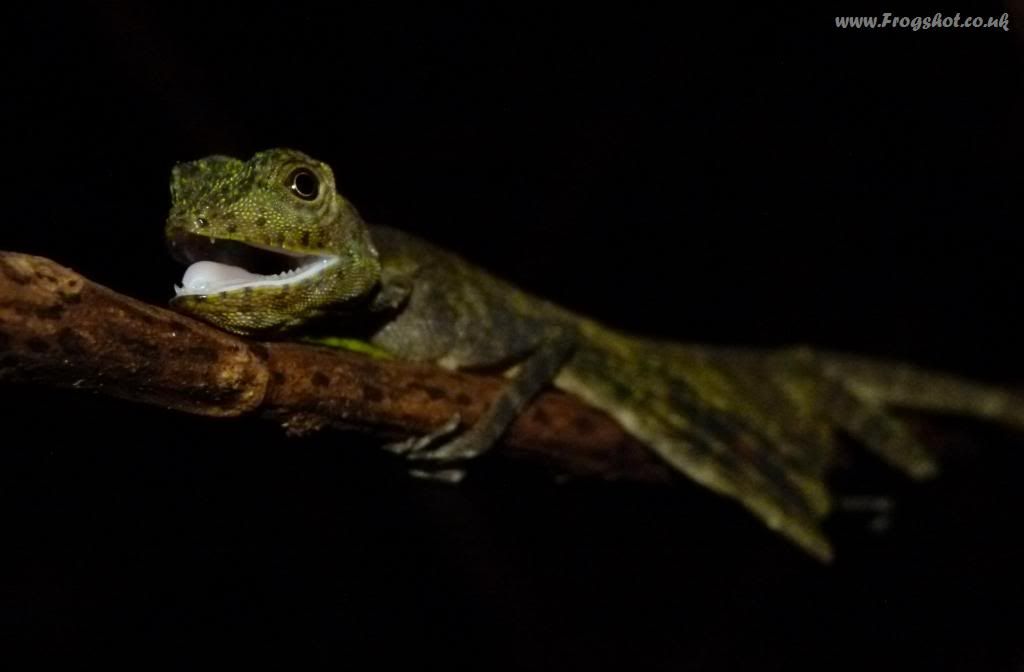 Draco
species, any help on an ID would be appreciated
A day gecko,
Cnemaspis species
, I was surprised at how conspicuous this lizard was sleeping out on the bowl of a large tree. Again any help on an ID would be appreciated.
We also spotted a huge nocturnal bird called a frog mouth sitting up high in the canopy. Judging from the movement of its eye shine it was equally as interested in us as we were in it and we half expected to be dive bombed by it at any minute.
The river was awesome and we spotted several more
Megophrys nasuta
calling from large boulders in the rapids, we also encountered juvenile
Gonocephalus grandis
sleeping soundly on vegetation overhanging the river.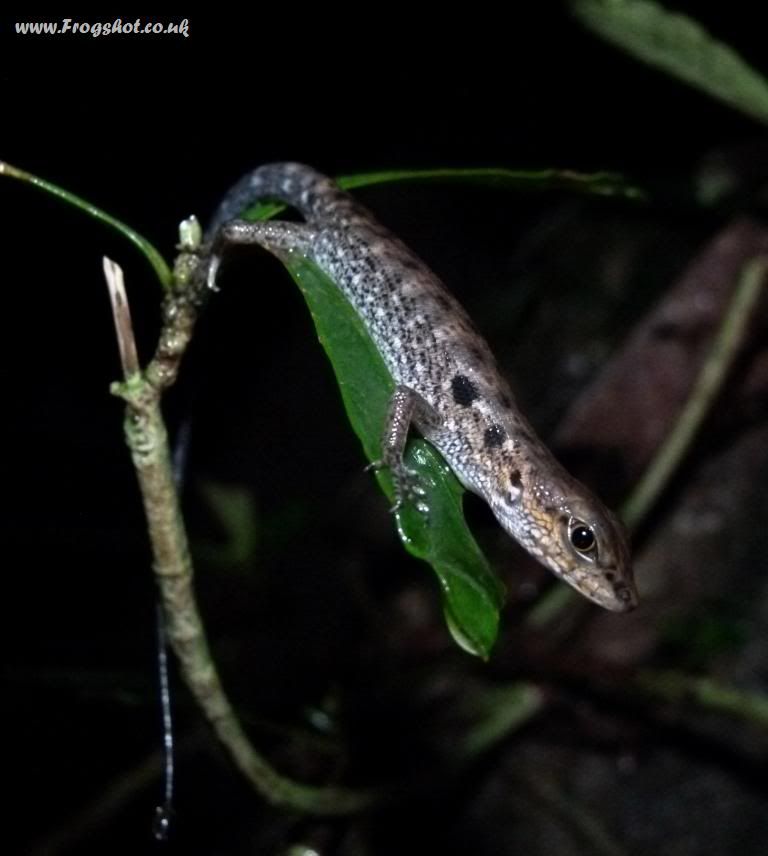 Troopidophorus beccarii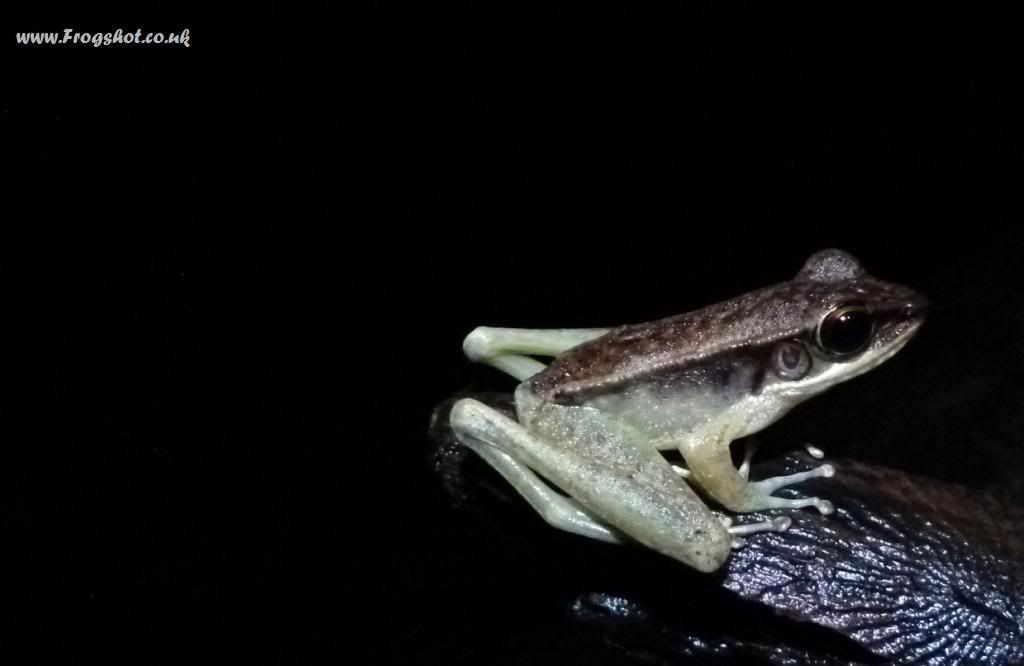 Meristogenys
species,
Meristogenys
are a genus of Ranid frogs endemic to Borneo, the adults and larva have morphological adaptations which allow them to inhabit fast flowing torrents. Any ideas on an ID?
I managed to get a quick shot of this large snake as it disappeared into the river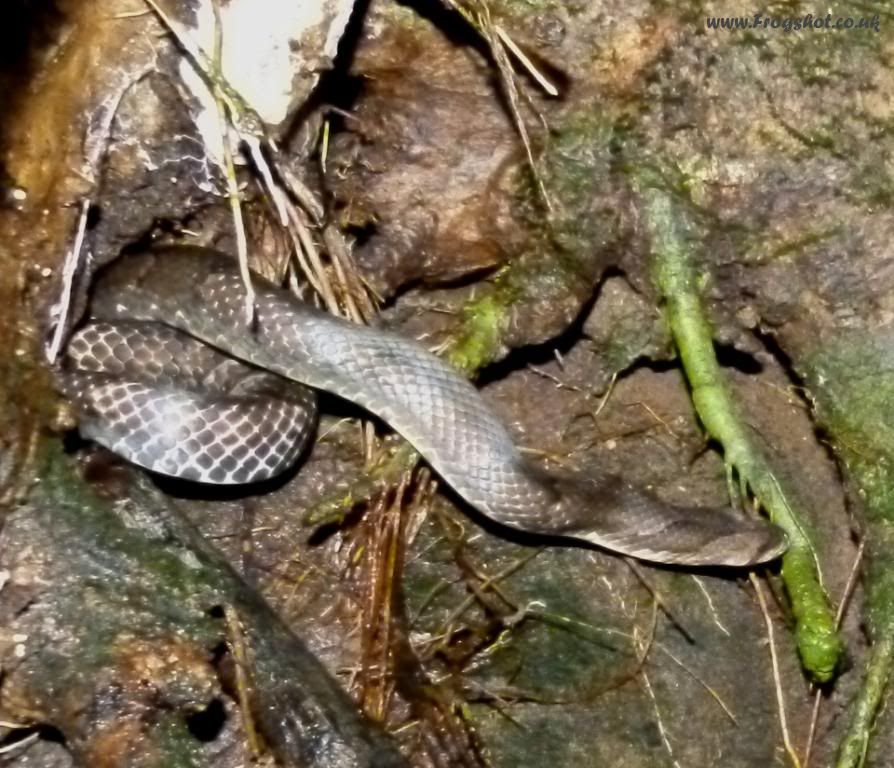 Tentatively ID'd as
Oligodon purpurascens
.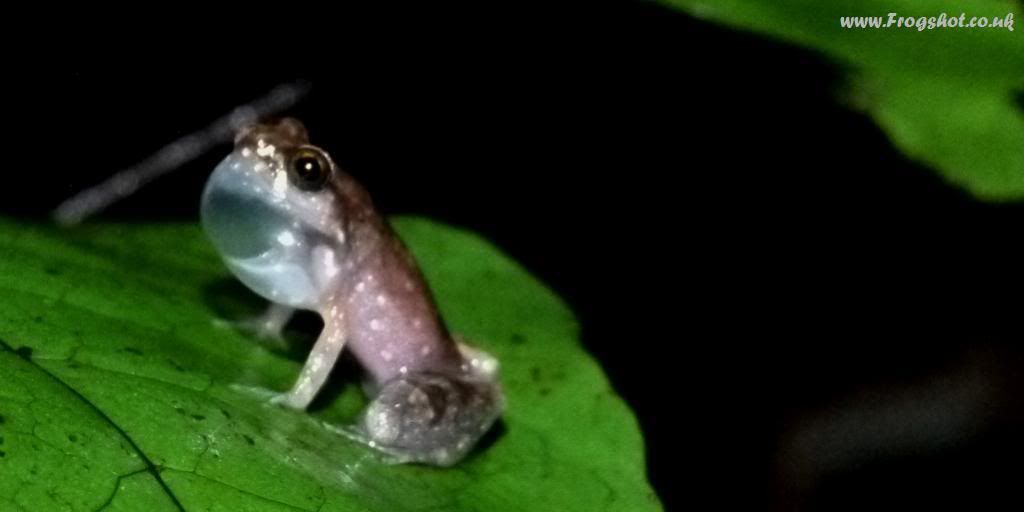 An irritating and incessant high frequency buzzing alerted me to these tiny Megophryid frogs,
Leptobrachella
species, another genus endemic to Borneo. The sound was very insect like and so it took me a while to even see these little frogs. They inhabited stocky little shrubs growing in areas of exposed shingle which were obviously prone to being washed out by floods. They are the smallest of the Megophryids measuring less than 25mm SVL. The species in the photograph are tentatively ID'd as
Leptobrachella mjobergi
due to the white glands.
We found one Ansonia (Tentatively ID'd as
A. leptopus
), it was perched on a small twig in the middle of a raging torrent.
The final herp of the evening was by far the best.
By far and away the most beautiful snake I have ever seen.
Amphiesma flavifrons
(Total length about 60cm) At the time I had no idea of the species and so I left it pretty much alone and took the photos of the snake as I found it.
A. flavifrons
are frog eaters feeding on frogs, tadpoles and frog eggs. They are endemic to Borneo.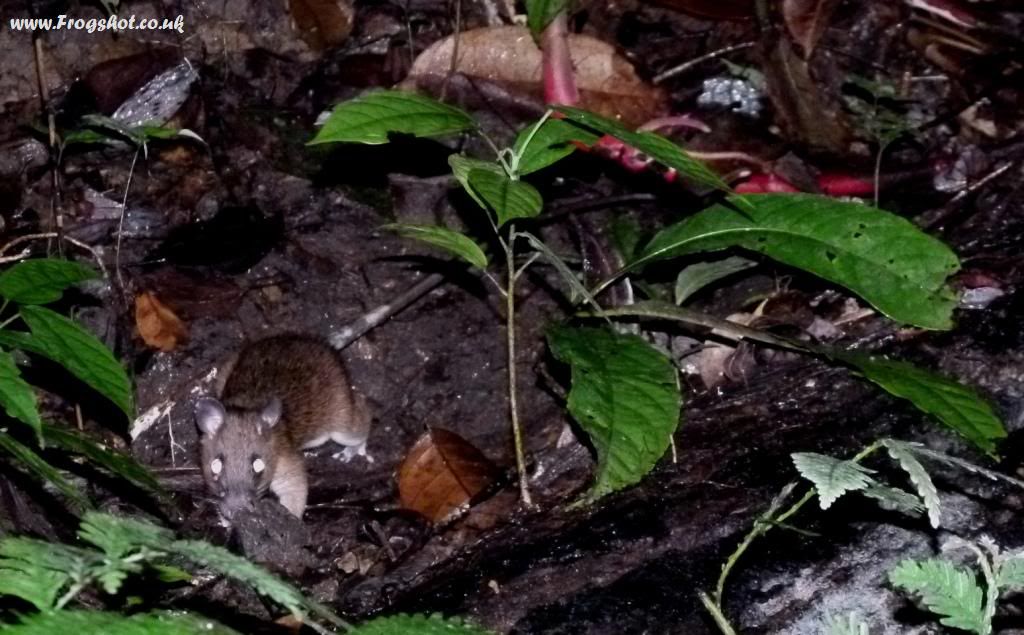 On the way back we found this rat.
The next morning we tried out another trail and we were well rewarded.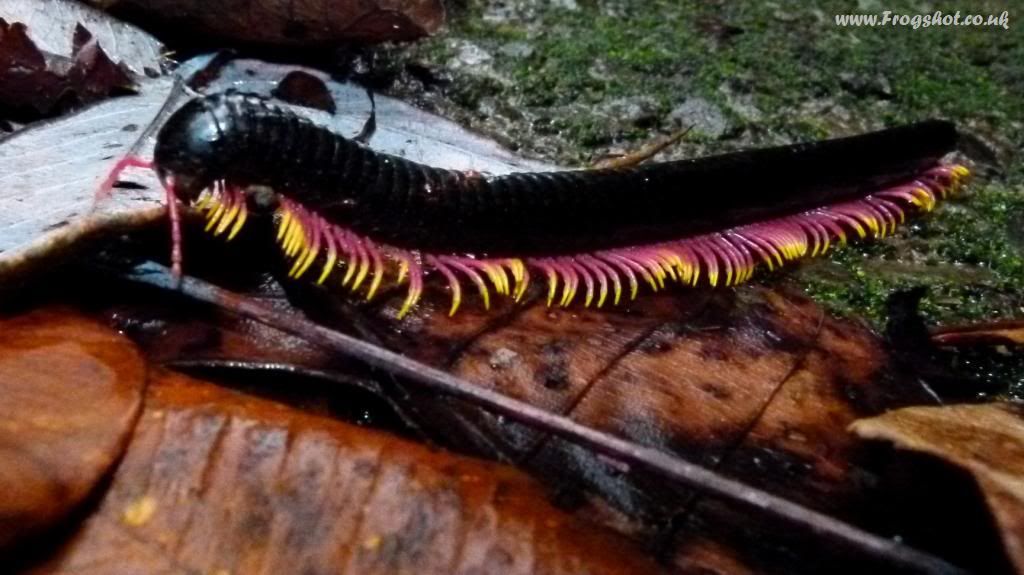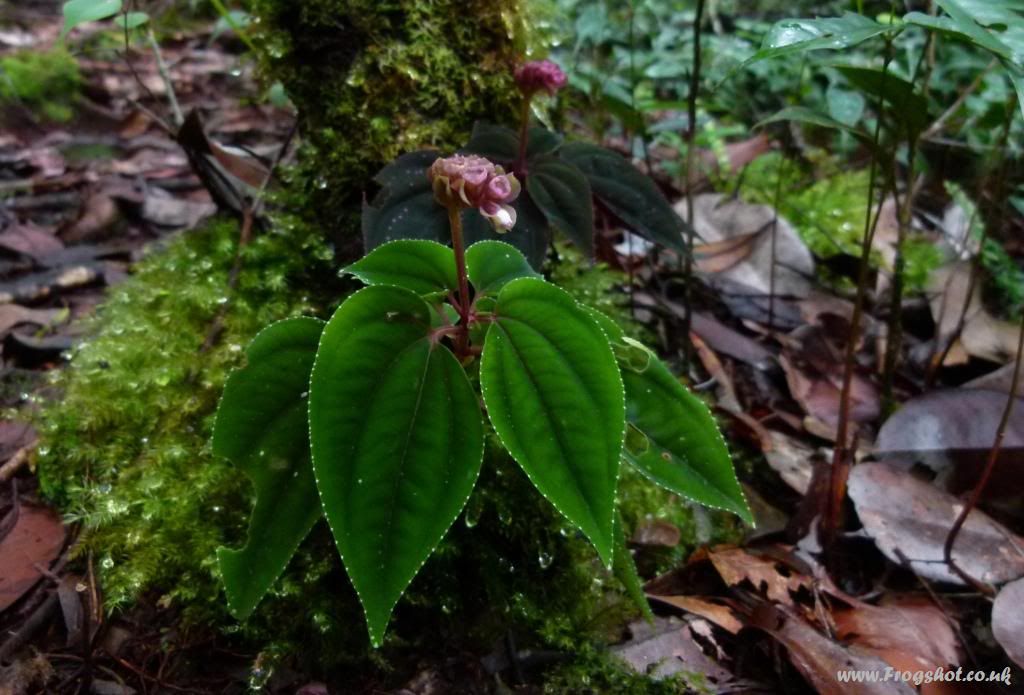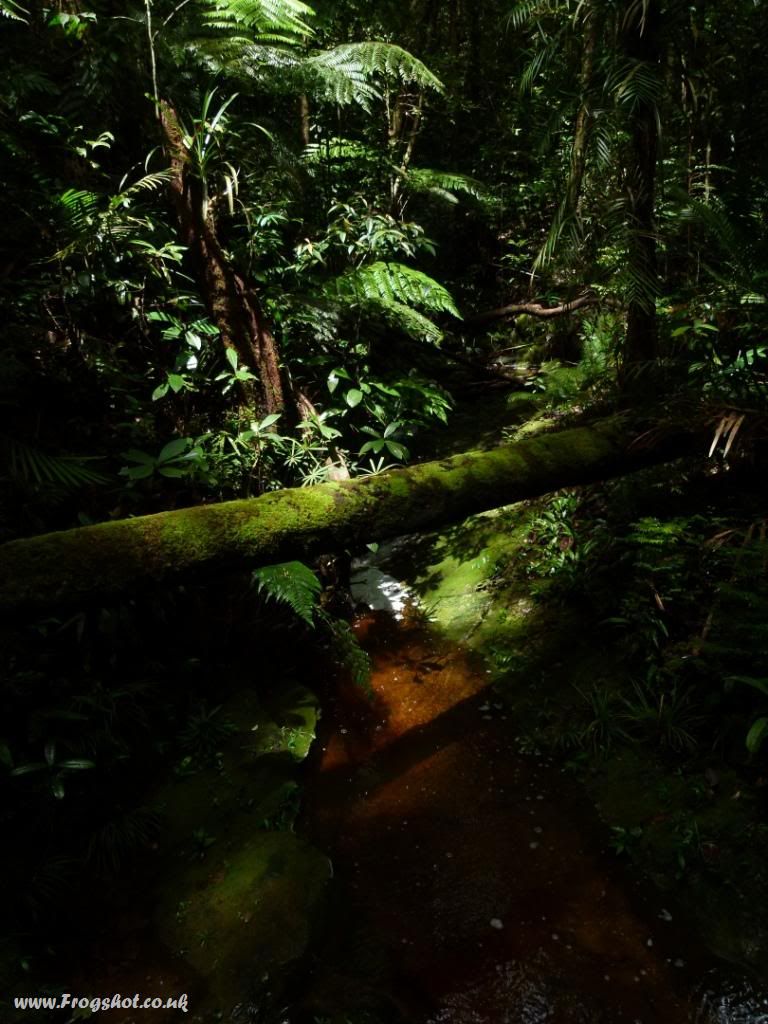 On the herp front we found several species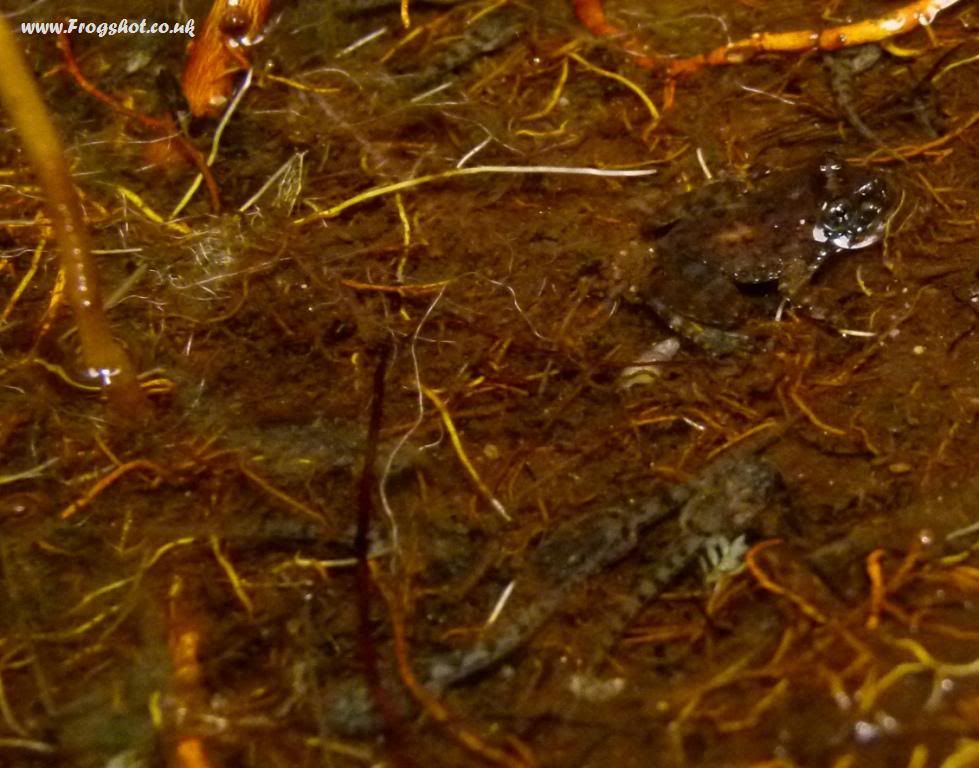 Occidozyga laevis
occupied a small seepage, note the tadpoles (not sure if they are
Occidozyga
tadpoles or not) in the second photo. I have read that the tadpoles are predatory and that they wait for their prey in shallow water that just covers the body so it seems likely that these tadpoles are those of
O. laevis
.
Further on we found a good patch of forest for
Microhyla
frogs, I would really appreciate an ID for this species, its colouration is stunning, never seen any
Microhyla
like it.
A well camouflaged
Ingerophrynus divergens
.
Draco
species - ID anyone?
Phoxophrys borneensis
, was sitting on a fencepost so still that I almost missed it.
Evening drew near and we prepared ourselves for the last night of herping in Borneo.
Weird bug.
It was a night for Ranids.
A huge
Hylarana picturata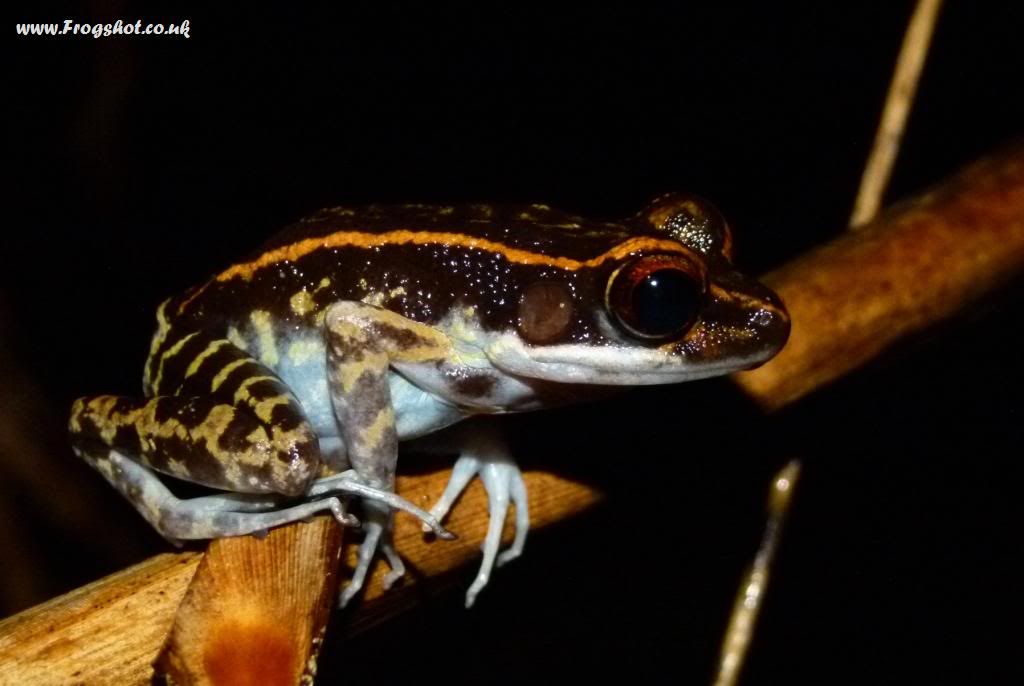 And very similar,
Hylarana signata
Hylarana erythraea
Hylarana baramica
add an atmospheric feel to our herping with their excited whooping calls.
Hylarana laterimaculata
, the first and only time I had seen this frog in Borneo.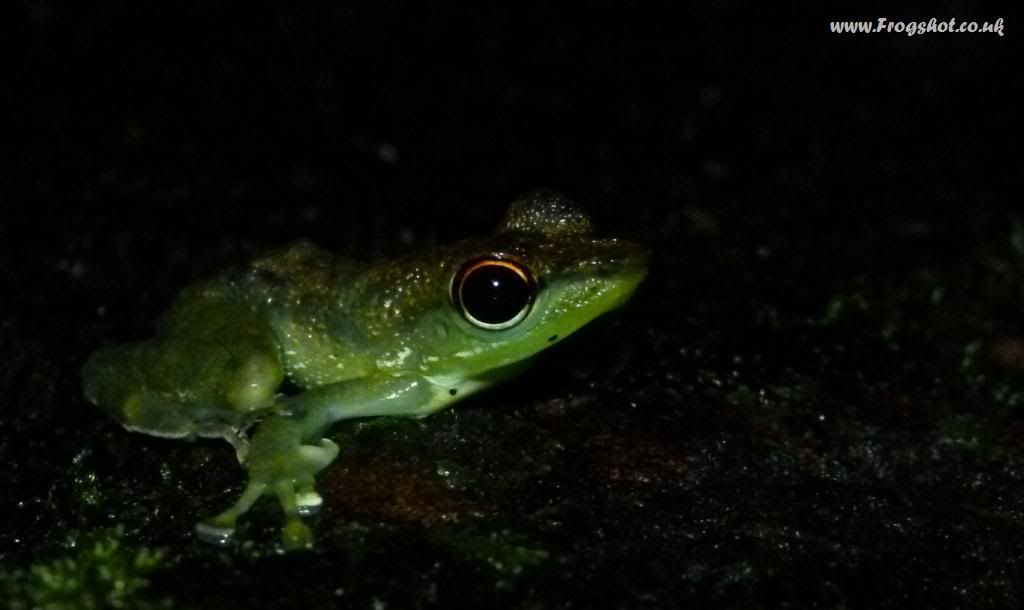 I explored a torrent beside the road, fell hard on my arse on some slippery boulders, the pain was worth it as I found this stunning male
Staurois natator
. Whilst I was walking back from the torrent (I was a little jumpy in the middle of the forest at night) a mouse deer ran out from under my feet, I let out an involuntary Ned Flanders scream and the mouse deer ran head first into the tree flipped up and landed on its back, I don't know who was more shocked.
I couldnt resist checking out a stream behind our room, I found a couple of calling Ansonia spinulifer, the novelty of finding these never wore off.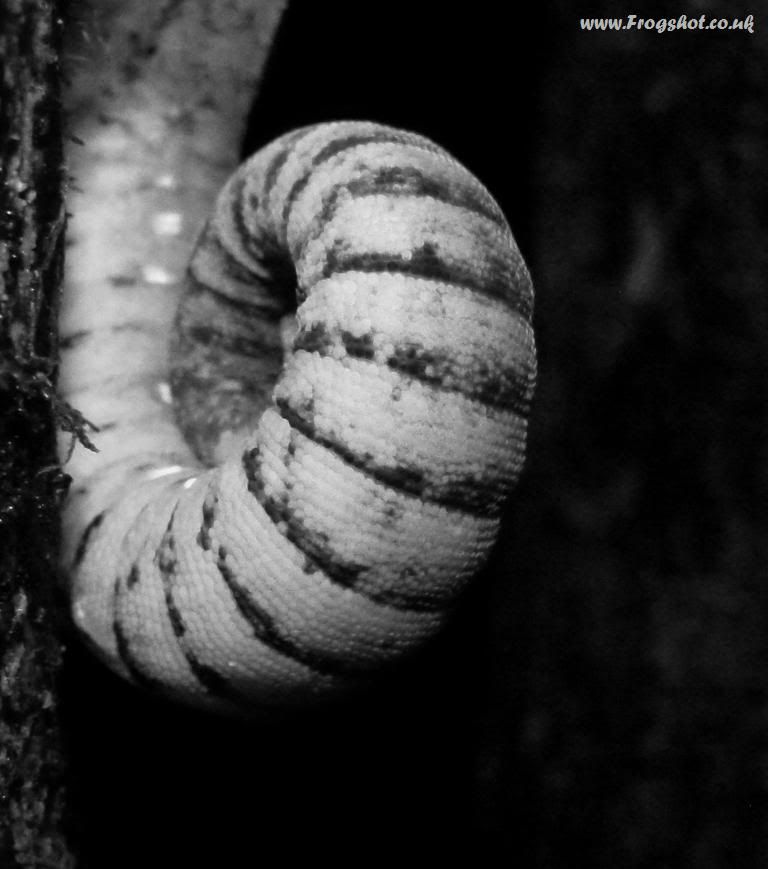 The final herps of the evening were a couple of Cat geckos (
Aeluroscalabotes felinus
).
Kubah had been a fantastic end to our journey in Sarawak and we felt as we had only just scratched the surface of what was to be seen in this small patch of forest on the outskirts of Sarawaks largest city. We could have stayed longer but the food was finished and the taxi was booked......
Kubah certaainly lived up to its name of the park of frogs and the reptiles were not bad either
.