With October just around the corner, it was time once again to head down to Snake Road to explore Shawnee State Forest. The weather was hot, often in the low 90s. It was humid and mosquito-ridden - but there were cool things to be found.
My 2018 trip started out much like my 2017 trip, with finding an Eastern Box Turtle crossing the street en route to Snake Road.
Prior to hitting the road, I investigated a creek and found this elegant Longtail Salamander.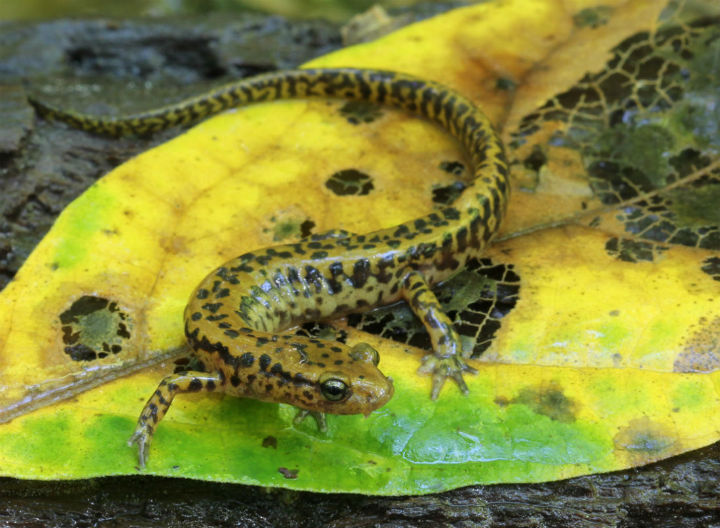 And not far away from it was this Cave Salamander. The two can sometimes be hard to tell apart, but the "herringbone" pattern on the Longtail's tail is a good way to differentiate the two.
Eventually I made it to Snake Road, a 2-1/2 mile stretch of dirt and gravel that's closed to automobile traffic during the spring and fall to allow snakes to migrate to and from their dens.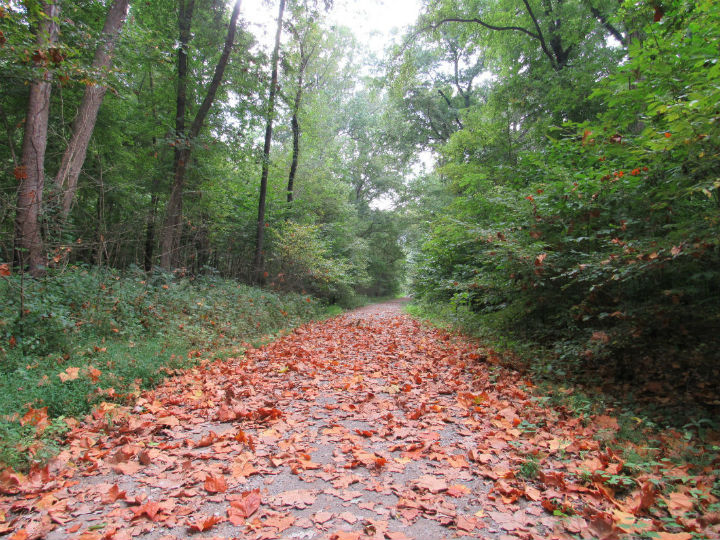 The first snake of the trip was this Cottonmouth, which did not hesitate to illustrate how the serpent received its common name.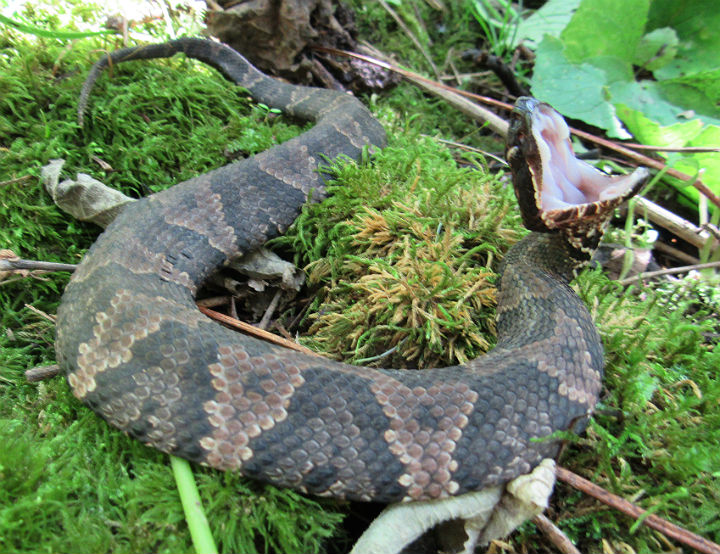 Bess Beetles were sometimes seen crossing the road as well and tending to their grubs under logs.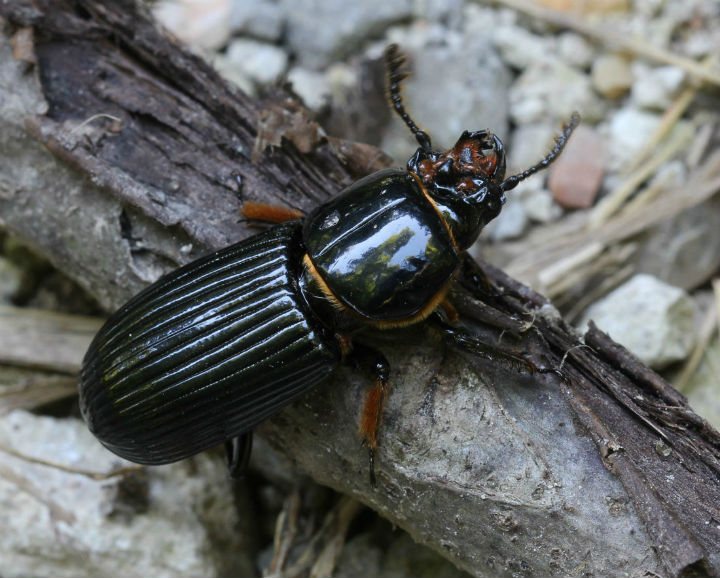 The snake that I wanted to see the most was a Red Milk Snake. I had only seen one in the wild before and as luck would have it, this one was crawling along the trail.
In 2017 it was quite dry at this time of year in southern Illinois, but in 2018 Hurricane Florence brought much rain to the area, allowing many types on fungi to flourish, like this Turkeytail.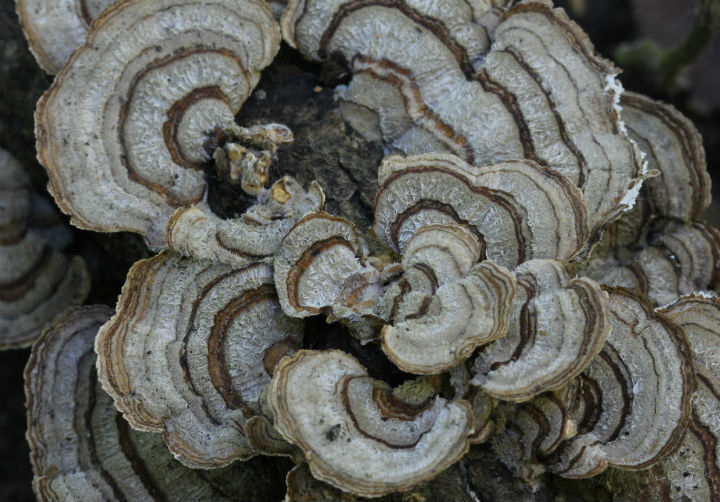 A Yellowbelly Water Snake, this particular type of water snake is often found a surprisingly far distance from water.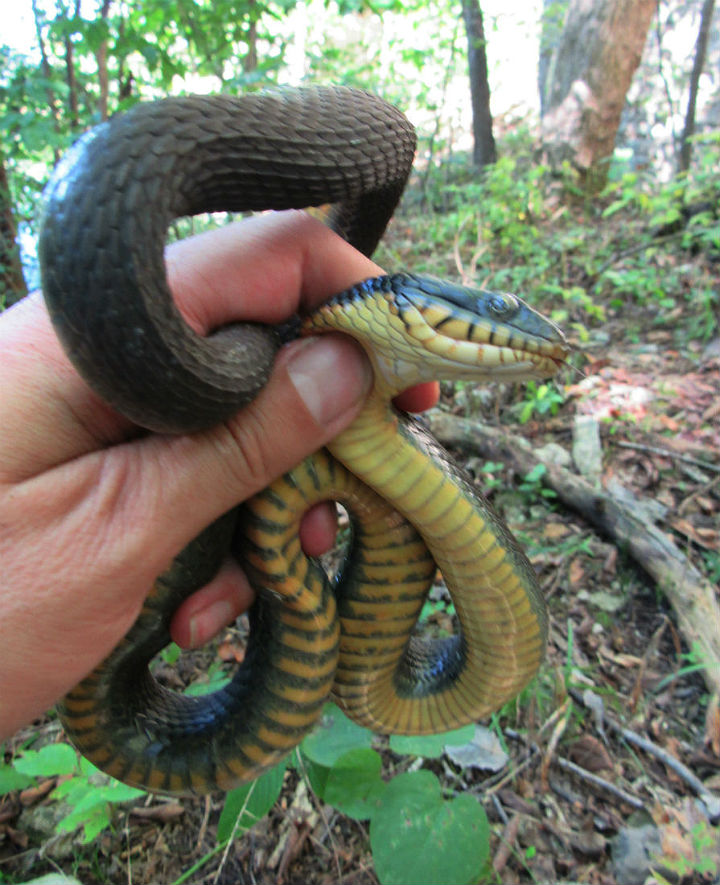 Many types of butterflies were out, such as this Question Mark.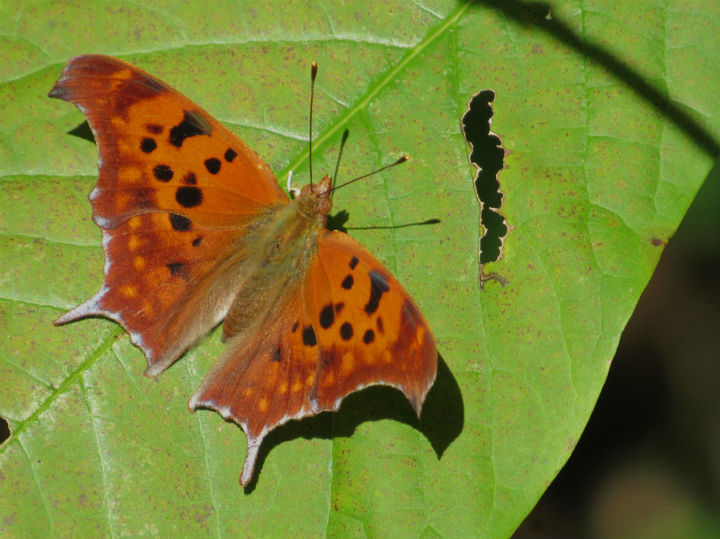 As with previous trips, Cottonmouths were the most frequently seen snake.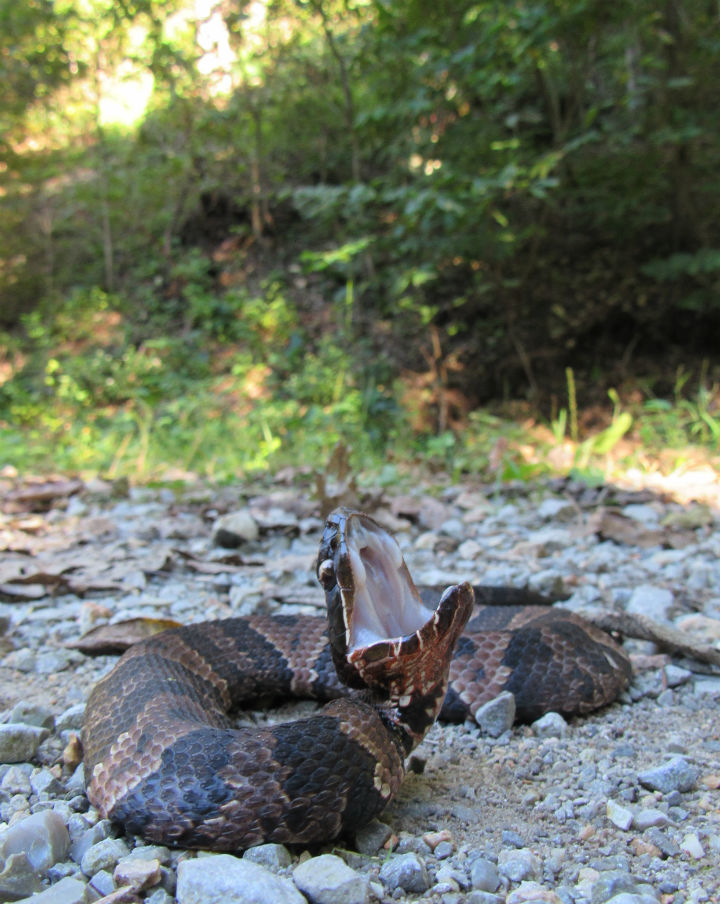 A view of the swamp that borders Snake Road.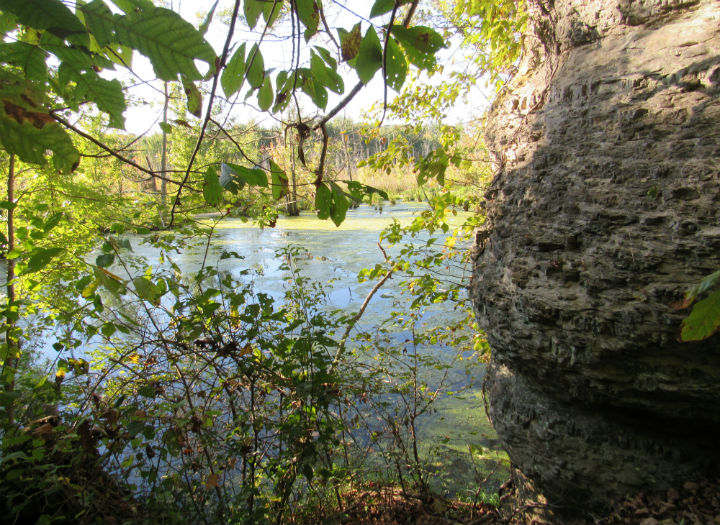 I found a total of five Copperheads on the trip - this was the first one. Its heat-sensing pit is clearly visible between its eye and its nostril.
The bugs were so bad they were even biting this Green Frog.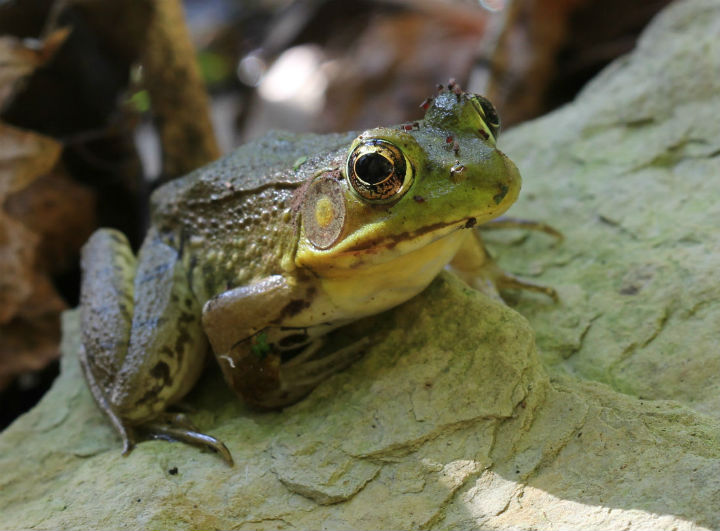 A Cottonmouth doing what they often do, resting at the base of the limestone bluff that serves as a hibernation den.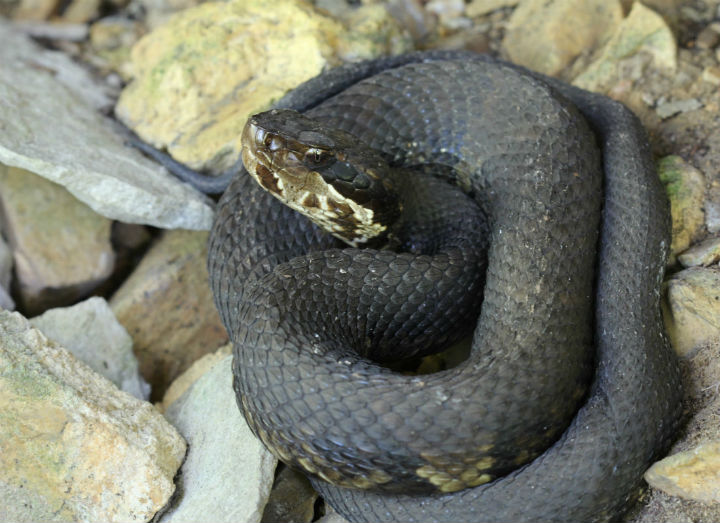 Central Newts were encountered on a regular basis.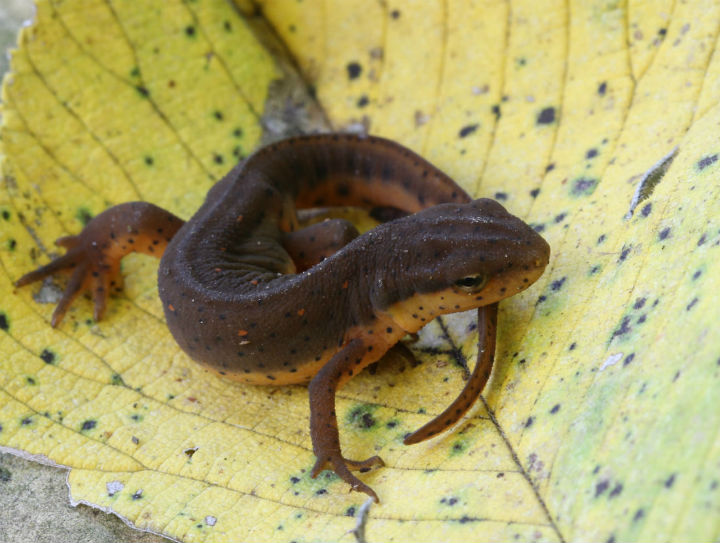 Rough Green Snakes were especially common on this trip, here's a young one that I came across.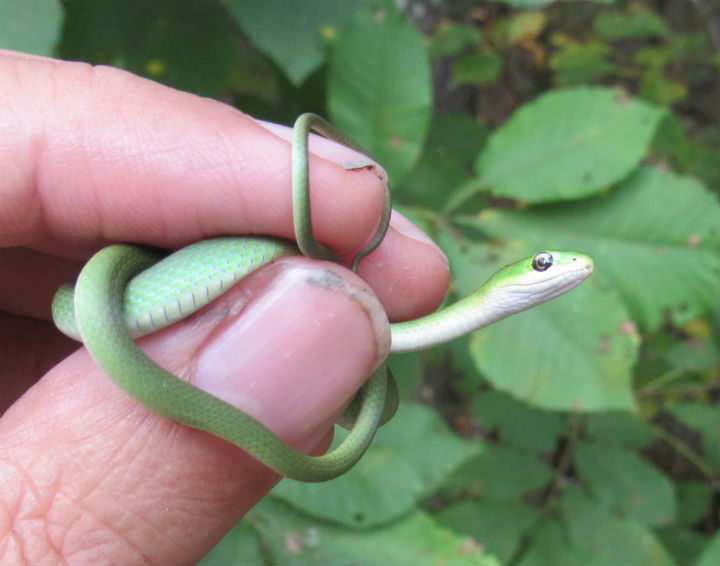 That night I went driving to see if there were any reptiles on the road.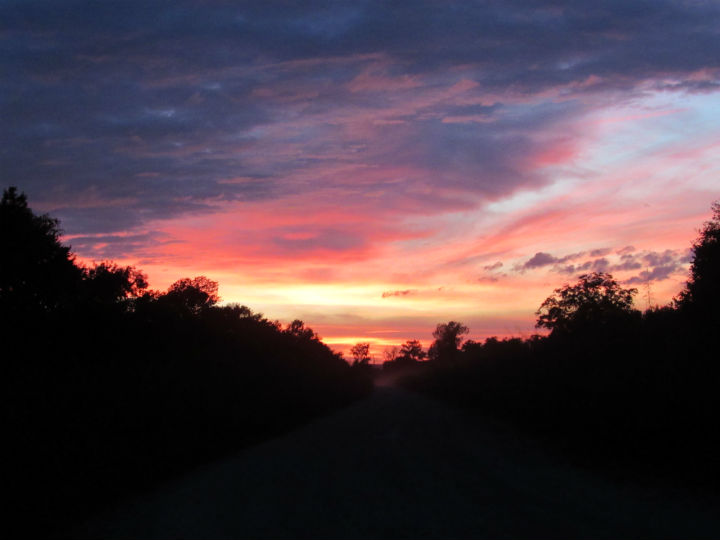 Although this dude appeared to have scales, he was not a reptile.
A late night Copperhead.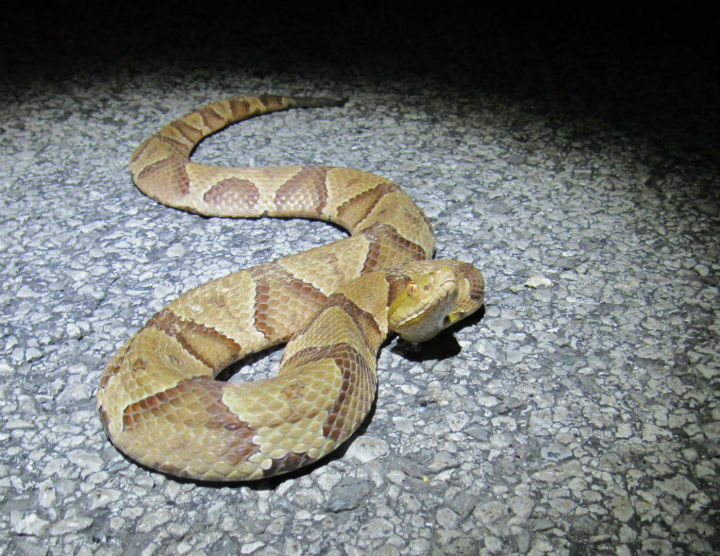 The following day I decided to check out this river.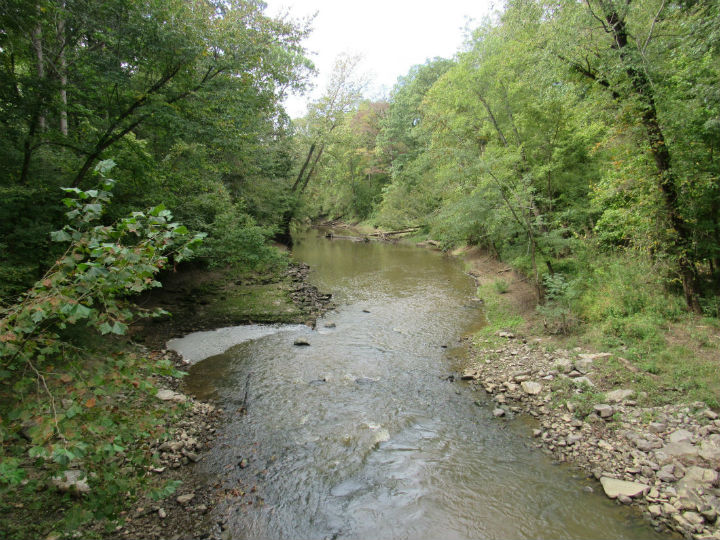 An old looking Cottonmouth that still retained much of its juvenile pattern.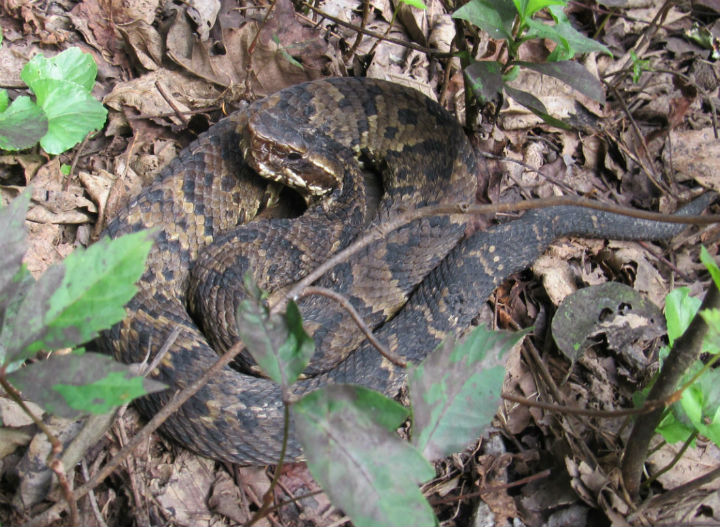 One of the most common amphibians that I saw wherever I went were Cricket Frogs.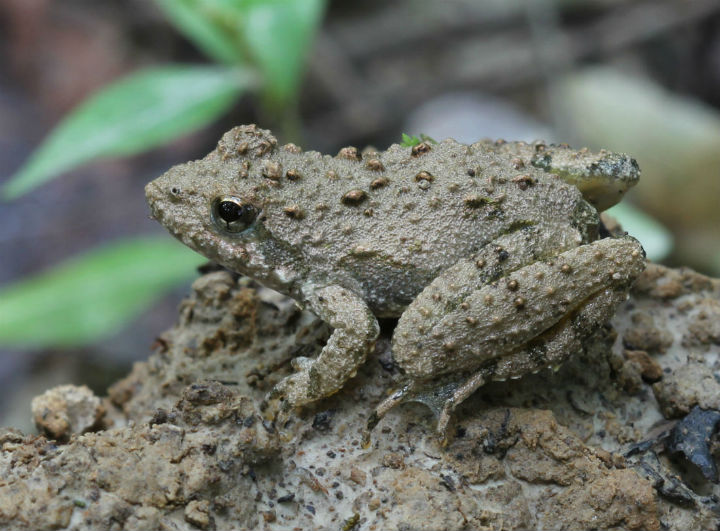 A very large group of Jack-O-Latern Mushrooms which have bioluminescent properties (they actually glow in the dark).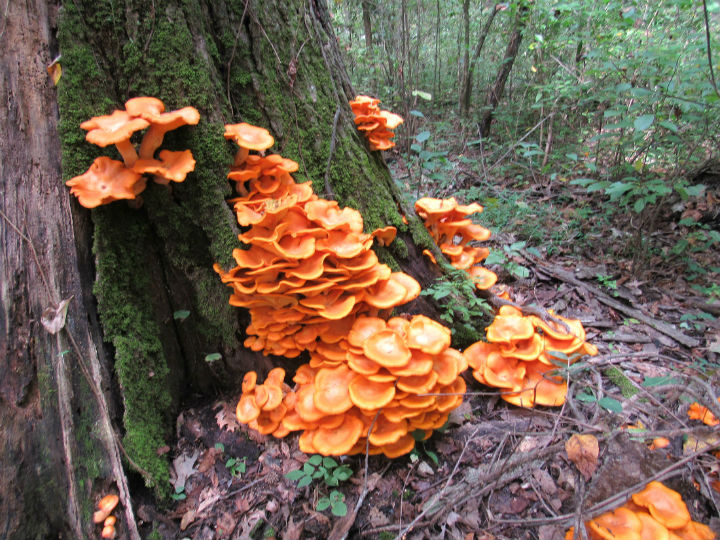 The most commonly seen turtles were Red-ear Sliders.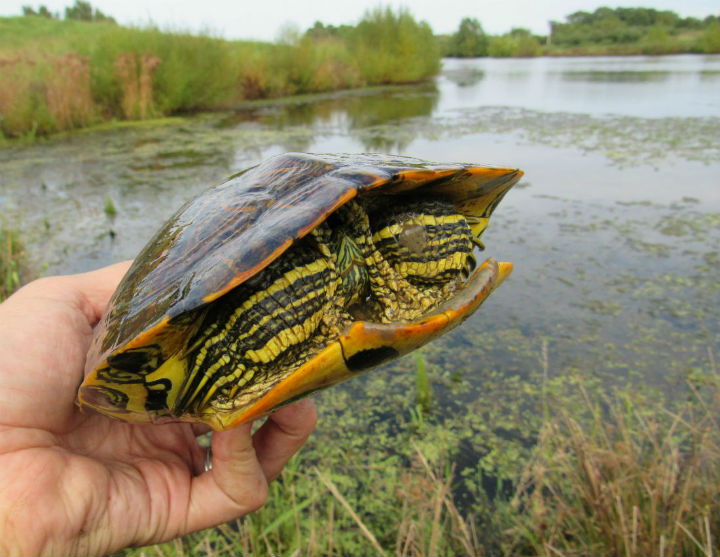 A Crab Spider on White Snakeroot, a wildflower that was commonly seen along hiking trails.
This male Eastern Box Turtle was probably the largest I've ever seen.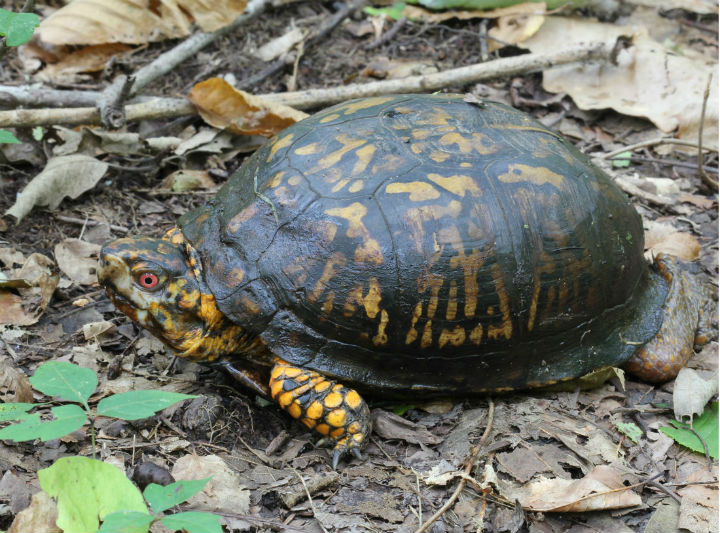 Amphibians were abundant in the swamp near the river, with Leopard Frogs being the most conspicuous.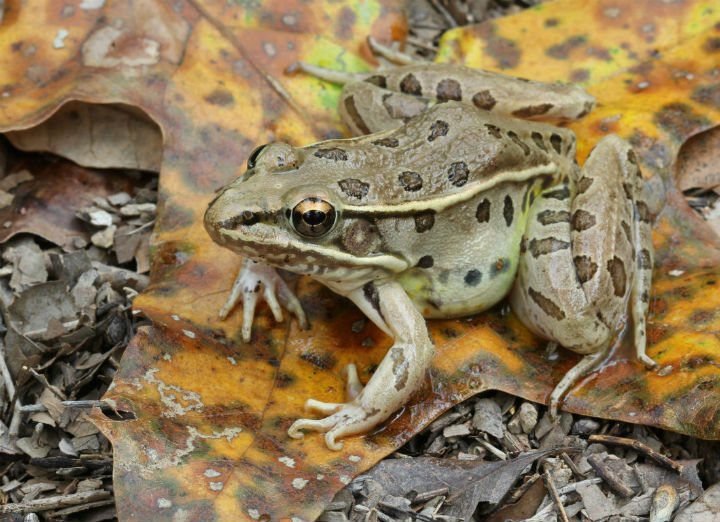 No two are alike!
Crayfish.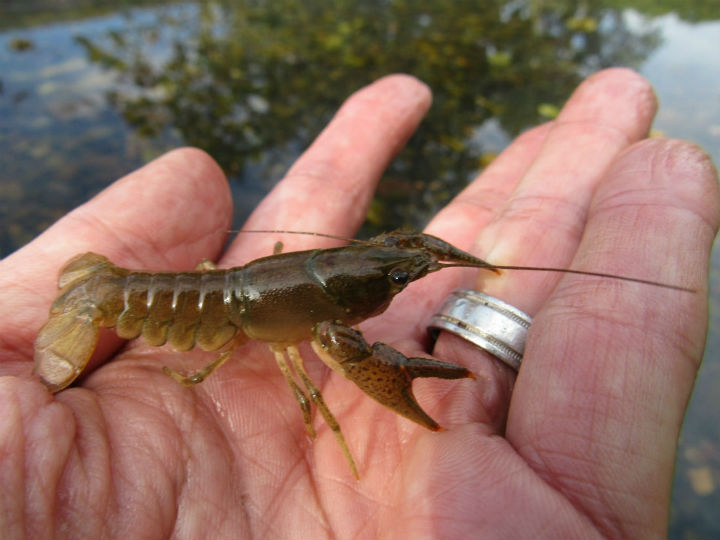 Mole Salamanders have a stocky appearance with a large head and seemingly small legs, kind of like an English Bulldog.
Rabid Wolf Spiders were in no short supply, their eyes reflected the headlights of my car when I drove little-used roads at night.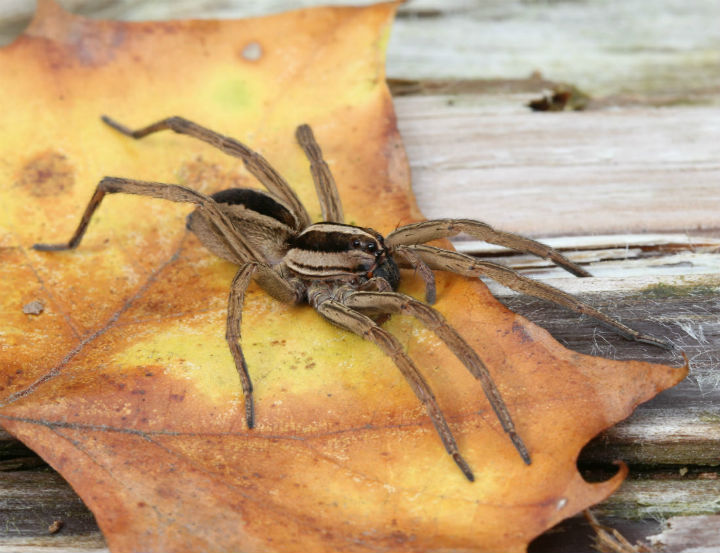 A Slimy Salamander looking majestic.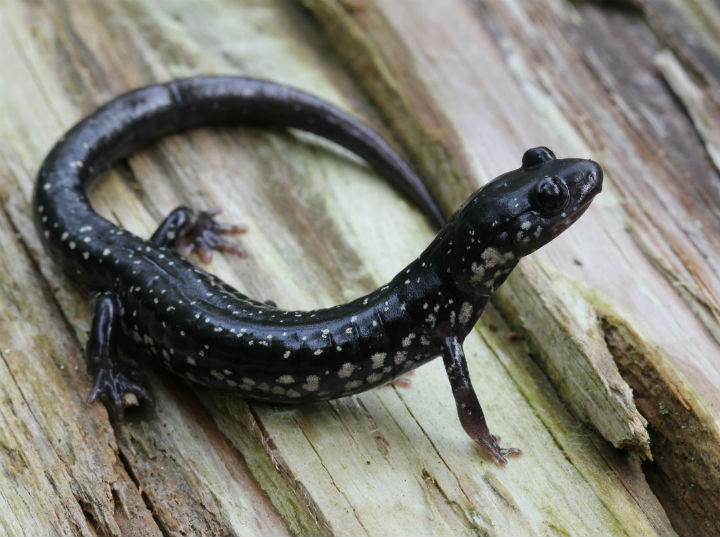 Another commonly seen wildflower was Phlox.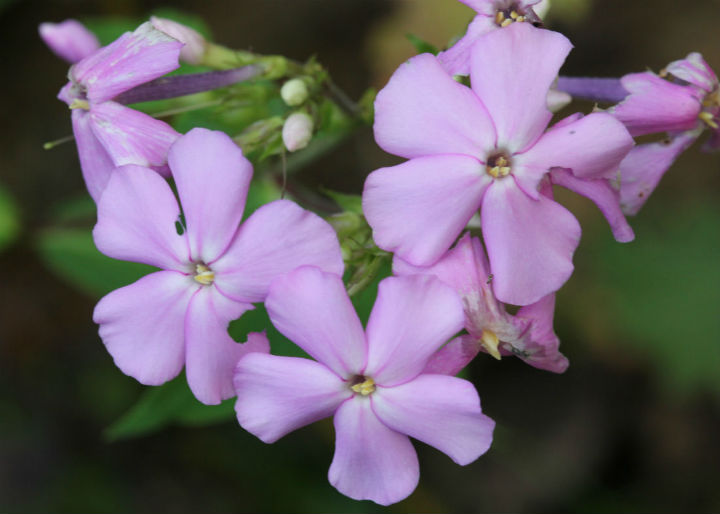 One of the two Marbled Salamanders that I found on the trip.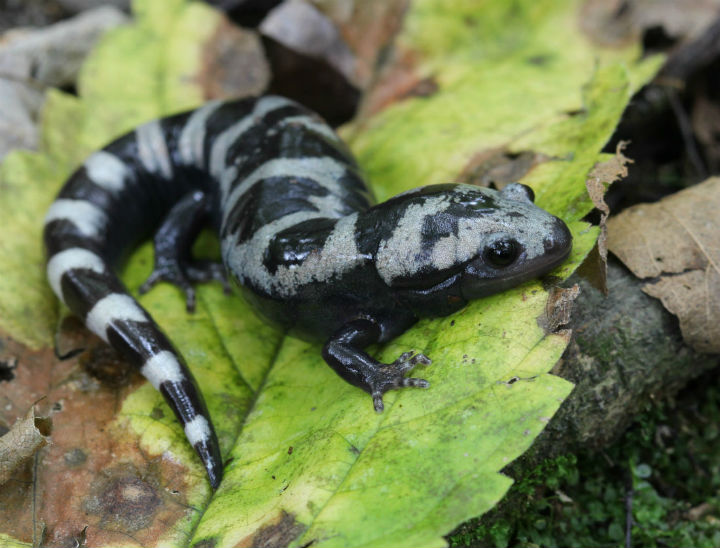 A Cottonmouth saying "cheese" for the camera.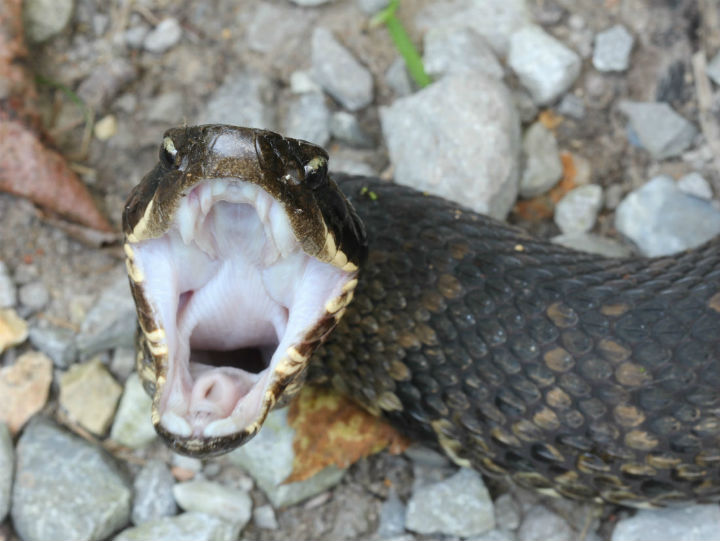 American Toad.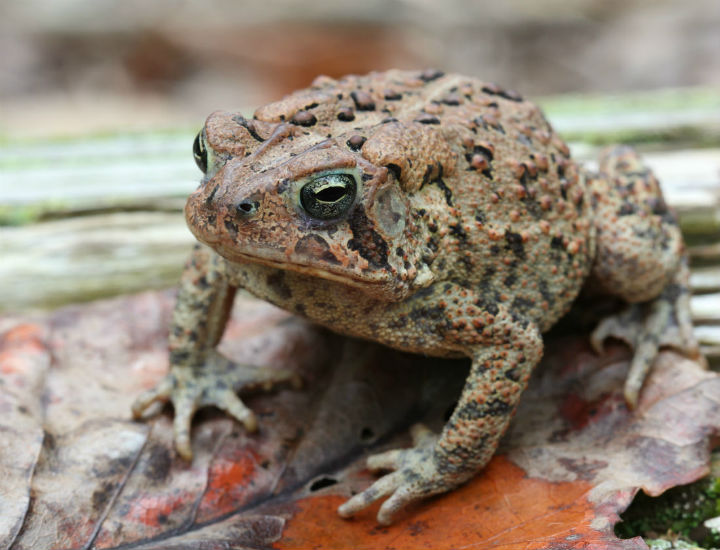 American Bullfrog.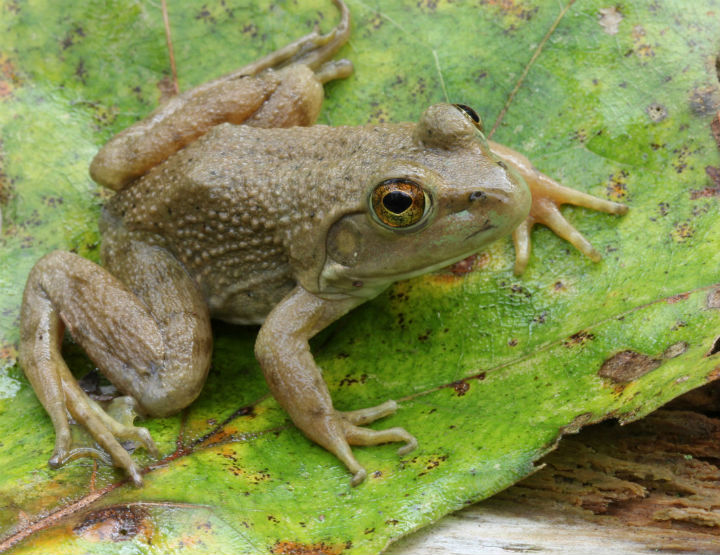 American Giant Millipede.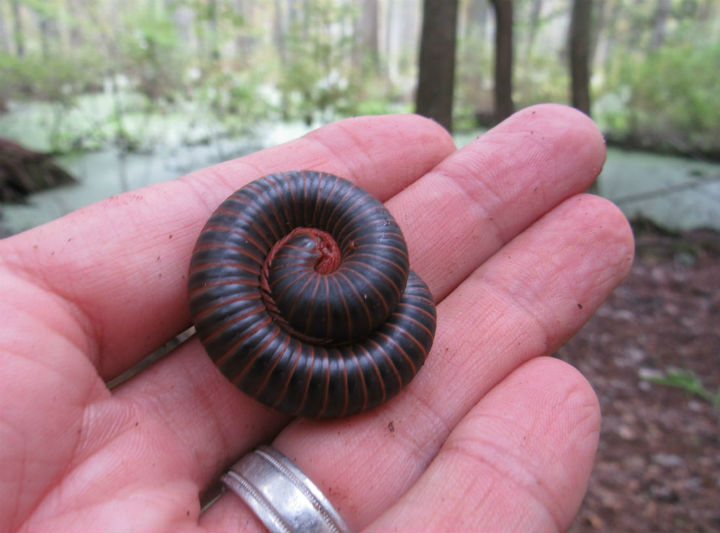 Orange Mycena added some brightness to an otherwise dark woodland swamp.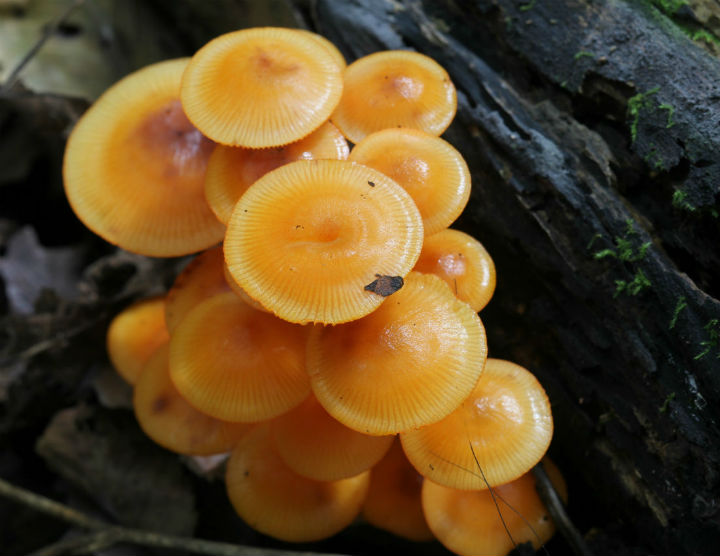 A juvenile Cottonmouth still sporting a bit of yellow on the tip of its tail.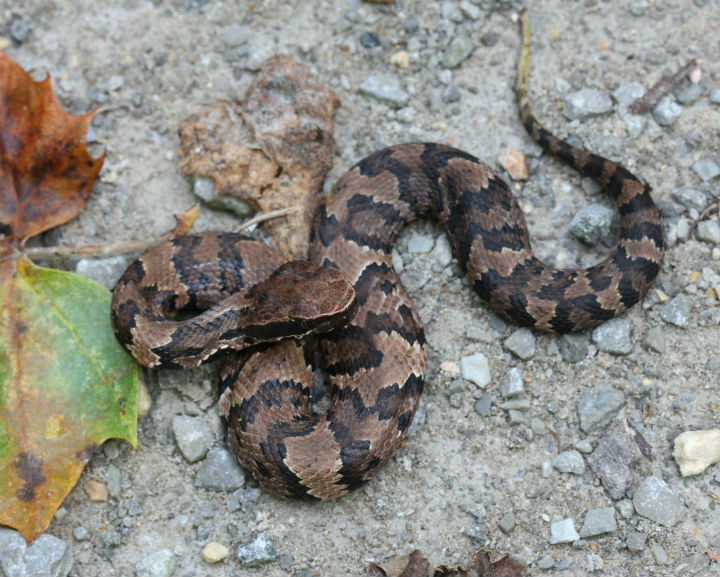 The cypress swamp adjacent to the river.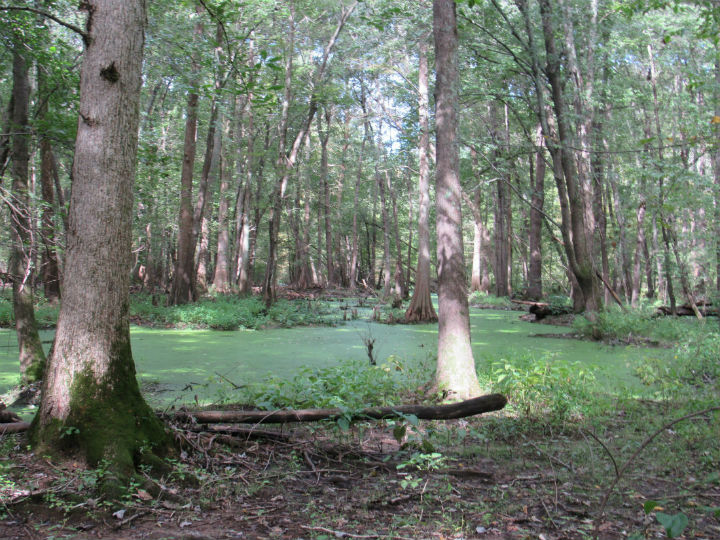 One of the most handsome snakes in the land - Copperbelly Water Snake.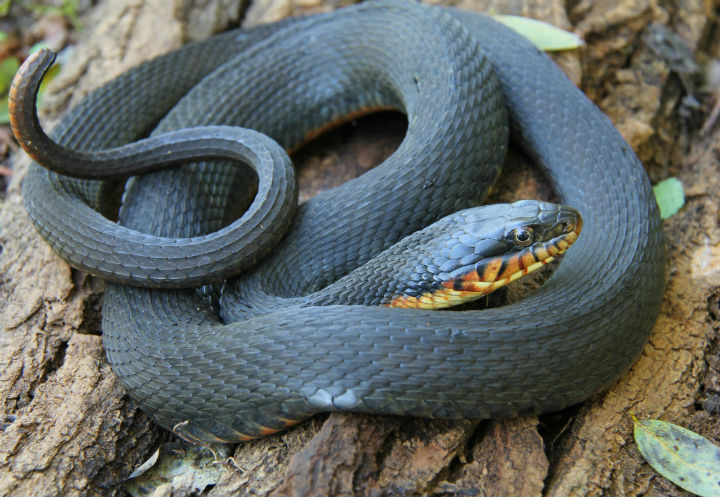 A brown cone-headed Katydid pretending to be a leaf.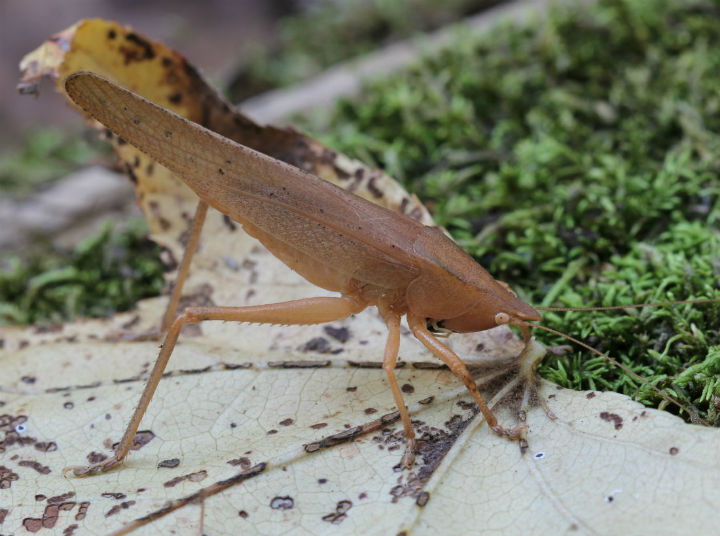 On the following day I visited this place with impressive natural rock walls.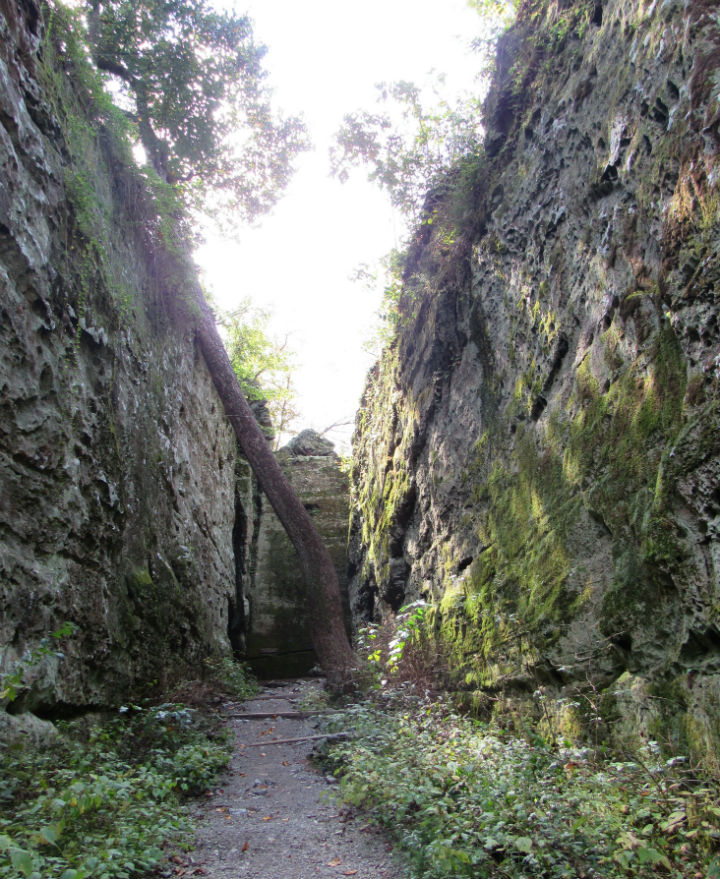 I found two examples of my favorite snake - Black Rat Snake.
A nice-sized Fishing Spider.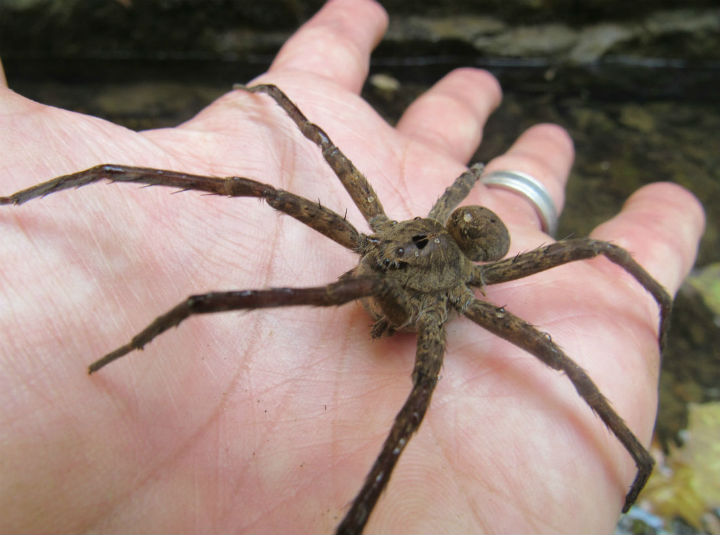 A handful of Western Ribbon Snake, which is kind of like a more slender, more aquatic version of a garter snake.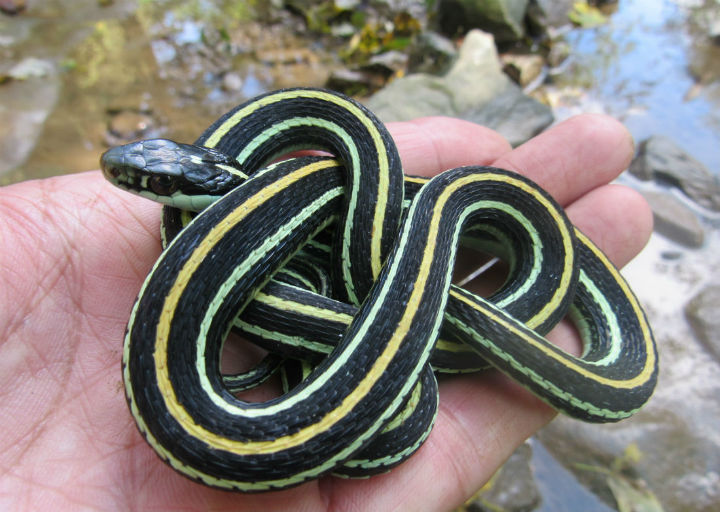 Cricket Frogs in this area can sometimes have an attractive green coloration.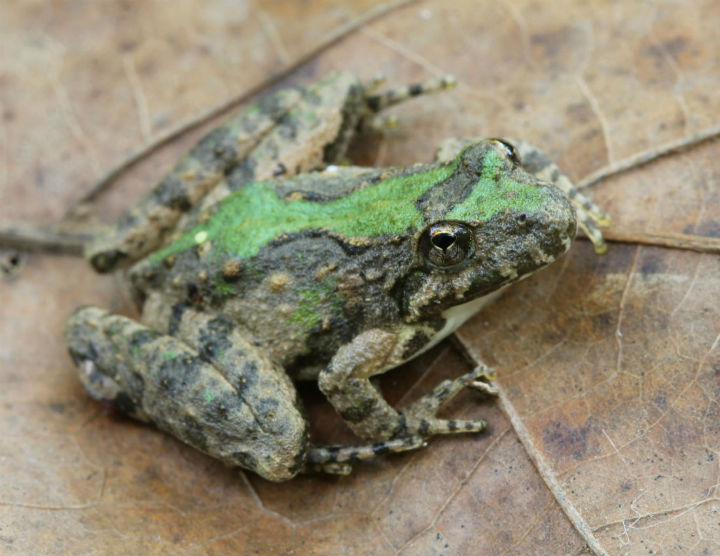 A baby Black Racer, by far the speediest snake in the land.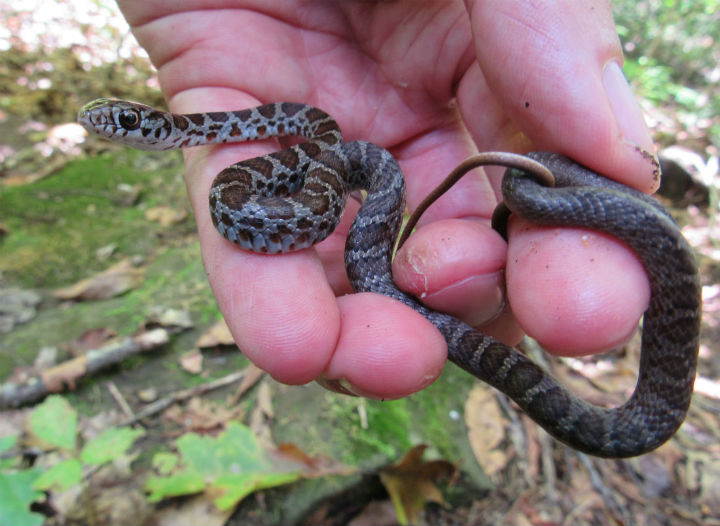 Sign of the times.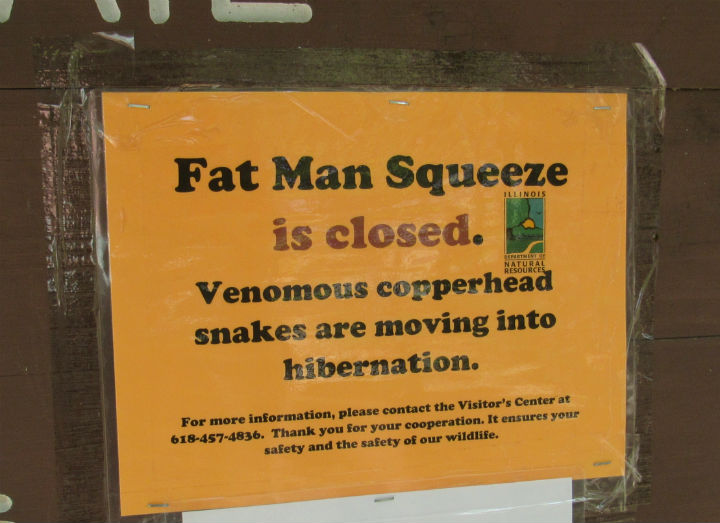 Black Rat Snake.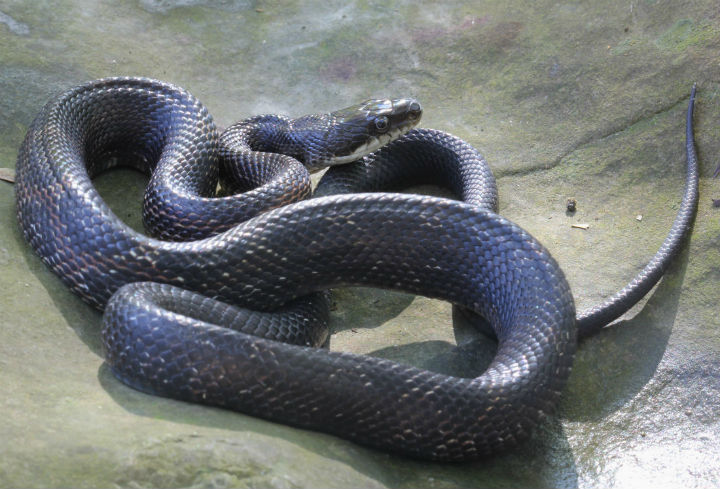 This was the only Fowler's Toad that I saw on the trip.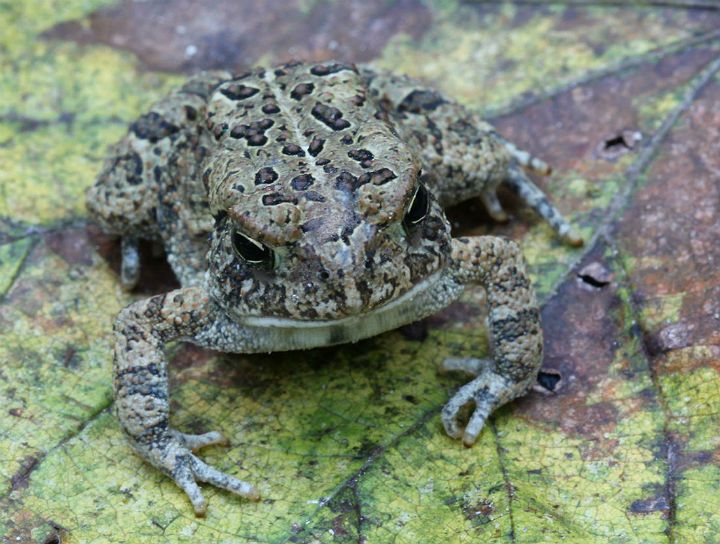 One of the two Eastern Garter Snakes that I found.
Green Frog.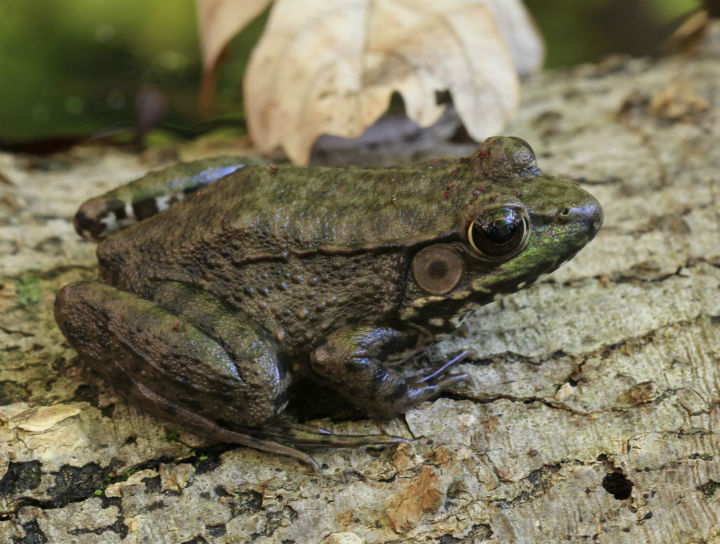 Green Treefrog.
A sharp looking Western Ribbon Snake.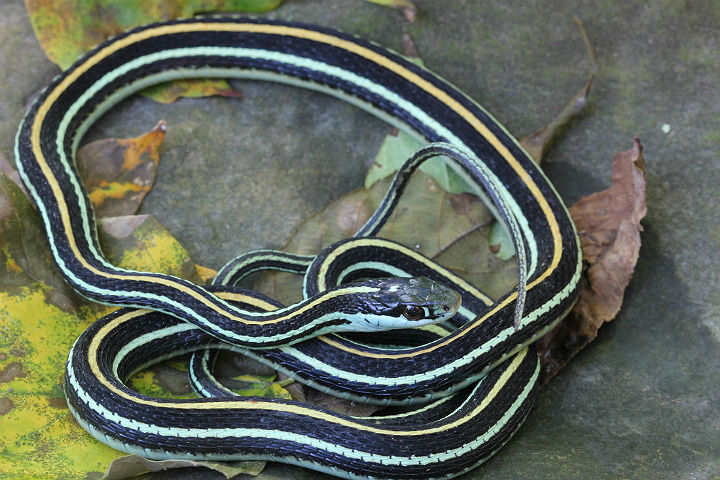 Here in Ohio, I enjoy finding Spotted Salamanders in the springtime; but I also enjoy a second opportunity to see them in the autumn in southern Illinois.
The next day I decided to check out this lake which I had never been to previously.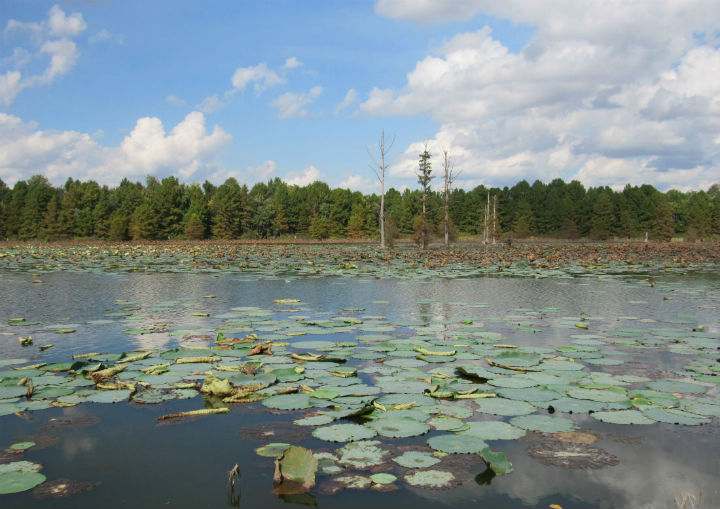 On the way I stopped to help a turtle cross the road, but it turned out to be a discarded breakfast sandwich.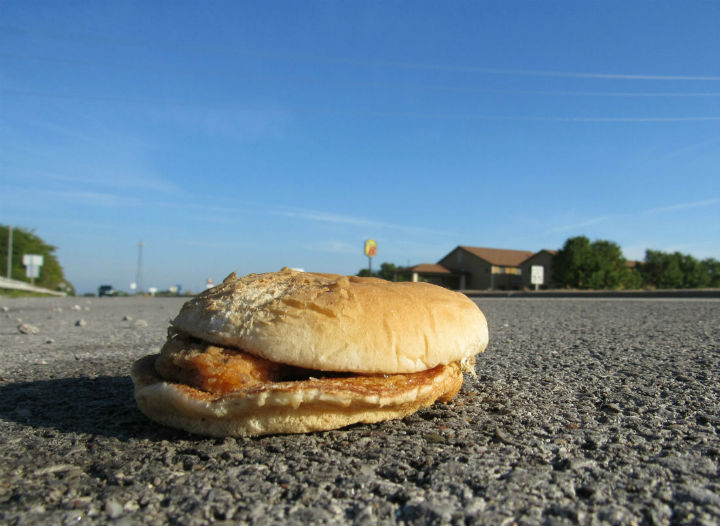 I did get to see some turtles though, like this Red-ear Slider.
And these Midland Painted Turtles.
Great Blue Heron.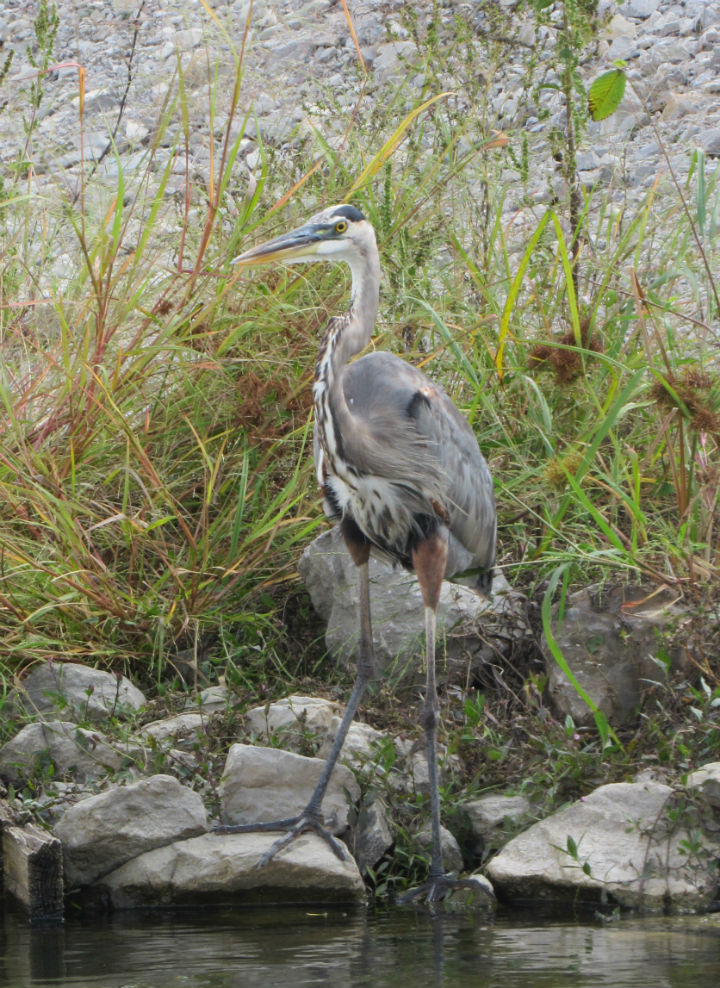 It was fun to come across several of the smallest reptiles in North America, Little Brown Skinks (aka Ground Skinks).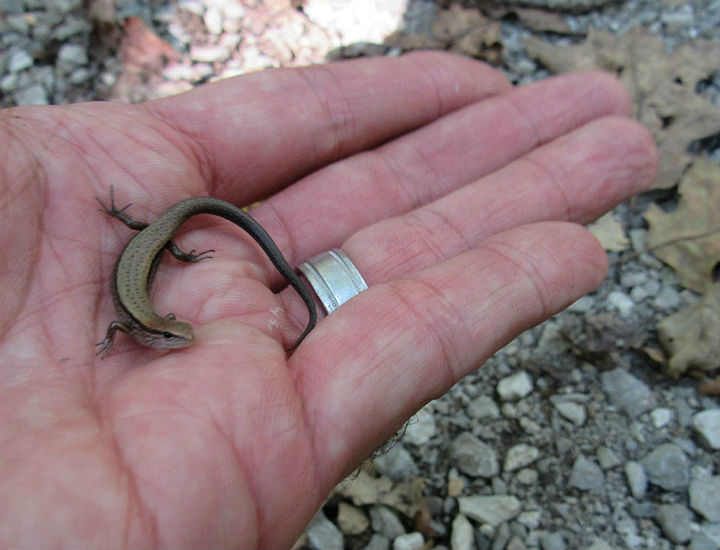 Buckeye Butterfly.
A Cypress Swamp that was near the lake.
There were a number of Midland Water Snakes "periscoping."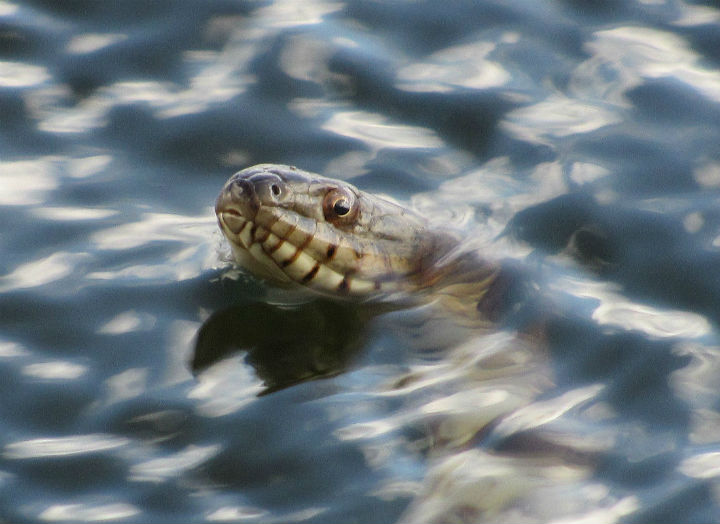 Ground Beetle.
A group of melanistic Red-eared Sliders.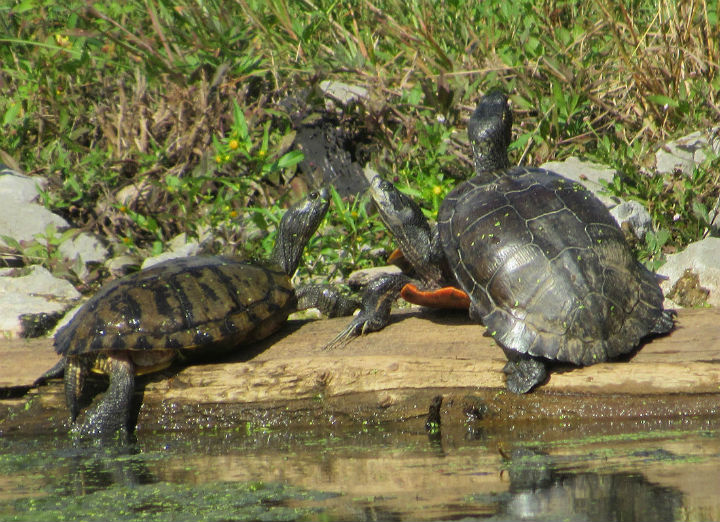 Great Egrets were a frequently encountered bird.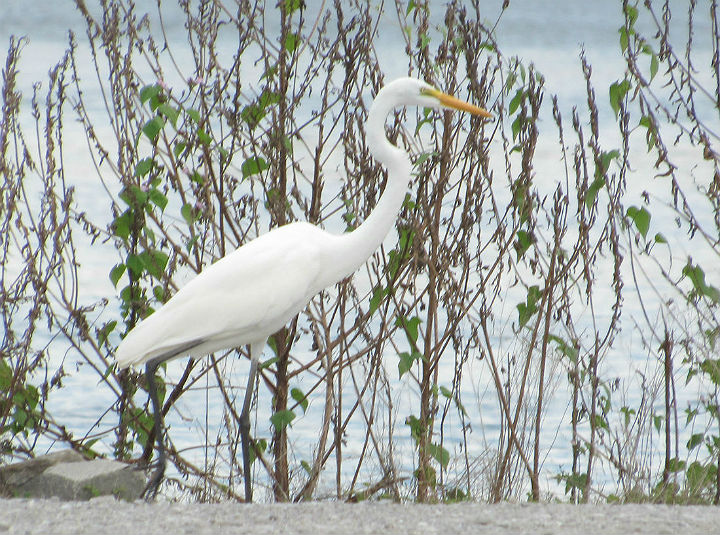 Later that night I observed this Wolf Spider crossing the road, carrying her babies on her back.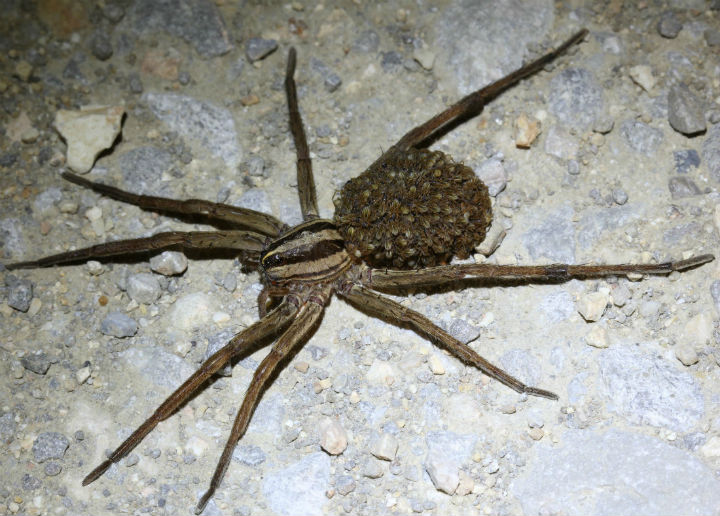 On my final day I paid my last visit to Snake Road for 2018. This is what the limestone bluffs look like (where the snakes hibernate) as you drive to the road.
An adult Rough Green Snake that I caught on the levee that you drive to get to Snake Road.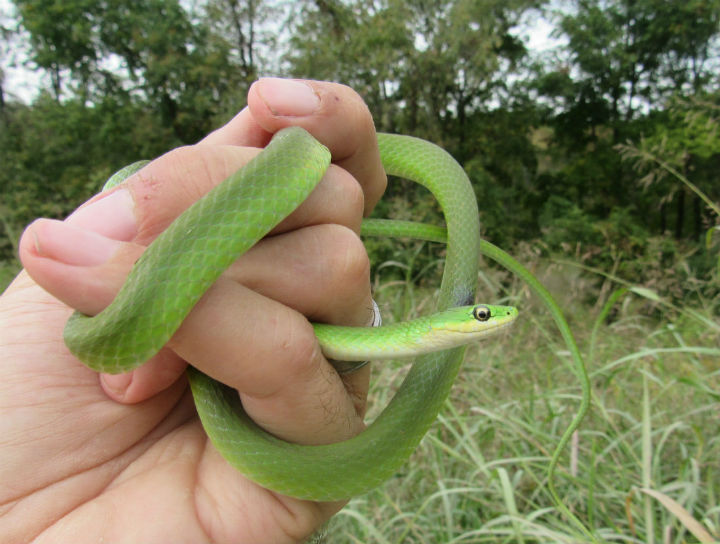 A Five-lined Skink seen from the road.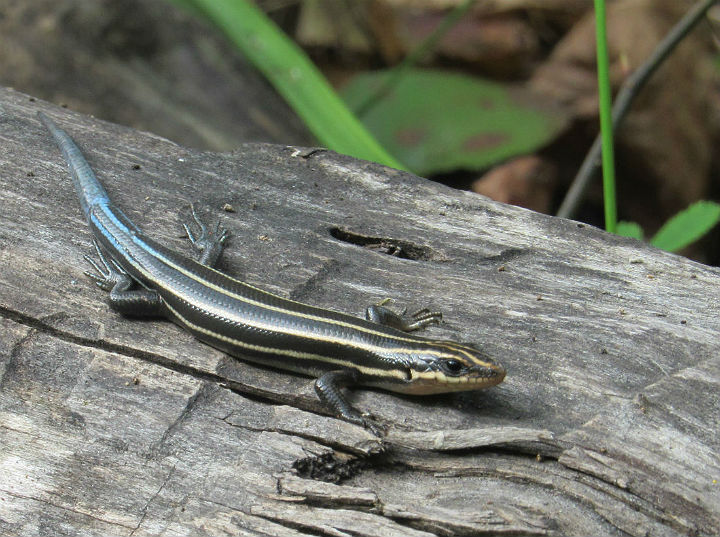 Pond Skimmers were omnipresent, and there were plenty of mosquitos for them to eat.
Yellowbelly Water Snake.
A view of the swamp which is habitat to a large number of species.
I was pleased to find two examples of the area's smaller serpents - Worm Snake.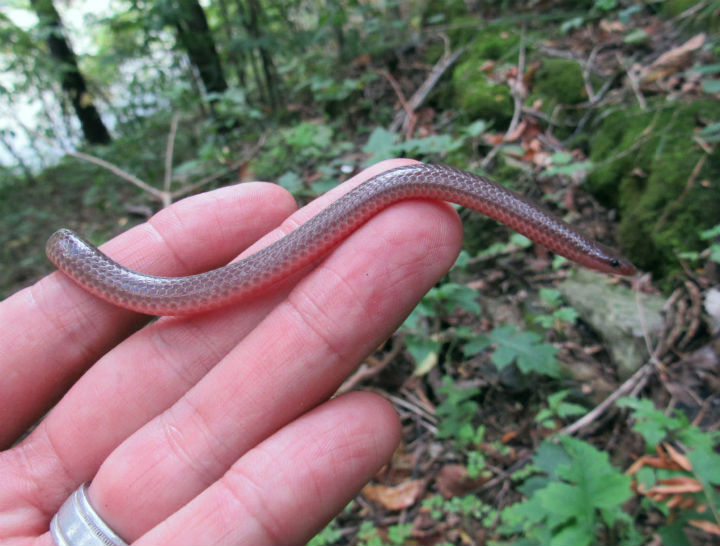 Brown Snake.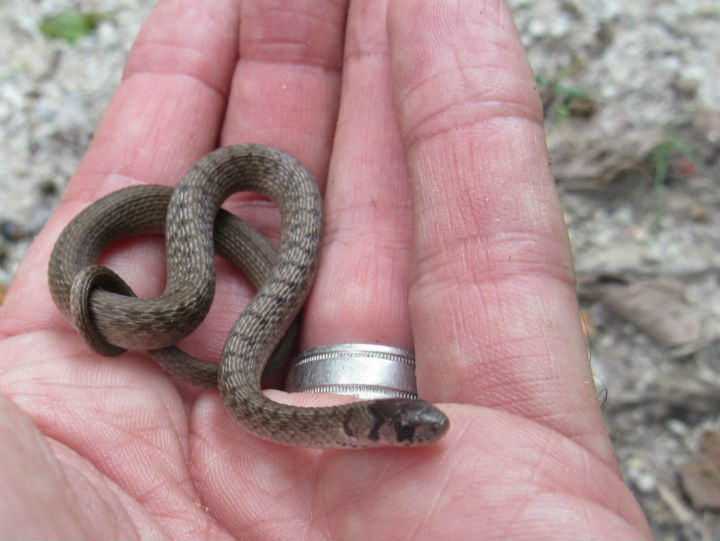 Seeing this newborn Copperhead was a great way to end the trip.