---
I've been holding off on bringing up this subject, since I've been told that "anti-snake" people regularly patrol this site and would just love to find a new way to wipe the planet clean of snakes, but I've been advised to post these pics and info in hopes that a solution might eventually be worked out.

In May, 2009 a fellow field colleague sent me photos of several Fox Snakes he'd found strangled to death in a fairly small amount of nylon mesh netting used for erosion control. I joined him the next day and we both found dead and live Fox Snakes entangled in the mesh. The still living snakes were carefully cut loose and released. The county hiway dept. was contacted and well, to make a long story short, within a week they agreed to let us remove the netting!

(Happy ending...until last week)

In May, 2010, I was horrified to see a new bike trail was being plowed thru some prime snake habitat. It came very close to a rock outcrop hibernacula, but when I saw that the bike trail was going over only a small portion of the outcrop, I relaxed a little and thought the worst had passed. All summer, during its construction, I could see them putting in what appeared to be fairly small portions of the nylon mesh (so I thought) and kept reminding myself I should probably go check it out when the trail was completed. 4 days after its grand opening, I finally got out there to check it out, and was absolutley stunned to see this:



Attachment:




Attachment:



All of the slivery gray area in these photos is nylon mesh netting. On both sides of the trail !!



Attachment:



This is newly exposed bedrock, and hopefully future denning sites in the side of the hill.



Attachment:




Attachment:



However...they covered the entire remaining rock outcrop with this stuff.



Attachment:



I counted a total of 9 dead Fox Snakes (2 live ones rescued) and 4 dead adult female Garter Snakes (with one live one rescued) The next day I went out I brought along red flags and marked the location of each dead one I found.



Attachment:



The old den sites were located along the hiway to the left. (Photo below) All snakes were found on the right side of the trail, indicating they were on their way from the wooded river bottoms to the old hibernacula.



Attachment:



I found a hole in the netting and stuck the camera inside for a snakes-eye view.



Attachment:




Attachment:



On that first day, within 2 minutes upon arriving at the scene, I found this: A still live adult female Garter Snake.



Attachment:




Attachment:




Attachment:



Ever since May 2009, a sharp tiny needlenose scissors is with me at all times. I carefully cut this one loose and you can see the damage done in only a few minutes of being trapped.



Attachment:



I carried this one way off into the woods and realesed her in the shade, and altho she moved slowly, she eventually crawled away.



Attachment:



I soon noticed another large Garter at the edge of the trail. If the mesh netting is packed down flat, they can slide right over the top of it. Its when they try and dig down thru the squares they get caught. I saw a smaller Garter slide thru the net with no problem.



Attachment:




Attachment:




Attachment:




Attachment:




Attachment:




Attachment:



And now, 8 ghastly images of what this stuff can do:



Attachment:




Attachment:




(I've been trying to update these photos... And it was going well but it seems as if nothing more than image # 25 will show up. Hope this is a temporary glitch. Will keep checking in and try to fix it and add the rest of the photos soon)

I found 2 Fox Snakes that were still moving.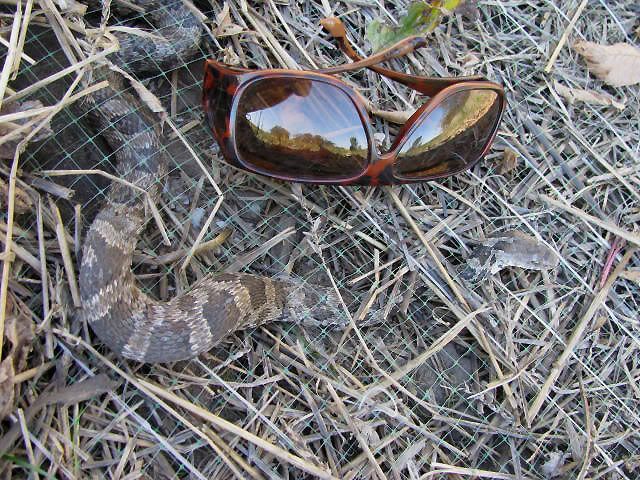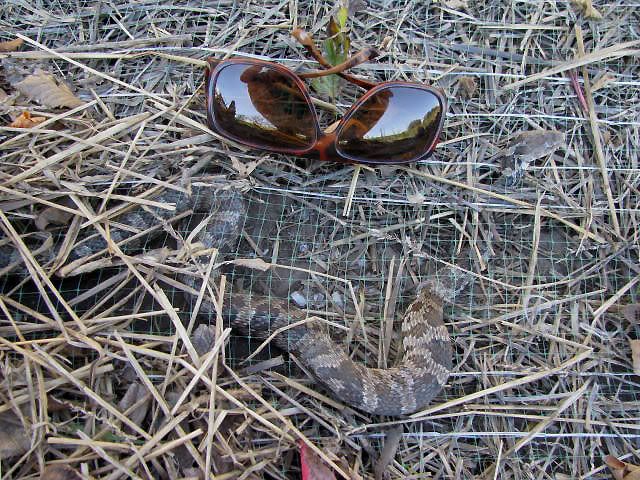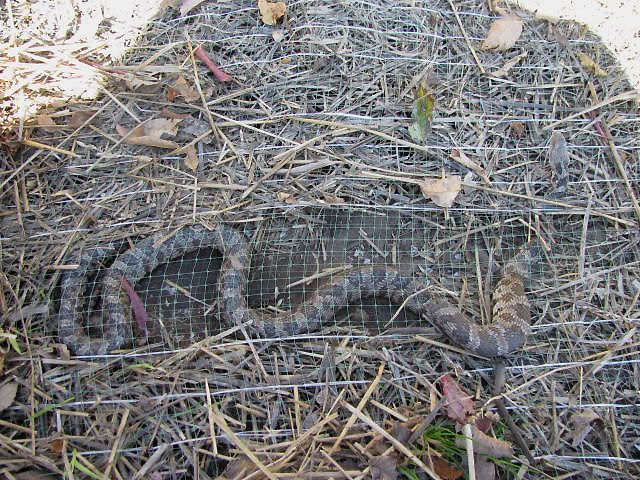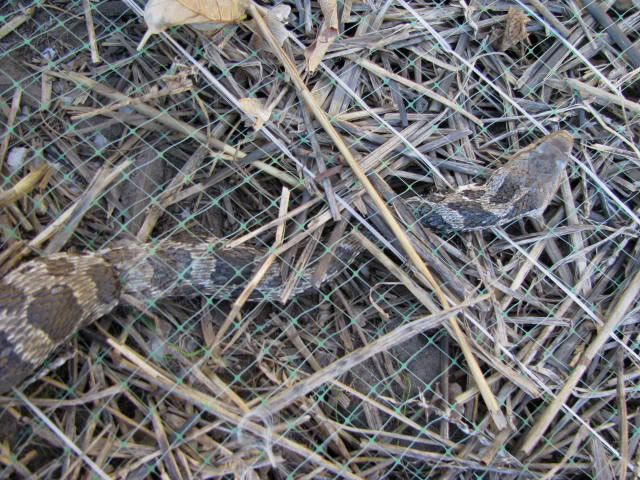 I actually had to cut into the skin a couple times to get them out.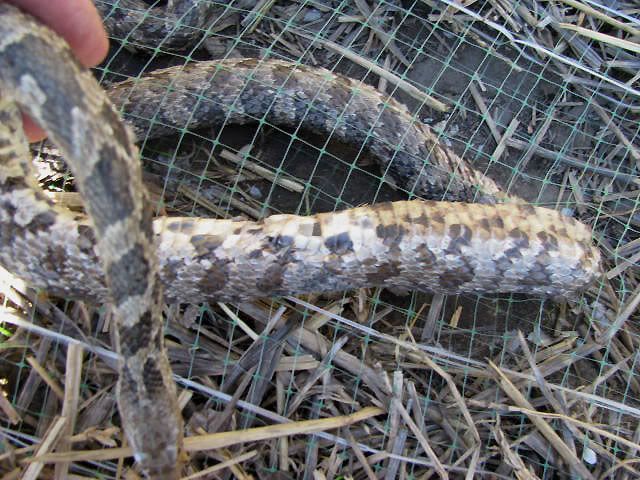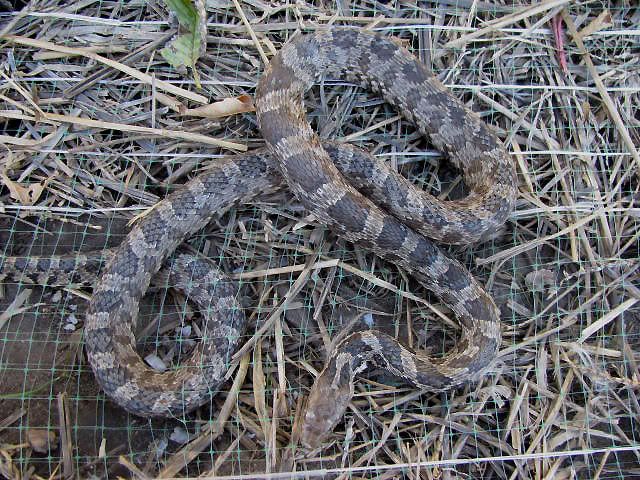 Along with the lacerations, this one had several broken ribs from twisting and turning around trying to get loose.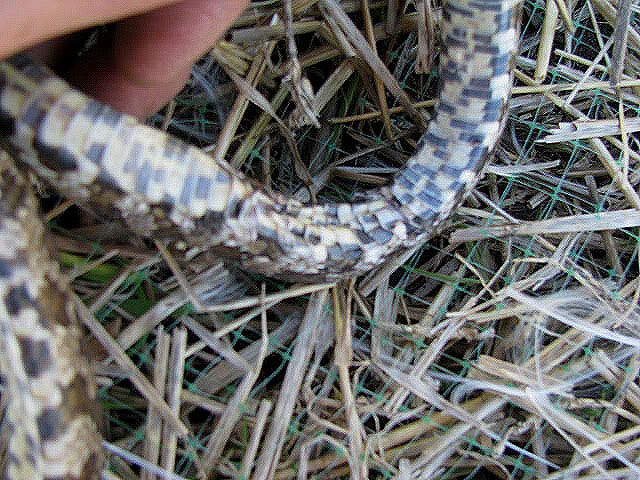 I managed to save only 2 young adult females. And as they both could barely move upon being freed from the netting, I decided to bring them home with me. I set them up in a temporary enclosure and offered them a drink. As you can see, one of them was so weak and dehydrated, she didn't even bother to right herself until she had a good long drink.




As soon as I dipped their chins into the water bowl, they both immediately began drinking and continued non-stop for at least 10 minutes!




The next day I set them up in a nice big enclosure and within a day or two, they both had recovered surprizingly fast. You can still see the scars and scratches, but they've been basking under the light and as soon as the outside temps cool down a bit more, the whole enclosure will be placed down onto the basement floor and covered up with a towel to block out the light. Basement temps here will soon be a steady 45-50 degrees.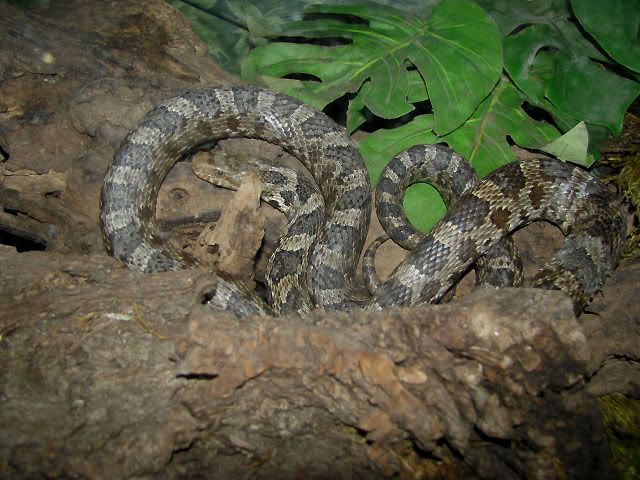 We'll see what conditions are like next spring. I intend to release them back near where they were found, but something will have to be done about that netting first. I have a feeling I just adopted 2 long term captives! Not a bad thing I guess because I needed a Fox Snake for my snake talks anyway.




On that first day while I was on my way out of the area, a county maintenance truck came driving up the trail. I recognized it was the same guy I talked too last spring when the project had just begun. I told him the mesh netting was becoming a snake death trap and he immediately recalled the same problem out at the other site in spring 2009. I told him I would be contacting the Minn DNR about it and he gave me the name and number of the supervisor in charge.

He was very polite and thanked me for being concerned and bringing it to his attention. He also told me the netting was biodegradable and was designed to break down "in about a year or so." (???)

I truly do believe the powers in charge around here don't want the snakes to be killed by this stuff, however, another horrible reality about this half inch mesh netting is: It Works!!! (For erosion control anyway) The project was completed before the 10-14 inches of rain that fell a couple weeks ago, and if this netting wasn't put down in such huge quantities, the entire length of the trail would have been buried in mud several feet deep!

These photos were sent to the DNR and I've been informed that the contacts will be made and the problem will be addressed.

I believe there is no way they are going to remove the huge amount of netting at this site. (There's just too much of it) There are a few other herpetologists in the area that will be monitoring this situation. Best we can hope for is to be allowed to cut open the areas next spring where future den sites might be used, and to continue to see if any more snakes fall victim to this latest bio-tragedy. And also to see if it really does magically disappear in only a year or so!

Since I sent out these photos last weekend, I've been hearing reports of snakes being found strangled to death all over the country! I'm just wondering if this isn't one of the many reasons why snake populations are "mysteriously" disappearing, and what, if anything, can be done to stop it in the future.



Attachments:
1.jpg [ 67.82 KiB | Viewed 17356 times ]