Seventeen species of snakes in seven days made for a great trip.
Things started out with the weather being cool and cloudy, so I decided to focus my efforts on amphibians. This cypress swamp looked like a good habitat to explore.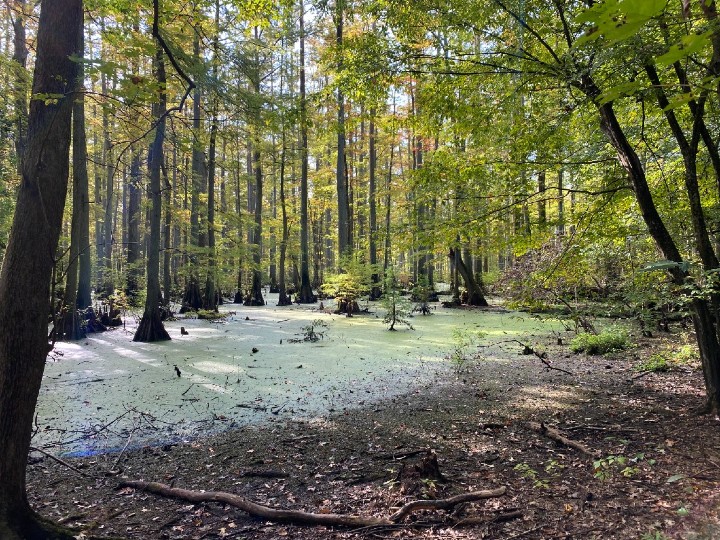 Mole Salamander - This 3 to 4 inch amphibian seems to have a head and feet too big for the rest of the creature. It kind of reminds me of a Bulldog.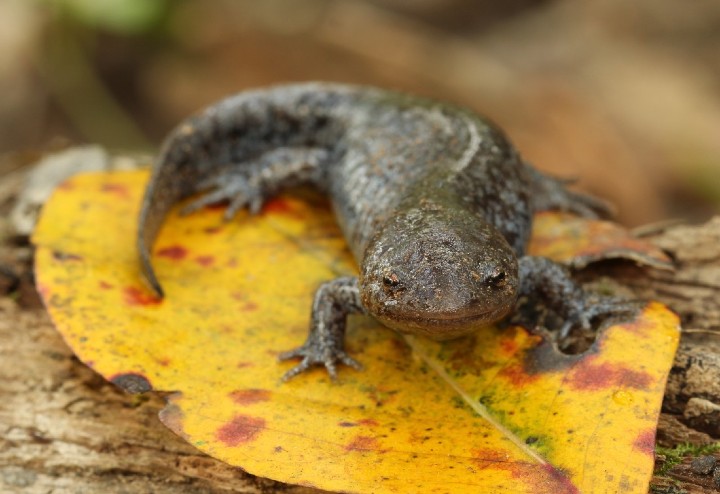 Green Frogs tend to stay close to the water's edge, ready to leap in (and often give a squeak) if they sense danger.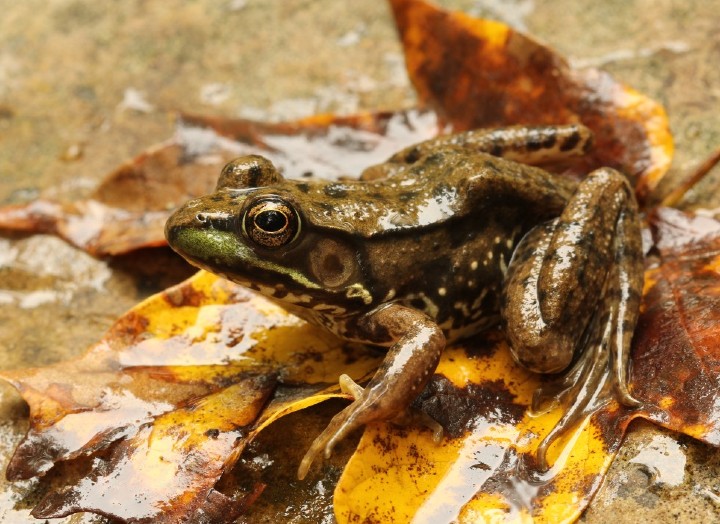 The Modest Katydid is a pretty good leaf mimic.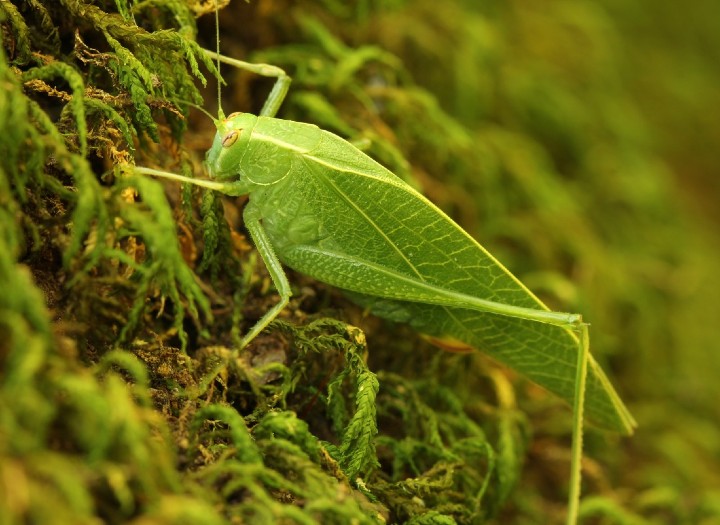 A hefty Marbled Salamander - probably a female getting ready to lay her eggs.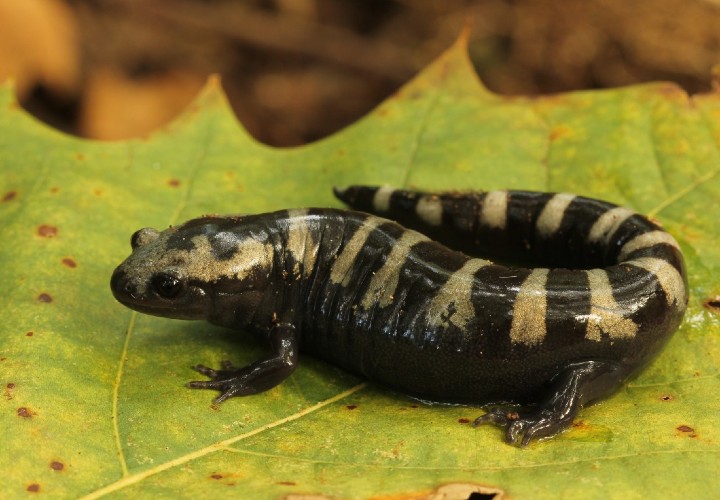 Spotted Touch-me-not - Its ripe, long banana-shaped seed pods explode when touched, expelling its seeds in all directions.
A nearly "spotless" Southern Leopard Frog.
Wolf Spiders do not build webs to catch their food; instead, they use their vision and their sensitivity to vibrations to hunt for prey.
The Blanchard's Cricket Frog has a distinctive breeding call consisting of a rapid series of metallic clicks, similar to the sound made when two pebbles or marbles are tapped together.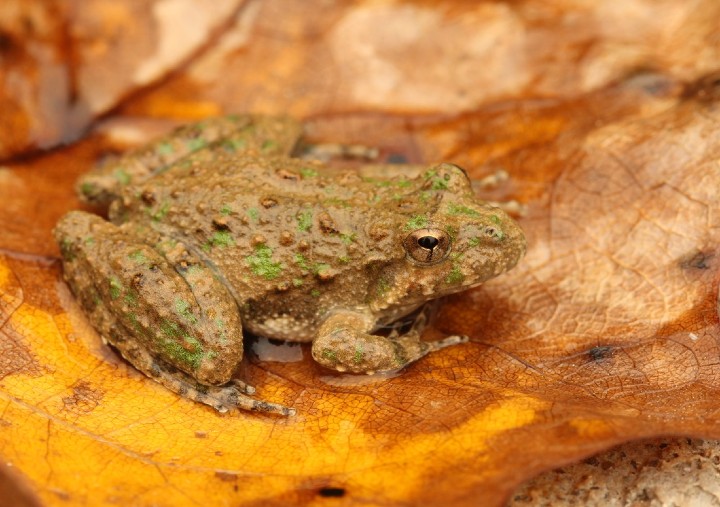 It's easy to see how the Spotted Salamander gets its name.
Marbled Salamanders are part of a group known as "mole salamanders," and spend most of their lives under logs or in burrows.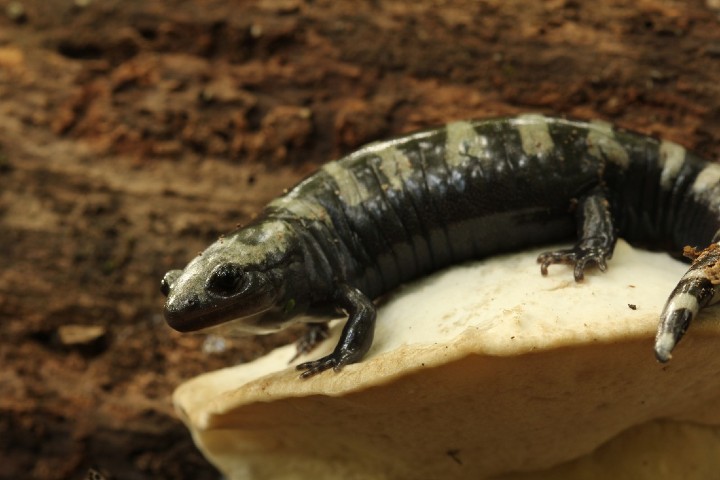 American Giant Millipede - Although the name millipede means "thousand legs," most millipedes have more like 300.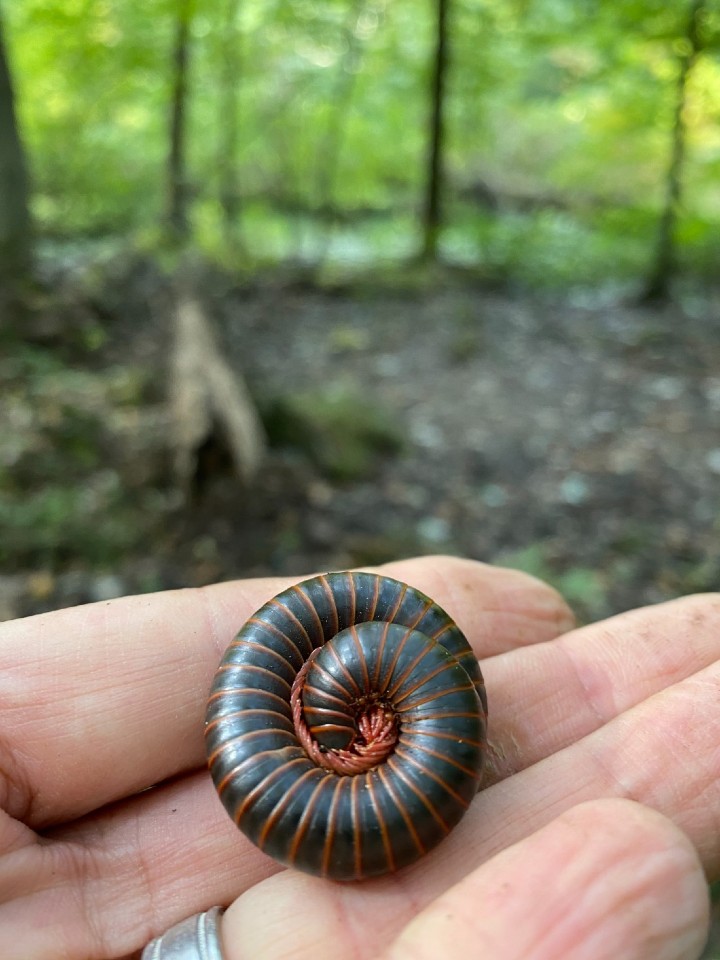 Wild Phlox is a woodland species that resides in forests, fields and along streams.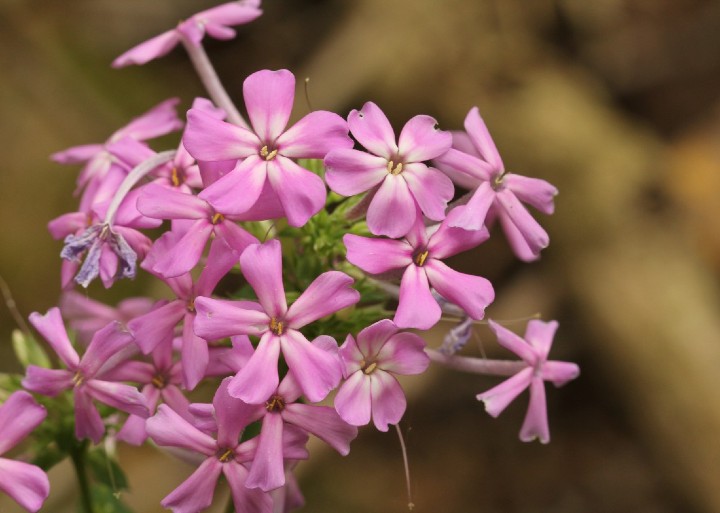 The first snake that I found on the trip was this Plainbelly Water Snake.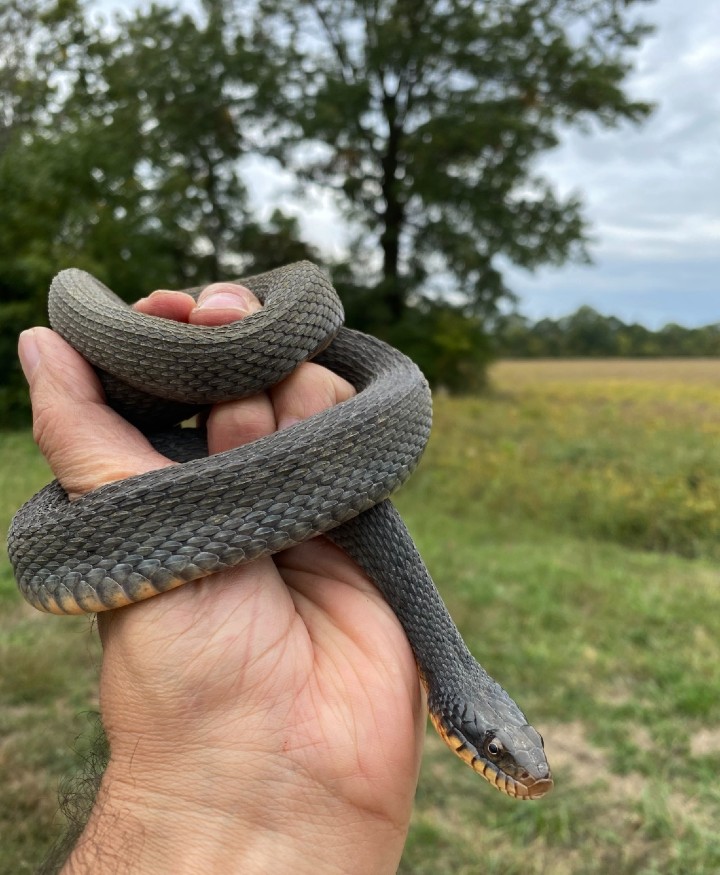 On the second day of the trip I decided to check out this habitat.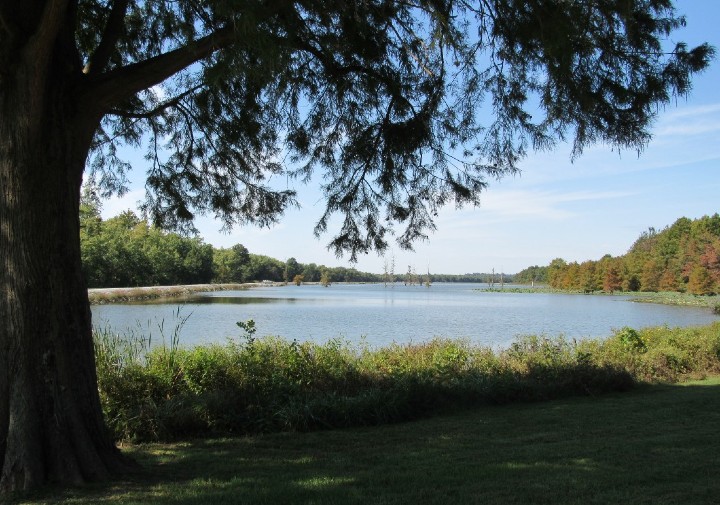 Midland Painted Turtles get their name due to their bright yellow and red markings.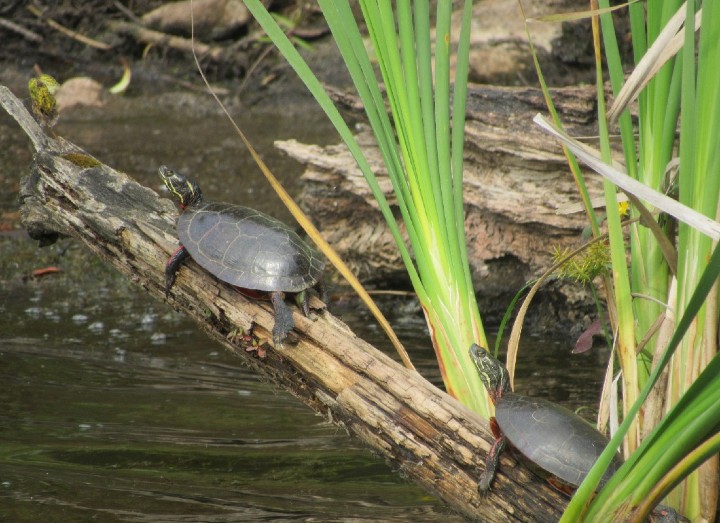 The Midland Water Snake can be found in and around lakes, ponds, creeks, rivers, and even in drainage ditches.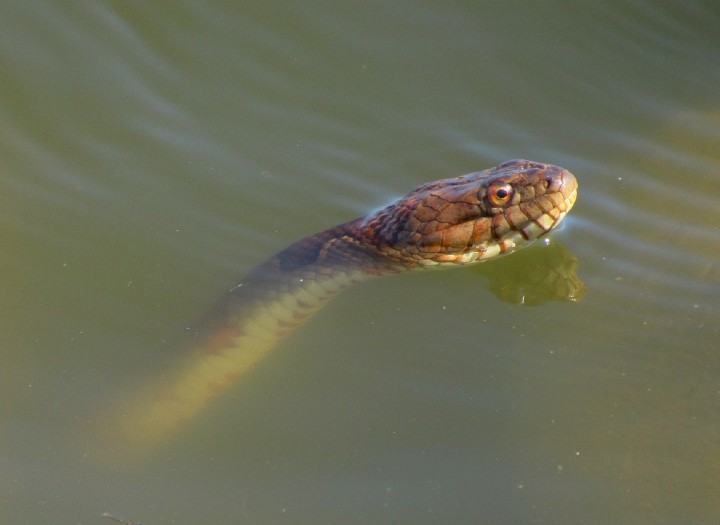 Though their body shape resembles that of an opossum, the Nine-banded Armadillo is most closely related to sloths and anteaters.
Lesser Siren - I had an encounter with this "lifer" amphibian. Sirens are usually regarded as the most primitive living salamanders; sirens share a conspicuous basic characteristic – the absence of rear limbs.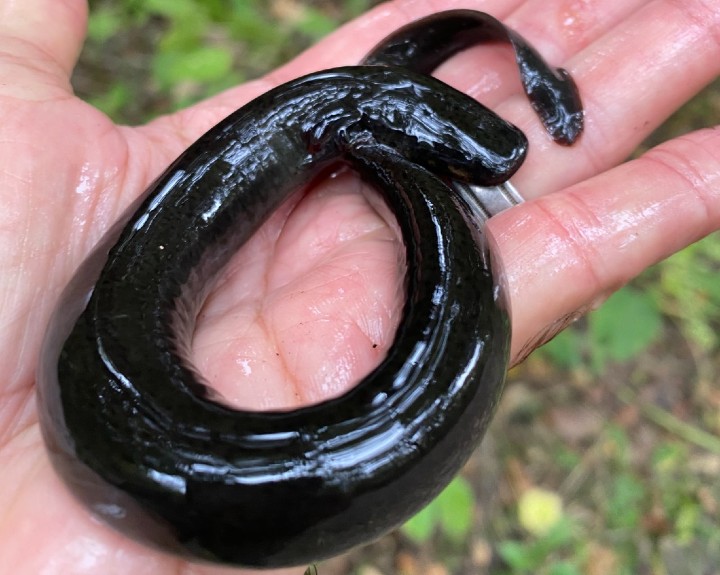 Another feature of this awesome amphibian is that it retains and uses its external gills throughout its life. Lesser Sirens are completely aquatic, rarely leaving water unless its an absolutely necessity.
The Pirate Perch is the sole member of the family Aphredoderidae. Charles C. Abbott, a pioneer ichthyologist, is credited with giving this fish its common name, after observing that a specimen he kept in an aquarium ate only other fish.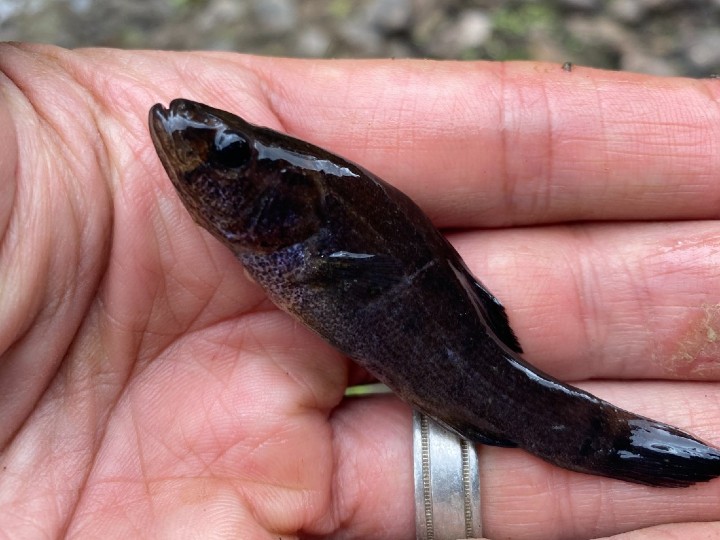 Pomona Natural Bridge was a cool place to investigate.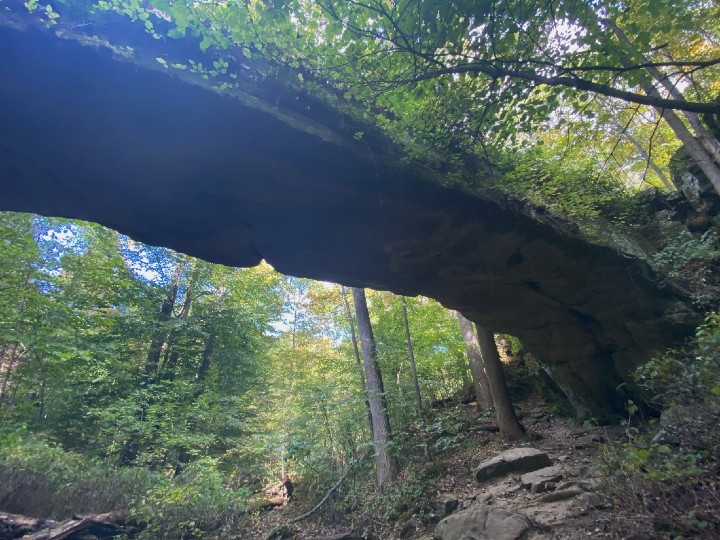 Cave Salamanders are exceptionally slender, brightly colored and are usually around 6 inches in length as adults.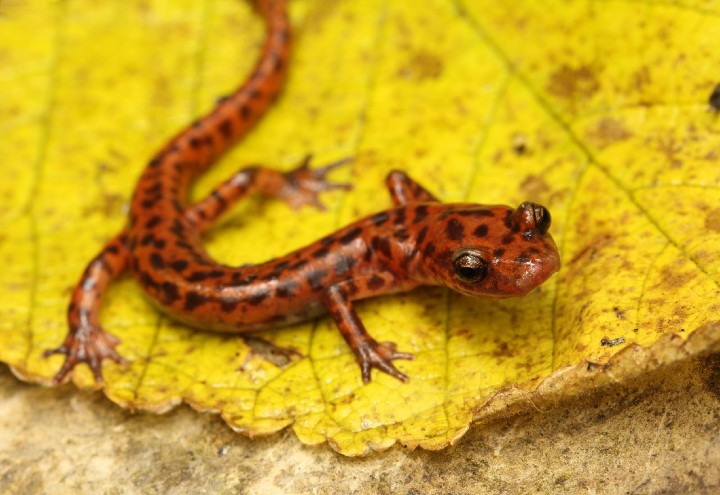 The Western Ribbon Snake has a striped body and a very long tail, which makes up nearly a third of its total length.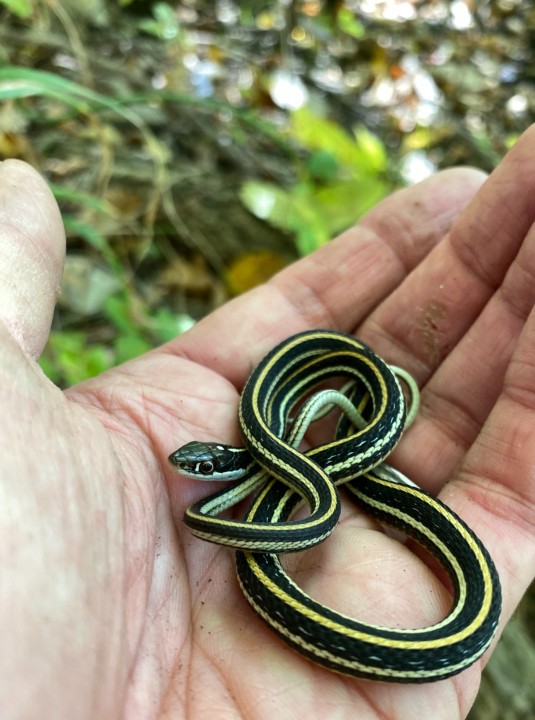 Wild Asters were a common sight while hiking on trails.
A young Rat Snake that still strongly retains its juvenile patterning.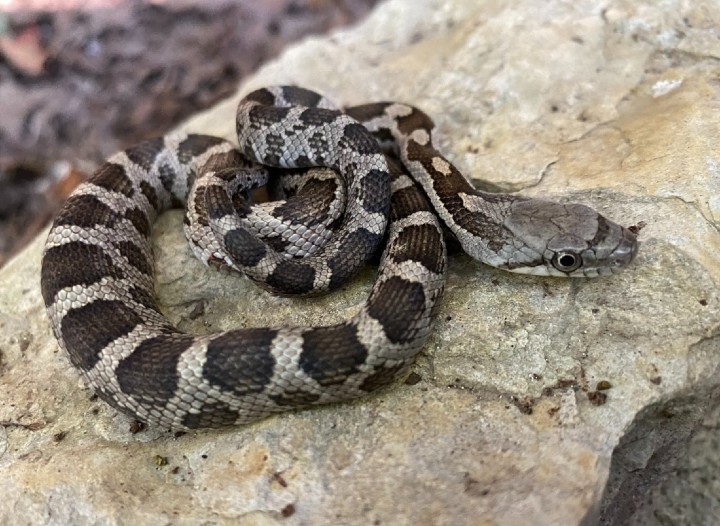 The Slimy Salamander might be better named if it were called the "Sticky Salamander," because it secretes a glue-like substance from its skin when threatened.
A Cottonmouth masquerading as a Mangshan Pit Viper.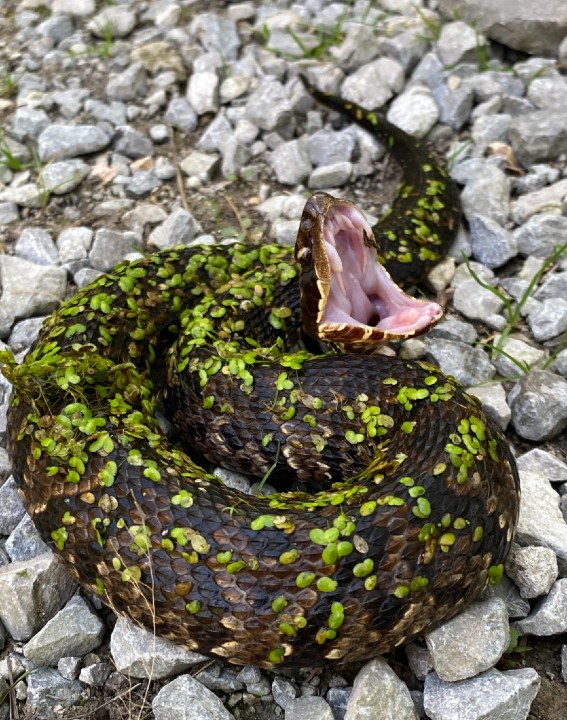 Question Mark Butterflies were a common sight.
I decided to take a drive to Missouri and check out this wildlife preserve.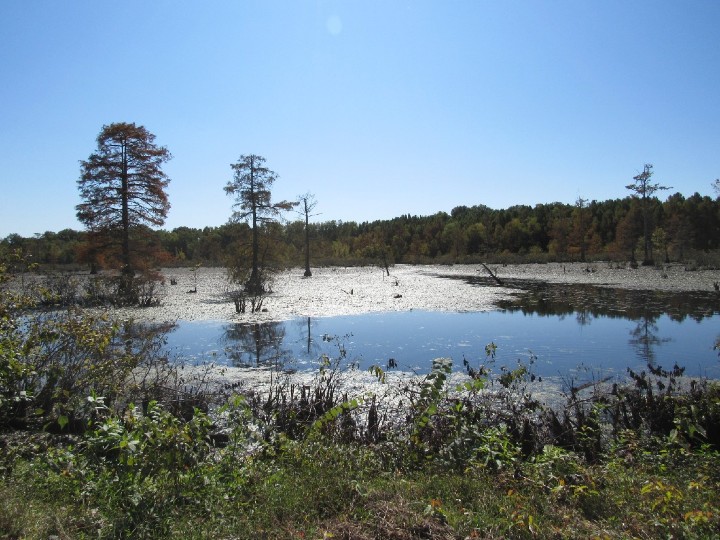 An adult male melanistic Red-ear Slider hanging out with a juvenile of the same species.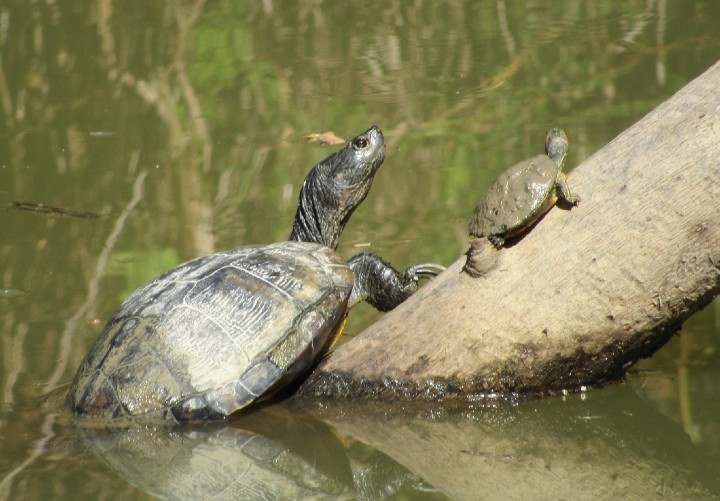 My first-ever Missouri snake was this "lifer" Broad-banded Water Snake.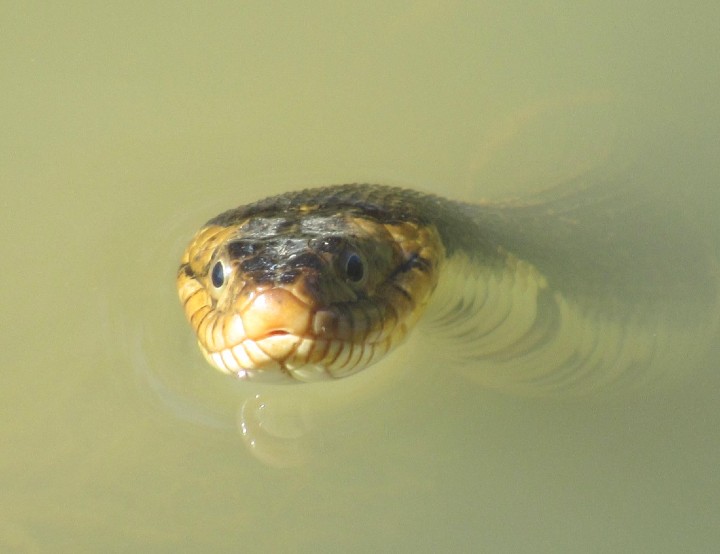 Small Red Morning Glory was in bloom in some of the spots that I visited.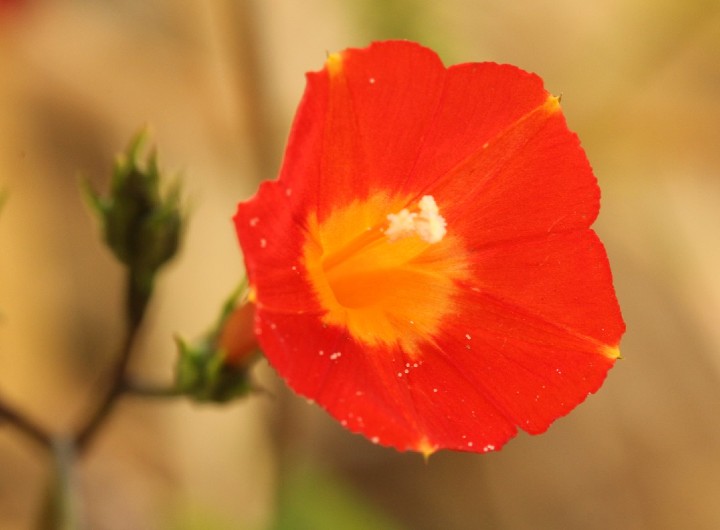 American Toad.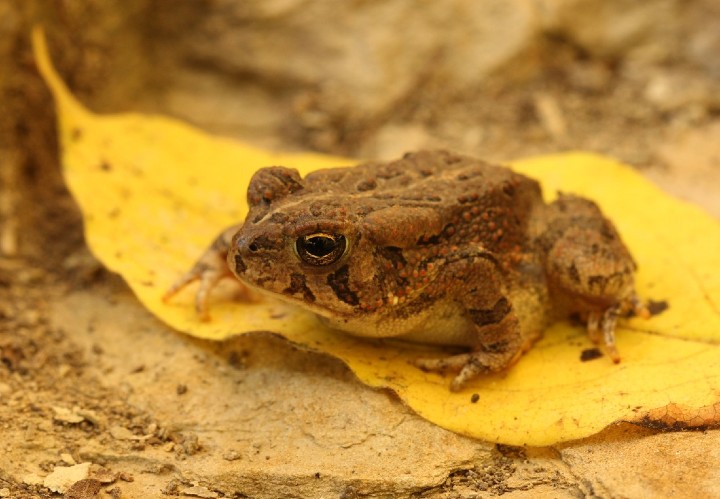 An odd, but cool Conehead Katydid.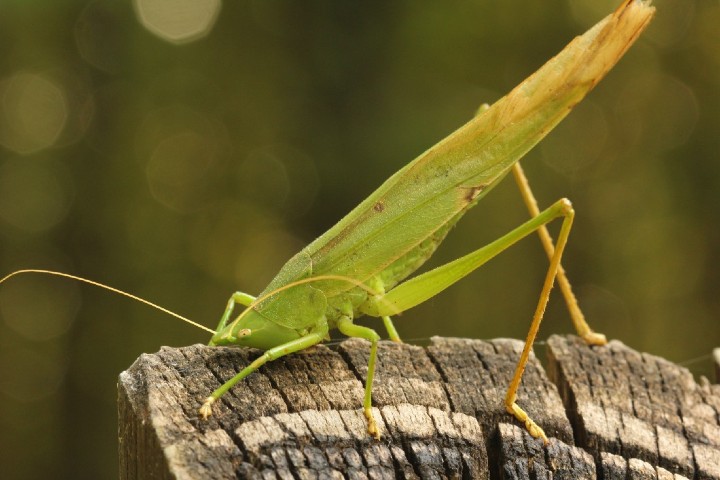 A Cottonmouth illustrating how it received its common name.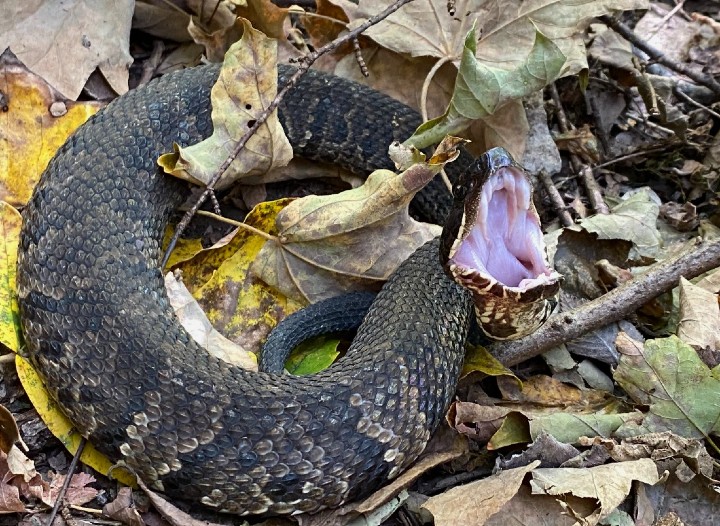 Green Sunfish can be found in very muddy waters and are able to tolerate poor water conditions.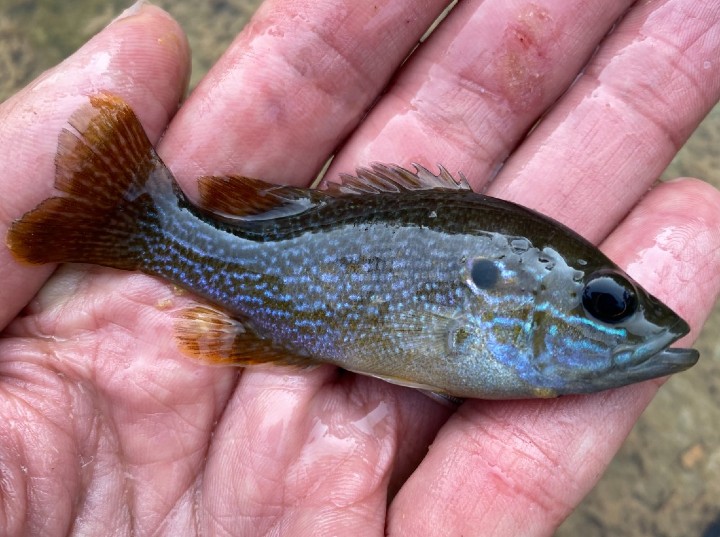 I also visited this prairie habitat while in The Show-Me State.
This Cardinal Jumper was sporting Halloween colors.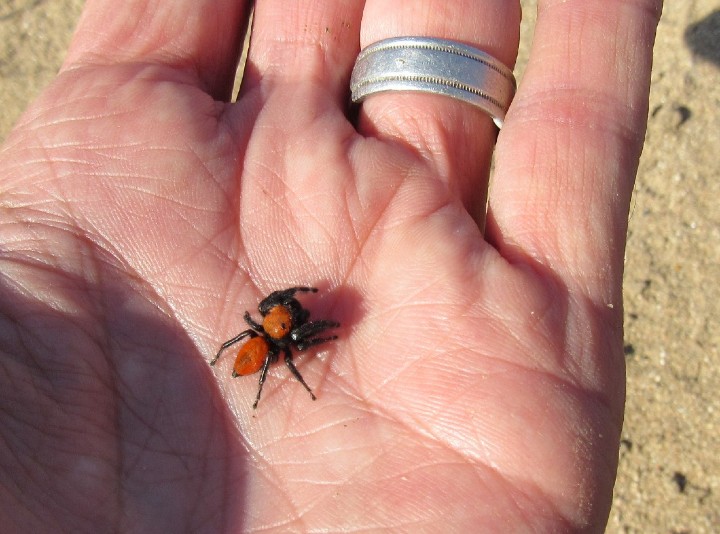 Ivy-leaf Morning Glory.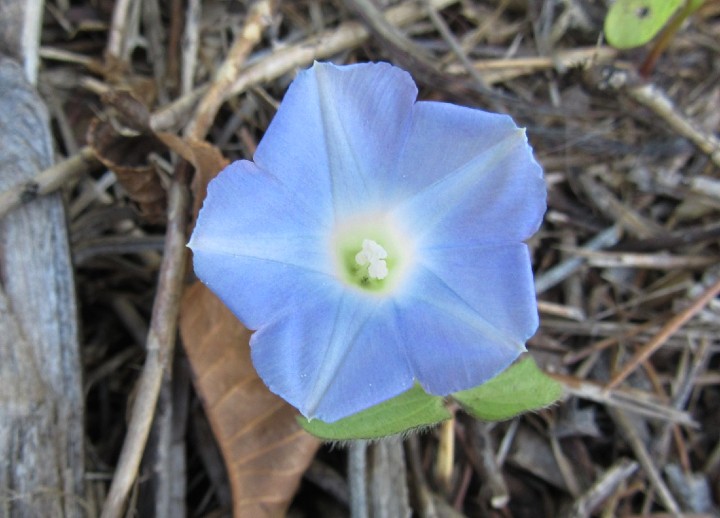 A juvenile Southern Black Racer.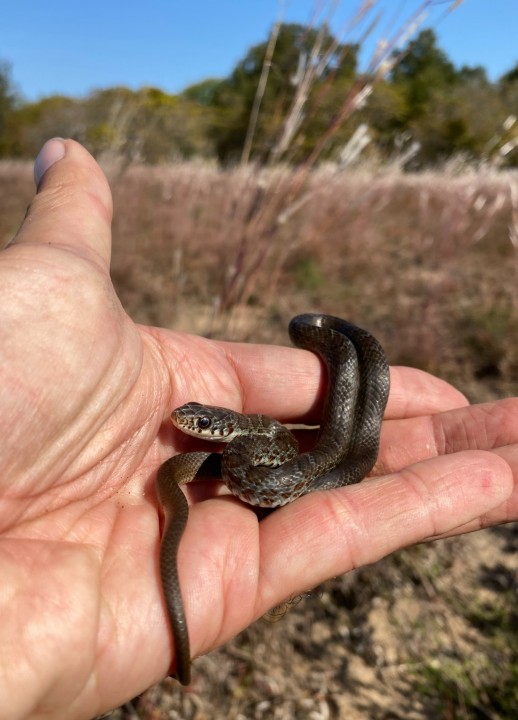 Reindeer Lichen.
On the following day, I set out to find my third "lifer" in three days, with a little help from my friends.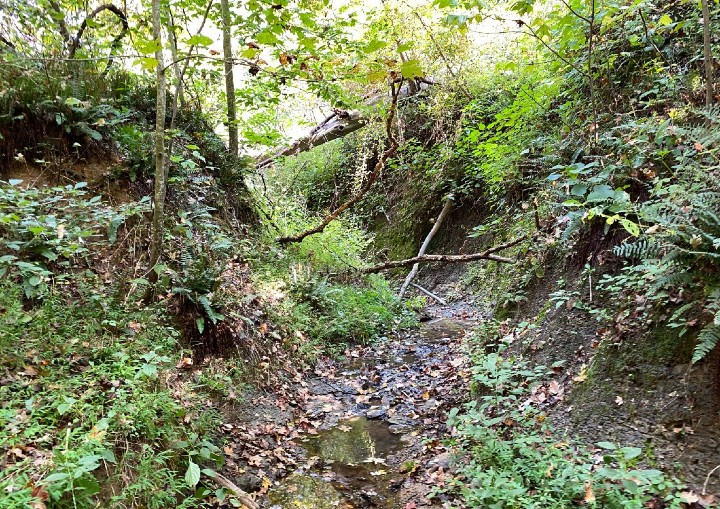 Success - Spotted Dusky Salamander.
Herpers Herping.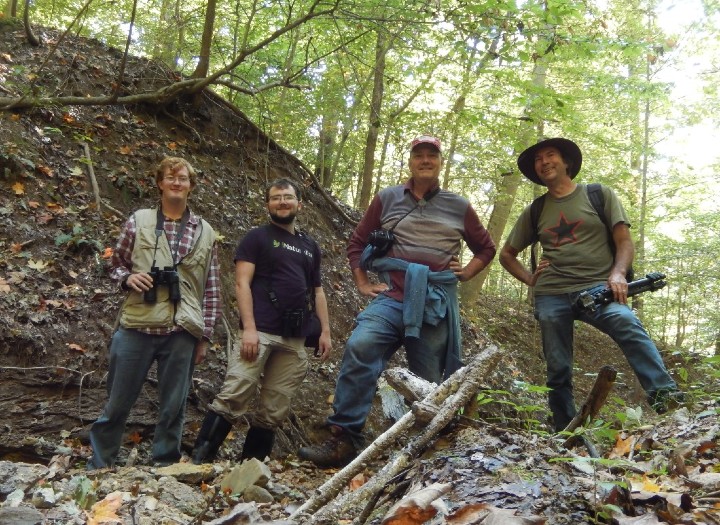 Southern Two-lined Salamanders were also found in the same area as the Spotted Duskies.
Fishing Spiders get their common name because most live near water and have been reported to catch small fish and aquatic insects from the water as they walk on the surface.
A dark Spotted Dusky Salamander.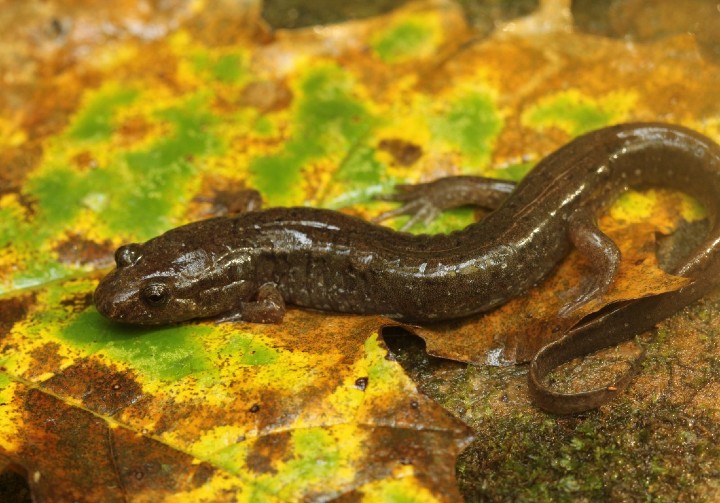 Eventually it was time to get back on Snake Road.
A nicely colored Copperhead that was on the road.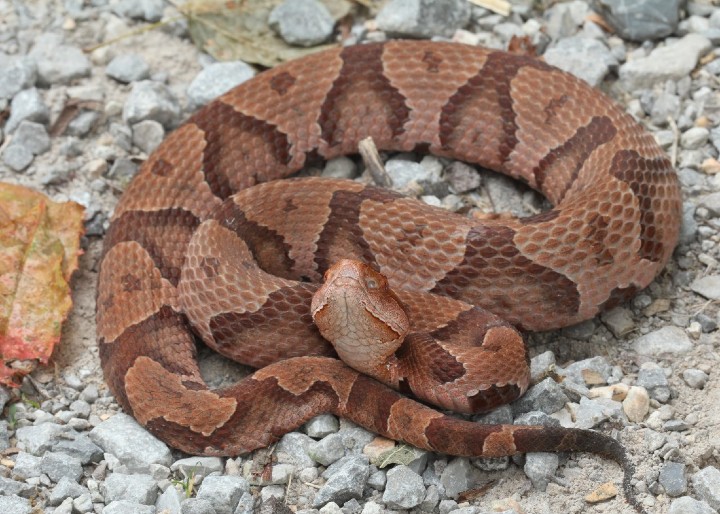 An "off road" Long-tailed Salamander.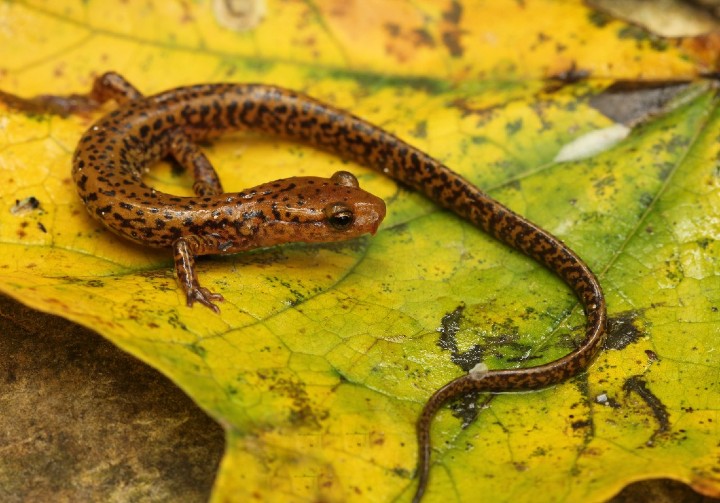 A Western Ribbon Snake getting ready to cross Snake Road.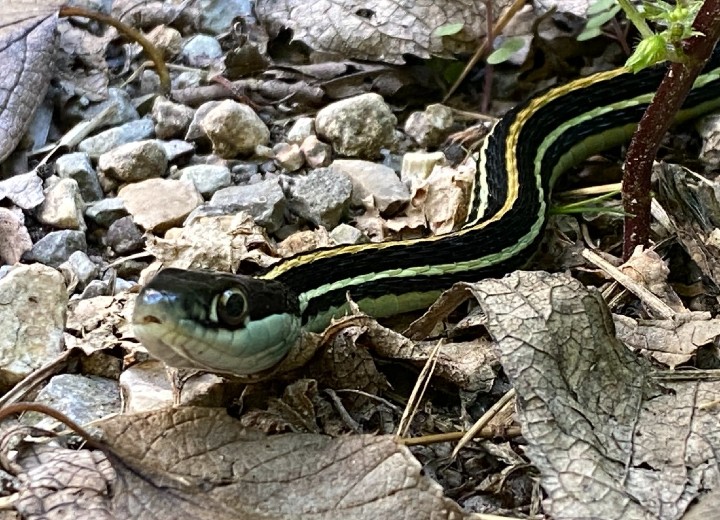 Bess Beetles communicate with each other through squeaking and clicking noises.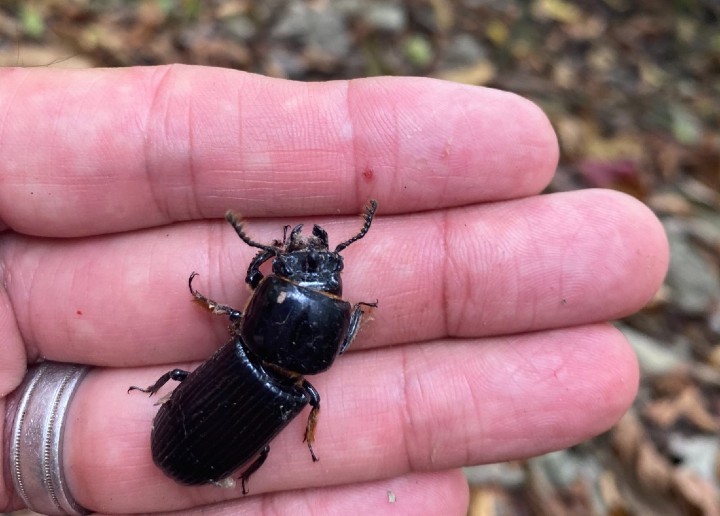 A super cute baby Rough Green Snake.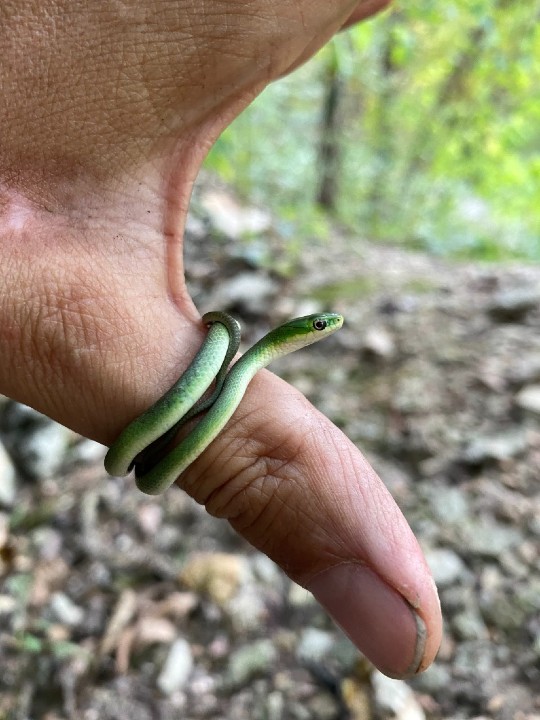 Chicken-of-the-woods is a large, conspicuous mushroom that tastes like, well, you know...
A good looking Plainbelly Water Snake.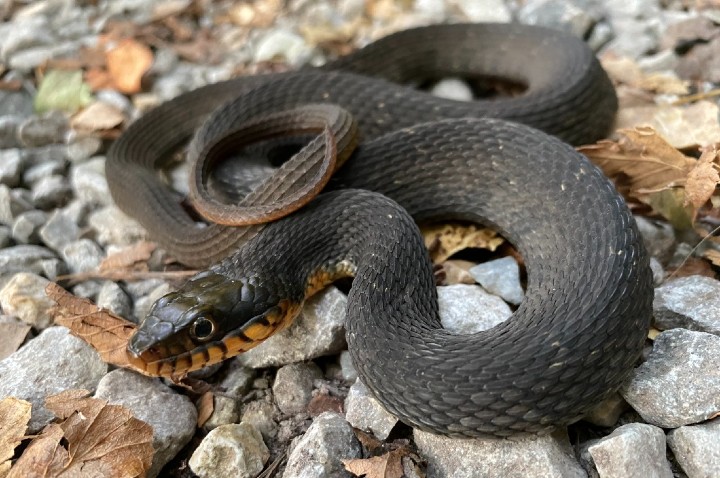 A huge Cypress Tree in Johnson County.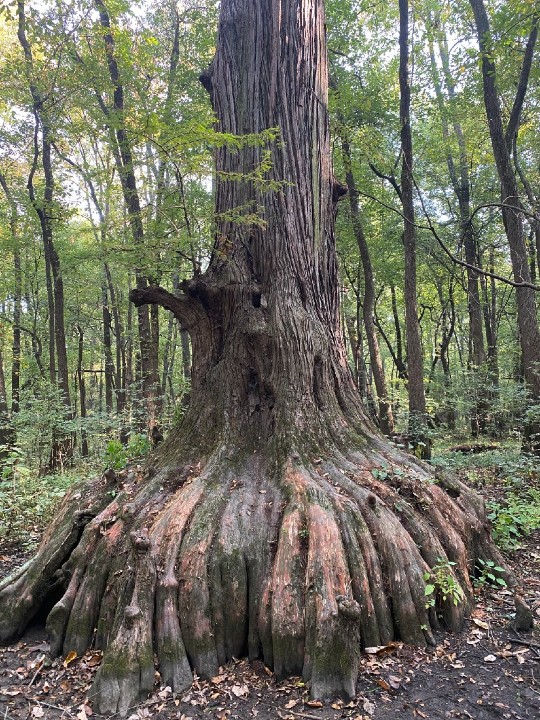 Eastern Ribbon Snakes are streamlined and fast-moving.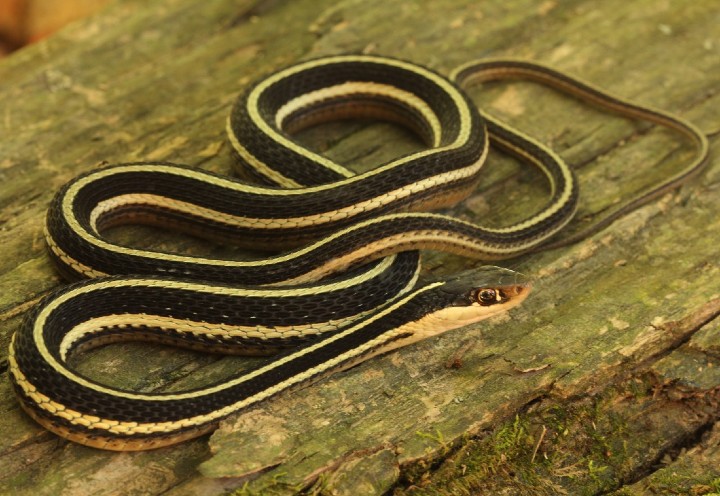 An Eastern Box Turtle strolling through the woods.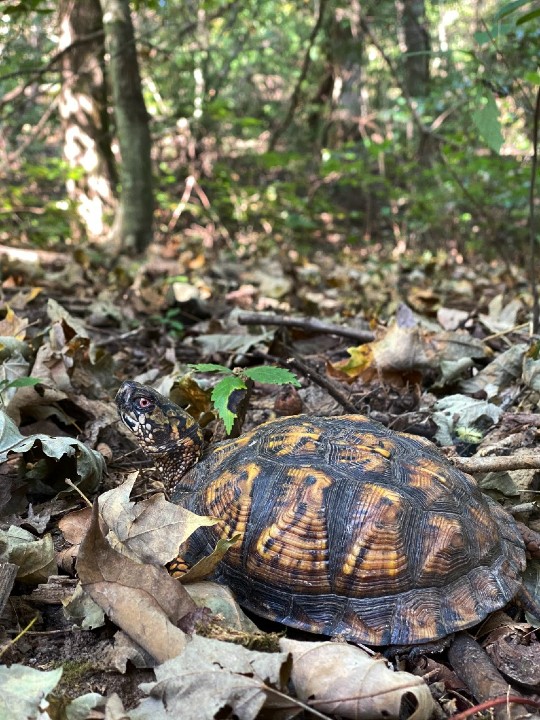 Central Newt.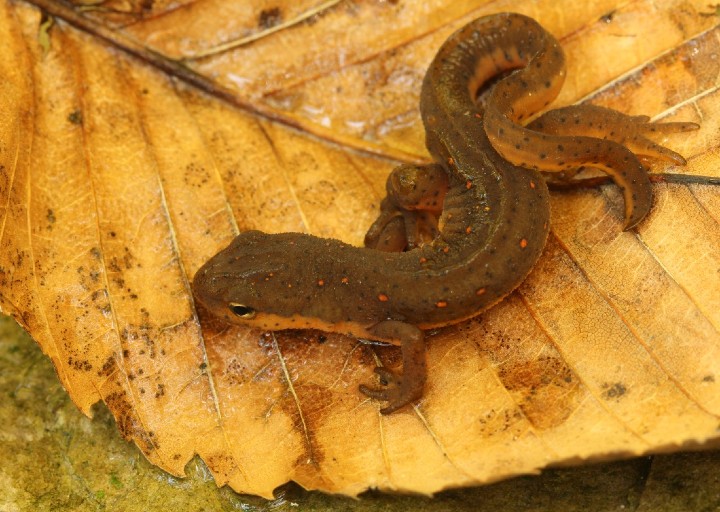 A fairly large number of Cottonmouths were out and about.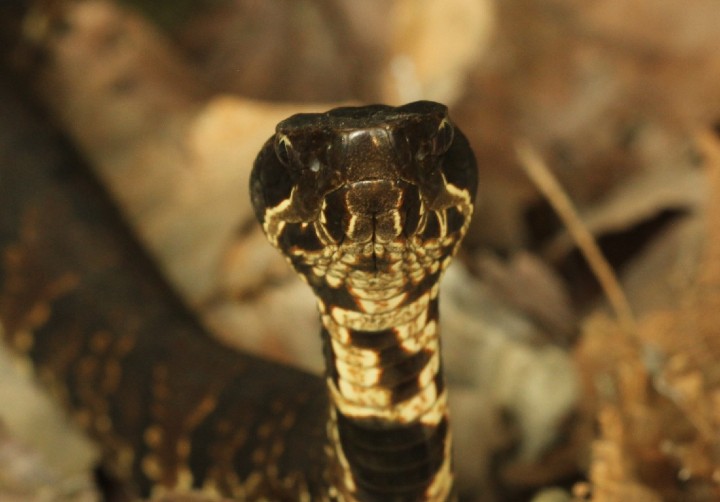 A Spicebush Swallowtail Caterpillar in pre-pupation coloration.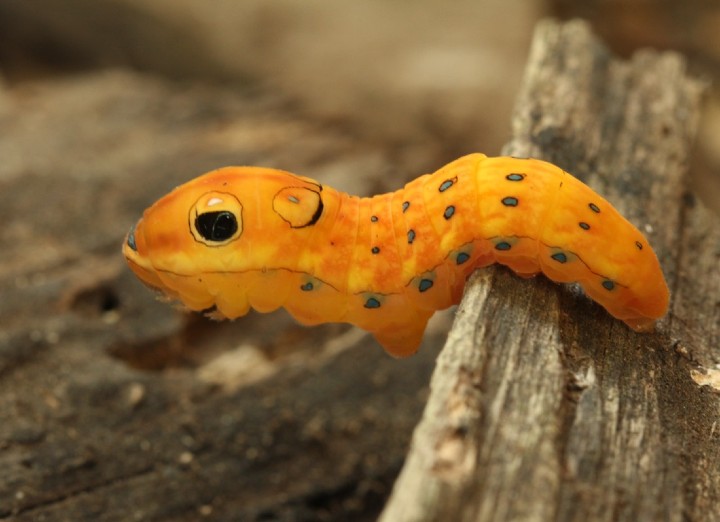 A Rough Green Snake "periscoping."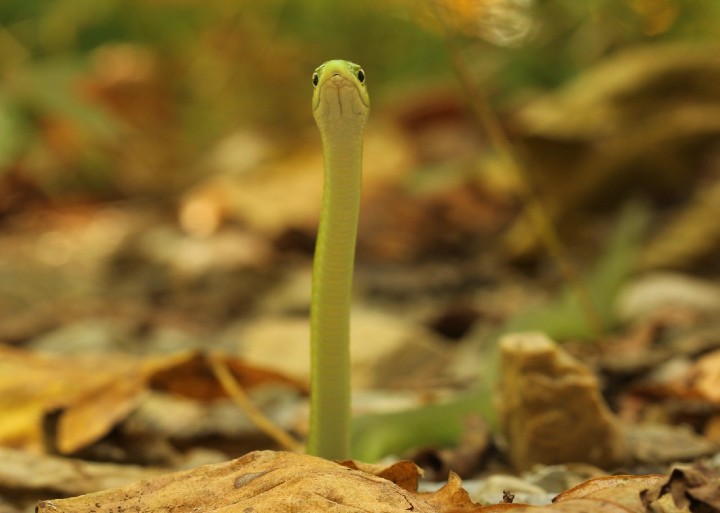 An Eastern Fence Lizard in the limestone bluffs that border Snake Road.
A "kinky" yet undeniably handsome Black Rat Snake crossing Snake Road.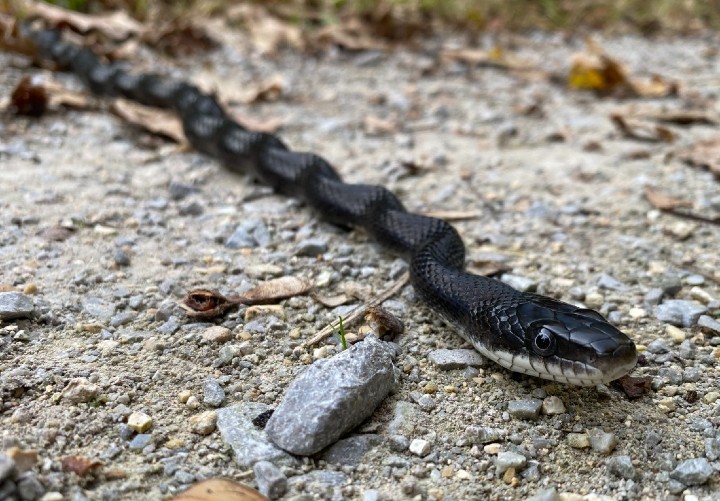 Green Treefrog snoozing on Poison Ivy.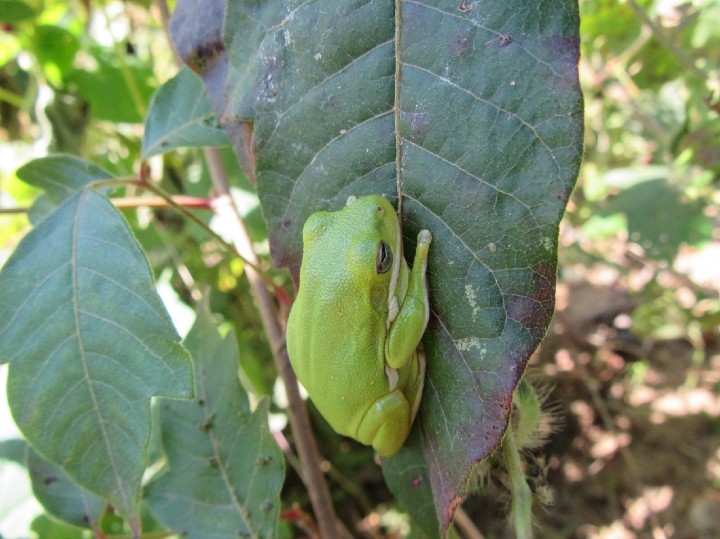 Eastern Garter Snake.
Great Blue Heron.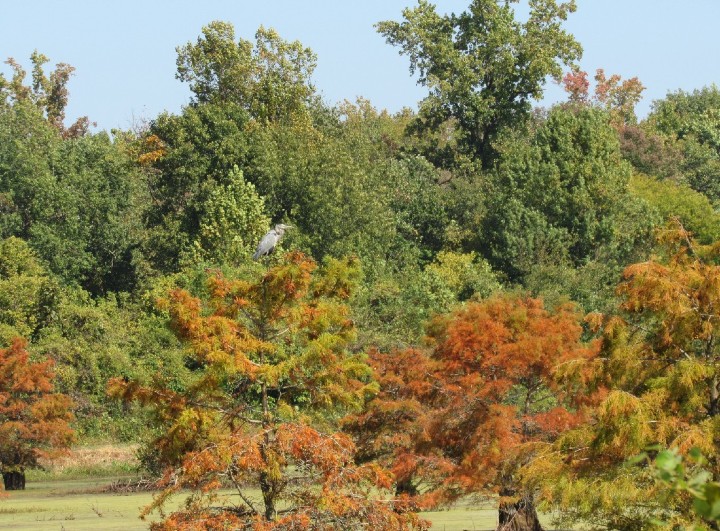 I haven't seen a Mississippi Green Water Snake since 2013, this year several were seen each day a few days in a row.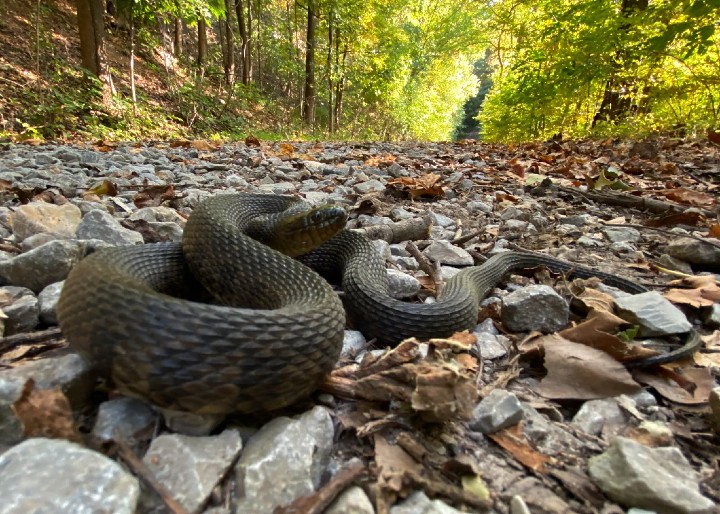 Five-lined Skink.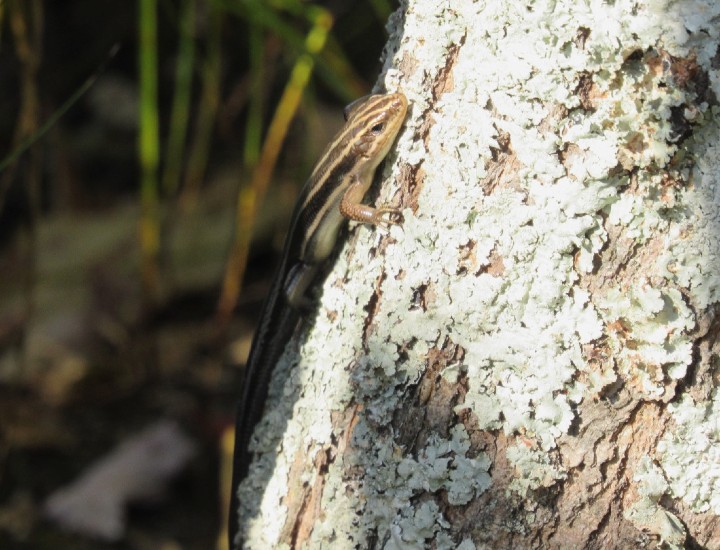 A "canebrake-looking" Timber Rattlesnake.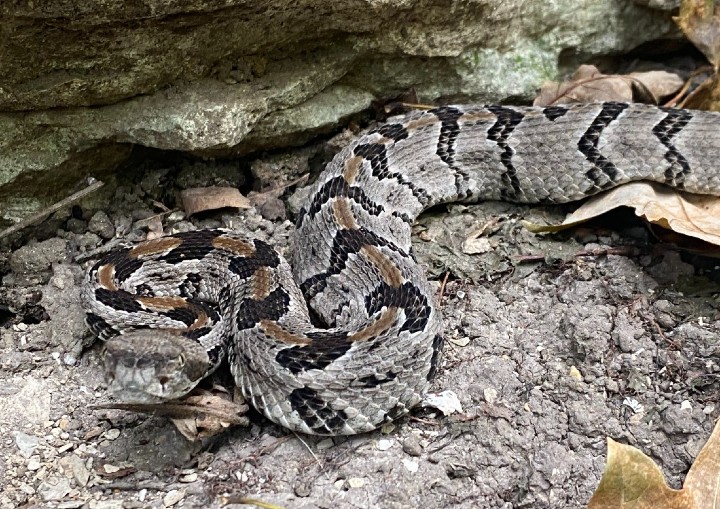 Pheasantback Mushroom.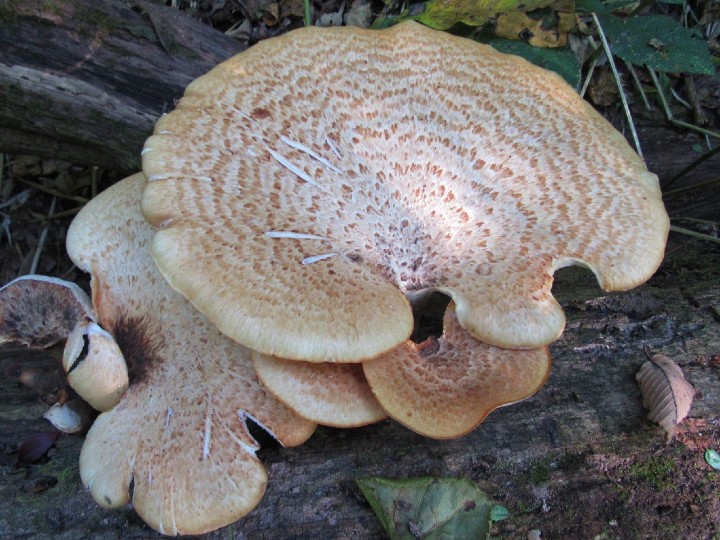 Shawnee Kingsnake.
Kingsnakes in this area are considered to be naturally occurring intergrades between Eastern Black Kingsnakes and Speckled Kingsnakes.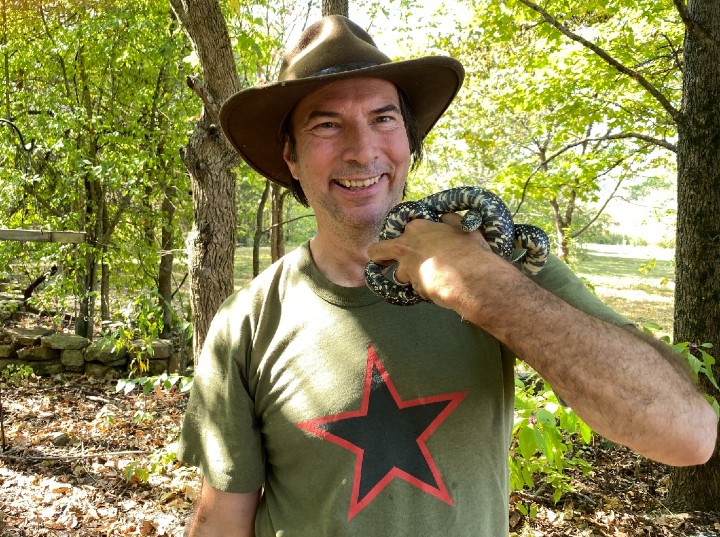 A Leopard Frog crossing the Big Muddy River levee in the evening.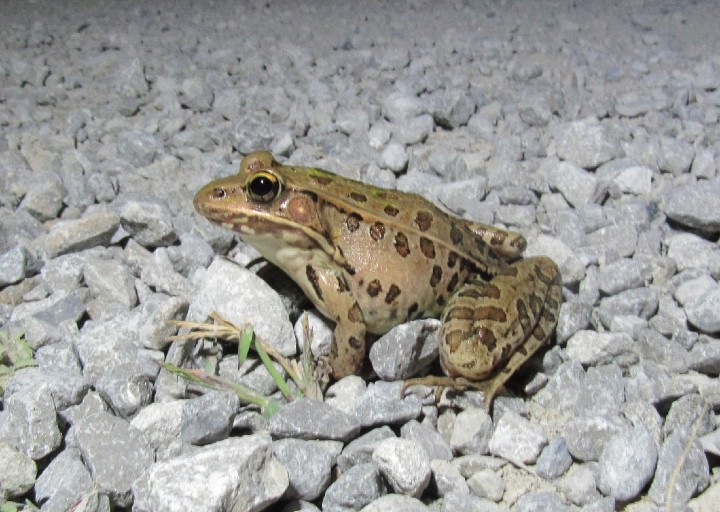 A "sunset edition" of a Diamondback Water Snake.
The following day I checked out this habitat.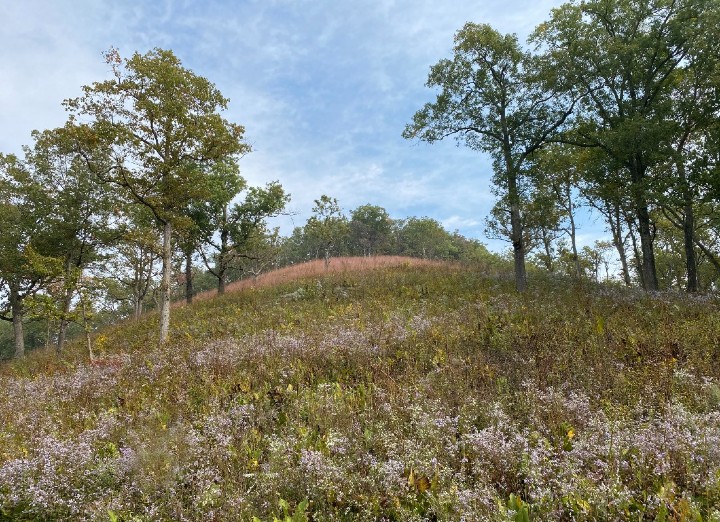 It's easy to see how Ringneck Snakes got their common name.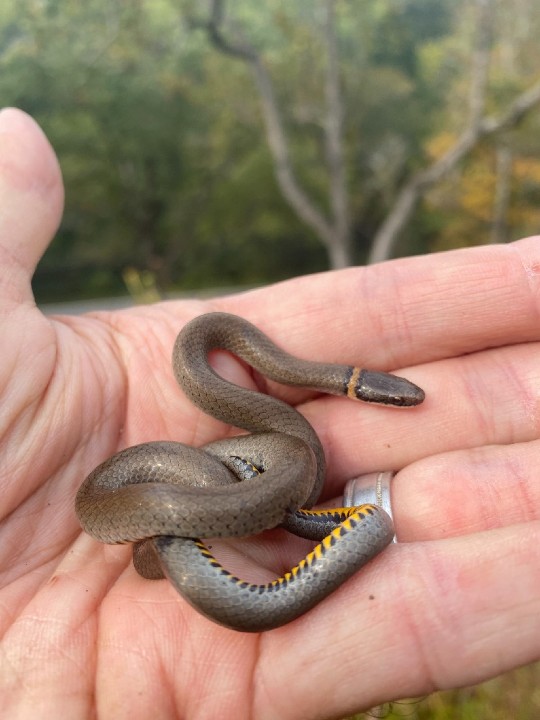 Praying Mantis.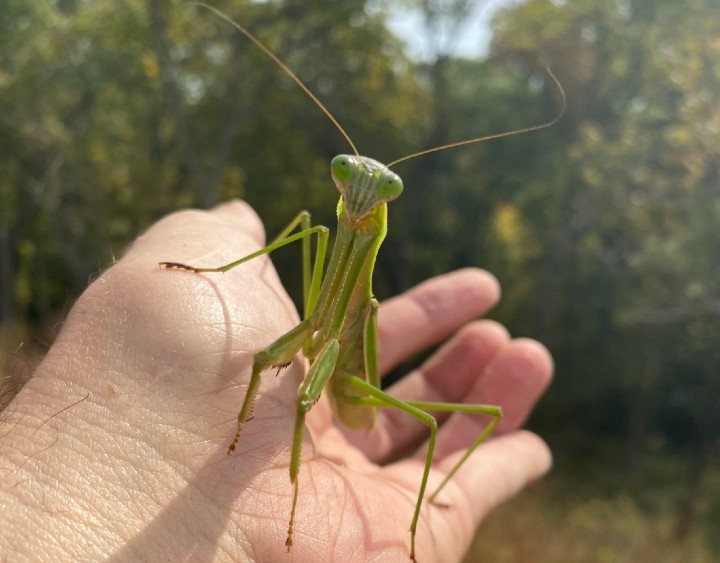 My only DeKay's Brown Snake of the trip.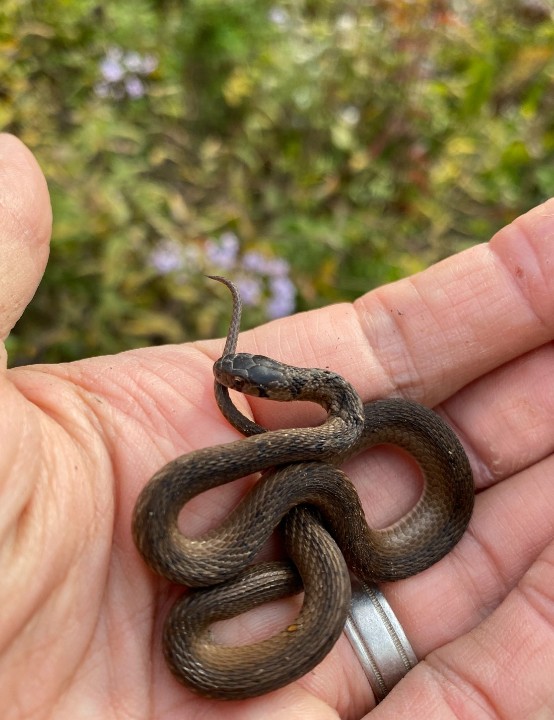 Herp habitat.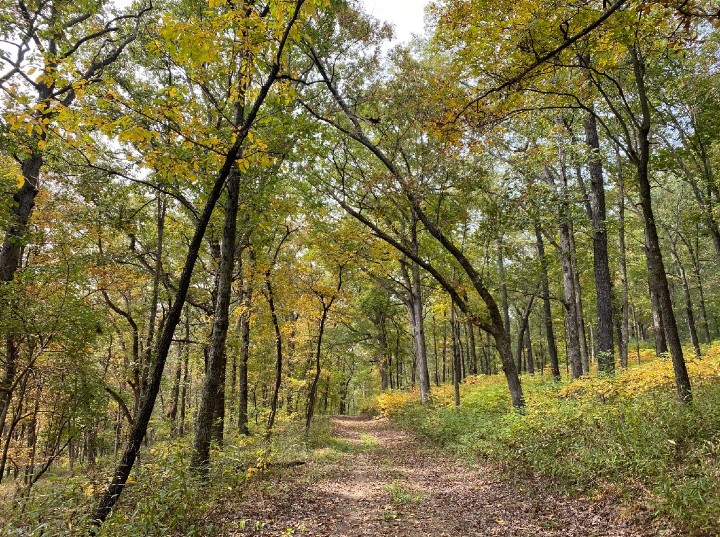 Also known as "The Little Brown Skink," the Ground Skink is one of the smallest reptiles in North America.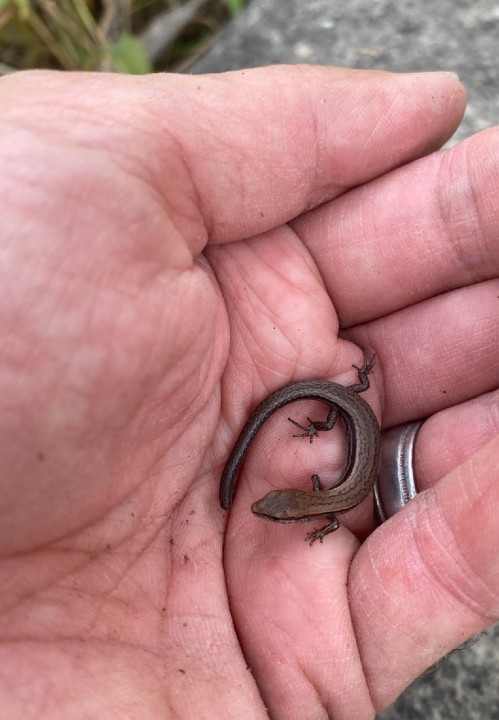 Mississippi Green Water Snake.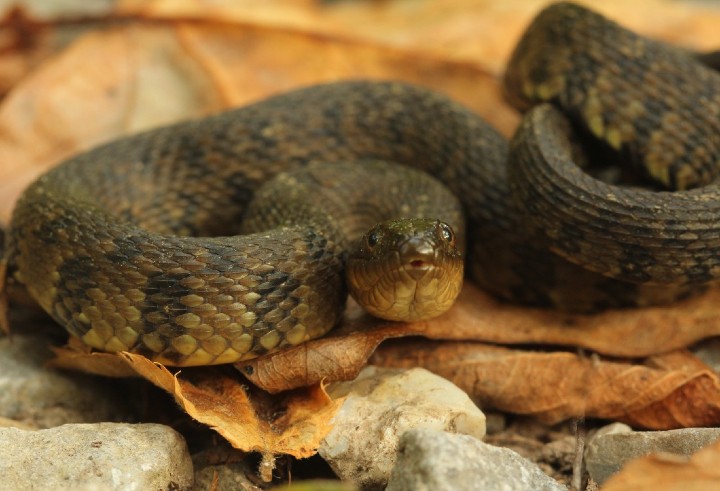 A colorful Eastern Box Turtle that I helped across the street.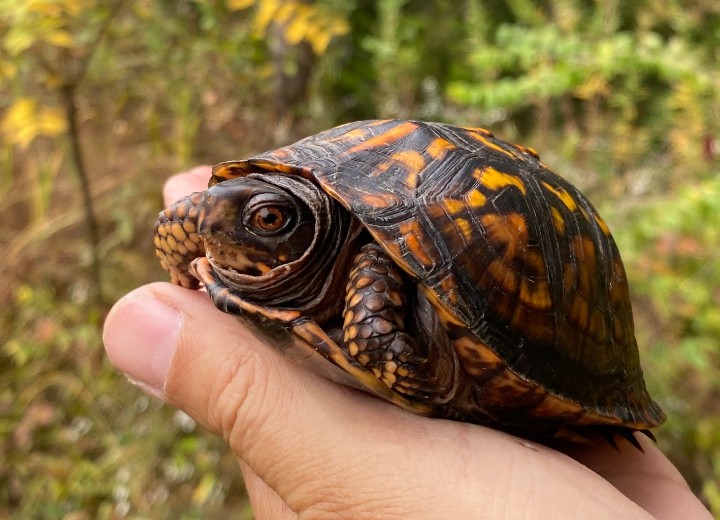 Diamondback Water Snake.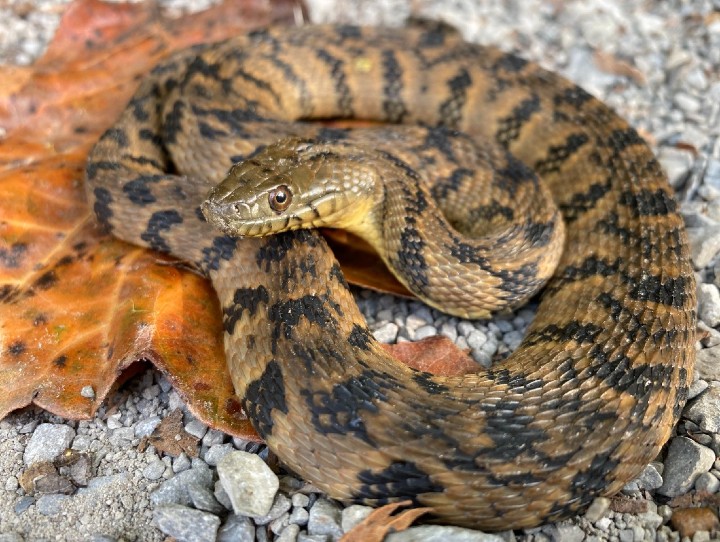 Yellow Bullhead.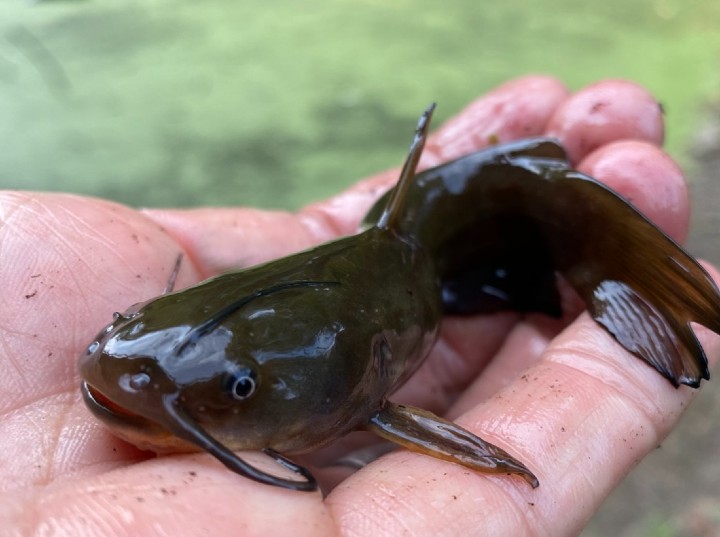 A Copperhead crossing Snake Road, showing off its heat-sensing "pits," which is how Pit Vipers get their name.
Fowler's Toad.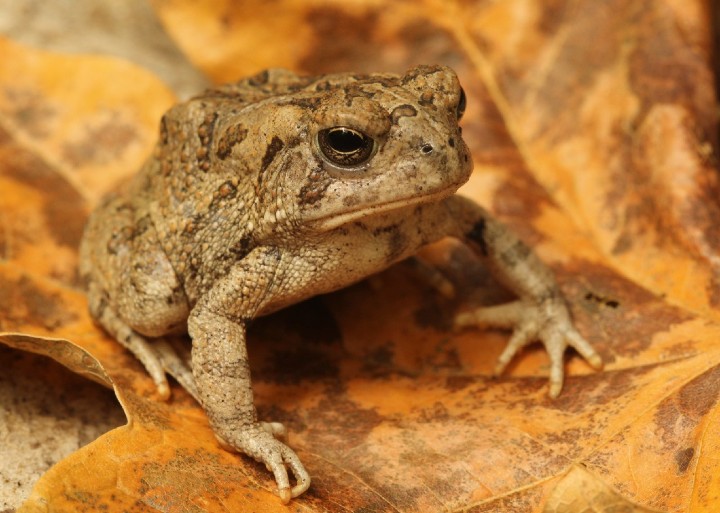 A young Rat Snake in the limestone bluffs.
Buckeye Butterfly.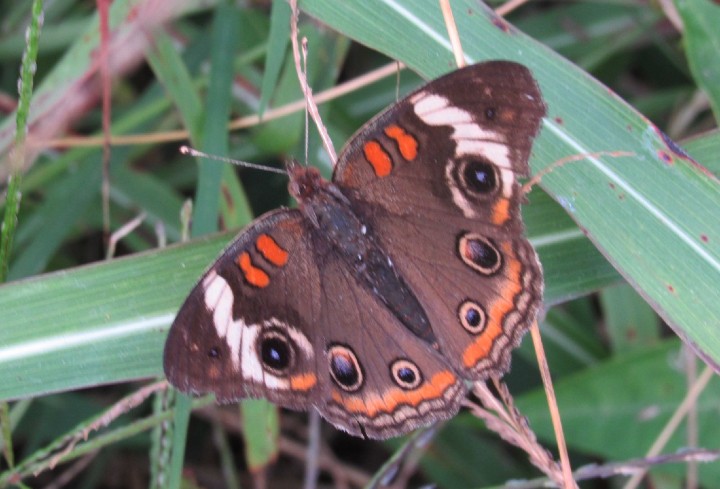 A well-marked and colorful juvenile Cottonmouth.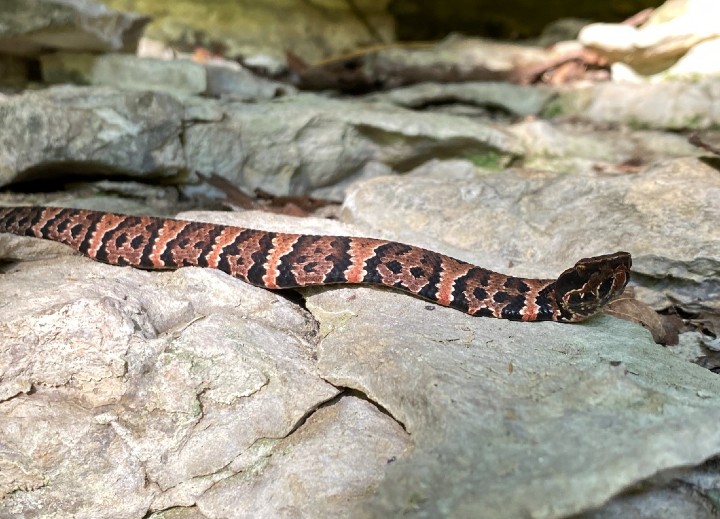 Double Green Treefrog goodness.
A Rat Snake on the levee road on evening.
Blue Lobelia.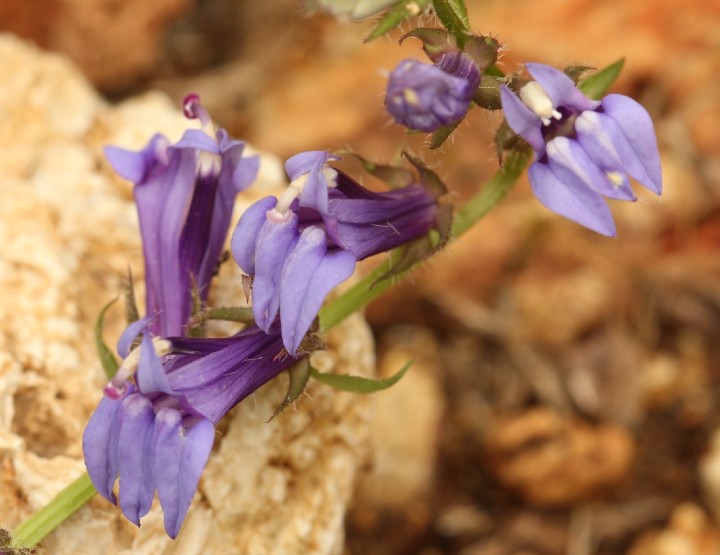 A nice-sized Diamondback Water Snake.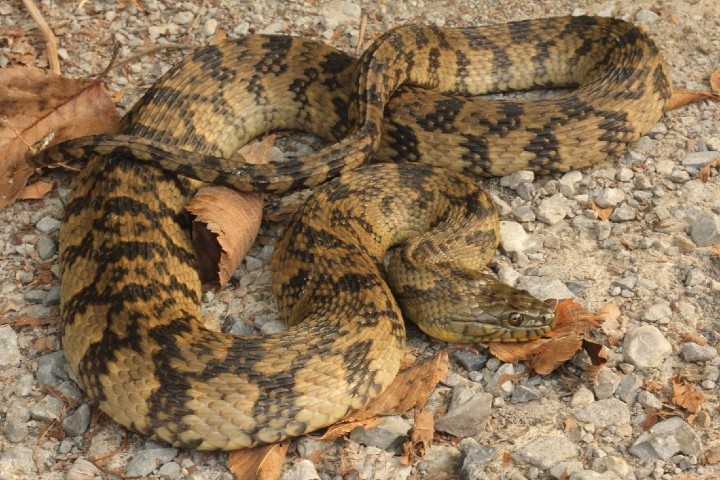 Clouded Sulfurs and Unclouded Sulfurs were seen in many areas of Illinois.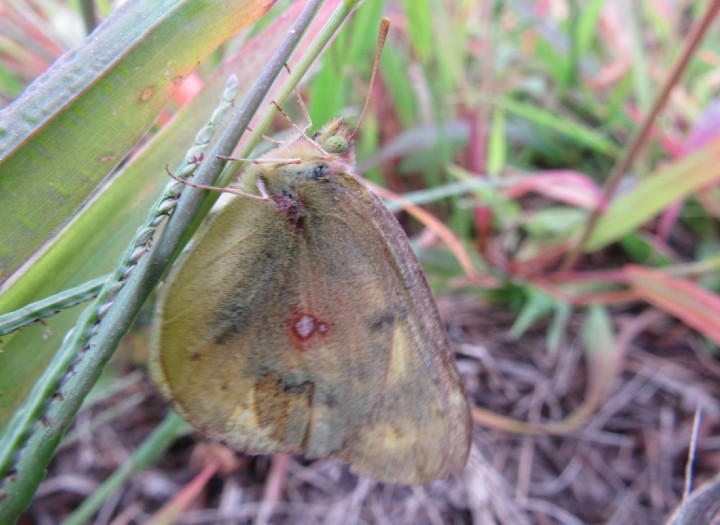 Herp Habitat.
A juvenile Cottonmouth.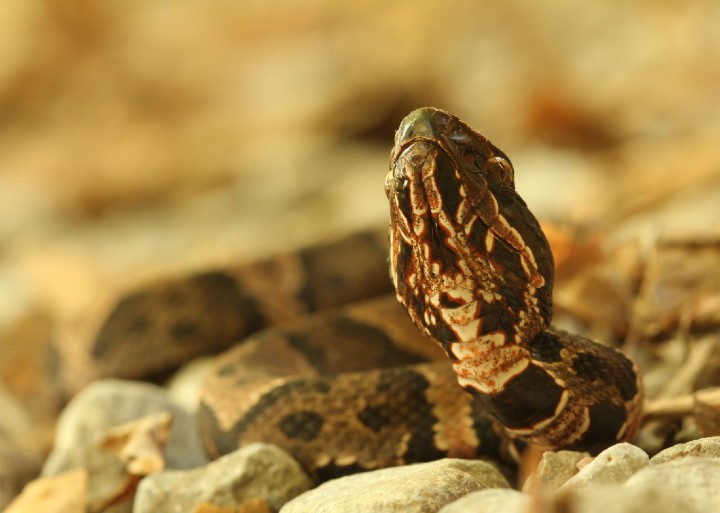 Double-crested Cormorant.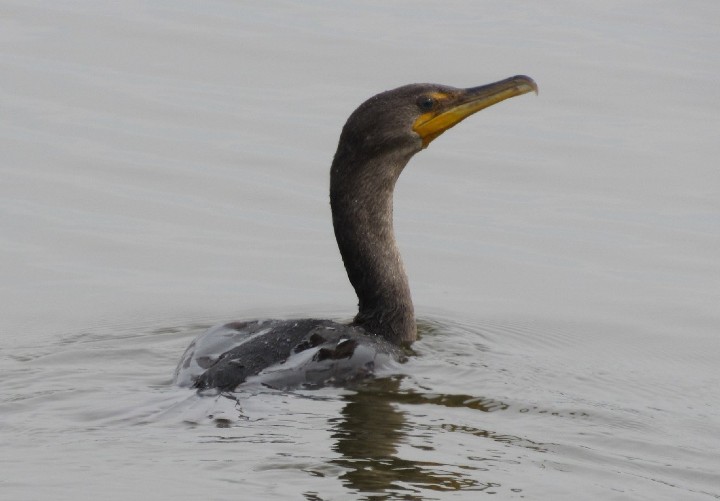 Obscure Bird Grasshopper.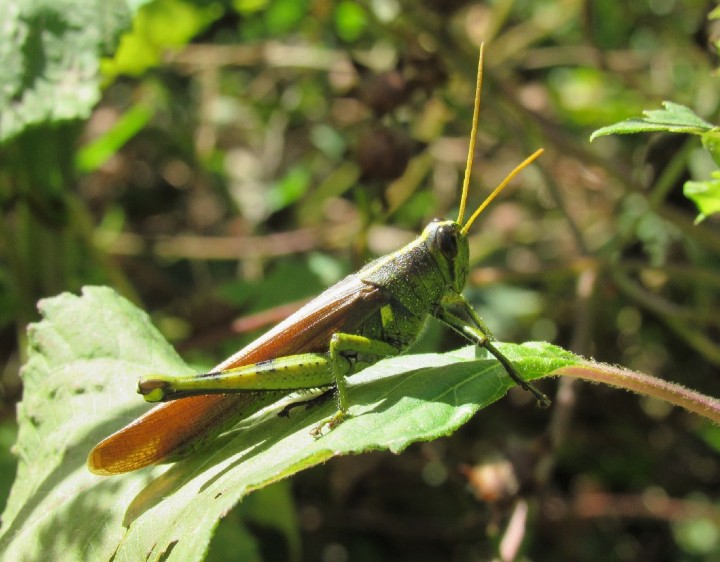 This large Timber Rattlesnake resting beside Snake Road was a great way to close out the trip.