Hi all,
Now that I've finally made an account I thought I'd share some of my best finds and photos from the last year. As an introduction, I'm a grad student from southern California (right now LA county to be specific). I really got into finding reptiles last spring when I realized that it was in fact possible to find more than 2 snakes a year if you actually tried (don't laugh). Being only an hour from Anza-Borrego at the time was a great way to get started (sadly, I am now confined to the north by LA traffic most days).
My 2020 nemesis the Baja collared lizard, imaged here in Riverside county this February:
A chuckwalla from the same day:
Last summer I spent a lot of time walking through boulder fields at night in the deserts of San Diego county looking for peninsular leaf-toed geckos. I mostly found Xantusia, but eventually did succeed on finding two tiny geckos on back-to-back attempts running around in near-100 degree heat.
Granite night lizard:
Peninsular leaf-toed gecko #2:
And some of the better results from road cruising the deserts:
Mojave shovelnosed snake:
Another one from the same spot:
My very first rosy boa:
Colorado desert shovelnosed snake:
A healthy sized red diamond rattlesnake from two weeks ago in Anza-Borrego:
This spring I spent some time working in New Mexico and was able to find this western diamondback on the roads there:
Some other random snakes and lizards this spring and summer:
Recently described Mohawk Dunes fringe-toed lizard (with a blood-sucking midge riding along):
Sonoran horned lizard from Yuma county:
Bleached earless lizard at White Sands:
Western black-tailed rattlesnake pretty high in the Chiricahua mountains, here seen pissed off because I interrupted its daytime road crossing by swerving around it.
A mountain kingsnake also in the Chiricahuas, which I'm still regretting not picking up for better photos: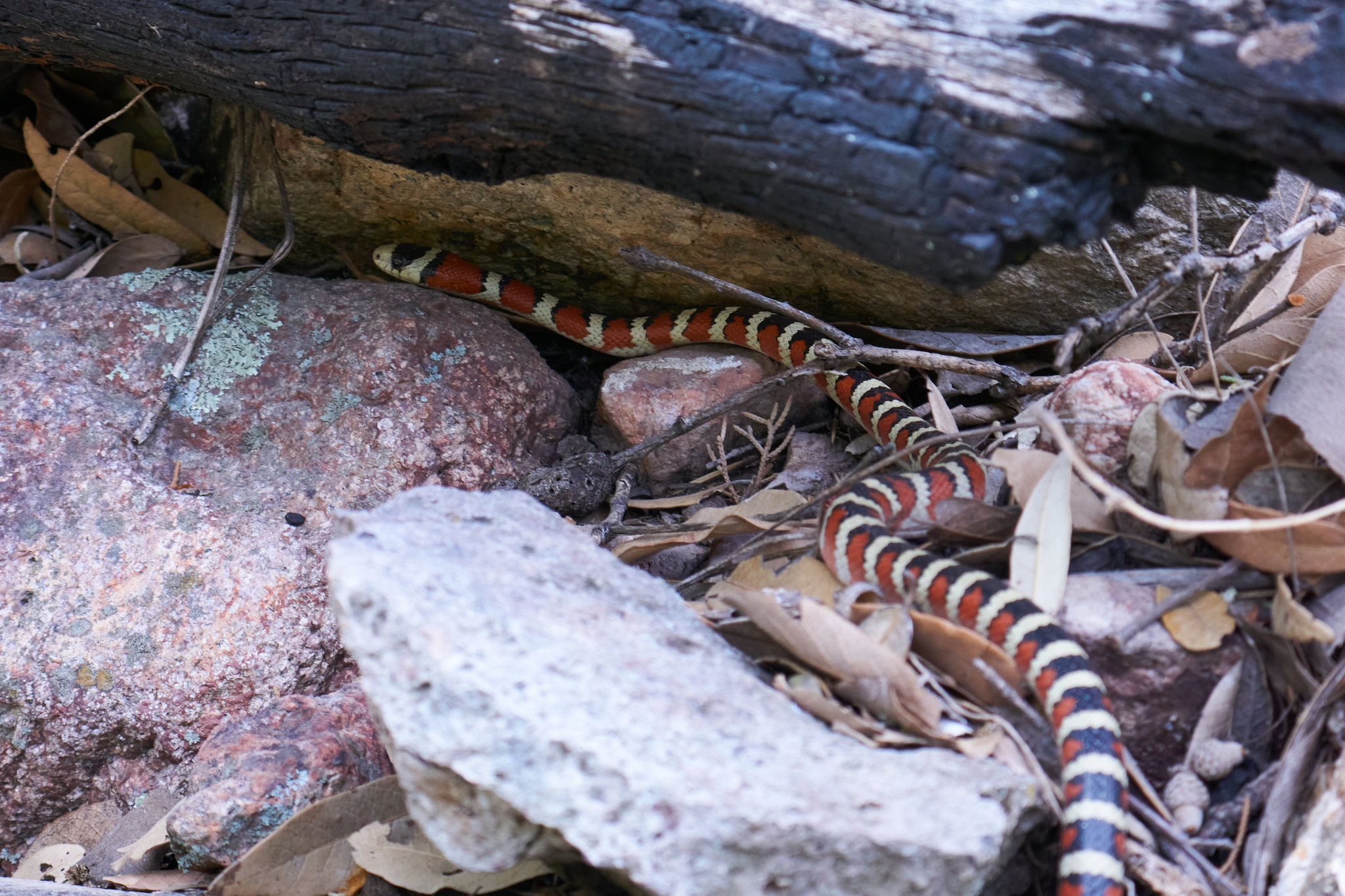 And finally a few photos I got of snakes in the lower San Gabriel mountains:
The season seems to be winding down here but I'm still hoping for a few more local reptiles before winter - though I've pretty much given up on photographing a live coast mountain king this year.