Well I suppose its time to get this posted. I could have made it 3 times longer but I wanted to get this up by the end of October, so here it is:
The Lined Snake (Tropidoclonion lineatum) is quite possibly the rarest snake in Minnesota. (That is, until someone actually finds a Massassauga) Lined Snakes are only found in Rock County in SW Minnesota and all known specimens have only been documented within the boundaries of a certain protected area.
Even the biggest ones look like small dull colored garter Snakes, but it's the distinctive "half-moons" on the belly that easily identifies them.
Lined Snakes are only found out crawling around during "Indian Summer" in early October. (Usually any sunny day after the first frost)
...And most of the time this is not so easy: Can you see the Lined Snake?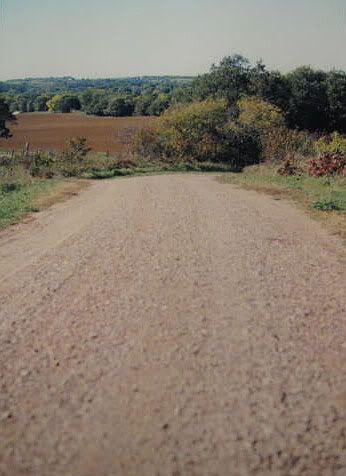 How about now?
There it is. And its not even a neonate. (They get even smaller than this!)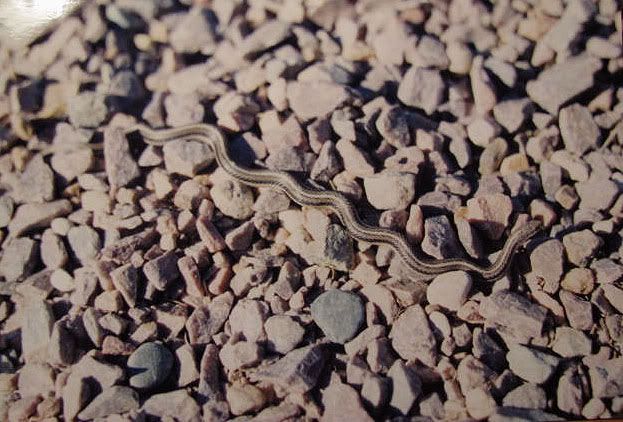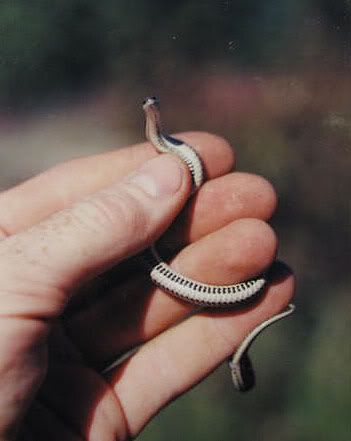 From 2002 - 2005 I had the opportunity to conduct field research in eastern South Dakota. The Lined Snake has been a state endangered species there since the 1980's (?) due to the fact that only a handful had ever been found in the very southeastern corner of the state. In October 2002, during the very last warm day of the year, and shortly after a frightfully violent thunderstorm, I found 13 freshly road-killed Lined Snakes on a one mile stretch of road. This photo shows more Lined Snakes than had Ever been found in the state! All found within one hour after the storm. No live ones were found. It was a heartbreaking start to the Lined Snake project.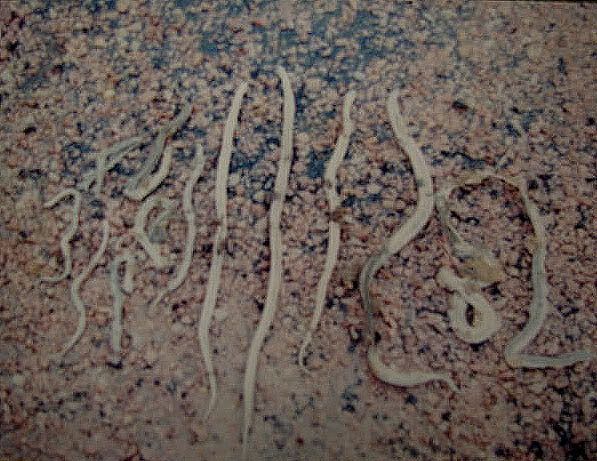 Here's a photo of typical habitat they're found in and along the Big Sioux River Valley.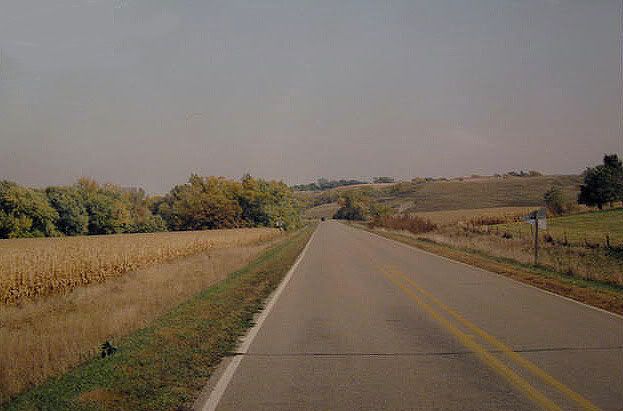 Another photo from NW Iowa: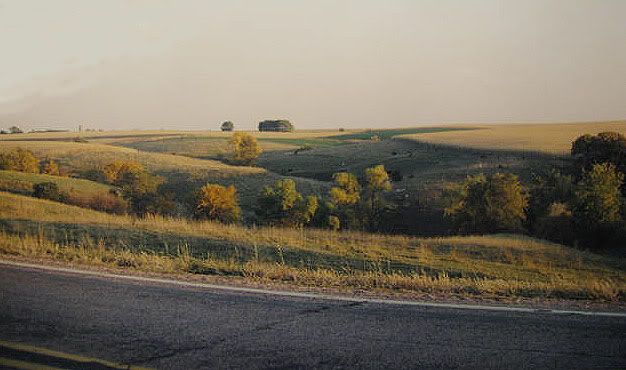 Lined Snakes are only found in areas of gently rolling prairie and cow pastures.
Oddly enough, the highest concentration was found near a housing development east of Sioux Falls.
Sometimes the only way you can find them is on a bicycle or walking!
Road crusing from a vehicle is nearly impossible with these tiny snakes!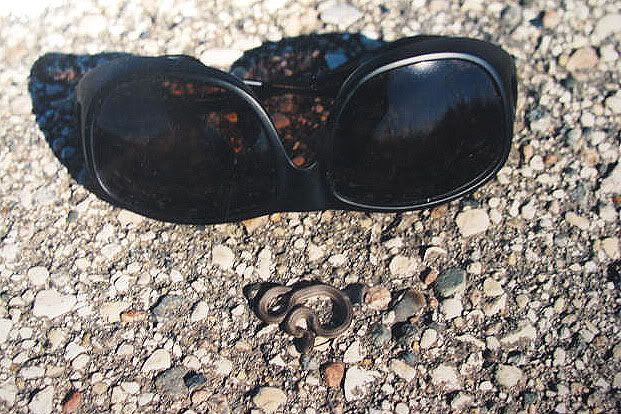 Back in SW Minnesota again. Here's why they call it Rock County!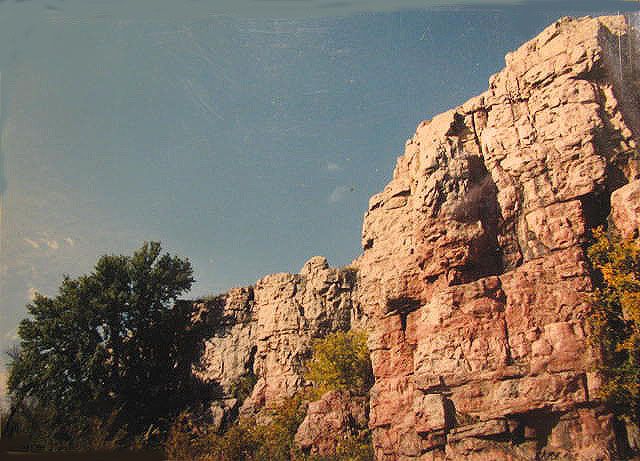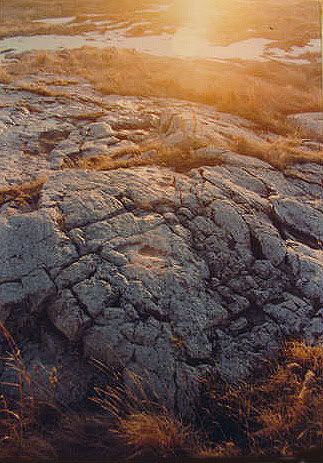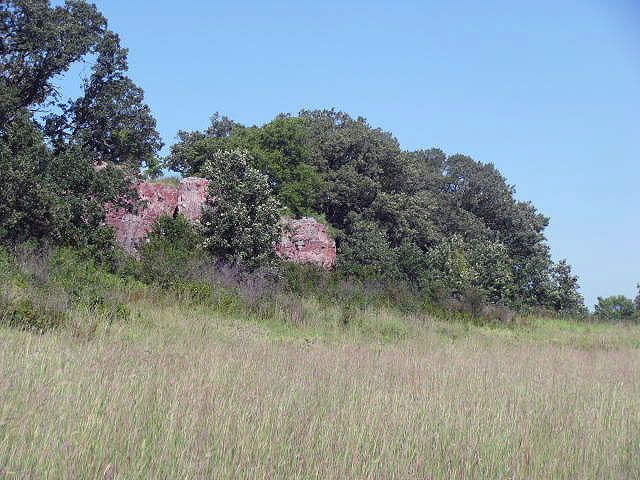 Purple Sioux Quartzite is found throughout portions of NW Iowa, SE South Dakota and in Rock and Pipestone Counties of SW Minnesota. (This is not a result of wierd PhotoShop. It really is this color!)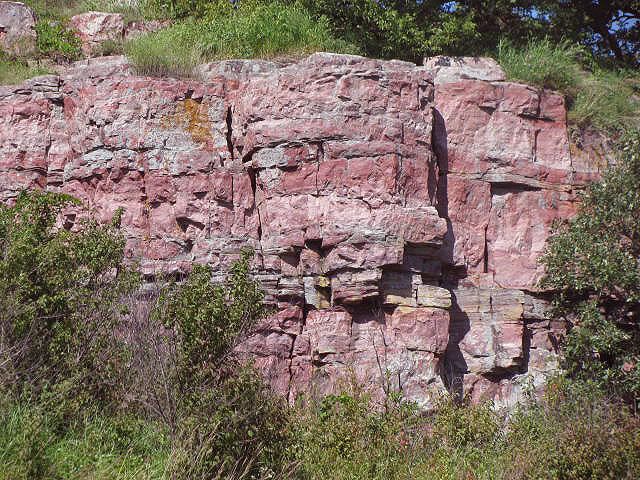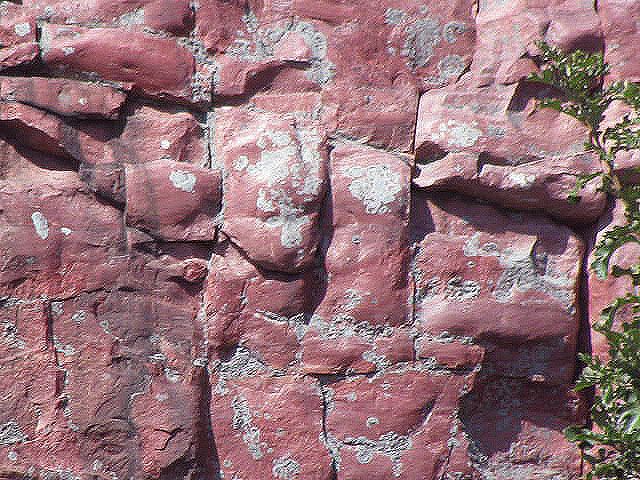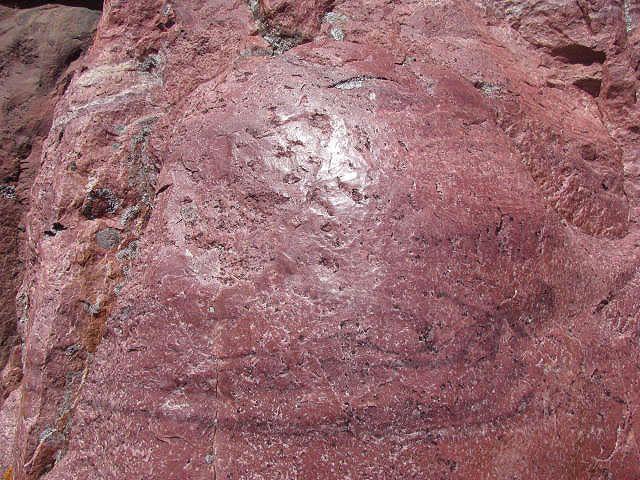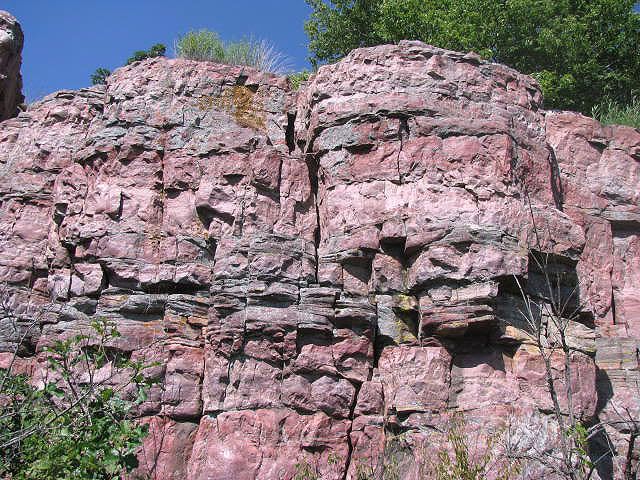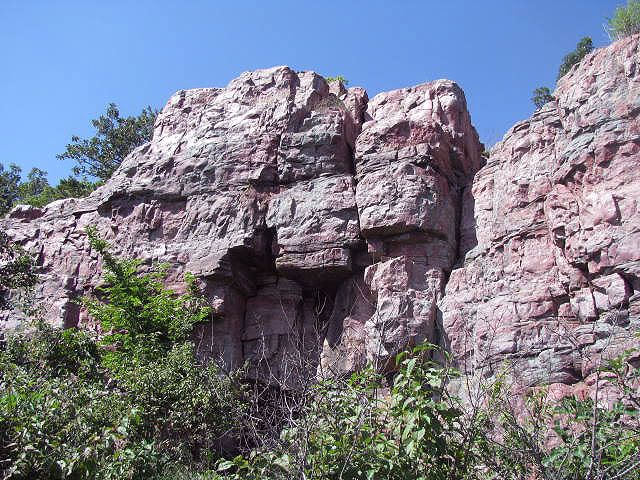 I grew up on a farm only 5 miles away from here. My Dad used to take us all out to this place on short "day vacations" and after he retired from farming in 1973, we both made many expeditions out here together. (Dad passed away in 2005 at 96 years old. Mom still lives in nearby Luverne, Minn. and we go to visit her at least once a month)
On October 16, 2010, we traveled back to visit Mom and to attend the "Collect the single dead Lined Snake off the park road" festival. (An annual event) I first found Lined Snakes on the north park road in 1972. The south park road was opened to the public in 1975.
Even though I have searched there every year in October, I haven't seen a single Lined Snake on the north road since 1986. They are now only found in an even smaller area in this county than ever before and I have genuine concerns that this tiny isolated population may be in danger.
In recent years we have found specimens in this area exibit an odd peach color phase, usually only on the belly. The latest one we found had a peach colored stripe on its sides too.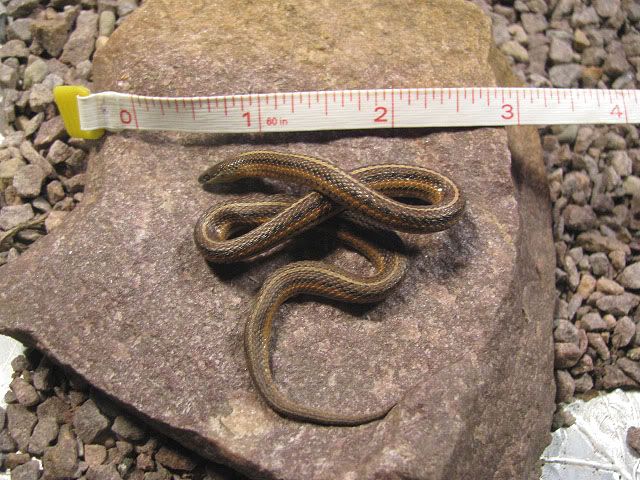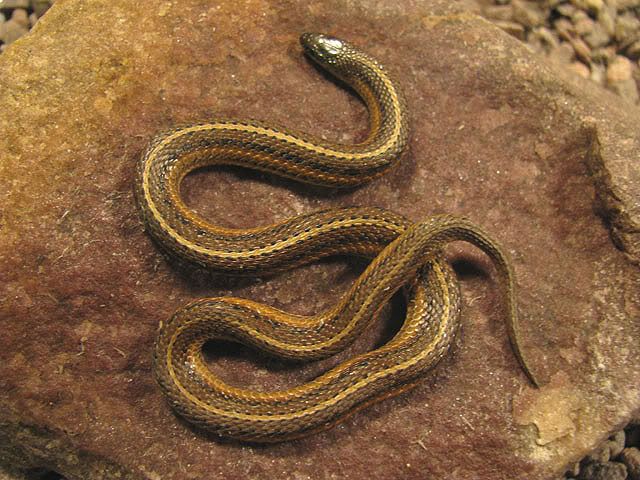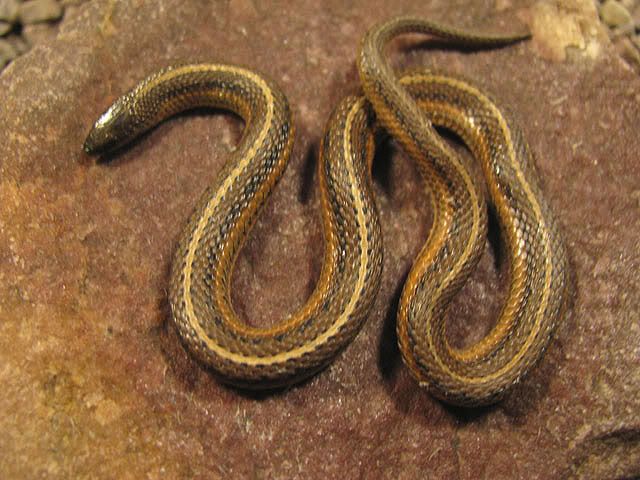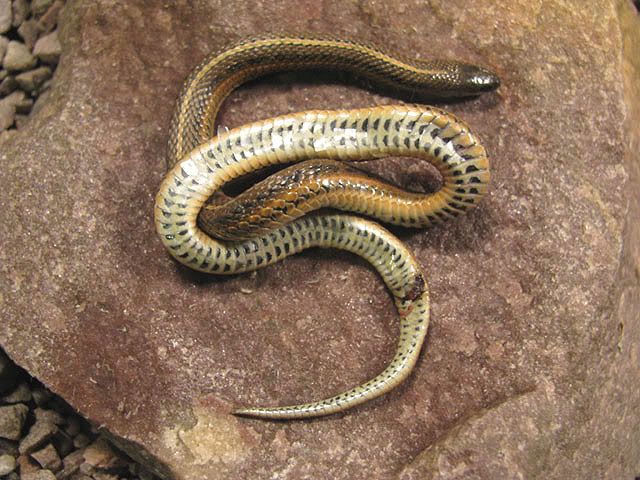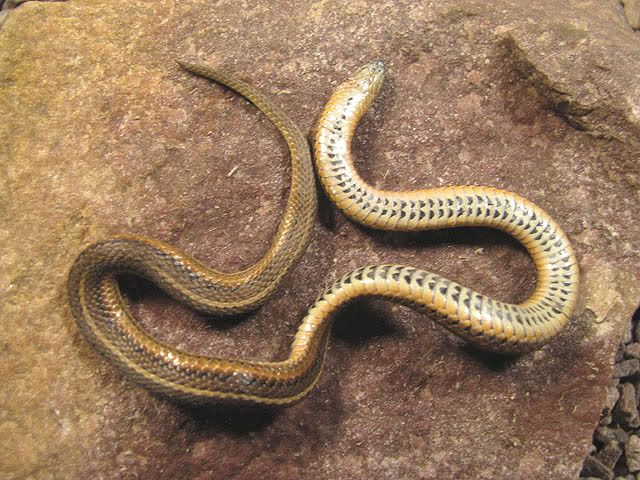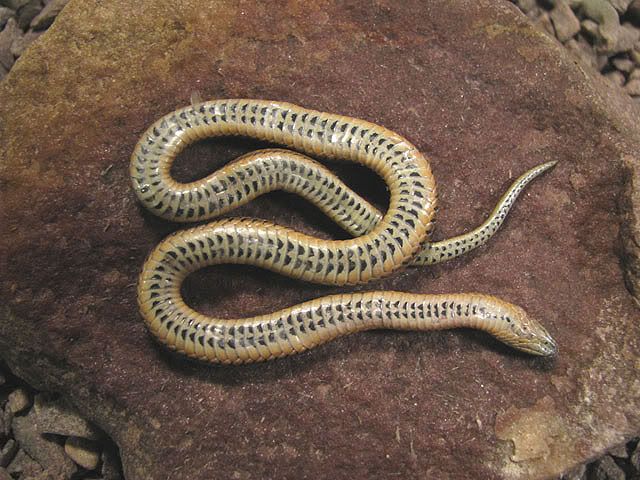 Part of the research project was to gather information on the secretive nature and habits of these seldom seen snakes.
In July 2005, I found a young adult gravid female Lined Snake about 8 inches long in a ditch in South Dakota. With a state permit securely in my possession, I carefully put her in a small traveling terrarium and brought her home. The photo below shows the typical kind of habitat that Lined Snakes are found.
Back at home I went right to work setting up a natural habitat for the snake. I got a ten gallon aquarium and proceeded to create an area where I could observe underground behavior.
First…I made an inner box of thick plexi-glass and filled it with ground up Sioux quartzite. (This would prevent the tiny snake from burrowing in to the center and completely out of sight.)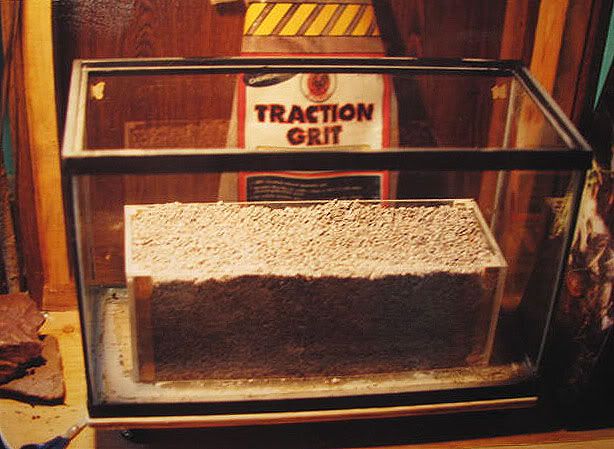 Next…I filled in the 2 inch wide area around the edge with loose soil, mulch, moss and small flat pieces of bark. This would confine the snake to the very edge of the tank within visible range and would also create small pockets and hiding places.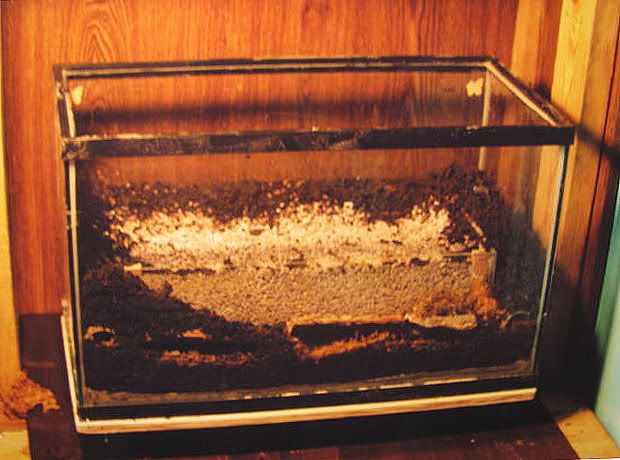 On the surface…I arranged some pieces of quartzite and a layer of grass clippings with a small water bowl. (The whole tank became very heavy now…so I put it on a piece of plywood with wheels for easy turning and viewing. And the bark trim looked nice in the close-up photos, too.)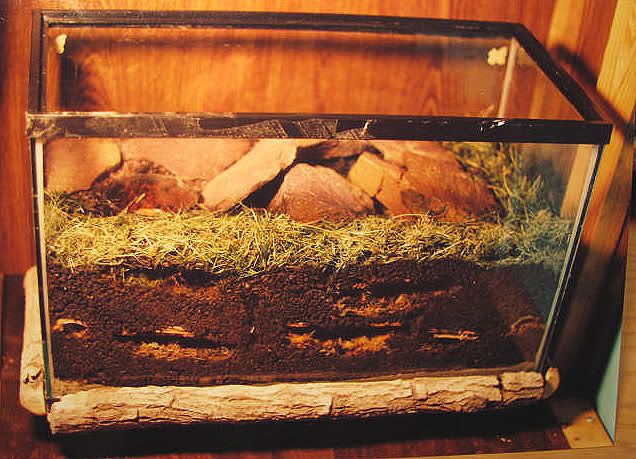 Last of all…a secure escape proof lid with plenty of ventilation and a full-spectrum 60 watt light bulb.
Final ingredients: A dozen small Earthworms and one very small gravid snake.
At first she was so heavy and clumsy…she moved around in the same manner as a huge Python! Inching her way forward and then pulling up the rest of her body. After a while she felt more secure and had much better traction when she cruised around just below the surface of the moss and grass
She never really "tamed down" at all. At the slightest movement from me, she would freak out and panic and dart off to the other side of the cage! She continued this crazy behavior until the day she was released again. Most of the time, this is all I saw of her, if anything at all. Even though I had limited her access to only a small portion of the aquarium, she still had a habit of completely disappearing. Sometimes for days at a time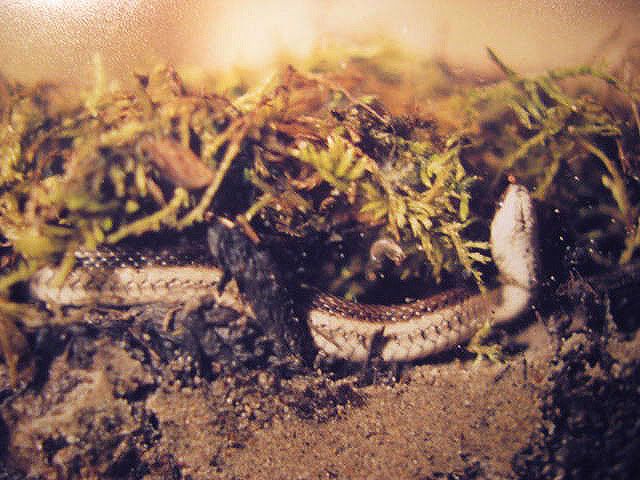 This eventually became her favorite spot, just under one of the quartzite rocks. She also spent a lot of time during the afternoons just under the surface of the grass in day time temps that reached well over 100 degrees!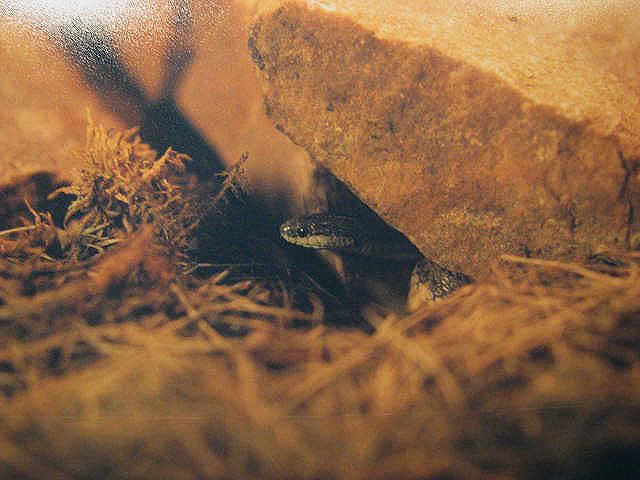 After some time had passed, she began exploring the underground passages that the worms had made during the night. She gradually enlarged them and gained access to the open chambers down below.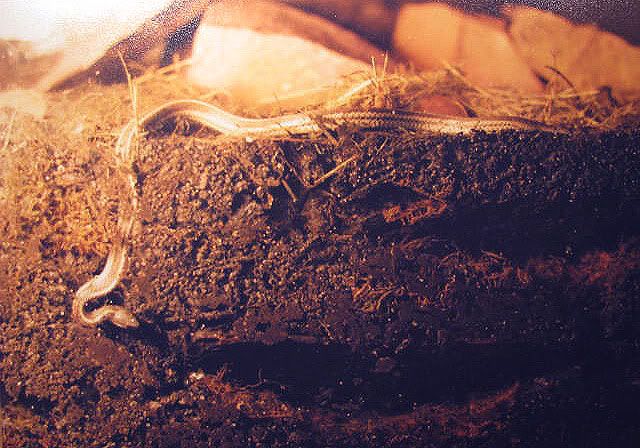 She continued tunneling and enlarging the worm holes till she had a network of underground pathways.
It was never easy to get a good photo of her, even when she was right out in the front part of the cage. She usually went tunneling at night. This meant that I had to have the camera all ready and focused. As soon as I turned on the spot light (I didn't have a flash at the time) she crawled out of sight after about 15 to 20 seconds.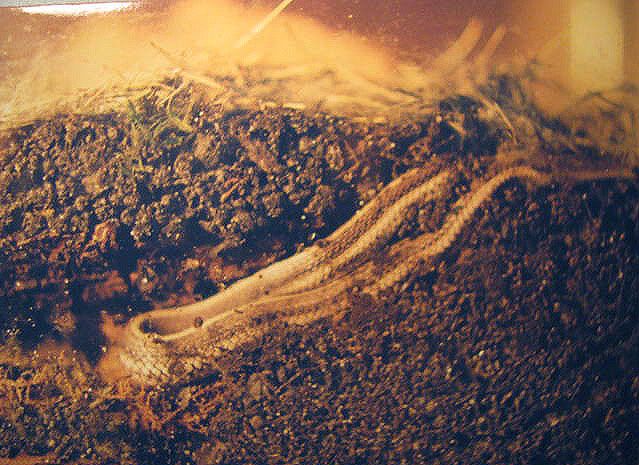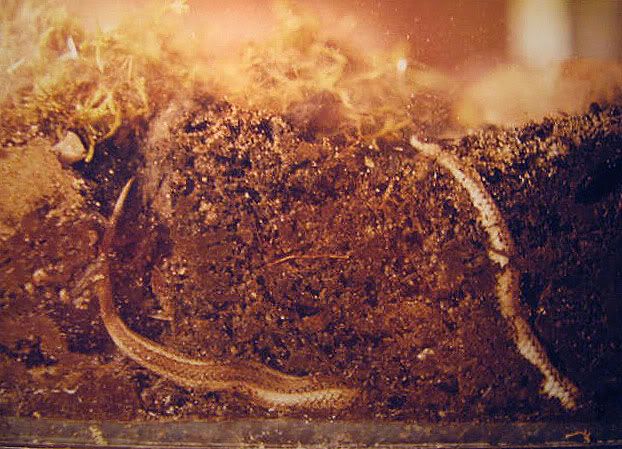 She finally began spending more time in one of the big underground chambers right in front.
Early one evening I watched her as she began hunting for a worm that I dropped at the entrance to her favorite tunnel. Down below you can see she has caught the scent and is ready to attack.
Here's another sequence of photos where she has captured the worm and is dragging it down the hole.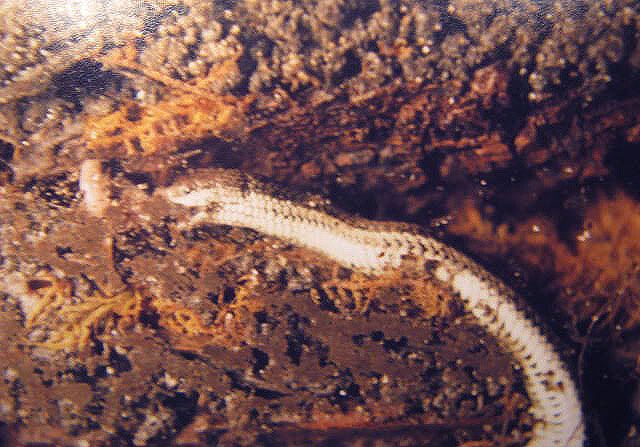 She finished swallowing it right in front of the camera. This is the only photo sequence I ever got of her eating. She usually either ate on the surface and dragged it under her rock or disappeared farther back down a side hole when hunting underground.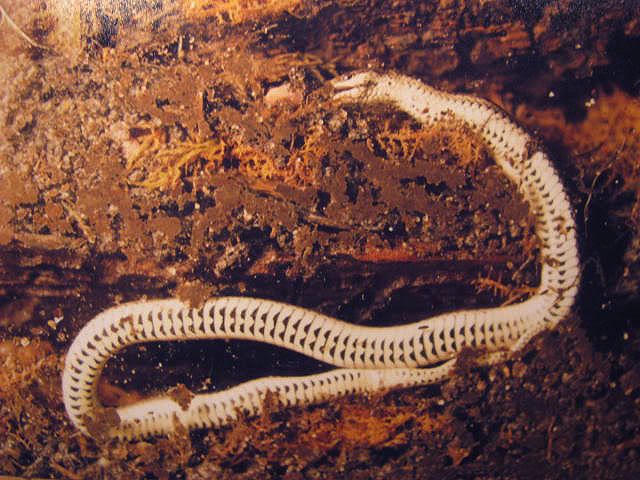 Here she is all fat and happy in the chamber down below...digesting a big worm and carrying 7 babies.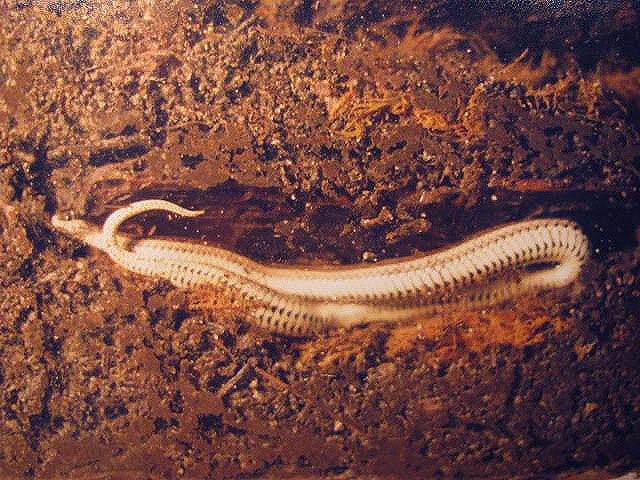 She had 7 babies on August 19 in the late afternoon, during the only 2 hours that I was out of town! I had hoped that I could capture the event on film…but she waited till I was out of the house.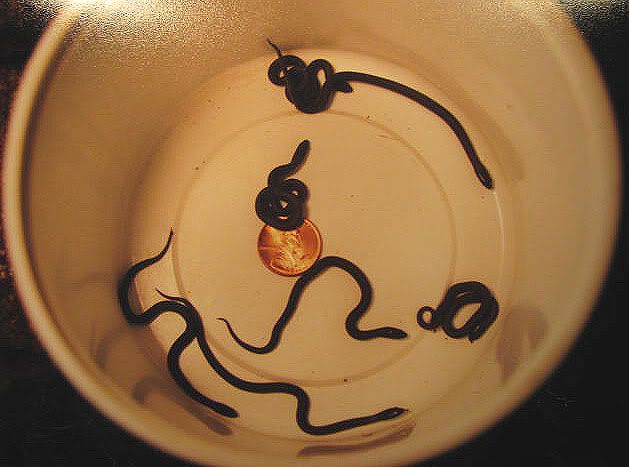 Each neonate was about 3 inches long.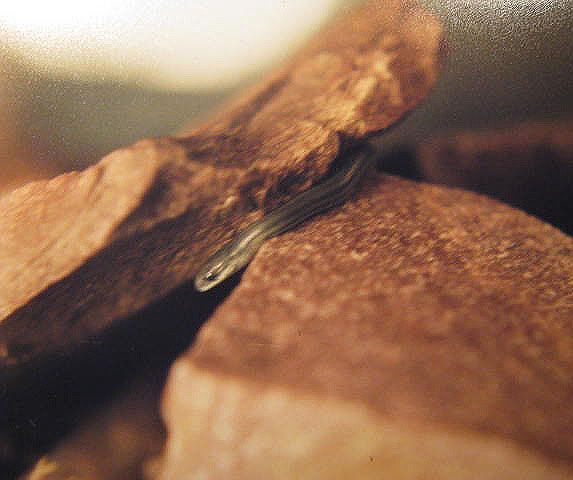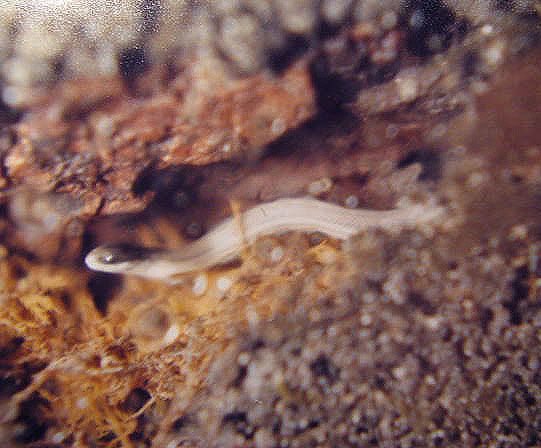 The babies were relocated to their own smaller terrarium with a similar set up as the mother. About a couple dozen tiny worms were introduced and each baby hunted and captured its prey just like the adult.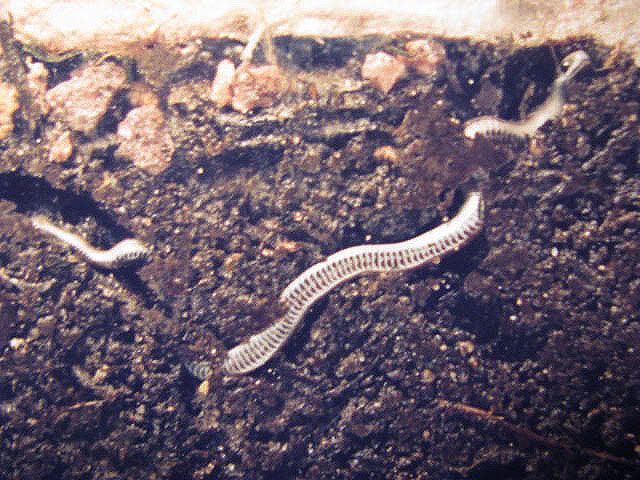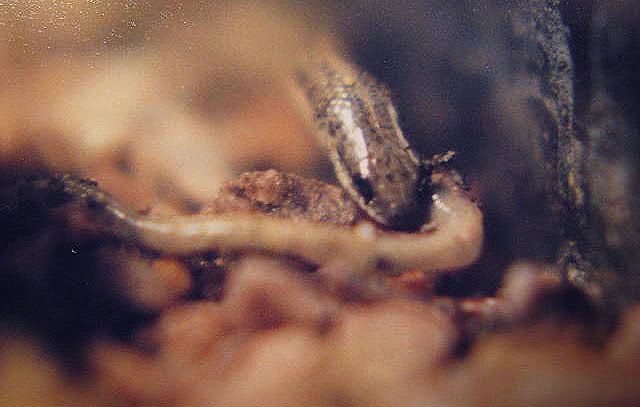 After about 3 weeks…I began to notice only 3 babies visible at any one time. I began to fear that the other 4 had died somewhere down in the dirt. On the last day before release…I carefully dug down into the substrate and removed the dirt and moss. There…way down below nearly at the bottom of the terrarium…were the missing 4! All this time they were all doing fine and had, in fact, each grown about an inch before all 7…including the mother…were released on Sept. 14 back at the exact same location under the piece of concrete in the ditch.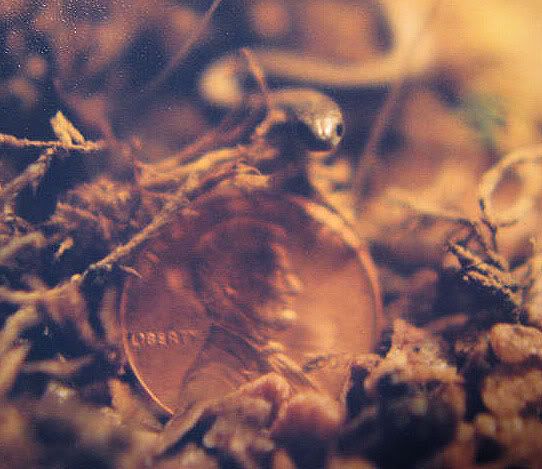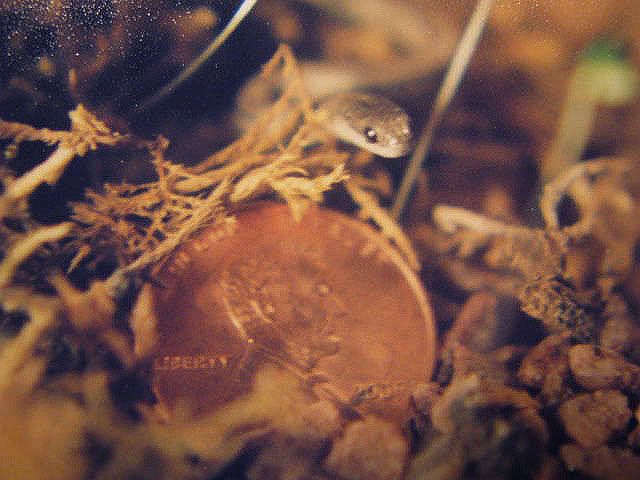 (Unfortunately…I didn't get photos of the release…as that roll of film was accidentally exposed and destroyed.)
It was a fun summer science project!
During the summer of 2006, the Minnesota County Biological Survey concentrated on finding additional populations of Lined Snakes outside the park. Only one was found near the edge of the road, just outside the park boundaries.
No other specimens have ever been found despite the fact that a lot of likely habitat still exists in SW Minnesoat.