Not even a week ago, in
another thread
, I bemoaned the futility of searching for Enhyrdis water snakes, to wit:
"There's a large lily pond 20 minutes from my house where E. plumbea can be found.....if you're good. They love to burrow into the mud until only the eyes are sticking out and then stay there and wait for frogs. Since the dorsal region of these snakes is exactly the same color of the mud, searching for them is very frustrating. Oh, they're nocturnal, too. So far, I've never seen a live one. Plus, they're mildly venomous and supposed to be very pissy-tempered. I wonder if a search is worth it?"
Well, yesterday a friend who works at the Taipei Zoo called me and asked me if I and the boys would like to partake in a zoo-sponsered herp survey of the above-mentioned water lily ponds. That lily pond has come to prominence as it's one of the last places in Taipei County where the rare Taipei Grass Frog (
Rana taipehensis
) can be found. The lilies (
Nympheae
sp.) used to be farmed commercially by an old farmer, and when the Taipei Zoo found out about the Taipei Grass Frog, they offered him monetary compensation if he'd quit using pesticides in his ponds. That he did, and today the ponds are a superb example for localized biodiversity. Ten kinds of anurans, countless types of aquatic insects, and a dozen species of snakes make the ponds a great place for any naturalists - if they're patient and bring waders.
So last night we went there (without waders), did a few rounds around the ponds, enjoyed the frog chorus and the hunting dragonfly nymhps, almost stepped on a Many-banded krait (
Bungarus multicinctus
), and finally hit the jackpot - a juvenile Chinese Water Snake, aka
Enhydris chinensis
, a lifer for me.
This is what
http://www.snakesoftaiwan.com
has to say about this species:
Homalopsine snakes are usually considered a subfamily, the Homalopsinae, of the family Colubridae. All of them have valvular nostrils combined with a mechanism for complete mouth closure, and a trachea that can extend to the internal nostrils within the mouth, all of which facilitate their underwater lifestyle. Most also have small eyes located close to the top of the head, enlarged rear maxillary teeth that are grooved and other anatomical characteristics that suggest they all share a common ancestor.

Enhydris chinensis is a crepuscular or nocturnal snake found in fresh water, such as ponds, rice paddies, and ditches, but its habitat is not limited to those areas: E. chinensis is Taiwan's only colubrid that can also thrive in brackish water, e.g. some of the ponds in Taipei County's Guandu Nature Park (關渡自然公園). Although it spends almost all of its time in the water, it can be found on land after heavy rainfalls.

Fish and frogs are its staple foods. In August and September, females give birth to 3-21 young. When disturbed, this snake has a tendency to submerge into soft mud. Its defensive behavior consists mostly of feigned strikes, accompanied by lateral or vertical head jerks and quick vertical jumps. It may also launch a profuse flow of semi-fluid feces with a very distinctive and pungent odor.

This is Taiwan's rarest opistoglyphous (= rear-fanged, see footnote (1)) species, and is mildly venomous. While its venom is not fatal to humans, bites may lead to swelling, itching and/or allergic reactions.

In Chinese medicine, Enhydris chinensis is the species most commonly used for the production of snake oil.
So, here are some shots of this 5-inch juvenile. Of course, while we were shooting, some guy came up and showed us a few photos he had taken the day before of a 15-inch adult eating a large frog, thereby somewhat diluting our joy about the find.

Some habitat shots first (many more
here
)
The snake: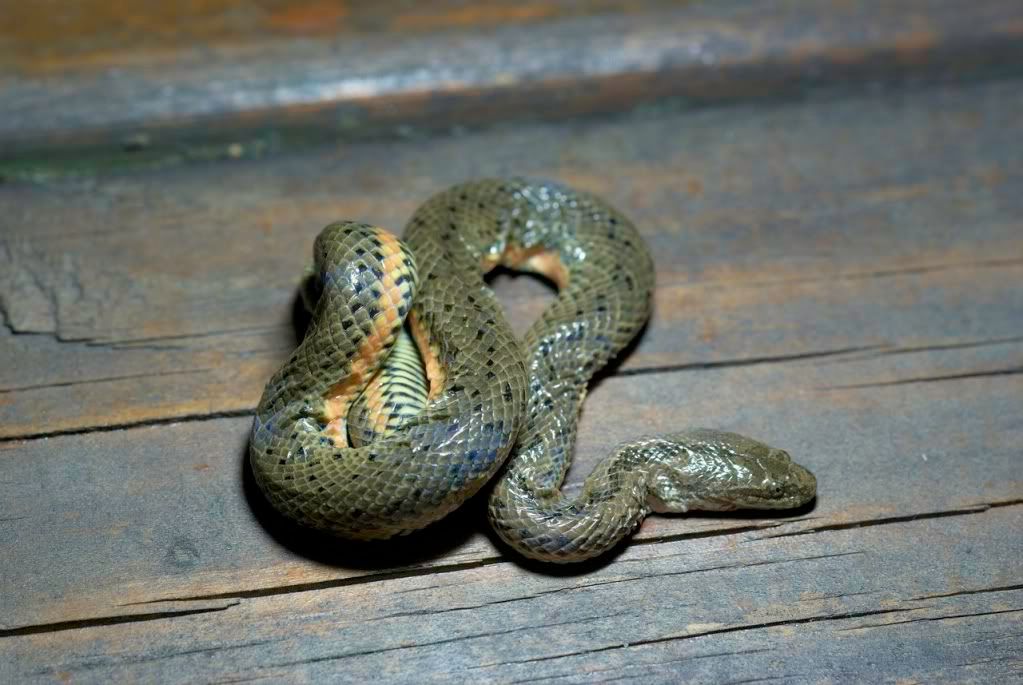 When we were almost done, some guy came up with another juvie he'd caught, and we had a few group shots: