It has been a while since I have contributed something to the forum, so here is what I have been up to the last week and a half. During the first weekend in April, Brian Willey, my dad, and I decided to do some herping. We headed to a place we like to herp every spring and fall. Within 5 minutes of arriving, I flipped up this nice surprise!
Red Milk Snake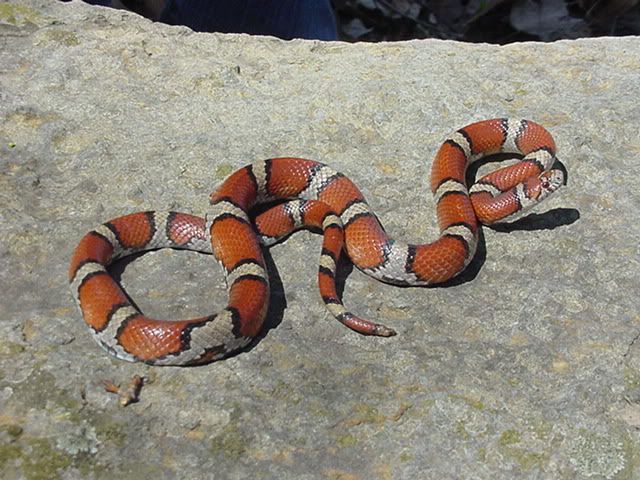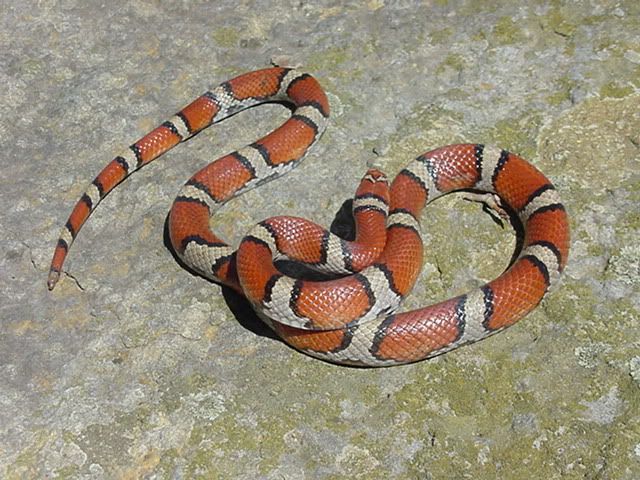 Later on Brian flipped this trio under a rock.
Eastern Narrow-mouthed Toads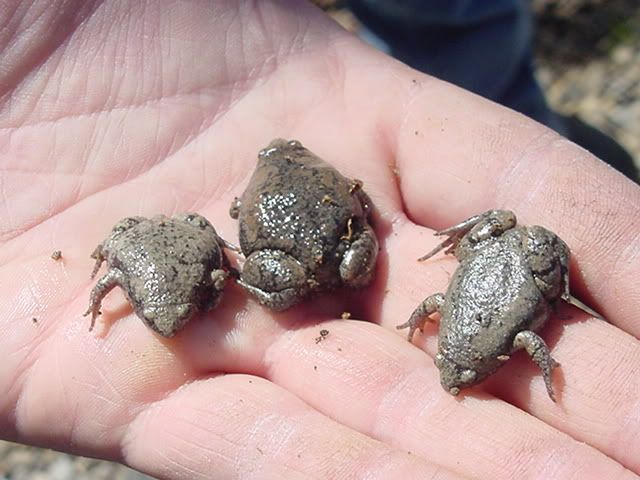 This next find was quickly flipped after the three amigos from above.
Western Worm Snake
Later in the day, these became extremely common. We saw more than 160 of these on this day.
Pair of Western Cottonmouths
Pile of Western Cottonmouths
A few of these were seen as well.
Broad-banded Water Snake
Near the end of the day, Brian flipped up this amazing looking animal!
Red Milk Snake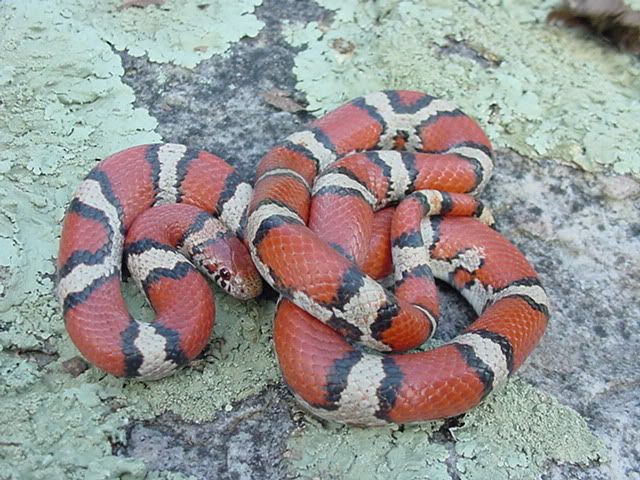 The next day Brian and I headed out to another area. Brian flipped this snake under a rock.
Northern Water Snake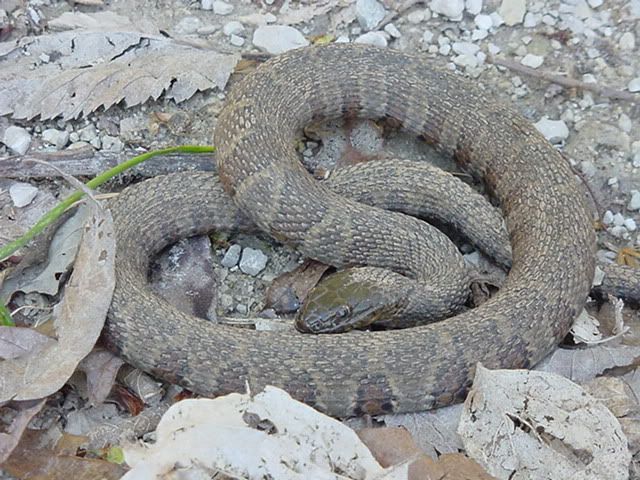 We found a few copperheads on this day as well. Most were partially hidden like the one below.
Osage Copperhead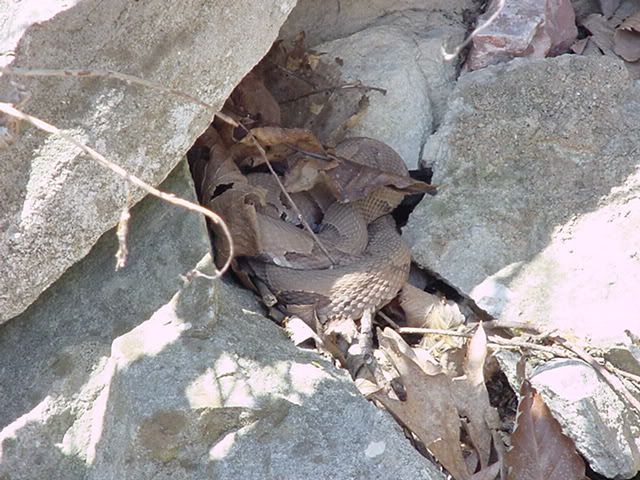 Another copperhead
Now we come to this past Saturday. My dad, another guy named Brian, and I were in route to Iowa for a non herping agenda, when we decided we had some extra time. What else do you do with that kind of time? You guessed it! We did some herping. After finding some northern water snakes, red-sided garter snakes, and a prairie ring-necked snake, we spotted this lifer stretched out in the road.
Western Plains Garter Snake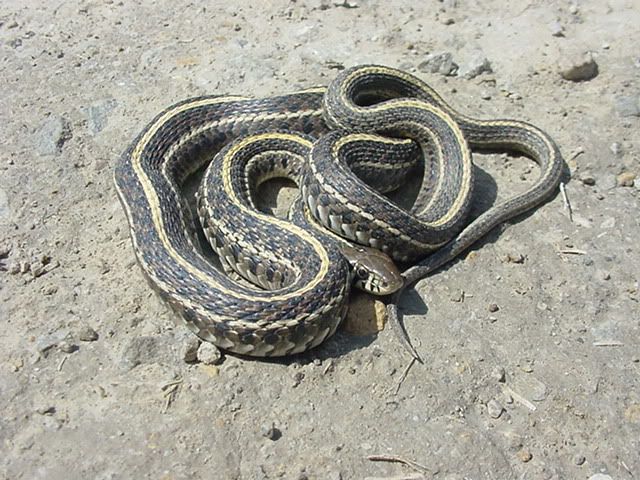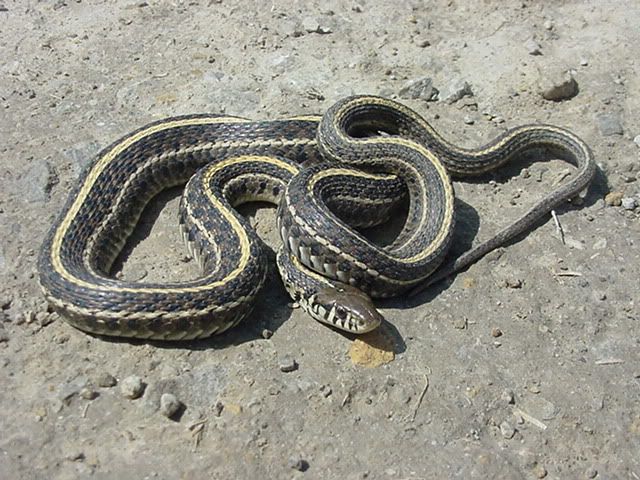 I was thrilled with the find. Thinking the day had climaxed, I was totally unprepared for what was to come later in the day. Those that know me know that I have a second hobby that I am passionate about. It involves chasing storms. While photographing a large supercell thunderstorm, very large hail started falling on us. We are talking golf ball to baseball size hail. Sorry no pictures of those. Anyway we headed into a nearby town and took shelter under a gas station overhang until the hail passed. While waiting for it to stop hailing, the power in the town suddenly went out. There was no wind, so we knew something wasn't right. We pulled out of the gas station, while sporadic hail stones fell from the sky. We drove down the road a couple hundred feet so we could get past some buildings in order to see to our west. We finally got past the last building and quickly realized we were in trouble if we didn't move. I was screaming for my dad to drive as quickly as he could south down the road. We finally got far enough south that we were no longer in danger. We looked back and were able to snap a picture of what caught us by surprise.
Large Tornado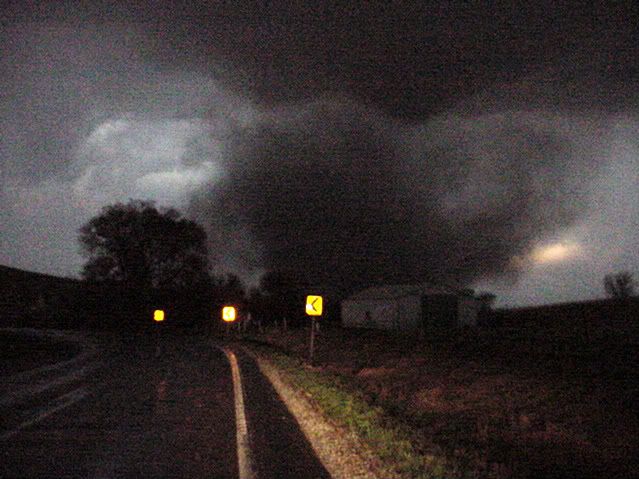 When the tornado was originally spotted it was large and only 2 or 3 blocks to the west moving right at us. Luckily it was moving fairly slowly or we would have been in serious trouble. The tornado moved into town and did EF-3 damage, which is significant destruction. 60% of the town sustained damage and 20% of the town was leveled. The town that was devastated was Mapleton Iowa. When looking back at the tornado track in relation to where we were waiting out the hail, I quickly realized how lucky we were. The tornado made a direct hit on the gas station where we were sitting. If the power had not gone off and thrown us a red flag that something was going on, we would have been there when the tornado hit. The tornado hit the gas station within two minutes of us leaving it. That was a seriously close call. We took the picture above when we were safely south of it. The tornado eventually dissipated after several minutes. It soon became dark outside, but that didn't stop the storm from recycling. Around 9:00 PM, I was lucky enough to catch more tornadoes with my SLR using the lightning to back light the tornadoes.
There is one tornado in the center of each picture, but there is likely a second tornado on the left side of each picture. It is hard to tell if the lowering of the cloud on the left is a tornado. I believe the time I took this picture corresponds to the time we saw two tornadoes at the same time.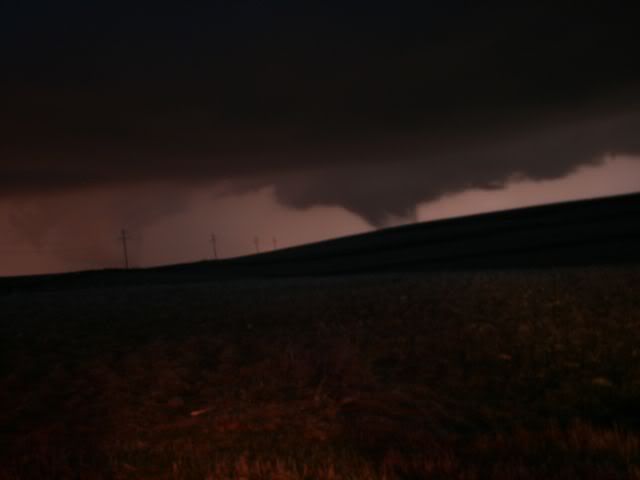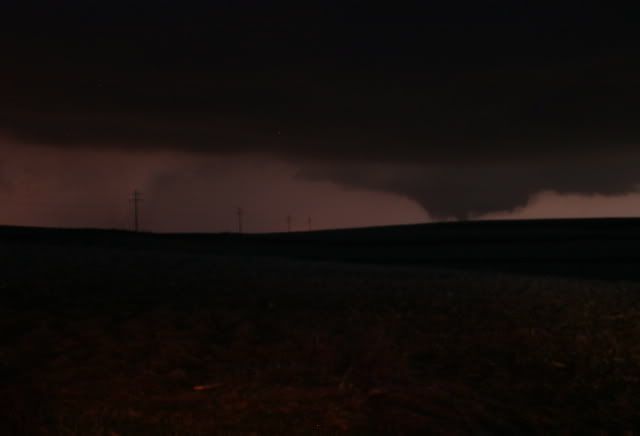 If this would have occurred during the day, we would have had tremendous video and pictures. The night tornadoes were photographed 3 to 4 miles away. While the day time tornado was photographed within a mile of it.
Anyway, I was happy with the plains garter snake, but to chase a historic tornado outbreak the same day was nothing short of amazing! It just sucks that people were hurt and lost property. Sorry for the non herp content, but I usually combine the two hobbies and this day was no exception. Plus, I am still on a high from this event and wanted to share the experience. I will have more spring herp posts, including a southeast trip from March up within the next couple of weeks. I hope you enjoyed the post!
Ryan