Sorry if you don't like flowers, cause they outnumber the herps in this post! I've decided to start including range maps for all herp species I post, courtesy of
NatureServe Explorer
. Keep in mind, though, that these distributions do not differentiate subspecies' ranges, and only species' U.S. ranges are shown. As always, corrections/additions are encouraged.
Goldfields (
Lasthenia californica
)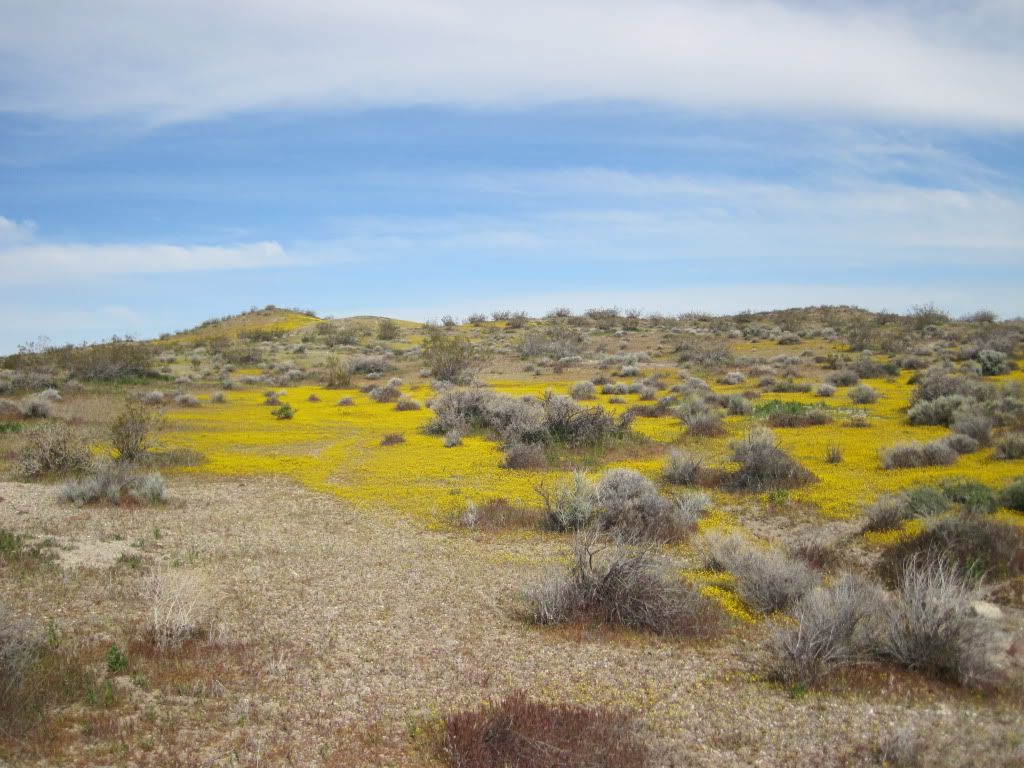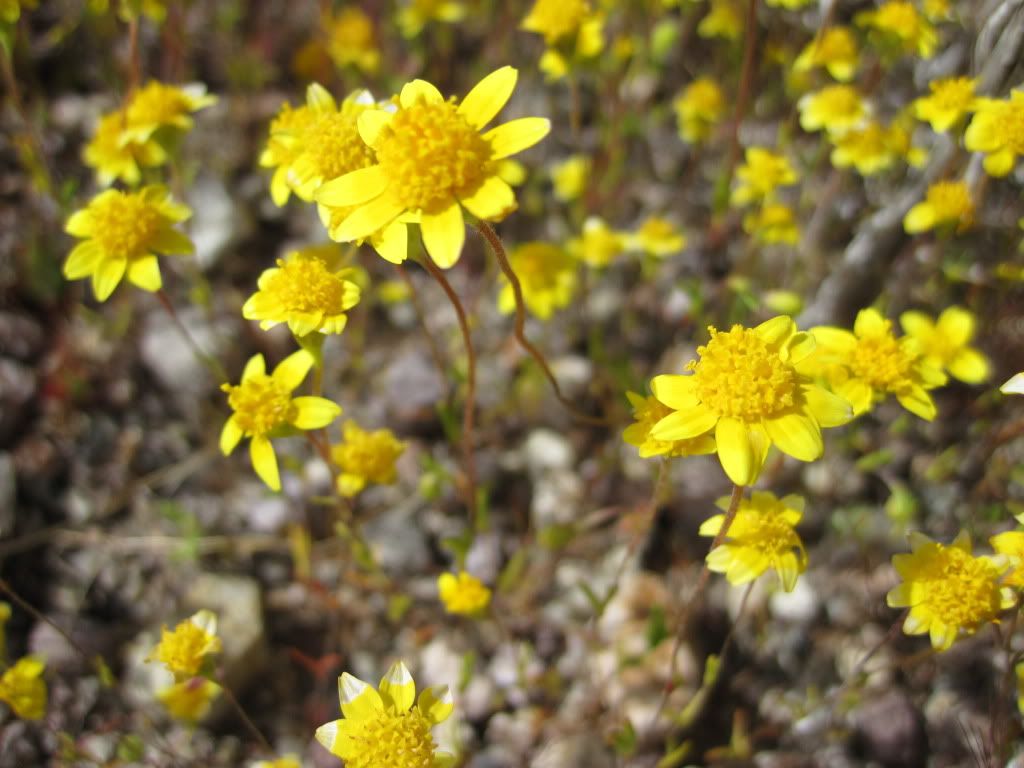 Someone's secret desert gardening project?
Lupine (
Lupinus
sp.)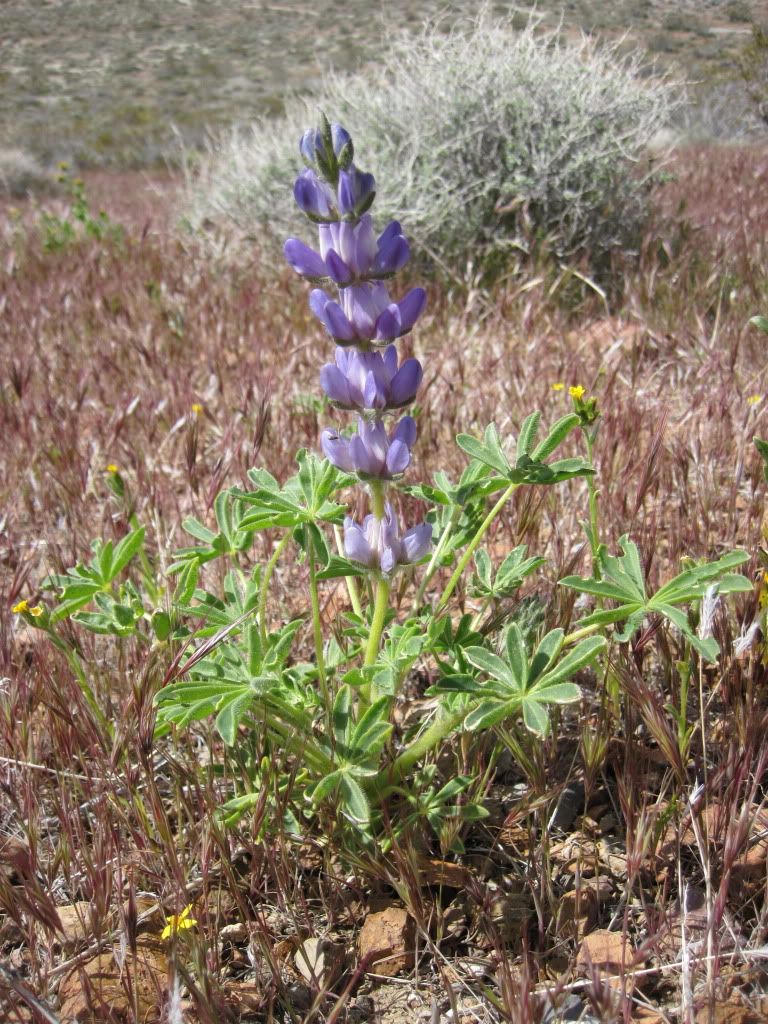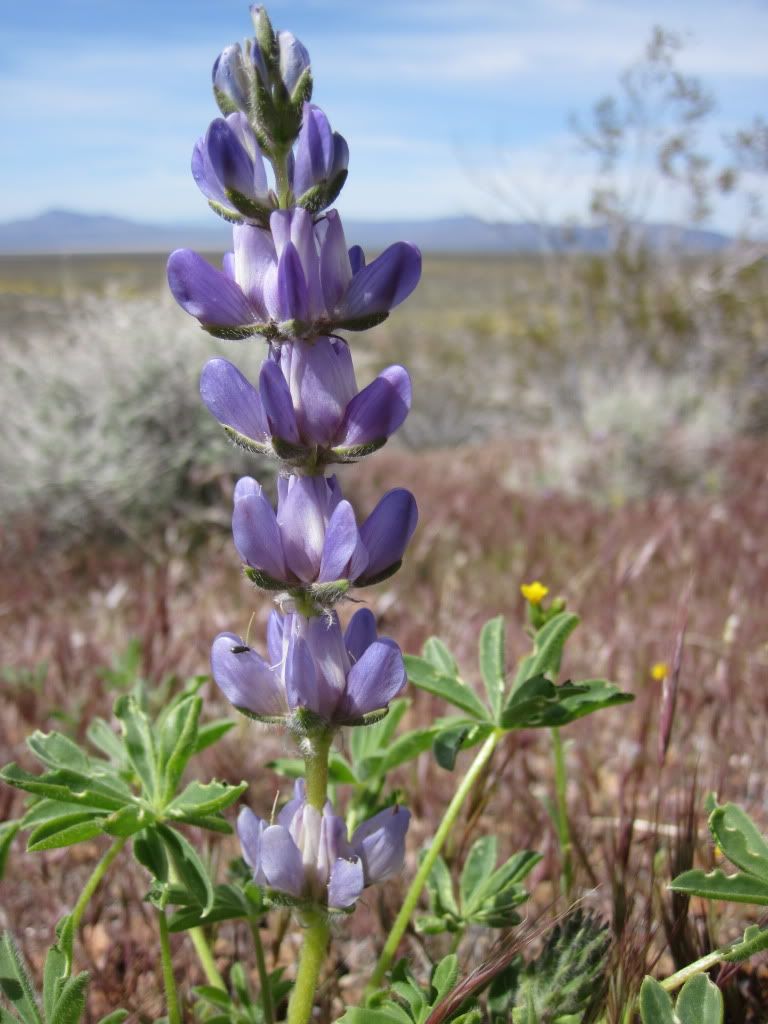 My first Mojave Green Rattlesnake (
Crotalus scutulatus scutulatus
). I spotted this one stretched out on the side of the road as we were driving by. These are the most commonly encountered snakes out here, and we have to drive carefully as they (and other animals) like to hang out on the dirt roads.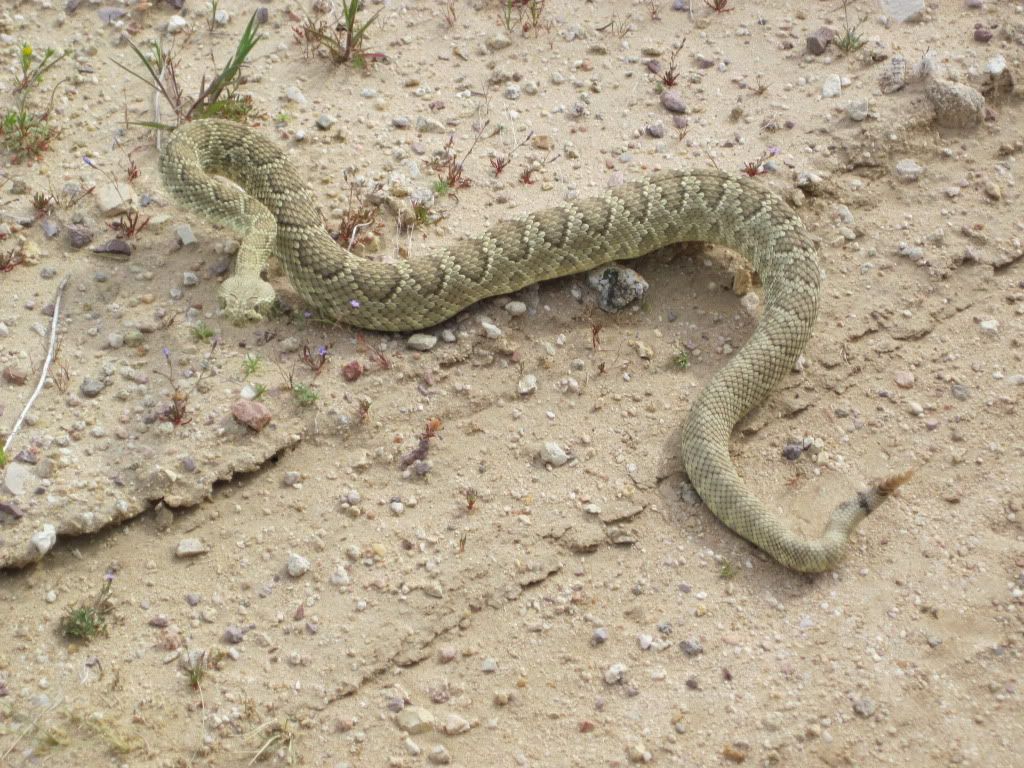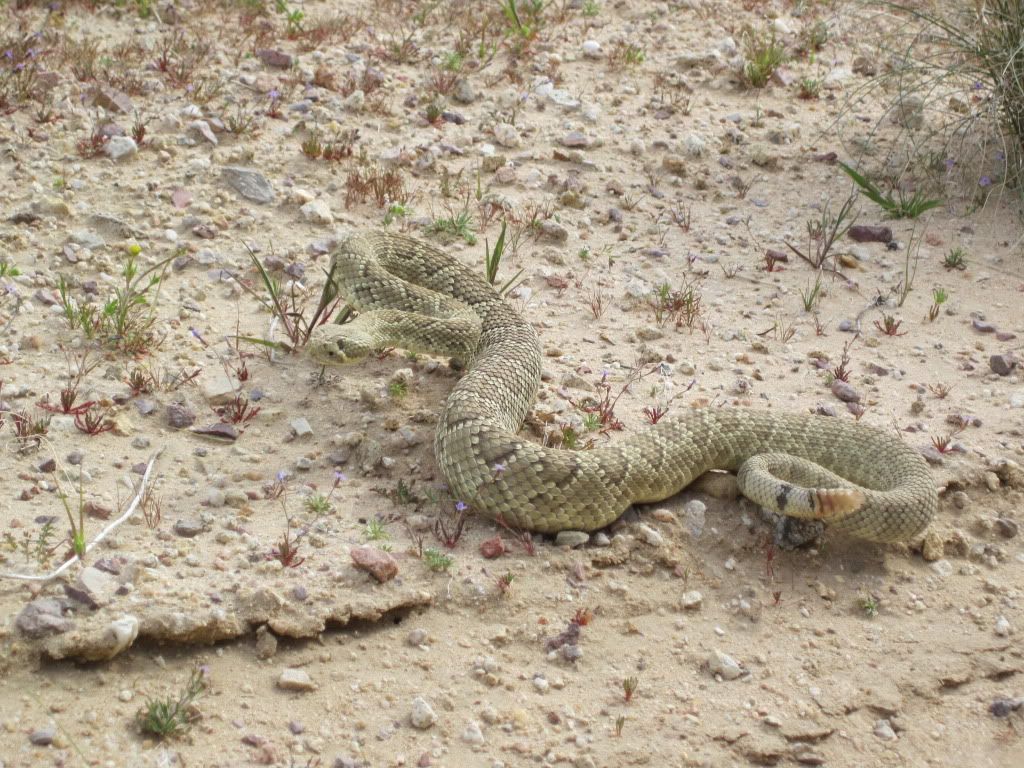 Range of
C. scutulatus
: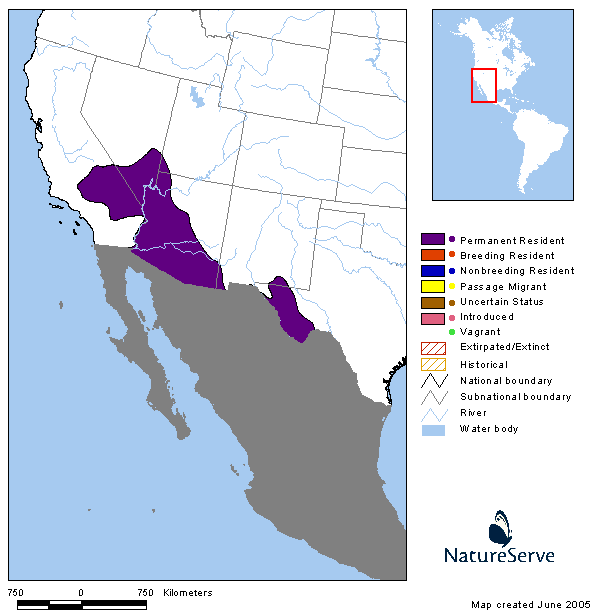 Sunset in the desert
Yellow/Desert Evening Primrose (
Oenothera primiveris
)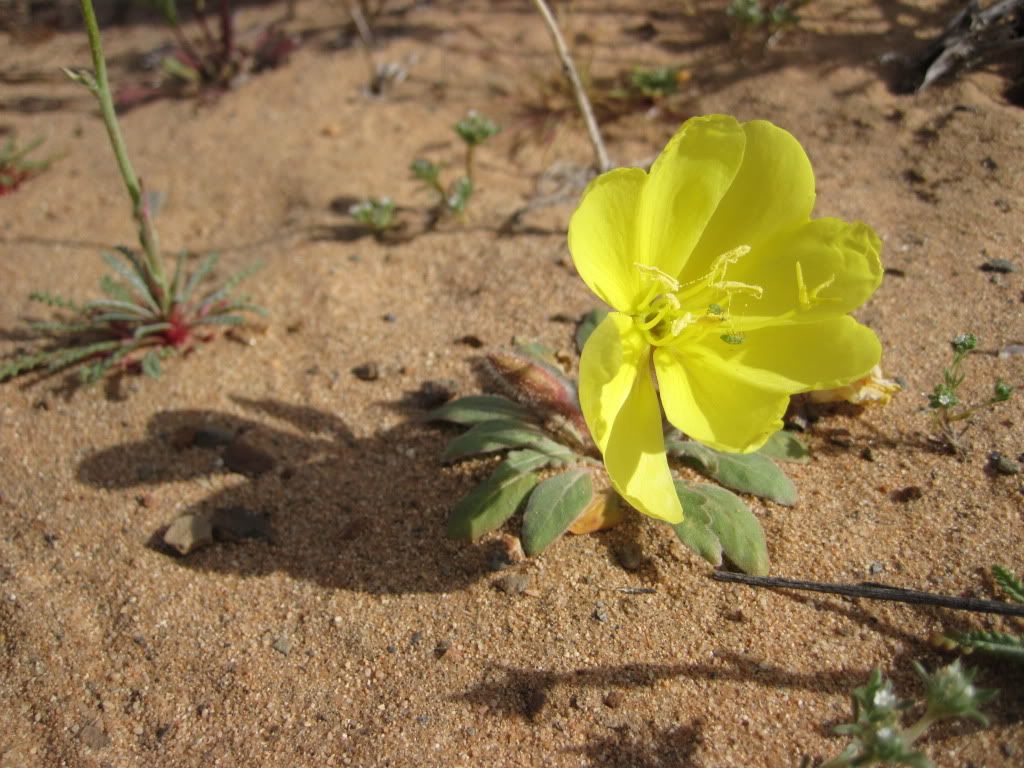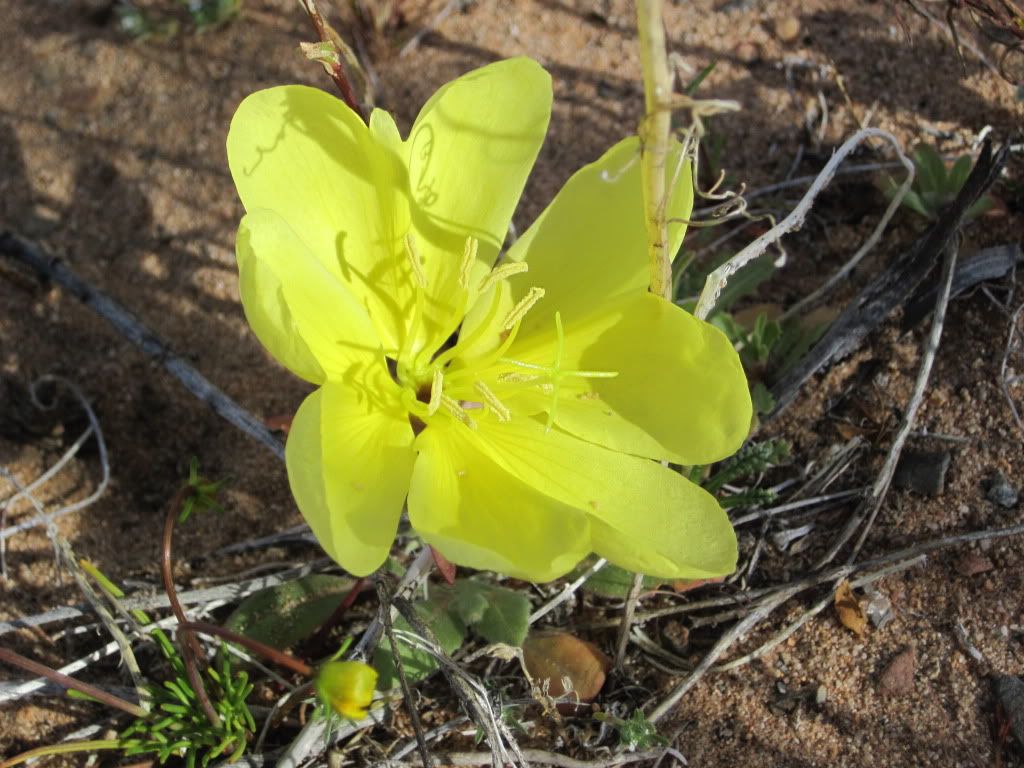 A tortoise with a really funky shell. Congenital scute anomalies are fairly common in desert tortoises, but incidence may vary significantly by locality. Factors influencing the development of scute anomalies may be environmental (temperature, moisture levels, oxygen content, presence of chemical pollutants/radiation at the nest site), genetic, or both (see
Grover and DeFalco 1995
for summary).
Coyote skull (
Canis latrans
) on dry lake bed. Coyotes are one of the few species capable of preying on adult tortoises. Although coyotes prefer to eat mammals (rodents and lagomorphs), it is thought that they become less selective if such prey is not abundant (i.e. during drought years), and consequently tortoises may experience heavier predation during these times.
Coyotes are "subsidized predators," meaning they flourish in urbanized areas where human resources allow them to reach exceptionally high densities. So, it is not surprising that recent studies have shown a positive relationship between coyote predation on tortoises relative to
human population
. For more on this, see
Esque et al. 2010
.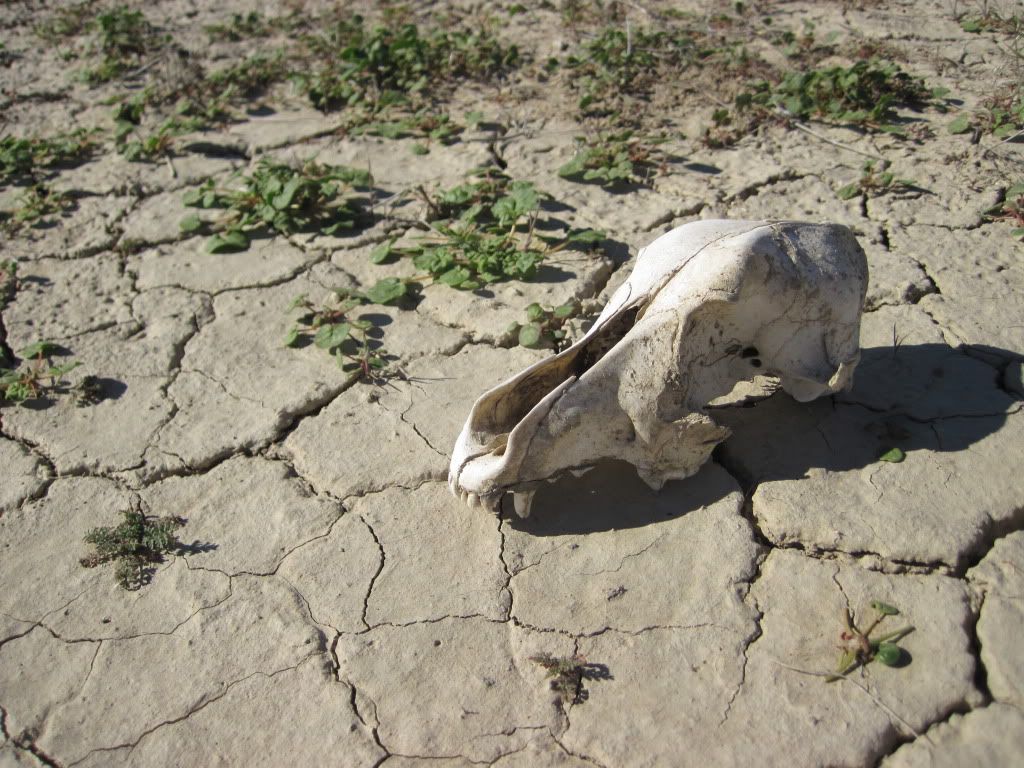 Mojave Sun Cup, aka Field Primrose (
Camissonia campestris
)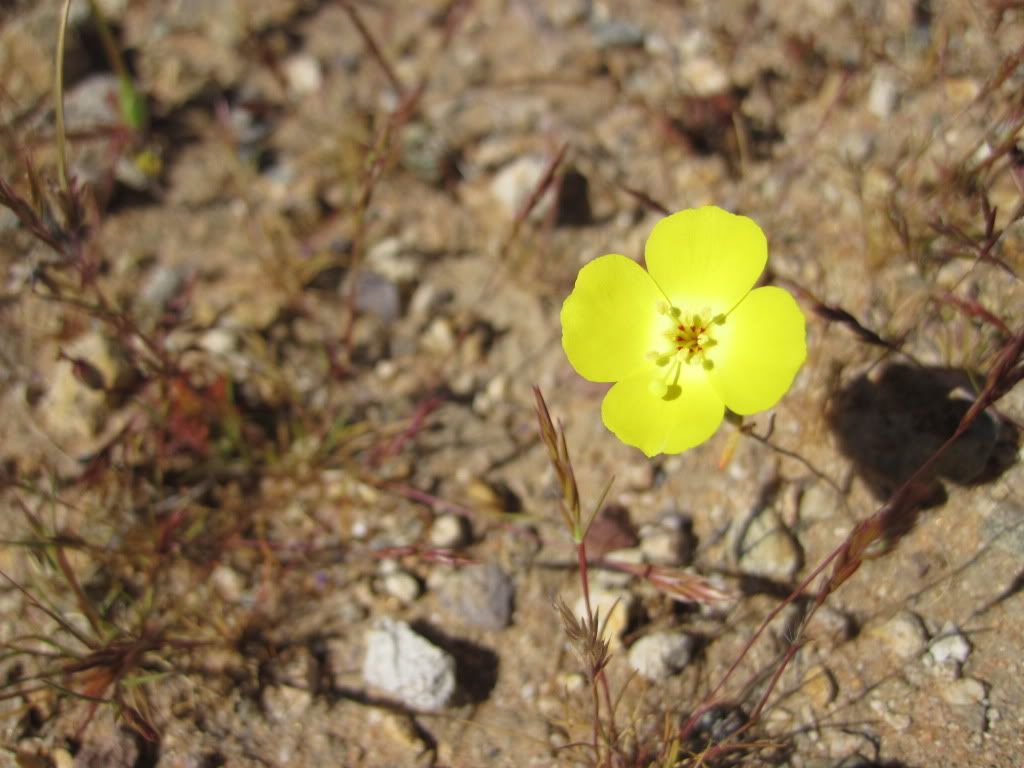 2nd rattler encounter -
C. scutulatus
is a dangerous animal. First off, while I hesitate to use the word "aggressive" ("tending toward
unprovoked offenses
"), there is no question that Mojave Greens are very easily agitated relative to other venomous snakes. Secondly, the species produces some of the most toxic venom of any snake in North America, which is unusual in that it functions as both a neurotoxin (attacks the nervous system, causing paralysis which can lead to cardiovascular/respiratory failure)
and
hemotoxin (attacks the circulatory system, causing necrosis).
So we watch where we step. (Though from my experience they seem to sense our presence well before we do theirs, and they do a great job at making themselves known. I think it would be difficult to surprise one).
They feed on small mammals (especially kangaroo rats), lizards, snakes, and birds.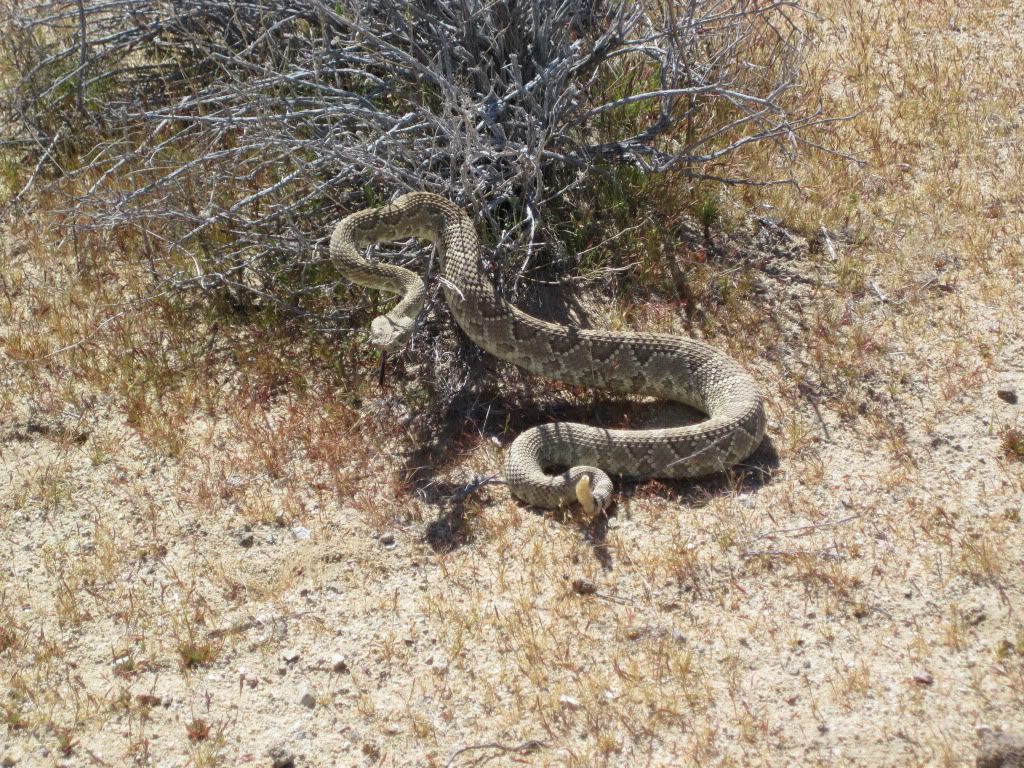 A beautiful canyon, one of the many randomly generated sites for a tortoise-searching transect (this photo does not come close to capturing how colorful the rocks were). It's always fun going on these searching missions, because often times we're sent to (virtually) uncharted areas, and you never know what you're gonna get.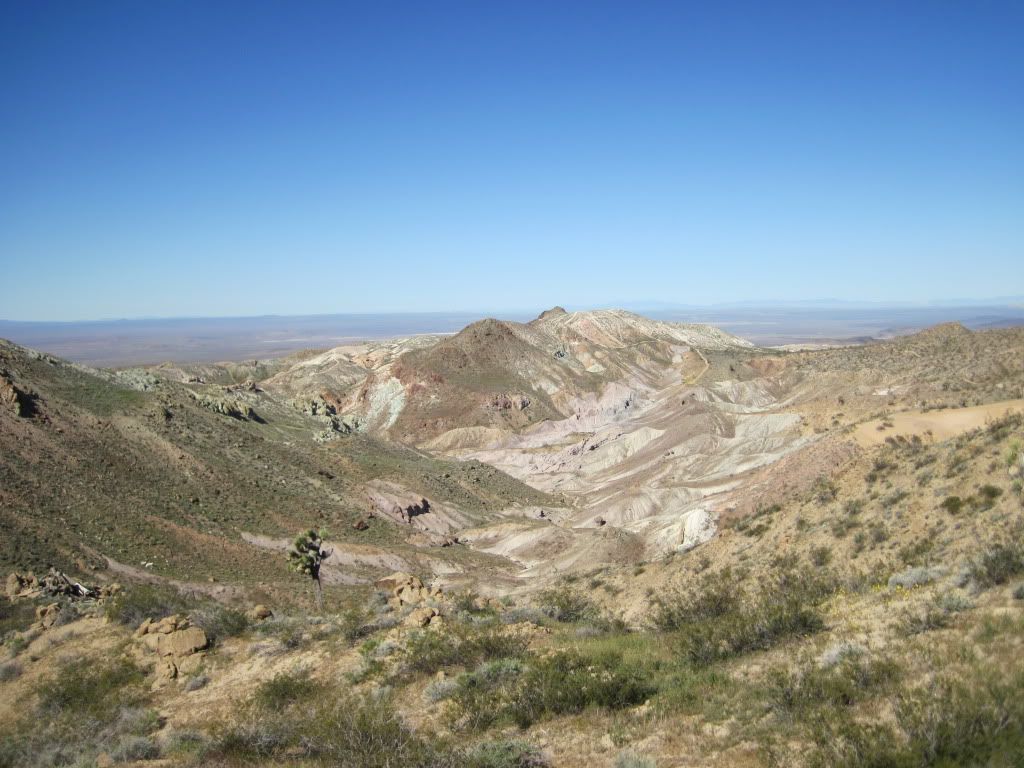 Down inside the canyon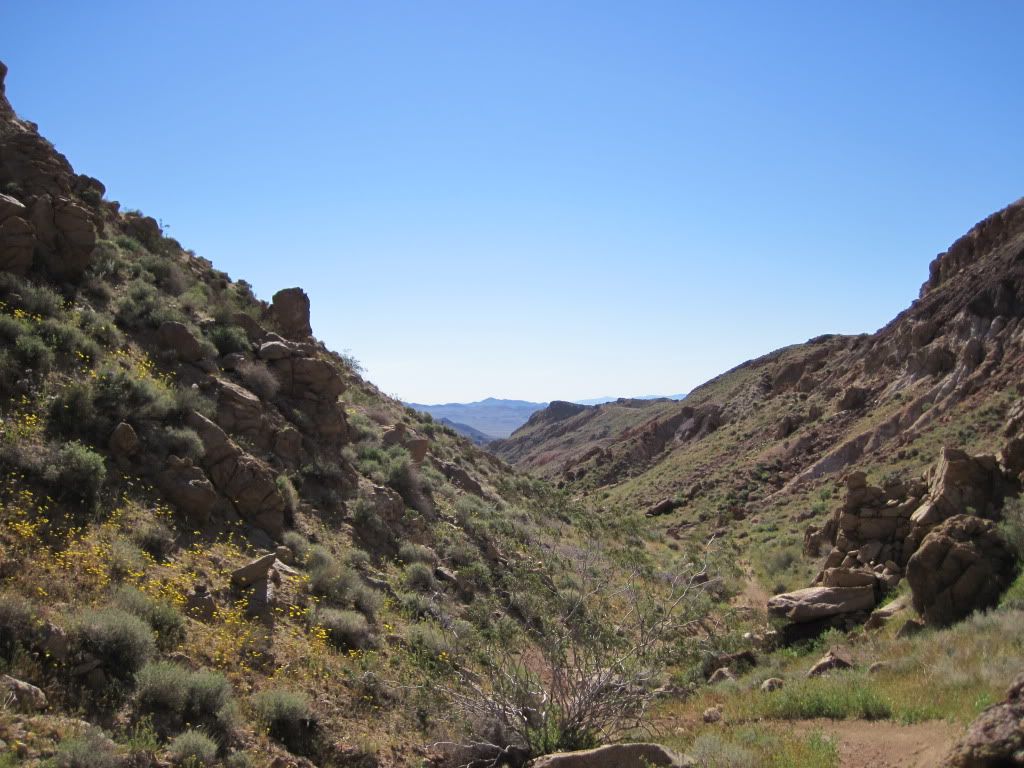 Golden Evening Primrose (
Camissonia brevipes
)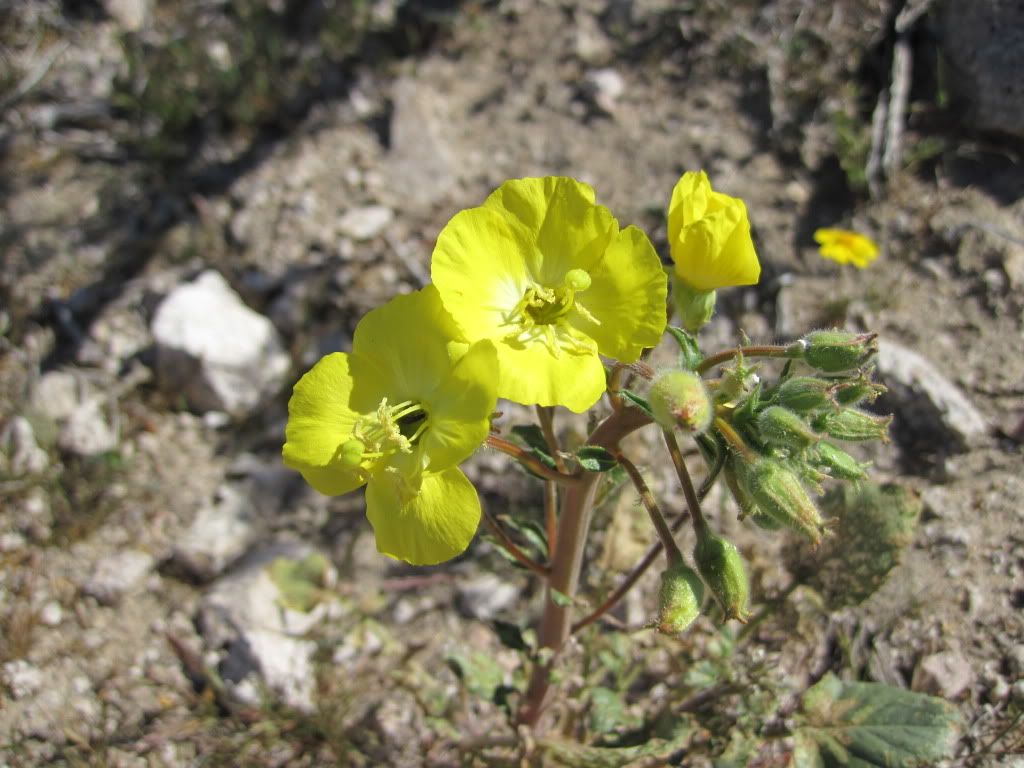 Fremont's Pincushion, aka Desert Pincushion (
Chaenactis fremontii
)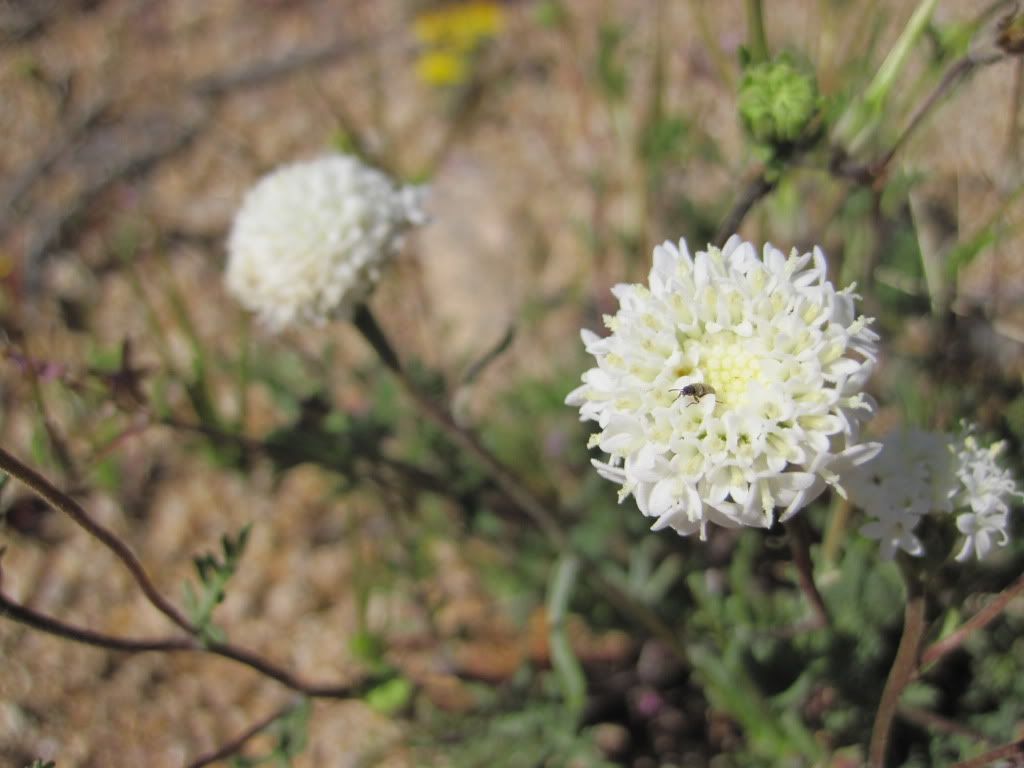 Chia (
Salvia columbariae
). Used by Native Americans for food and medicine (for more info go
here
).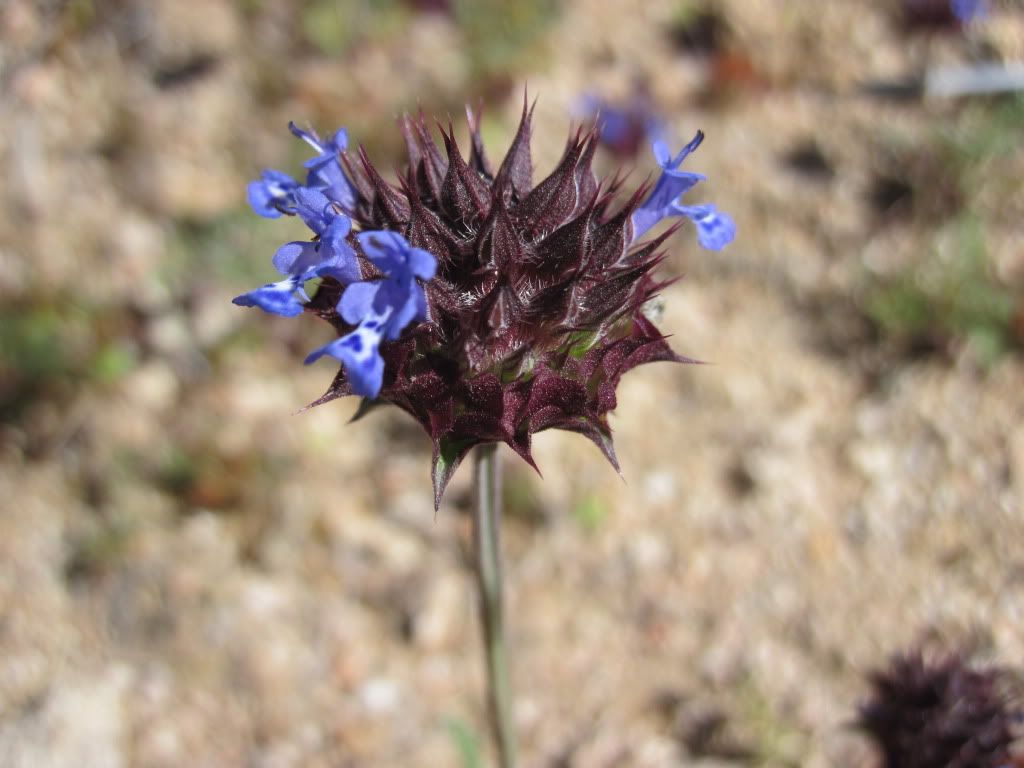 Bladderpod (
Isomeris arborea
)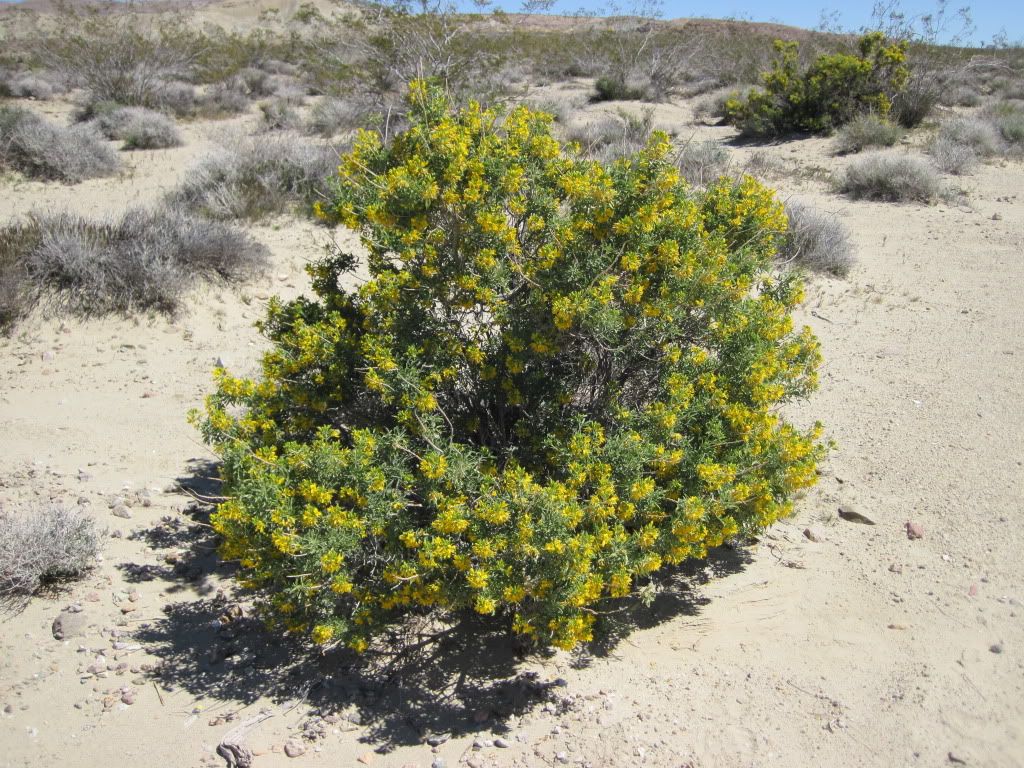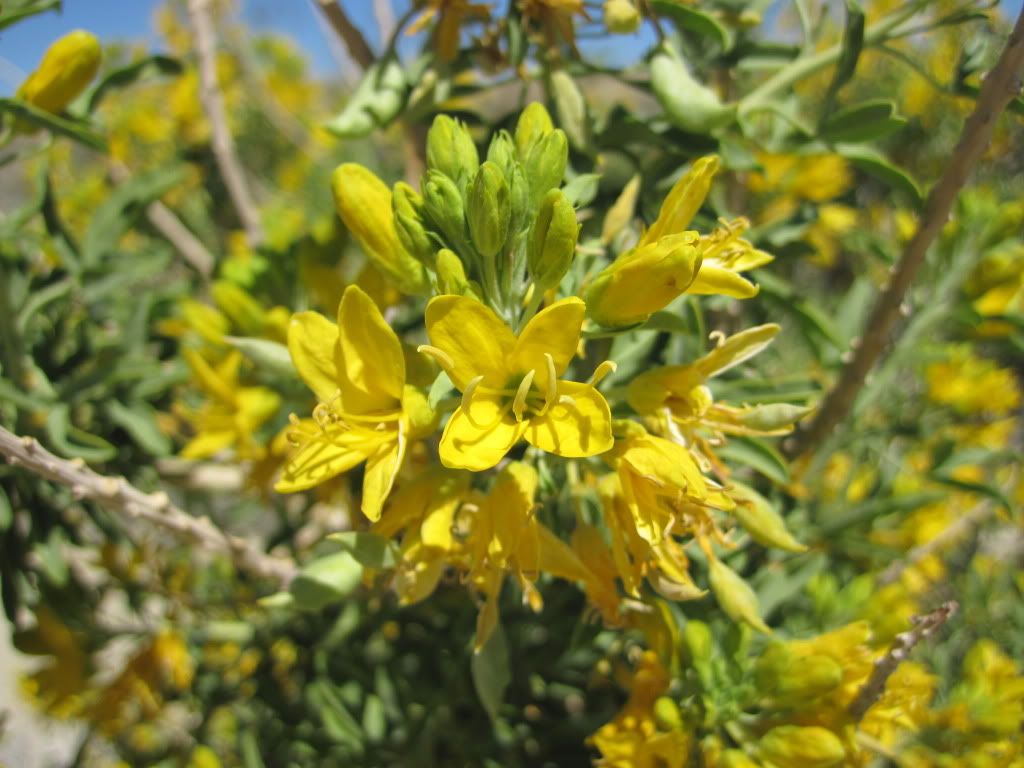 Mojave Aster (
Xylorhiza tortifolia
)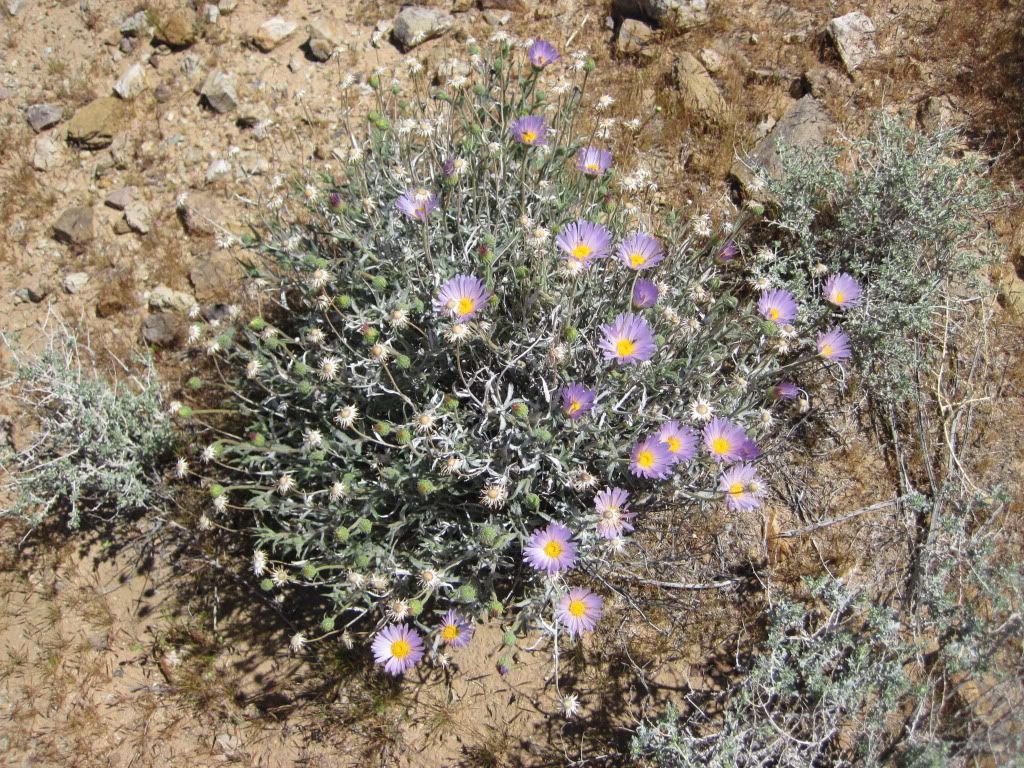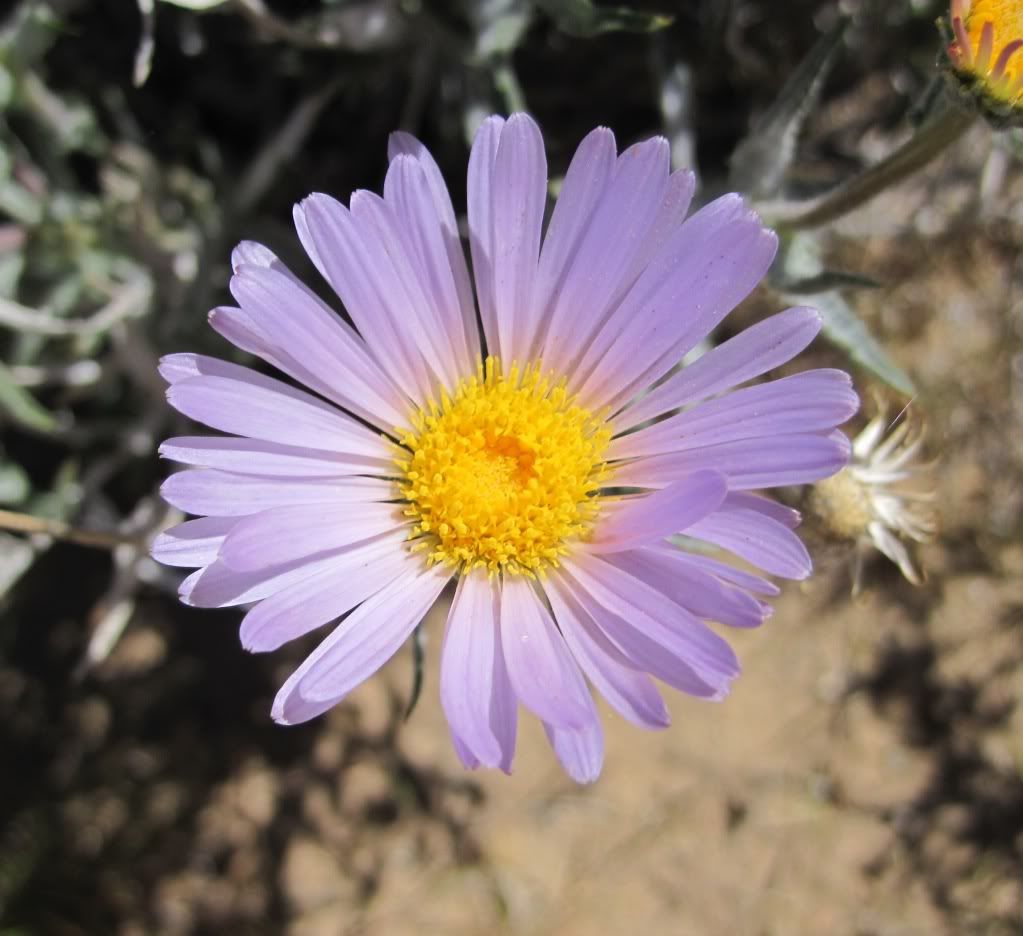 Desert Five-Spot (
Eremalche rotundifolia
)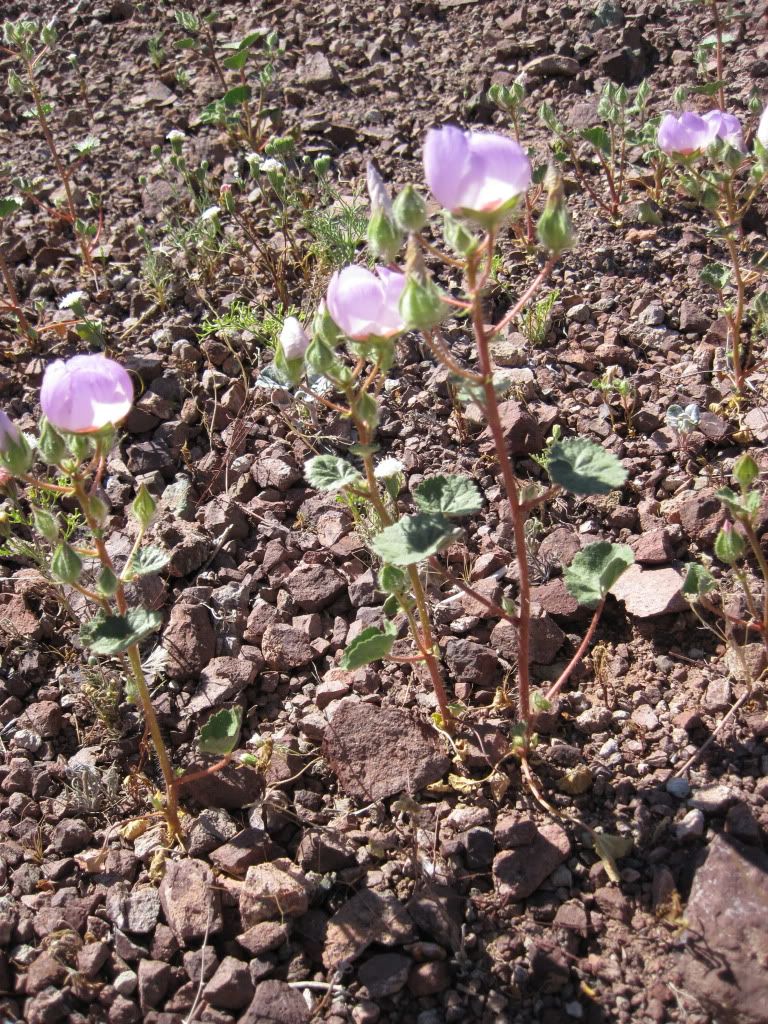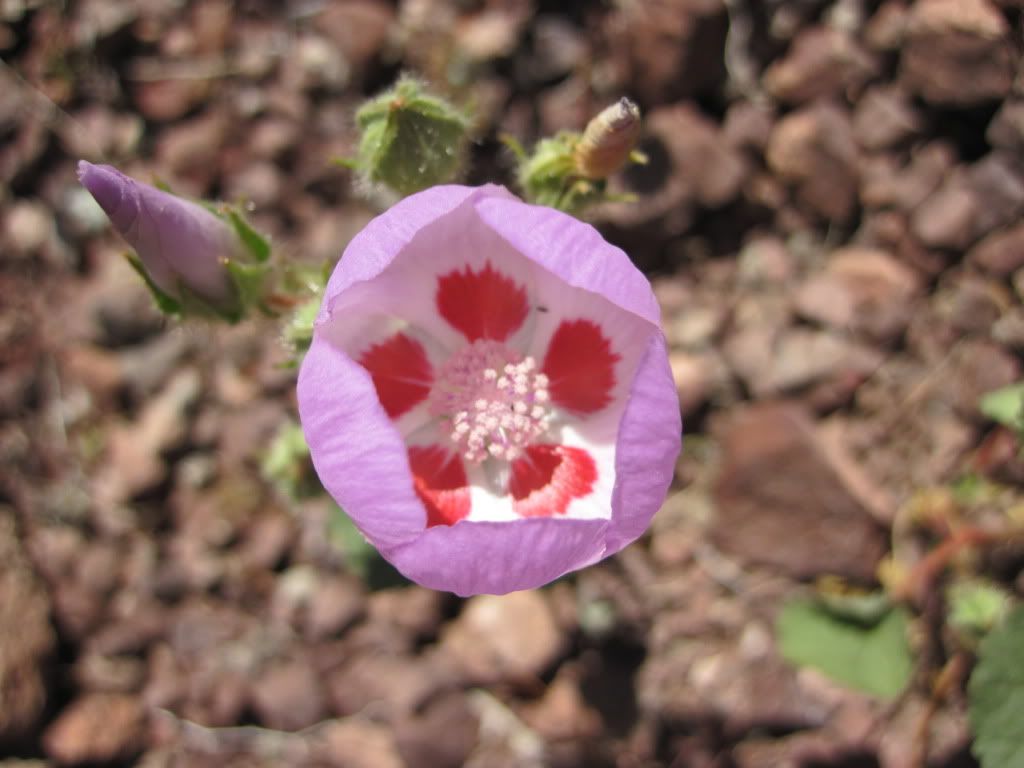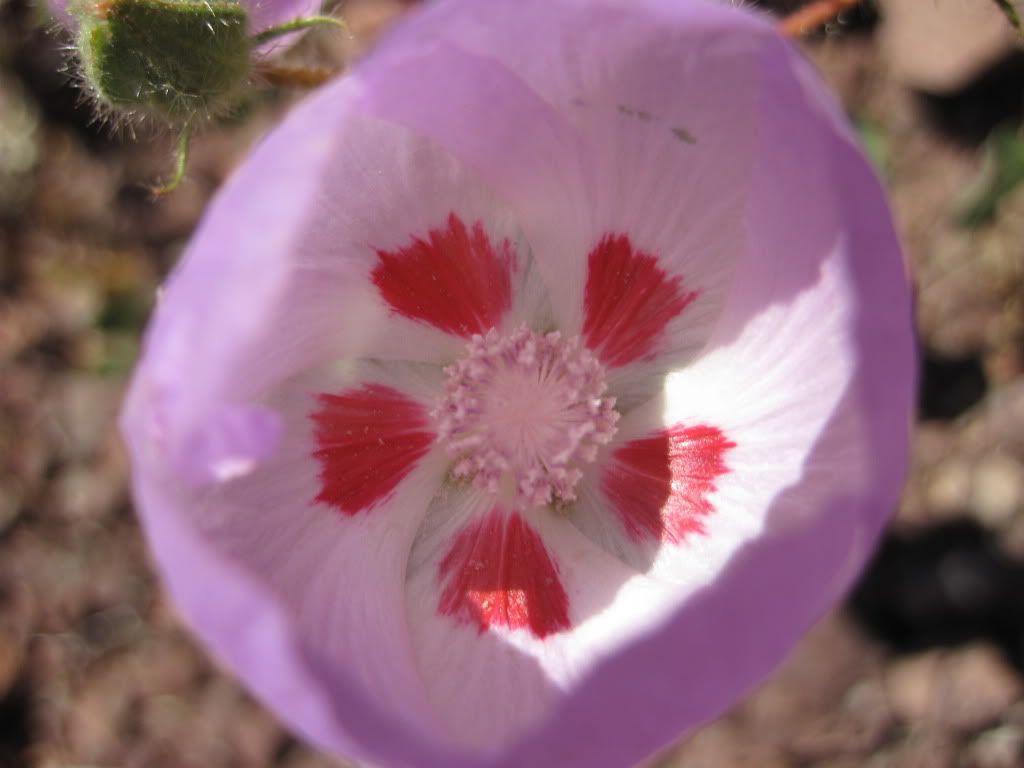 Thistle Sage (
Salvia carduacea
)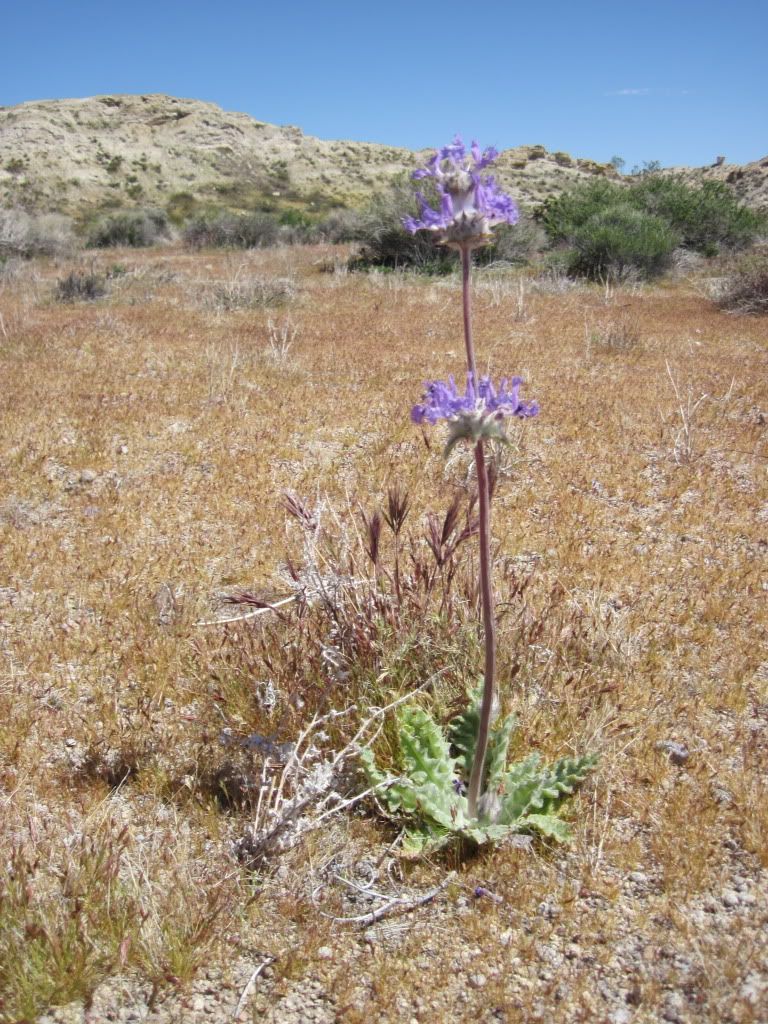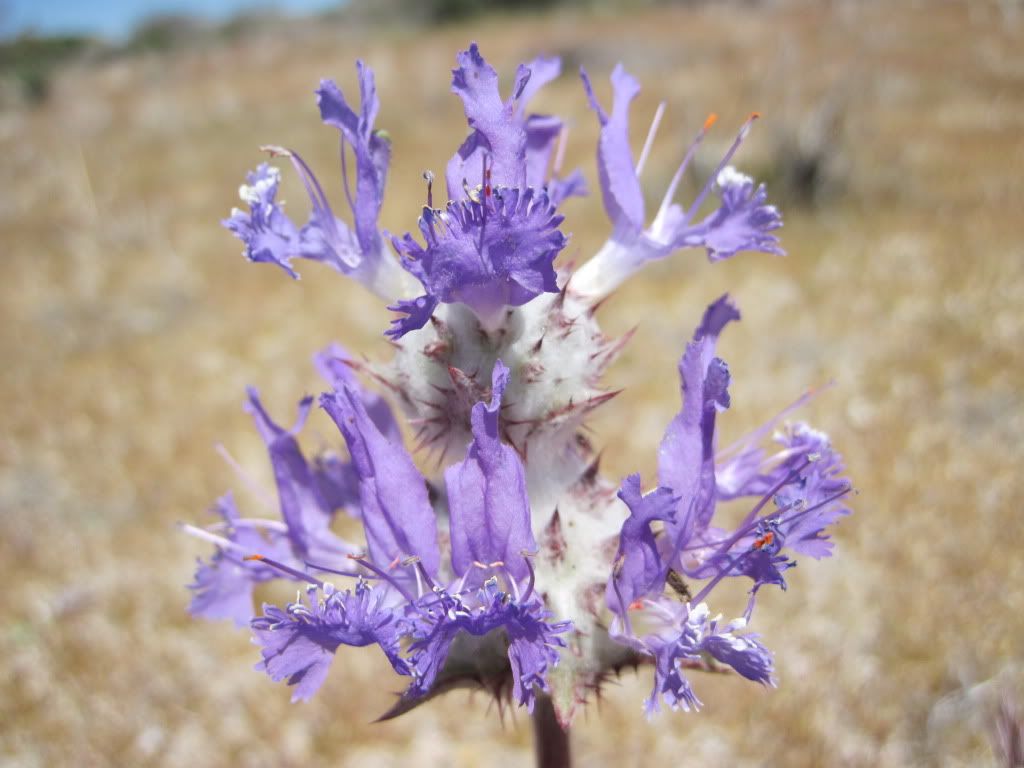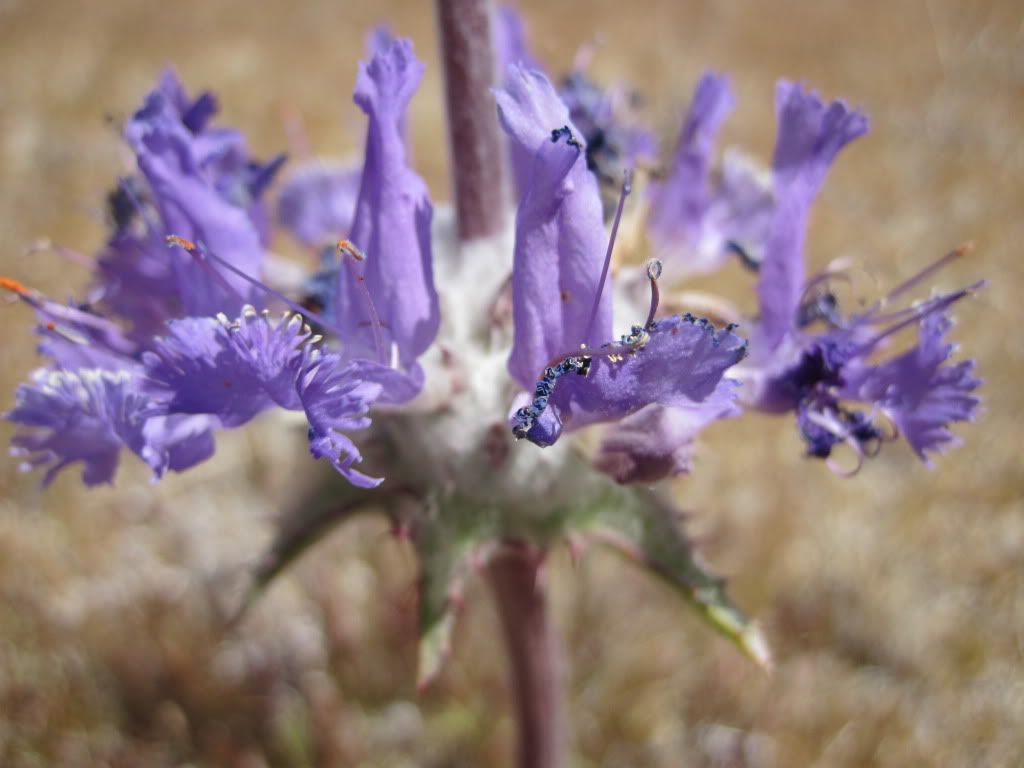 Spiny Hopsage (
Grayia spinosa
)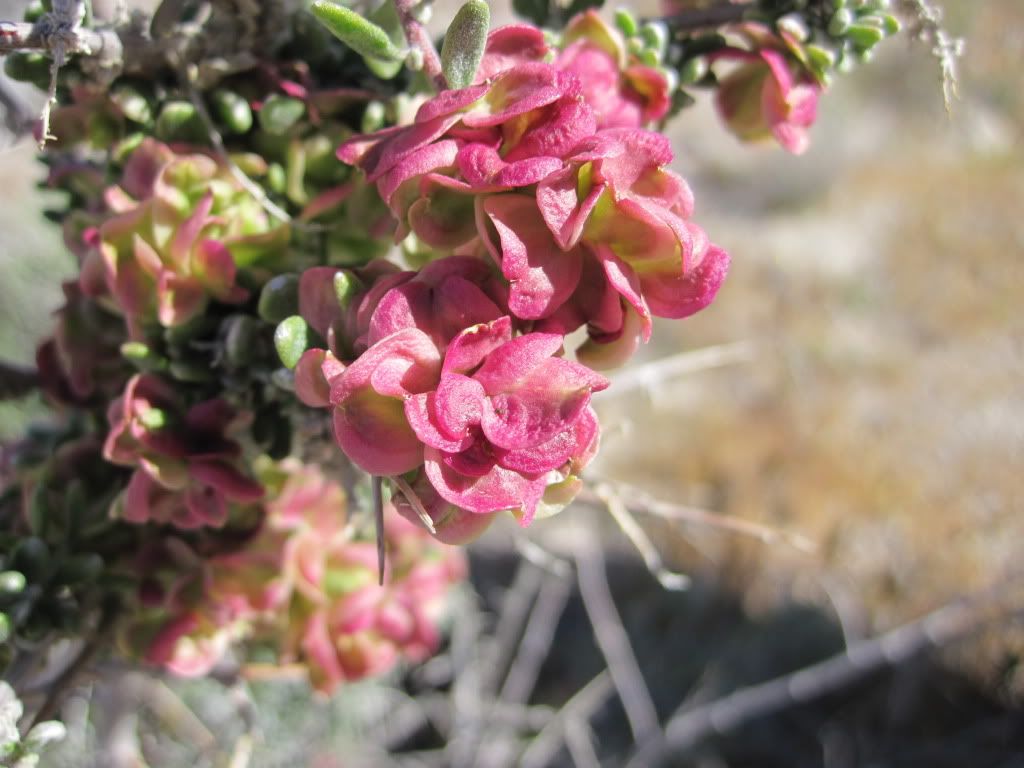 Brown-Eyed Primrose (
Camissonia claviformis
)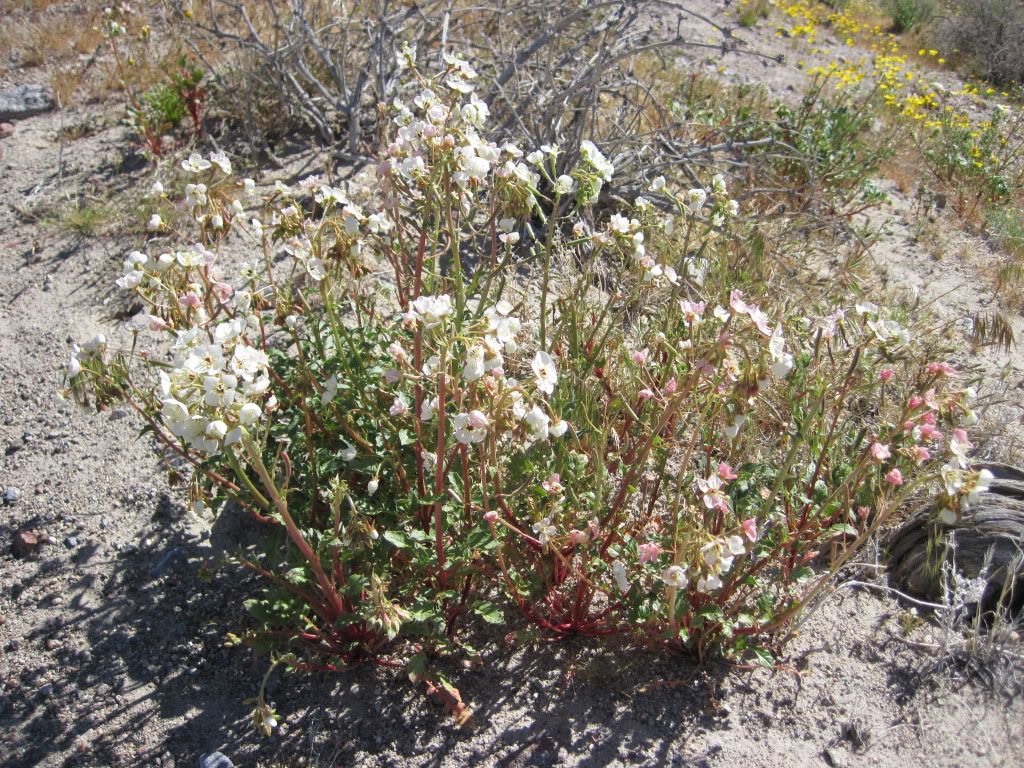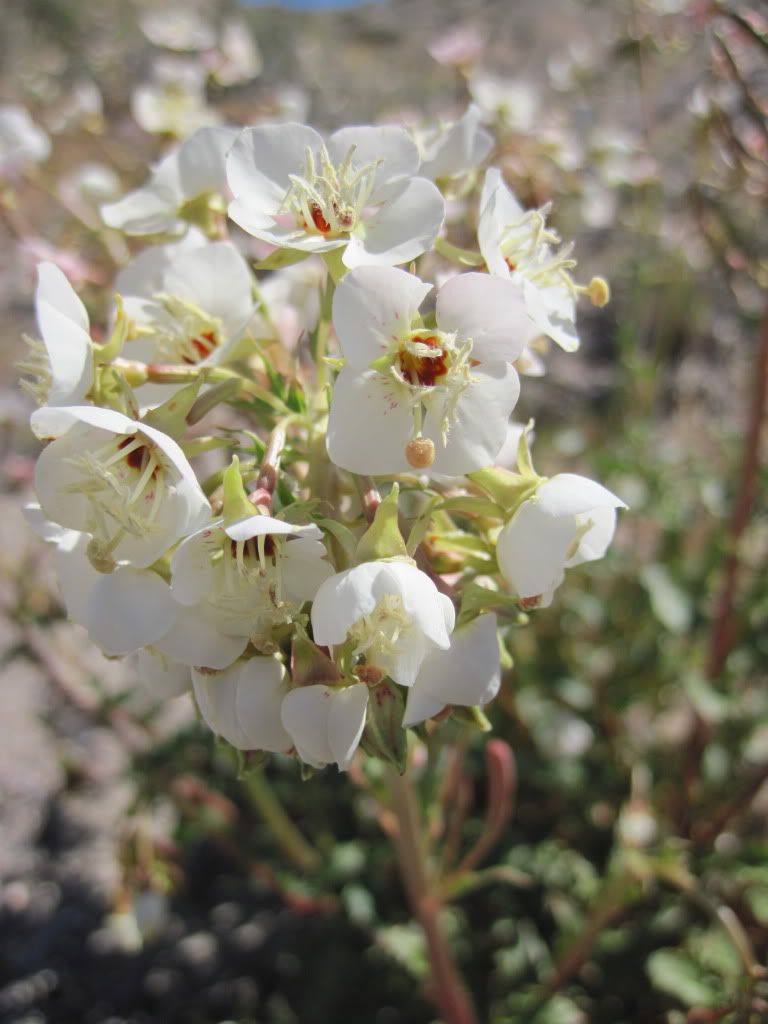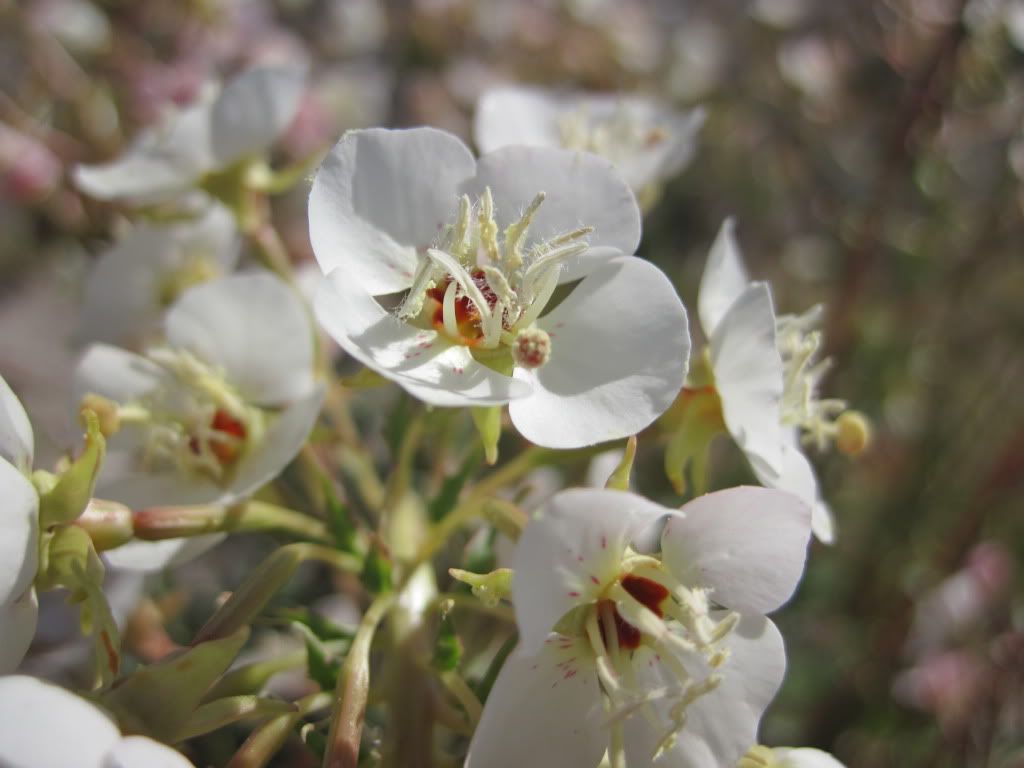 Yellow Pepper-Grass (
Lepidium flavum
)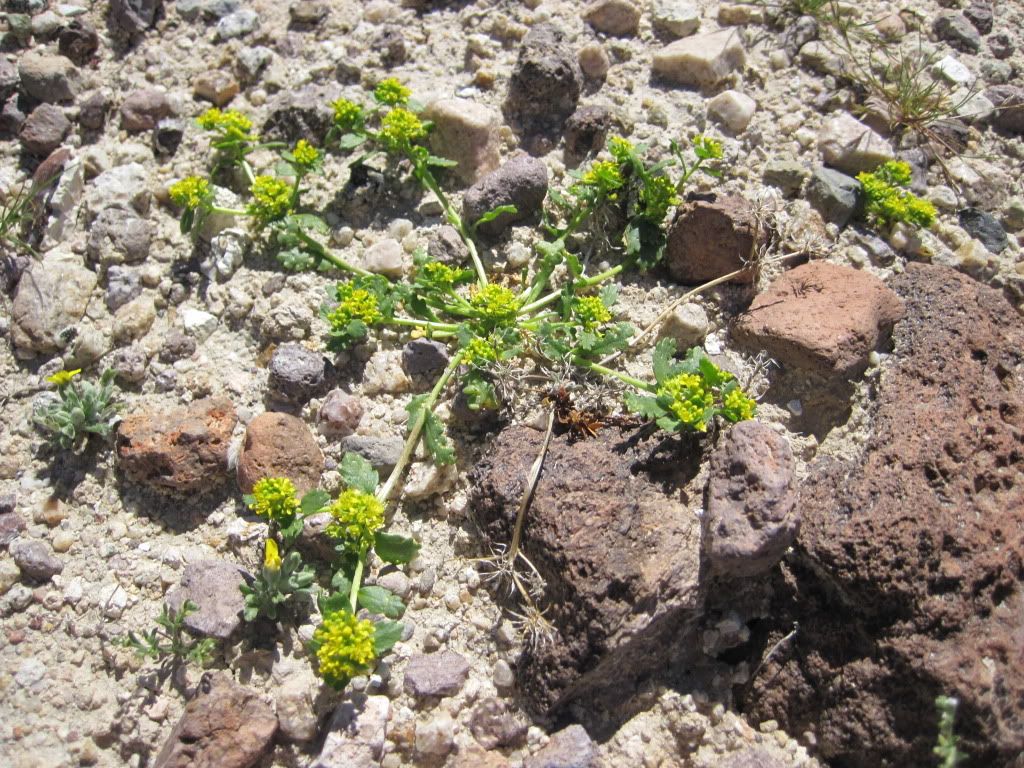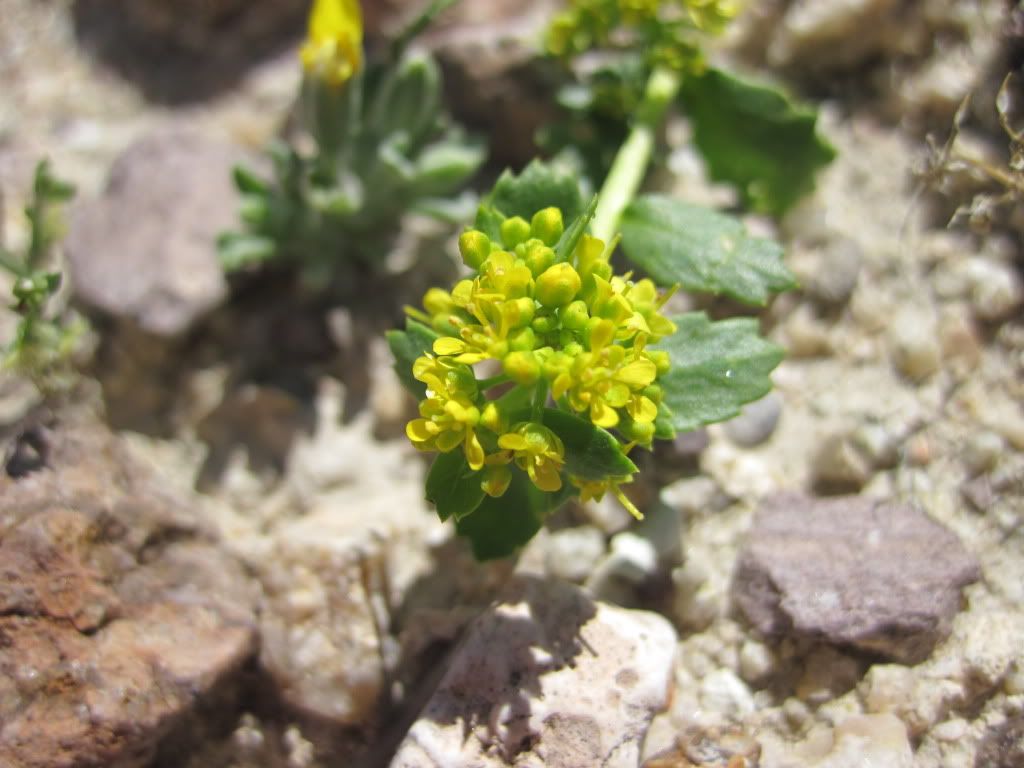 Small Desert Star (
Monoptilon bellidiforme
)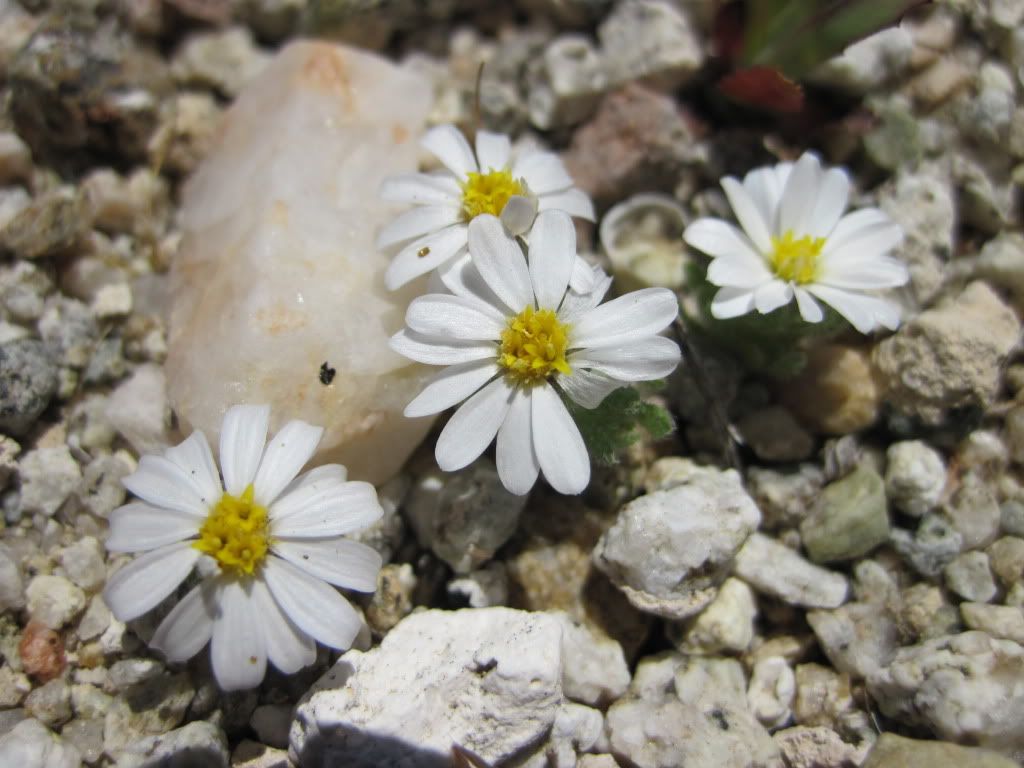 Male tortoise (right, with radio) courting unmarked female. We've found quite a few new tortoises this way.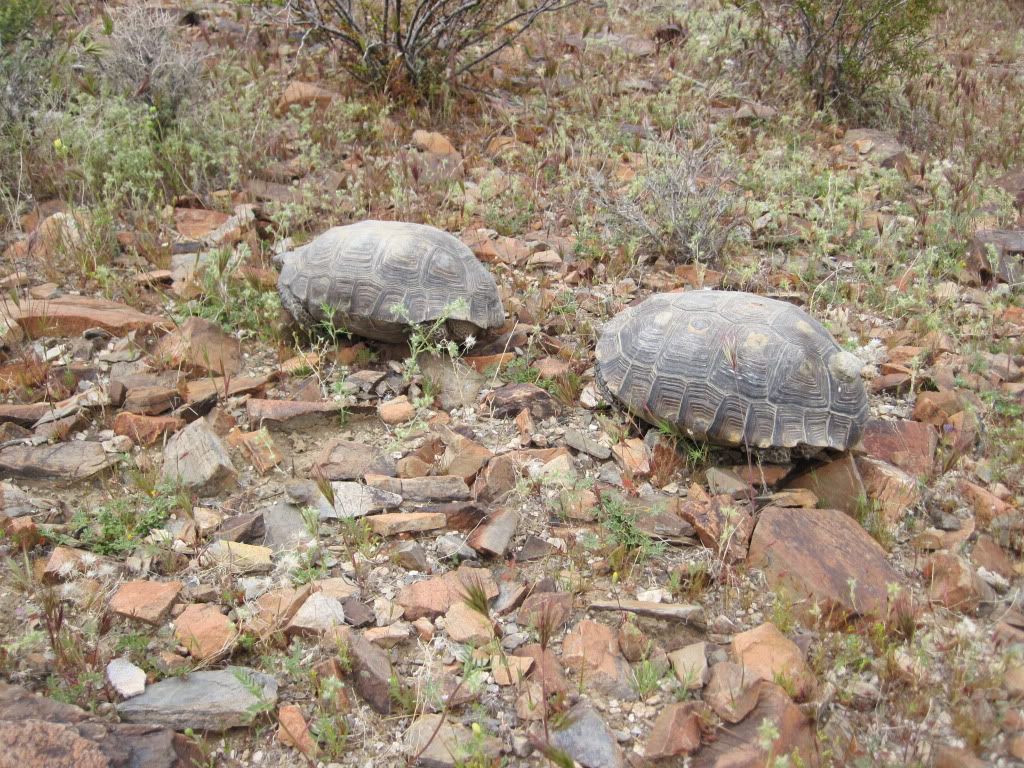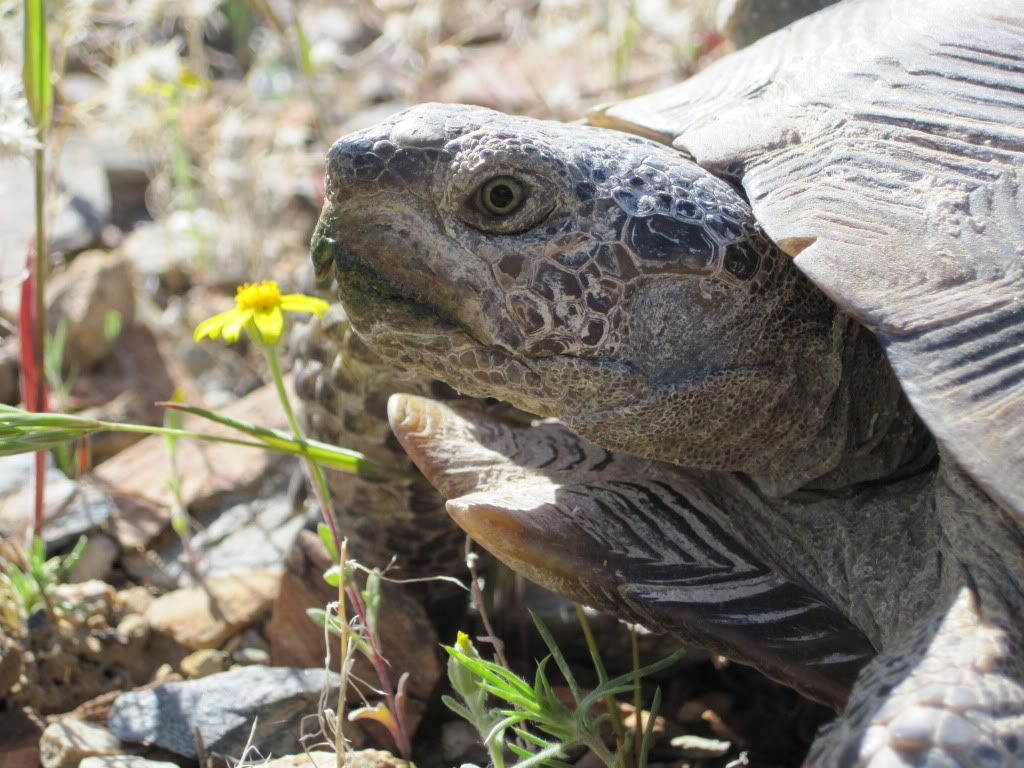 Inspecting the camera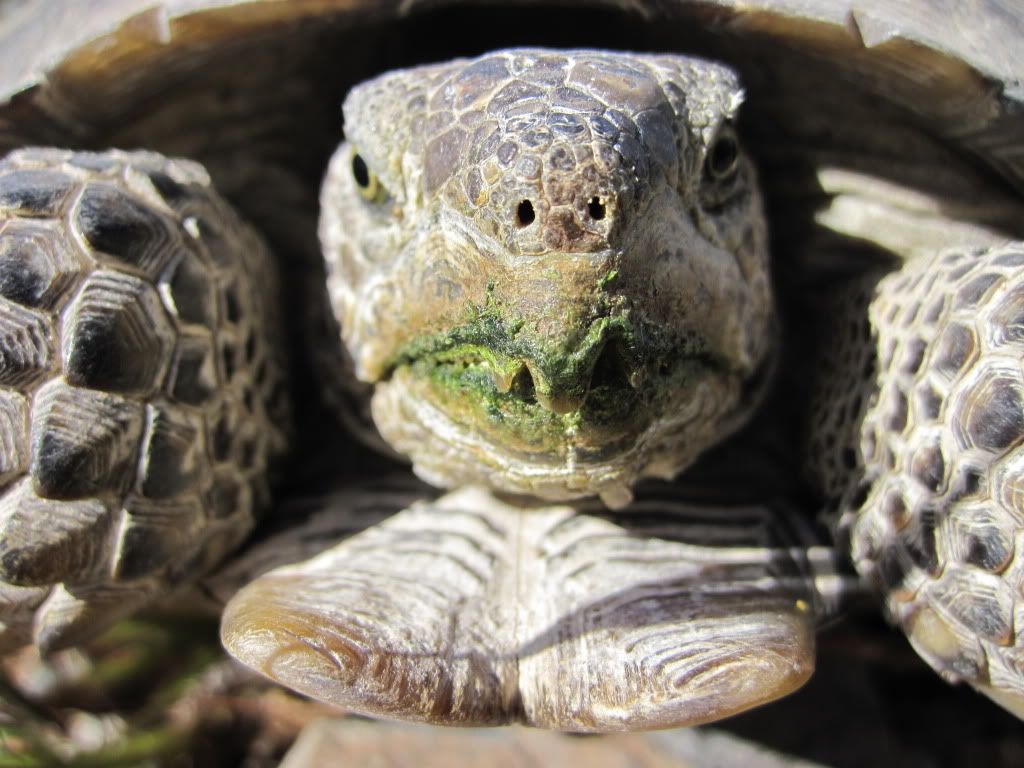 Purple Mat (
Nama demissum
)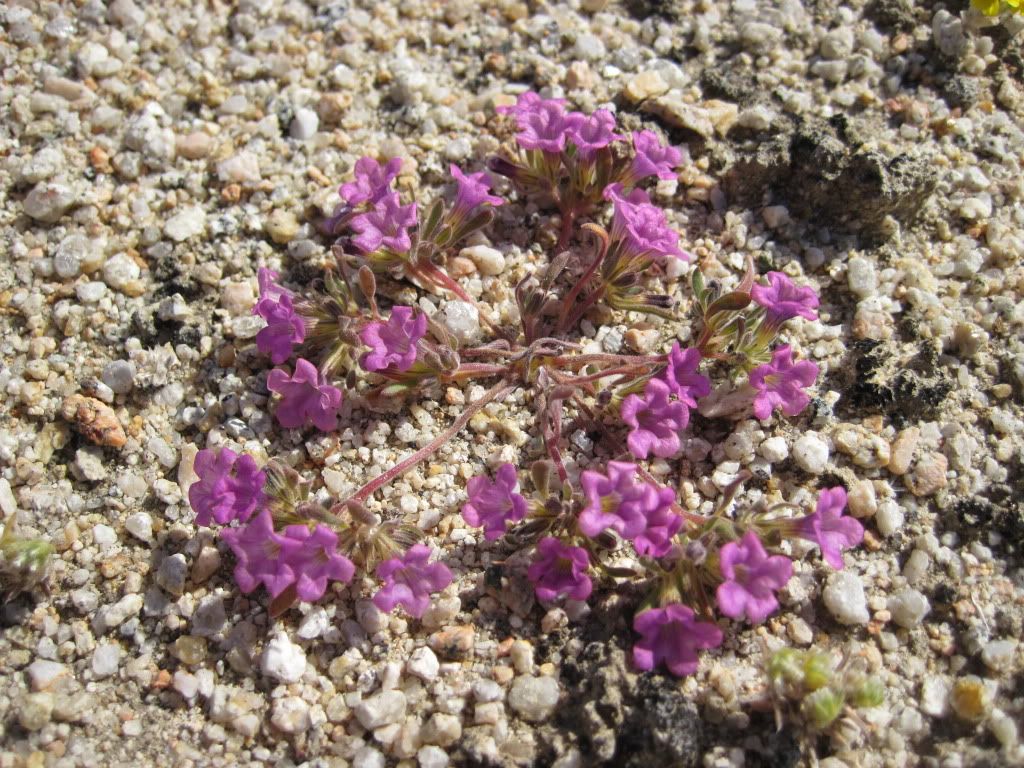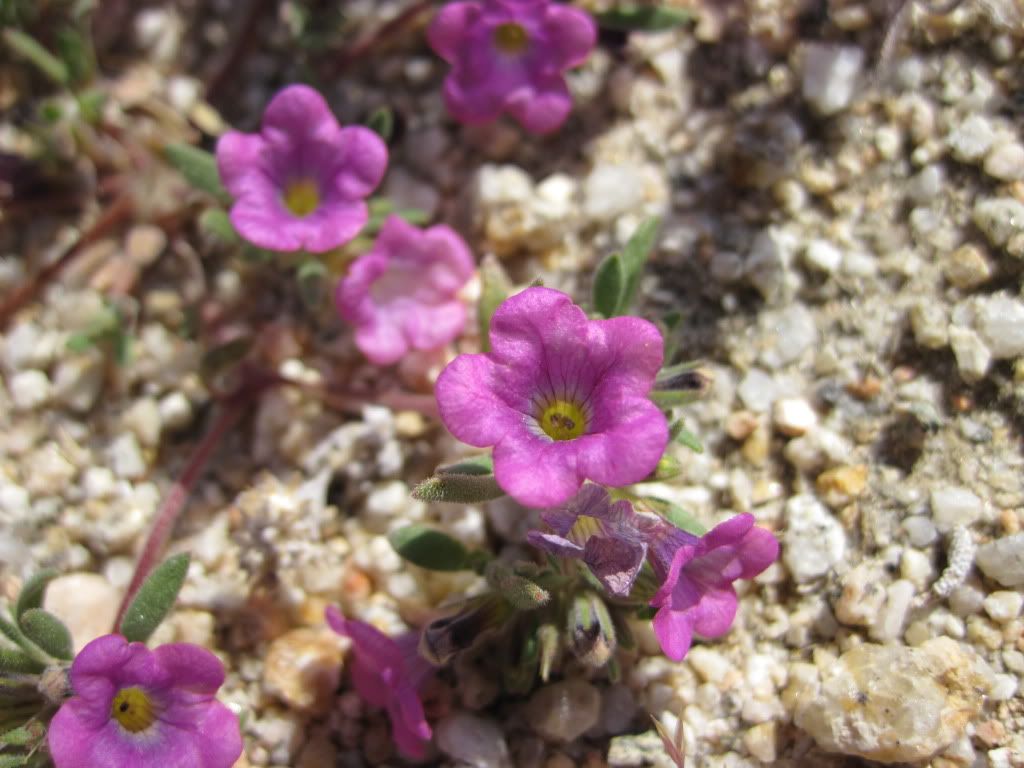 Cool seed-sphere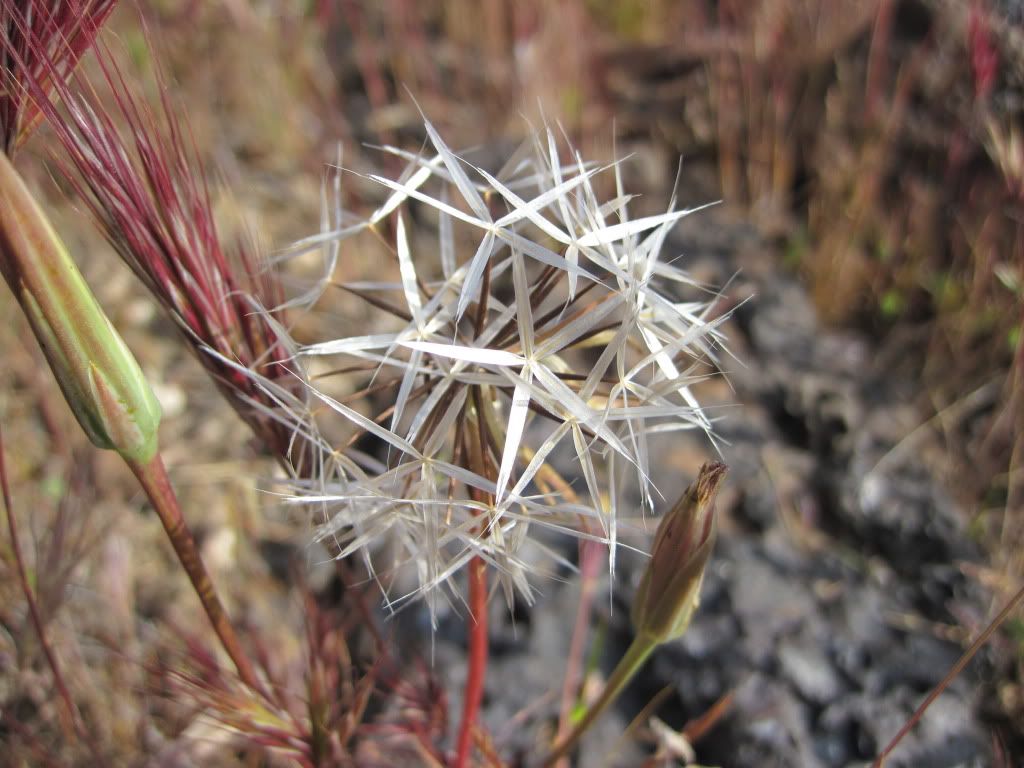 A young (but equally pugnacious) Mojave Green. Females give birth to 2-17 live young July-September. Adults may reach lengths of 24-51 in (61-129 cm).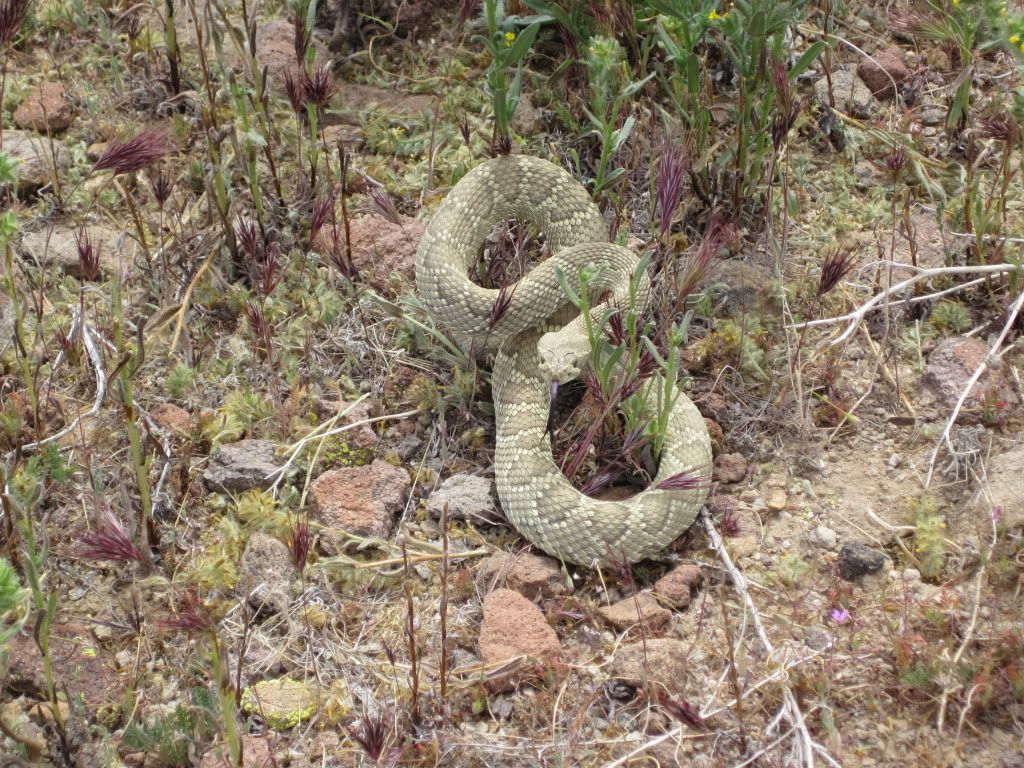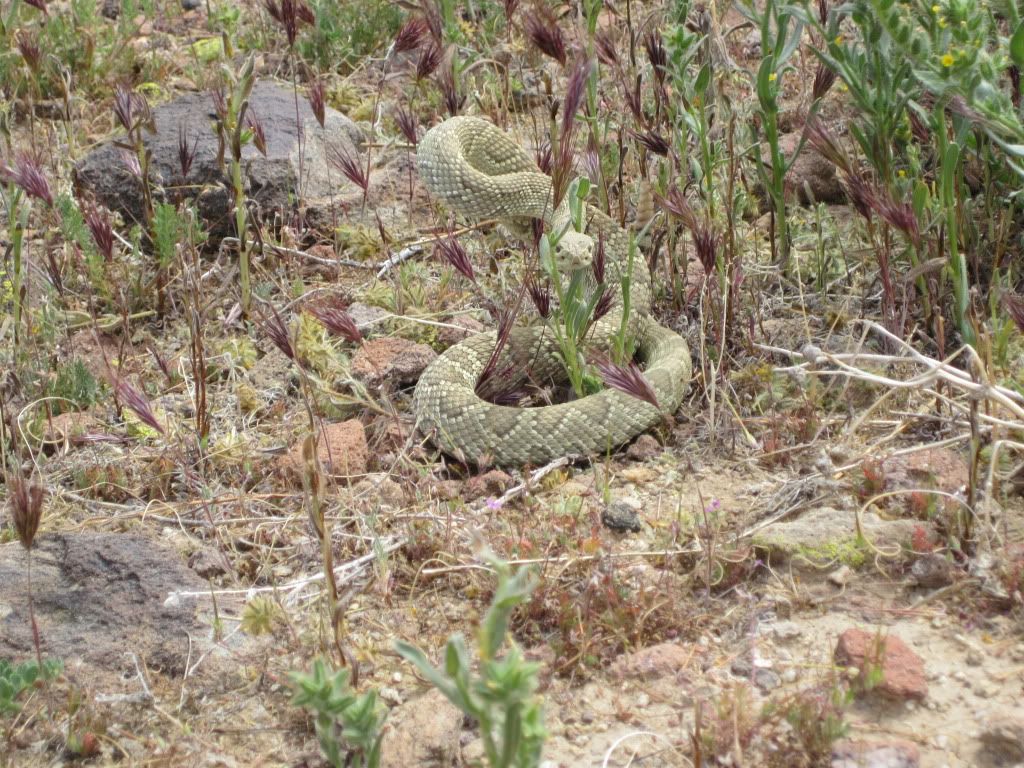 Coachwhip, aka "Red Racer" (
Masticophis flagellum piceus
). These snakes are
fast
, and for that reason these are the best photos I could manage (and I was only able to get these because it was early and this one had not yet completely warmed up).
Coachwhips are long and slender (36-102 in; 91-260 cm), and possess scalation resembling a braided whip, for which they were named. Of all snakes populating the Mojave, coachwhips are among the most heat-tolerant, and are more likely to remain active at times when other species are seeking shelter in the shade. Their diet includes small mammals, birds/eggs, lizards, snakes, frogs, young turtles/eggs, insects, and carrion. If threatened they usually attempt to escape to a rodent burrow or hide in the branches of a bush (as this one did). However, they can be aggressive if cornered.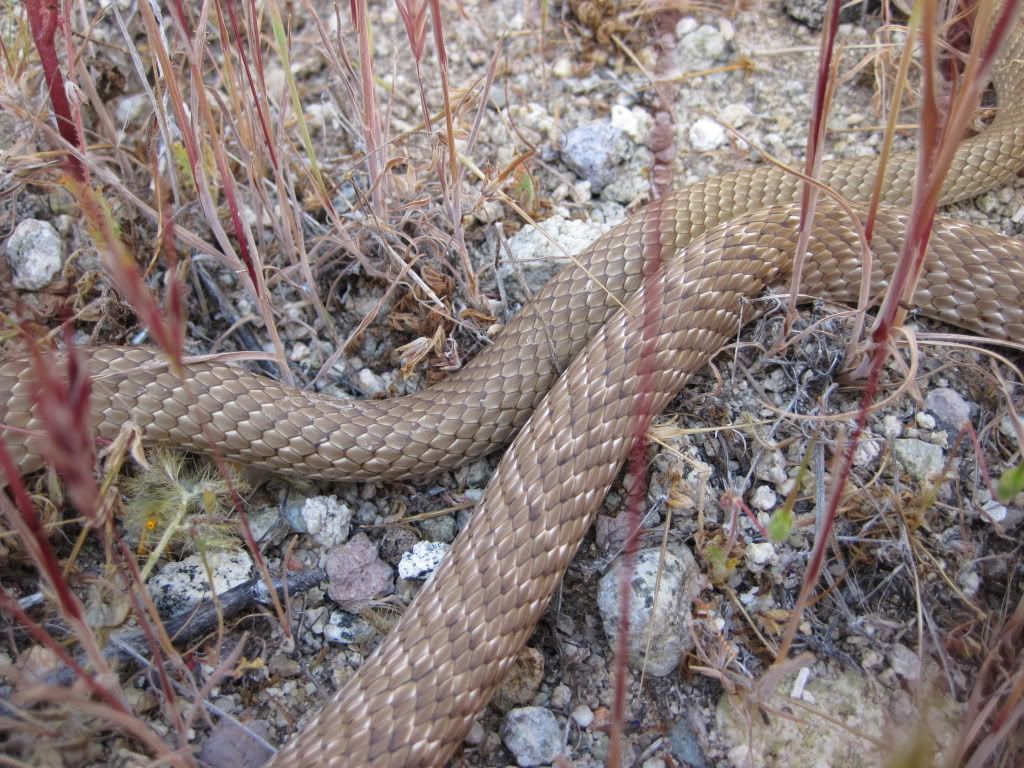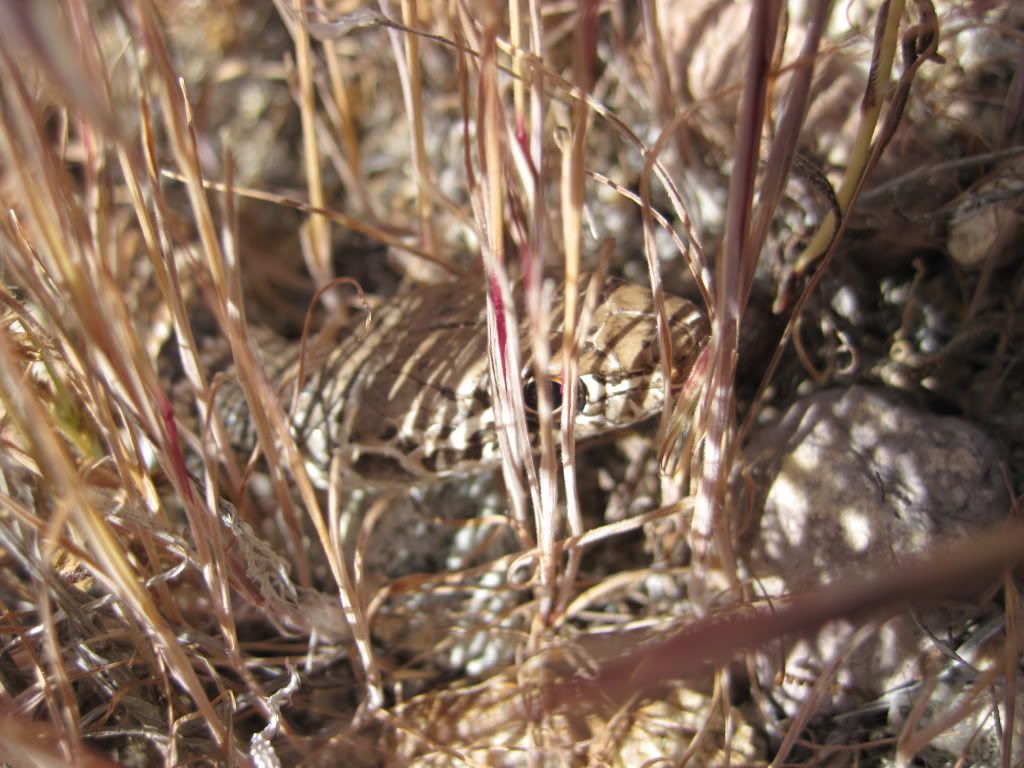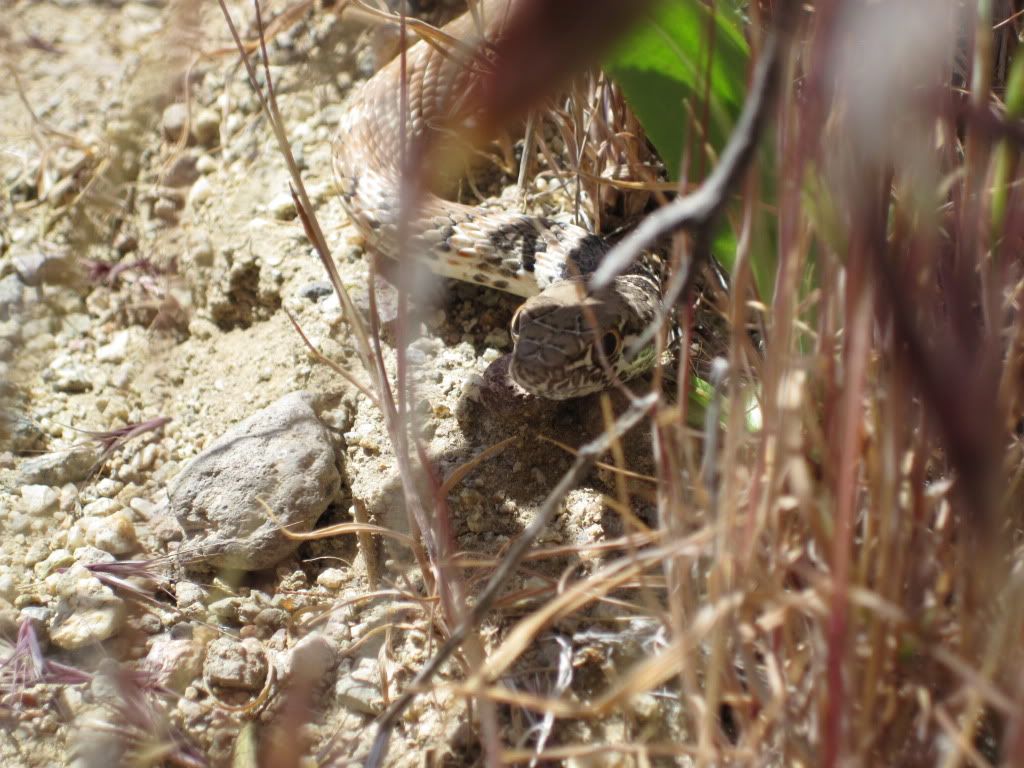 Range of
M. flagellum
: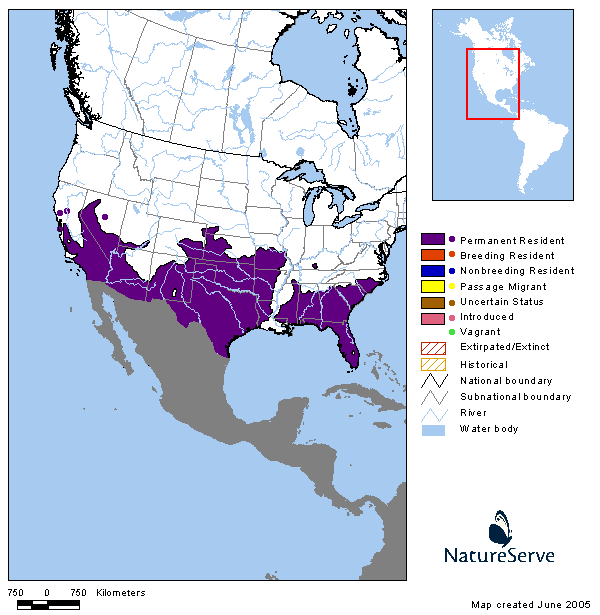 Mojave Shovel-Nosed Snake (
Chionactis occipitalis occipitalis
). This was an exciting find for me. Shovel–nosed snakes are small (10-17 in; 25-43 cm), and nocturnal. They generally remain burrowed underground during the day, so I was surprised to find this one out and about in broad daylight. In contrast with other burrowing snakes that "tunnel" through loose substrate,
C. occipitalis
is instead adapted to "wriggling," and is aided by smooth scales, a shovel-shaped snout with an inset lower jaw, nasal valves, and a concave abdomen (see photos). They eat insects/larvae, spiders, scoripions, and centipedes.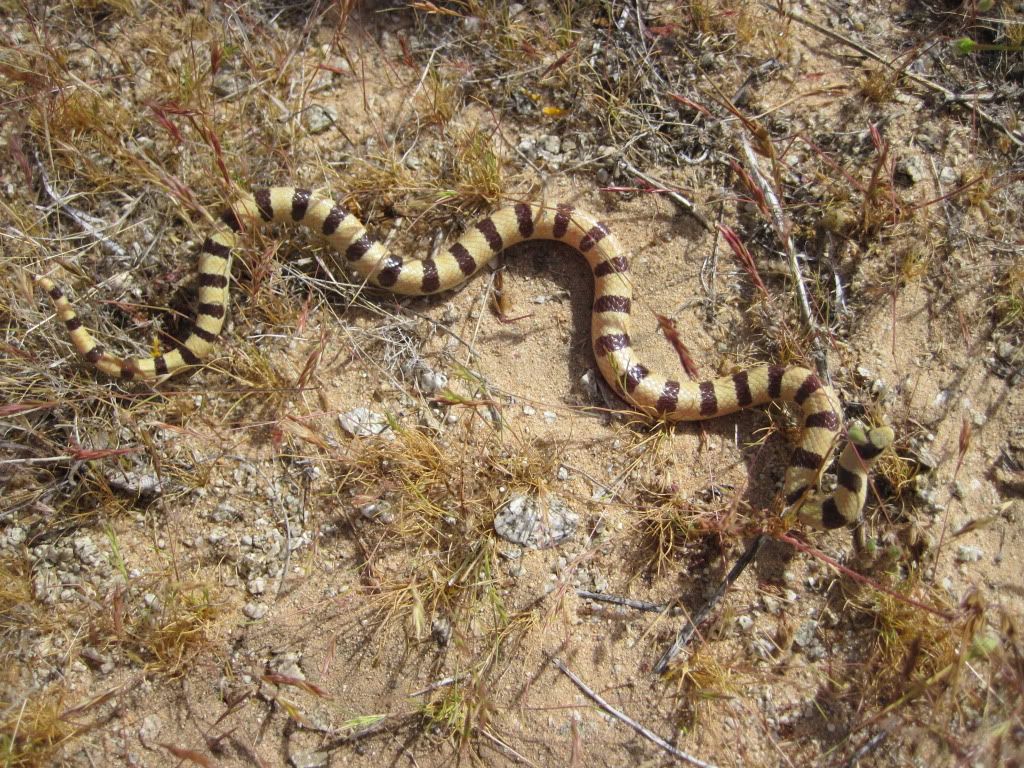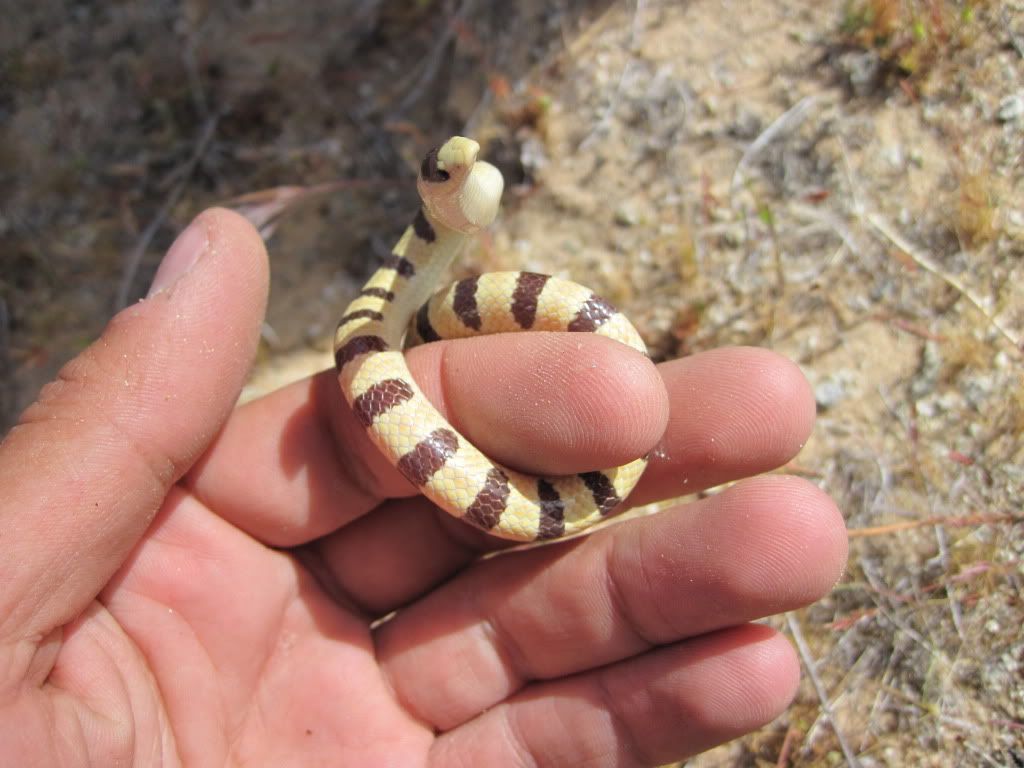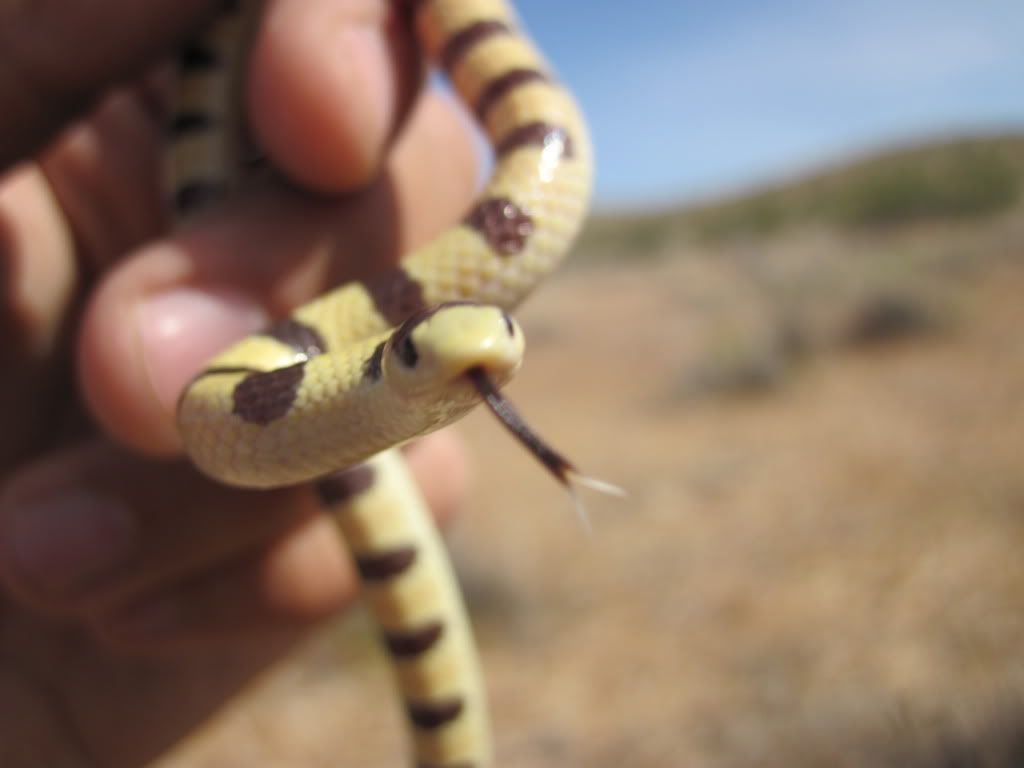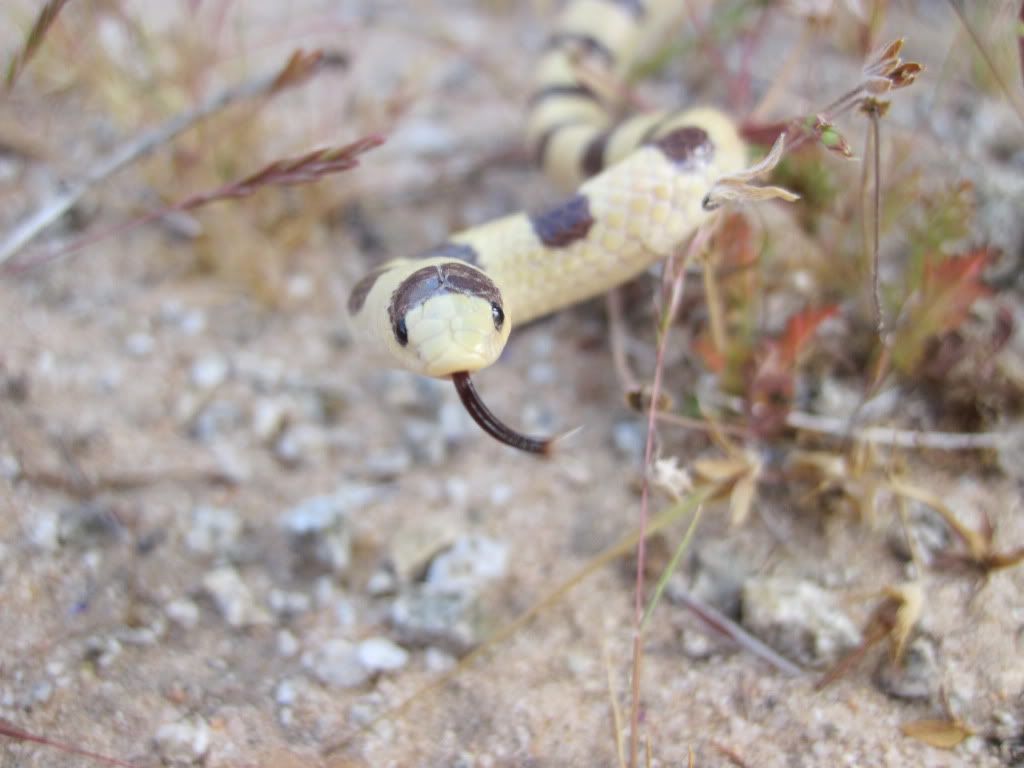 Range of
C. occipitalis
: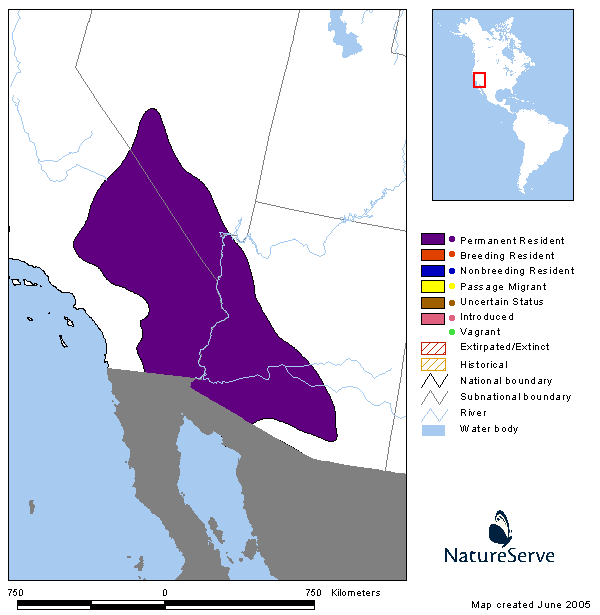 Desert Larkspur (
Delphenium parishii
)
'
Cool rocky slopes
Desert Globemallow, aka Apricot Mallow (
Sphaeralcea ambigua
)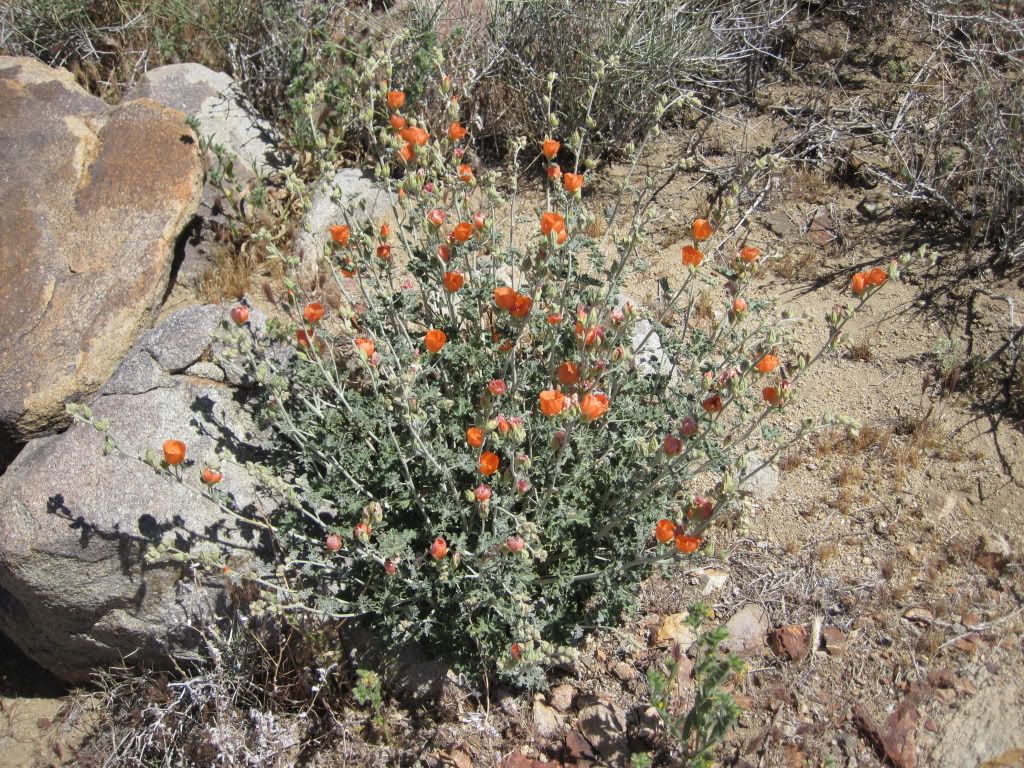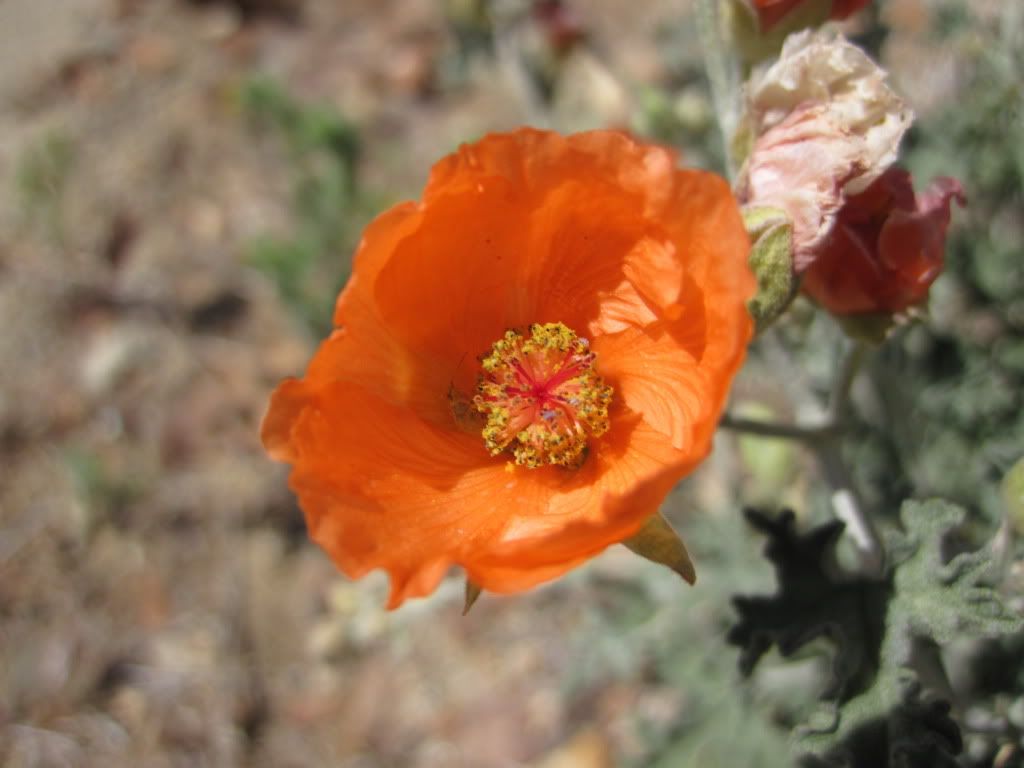 Someone's been leaving half-eaten animals around. I think the first one is a kangaroo rat (
Dipodomys
sp.).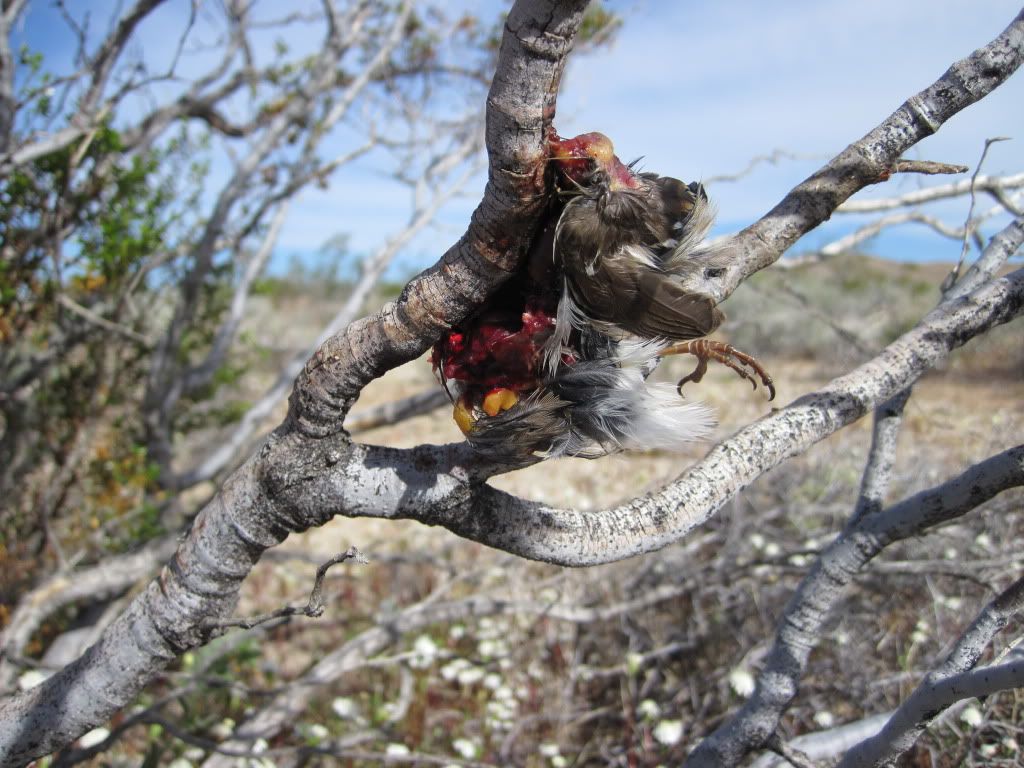 Great Basin Gopher Snake (
Pituophis catenifer deserticola
)
P. catenifer
is a wide-ranging species (see map below), capable of surviving in a variety of habitats. While their appearance (which may vary significantly by locale) bears only a superficial resemblance to a rattlesnakes', when threatened they often adopt a rattlesnake-like attitude by standing their ground, flattening their head, hissing, and vibrating their tails (see photos).
While this impression serves an adaptive purpose in fending off potential predators that may fall for the trick, today it probably also results in many gopher snakes being killed by ignorant rattler-fearing humans (not to mention their intimidating behavior won't help scare away cars). Gopher snakes are in fact non-venomous, and subdue their prey (rodents, rabbits, moles, birds/eggs, lizards, insects) by constriction.
Gopher snakes are active mostly during the day, except in extreme heat. This one was in the middle of the road, and was kindly moved out of the way by some conscientious commuters.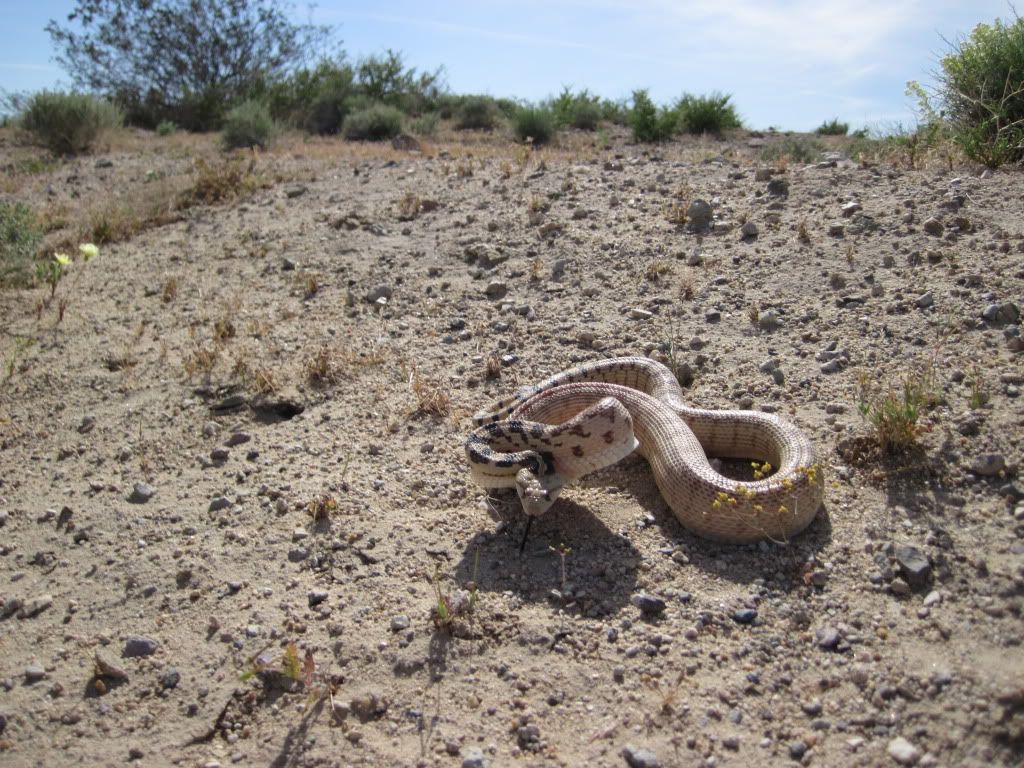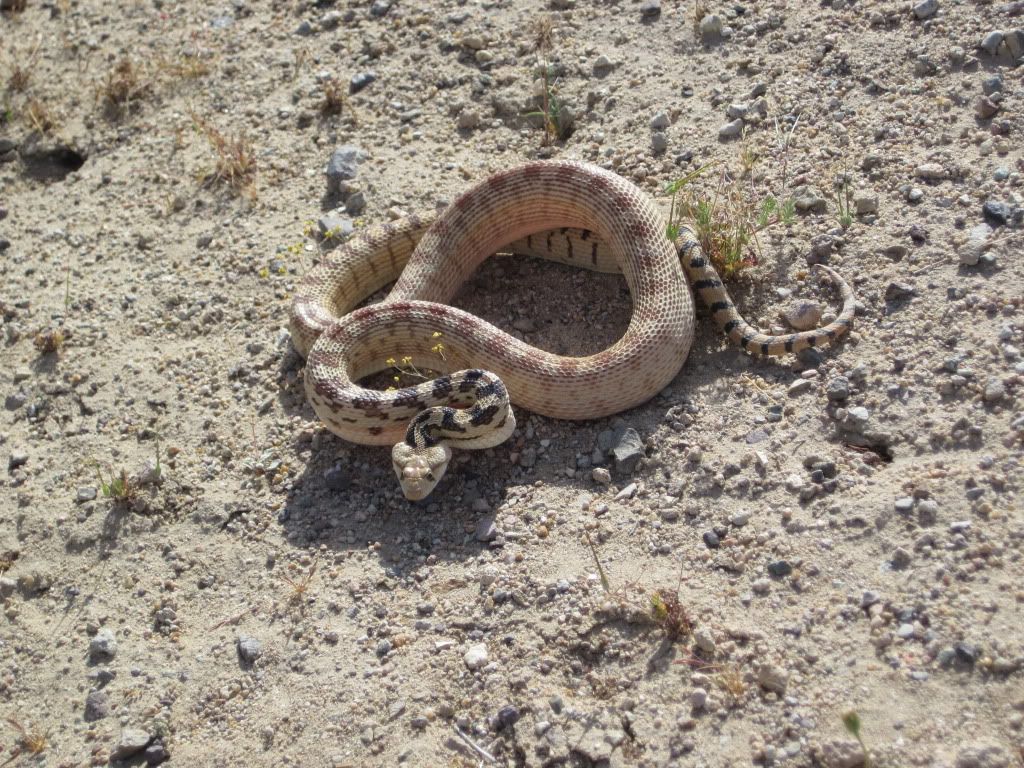 Range of
P. catenifer
: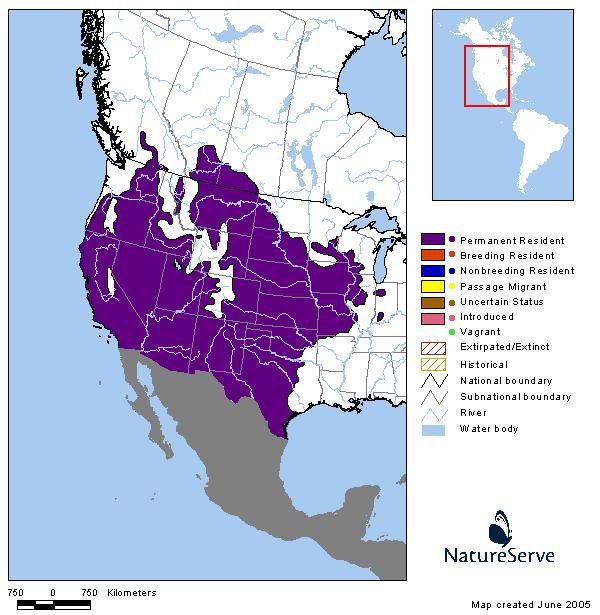 Great Basin Whiptail (
Aspidoscelis tigris tigris
)
Whiptails are one of the most abundant lizards here in the Mojave, but they are very quick, and I usually just catch a glimpse of them running from one creosote bush to another. They eat insects, spiders, scorpions, and other lizards.
Range of
A. tigris
: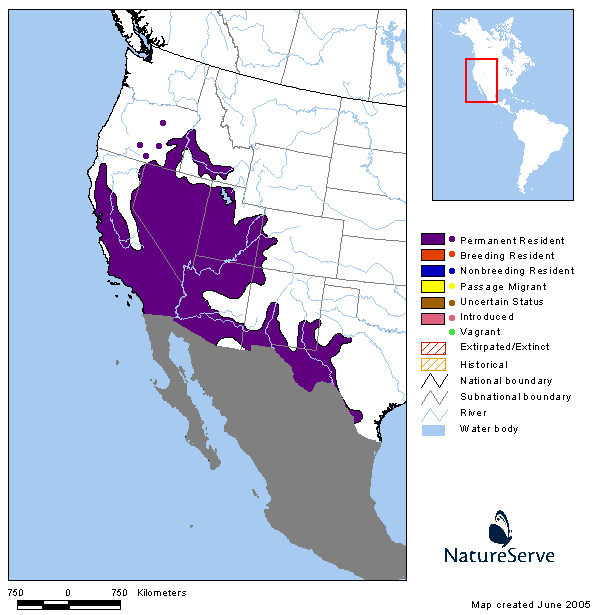 Juvenile Desert Iguana (
Dipsosaurus dorsalis
)
Desert Iguanas are one of the larger lizards we have out here, though this one was just a baby. They are mostly herbivorous, and will climb the branches of creosote bushes and other plants to get at leaves, buds, and flowers, though they will also eat insects and carrion. They are very heat-tolerant, and more likely to be active on days too hot for other lizards. Desert Iguanas breed in April-July, and females lay a clutch of 3-8 eggs June-August.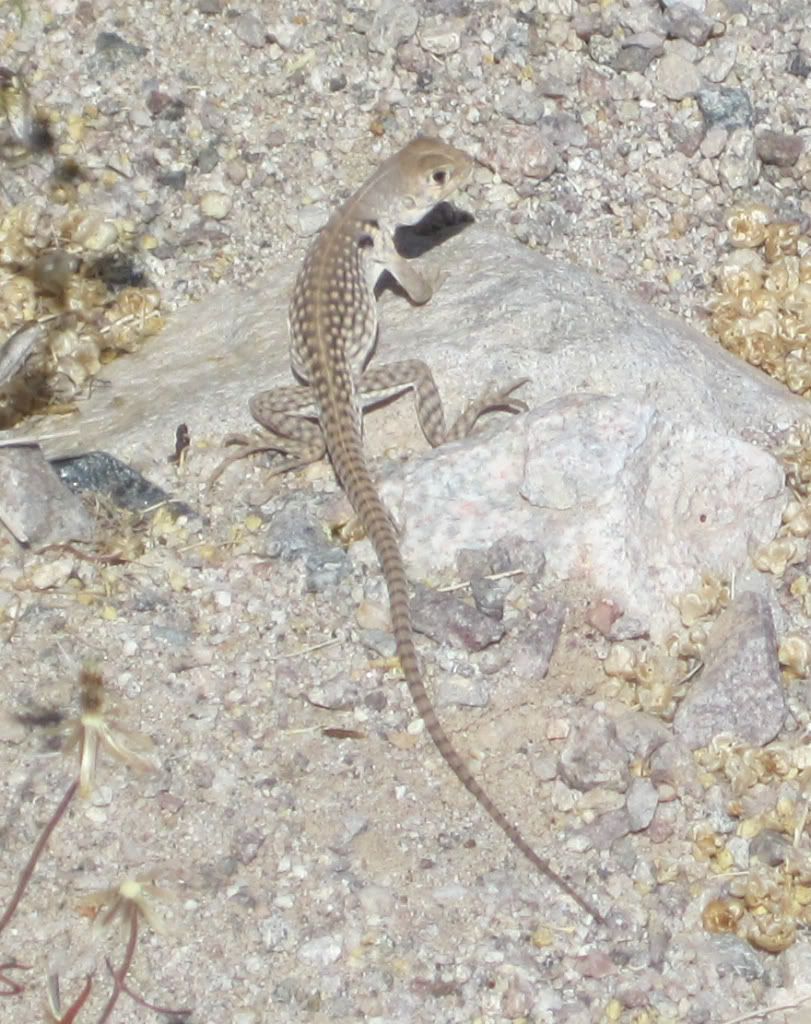 Range of
D. dorsalis
:
ATV-ing is a popular activity out here, and I was told this trail is one of the most favored spots to do it – I could see why.
Thanks for looking,
-Zach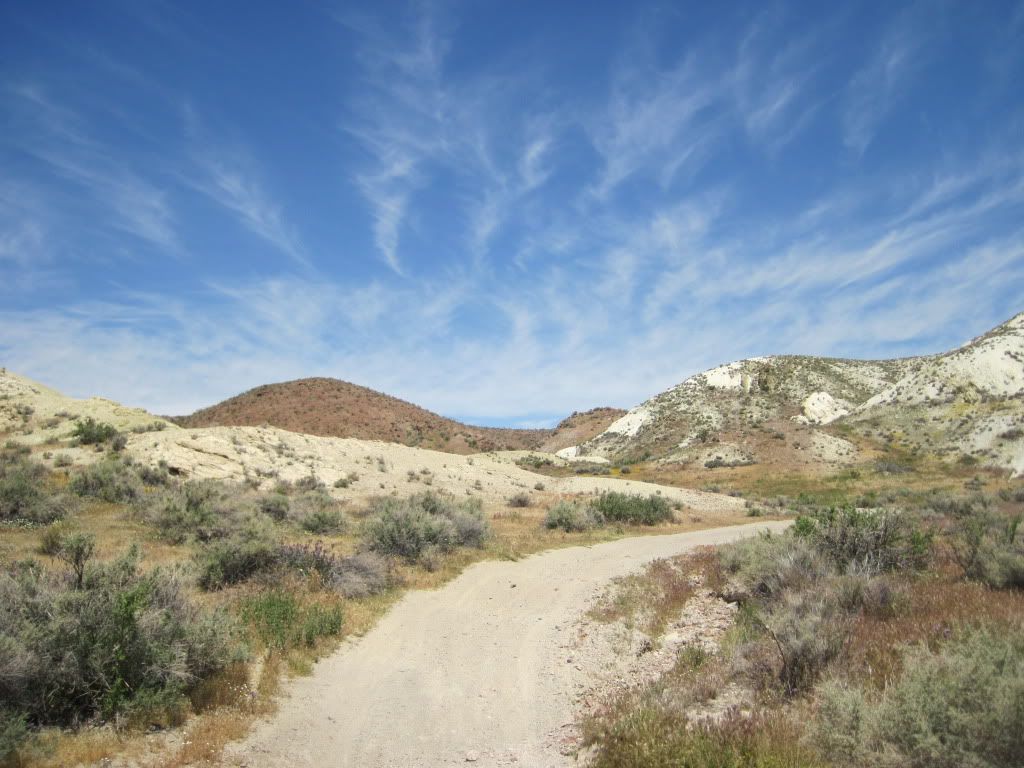 Part 1
Part 2
Part 3
Part 4
Part 5
Part 6
Part 7