After their
epic adventure with the Taiwan Beauty Snake
, our four heroes commenced road cruising in earnest. The mountain was generous with its bounties that night, and here are a few shots documenting some of the other six snakes (from three species).
Naturally, four of those found were
Dinodon rufozonatum
, the most common non-venomous snake around these parts. But not many people outside East Asia have heard about it, so here goes: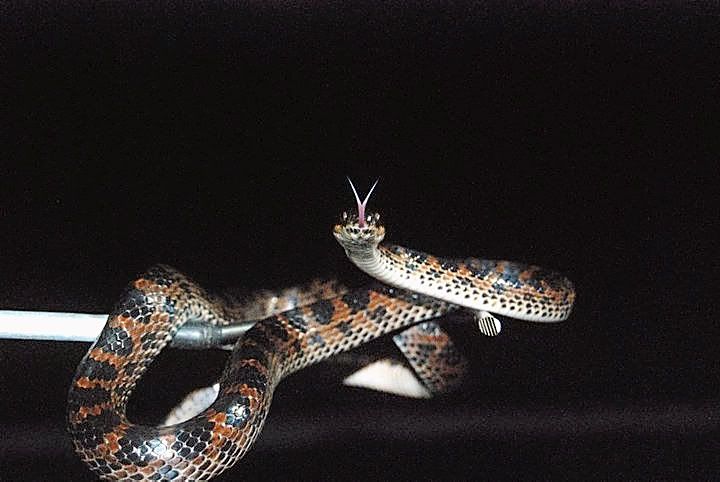 Charming the snake: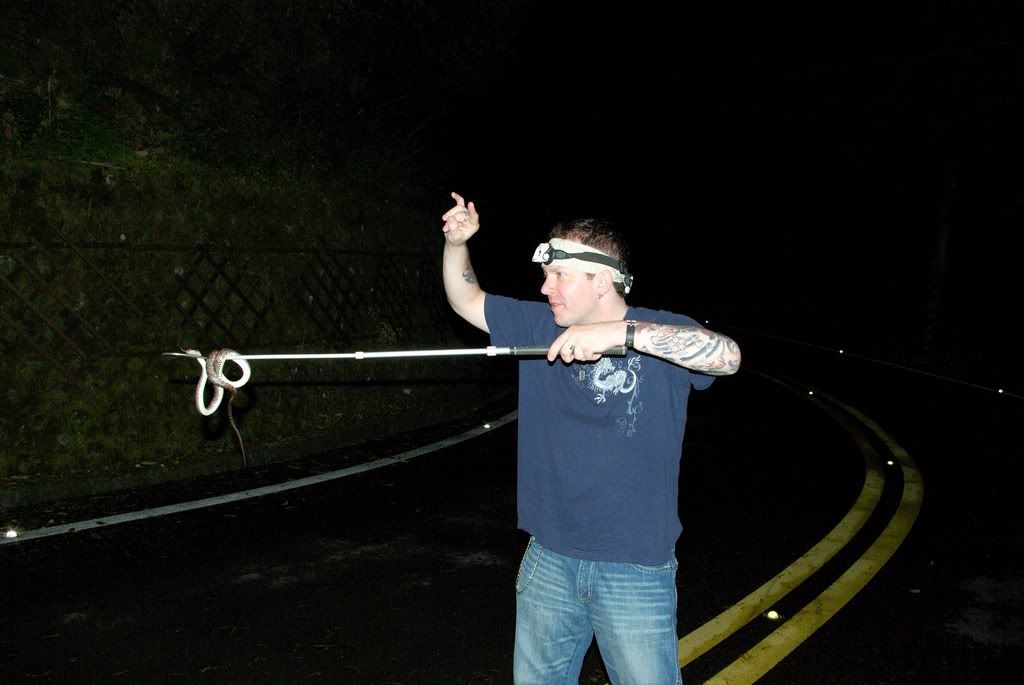 Another specimen was indulged in an activity always popular with herpers and Frenchmen alike:
The intrepid fellowship also met with a popular wet weather champion; the
Taiwan Slug Snake
(
Pareas formosanus
), an unassuming little reptile with amazing evolutionary engineering. If I may quote myself:
"The jaws of the species in the subfamily Pareatinae, to which the Taiwan Slug Snake belongs, are not strong enough to crush snail shells. Instead, when feeding on a snail, the upper jaw fixes on the shell while its long teeth on the lower jaw scrape out the body. To move the prey into the swallowing mechanism, the snakes grab the body of the snail, then "walk" it into their throat by alternatively moving each side of the lower jaw, whilst the upper jaw holds the shell in place. In many slug snakes, this is facilitated by asymmetrically evolved dentures: a 2007 study (1) found that the Iwasaki's Snail-Eater (Pareas iwasakii) had an average of 17.5 teeth on its left jaw and 24.9 teeth on its right jaw."
(1) Hoso et al.; Right-handed snakes: convergent evolution of asymmetry for functional specialization.
(Biology Letters. DOI: 10.1098/rsbl.2006.0600st)
This specimen was quite the civilized sort, as it didn't release its usual foul essence of snail all over hands and heads...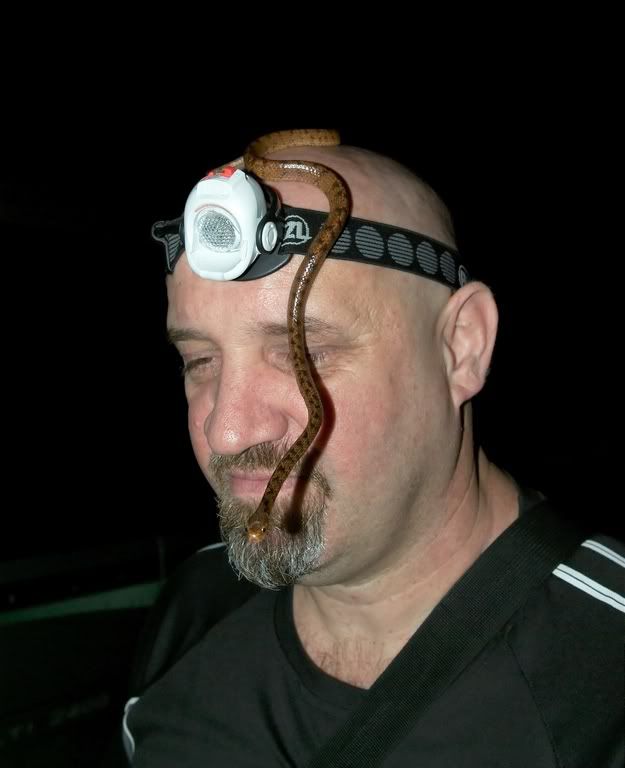 It would have been an imperfect trip if there hadn't been at least a few GTV, as Bill calls them (= Green Tree Vipers, aka
Viridovipera s. stejnegeri
). The first one perched high above us in a tree, but the second was arranged in a much more photogenic and accessible way. The herpers had arrived just a little too late to see it feed, but its after-dinner girth beautified the snake anyway. A color feast for photos and video alike (note Bill's clever contraption, the VenomCam)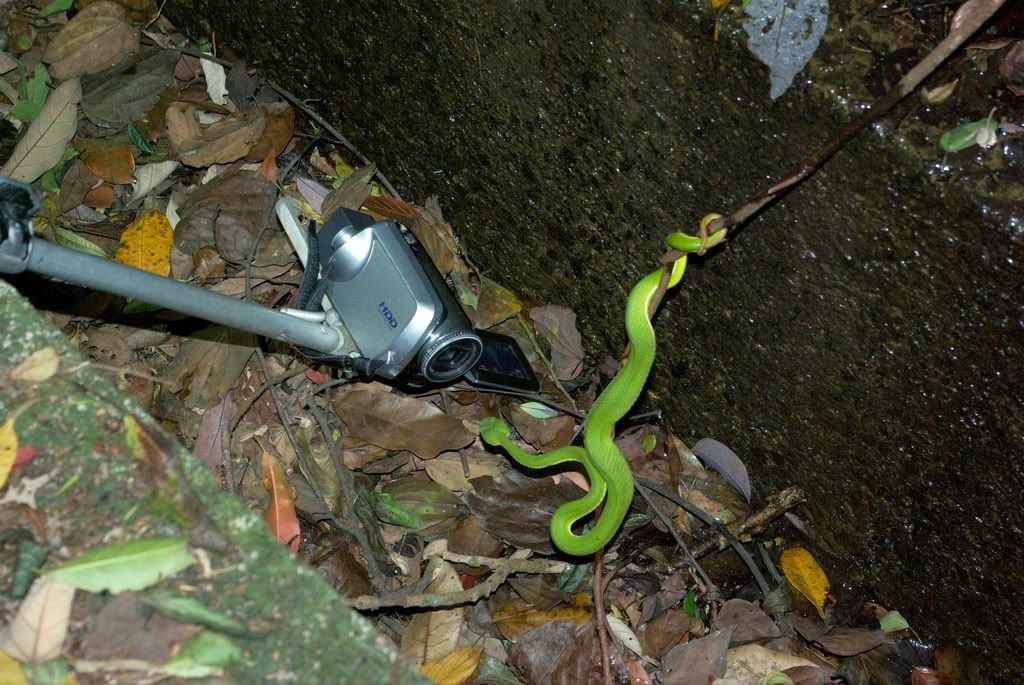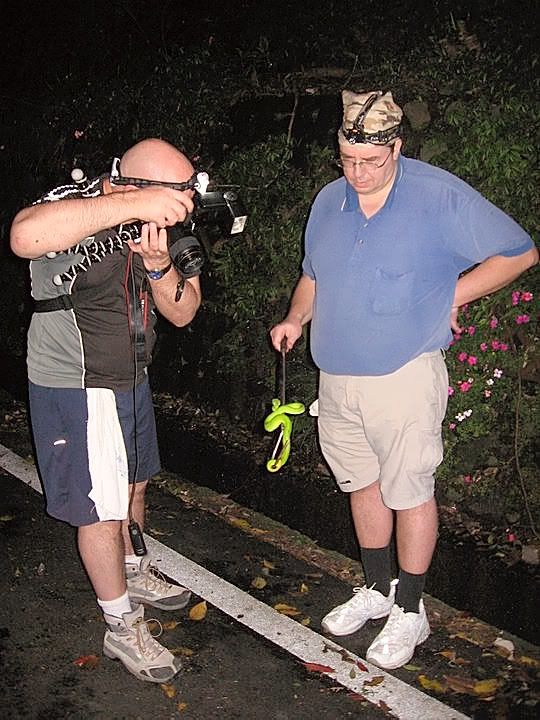 Stay tuned for Part Three, the Video Blowout! With insane footage: endemic elapid terrorizing terrified gringo!
(Photos by Bill Murphy, Peter Kowalski, Darren Rurka and Hans Breuer)