So last year I got it in my head to travel down to Baja with a few folks for some international herping. The trip was postponed twice, shortened, and 50% of the attendee's eventually dropped out. Even so, myself and a herping buddy of mine (Colubrid guy), loaded up my truck and headed south of the border for 8 days.
The trip got off to a slow start. We crossed the border in the early AM, went looking for
L. zonata
and failed, then went looking for
C. grismerii
and failed there also, but not before getting my truck high centered on a dirt berm blocking an overpass that Colubrid guy was sure we had the clearance for

. It took us an hour to dig ourselves out of that situation (DON'T DRIVE TO MEXICO WITHOUT A SHOVEL!) all the while a nearby farmer watched us and I'm sure made many comments about the stupid gringos.
Also we went through the first of many (I think 10 or 12 all tolled) military checkpoints where you exit the vehicle Mexican Soldiers with M16's rifle (no pun intended) through your stuff until they are satisfied you aren't conveying contraband. This definitely makes you appreciate (and miss) your 4th amendment rights. However, rewind to the first checkpoint, and I wasn't quite sure what to expect, so we turned off and exited my truck (making sure any small loose items of any value were in my pockets before stepping out), and watched them knock on the body panels, open all accessory compartments, look under the seats etc. Then the inspector went to the map pocket behind my passenger seat and pulled out my 2-D cell LED MagLite. At first I wondered if he was going to "confiscate" (i.e. jack) my lite. He then turned to Colubrid guy and asked him a question that I didn't catch. Turned out he wanted to buy my MagLite. I was shocked. Since I have another 3-D cell LED MagLite and had to change some dollars into pesos anyway, it seemed like a win-win. So we made a deal and came away with a good deal for both parties. I will say that all of the Soldiers we dealt with were both professional and respectful and by the end of the trip, these checkpoints became routine.
The weather was also cool and extremely windy for our first three days. We tried to make the most of the situation and get some miles under our belt. We made it to our first destination at the town of San Felipe. We checked into our hotel, grabbed some street tacos, and headed out for some cruising on the Baja 1000 course which is essentially a dirt road west of town. Because we evidently missed our intended road, cold temperatures, and nearly tearing my truck in half by driving over a completely indistinguishable 2' drop between the westbound and eastbound lanes in the road, we decided to quit while we're still ahead and get an early start the next morning.
We headed out early from San Felipe to a spot just south of town to look for
Crotaphytus vestigium
. After a couple of unsuccessful hours (remember, it's cool and still very windy), we threw in the towel at that spot despite the good-looking habitat. After consulting Grismer (Amphibians and Reptiles of Baja, we notice that the distribution of
C. vestigium
inexplicably pulls away from the coast in the very spot we selected to herp that morning (I swear, we're usually not this noob-ish). So we pushed on.
We arrived to a small fishing town on the Sea of Cortes, chartered a boat for a trip later in the week out to on of our island destinations, checked into the hotel, ordered up two Spiny Lobsters that had just come off the boat and were the size of your forearm (probably ~3lbs apiece), and headed out for some night cruising. Our target species was
Coleonyx swaitakii
, but again, cool and windy. After a couple hours, this was our take for the evening:
5 Spotted Leaf-nosed (
Phyllorhynchus decurtatus
) yearlings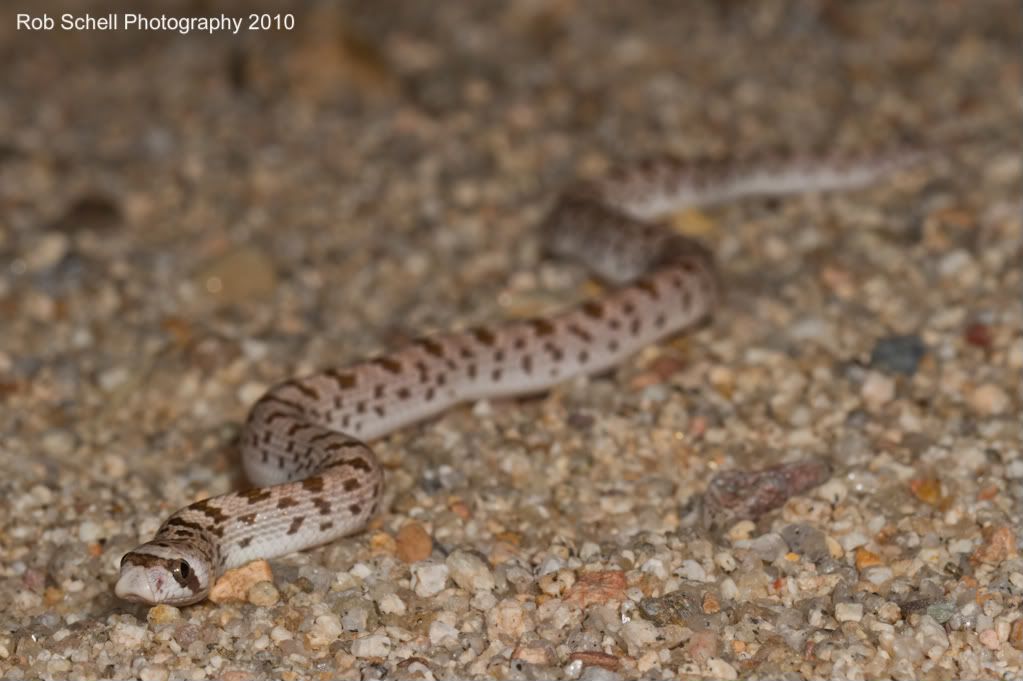 One Baja California Lyresnake (
Trimorphodon biscutatus lyrophanes
)
And a Juvenile Speckled Rattlesnake (
Crotalus mitchelii
)
Not a great night, but not to shabby either. Perhaps our luck was changing?
We headed out in the AM after breakfast to a spot west (inland) to try again for
C. vestigium
. We triple checked Grismer to make sure we're in range, then headed out to hike the slopes. the wind was howling, but the temps seemed OK. After a couple hours of seeing nothing moving, we determined the wind is the likely prohibitive, and to push on to our next destination.
After we arrived late afternoon (BAJA IS HUGE) to the next town and headed out to cruise again for
C. swaitaki
. Cool temps were against us again. No dice. Just as we were about to call it a night, the herping gods smiled upon us just a little and gave us our only find of the night. Surprisingly, the surround habitat was utter rubbish for this species. Oh well, we were in a take what we can get mindset.
Mexican Rosy Boa (
Lichanura trivirgata trivirgata
)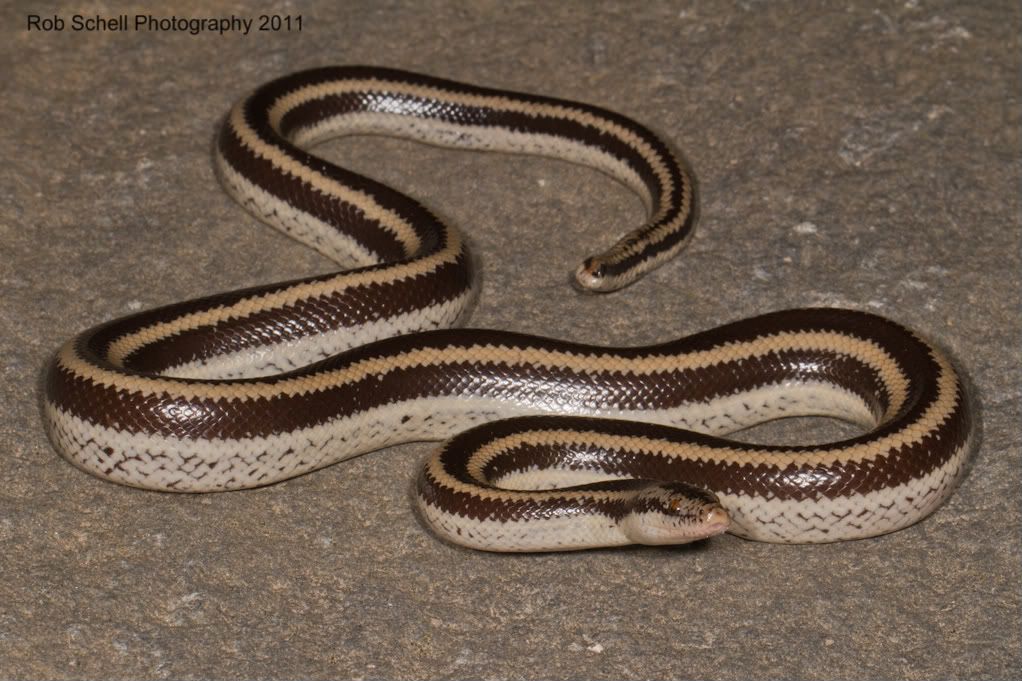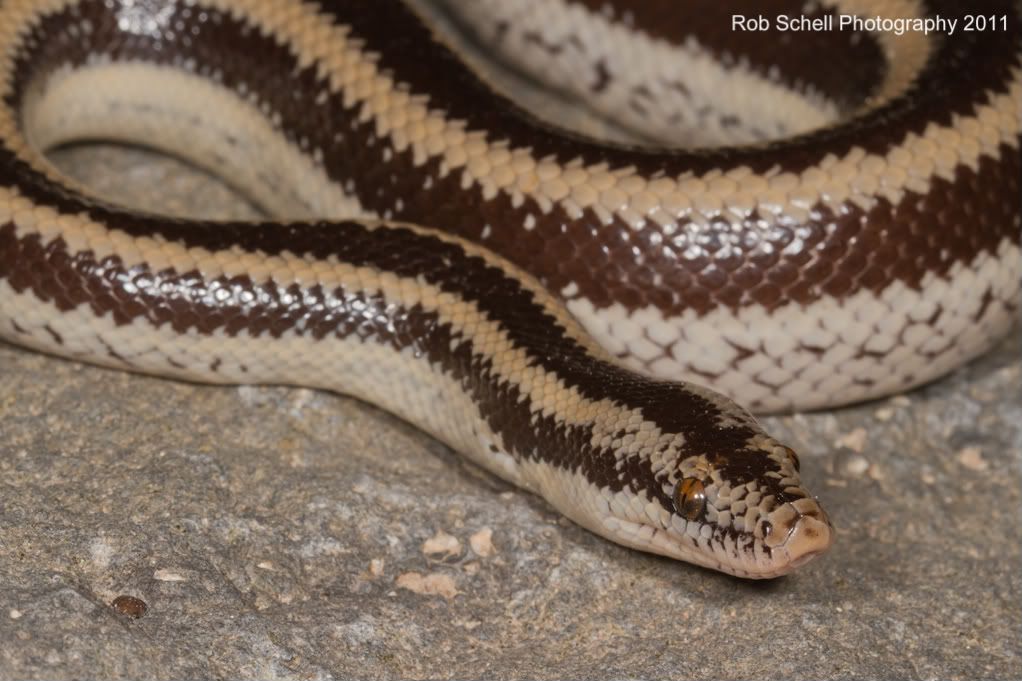 The next morning, we were sure our luck was turning. We ate breakfast and headed to our next location, but not without stopping again to look for
C. vestigium
. We were out early in some very promising looking habitat within their range, the wind had died (mostly) and it was getting hot. Surely this would be it. We even found
Crotaphytus
droppings. WRONG! we hiked around for another three hours in great looking habitat without seeing diddly. So, we loaded up and headed to our next port city. On the way down, I saw a road that went up to a piece of habitat too tempting to resist, although it was mid-afternoon at this point, surely the peak activity period for
C. vestigium
had come and gone. We drove and hiked along a very promising looking canyon, and just as we were about to head out with our tail between our legs, I see a head poking up from a rock.
It wasn't a
Crotaphytus
and sure looked ugly. Must be a
Sauromalus
. Not a bad consolation prize.
Peninsular Chuckwalla (
Sauromalus australis
)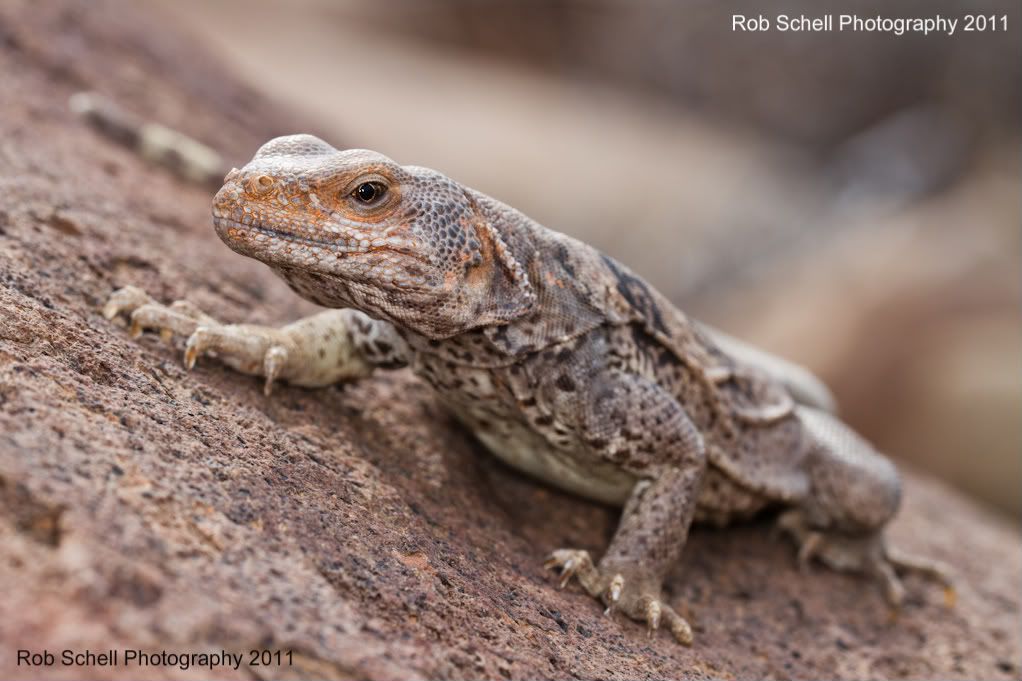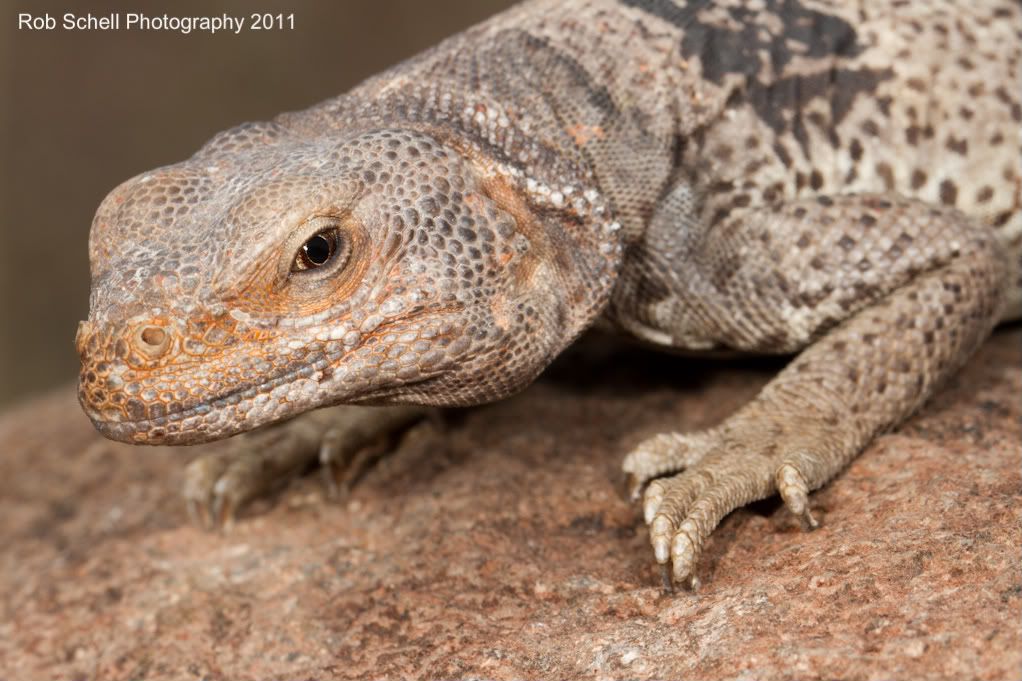 Maybe we had it all wrong? Maybe the lizards come out in the afternoon in Baja? We cruise the road again. Perhaps we missed something? Perhaps their flight distance is THAT far? We were again, about to give up, then saw this:
We could get nowhere near this animal. As soon as we got out of the car, it bolted. A few minutes later, I managed a slightly better photo from the limited vantage afforded from the window of the truck:
Baja California Collared Lizard (
Crotaphytus vestigium
)
I'm afraid that's as good as it got for the
C. vestigium
this trip despite several more attempts to find them. Because of spending the entire afternoon at this site, we got into our port city late. We headed straight for the harbor to try and find a charter to our first island destination. We saw a group of guys hanging around near some boats, and decided to try our luck. Through broken Espanol, Colubrid guy managed to covey to these men that we were seeking a boat out to an island to photograph snakes and lizards. We were thoroughly hazed for the "tripa loca" we're planning, but made a few calls and within about 15 minutes, had a guy who spoke enough English to convey our intentions and settle on a price.
At 6AM the next morning we were on a boat to Isla Santa Catalina. Within a few minutes we saw our first herp, and within a short time after, we had our first target species of the trip.
Santa Catalina Island Desert Iguana (
Dipsosaurus catalinensis
)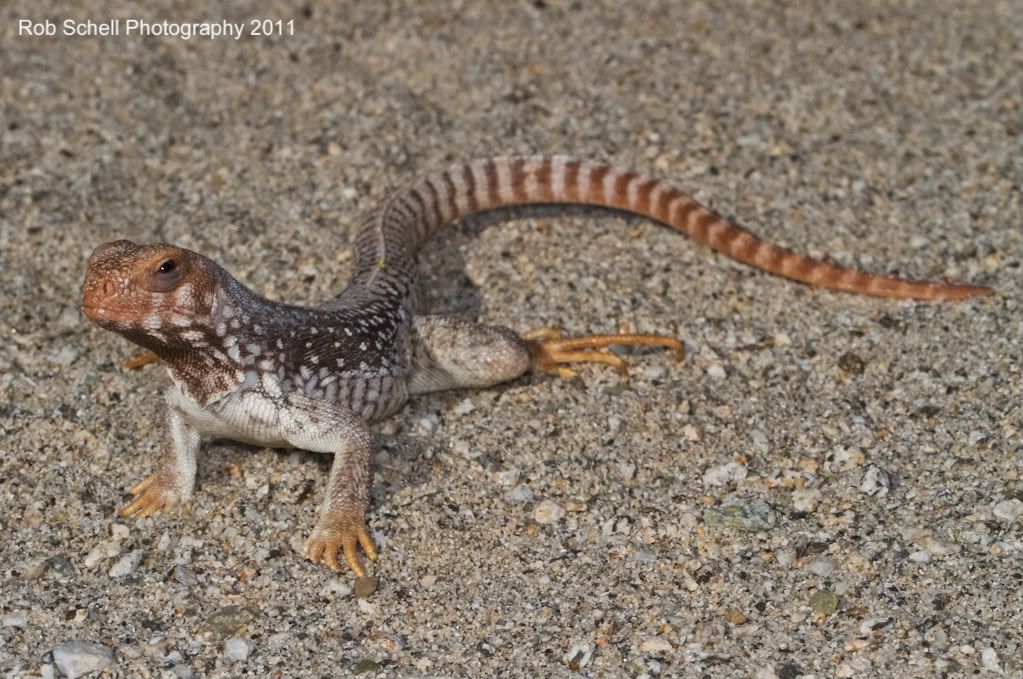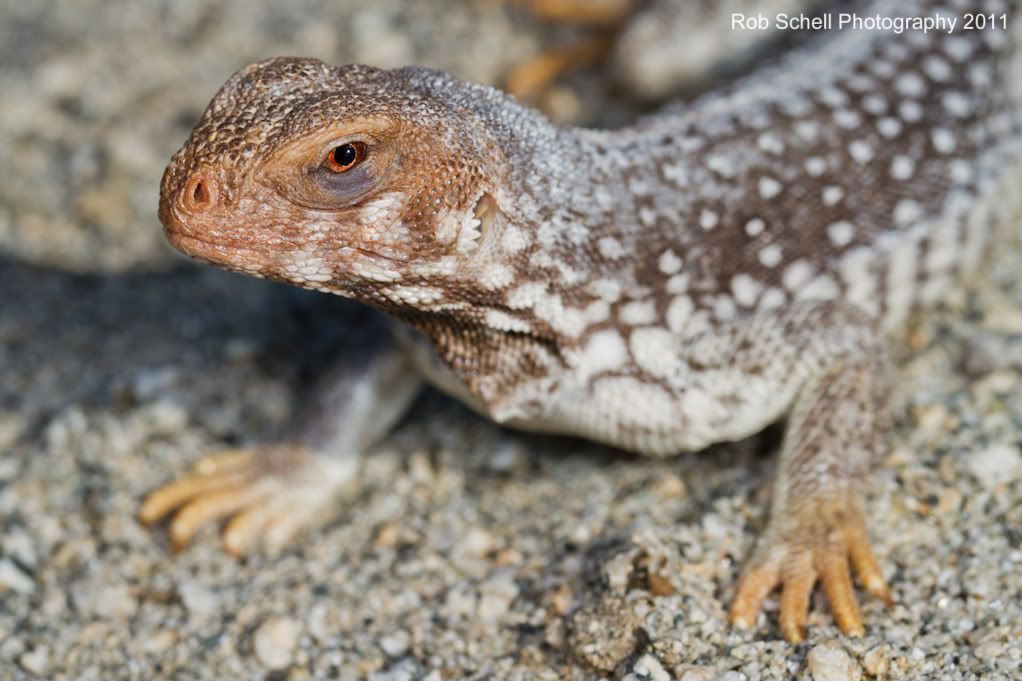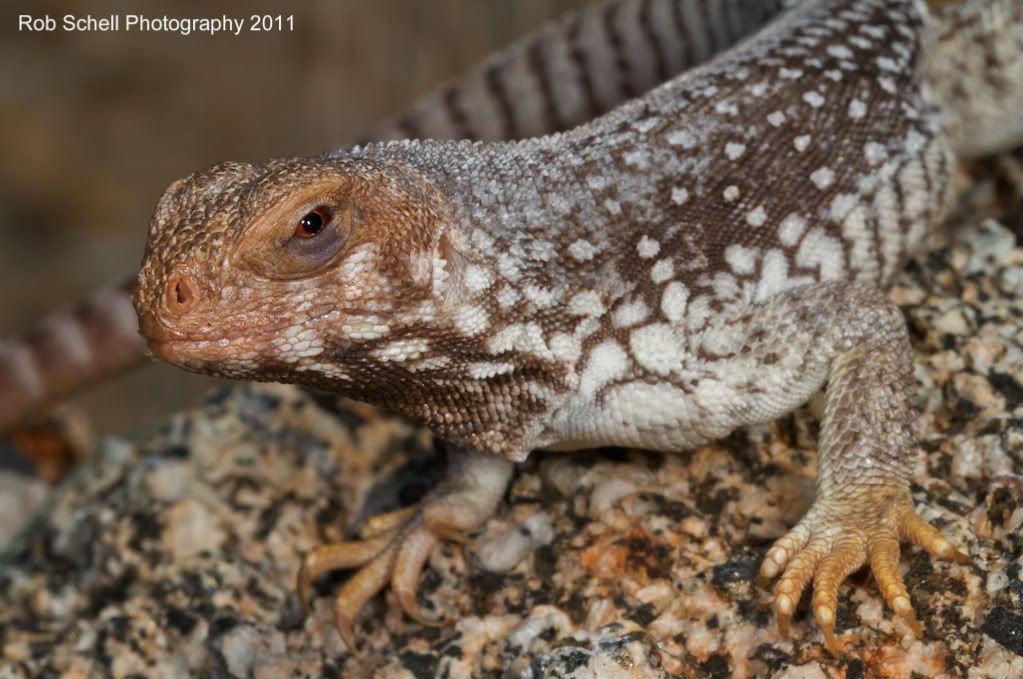 Onto the next species. Of the two
Sauromalus klauberi
we saw, we managed to capture and photograph exactly none of them. Oh well, got some decent landscape shots and shots of the endemic giant barrel cactus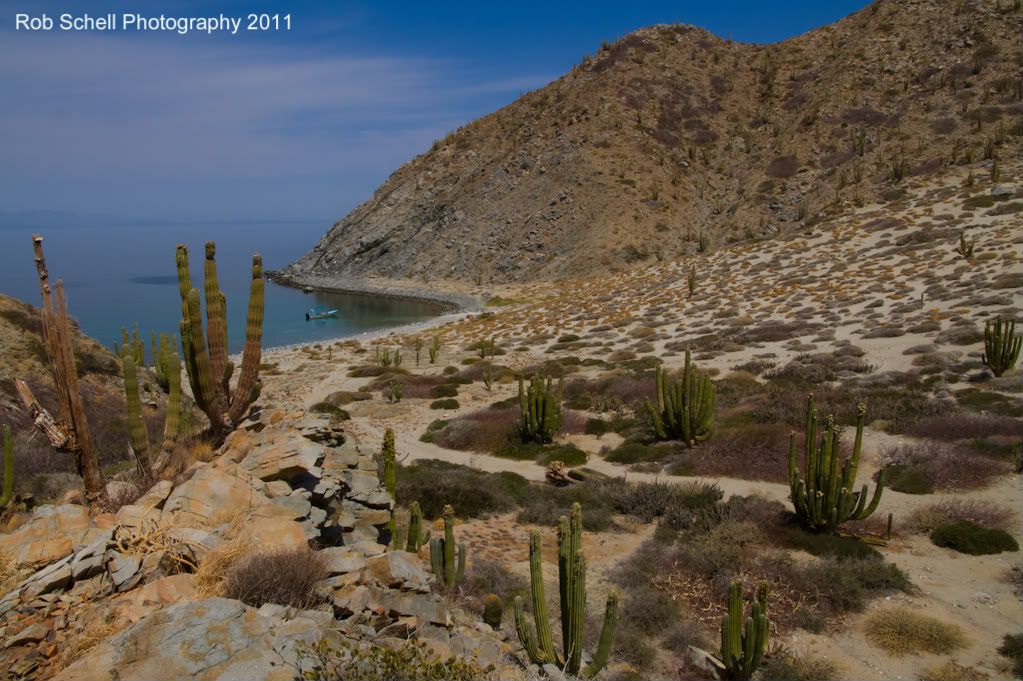 Santa Catalina Barrel Cactus (
Ferocactus diguetii
)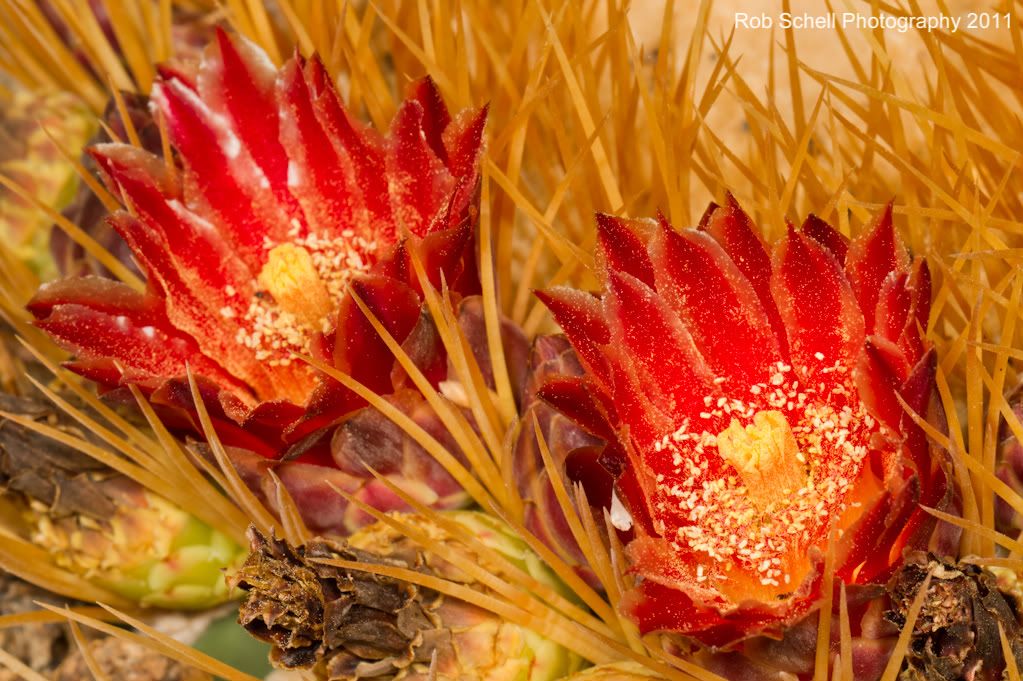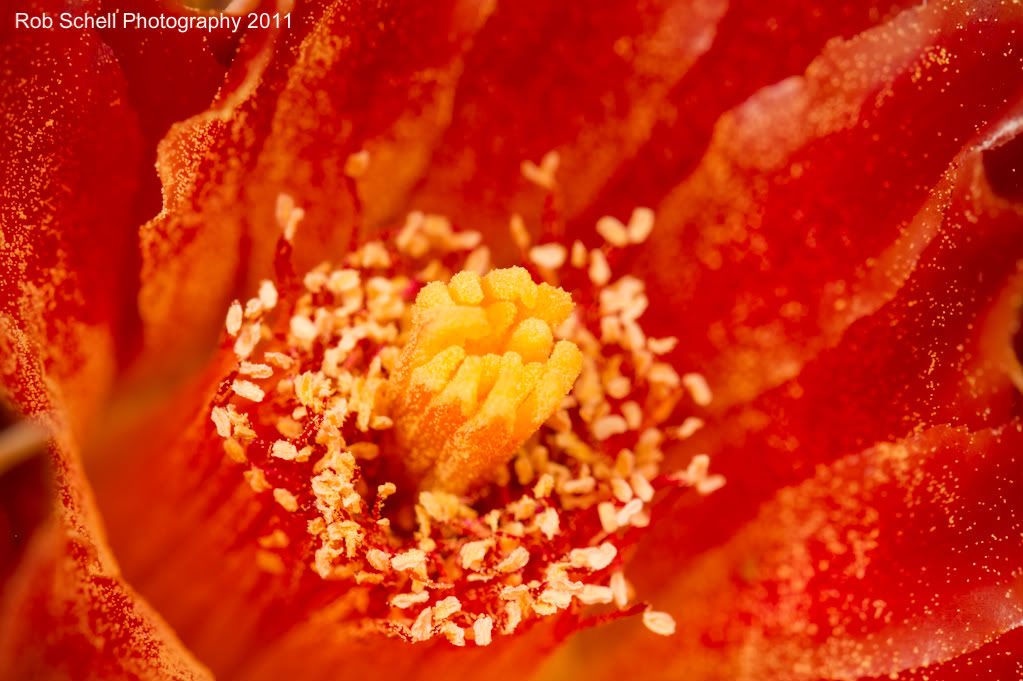 Shortly thereafter we caught probably the most colorful lizard I've ever seen.
Santa Catalina Side-blotched Lizard (
Uta squamata
)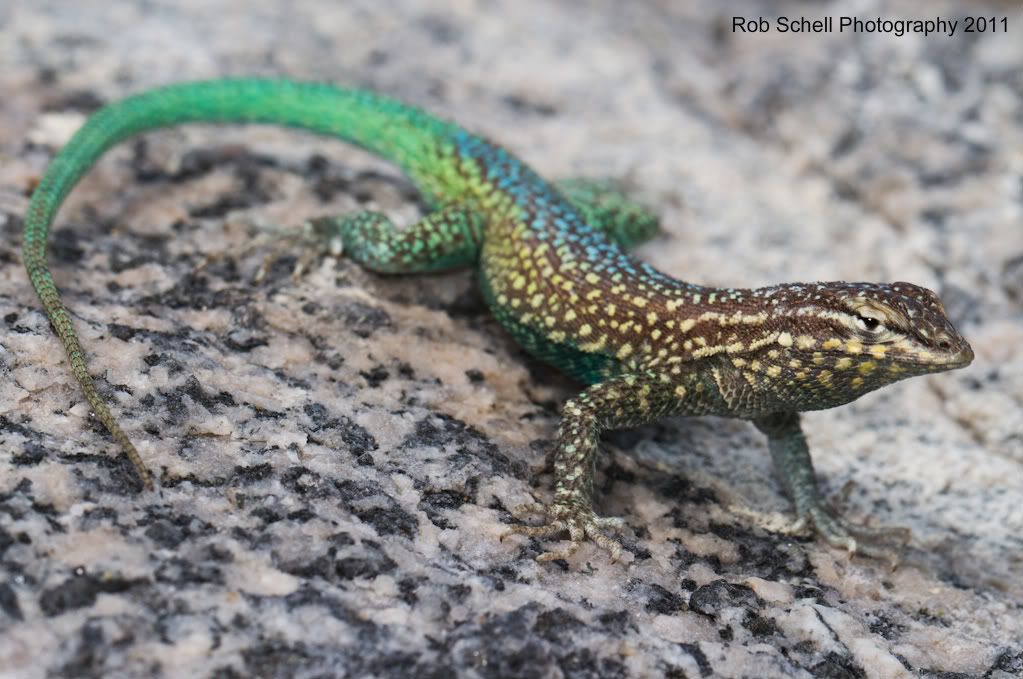 We spent the heat of the day photographing some of the other inhabitants of the island
Sally Lightfoot Crab (
Grapsus grapsus
)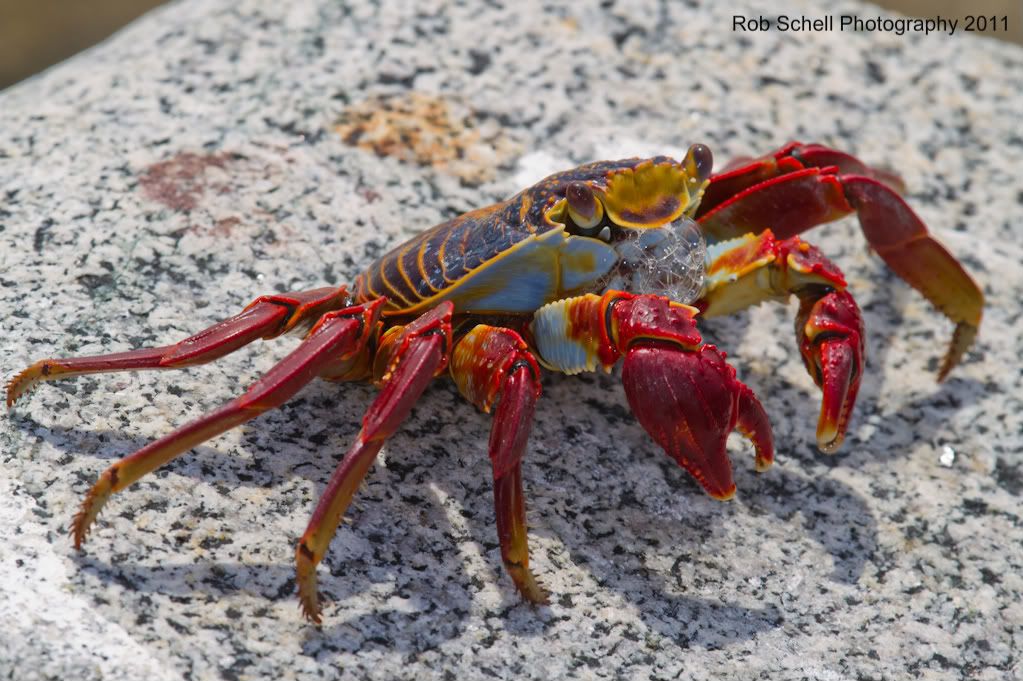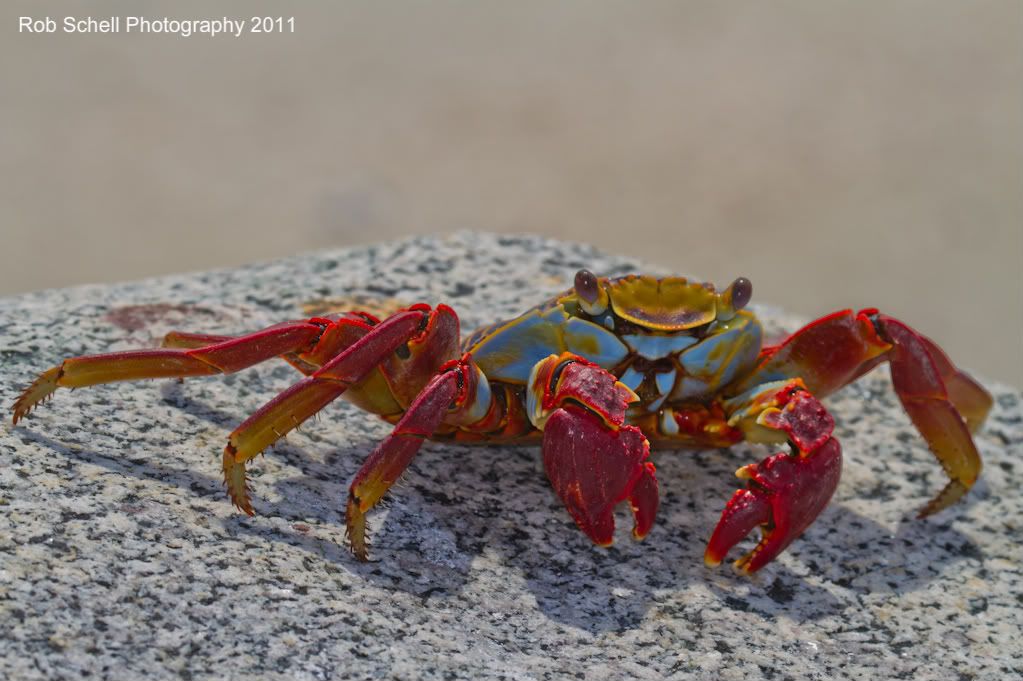 Brown Pelican (
Pelecanus occidentalis
)
While looking for what else we might find, I spotted some coils at the base of a rock pile....CASCABEL!
The famous rattleless rattlesnake.
Santa Catalina Island Rattlesnake (
Crotalus catalinensis
)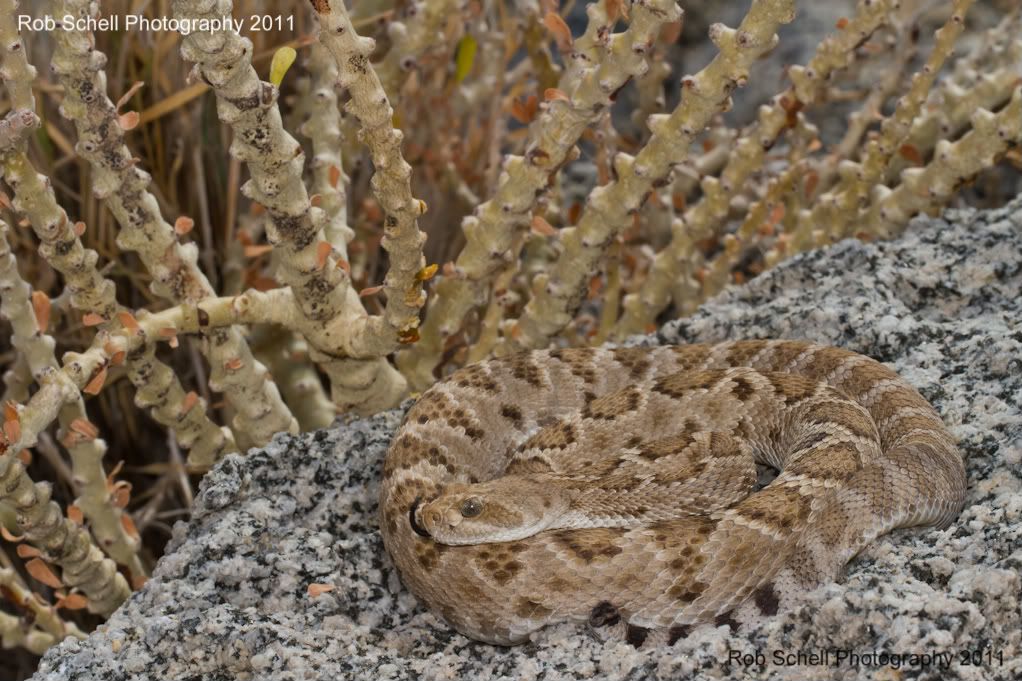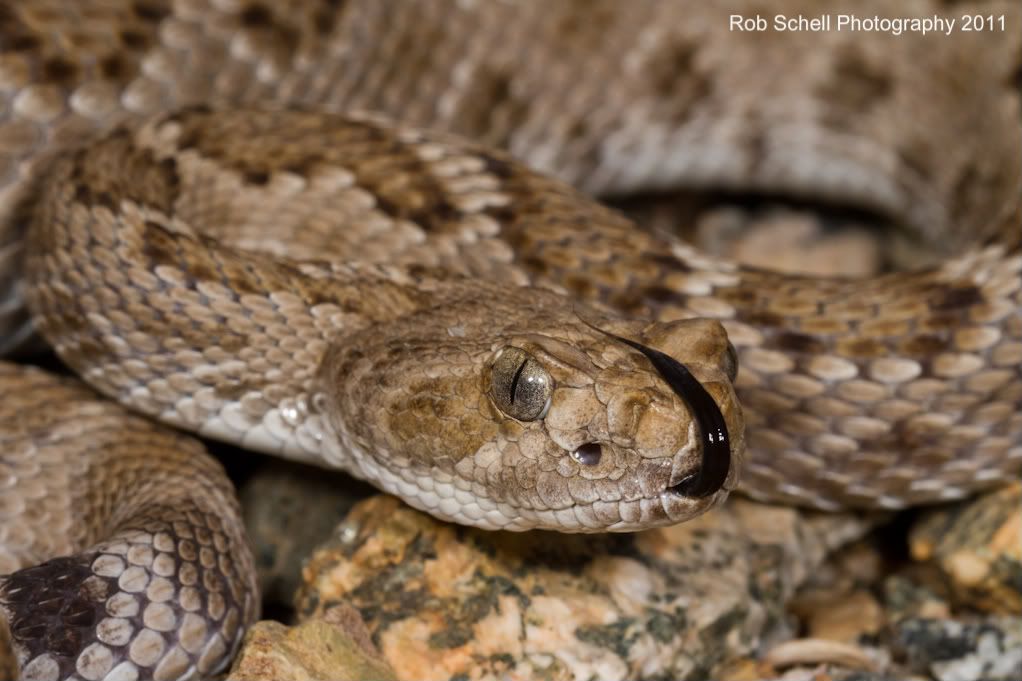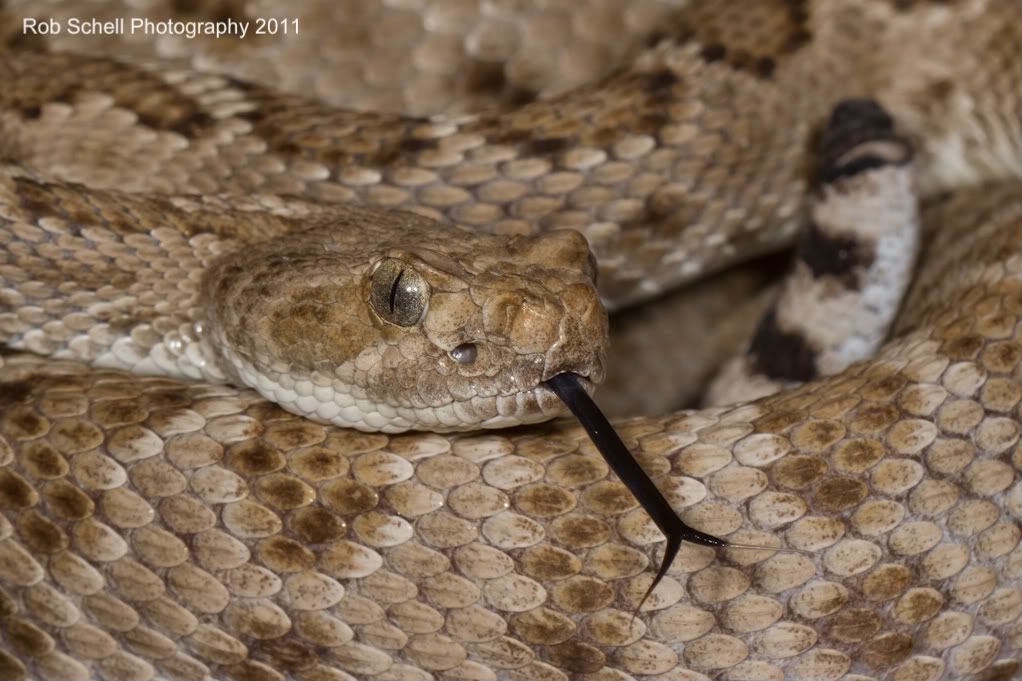 We also found another jewel hanging out in the same rock pile:
Catalina Island Leaf-toed Gecko (
Phyllodactylus bugastrolepis
)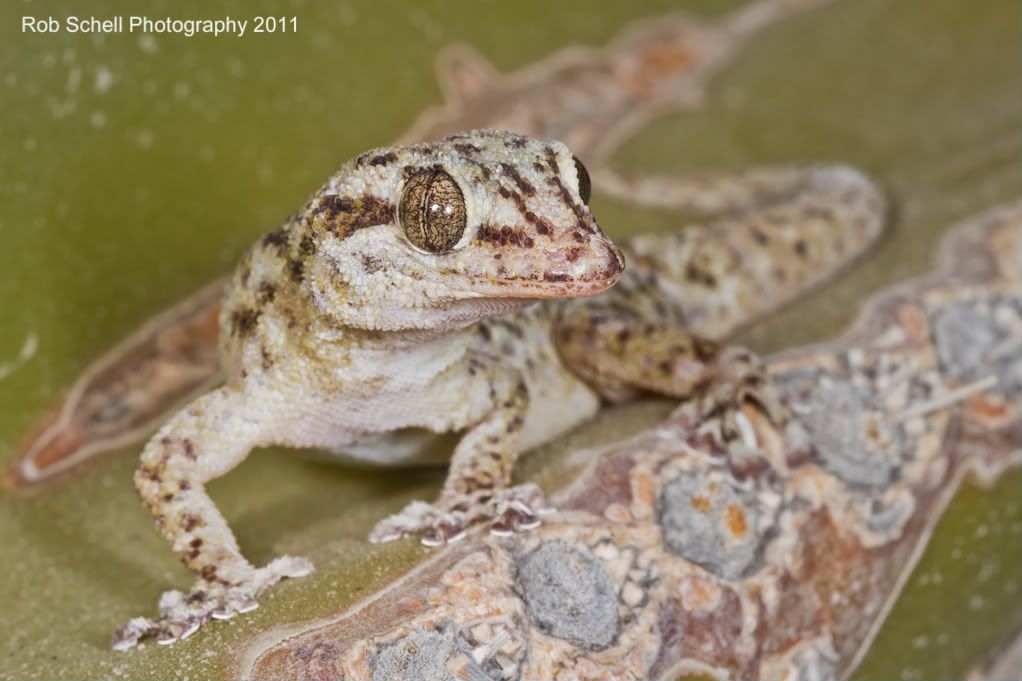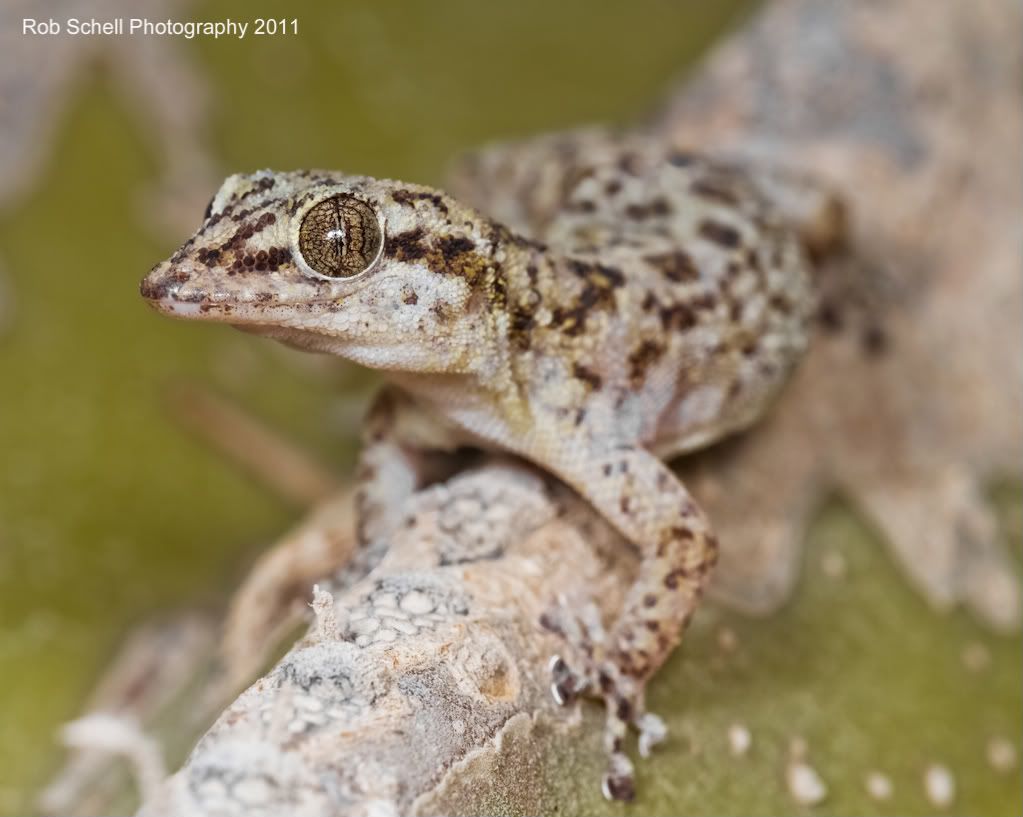 After our good fortune on the Isla, we were definitely feeling good. We returned to the harbor, where I realized my truck had been keyed while sitting at the port. Oh well, its a herping rig and I consider it to be a battle scar and since chicks dig scars.... right? Anyway, we packed up and headed back north. Found one DOR
Crotalus enyo
and one DOR
Chilomeniscus stramineus
, no vouchers through, it was very late.
We tried again the next day for
C. vestigium
at several locations, in so many words, we failed. Again. So we stopped by to check out a spot we scoped on the way down with some good flipping debris and looked like a good spot to cruise for
G. copeii
. Didn't find Cope's, but did manage to flip a couple of nice specimens:
Baja California Rattlesnake (
Crotalus enyo
) - Female (possibly gravid) with 13 buttons.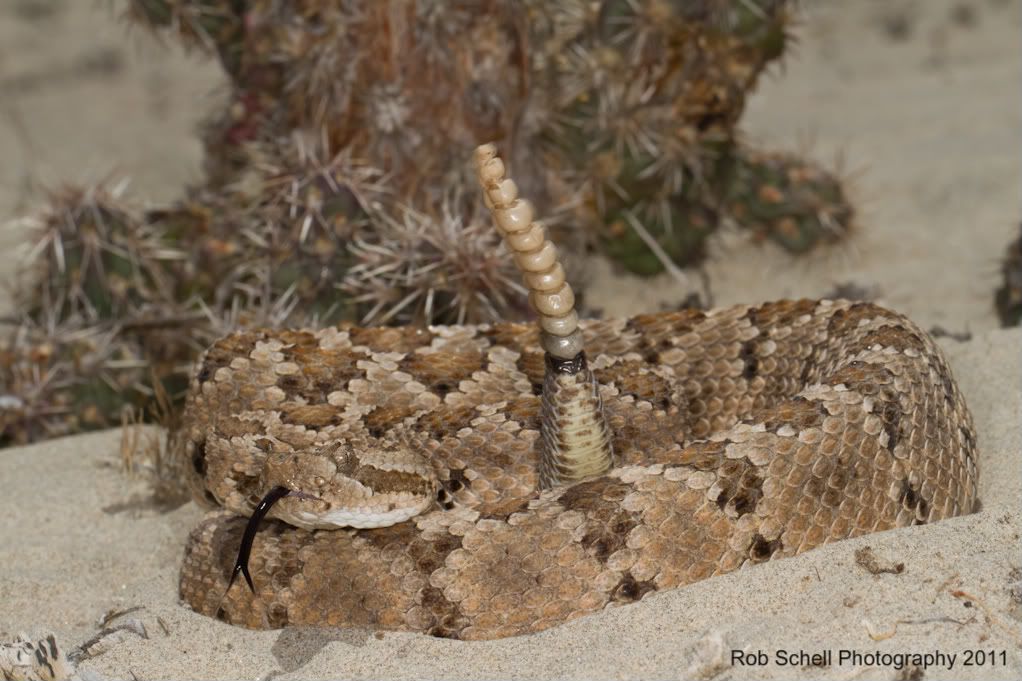 And a Baja California Coachwhip (
Coluber fuliginosus
)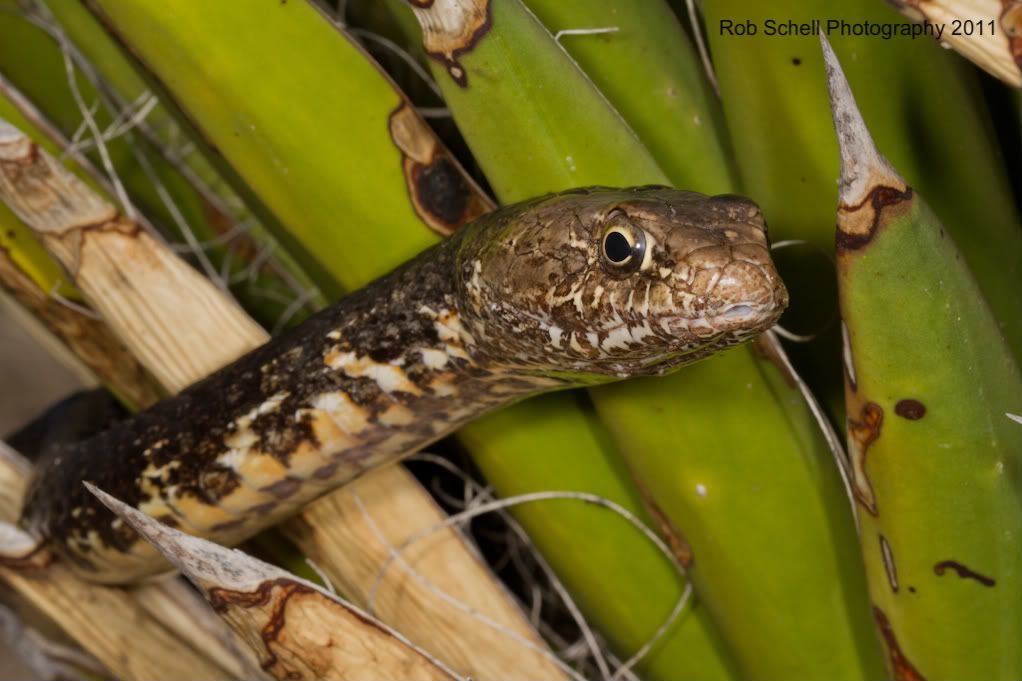 We cruised the road back to the port city to catch our charter the next day hoping for a
C. swaitaki
and night-hiked some good looking habitat along the way. We found about 15 more
P. decurtatus
(~50% DORs) and night hiked this little guy:
Peninsula Leaf-toed Gecko (
Phyllodactylus nocticolus
)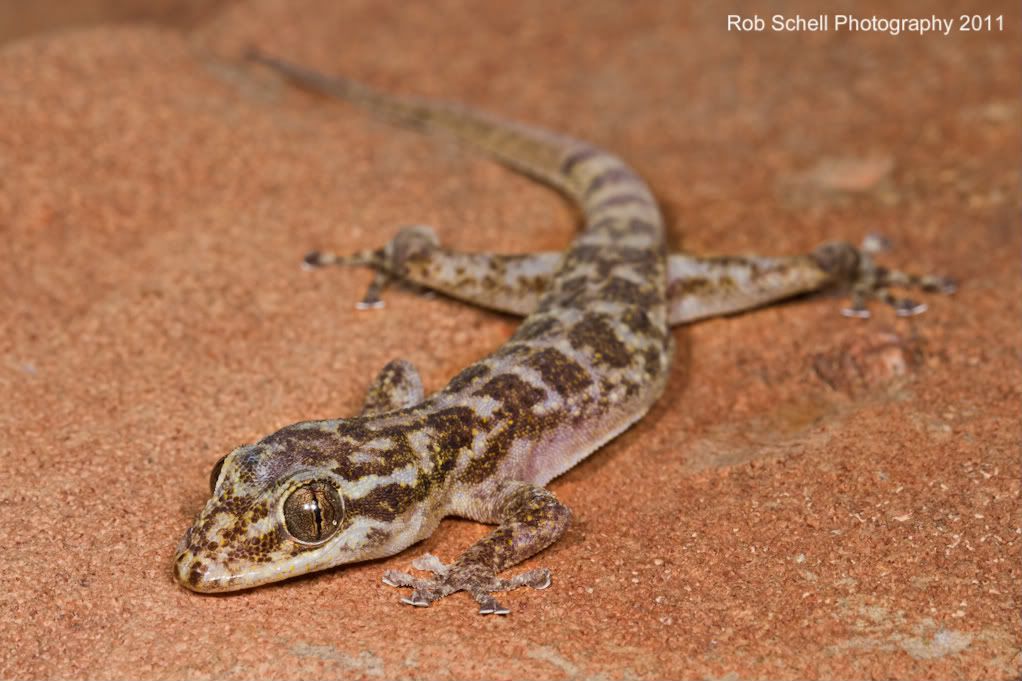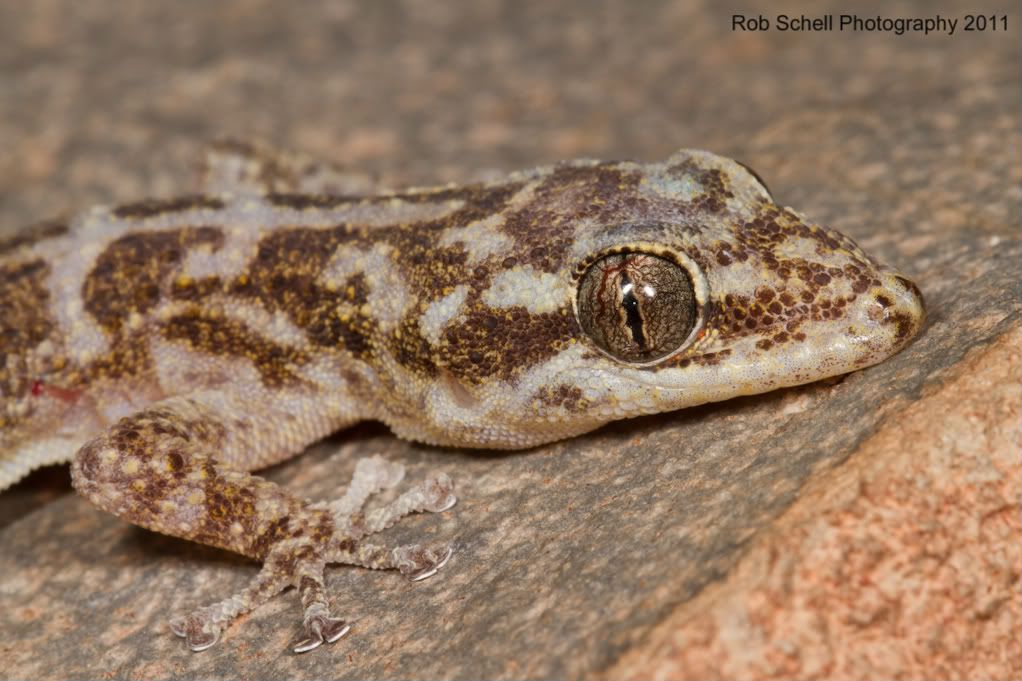 Because of an unexpected Baja offroad race starting the next morning from our port city, no hotels in town had any vacancy, so another short, uncomfortable night spent in the truck and then off to Isla Angel de la Guarda the next morning.
The fishermen that we chartered to take us to this island dropped us off in the morning and went out to fish to try and make some extra coin. While I don't begrudge them the opportunity to make a living, we were literally abandoned on a desert island with no form of communication to either shore or those on the boat. Slightly disconcerting, but this is where the contractual clause of "we're not paying you until we get back to shore" is critical. I'm typing this, so obviously I made it back.....or did I?
While not quite as lucrative as Santa Catalina, we managed to find a couple choice specimens in the context of some awesome scenery.
Spiny Chuckwalla (
Sauromalus hispidus
)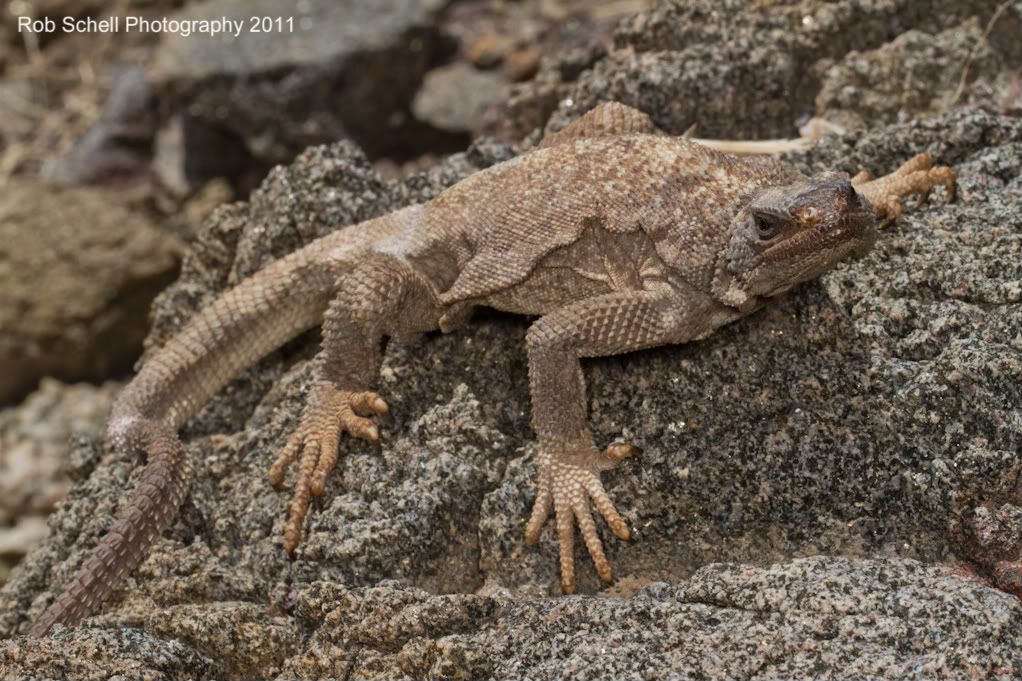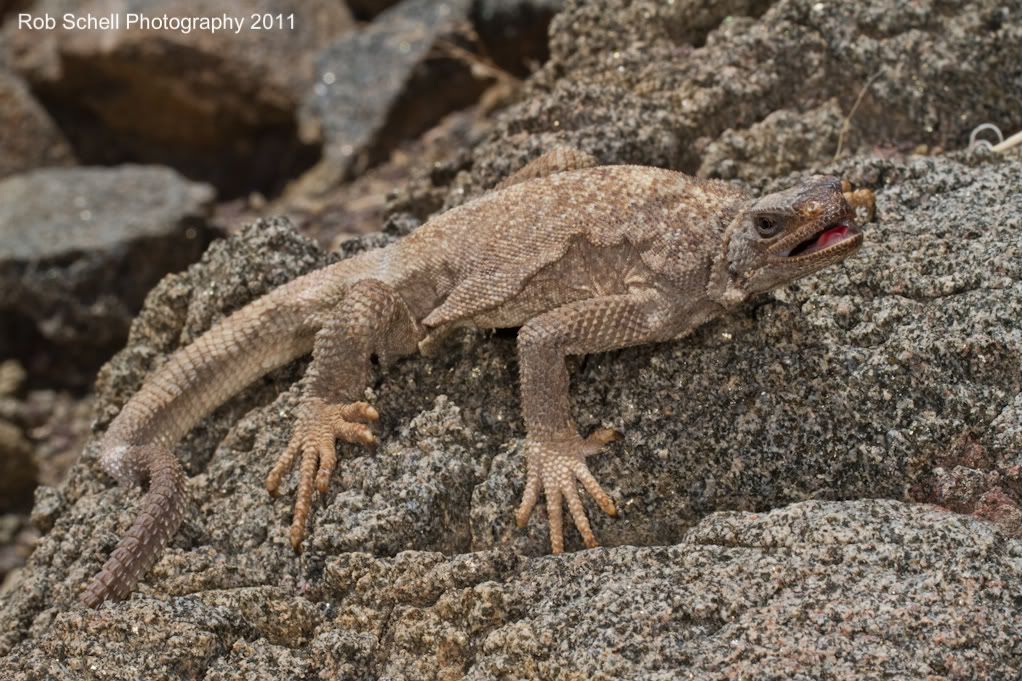 With all the time we spent looking for Crotaphytus, it made this conquest all the more sweet and what I consider to be the crown jewel of the trip:
Female Desert Collared Lizard (
Crotaphytus insularis
)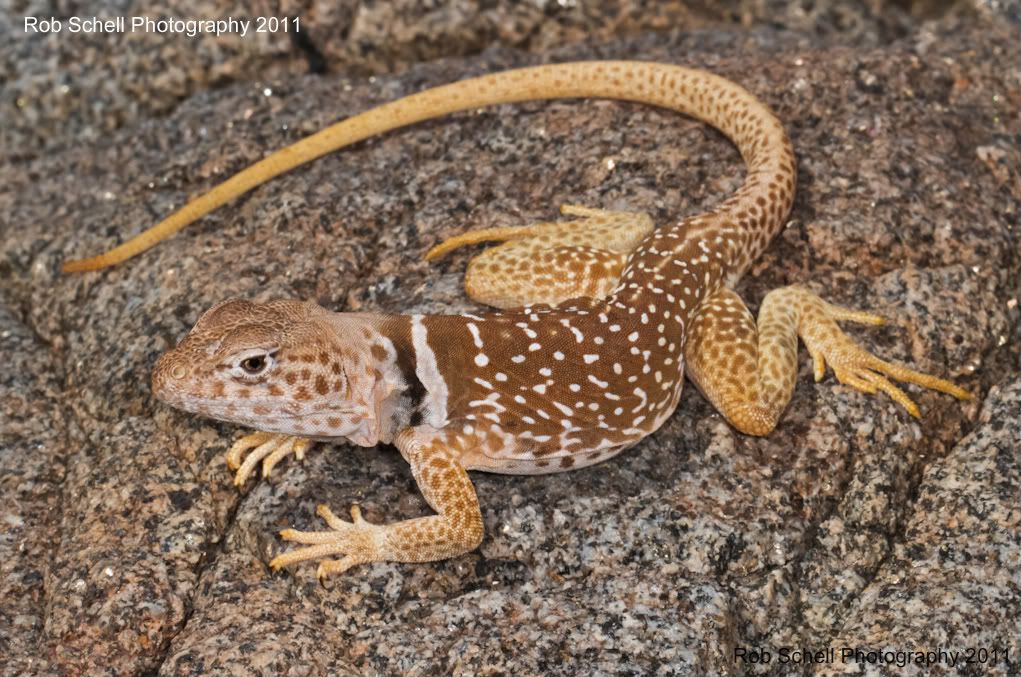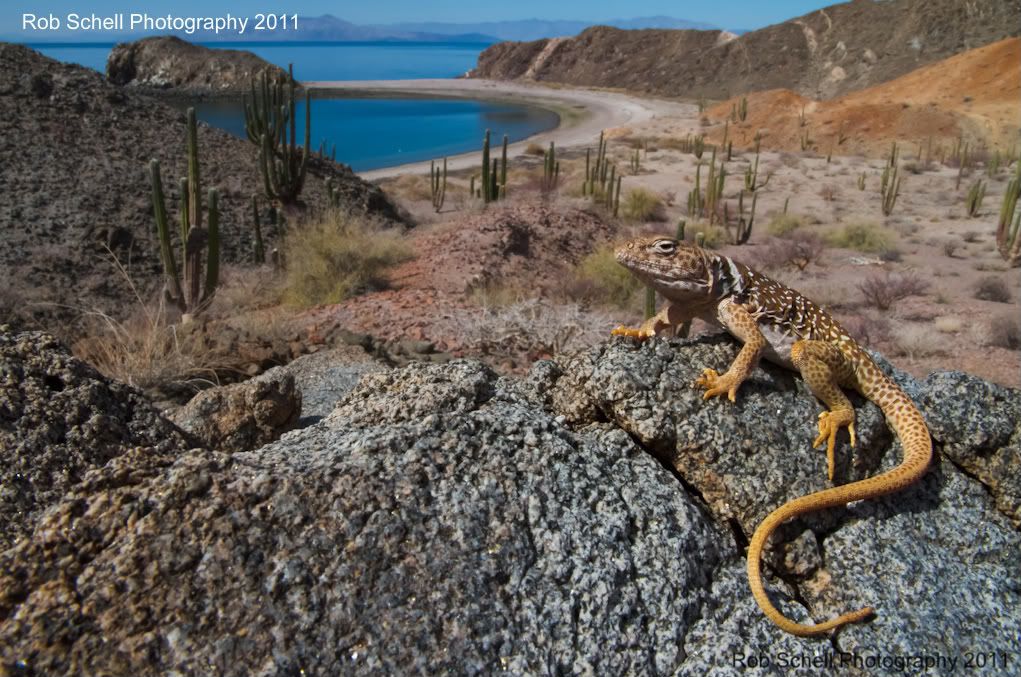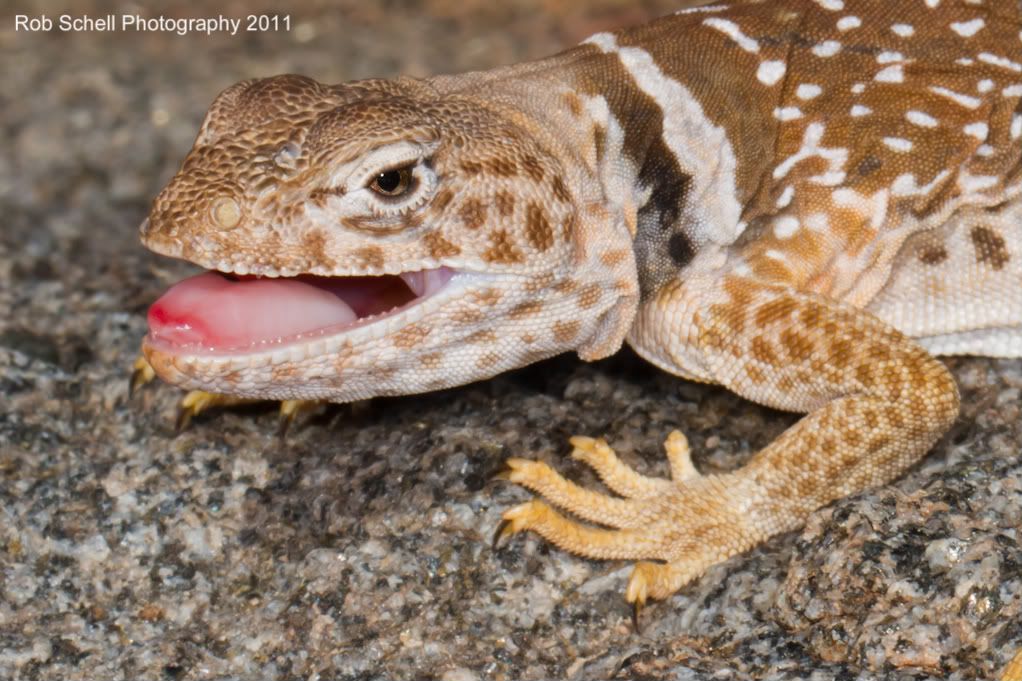 Our fishermen guides came back around sunset and treated us to Triggerfish, Lingcod and Seabass ceviche from their catch on the boat that evening as we floated around the bay. They dropped us off where we camped on the beach and Colubrid Guy attempted to night hike a Cascabel without the use of a hook or tongs, which we inadvertently left in the desert where we flipped the
C. enyo
and
C. fulginosus
. I was glad he didn't find one. That way he didn't have to decide what to do with no tools, on an island, who knows how far away from the nearest hospital.
The next morning, we tried for some of what we missed the day before to no avail. Around 12, we were picked up and made it back to the port around 2. With a ton of driving ahead of us, we were anxious to get our stuff and get on the road. Well our fishermen guide insisted on towing the boat to the other side of town to fill it up with gas before dropping us off at the house RIGHT NEXT to the boat ramp. While pulling into the gas station, the tow rig breaks down and it took almost two hours before we finally made it back to the house and were able to head out. On the way back north, a buddy of mine had given me a tip on a place to find Arroyo Toads. We stopped at the spot and within about 40 minutes found 16 individual adults, the fattest Western Toad I've ever seen and several Baja California Treefrogs.
Arroyo Toad (
Anaxyrus californicus
) female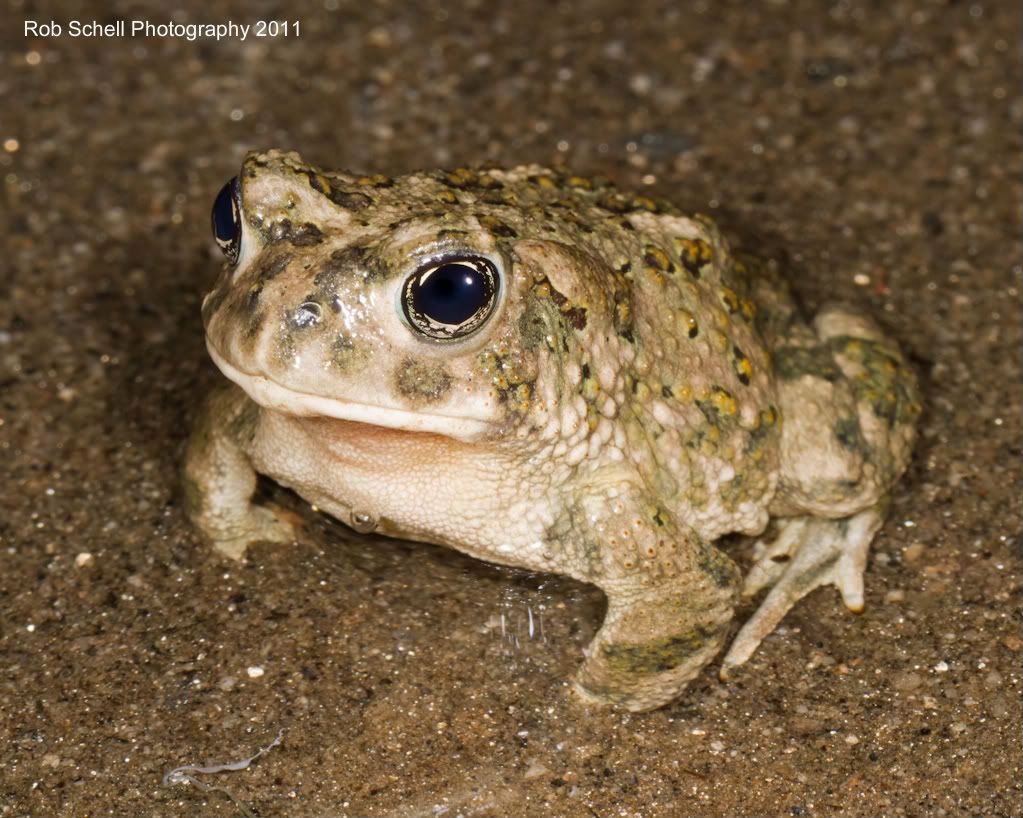 Calling male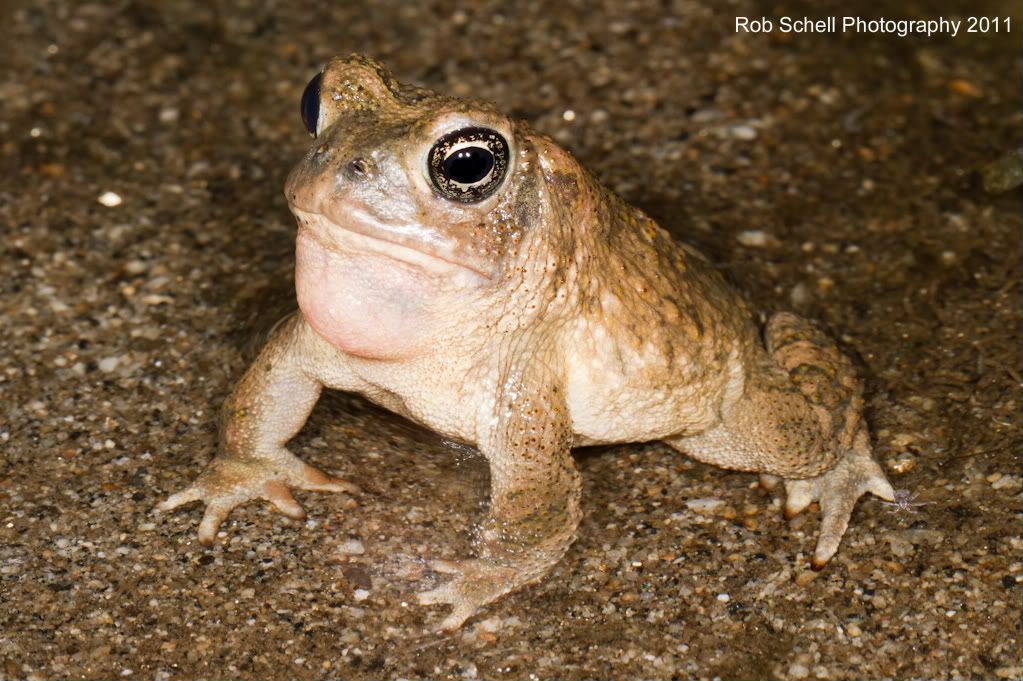 Another female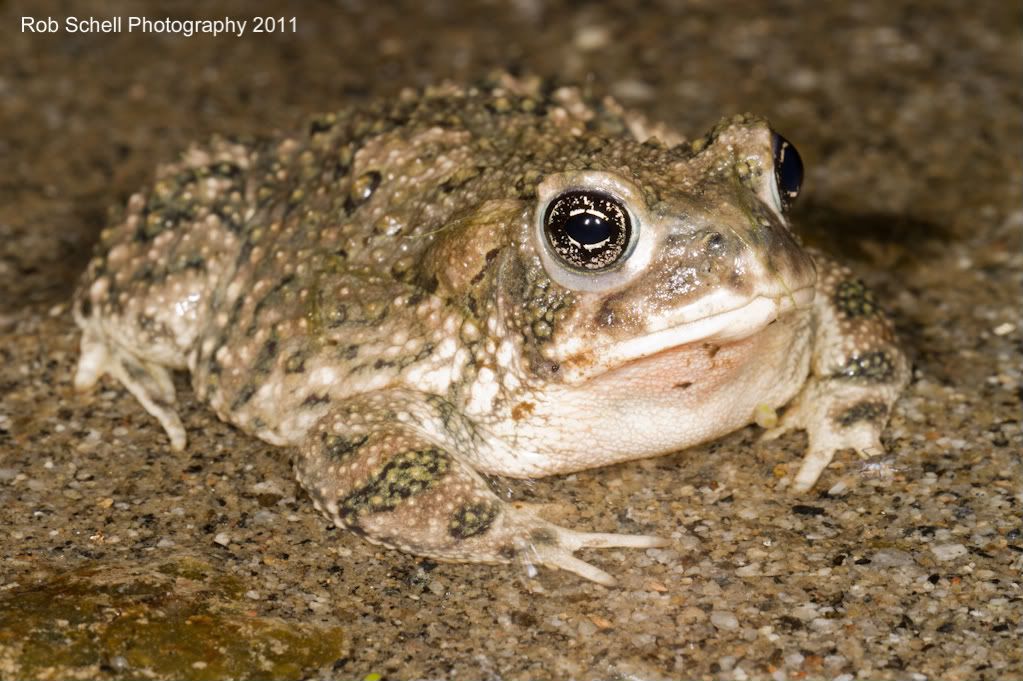 Portrait
Southern California Toad (
Anaxyrus boreas halophilus
)
Baja California Treefrog (
Pseudacris hypochondriaca
)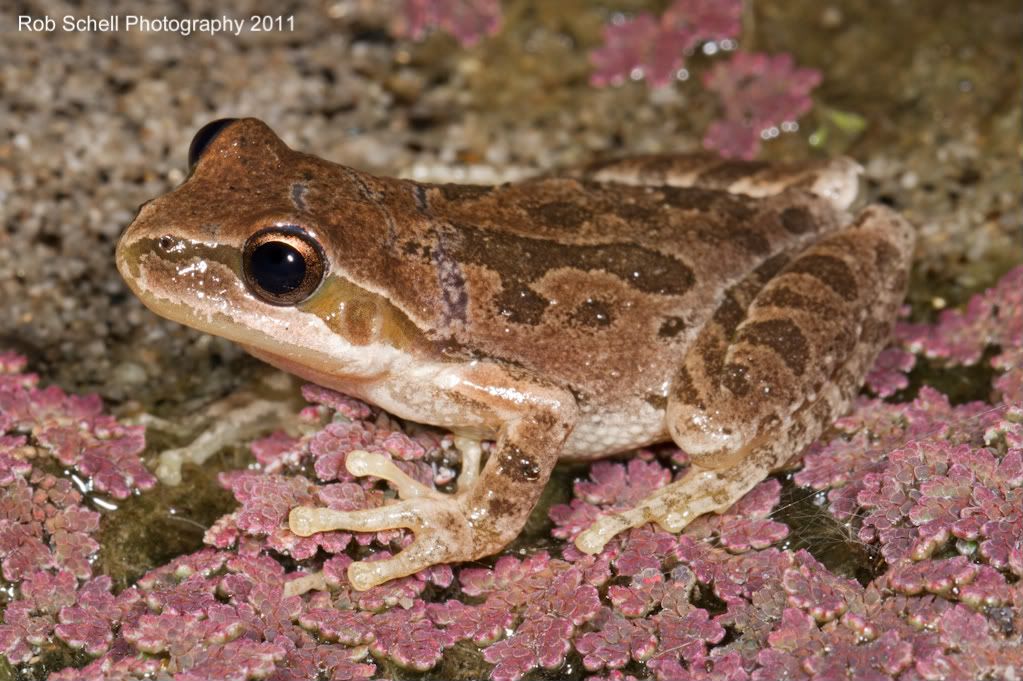 California Treefrog (
Pseudacris cadaverina
)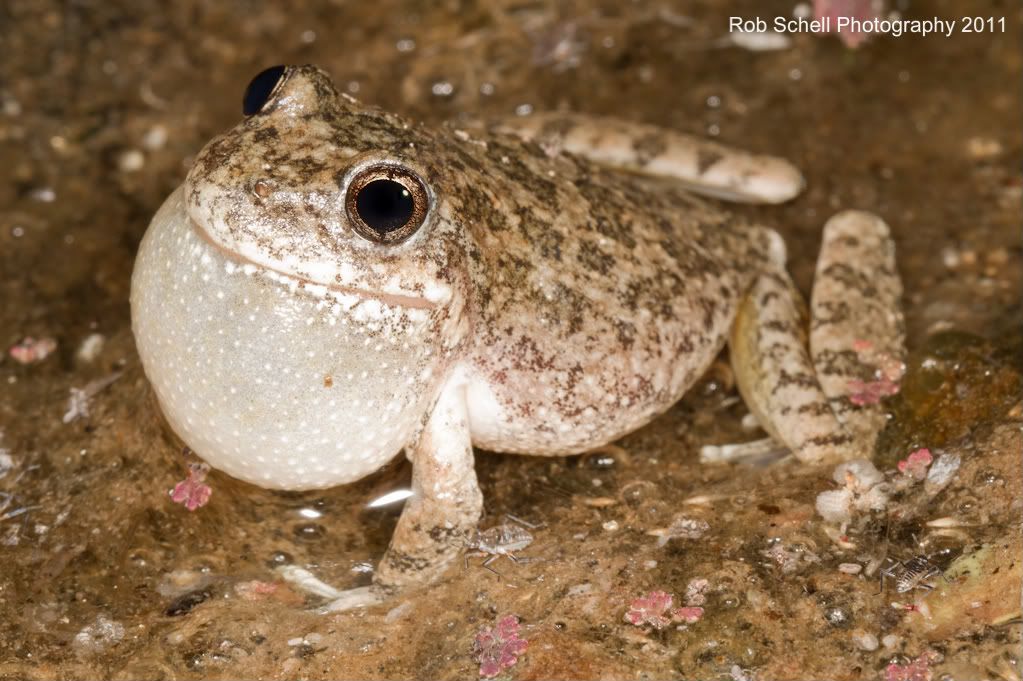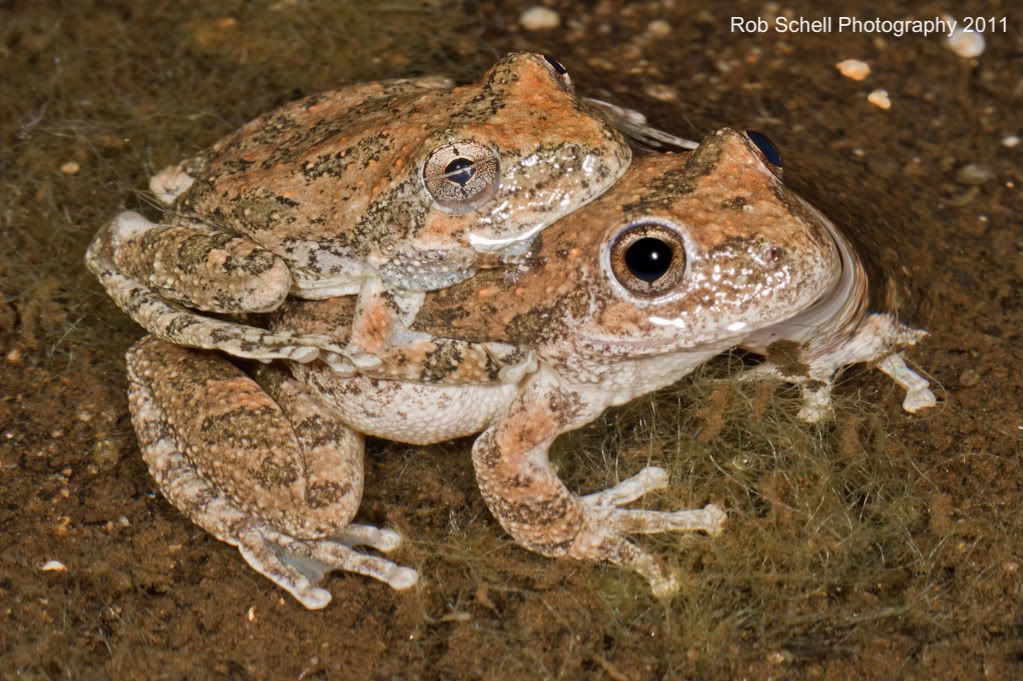 We drove for another couple of hours after that and managed to get about 4 hours of sleep before getting up early, driving three more hours for another shot for
C. grismerii
. We failed again, but felt we ended on an up-note with the Arroyo Toads, which we didn't originally anticipate being able to get, so it wasn't too bad. We spent about 1.5 hours in line waiting to enter the states and finally crossed back onto US soil. While waiting in the line, it was HOT, and watching people selling cold drinks was REALLY tempting. However, having retained digestive harmony up to that point, I wasn't about to throw it all away on the questionable, albeit delicious looking, beverages.
After crossing the border, we pulled into the first Jack in the Box for some transfat ridden, calorie concentrated, disgusting gringo food. Not only did we get jacked on the exchange rate (we had leftover pesos to get rid of), but within a couple of hours Montezuma's Revenge hit us both HARD. So the great irony is our own processed, homogenized, pasteurized, frozen, "health certified" gringo food ended up sending us both up shit's creek, however the half-raw fish with unwashed produce prepared by dirty hands on a questionably clean fishing boat with knives just used to gut the fish minutes earlier, went over without a hitch. Kinda makes you wonder what they're putting in the Oreo shakes?
I spent a couple of days in the Antelope Valley for work before heading back up to the Bay Area. While there, I managed to pick up a few more incidental species. So while not technically Baja related, I'll throw them in as a bit of an encore for any of you who are still reading this.
Juvenile Mohave Rattlesnake (Crotalus scutulatus scutulatus)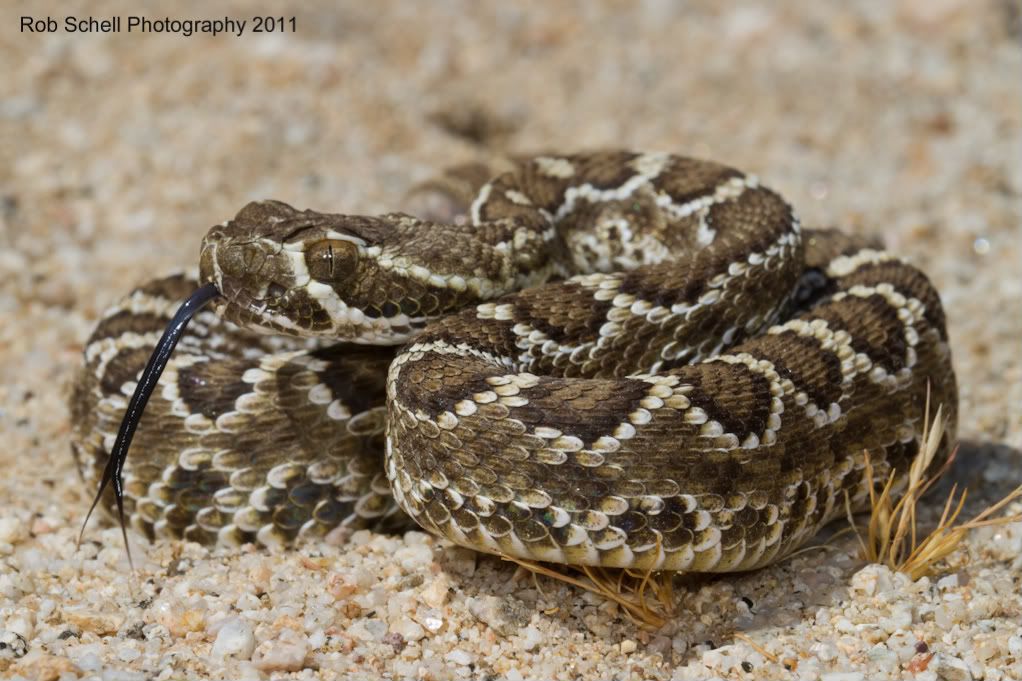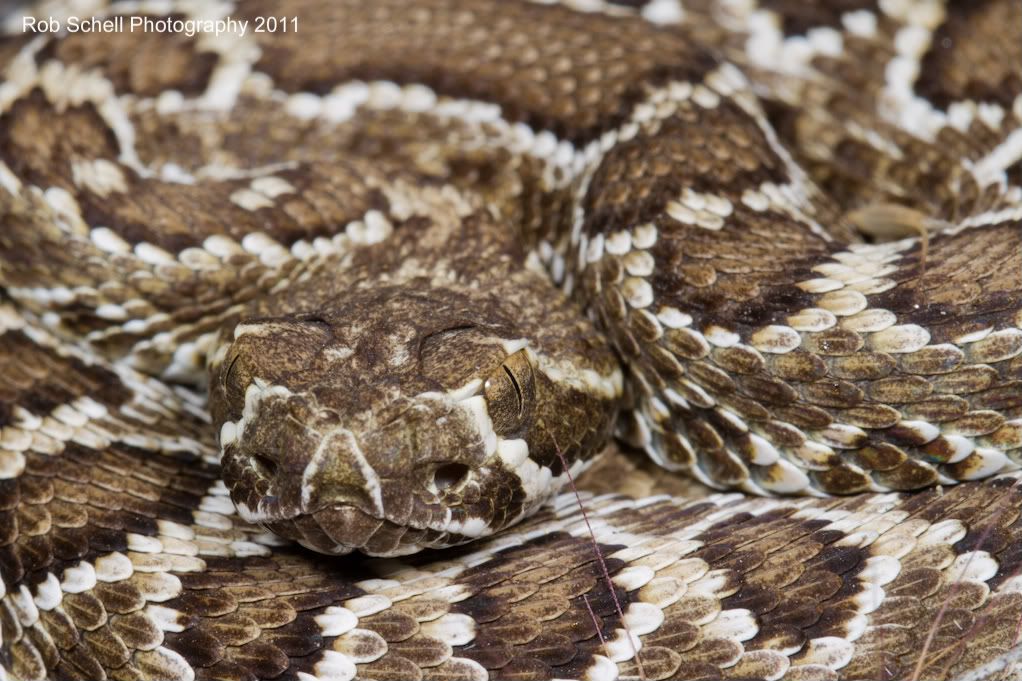 And a pair of Long-nosed Leopard Lizards (Gambelia wislizenii)
Crappy in-situ photo of a gravid female. She let me get within ~1m from her before she bolted to the nearest creosote.
And the male who was completely tolerant of me taking photos of him while he went about his business. These are also in-situ: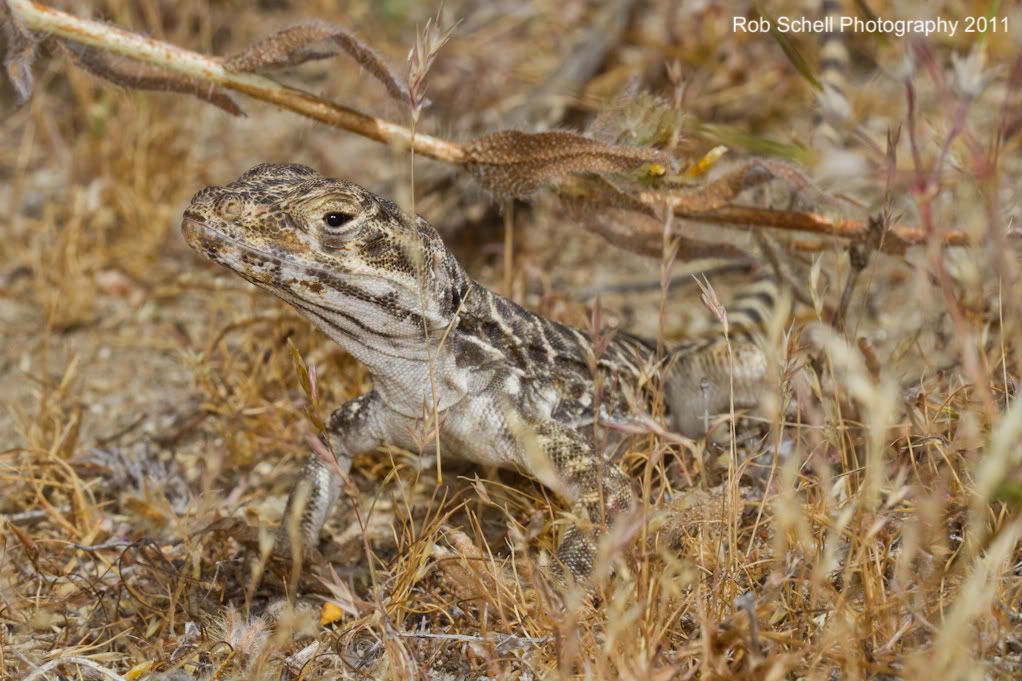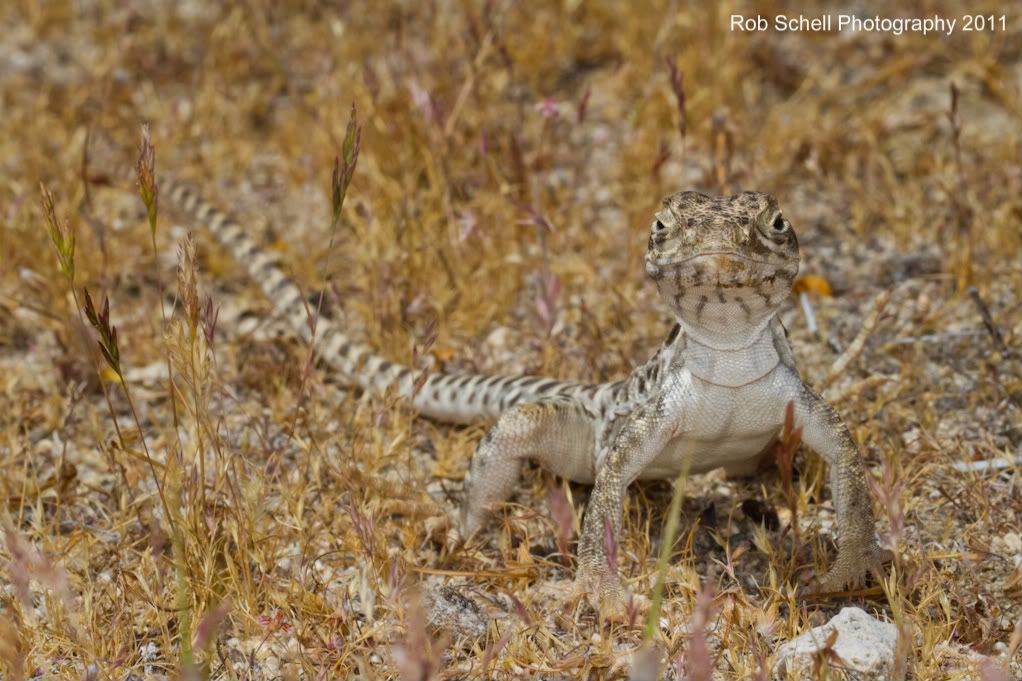 If you made it this far, thank you and congratulations. I hope you enjoyed it.
Cheers,
Rob