Wednesday I drove to Austin picked up Nathan Hall and headed fro Val Verde Co. as we have done this time every year for the past 6 years. We weren't sure what to expect with the drought but had high hopes regardless. On the way out we saw a DOR western diamonback and a western coachwhip. 5hrs later we checked in at the Comstock Motel which is now a great place to stay after the remodel. First thing to do was take a look at Bakers Crossing.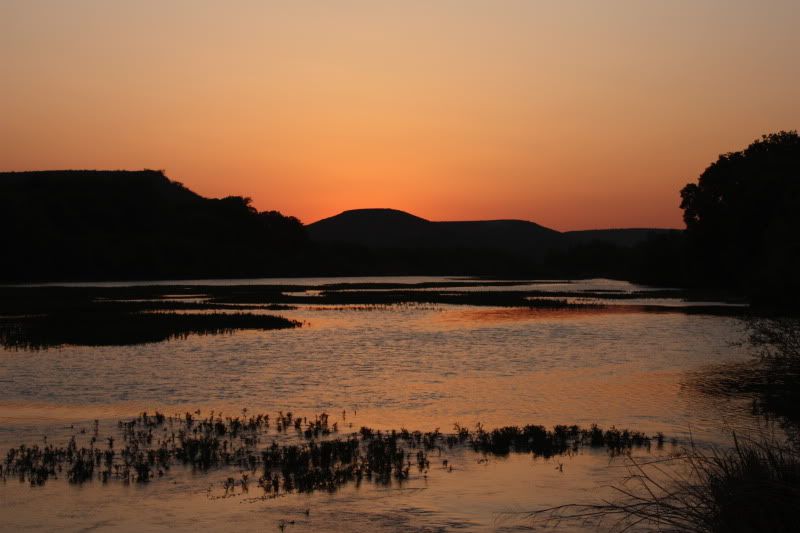 While taking some pics at Bakers the game warden pulled up and got out to talk to us. He asked where we were from, what we were doing and how long we were going to be around. We told him and that we were photographing landscapes and wildlife and that we would be in the area for the next 5 days. I asked if he had any issues with us running the road and taking pics. He said he had no issue with that as long as we got our jeep clear of the road when we stopped. We did make it a point to show we were being safe by wearing reflective vests which i had on when he stopped. There was no questions asked as to whether we were collecting or harrassing the wildlife. We did not see him or any other wardens the rest of the trip.
The first and only live snake of the night was this nice but slightly skinny Trans Pecos ratsnake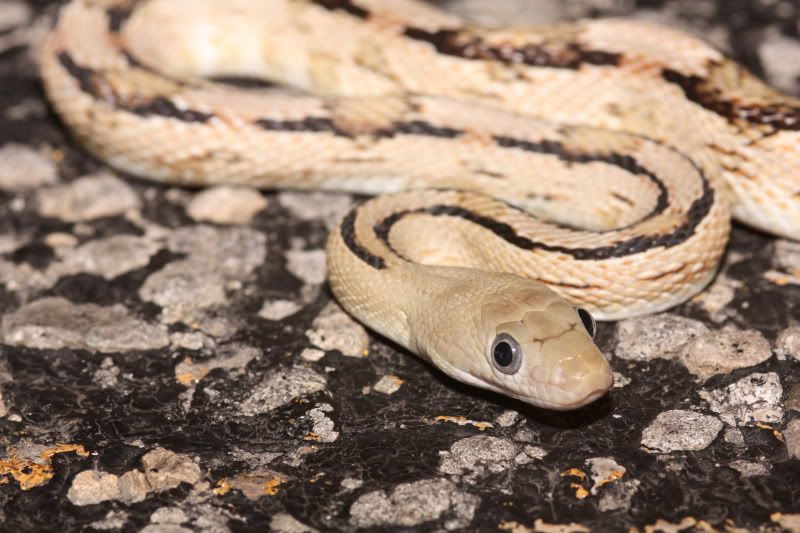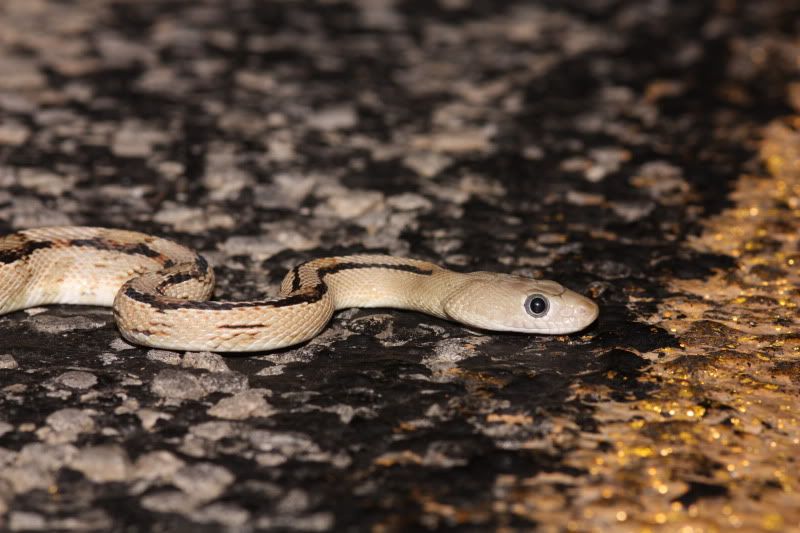 The first DOR was this nice red western coachwhip. As we walked back to photograph it a border patrol guard passed us and swung back around to check on us. I waited on the side of the road for him and he pulled up and parked right on top of the coachwhip. He asked what we were up to from inside his truck. I told him i was getting ready to photograph the snake he just parked on top of.

The look of guilt on his face was hilarious as he quickly apologized and moved off the snake. In total we had probably 6 or 7 border patrol guards stop in on us throughout the trip and all were very cool and questioned as to what we were finding.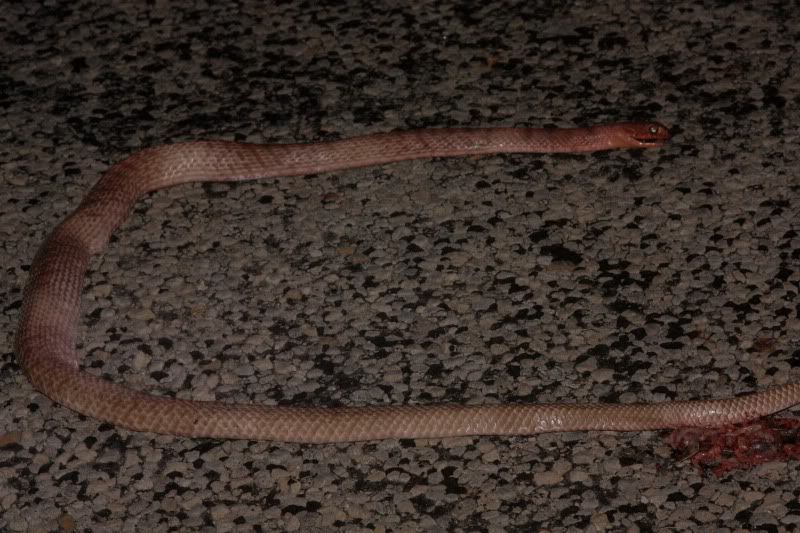 A few couchs spadefoots were seen on the roads. I love these guys.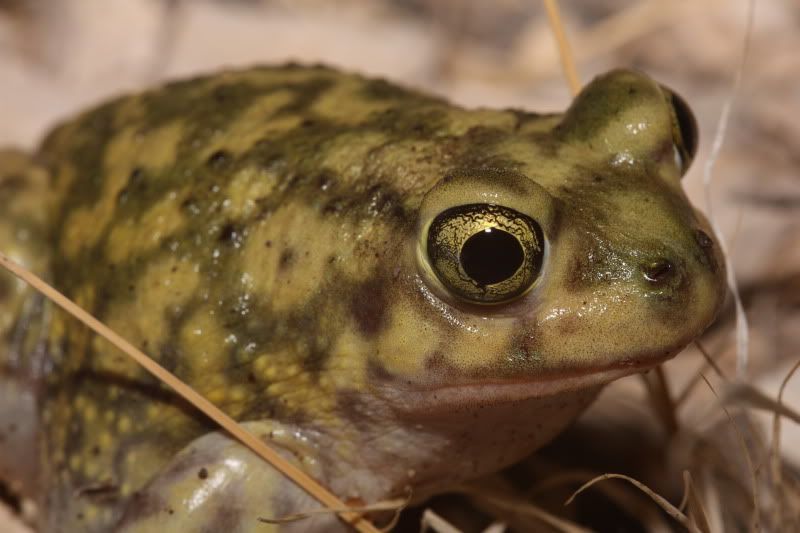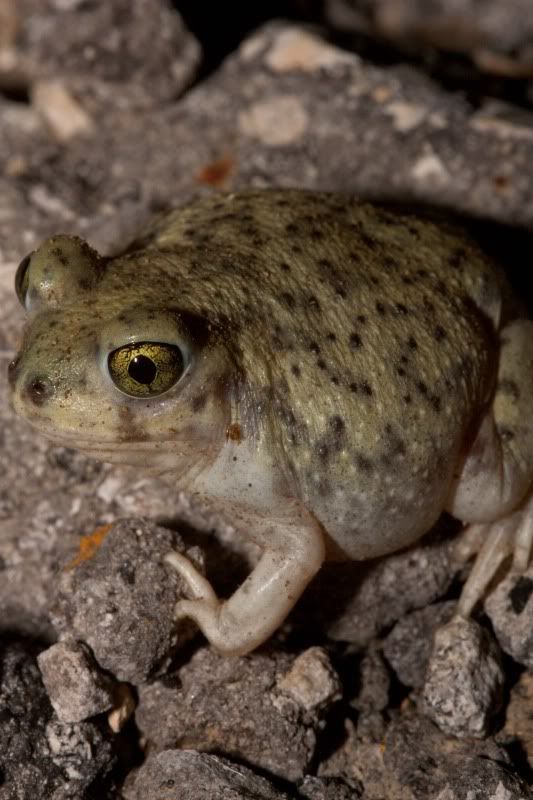 The only other snake seen was a badly mangled DOR Western diamondback. We were amazed at the fact we only saw 2 dor atrox the whole trip. Usually they are the most common snake encountered. At this point we were thinking the drought may really put a damper on the snake movement. Everything was bone dry.
The roadkills on this trip far outweighed the live stuff we observed. None hurt worse then this very fresh DOR grayband king found at 8am the next morning. It was very overcast out and we guessed it was hit early a.m. It was the last thing i expected to see in the morning. We passed this spot around 1a.m. and he was not there then. Even though it hurt to see it made us feel a little more positive that stuff was moving. It was followed by a dor checkered garter not photographed.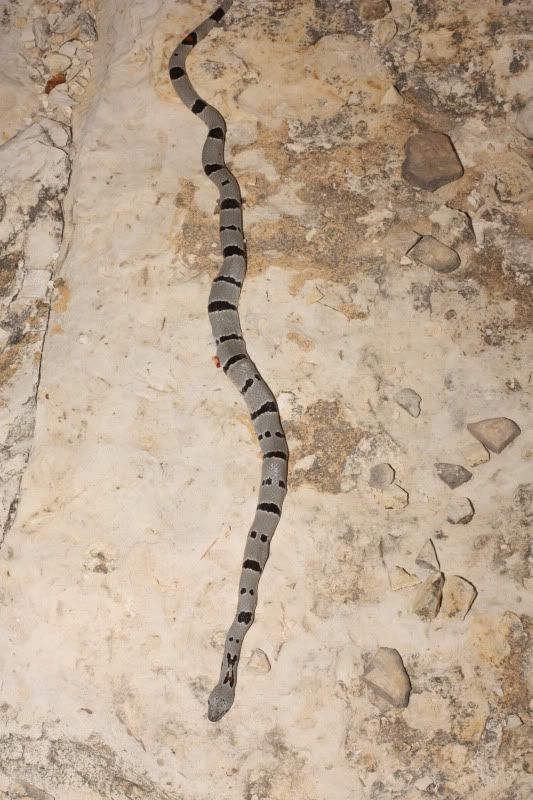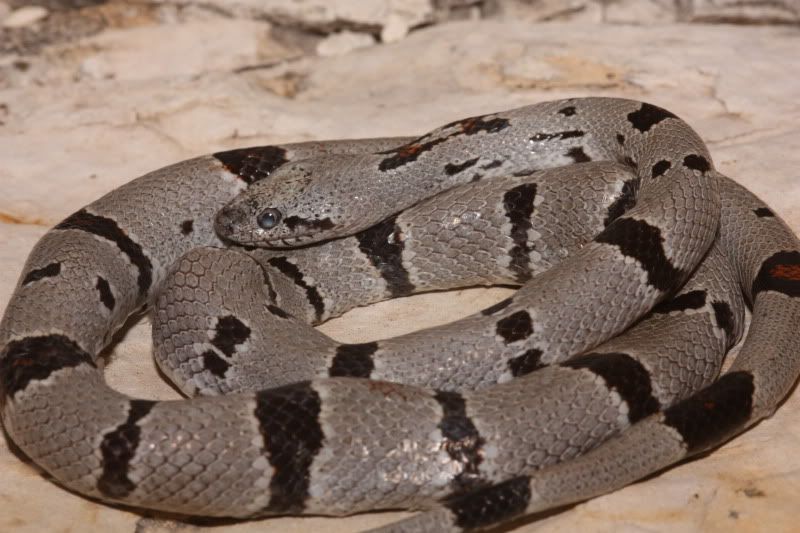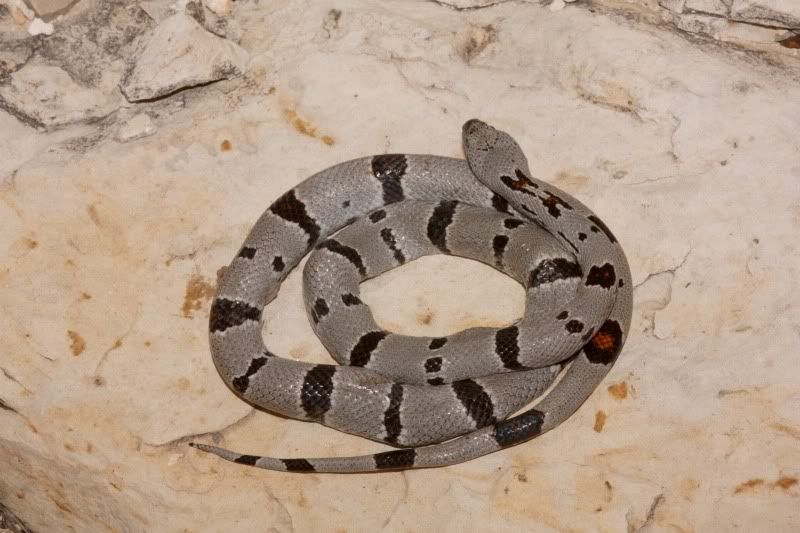 We hit another area where the road was covered in DOR Texas and roundtail horned lizards. There also seemed to be alot more birds and DOR birds than usual. I believe this may be because they were displaced from all the fires. This blackneck garter was also seen.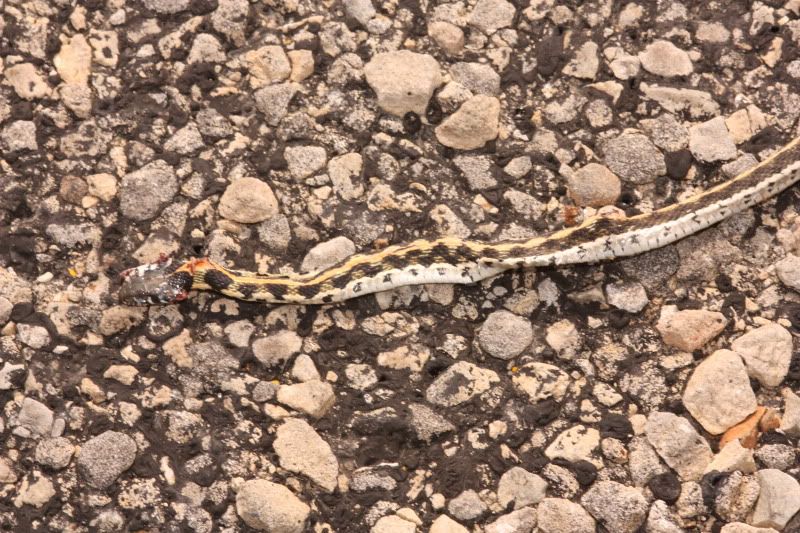 Thursday night we decided to hit the Langtry area. We walked a cut just before dark and spotted this central texas whipsnake peeking out from his hide in the cut. He was out about half way then darted back in and just watched us. This was a lifer for both of us.
On the way back to the room we spotted a good size snake in the road. Turned around to find this beautiful bairds ratsnake had just been hit. It would have been a lifer for me.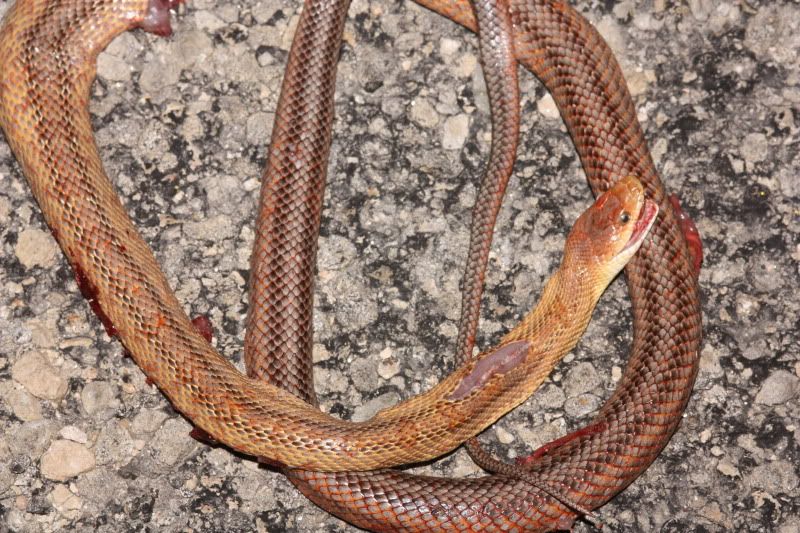 Most people have heard about the wildfires in West Texas around Fort Davis. We had not heard about the fire around pandale and Juno. We were very suprised while driving to the Pecos River crossing on Pandale Dirt to see all the heavily burnt property. Somewhere between 175,000 and 250,000 acres were burnt.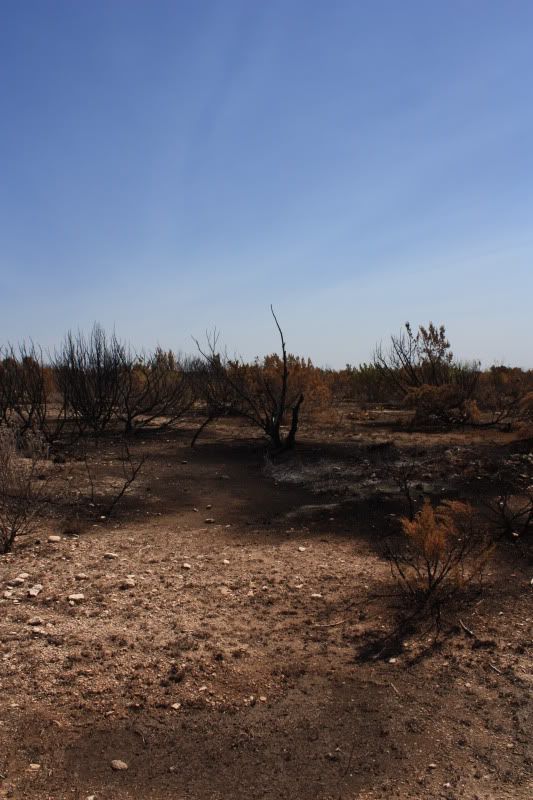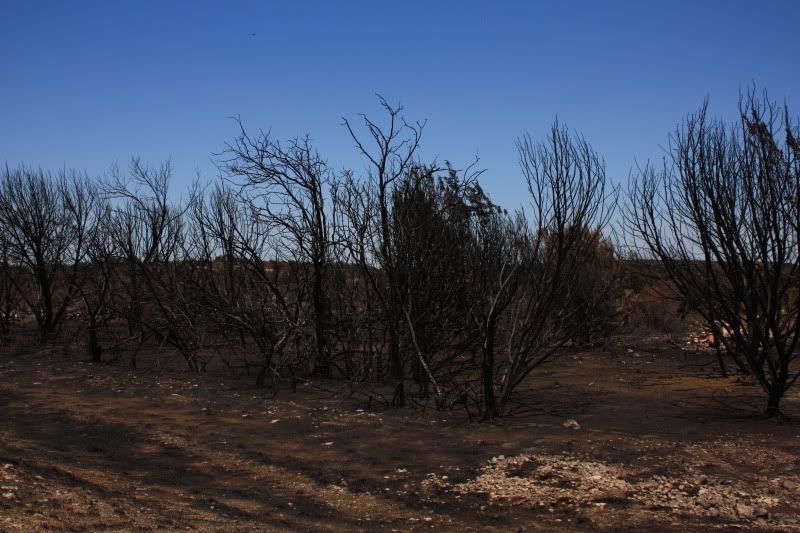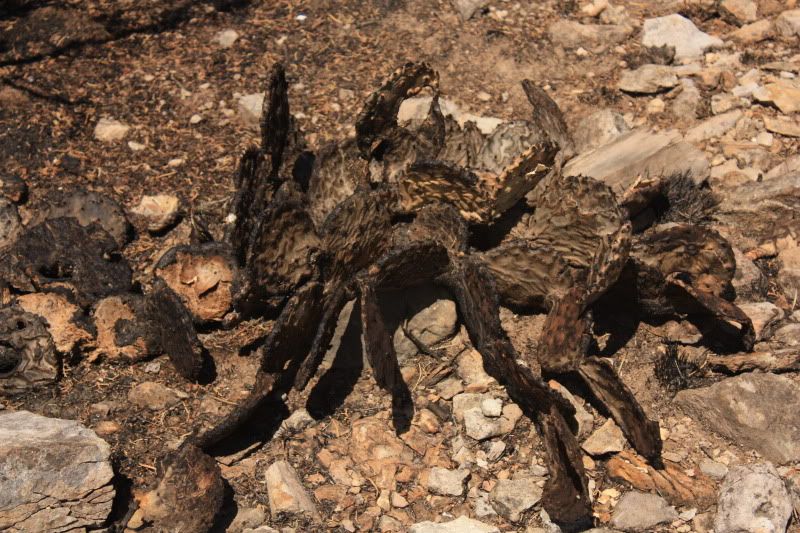 There were a million millipedes out as usual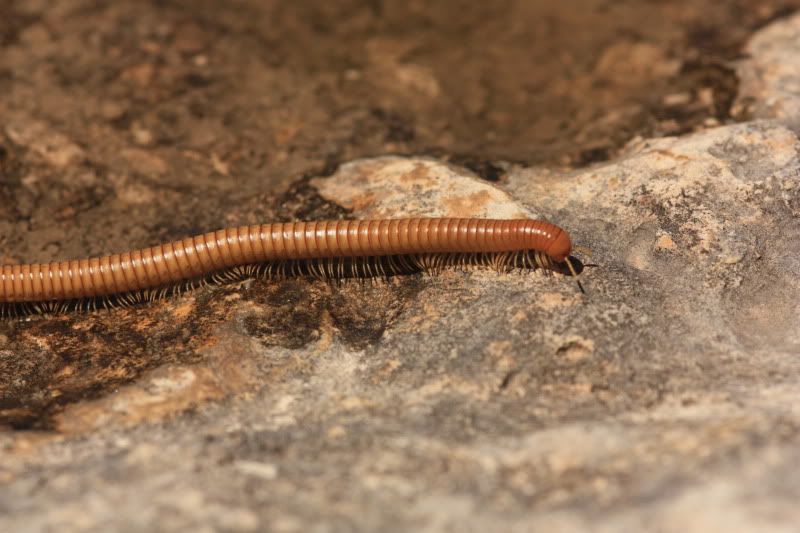 While at the Pecos River crossing a few lizards were seen as well as a nicely colored blotched watersnake swimming under the bridge.
southwestern earless lizard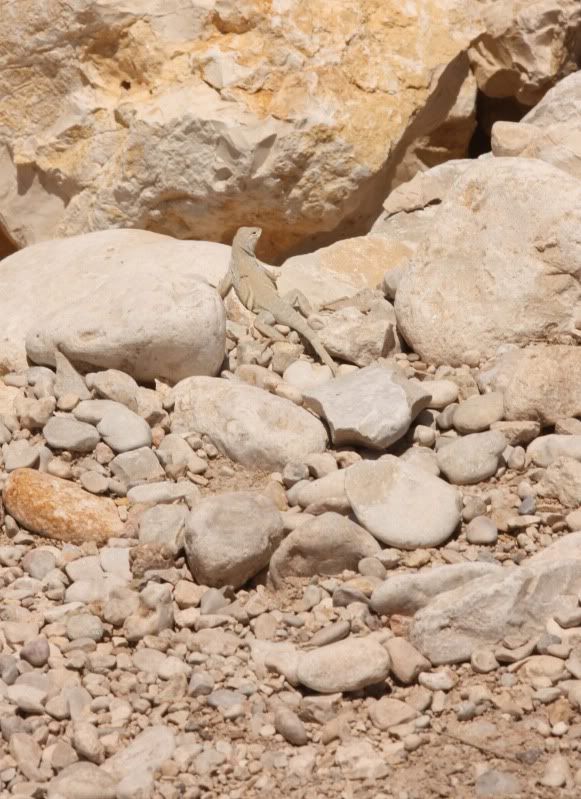 texas horned lizard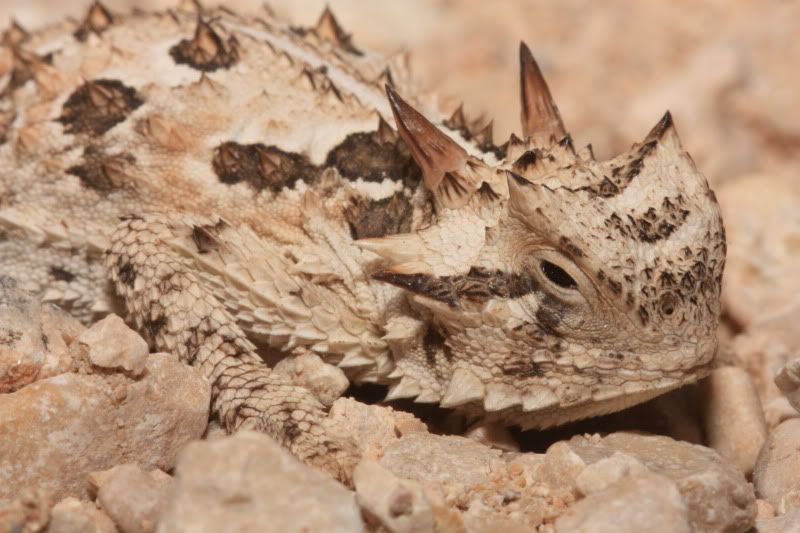 Merriams canyon lizard?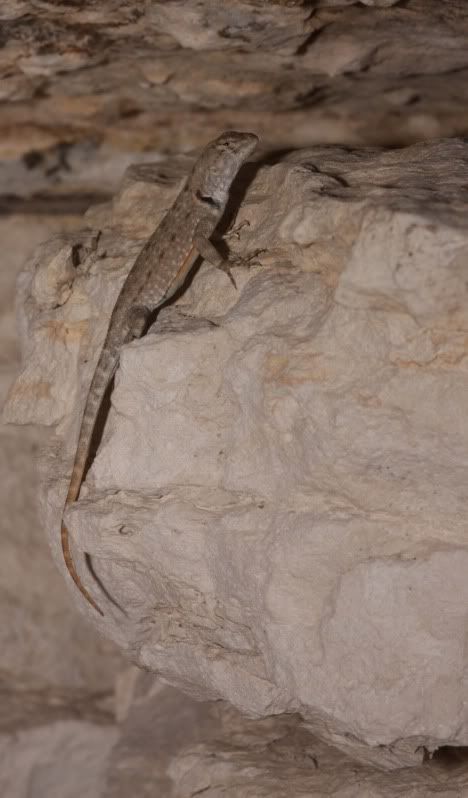 Trans Pecos striped whiptail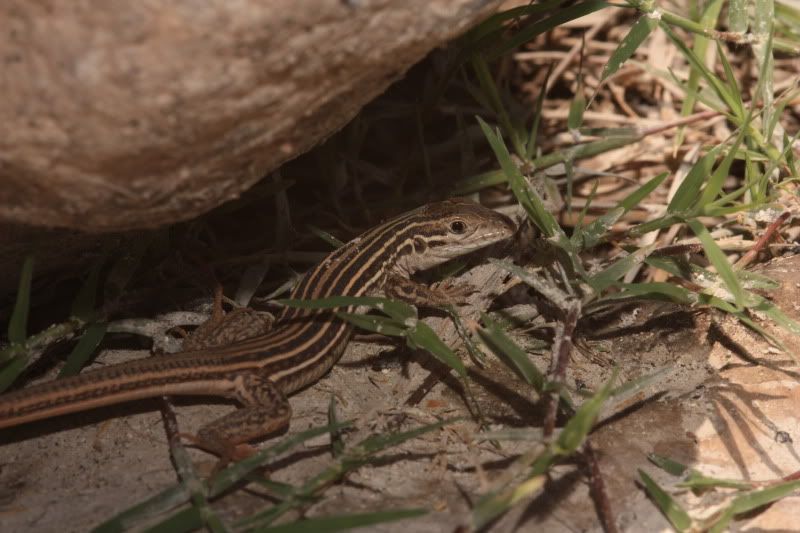 blotched watersnake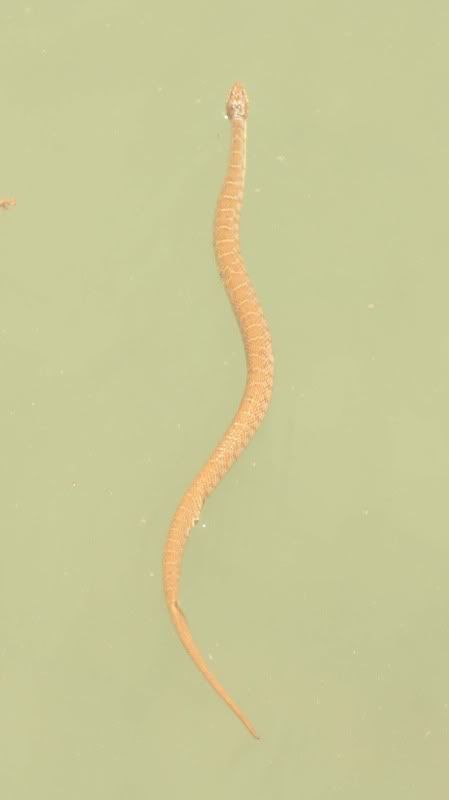 It rained hard for about 20 minutes in Comstock Friday morning but dried up so fast you could never tell it had rained. We thought it might help bring out the herps. The only snake found Friday night was this pretty little Mottled Rock rattlesnake. It was great to see. By far my favorite rattlesnake.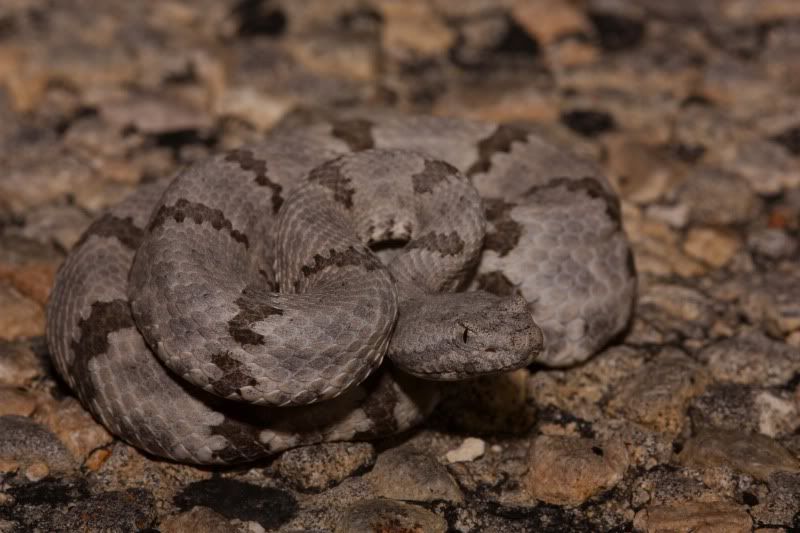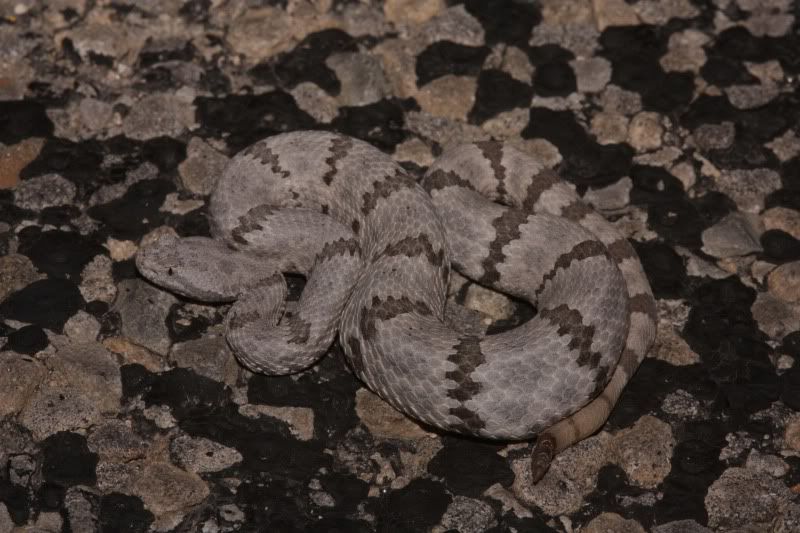 Saturday was just a horrible day all around. While coming back from an area around brackettville the tire light came on in the jeep. Pulled over and aired up the tire. A few minutes later it came on again. We drove back to our room to find out the water was off in the whole town of Comstock and they werent sure when it was going to come back on. We decided to check out and get a room in Del Rio. After checking in i found a tire shop. Nail in the sidewall so of course it couldn't be patched. On the way back from the tire shop the traction control light came on and 1st gear started slipping. Over 300 miles from home and the transmission is going out was not good. We ended up checking out and driving home a day early. Not a great way to end a trip. In all we only saw 12 snakes and of those 8 were DORs. 10 species in all. It was still good to get out there. I just hope they get their fair share of rain soon.
Chris
2-DOR Western Diamondback rattlesnakes
2-DOR Western Coachwhips
1-DOR checkered Garter
1-DOR western blackneck garter
1-DOR Grayband Kingsnake
1-DOR bairds ratsnake
1-AOR trans pecos ratsnake
1-AOR Mottled Rock rattlesnake
1-AOC Central Texas whipsnake
1-Blotched watersnake swimming
TMTC- Texas horned lizards AOR and DOR
1-DOR roundtail horned lizard
2-AOR couchs spadefoots
1-merriams canyon lizard
1-transpecos striped whiptail
1-southwestern earless lizard