Time again for another fun and educational experience.
Now, usually, I don't find myself going farther afield than a 3 or so hour radius of my southern Florida abode: but, I do make exceptions. Especially when the crazed, nonsleeping human we have come to know as TimCO makes a visit within 12 or so hours of me. Add to that another chance to herp with some friends I had met 5 or 6 months previous from Georgia and a pass to get out around the Savannah River Ecology Lab without getting a bullet in the head and I was there.
Not wanting to waste time, we got to work ASAP. First we took a little tour of some of the captive animals in the area. About that time Berkeley remarked "I'm gonna look like a pimp and pick up that Alligator snapping turtle." Or something like that...maybe.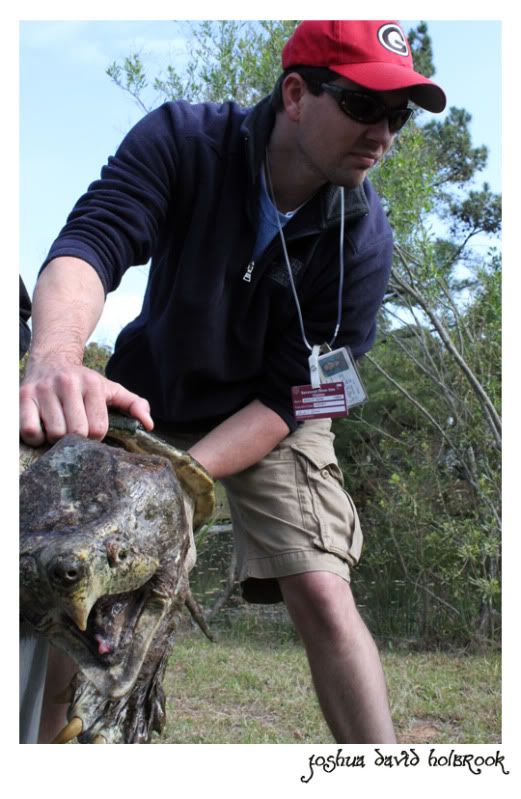 We got to check some of the miles of drift fences and other snake-detaining contraptions set out: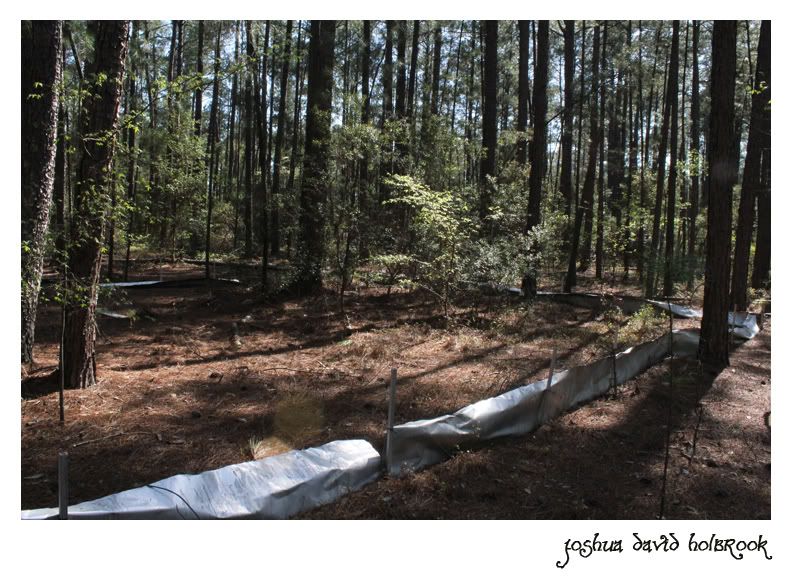 Pickings were a little slim at first, but there were some successes:
Tim and the Cages shooting the SK: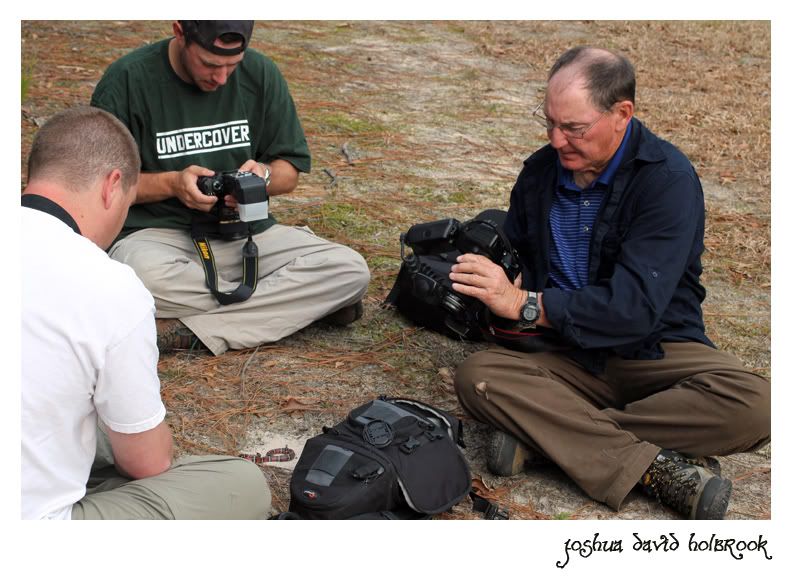 It was nice to open up this box and get over the "lifer-stress" -
Agkistrodon piscivorus piscivorus
; Eastern Cottonmouth (Lifer)
We took some pics, Tim and Matt are on the left (literally, not politically speaking) Young is on the right, Berkeley is wrangling , and the person in the middle's head is cut off, so your guess is as good as mine: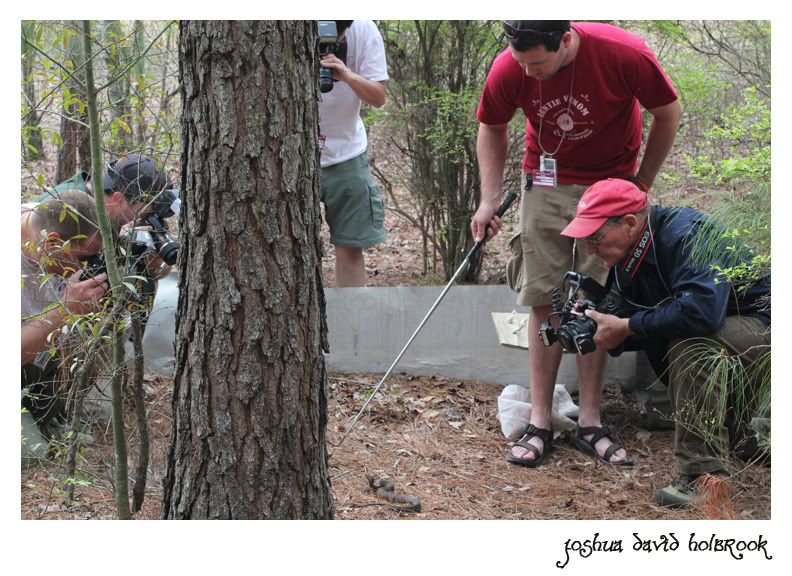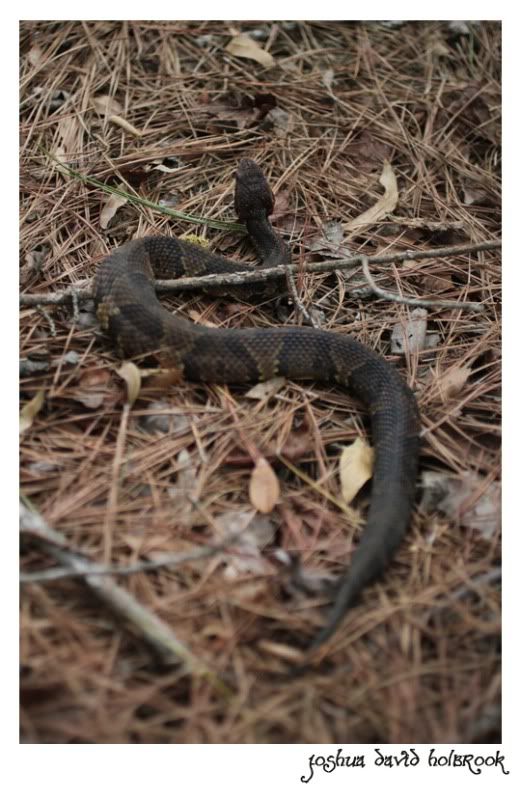 For some reason, I got some pretty decent shots of cottons that weekend: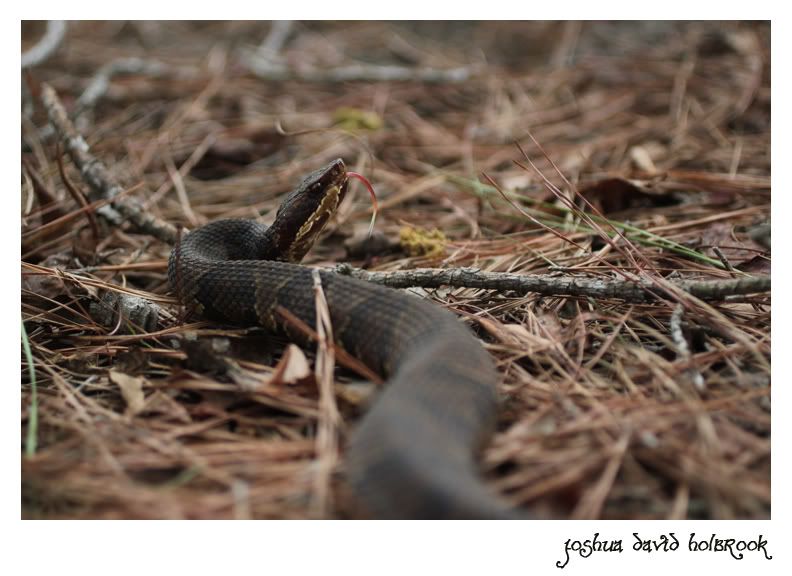 And there were others: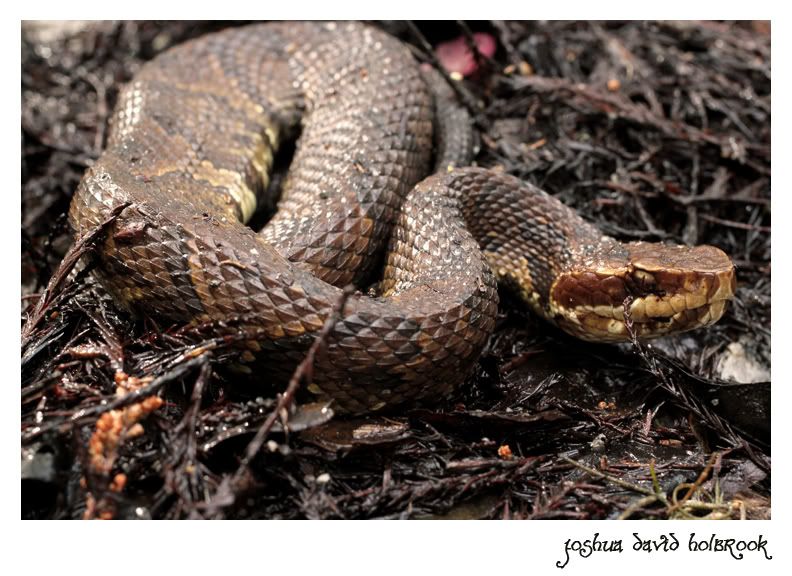 Later in the weekend, other members of the group turned up a pretty little E. Cottonmouth. After landing this shot I decided I was done taking Cottonmouth pics: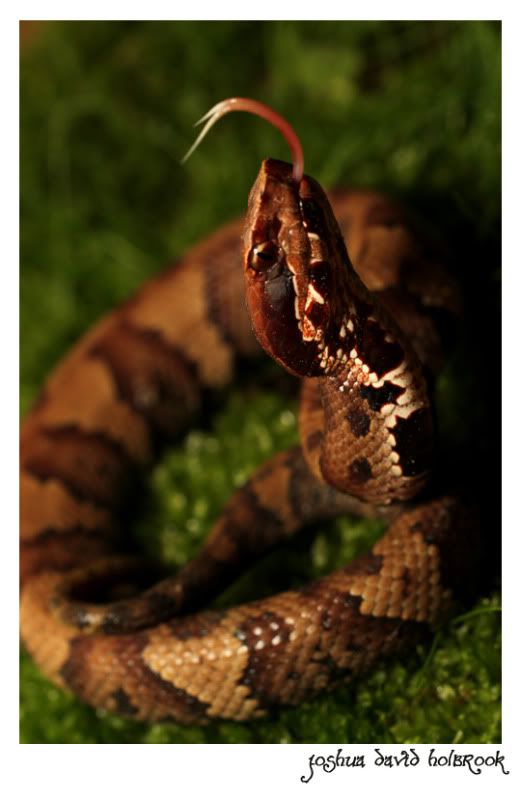 We tried all the methodology we knew to find other critters, and despite it being "slow" it was by no means dead.
This musk turtle, a lifer for me:
...had seen better days: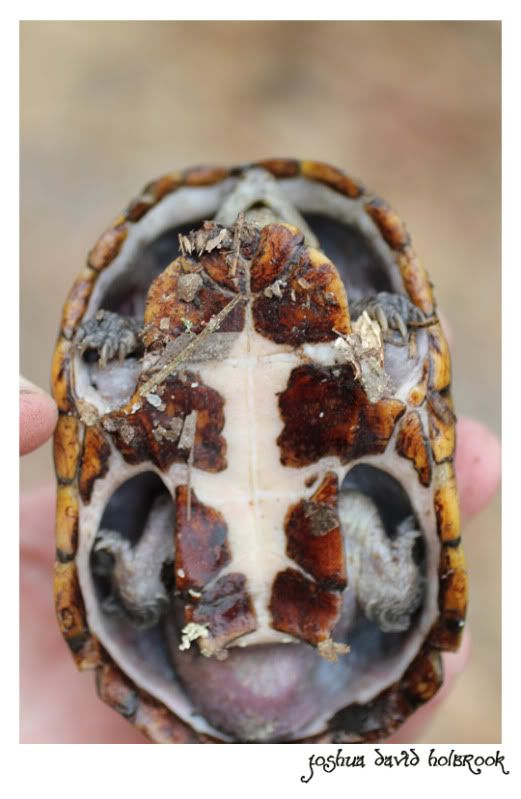 and the group moved on:
at one point we stumbled across a couple sallies under some rocks. Now normally, I'd make a comment on how a lizard diseased from cold had lost its scales - but I'm actually getting to like and enjoy salamanders, which is good because we slam dunked on em'.
Ambystoma opacum
, Marbled Salamander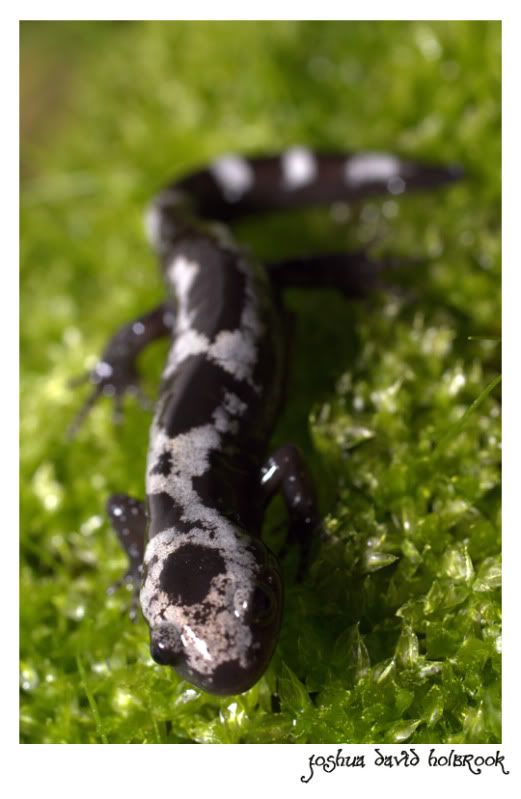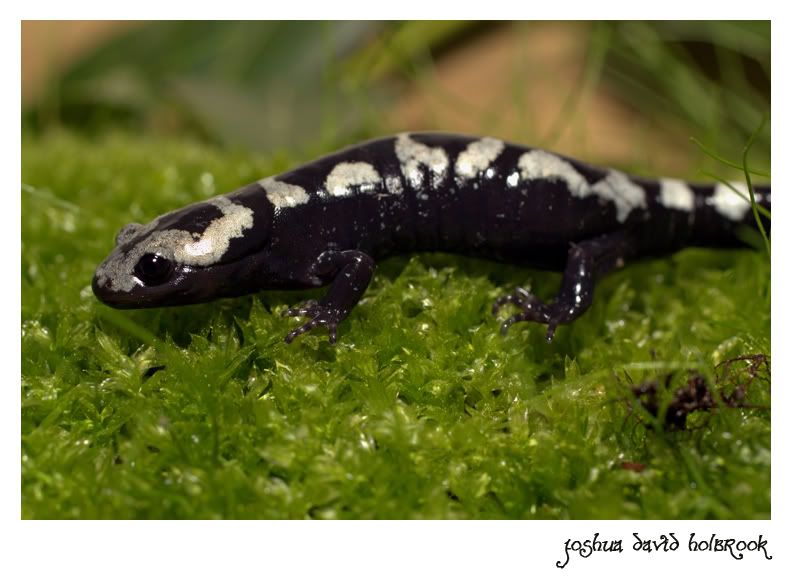 This one was missing a leg: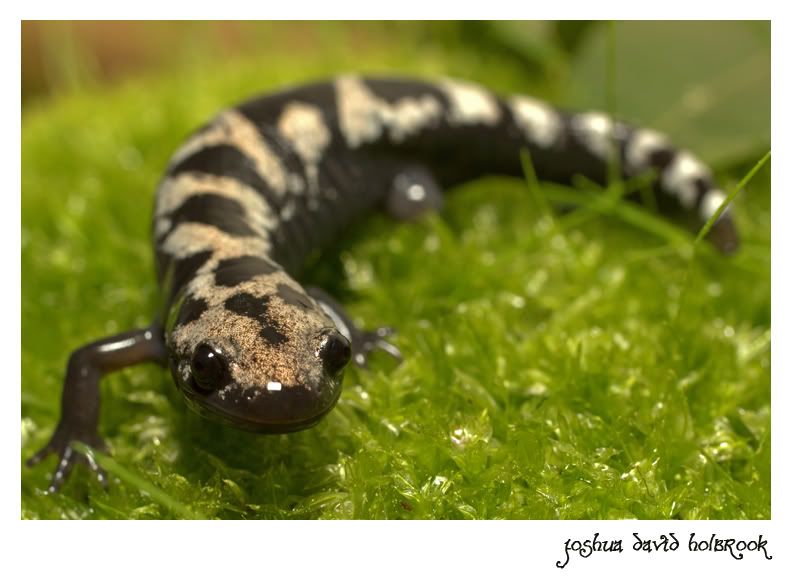 We found this peeper walking around too:
another group shot walking through the pines: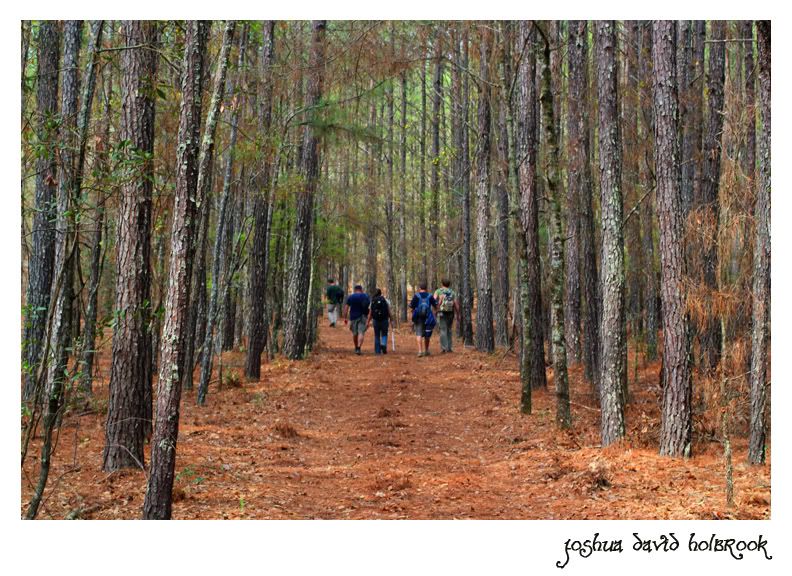 I think this one is a Southern Dusky Salamander (
Desmognathus auriculatus
). Either way, lifer: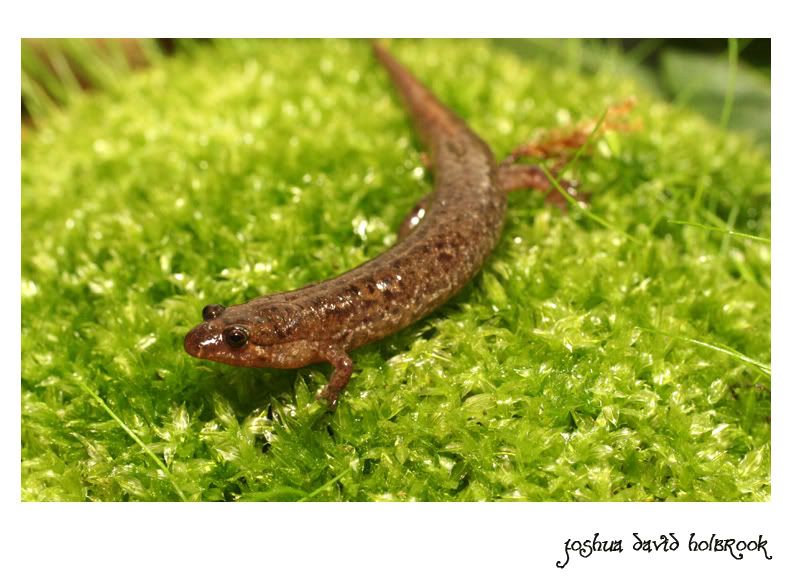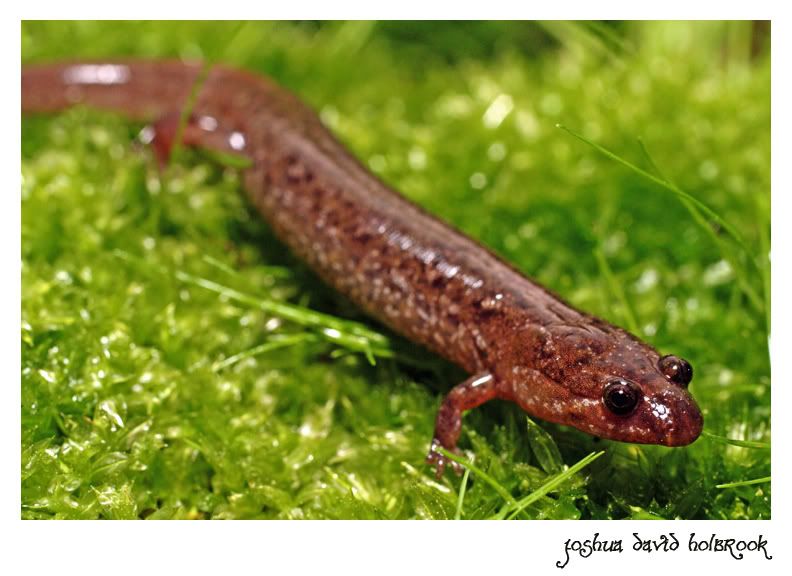 When the days herping was over, we were still feeling a bit restless. Tim, Marissa and I decided to head out to a little patch of gum swamp and try a last ditch effort for some herps as a bitter cold rain began. I'm glad we did:
Slimy Salamander (
Plethodon glutinosus
). I strongly recommend this salamander be renamed as the sticky salamander, for such was its body-juice. Lifer.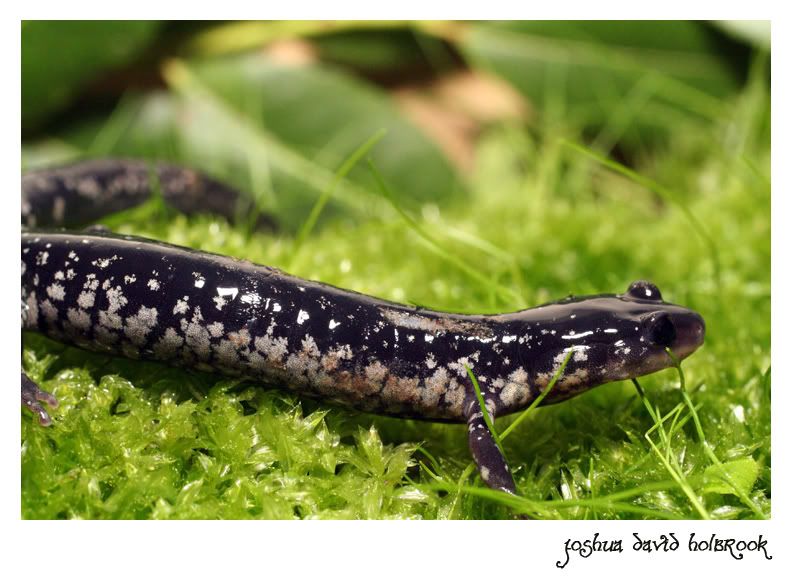 Pickerel Frog (
Rana palustris
), Lifer: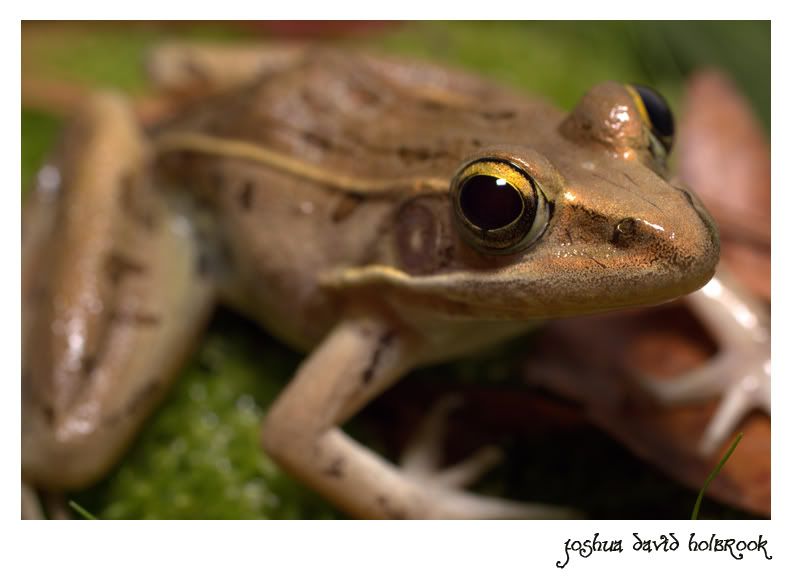 Bird-voiced Treefrog (
Hyla avivoca
), Lifer. Tim tells me these are big game in SC.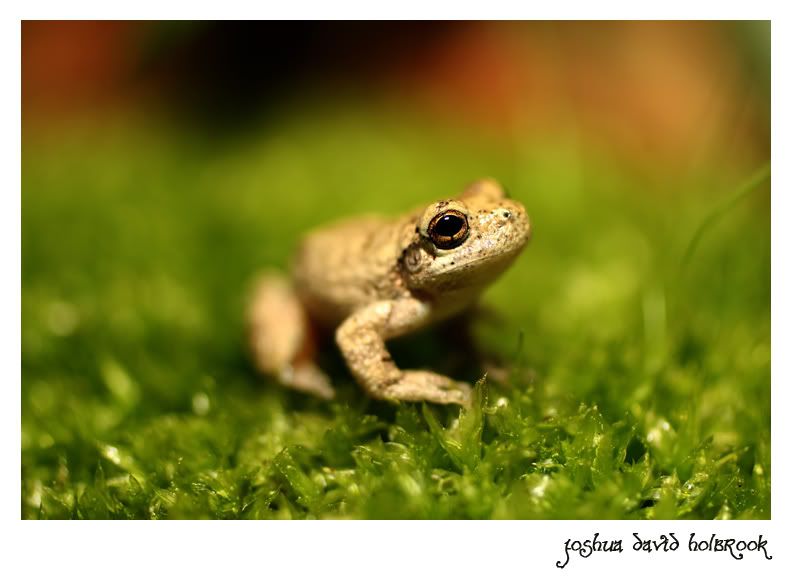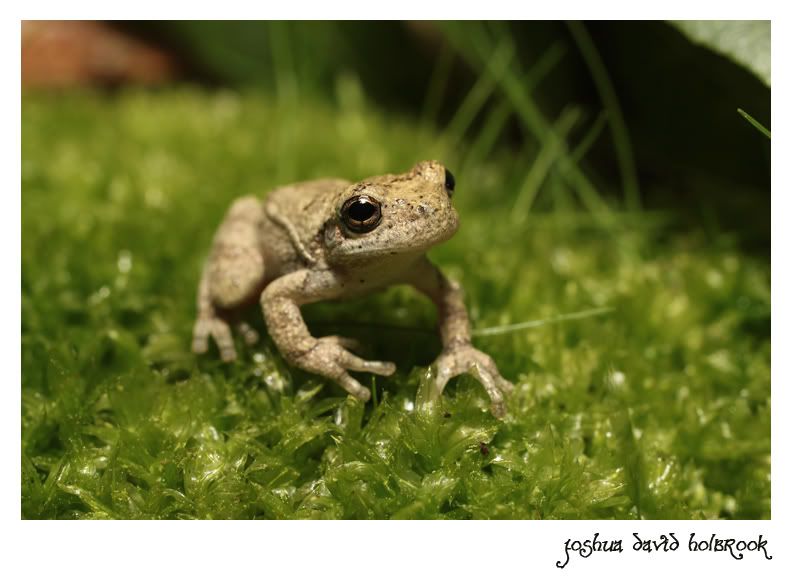 Cope's Grey Treefrog (
Hyla chrysoscelis
), lifer: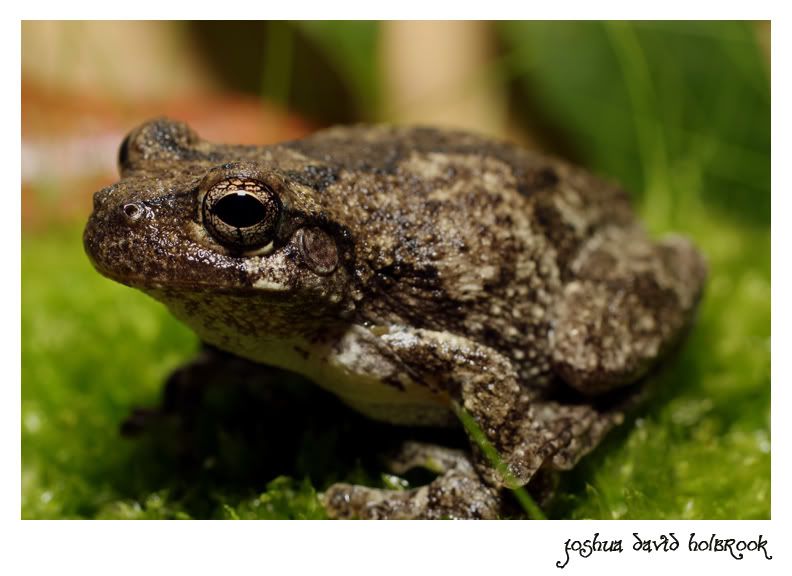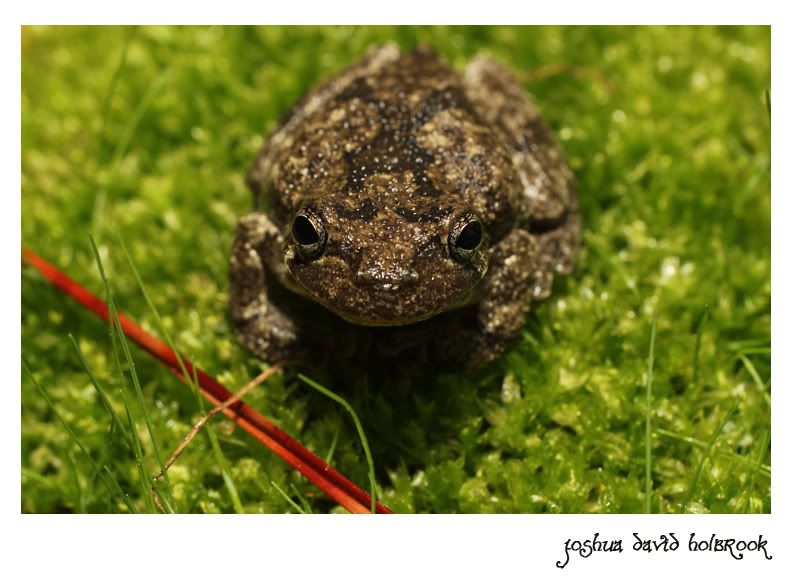 'Nother peeper (I think?):
Southern Leopard Frog (
Rana sphenocephala
):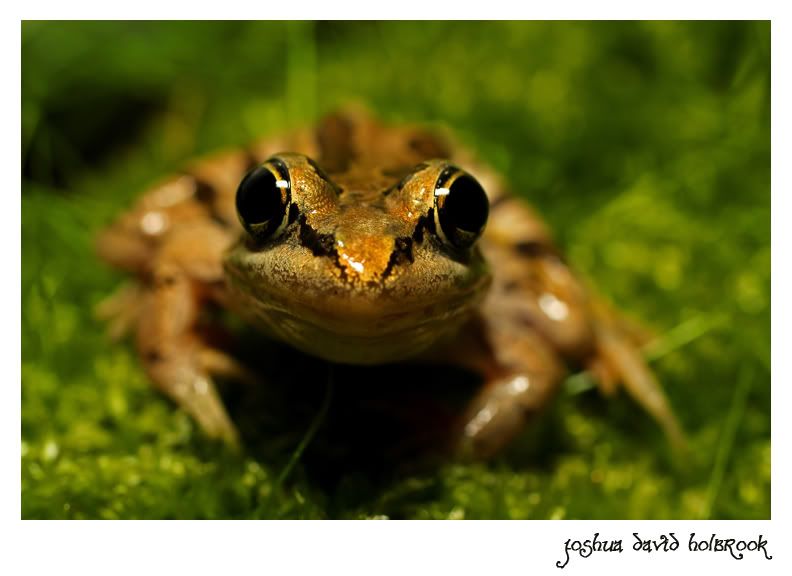 And a beautiful
Pseudotriton montanus
. It was pretty cool, Tim and Marissa cruised this guy right in front of me. I got to see all the action: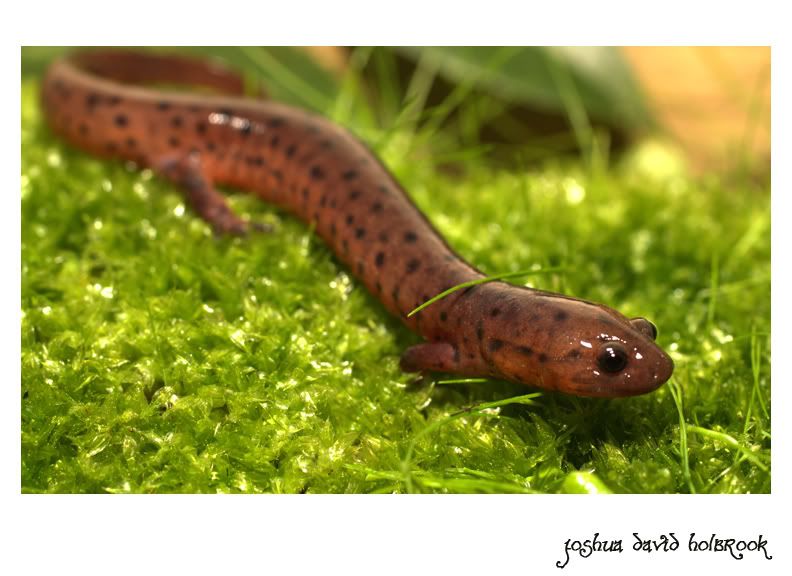 Thus concludes my time in S.C.; but shortly thereafter a few of my co-herpers came down to join me in southern Florida. An exciting find (thus all the pictures) are these Palm Beach County Barking Treefrogs (
Hyla gratiosa
) The last museum record I've found for these guys in PBC was over 50 years ago. On this rainy night my zoo co-worker Brett and I saw a small frog dart across the road. "Green Treefrog," I thought. I think we all know my guess was incorrect. We had 2 vehicles out about 15 miles apart that evening, both of us found Barkers about the same time. I've herped PBC for 5 years and have never seen a Barker here before then:
A so/so looking Barker:
And him with a phenomonal looking Barker: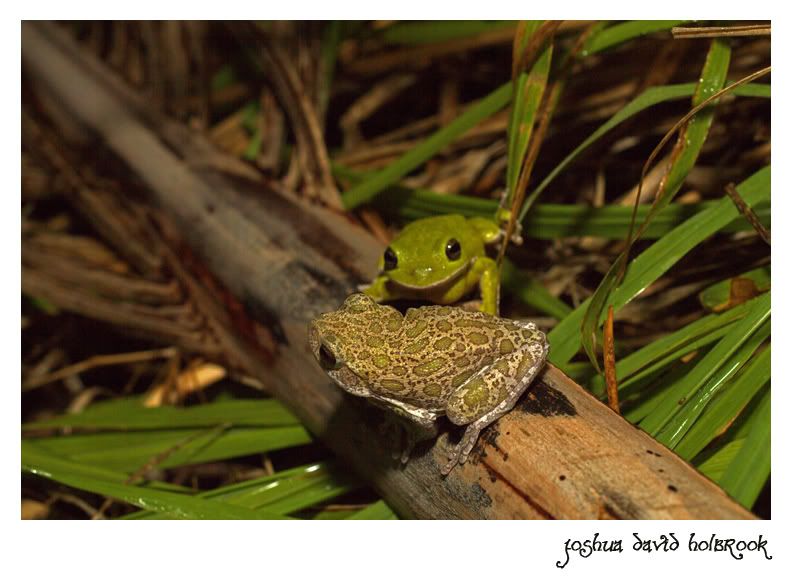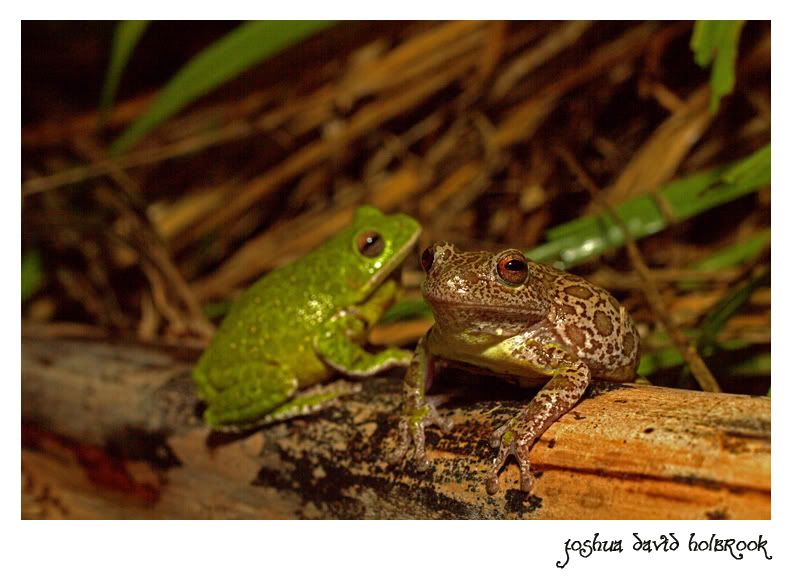 Forgive the hundred barker pictures. I love these guys.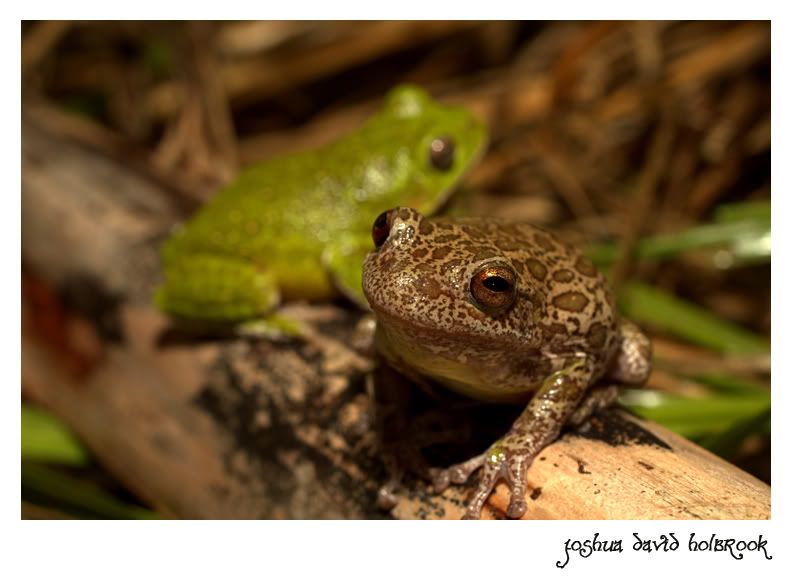 I like the concept of this shot, the lighting just wasn't on my side and my flash must not've fired:
Calling (Kindof):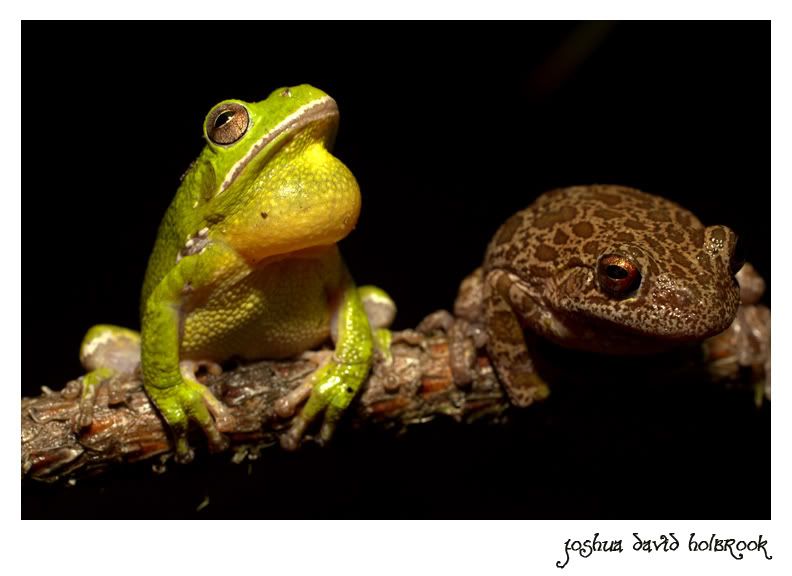 Brett shooting em':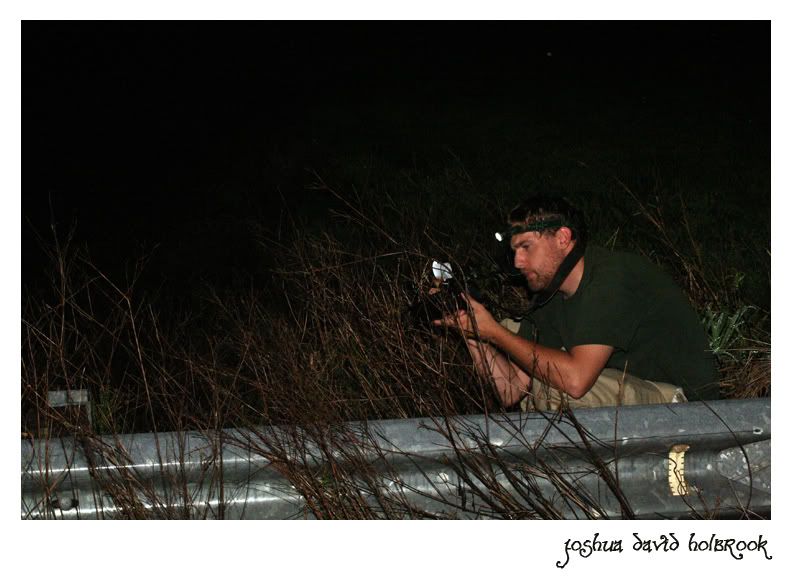 Now, I usually have more southeastern snakes in my posts that this, but for half a month I was herping in the Paraguayan Chaco; and also on my mind for the past few months has been Chameleons. I'm working on some research trying to figure out what species of Chameleon are established in Florida. To keep my "cham eyes" about me, I've gone to look for Oustalet's Chameleons a couple times - a population found by a friend of mine. This population is sweet, but is also the reason why when I publish my research I wont include specific locales: the landowners here have been having lots of trouble with tresspassers running amok and giving herpers a bad name. Please note that none of these pictures were taken in areas where I was illegally tresspassing:
The field grows these Ousts big: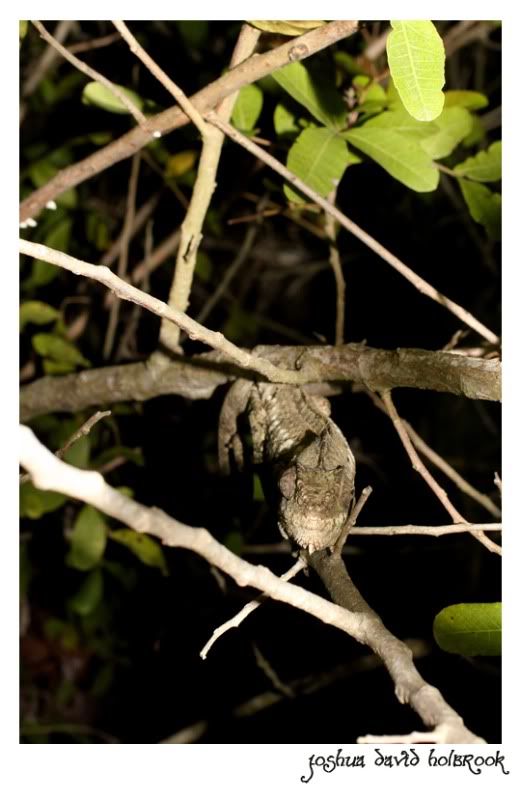 In situ. It's pretty fun to spot one of these: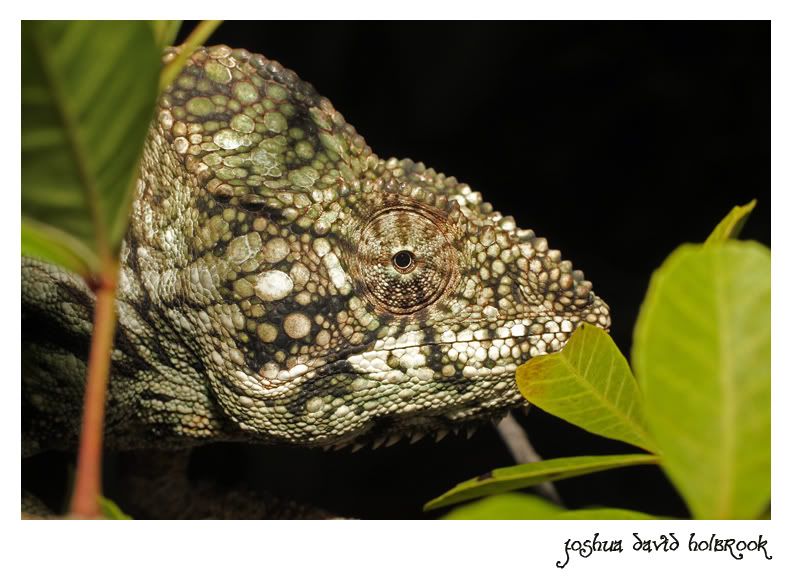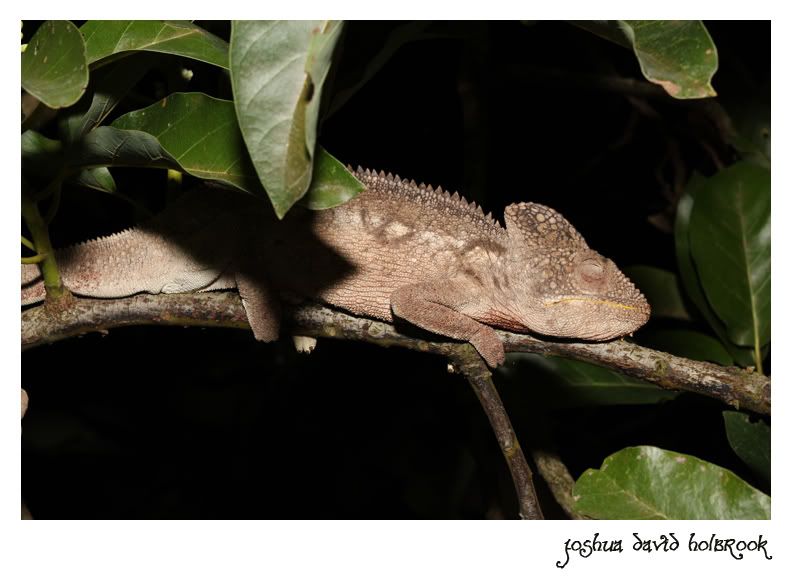 A female. Real pretty: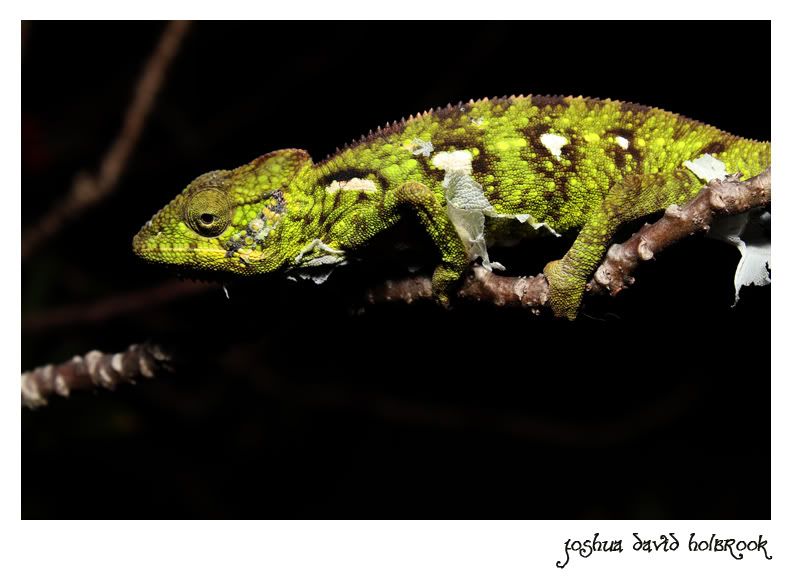 I've also been searching a lot in a spot that supposedly has Panther Chameleons. No luck yet, but this sure got my blood pumping before I ID'd it: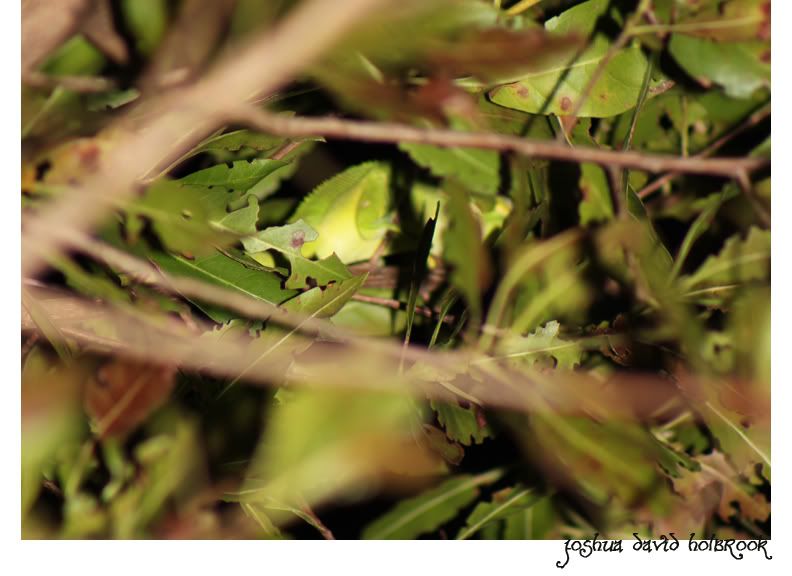 (
Anolis equestris
)
A weekend or two ago, I got on a a mammal kick and decided to go to southwest Florida in search of Black Bear and Florida panther. Of course, herps were on the target list too. Within five minutes of arriving a usualy suspect got me excited: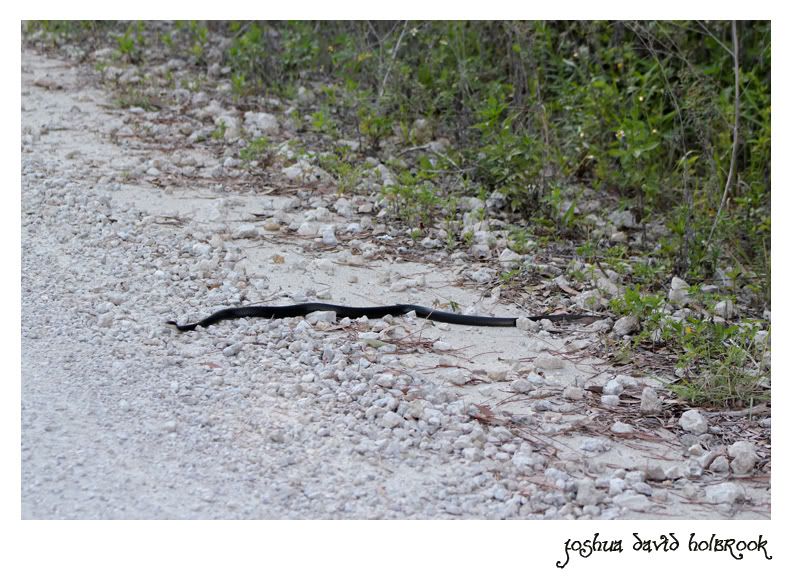 And I got more excited: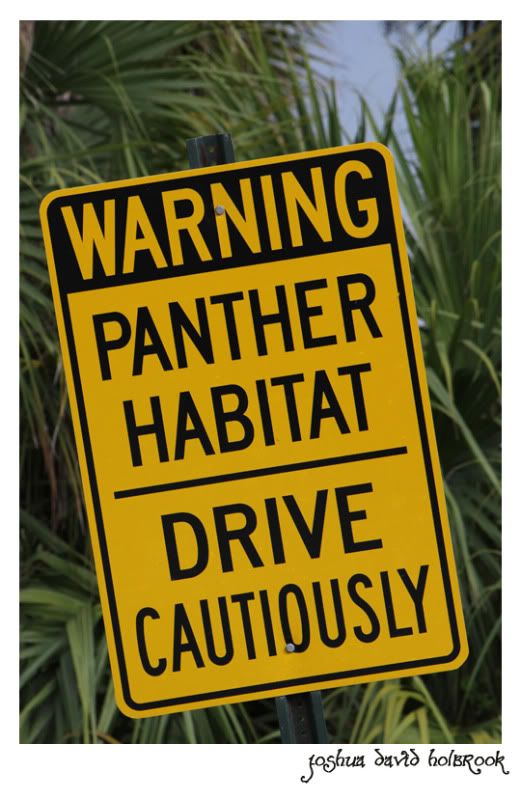 I met up later with a friend, Matt, who joined me for some cruising:
First up: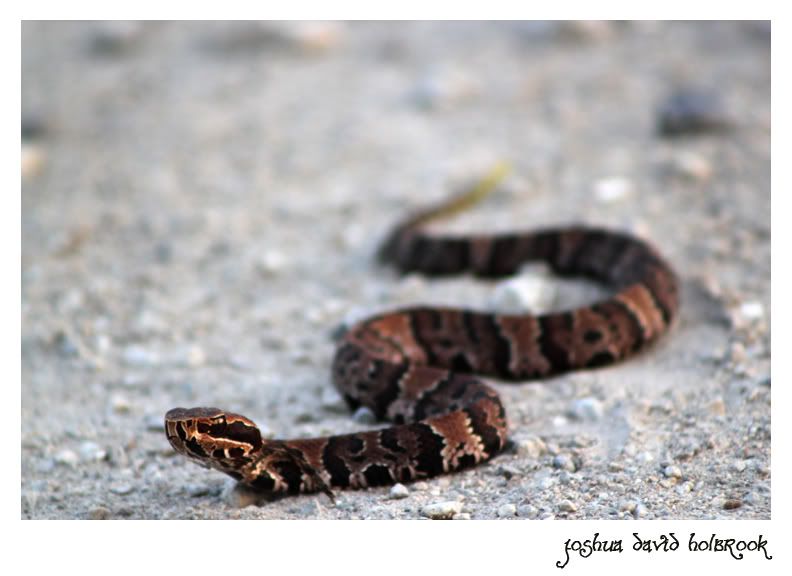 I commented that the habitat looked good for Diamondbacks. . .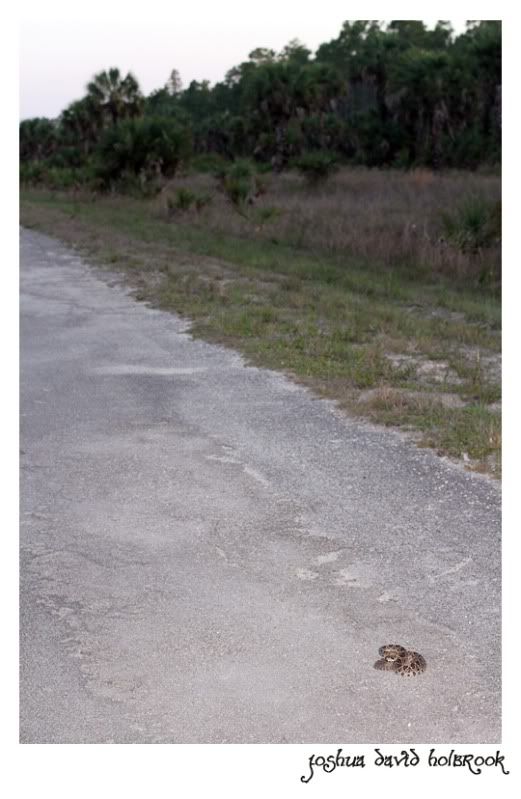 Spot on: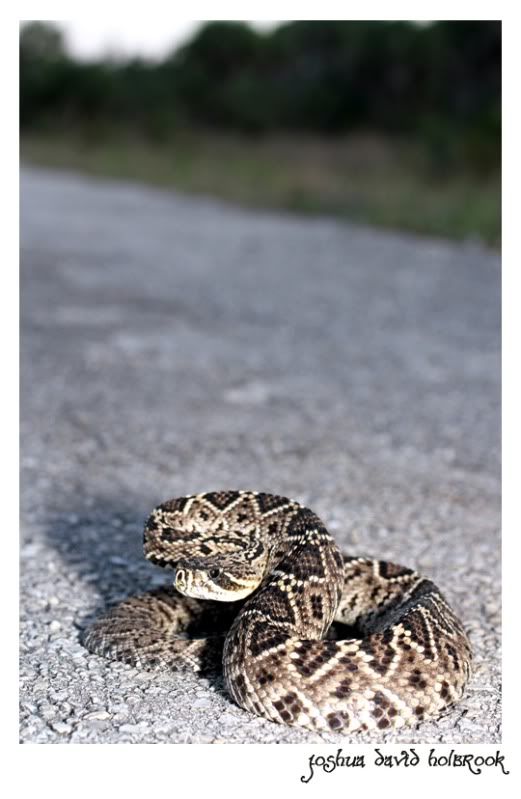 Little guy, big attitude:
And last snake of the night (it was really dry):
It was, however, the most beautiful corn I've ever seen. One of the types I like to call "everglades" phase - thick black borders on the saddles, and light orange ground color.
released: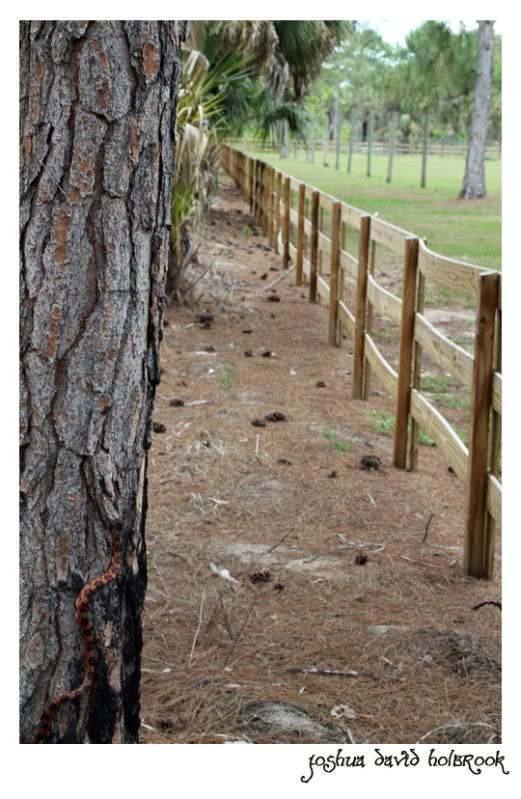 I did well for mammals, too. We saw a Black bear cross the road a quarter mile up (no pictures :-/ ) and I heard a Florida Panther while pulling into camp in the evening. Sweet.
I also had a interesting human encounter. At around midnight I got pulled over by a helicopter who landed in the middle of the road, wondering what I was doing. Photographing a quail, of course, I responded: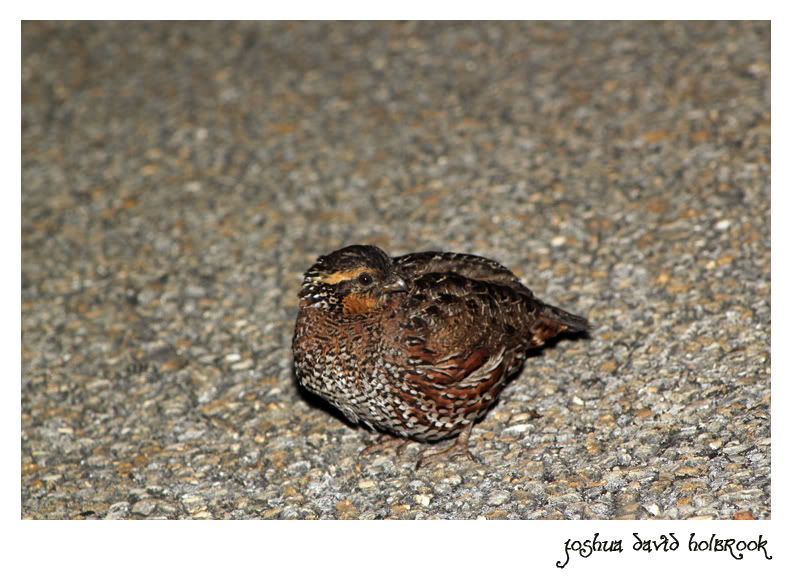 Some misc. shots from the weekend: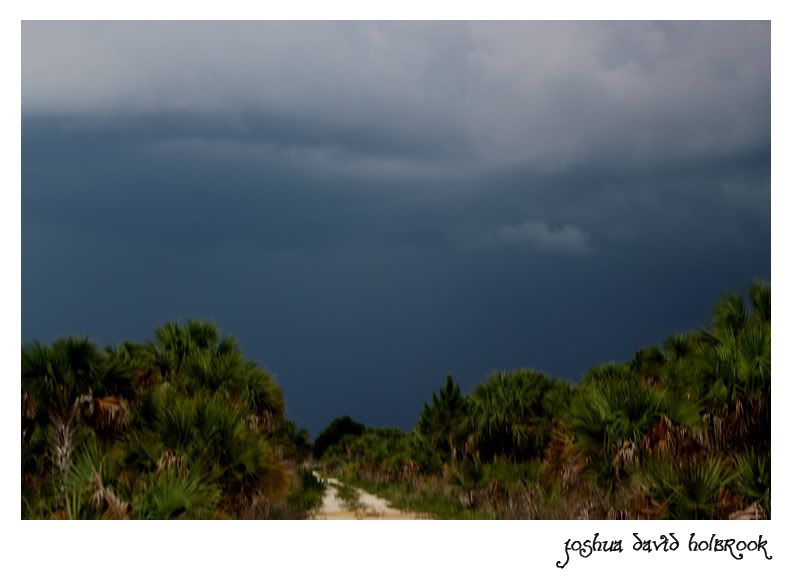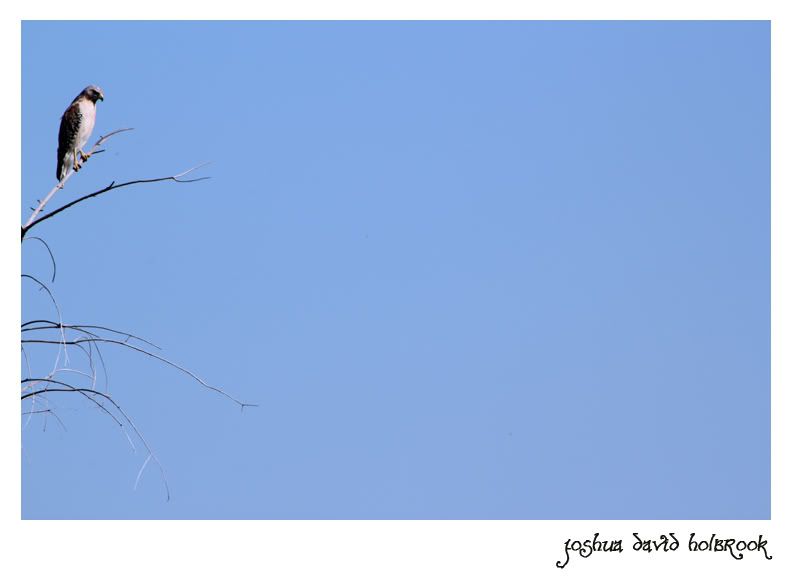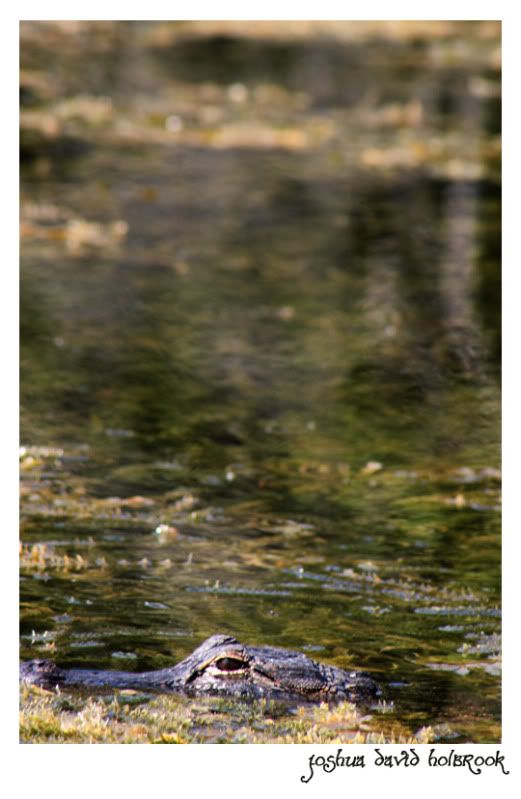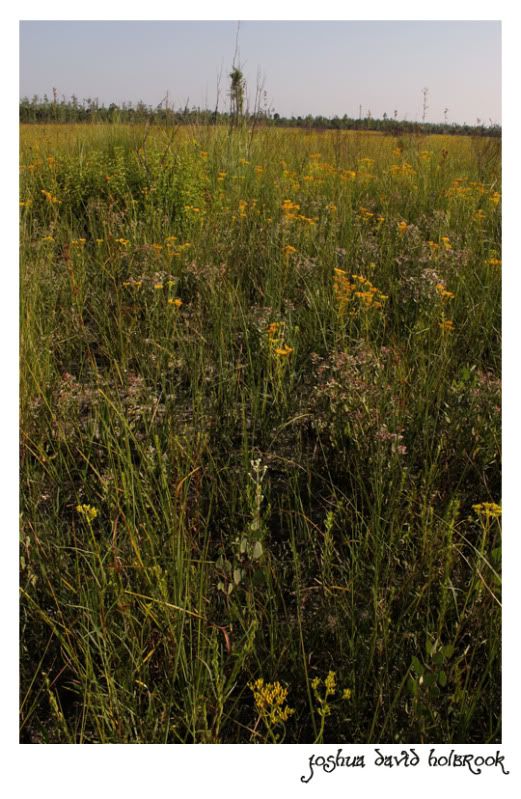 A terrestrial gator in a pine rockland: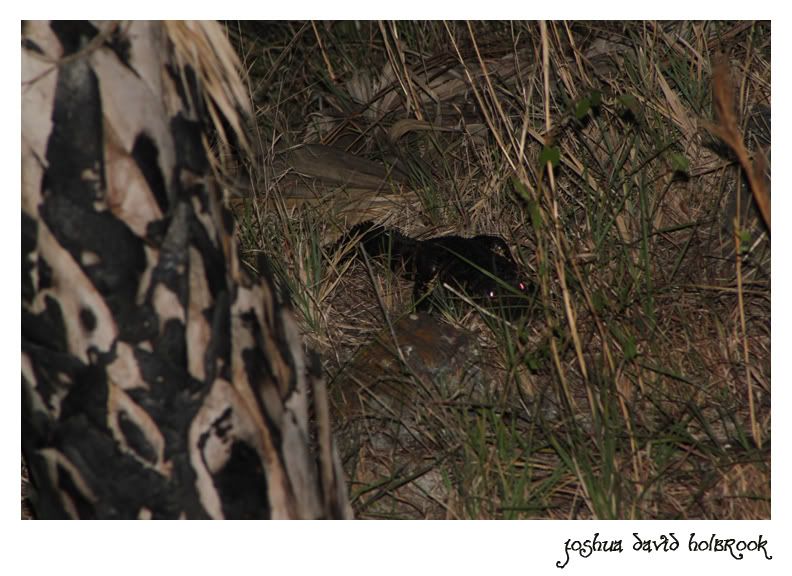 Turkeys: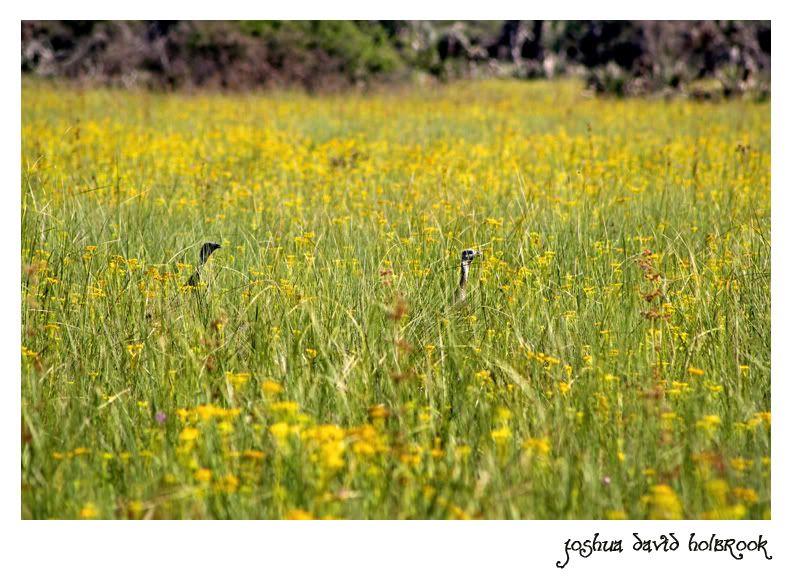 Hiding rabbit:
And some other sights from the past 2 or 3 months:
Moonflower (
Ipomea alba
) is extremely common in some areas in the 'Glades. It only blooms at night.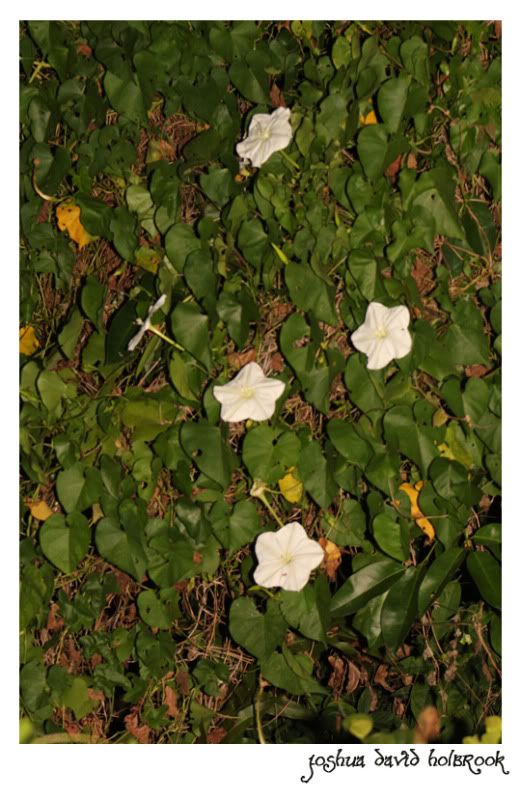 You're always being watched in southern Florida:
He's alive, just really really cold: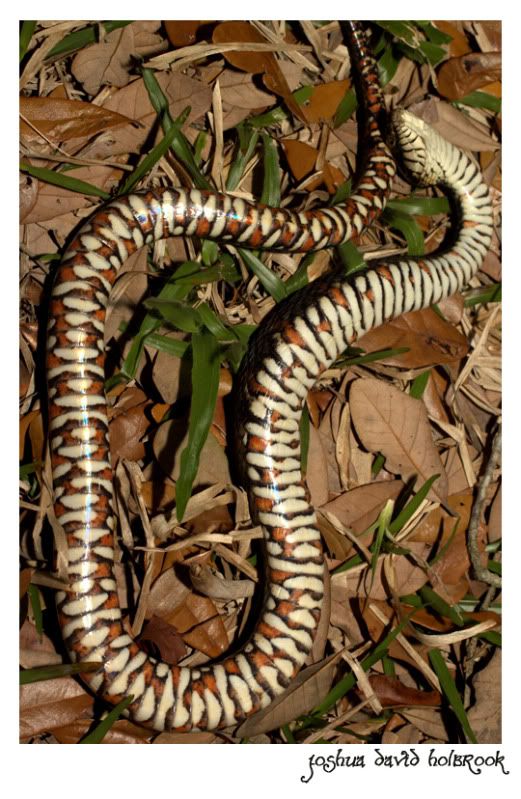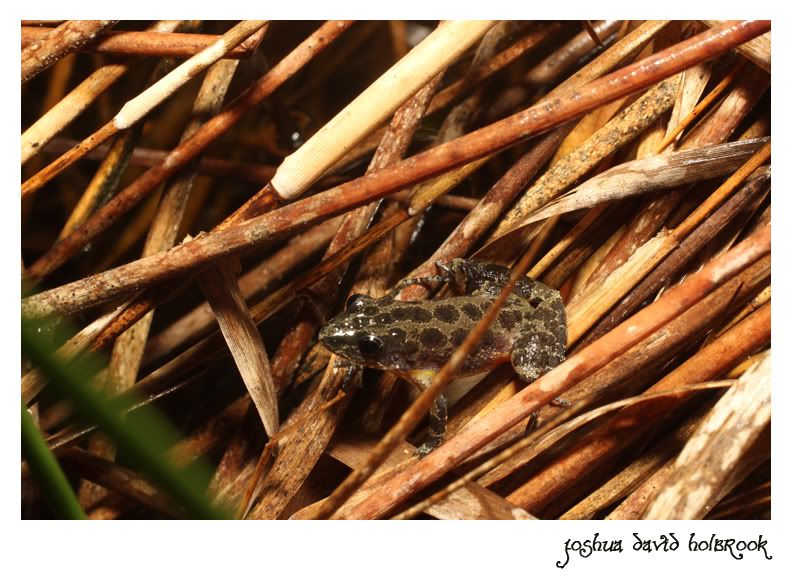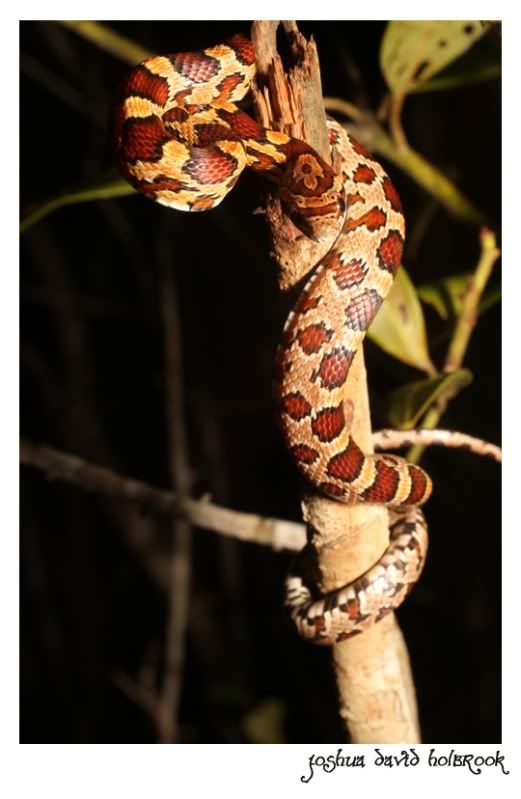 An orchid my wife found/photo'd
Ever wonder where racers sleep at night?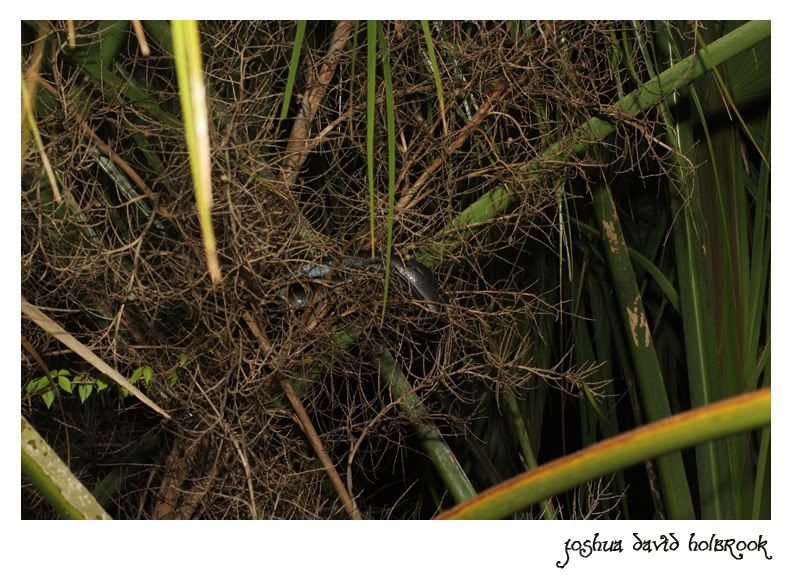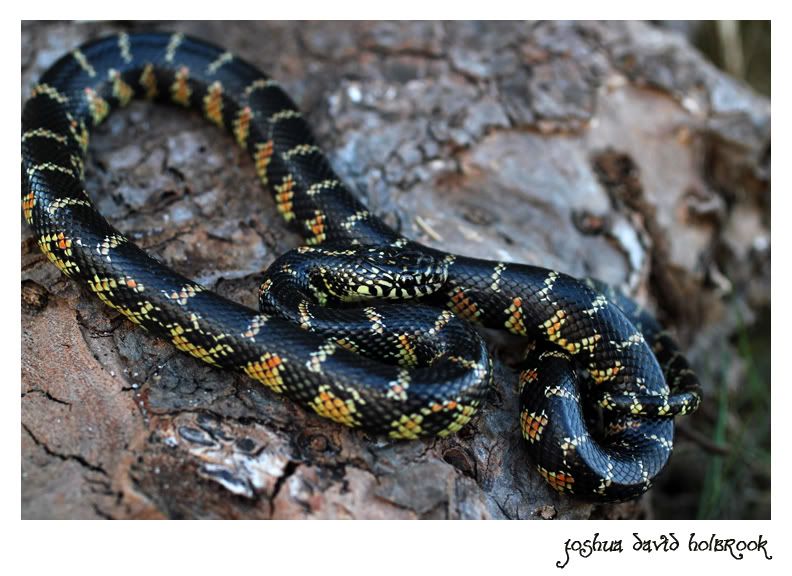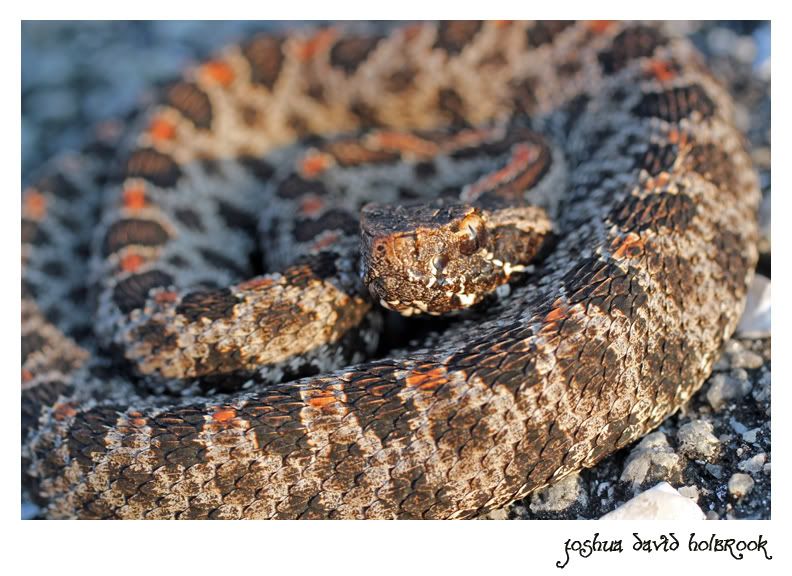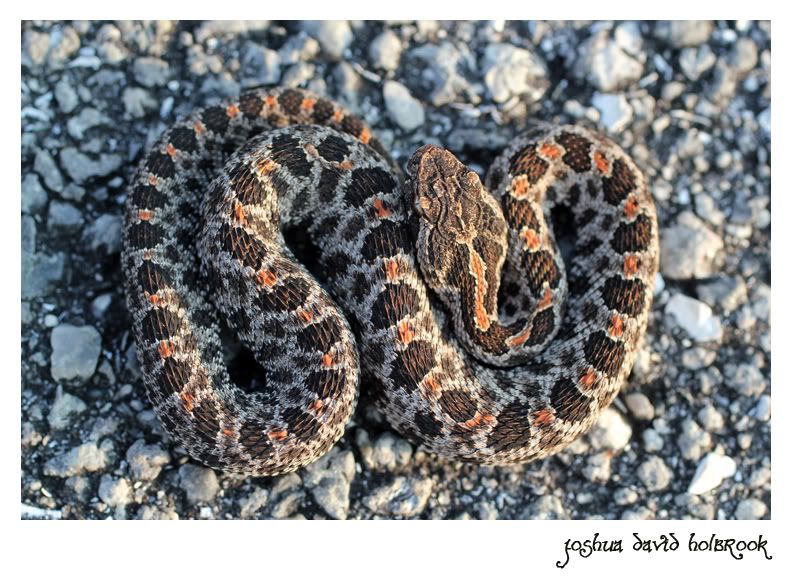 Crazy little corn found one evening: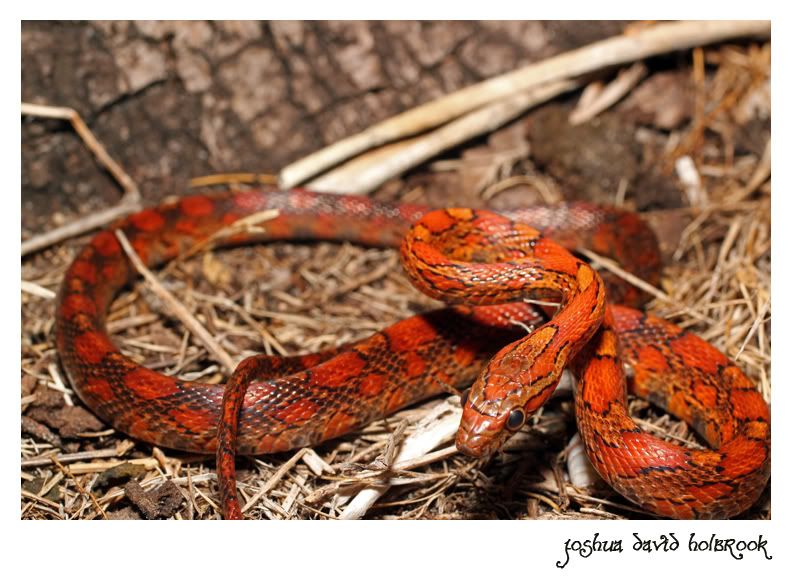 I guess I'll end it with the one of North America's rarest snakes - a real heartbreaker -
Lampropeltis calligaster occipitolineata
. . . D O R
More reason to get out and find another? Right?
Peace everybody - hope you enjoyed,
-Josh