During the first ten days of June, I had the honor to welcome and introduce another FHF member to the Beautiful Island that's been my home for almost twenty-two years now. Warren's ten-day vacation was split into two parts: a four-day road trip along the coast and over the Taiwan Alps, and five days of Iron Man Herping (breakfast/herp all day/siesta/dinner/herp all night) in the national park around my house. Warren is not only an experienced field biologist who taught me all sorts of highly useful tricks and things, but he also seems blessed with some sort of mojo magick that lures animals out of their hiding places at a ridiculously insane rate. We saw a total of 41 snakes from 15 species, three monkeys fighting in a tree, four flying squirrels cussing us out from their lofty perches, and myriads of frogs, turtles and weird invertebrates. Among the latter were a huge, horned, and hissing (yes, hissing) caterpillar as well as three vinegaroons and a formidable metallic-blue centipede dragging a dead skink twice his size across the road.
Below please find a deluge of pictures from this epic vacation.
Let's ease into it with with the Taiwanese equivalent of the Garter Snake -
Amphiesma sauteri
.
(Photo: Warren)
Here's the Meister hard at work. One of the things he taught me was that it's a crime to photograph snakes against an asphalt background all the time when your surroundings are brimming with fabulous photo backgrounds such as taro and banana leaves.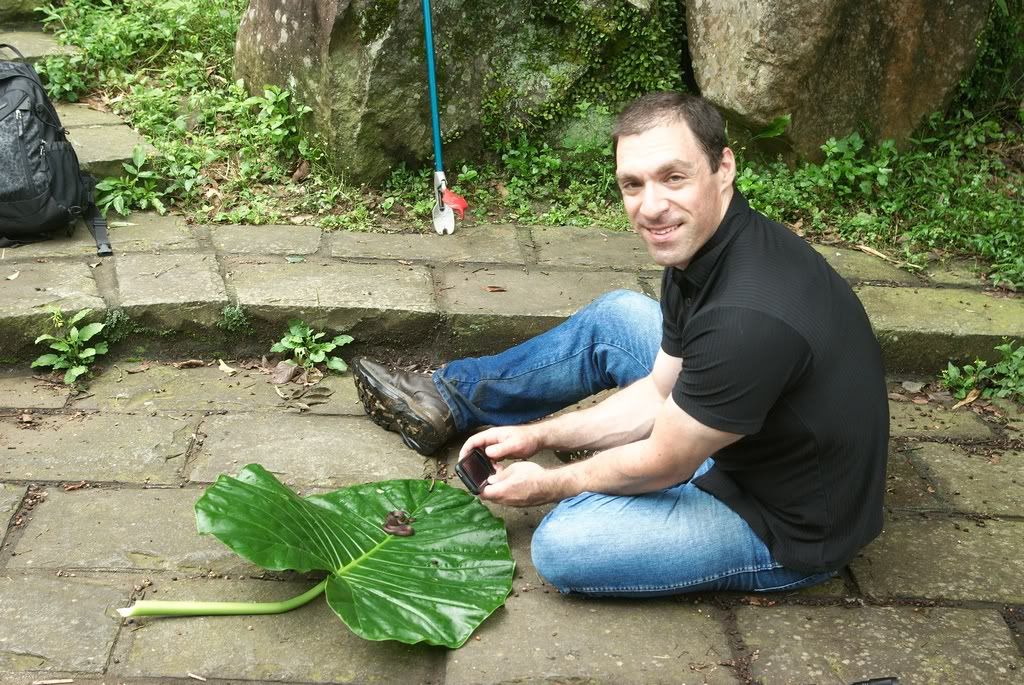 Another interesting snake we found that morning was a False Viper (
Macropisthodon rudis rudis
) baby; a rear-fanged snake that morphs its oval head into a viperoid wedge when disturbed. Unfortunately, the cutesy-wootsy eyes do not turn to slits, rendering the transmogrification somewhat imperfect.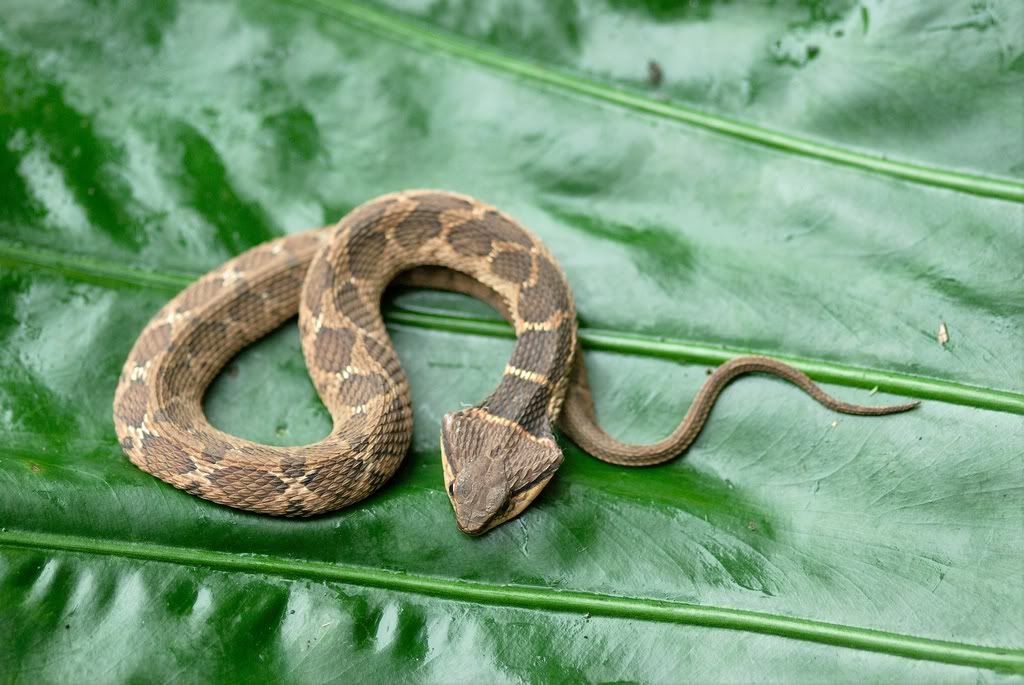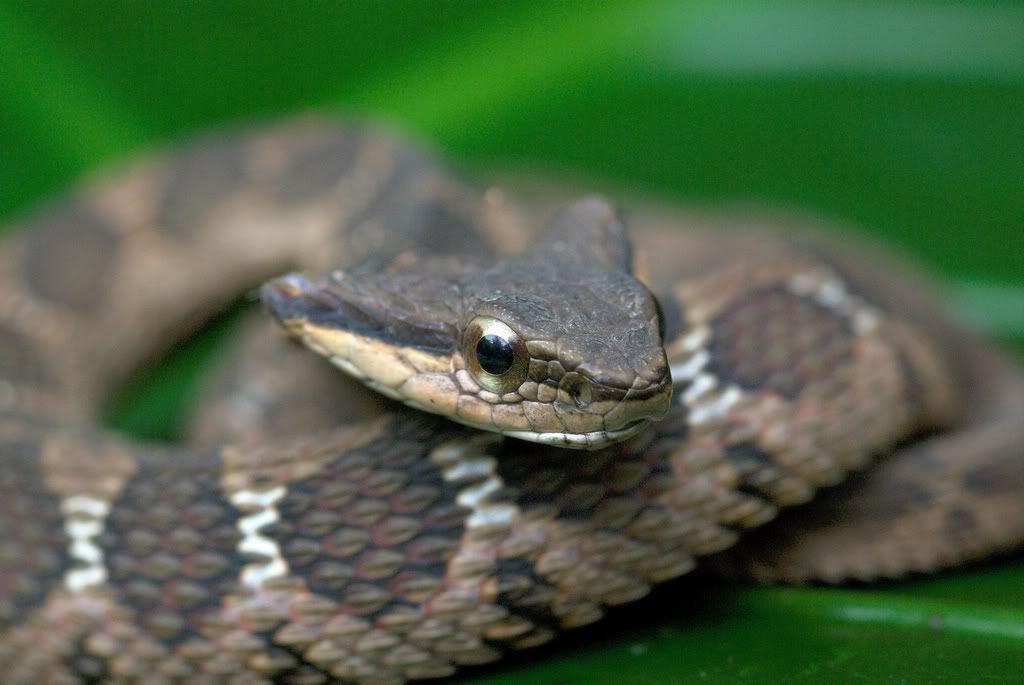 Among the Many-banded Kraits (
Bungarus m. multicinctus
) in attendance was this nice, fat adult. Again, the taro leaf worked wonders on the visuals.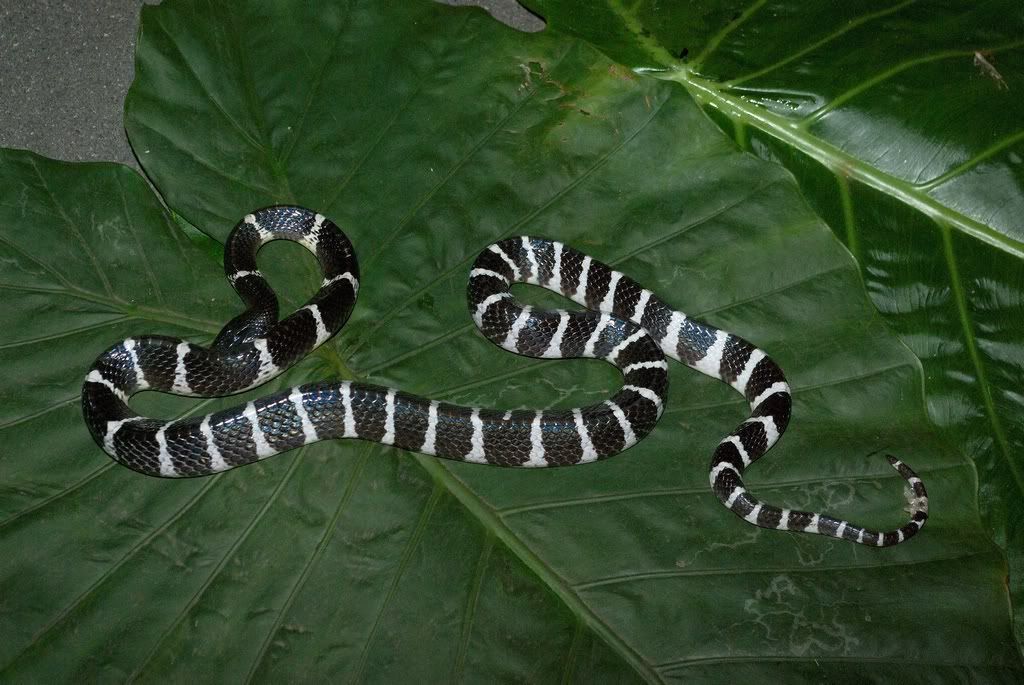 Bill's VenomCam in action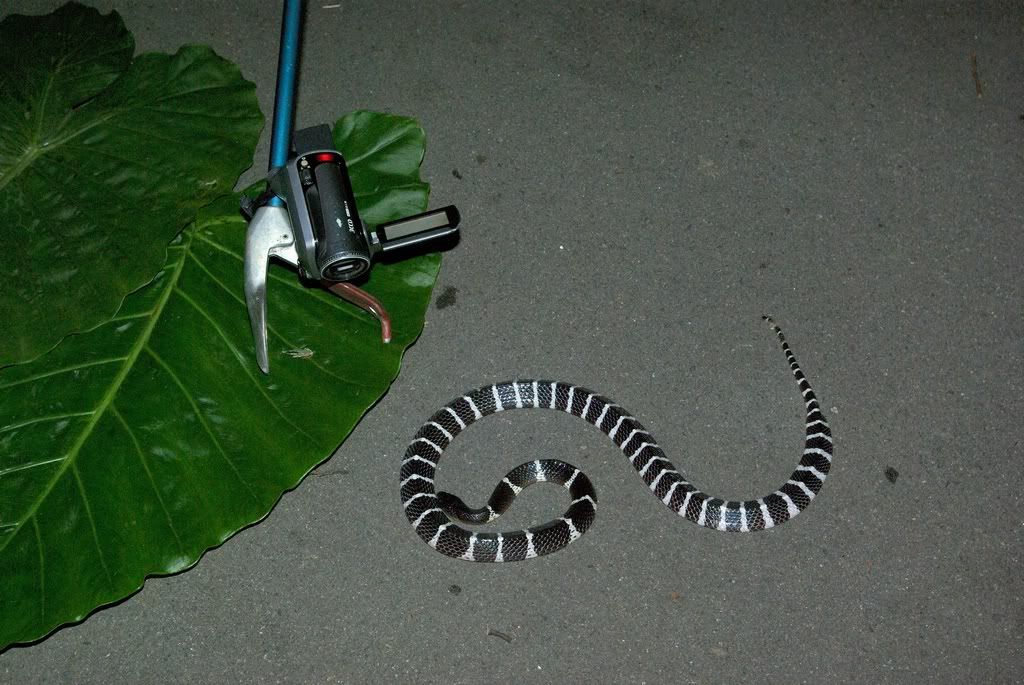 Bill The Fearless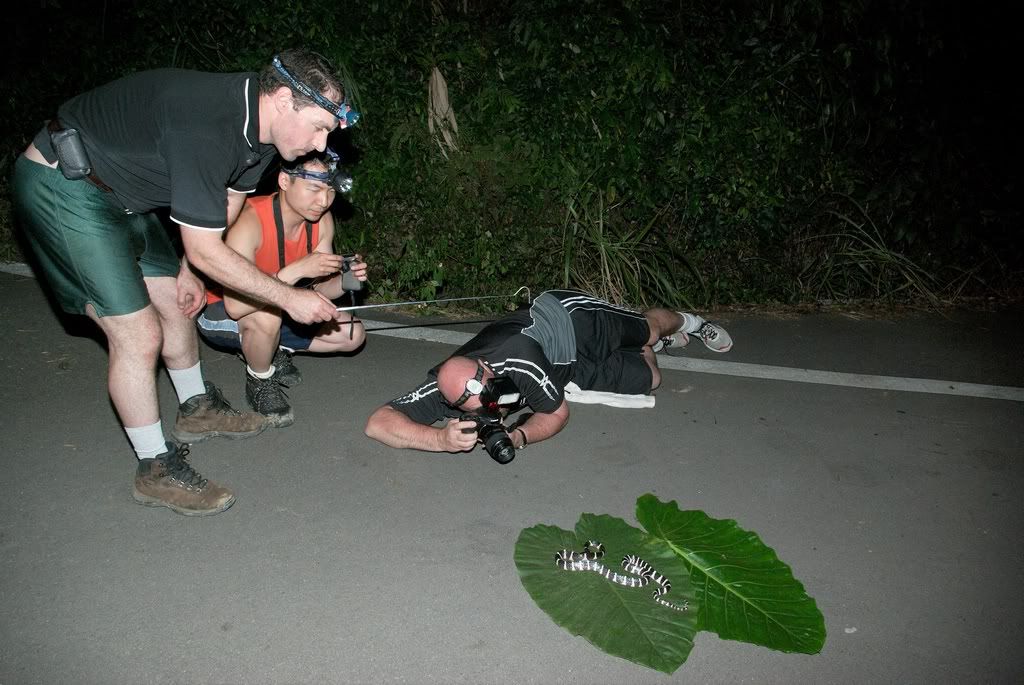 A young Red Bamboo Ratsnake (
Oreocryptophis porphyracea kawakamii
)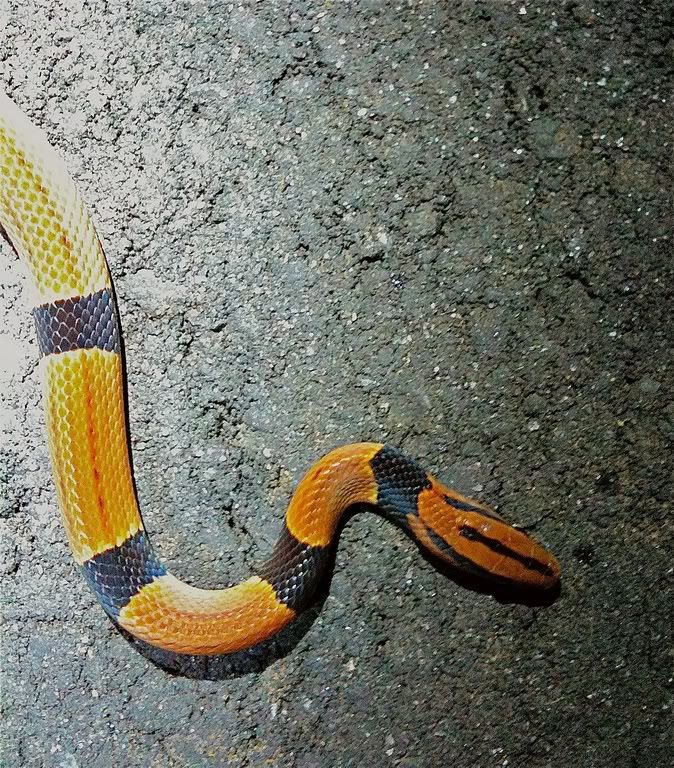 (Photo: Warren)
Warren with a King Rat aka Stinky Goddess (Elaphe carinata), which we found in distinctly snake-unfriendly habitat - on a windswept, saltwater-whipped crag right by the ocean. Warren managed to capture this notoriously bitchystinkynasty beast with nothing more than a little telescopic pocket hook.
A "dino" (
Dinodon rufozonatum
), Taiwan's most common non-venomomous snake. These guys eat everything: toads, roadkill, inverts, birds, rodents, and also do not shy away from dining on their conspecifics, if they can catch them.
(Photo: Howard Chang)
Blind Snakes (
Ramphotyphlops braminus
) that Warren found while casually flipping some roadside shale in the mountains. True to type, he didn't come up with just one, but three - all of them sitting under two adjacent rocks! That's one more than I've seen in three years...
(Photo: Howard Chang)
Herping party with an endemic slug eater (
Pareas formosensis
). (Note massive millipede on upper arm)
Greater Green Snakes (
Cyclophiops major
) were in abundance day and night. Here are some of the more memorable individuals.
Sleeping Beauty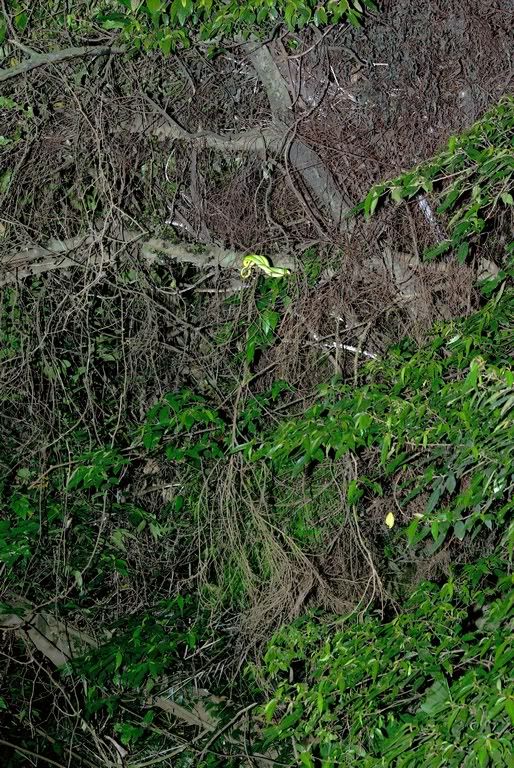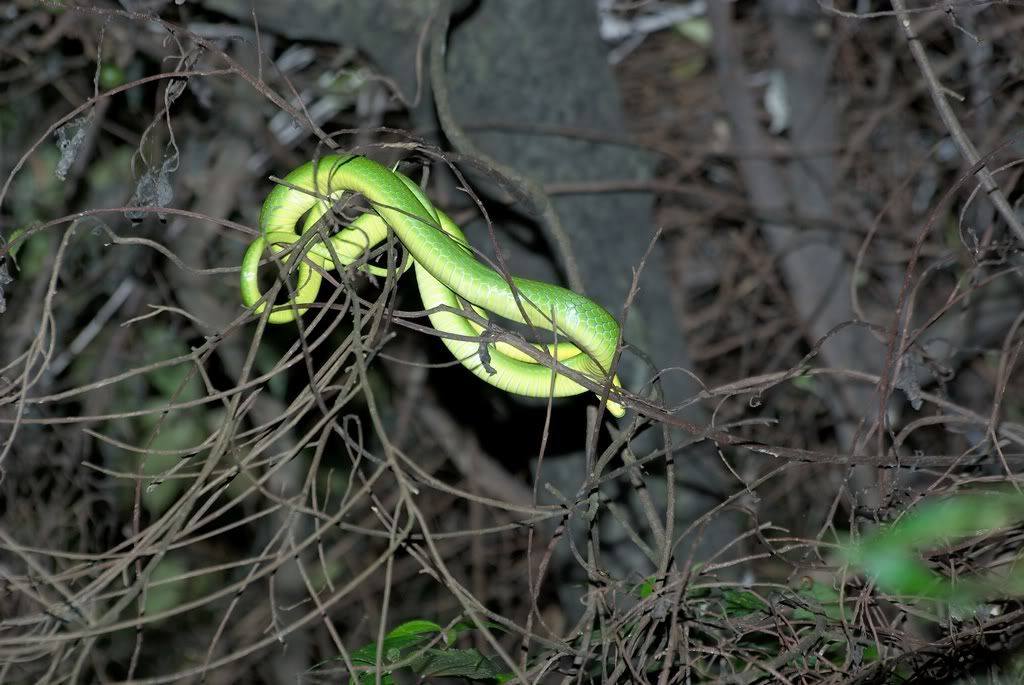 Posing Beauty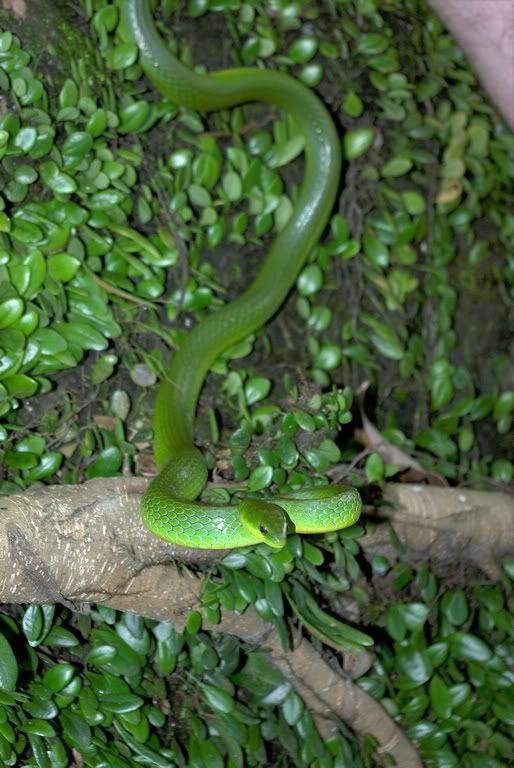 Mysterious Beauty. We found this one draped over a rock by the roadside as if posed for a photo.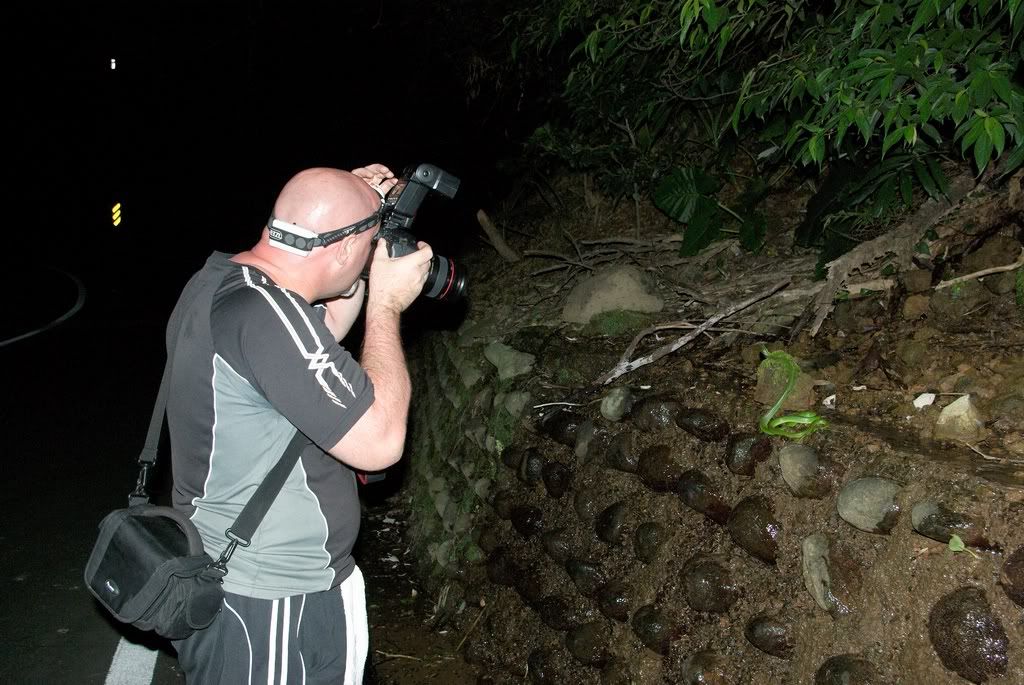 After we all had taken innumerable pictures of the surprisingly calm and unmoving beast, a closer checkup revealed the reason for its placidity: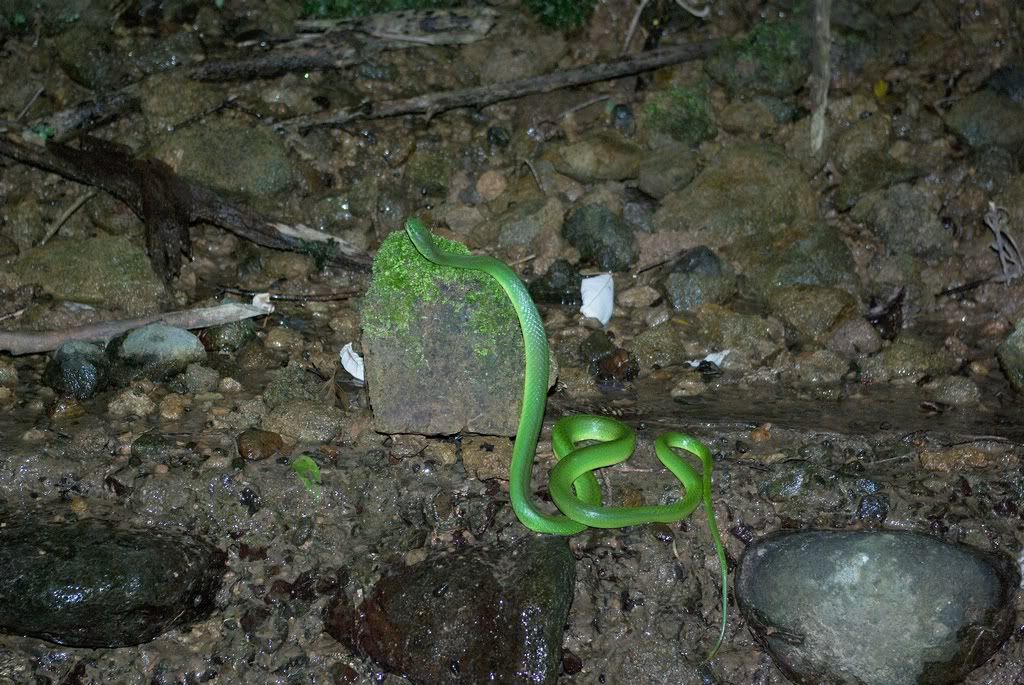 It was dead. Someone had indeed posed it there to shock the locals.
Fun in
C major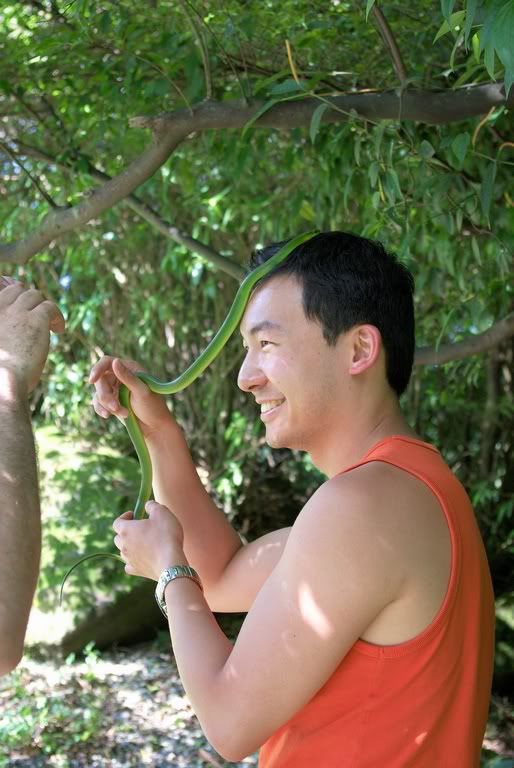 Now for a spot of snake food.
This cute little bugger is either an Eiffinger's Tree Frog (
Chirixalus eiffingeri
) or a Mientien Tree Frog (
Chirixalus idiootocus
), the latter being endemic to Yangmingshan National Park.
A proud Swinhoe's Frog (
Odorrana swinhoana
)showing off.
(Photos: Warren)
Warren herping the hell out of Taiwan's fabled ditches.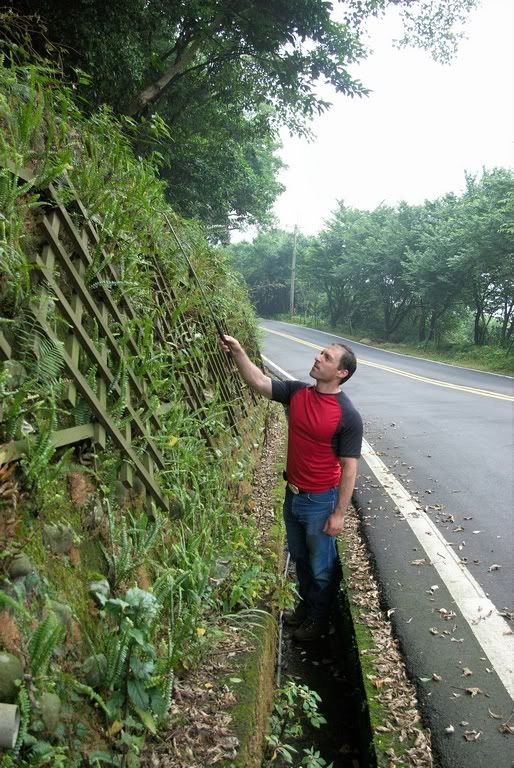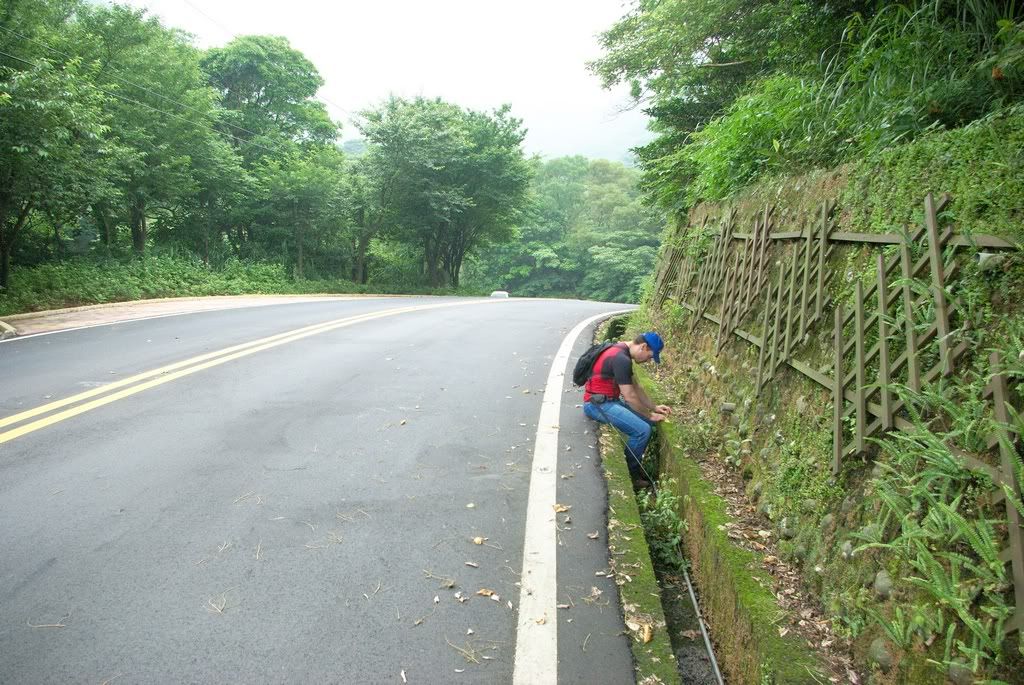 On to the inverts! (All following photos: Warren, unless stated otherwise)
Now you see me.
(Photo: Howard Chang)
Now you don't.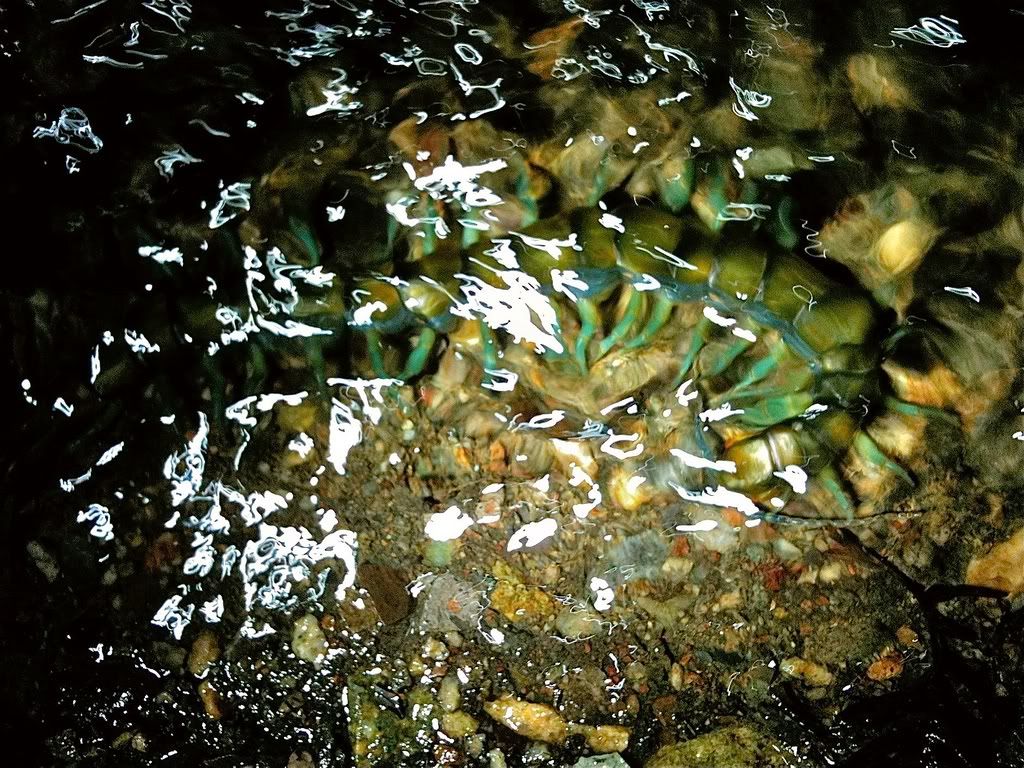 We found the above five-inch scolopendrid in the middle of the road, hauling a monstrous dead skink towards the other side. After releasing him when we were done with the photos, he shot into the ditch and hid there...under water!!!
Another denizen of that particular ditch; possibly
Macrobrachium formosense
, endemic to the island.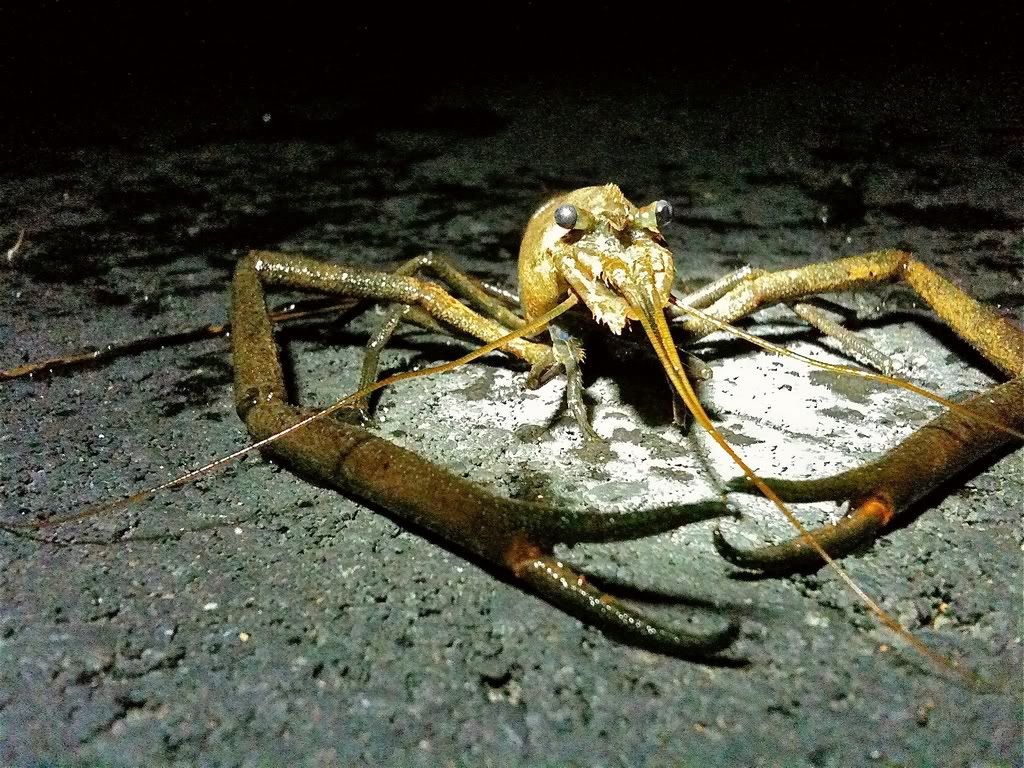 Purple People Eater (it's a freshwater crab; no idea as to the ID)
Vinegaroon (
Typopeltis crucifer
) aka Whip Scorpion, this one sans whip. Warren managed to find three of these guys in one week. My record stands at two for three years.
This one must be the most awesome caterpillar in the Western Galaxy (Sphinx Moth, probably). Almost as girthsome as a young banana, it would HISS at us like a snake every time we touched it. I had NO idea they had stuff like this here! Good thing I'm leaving this place next month - who knows what other devilry might lurk in these forests!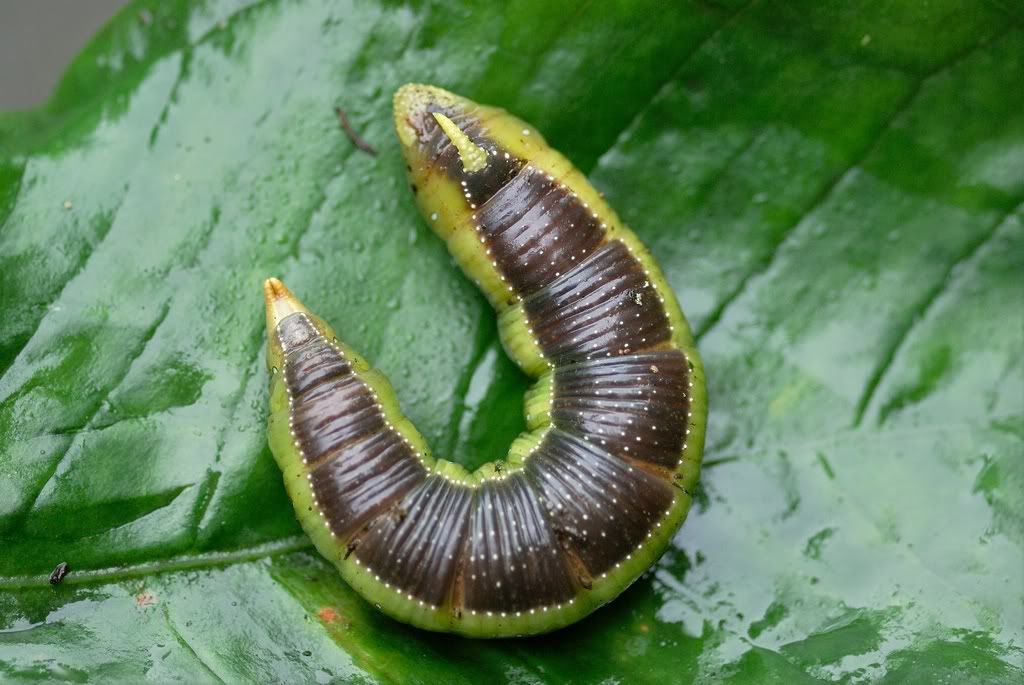 Lastly, a few environment shots.
Central Cross-Island Highway at around 10,000 feet elevation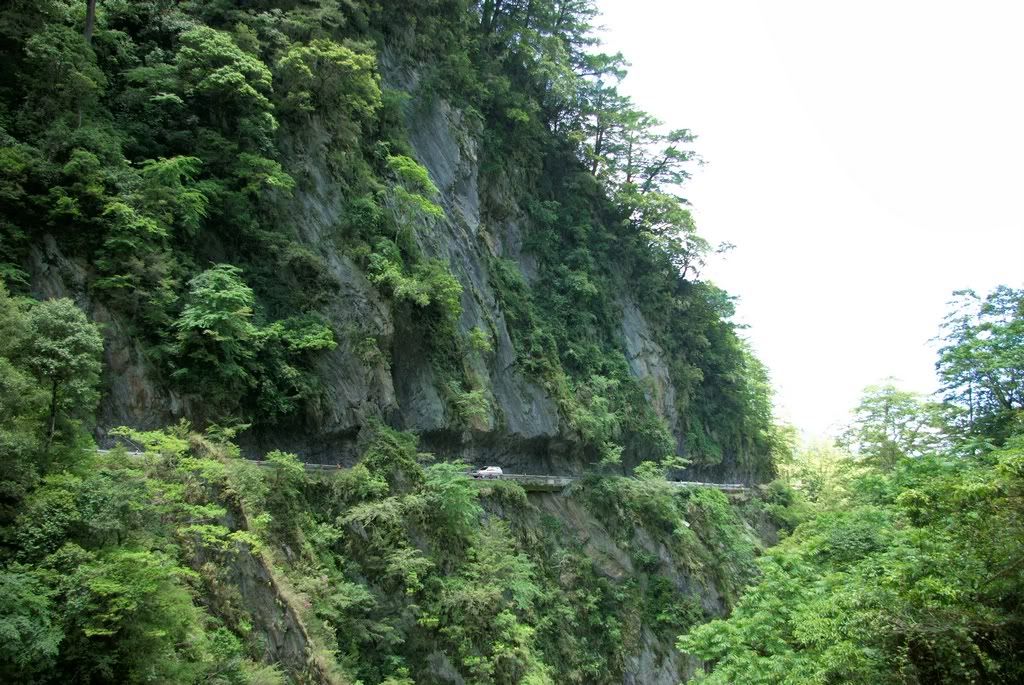 My all-time favorite Taiwan plant - a tree fern, unrolling a new leaf
Asparagus juice. The sophisticated herper's beverage of choice.