Hey – sorry for the delay with this post, we've been really busy out here. The following images are from May-July.
Beavertail Pricklypear (Opuntia basilaris)
blooms beside the scorched remains of a
Mojave Yucca (Yucca schidigera)
at a previously burned study site (see
Part 1
).
More beavertail bloom close ups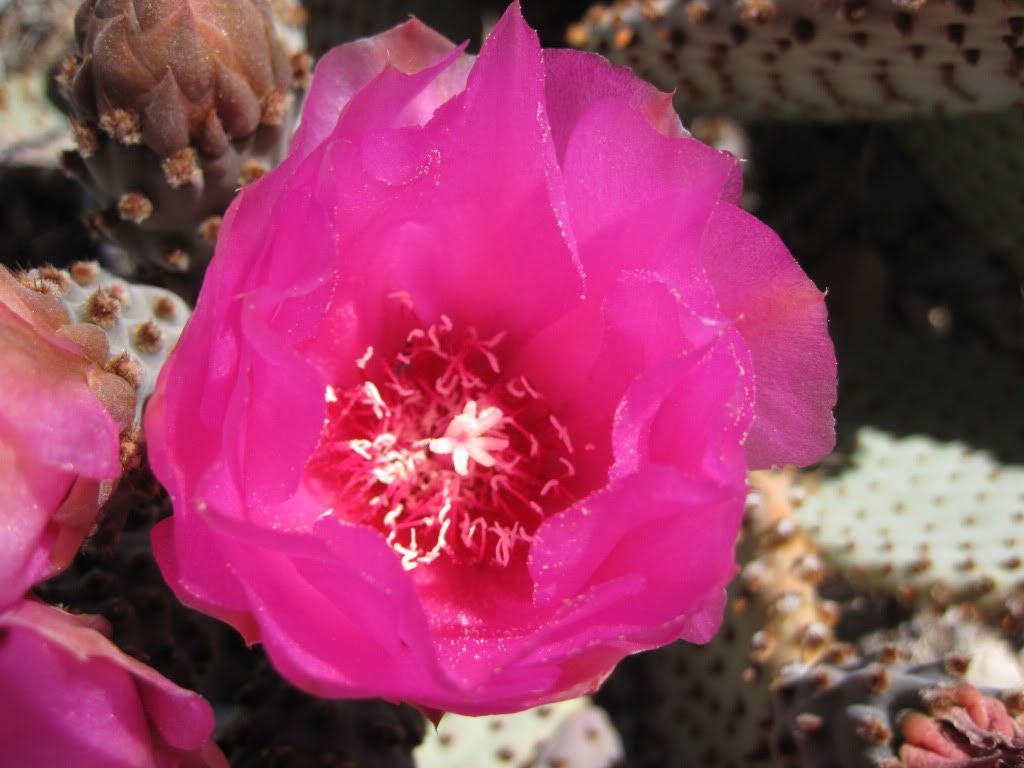 Desert/Indian Paintbrush (
Castilleja angustifolia
)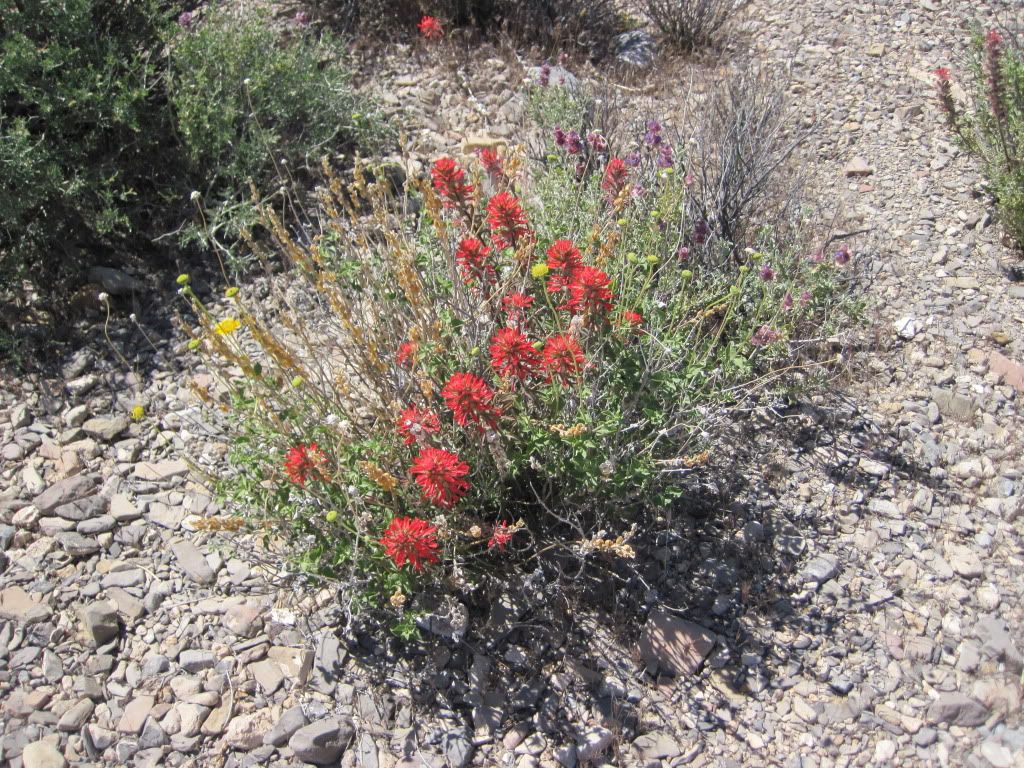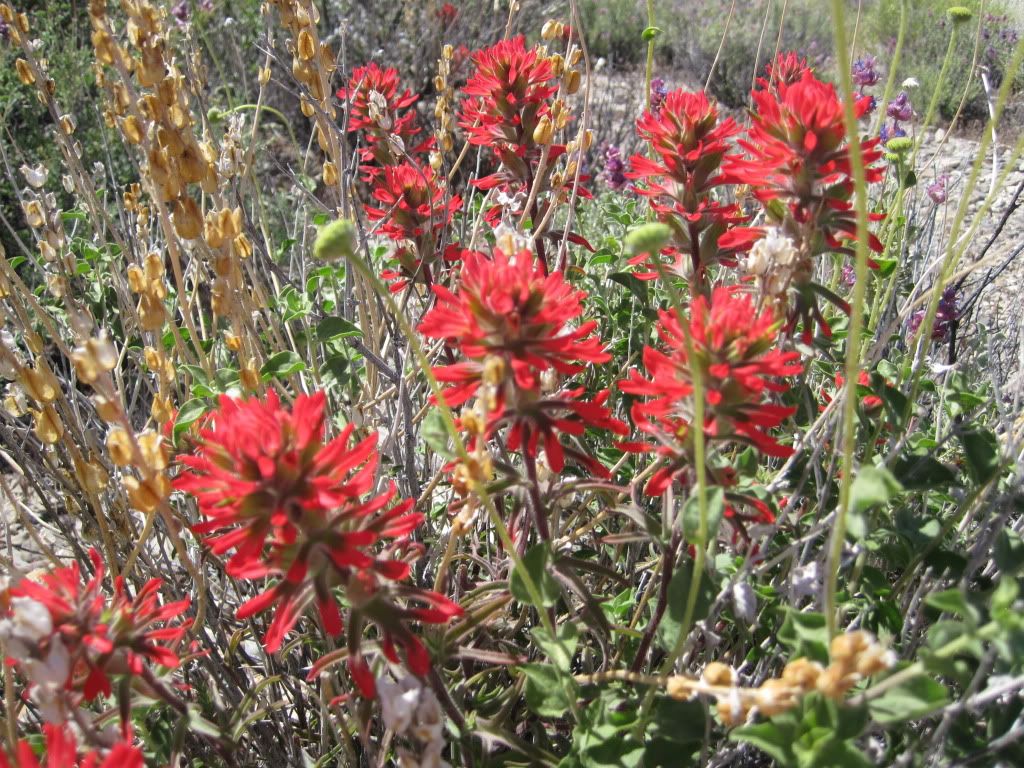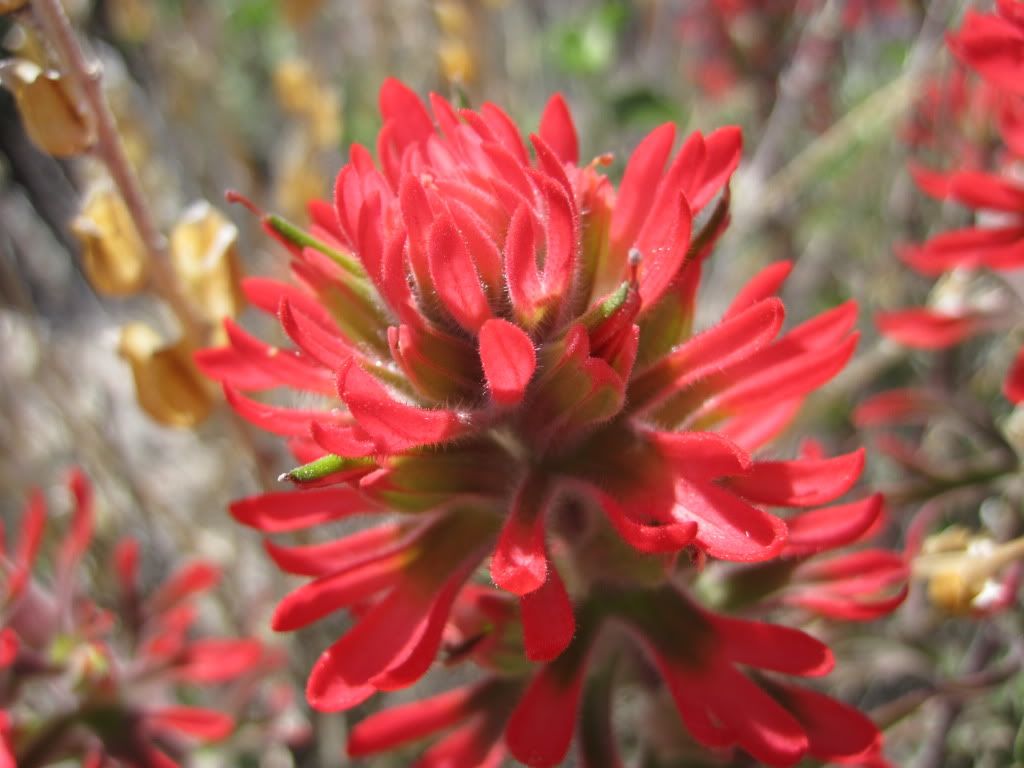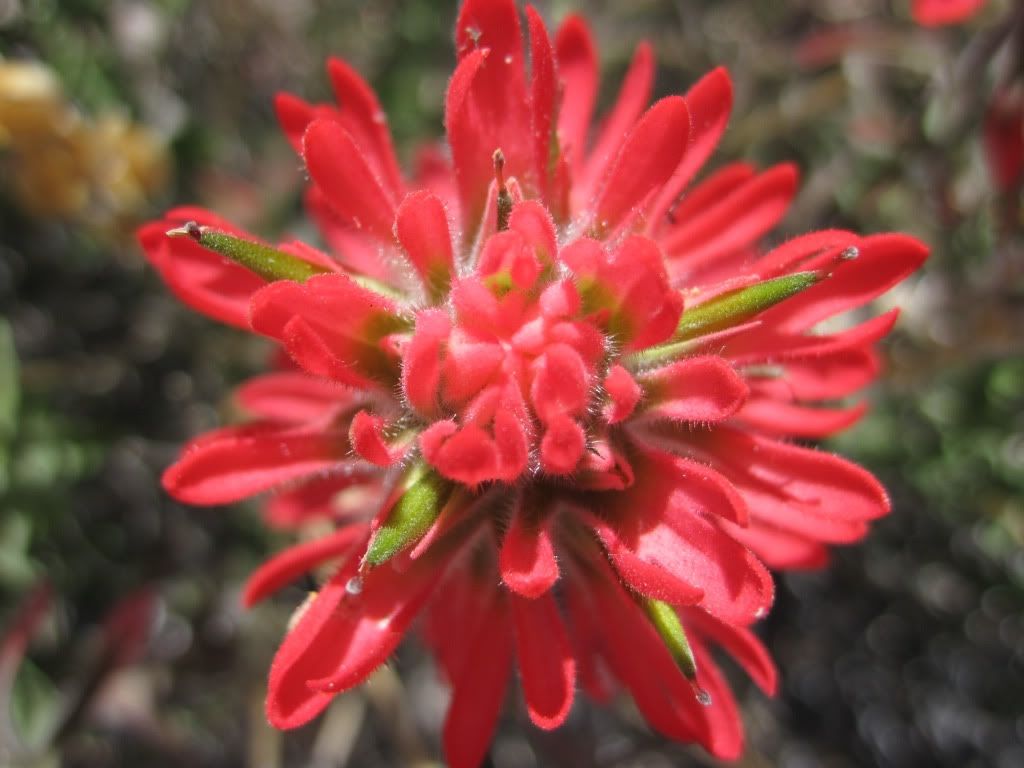 Desert Marigold (
Baileya multiradiata
)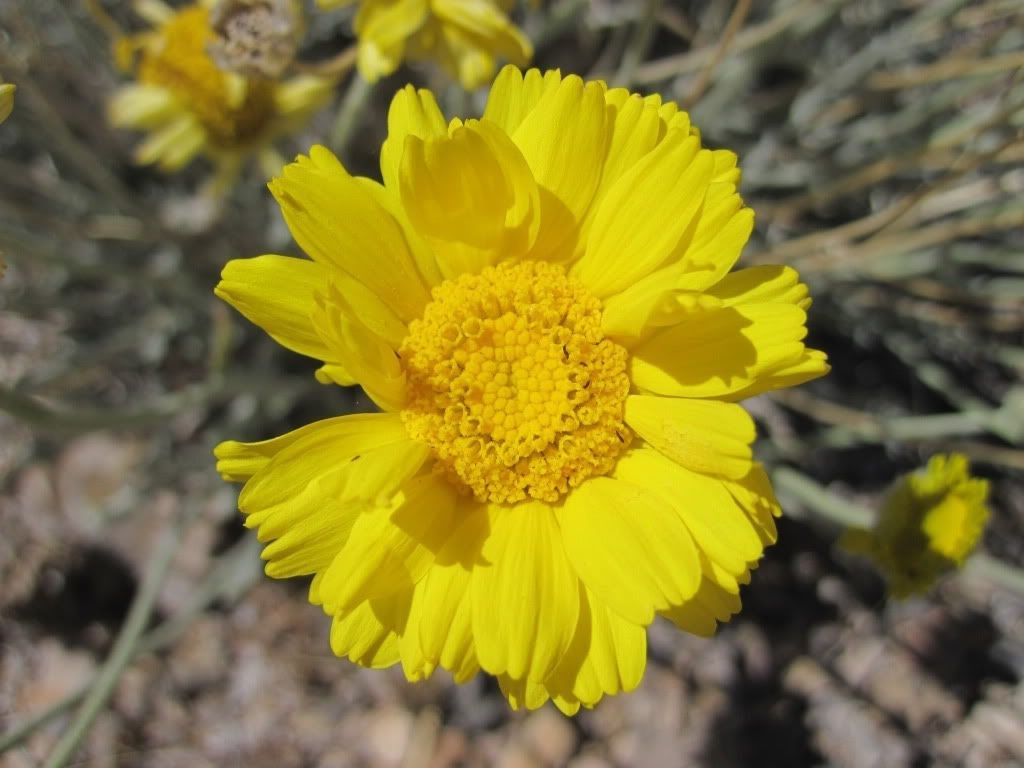 Desert Sage (
Salvia dorii
)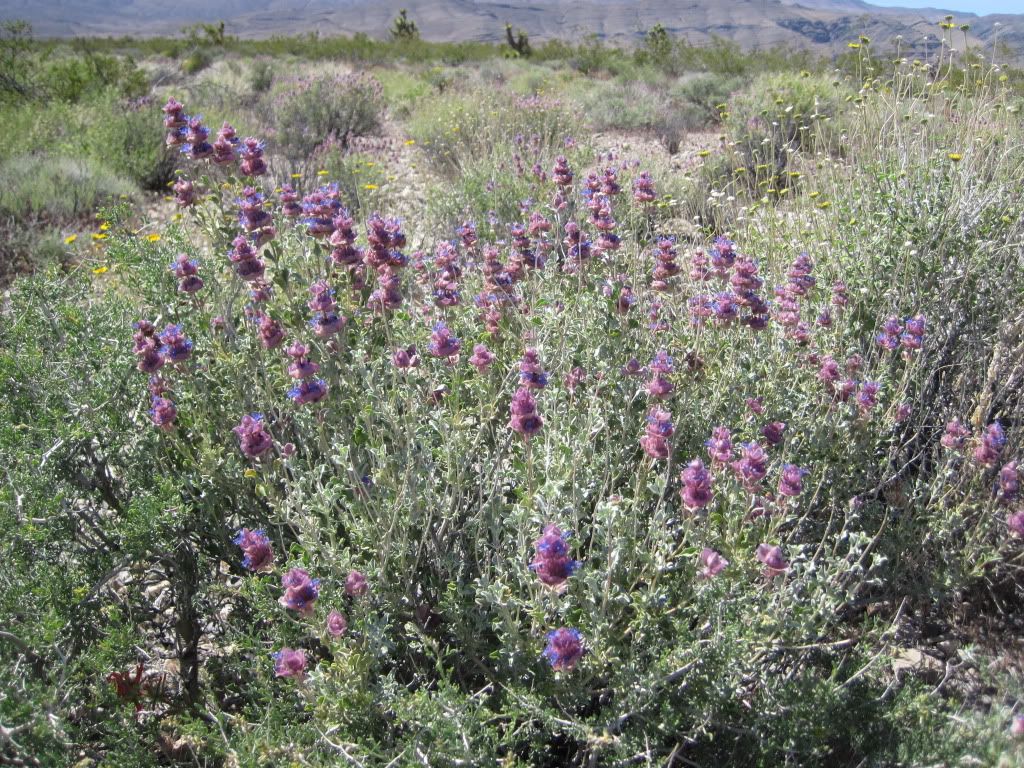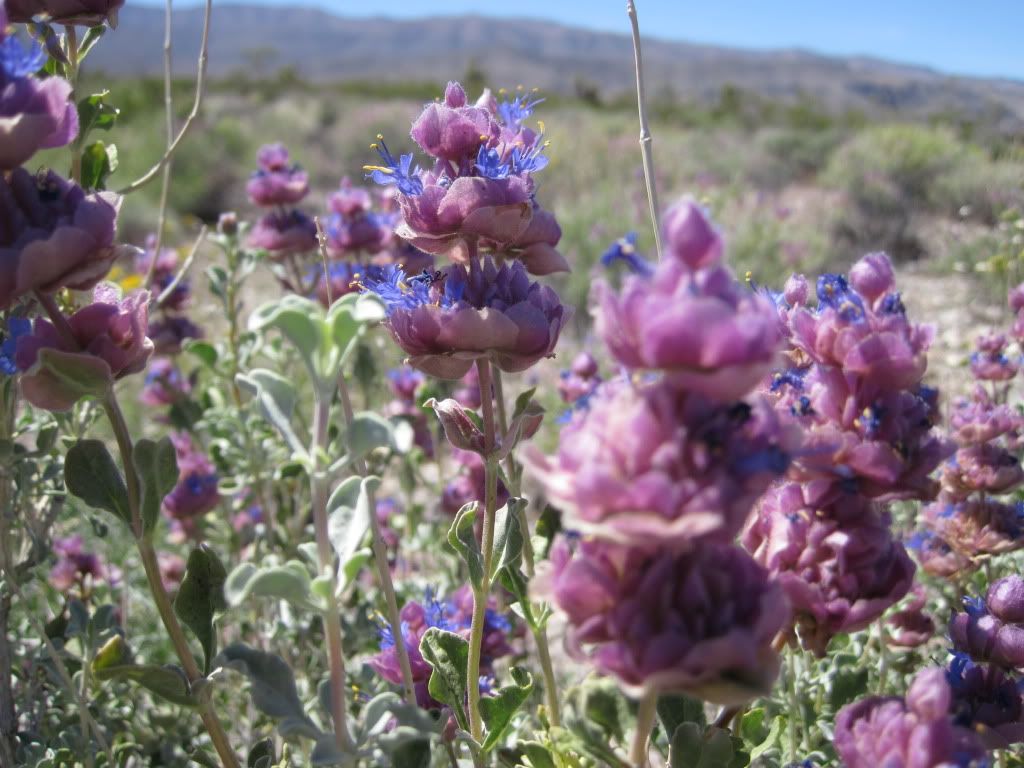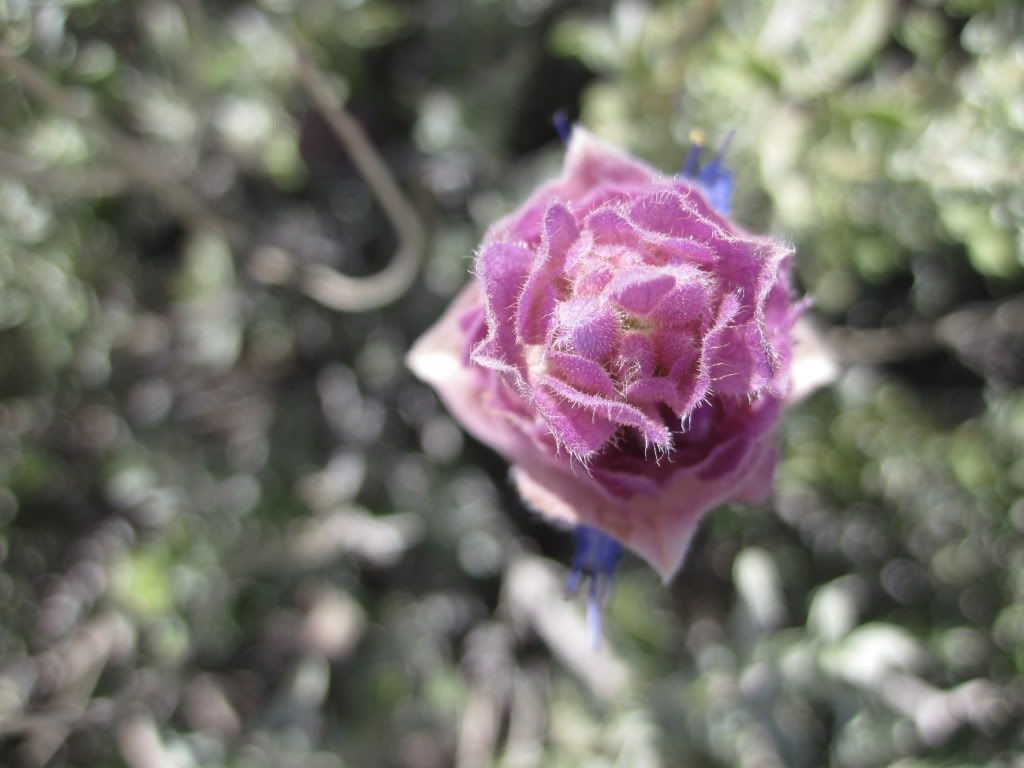 Hedgehog Cactus (
Echinocereus engelmannii
) blooming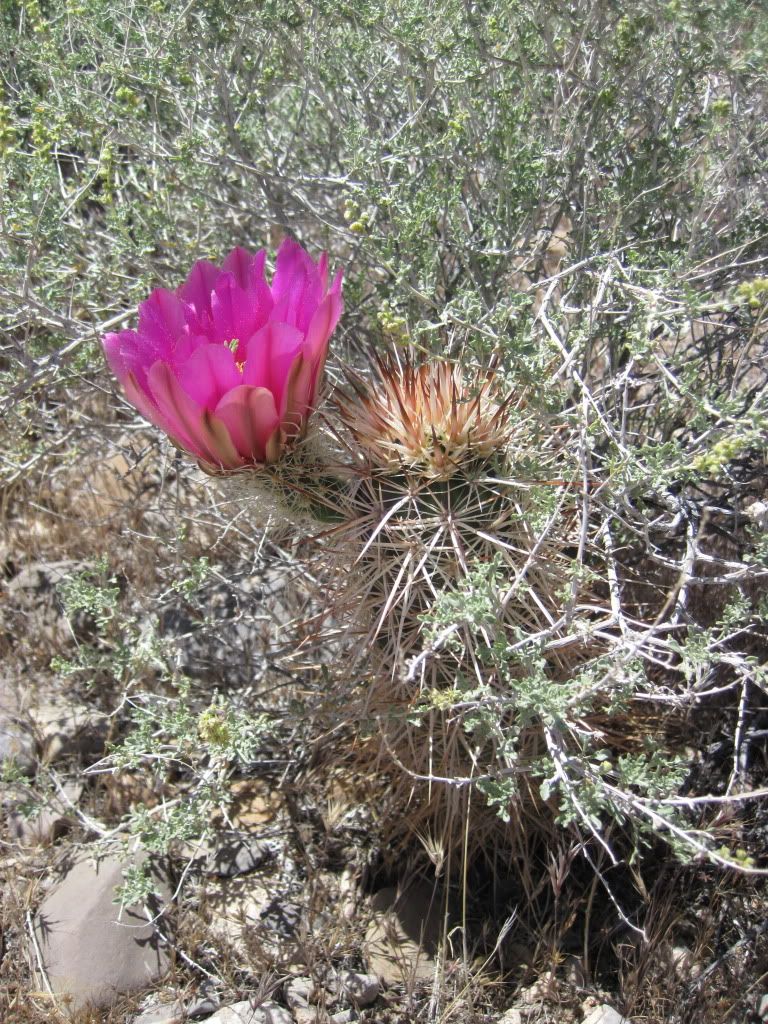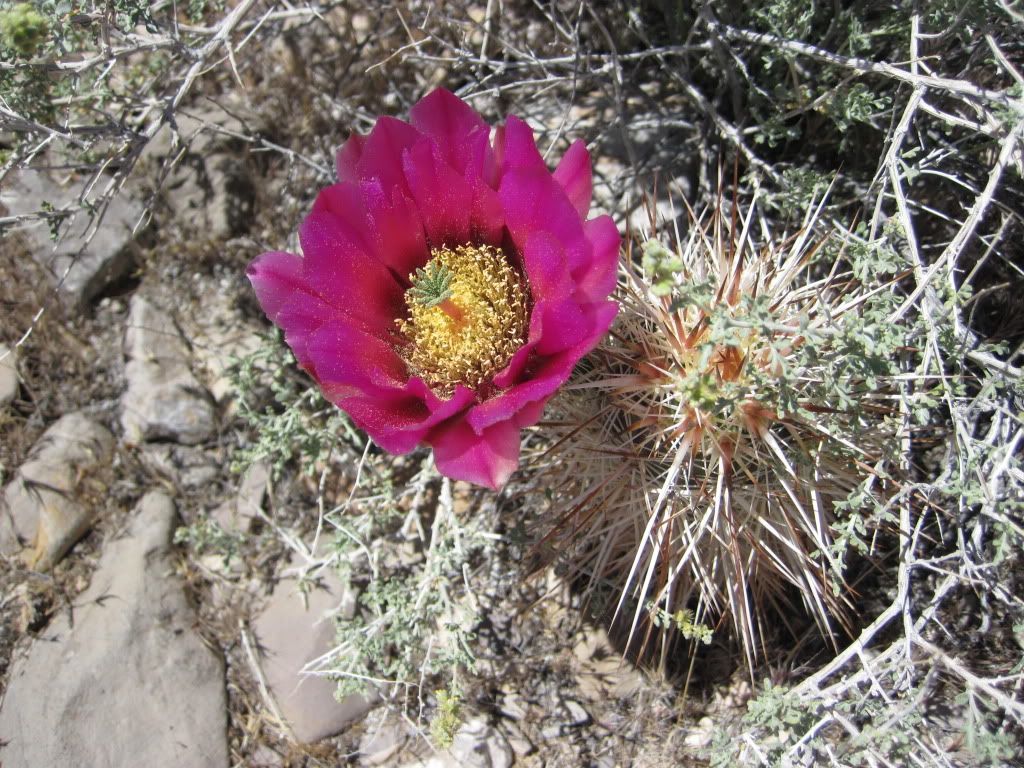 One of my favorites,
Scaly-Stemmed Sand Plant, aka Desert Christmas Tree (Pholisma arenarium)
– this plant parasitizes the roots of shrubs.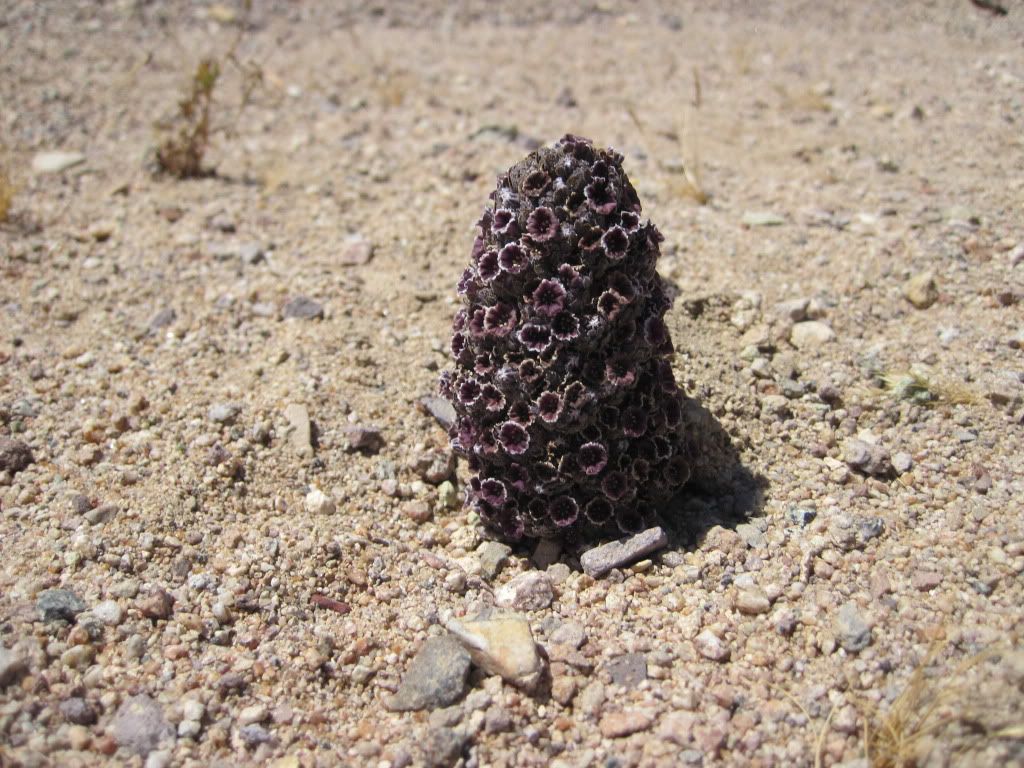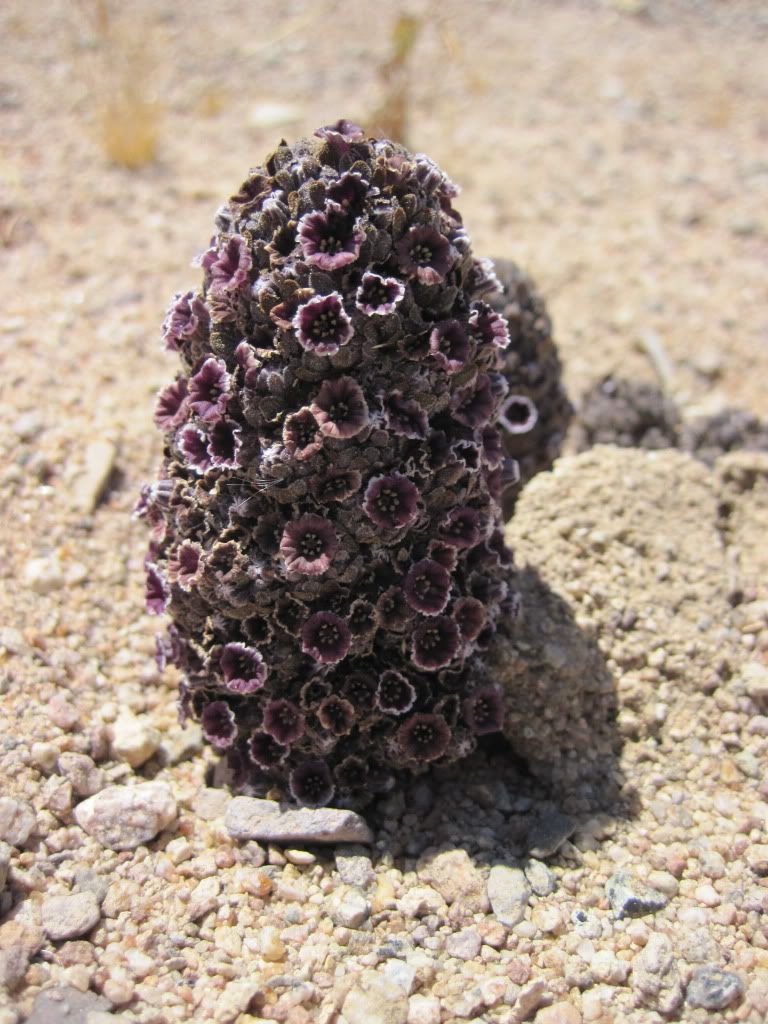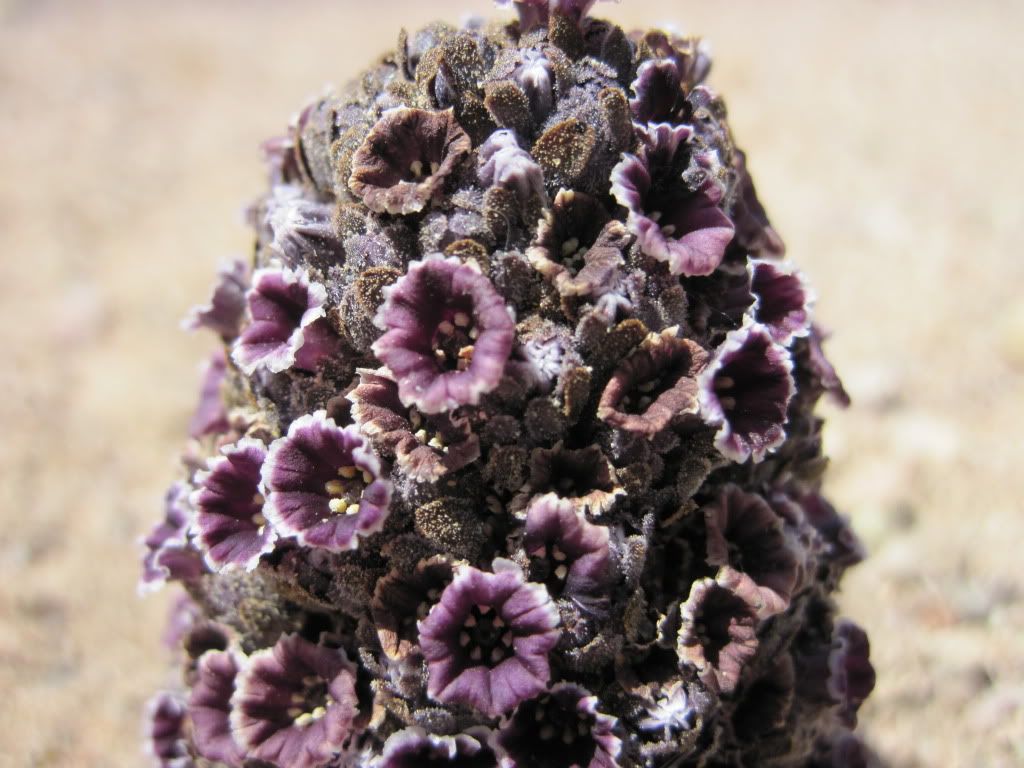 Another favorite,
Lilac Sunbonnet (Langloisia setosissima)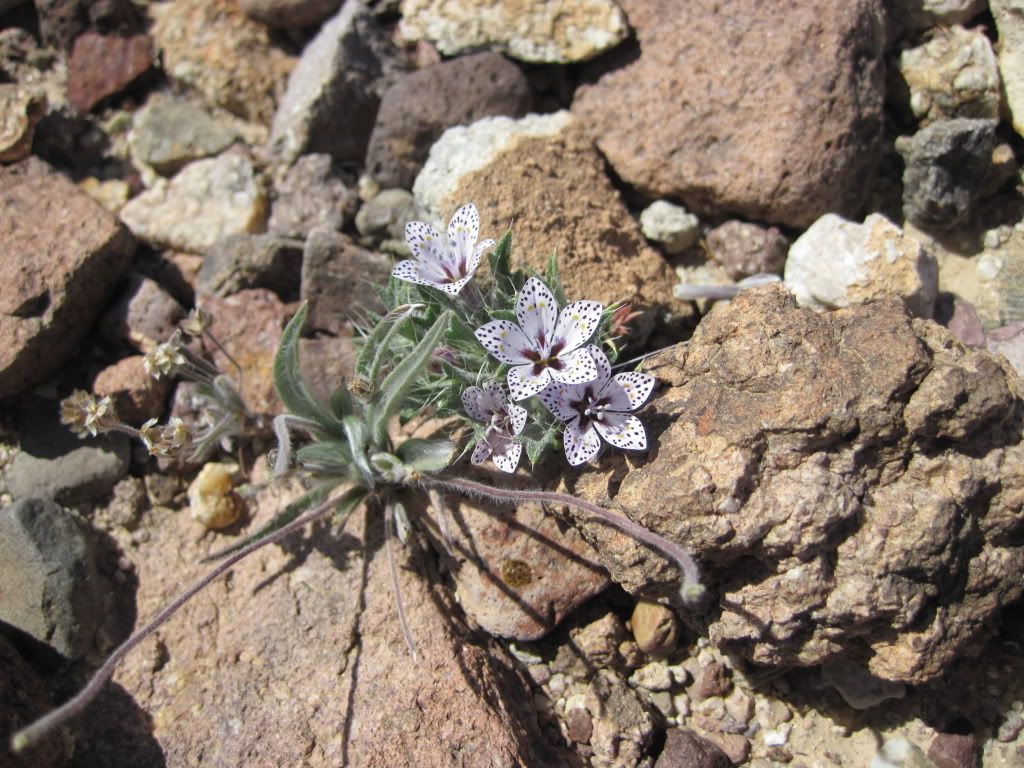 Buck-horn Cholla (Cylindropuntia acanthocarpa)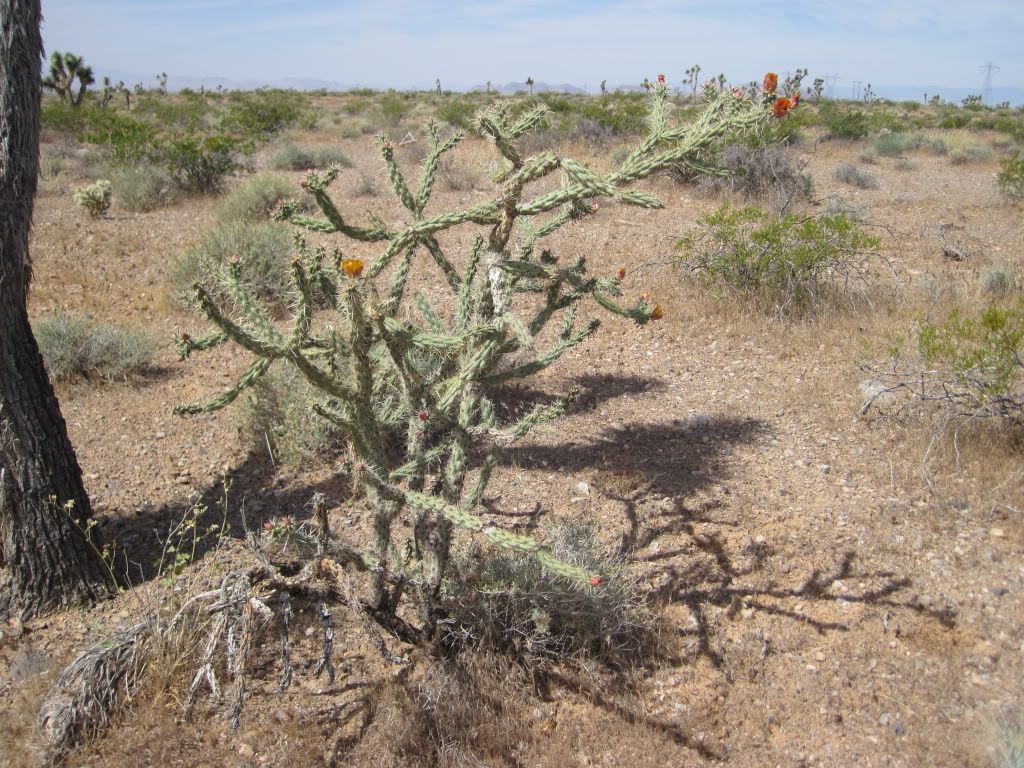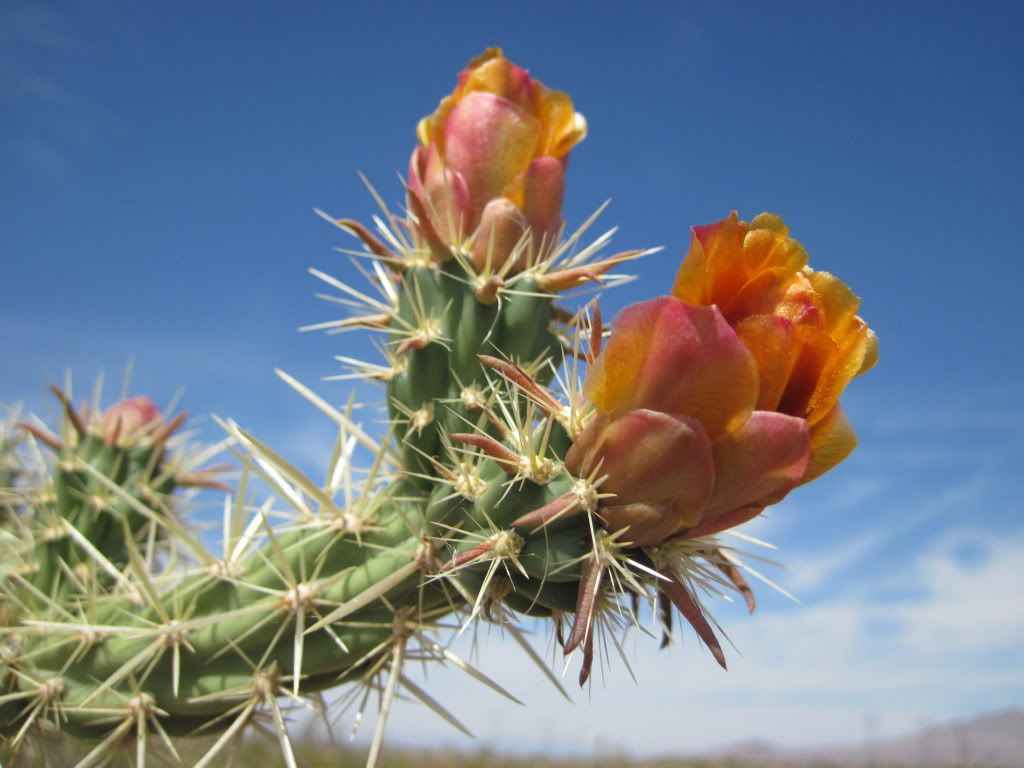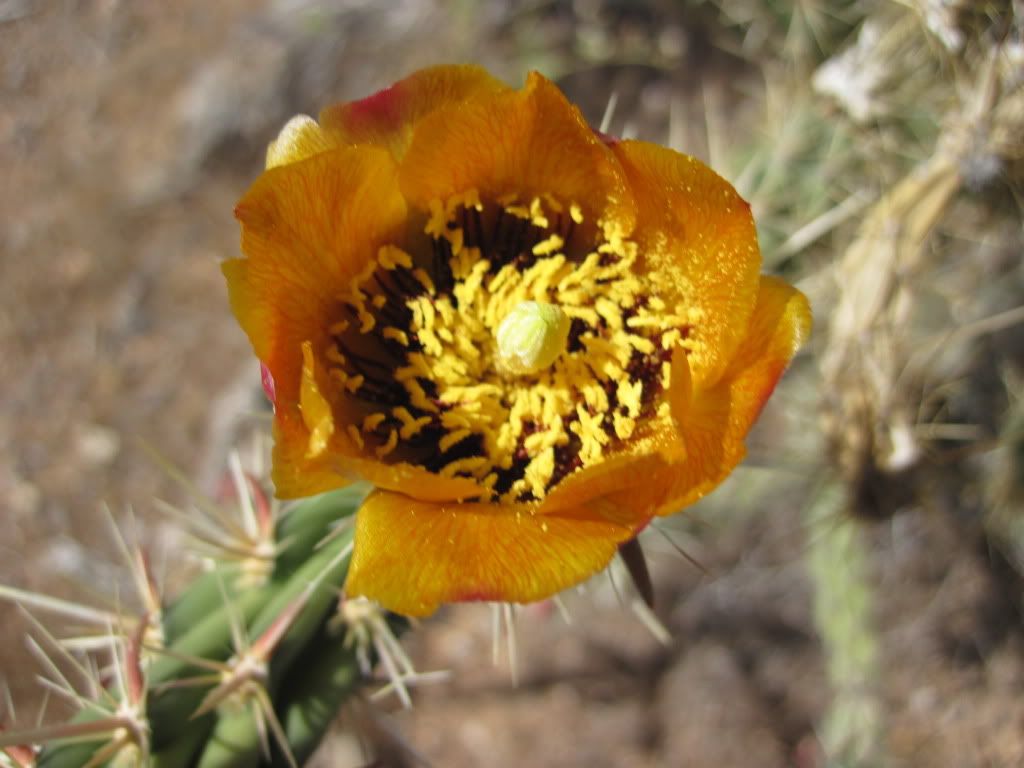 Cracked earth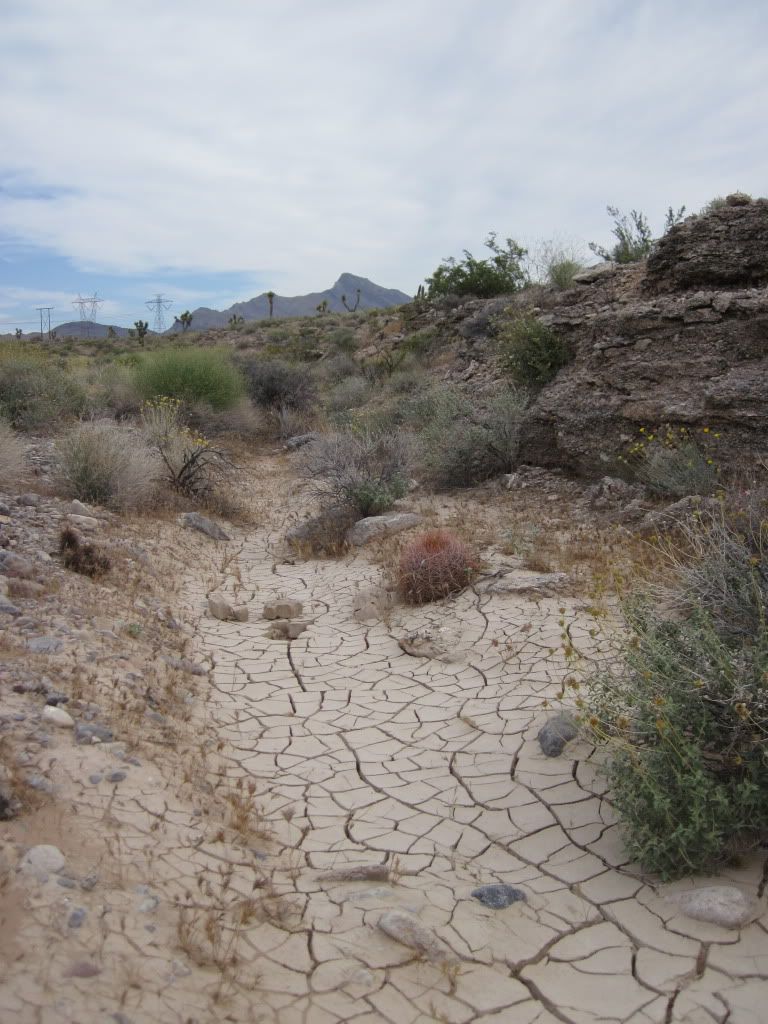 A comparison of some desert patterns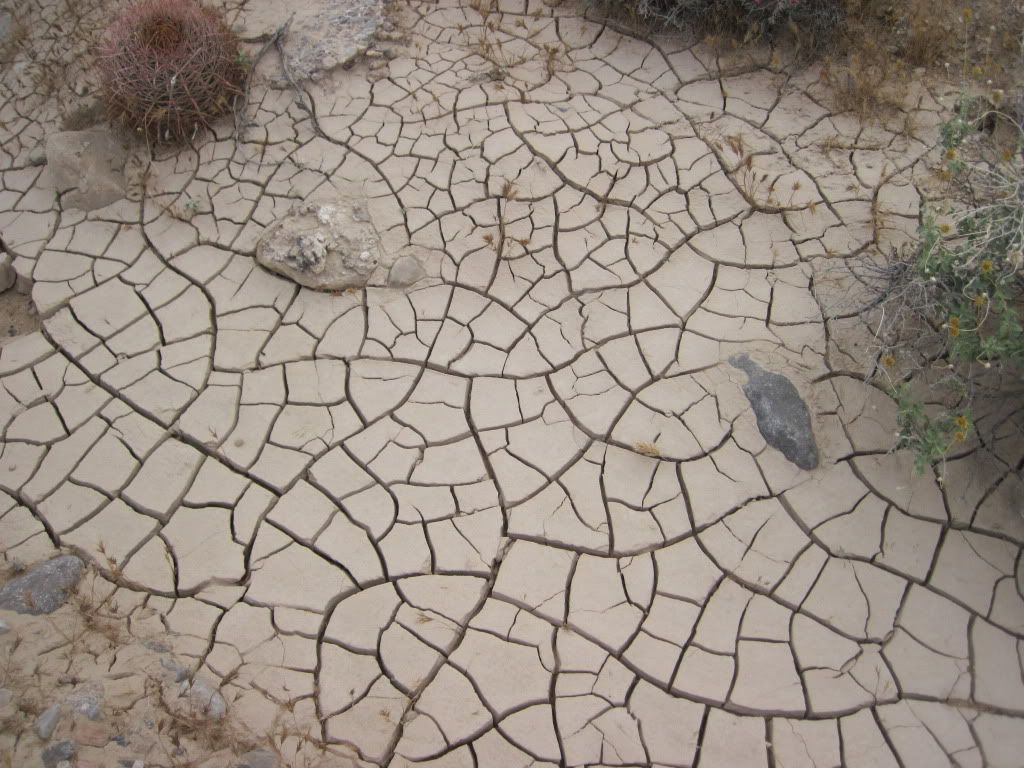 Desert-ed car – a signature of the Mojave.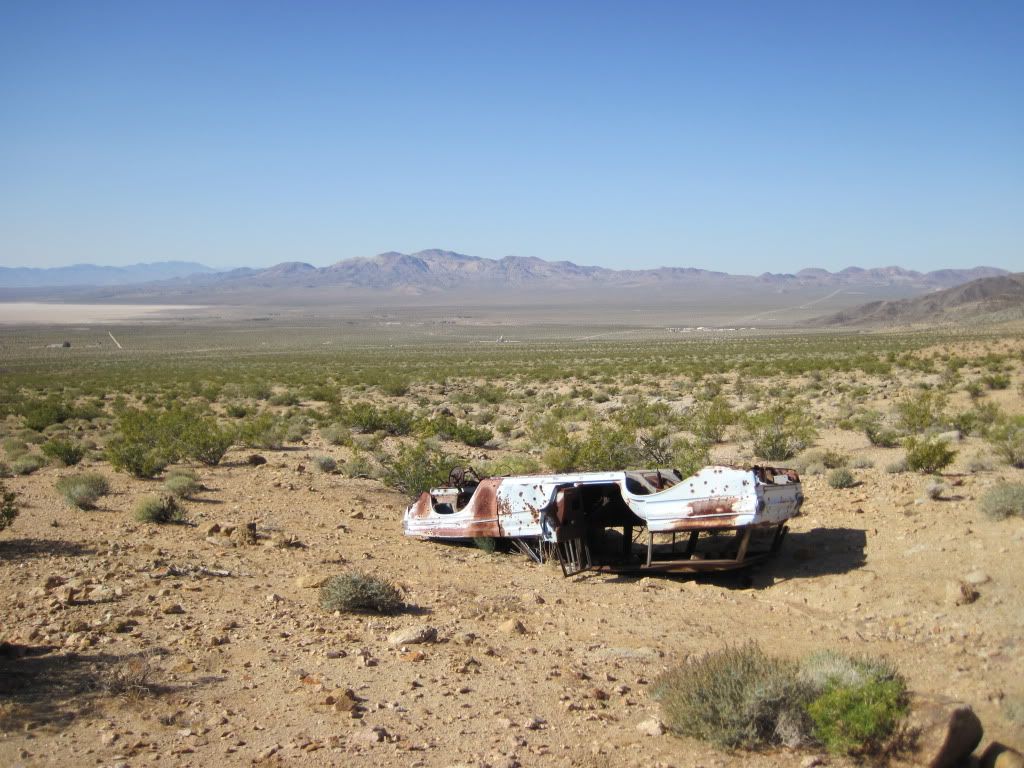 Mohave Patch-nosed Snake (
Salvadora hexalepis mojavensis
). A very fast, heat tolerant species. Eats small mammals, lizards, reptile eggs, nestling birds.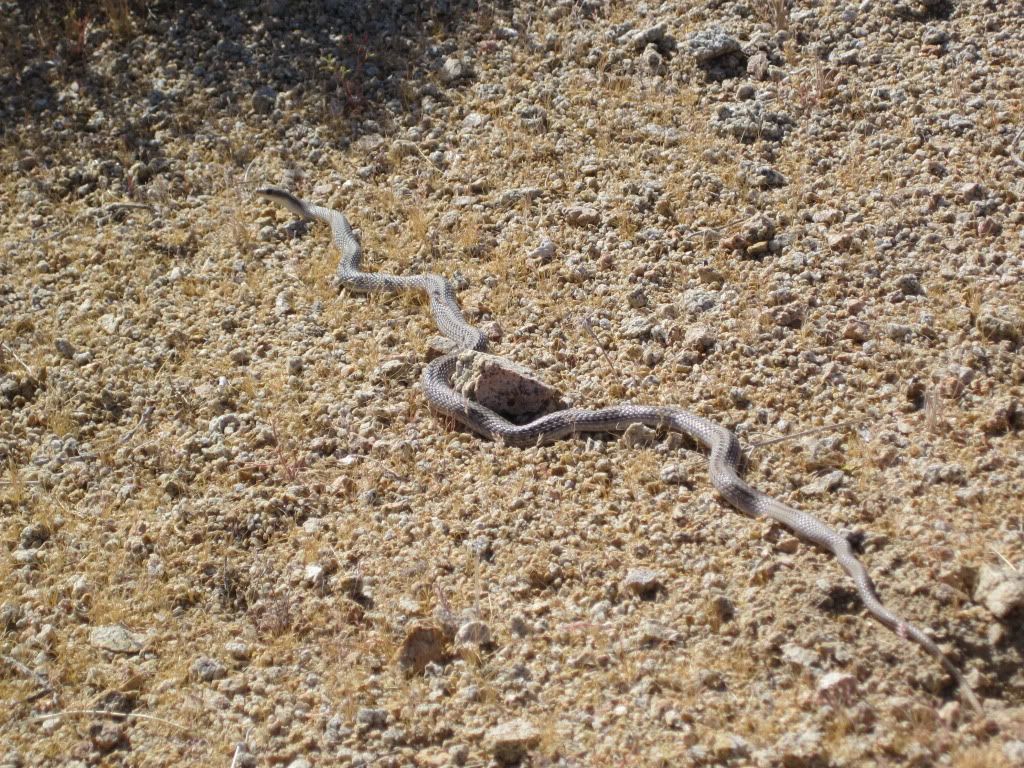 S. hexalepis
range: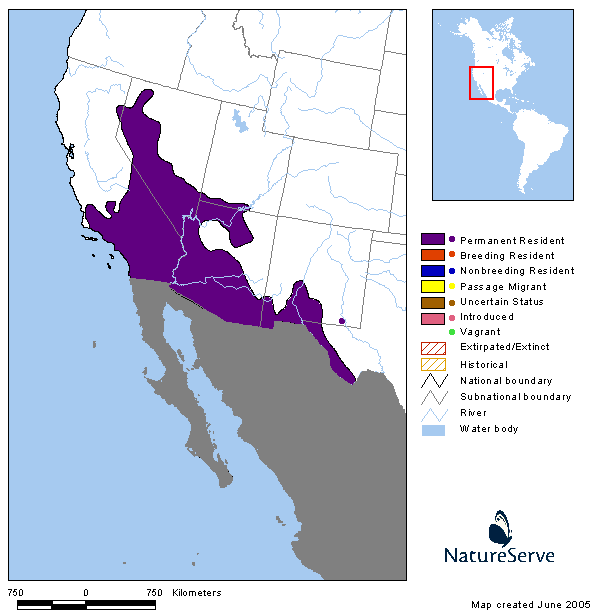 I mentioned the Desert Tortoise Conservation Center (DTCC) in an
earlier post
. We went back in May to X-ray/ultrasound female tortoises and monitor egg development. We do this to figure out which females have laid, and we then collect the eggs for incubation and incorporate the hatchling tortoises into an ongoing study (more on that in
Part 1
).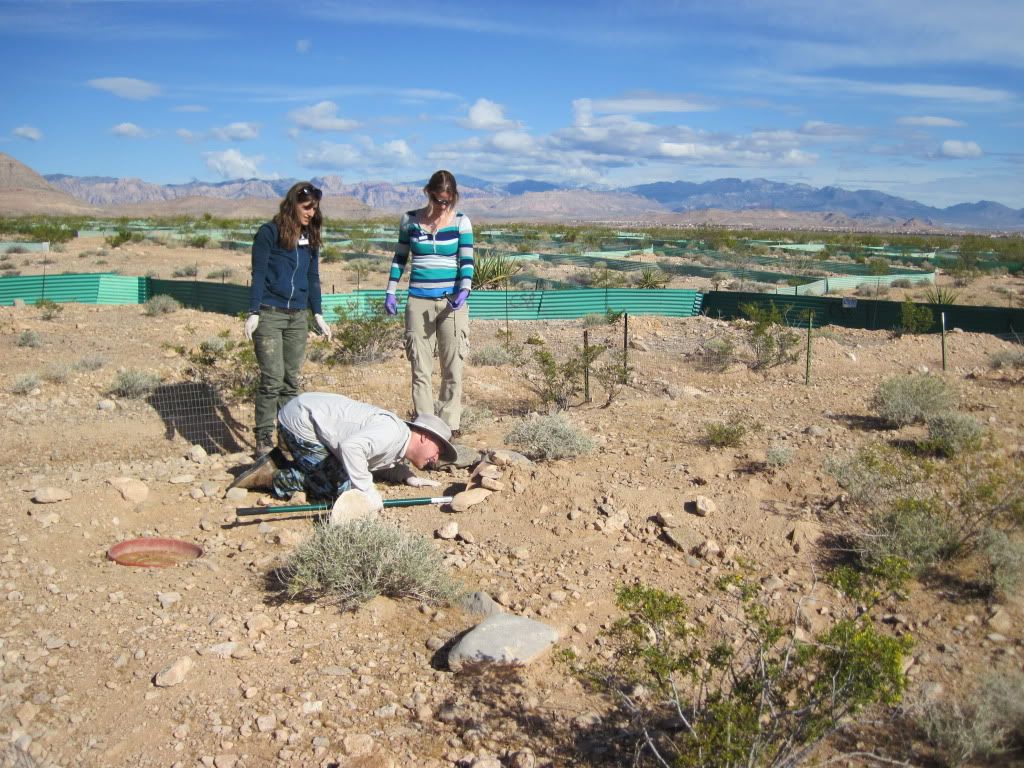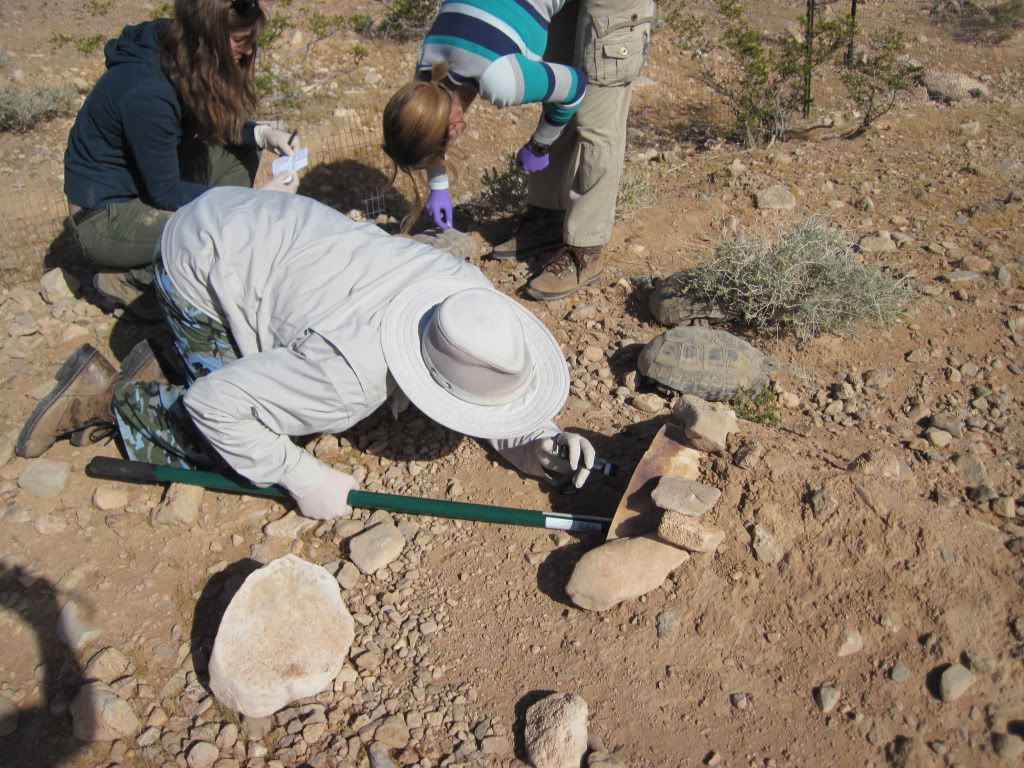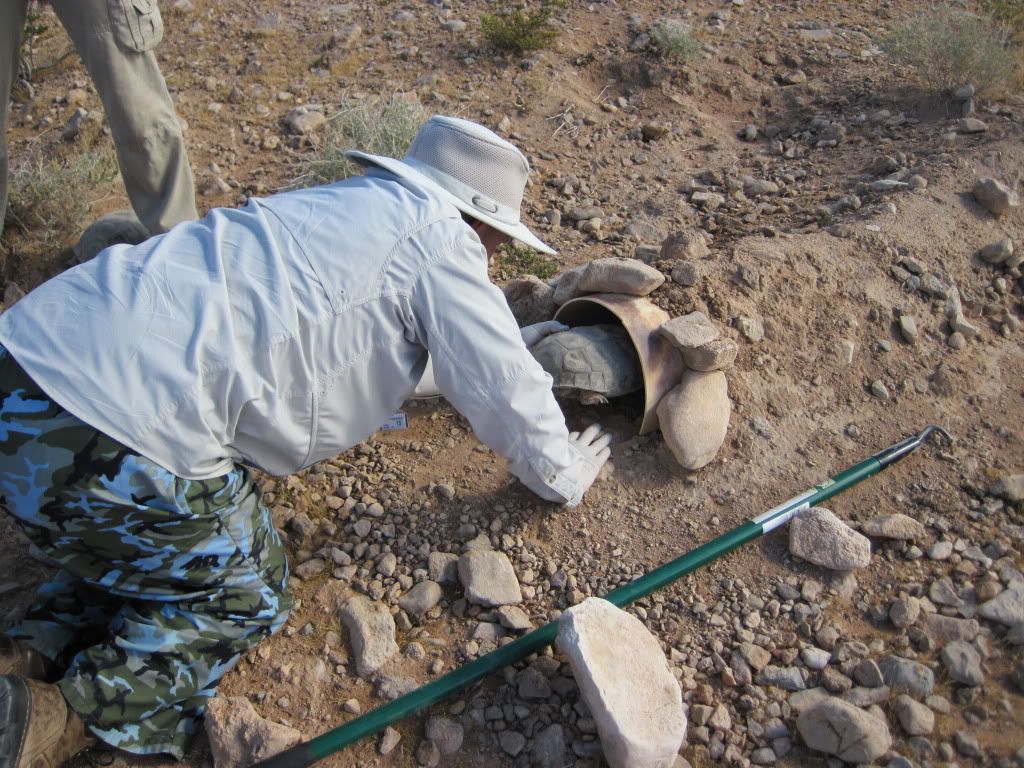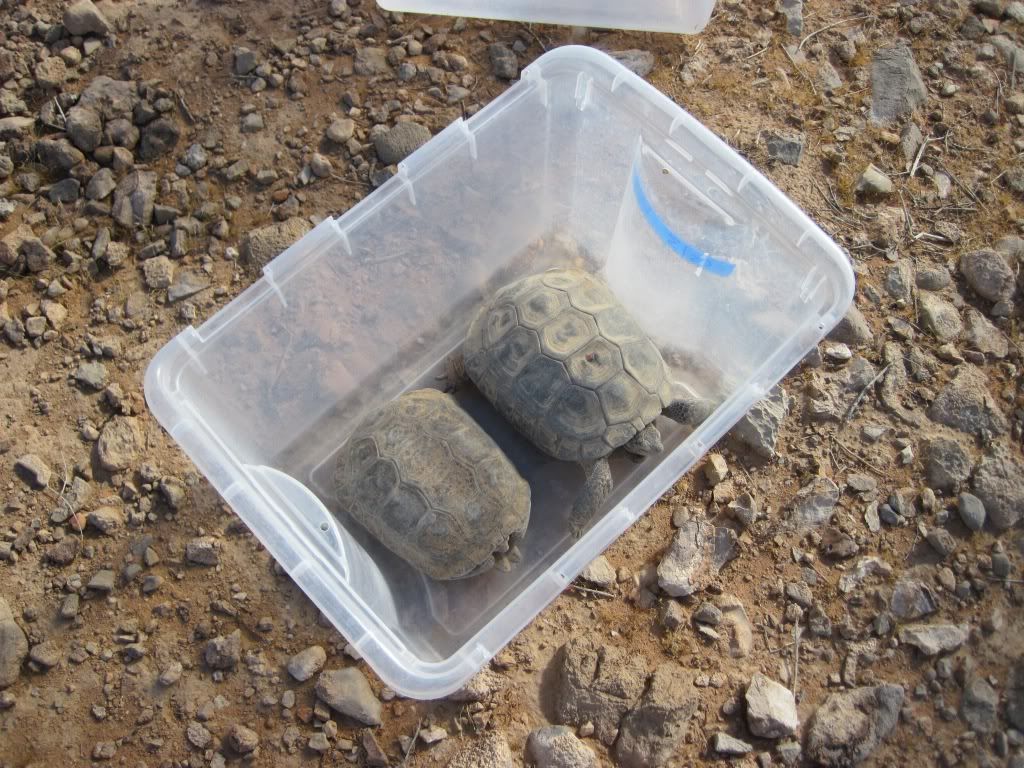 Vanessa assists Phil Medica in setting up the X-ray machine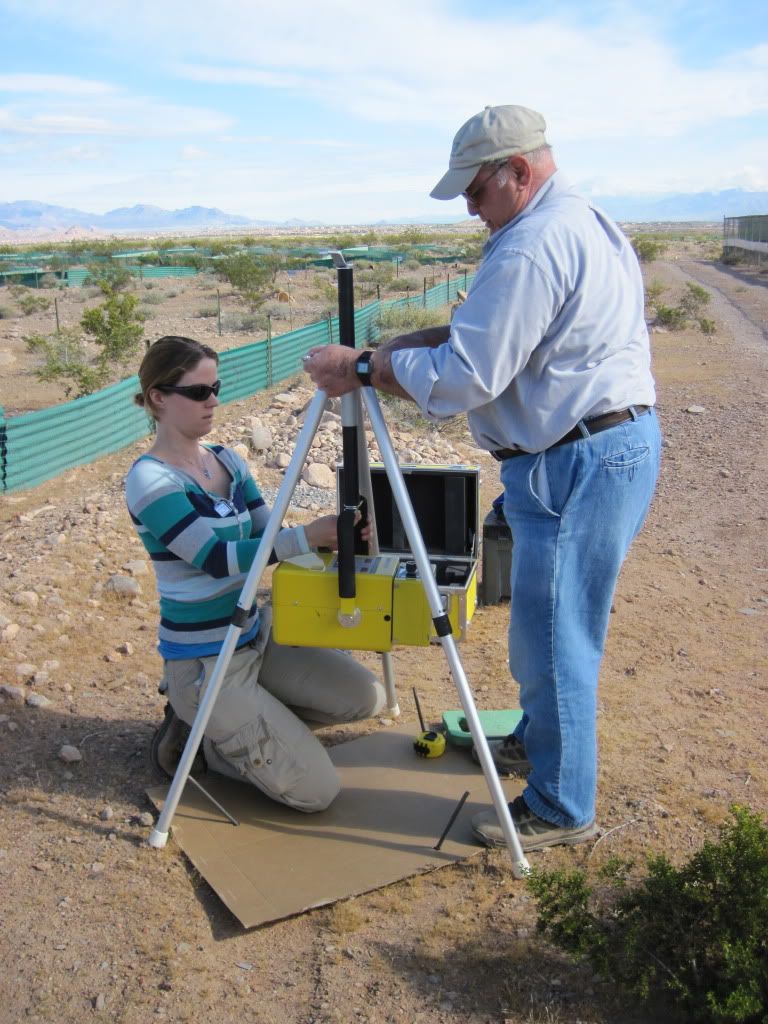 AJ and Phil weigh tortoises before they are X-rayed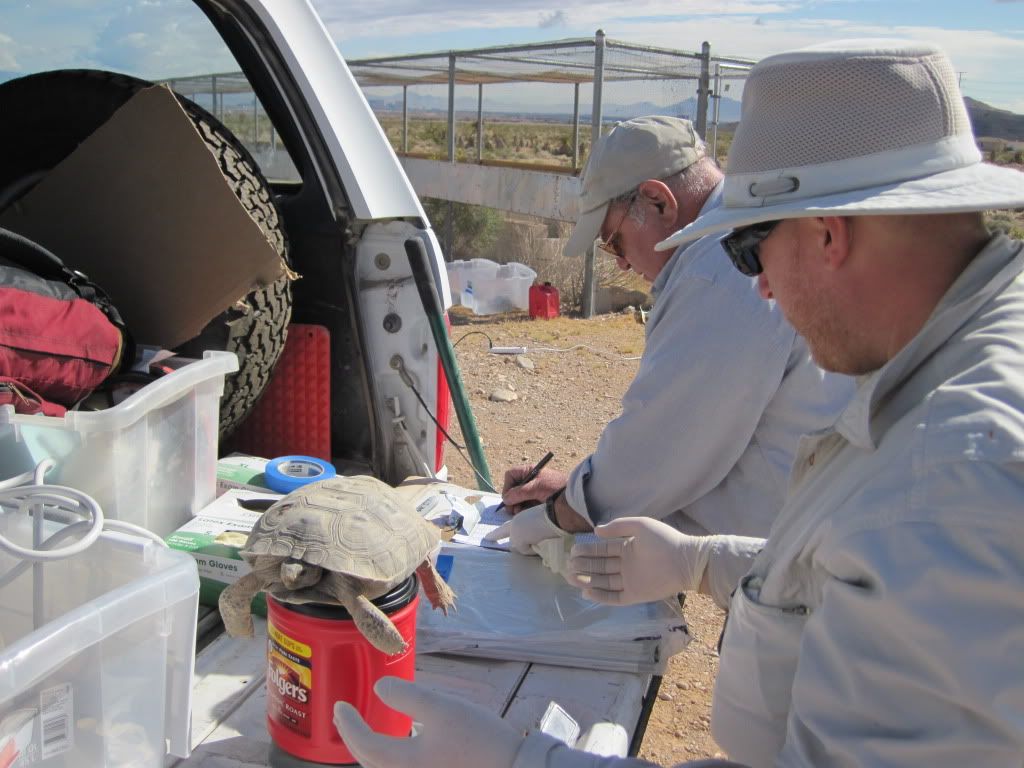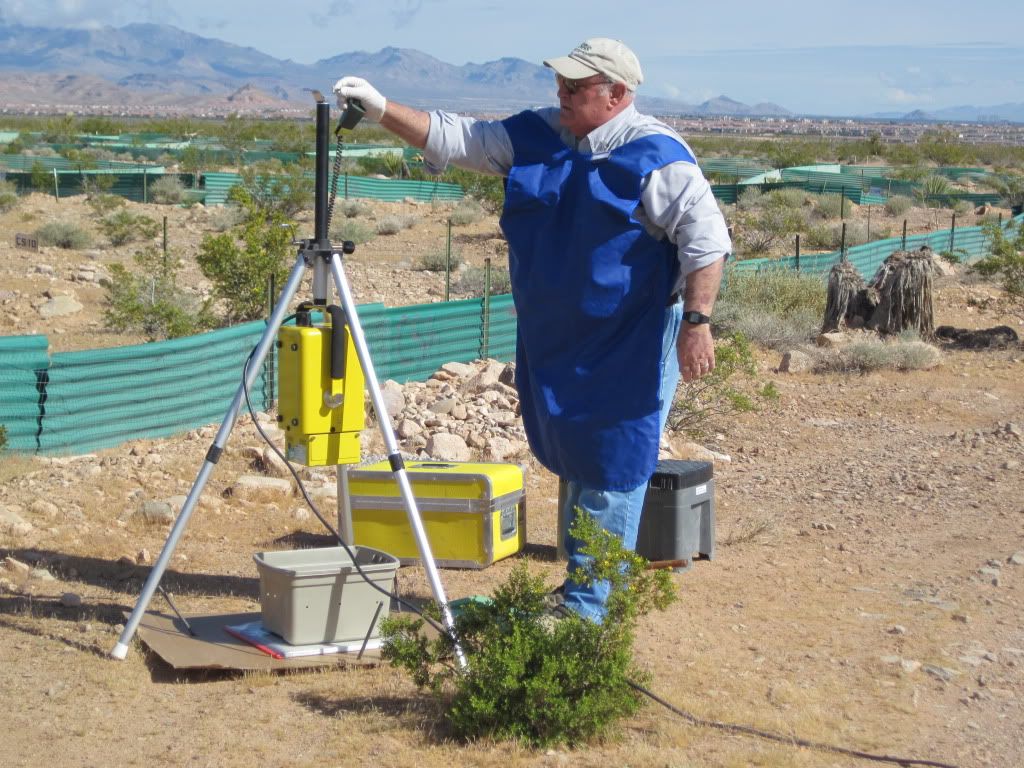 Francesca and Vanessa review the X-ray plates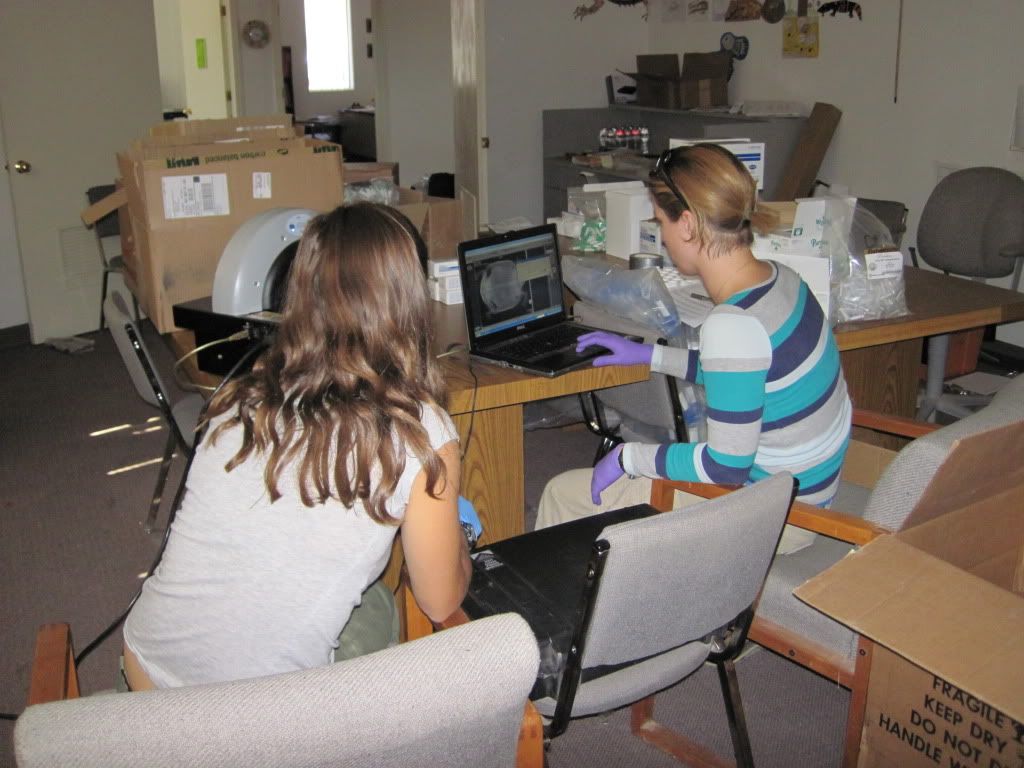 No eggs were visible in this female yet, but notice all the gravel in the gut. Tortoises will intentionally ingest substrate for water and/or minerals, such as calcium, which might be especially beneficial for gravid females. (see
Esque and Peters 1994
)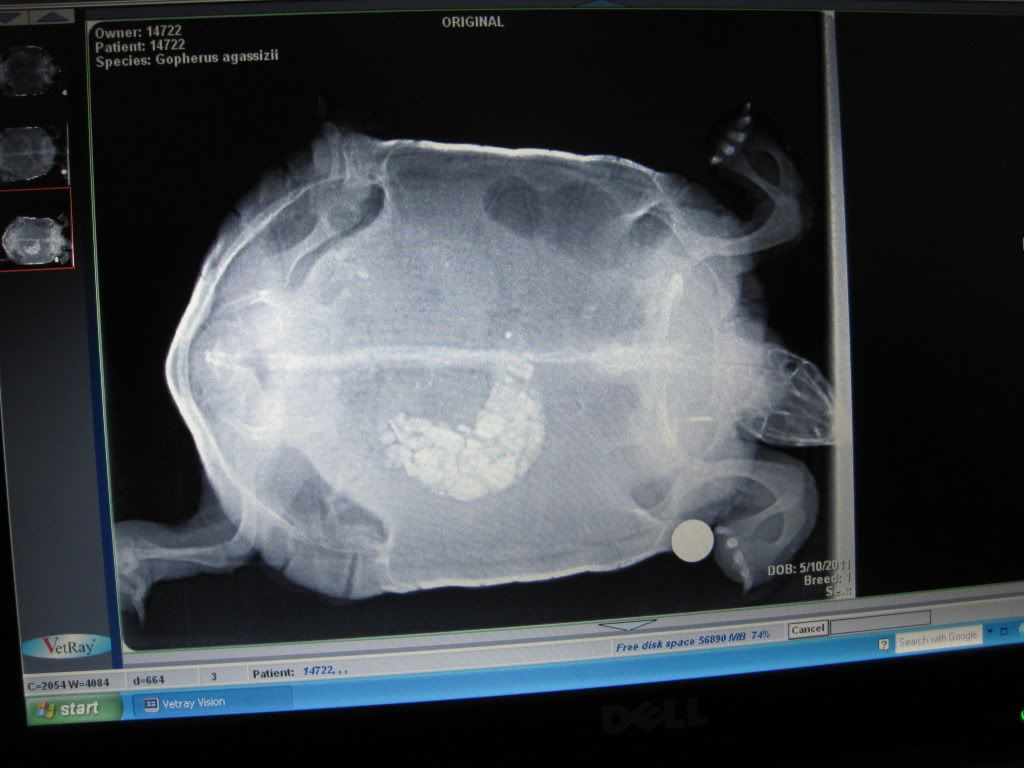 Eggs! (Gravel is also present). Females may lay anwhere from 1 to 12 eggs in a clutch, but 4-6 is most common.
Uroliths, (aka bladder stones) are fairly common in desert tortoises, and can get quite large as you can see in the photo below. According to
Homer et al. (1998)
, "Factors that predispose animals to urolithiasis include excretion of calculogenic material in the urine, urinary pH, dehydration, vitamin A deficiency and supersaturation of urine by stone-forming salts."
Soft-bodied ticks (
Ornithodoros
sp.) are also common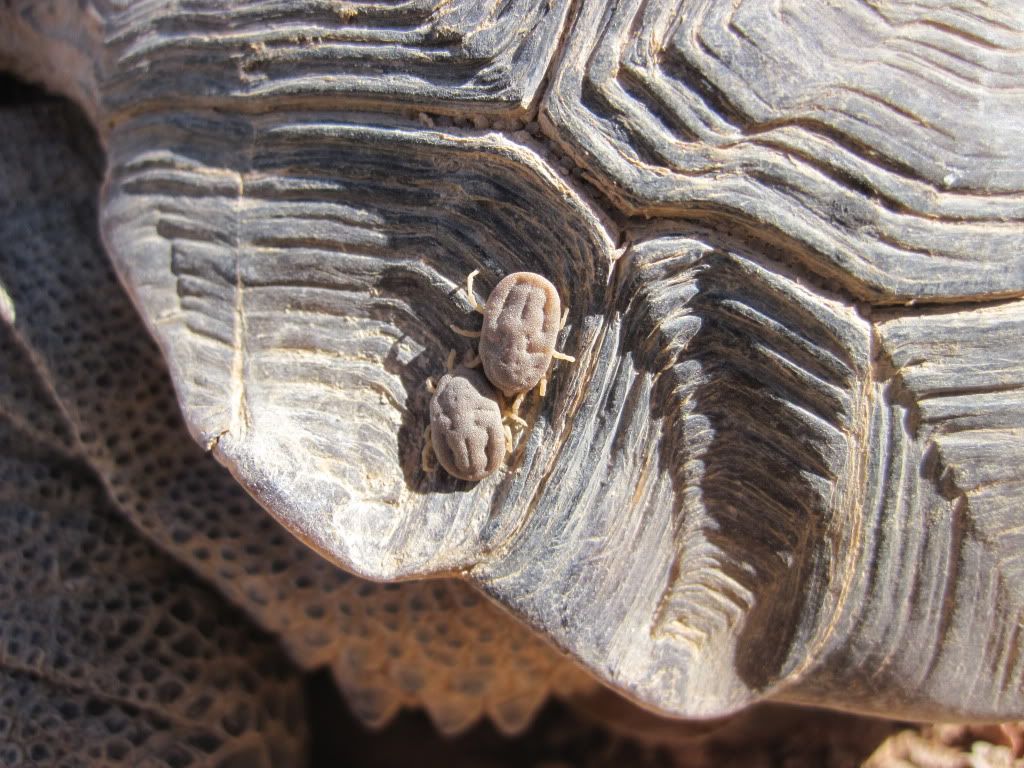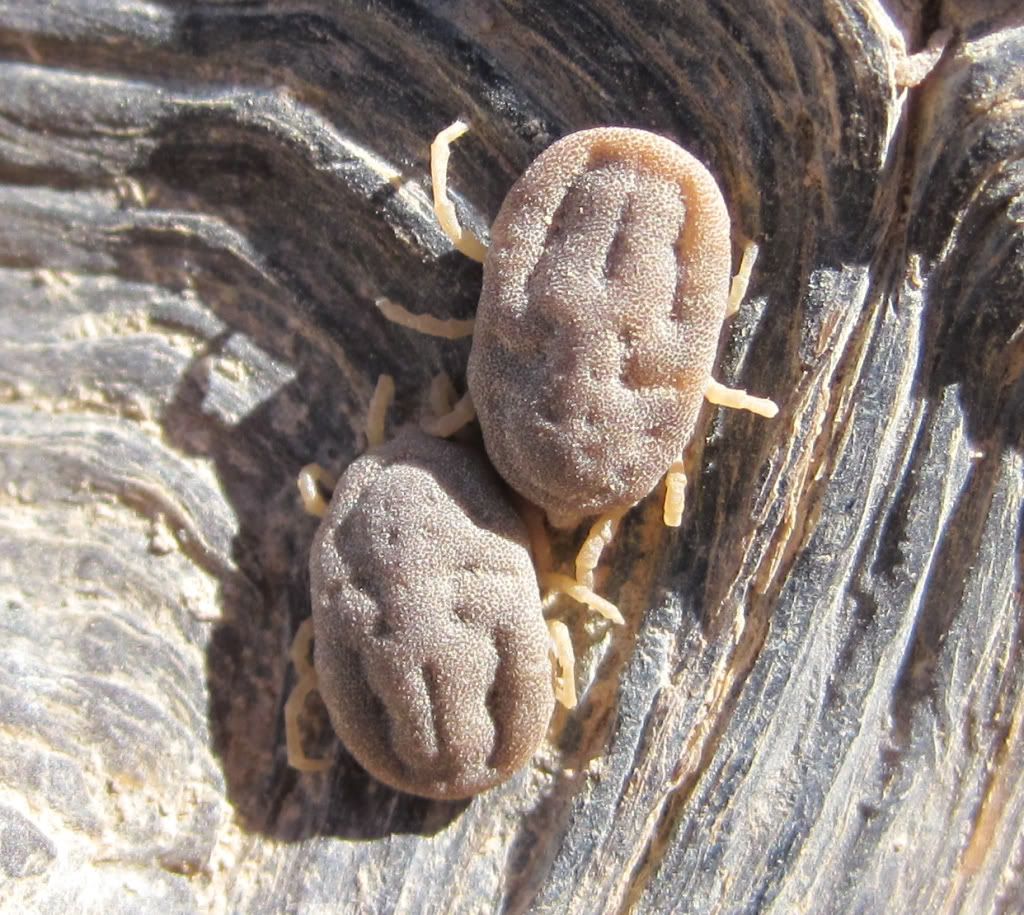 This tortoise was missing her foot, probably from an old injury.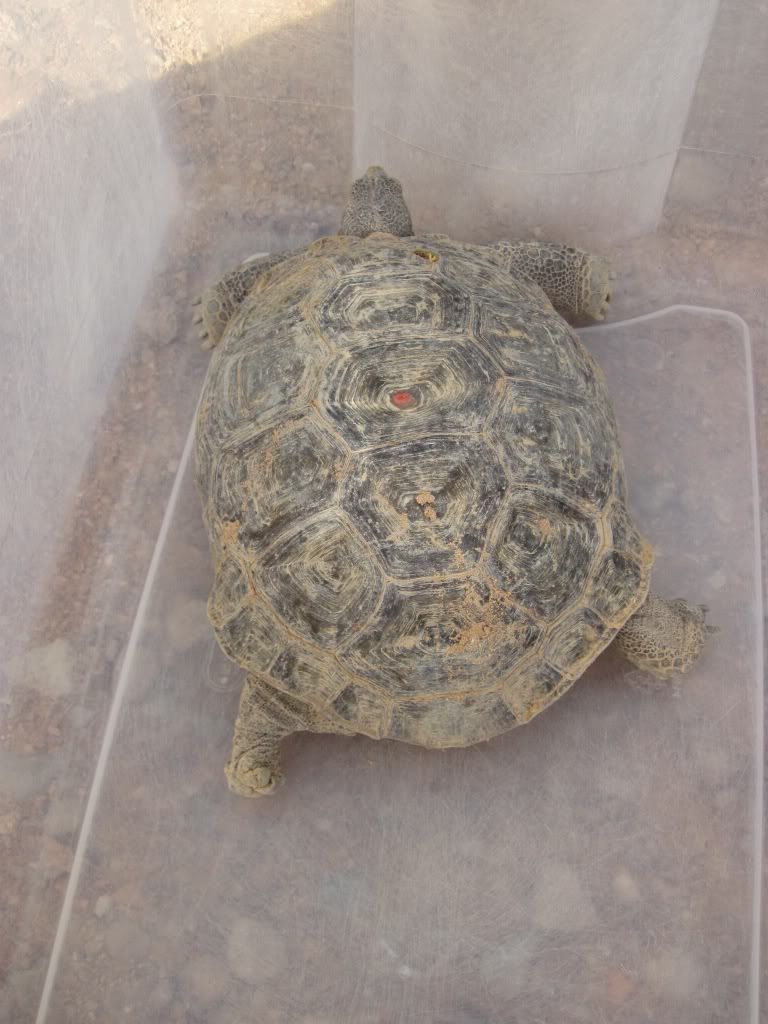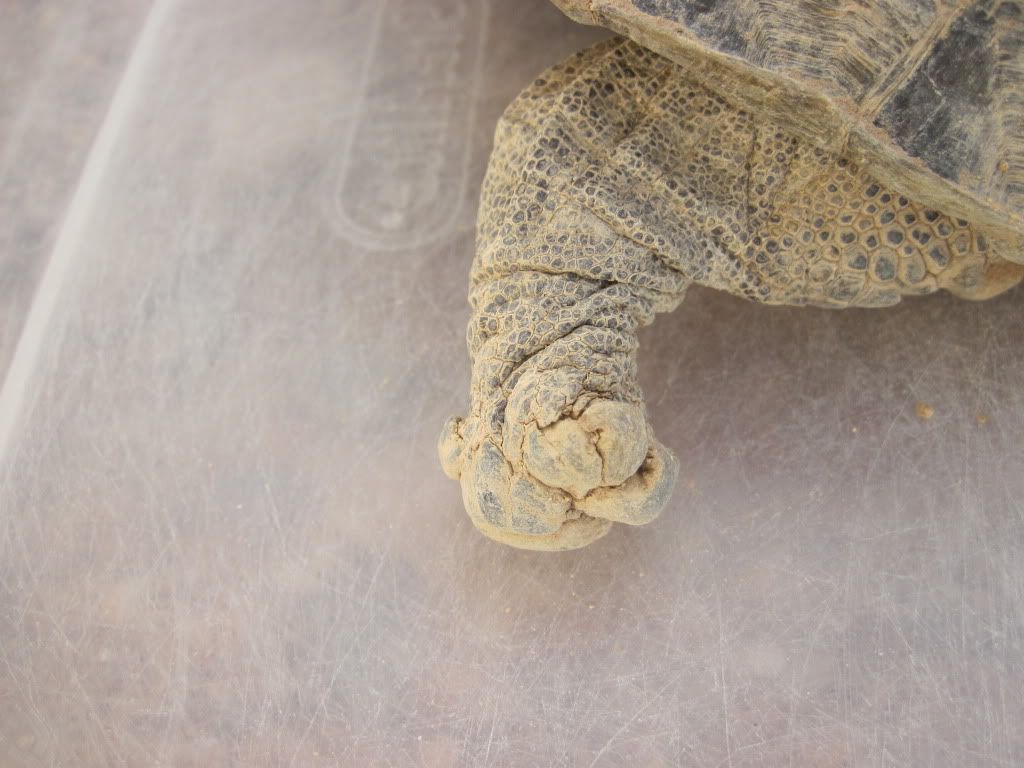 An enormous female tortoise, most likely raised in captivity.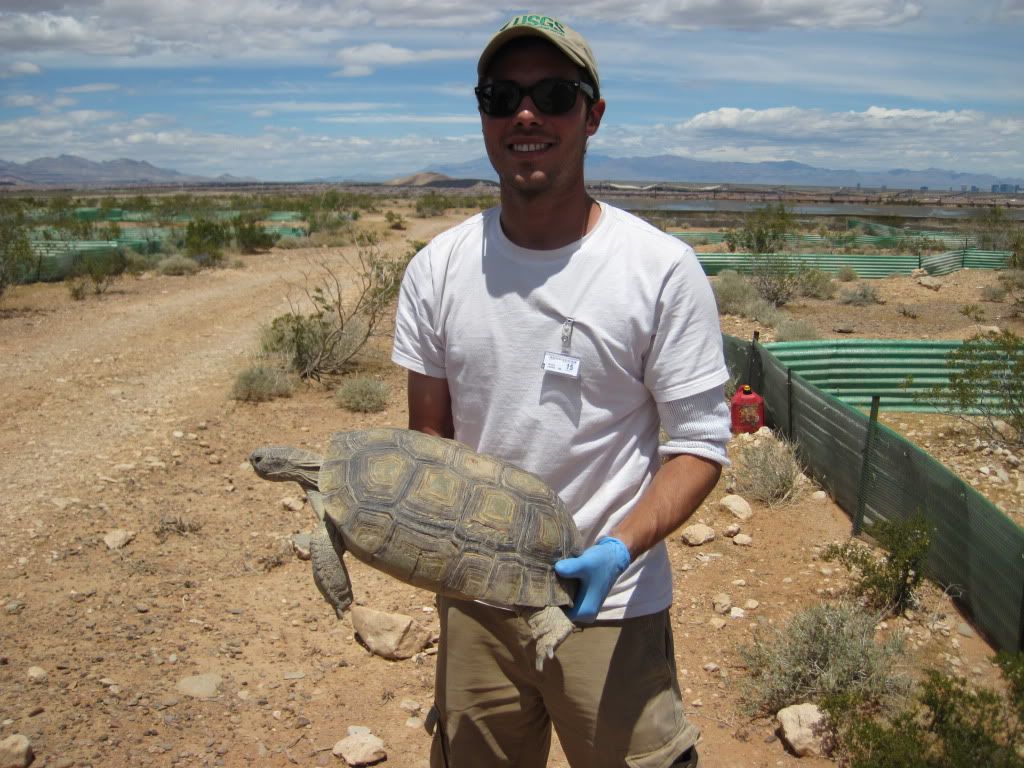 Once we have confirmed that a female has laid, we go to her pen and search for the nest, which are usually located near the mouth of a burrow.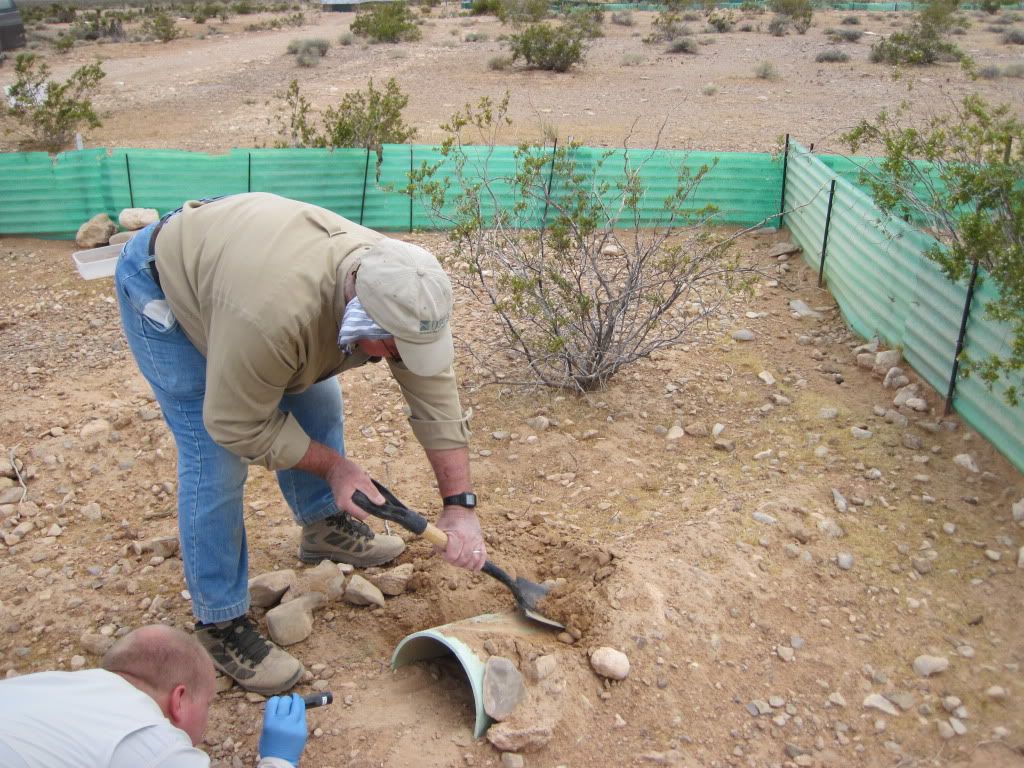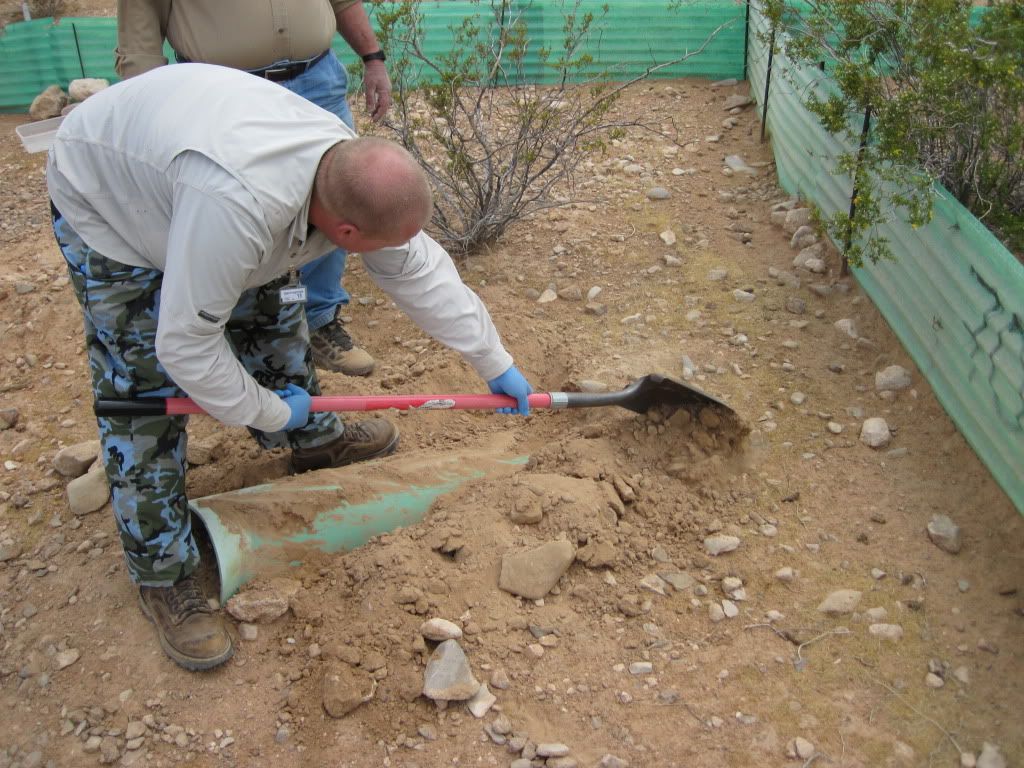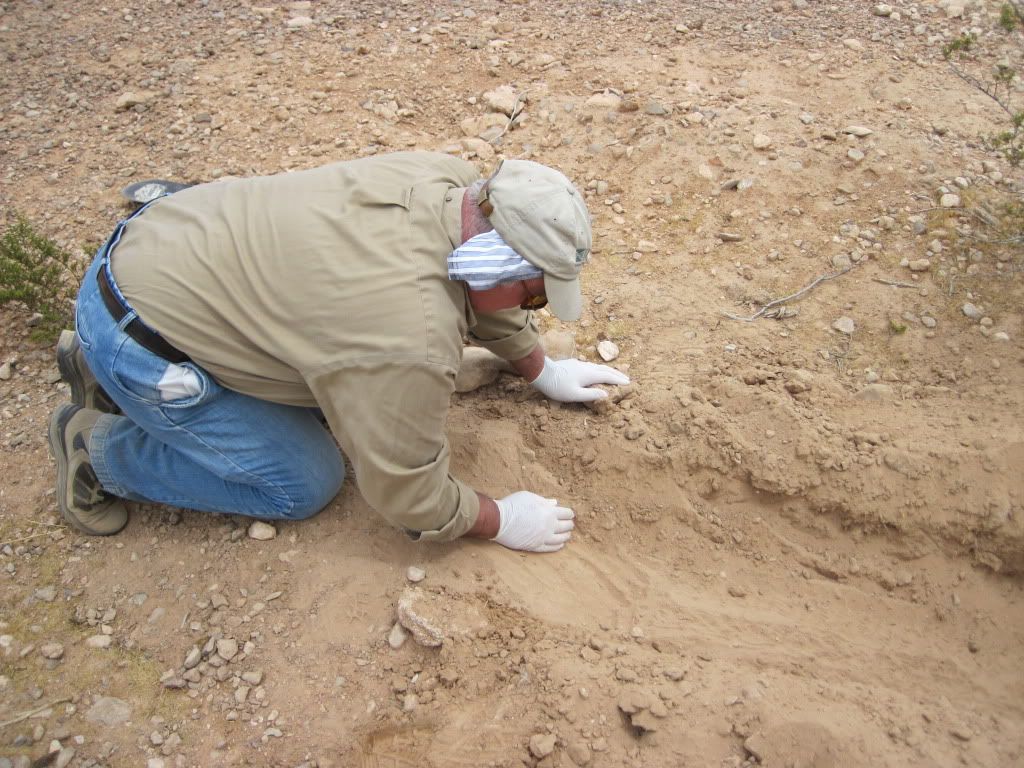 By carefully scooping away the soft dirt, we are able to locate the nest chamber.
Unfortunately, this nest chamber was from a previous year and was empty.
Finally we find our first eggs of the season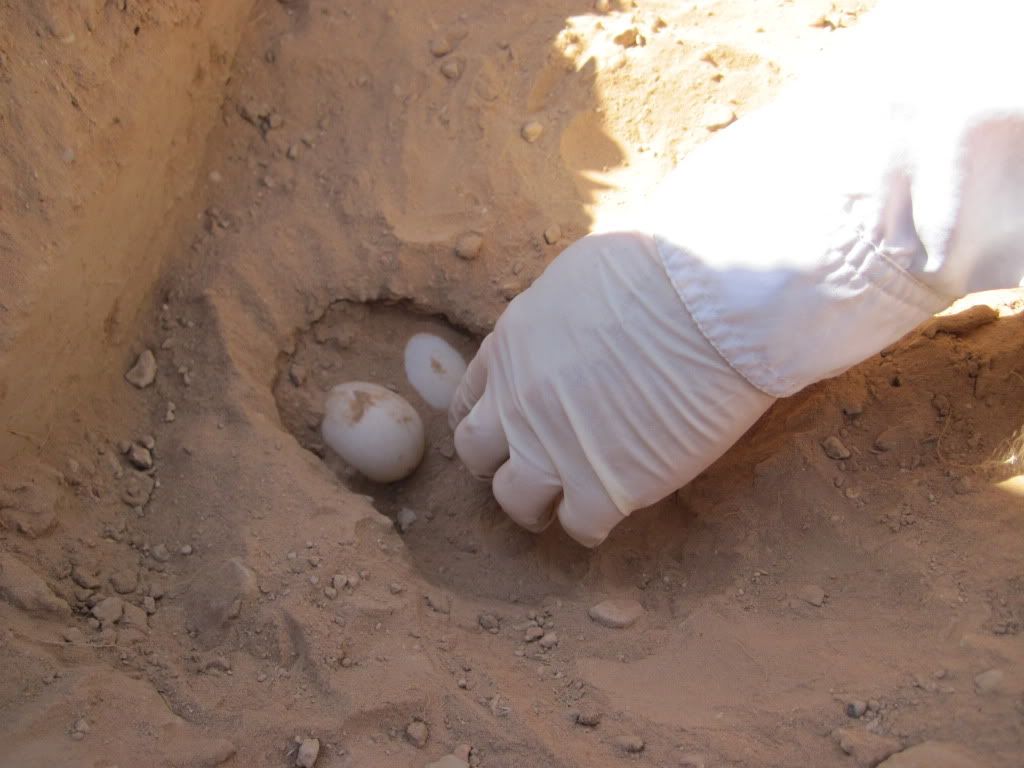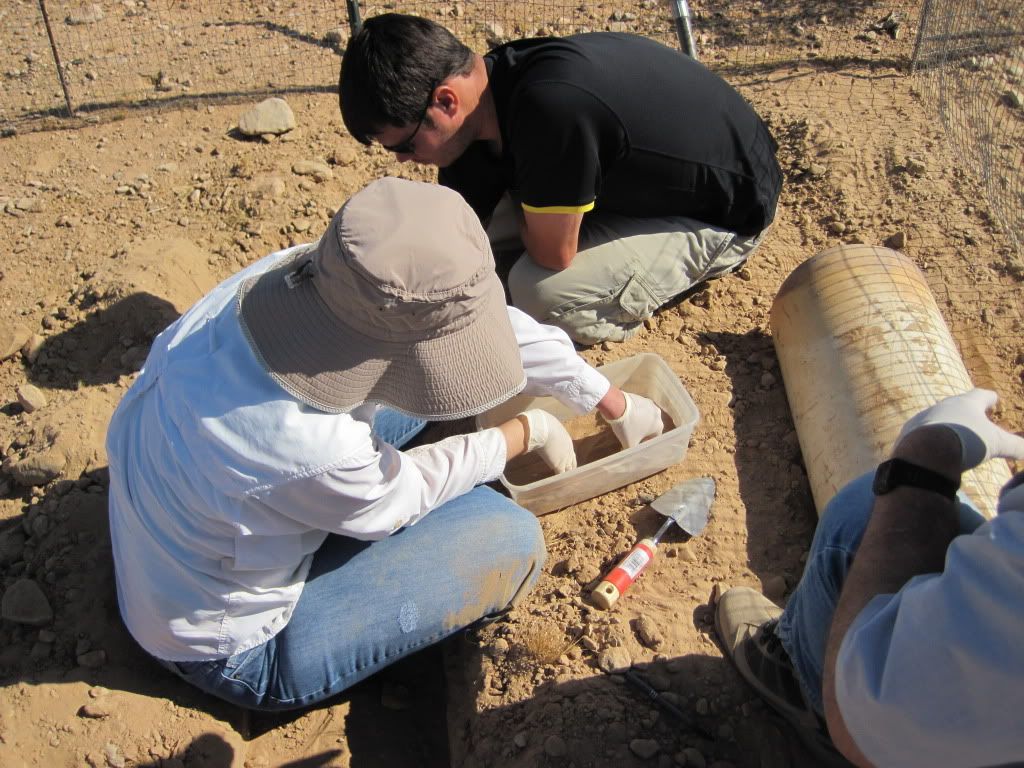 Being sure not to rotate the eggs, we place them in a Tupperware container that will then go into an incubator.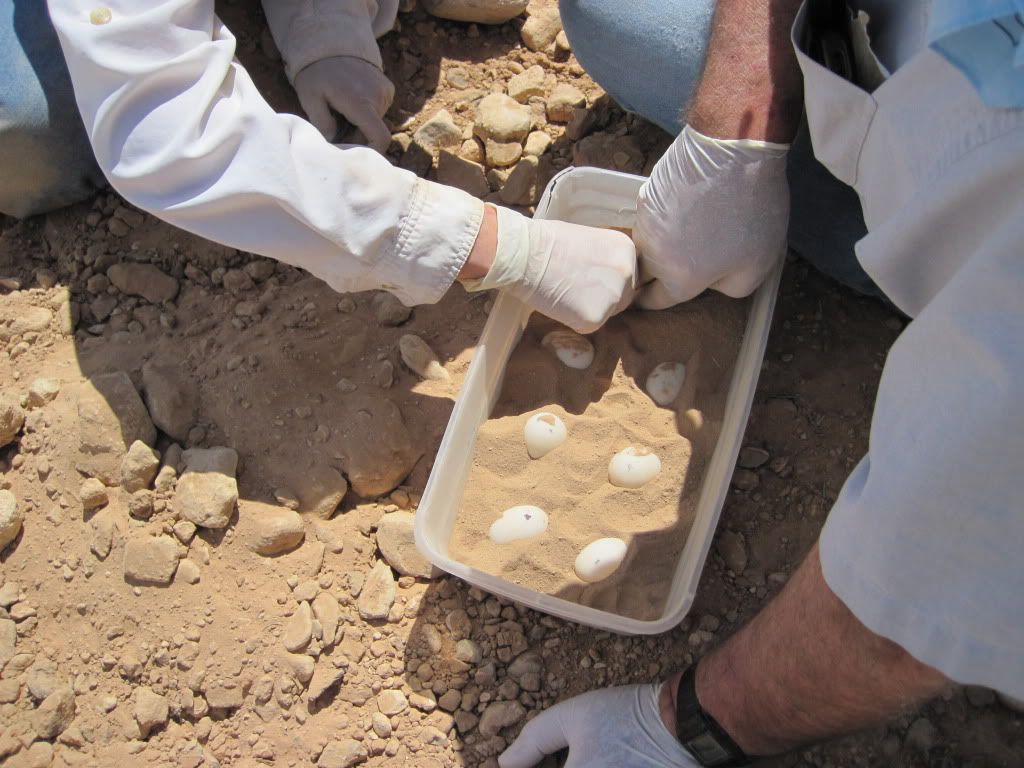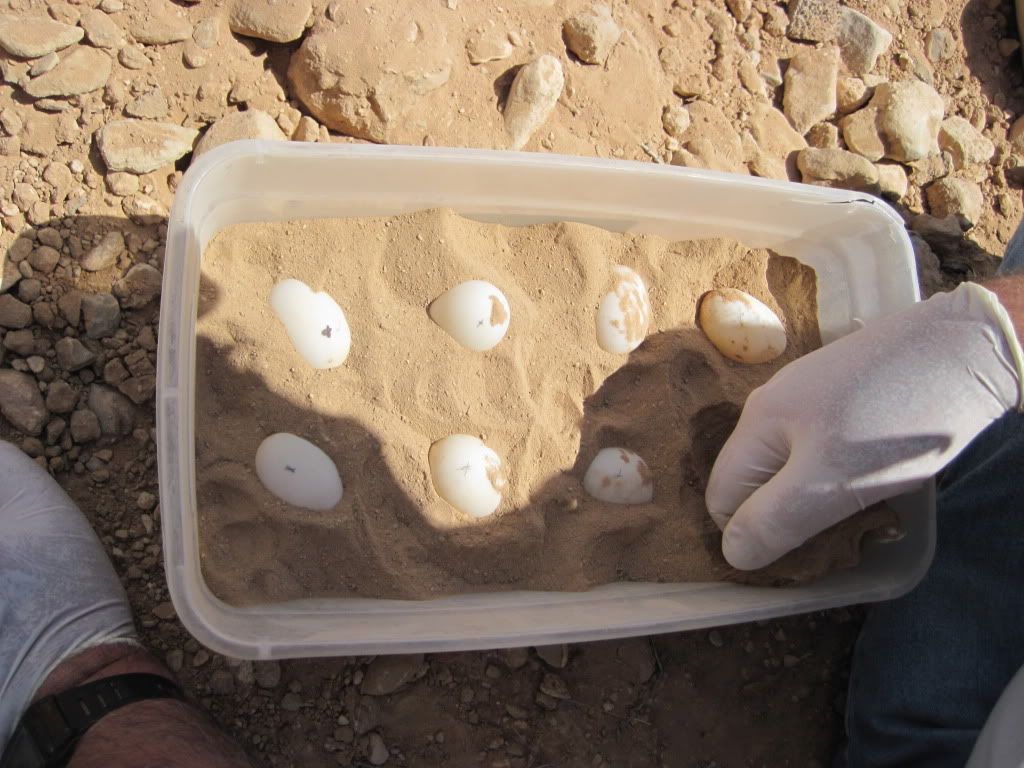 When tortoises bask they make sure to utilize their surface area
An alternative to X-rays is ultrasound, which is a quicker process, but not as accurate (you can't tell how many eggs there are). So, we generally ultrasound after initial X-rays are complete.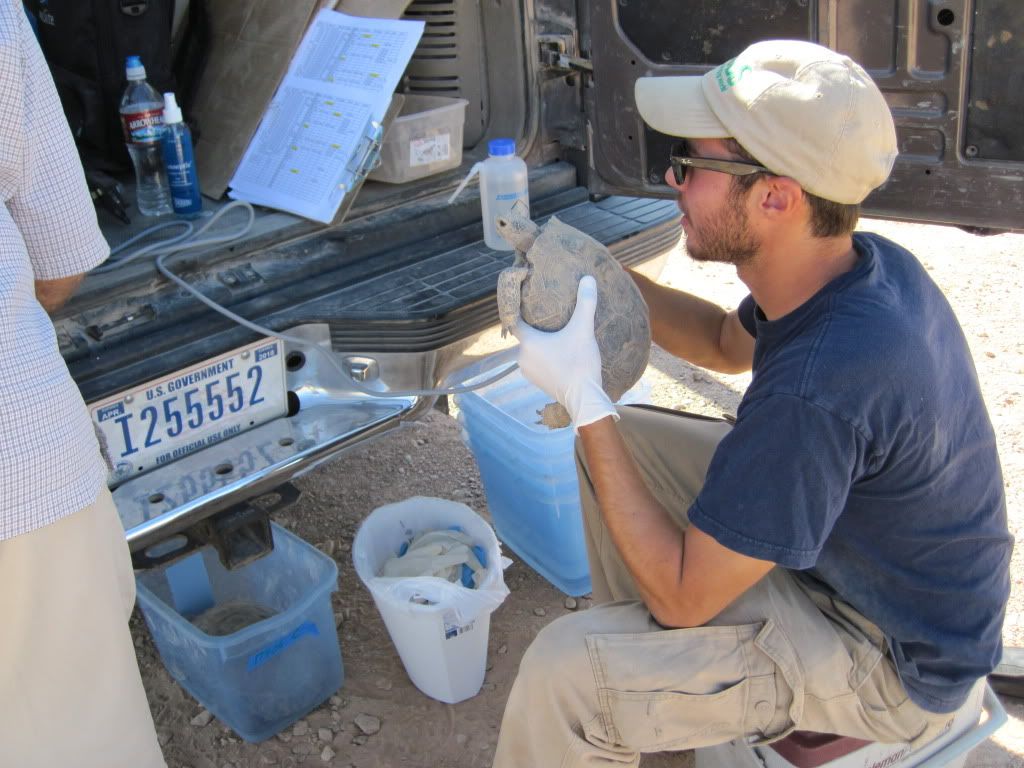 A few of us decided to go road cruising on our off time in NV. Unfortunately our first find of the night was this DOR gopher snake (
Pituophis catenifer deserticola
). (Compare with the gopher I saw in CA in
Part 3
)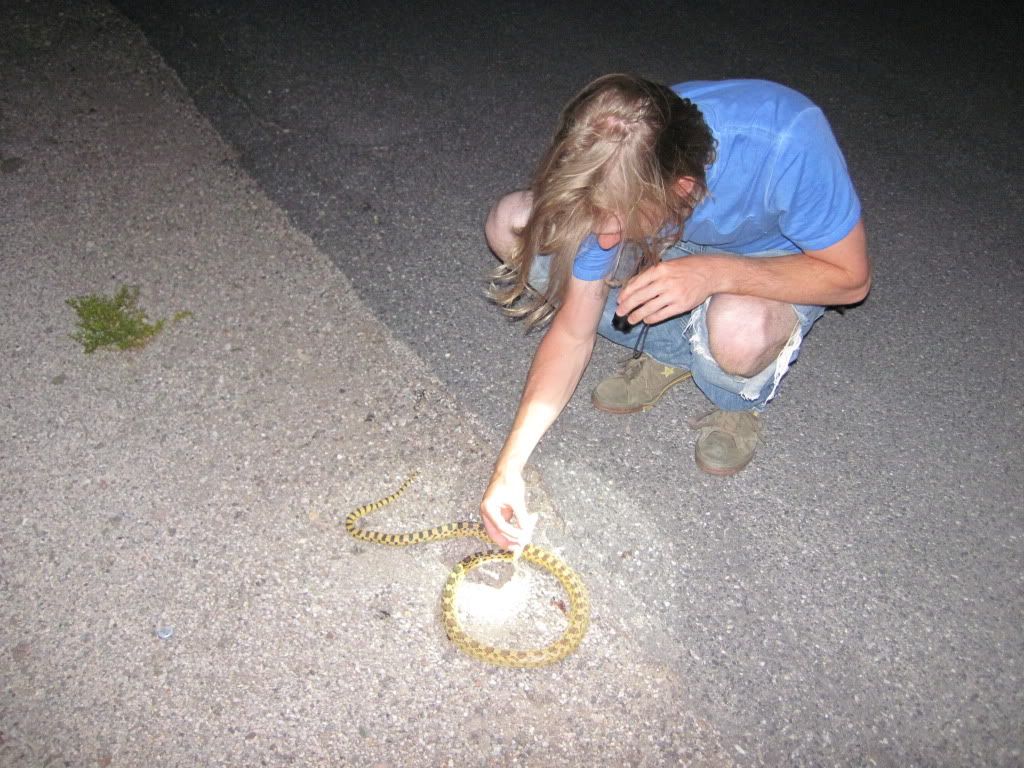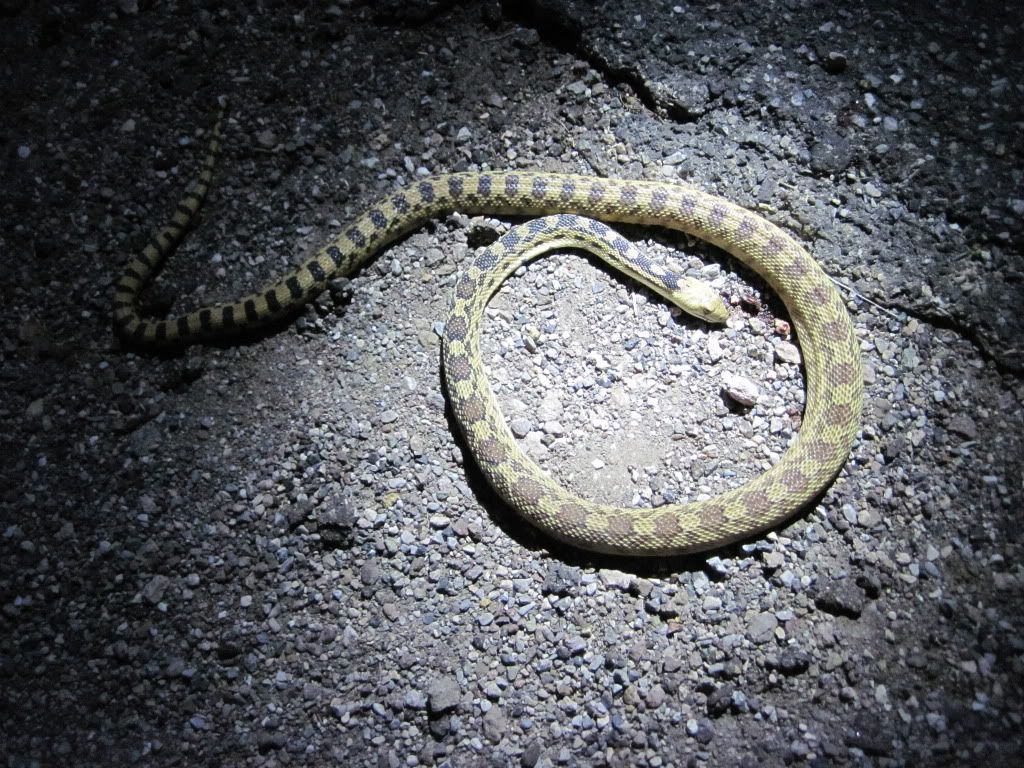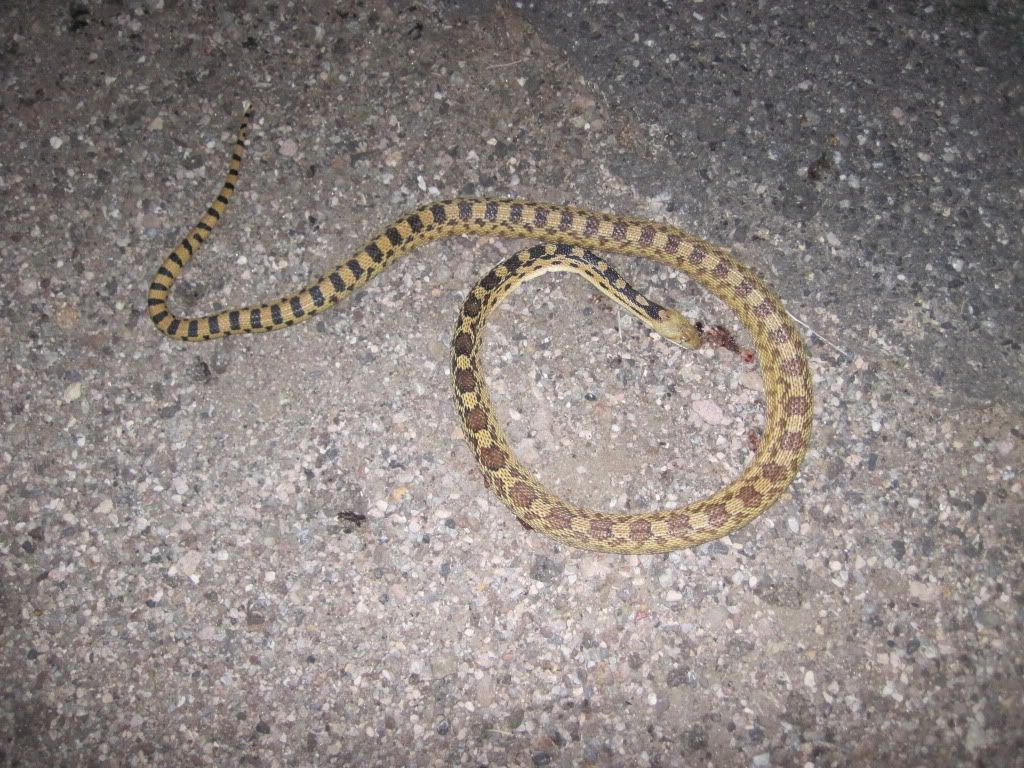 Luckily our next find was alive – a
Desert Banded Gecko (Coleonyx variegatus variegatus)
These geckos are small (2-3 in; 5.1-7.6 cm) and generally nocturnal. They have vertical pupils, movable eyelids and granular scalation. They eat insects (beetles, grasshoppers, larvae, termites, spiders, solpugids) and can be found in developed fairly developed areas (I've seen them out hunting around friends' back porches). In southern NV, this subspecies Intergrades with
C. v. utahensis
.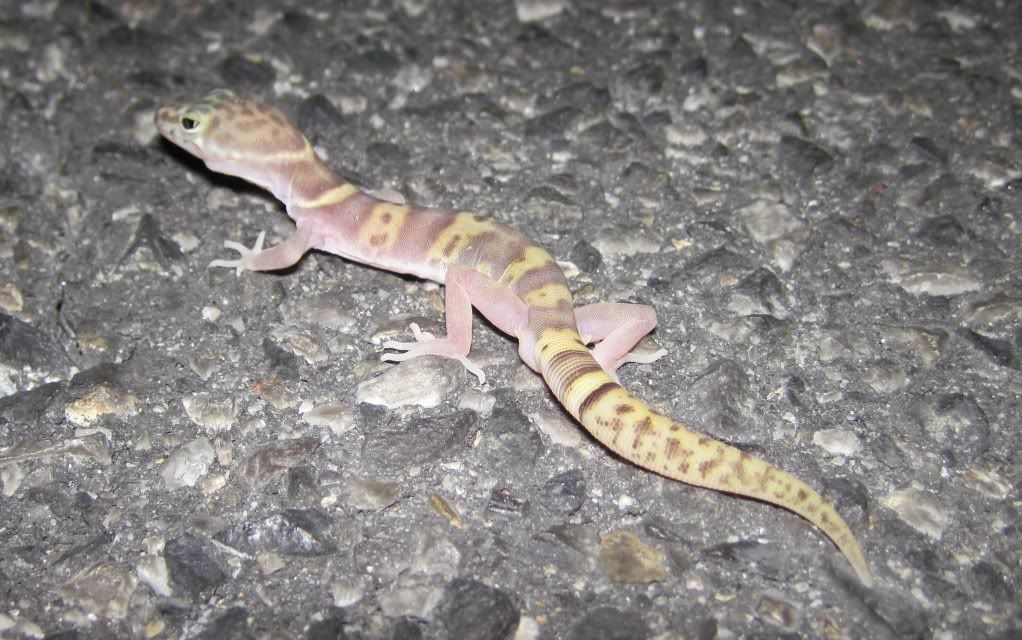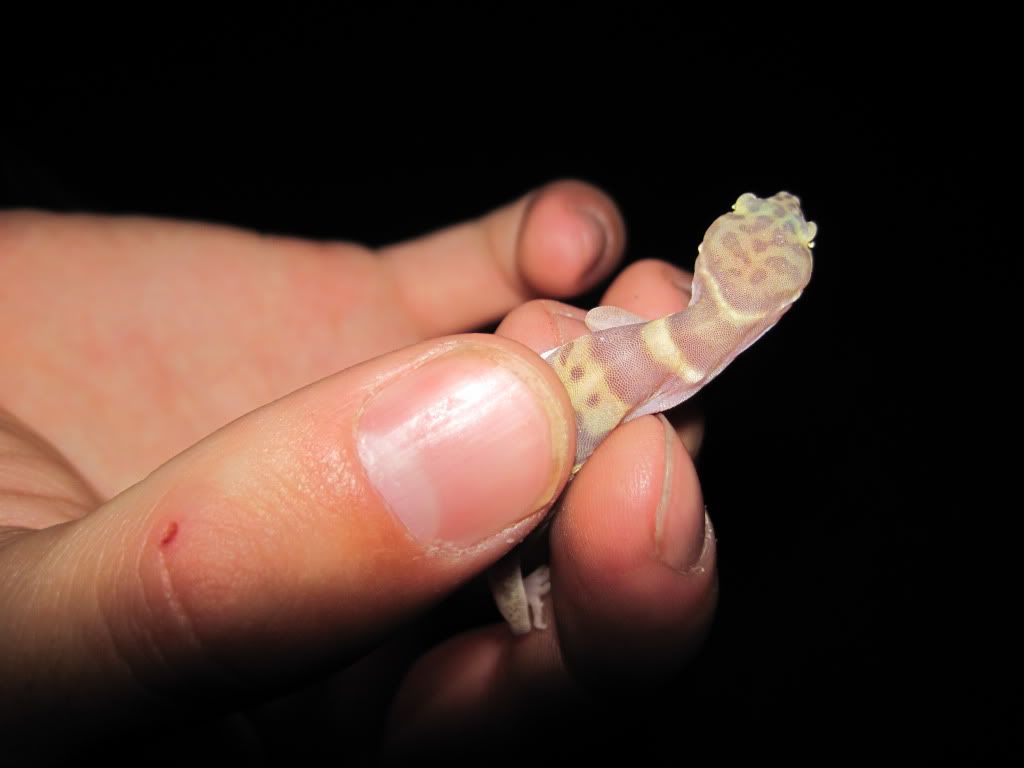 C. variegatus
range: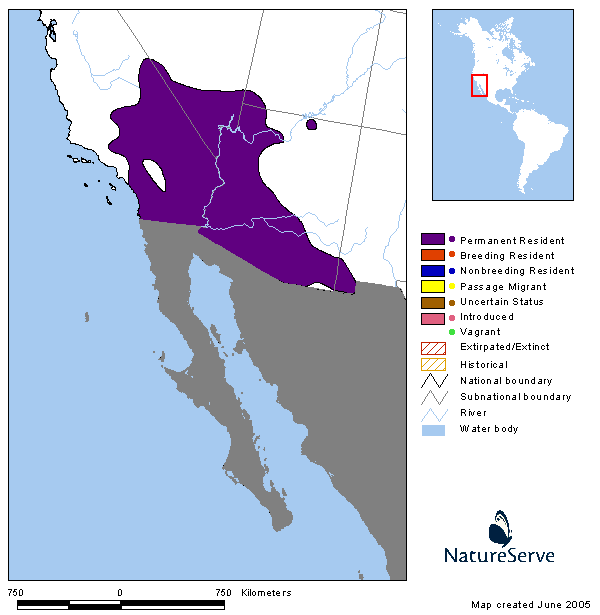 Another new species for me, but unfortunately another DOR – a Northern Desert Nightsnake (
Hypsiglena chlorophaea deserticola
; formerly
H. torquata
)
Like geckos, nightsnakes can be hard to find because they are small (12-26 in; 30-66 cm) secretive, and nocturnal/crepuscular. They eat lizards and their eggs (especially side-blotched lizards), and small snakes. Nightsnakes subdue their prey by injecting venom via enlarged teeth in back of their upper jaw, though they are not dangerous to humans.
Luckily the next one we found was alive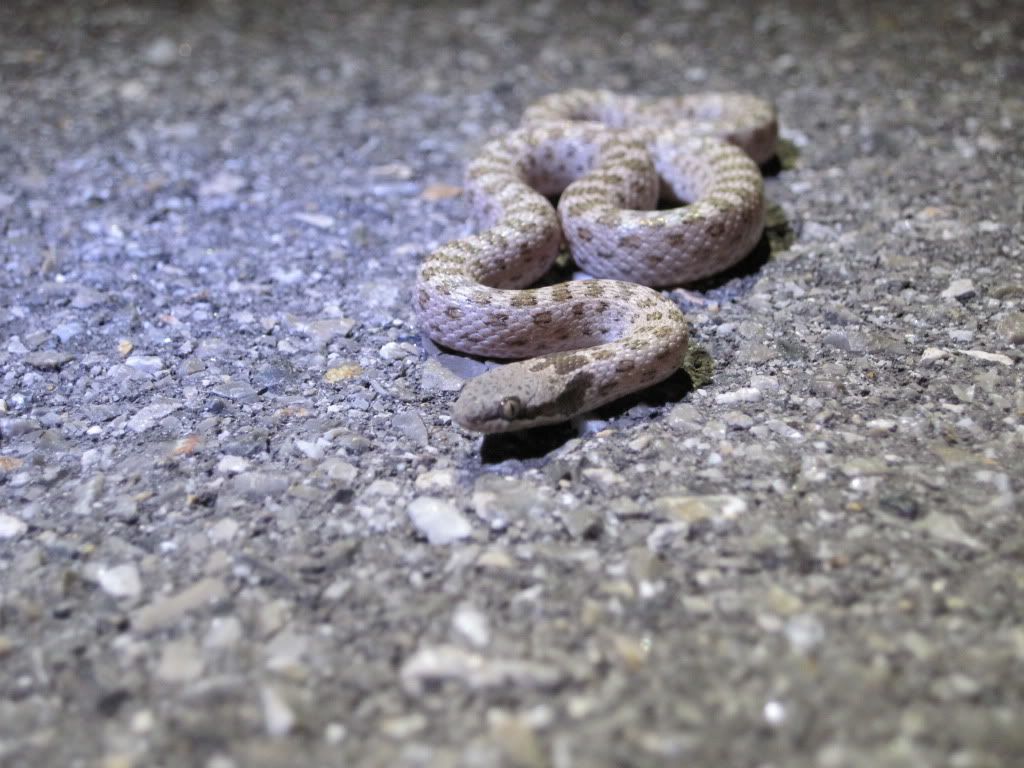 This species didn't have a range map on NatureServe, but here is one for just this
subspecies
:
Back in CA, a nice view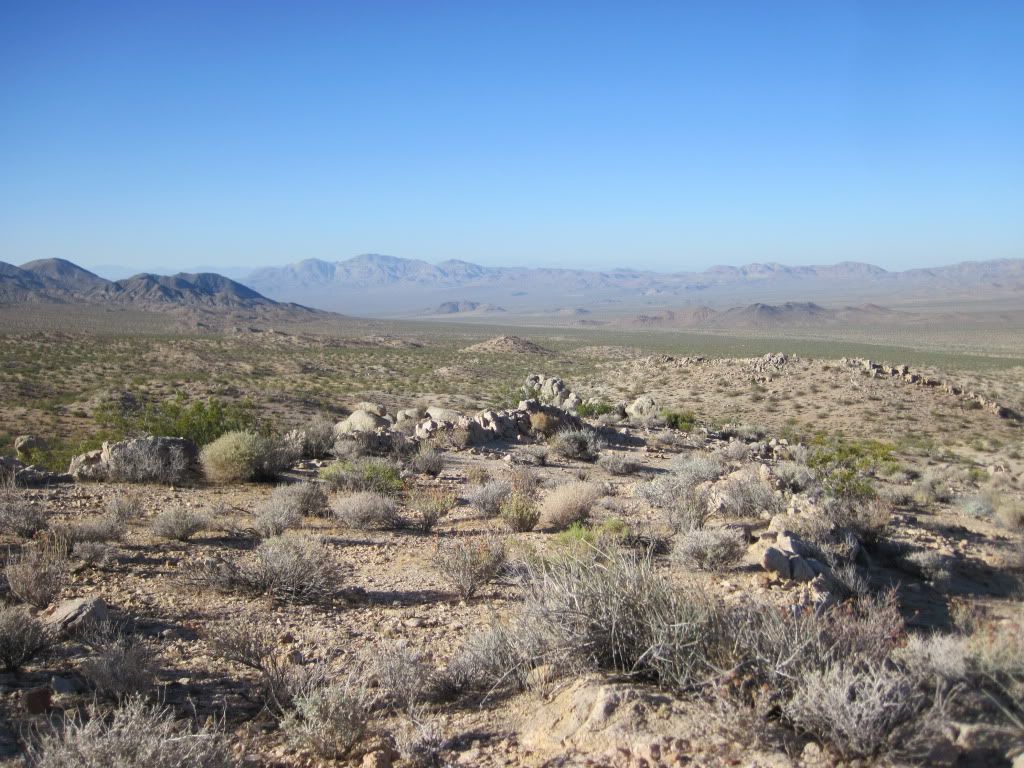 Desert Iguana (
Dipsosaurus dorsalis
). Compare with my earlier photo of a juvenile in
Part 3
.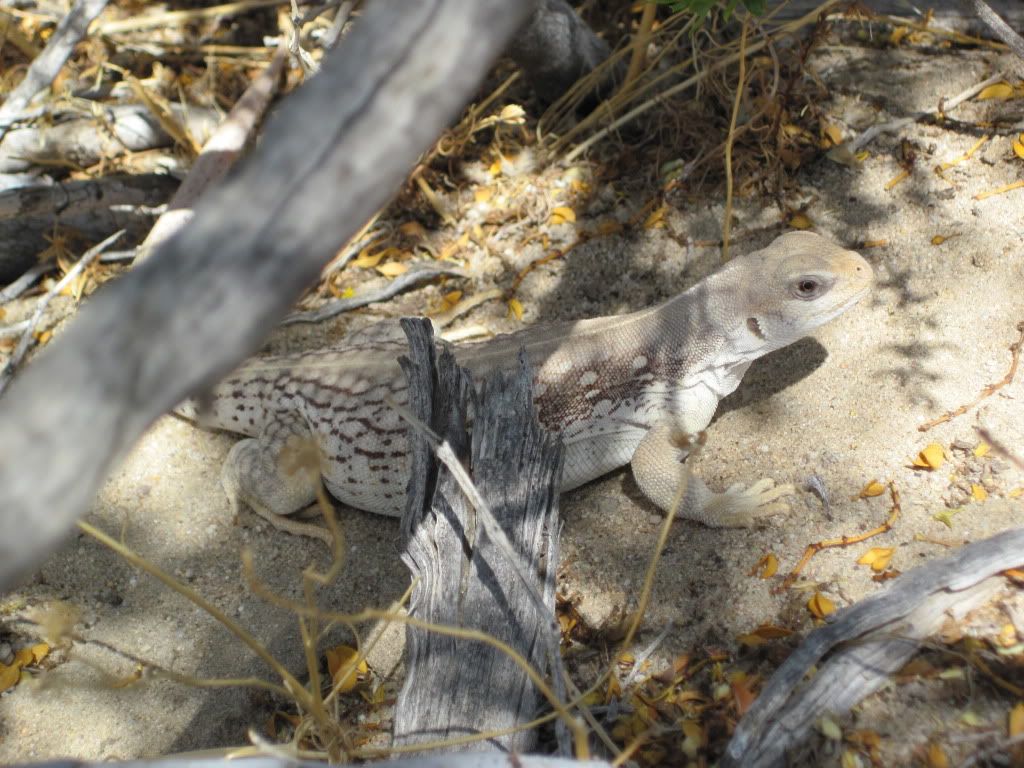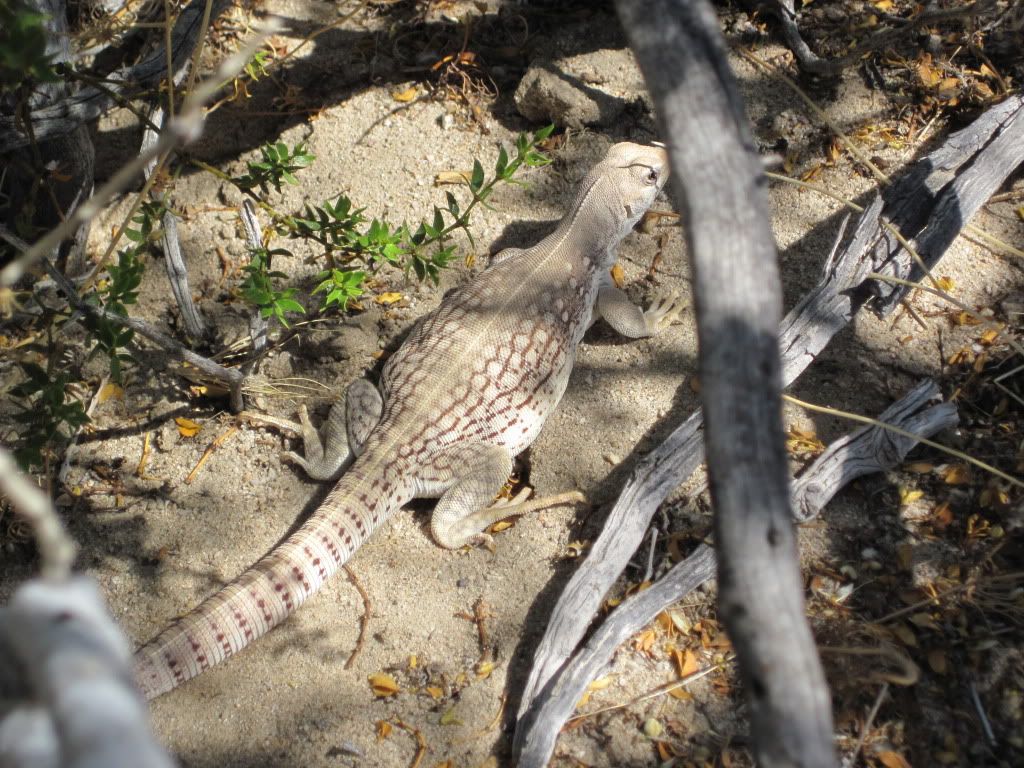 Recently we have been busy with conducting health assessments on a portion of the tortoises in our study. During these assessments we examine the animal's overall condition as well as obtain tissue samples (blood, nasal lavage, oral swab) for laboratory analysis. To avoid the extreme heat of the day we start early in the morning, usually around 2-3AM (we don't handle any tortoises when temperatures are over 95 F).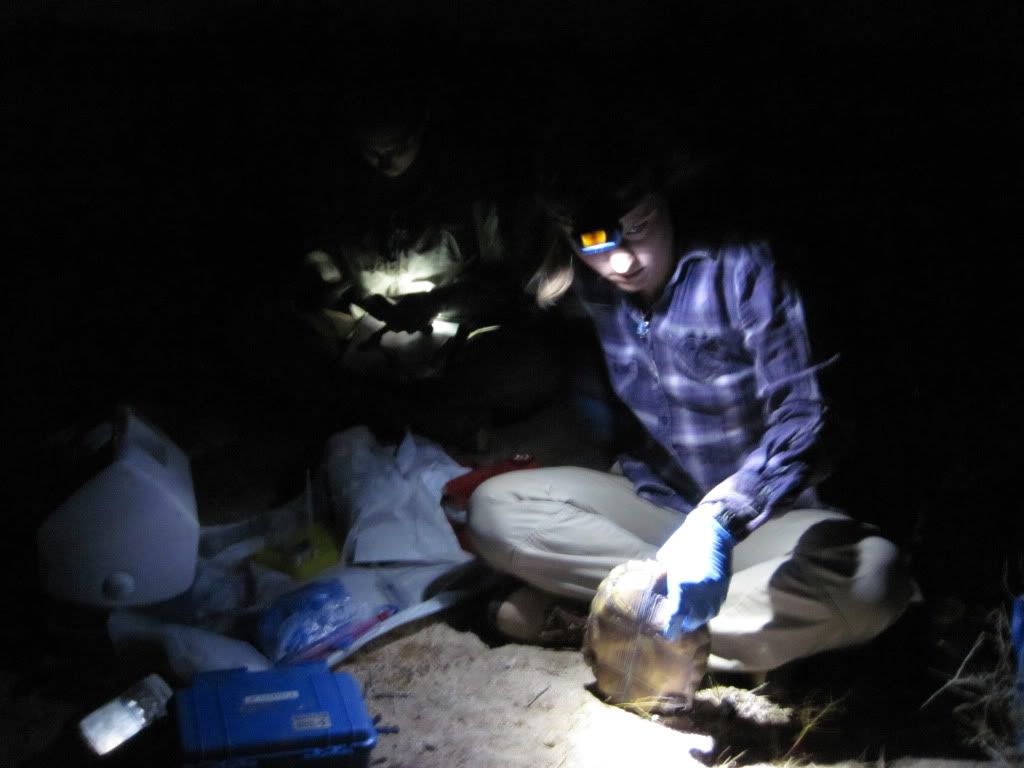 It's very cool to be out in the desert at night because we see some interesting things that we normally wouldn't. For example, this Burrowing Owl (
Athene cunicularia
) was feeding on a rodent in the road, and didn't seem to mind us one bit (too bad it turned its head when I took the photo). We also see a lot of kit foxes (
Vulpes macrotis
) are very curious animals and will actually follow us around, though I haven't been able to get a good photo of any yet.
Another bonus to working the night shift is that we get to experience some really stunning sunrises – the desert is especially beautiful at dawn.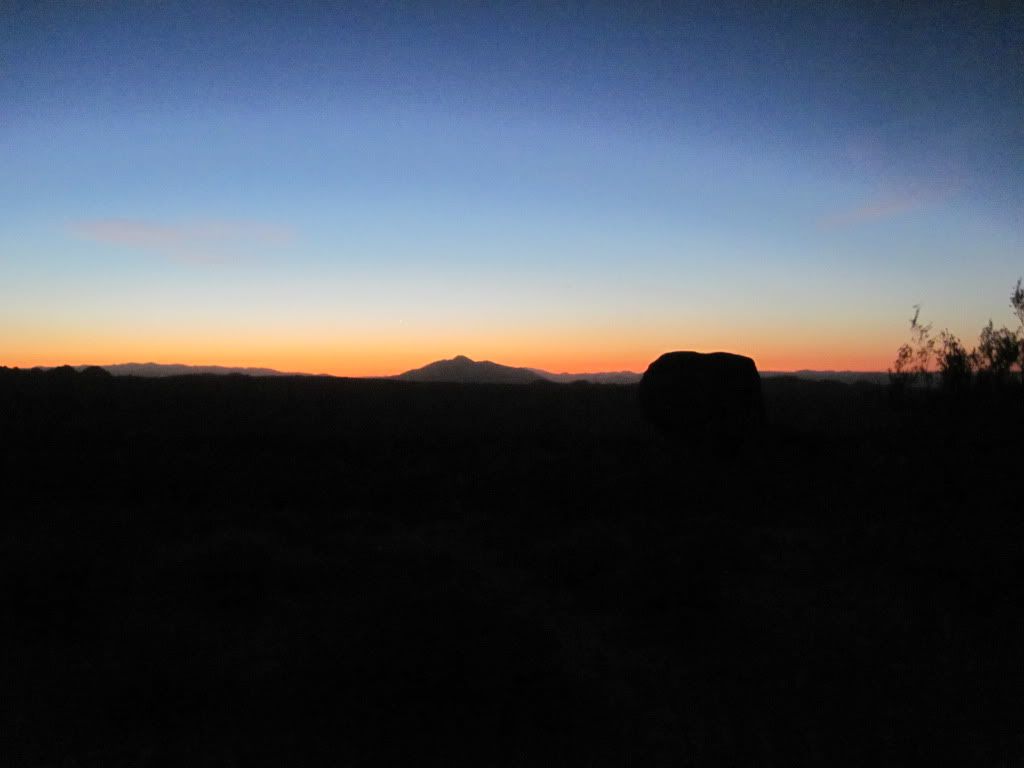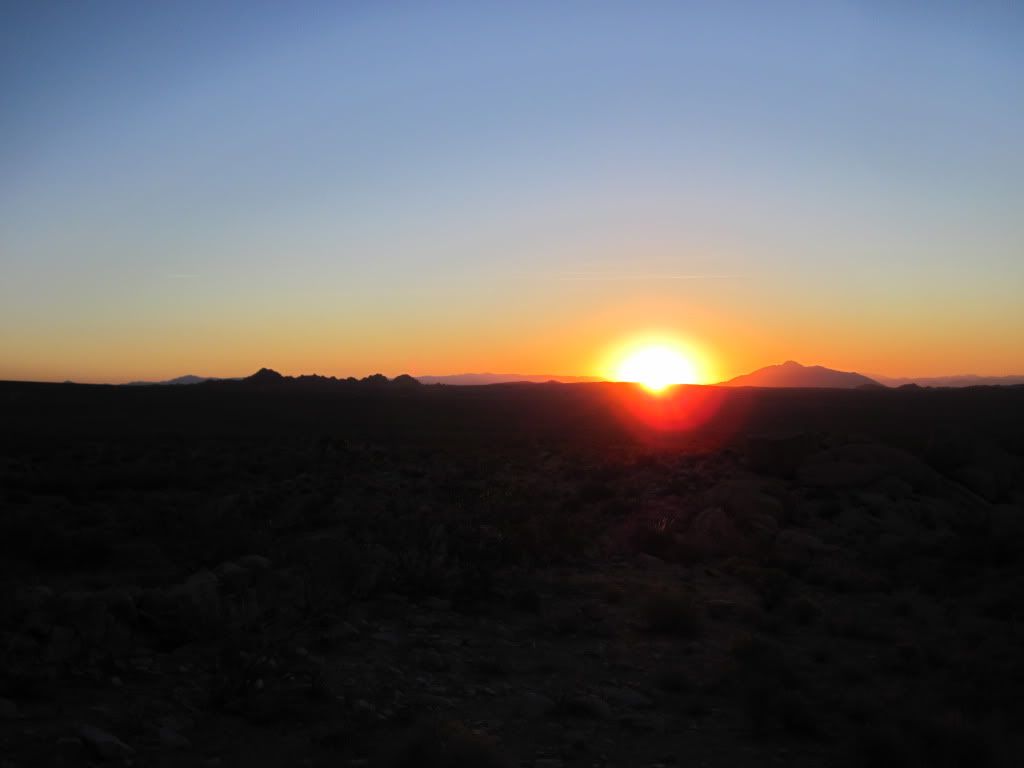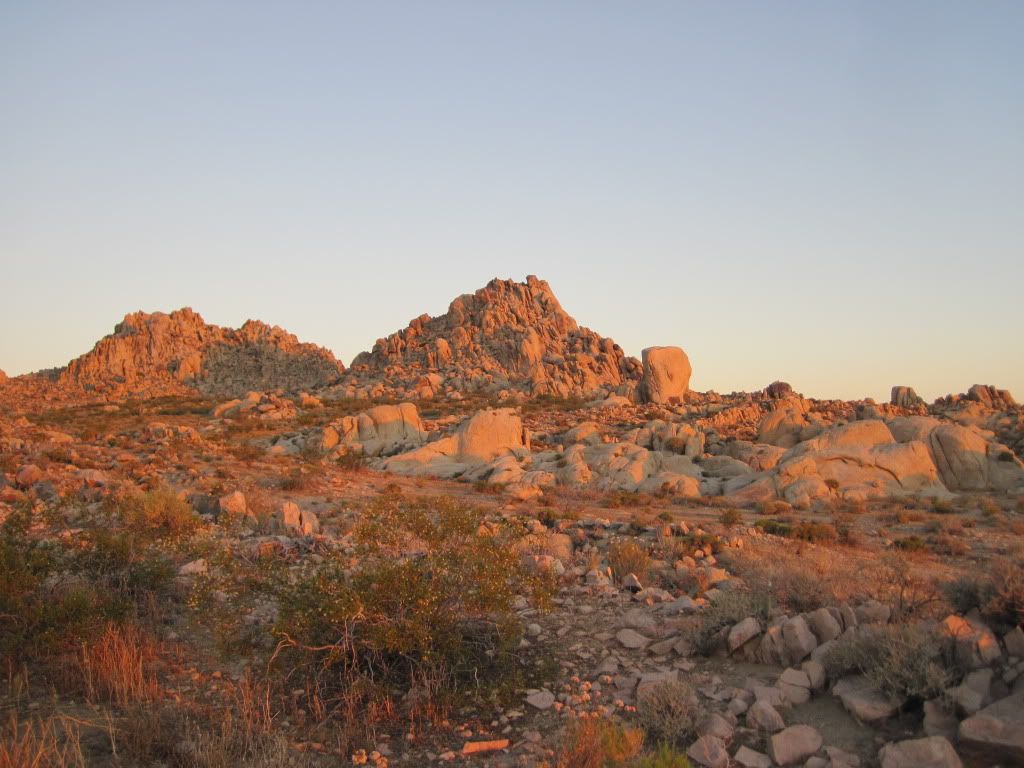 Common Raven (Corvus corax)
. In
Part 3
I discussed the impact of subsidized predators such as coyotes on desert tortoises. Ravens are another example of a subsidized predator that pose a threat to juvenile tortoises (and sometimes even adults).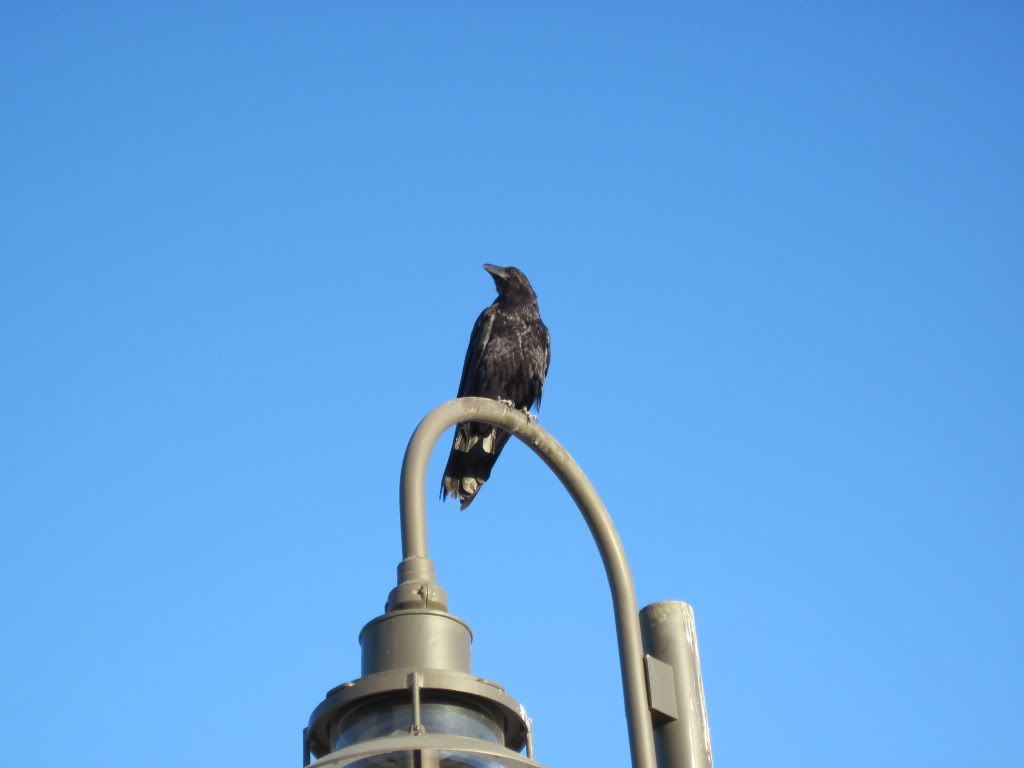 A tortoise found at the edge of a major road (I'm not sure if it had already crossed or was still considering it). Roads and the fragmentation they cause are a real threat to the future of desert tortoises. Although many areas have fences to prevent tortoises from wandering onto roads, they aren't everywhere, and they don't help with less direct impacts of fragmentation. Sometimes I'm surprised to see that tortoises have persisted in these places as long as they have.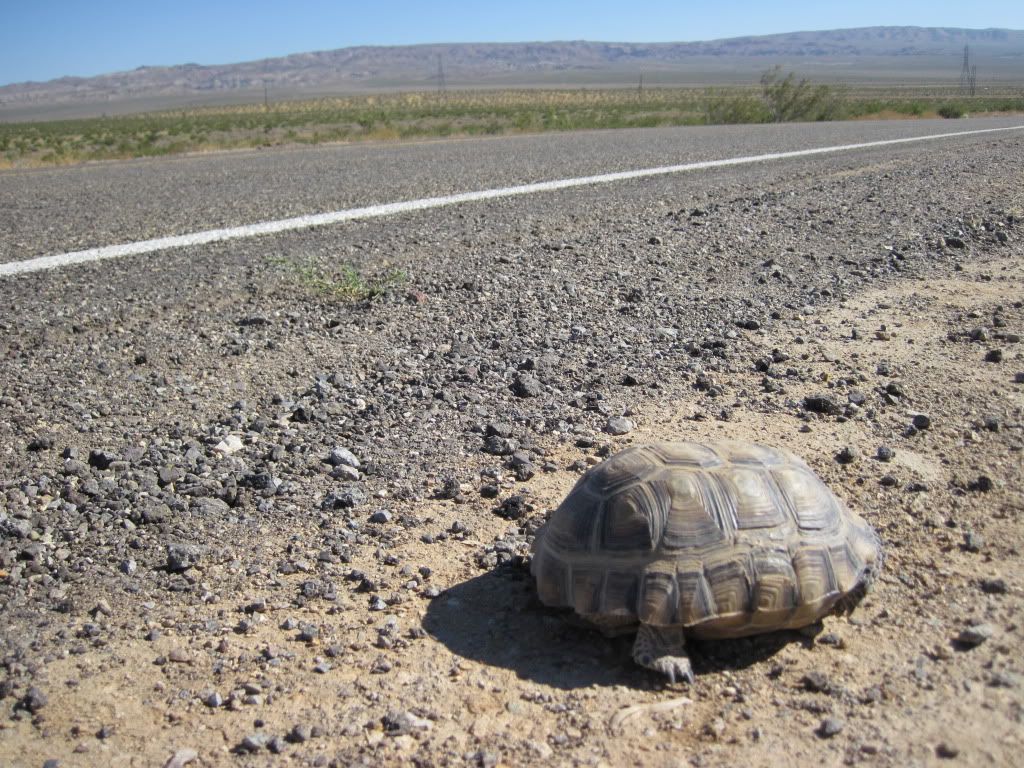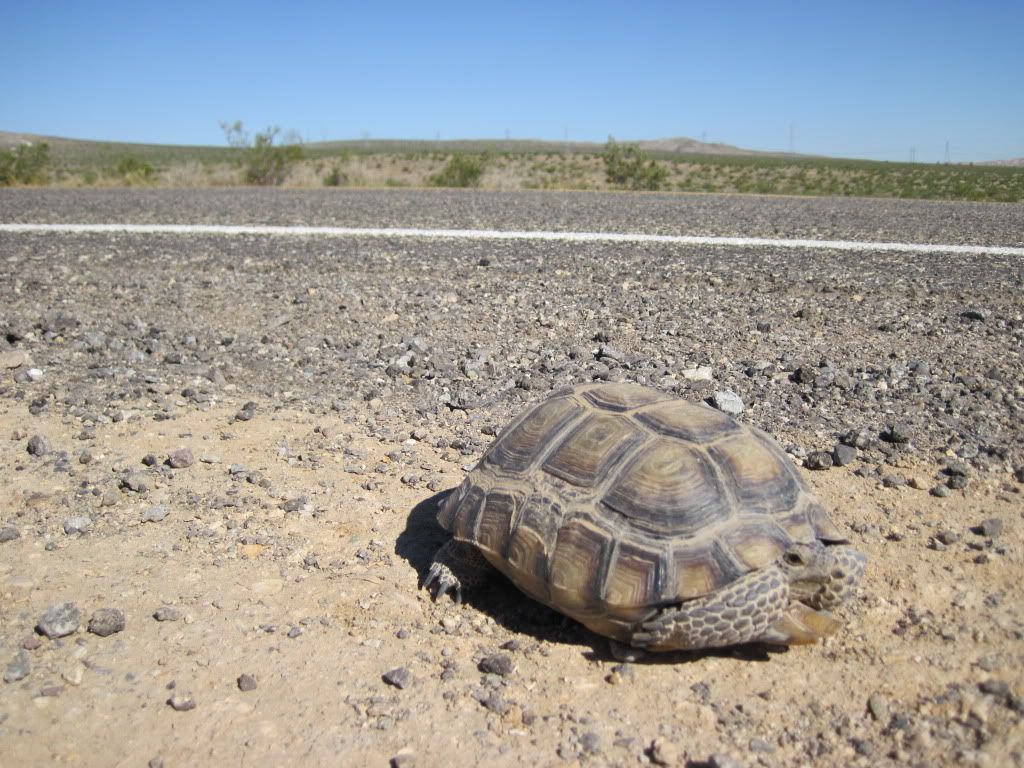 Littleleaf Ratany (Krameria erecta)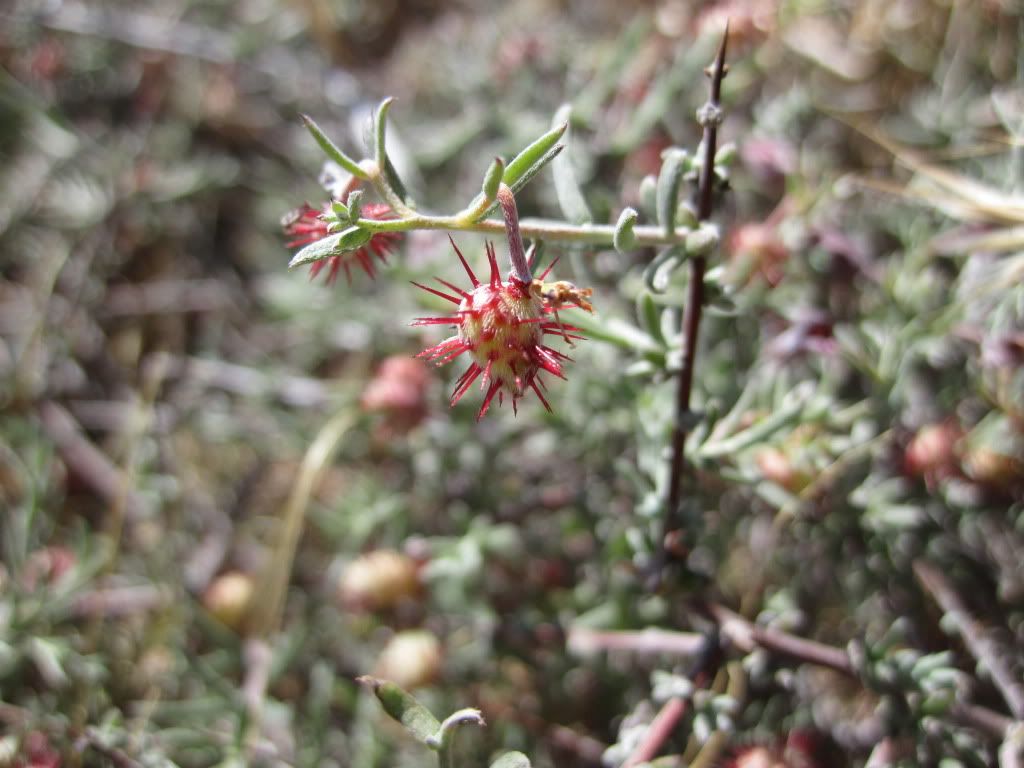 This was an exciting find – my first encounter with a (wild) baby tortoise! From its annuli, I would guess this individual is in its third year. It looked quite healthy, though at this size it is still vulnerable to predators such as ravens.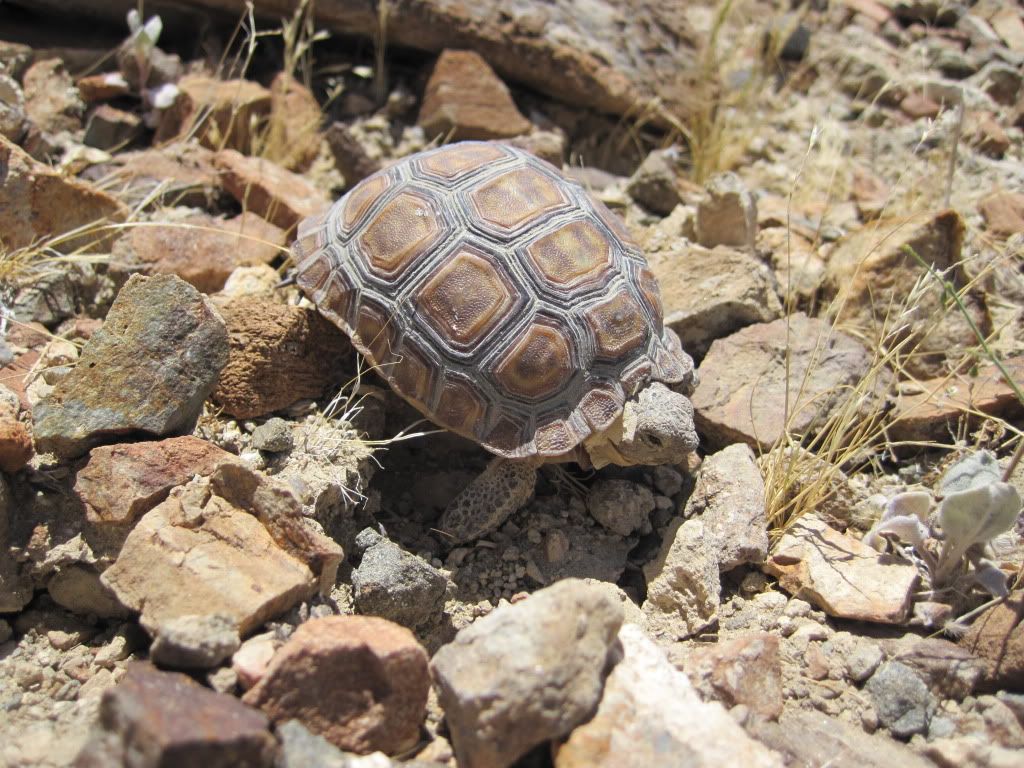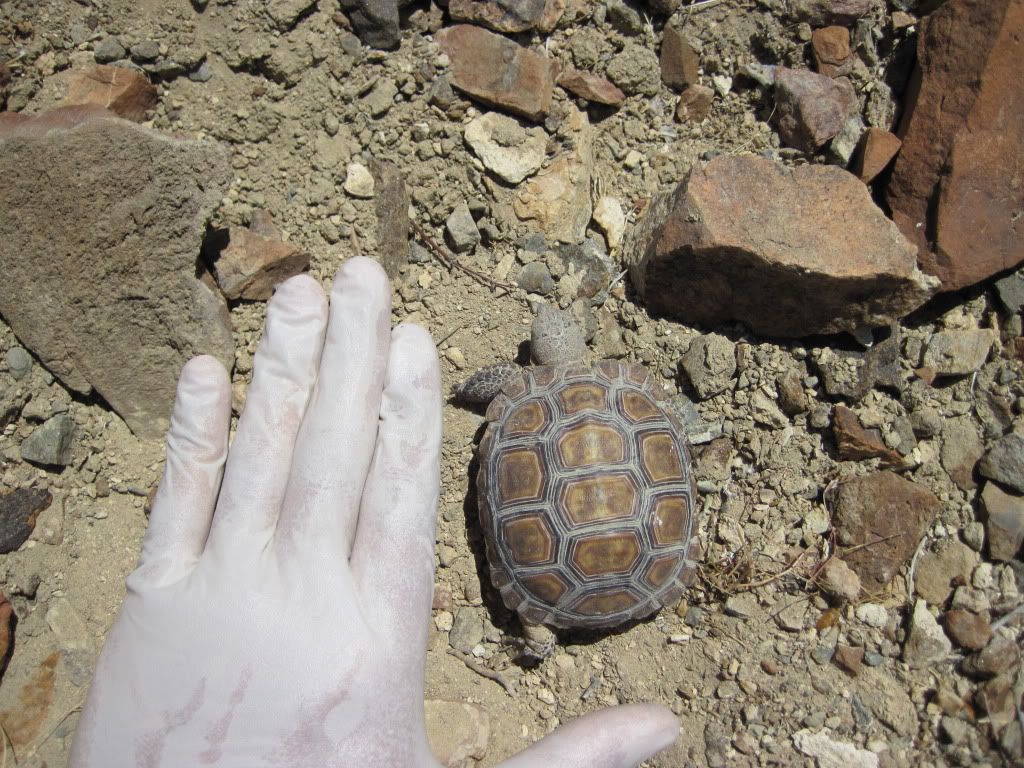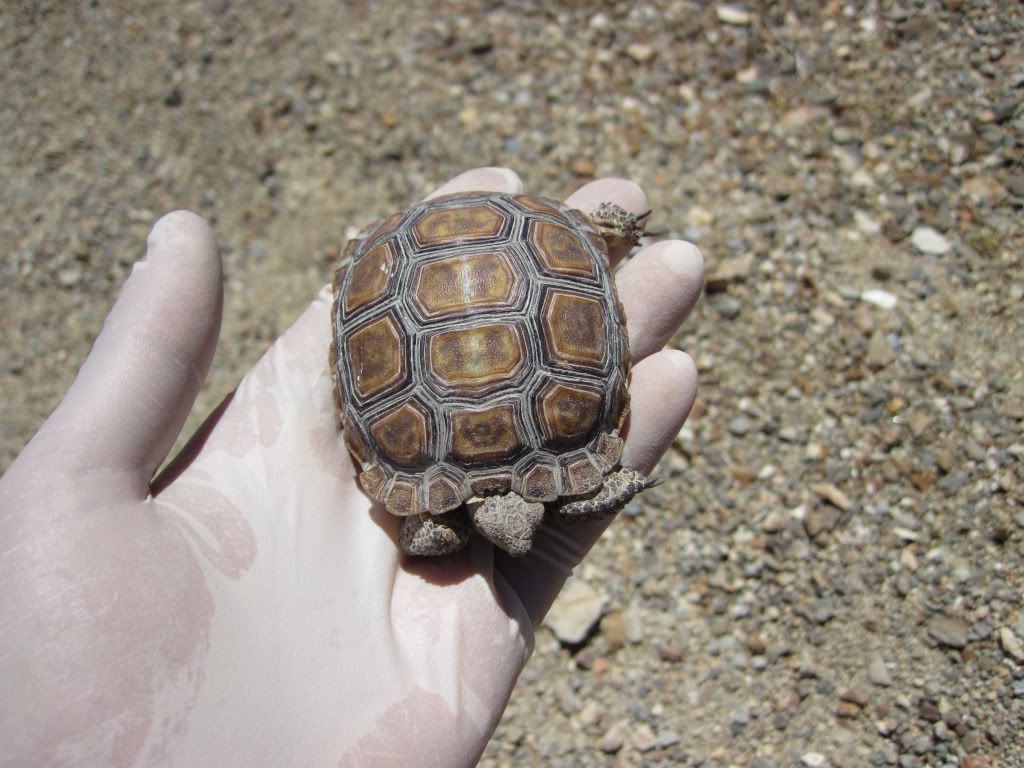 While perhaps not immediately obvious, there is quite a bit of variation in terms of the vegetation communities in the areas we work. For example, in this particular spot cholla and Joshua Trees predominated.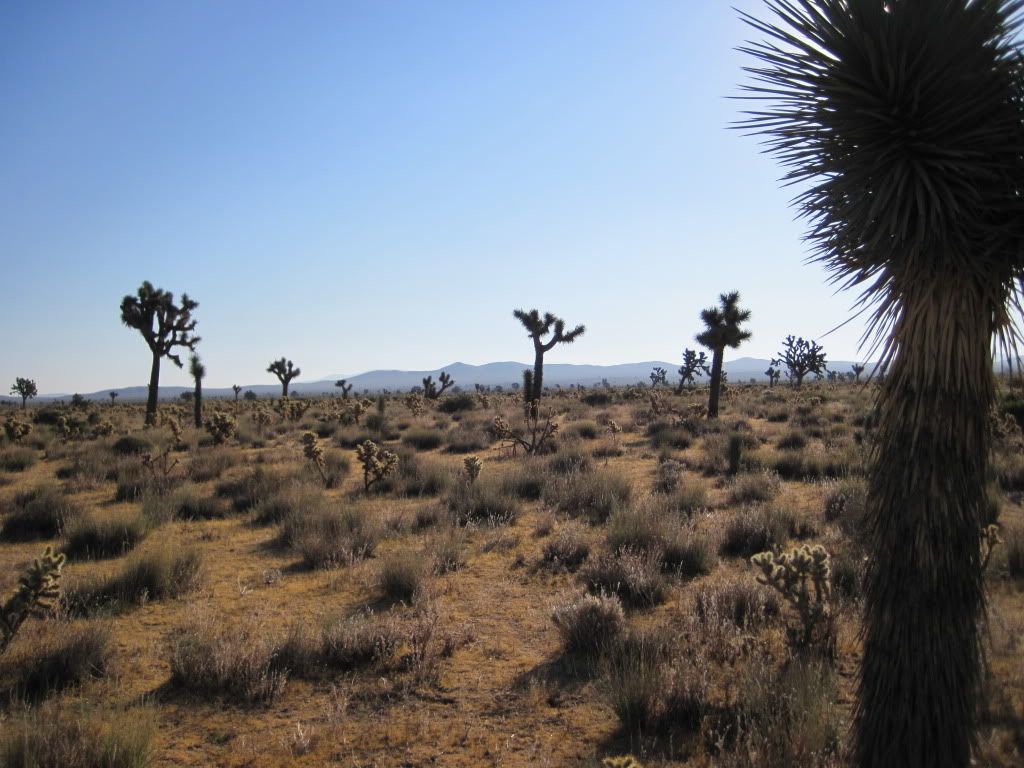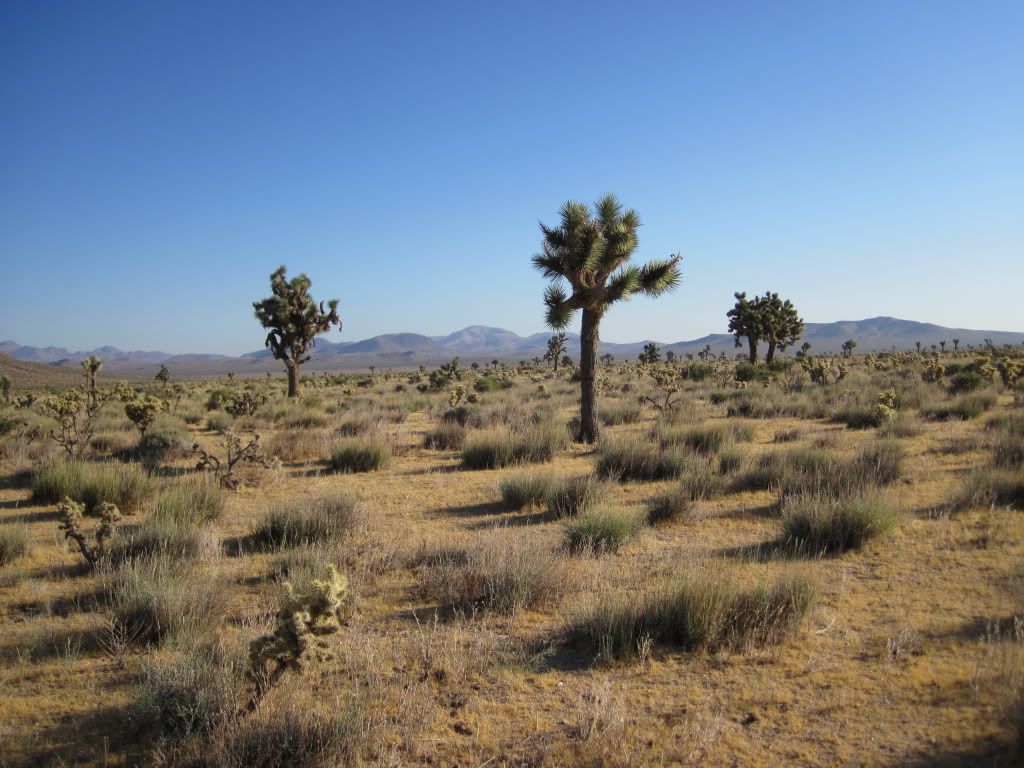 Thank you, hopefully more to come this fall.
-Zach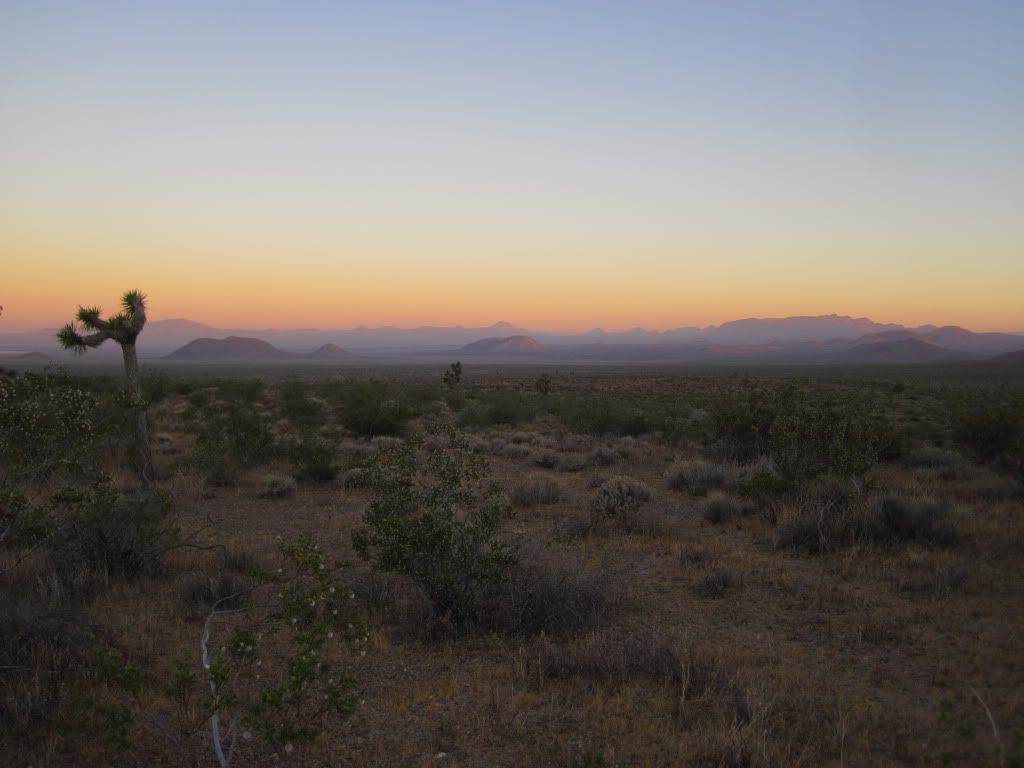 Part 1
Part 2
Part 3
Part 4
Part 5
Part 6
Part 7