Dear Aunt Erma,
I hope you are well. Yesterday we went to Bako National Park. We had a great day. It was very hot, and Dad almost croaked. But that's OK, because we saw many plants and animals. Here's some background information I lifted
from the Internet
, because I was too lazy to write it all myself:
Bako National Park, established in 1957, is the oldest national park in Sarawak, eastern Malaysia, on the island of Borneo. It covers an area of 27.27 square kilometres (10.53 sq mi) at the tip of the Muara Tebas peninsula at the mouth of the Bako and Kuching Rivers. It is approximately 40 kilometres (25 mi) by road from Kuching. Millions of years of erosion of the sandstone have created a coastline of steep cliffs, rocky headlands and stretches of white, sandy bays. Wave erosion at the base of the cliffs has carved many of the rocky headlands into fantastically shaped sea arches and seastacks with colored patterns formed by iron deposition. Some of these rock formations can be seen on entry to the Teluk Assam Beach, which fronts the park. The park can only be reached by a 20-minute boat ride from the village of Kampung Bako. It is often visited as a day-trip from Kuching, though accommodations (campground and forestry service bungalows) are available.

Bako is one of the smallest national parks in Sarawak, yet one of the most interesting, with multiple biomes (including rainforest), abundant wildlife, jungle streams and waterfalls, secluded beaches, and trekking trails. A network of 16 marked walking trails of different lengths allows visitors access. In addition, various beaches are accessible by boat from Kampung Bako or Teluk Assam, as well as a geologically interesting sea stack rock formation. The range of attractions and activities in a compact area have made Bako one of the most popular parks in Sarawak
Here's a sign at the jetty where we started the boat ride to the park. Unfortunately, we saw no crocodiles. That was too bad, because I wished they would eat my little cousin Yahsiu, who is a real pest.
This sign greets visitors when they arrive at the park
The jetty at the park is surrounded by mangrove swamps.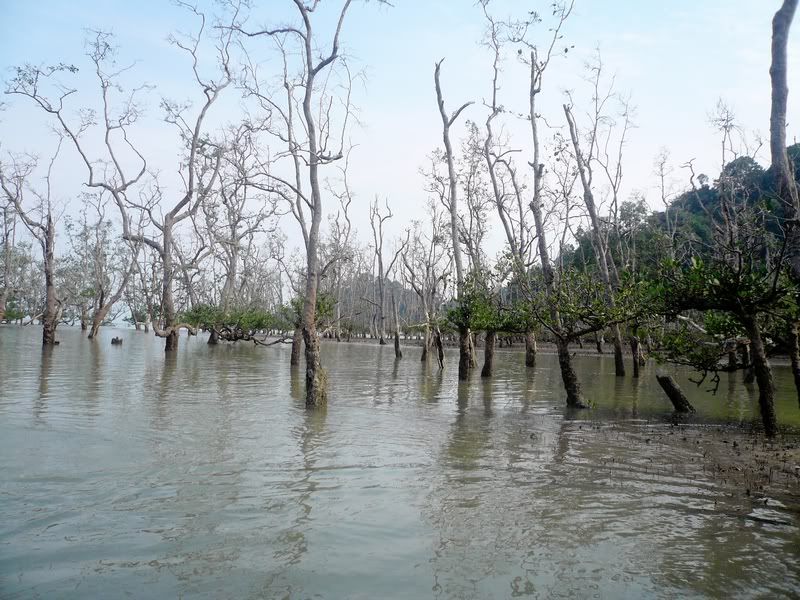 Here, the famous probossiss (not sure about the spelling) monkeys come to eat mangrove leaves in the morning.
Then they return to the trees, where they sit and fart all day, because the mangrove leaves are so hard to digest. That's also why they have such big bellies
(No, I am not making this up)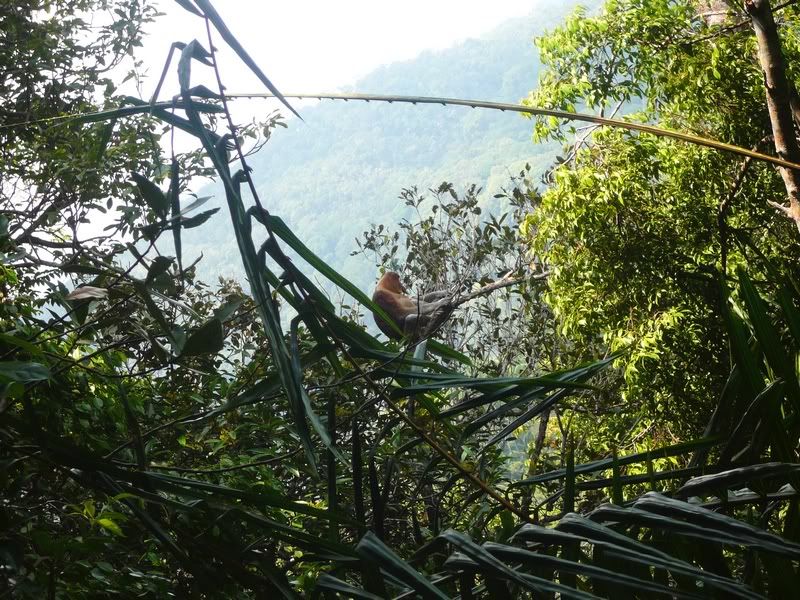 This one was a very bad monkey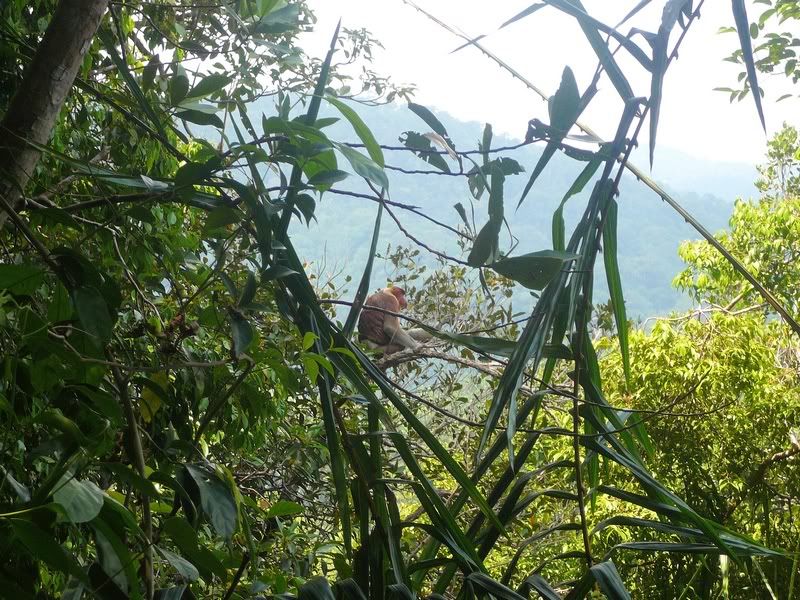 Then we climbed up to the sandy plateau 600 feet above the park. It was very hot and humid in the jungle, and the very steep trail was covered in big rocks and lots of roots.
We sometimes needed to use our hands to pull ourselves up. Dad had a hard time climbing, because he is very fat. He kept saying something like "survival of the fittest implies demise of the unfittest" over and over again.
On the plateau there are many pitcher plants and ant plants. Ant plants are plants with ants living inside them. When you knock on the plant, the ants come running out.
Here are some pitcher plants: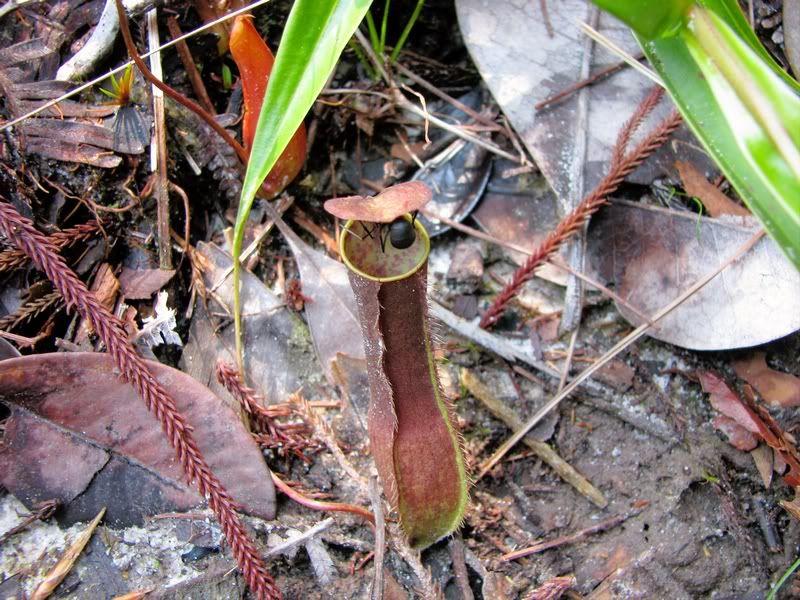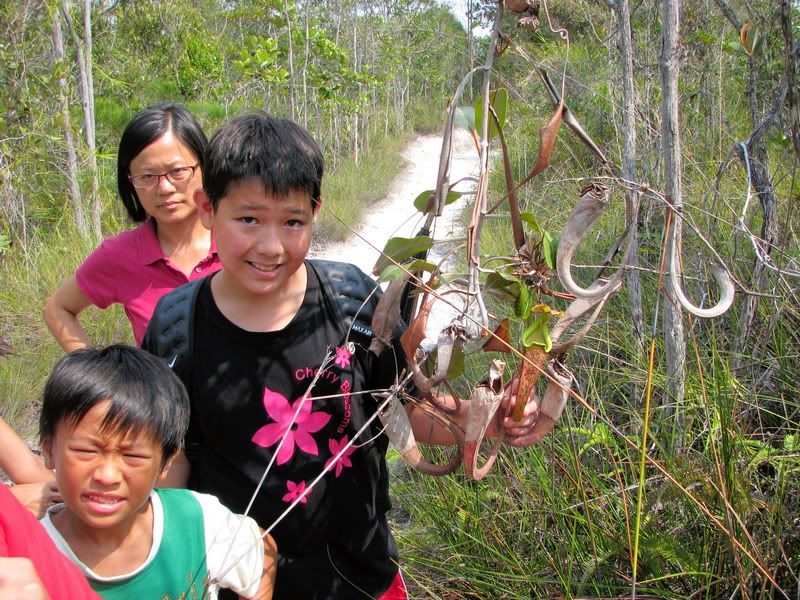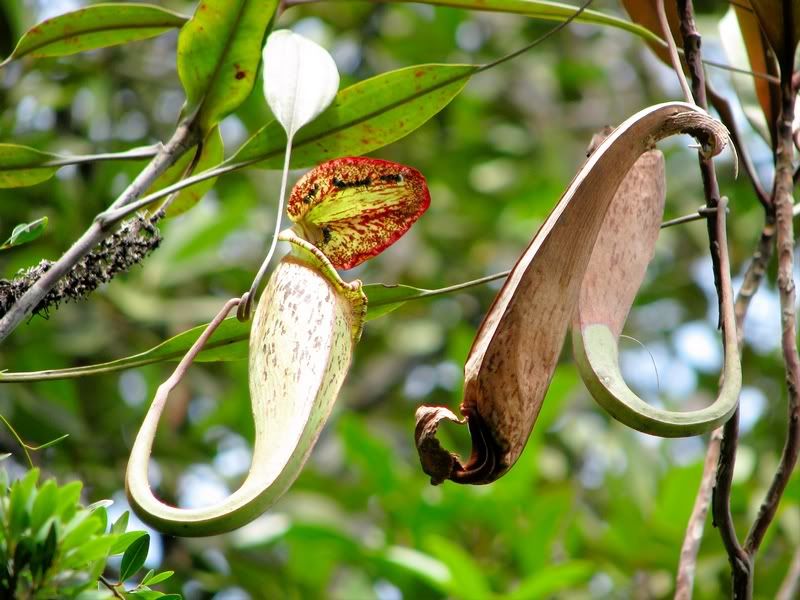 This is an antplant.
Myrmecodia
something or other.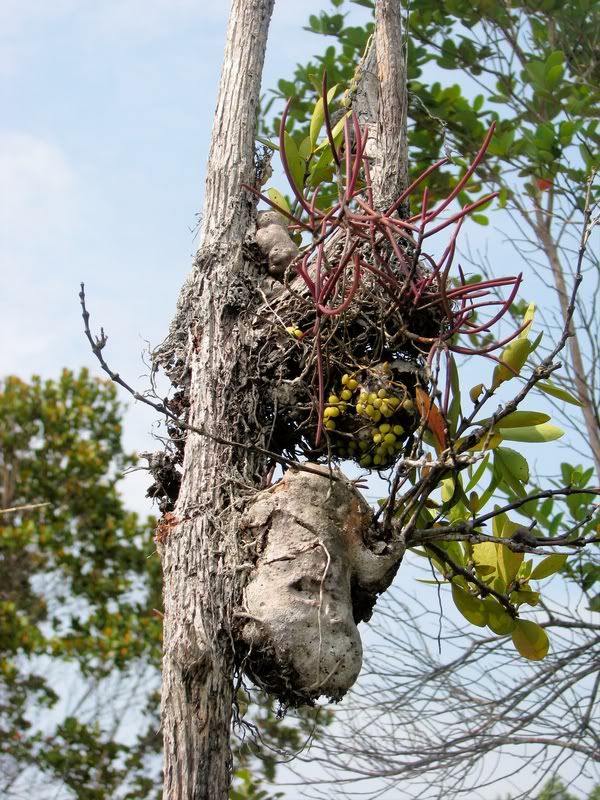 This is another kind.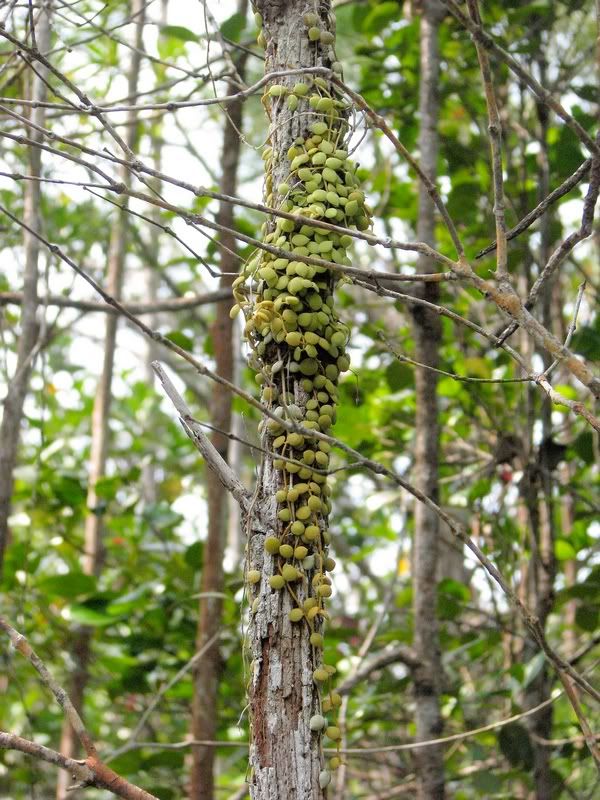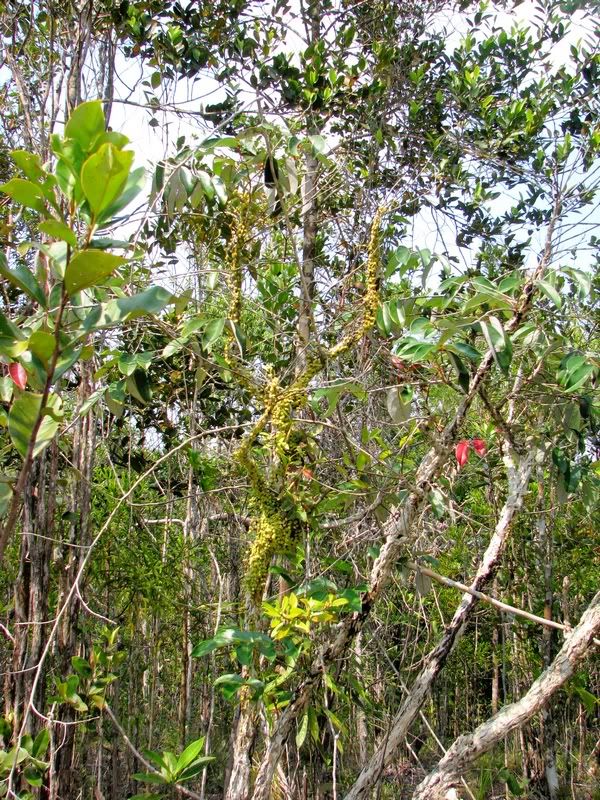 But I don't want to bore you with plants, because I know you like snakes and other creepy critters. On the plateau Karl found a little snake.
It was very bitey, but Karl and Dad are not afraid of snakes. Dad said it was another Bronzeback, this time a
Dendrelaphis pictus
.
Then it was time for lunch. Yes, these are seaweed-flavored Pringles I'm eating here. Even for a Taiwanese kid like me, these tasted VERY weird...
On the way back, the trails got a little better. But we had to pay attention to rotten boards so we wouldn't fall into the freshwater swamp.
Back at the mangrove forest, Dad spotted this little water monitor lizard (
Varanus salvator
). It was cool to see how he swam - like a fish or a snake. His legs touched his body, and he only moved his tail to move forward.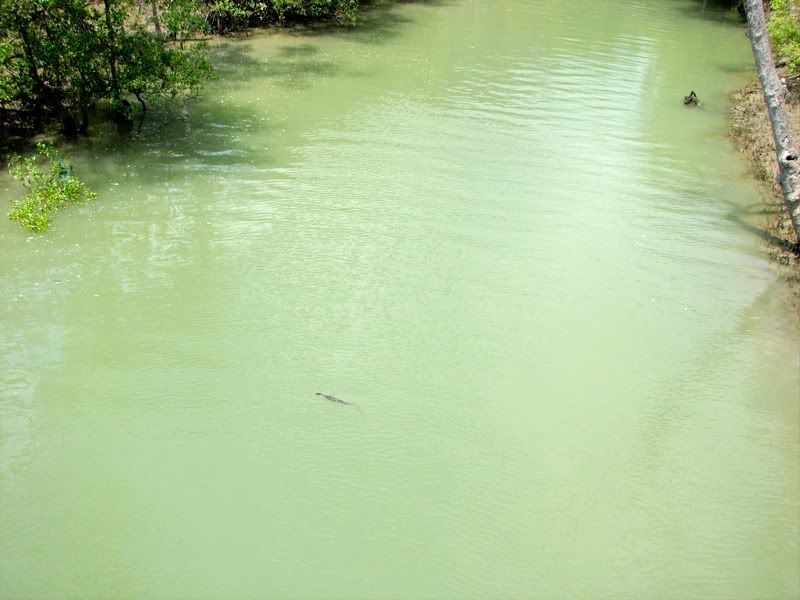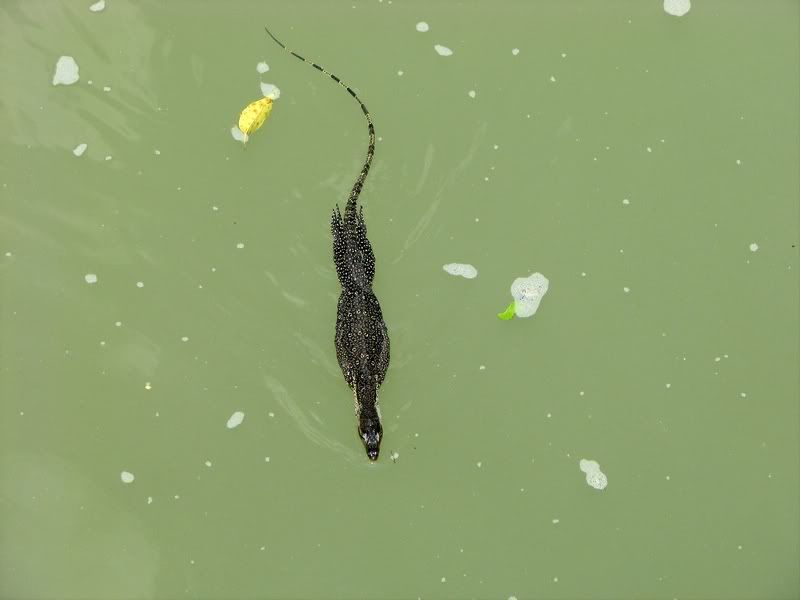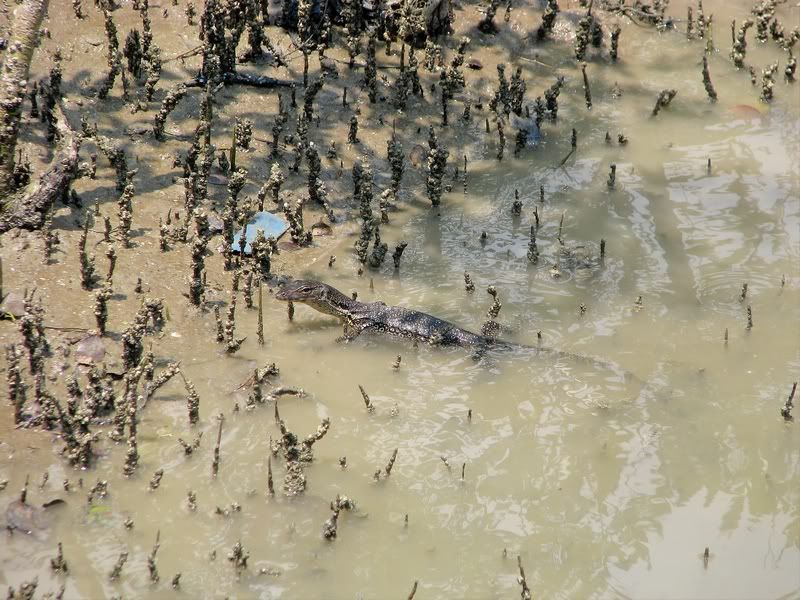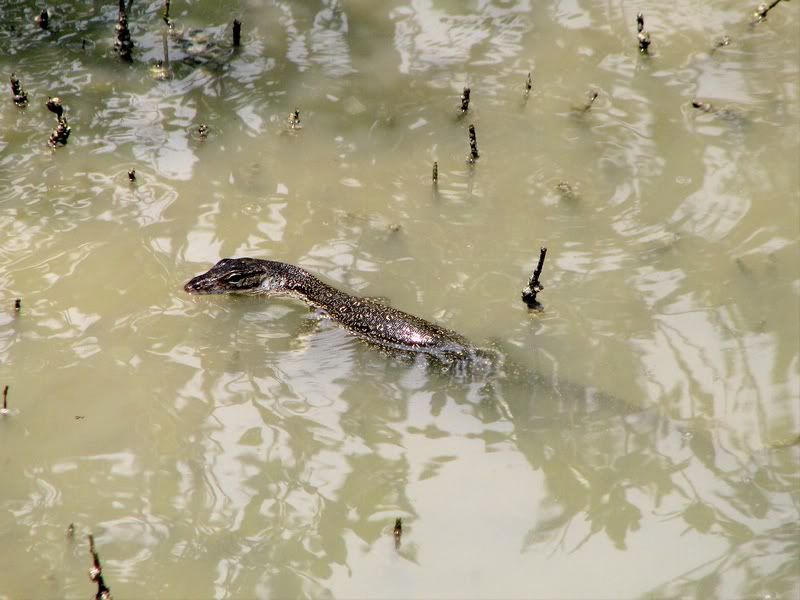 Then it was time for the ride home. Here's Mom at the shore, waiting for the boat. She is Taiwanese, so she always carries a big umbrella here in the tropics.
Many of the white women we saw in the park were horribly sunburnt because they only wore tank tops and silly little bush hats.
I love Mom, because she is so smart.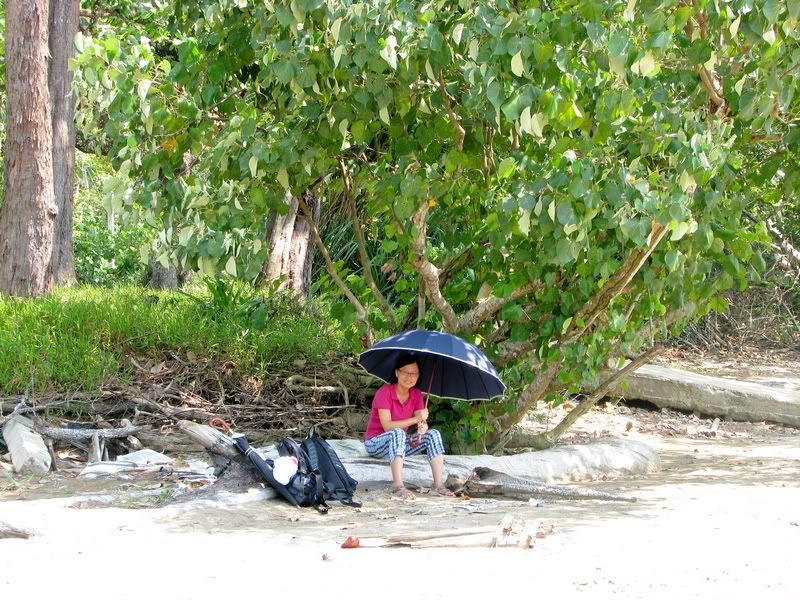 Here am I, admiring one of the famous sandstone eroshuns.
The water was low, so we had to take off our shoes and walk through the surf to get to the boat.
All in all, it was a wonderful day, and I hope Dad will take me back to Bako real soon, so we can explore the other 30 miles of trails. I only hope he won't croak on the longer ones.
Love,
Your nephew Liang Heng