Gunung Gading National Park ist most famous for its (one) rafflesia (
R. arnoldii
, I think), biggest flower in the world and all that jazz. It's an erratic bloomer, to say the least, and we missed the last flowering by six weeks. But here's a nice sign.
We didn't do the entire trail to the 2000-foot summit, just ambled along the many waterfalls in water-frolicking and picnicking mode. We had brought chicken franks (this is Malaysia, after all - pork is only sold in specialty stores) and baseball mustard, which we enjoyed in settings like this:
As I waited downstream for the kids to finish their waterfall abuse ("this is such a cool slide, Dad!"), I spotted a tiny lizard jumping into the water on the far side of the creek and swim towards me, using his tail for propulsion much like a fish/snake/water monitor would. It looked like a skink, but the skinks I know from Taiwan have as much love for water as a housecat, so at first I thought "salamander". Then again, we were in the Bornean lowlands, and I doubt any salamander is hardy enough to live through this heat. When the lizard reached my side, I scooped it up and examined it. Lo and behold - a mini-skink, and what a beautiful one at that! I tried to ID it with Das' "Lizards of Borneo", but failed. I guess the orange tail is some kind of juvenile feature? Anyone to the rescue?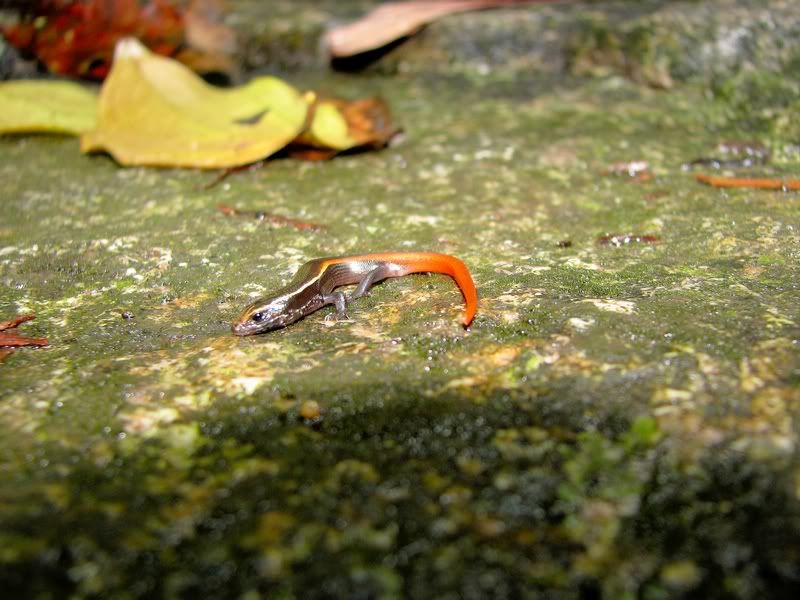 Back on the main trail. (That IS the trail, in case you were wondering)
Trek-on-rails
Here I became living proof for the maxim that fat people find more herps. They need to take frequent breathers-cum-forehead moppers, and it was on just such a break that discovered this truly spectacular, foot-long saurian sitting on a broken sapling not two yards away from the trail. It had such confidence in its camouflage that it let the six of us examine and photograph it from point-blank range for a good half hour...and it was still stitting theer when we came back down the trail later that afternoon. Again, "Lizards of Borneo" didn't help, because it only shows one photo per species. Proper ID, anyone?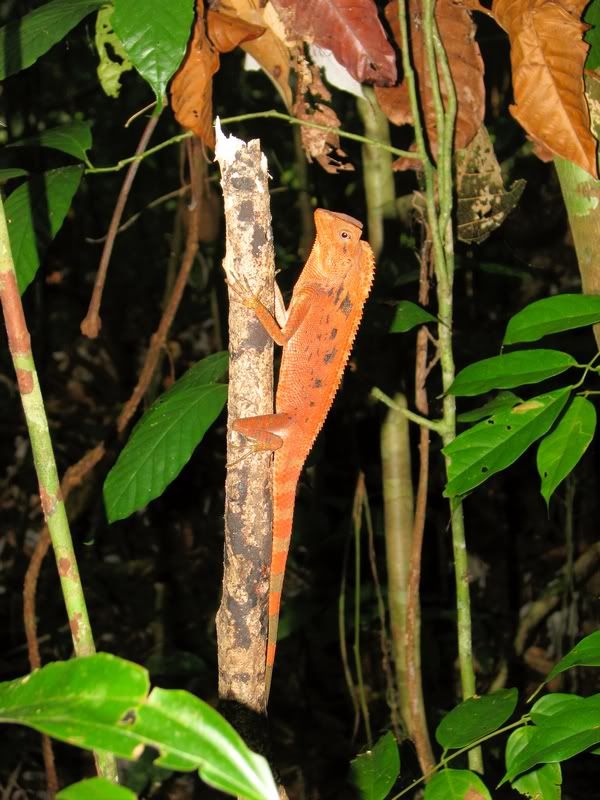 Another joy for our tropifauna-thirsty souls: the fringed, seven-inch wieners crawling all over the trails. Any IDs?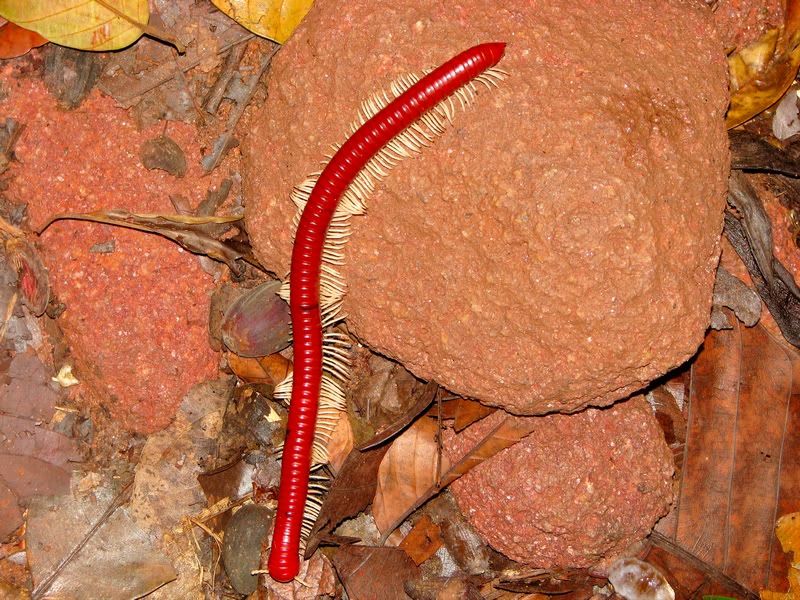 These ones looked like the juvenile version of one of the firefly species we know from Taiwan. Only, they were four inches long. Are they millipedes, after all?
This was our first encounter ever with a wild scorpion. The kids found it dead under a roast-chicken vendor's stall. At about six inches, eyes to stinger, quite a mighty animal, it was. (ID?)
And, lastly, the usual warning against extended jungle walks. If the heat won't get you, the brain-burrowing bugs will....