Last Friday night a bunch of local amateur photographers (and one pro) took my son and me through a "backdoor" into Kubah National Park. Many of Sarawak's national parks are gated affairs, only open from 0800 to 1800, no night visits allowed. And for a good reason: the first thing we saw was the stump pf a hardwood tree, the remainder of which had been cut into manageable pieces and removed from the park. The second oddity was a cozy, comfy hide three meters up in a tree, used for ambushing bearded pigs. Two oil palm fruits stuck onto saplings at eye height served as pig bait. Upon my inquiry whether my new friends would take pictures of these park rule violations and confront the local authorities, I was treated to sad smiles and a story about how the head ranger of this park once crippled himself with a shotgun blast to the foot while pig hunting in his own park, not too many years ago. I knew things were bad over here, but I had no idea they were THIS bad. It's not only the much-maligned logging and palm oil companies - as long as folks are poor, they too will rape their surroundings and fall prey to the lures of corruption.
But let's not get into politics - we also saw a bunch of very nice things, to wit: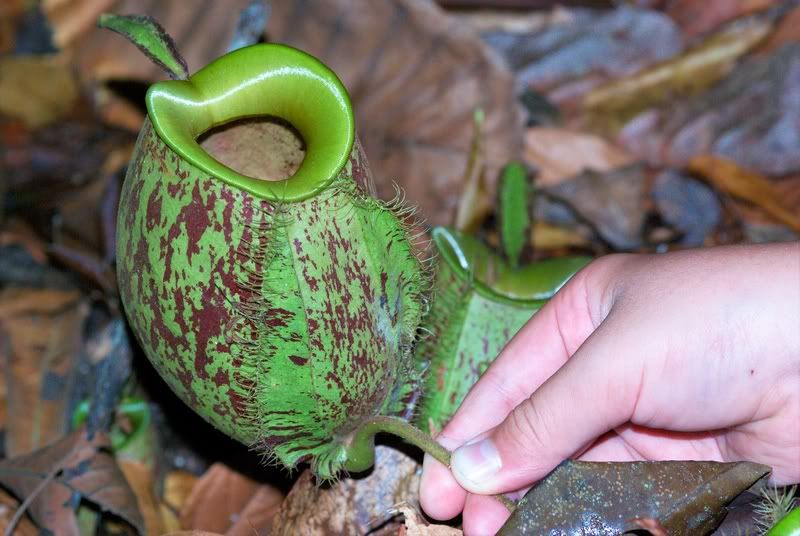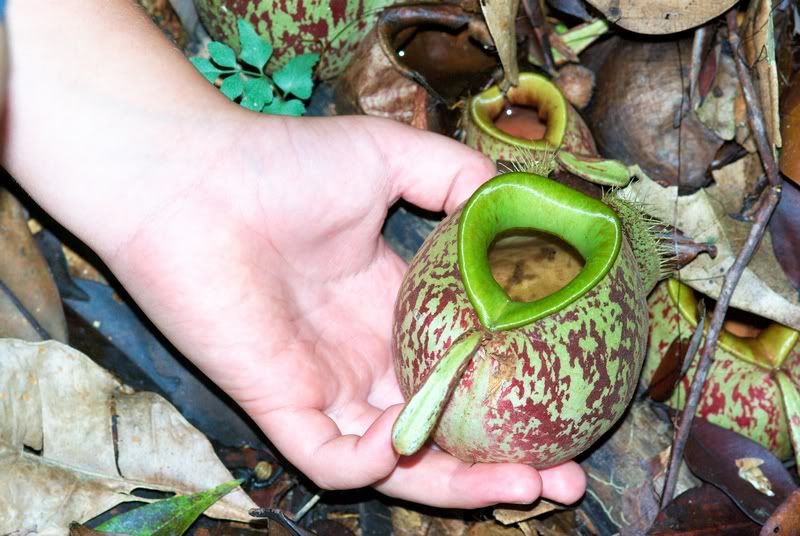 These are easily the hugest
Nepenthes ampullaria
I've ever seen in my life - and frolicking inside them were also the smallest frogs I've ever seen. In fact, they're the smallest frogs
most
people have ever seen, as
Microhyla nepenthicola
is the smallest frog species in the Old World.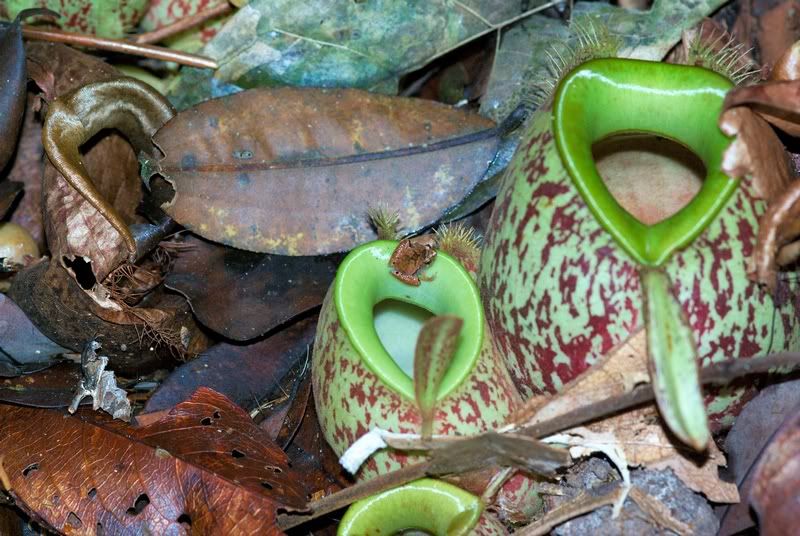 They've been known to science for over a hundred years - but only a few years ago Indraneil Das and Alexander Haas realized that those widdle froggies are actually the
adult
version of a heretofore undescribed species, rather than the juvies of a known one, and subsequently described the species. As the name implies,
Microhyla nepenthicola
hangs out in Nepenthes:
M. nepenthicola...spends much of its lifecycle in the traps of the pitcher plant Nepenthes ampullaria, after which it is named. It is therefore considered a nepenthebiont. This is not particularly unusual; in fact, it shares this environment with a species of crab spider, Misumenops nepenthicola, which is also commonly found in Nepenthes pitchers, and is similarly named for this reason. M. nepenthicola has less webbing on its feet than most frogs, which may be beneficial when trying to climb the sides of the pitcher plants, which can be slippery.
(Wikipedia)
Also, this frog is only found near Mount Serapi in Kubah National Park....what luck that I live but a half-hour drive away! As my son and I walked away from the Nepenthes patch, I whimsically remarked that there surely must be some species of tiny little snake that eats those tiny little frogs....and at that very moment one of the guys that had stayed at the patch yelled "HANS & HANS! HERE'S A SNAKE FOR YOU!" When we arrived back at the Nepenthes place, the snake was gone, but my friends described it as a tiny banded species that had suddenly come out of one of the pitchers and disappeared into the leaf litter....
Next up: Frank Sinatra's reptilian cousin - Ol' Blue Eyes (
Gonocephalus liogaster
), snoring sweetly on a twig.
Another
Gonocephalus
, this time a
bornensis
, was sleeping close by: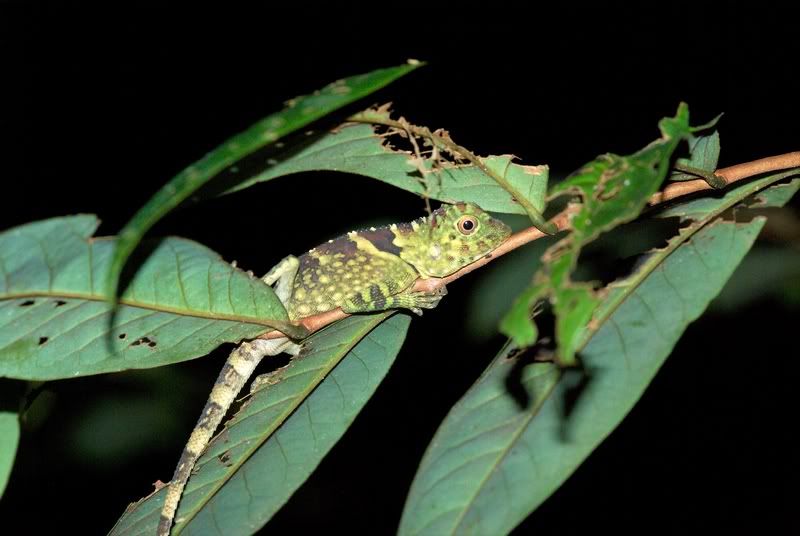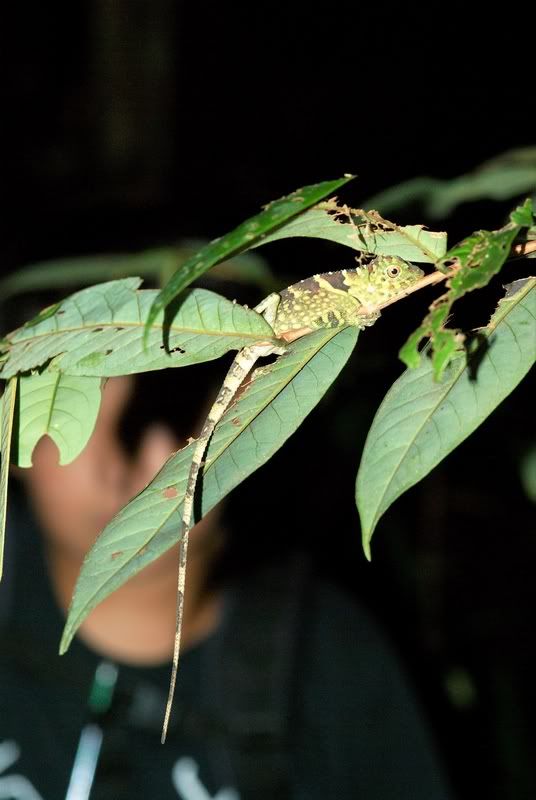 Rounding out the night was this pretty mantid. For its tiny size, it had one hell of an attitude. Every time anyone came too close, it would face the intruder and do a little "come and get some" dance, not unlike Mike Tyson in his heyday, swinging his little grabbers in our faces while swaying its body to and fro.
Tonight we're hitting the Kuching City Park, an old freshwater reservoir downtown known to be home to Reticulated Pythons, Paradise Snakes, and Equatorial Spitting Cobras.
Wish us luck!