Kubah National Park is a little nine square-mile piece of virgin rainforest just 30 minutes from Kuching, Sarawak, and claims to house over 50 of all of Borneo's 150+ frog species. I don't know whether this is true or not, but frankly, my dears, I don't give a damn. All I know is that there sure are a hell of a lot of frogs in them thar woods. As has been
reported here before
, at night Kubah reverberates with oodles of different amphibian calls that perfectly round the outlandish sympho-cacophony of bugs, birds and other racket-making critters which is only performed with this intensity in the tropical rainforest. We had heard miraculous stories about this little herper paradise from various sources (including from our very own FHF member, frogshot), and boy, were we not disappointed.
But first things first: we arrived two hours after check-in time and were greeted by a lone, but friendly park employee who peered at us with sleepy eyes and a confused grin, shoved a key into my fist, and told us we could find him in the hut next door if we needed anything. A quite informal check-in procedure, if I may say so, in particular his parting remark: "Just make sure to stop by the office tomorrow morning and pay for the rooms...".
That was cool. But even cooler was that it was Sunday night, and we had the run of the entire hostel for ourselves. We quickly spread our stuff all over the common room, commandeered the dining table for our hiking gear, and my son Hans turned the well-equipped kitchen into a snowman factory. That's right, snowmen in the middle of the Bornean jungle. You see, the freezer had not been defrosted since Methuselah was a tadpole, and there were about five pounds of ice in there which my son scraped out and utilized for his frozen sculptures.
When he tired of his icecapades, we had dinner. There is no restaurant in Kubah, so you need to provide your own vittels and drinks, and we enjoyed the boxed chicken rice we had brought with us, a sumptuous meal topped off with fruits du jour - papayas,
lansats
(no worries, I'd never heard of them either, until three weeks ago ), and, of course, God's Own Custard, a few globs of durian. Then, filled to the rafters with tropical goodness, we shouldered our herping gear and stepped out the door into the dark forest.
Which was when the rain began.
Like the daylight here, the rain in the tropics is mostly either ON or OFF. There are no discernible increments, it is either day or night, and the weather is either dry or somebody suddenly dumps a missile silo full of water on your head and keeps at it for a solid 45 minutes. But the harder the rain, the shorter the rainfall, so we took out our reading material (an old NatGeo for me, and the Lonely Planet's "Malay Phrasebook" for my son) and waited until the sluice gates of hell would close again. That they did after little less than an hour, and when we left the hostel this time, we found absolutely perfect herping conditions. The forest still sounded as if it were slightly raining, but that was just the runoff from the trees - such a colossal mass of huge leaves, combined with a deluge of this magnitude, will keep the jungle dripping like mad for a good hour after the rain has stopped.
As opposed to most of the other national parks I've visited here, herping in Kubah does not involve mad stumbling up and down Navy Seal-grade slopes over insanely slippery roots, no, this was leisure herping as I knew it from Taiwan: an
asphalt road
leads through the jungle up to one of the park summits (Mt. Serapi, 911 meters), and along both sides of this road run ditches - fast-flowing runoffs from the creeks located a little further inside the forest, as well as concrete overflow drains, all filled with a variety of water levels, from half-dry and muddy to rushing mini-whitewaters. About one kilometer from the hostel, the road passes the Frog Pond, our destination. The Frog Pond is actually a muddy pig wallow measuring about 30 x 7 meters, created by the bearded porkers (
Sus barbatus
) roaming the jungle. Rain water keeps it more or less full, but no matter the water level, there are always frogs to be found. We walked slowly up the road, scanning the ditches on both sides, and it wasn't long before Hans let out an excited yell: "DAD, COME HERE, QUICK! I THINK THIS IS ONE OF THEIR KRAITS!!". From our herping years in Taiwan, we're both very familiar with
Bungarus m. multicinctus
, and meeting its bigger cousin,
B. fasciatus
, was one of the top items on our To See list. Hence "their kraits". But what I subsequently tonged out of the ditch was not a krait at all, but one of the most understatedly elegant snakes of the region: a juvenile Mangrove Cat Snake (
Boiga dendrophila
).(Actually, I initially thought it a subadult, until I learned from a field guide later that these guys can reach over eight feet

)
After thoroughly sullying myself by rolling around on the wet ground for the macro shots (why doesn't someone invent a foldable herping photo table, fer crying out loud?), we commenced our walk up the road. Not much later, it was my turn for a spot of electrified excitement. Just a few feet ahead of me, the tail end of a huge, tan snake slowly disappeared from the road into the undergrowth. My first thought was "
Ophiophagus hannah
!" (You may forgive me for this newbish reaction. After all, I'm a total greenhorn in these parts of the world, and since I'd never seen a wild snake this size before, my brain made the most obvious, if not most learned connection: "Borneo Jungle + Middle Of The Night + Nine-Foot Tan Snake = King Cobra") After hooking the behemoth onto the road, I was presented with a cocktail of clashing visual messages: the beast's head was that of a python, the tail was colored like that of a Mangrove snake (see above), and its midsection looked exactly like the
Boiga kraepelinis
I knew from Taiwan, wedge shape, stripes and all - but the animal was easily three times their size! I'm still far from being able to ID all 170+ known Bornean snake species, but a friend had recently shown me a photo of a DOR Dog-toothed Cat Snake (
Boiga cynodon
) he had found in central Sarawak a while ago, and I had ID'd it for him via my little field guide. So eventually I realized what I was looking at. The animal was quite jittery, but never assumed that typical defensive stance with vertically flattened upper body (I would have
loved
to see that!). I any case, it gave us quite a lot to work with, and only stayed still for a combined 15 seconds or so. Boigas are called "cat snakes" because of their vertical pupils, and in some of the shots you can see how these pupils laterally widen in dark. I measured the beast against my body and found it to be around 260-270 cm long. For this simple farm boy, that's a LOT of snake .....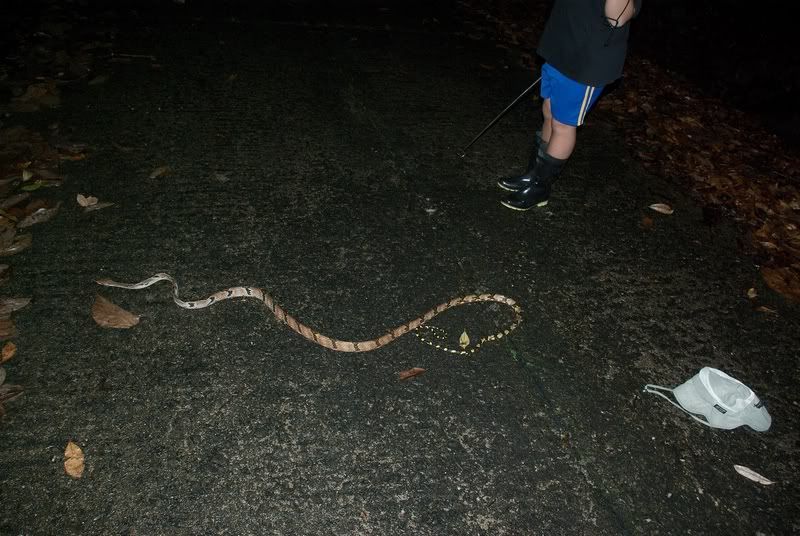 Finally, we arrived at the Frog Pond. We saw about eight species, albeit none of those we would have loved to see (the flying and the horned ones), but it was a deep experience. We saw a flying squirrel running up and down a tree, we spotted a large (half-submerged) softshell turtle (
Amyda cartilaginea
I think), and we found huge treefrogs everywhere in the saplings around us....but the best part of being at the pond came when I sat down in the nearby shelter, closed my eyes, and let the jungle noises wash over me for a few minutes. Truly a sublime experience that we would enjoy later in a similar form again, when we were laying in our beds at the hostel, listening to the forest singing us to sleep....
Bornean Eared Frog,
Polypedates otilophus
. As far as treefrogs go, this is one huge species.
Big-Headed Possum Frog. No, that's not its name, but it could well be. It let us pick it up like a pebble, never making any escape attempts until we put it back down. (What is it?)
The next morning we drove up to the summit (Yes,
drove
. YOU walk four hours uphill in this climate after a hard night of herping!) and enjoyed the view as well as a few Bamboo orchids growing by the roadside.
Arundina graminifolia
In Borneo, nobody is ever alone...
One day, my son, all this will be
aluminum smelters
. Or strip malls.