This post and the next serve as hold-alls for random photos taken in random locations at random times since we arrived in Sarawak in mid-July.
Gastheracantha arcuata
- The Spider From Outer Space. One of the world's oddest arachnids, and an animal I've longed to see ever since I arrived here. This one presented itself as if on a silver platter - on the wooden railing of a little jungle bridge. At first glance, the spikes make absolutely no sense (unless maybe as antennas used to communicate with the rest of the tribe in the Andromeda Nebula), but it seems that they've evolved to make the animal difficult for predators to swallow.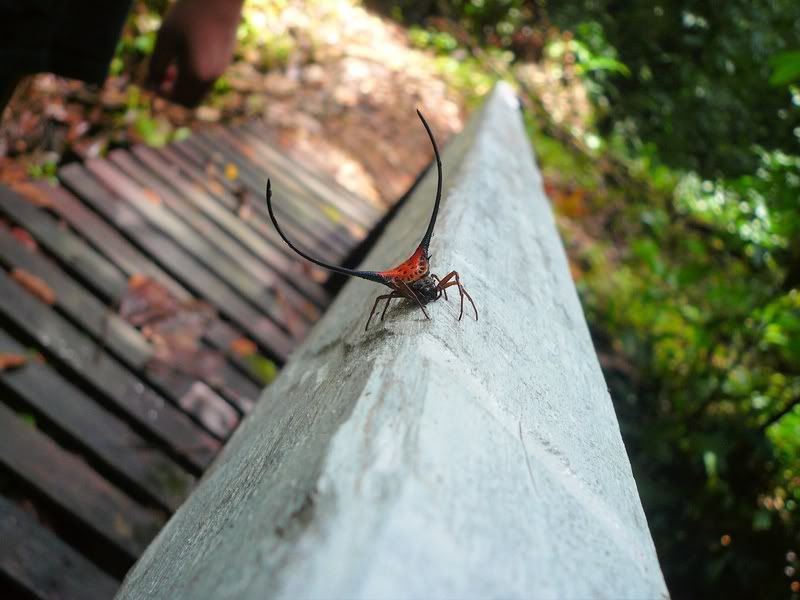 With leaves this size, I'm quite sure they have fossorial hippos here, too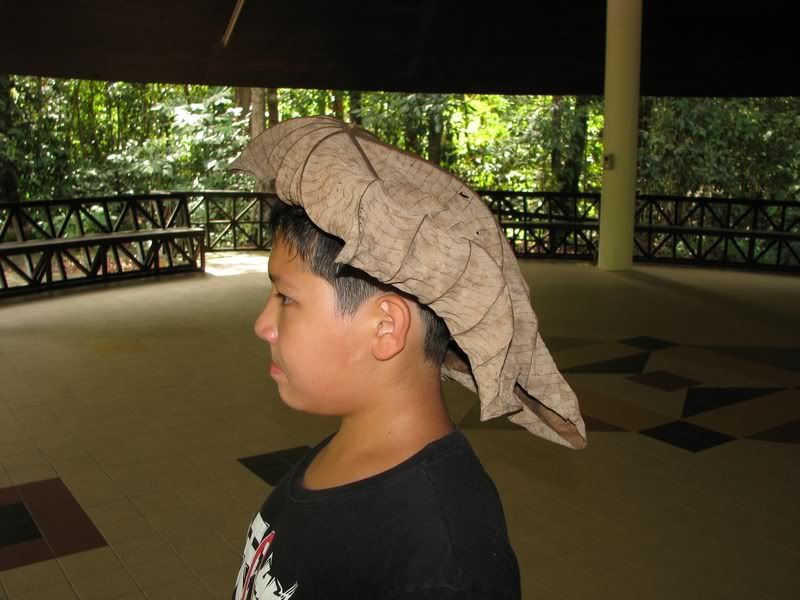 Jungle Skank (
Lygosoma bowringii
?)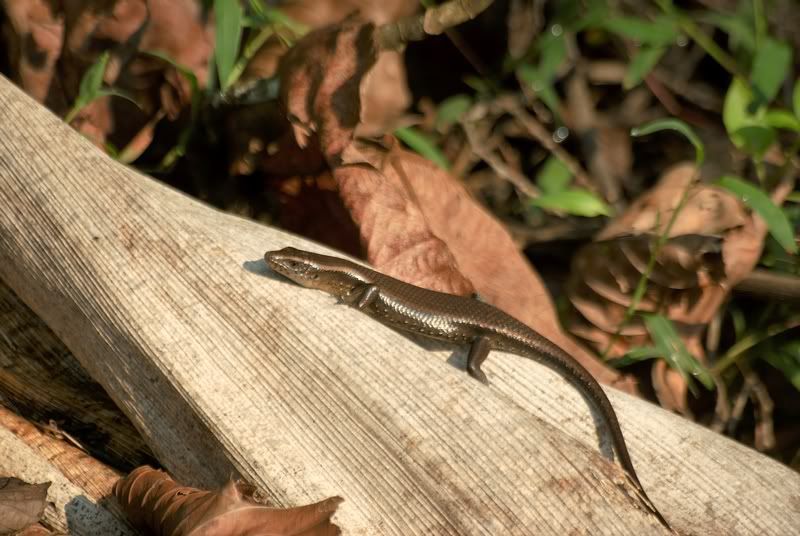 Tree Skank (
Dasia
sp?). Yesterday I saw one of these fellows sitting on the completely barenaked trunk of a colossal durian tree, about eighteen feet aboveground. Quite the image.
Bornean Tubular Vampire (
V. sanguinophila
)
Mouse Deer (aka Chevrotain or Kancil,
Tragulus napu
). Deceased, front leg broken. Must have had a bad fall from the cliffs above the waterfall. I do say, the jungle floor IS slippery at times.
Pepper plant?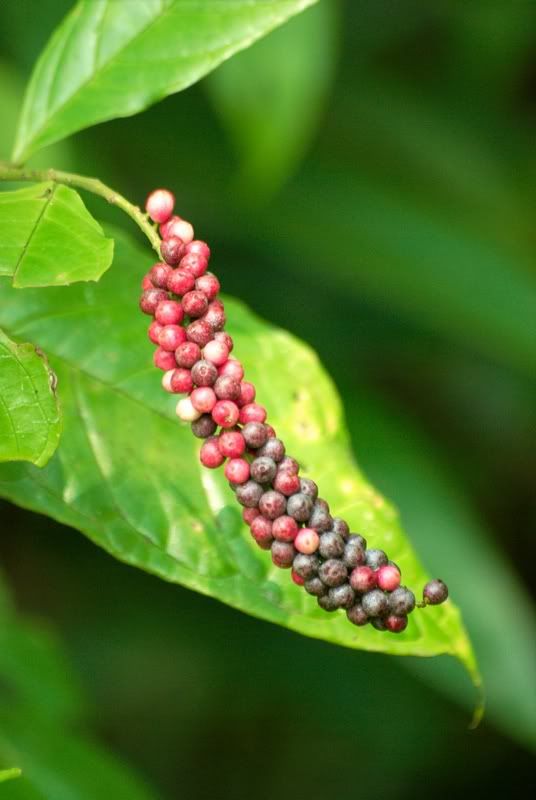 Tractor millipedes
Morning mood in the city park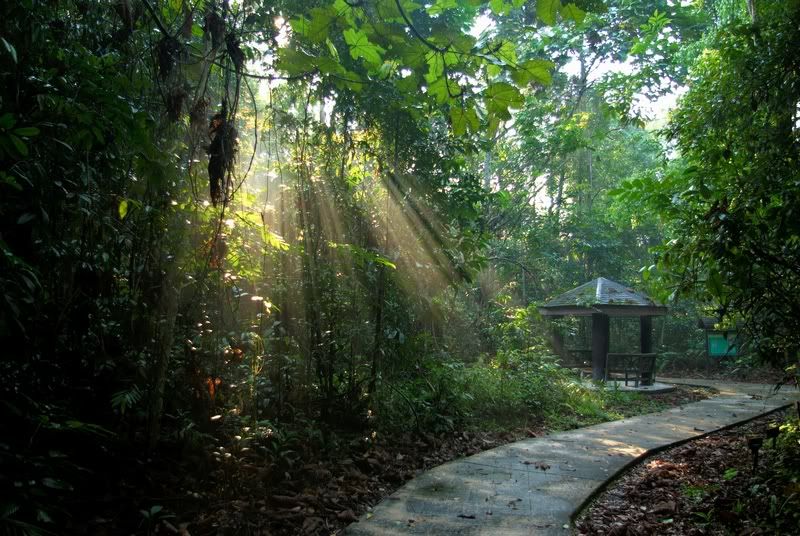 Also in the city park: this oversized chicken (Crested Fireback,
Lophura ignita
), which suddenly appeared from the vegetation and moseyed around on the trail in front of me, checking the floor for food and muttering under her breath all the time like some semi-senile human talking to himself. For a heavily hunted pheasant species like this, it showed remarkably little fear of humans. Two days later I saw it again, this time running straight towards a lady coming down the trail. The lady took out a little jar of rice and poured some on the ground, and the pheasant went straight to work on her breakfast. Tame jungle fowl! What's the world coming to!? (Sadly, there is no male left in the park. That would be a
sight to see
....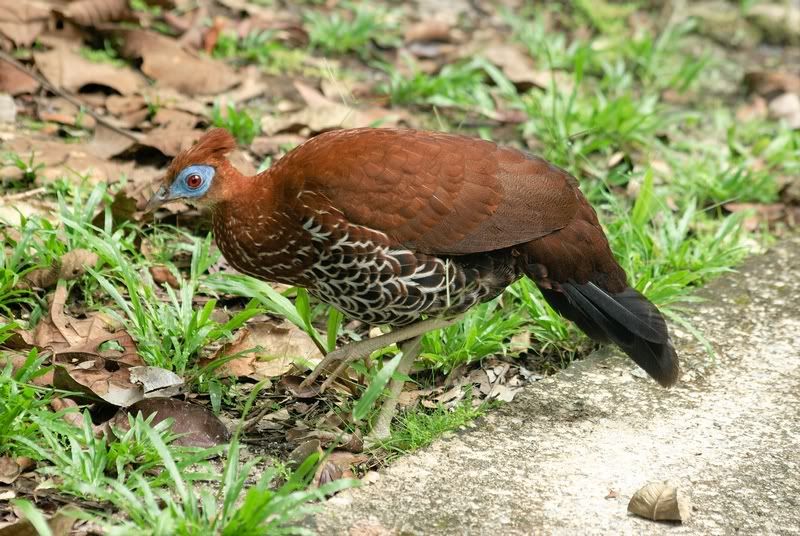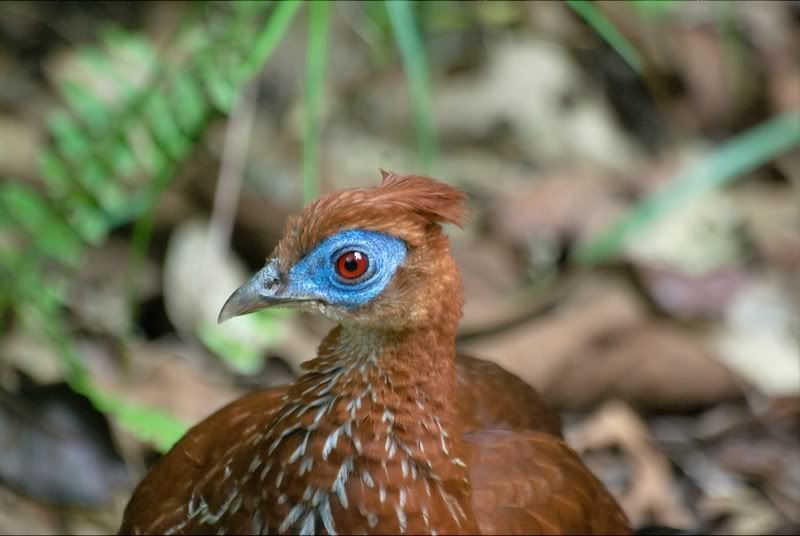 Fuzzy Leaf
And (it's true) yet another amazing critter found in the city park, and in broad daylight at that. Flying lemurs are very intriguing animals. There are only two species (Sunda and Philippines, this one being
Galeopterus variegatus
), and they're in a category they have all to themselves. They're closer related to primates than to anything else, and they're such shy and elusive nocturnal animals that their diet is mostly known via analysis of their dentures. This one was sitting on a tree right next to the trail, at about arm's length above us, and the flash photo doesn't give its fantastic camouflage justice. While the rest of us trampled right past the beast, a sharp-eyed lady in our group fell back, scanned the lemur and said "That's not some kind of growth on the bark there, is it?". It took all of us to figure out that we weren't looking at a lump of lichens, but a hairy mammal, and only the huge eyes could finally convince us that we had found something really extraordinary.