"Well, it's Saturday night, and I ain't feelin' right, I'm looking for trouble"
(Johnny Winter)
Yes, it was Saturday night, and the boys and me were indeed feeling quite antsy, as we hadn't been herping for an entire week, and we intended to make up for it with a vengeance. The conditions sure played along: the weather was nice and muggy, and the universities had just shut down for the summer holidays, freeing biology department students everywhere to hit the local mountains instead of their books. We love to meet fellow herpers, not only to socialize and catch up on the latest trail gossip, but also to leech on their finds

. We were in luck: at a central parking lot in
Yangmingshan National Park
(our backyard mountain range and main mid-summer herping grounds), we bumped into two of our favorite snake junkies: Ah-huo and Ah-jie (no, they're not twins, that's just Taiwanese nomenclature - the equivalent of "Jimmy" and "Johnny"). Ah-jie is a graduate student at a local herpetology department, and Ah-huo works at the Taipei Zoo Reptile Rescue Center. Both of them are still quite young, but nevertheless very knowledgeable about the things that grow and move in these here forests. We invited them to join us, and a short while later the five of us hit one of the main herping roads in the Park, a two-mile dead-end stretch without street lights, settlements, or traffic, and a nice fat roadside ditch running along its entire length.
Although they're mainly herpers, both guys are also totally and almost equally into everything else, including birds, and soon after we started our ditch patrol, Ah-huo opened his bag o' tricks - literally. He took out a tiny MP3 player with a small loudspeaker attached, set it to play an endless loop of an owl call, set the player/speaker combo on the ground by the roadside, and whaddaya know - ten minutes later a real owl answered from a tree above the player. We weren't able to spot the bird, as it perched too high for us to see, so Ah-huo switched to a different call, this time the Mountain Scops Owl (the Taiwan subspecies
Otus spilocephalus hambroecki
). Again, after a short wait, a real live specimen parked his butt on a neighboring tree, and this time a mere fifteen feet above us and in plain sight. I've seen plenty of owls before, even watched one once swoop down in front of my car to pick up a mouse, but this was the first time I had an actual opportunity to photograph one. Unfortunately, it kept turning its head away from our headlamps, so true portrait ops were rare. Nevertheless, an amazing experience. I'd love to label the photos "A Fellow Snake Connoisseur", but a little research showed that these little guys (about ten inches tall) seem to prefer insects and small mammals. Well, their loss.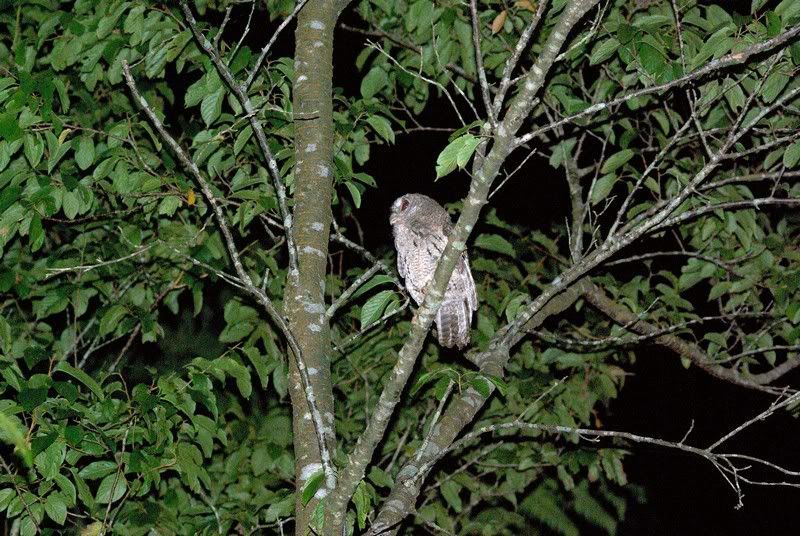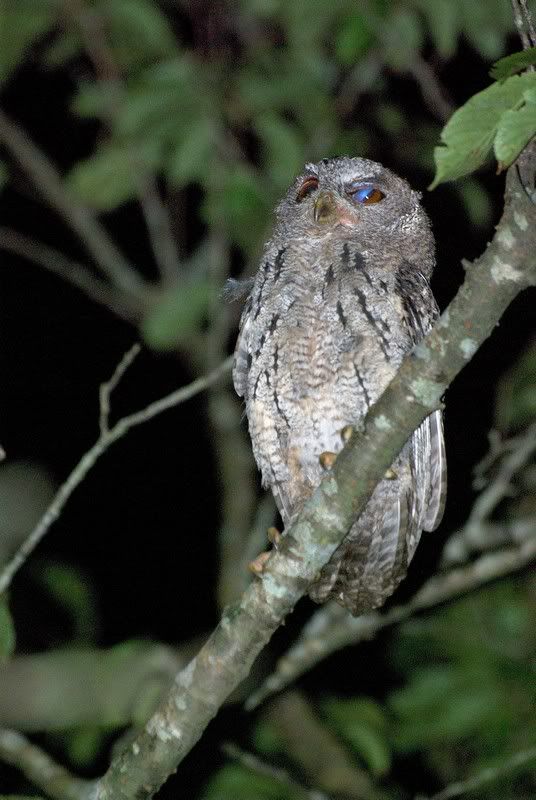 After this avian aperitif, we started stalking the ditches in earnest. The first hour produced the usual suspects such as a few
Dinodon rufozonatum
and a gaggle of Bamboo vipers (
Viridovipera stejnegerii
, and then Ah-jie finally had a chance to show off his woodcraft: Sitting on the ground taking pictures of a baby bamboo viper, he was bitten in the keister by a particularly large and pernicious ant - so pernicious in fact that he was able to identify the species by the inordinate amount of pain the bite caused him. When I asked him if there's anything to put on the bite, he answered "well, ammonia always helps", but still declined my kind offer to pee on his butt (probably because there were children present

). But then he remembered that there's a certain kind of wild taro whose sap will also neutralize the bite's nasty sting. Luckily, this plant (
Alocasia cucullata
) is an absolute weed here in the woods, and I merely had to cross the road to cut off a stalk. Said stalk contains a white rubbery sap (think natural latex) that is poisonous for human when ingested, but has amazing powers when it comes to healing ant bites - not even three minutes after we had been treated to the sight of Ah-jie dropping trou in the middle of the road and rubbing copious amounts of taro goo on his hinterland, he was totally pain-free. Hooray to natural drugs! Sorry, no photos of the event, what with this being a fambly forum an' all...
Not long after that, we got luckier with the serpents: an old False Viper (
Macropisthodon r. rudis
) separate post coming up soon!) was found in a ditch, and then we literally stumbled over another photo-worthy snake: a really chunky Taiwan Habu (
Protobothrops mucrosquamatus
) that was slowly moseying across the road (as far as snakes can mosey, that is). Thanks to their ubiquity, I usually rank this pit viper among the local trash snakes, but this one was a really impressive specimen. Not very long, mind you, just above three feet, but really chunky, and with a massive head that would have made a bull terrier proud.
P. mucrosquamatus
is a anuran/rodent generalist, but doesn't reject ground-nesting birds either. This nocturnal snake is often found near farmsteads where it hunts for mice and rats, as well as in the adjacent paddies, trawling for frogs. Sadly, its venom is nothing to sneeze at, so every year there are a couple of dangerous run-ins between human and habu. Fortunately, death by habu is pretty much a thing of the past now, as antivenin is locally produced and widely distributed to even the smallest countryside hospitals.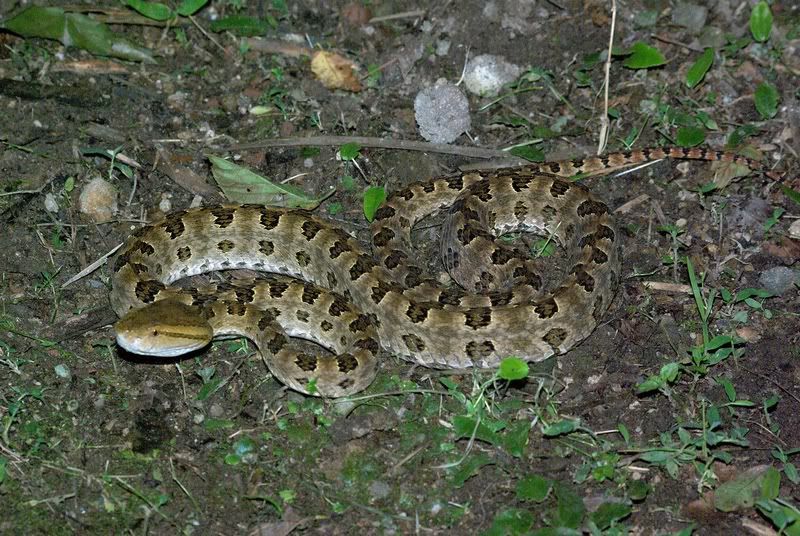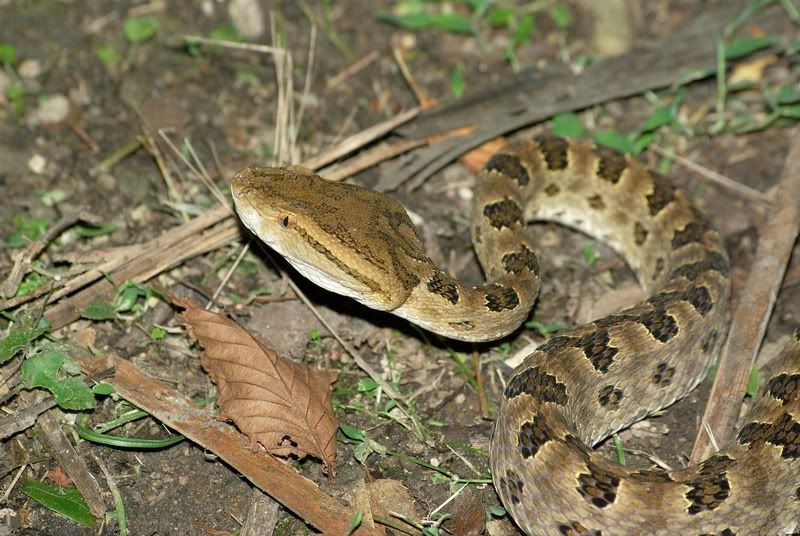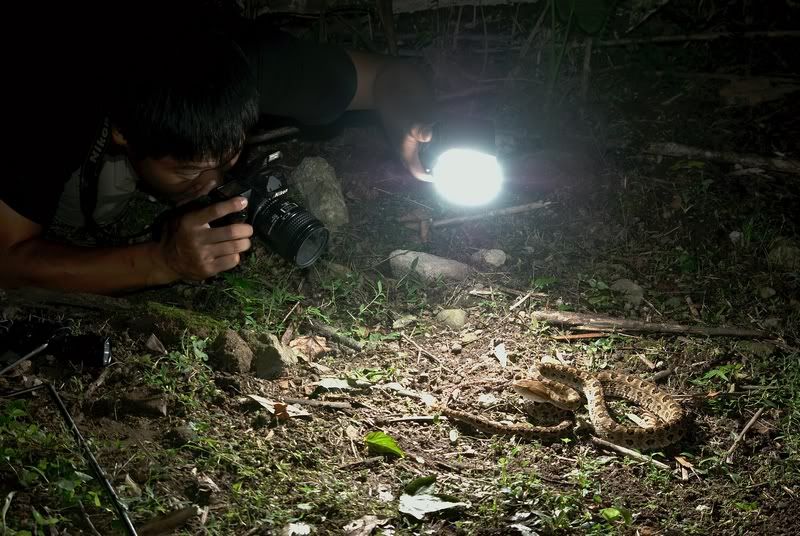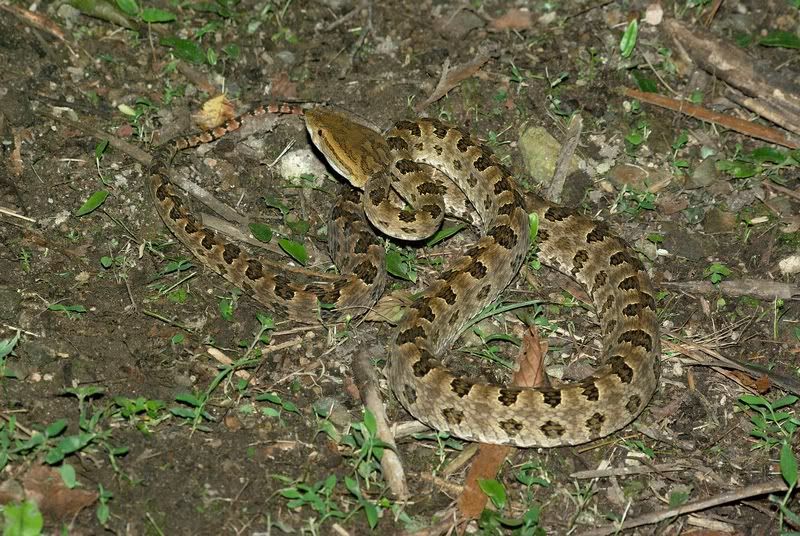 All barrels on the varmint!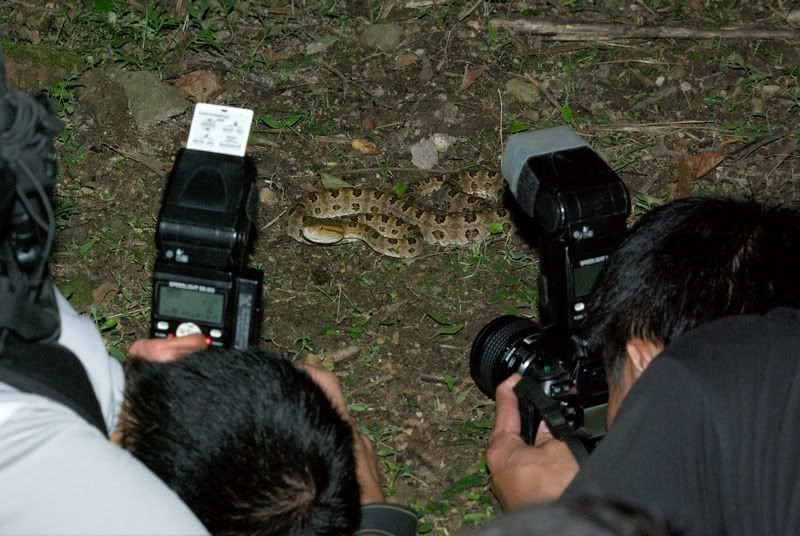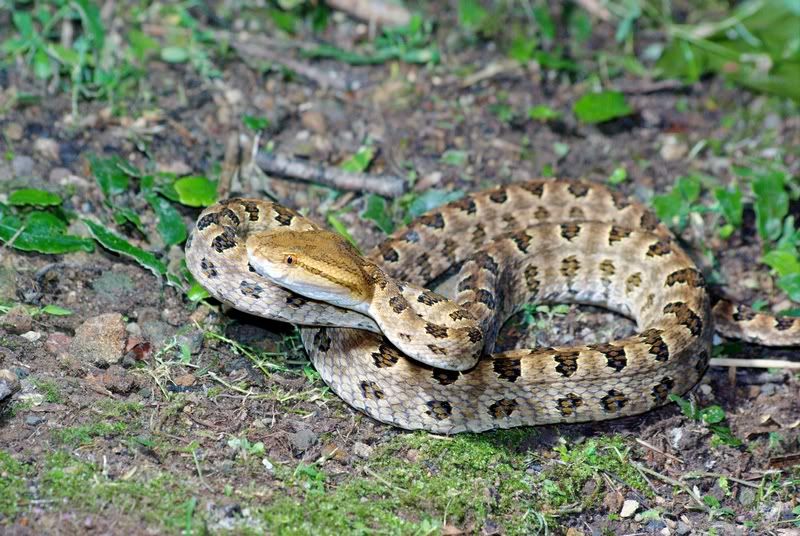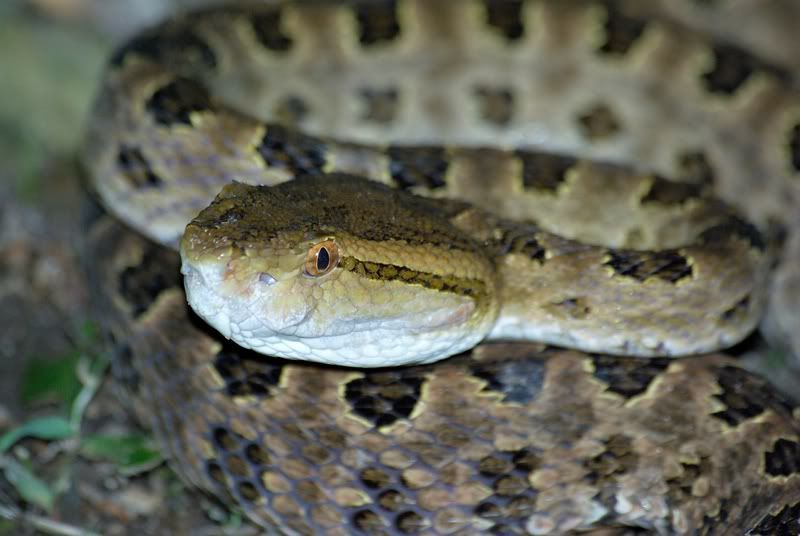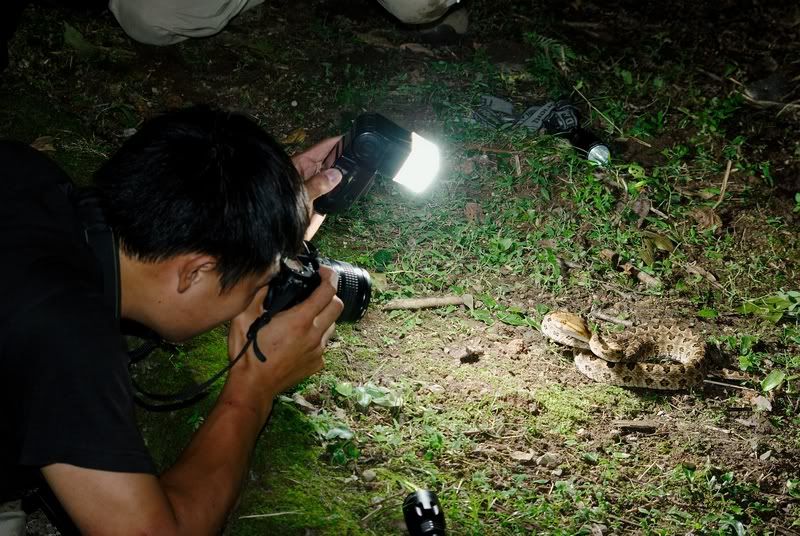 .....and one artsy shot for the road. Kinda purdy - but I really would like to know what the hell happened there!