This is the first of a seven-part series aimed at showing some of Borneo's glory. It's also aimed at finally getting out the door the 200+ photos that I've distilled from the much larger haul my buddy Marcus and I shot over the past couple of weeks. None of these photos come with a story that would warrant a dedicated post, so I'll just chuck them out there, sorted by themes (crocs, primates, anurans etc.) in the hope that someone will get a kick out of them as they are.
Let's start with some snakes.
Dendrelaphis caudolineatus
is one of the half-dozen or so Bronzebacks here on the island, and they're also the snakes you tend to see most during the day. The reason is that they're mostly lizard eaters and thus can be found by roadsides where their prey basks. (This behavior has led many of the jungle guides here to believe that Bronzebacks are "friendly" snakes, as they seem to seek human proximity. Clearly, there's much room for improvement in the government's guide training courses.)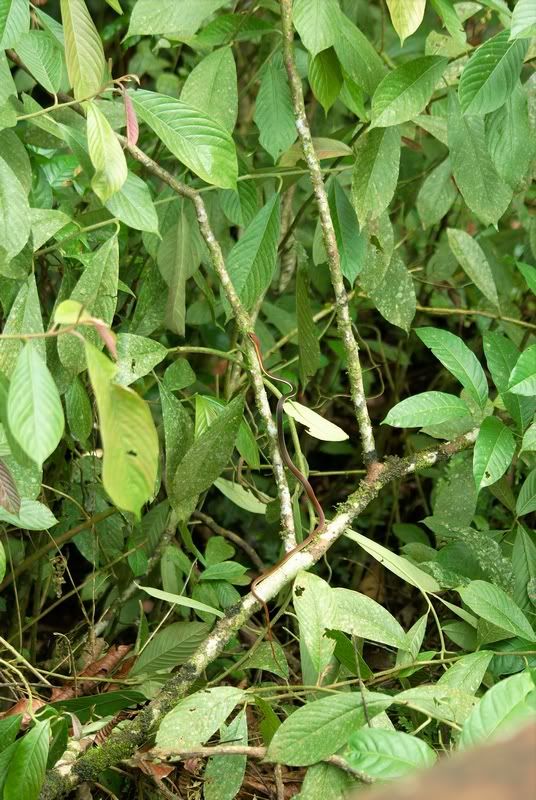 The Bronzeback's nocturnal counterpart, as regards visibility, is
Tropidolaemus wagleri
. Even with all my whining about the difficulties in finding snakes here, I'm already sick of these guys - at least the juvenile versions, which is all we ever get to see. Why can't we ever find a nice, big, colorful adult?!
One we found whilst roadcruising near the Indonesian border:
This one sat in a huge
Dillenia suffruticosa
bush right behind the restaurant at Bako National Park. That particular bush overhangs a pig wallow which at night attracts frogs, and you can find these vipers in that bush almost every evening. (For these macro shots, we removed it from the shrubbery and placed it on a more convenient surface. Photos Marcus Kloft)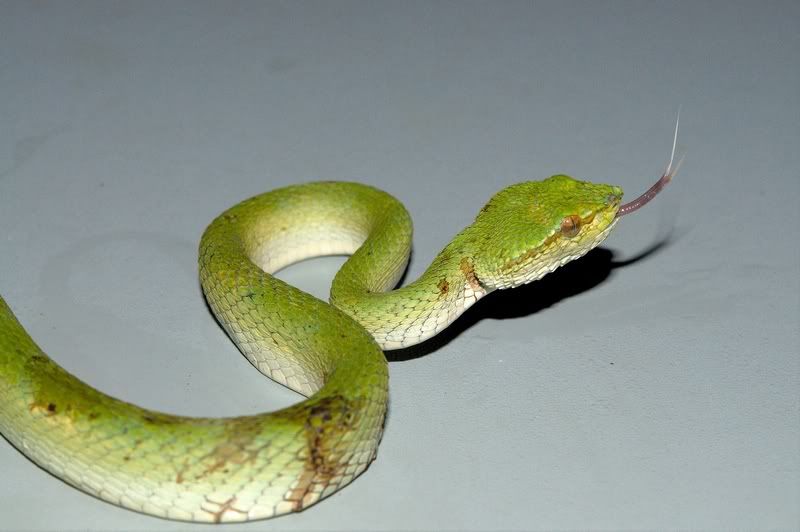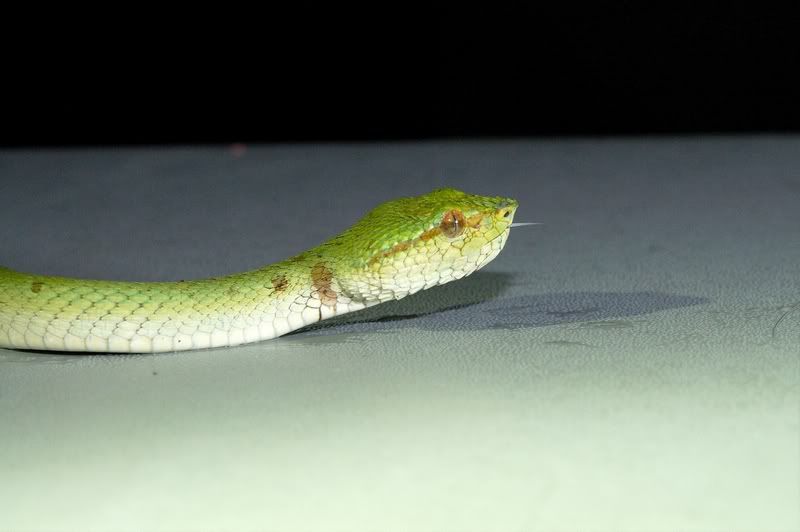 This DOR is
Xenopeltis unicolor
, the Sunbeam Snake. These guys are so weird that they have their own family, the Xenopeltidae (
xenos
= strange,
peltis
= skin or hide) which consists of exactly two species. The iridescence of the scales has to be seen to be believed - a "living hologram", as Indraneil Das calls it. They're not rare, even turn up in farm houses occasionally, but as with everything else here, they're hard to find when alive.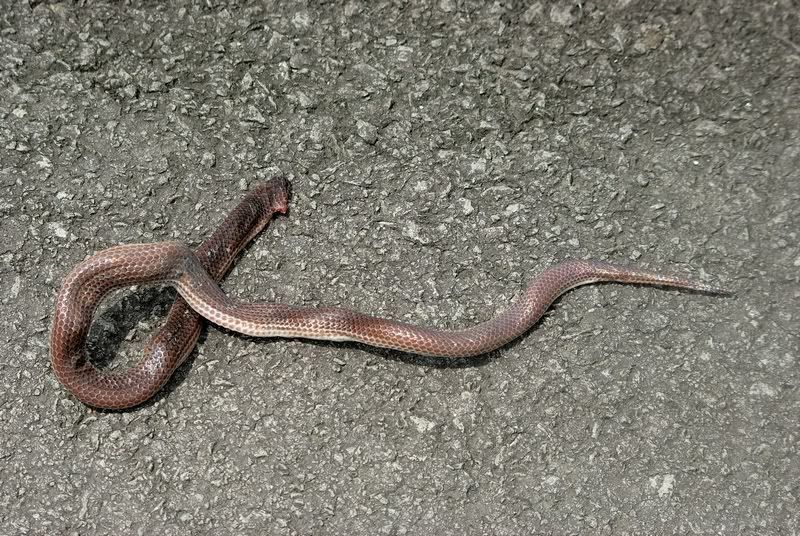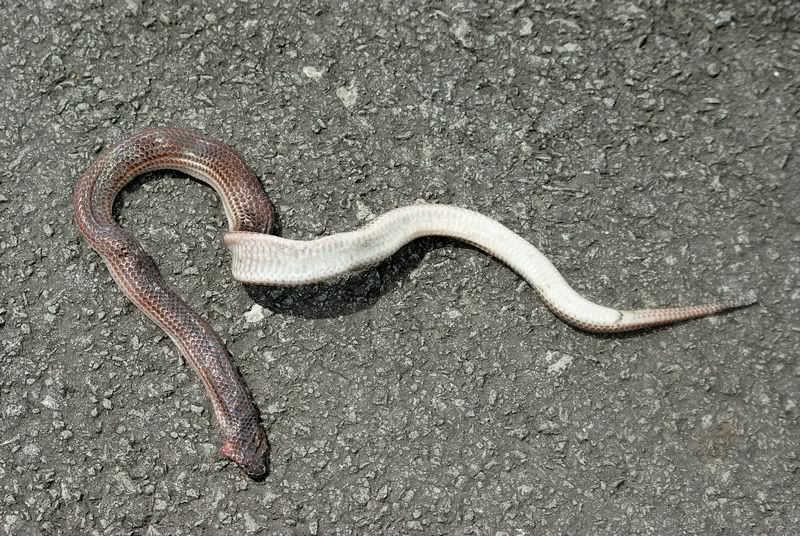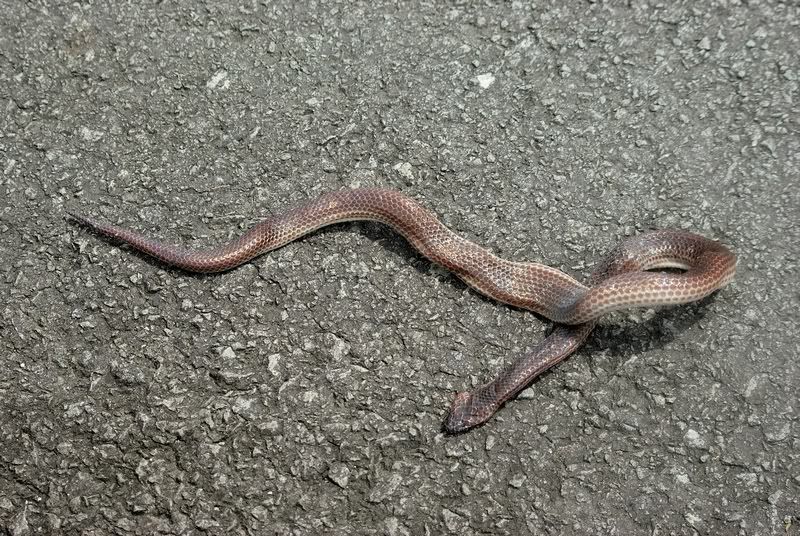 Another DOR - a Copperhead Racer,
Coleognathus flavolineata
. We've found two DORs so far, this two-foot juvie was still twitching