Hello again,
I started a thread a couple of weeks ago about the amphibians of Costa Rica:
viewtopic.php?f=2&t=8592&hilit=costa+rica+amphibians
Immediately after I posted it I left to go back in the field and have pretty much been out of contact since. I'm back at a computer now and I thought I'd share the last couple of weeks worth of amphibians. I tried not to duplicate any species, but a few made it in there, but no duplicate photos. A few neat things have happened since the last post which I'd like to share. Someone had asked about
Cruziohyla calcarifer
- and a day or two later I found one, many people commented about the salamanders- so I'll add a few more species to the photo buffet.
Special guest appearance by an undescribed species of lungless salamander!
Agalychnis callidryas
, The media star of the rainforest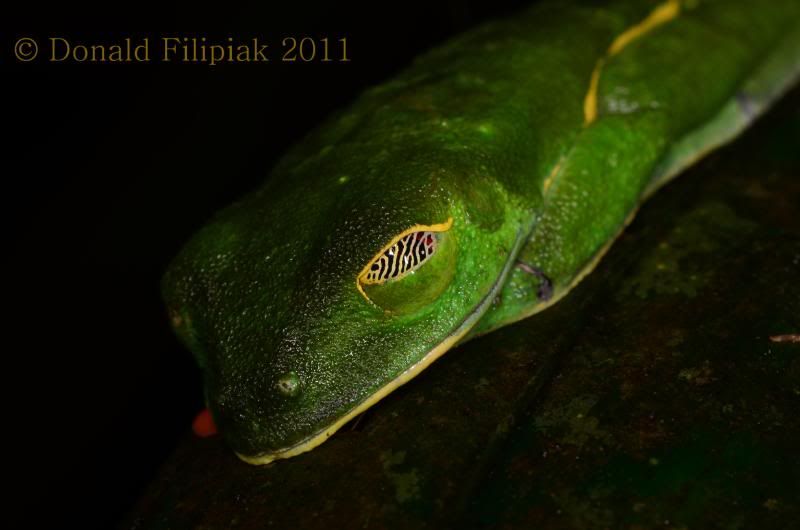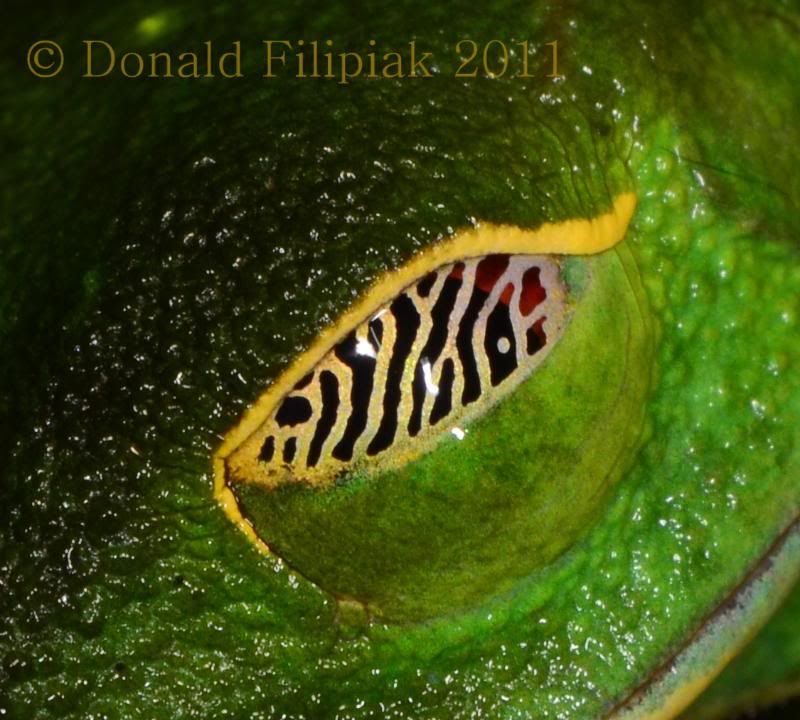 Agalychnis saltator
, the lesser known cousin of the red-eyed treefrog. This species is known to parachute down from the canopy
Smilisca sordida
, the Drab Treefrog.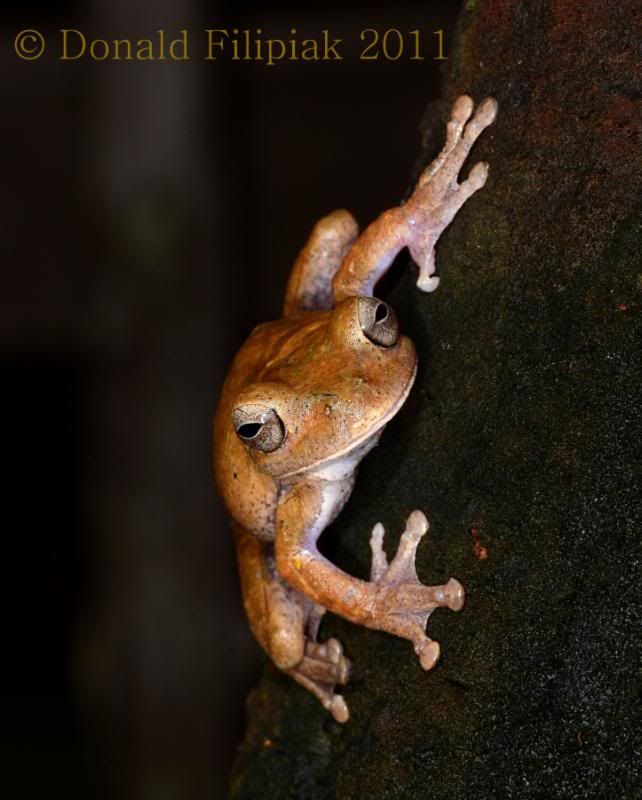 I move to have this species name changed- There is nothing drab about having a bright blue groin!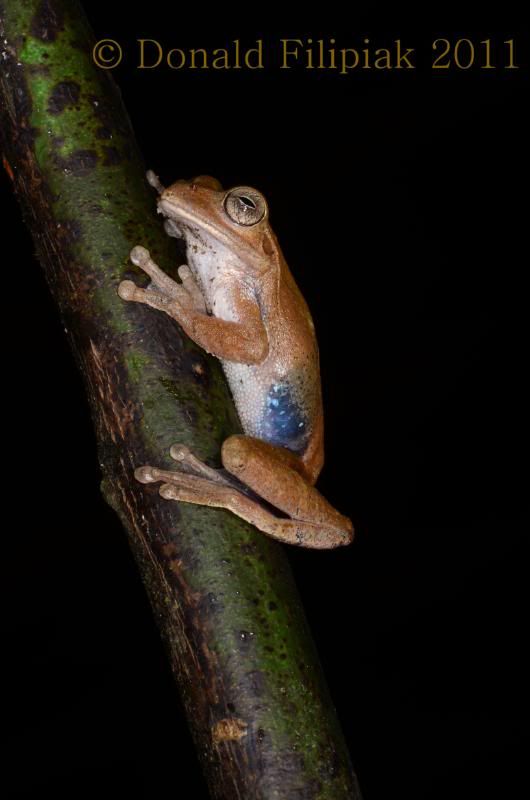 Scinax elaeochrous
, a common pool breeding species in the lowlands
Important lesson learned with this species: Do not keep reproductively excited males in the same room you are sleeping in... cause you won't sleep.
Male in his going out clothes
Male showing daytime colors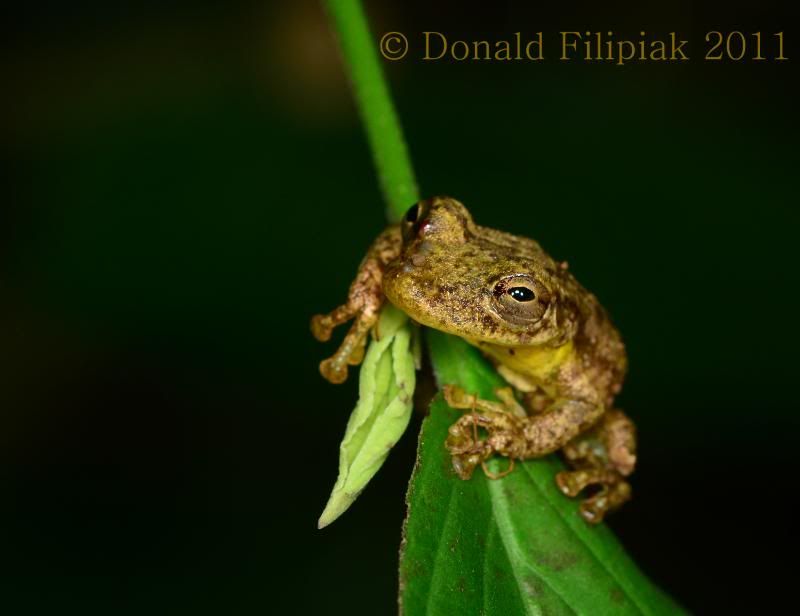 Amplectant pair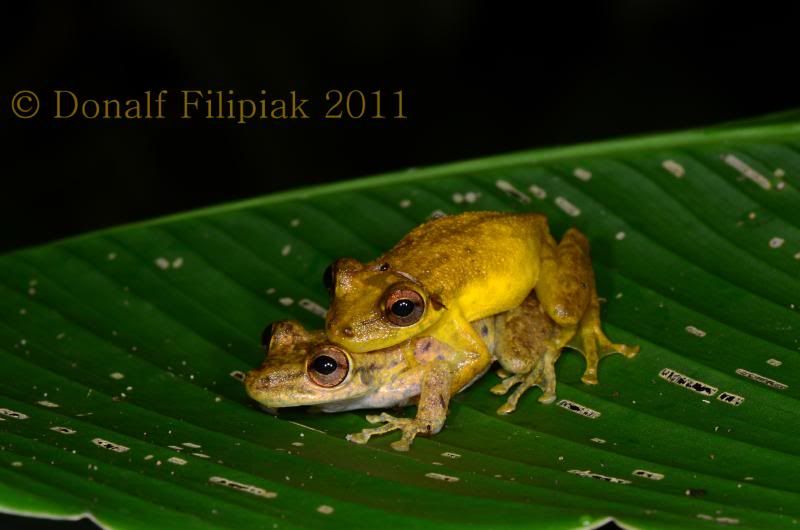 Dendropsophus ebraccatus
, the Hourglass Treefrog
Dendropsophus phlebodes
, a small hylid found around pools of water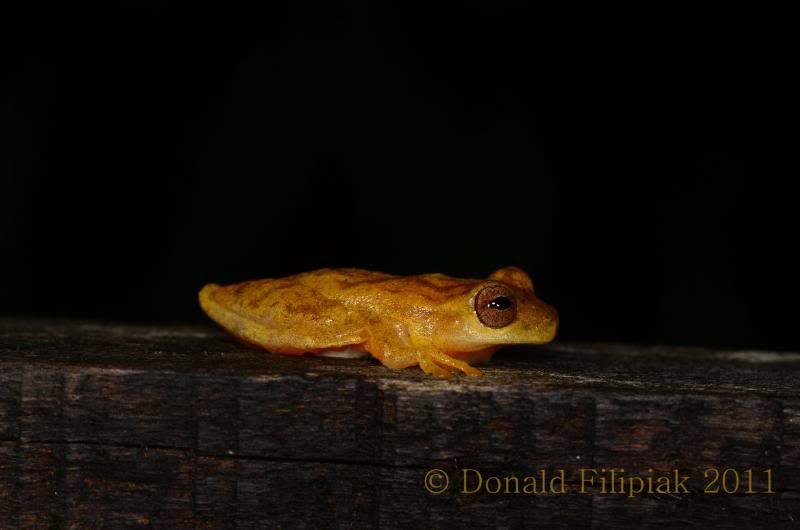 This specimen appeared to have a problem with its leg, which may explain the strange behavior of sitting on the railing of the boardwalk. Every other frog was found on vegetation that night.
I'm no expert, but I don't think that's the best place to hang out...
Not surprisingly, there were many spiders seen in the swamp that night, including a gorgeous orange
Cuppienius sp
.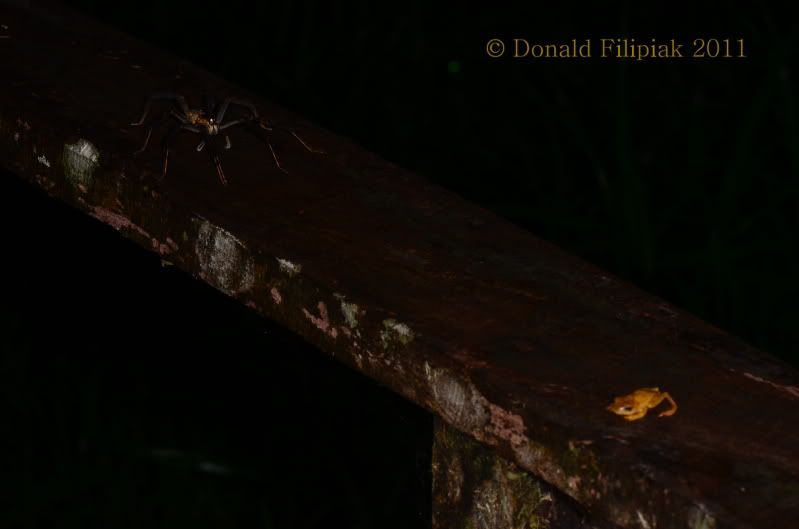 Tlalocohyla loquax
sticks to the deeper parts of the swamp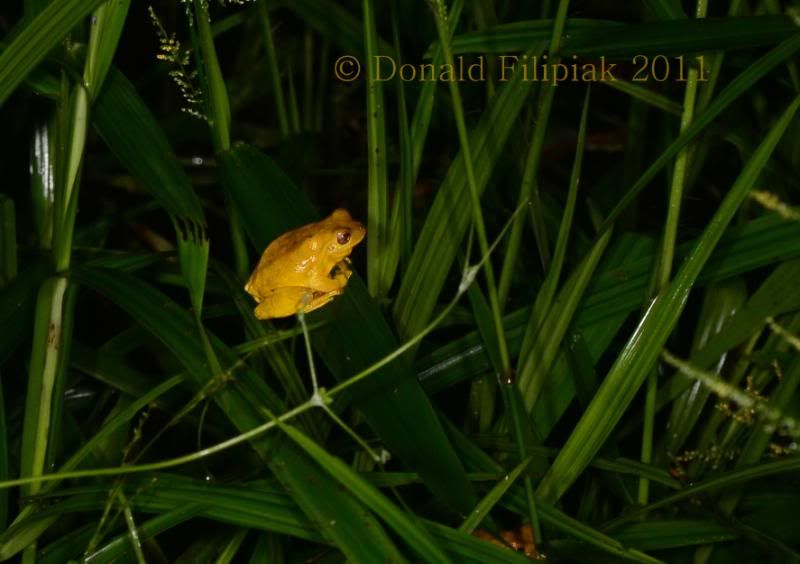 In one night walk I managed to locate 16 species of herps within a couple of hours- on the short boardwalk in the Cantarana Swamp alone, there were 13 species present. This does not count unseen glassfrog species (two or three) identified by audio cues later in the evening- La Selva Biological Station.
Here's one of the stars of the anuran world:
Cruziohyla calcarife
r, Grey-eyed or Splendid Leaf frog
This is the first record of this species for the Rara Avis Rainforest Reserve. It was encountered at 730m asl. In 2002 Savage puts the max. elevation for this species at a mere 85m asl, though there is an additional record for 2002 in CR around 100m. Kohler (2011) states that this species can be found up to 820m in South America. This species has also been recorded at a reserve (CRARC) in Guayacan, Costa Rica that ranges from lowlands to ~800m asl, though I am uncertain at which elevation it has been recorded at there. The point is- it was a rather "out-of-place" and completely unexpected sighting, and coupled with a few other finds, made for a tie for the best night walk of my life!
This species is also a canopy dwelling glider, look at the size of those pads! They come down from the canopy to breed in water retaining depressions in buttresses and fallen trees. As far as tropical species go, they have an extremely long larval stage that can last for more than 200 days!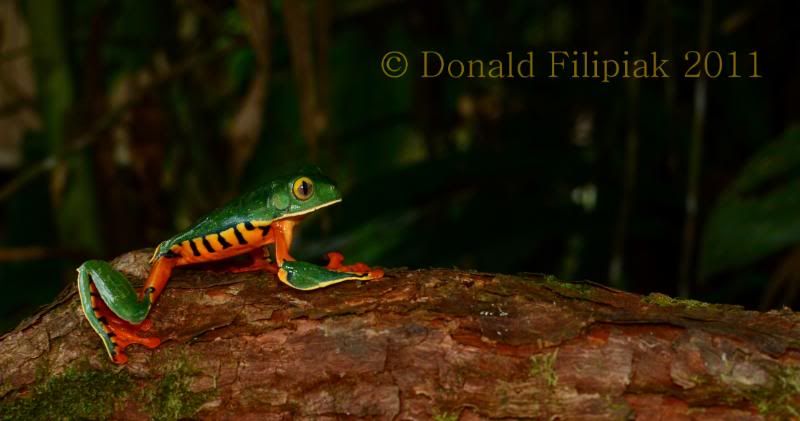 Diasporus diastema
, the Common Tink Frog, is a species more often heard than seen. Their disproportionately loud call is emitted from secluded places such as the undersides of leaves or the axils of bromeliads. Notice the diagnostic white marks posterior to the finger discs.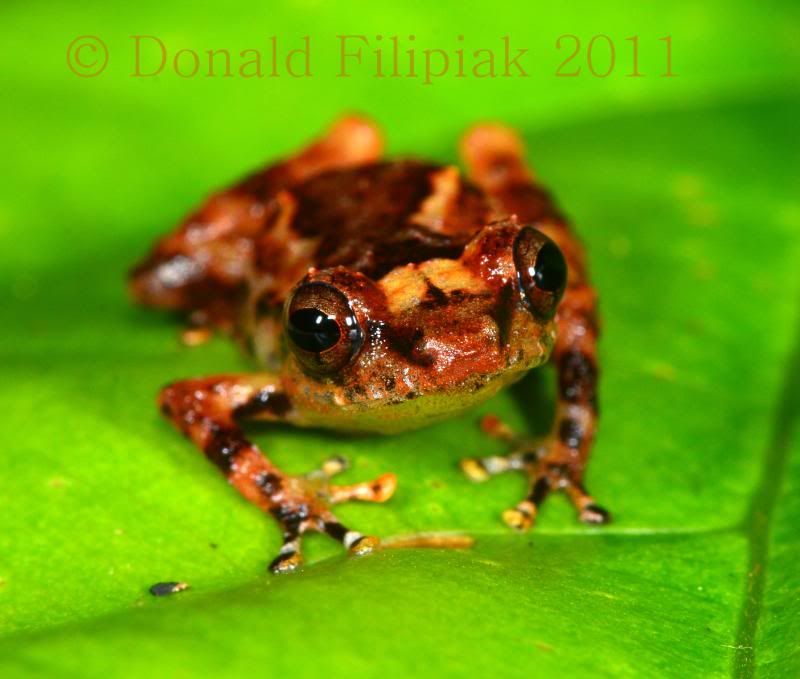 Sticking with the ex-Eleutherodactylids here are a few more rain/litter frogs (I am currently writing a book about this group):
Pristimantis cerasinus
, the Clay-colored Rainfrog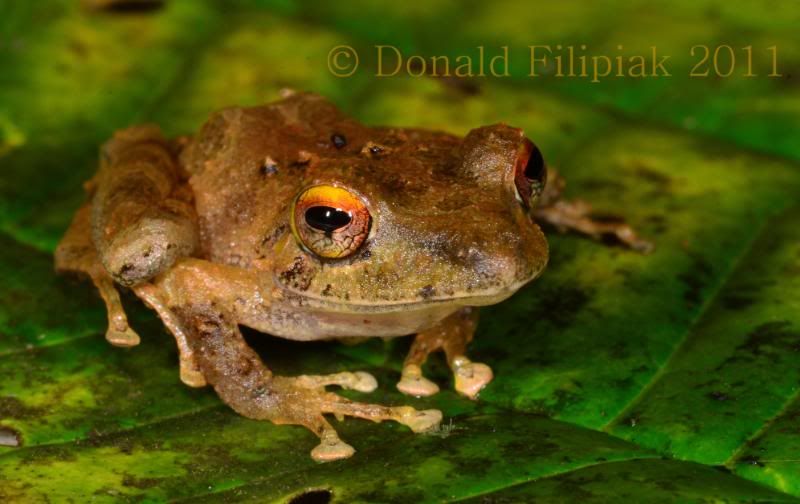 Pristimantis cruentus
, the Golden-groined Rainfrog, showing off its namesake. This juvenile has just started developing its coloration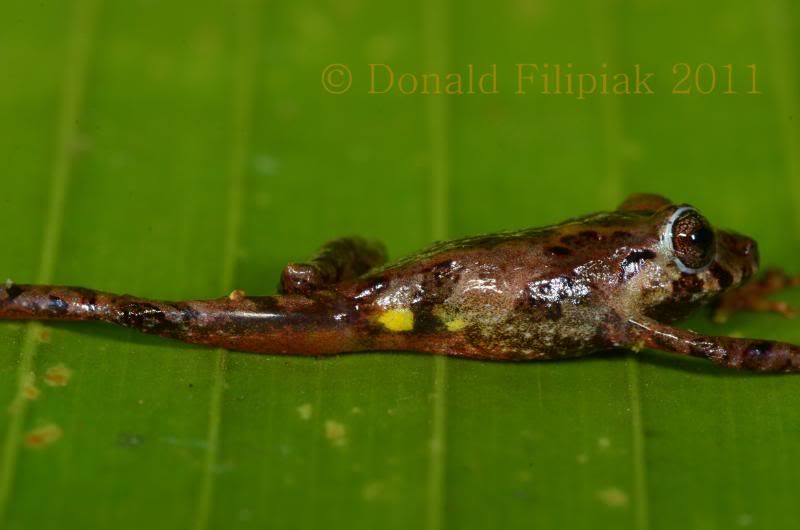 Craugastor bransfordii
showing just one of the many color phases and patterns that this species demonstrates.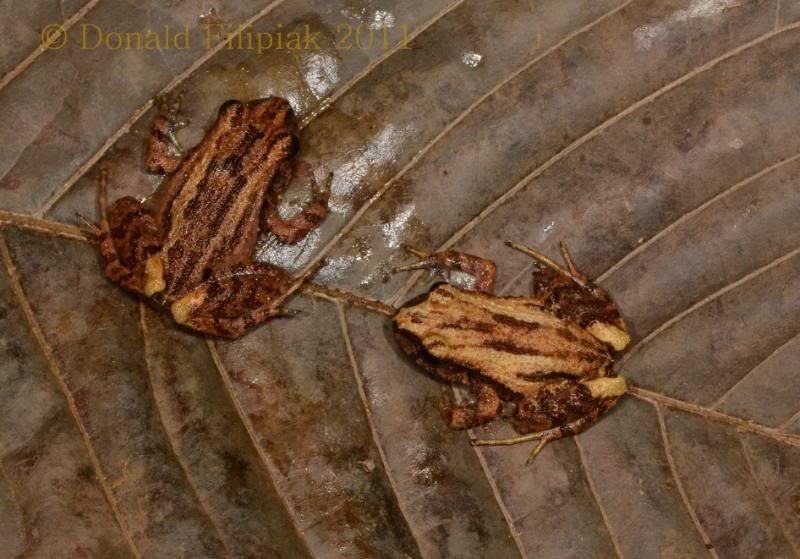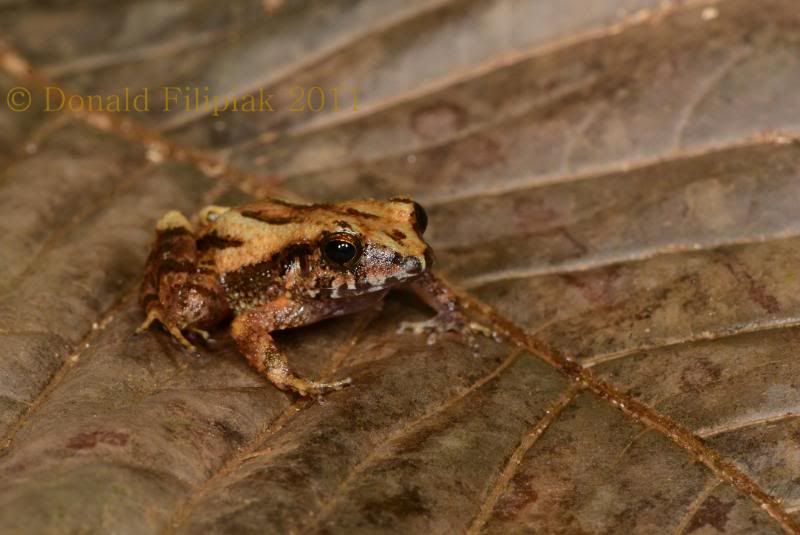 In the first Costa Rican amphibian post I presented you with two similar looking species from the
Craugastor gollmeri
group:
C. gollmeri
and
C. noblei
.
Here is the third and final member:
Craugastor mimus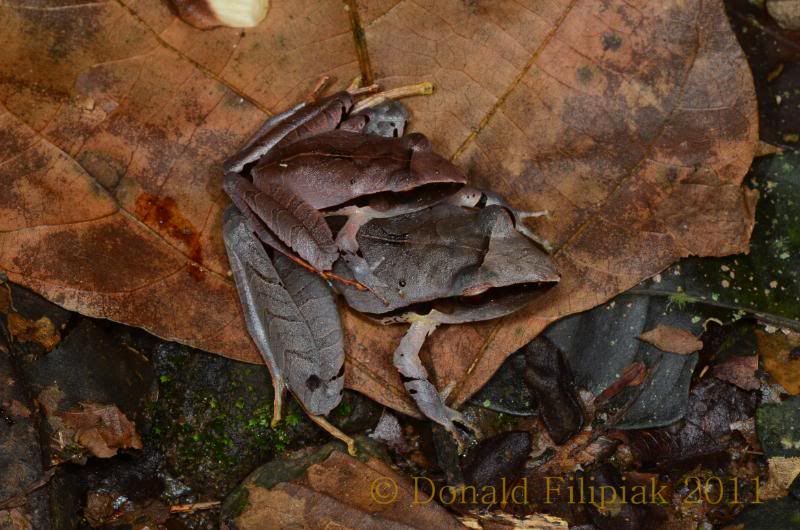 My favorite member of the Costa Rican terrarana-
Craugastor megacephalus
, the Broad-headed Rain Frog: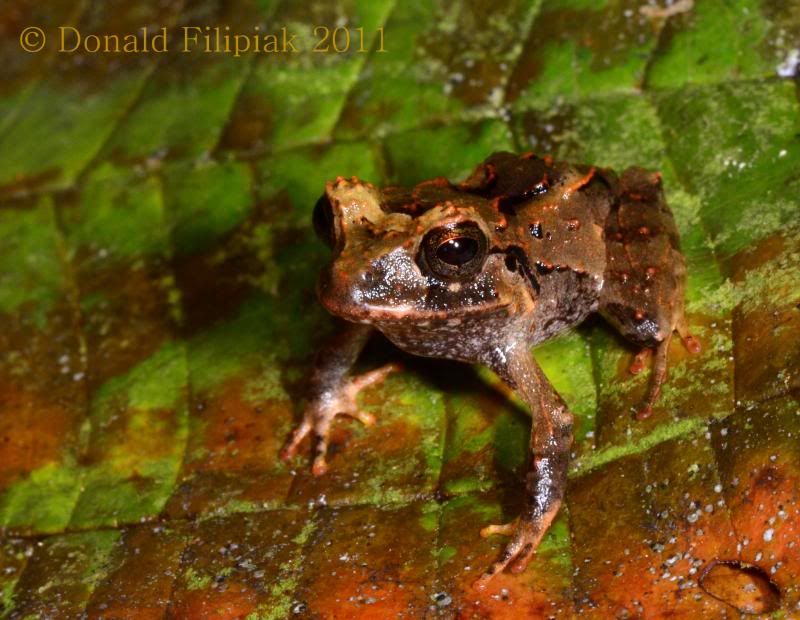 Juvenile
This picture was taken by my friend Ivy on a hike we took back in 2010. I wanted to show this beautiful yellow coloration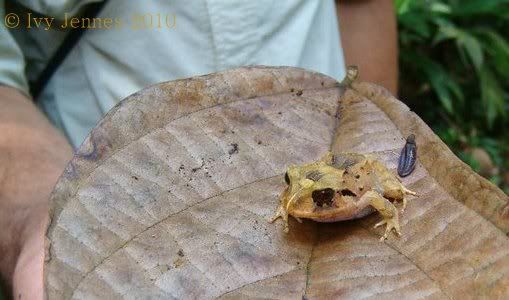 A little help while working on the book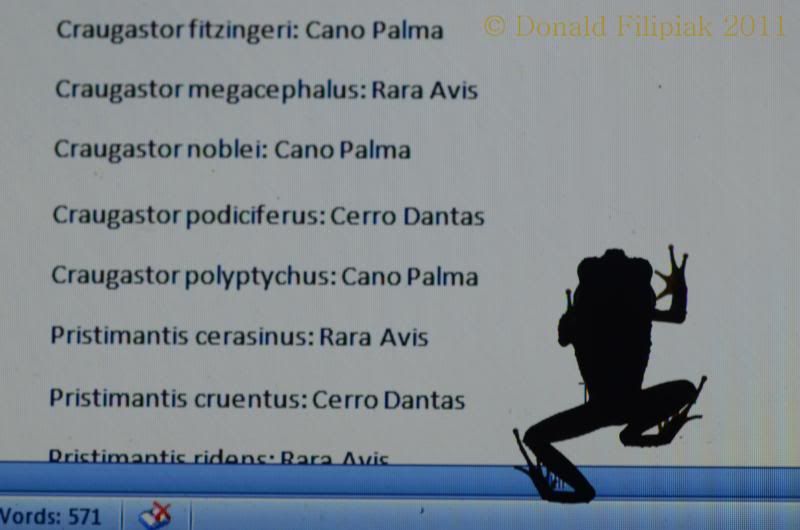 And what's a CR post without
Oophaga pumilio
, the Strawberry Poison-dart Frog to brighten things up
Incilius (Bufo) coniferus
, the Green Climbing Toad can often be found breeding in the water-filled tractor trail on the "road" to Rara Avis.
Who doesn't like pink toads?
Rhaebo haematiticus
, the Smooth-skinned Litter Toad seemed to be popping up more often than usual at the higher elevations in the past two months.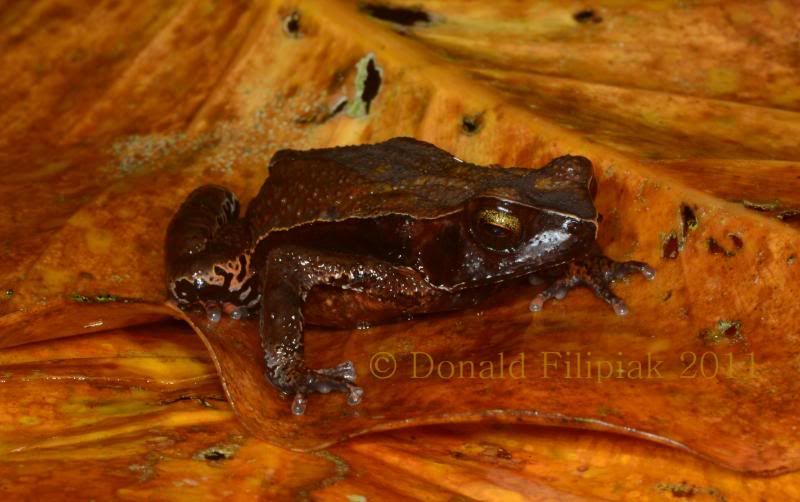 In the previous installment I raved about the Smokey Jungle Frog, (Rana comepollo in spanish), here's a different perspective of this species.
Leptodactylus savagei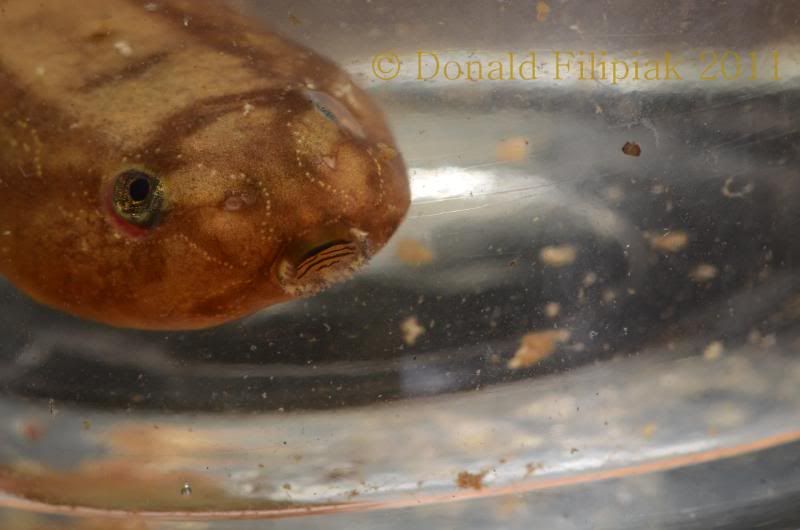 Sachatamia ilex
, the Ghost-eyed Glassfrog
I know what you're thinking, I already posted pictures of this species in the last thread, and seriously, who would ever want to see this little guy twice?
Largest glassfrog in Central America
Field diagnostic #3: Protuberant nostrils positioned on a distinct ridge: check!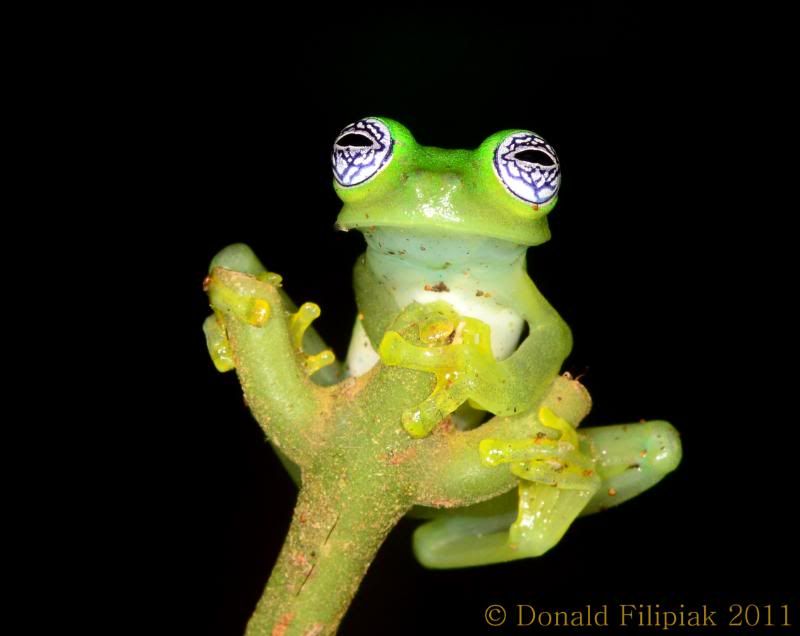 And the reason for reintroducing this species....
Male/male combat!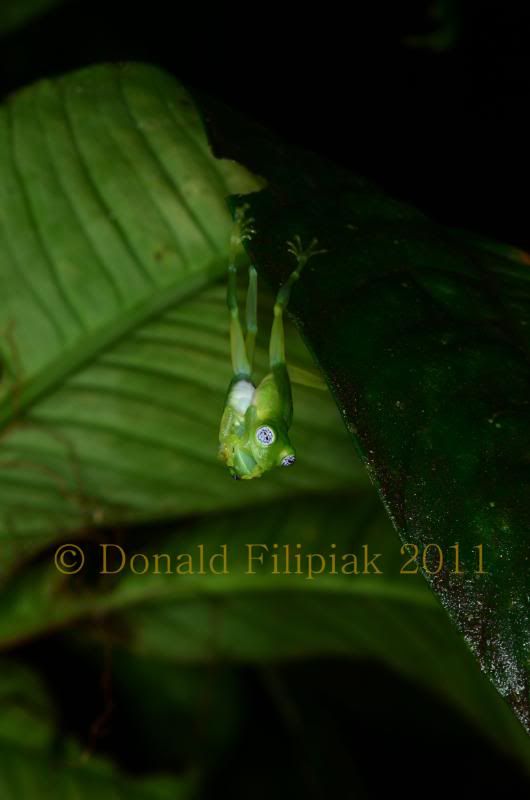 Hanging upside down from a leaf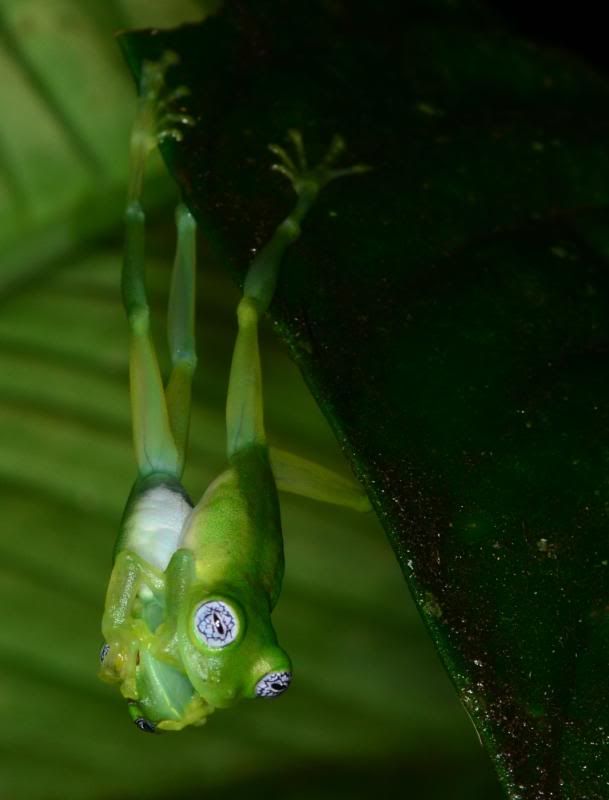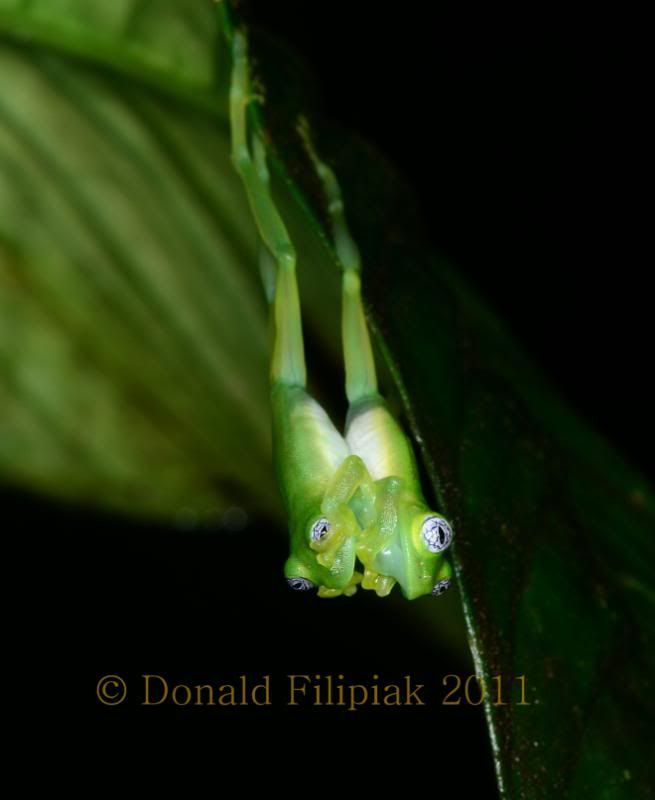 Another familiar face-
Teratohyla spinosa
, the Spined or Dwarf Glassfrog, smallest in Central America. This species has a protruding prepollical spine next to the inner-most finger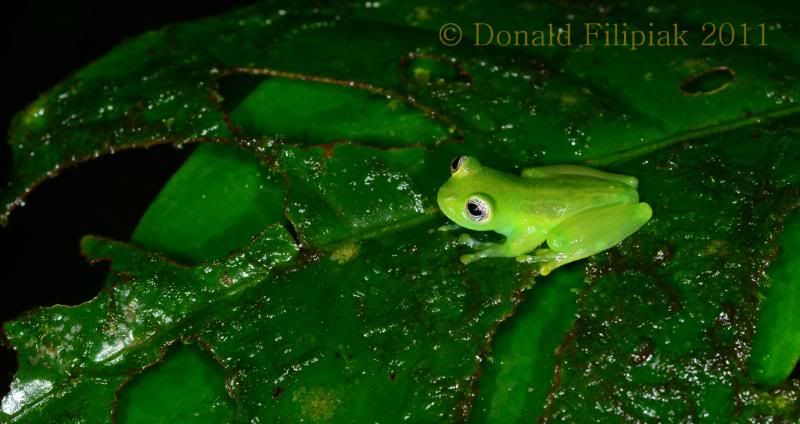 Egg series:
Teratohyla spinosa
In situ: 3 Nov 2011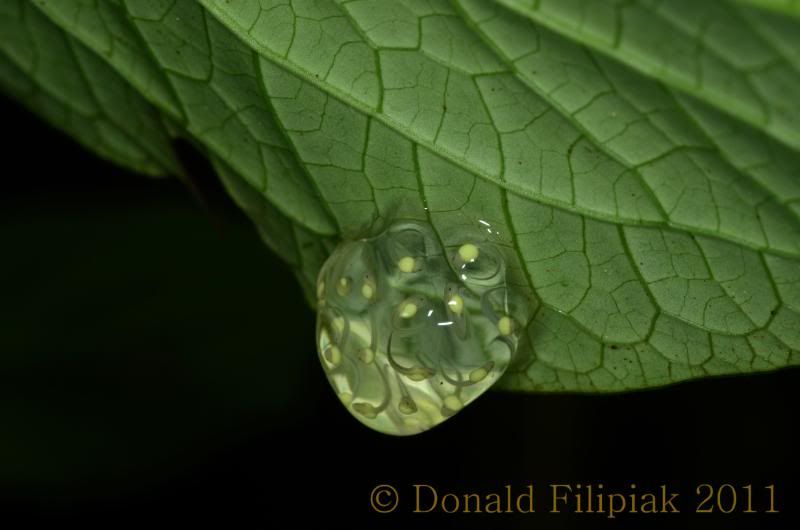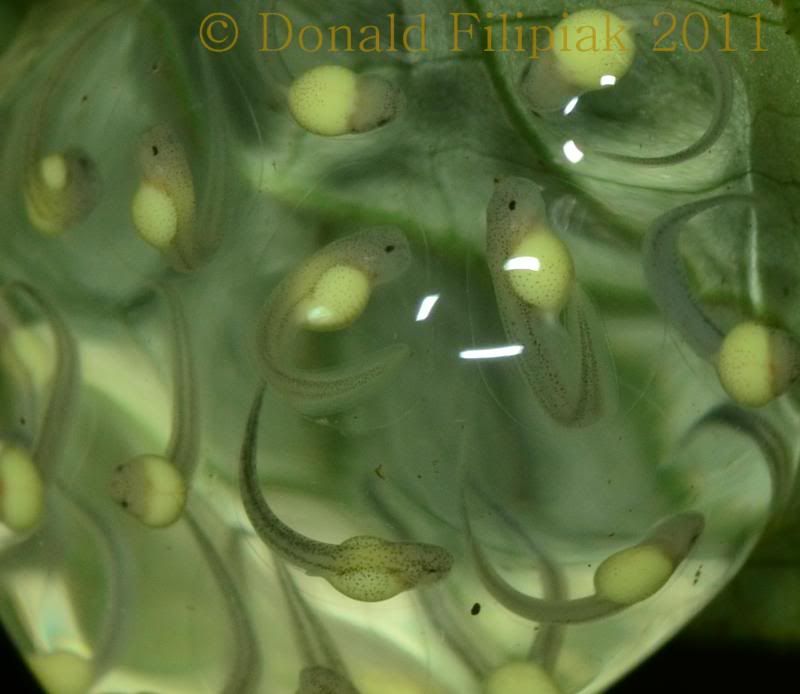 4 Nov 2011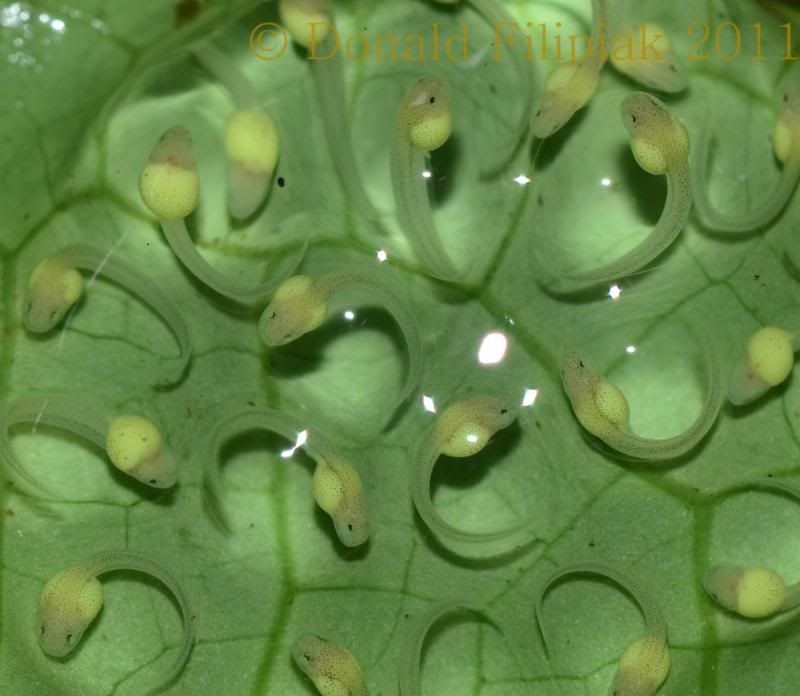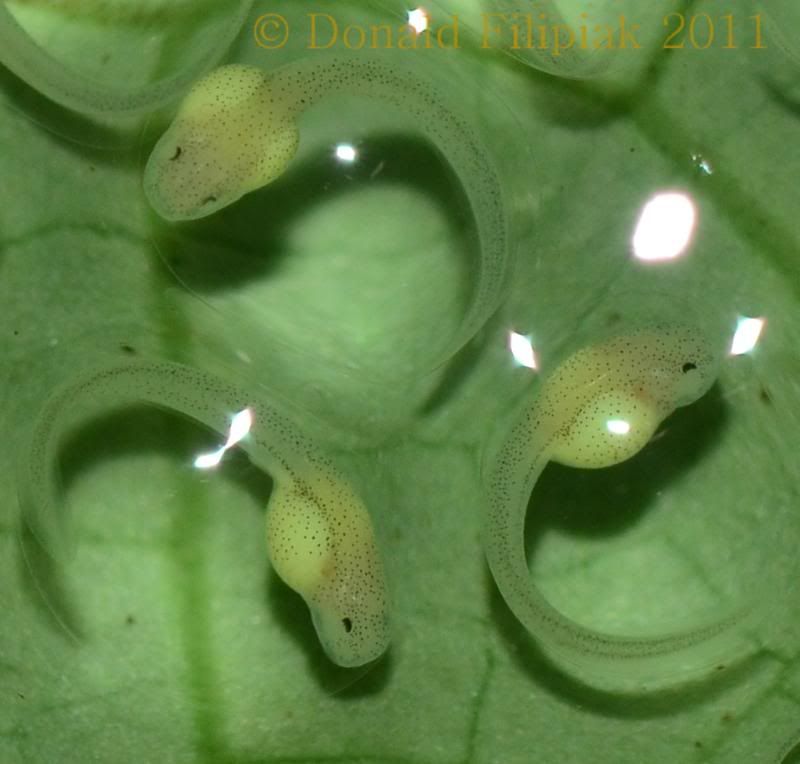 7 Nov 2011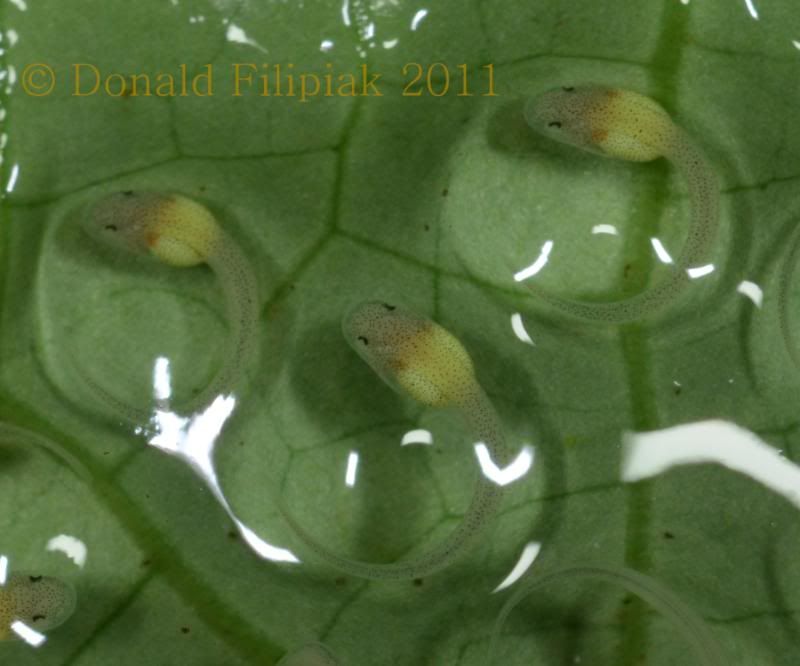 And now- tropical lungless snot lizards- Plethodontids! There are three genera represented in Costa Rica- Here's a taste from all three.
The mustache sporting
Bolitoglossa colonnea
. The Ridge-headed Salamander is so named for its fleshy interorbital ridge.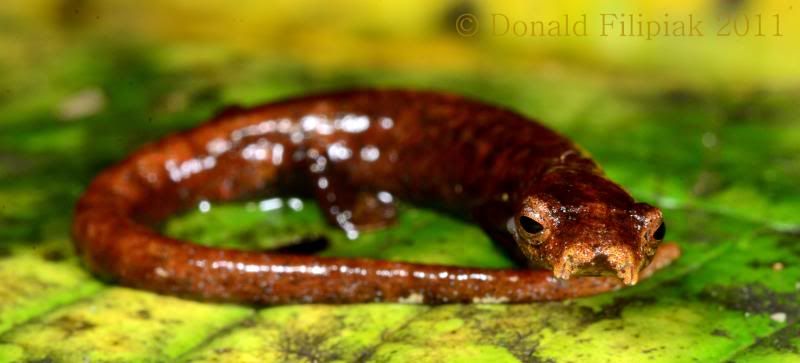 This species has completely webbed feet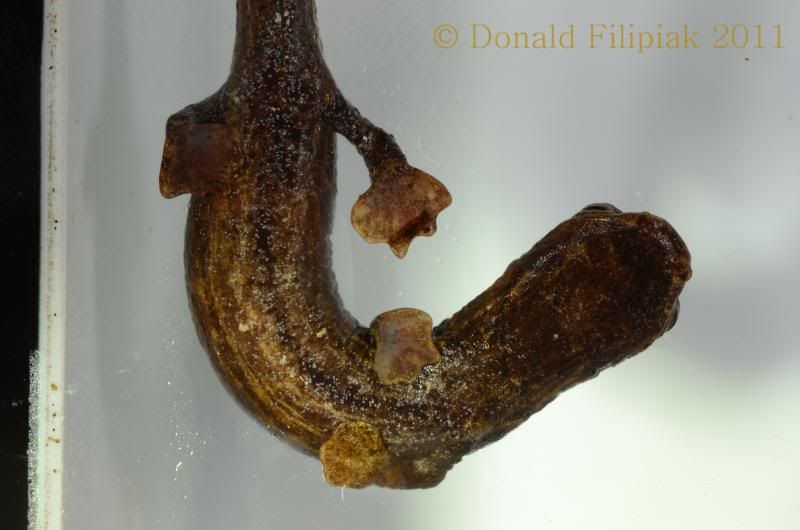 This salamander is a member of the
Nototriton picadoi
group. Logically it
should
be
Nototriton abscondens
, however something just isn't sitting well with me about the identification... The nostrils appear too large.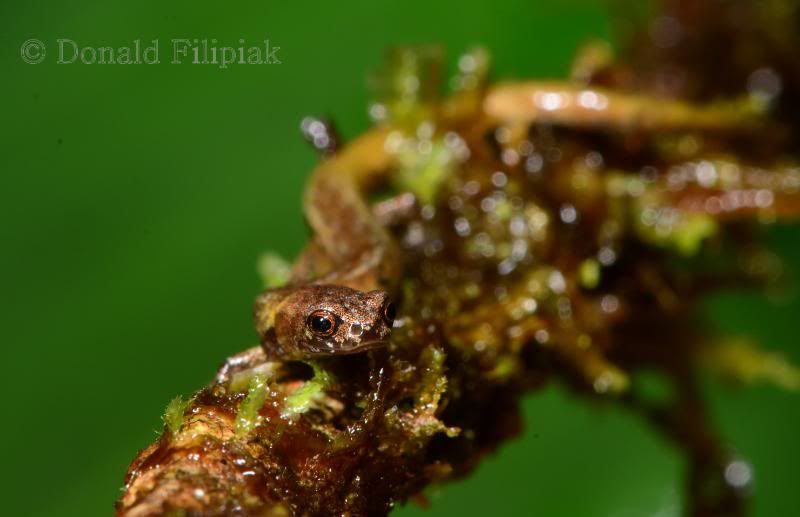 This little
Nototriton
was found in the epiphytic mat on a medium sized tree branch (30cm diameter) seven meters up in the canopy. It was inside the root/mud mixture, not against the limb itself. Imagine digging for Ambystomids in the mud... just like that, but suspended from a rope in the canopy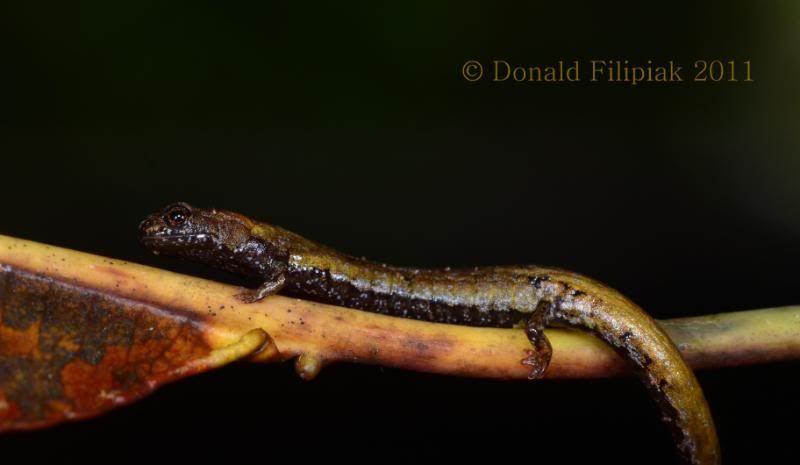 Time to get the calipers out. Taking measurements on a specimen this small is fun...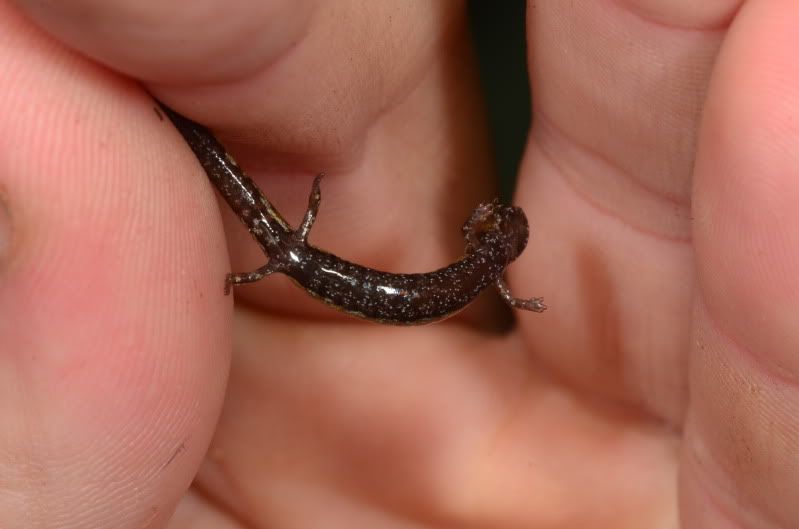 Oedipina uniformis
, my backyard lifer!
I found these two Common Worm Salamanders in two days under some loose concrete in the backyard.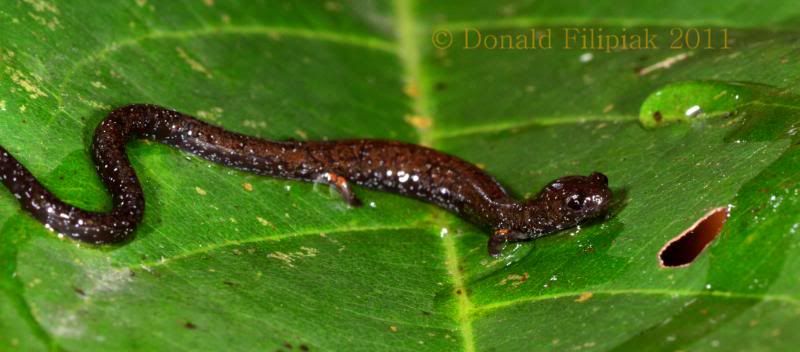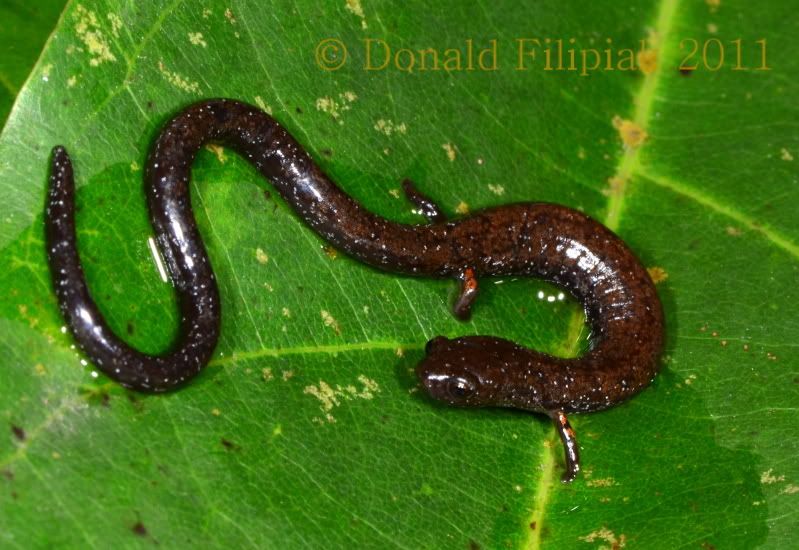 Prime habitat, hahaha!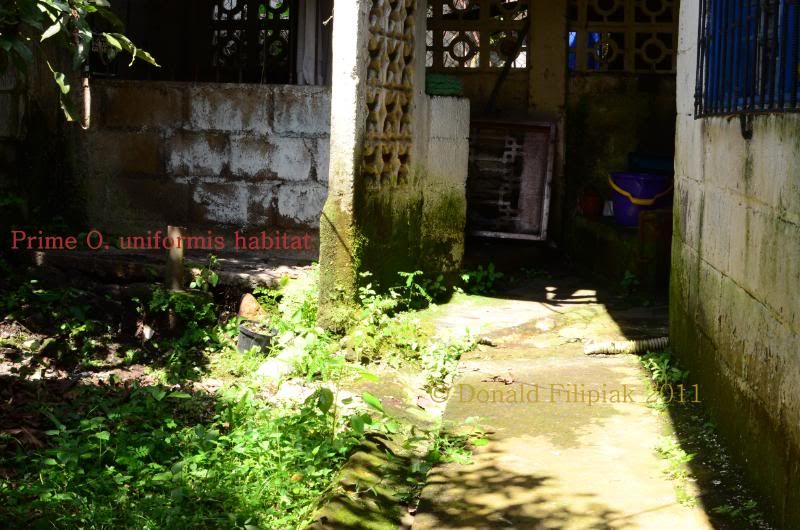 All he wants for Christmas is a set of real hands and feet.
And finally, the undescribed species of salamander! I was waiting to post any photos of this species, however, seeing as it has been posted elsewhere already (Connecticut Audubon Society blog, and the Reserve's facebook page...) I guess it's now safe to show it off.
A little background on this find:
I found this salamander in the Rara Avis Rainforest Reserve back in the middle of February 2011. It was found by sampling fallen tank bromeliads (
Vriesea hieroglyphica
) along a trail leading up to Rara Avis. The bromeliad was well rotted, so it was not possible to know if the salamander resided in the plant before it fell from the canopy. I showed the specimen to my friend Twan when he arrived in the beginning of March, and after much discussion we came to the preliminary conclusion that it was quite possibly a "new" species of salamander. Upon returning to the States, an email with attached photos was sent to Dave Wake, who confirmed that it was indeed an undescribed species of
Oedipina
, subgenus:
Oedipinola
. To date that was one of the most exciting emails of my life!
I present to you a mature male
Oedipina sp.
: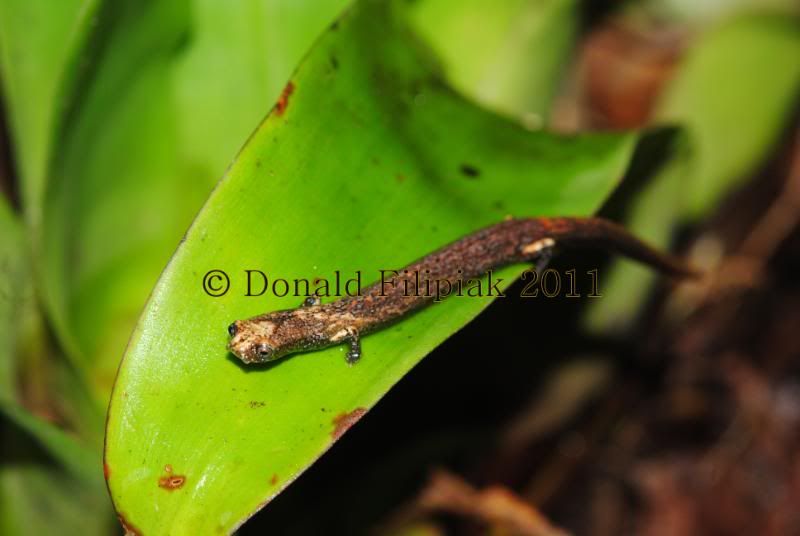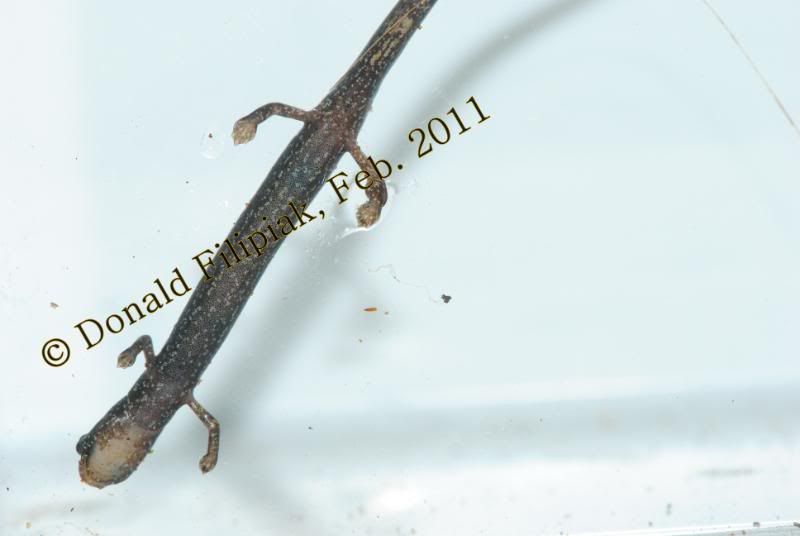 Thanks for looking!
Pura Vida,
-Don