So this post marks my one-year-in-the-desert anniversary! It's gone by pretty quick. I'm trying something a little different with this entry – rather than posting photos chronologically I've organized them by theme into three separate chapters as follows:
Chapter 1: The Un-natural History of the Mojave Desert
Chapter 2: Invertebrates
Chapter 3: Herps, etc.
*Also, I forgot to mention this earlier – all ideas, opinions, etc. expressed here are my own and do not necessarily represent those of the USGS. (This applies to all of my entries).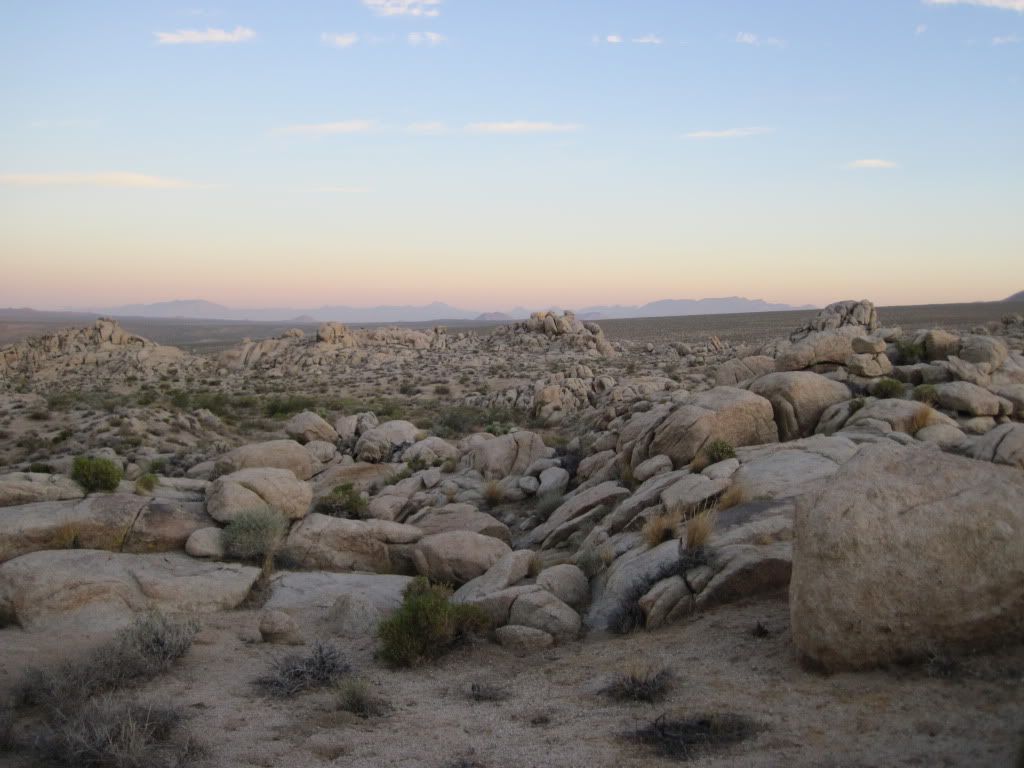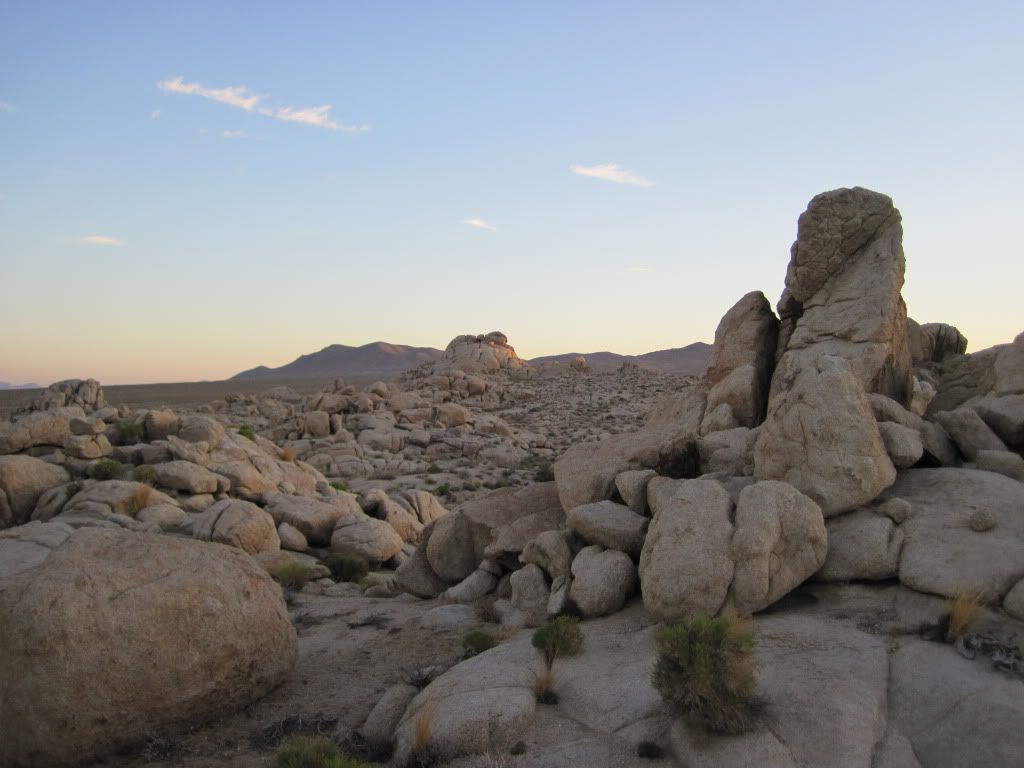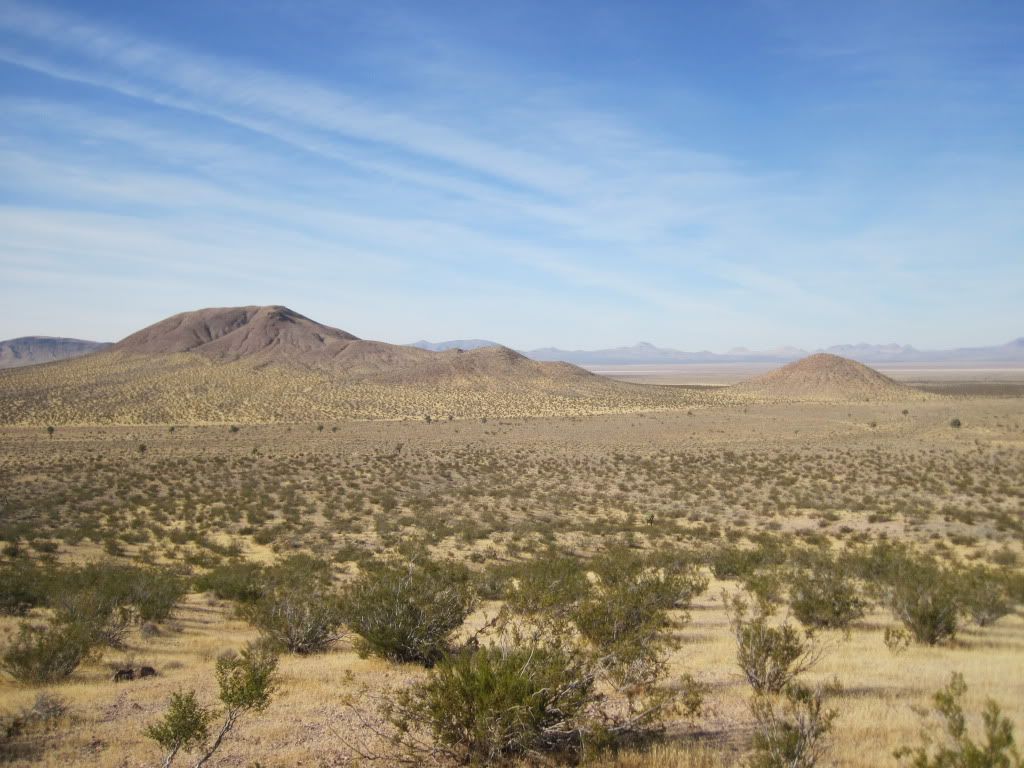 Chapter 1: The Un-natural History of the Mojave Desert
From looking at photos like the ones above, you might have gotten the impression that I work in some kind of pristine wilderness. Its beauty not withstanding, if you look a little closer (or sometimes not so much…) it becomes clear that this is not the case. I doubt there's anywhere in the world devoid of all trace of human existence, and the Mojave Desert is no exception. This is something I have alluded to in earlier posts, but would now like to explore in more detail. Some of the "junk" out here is big, some small – some is old, and some more recent… but is it all the same in the end?
Working out in the desert, it's easy to forget that this place wasn't always so dry. As recently (geologically speaking) as 10,000 years ago, the climate here was considerably wetter and cooler, and supported a much different array of plants and animals than today. As you might expect, this type of environment would have been more conducive to early human habitation, and I've often wondered about what life was like for these people.
The other day we were walking a transect (to survey for tortoises) through some dry mudflats, beside a large
playa
. I imagined what this place looked like thousands of years ago, when there were permanent lakes and wetlands. For early hunter-gatherers, the resources in the area would have made this a good place to stop by (they were nomadic). This isn't just my speculation – these people literally left their marks set in stone.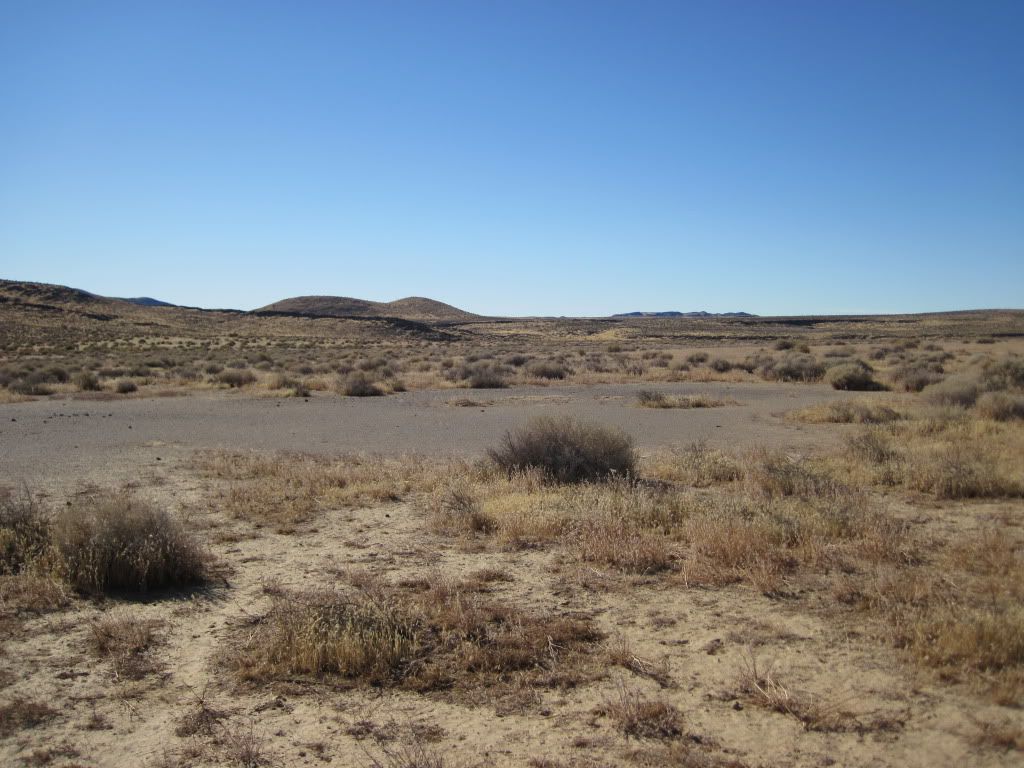 I had heard that there were
petroglyphs
in the area, but it was especially exciting to basically stumble upon them while conducting our transect. Aside from a small fence and a very uninformative sign, the site was unassuming and could easily be overlooked (did I mention it's also in the middle of nowhere?). From my experience it's typical for petroglyph sites to have a low profile in an effort to avoid unwanted attention from potential vandals, which has been a problem (note the bullet holes through the sign).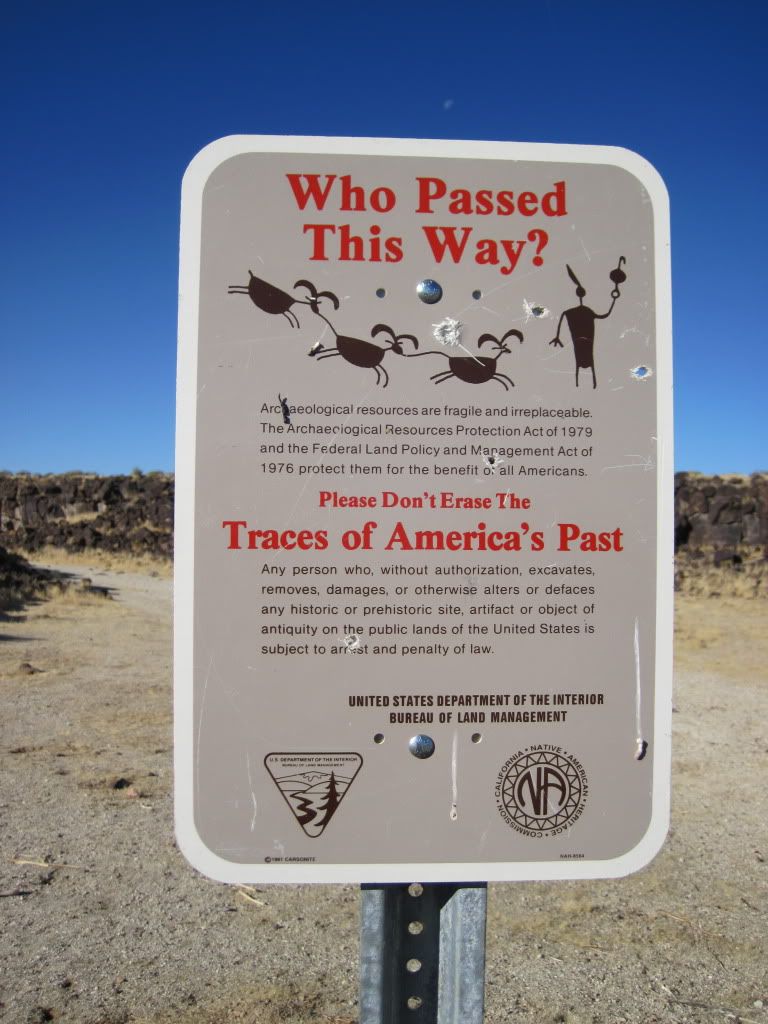 I was disappointed that there was no educational information about the site provided, and that relatively few people would get to see these petroglyphs in person – but on the other hand it was refreshing to see such an amazing historical/cultural resource not yet corrupted by commercialization, its overall authenticity still relatively intact.
Despite being a small canyon (only a few hundred meters long), this site contains more than 1,000 petroglyphs. The canyon is composed of volcanic
basalt
, the surface of which has a blackened patina. Chipping or scraping away at the surface, however, reveals a much lighter colored stone beneath, resulting in the contrast seen in the petroglyphs. (Interestingly, the degree of contrast can be used to help date the engravings, as petroglyphs will become "repatinized" by the elements over time, and older images will appear less bold).
Most of the petroglpyhs are located on the southern-facing slope, which gets more sun (there are some on northern-facing slope too, but lichen growth has obscured much of the images on this side). I was impressed with the diversity as well as the concentration of petroglyphs here. While there were some definite themes I recognized among the images, there was also a great deal of variation in terms of style, size, and content. Some of these differences are attributed to the fact that this site was used by different cultures (Archaic
hunter-gatherers
,
Paiute
,
Shoshone
,
Kawaiisu
) over an extended period of time (12,000 years ago – present).
Stylized depictions of animals (
zoomorphs
) were a common theme, with
Bighorn Sheep (Ovis Canadensis)
being one of the most recognizable subjects of petroglyphs across the western United States as a whole. Ironically,
O. Canadensis
was never that common in this particular area, nor is it believed to have contributed significantly to the diet of native people here. Consequently, scholars think there must have been other factors (i.e. spirituality) responsible for their disproportionate representation in the petroglyphs here and elsewhere. (Notably, other animals that
were
staple food items for people here [i.e. rabbits] are not represented in the petroglyphs at all).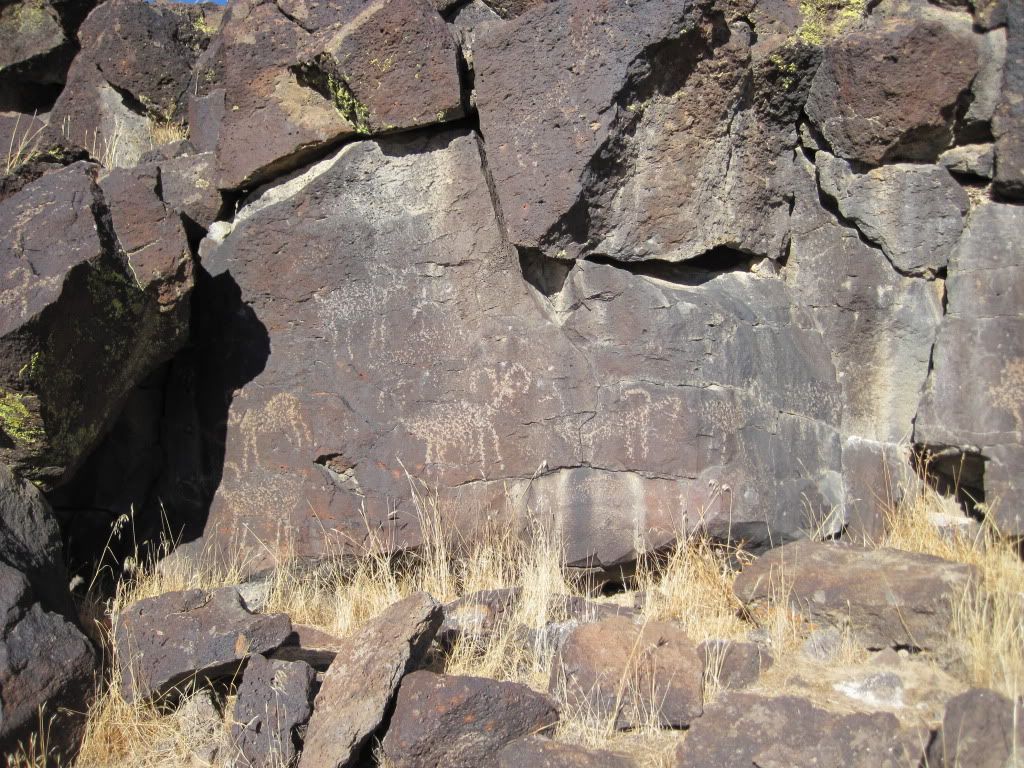 Others images are more ambiguous – Is this a snake, or just a wavy line?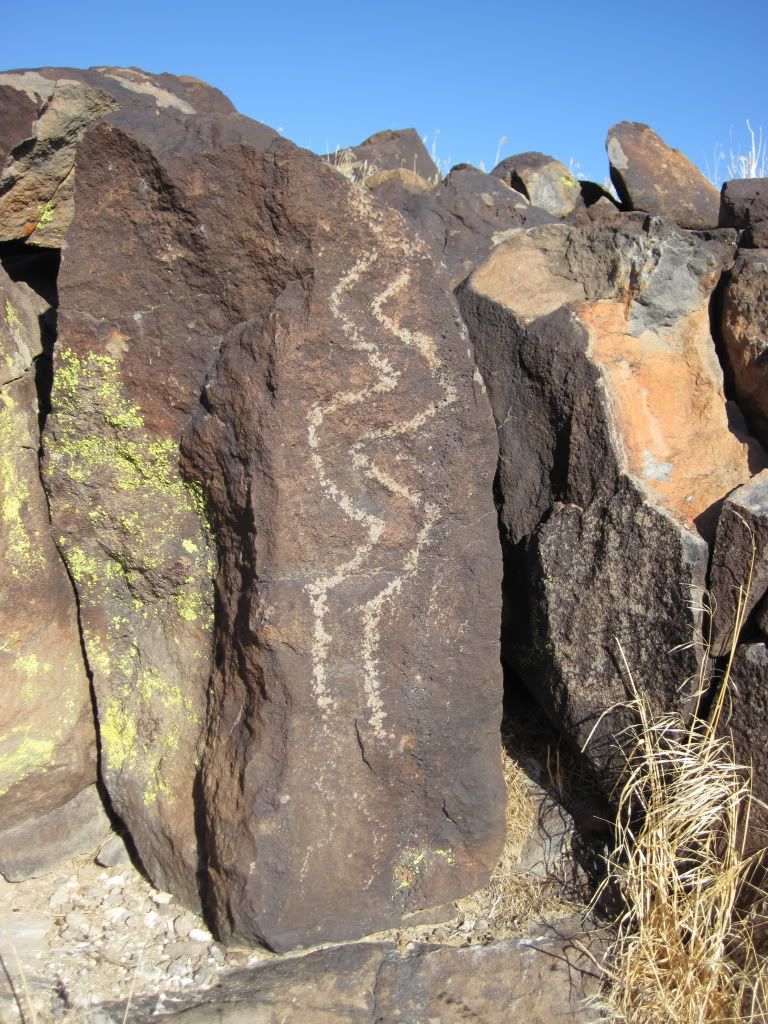 Some depict humanlike figures/faces (
anthropomorphs
)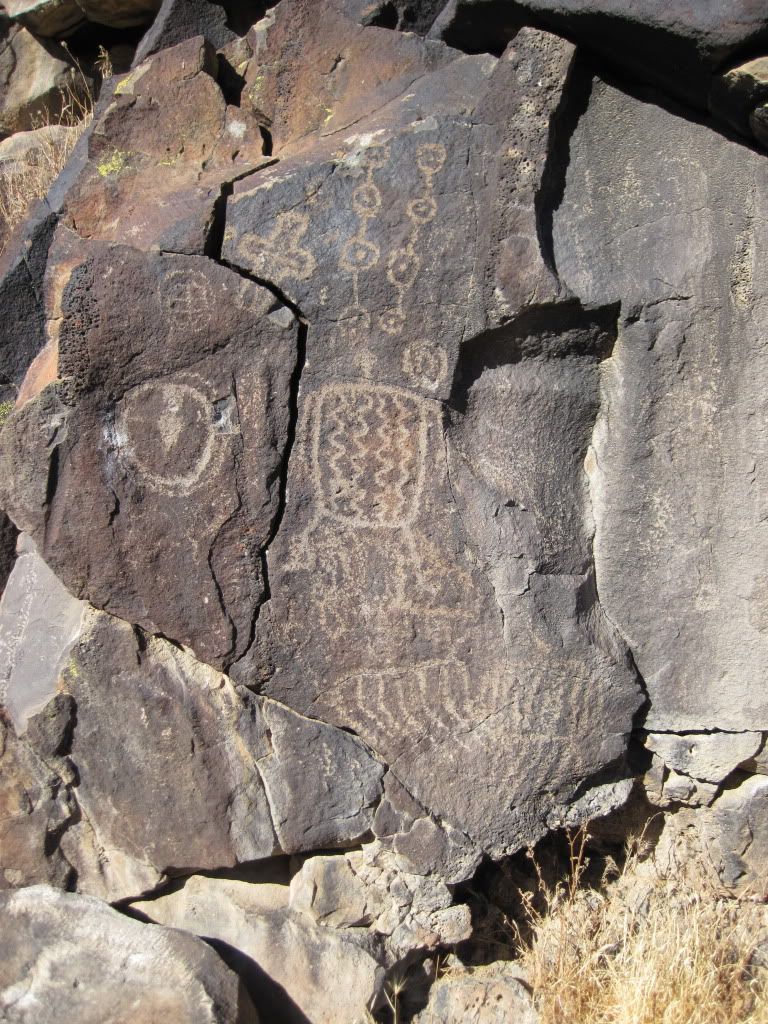 A mask? (and maybe a snake on the left?)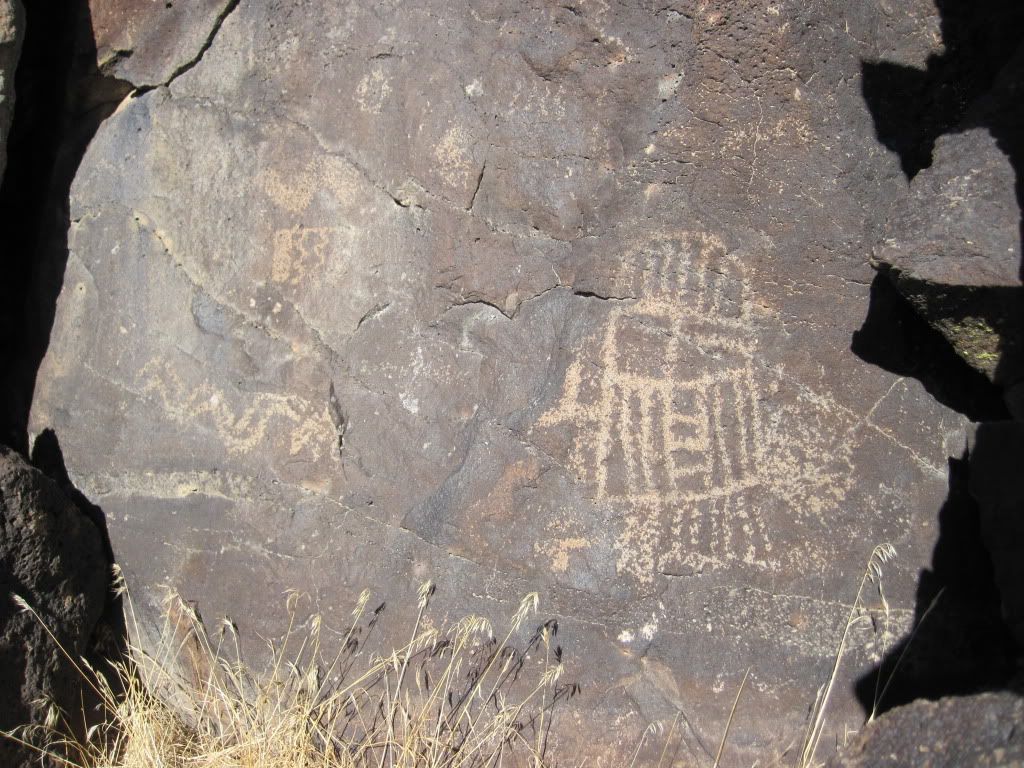 Cave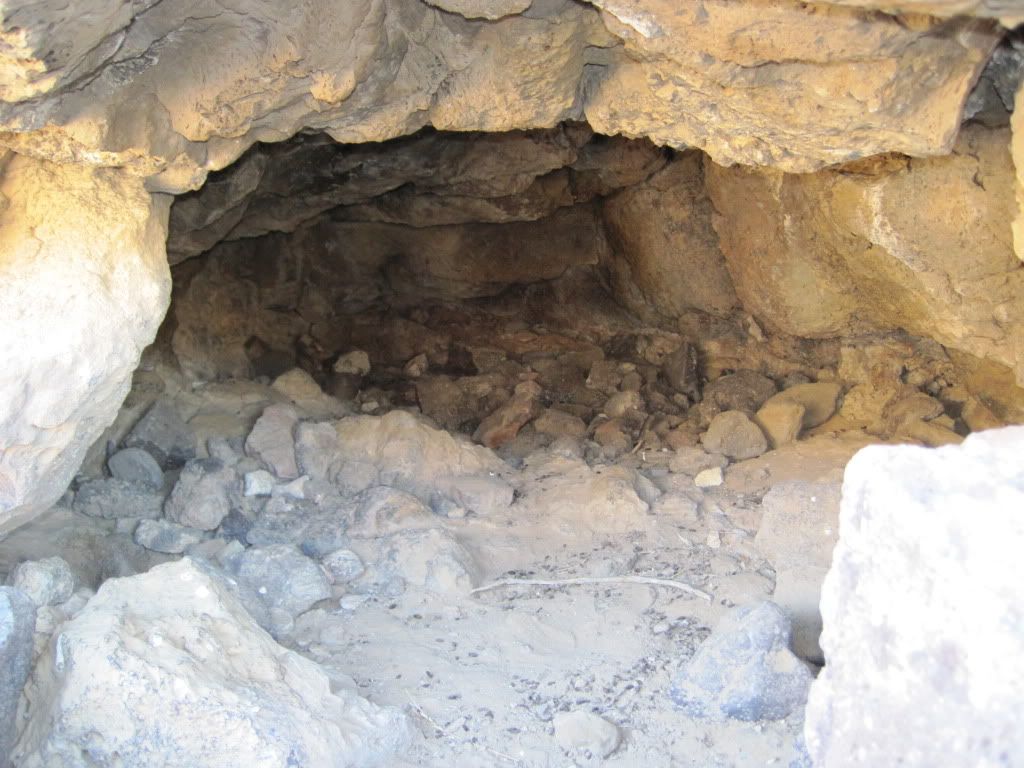 Technicolor lichen
Abstract geometric shapes and patterns of varying intricacy were also abundant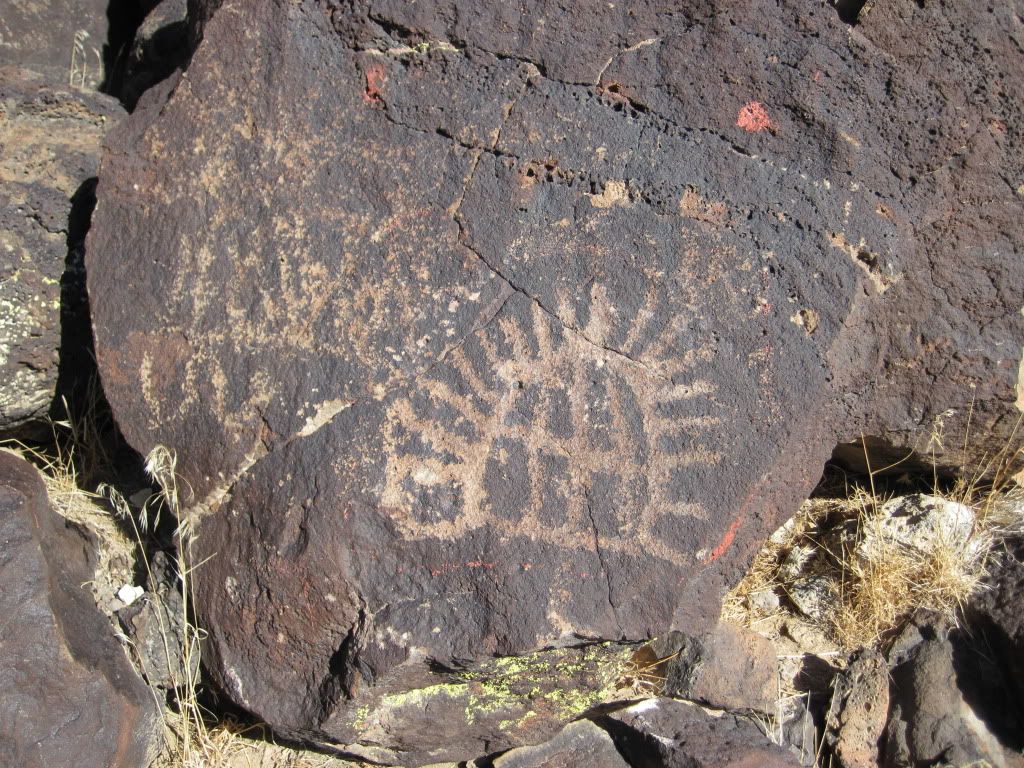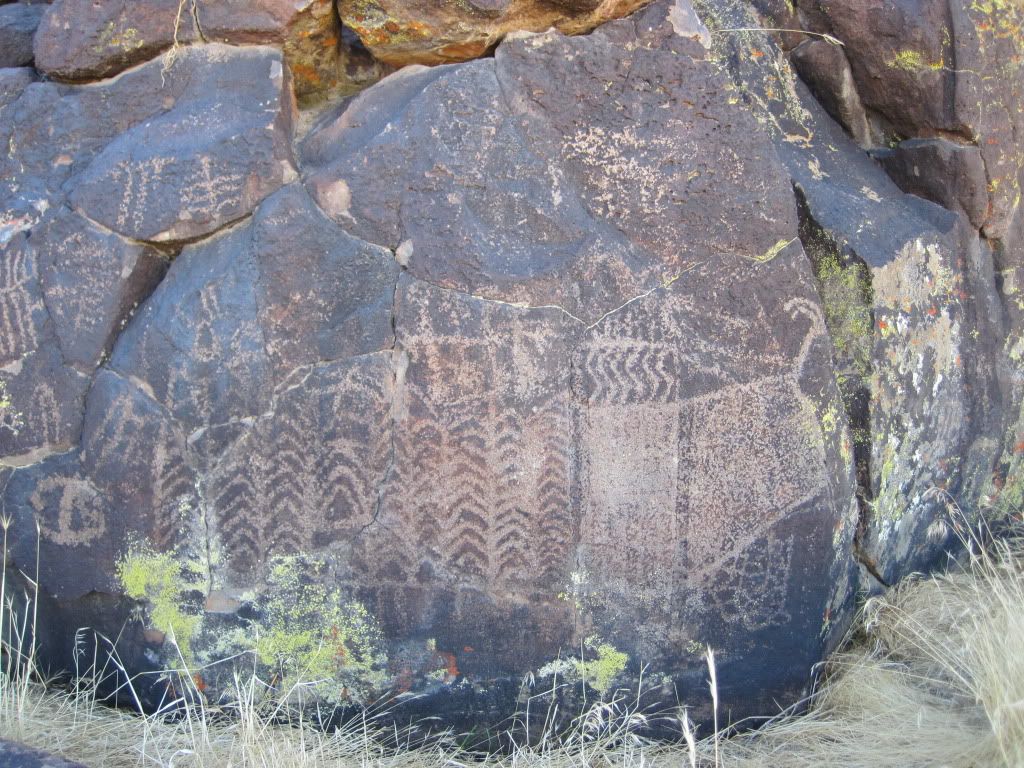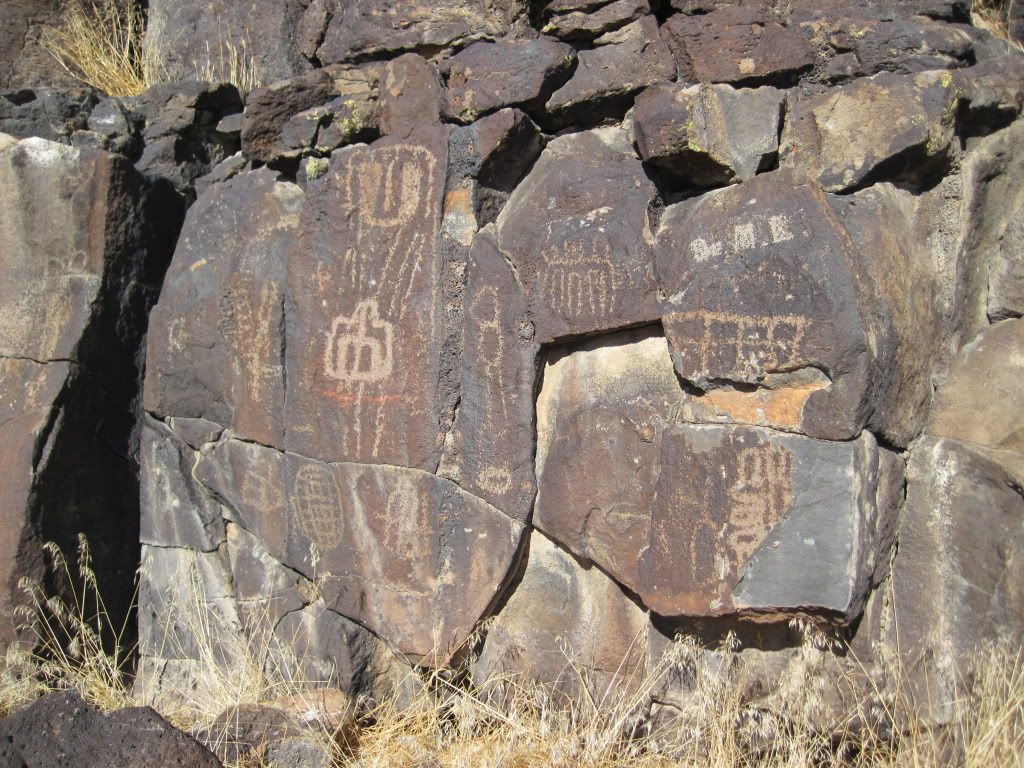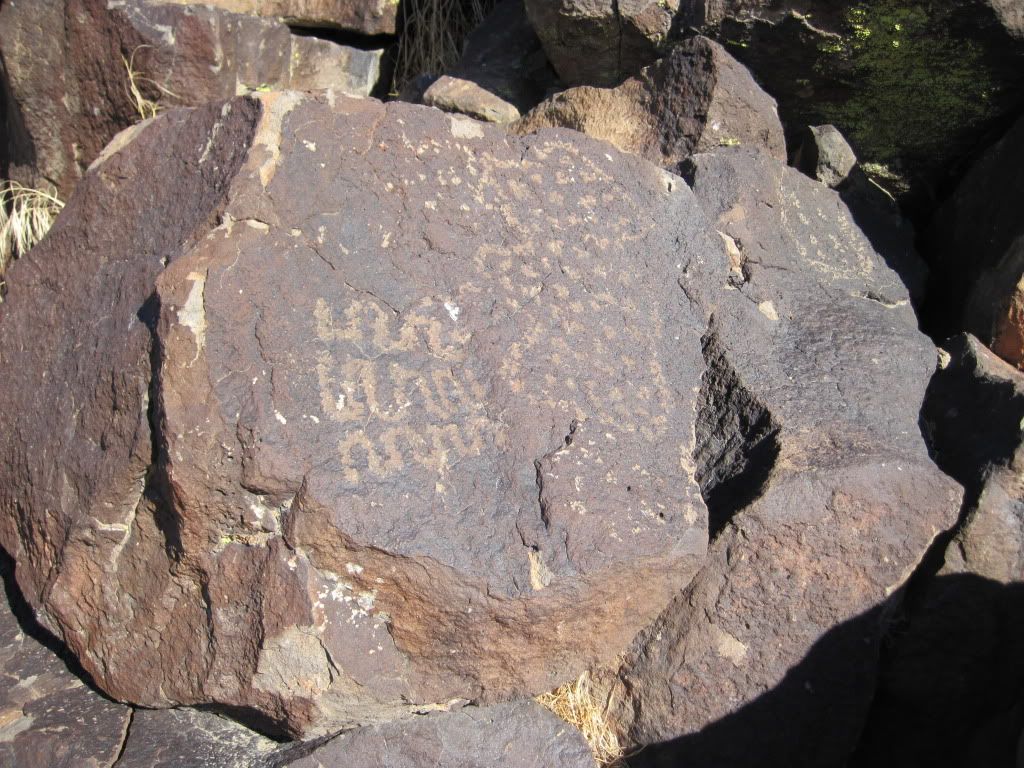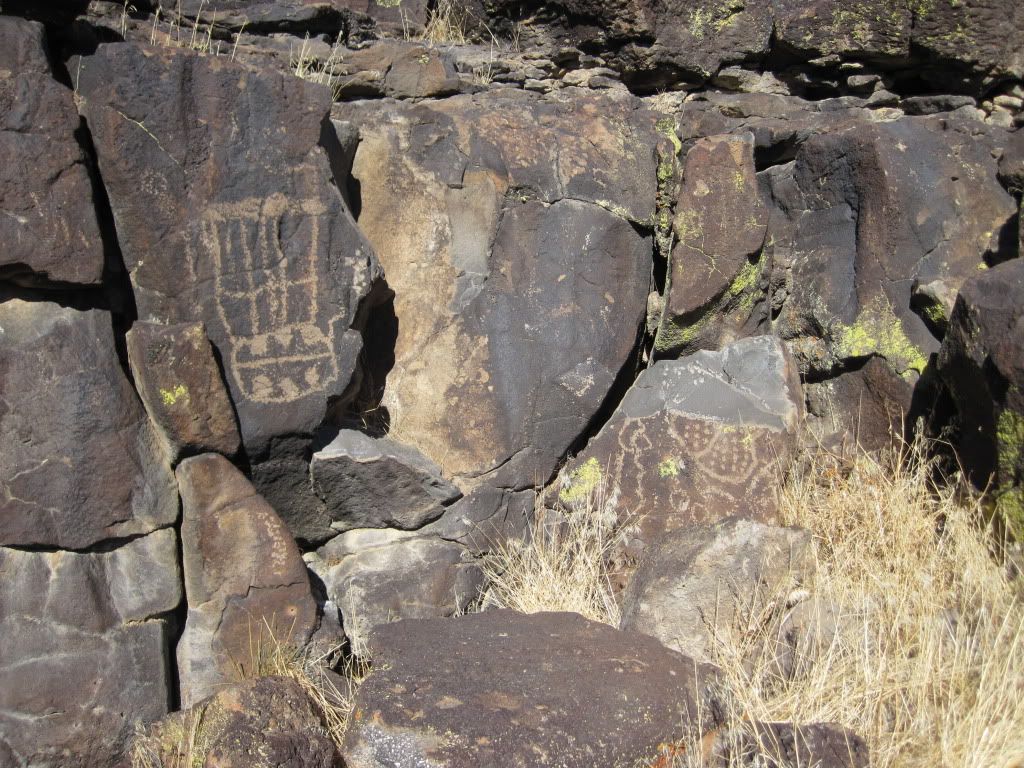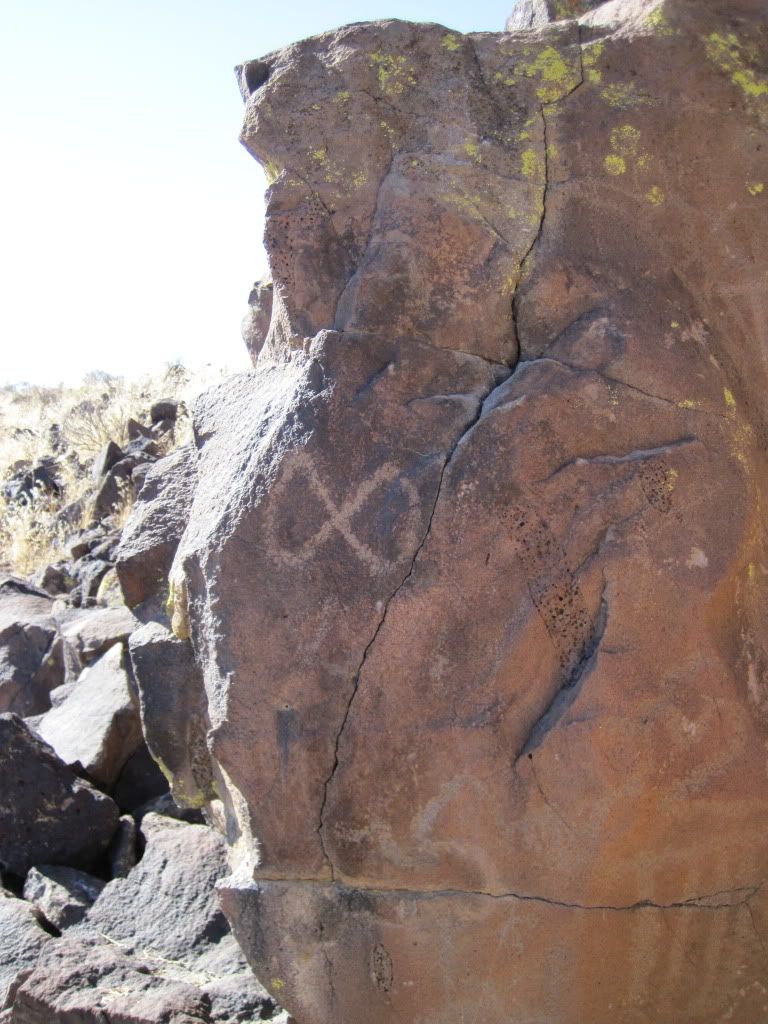 So what does it all mean? In short, we don't know for sure, and probably never will, but we do have ideas. There are so many interesting theories regarding the purpose and interpretation of petroglyphs that I'm not even going to attempt to scratch the surface here (haha), other than to say that such images almost certainly played different roles depending on the circumstances of their creation (who, when, where, etc.).
There is a related issue I find especially fascinating and worth mentioning here. During the 1920s psychologist/neurologist
Heinrich Klüver
studied the effects of
mescaline
and found that aside from causing bright, saturated hallucinations, the drug also induced the visualization of similar geometric patterns in different users. Klüver called these patterns
form constants
and organized them into four groups: lattices (including honeycombs, checkerboards, triangles), cobwebs, and spirals (examples below).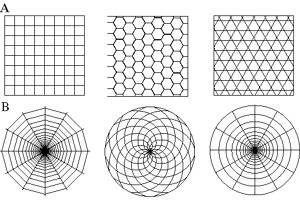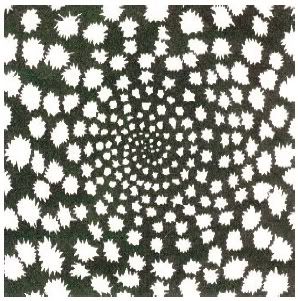 Fast-forward a few years. Having studied petroglyphs from all over the world, renowned cognitive archaeologist
David Lewis-Williams
was struck by stylistic similarities he saw in the images, including those from disparate continents, which he argued could not be accounted for by cultural diffusion or mere coincidence alone. Instead, he contended that the similar geometric patterns evident in many engravings represented an artistic expression of Klüver's form constants, visualized and transcribed by shamans who were engaged in altered states of consciousness.
While drugs are a well-known trigger for the visualization of form constants, they are one of many. Since Klüver's pioneering work, a variety of other triggers have been identified, including psychological stress, fever, epilepsy, psychotic episodes, syphilis, sensory deprivation, photostimulation, and migraine headaches.
Because such a diverse range of factors are associated with visualizing form constants, scientists believe there must be an underlying physiological process responsible, relating to the structure/organization of the our visual system. And as you're probably well aware, we like to scramble up the wiring every now and then!
Since the beginning of time humans have used one or more of the above triggers to intentionally induce altered states of consciousness (again, lots of interesting ideas about the origins of this behavior that I'm not going to get into here), and consequently, visualize form constants. I'm sure there will be those who disagree, but I personally don't think it's such a stretch that these petroglyphs could be a reflection of that.
Then again, "form constant-like" patterns are pretty ubiquitous in the world
outside
our heads, too – just check out these photos from my earlier posts: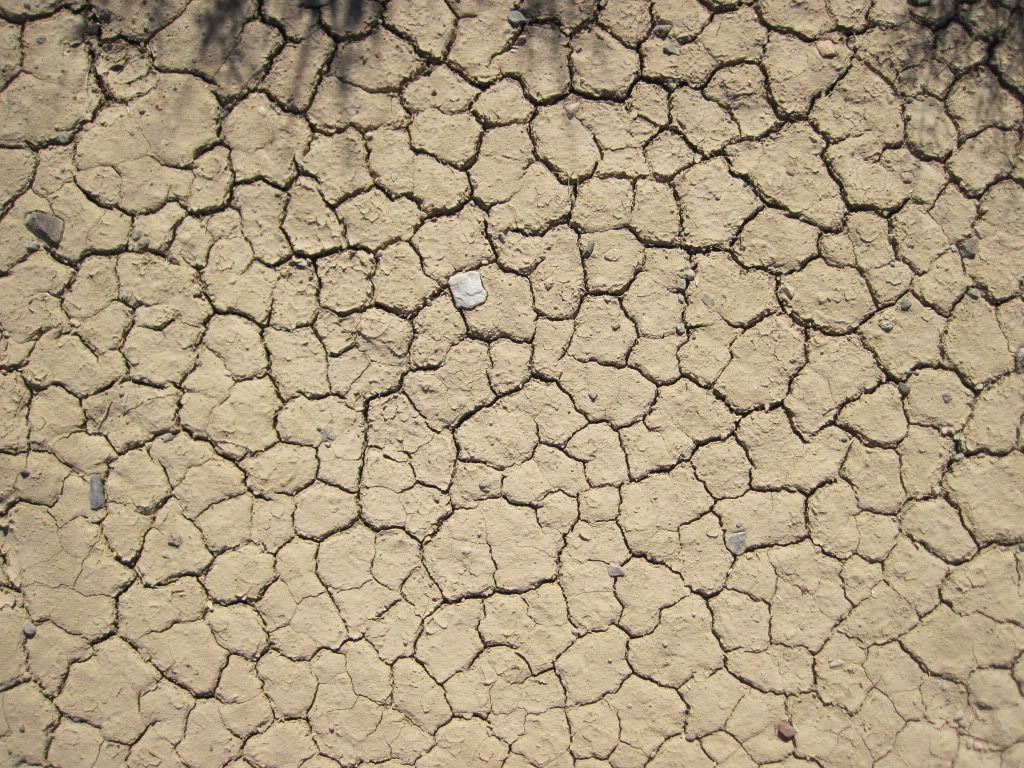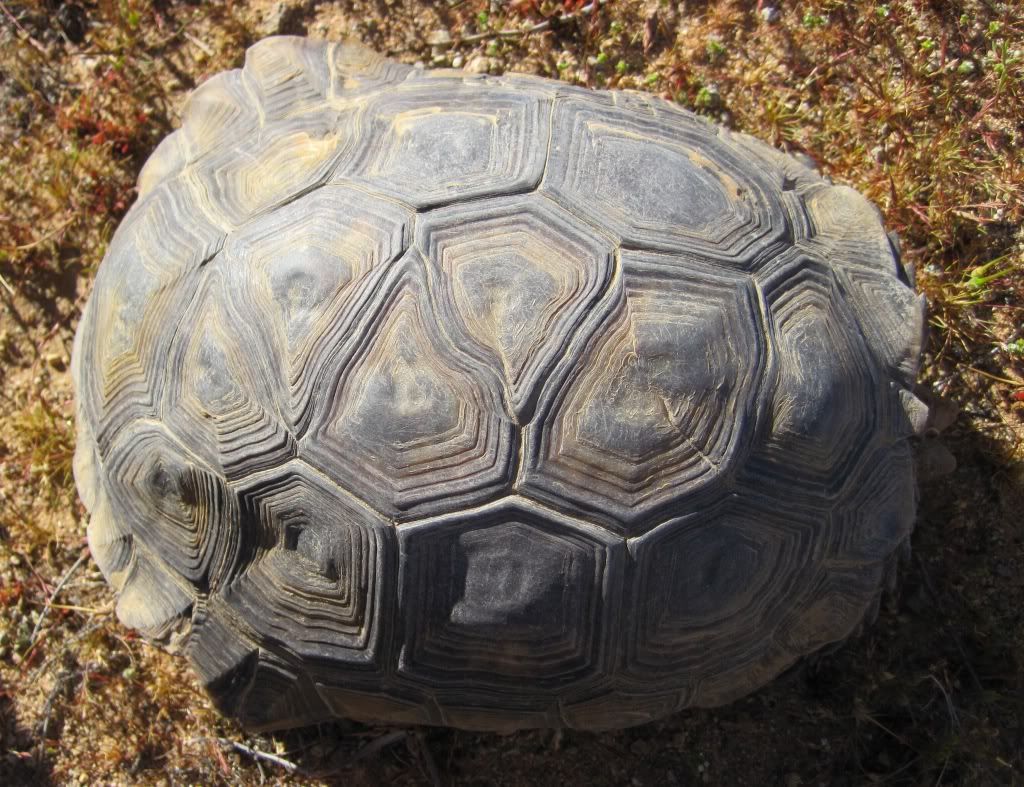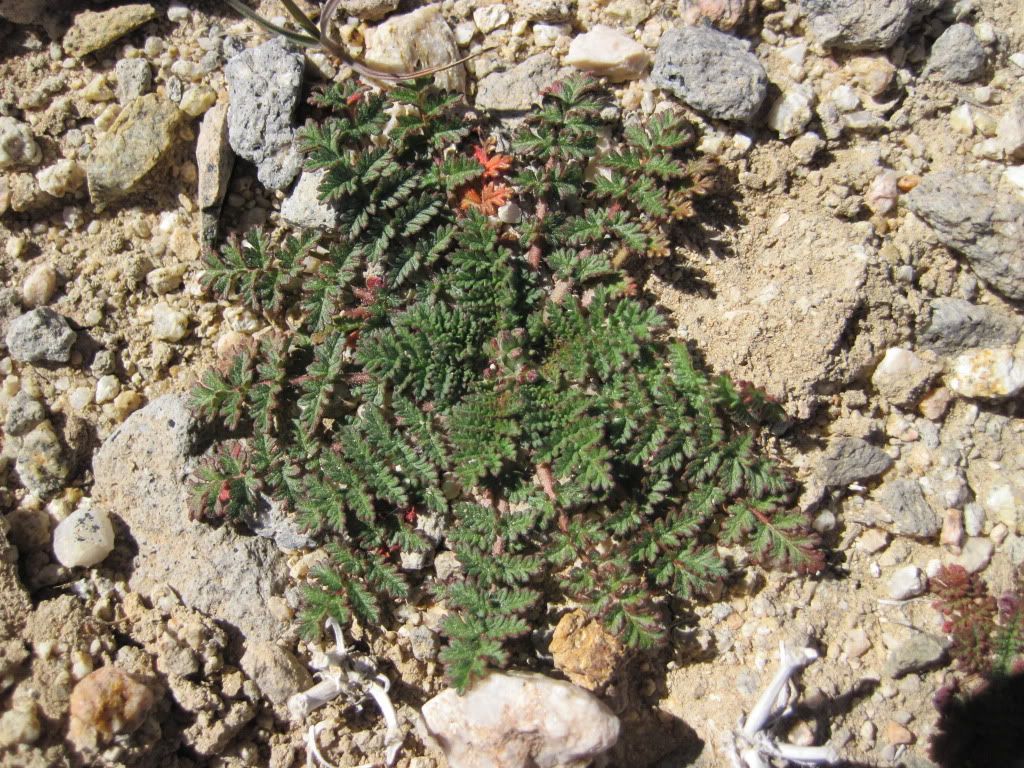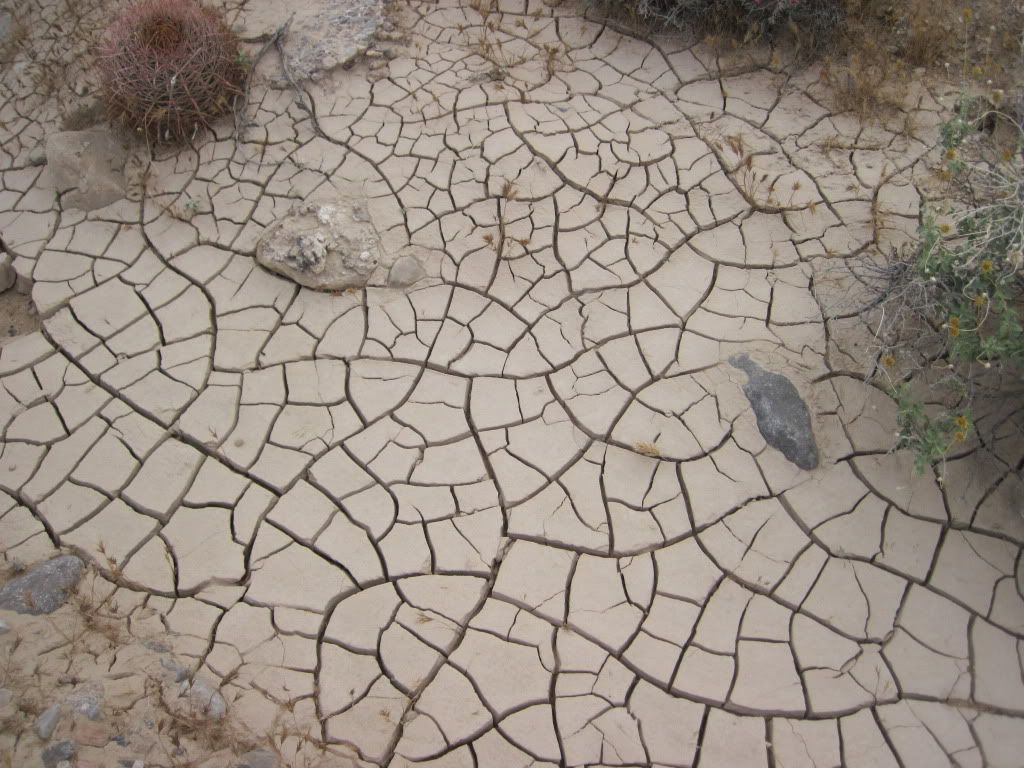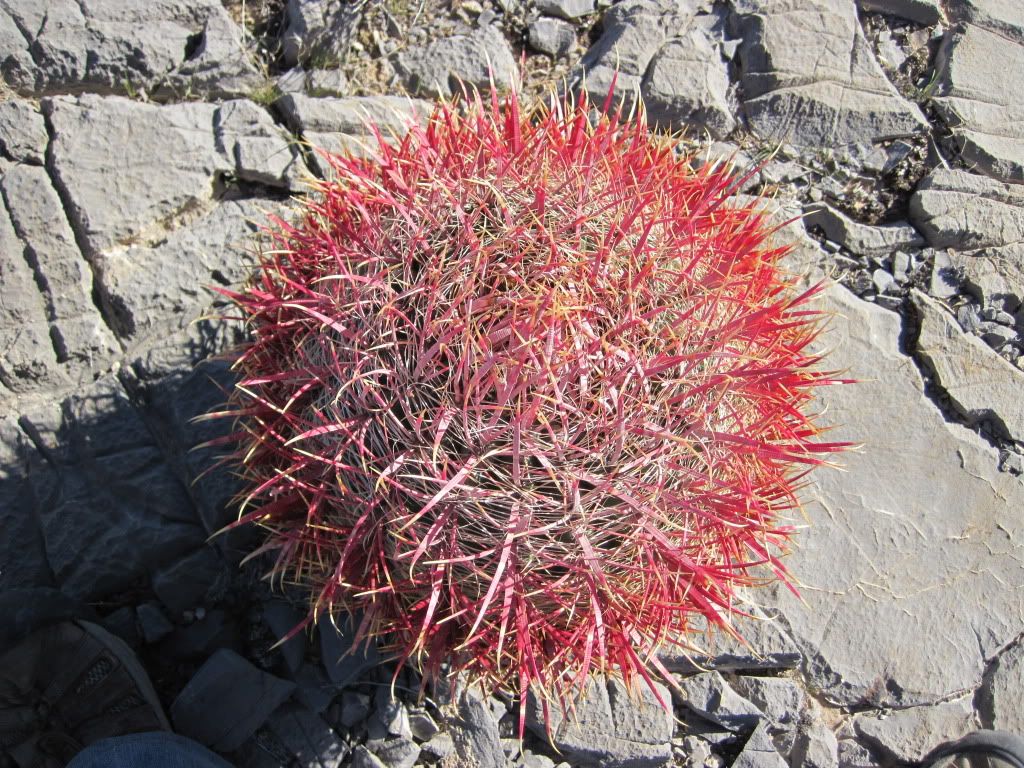 So who's to say these people weren't simply inspired by the patterns they saw in their day-to-day lives? We'll probably never know for sure, but it's fun to think about.
On another note, it's interesting that despite the manmade origin of these petroglyphs, there still seems to be a general perception that they are
part of
the "natural" landscape. But when does the transition from trash to treasure occur? What variables are involved, aside from time? And if enough time passes, will all of our trash someday be valued by future archaeologists and anthropologists?
A spearhead that would have been used with an
atlatl
to hunt wild game (10,000-8,000 years ago!)
.50 Browning Machine Gun cartridge
shell (1942); a vestige of U.S. military activities here during World War II.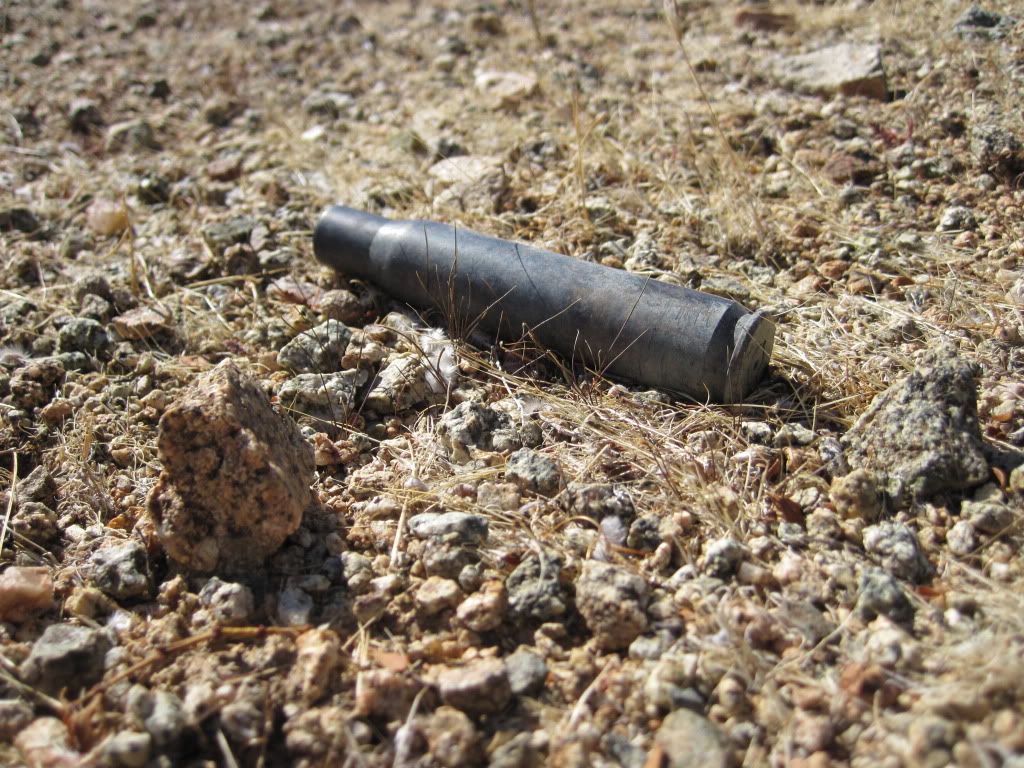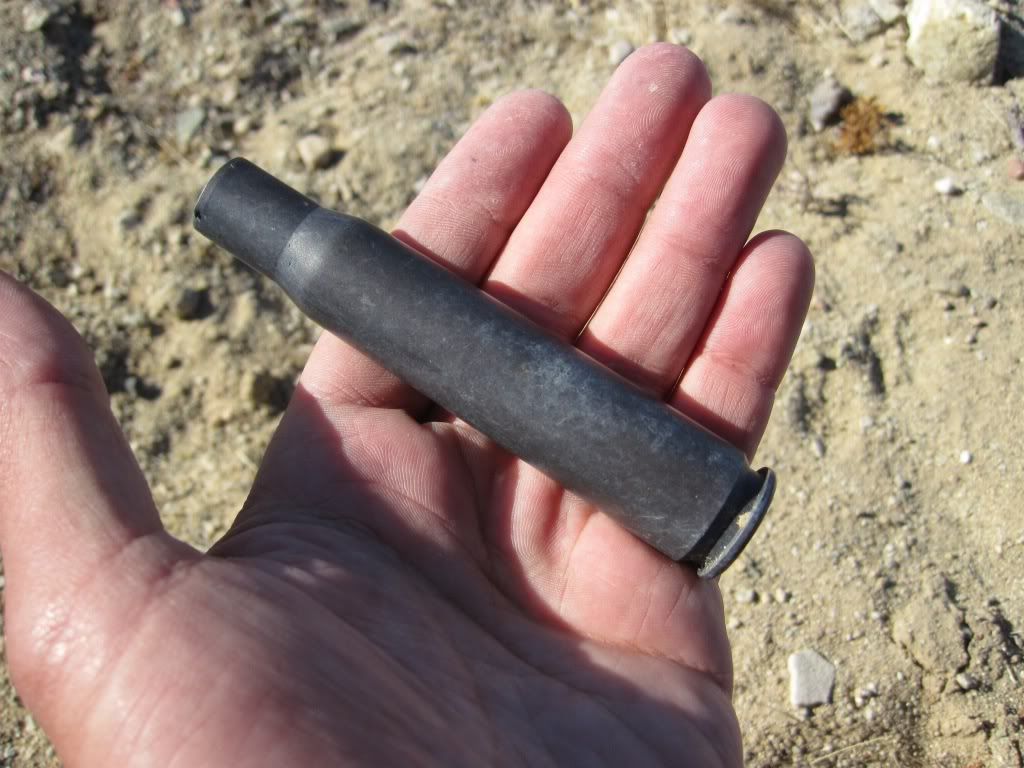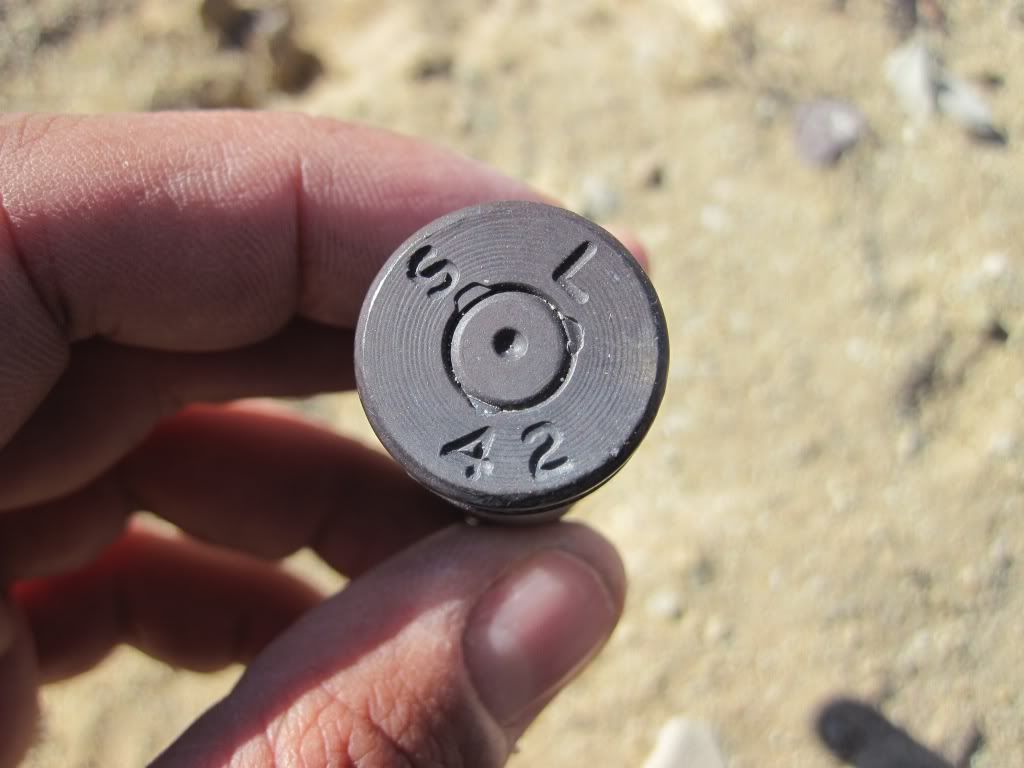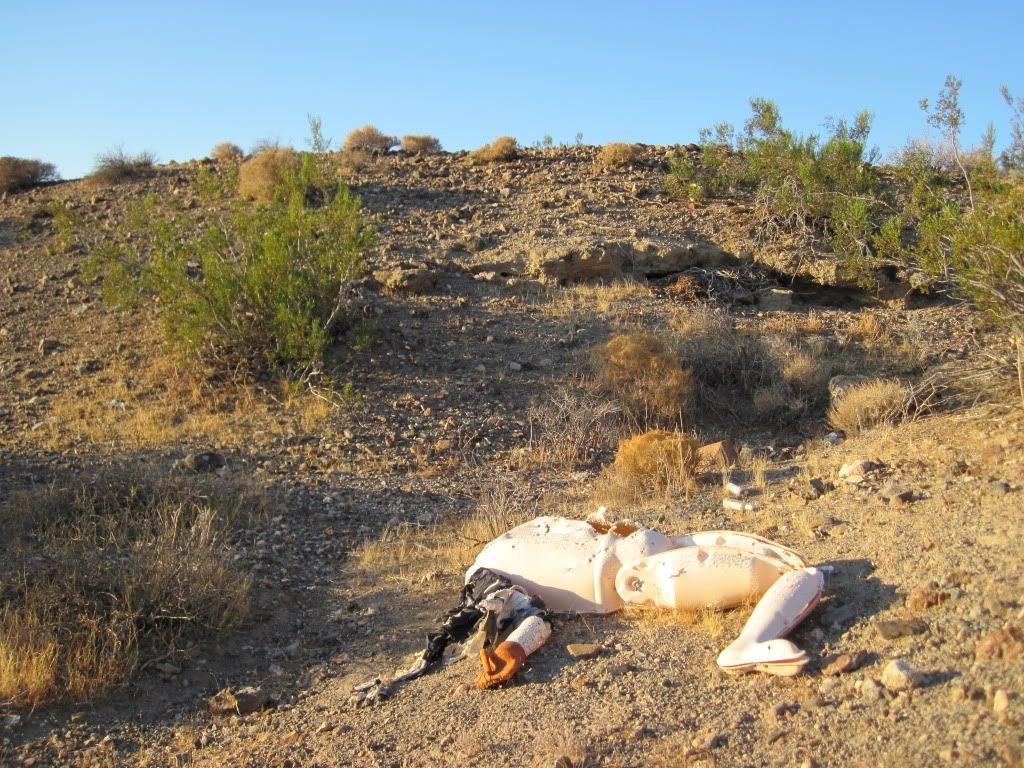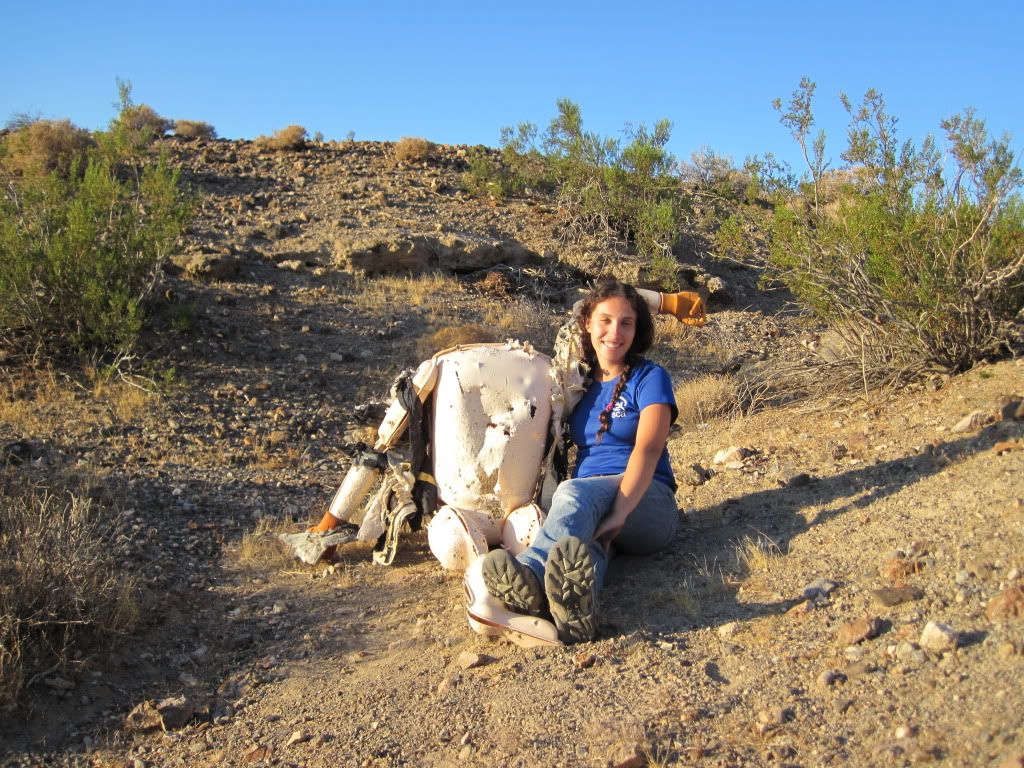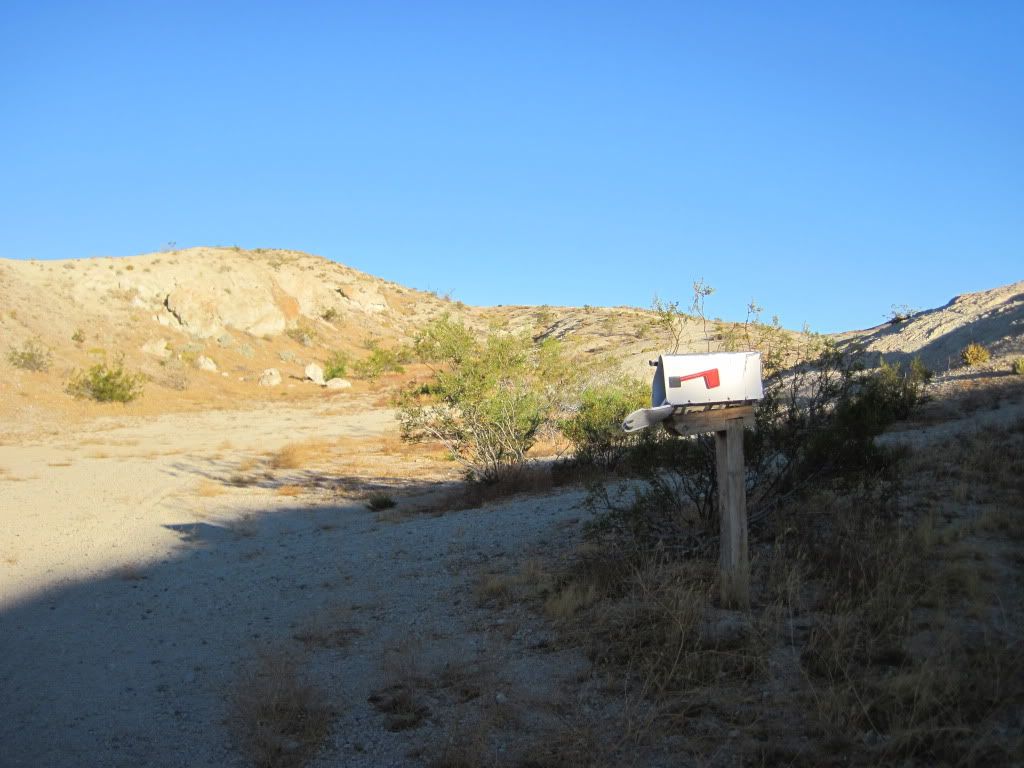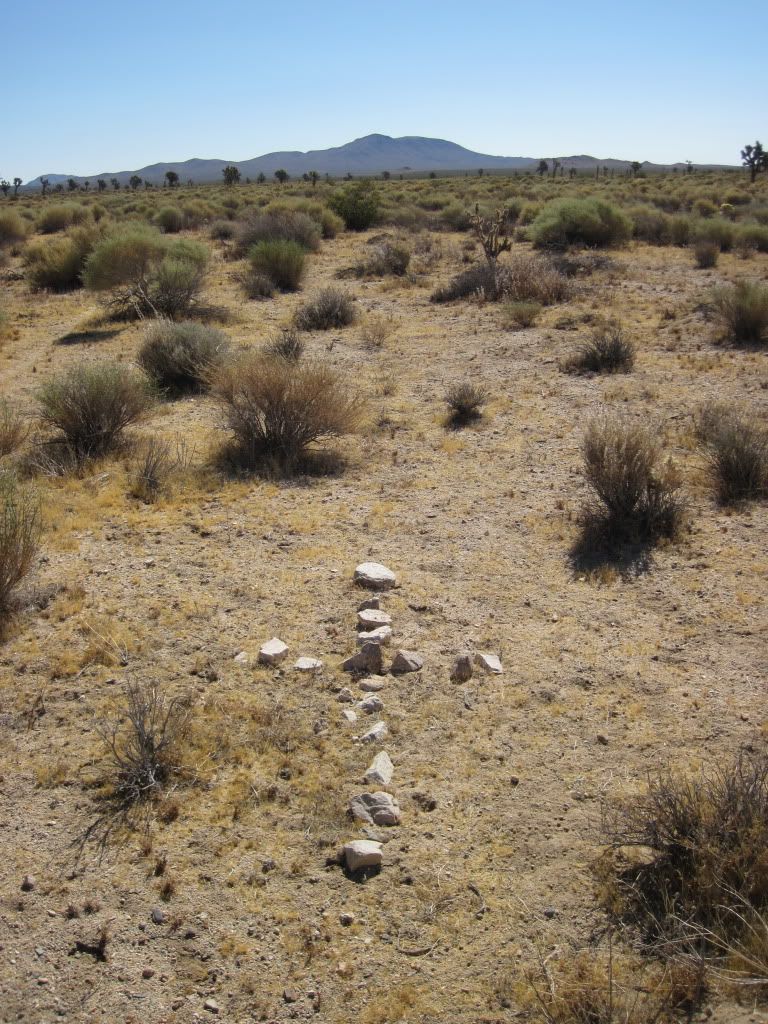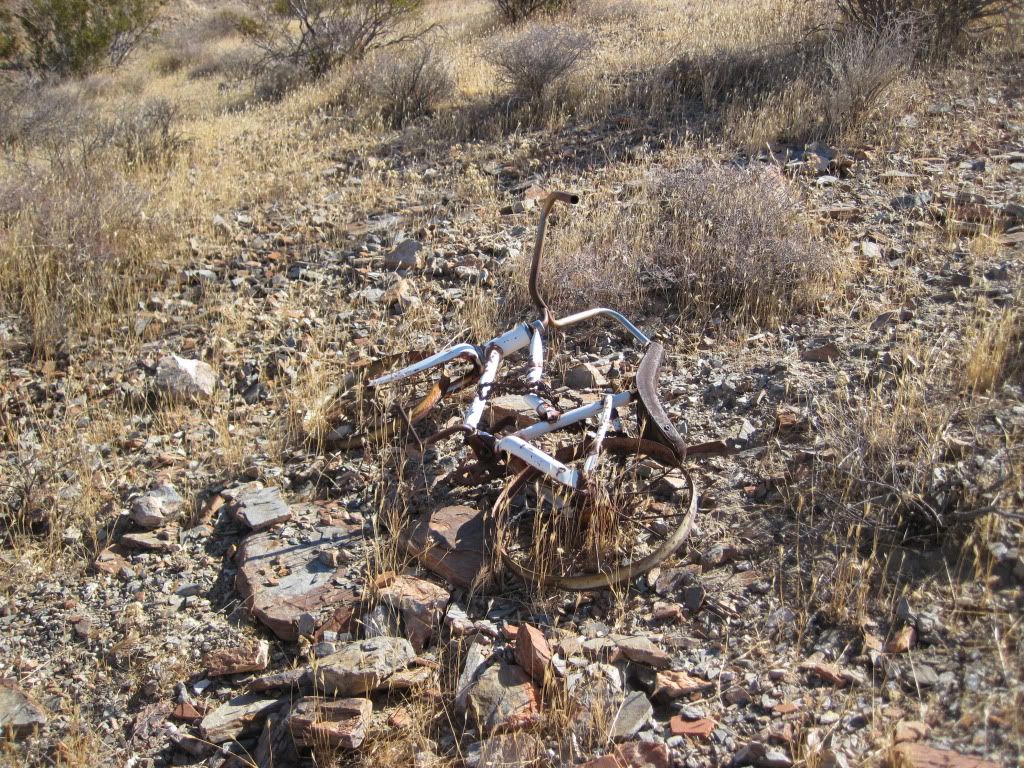 The Hills Have Eyes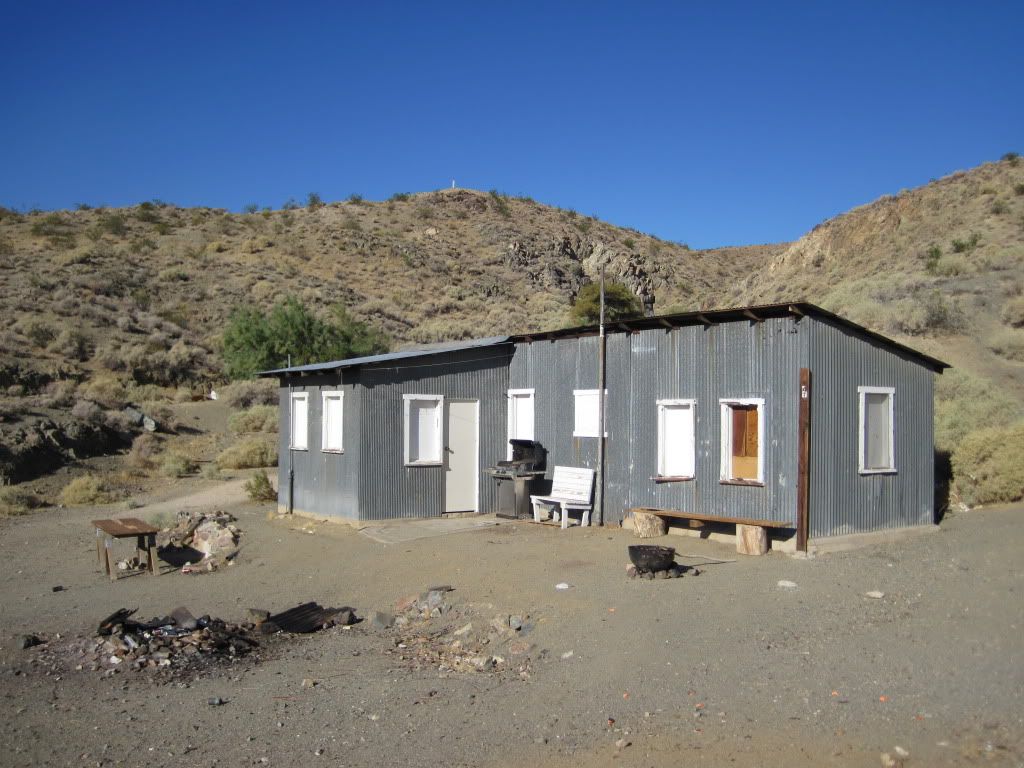 I've always been fascinated with nature's ability to reintegrate itself. Of course this happens everywhere, but the desert must be one of the most unique places to observe the phenomenon. There are a couple of reasons for this. For one, the arid climate has the effect of slowing everything down out here. Things take a long time to grow, and a long time break down. As a result, human artifacts spanning a wide range of time – and in various states of decay – are all on display, sometimes right next to each other. Then there's the landscape itself – the wide-open space and sparse vegetation don't leave much to be concealed. The desert has an incredible way of bringing things into focus.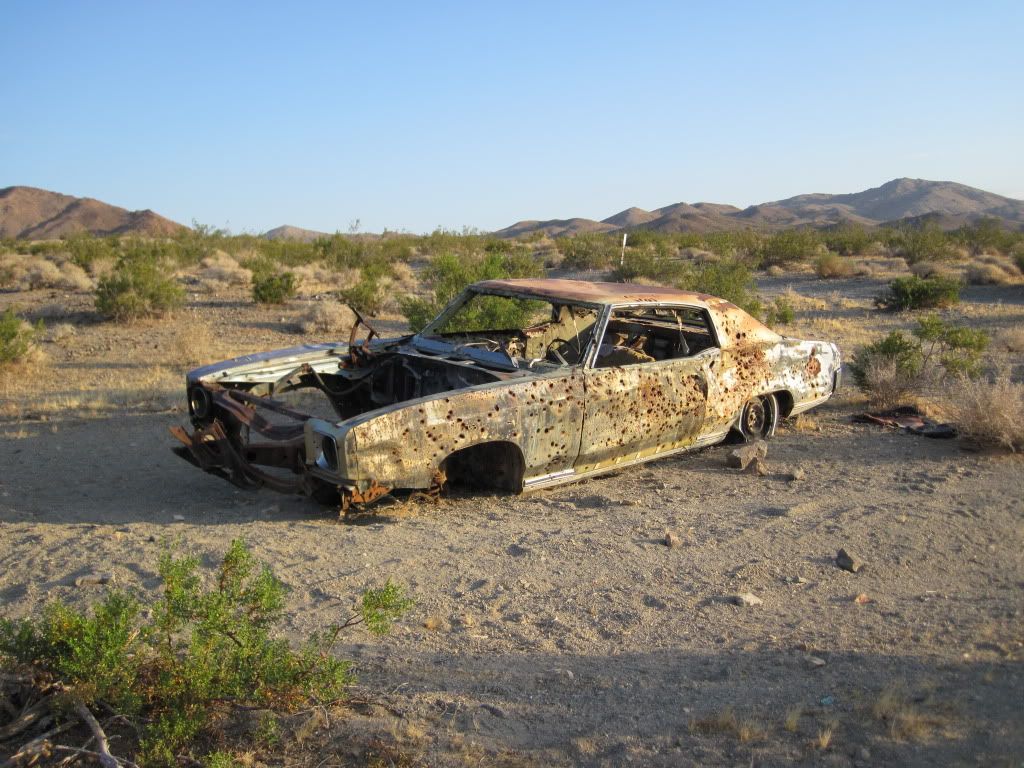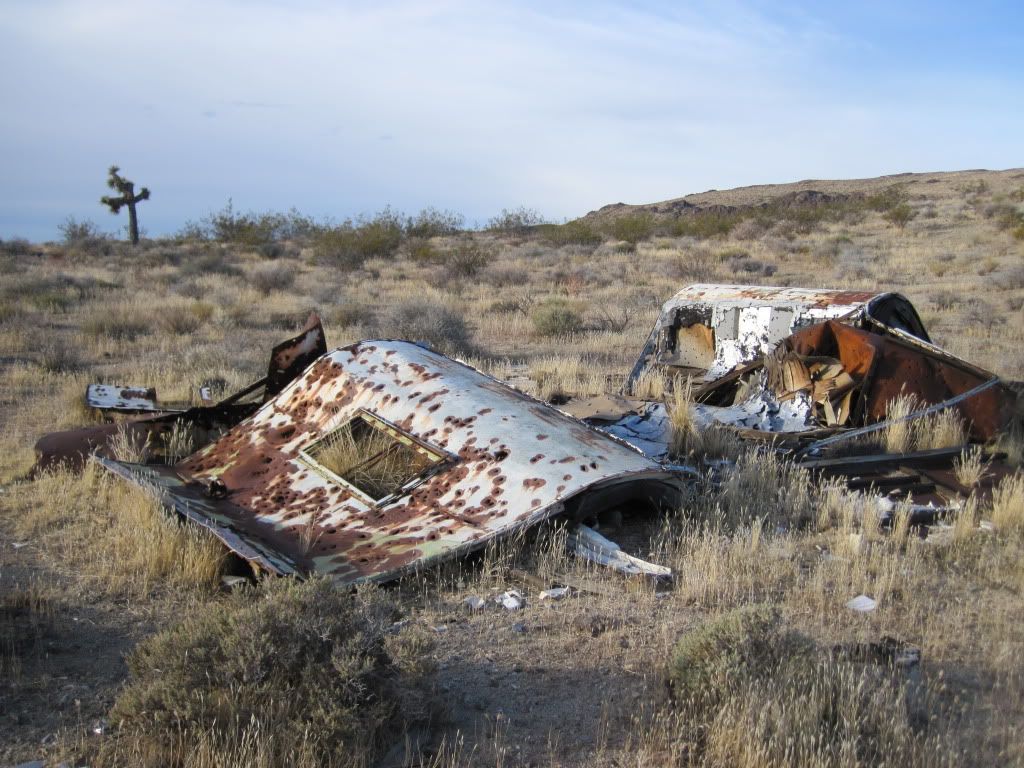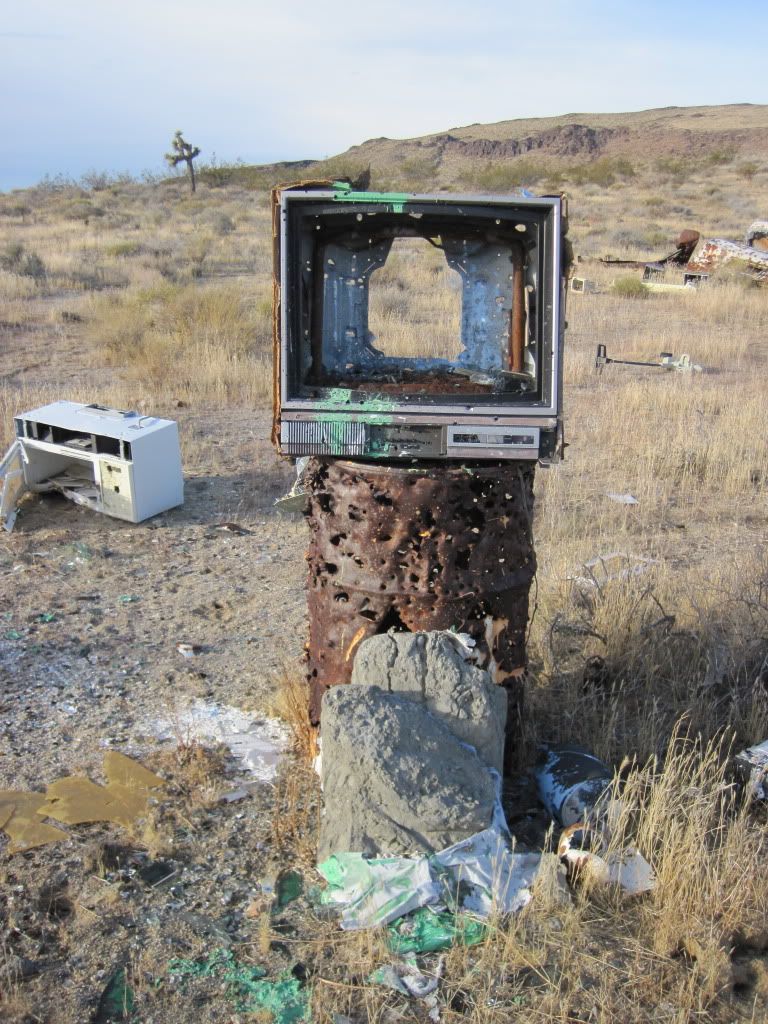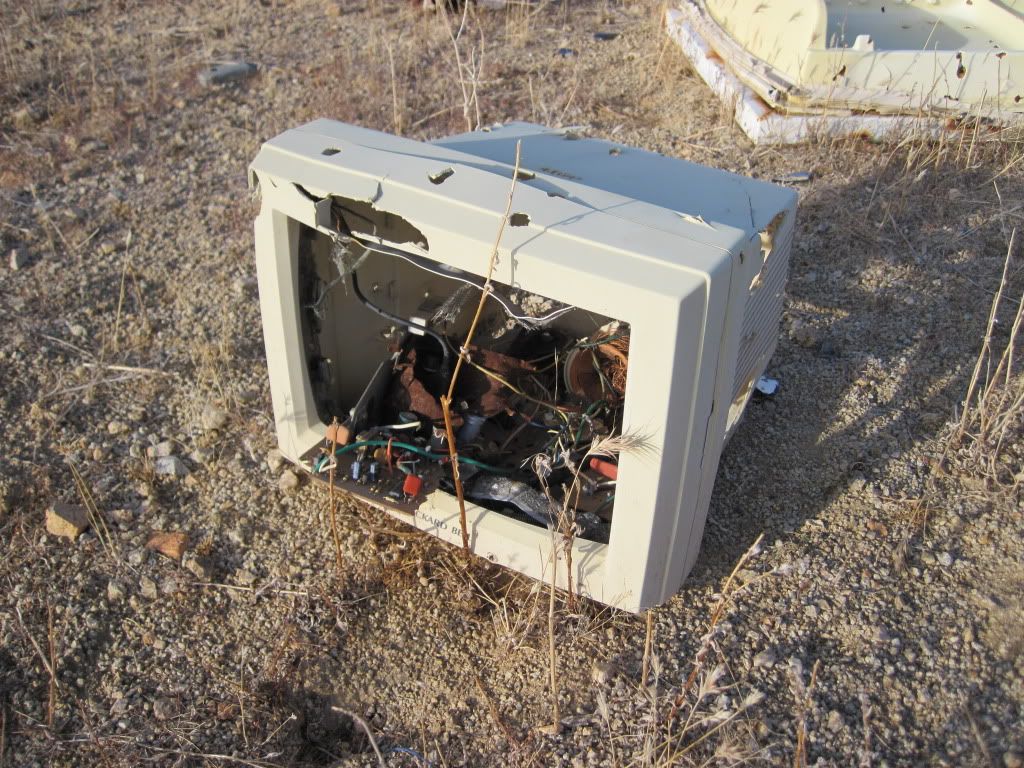 I often wonder about the collective impact of all this human activity (historic and current) on the desert ecosystem. Is our trash leaching chemicals into the soil that would be harmful to plants and animals? Are all of these old abandoned mines acting as huge pitfall traps for unsuspecting tortoises (maybe that's where all of our missing animals have gone!)? Could some species take advantage of our presence by using artificial cover objects as shelter? Of course there are no clear-cut answers here – human activity impacts different organisms in unique and extremely complex ways. Some species are more adaptable than others. I discussed this a bit in previous posts with regard to coyotes and ravens – here's another example.
Woodrats (aka "packrats") refer to any species of rodents belonging to the genus
Neotoma
. Woodrats are solitary, territorial, and nocturnal. The species we have here is the
Desert Woodrat (Neotoma lepida)
. I've never seen one, though I often encounter their dens, constructed from sticks, vegetation, bones, and trash. Woodrats need a lot of water, which they get from fleshy plants, like cactus. Here is a photo of a woodrat nest at the base of a Clustered Barrel Cactus (
Echinocactus polycephalus
). In addition to offering protection from predators, these nests provide a buffer from extreme temperatures (and in this case, a convenient food source).
Interesting side note – woodrats aren't as different from us as you might think – they leave their trash out in the desert too, in the form of middens (aka garbage piles) where they place unwanted debris. Middens can be preserved for thousands of years (they have been carbon dated at >50,000 years), and provide valuable information about past environments. Read more about them
here
.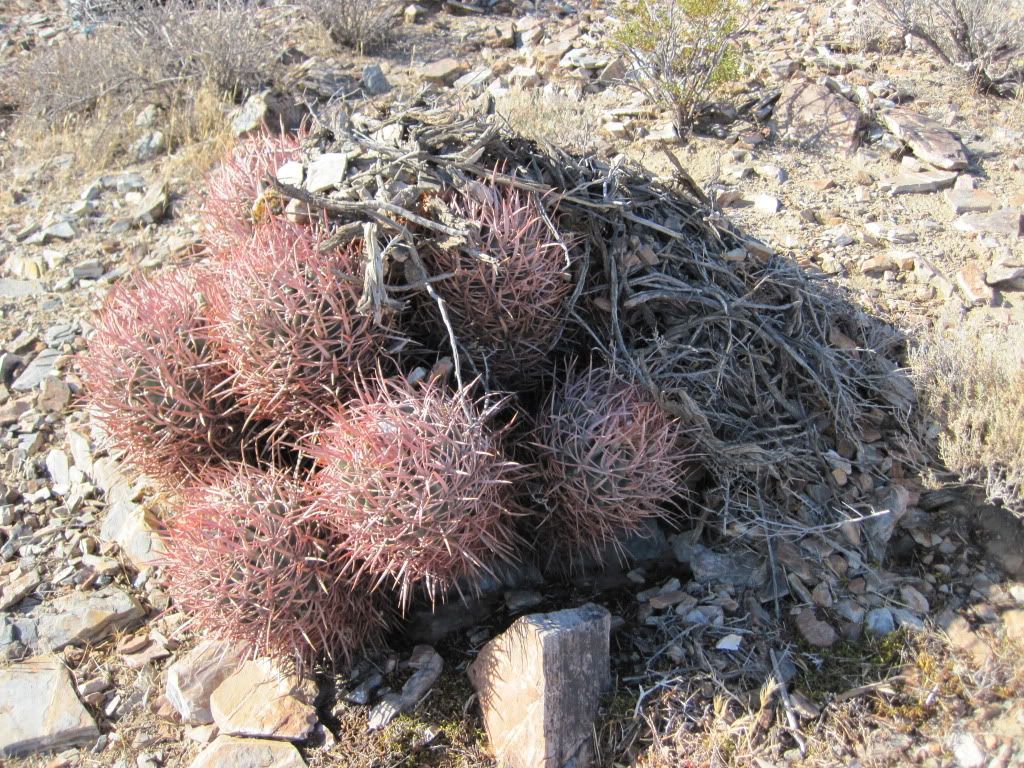 In the absence of cacti or rocky outcrops, which offer structural support for their homes, woodrats will get creative. Here's an example of a less-traditional woodrat den in the remains of an old vehicle. Even when natural construction sites are readily available, these guys seem no less eager to take advantage of artificial refuse. So, were the woodrats just using the car because it was convenient, or could this piece of trash have facilitated the movement of this species into a habitat they wouldn't normally occupy?
By considering life history traits, it makes sense that an animal like a woodrat might (theoretically) be better equipped to adapt to change than a tortoise. Tortoises take 15-20 years to reach sexual maturity, whereas woodrats can reproduce in a couple months. Woodrats also produce multiple litters a year, while tortoises usually have one clutch, and sometimes none at all. Because evolution is dependent on the accumulation of random genetic mutations, one would expect that within a set period of time (and excluding other variables), woodrats would have a better chance of acquiring potentially beneficial mutations than desert tortoises on the basis of their shorter generation times.
Molecular evidence corroborates this idea.
Avise et al. (1992)
reported that when DNA sequences from six species of turtles were compared, very little divergence was found, indicating a slower evolutionary rate relative to other vertebrates at the molecular level. In addition to turtles' long generation times, the authors suggest that slower evolution could also be influenced by turtles' lower metabolic rates.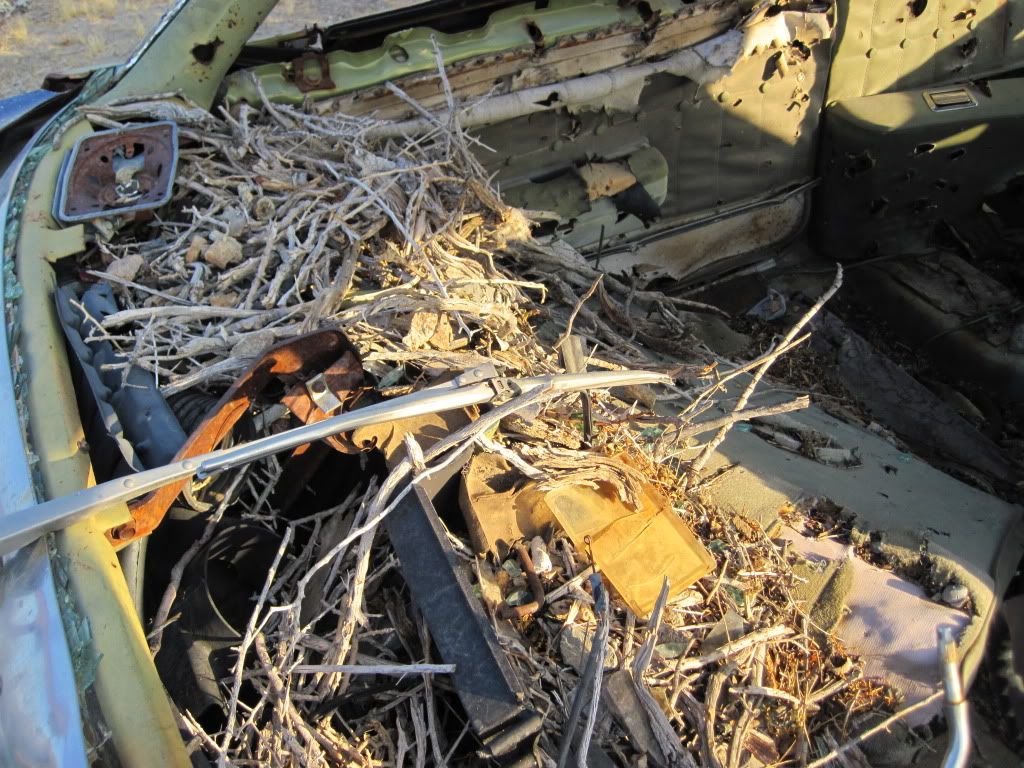 A different kind of midden. I wonder if scientists will be studying these 50,000 years from now?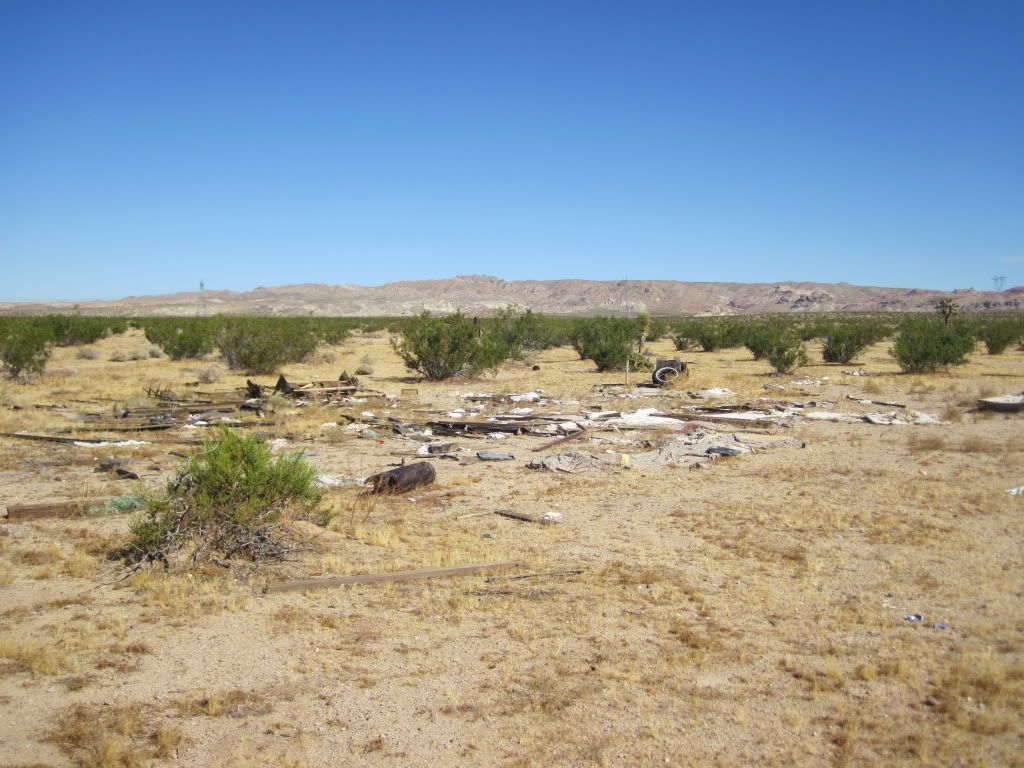 I was somewhat surprised when I tracked a tortoise to this spot. I guess I had assumed they would prefer to reside in more scenic locales.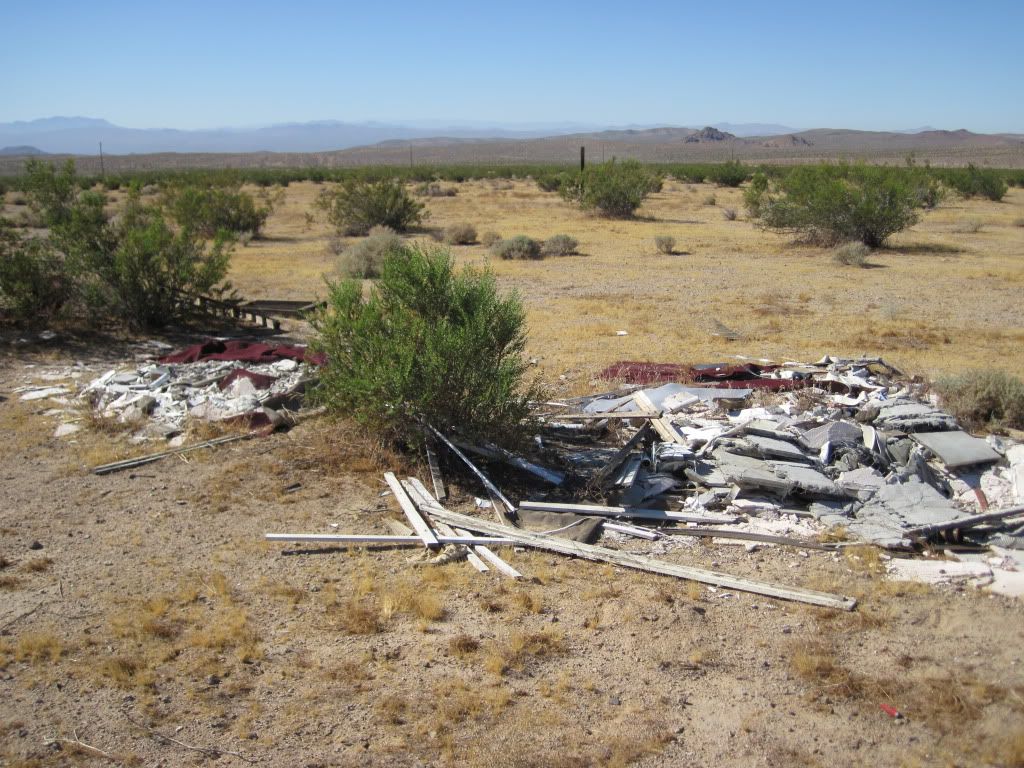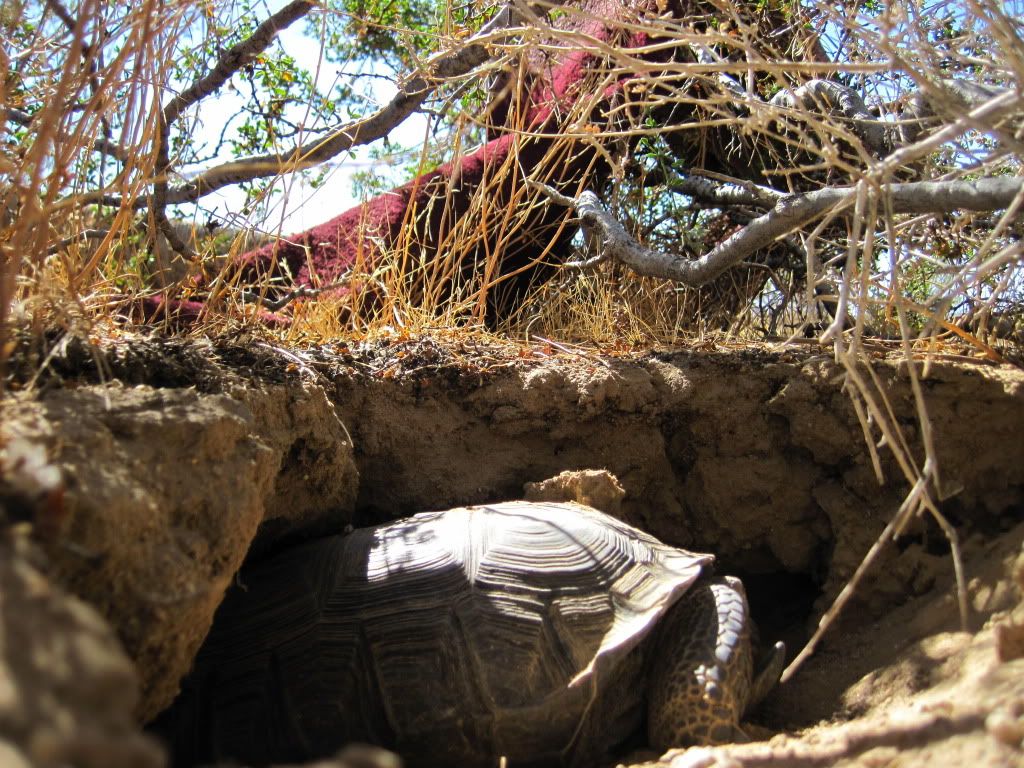 Here is another tortoise I found beside the scattered remains of some structure.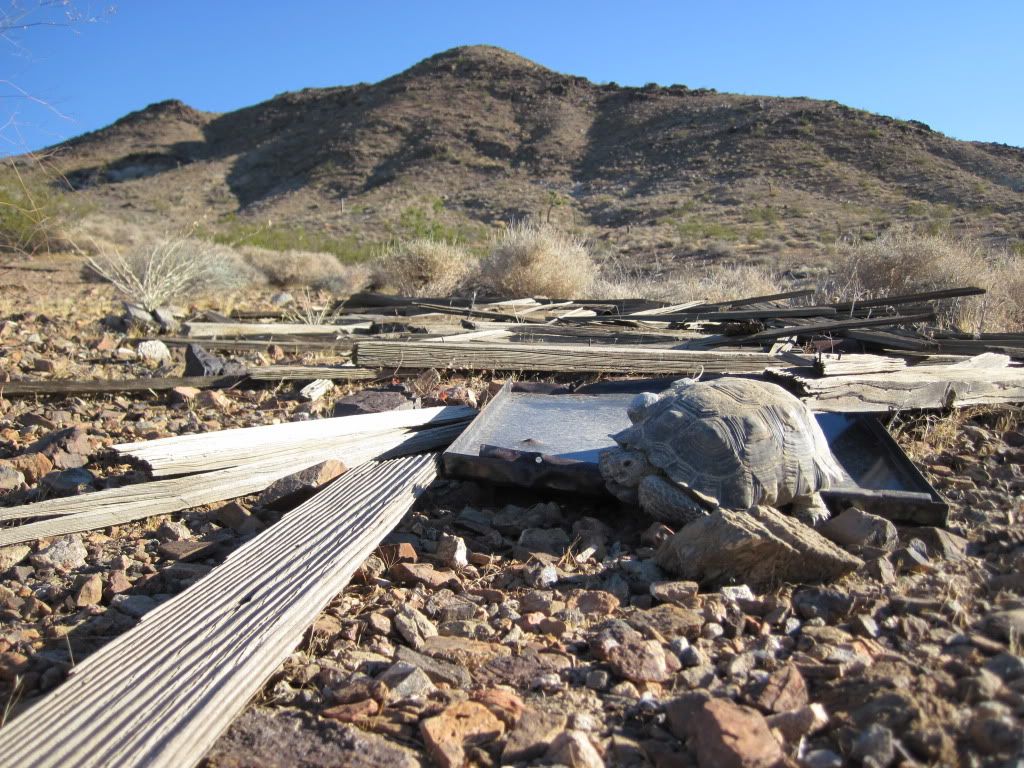 In both of these cases the animals appeared normal. No, they weren't actively taking advantage of human activity as the woodrats did, but on the other hand, they were not experiencing any obvious ill effects from their surroundings. I do not wish to imply that human disturbance is not having a significant negative impact on this species – there is plenty of evidence to show that it is. But, such influences are not always direct, nor easily observed. Perhaps, when this area was experiencing more human activity in the past, tortoises did suffer, but the relics of such activity (i.e. trash) don't bother tortoises there now one bit. On the other hand, maybe increased cover objects elevate rodent populations, attracting more potential predators like coyotes to the area. Or maybe the animals aren't as healthy as they look. Hopefully the data we collect will help to answer such questions and better understand the changing desert ecosystem and our involvement in it.
As a child I had always wanted to be a paleontologist. Though I eventually realized I'd rather work with still-living dinosaurs, the allure of constructing a narrative from old dusty bones has remained with me, and so has my imagination. When I stumbled upon the scene below while tracking a tortoise, I was not filled with disgust as some might have been at the sight of trash tainting the landscape. Yes, part of me immediately recognized the manmade origin of the objects sprawled about before me, yet in their various states of decay, the line between natural and artificial was blurred. It felt more like I was studying the fossils of some extinct beasts than a pile of rusty metal, and each had a story to tell.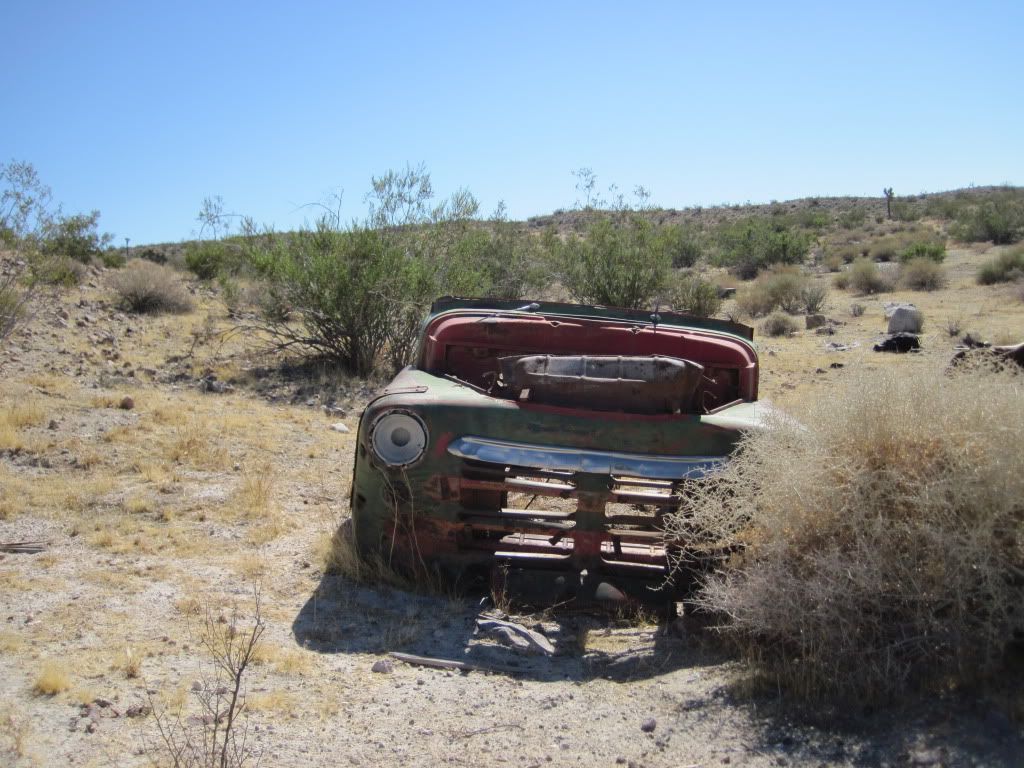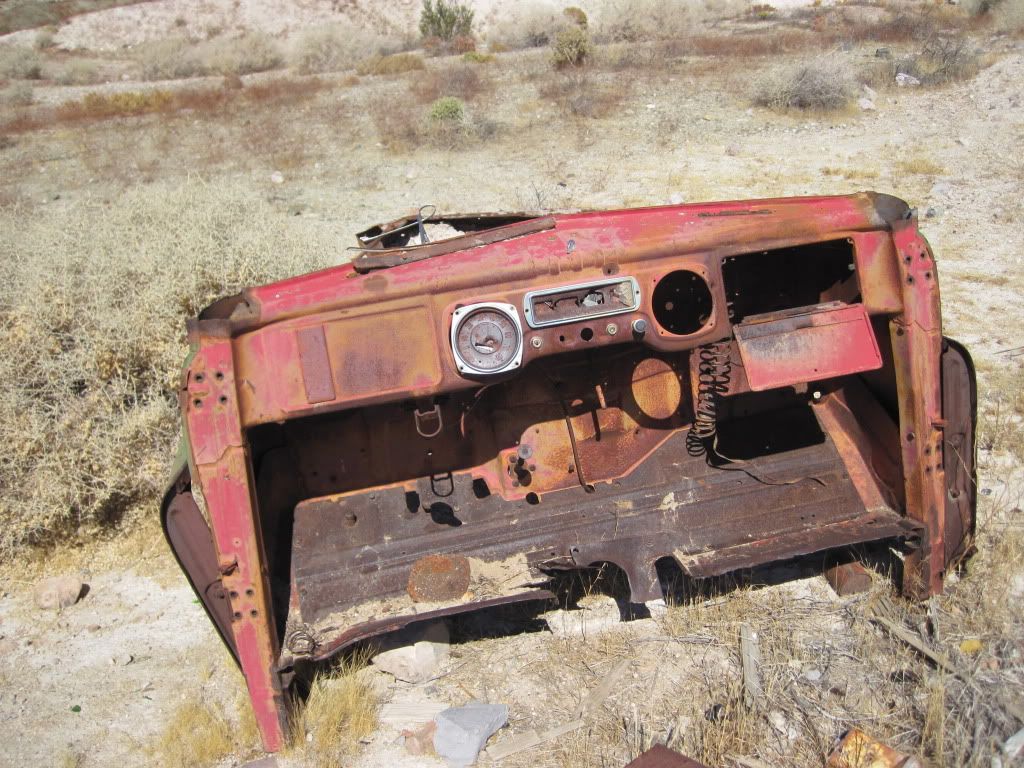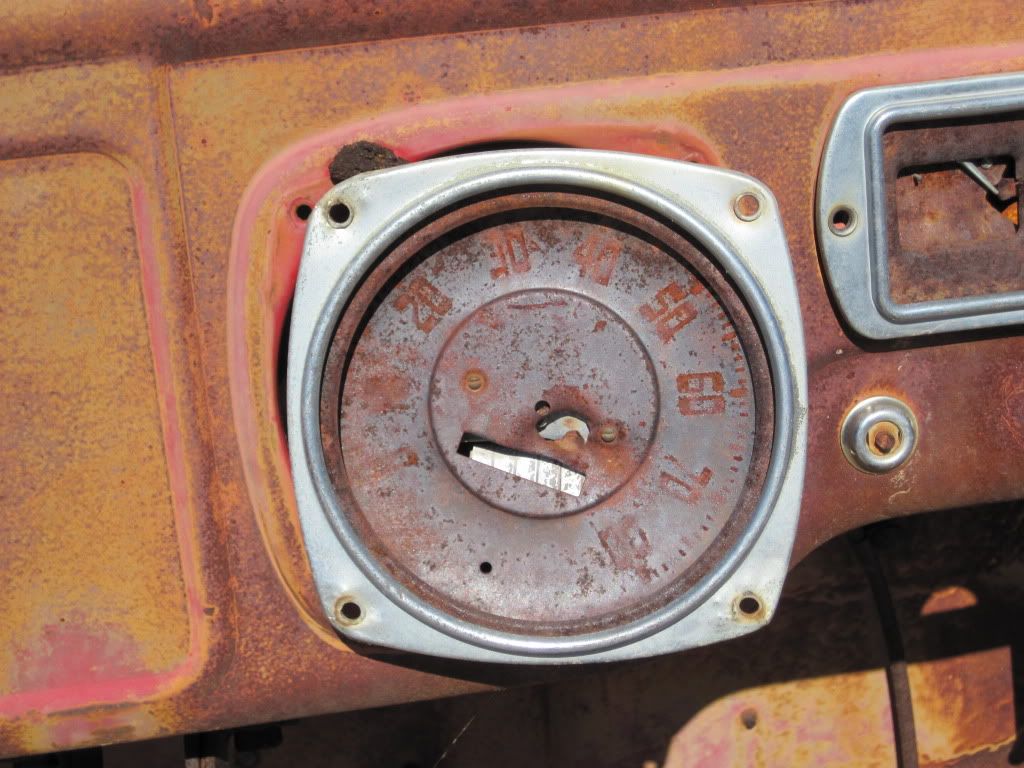 I think all conservation biologists wonder, at some point or another, if their efforts are in vain. It's easy to look at the world around us, throw up our hands, and surrender to the idea that our planet is damaged beyond repair. Every now and then I get a much-needed reminder that this is not the case.
The decomposing car pictured below wasn't much different from any of the others I'd seen, but as I stared at it something amazing happened – riddled with bullet holes, its paint faded and chipped away, and engulfed by amorphous blotches of rust – the car began to gradually vanish from my view, and from my mind. The longer I stared, the less discernible it became from the rest of the landscape.
The colors, patterns, textures, and even contours of the old truck so perfectly complimented the surrounding environment, it was as if it had somehow acquired the ability to camouflage from some of the desert's other inhabitants (i.e. sidewinders, horned lizards; see examples in
Part 2
). The vehicle seemed to be paying a final homage to the desert before breaking down into its most elemental parts and disappearing completely.
"Without us, Earth will abide and endure; without her, however, we could not even be."
–
Alan Weisman
,
The World Without Us
(2007)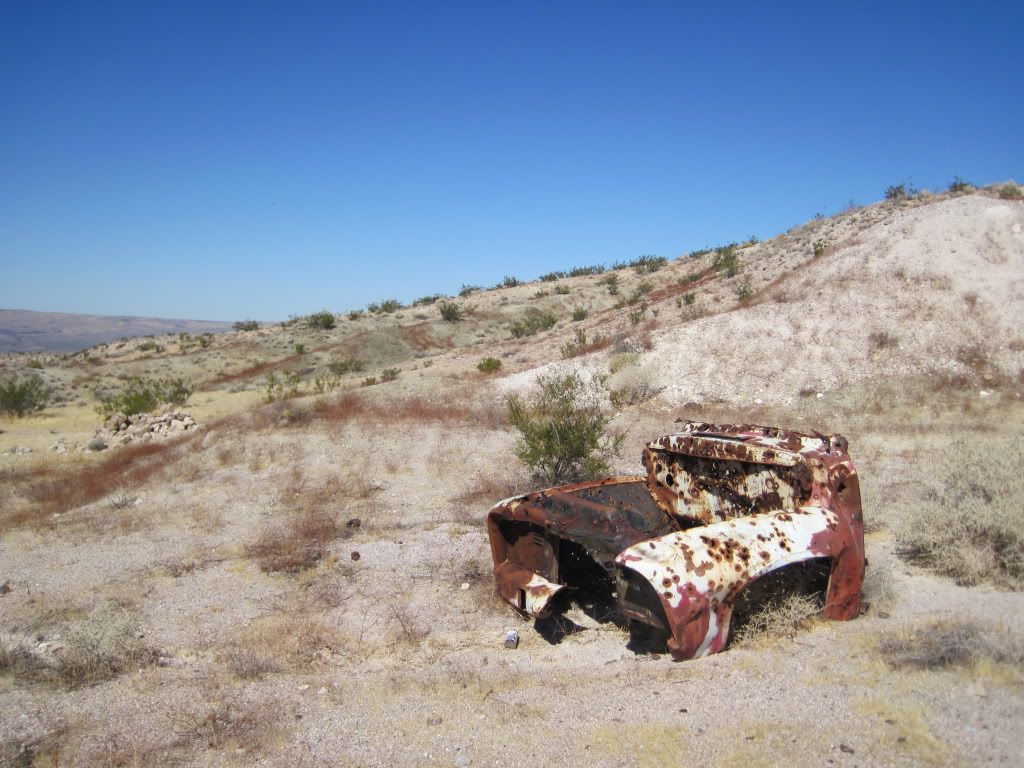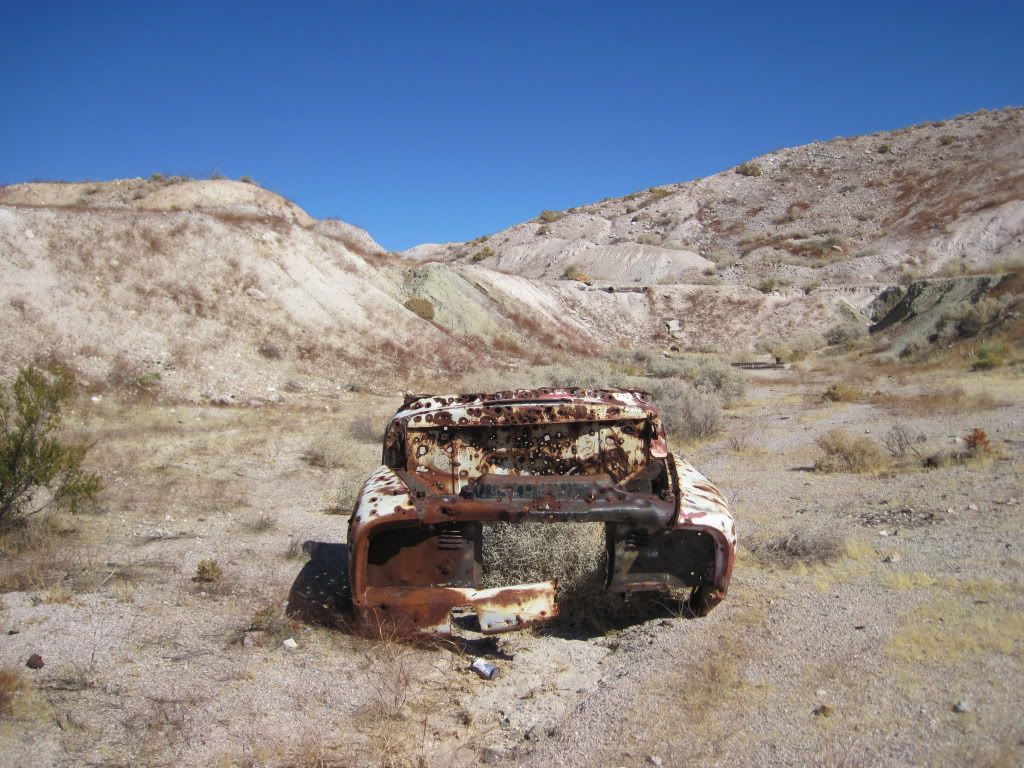 Chapter 2: Invertebrates
I must admit, while I miss water and trees, it is nice to not have to worry about mosquitoes, ticks, etc. While some of the invertebrates out here
appear
more formidable then the ones I'm used to, in reality, they're much more respectful of our personal space and don't really bother us at all. In fact, it wasn't until the fall that I really started to see more invertebrates.
This was one of the first ones I found. We were unloading supplies into the garage when I noticed this
Giant Desert Hairy Scorpion (Hadrurus arizonensis)
stuck in a spider web. At first I thought it was dead, but then I saw it twitch a little bit. We untangled it and nursed it back to health for a week before releasing it.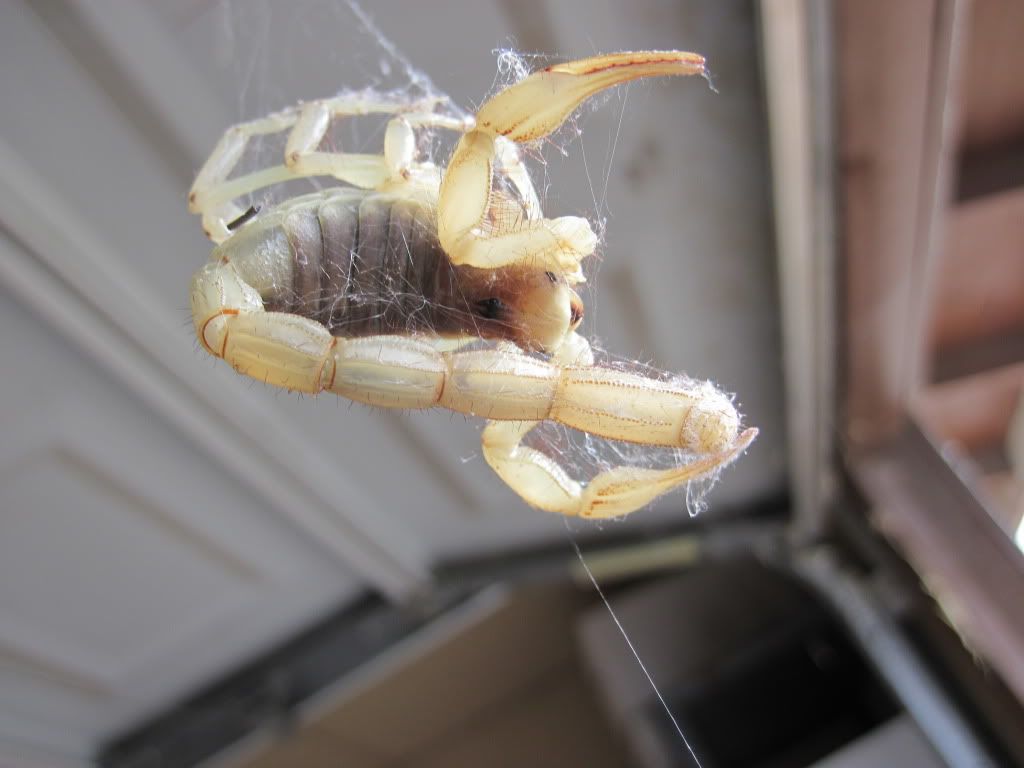 H. arizonensis
is the largest species of scorpion in North America, capable of reaching lengths of 14 cm.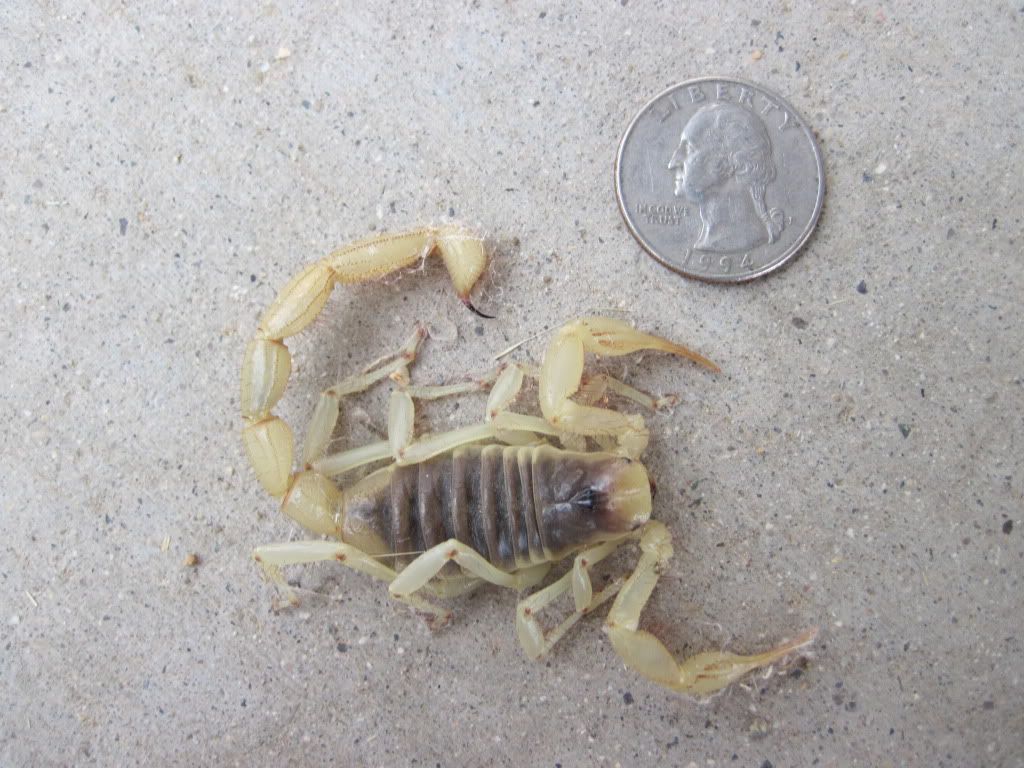 It stays burrowed underground during the day, and comes out at night to hunt for other scorpions, and small lizards and snakes.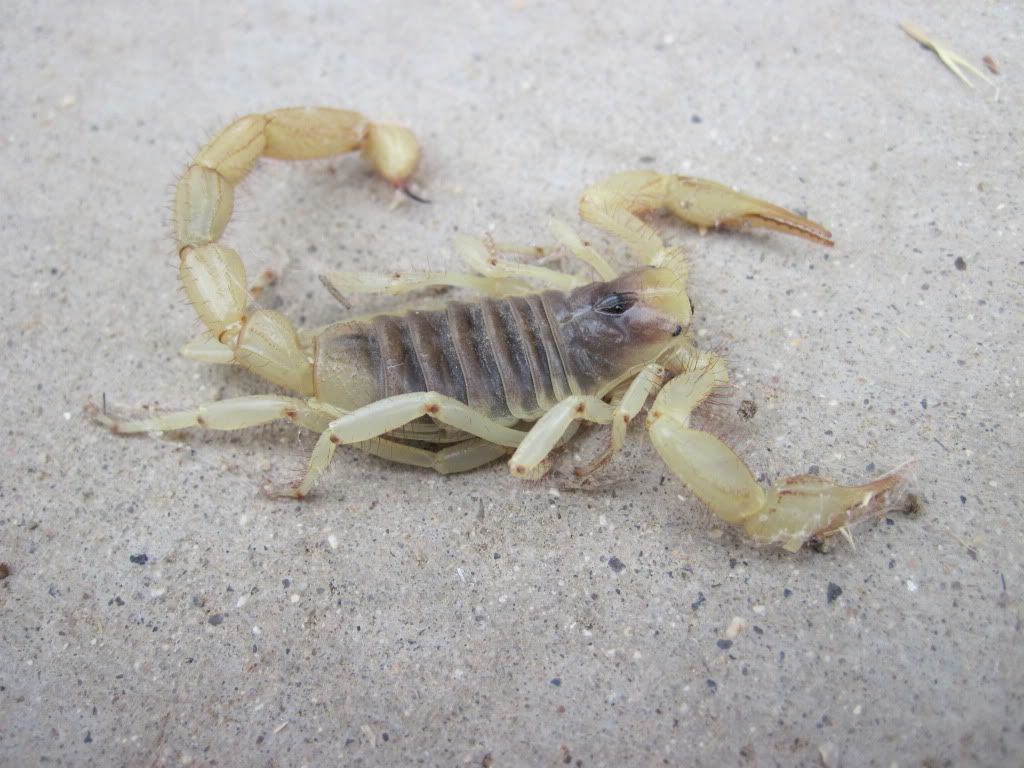 The hairs on its body help it to detect vibrations. Its venom is not very potent, and has been compared to that of a bee sting.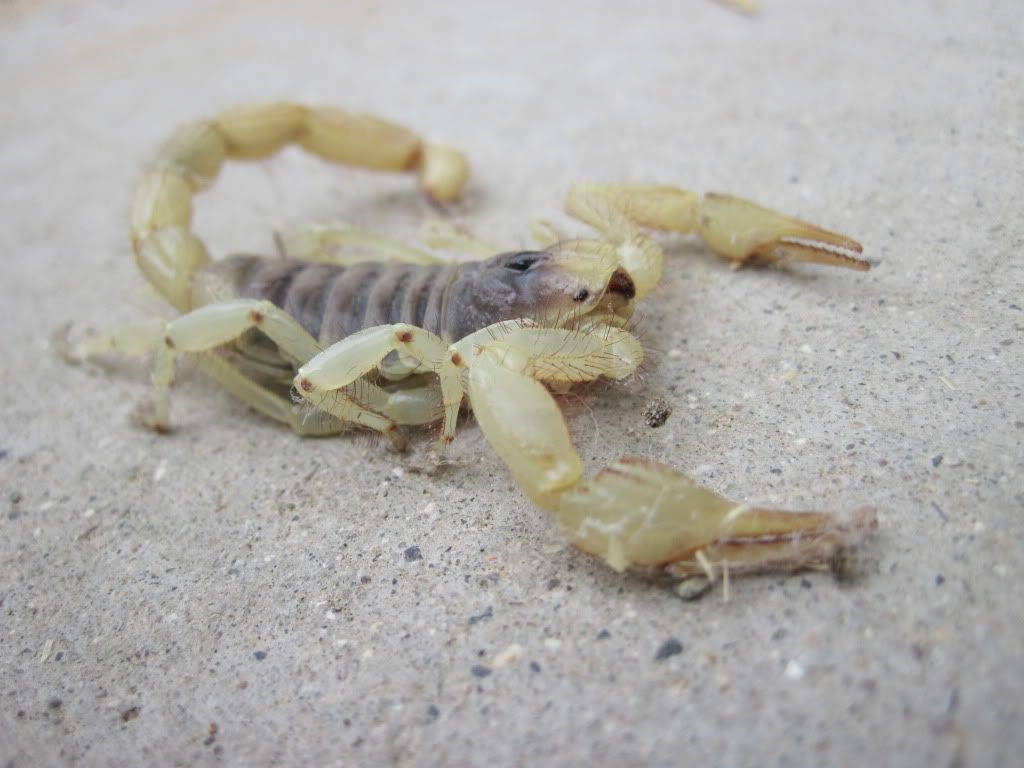 My first tarantula sighting was unfortunately this big dead guy,
Aphonopelma iodius
.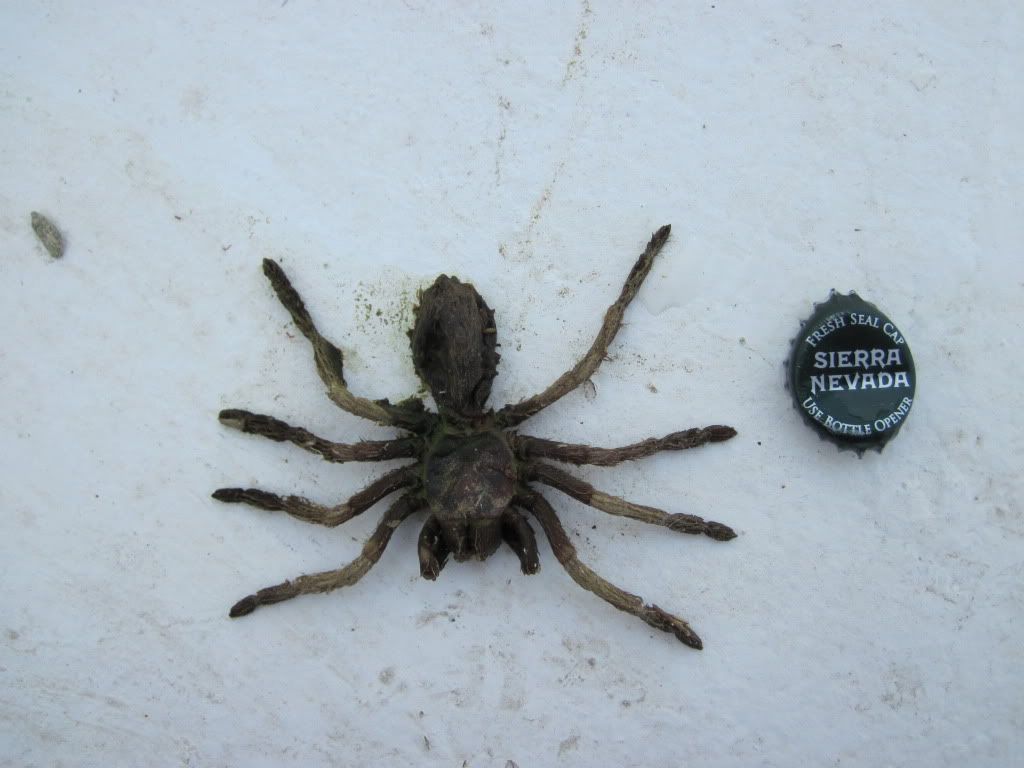 First live tarantula of the season was a different species - Mojave Desert dwarf (
Aphonopelma mojave
). You are most likely to see tarantulas in the fall, when males roam around in search of females.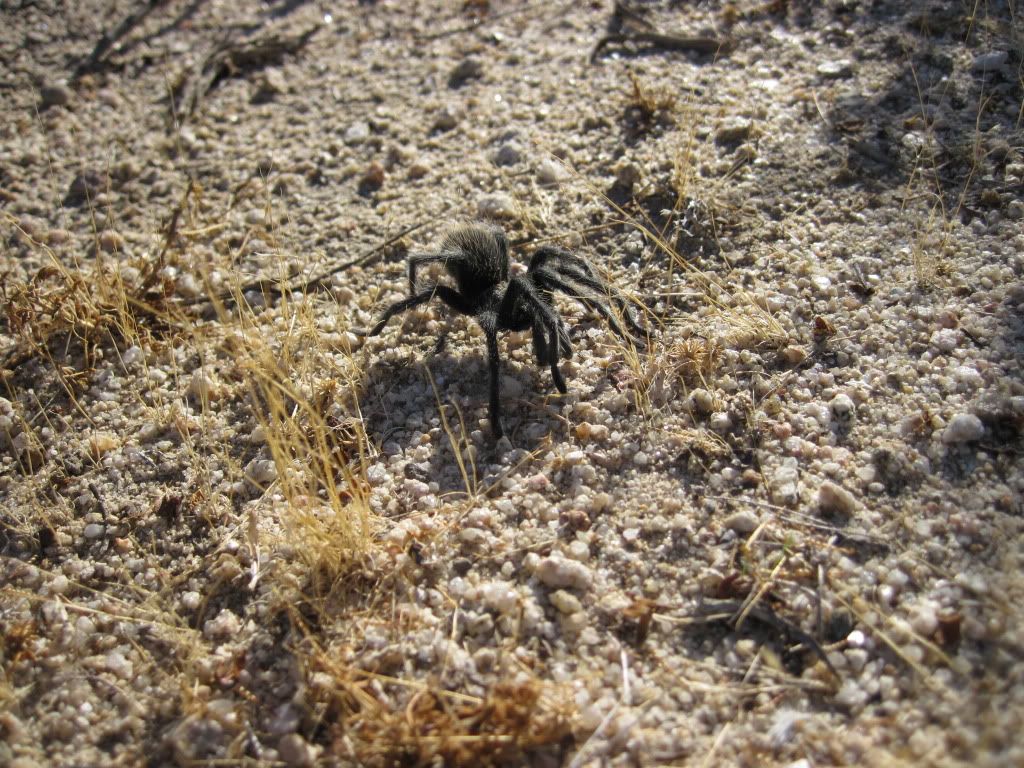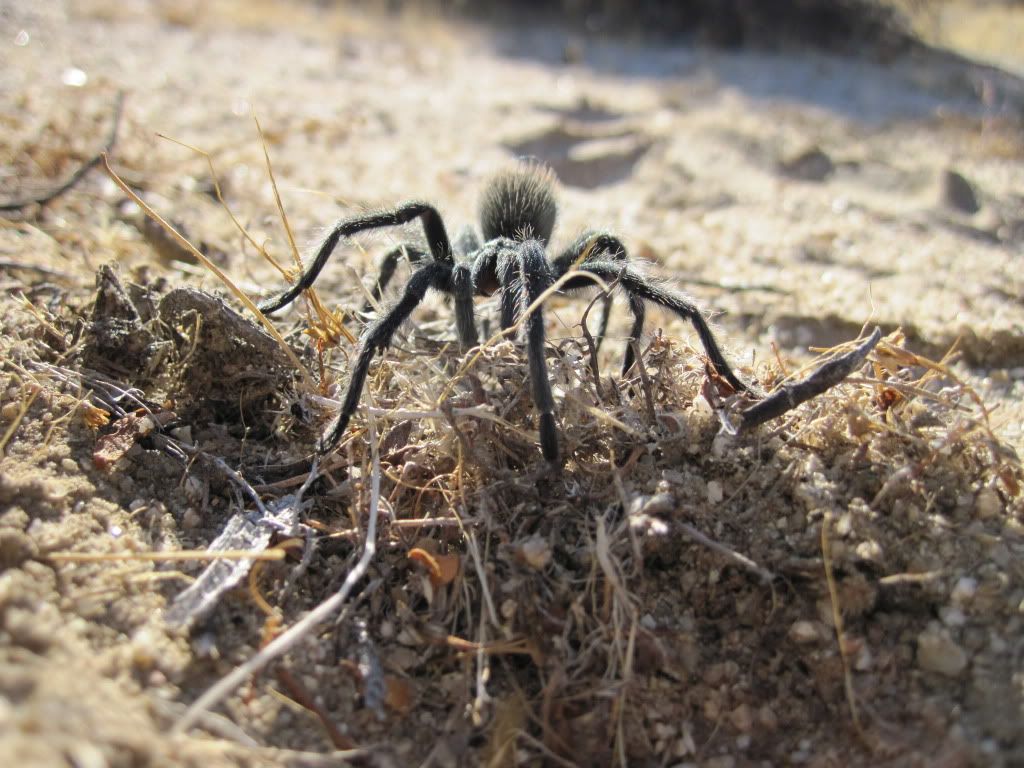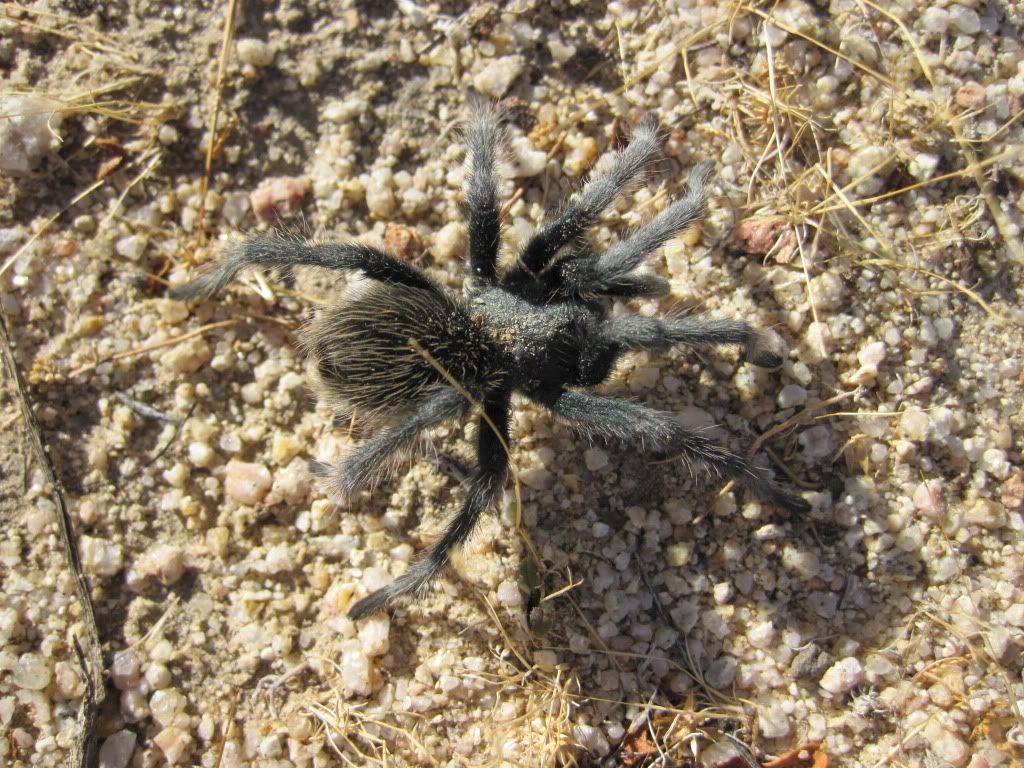 Defensive posture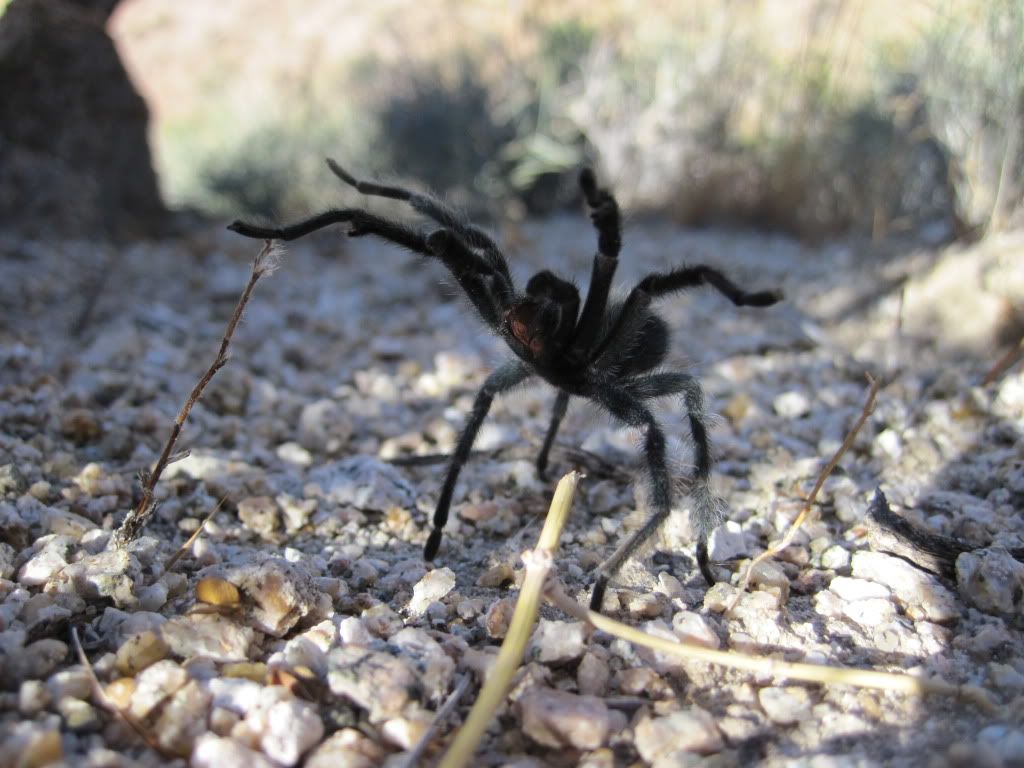 Close-up of the fangs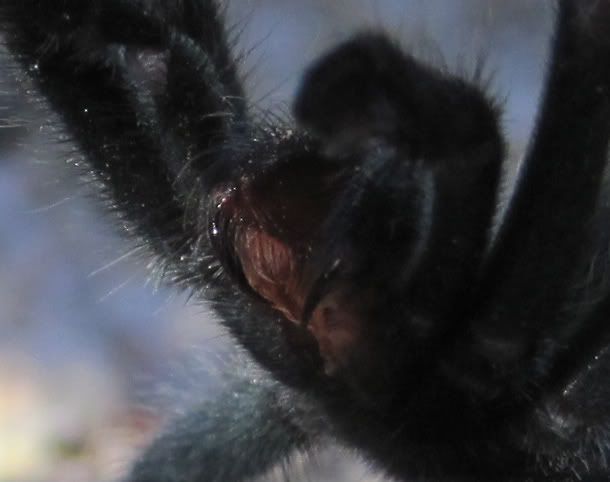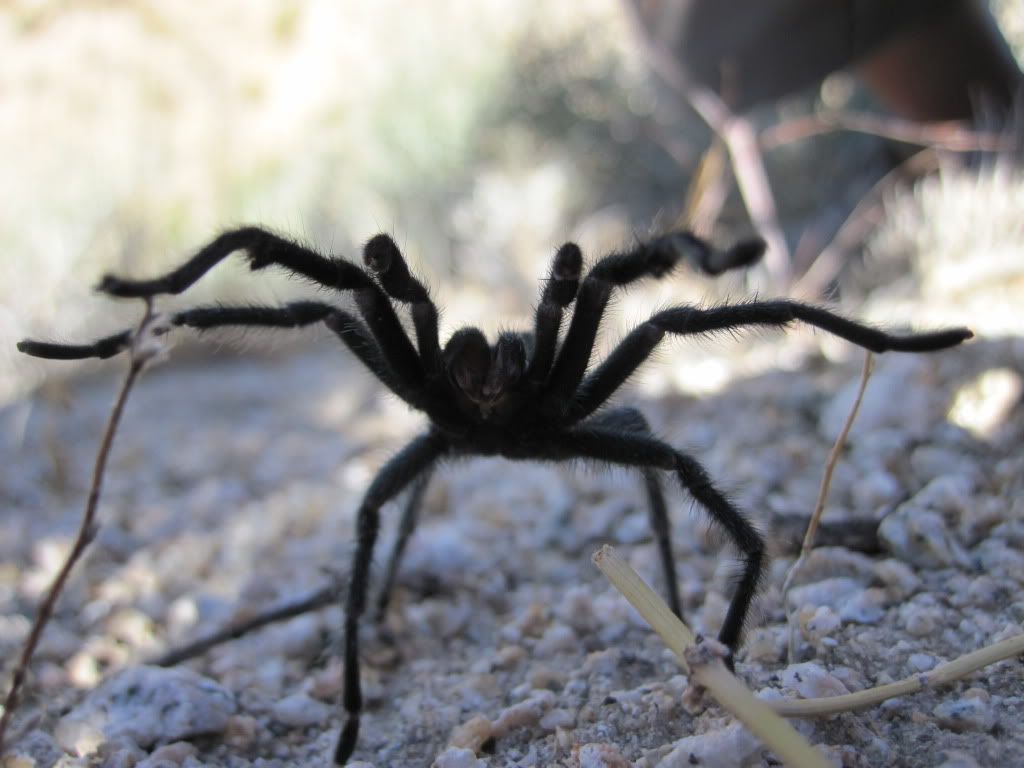 First live
A. iodius
.
Agile/Ground Mantis (Litaneutria minor)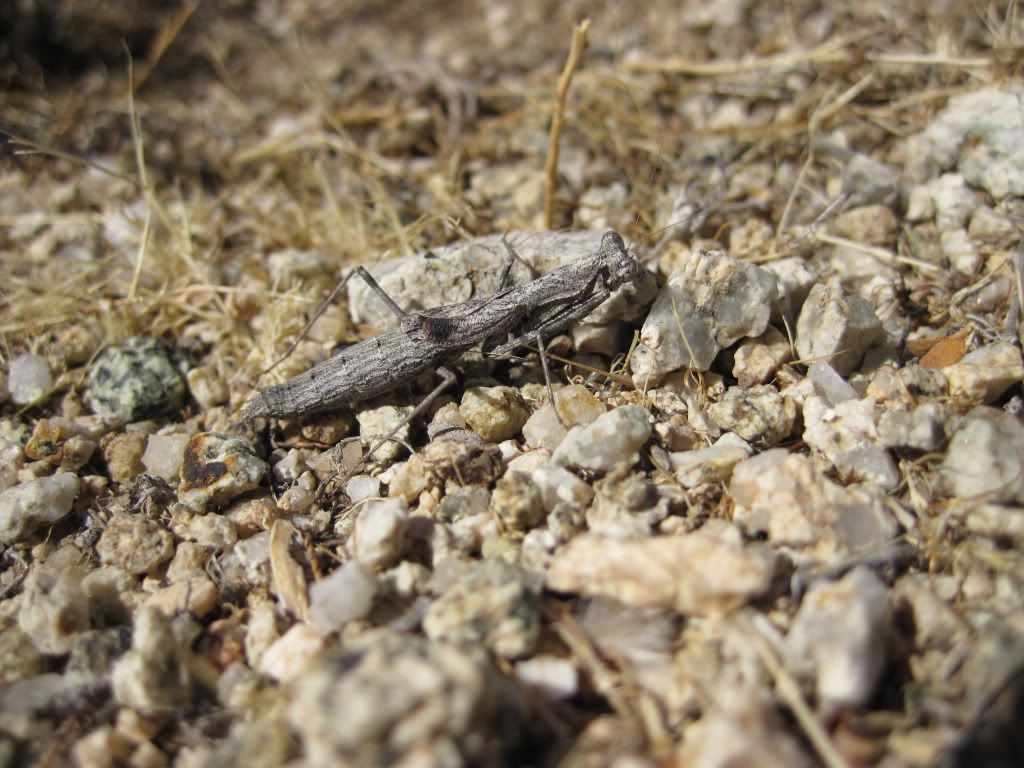 Again, a familiar pattern… This one is a bit of a mystery. I found the shell (
Sonorella
sp.[?]) beside a woodrat nest/midden at the top of a hill. At first I thought it was a fossil, but on closer inspection it seems fairly recent. Someone suggested a bird could have dropped it. Anyone have any other thoughts on where it might have come from?
Chapter 3: Herps, etc.
While it is not uncommon to find two tortoises sharing a burrow, I was surprised to see three tortoises (2 marked, 1 unmarked) inside this rock den at the top of a hill, but apparently up to 17 tortoises have been found sharing a den!
Back in Nevada, AJ checks on the eggs we collected at the Desert Tortoise Conservation Center (DTCC) a few months back (see
Part 4
).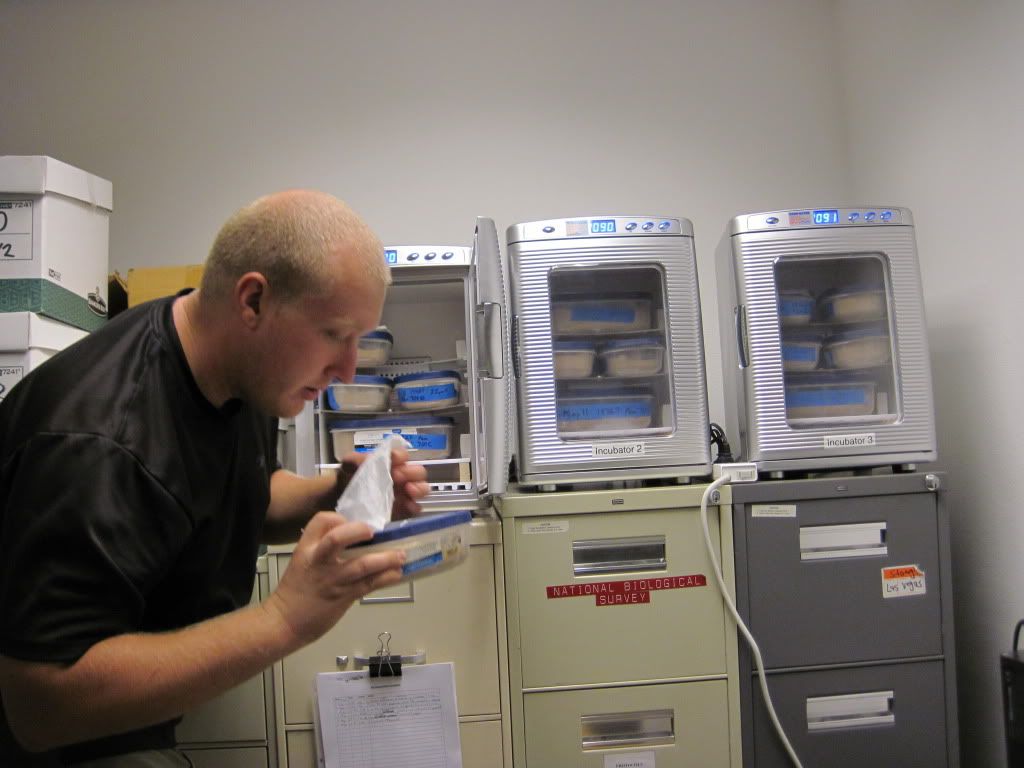 First hatchlings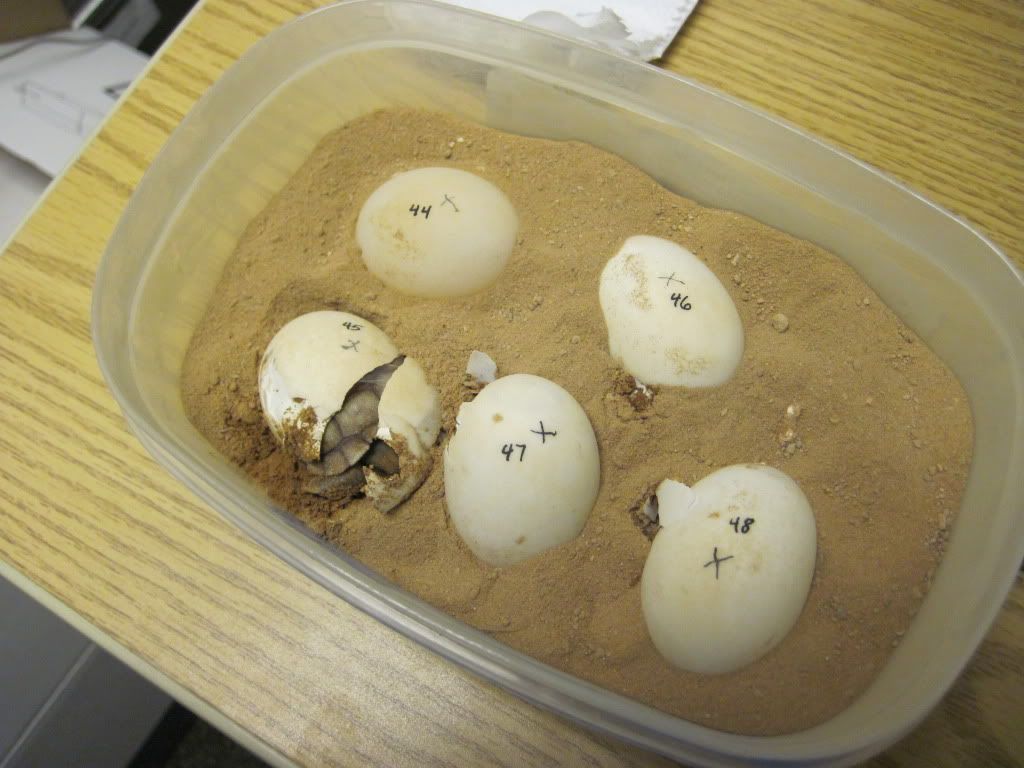 It usually takes 1-3 days for the baby tortoise to hatch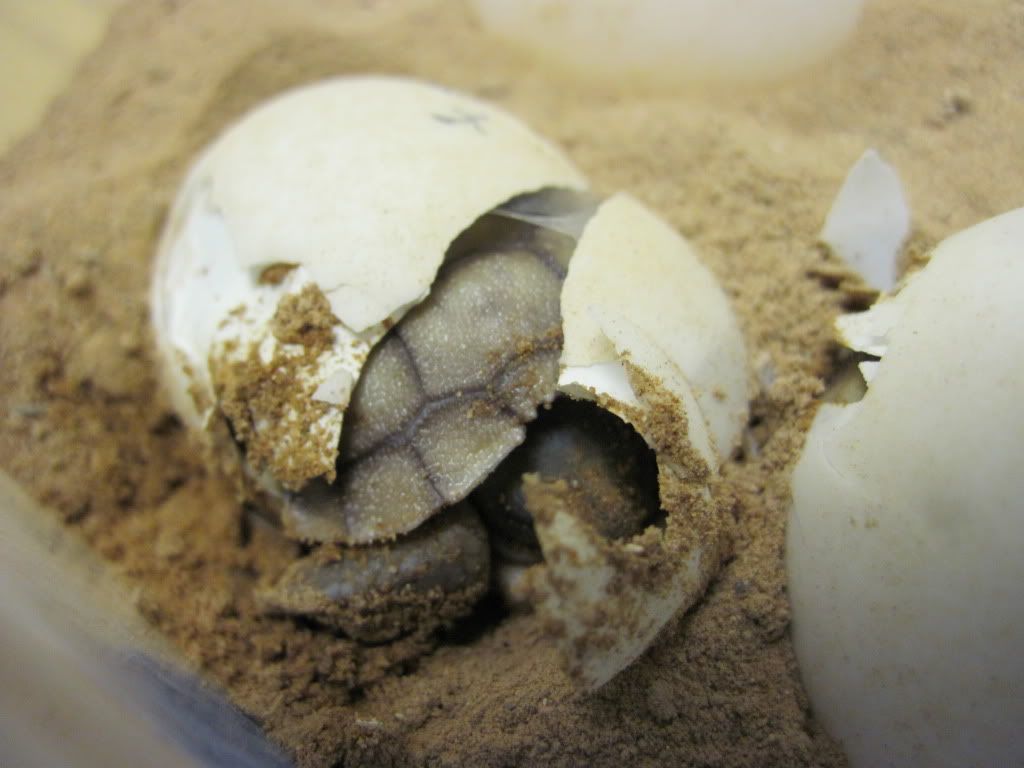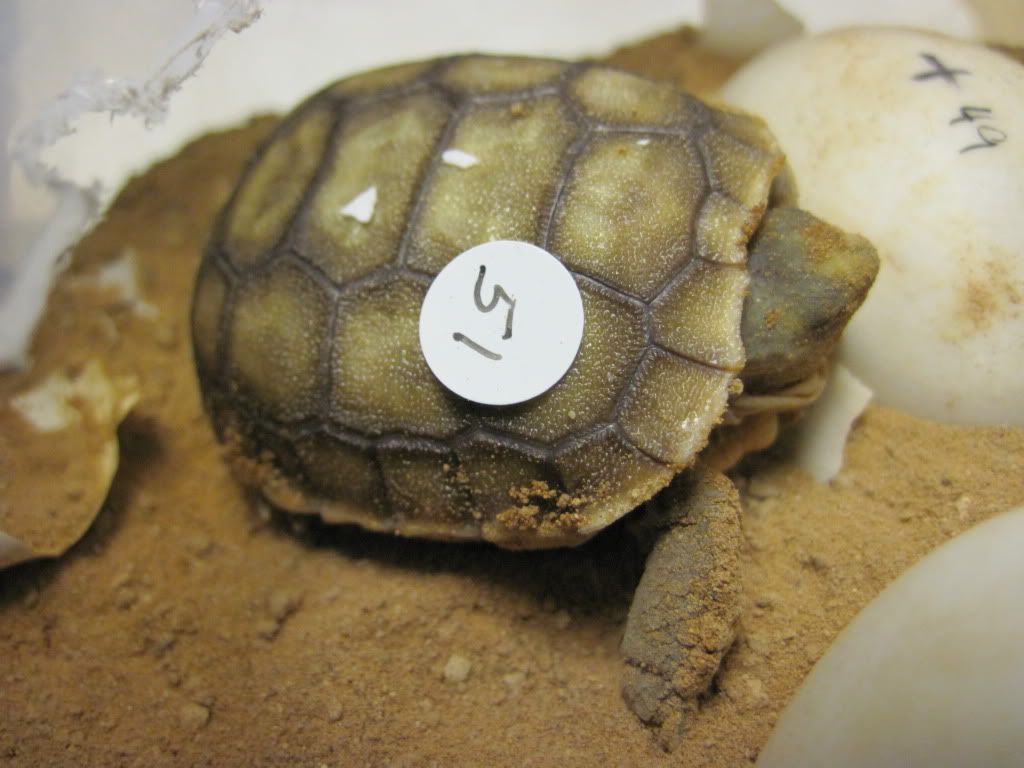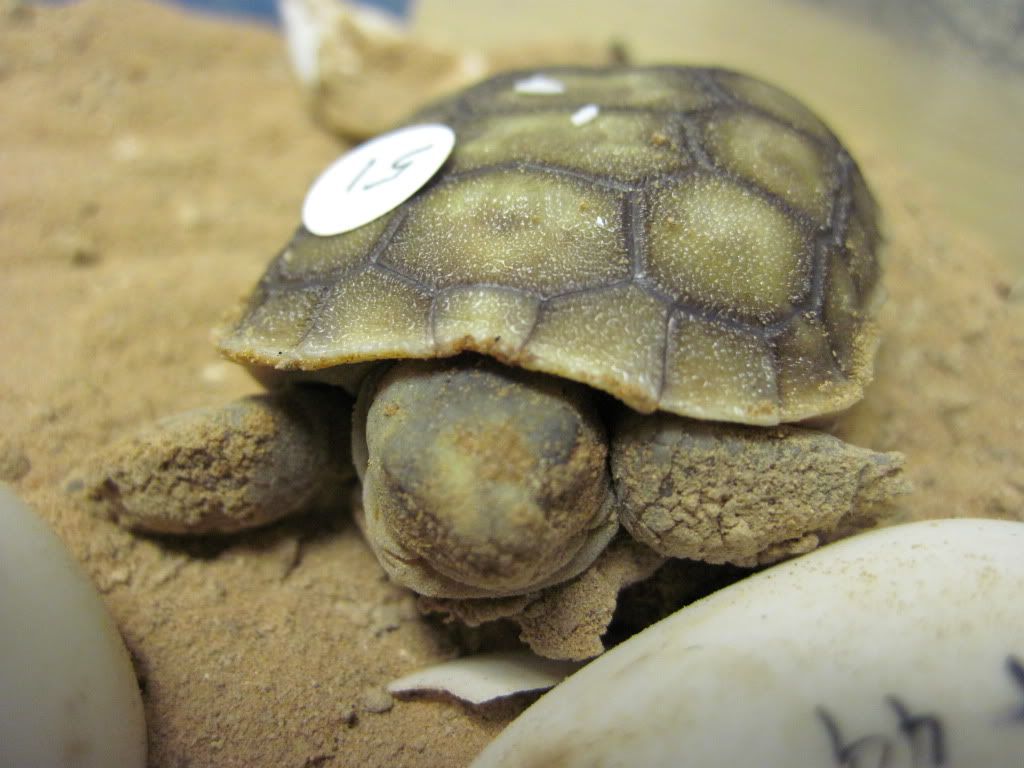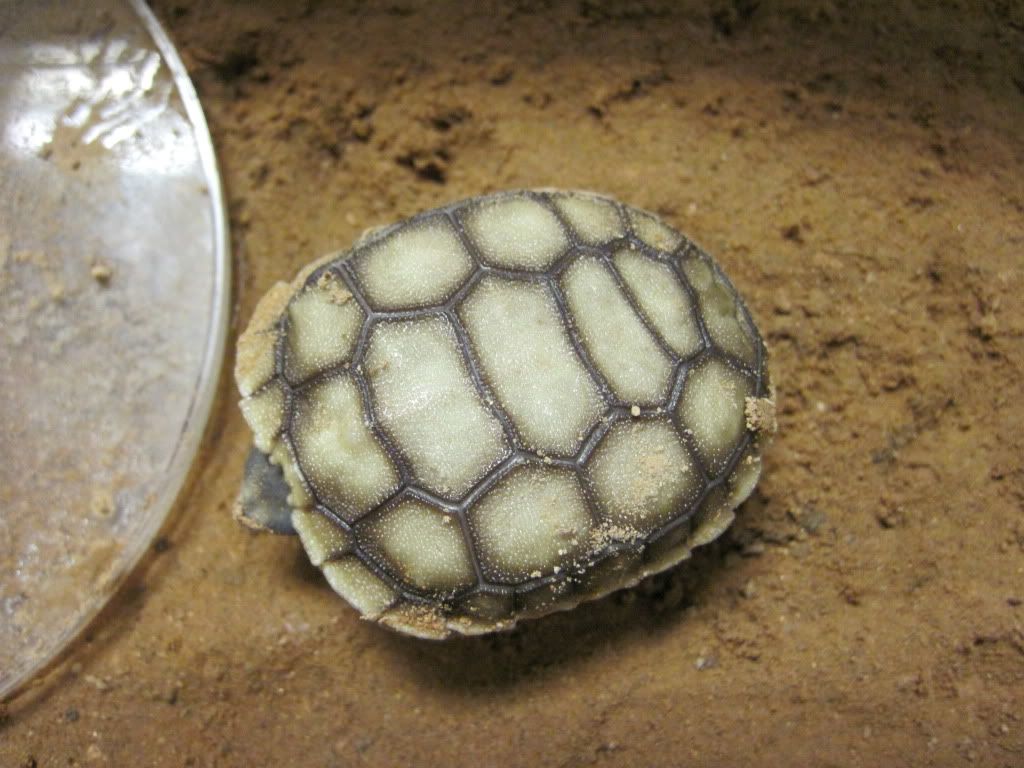 Out in the field I found some eggshells at the mouth of a burrow – not sure if they hatched or were eaten.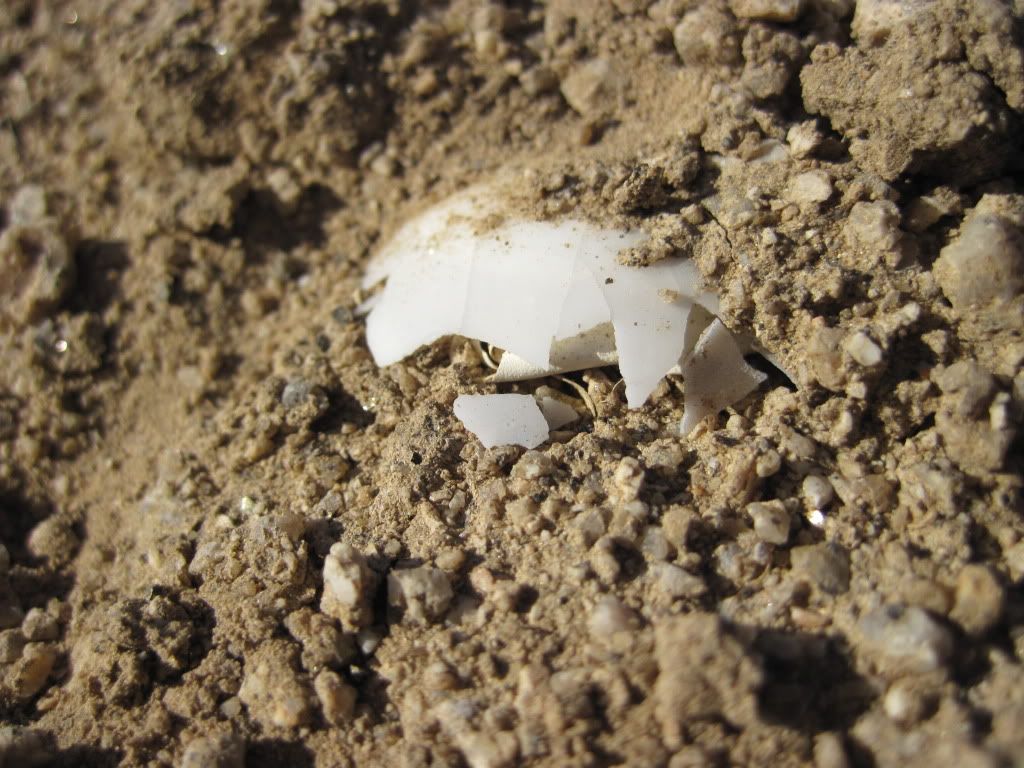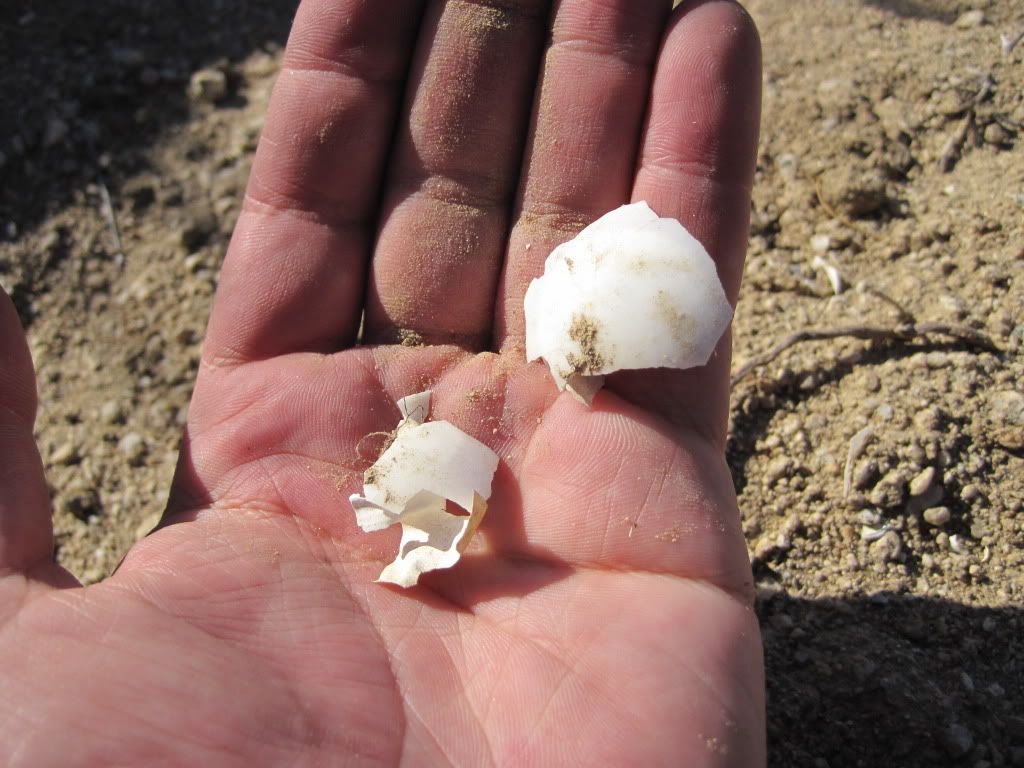 This baby
Yellow-backed Spiny Lizard (Sceloporus uniformis
[formerly grouped as a subspecies of
S. magister
]) had fallen into this tub and couldn't get out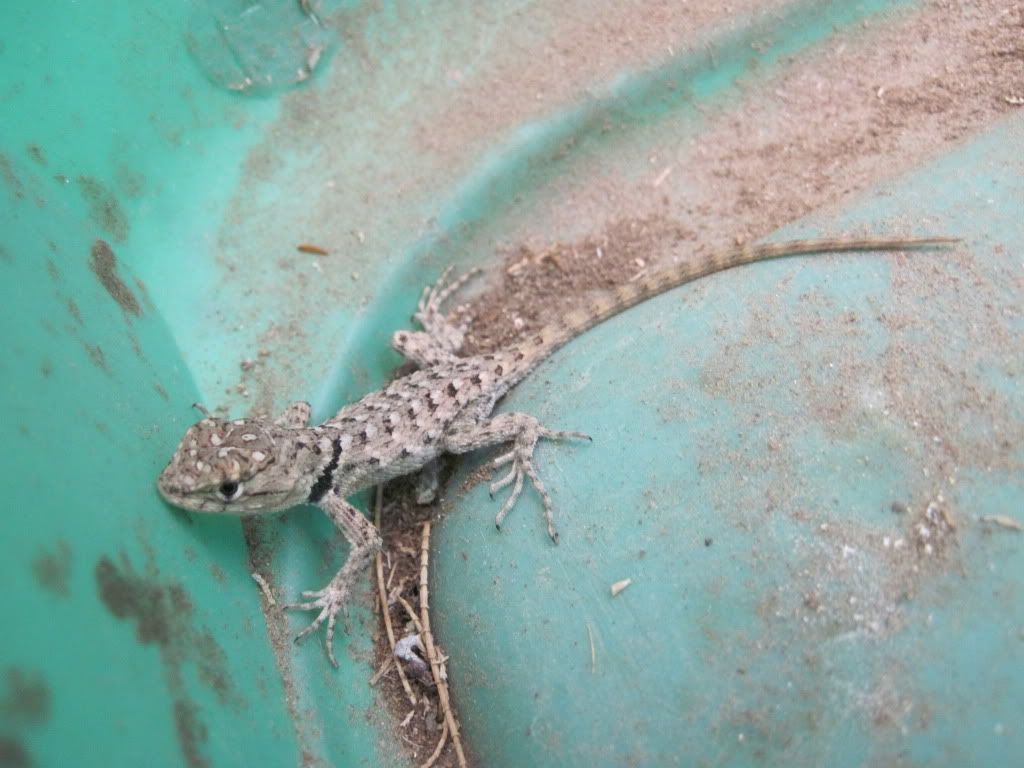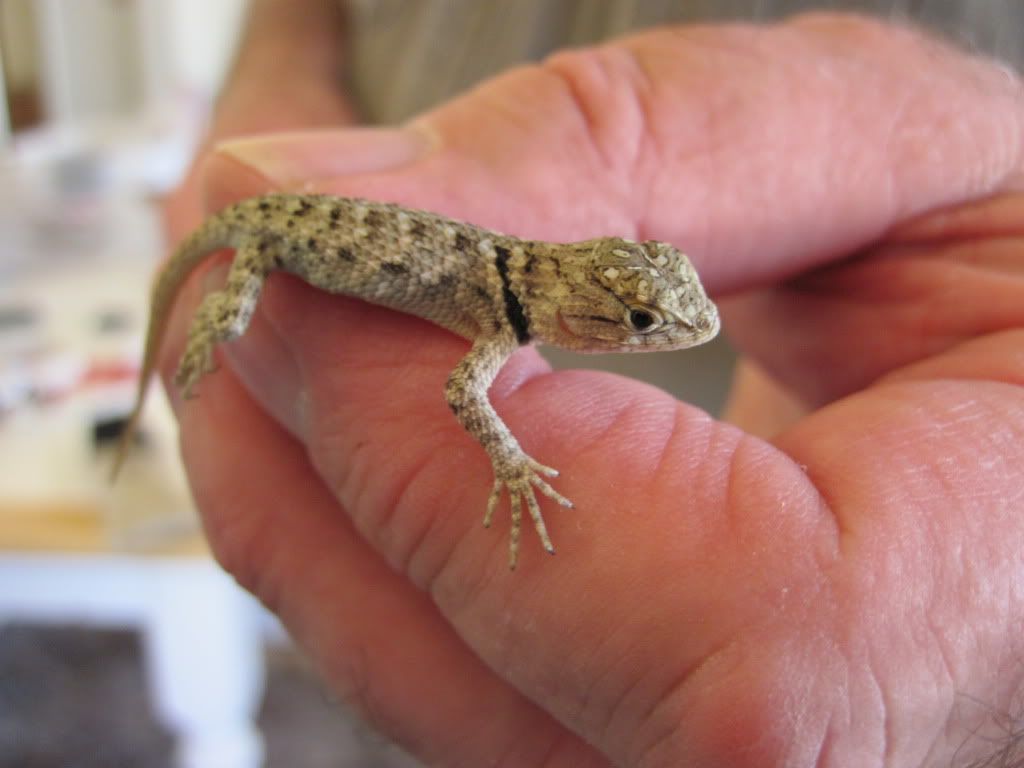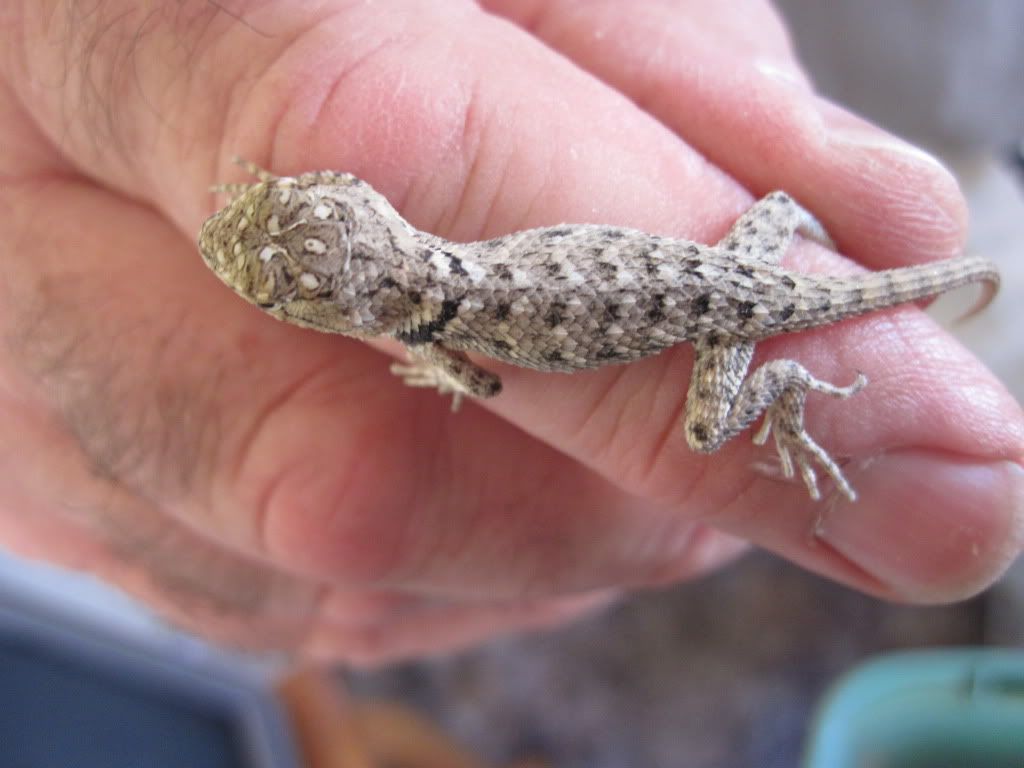 I'm guessing
Red-tailed Hawk (Buteo jamaicensis)
?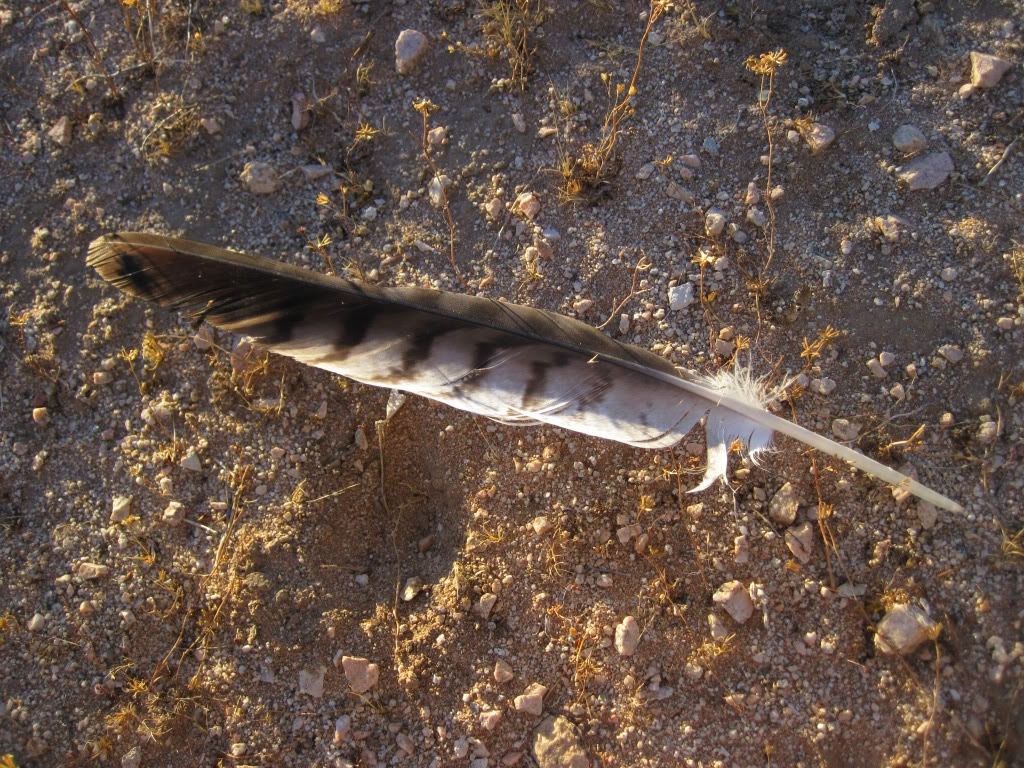 A really nice looking horned lizard (
Phrynosoma platyrhinos platyrhinos
)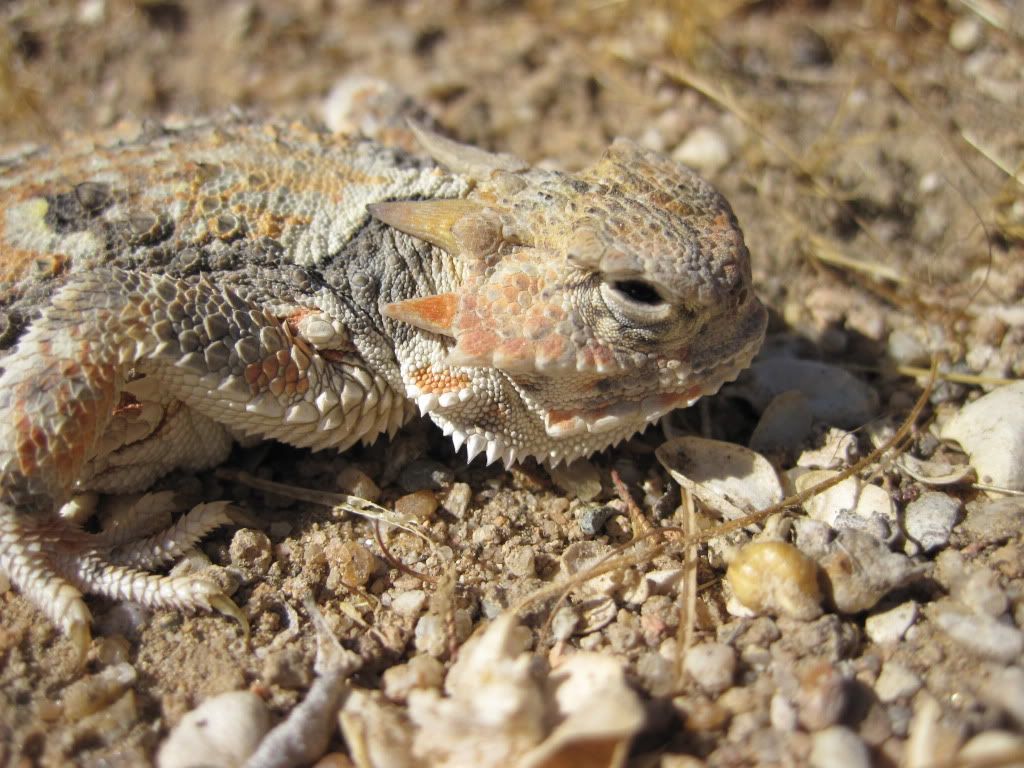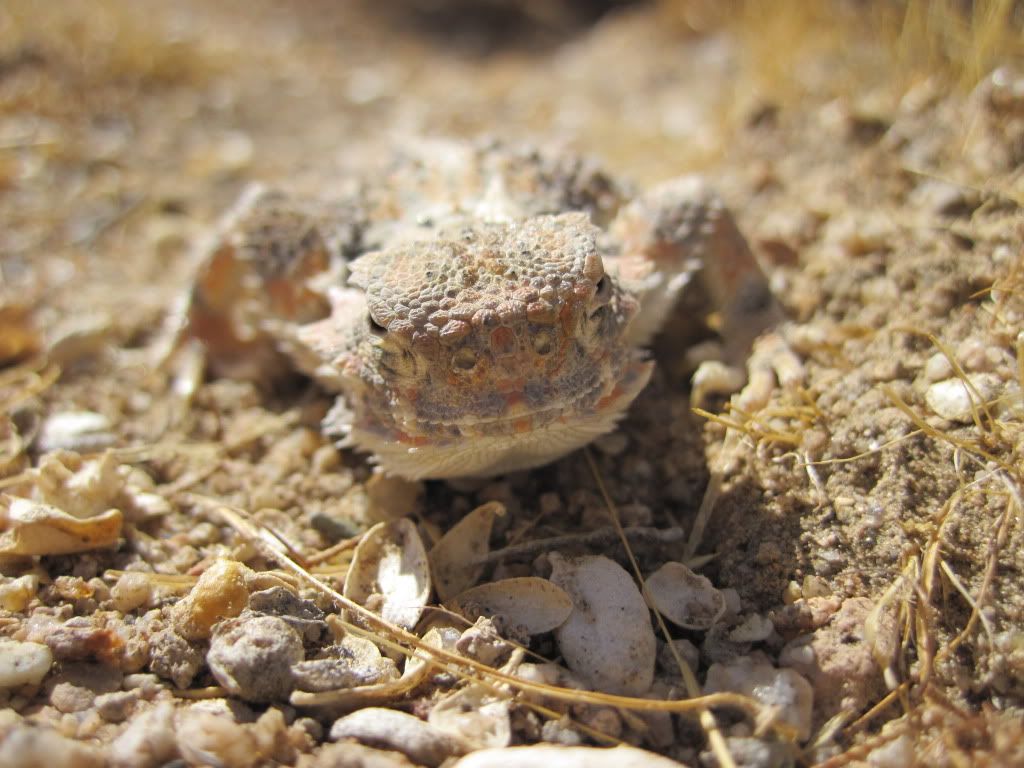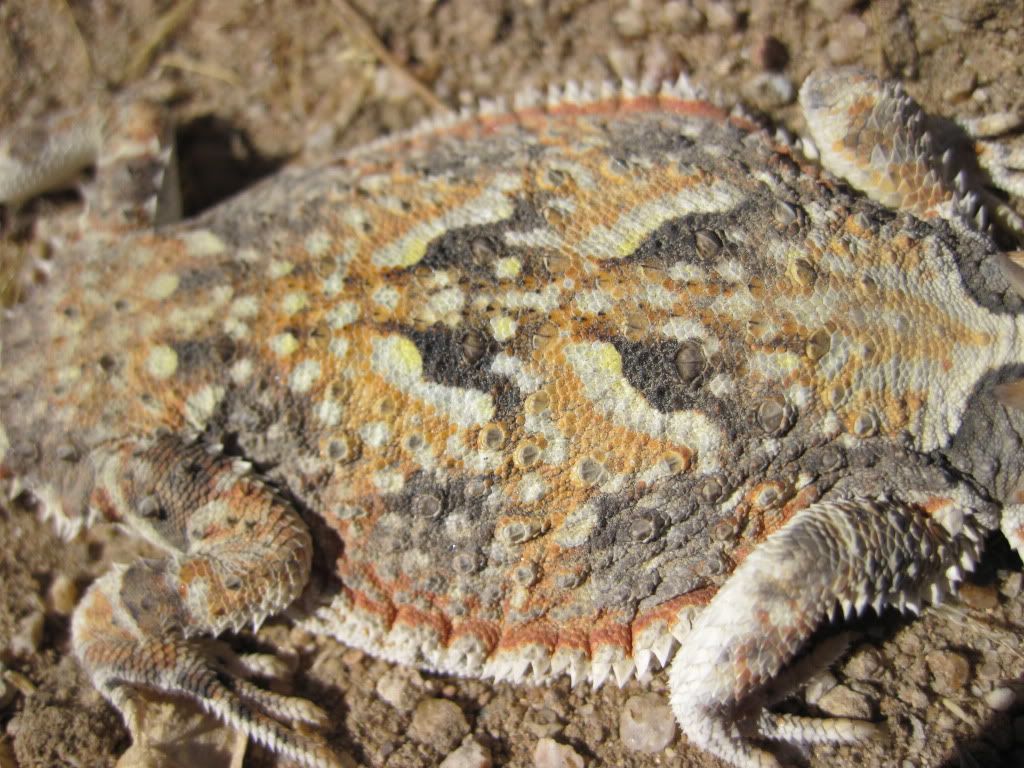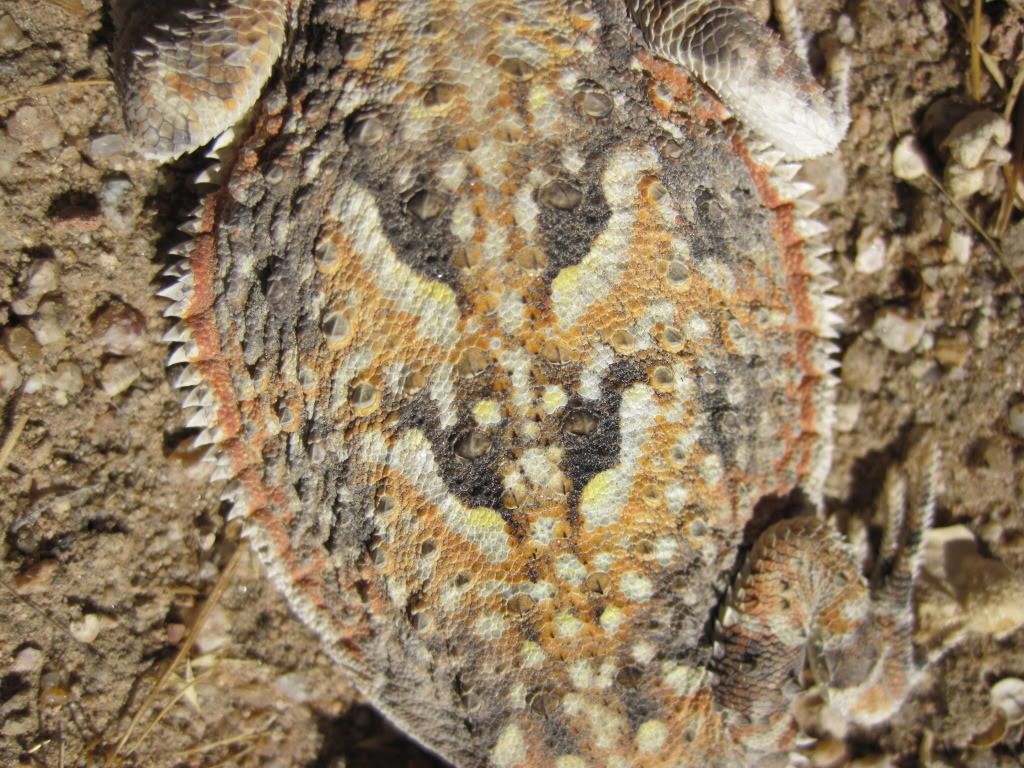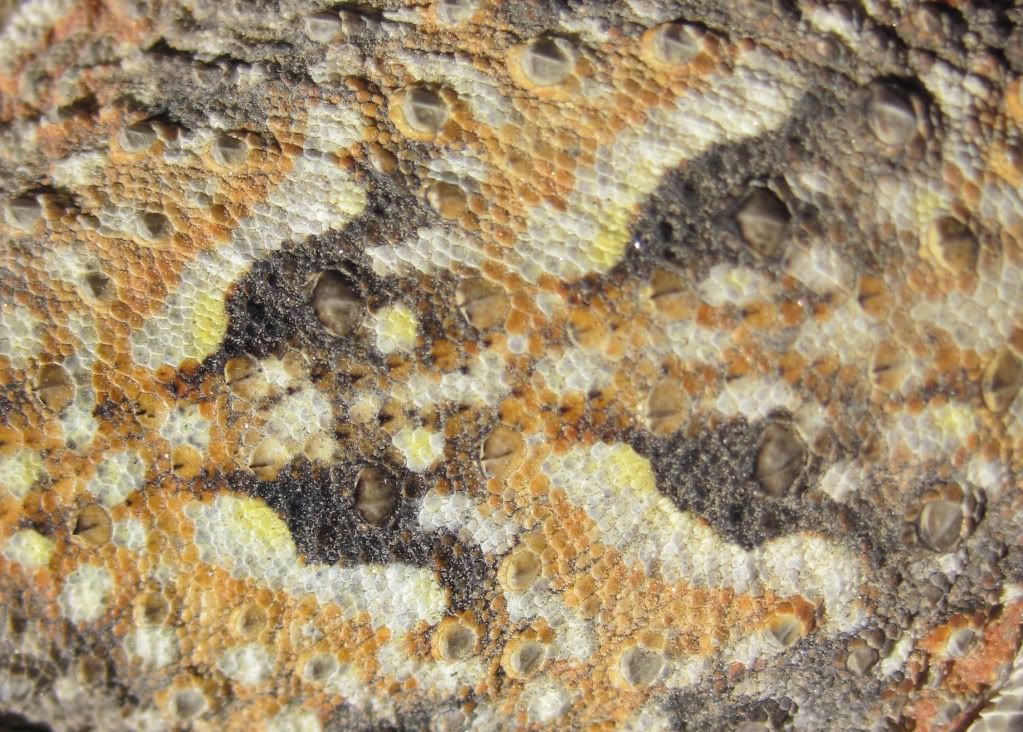 P. platyrhinos
range:
Reptiles have long been perceived as "dumb" animals, only capable of the most rudimentary and predictable behaviors. We're only just recently realizing this isn't the case – while their behavior may be much different than that of the "higher" mammals, it is no less impressive, and there is much we can learn from them. So why is this field still largely unexplored? Well, it's a lot easier to miss something if you believe there's nothing to be found. Science has certainly come a long way over the years, yet the scientific community continues to reinforce some pretty antiquated ideas, a big one being the unparalleled awesomeness of our own species.
As biologists, we've been taught from early on not to
anthropomorphize
, but sometimes I wonder how feasible this request really is. No matter how hard we may try, we are, after all, human, and possess an inherent drive to connect with and make sense of our world on a
human
level. This tendency has undoubtedly played an integral role in the evolution of our species. But is the act of attributing one's own characteristics to others unique to humans? One way in which desert tortoises communicate is by bobbing their heads. Sometimes, tortoises may even direct head bobs at a human, in a failed attempt at communication. In such situations it's easy to scoff at such "dumb" behavior, without realizing that we are guilty of the same thing, even within our own species!. Just as we have evolved to relate with our environment from a human point-of-view, tortoises do so from a tortoise point-of-view. (Yes, at times the tendency to attribute one's own qualities to others will cause problems, so we expect that the benefits associated with this behavior must be great enough to outweigh any negative consequences).
I agree with the importance of maintaining objectivity in science, but as we go to such great lengths in the name of scientific integrity, is there a point where we begin to hold ourselves back, missing the forest for the trees? I wonder if anthropomorphisation has become almost
excessively
stigmatized, not because it challenges scientific objectivity, but because it threatens our position in the grand hierarchy of life. If our tendency to anthropomorphize can be likened to "overestimating" animals' capabilities, I would argue that underestimating is equally obstructive to science, but ironically this is the norm. I wonder how many times novel behaviors have been overlooked in animals on the basis that such behaviors were "too advanced" to be what they appeared?
"To endow animals with human emotions has long been a scientific taboo. But if we do not, we risk missing something fundamental, about both animals and us."
–
Frans de Waal
,
Are We in Anthropodenial?
(1997)
Desert tortoises are curious animals – probably too curious for their own good. In the warmer months, tortoises will often emerge from their burrows if they sense activity outside the mouth of the burrow (i.e. USGS personnel). While both sexes exhibit this behavior, males are generally bolder. Individuals also have their own unique personalities – some tortoises are content to just sit and watch you from the mouth of their burrow, whereas I've had others come out and walk circles around me a couple times before getting bored and heading back into their burrow. I'm curious about the origins of this behavior. I assume it relates to territoriality, but it seems counter-adaptive for a tortoise to just waltz out and greet whoever's come to visit, regardless of that visitor's size/intentions. I wonder if they act any differently in response to, say, a coyote? Perhaps they've evolved long enough with some predators that they're able to recognize cues alerting them of their presence, and humans just haven't been on the scene long enough to induce such an aversion? (If anyone knows anything more about this behavior please chime in).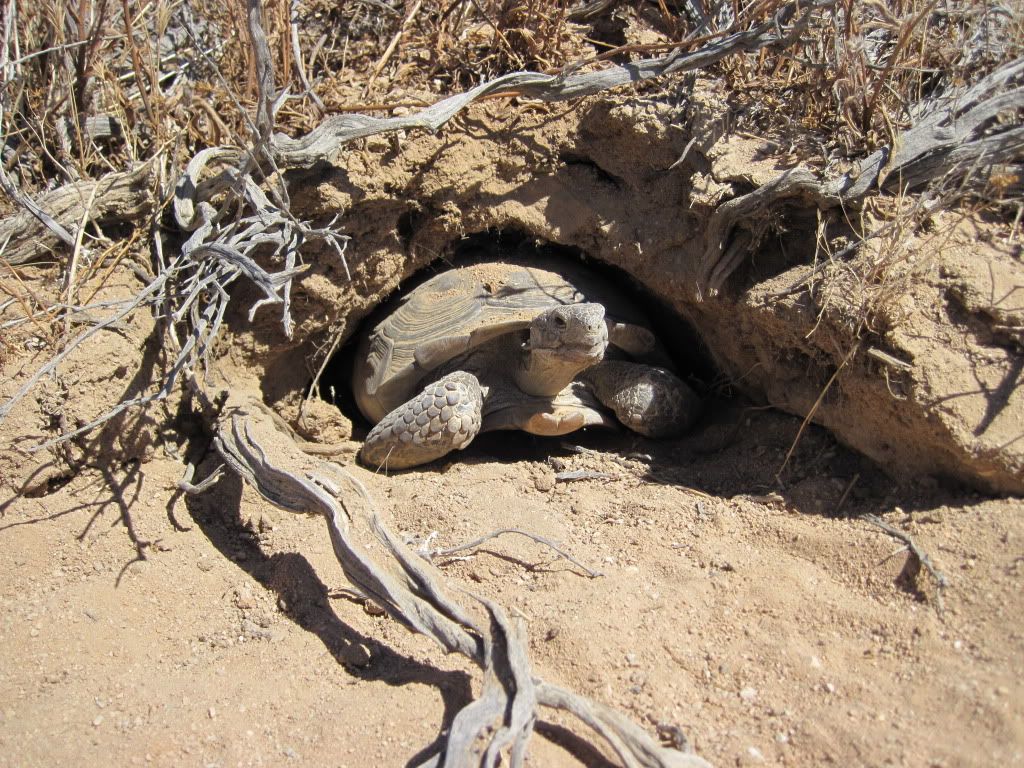 On a related note, some of the most interesting behavior I've seen in desert tortoises has involved situations with multiple individuals. Despite wild tortoises readiness to approach humans under certain circumstances, after we mess with them a bit (i.e. attach a transmitter, conduct a health assessment, etc.), they generally have had enough, and will either walk away (and on rare occasions run; a hilarious sight if you're lucky enough to witness it) or withdraw tightly into their shells until they consider it safe to come out. An exception is if there are two or more tortoises present, as there are occasions when we process multiple animals from the same burrow. In these instances, the tortoise not being processed is generally within view of our activities. Rather than trying to escape, as you might expect, this individual often shows pointed interest in what's going on. From a few feet away, he extends his neck as far as it will go, and looks on with what appears to be remarkable focus. Every few minutes he may take a few slow, tentative steps closer in what I imagine to be a tortoise's best attempt at stealth, his gaze never wavering. He may watch for ten minutes or more before eventually deciding to head off.
At times like this I have to wonder who's really studying who, and what – if anything – is going through these animals' little heads. Again, I'm baffled by the tortoises' apparent lack of fear for people. Why would this animal hang around, potentially putting itself at greater risk, after seeing that we had captured its burrow-mate? In these scenarios it can be easy (and let's admit it –
fun
) to anthropomorphize. Was this tortoise angry that we had taken his girlfriend? Was he concerned? To a casual observer, this kind of behavior could look a whole lot like
empathy
, a trait only known to exist in mammals. (For a long time empathy was considered a purely human characteristic; later it was discovered among other primates, and most recently a study has revealed that
even mice empathize
). Non-mammals (including herps) do, however, exhibit behaviors such as
altruism
, which can give the
illusion
of true empathy, and distinguishing the two can be tricky. The difference is that altruistic behaviors are often governed by a more selfish (though inconspicuous) incentive – the spread of one's own genes.
To illustrate: while it might have appeared that this animal was genuinely concerned with the plight of a fellow tortoise, had we investigated the relationship of these two further, we might have discovered that the male tortoise had previously mated with this female and was thus exhibiting a simple, pre-programmed behavioral response to defend his genetic investment. (Consequently, some argue that this type of behavior, known as
kin selection
, does not represent "true" altruism, but it's important to remember that the definition of
biological
altruism differs from the common usage of the term).
Of course, because we
don't
know anything about the relationship of these tortoises this is all purely theoretical, but potentially altruistic behavior has been documented in desert tortoises before. Patterson (1971) reported that an overturned tortoise may give a call that elicits another tortoise to roll it back over. Check out
this video
that allegedly shows this behavior. (For another example of altruism in reptiles,
see this amazing video
).
All in all, my take away message here is that non-human animals are a lot more complex than we've been giving them credit for (and/or we're not as amazing as we think). While new discoveries are being made each day, much is still unknown, and I think that's pretty exciting.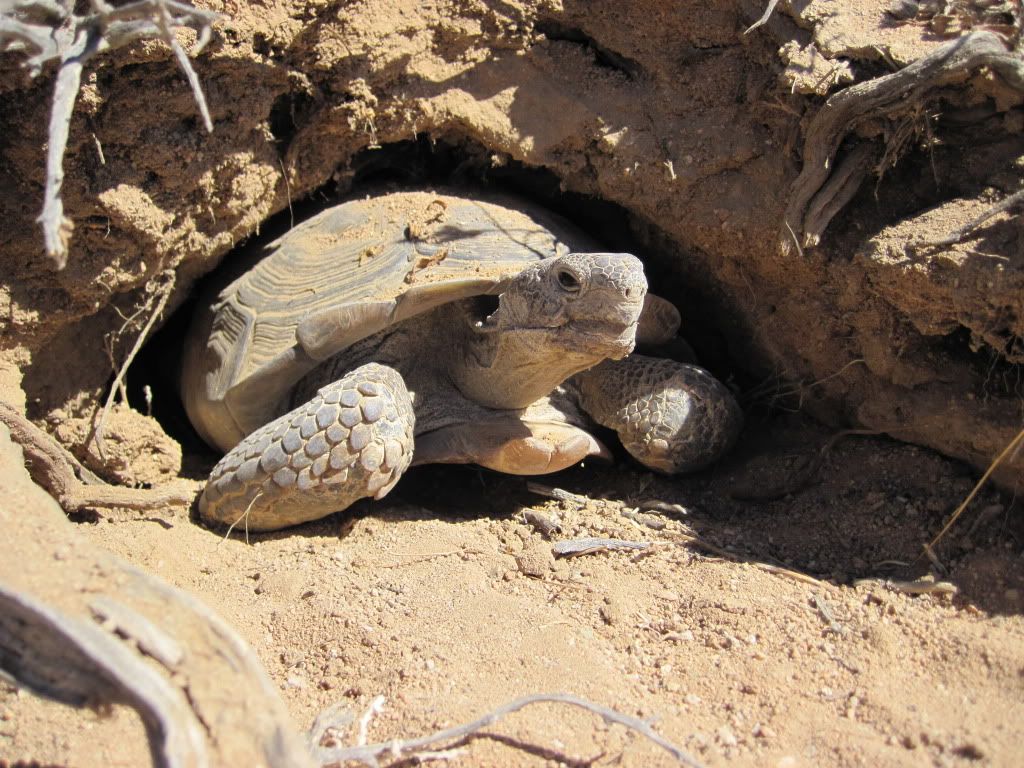 Spiny lizard in a crevice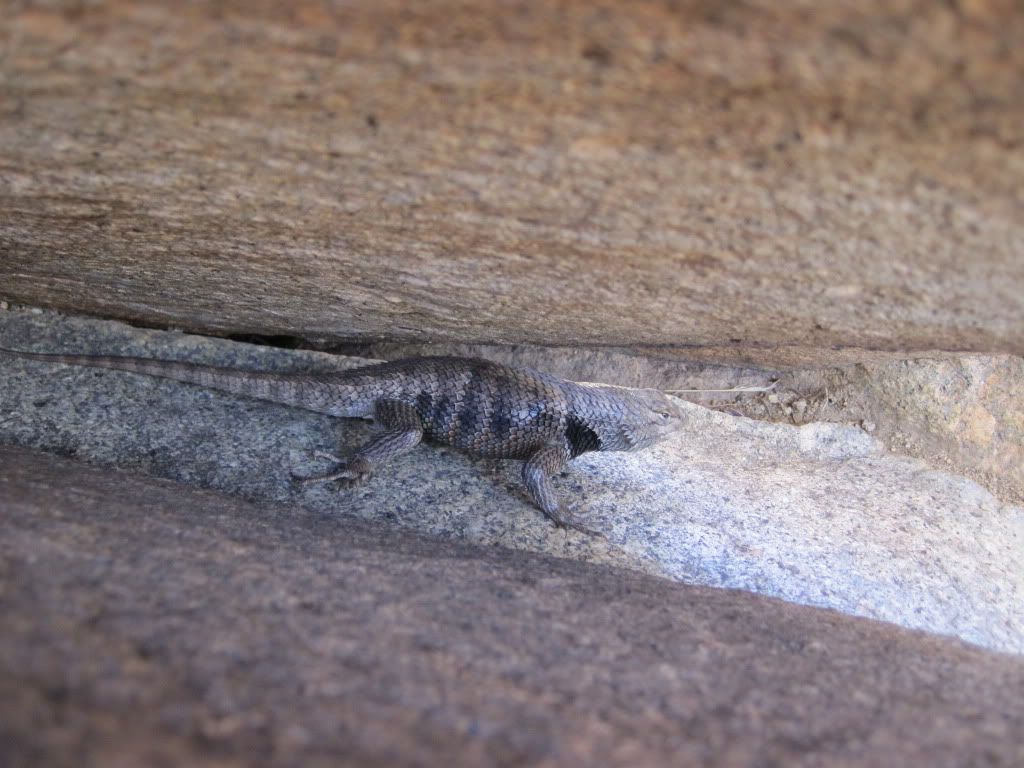 My first decent shot of a
Long-nosed Leopard Lizard (Gambelia wislizenii)
. This is a larger species (8.2-14.6 cm), with females attaining a greater size than males (I believe the one pictured here is male). This species is unusual among lizards in that during breeding season, the females become more colorful than the males. Their diet consists of invertebrates, lizards, snakes, small rodents, flowers, leaves, and berries.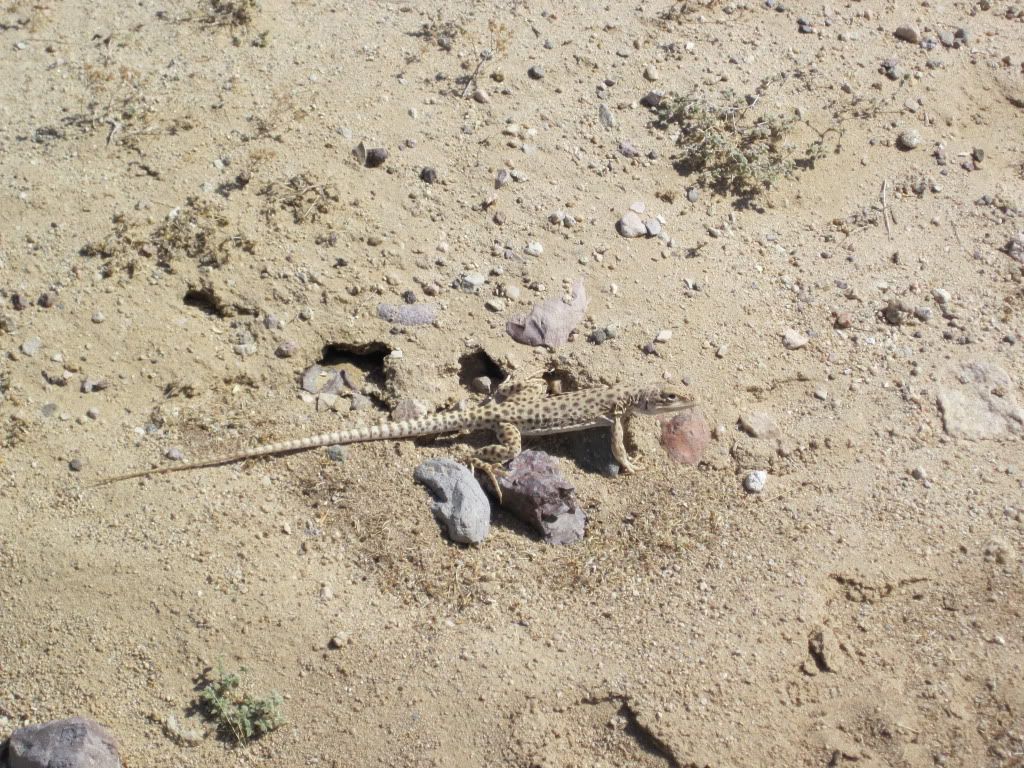 G. wislizenii
range: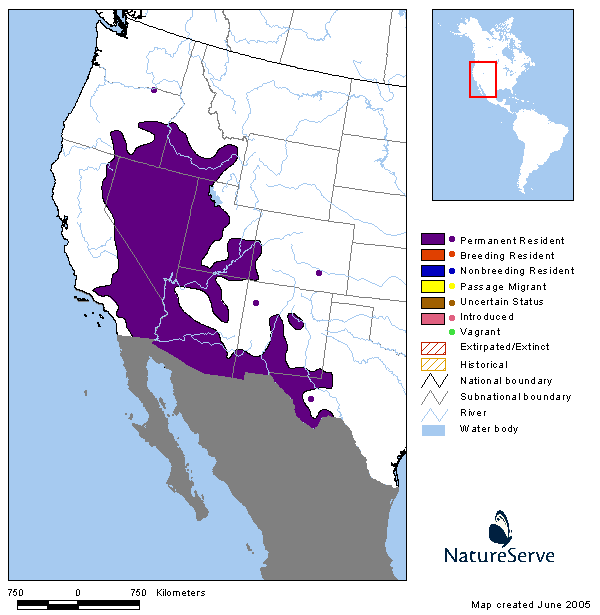 Great Basin Whiptail (Aspidoscelis tigris tigris)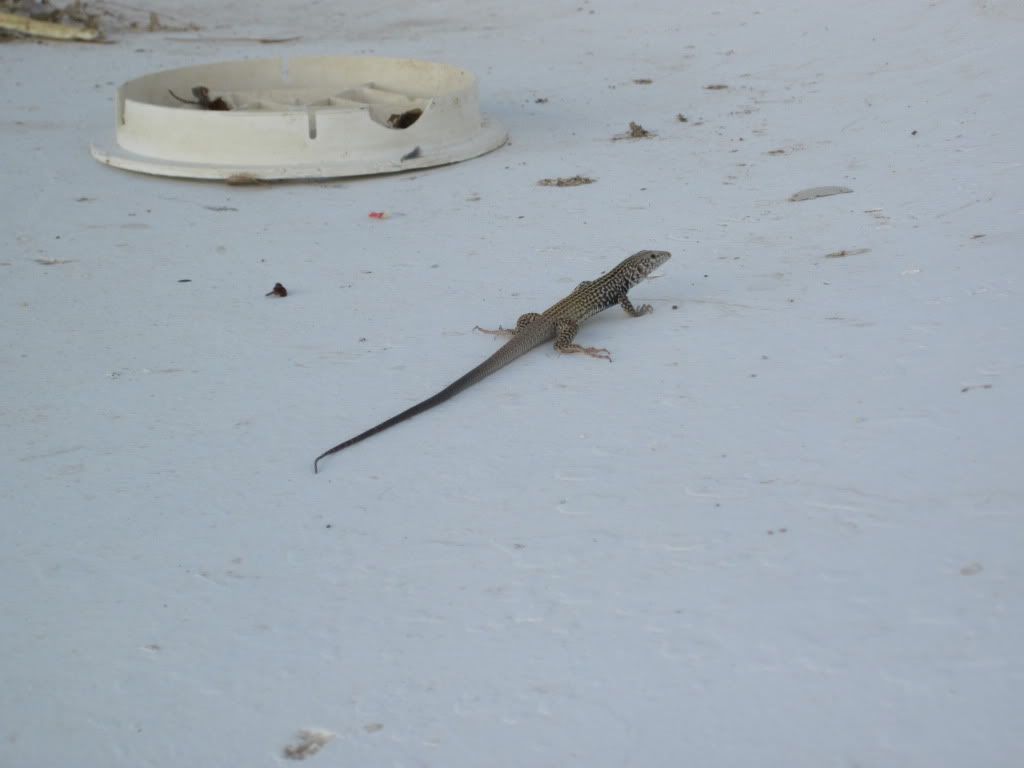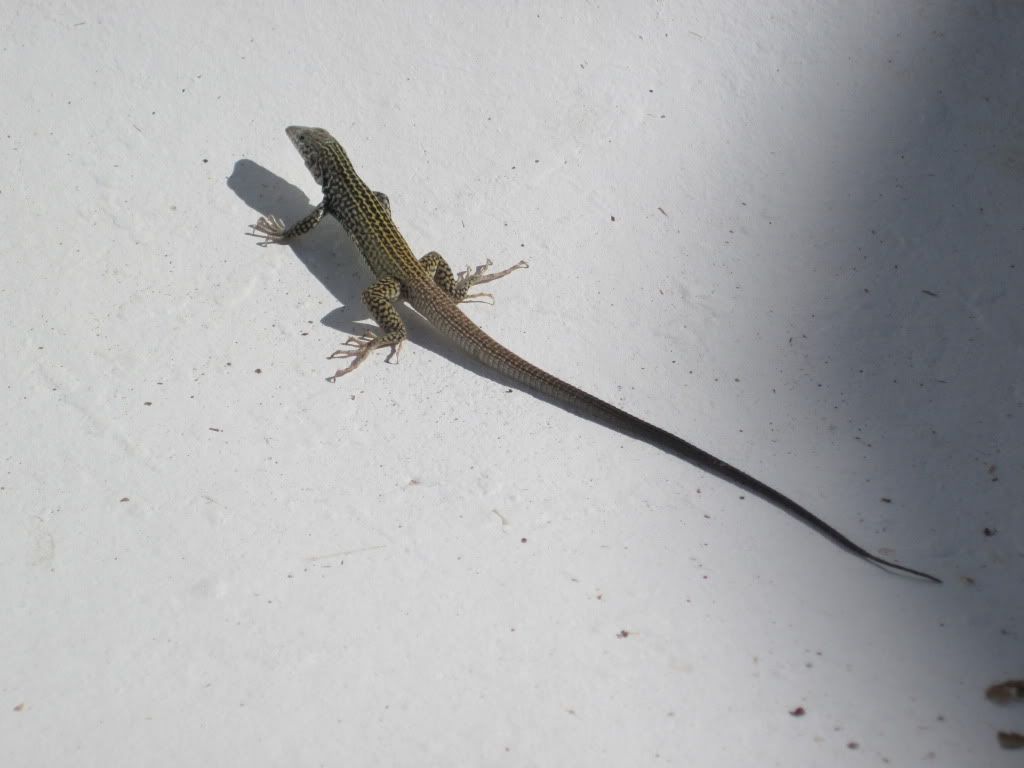 Caught one!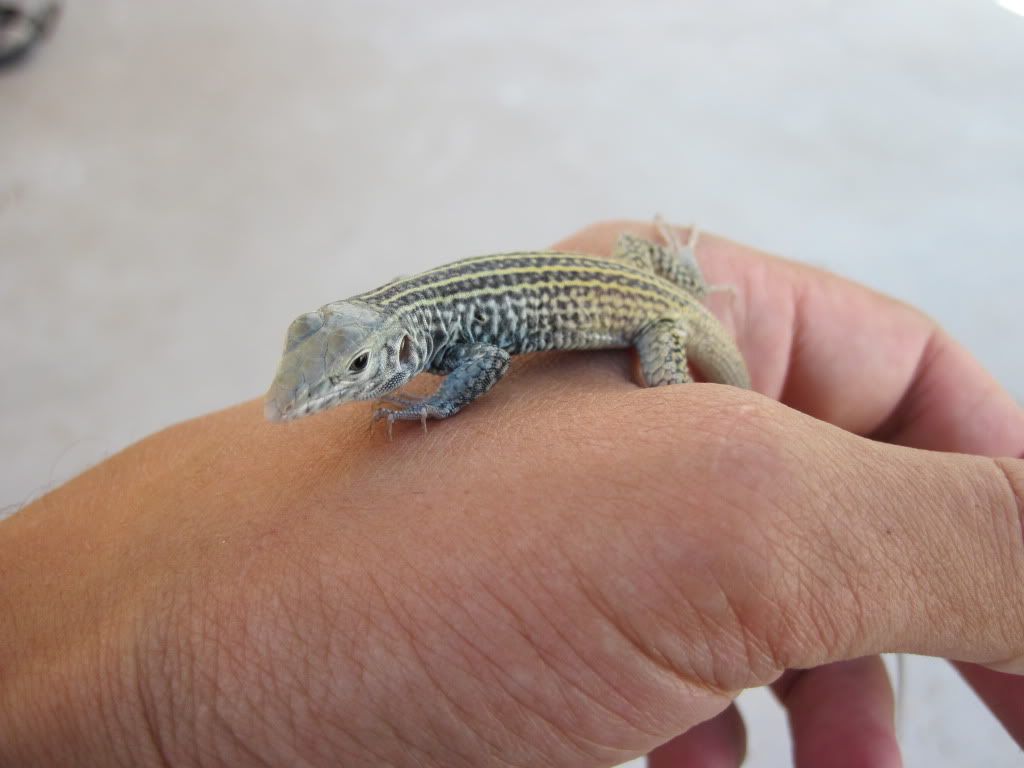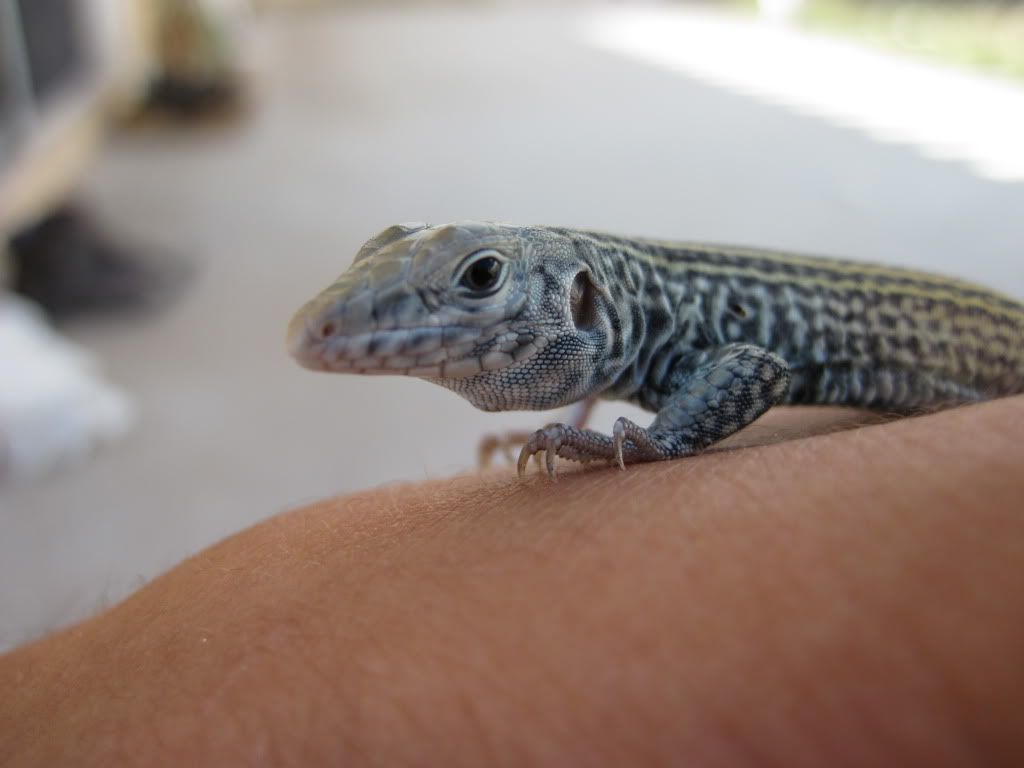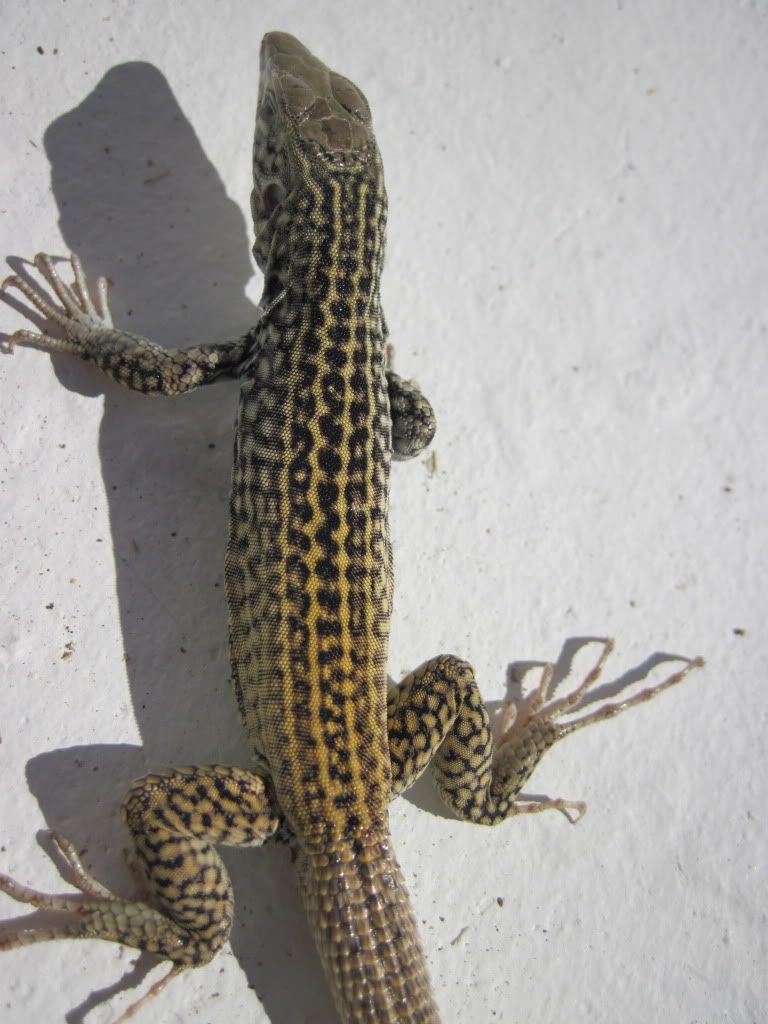 Notice the smooth, granular scales – much different than the pointed, keeled scales of other local reptiles (i.e. spiny lizards, rattlesnakes), and similar to those of the Western Banded Gecko (
Coleonyx variegatus variegatus
).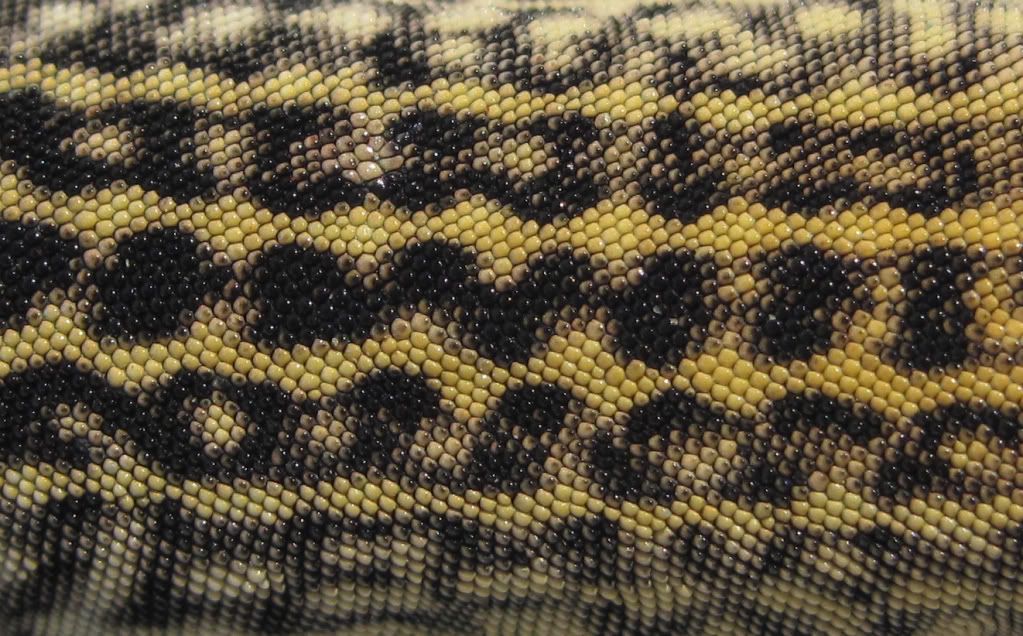 First rays of sun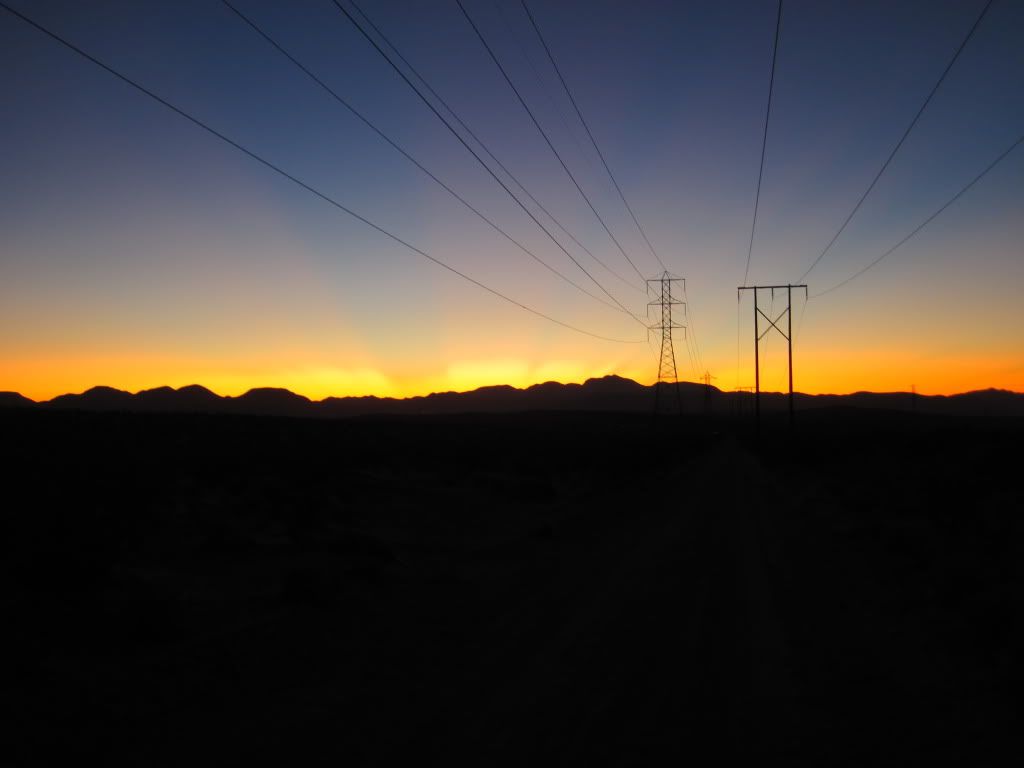 A juvenile Mojave Green (
Crotalus scutulatus scutulatus
) takes advantage of the early morning light. This is the first one I'd seen since spring.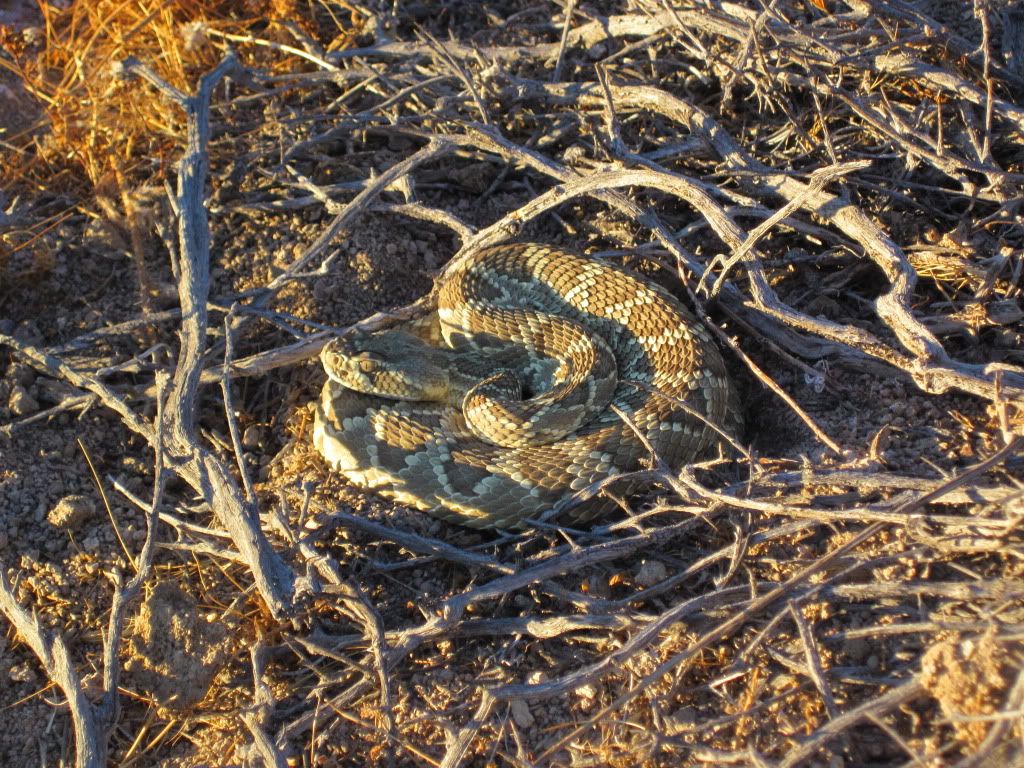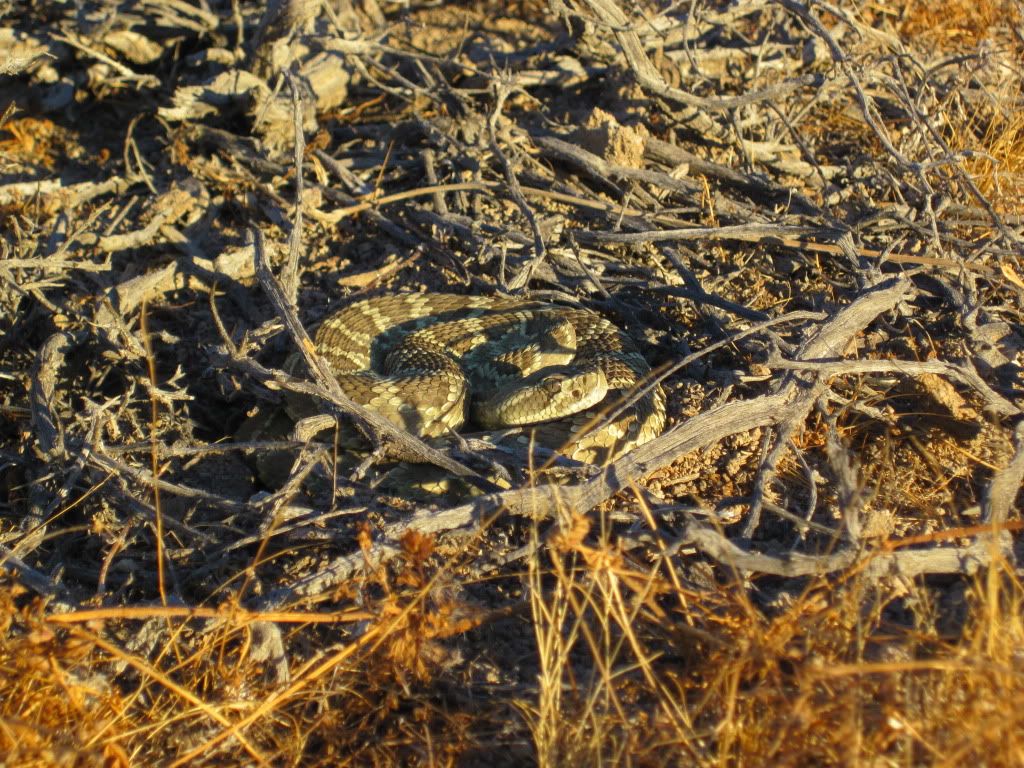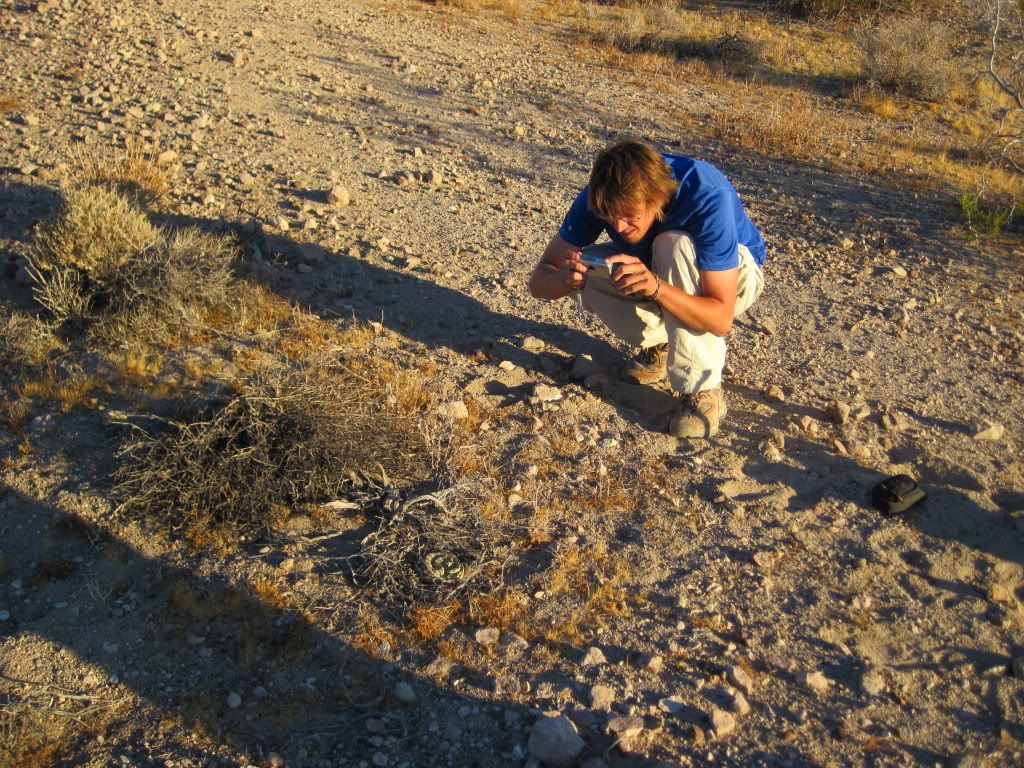 Coyote (Canis latrans)
drinking from a puddle in the road after a rain – it must have been really thirsty because we were able to get pretty close before it finally ran off.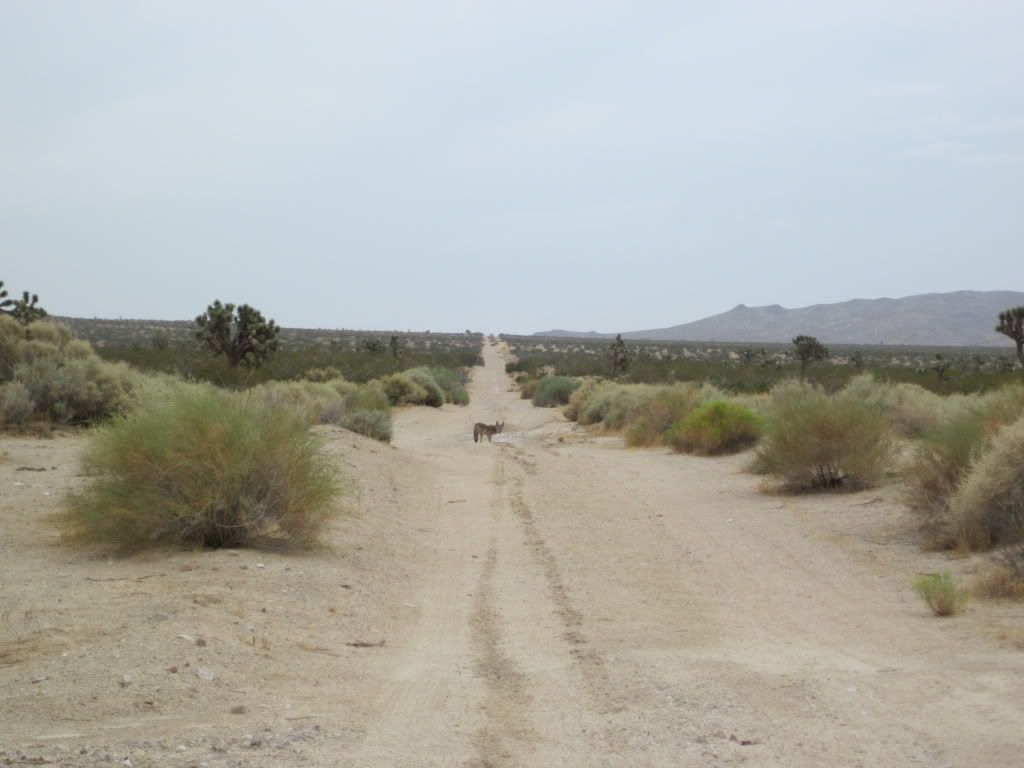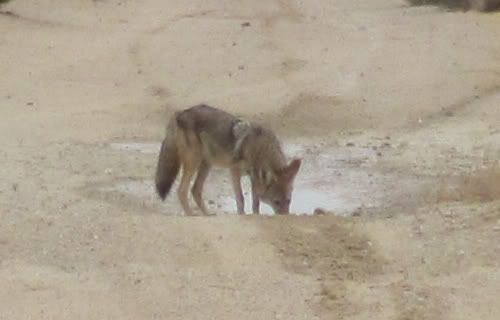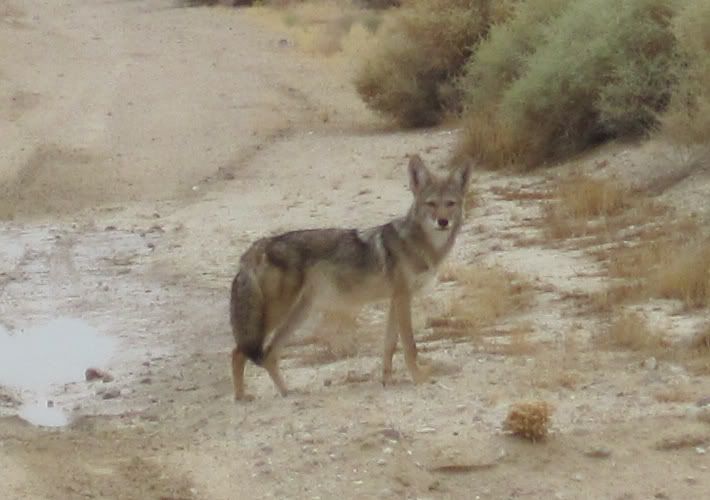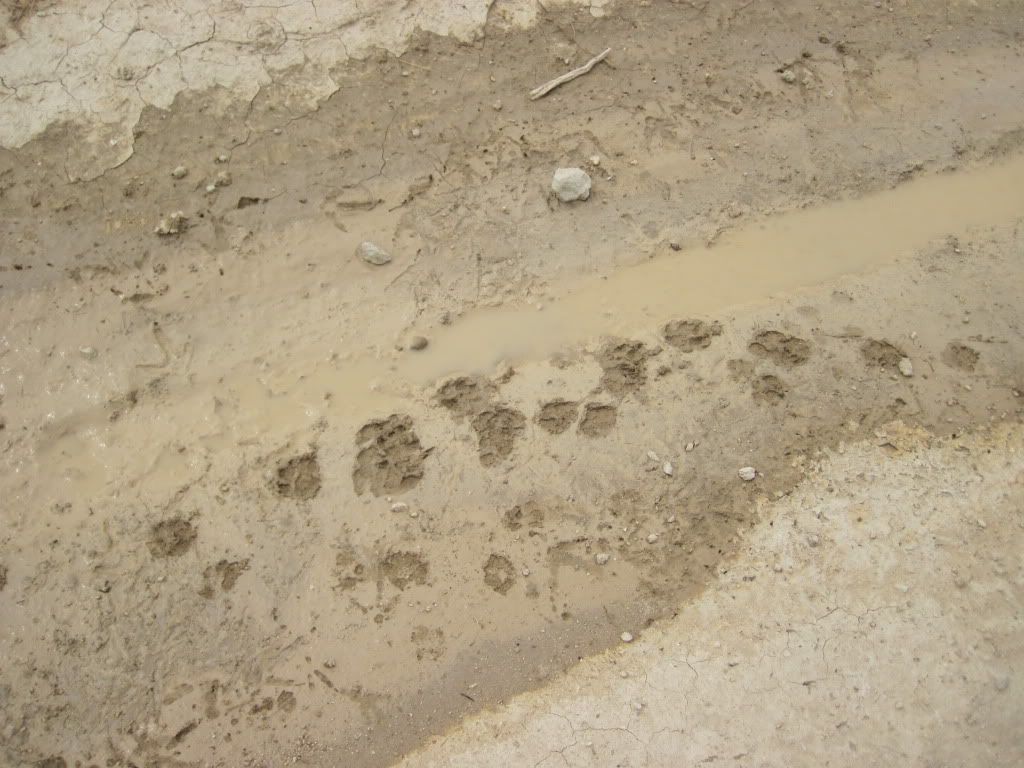 I mentioned earlier that you can't always tell how healthy a tortoise is just by looking at it. So to get a better idea of how these animals are really doing, we conduct health assessments and collect tissue samples to be analyzed in a lab.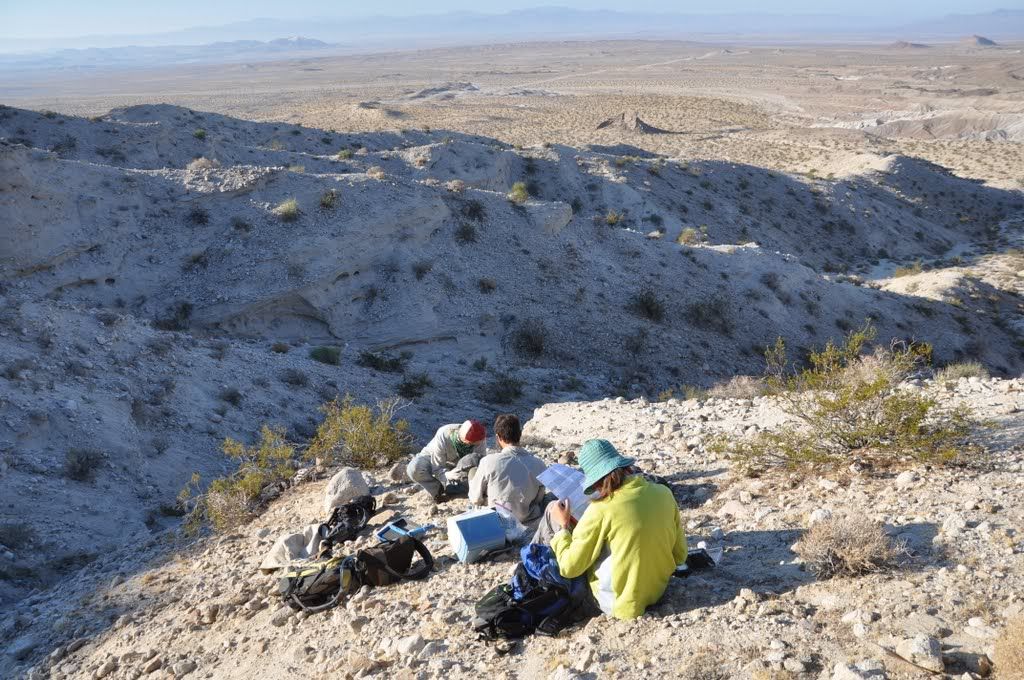 Weighing the tortoise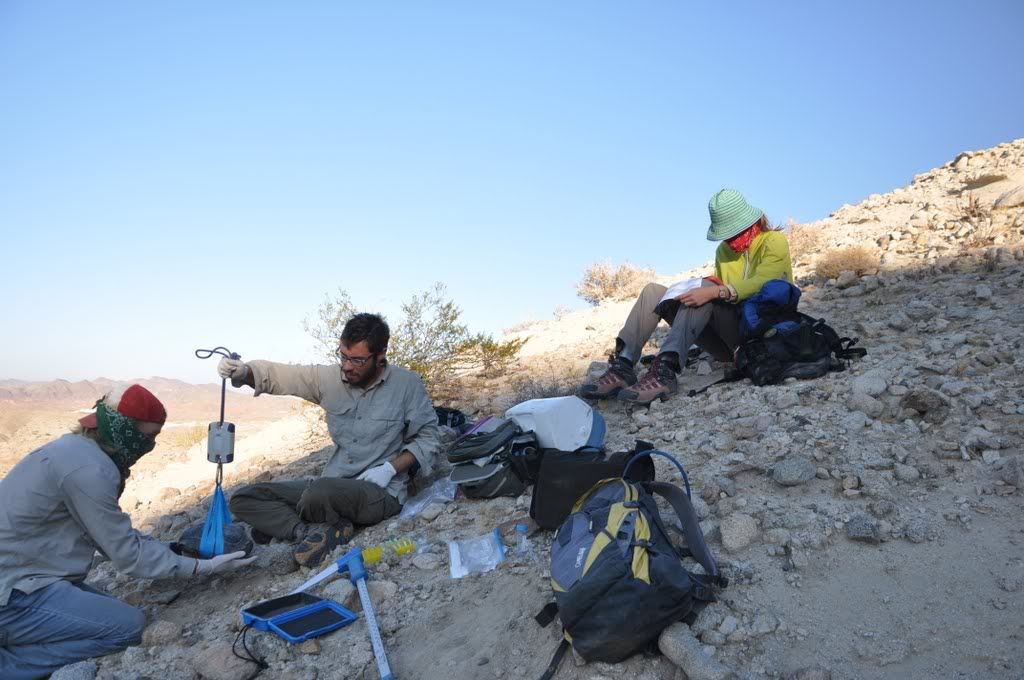 John works on getting the head out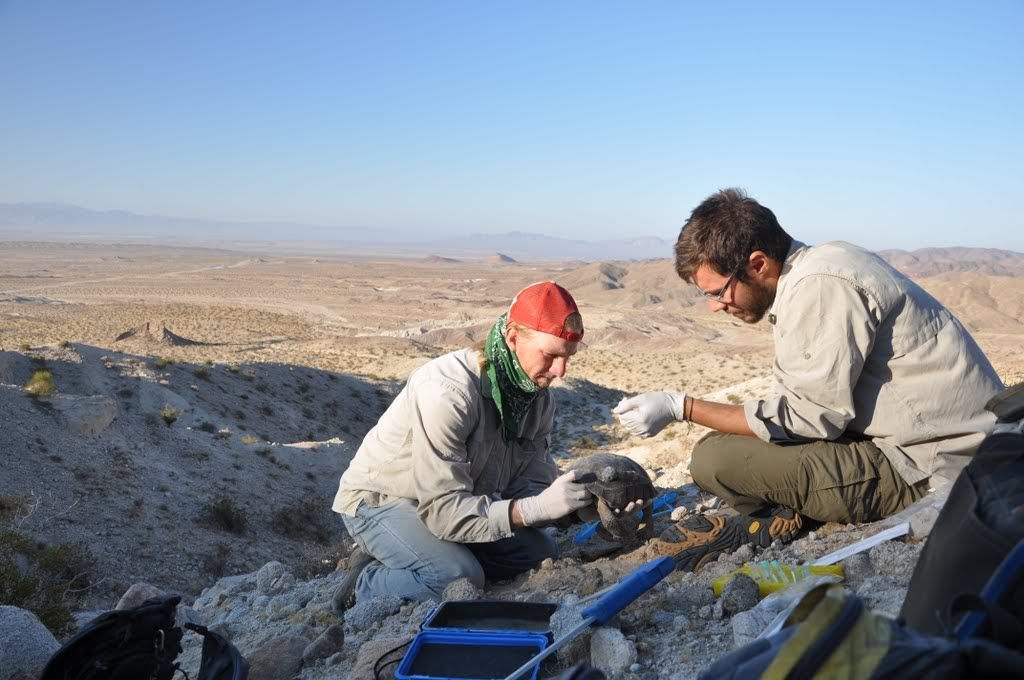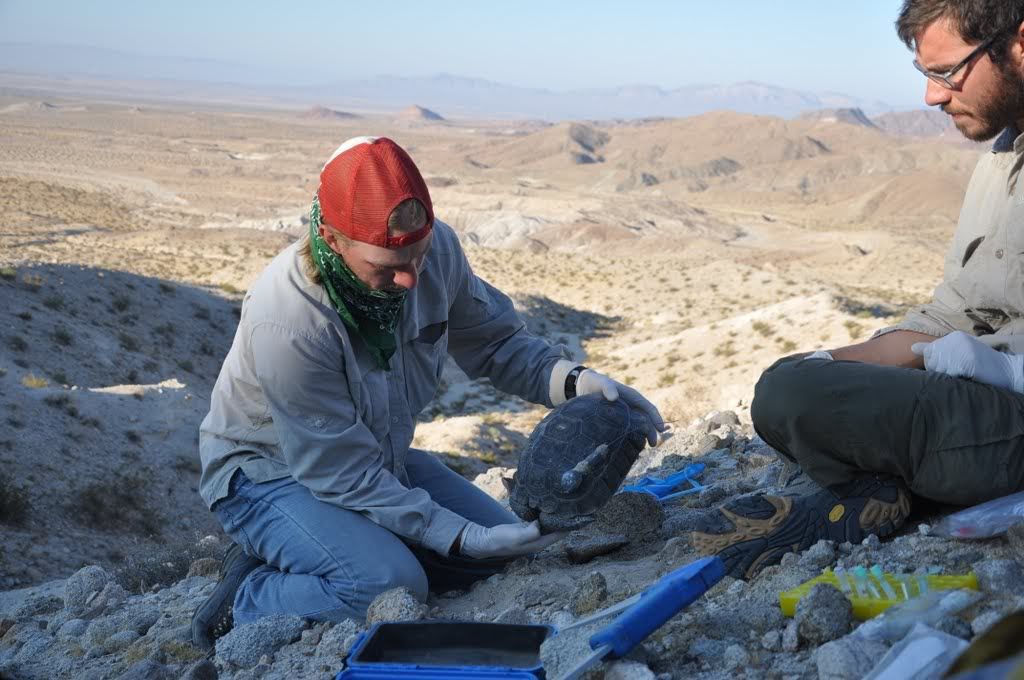 Getting a nasal lavage sample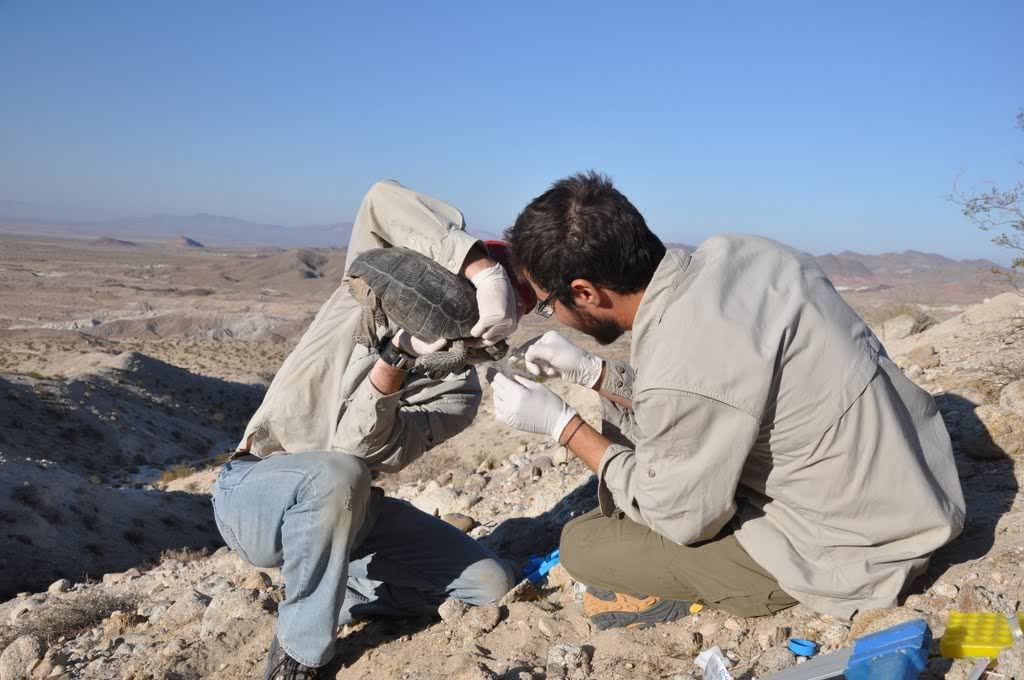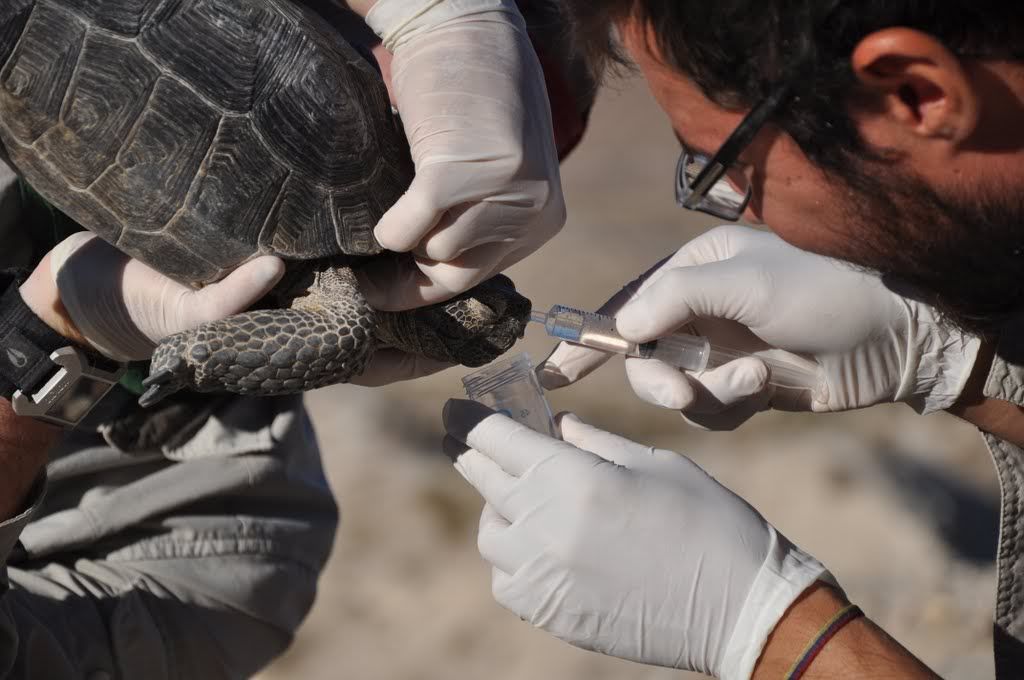 Preparing to take a blood sample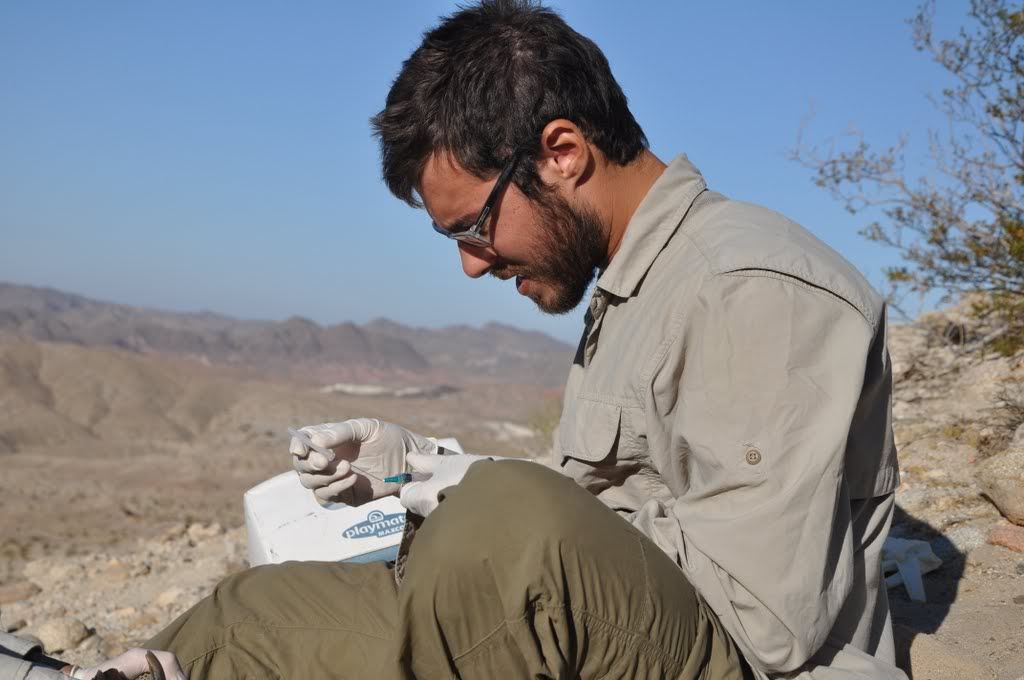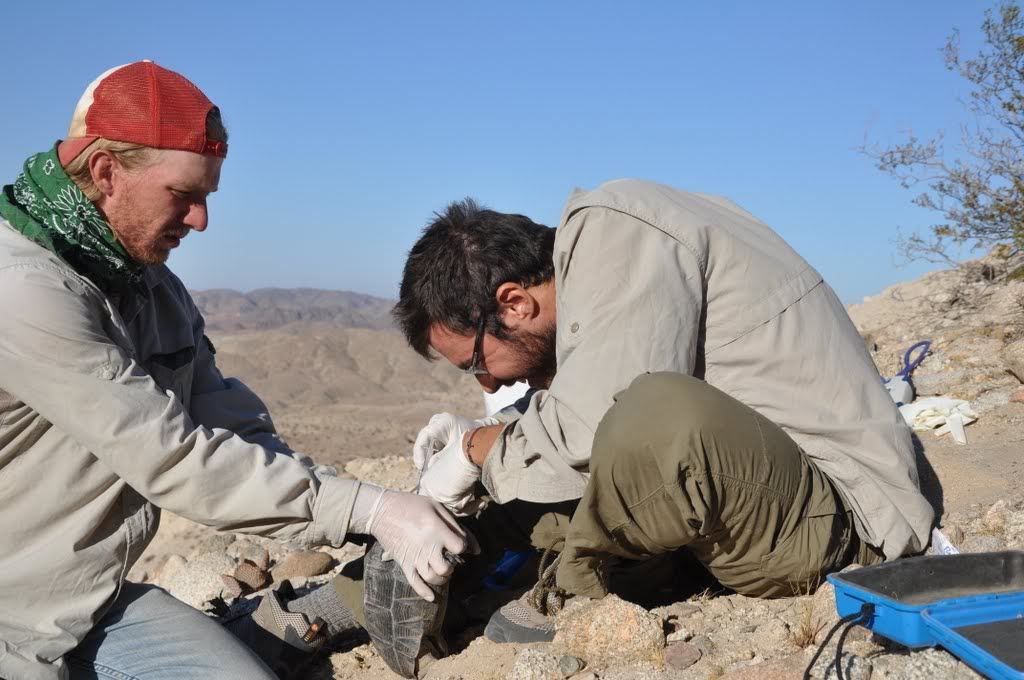 Blood!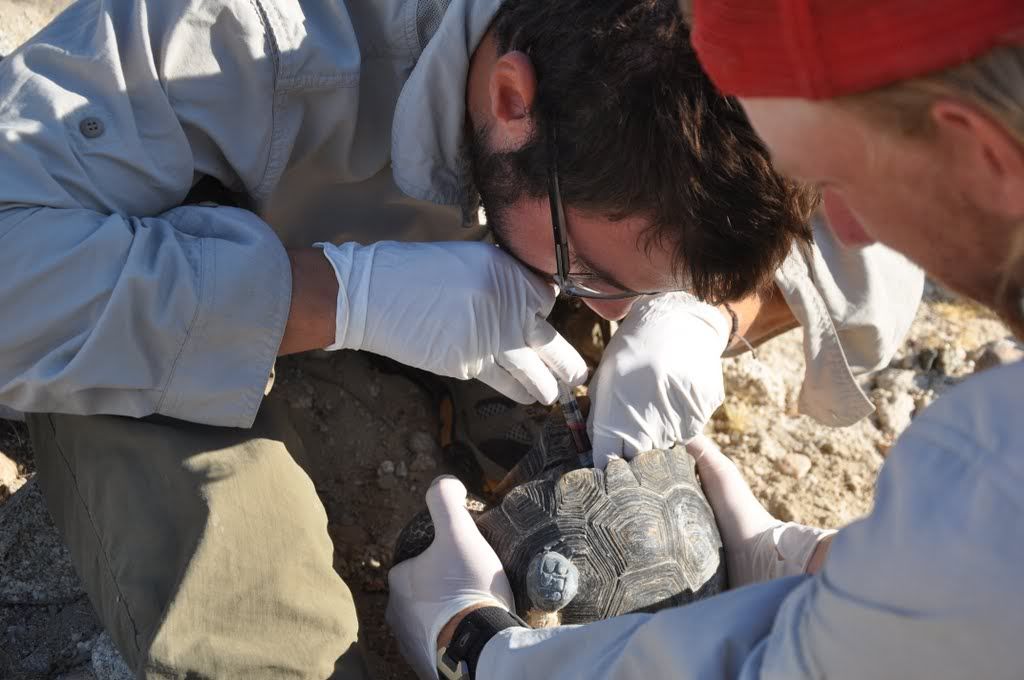 They may be slow but no one can say tortoises aren't tough! If they can beat the odds and make it through their first few years without getting gobbled up, they have a good chance of living a long time. Tortoises have an incredible ability to persevere and recover from even the most severe injuries. Take this guy for example – despite losing an eye and having his nose torn off, this tortoise otherwise seemed to be doing ok!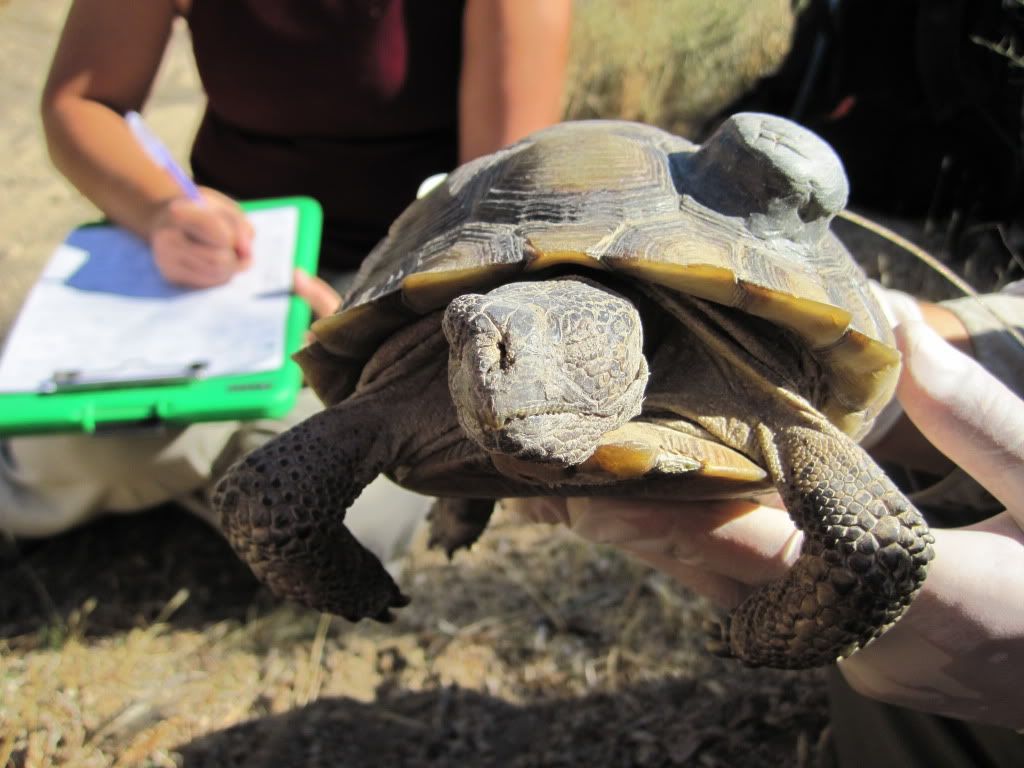 Another survivor with a big battle scar – this one had its scutes chewed off entirely in one spot, exposing the bone underneath. (Note the
sutures
, which have become partially separated).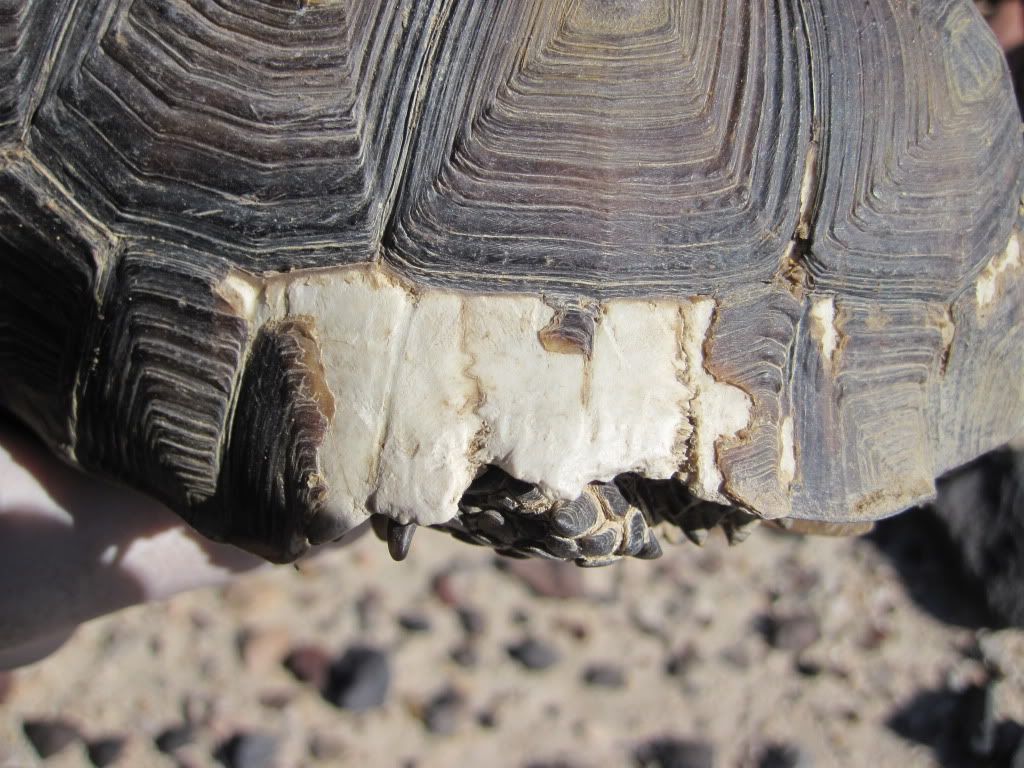 Western Side-blotched Lizard (Uta stansburiana elegans)
. One of the most common lizards out here. The blue speckling indicates this one is a male.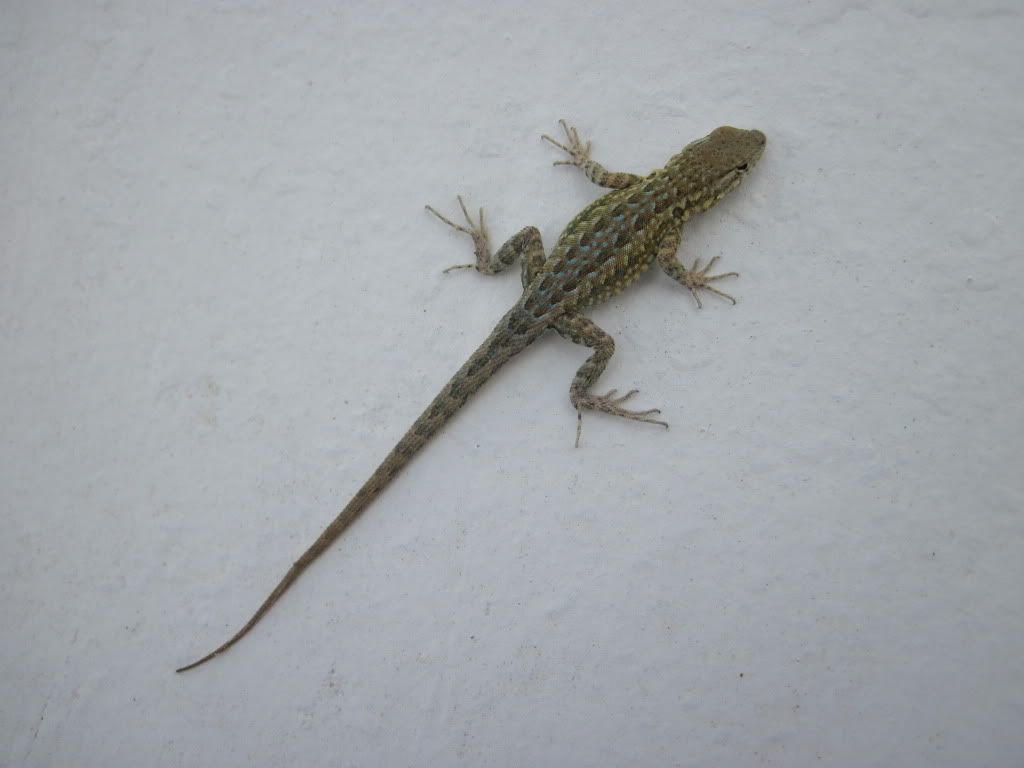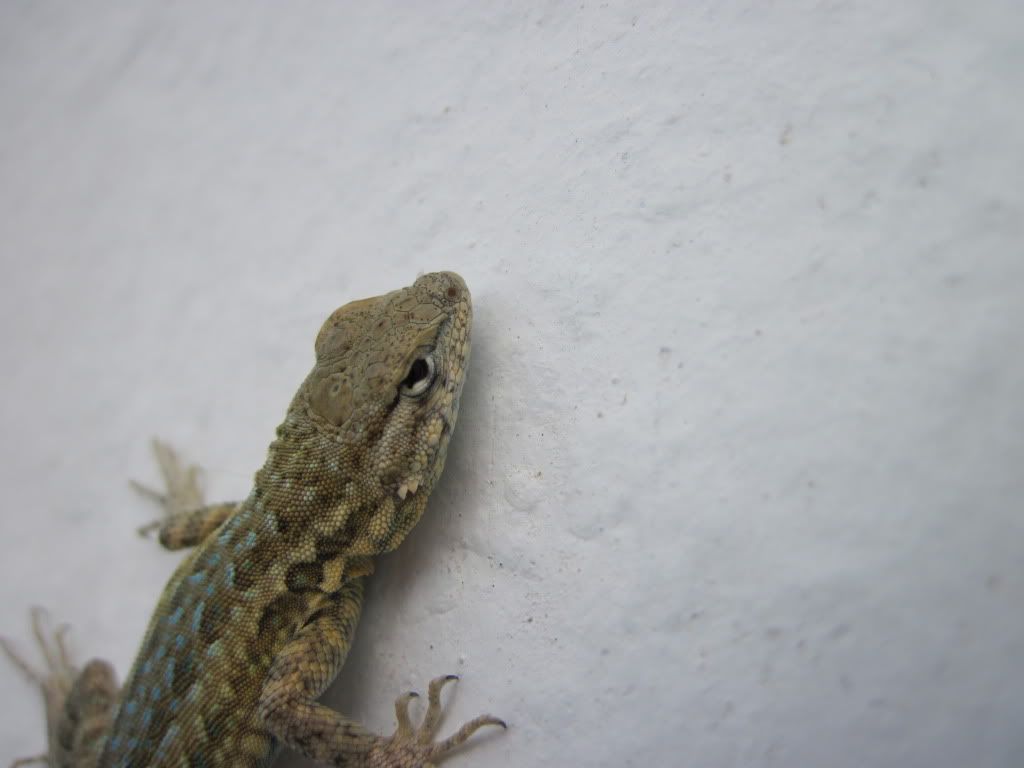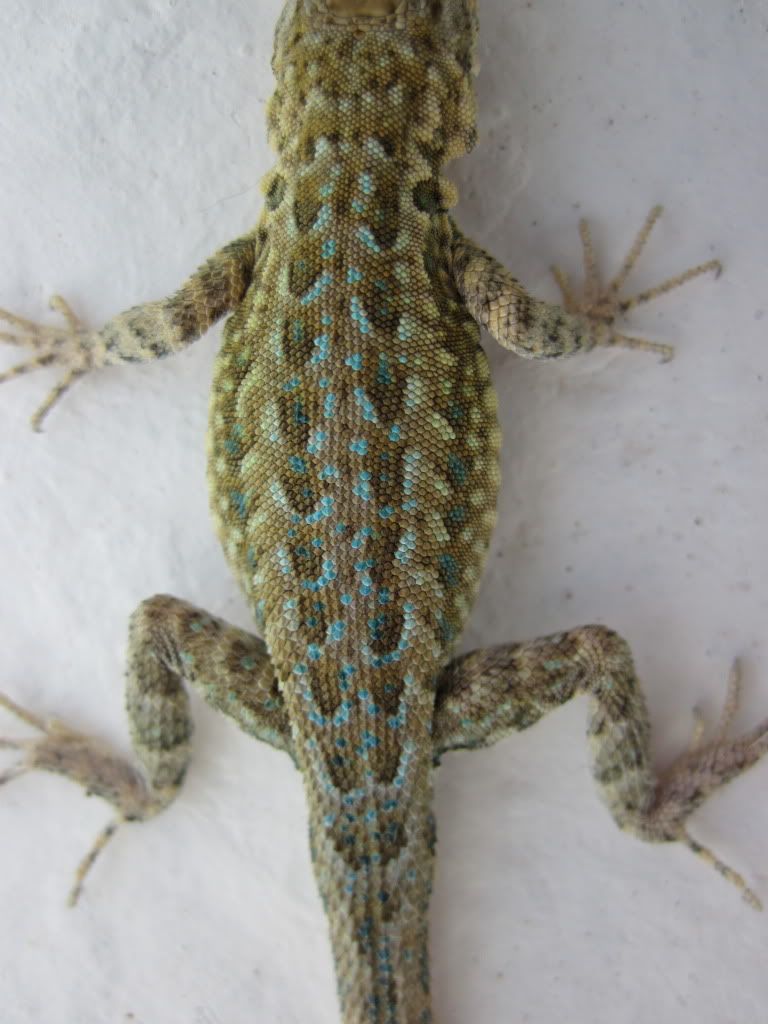 U. stansburiana
range: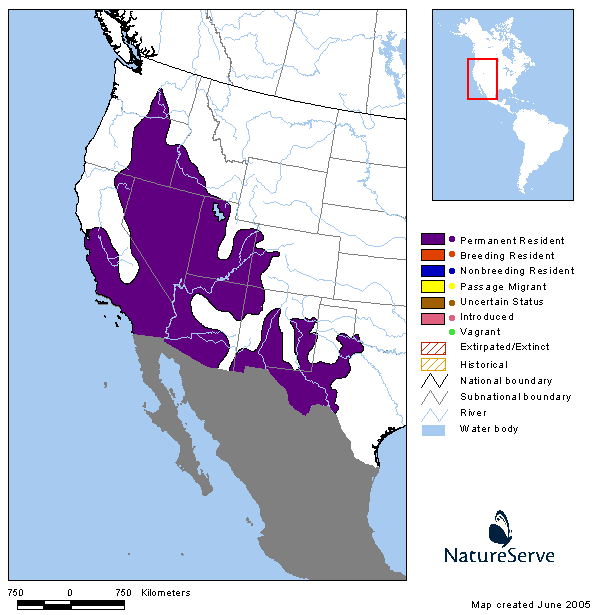 Living mosaic. This kind of tiling pattern in which shapes fill a plane with no gaps or overlaps (once again, very similar to Klüver's
form constants
) is called a
tessellation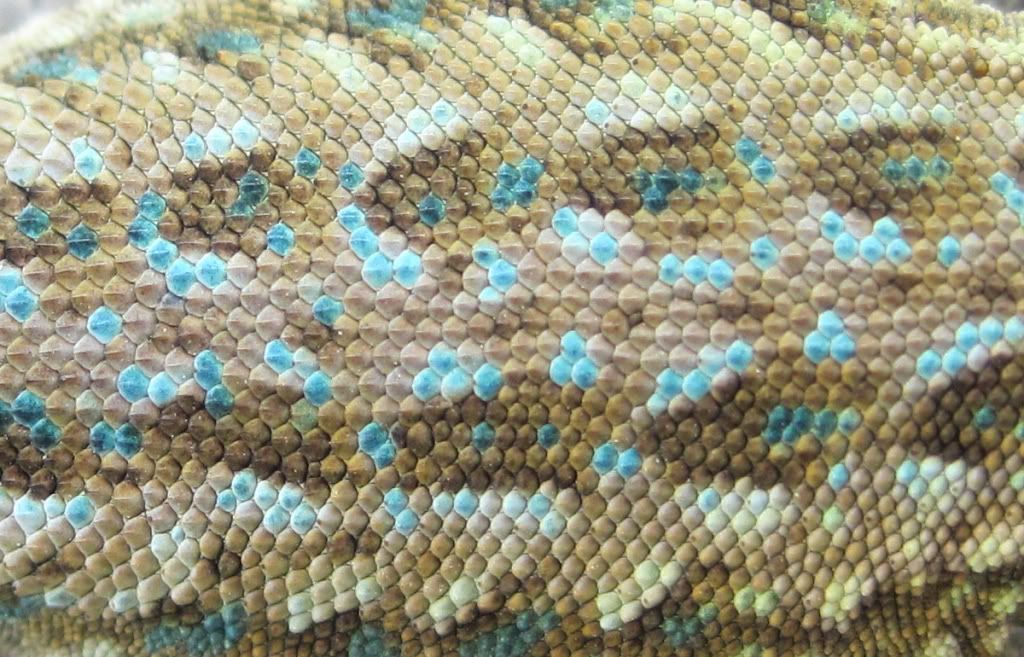 M. C. Escher
is well known for his use of tessellations, and I don't think it's a coincidence that reptiles figured prominently in his work.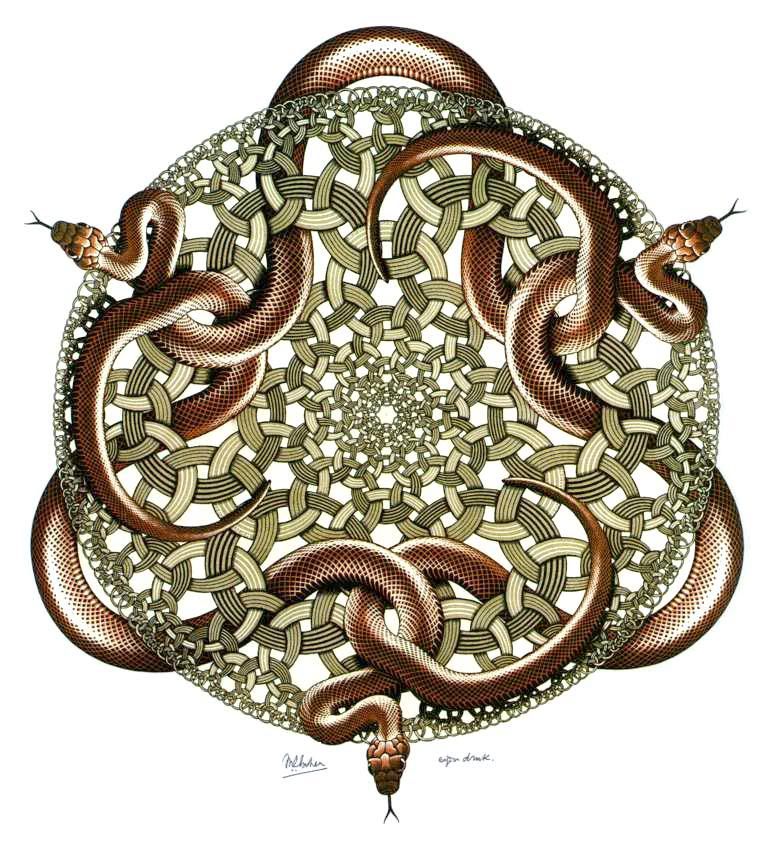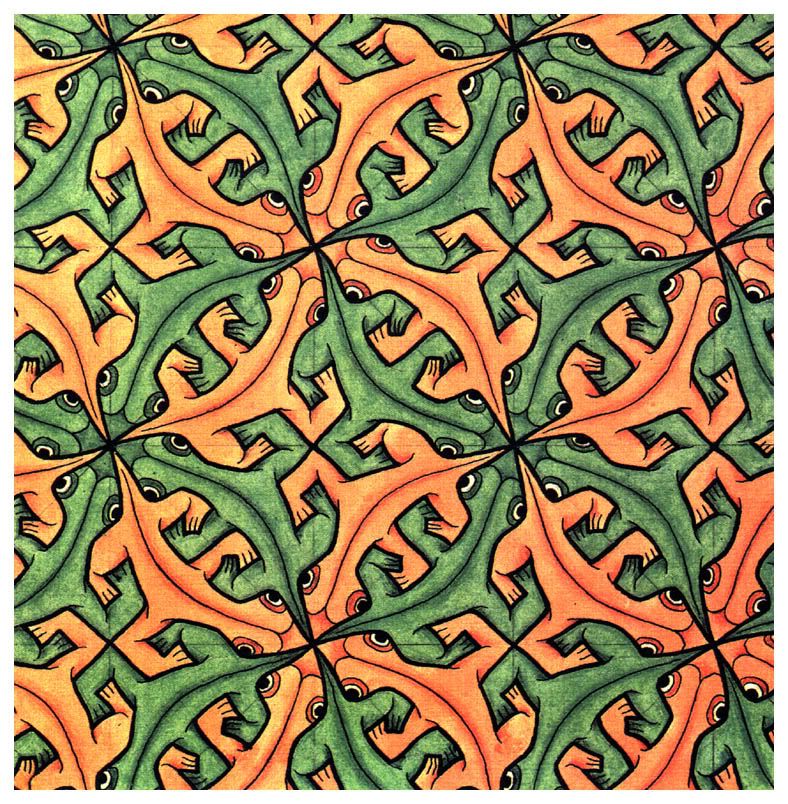 Reptiles have adopted a wide range of life histories. While species like desert tortoises may take up to 20 years to reach sexual maturity and can live over 50 years in the wild, others, like side-blotched lizards mature rapidly (9 months) but don't live more than a year.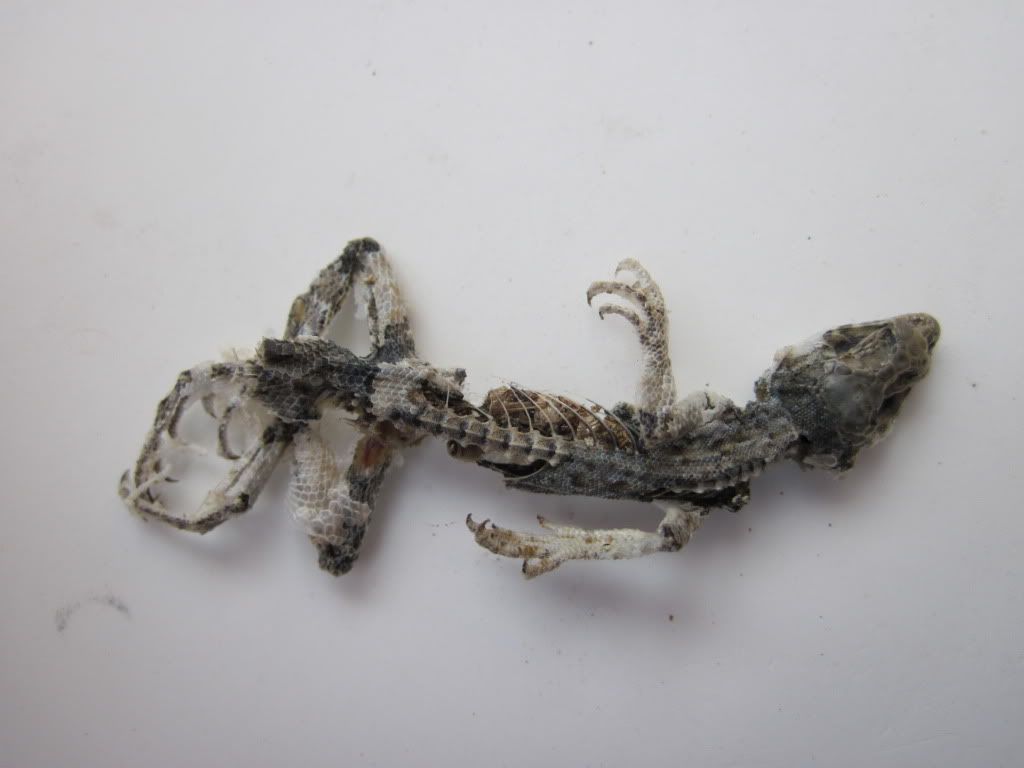 Mojave/Redspined Fishhook Cactus (
Sclerocactus polyancistrus
)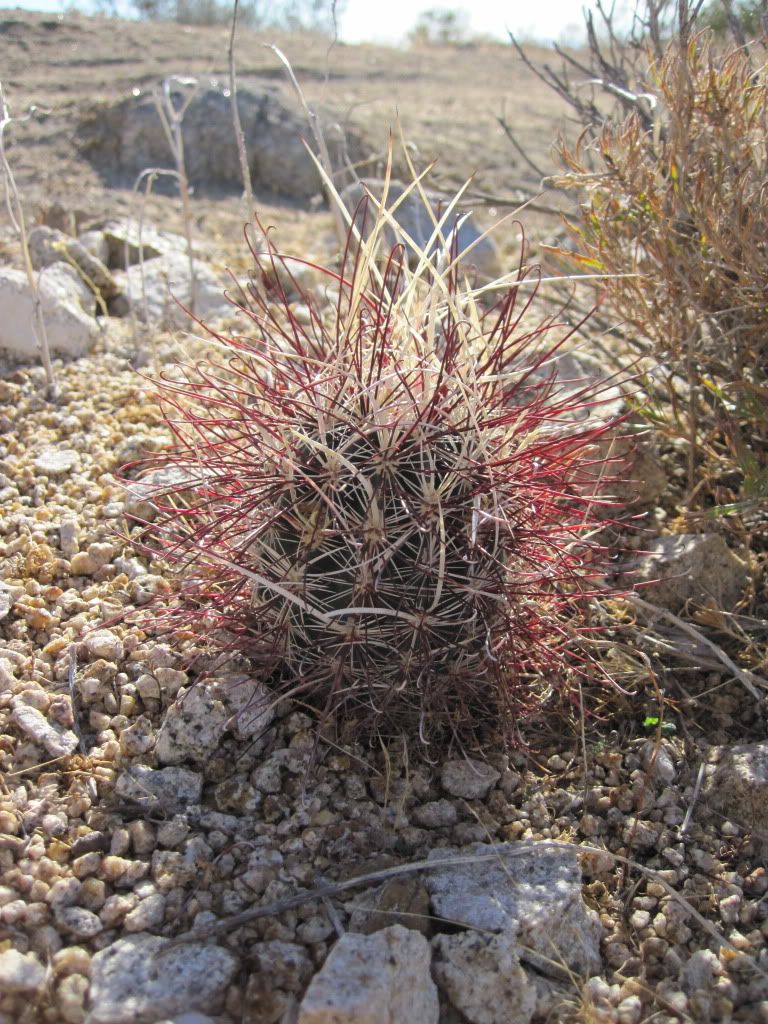 Hatchling
Desert Banded Gecko (Coleonyx variegatus variegatus
). Females lay 1-3 two-egg clutches between May and September. If you look back at the adult pictured in
Part 3
you'll see that the banding is much more defined when they're young. This kind of change in pattern/coloration that occurs over an organism's lifetime is referred to as an
ontogenetic shift
, and is common among reptiles and amphibians. The adaptive significance of an ontogenetic shift varies by species, but is often associated with changes in size, vulnerability, habitat use, etc. If you're interested in learning more about this phenomenon check out these articles:
Blue tail and striped body: why do lizards change their infant costume when growing up? (Hawlena et al., 2006)
The adaptive significance of ontogenetic colour change in a tropical python (Wilson et al., 2007)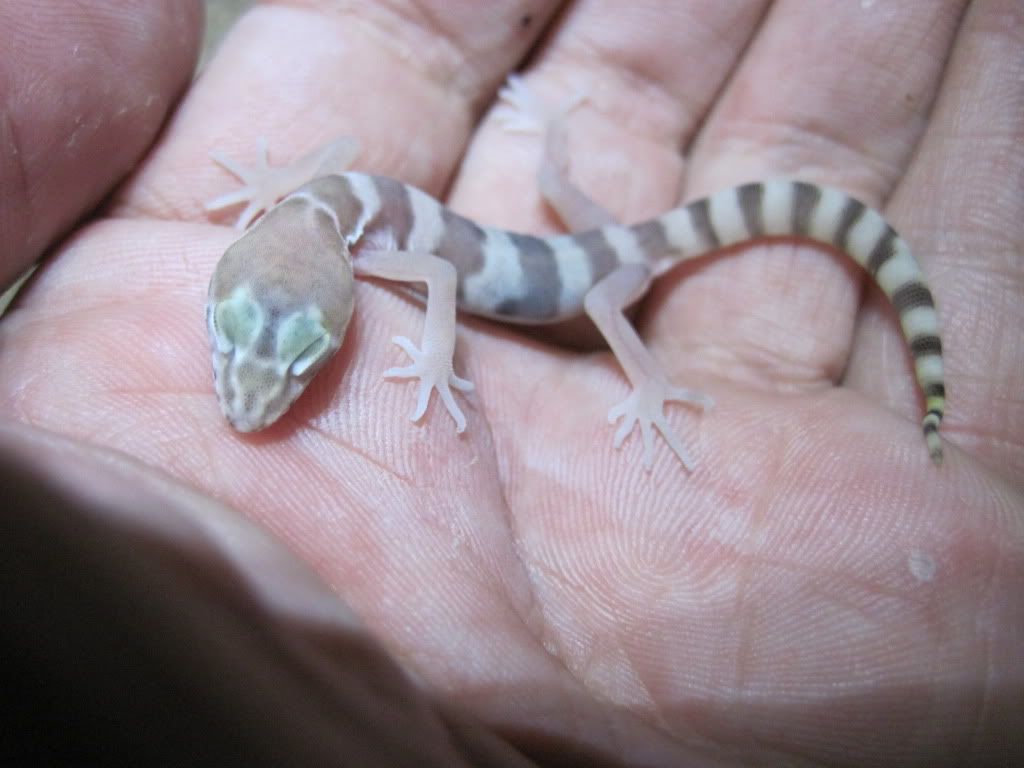 Punctured Bract (
Oxytheca perfoliata
)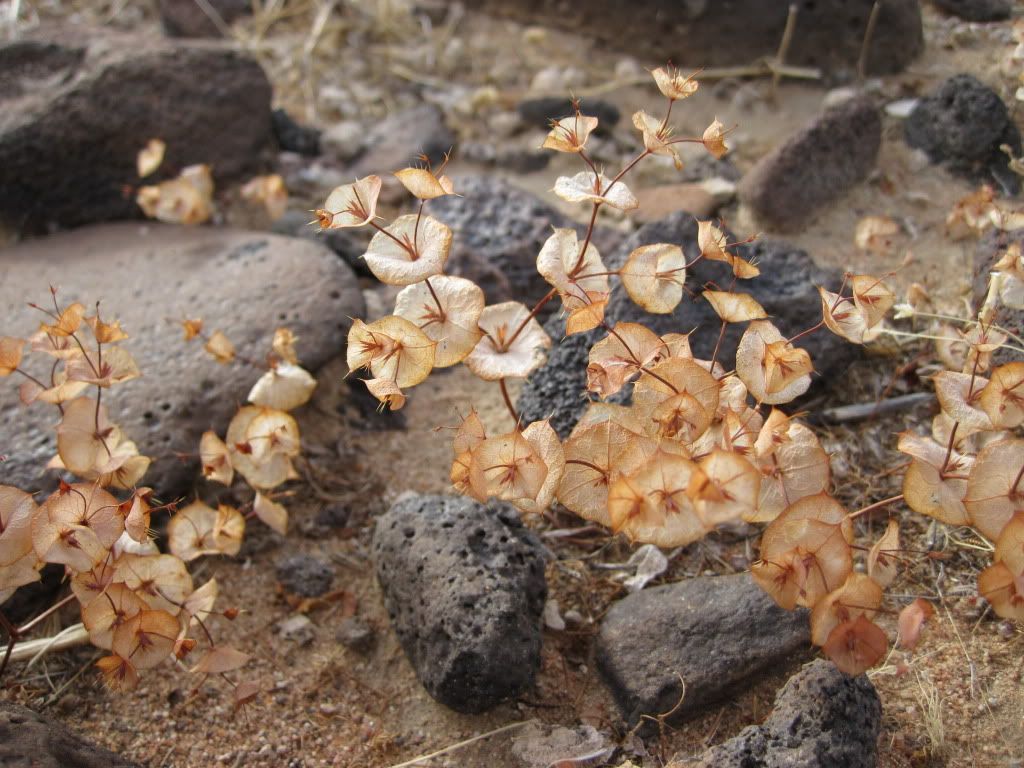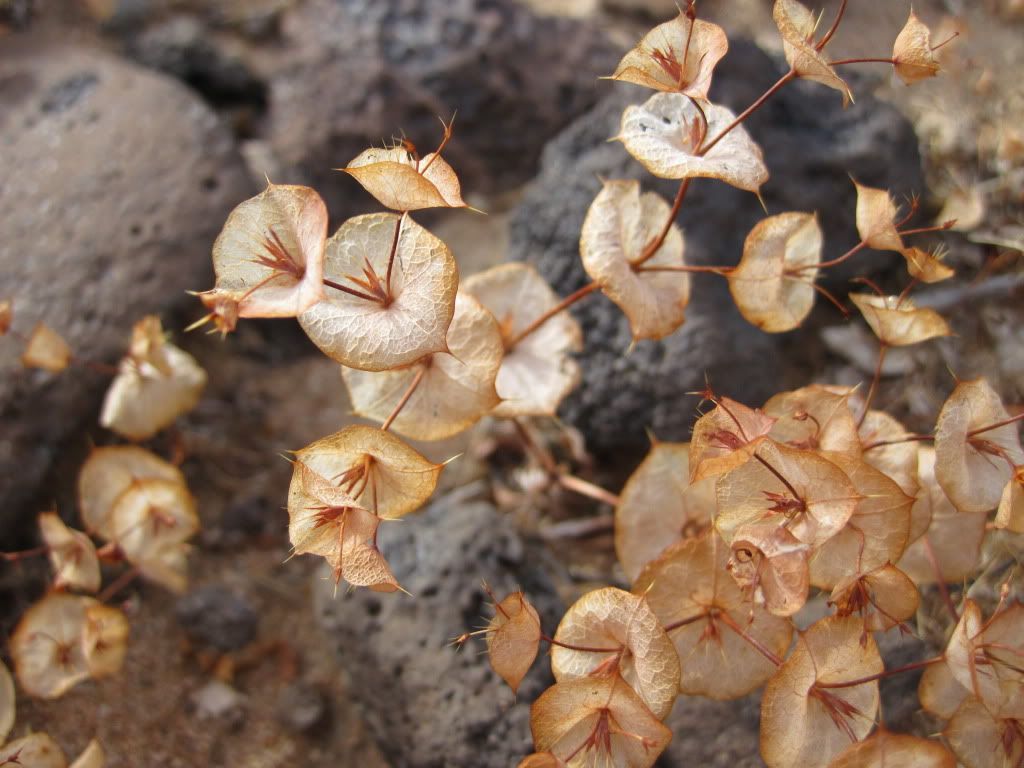 Now that it's getting cool out the snakes are hunkering down, and tortoise burrows make convenient hideouts. This is why it's important to always look before reaching into a burrow!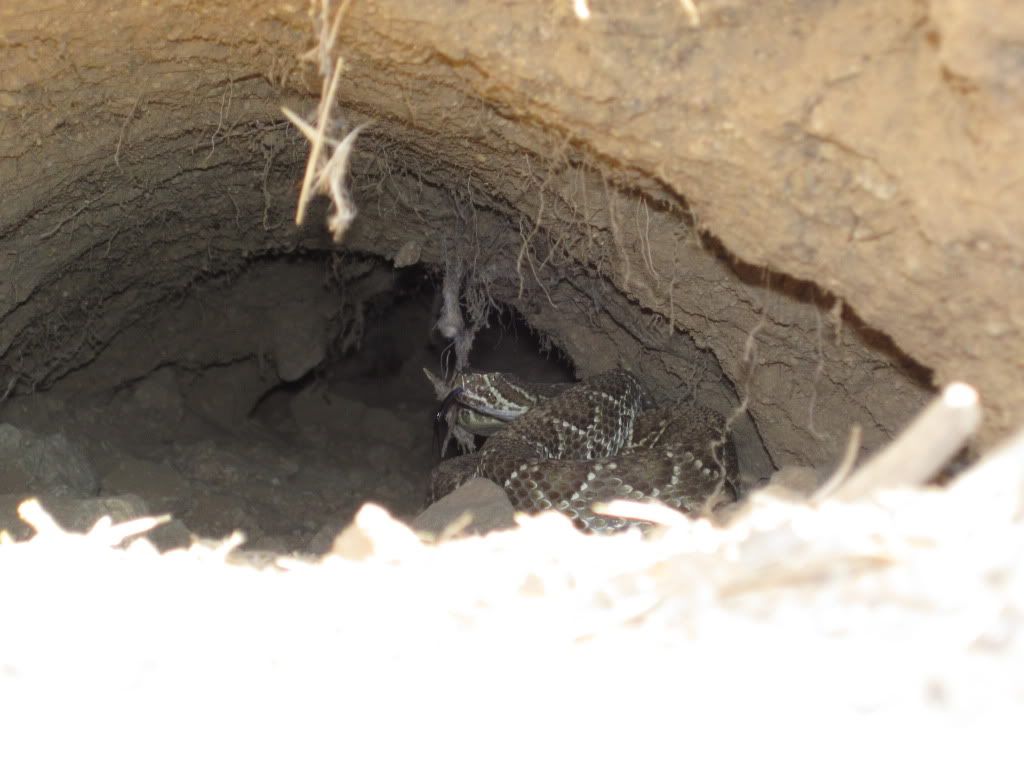 There are some really cool rock formations out here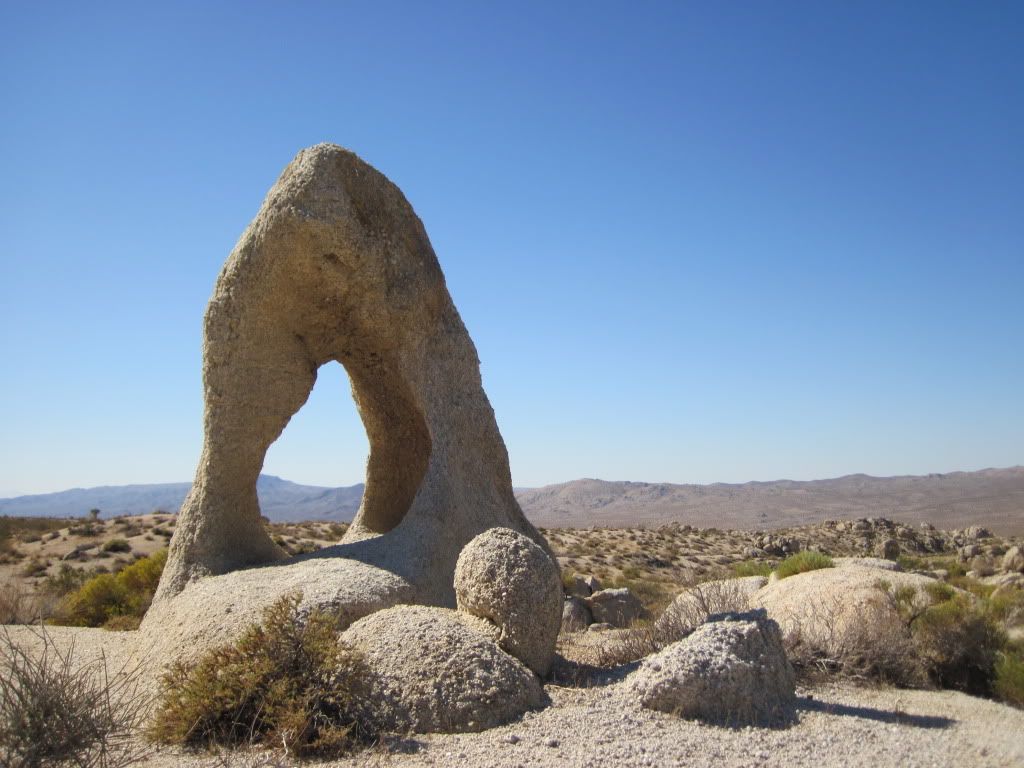 Molted snakeskin, probably from a coachwhip (
Masticophis flagellum piceus
).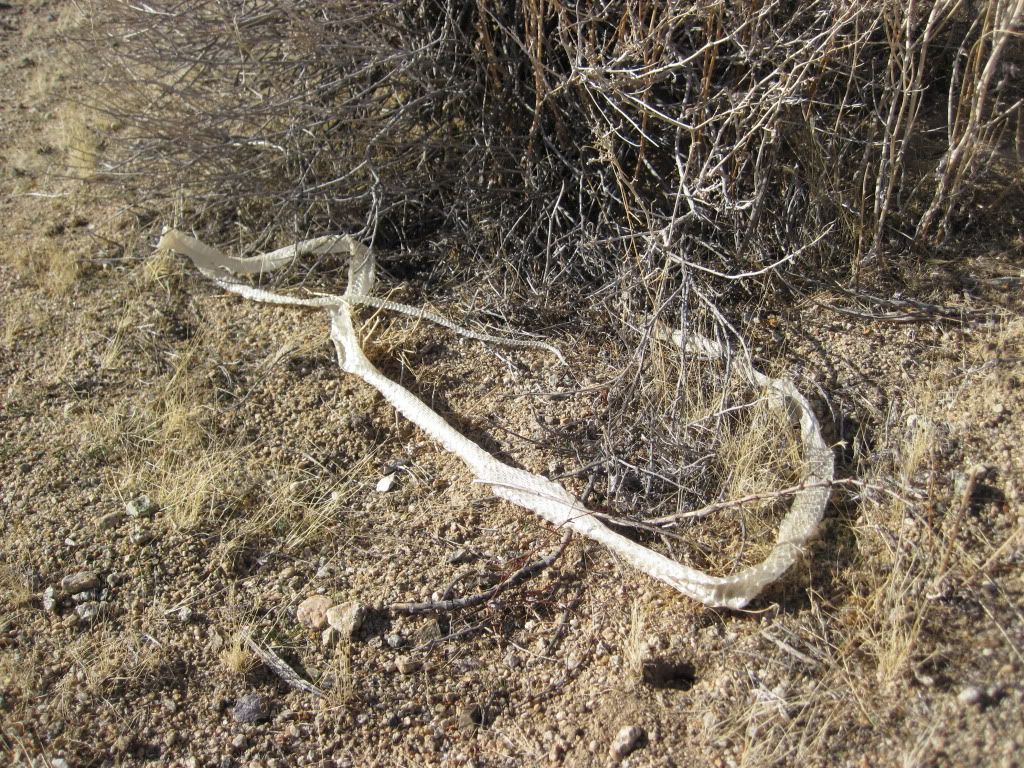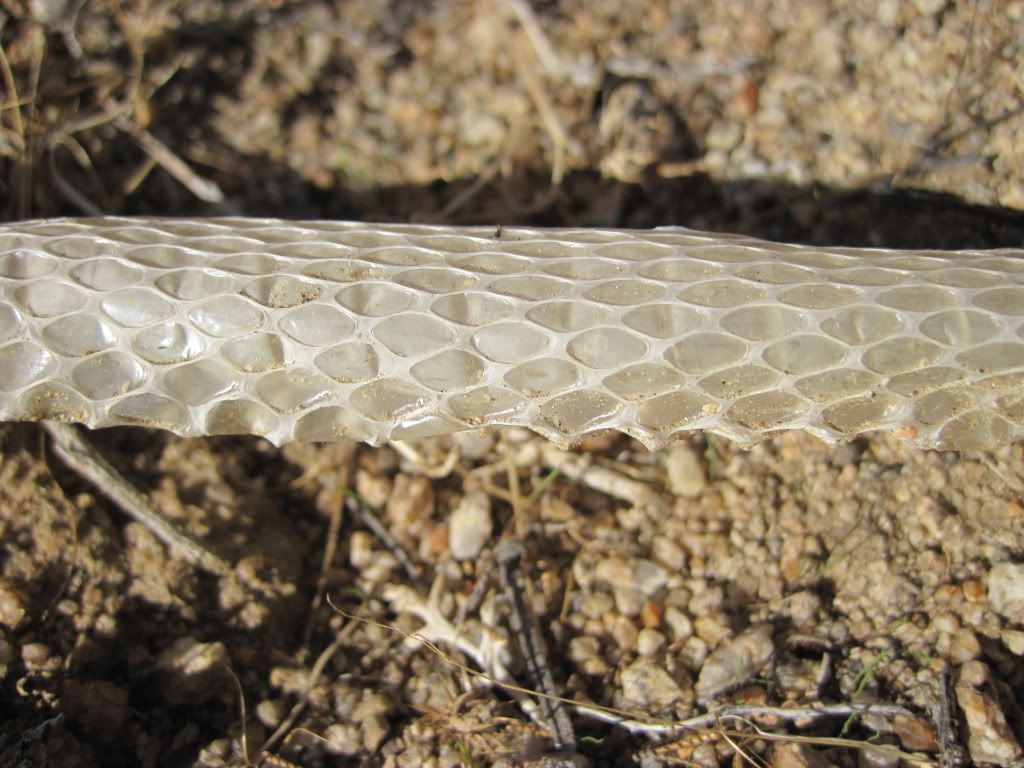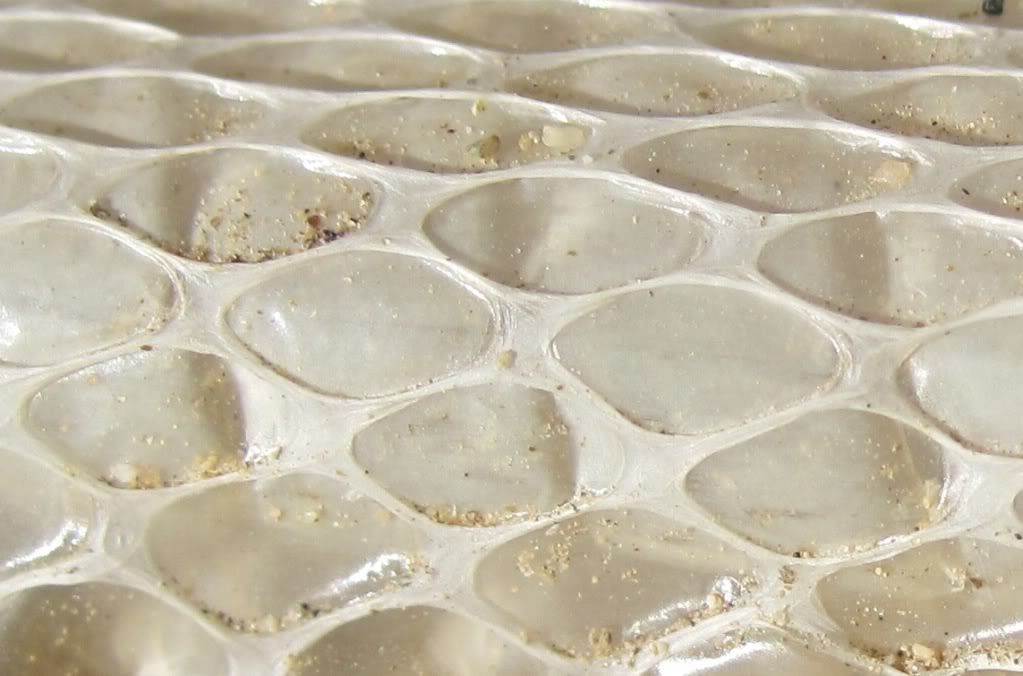 A nice looking cave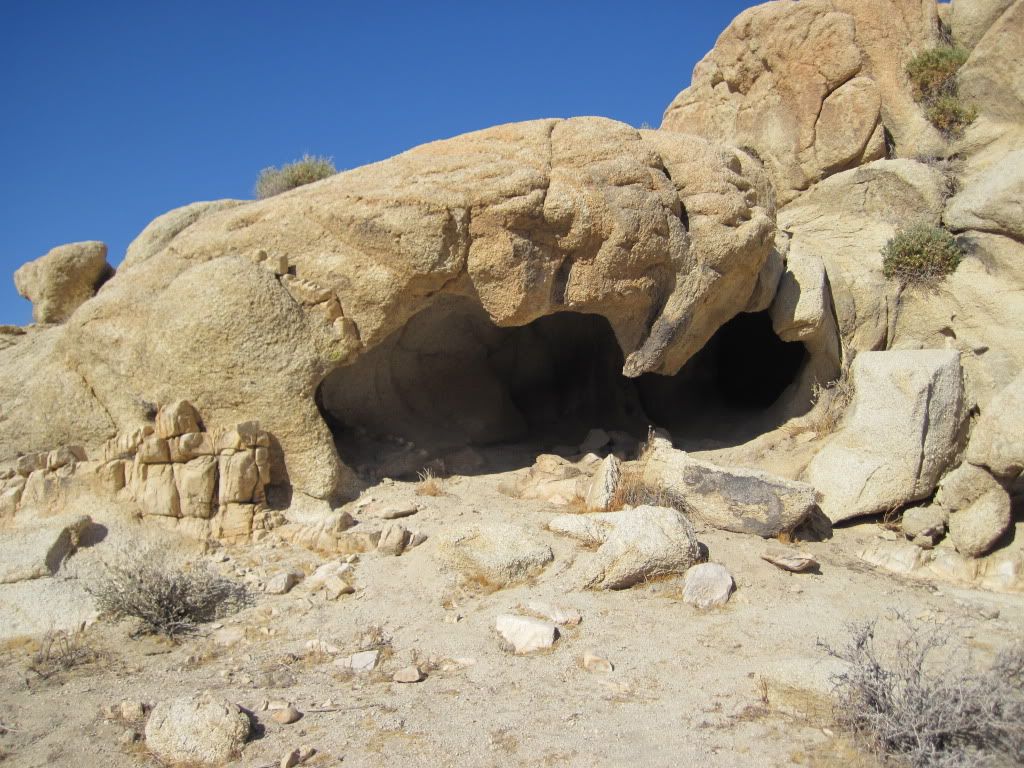 Pretty spacious
I wonder if anyone used to live here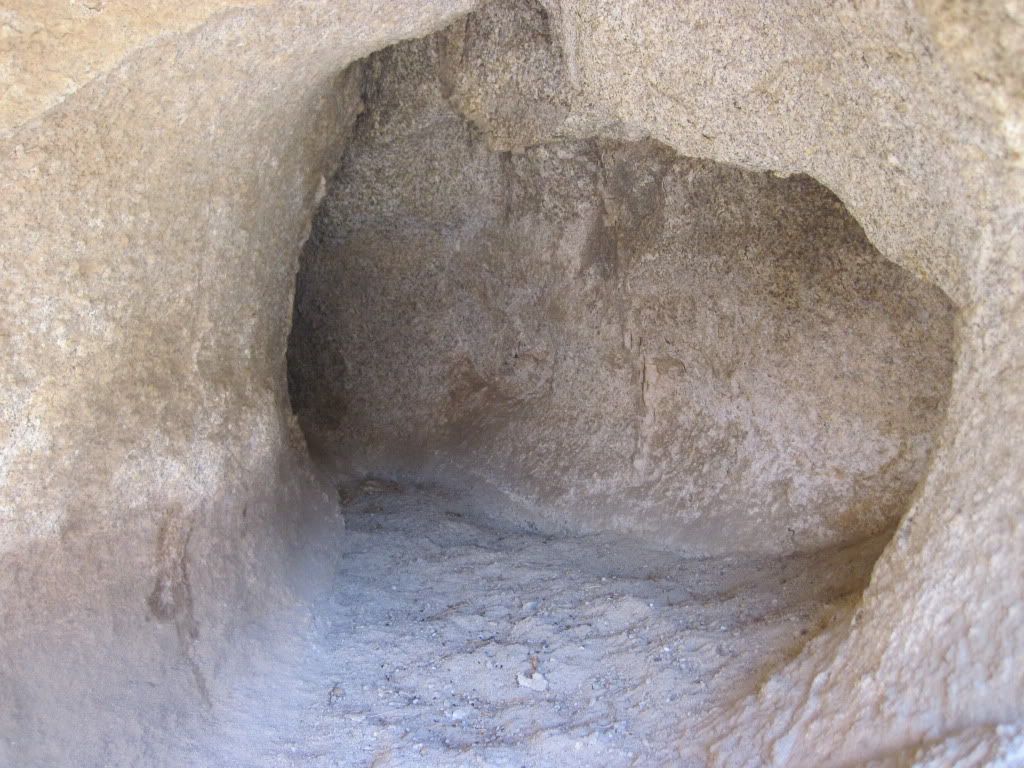 Looking out from inside
One of the rare rainy days in the desert – it was actually a nice change of scenery.
The cacti were especially vivid after being dusted off by the shower.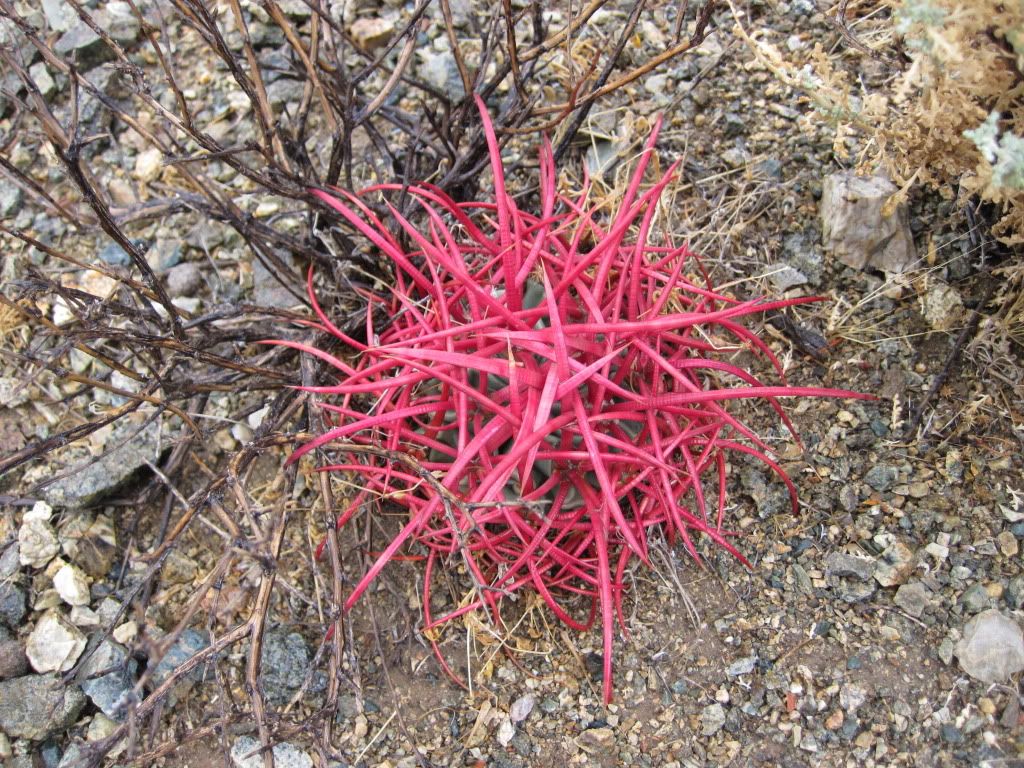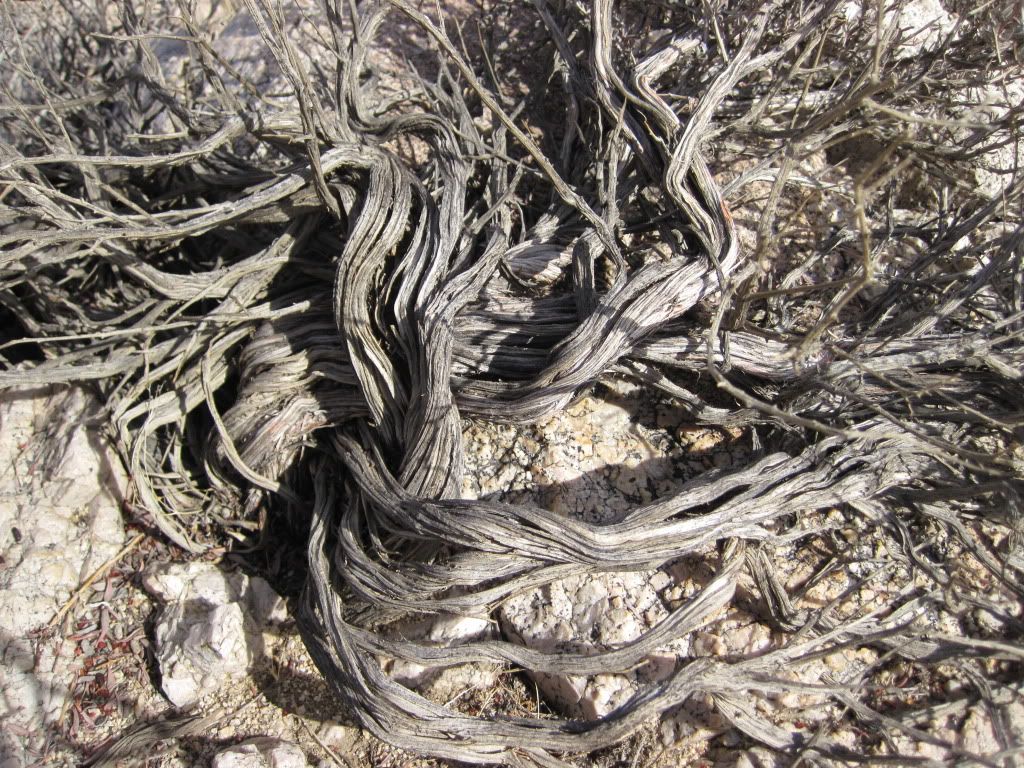 Thanks for looking!
-Zach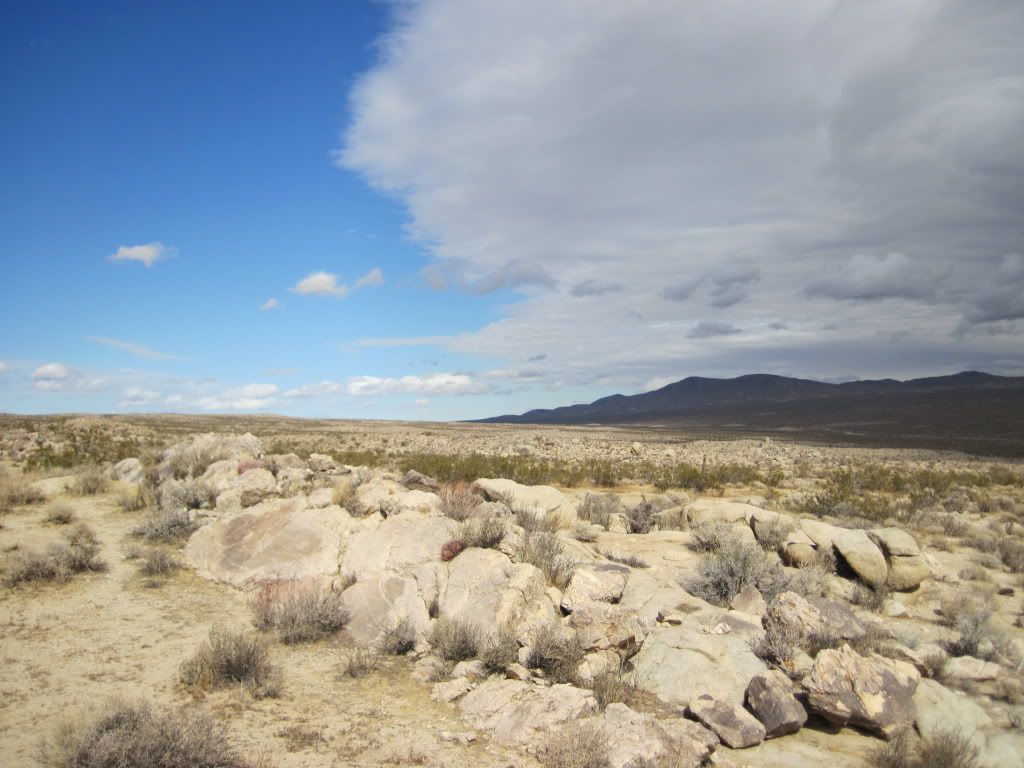 Part 1
Part 2
Part 3
Part 4
Part 5
Part 6
Part 7