The Bamboo Viper aka Chinese Tree Viper,
Viridovipera s. stejnegeri
, is a nocturnal creature mostly found sitting in moist ditches, by small canals and ponds, and on trees - in short, pretty much anyplace where frogs can be ambushed. They're fixtures of our herping nights, but if you're lucky, you can occasionally find a few during the day, too. Those are usually individuals who didn't manage to score the night before, but are too hungry to give up and hit the hay. At least that's my theory, but I'm open to others.
During my four-mile ditch walk today, I was fortunate enough to encounter not one, but two of these insomniacs - around noon, at that. The first one, less than a foot long, was pitifully skinny and hiding behind a small rock inside the ditch; while the second one, a strong, well-fed adult of about 15 inches, was in ambush position by a tiny waterfall that feeds the ditch. Interestingly enough, the waterfall was right next to a very crowded picnic area, and a few of the picnickers who knew me from previous walks called my attention to the snake, who must have been sitting there since the night before, totally oblivious of the noisy humans, scooters and cars not two yards away from it.
Finding nocturnal animals during the day is always a treat because it makes photography so much easier. No futzing around with multiple flashes and other unwieldy gear - just the snake, the camera, and me (okay, and in this case about eighteen picnickers of all ages gawping and pointing at the sweat-soaked gringo ruining his clothes crawling around in the dirt, less than a foot away from a deadly reptile. I'm sure they were running bets on how long it would take me to finally get tagged by the scary green monster......)
So, here's the loot:
Well-fed Viper: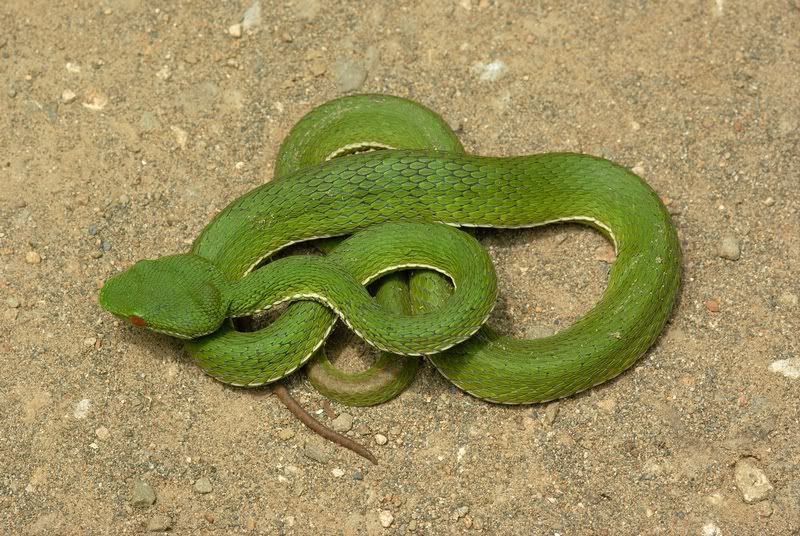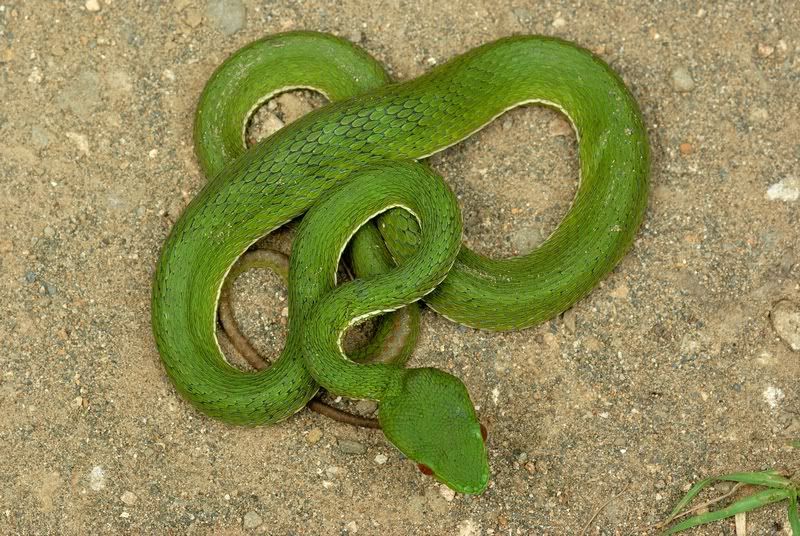 Skinny Viper: