One of our best finds in Borneo so far not only helped us bid farewell to the old year in proper style, but also rang in the new with just as much class. I'd been cooped up in the house with work for the better part of the past three weeks, and was jonesing for a wildlife encounter other than the transvestite cashiers at the local supermarket. Since there were no private New Year's parties we wanted to attend, and public ones never having been my thing (beery expats at the Victoria Arms Pub, crying into each other's drinks and manhandling complete strangers with booze-enhanced affection...shudder), my son and I decided to go roadcruising in a mangrove swamp behind Kampong Bako (Bako Village, the boat terminal to the National Park) until the New Year galloped around. Who knew - maybe we would even find a snake!
The first hour of driving around the swamp and its tiny settlements didn't yield anything, but that was OK. The settlements were alive with fireworks (illegal, therefore very powerful stuff - if you do something outside the law, might as well overdo it), and the stars above the dark swamp were amazingly intense and close-up. We stopped for a walk down a trail into a large stand of nipah palms, where we did indeed see the tail of a Dog-Faced Watersnake (
Cerberus rynchops
) disappear under some palm roots. However, we cut the walk short after twenty minutes - I know too little about
Crocodylus porosus
to be sure that there weren't any around, and getting our butts ripped off by a hungry saltie wasn't what I had in mind for our New Year's celebration (if I had wanted mayhem, I might as well have gone to the Victoria Arms). So, on we drove.
Our icebox, formerly filled with Red Bull and canned espresso, was empty around eleven, as were our minds and the road. For a second we considered going home, but the idea of celebrating the advent of the New Year in a Bornean swamp was just too cool to give up, so we soldiered on.
And then, as it always happens, it happened. A rather large tree limb appeared on the road, a limb that with increasing proximity divulged black and yellow stripes, as well as a fat, black, glassy eye on one end, and the realization of what we were looking at slammed into our amygdalas with a rush many times more powerful than all the caffeinated beverages of the night combined.
Our first thought was "Banded Krait" (
Bungarus fasciatus
), but we had our doubts, because those are black and
white
around here. As we approached the frozen-in-the-headlights snake, it hit me. We had encountered this species before, but in
slightly smaller size
, and I remembered someone here on FHF telling me that he used to keep a seven-foot specimen. Now I believed it. The Mangrove Cat Snake (
Boiga dendrophila
) before us surely approached that length, and we couldn't believe our luck. A few tentative matador moves showed that the snake was quite bitey, but didn't seem to mind being tailed and hooked. Picking it up behind the head in a three-finger grip was not the smartest option, though - the animal was so strong that it twisted right out of my hand, and in light of its venom (mild, but still - swollen hands and non-stop retching were never my idea of fun) I didn't want to fist-grab it by the neck, as some people do with pythons. Oh, and it
stank
, too.
We had a field day (pun indented) with the beautiful beast, and spent more than an hour shooting it from every conceivable angle. At midnight, we wished each other a happy new year under the amazing starry sky of a coastal swamp in Borneo, holding a huge snake in our hands - it couldn't have been more romantic.
Then my son said "Hey Dad, look how dim our headlights are now." Well, Eff You See Kay me with a red-hot poker. We'd kept the car lights on for the entire photo shoot, as was my habit with my old truck, but little did I know that the battery in our Malaysian-made compact car was so anemic. Now we were stuck in that coastal swamp in Borneo, and prospects were (if you'll excuse another pun) dim. We were two miles from the next
kampong
, twenty from the next town, and a call to the Malaysia Automobile Club wouldn't have been of much use, since we didn't know how to explain to them where exactly we were (I had left my GPS at home, thinking that we would only stay on familiar roads that night. That won't happen again.). Our only choices were to sleep in the car or hope for somebody to come along.
And that's exactly what happened half an hour later. A middle-aged guy on a moped came puttering along, and we flagged him down. Amazingly, he spoke English (not the norm in that sort of neighborhood), and better yet, turned out to be the village cop. After hinting that this was a really bad choice of venue for a car breakdown, as the area "swarmed with gangsters", he whipped out his cell, made a short, barking call, and asked us to wait. Fifteen minutes later, three of his buddies appeared in a car, replete with jumper cable, and soon, after many thank-yous in three languages and a generous donation to their New Year's binge kitty, we were on our merry way home - and not a second too soon, because now all meteorological hell broke loose, as it only does in the inner tropics...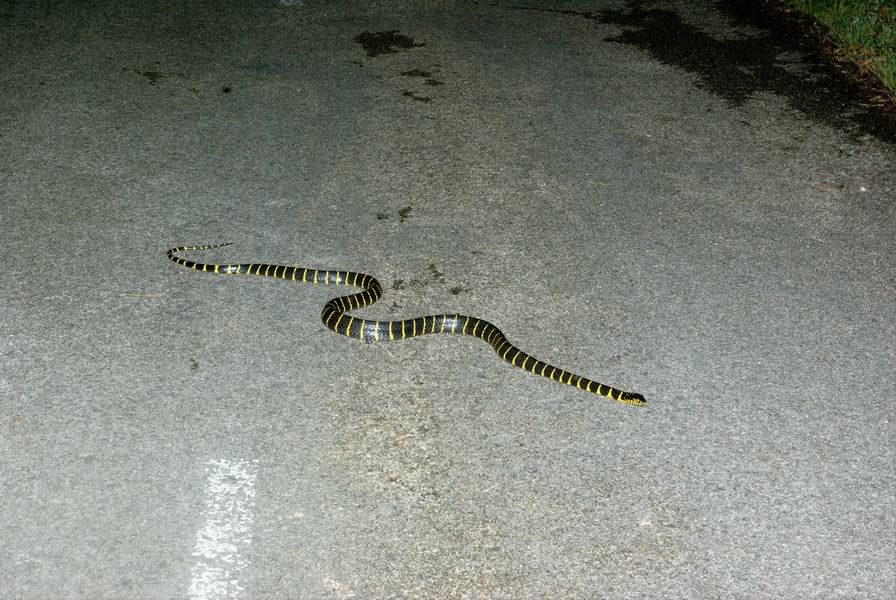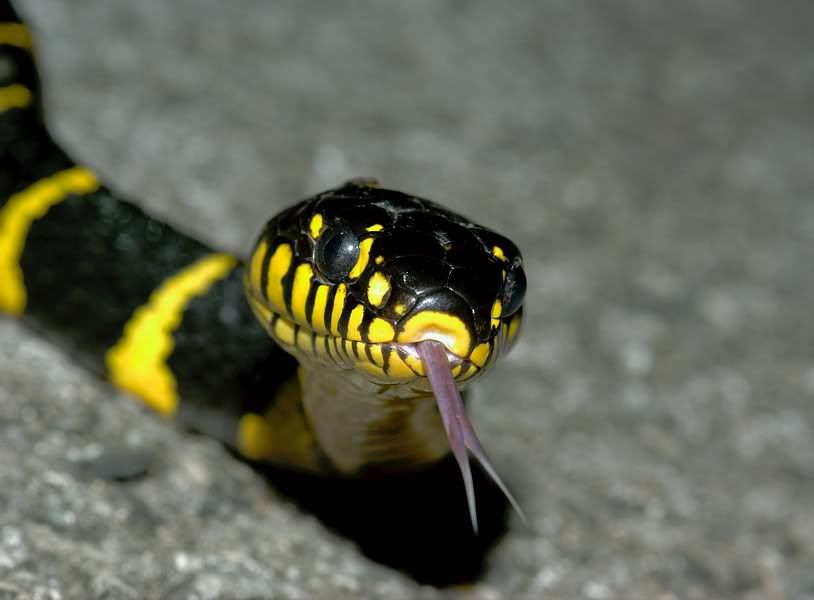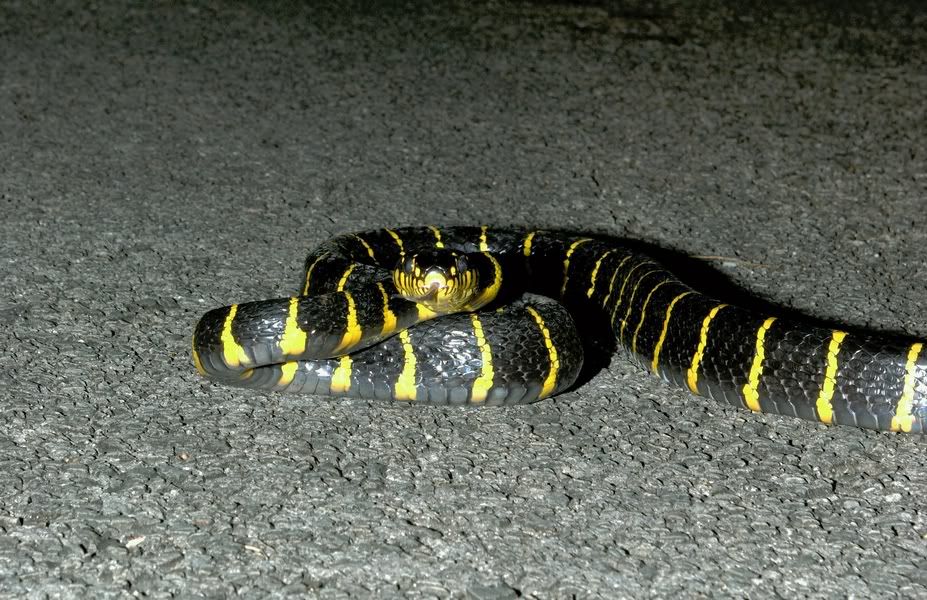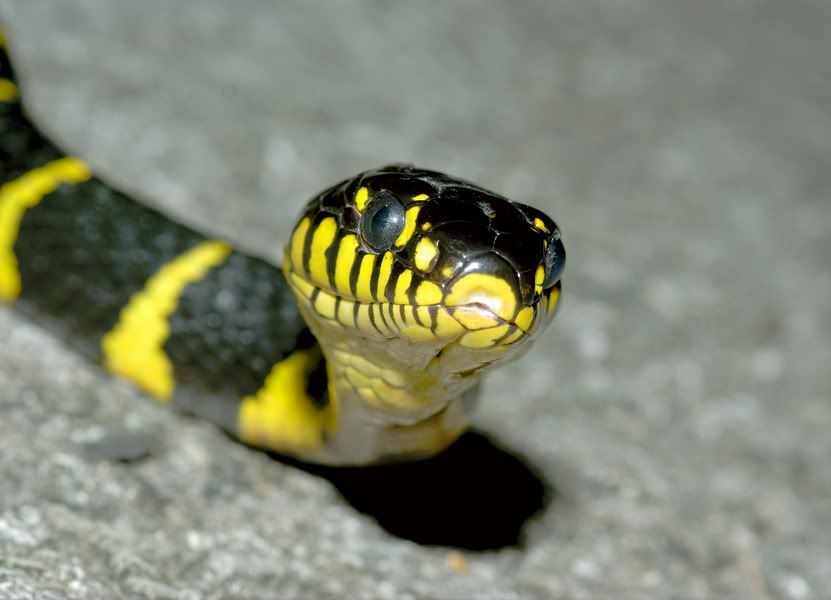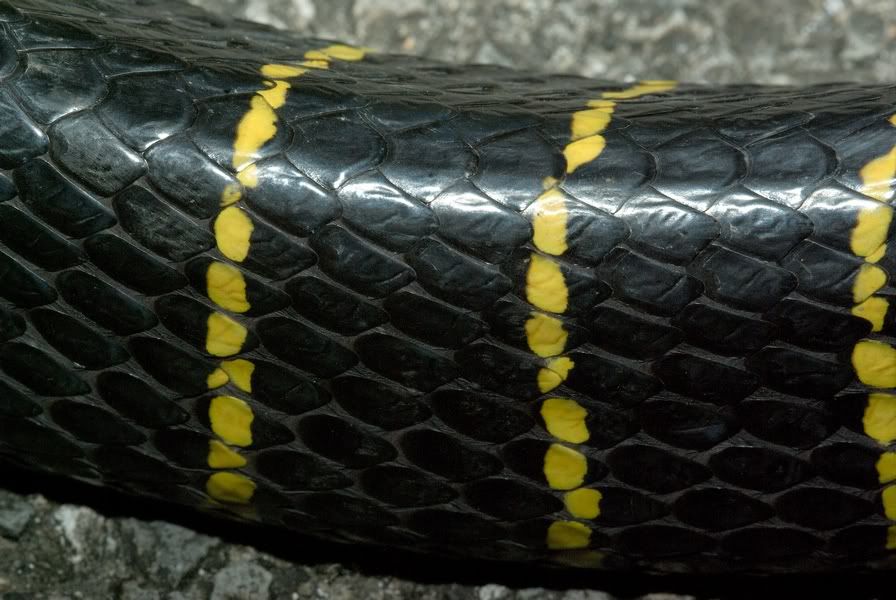 It's a boy! (He plopped those out as a defensive measure)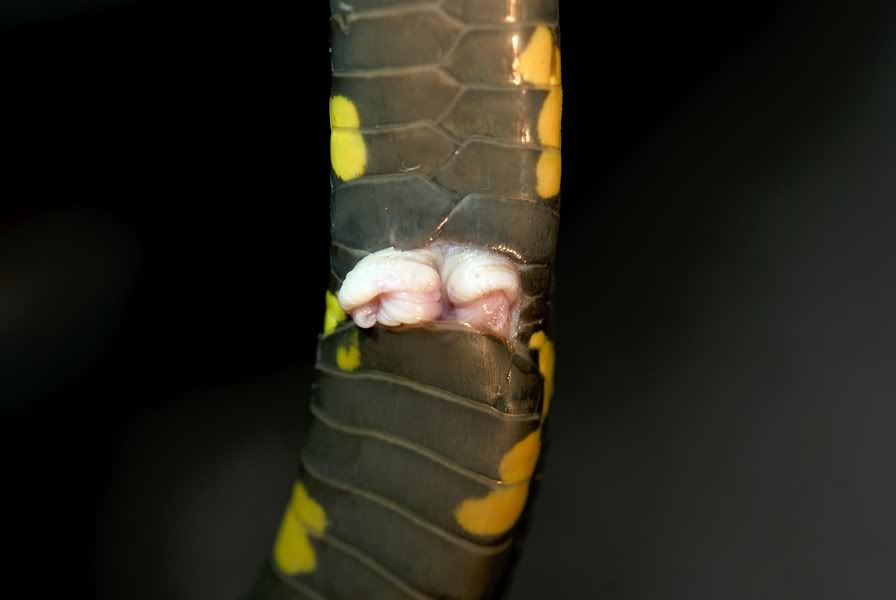 The Great Yellow Hunter
Snake Rasslin' Extravaganza, starring International All-Stars: Stankey the Snake, Sweaty Smurf, and Busted Fly!