Retes wrote:
Hi Jim and Bob, Jim I am not sure what you mean by "myopic"

But if it means I am looking at a small area, yes I am.

You guys are going on and on over the big picture, but that big picture is beyond the scope of our (this)forum. The "ethics" for this forum should be about its users not the world in general. The world has its own ethics to deal with.

How are the members of this forum impacting the subject by their actions, that is the question. The ethics should be how that impact can be lessened or limited, if the users of this forum CHOOSE to go by those ethics.

If we are talking big picture ethics, then bulldozers(more specificically D-8's and D-9's) and chainsaws should be outlawed. If I remember correctly those were the bulldozers designed to be air dropped into inaccessible areas.

But total habitat destruction is not the concern of the members of this forums day to day actions. That is a concern for humanity in general.

So yes, I am concerned with our members "loving" our animals to death. Not as a species, but as individuals. Thats first on my list.

Why is it first on my list, well thats easy, its first because none of you care about the individual snakes your interfering with. Or so it seems!

Its the constant rationalization from you and others, that is the problem.

If you would just look at it rationally. Animals avoid contact with people and predators. So you invading their world is a breach of their normal behavior. Therefore their behavior must change. How does that change and how does that change effect their individual success is the question. Its that simple.

You each protect your actions by rationlizing what your doing is OK. Well maybe not OK, but its not effecting the species. Sir the problem is, its not about you. Its about all of you, and in this case the future all of you.

With the current technogy, its so easy to find and lead others to these animals. Just take Crazins as an example, is just a couple of years, she has been to hundreds of "secret" herp spots. Areas that took years and years to find, she went to in minutes. hahahahahahahahaha no offense but you guys are way to easy.

The real problem may be this forum is not about the animals, but more about using animals to socialize. Which does explain why most here do not care about the impact they are having on the individual animals.

Nice folks like Bob, talk about the benefits to the people of india, which is great, but its not the people of india that are getting picked up, posed, moved, handled, interfered with, etc. Its the subject we see in all the pictures posted on this forum. The animals that are getting interfered with. Just look at the pictures.

ALso if you don't post pictures of animals, you may as well not post. And not just pictures, but artsy fartsy pictures. Thats the game thats being played here. Can you argue against that? By and large, its not about the subject, or information about the subject, its ALL about the pictures.

And in that , its about trends in types of pictures. Its more like a competition of pictures. Am I wrong?

Which is fine as long as the animals are not suffering for that human goal.

Whats funny is, its more like "keeping up with the Jones" Its not like it takes talent to take great pictures, these days, there are lots and lots of great cameras that allow anyone to take great pictures. So now its more about access to the subject. Which is real easy to obtain on this forum. A couple of kind words and wink and a smile will get you anywhere you want to go. And see anything you want to see.

I still question, what does great pictures have to do with a field herp forum? I am most likely wrong, but I somehow was under the impression that field herping was about the animals. And the pictures were to help understand the animals and how they fit in nature. That is, to transmitt knowledge of the animal, you know like Doc does here.

So all you have to do is tell me, its not about the animals. Then I would understand. As of know, I don't understand why there is so little concern for the individual animals. They are treated as if they are YOUR PERSONAL TOYS TO PLAY WITH.

You see, I think these animals belong to the world, not us. But then thats a whole other subject. The common narsisisstic view is, these animals are for OUR USE. Well that does seem a little self centered. but hey, we are human. So what say you Jim and Bob

So yes, I am but one voice, and I choose to stay on this subject. The rest of the ethics I will leave to you fine gentlemen. Cheers
What say I ?
I love the fact that you care about individual animals that deeply.
But... I do take with issue with the idea that habitat protections must be a large scale issue. Some of the best examples of habit protection can take place on very small scale, especially with reptiles who's home range is very small for the most part. I sure everyone here has a great story in this area if they think about it. In our family's case we have landscaping in a corner of the yard consisting of flat sandstone rock from the local area that we hoped would attract and hold snakes. It does, plenty of racers, garters occasional hog nose, some bulls and we see a few rattlesnakes using the area each summer (which are moved outside the fence for safety).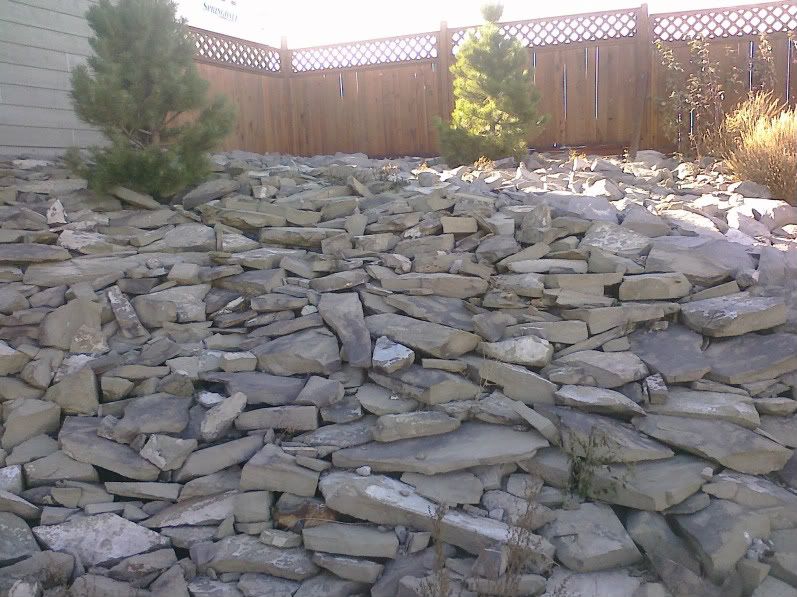 At the back of the 4 acre property we have a small coulee and surrounding area we refuse to mow, and low and behold we have two dens that cater to rattlesnakes, bulls and racers. (The fights with the neighbor right to west who's dogs run loose and have been struck is another story.) There are so many ways to enhance or protect habitat on the micro scale.
On a bigger scale, organizations/concerned citizens can have quite a bit of success in at least protecting moderate sized areas and maintaining corridors between protected habitats. The fact is that with our growing population the idea that ALL development can be stopped is simply pie in the sky. We must remain pragmatic.
Victory by a thousand cuts
!
As for protecting or not even disturbing individual animals I have no problem if you choose that route in your own herping, but going all elitist is a turn off and does no good in the end. If everyone took a hands off approach there would be little point, kindling interest in herps simply would not take place. After all we all started out as kids catching garters and frogs...and things progress from there ( perhaps you have reached a level few others will ?). I catch and keep quite a few individual snakes to teach my kids, grand kids and friends about them (and yes, CERTAINLY for my own enjoyment). I can't say for sure if those snakes after being released are harmed or not but I strongly doubt it. I also take every opportunity to catch and show snakes to people I fish with. For instance, this fall I had a rather phobic client in the boat and we came across three bull snakes crossing the river towards their dens. I caught one and it progressed into a perfect teachable moment which changed her outlook, at least to some extent. I always point out and take time to have a closer look at any snake we see while out on the river. I would love to get to the point where people ask 'are there snakes around here' out of curiosity rather than unfounded fears.
As for your belief that nature is not be 'used', I always counter that by pointing out that humans are indeed PART of nature. Anyone that believes in evolution must agree eh? All species 'use' other species, we just have the gift of advanced reason . When we isolate people from feeling part of nature that is when we start to have real problems.