Since I purchased my house 3.5 years ago, I have wanted to put in a pond. I purchased the turtles (European pond turtles- Emys orbicularis) that were going to be the inhabitants of the pond more than a year ago. They have been patiently waiting and growing to a safer size in glass aquaria inside. I finally had some time to dedicate so it was time to get started.
The area of the yard I chose was the flattest possible, but still had a slight incline, maybe 12" difference from where the one end would be to the other. I dug out the one edge by eye, then put some stakes all around edge. I ran a pole with a level on it from the center to the edges and taped off each stake just to get a rough reference point. If I had had a machine to use, I would have leveled the ground first to make it easier. I wish I took a before pic, but didn't. Half the area was grass, and half was 5' tall weeds that had grown up from an abandoned garden. You can see the mound in the back starting to get some size already and I have barely begun!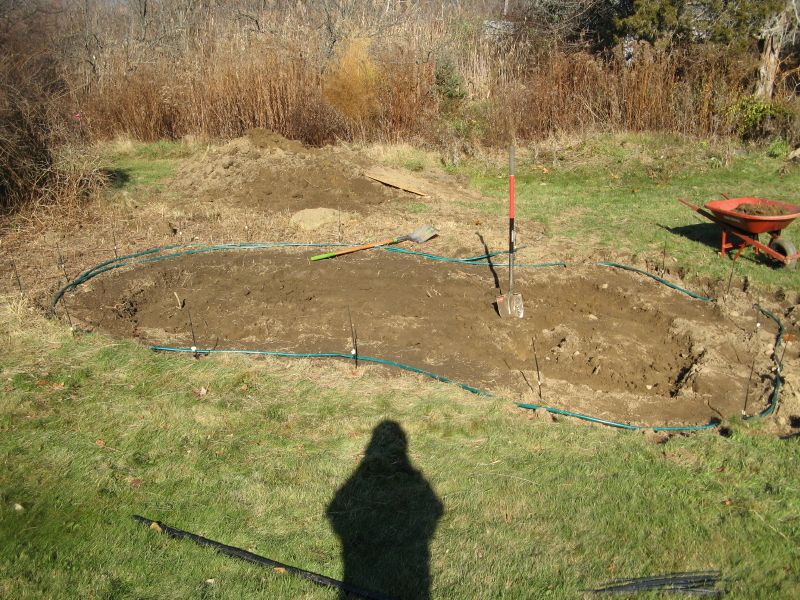 Here is one shovel full taken out of the entire area, the flat edges around the outside will be the first very shallow shelf lined with rock.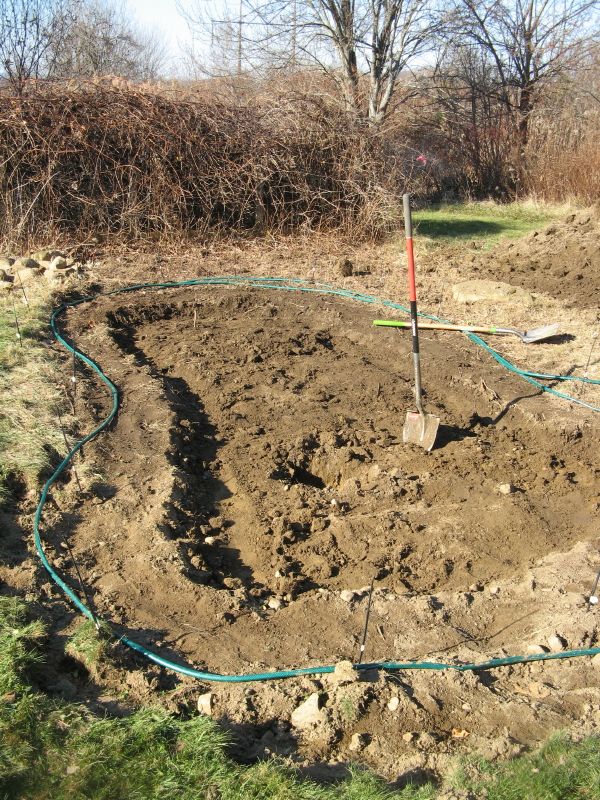 The bulk of the digging was pretty straightforward and easier than I thought. I put in lots of shelves of varying heights to accommodate plants and give the turtles lots of options. Here is my 3 year old doing her best to show scale. Really she is just having a blast climbing in the hole and getting her princess dress nice and dirty. (She actually had even more fun climbing up the "mountain" of dirt that came out of the hole.)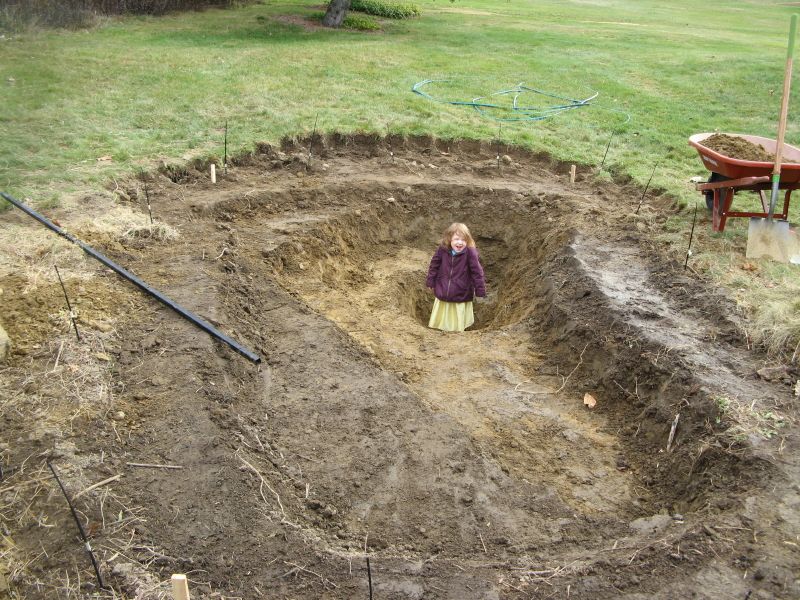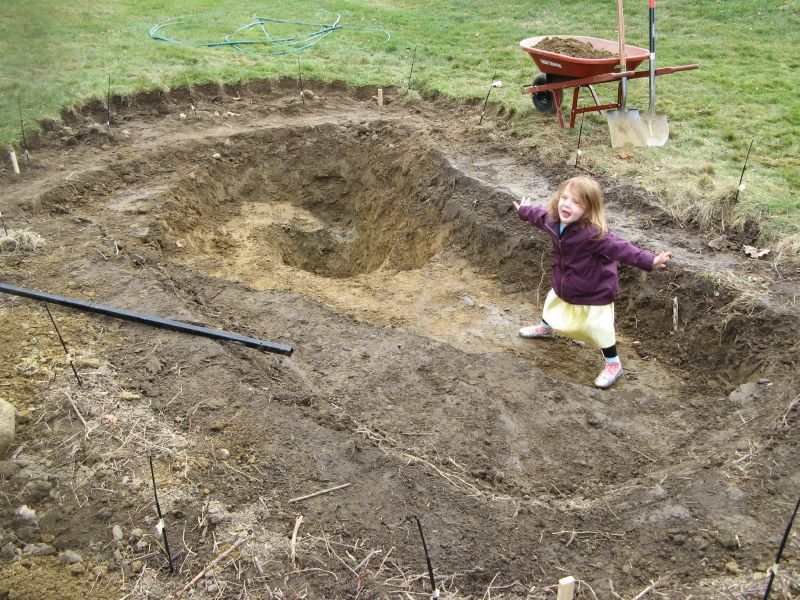 After all the inside digging was done, I ran string to make sure the edges were as level as I could get them. Because of how I wanted edge my pond, this was very important. More about that later.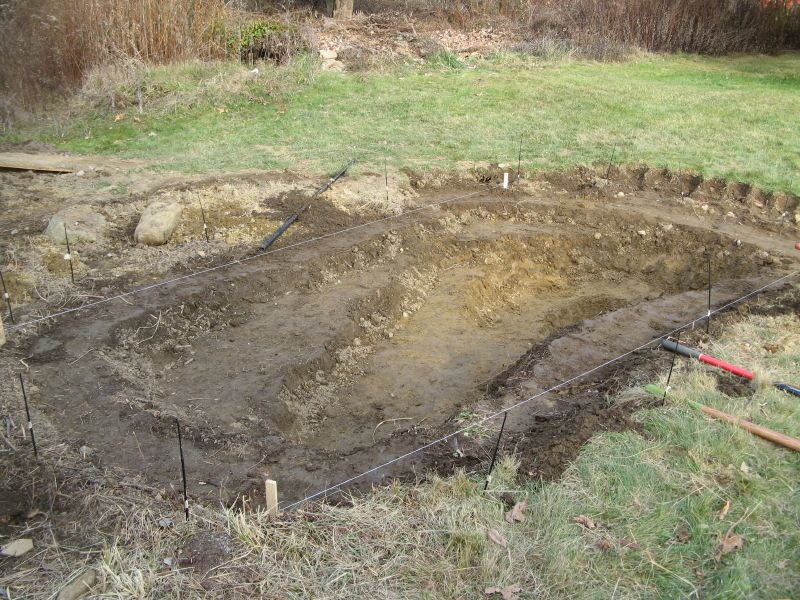 All cleaned up, leveled, and smoothed out.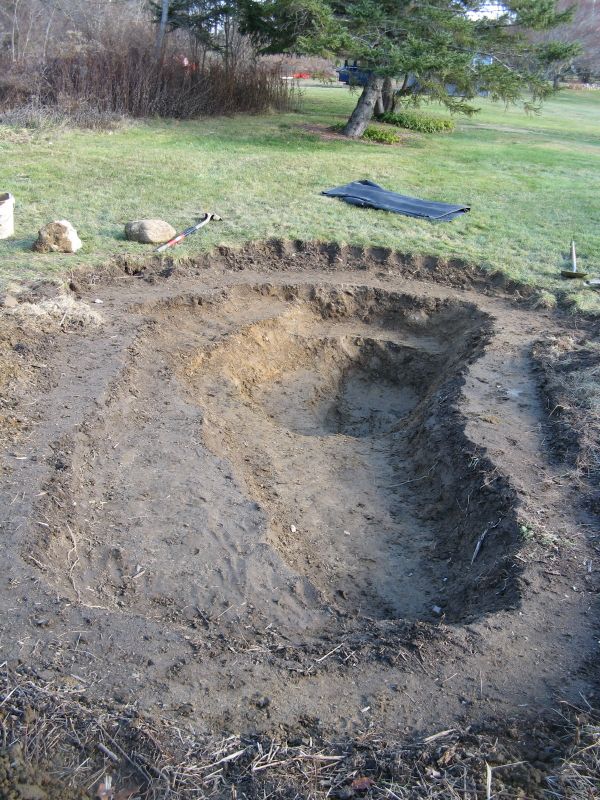 For those paying particular attention, yes there is an extra shelf on the far side. Prior to digging, I figured out where I was going to buy the liner. They said they custom cut it. I figured that meant down to foot increments. It did not. So after I dug it out and told them I needed the liner to be 19 x 26, they told me it would be 20 x 30. That's about 20% more liner, and cost. SO instead of trying to make 25' work, I increased the size of the pond a foot or two to make myself feel better and not waste as much. I still had a lot because the pond is not uniformly shaped.
Another photo for fun. The liner is in the foreground. It weighs about 150 pounds.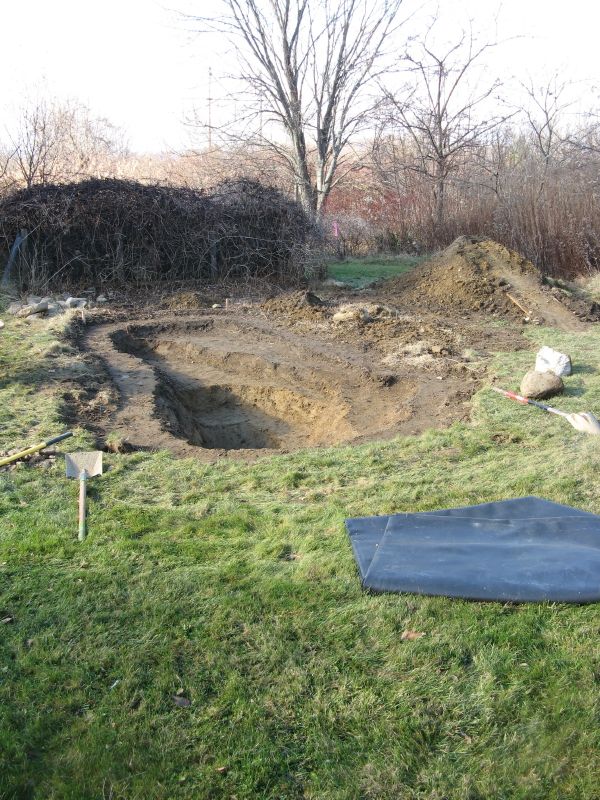 The underlayment went in easy, but the liner was a little difficult to manage, especially by myself. I did not do a good job smoothing out the wrinkles. I know there has to be some, but I was hoping for less. I attribute that to lack of experience and patience. I filled it up to the first edge to make sure it was level, that part I did pretty well.
Edging. Most ponds I saw when researching how to go about this had a lot of rock built up all around. That makes it so that the liner is hidden, and changes in water level in addition to leveling the ground aren't as important. But I needed to make it easy for the turtles to be able to get in and out. A wall of rock along the edge wouldn't do. I also want it to be as natural looking as possible. I spent a lot of time thinking about how to make it aesthetically pleasing and functional. That's why I created that shallow lip. The plan in my head was to lay the rock kind of in steps for a smooth transition. I thought it was going to be easy. Here is the first course of rock (with a little started on the second)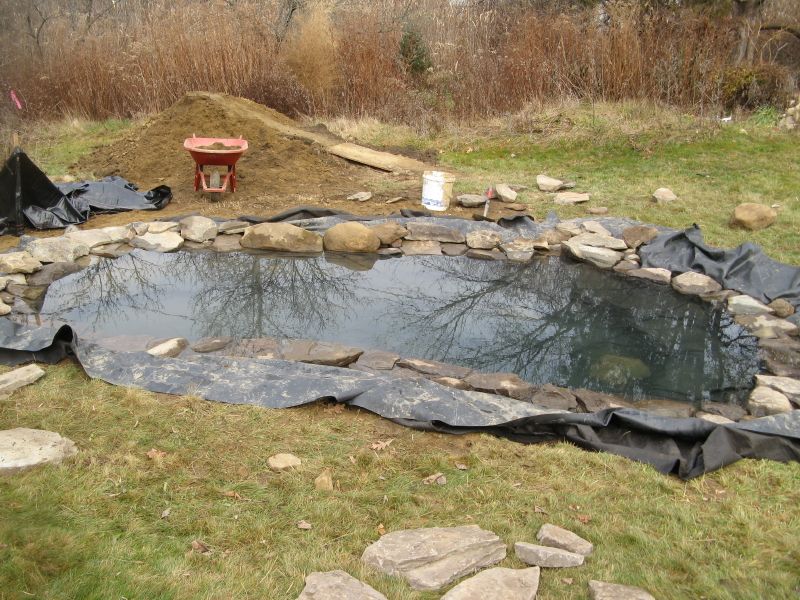 As soon as I put in my first course, it became painfully obvious where I went wrong. If the rocks I used were all an equivalent thickness, my idea would have been fine. That's not how it worked out. I should have started with the inside lip of that edge, and sloped it up instead of flat across. That would have made it easy to create a gradual transition from water to land. So I had to backfill areas and kind of did that with a second course of rock. I now have a very small window of height where the water needs to be, only a couple of inches. Its in full sun, so I will have to closely monitor evaporation. I think it ended up looking ok, but only a little better than the edging everyone else does.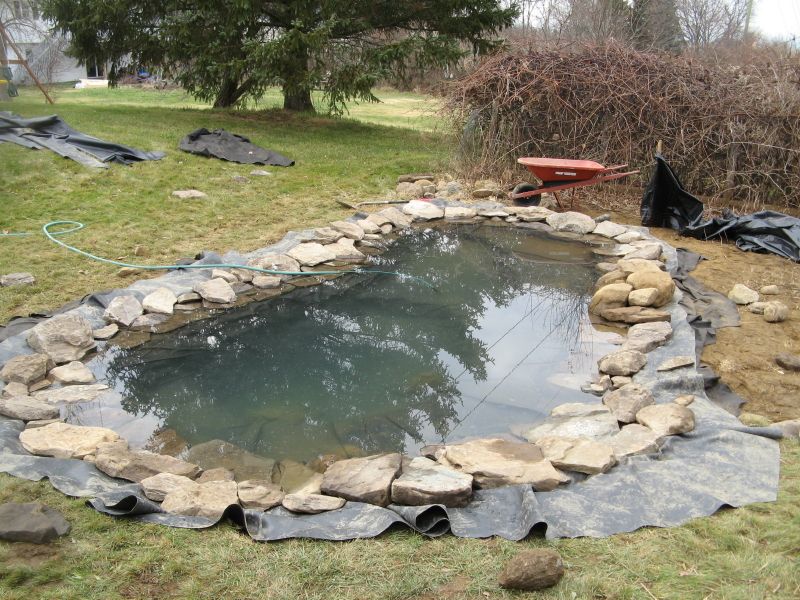 After that, I trimmed the liner down for second time, and used up a good amount of the pile of dirt all around the pond to level things out. I placed some rocks near the edges at various depths to try to create a better transition so it didn't look like the rock around the pond came from nowhere. I will likely add more in the spring when I plant. I plan on putting some rocks inside the pond as well. Once I add plants both inside and out, it should look a lot more natural.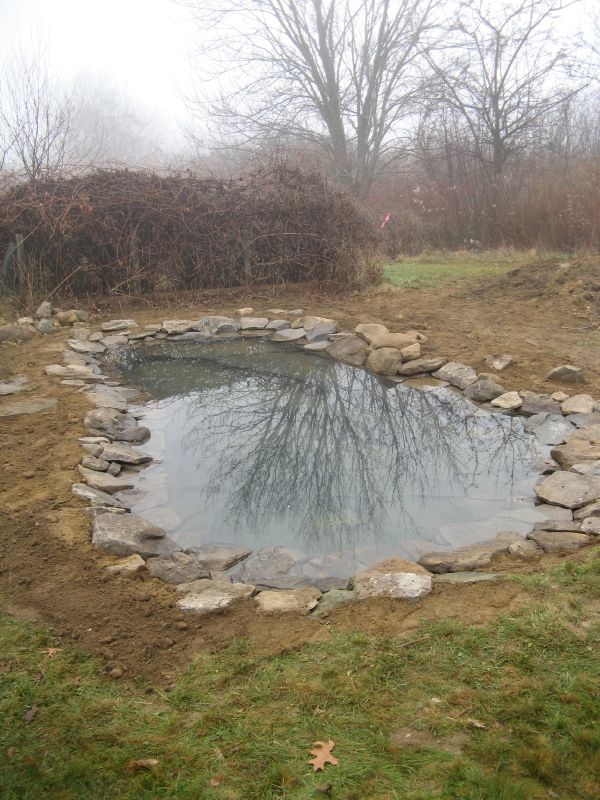 The pond is 19' long and 11' wide at the furthest points. The deepest point is 40", but the majority is much shallower. I had to go that deep because I plan to overwinter the turtles in it. A very rough estimate of capacity is somewhere around 2000 gallons. It has close to 3000 lbs of rock all around the edge. I would have loved to put some larger boulders around, but it was just me with hand tools. I still have to add some sort of fencing to keep the turtles in, and predators out. It will also give me piece of mind to help deter any little kids from falling in as well. I put up a silt fence in the meantime for that reason.