Hello everyone,
This forum is incredible and is viewed by many each day. I thought this would be the perfect place to share with you some of my favorite pairings so far this spring. First, I am a resident of California, but am allowed to keep up to a maximum of 30 captive-bred zonata because of my non-commercial permit. My wife also has the same permit so our household is allowed up to 60 captive-bred zonata at any time. I just wanted to quiet and comfort any legal questions this post might create.

Because of a nasty heat spell my area experienced mid-February I was forced to bring my snakes out of hibernation a half-month early; therefore breeding is now in full swing when normally they'd still be only feeding. I've had the great fortune to work with zonata as my study species for my graduate work for a long while now, so I've really figured these suckers out. Lately I've been fortunate to have females lay average clutches of 7-8, and even two years ago having a female lay 20 total fertile eggs in a single season (13 in her first clutch, and seven in her second)! So far it looks like it'll be another fruitful year with large clutches.
All the photos you'll be seeing will be adult breeding pairs, or single adult snakes that should breed this year.
This first pair is my only reproductive pair of Diablo mountain kingsnakes. It'll be the first year either of them will have bred, so I'm hoping for good results. The female currently has eight eggs and is swollen like a ballon.
This next pair is simply spectacular. These are Sierra snakes that are genetically unique. The hatchlings start out tricolored, but instead of having red pigmentation, the red is replaced with a lavender-grey/pink color (males always have brighter pink and females the grey). As they mature the scales with the lavender-grey/pink pigmentation change to black. Females tend to become complete bicolored serpents, while males generally retain a bit of their juvenile tricolor pattern. Either way this is a completely unique transformation that I dont' think occurs in any other Lampropeltis (both nigritus and gaigaeae turn completely black). My female laid thirteen eggs last year, and this year she appears to have fourteen follicles in her. The trait is a simple Mendelian recessive trait, so all my fourteen offspring will be black-and-whites! The male is the smaller one with the dirty tricolor pattern.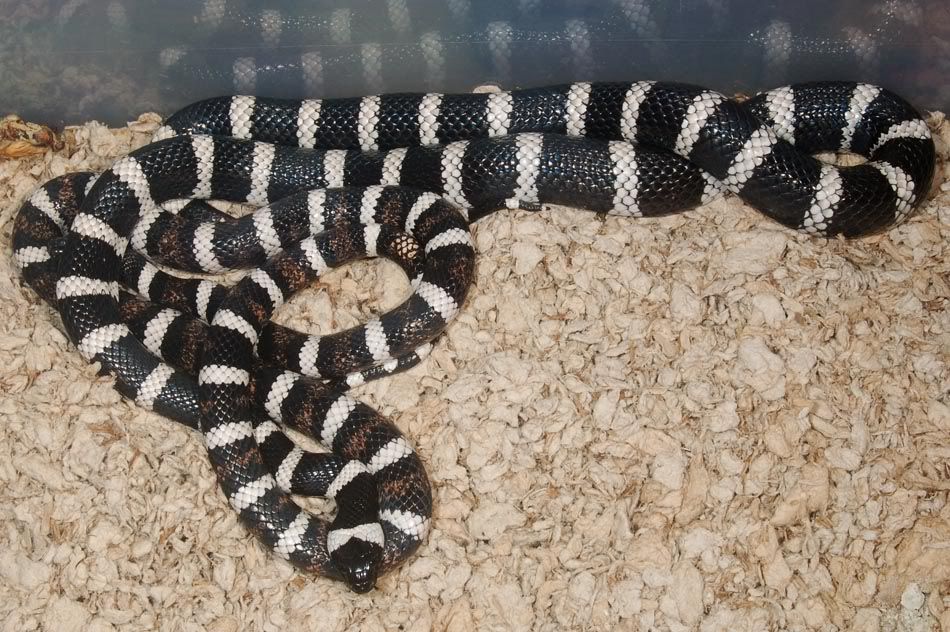 One of my favorite localities is one that Rick Staub established years ago. This is a pair of Tuolumne Co. snakes. Instead of having white rings, my male has full yellow bands; the female's bands are a cream-yellow, so their offspring should continue this trend. Both snakes are stunning and are exactly what I think of when I think of a classic Sierra animal.
Here's a small pair of Mt. Saint Helena mountain kings. The female is the fatty with the perfect pattern. The male is highly aggressive during courtship, always biting and holding onto the female.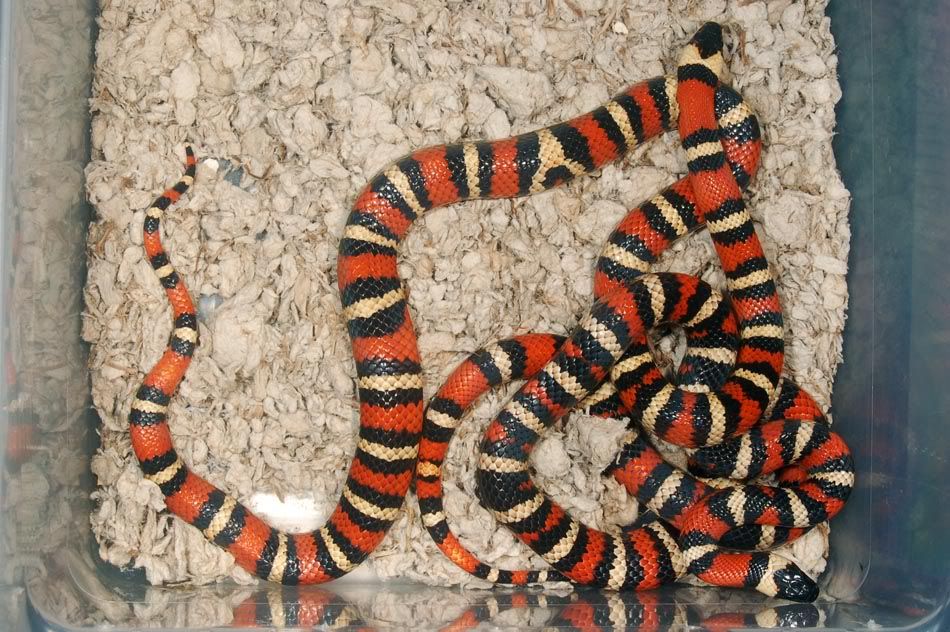 The rest of the pairings I'll share here will be coast animals. Coast snakes are by far my favorite subspecies of zonata, eclipsing the beauty of Baja snakes...in my opinion!
This is a classic pair of San Mateo Co. zonata. This population of San Mateo snakes differs greatly from their southernly Santa Cruz Co. brothers and sisters. San Mateo's typically have deeper reds, thicker black rings, and snouts with little-to-no color or mottling. Also, the triad counts of San Mateo snakes tend to be in the mid-twenties. The babies from these should be stunning little gems!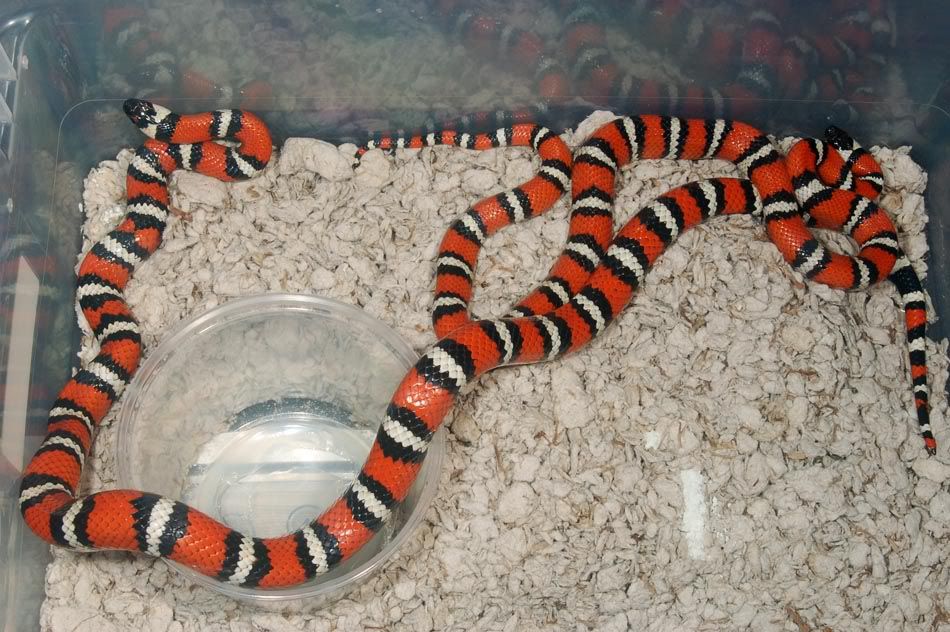 One of my favorite localities can be found in the Santa Cruz mountains. Here's a pair of first-year breeders. The female has six follicles and appears quite gravid. I love the perfect pinbanding!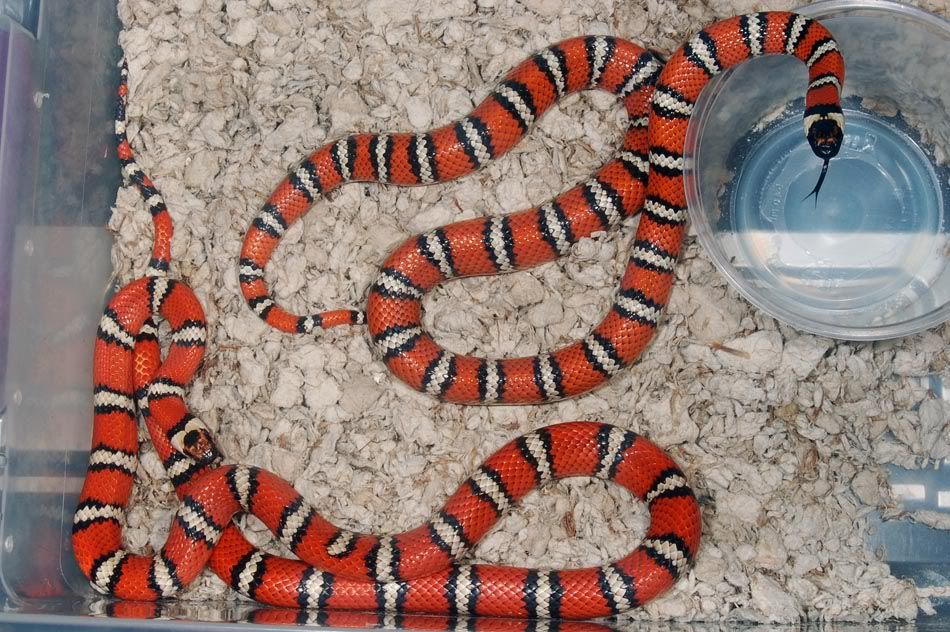 Most coast animals found in herpetoculurists collections originate from the Santa Cruz mountains. This pair, however, is from Santa Barbara Co.. They're a large, robust pairing. Last year the female double-clutched and she absolutely has the weight on her to do it again!
The next two pairings are from my favorite coast locality. There's a gene in this population that leaves the ventral surfaces devoid of pattern and solid white, and the majority of the snout and head a white or apricot color. I'm still not sure whether the gene is dominant or recessive, but from the five pairings I'm doing this year I will know for sure! This pair is simply stunning. Both whiteheads, the female is the big one with the crazy-cool head pattern! She also has eight eggs.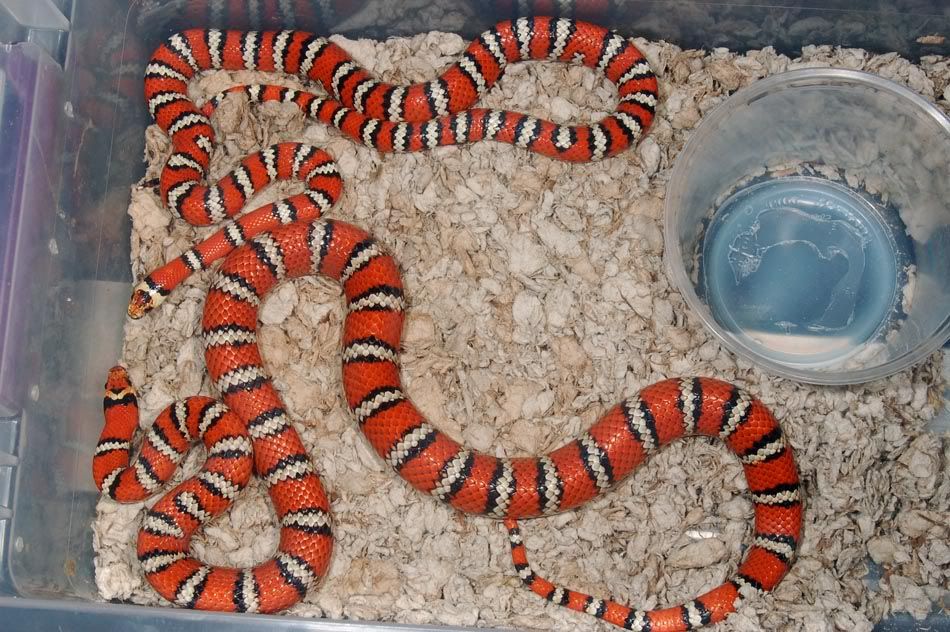 The female in this pairing was my favorite for many years. Three years ago she became eggbound and required surgery. She has since recovered wonderfully and has no problems producing fertile clutches; she's the one with the least amount of black.
While the two pairings above are from my favorite locale, these next two pairings are the ones I'm most looking forward to this year. The expression of the whitehead gene in this population (yes, the second distinct whitehead population with that gene - there was no crossing of lines) is much greater than the previous population's. The males in both of the next two pairings are the bright snakes with little-to-no black banding. Also, their red rings are instead an orange with severe fading in their centers. I love these pairs. The female in this pair has nine eggs.
The male in this pairing is the most stunning coast animal I've ever produced or seen. The female he has been bred to has ten eggs right now and is fat as a sausage!!
The following four females are females that will be paired with males as soon as they have follicles. The first three are from my first whitehead population and will produce simply stunning hatchlings.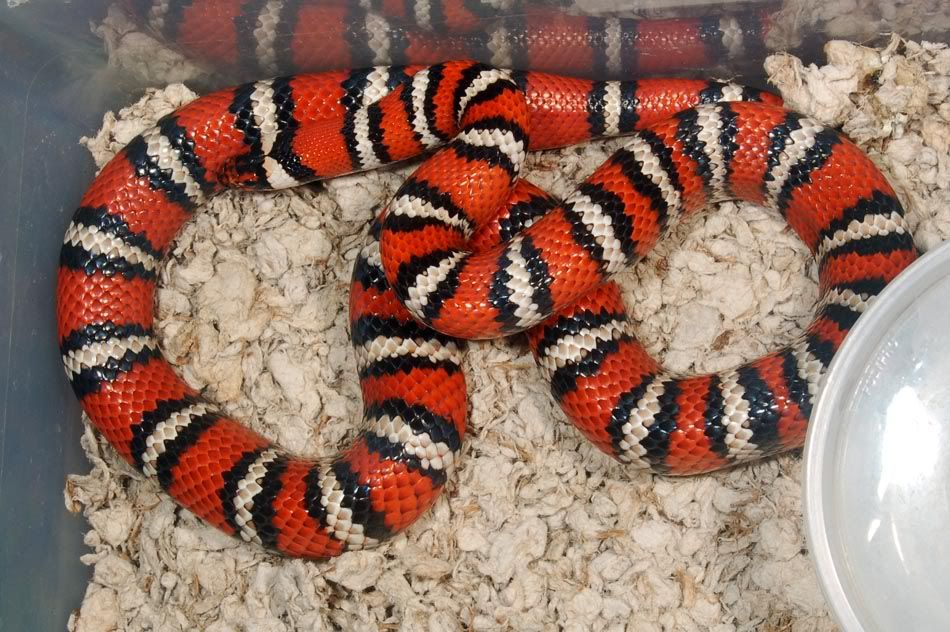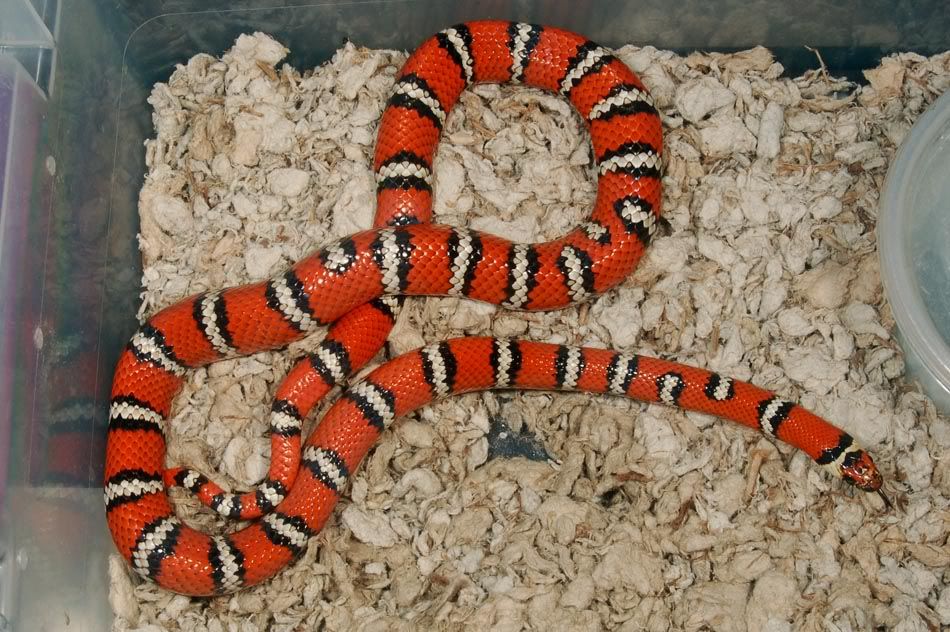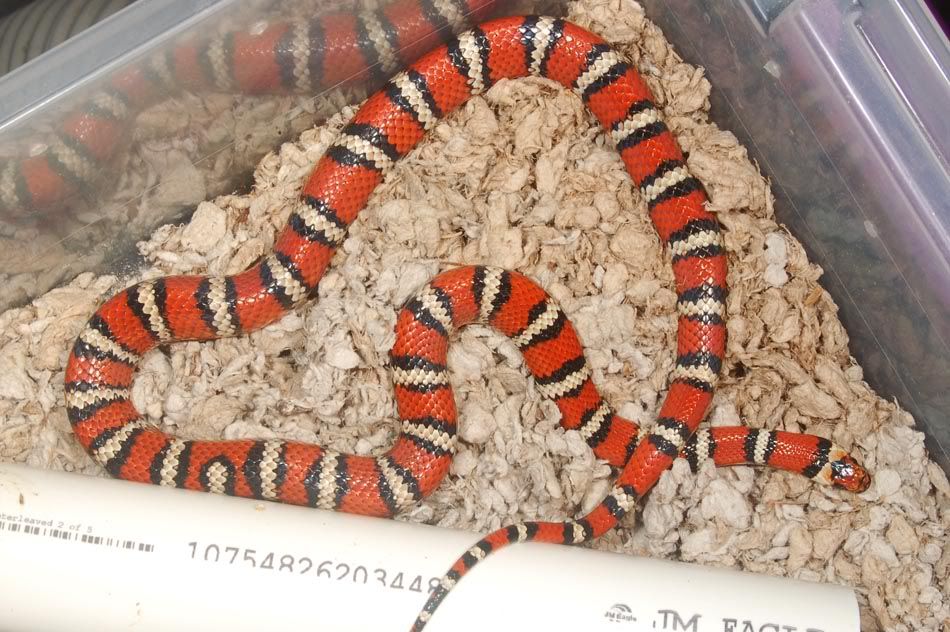 This last female is from Ventura Co.. It's a really unique locality that is pretty much absent in the hobby today. She produced four hatchlings for me last year and should make at least that if not more this year.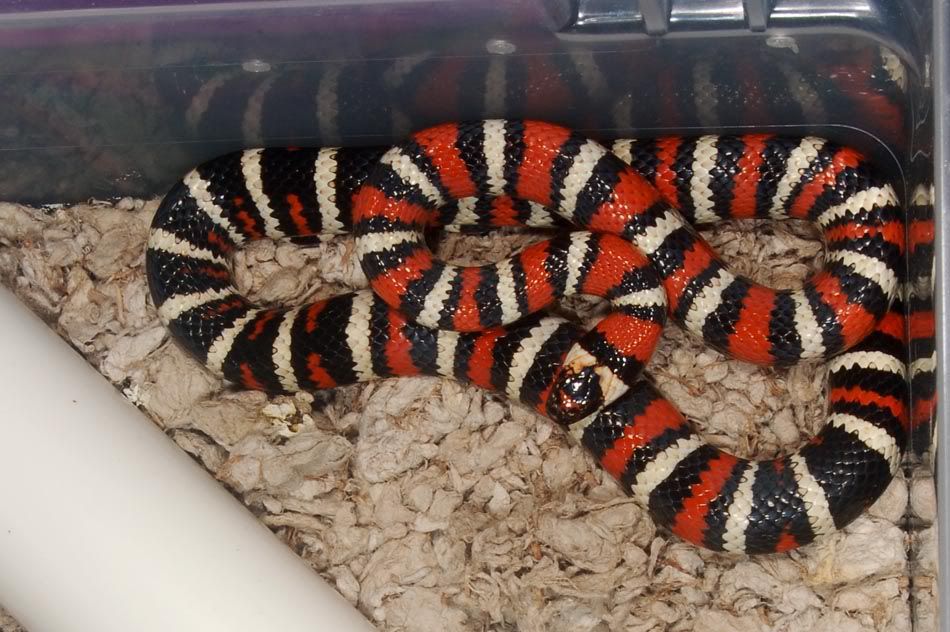 Not pictured are several other females that will go this year as well. All-in-all it should be a pretty productive year!
It should be obvious that from this many pairings I'll have a LOT of babies. I'm expecting over 100 babies. My permit only allows me and my wife to have a cumulative total of 60 captive-bred individuals. We'll hold back a few I'm sure, but in the end we'll have a buttload of hatchlings to find homes for. The kicker here is that, because these animals are a non-commercial species, whichever animals we choose not to hold back, well, they need to be gifted out to good homes! That's right, these hatchlings CANNOT be sold, traded, or used as barter...period! That means we have one option, and it's one I love to do - we GIFT OUT all our remaining hatchlings. Yes, they will be FREE. This is not a prank, or a joke. We're afforded the opportunity to work with a wonderful species, but we must abide by the State's rules. And honestly, I love to give these things away. I find most people truly love being gifted something that they either could never find in it's natural habitat, or couldn't afford because they are too darn expensive (this only applies to people outside of CA). Also, as long as we have our breeding stock this will be an annual occurrence. I find it repulsive that people get reamed financially if they want to work with some of these populations. Furthermore, many people too anxious to find their own animal cause more damage than you could believe to the snakes habitat in the pursuit of these gems in the wild. Hopefully by introducing over 100 FREE zonata EACH YEAR it will reduce the market value of these snakes and seriously lessen the impact of bad hunting practices on the habitat of wild populations.
Soooooo, WHEN hatchlings are ready to go I will be gifting out a ton. I WILL NOT gift a hatchling to anyone I feel will misuse the gifting and use the animal in any commercial aspect (i.e., trade, barter, are sale). This is really just a gift, and if anyone who receives an animal ever tires of it they should simply do what was done for them, gift the animal to someone else. I realize this is an unrealistic view, but I will do my best to practice responsible gifting to those who I think will truly cherish these little gems. Right now though there are no babies. And because I WILL NOT keep a waitlist or EVER promise a snake to anyone it really would be futile to contact me about acquiring a snake. When the time comes I'll make another post (or maybe amend this one) letting everyone know that FREE ZONATA are here! We should all be able to enjoy these snakes without having to give anything monetarily to do so. Remember, if for some reason I don't produce something this year....there's always next year...and the one after that...and the one after....and the one after that....
Mitch