Moderator: Scott Waters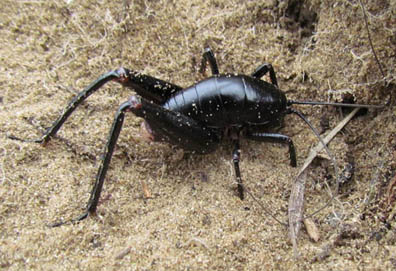 Found in the sandhills prairie of IL, there were a lot of these last year.
---
It reminds me of a weta of sorts, but I have no idea.
---
Posts: 634
Joined: October 12th, 2010, 10:05 am
Location: Utah
Contact:
Mormon Cricket Anabrus simplex probably a male as no ovipositor is visible.
---
It is probably just a very dark mormon cricket...but check out this species to be sure:
Utabaenetes tanneri
.
---
Posts: 235
Joined: June 7th, 2010, 5:38 am
Location: Hays, KS
Contact:
That would be Udeopsylla robusta. It can definitely look like U. tanneri, but that species is restricted to a couple dune systems in Utah and Arizona, while U. robusta occurs throughout the Great Plains.
---