chrish wrote:
Cat sightings are few and far between for most people, I think. Mine are:
Yeah, I can't imagine the luck of anyone who sees cats "a lot". (Though full-time field researchers doing their work at night probably get more chances than anyone.)
Mine are:
4 bobcats.
First was crossing a logging road at night as my dad and I were driving back from deer hunting. The other three were all crossing the same rural river-canyon highway on the same Kern County, California backpacking trip - the first an adult on my way in, then next two sub-adults just a few minutes apart on my way out - I figured those two were probably siblings that had only recently gone off on their own...does that make sense in mid-April though?
1 cougar.
A good friend and I were backpacking in the southern Sierras when we crested a small hill at 11,000+ feet. I was absorbed with watching marmots play when we suddenly saw a large shape fleeing from us about 100 yards away. We only got quick glances of it as it passed between boulders in the boulderfield - maybe 3-4 shots of less than a second each before it disappeared behind a ridge. But no doubt that it was the one and only cougar that either of us had ever seen.
1 jaguarundi.
My wife and I were staying in Cockscomb Jaguar Reserve for our honeymoon, but multiple simultaneous tropical depressions had kept us mostly off the trails. After three days of nothing but constant rain, the skies cleared for the first time and we went on a little hike in the morning. My wife had been a bit tired of my flipping earlier in the trip and had made an agreement that I could flip whatever I wanted, but she wouldn't stop and wait for me. Sure enough, on this little jaunt, I was in the process of flipping a log (finding nothing, as always) while she went on ahead, when she suddenly made a quick shout to me. I looked up just in time to see a jaguarundi flee off the trail. She said that when she had come upon it it had been stopped in the middle of the trail with its head down, sniffing at something....quite likely preoccupied enough that I might have gotten a camera shot if I had only been up with her!
3 leopard cats.
First one was in Lawachara National Park, treed next to the road past midnight, as a local researcher and I drove back from trying to find our pangolin. I was really proud of this one because due to a stuck window, I had spent the whole drive literally hanging out of the car with the door open trying to light up the trees and spot something. It paid off, with my only good cat pic. We were able to watch it as long as we wanted and take as many pics as we wanted...if only I hadn't had a crap camera at the time: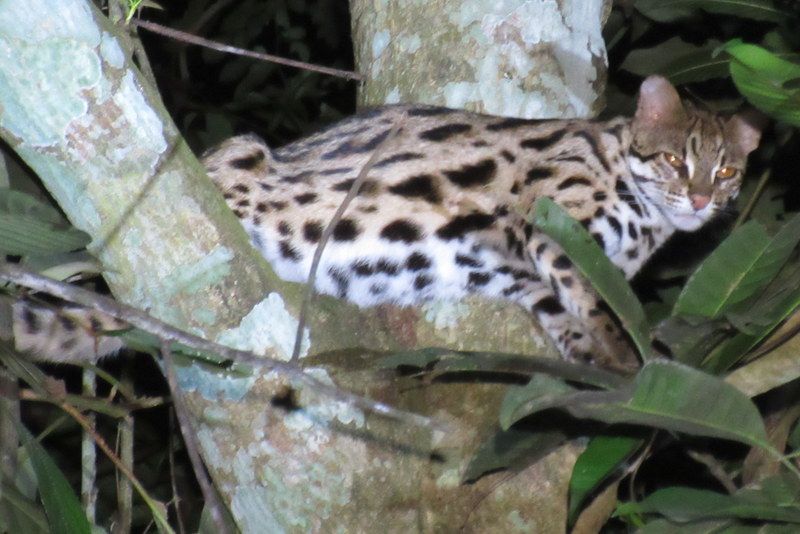 The second leopard cat was a few days later, also past midnight, while bicycling on the same road in the same area and might well have been the same cat. This time it was on the ground about 30 meters away from me. It stayed long enough that I certainly could have gotten a pic, but I didn't have a camera with me at all because the weather had been horrendously stormy for most of the ride.
The third leopard cat was on the same trip a week or so later, while boating in the Sundarbans. We were able to make three passes on it and see it every time. It looked like a sub-adult to me. This is Scott Trageser's photo: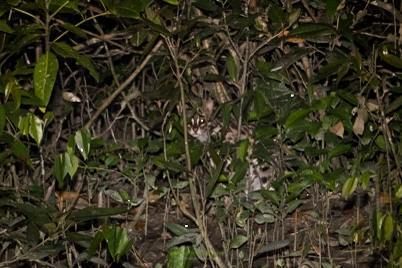 1 jungle cat.
While herping an open area just outside of Udaipur, Rajasthan at the tail end of a minor rainfall, I turned and saw some eyeshine sitting just 20 meters away. I couldn't quite figure out what it was, got my camera out, lost track of it, then found it again just in time to see the beautiful body of a Jungle Cat walking causally away parallel to me. Unfortunately, a bush was perfectly placed between me and where the cat was going, so that I had to keep side-stepping to keep the cat in view, and couldn't manage to keep my headlamp on track and focus the camera and pull the trigger at the right moment to get a shot in the dark. I got to watch it take 5-6 nonchalant strides before the trail it was going down disappeared into brush.
2-3 leopards.
Long story that I just told on the main forum, but basically I was stalking eyeshine in the dark which I thought was a small cat, when ma suddenly appeared in a flash and I realized it was a whole family. Only saw the mother leopard's body briefly, but it was from about 10 meters away. Watched her eyeshine appear in various places for close to 20 minutes. Only saw the cubs' eyeshine, never the bodies, and not sure if there was just 1 or 2 of them, because the eyeshine came in different spots but never at the same time.