In June I took a 2-week trip to Bangladesh in support of the Bangladesh Python Project. I got to spend 9 days in Lawachara National Park, then 3.5 days in the Sundarbans. Mammals weren't common, but some of the ones we saw were very cool.
Lawachara National Park
First off, the primate diversity is incredible. Lawachara only covers 12.5 square kilometers of forest, none of which is original mature forest. Yet there are 6 different primate species (3 macques, a languar, a leaf-eating monkey, and a gibbon) with several tribes each on that small space. On top of that slow lorises roam the trees at night!
The easiest primate species to see were the Rhesus Macaques (
Mucaca mulatta
)
I believe that Northern Pig-tailed Macaques (
Macaca leonina
) were also spotted, but I don't have pictures. I don't believe that anyone ID'd any Assam Macaques (
Macaca assamensis
), a notably ugly monkey.
On one of our first trips out in the truck to do a daytime trail transect, we heard the unmistakable booming calls of gibbons. Someone asked, "Do we want to stop"? A number of us answered, "Heck yeah!" So we put the truck into reverse and followed our ears. The gibbons were difficult to see from the road, but I climbed up the bank and got what I thought were some pretty good pictures. I've now seen two gibbon species, and both times the spotting came from the side of a road. It's incredible that this species has held on in a somewhat degraded area.
Hoolock Gibbons (
Hoolock hoolock
)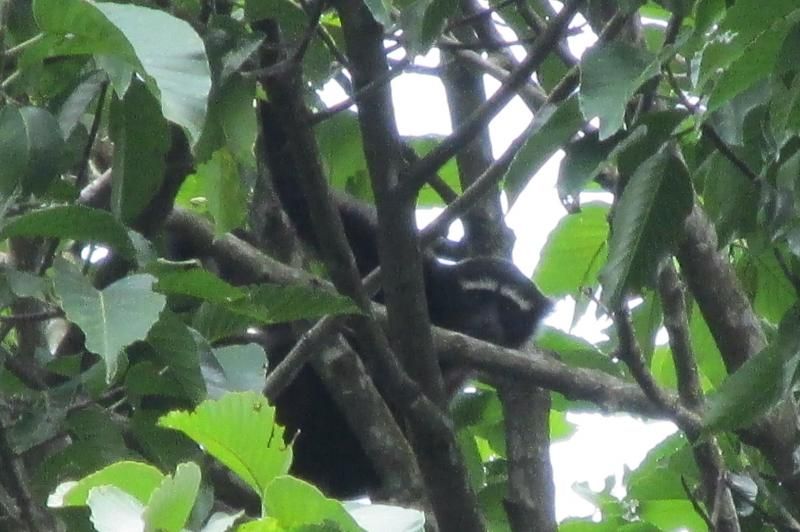 Several times we went out into the jungle around noon for dedicated mammal searches. (Yes, searching for primates in the middle of the day can be fruitful.) The first couple times we only saw macaques. But the third time we really hit the jackpot. First, after the usual macaques, we quickly encountered a group of Capped Langurs. I followed a big male through the jungle for a long time without getting a decent pic, but did photograph this younger individual well.
Capped Langur (
Trachypithecus pileatus
)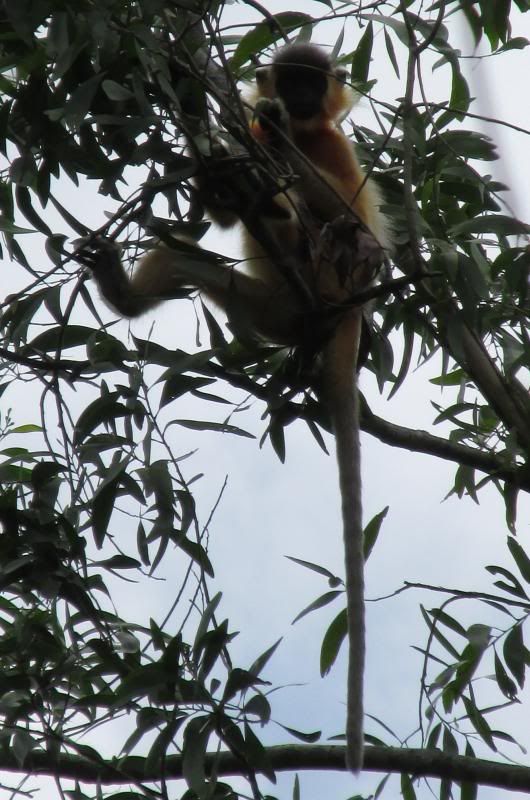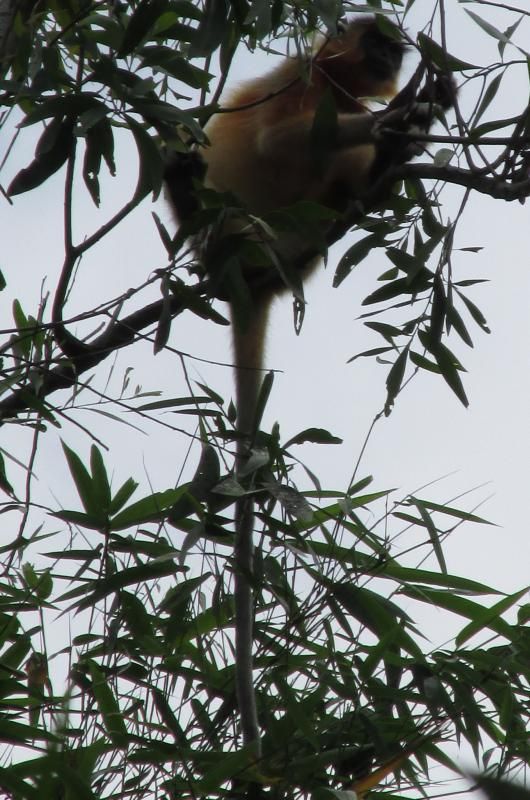 Then, just as we were heading back to the road, we encountered a group of leaf-eating monkeys, the diurnal primate I'd most wanted to see! A few people got a couple long-distance shots from the road, but I followed a conveniently placed trail and found this lone individual deciding to pose for me. My favorite monkey sighting ever.
Phayre's Leaf Monkey (
Trachypithecus phayrei
)
Non-primate mammals weren't as common in the park. A few young jackals played on the field just outside of our dorm and we saw them nearly daily, but I don't have pictures. Native wild pigs were seen on several occasions, including one whole family during a stream transect at night. At least twice we got good looks at barking deer while road-cruising, but not long enough sightings for pics. At least two shrew species (Asian House Shrews and some very small species) were seen at night. In the daytime Irrawaddy Squirrels played in the trees, and at night they were replaced by some species of rat. I did get one DOR rat picture:
The best mammal sighting outside of the primates was a brief sighting of an Indian Crested Porcupine at dusk right before a nighttime trail transect started, but only one person on the team saw it as it ran away into the undergrowth.
Our trip to the Sundarbans included a long boat ride just to get there. On the way we saw quite a few dolphins. During monsoon season the water is too fresh for the 2 saltwater species to be around, so we only saw the 2 more freshwater-loving species: the endangered Ganges River Dolphin (
Platanista gangetica
) and the Irrawaddy Dolphin (
Orcaella brevirostris
) as well. The Ganges River Dolphin was the much more commonly sighted of the two - I accidently deleted the one good photo I got (everything but the tailfin out of the water!), but here's a decent look at the characteristic lack of dorsal fin.
Within the Sundarbans themselves, the most common mammal was Spotted Deer
Axis axis
, which were extremely common. Here they can be seen with a Rhesus Macaque (
Macaca mulatta
):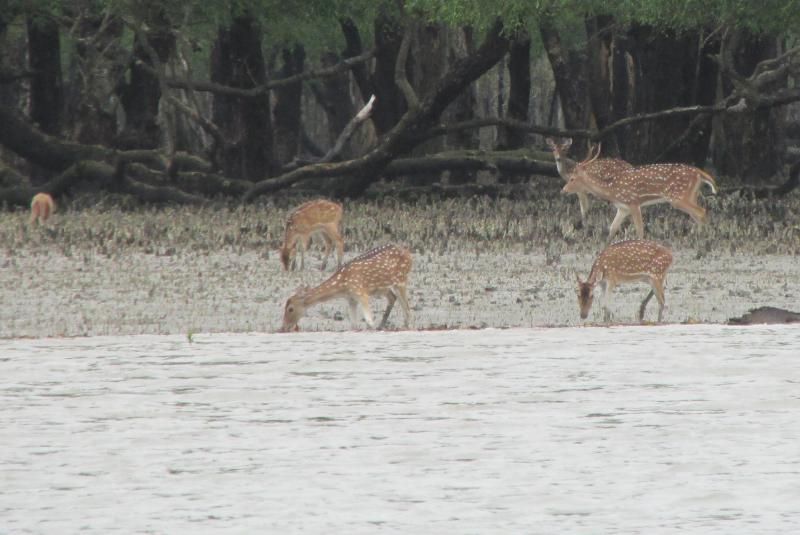 Once again some species of climbing rat was seen in the trees at night. The most famous mammal of the Sundarbans, the Bengal Tiger, was never seen, but we did get tracks on at least two occasions.
Thanks for taking a look! If you want to read my trip reports that I did for the Living Alongside Wildlife blog, they can be viewed here:
Part One:
Snake Call! An introduction to the Bangladesh Python Project
Part Two:
Travelers and Transects: Our role helping the project
Part Three:
Stubborn Students and Kanai's Krait: the Bangladeshis we worked with
Part Four:
Pythons and the land: is there space for us and wildlife to coexist?