I recently spent a month in Bangladesh. (Though only about 3 weeks in the field instead of the planned 6, sadly.) Ran into a bit of a rough patch in the trip, which I'll post about someday, but right now I just need to brag about a ridiculous rash of great mammal sightings. Mammals were common whenever I went out at night - it felt like every night I'd see at least jackals, civets, and either barking deer or wild boar, and about every third night I'd get something really cool. And when targeting primates at day we were almost certain to get three species at least, sometimes more.
All pictures taken with my crappy little point-and-shoot, so I couldn't do justice to how ridiculously close and extended a lot of these encounters were.
Here are my top five experiences, in no particular order.
1) Riding my bike down a jungle road at 1:00am when my headlamp catches the hugest freaking eyeshine I've ever seen, in a tree just off the road. Slow Loris!!! Just sitting there on a branch only 10 meters away from me. Awesome, awesome creature.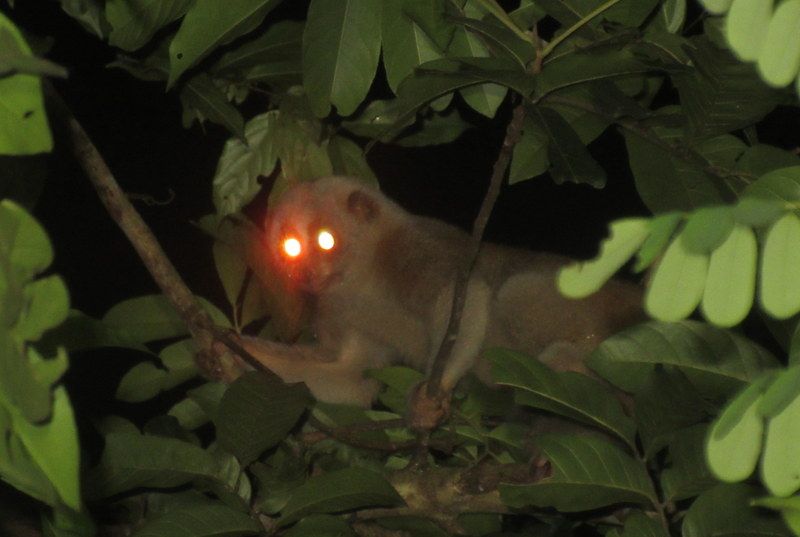 2) I'm crossing a stream in the jungle when I catch eyeshine up in the tree. It's a Masked Palm Civet just sitting on a branch. He's only about 7-8 meters off the ground, so it surprises me that he doesn't flee right away when I get close. I start to take pictures, then notice that he's not fleeing because he's got a huge freaking snake that he's gnawing the head off of.
Masked Palm Civet with possibly an Oriental Rat Snake (
Ptyas korros
)
3) 5) I was walking through a flooded field at night, recording frog calls, when I heard a rustling in the nearby bushes. I'd had Wild Boar problems in this area, and thought, "Okay, here comes the encounter." I took my backpack off (my shield), lifted my stick into position (my weapon), and got ready for the charge. I hear two little grunts, and then two small shapes come bursting out of the bushes. For a moment I think "baby boars?", but then I realize that the first shape is a Golden Jackal and the shape chasing right behind it is a Small Indian Civet. The sight was so incredible that I didn't even think of lifting my camera. The civet chased the jackal (over twice his size) right by me, passing with 5 meters, then across the field until they disappeared into bushes in the distance.
4) We were coming back from radiotracking a pangolin at 1:30am in a stuffy car whose windows wouldn't roll down. I thought, "Screw this, I'm not wasting a road cruise without being able to shine the trees." So I get a good grip on the front seat, open up the car door all the way, and hang my entire upper body out the door so I can shine my headlamp on the trees above. I do this the whole way back and we're only about a mile from our place when I see eyeshine in a tree. Is it a civet...but wait, it has spots...."LEOPARD CAT! LEOPARD CAT! LEOPARD CAT! LEOPARD CAT! LEOPARD CAT!"
My first Asian cat! We stop the car and run back, and it's just sitting there all beautiful. Let us take as many pictures as we wanted and fawn over it as long as we wanted until we're ready to leave.
5) Oh, wait, did I just casually say, "pangolin" in that last story?
Chinese Pangolin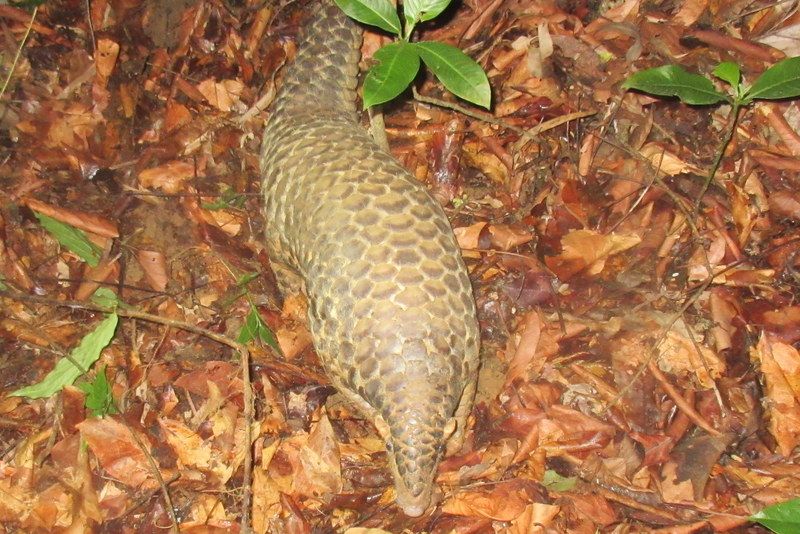 If you have any corrections, especially on the rodents, would love the assistance.
Total species list for trip
(Everything except the Sundarbans species - fruit bat, dolphin, otter, and spotted deer - was found in tiny Lawachara National Park)
Indian Flying Fox (many seen at dusk on way out of Sundarbans)
Greater False Vampire Bat (seen under bridges several times)
Indian Pipistrelle (common everywhere at dusk)
1-2 other Bat sp., probably including Fulvous Fruit Bat and/or Short-nosed Fruit Bat
Shrew sp., possibly Southeast Asian Shrew (seen several times)
Asian House Shrew (several DOR and a DIO)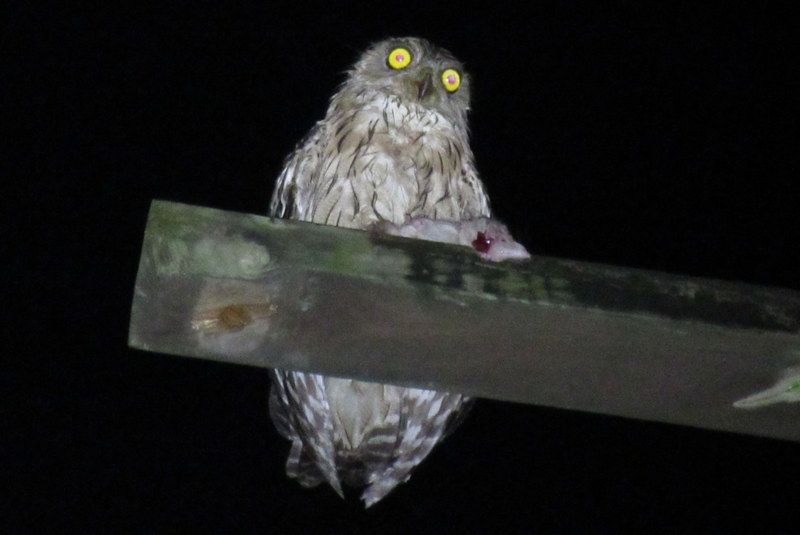 arboreal Rat sp., possibly Asiatic Long-tailed Climbing Mouse (common)
Orange-bellied Himalayan Squirrel (seen once, others have photos)
Irrawady Squirrel (common)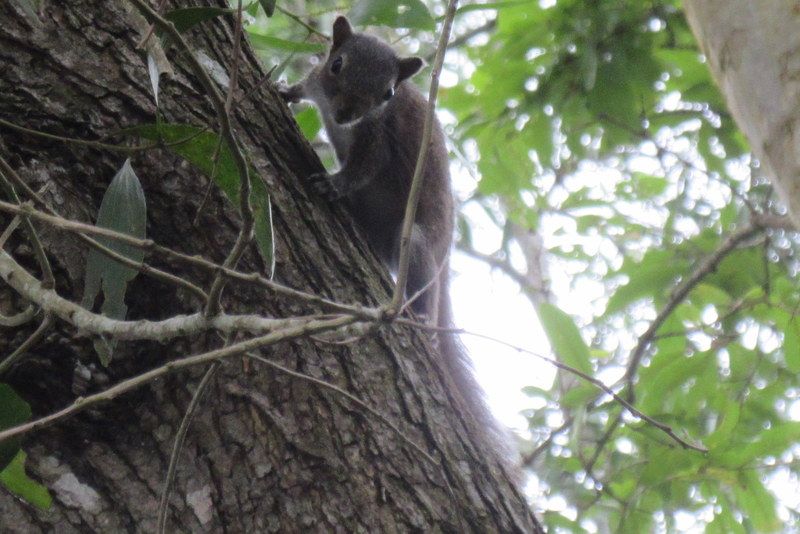 Particolored Flying Squirrel (just this one)
Brush-tailed Porcupine
I was fairly deep in the jungle and trying to cross an area where fallen trees had destroyed the trail when I saw something in my headlamp. Thought it was going to be another hog badger, then quickly realized it was a porcupine. The little guy ran around in tight circles for a second trying to figure out where it was supposed to run, then disappeared under some fallen trees. From the relatively uniform appearance of the spines, I'm 70% confident it was a brush-tailed porcupine.
Crested Porcupine
I was road-cruising on my bike at night in an intense rainstorm, and had to give up my camera and gear to the car because everything was getting soaked. During a brief respite from the storm at about 1am, I saw a crested porcupine crossing the road in front of me. Not having a camera, I decided to approach closely and see what it would do. I stopped the bike about 10 feet away, and it didn't care, just walked slowly, sniffing the road. After a little bit longer, I decided to see if I could get even closer. When I was 3' away, it finally ran from the road. 100% confident on ID.
Chinese Pangolin (just the one above)
Masked Palm Civet - common, usually high in trees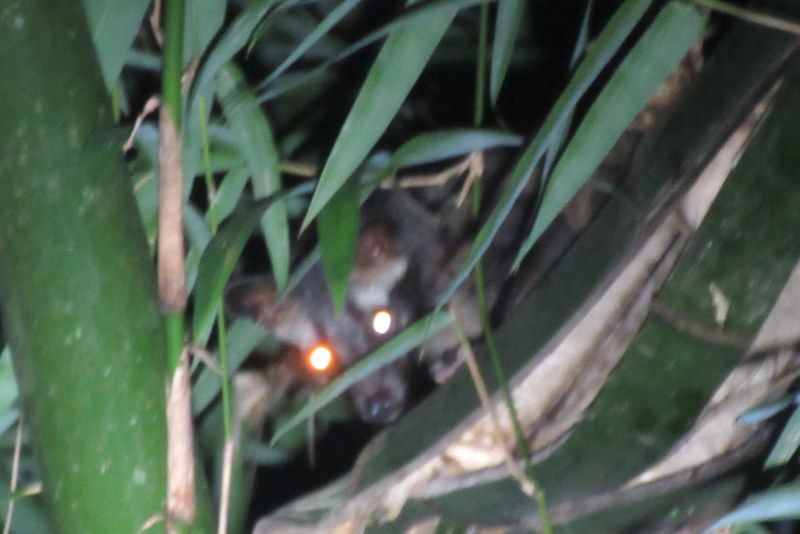 Common Palm Civet - common, lower on trees than MPC and sometimes on ground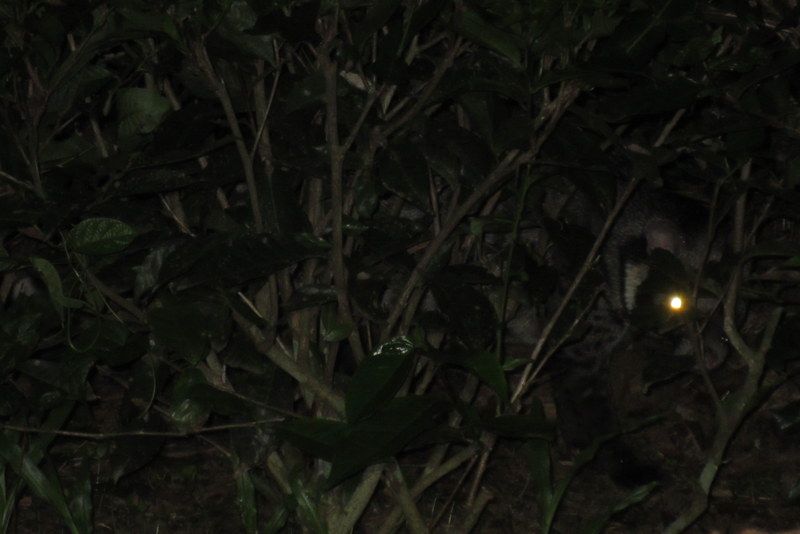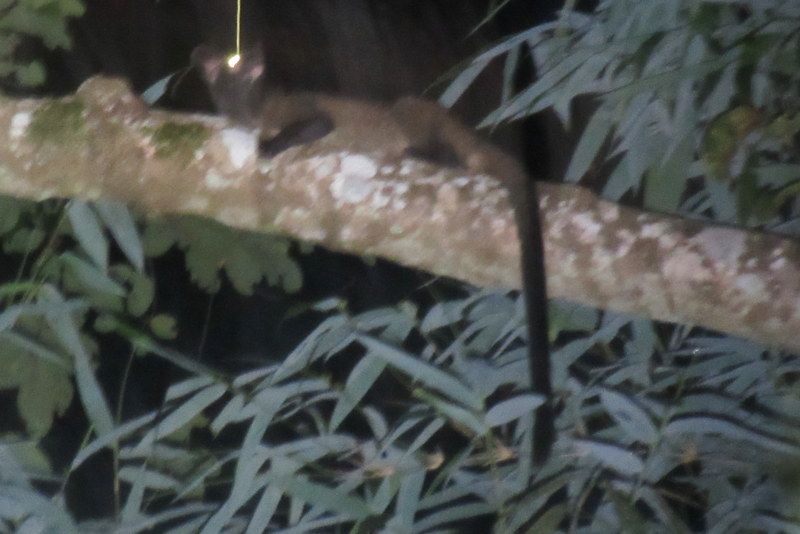 Small Indian Civet (Only the incident described above)
Large Indian Civet (Spotted in tea plantation at night while road cruising on bike. 70% confident on ID.)
Small Asian Mongoose (probably, 2 sightings)
Hog Badger
I was riding my bike down a trail at night when I saw eyeshine running across the forest floor towards me. I braked the bike quickly and pointed my headlamp towards it. The low, stocky, gray creature spun around about 10 m from me and went back the way it had come, loping along. No pics, 80% confident on ID.
Smooth-coated Otter (probably)
We were specifically boat-cruising for otters in the Sundarbans during the day when Mary-Ruth and I saw one on the base of a leaning-down tree about 3m back from the shore. It quickly turned around when it saw the boat and fled back into the forest. No pics. 90% confident on ID.
Golden Jackal - extremely common, up to 5 at a time, but don't like the camera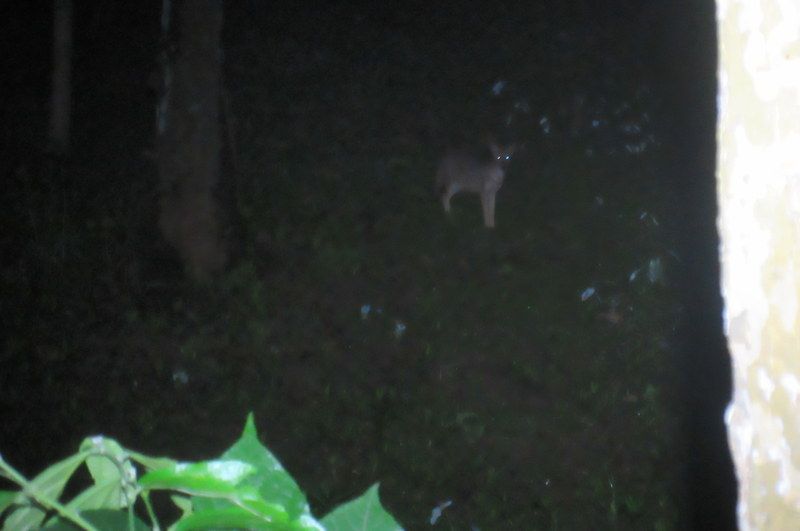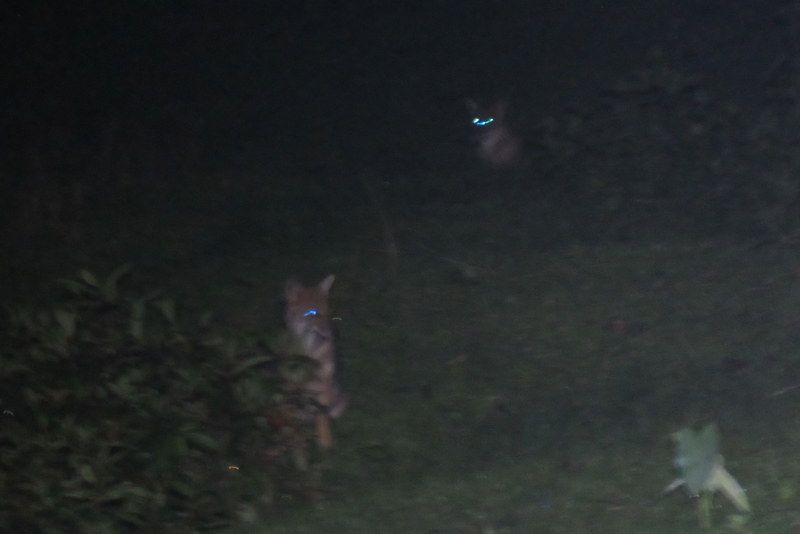 Leopard Cat - 3 sightings, 1st described above, 2nd on ground 30 m from road during same stormy road cruise as porcupine (approached to 15m), 3rd in Sundarbans 10m from boat on shore (Scott Trageser has those pics).
Bengal Slow Loris - 6 sightings of 4 animals, usually very late at night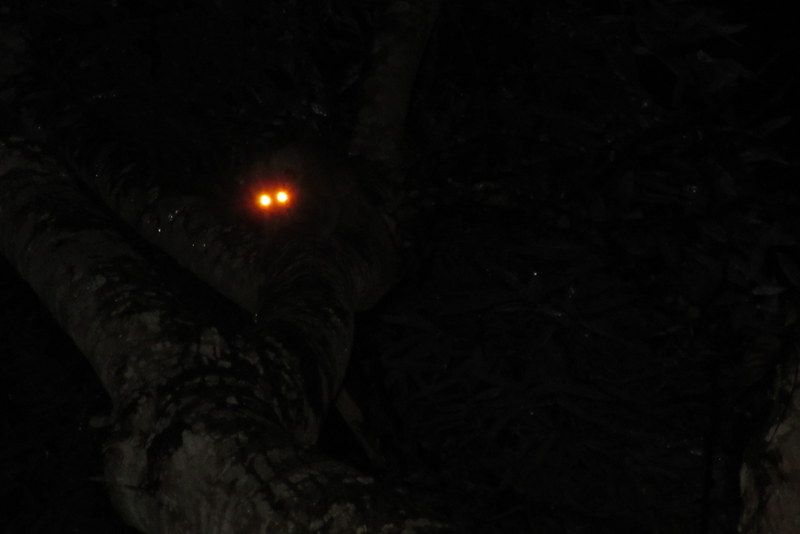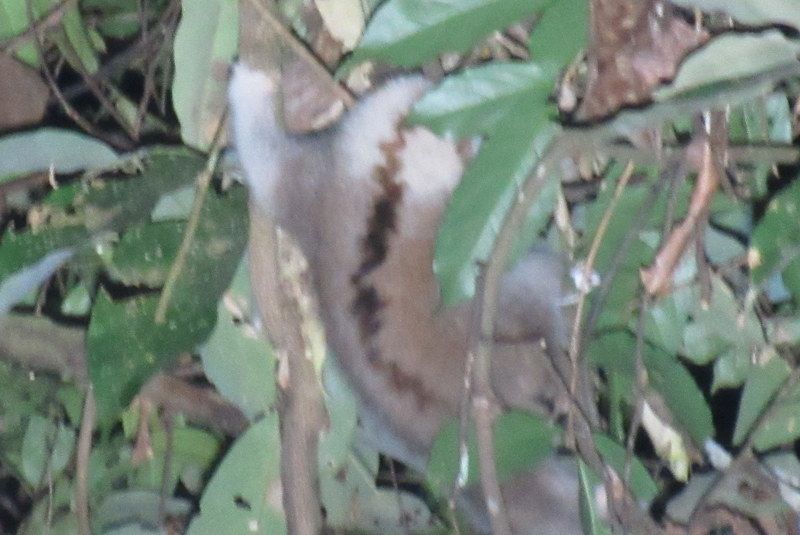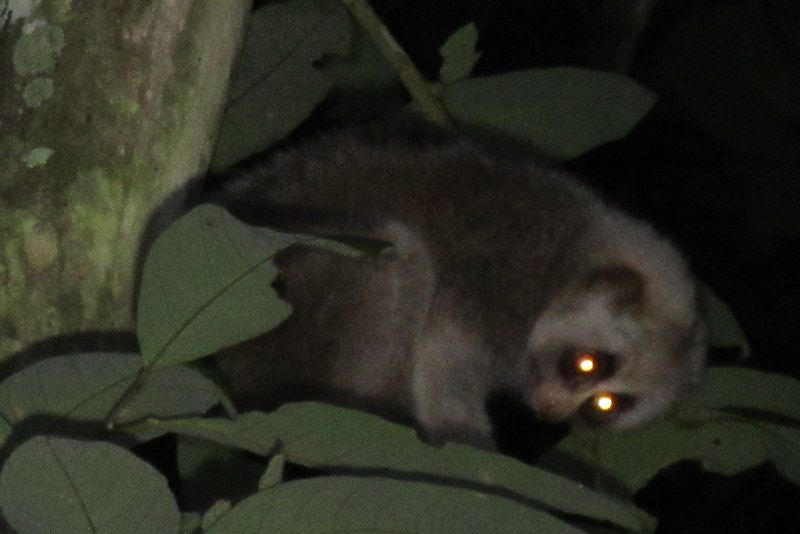 Rhesus Macaque - extremely common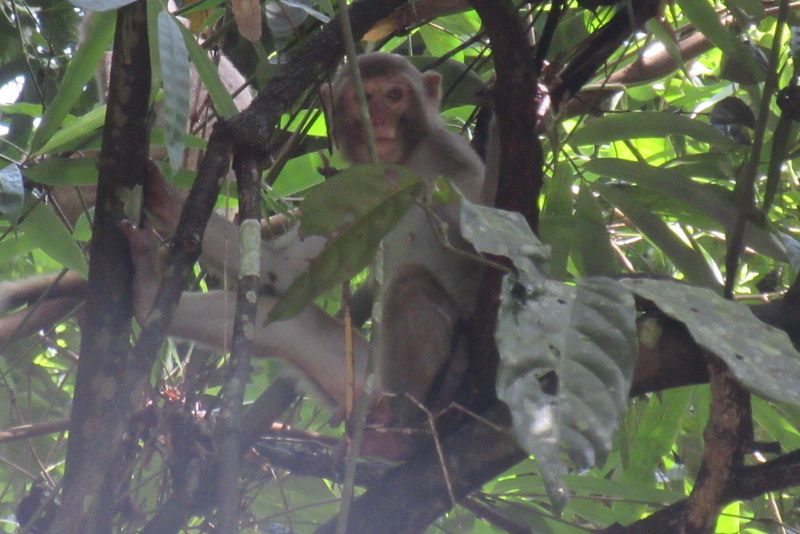 Northern Pig-tailed Macaque - not common, but spotted now and then (not 100% on these shots, but saw others that were confirmed pig-tailed)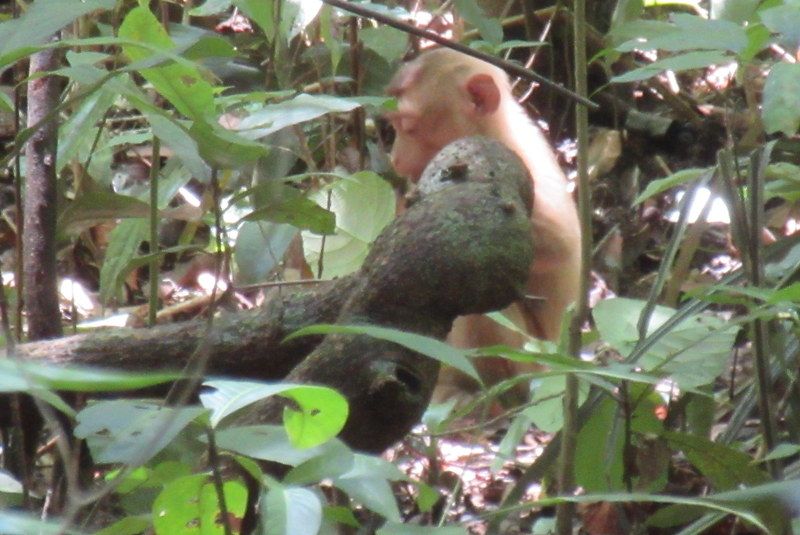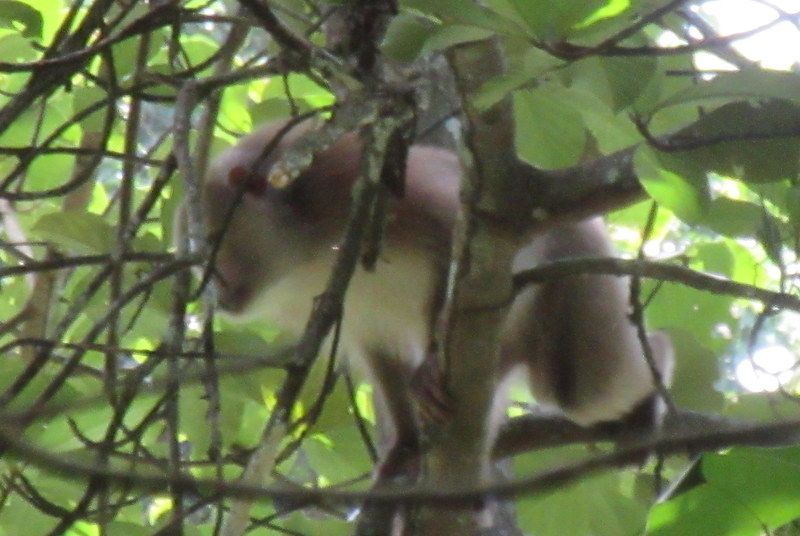 Capped Langur (Saw them 3-4 times this year, but I never got pics.)
Phayre's Leaf Monkey - found them every time we looked for them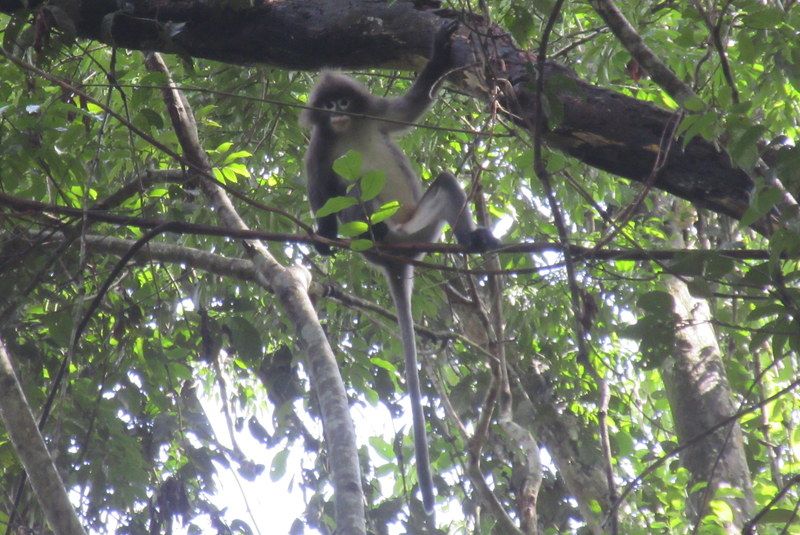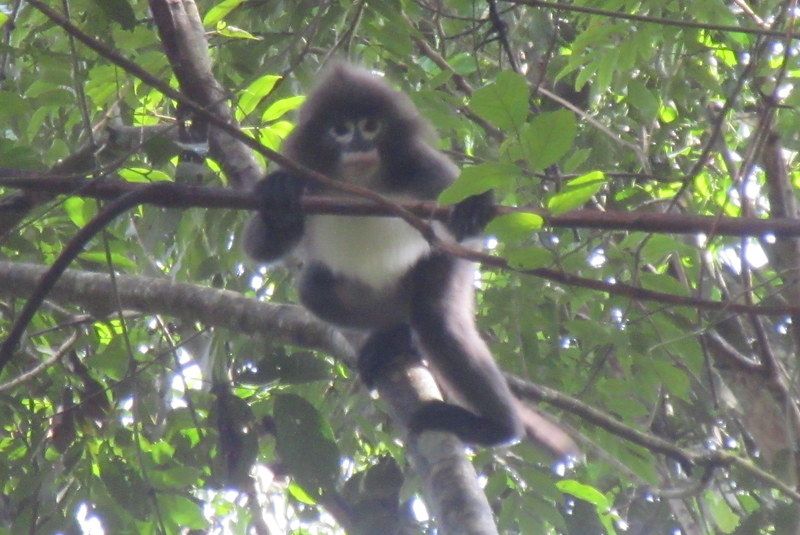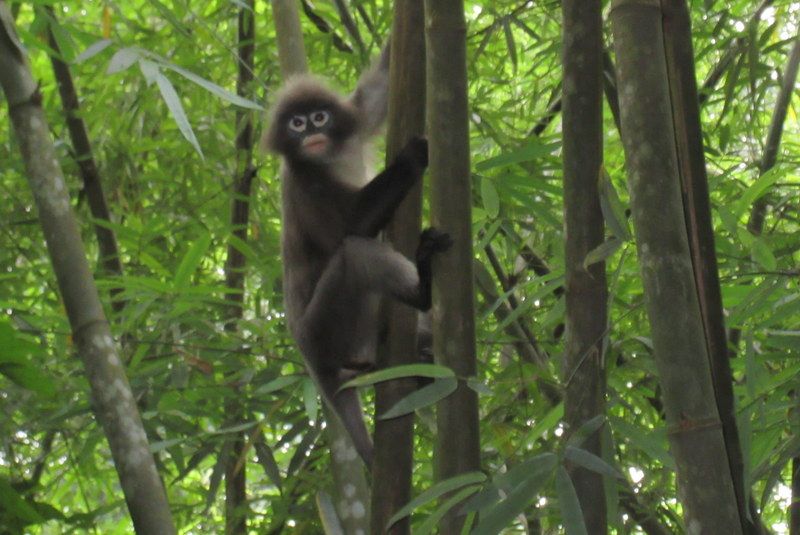 Hoolock Gibbon - found them every time we looked for them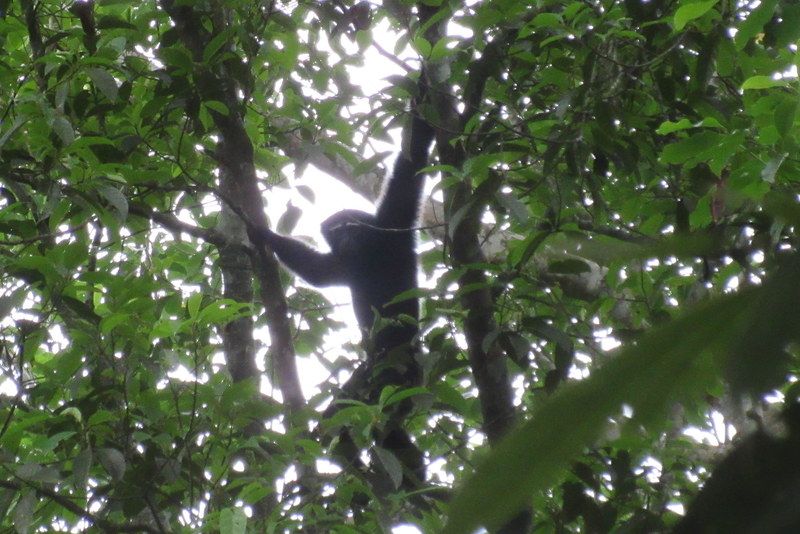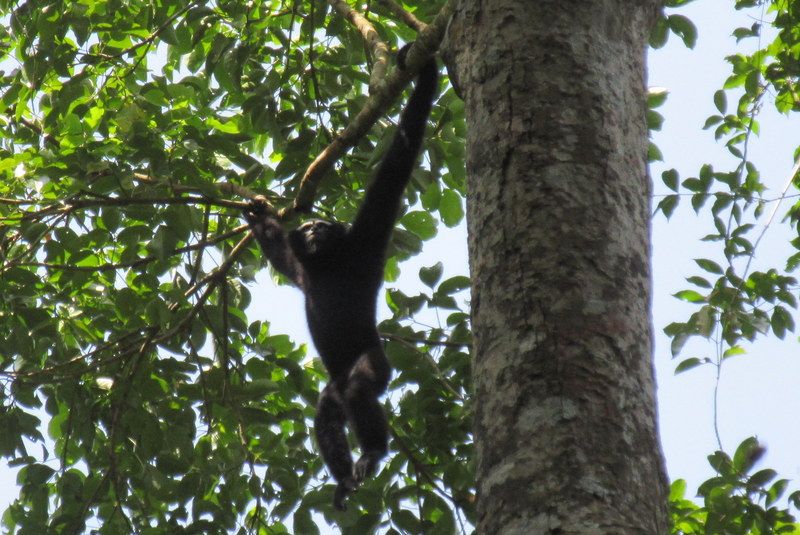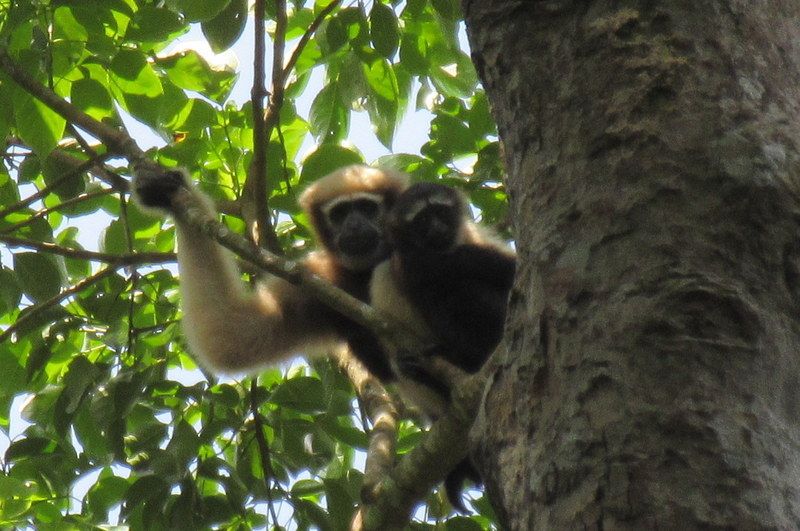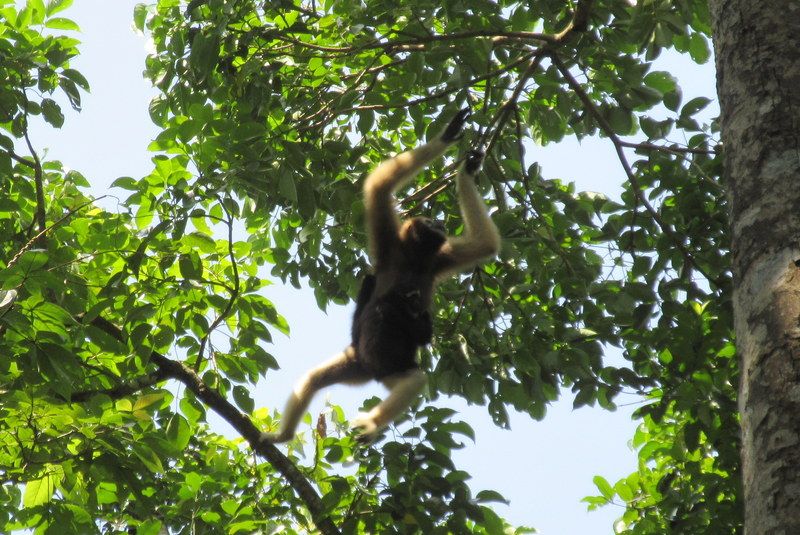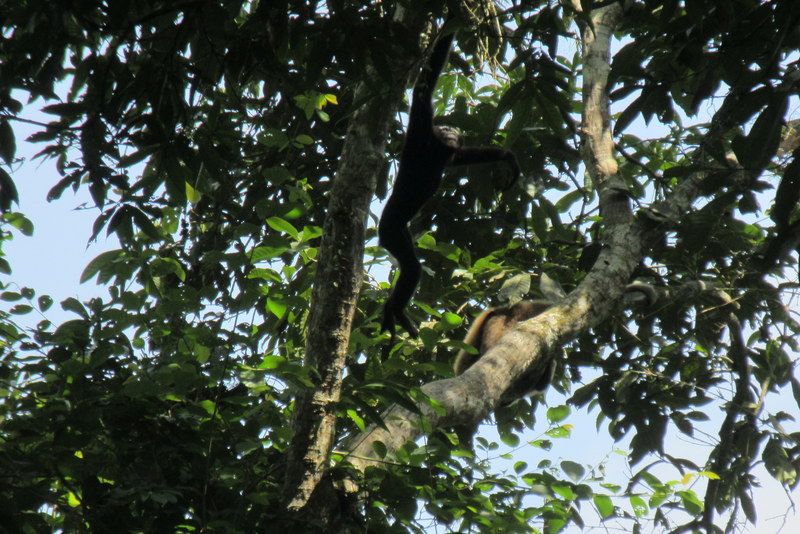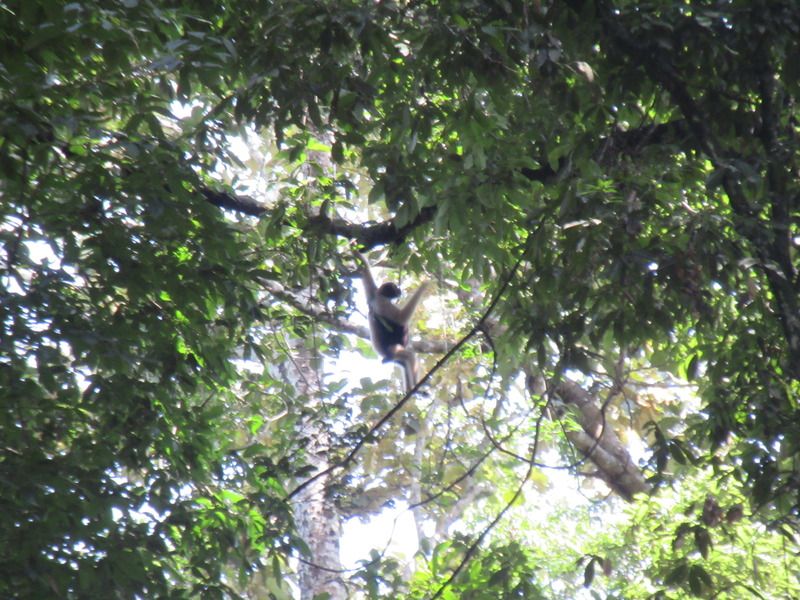 Wild Boar (Quite common, but they got spooked every time I saw one and I prepared for a charge instead of getting my camera out)
Barking Deer - common at night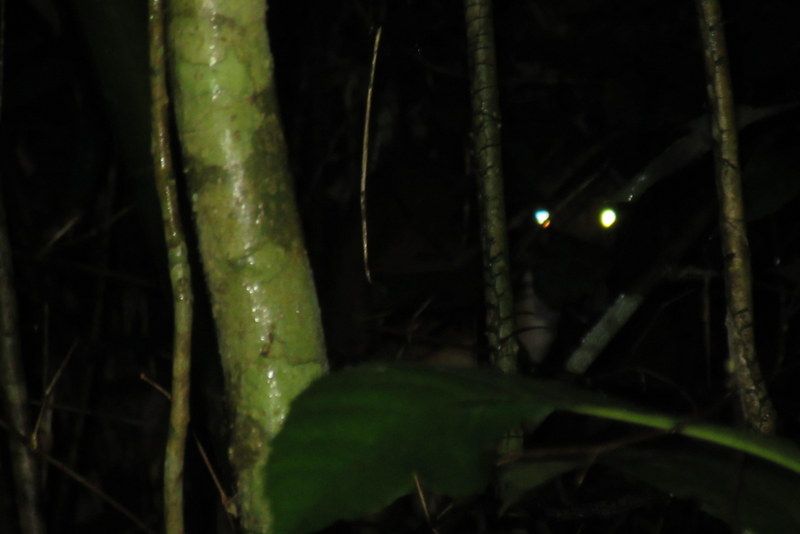 Spotted Deer - extremely common in the Sundarbans both day and night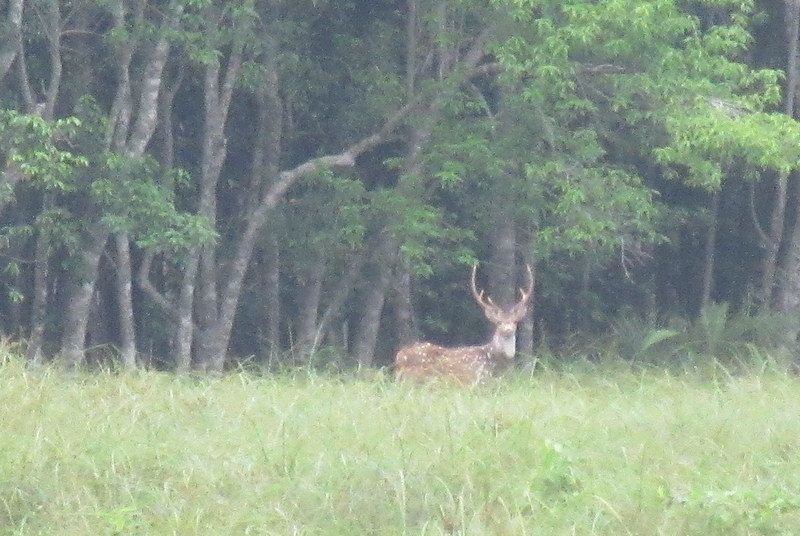 Ganges River Dolphin (Common in the river leading to and from the Sundarbans)
32-33 mammal species total, including 6 primate species and 9 carnivores, not to mention 2 porcupine species and a pangolin! I couldn't have asked for more. Thanks for taking a look.