My 6 year old daughter, Bailey and I belong to a daddy/daughter group called Adventure Princesses. Yesterday I led a small group of our "tribe" on a herping jaunt. I took them to an old standby spot that I've been going to for almost twenty years. The first board we flipped housed a gorgeous, freshly shed kingsnake.
The girls. Olivia, Hannah, Hannah G, Georgia, Kalea, and my daughter, Bailey's arms (takin' a pic)
Georgia, admiring the king. This girls was really taken by all the snakes! We may have a future herper here.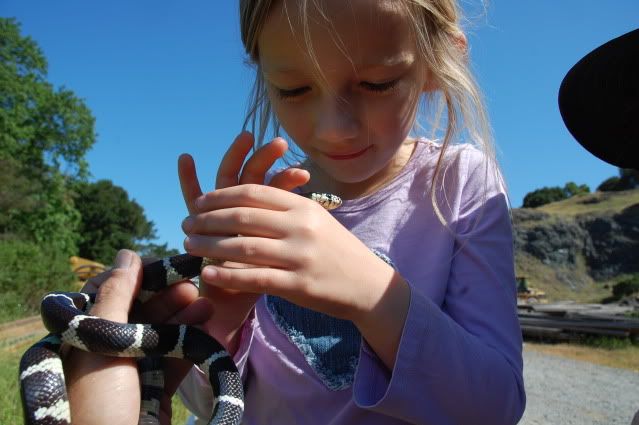 Georgia and Hannah G, diggin' it.
Then in the same area, they got to see a basking Rattler. Lots of oohs and ahhs but no pic. I showed one of the dads how to catch a lizard with a piece of grass. So he made grass nooses for everyone, and they all went nuts chasing lizards around. Meanwhile I found a ringneck and everyone got to hold it. Again, no pic.
We all went lakeside, to settle in for a pic-nic. I went to flip a small rock, and a massive coast garter bolted from out of nowhere. I dove and got it. much to the shock of a couple of the dads. I don't think they thought an old guy could move so fast! In about twenty years of coming here, this was my first gartersnake in this area. I HAD to catch it!
Me and the beast
The beast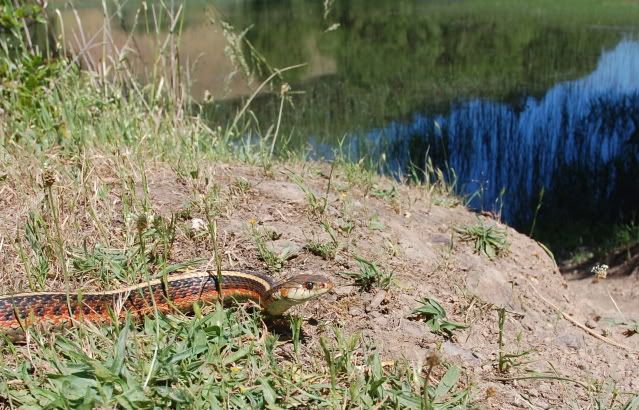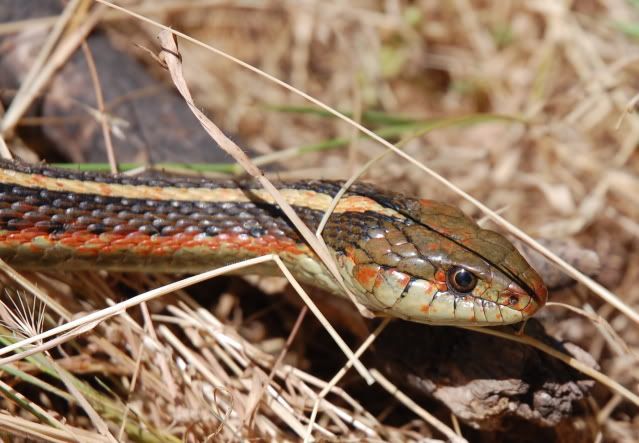 Bailey misplaced her favorite pink water bottle somewhere, so I went to look for it. On the way back, This pretty gopher was in the path.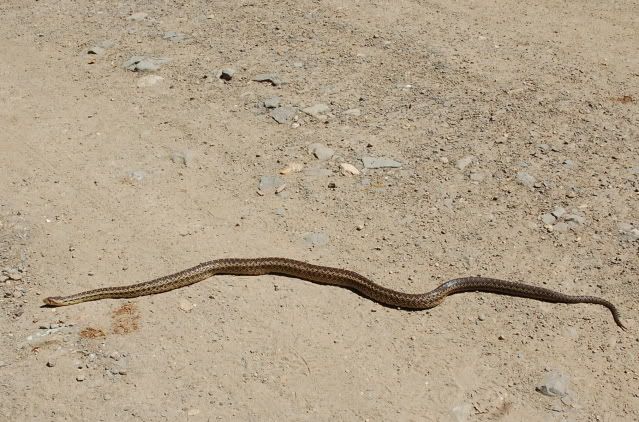 It was a great morning and fun was had by all. We saw five species of snake in two hours. On the way home, I was driving over a hill and as I came around the bend, I scared the two dads who were with me, by slamming on the brakes and yelling at the on coming car "Don't hit it!!!"...The car straddled the already clipped gophersnake. I got out grabbed it, took a couple of bites to the hand and prodded it down the hill. It had a small bit of road rash and maybe a couple broken ribs, but it was fine and feisty. It'll live to dodge cars again....