I've been in a few different counties lately. Only one was an actual herping excursion. But as obsession has its grip on my endeavors, I made sure to include some sort of herping along the way.
First, I took another trip to Gettysburg. This time with five kids in tow. I didn't do any herping, however on the battlefield I was quite satisfied when Wes yelled, "Dad - SNAKE!" This was totally unexpected. For those of you who have been to Gettysburg you know there are some more popular spots than others. Well, this was a very popular spot; just off to the South a few yards. I've included some proud kid shots with the gorgeous, underappreciated snake. Just as it finally calmed down, I declared to the troops, "See... Once its not being handled so much it settles down. I'm gonna take it over here for a more natural picture." Much to my dismay, the rat then chewed on my elbow in front of five horrified kids and my womanfriend.
Oh well, at least it didn't bite any of them and we got the shots.
Eastern Ratsnake... Pantherophis allegheniensis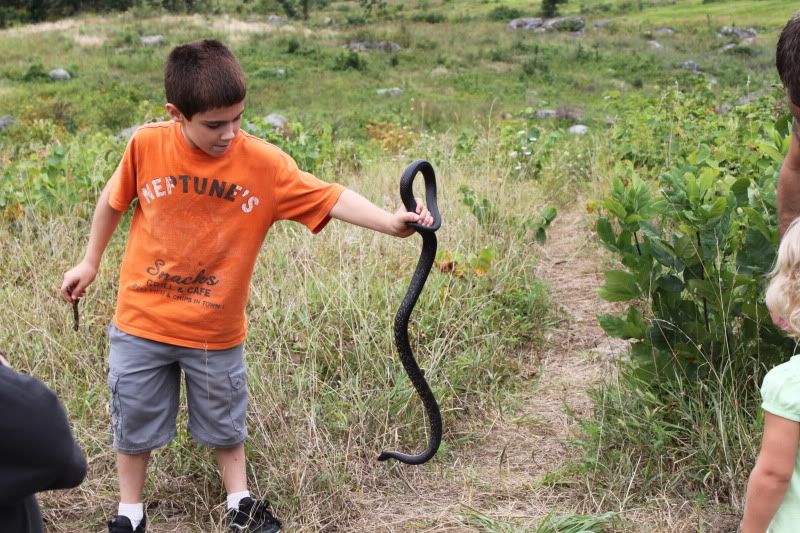 The only other non-roadpizza herp I saw on the trip was jumping in Bloody Run. The creek is actually Plum Run, but was nicknamed Bloody Run because it was said to have ran red for days following the battle.
Pickerel Frog... Lithobates palustris
Two days after concluding our camping trip to Gettysburg, I took my three to Knoebel's. Knoebel's is a nostalgic amusement park nestled in the mountains of Central PA. It is affordable and a big change from the theme parks near major cities. Less crowds, nicer people, and a trip back to friendlier days. I would highly recommend it if you find yourself near it.
Anyway, I knew I'd be herping the campground and of course, I mapped out some spots to check along the way. The first spot I checked was a timber spot I had discovered the year before. I was hoping I had nailed the time perfectly to see some out and hopefully, see some newborns. That ended up fruitless though. I arrived too early on the scene and the little sun that I had that day was not hitting that particular rock outcrop at the time. I found some pretty recent looking sheds though, so I knew that maybe my timing was just a bit off. *The pic is of the most intact shed that I found later that week... more on that to come.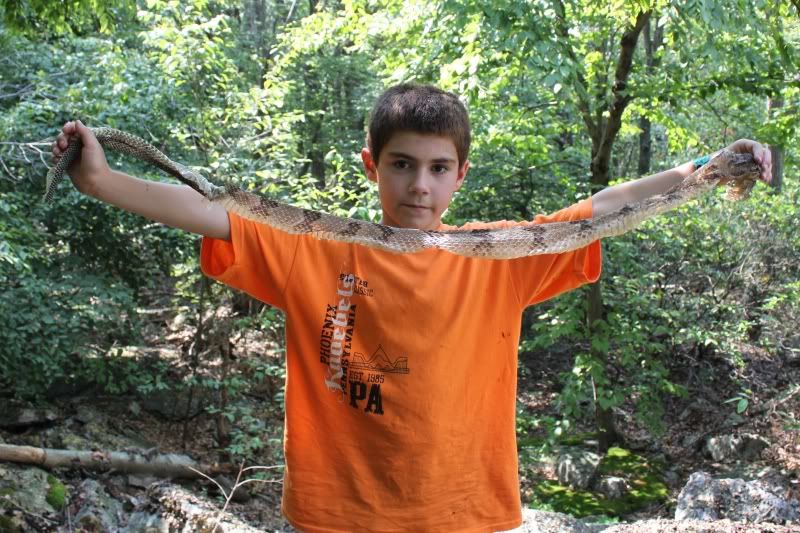 That was a bust, but I flipped the ever-present ringneck on the way out, thus cementing the first snake of the trip and guaranteeing there was no skunkage. Although well North of their Southern subspecies, this snake had plenty of belly markings.
Northern Ring-necked Snake... Diadophis punctatus edwardsi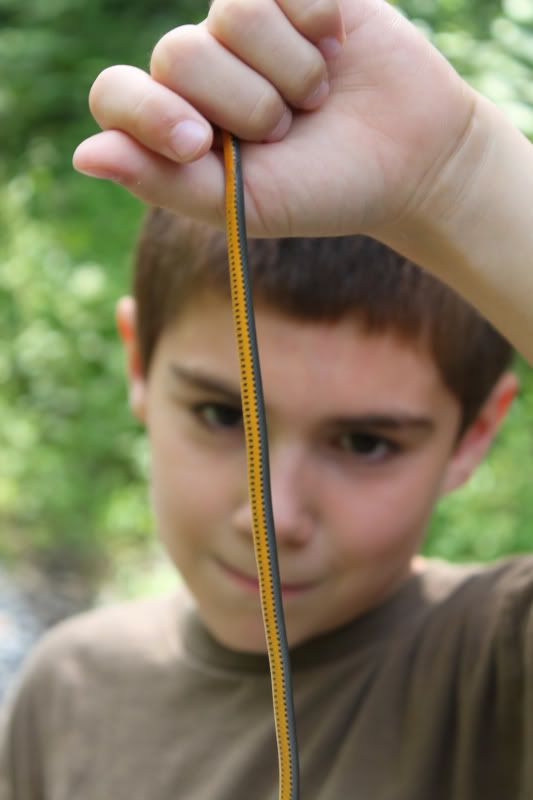 Off to our next spot... I had at least one more spot to check before hitting the campground. I expected to be able to drive a road that I satellited, but it turned out it was closed to motor vehicles. There was noway I was walking four miles in and out with a three year old. I herped in the general vicinity and turned up some common amphibs that were new to me in the county. The stop ended up providing the database with four county records, so it was well worth it. The snakes I had hoped to find were in rock piles, too far from my parked truck, mocking and laughing at me. Here's a sample of what I found:
Eastern Red-backed Salamander... Plethodon cinereus
Northern Green Frog... Lithobates clamitans melanota
Red-eared Slider... Trachemys scripta elegans
This was in a pretty remote place. Twas a shame.
And one (well many) of my favorite, underappreciated species:
Red-spotted Newt... Notophthalmus viridescens viridescens
I had a few more spots along the way, but they didn't end up panning out. I did, however, see a promising path off a side road and decided to follow my gut. I struck out on snakes again, but flipped these two toads.
Eastern American Toad... Anaryxus americanus americanus
The highlight of my day was flipping and subsequently viewing scampering fence lizards. While I can see them by the bucket full in NJ, these are supposed to be a very hard find in PA. These, along with the toads provided two more county records for the database. *I should be entering them first before this post, but oh well.
Eastern Fence Lizard... Sceloporus undulatus
After that, I decided to head to the campground. The following is what I found over the next few days, in no particular order. ...Three of which were more county records! (I ended up walking with like 9 kids by myself at some points so excuse the lack of quality pics.)
Tons of greens...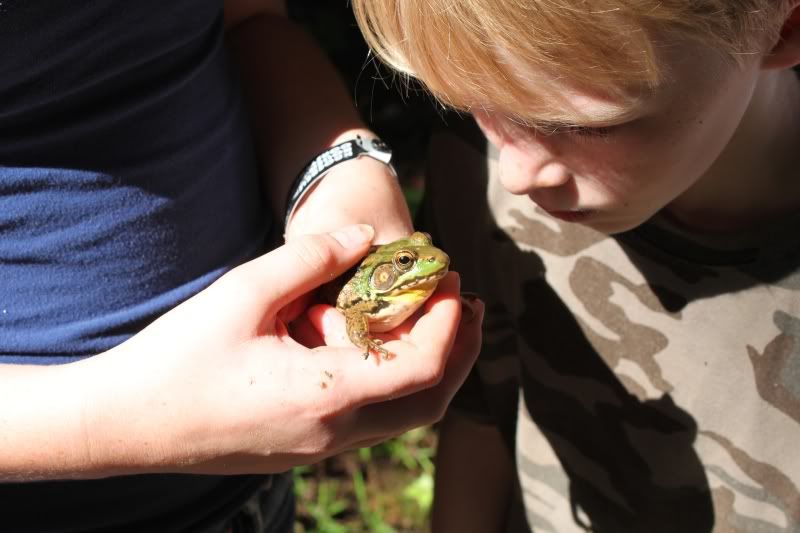 Tons of redbacks...
Spotted Salamander... Ambystoma maculatum
Northern Dusky Salamander... Desmognathus fuscus
Northern Two-lined Salamander... Eurycea bisleanata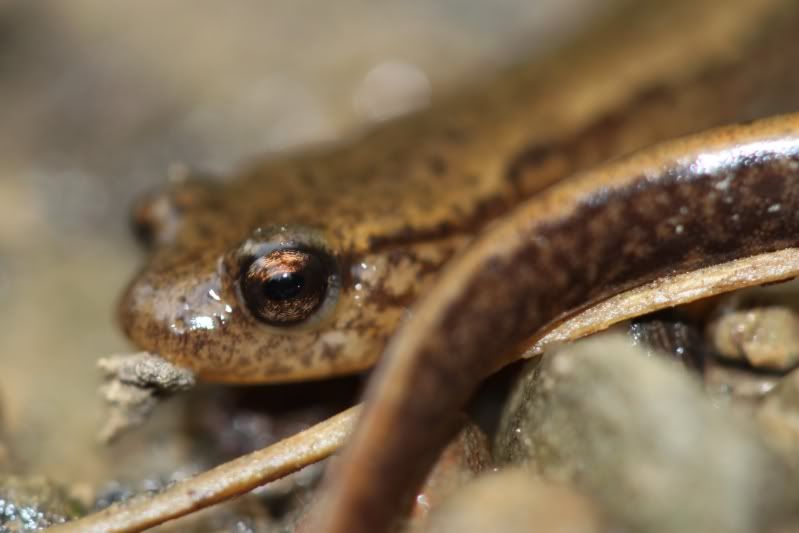 Fowler's Toad... Anaryxus fowleri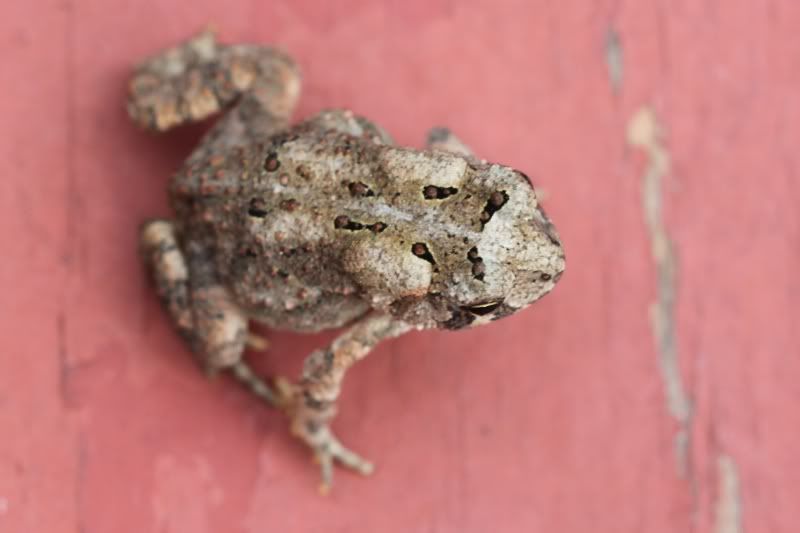 Northern Water Snake... Nerodia sipedon sipedon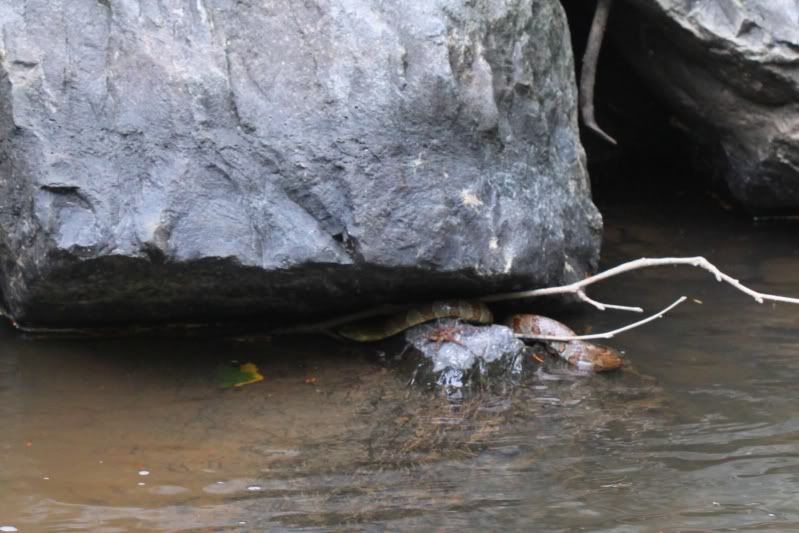 The day I left, I decided to take another route home for a virtually untouched county. I ended up getting stung four times when I flipped a yellow-jacket nest. This kinda ruined my mood, and I headed toward home. I did, however, get one more county record with a DOR black rat. If you wanna see the road jerky, it will be in the database by the end of the week. Otherwise, may I point you to the nice live version at the beginning of this post.

As the pain subsided and the swelling began, I lightened up and scouted some areas for next year. I didn't bother herping as I had decided I would check for timbers one last time since it was later in the afternoon and the sun was shining.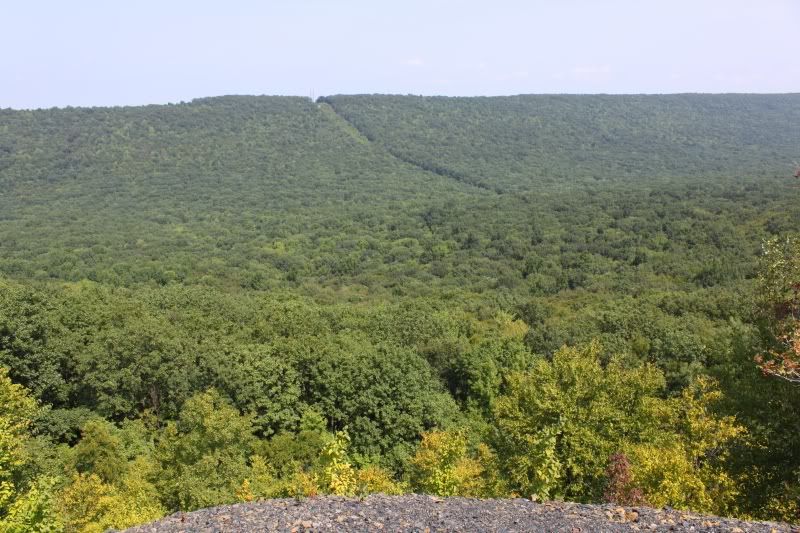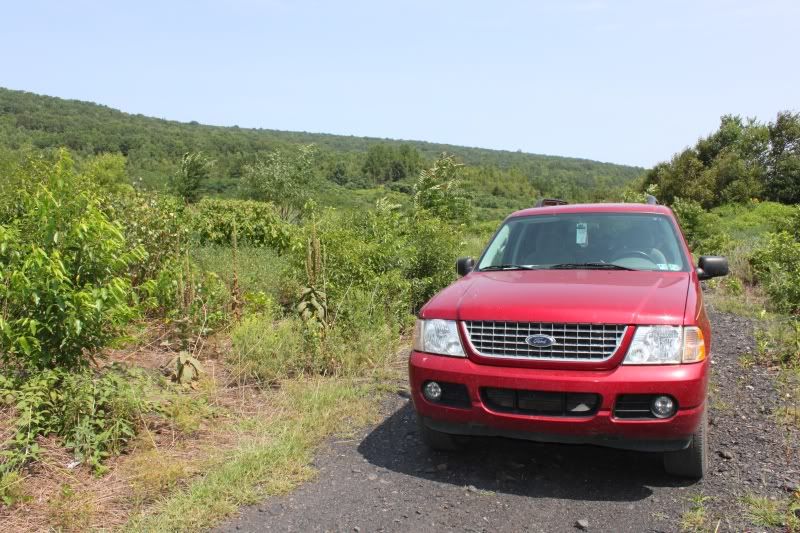 Ok... off to the timber spot. I could smell the babies. When I arrived, there were none. Hmmm. Maybe I'll try back in September. I'd like to make a disclaimer that I don't harass these snakes one bit. While I do have a hook in my car in case I ever cross one on the road, I don't even take it out to hike with. Anyway, I was rewarded with two adults. One rattled immediately and fled the scene. The other was content to hang out all day. It didn't rattle or budge once. I'm guessing it was sleeping. The first pic is the best I got of the fleeing rattlesnake. All that follow are of the "cooperative" one.
Timber Rattlesnake... Crotalus horridus
As found: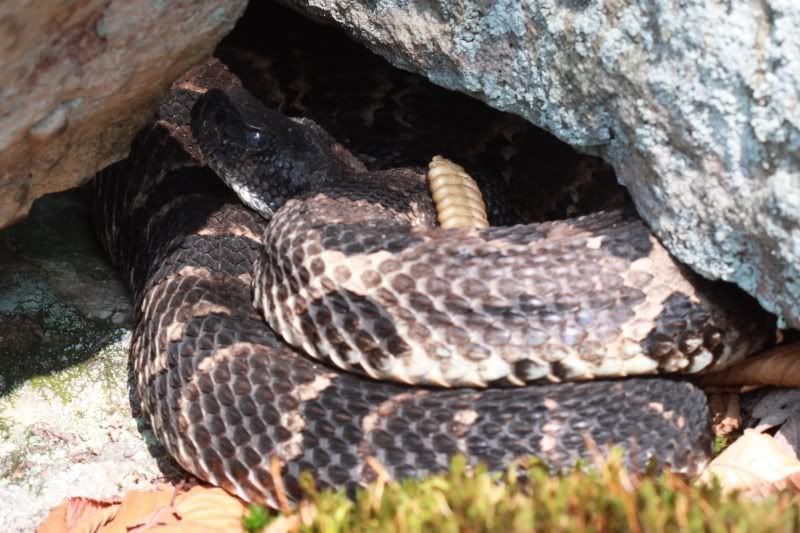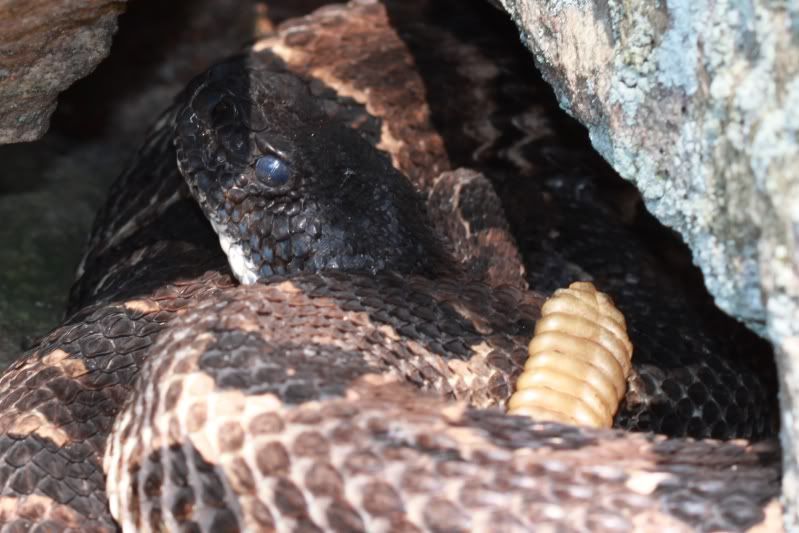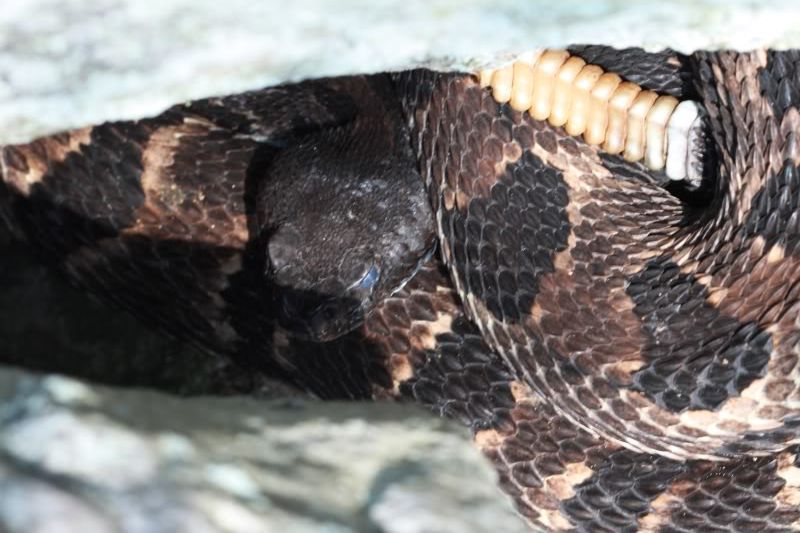 ...Not one buzz, not one distraction; the way all Timber encounters should be. Listen - I LOVE the hands-on nature of herping (if you haven't noticed), but with all the evidence pointing to the detriment of handling these snakes, as well as the danger involved for me and my children, it is much more rewarding to hang out with such an awesome creature. Just a few years ago, I was much different. I have this place to thank for my herping maturity. Anyway, enough of that.
I also found a new seepage in the area, which was great as the only "good" spot I had found nearby was the timber ridge. I continue to look. I will spare you the crappy pics, except for this one. Would anybody like to take a stab at this larvae identification? It has been debated as either a Northern Red or a Spring Salamander. Unfortunately, I'm pretty sure I saw both adult versions in the same seepage. Thanks! Oh... Yes, this is the best picture I have. I am ashamed.
Also in the area, a redback was flipped. And Lily LOVES millipedes. I'm always arguing with her and her brothers to NOT bring these in the truck.
That concluded my herping excursions with the kids. I dropped them off at their Mother's and continued my weekend with the womanfriend. After hanging in during the morning, we decided on hitting up some new spots in a familiar area in Northern NJ. It wasn't a crazy herping day, but was more of a relaxed pace. We were just looking for some fresh air. I did manage to find a new creek and flipped two adult spring salamanders. This may be no big deal to some, but I've never seen a spring adult. Now, I've seen two spots about 180 miles away from each other on back to back days, and have no picture proof as they ALL got away.
At least, I know where to look now.
More ringnecks:
More toads, two-lineds, and duskies:
EDIT: I'll spare you the blurry pics.
More green frogs and pickerels:
A sweet powerline cut: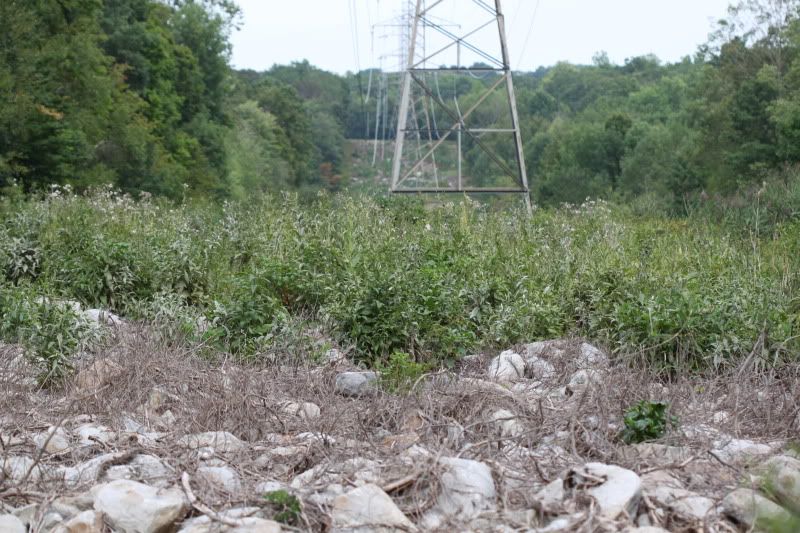 And the coolest thing of the day... a water snake.
...That I flipped with a five-lined skink. Sorry, it got away a few times, and I didn't want it to drop its tail, so no good pic.
Five-lined Skink... Plestiodon fasciatus
The next day, we met a few friends of mine at the Grange Fair. If it were up to me I'd herp all the time, but I'd probably die alone.
We were there a bit when it started to pour. The heavens opened and closed, giving way to the sun once again. Inside, my snake-alarms were blaring. I had that feeling. I hadn't been to the boardline in a few months, and I hadn't seen a milk in even longer. I knew we had to pass a boardline of mine on the way home. As if she already knew what I was thinking, her answer seemed pre-meditated.
"...Sure, but if it starts pouring again, I'm staying in the truck." Luckily, the rain was over. The day's thunderstorm provided some awesome scenery that my limited photographic experience could do NO justice to.
To make a long story short, the boardline produced again, turning up three milks! I love when my theories workout.
Here's some pics. The first one is as flipped.
Eastern Milksnake... Lampropeltis triangulum triangulum
...Lovin' this boardline. It has produced and isn't a season old yet. Here's one reason why.
Look closely:
Here's a picture of me cheesin' for the camera as I was quite impressed with my instinct for the day.
We returned them all to their respective boards. I'm not sure if that makes a difference or not. Either way, we had some time to waste and I scouted some more promising areas within walking distance. We only turned up this American toad, but whatev... the three milks kicked butt.
On the way home, we were rewarded with something so bright, so vivid... SO intense. What does it mean?
Later,
Bob