Hi everyone, sorry for this long overdue post, I've been swamped (literally) lately with tracking, trapping, and collecting baby turtles. That said, this post is still a "work in progress," and I'll be adding more info/photos here as time permits. For now though, I just wanted to get these pictures up!
First, some late summer/fall New England scenery.
"The ivy leaves are turning red. Fall dandelions stand thick in the meadows."
-Thoreau, September 3rd, 1851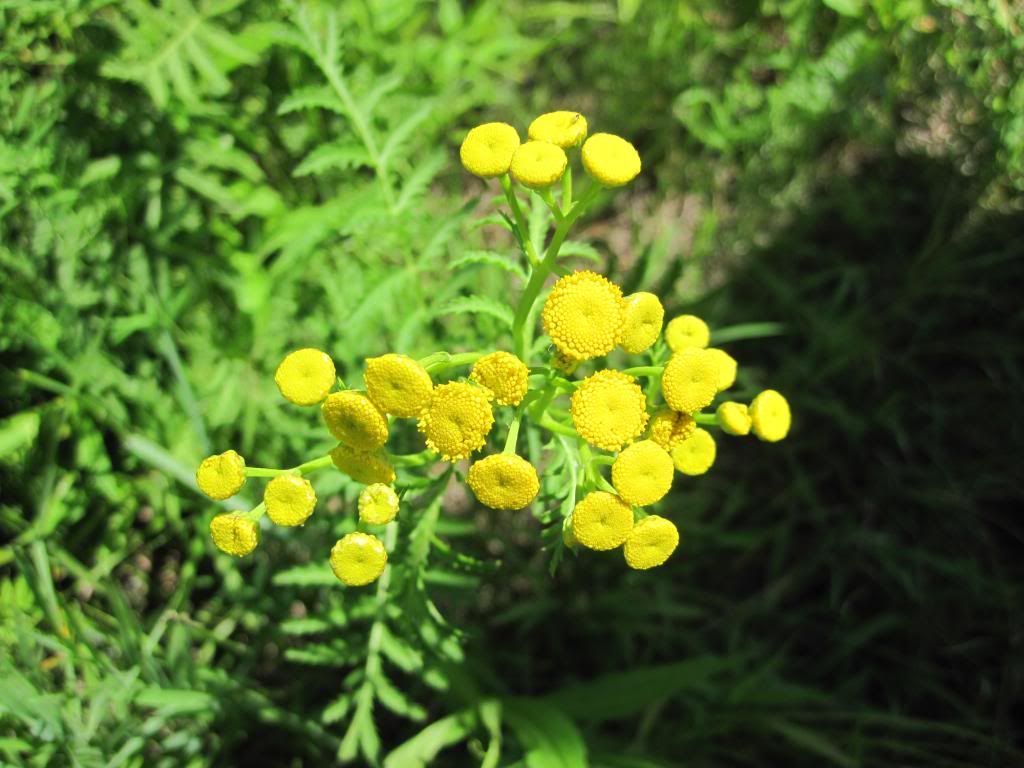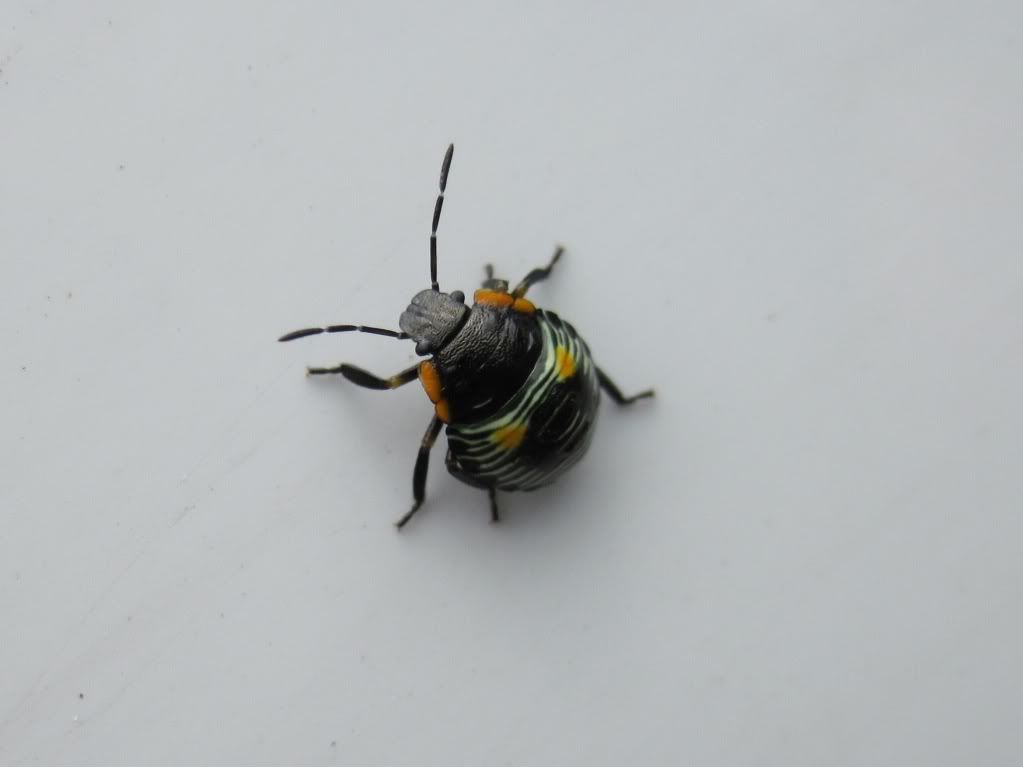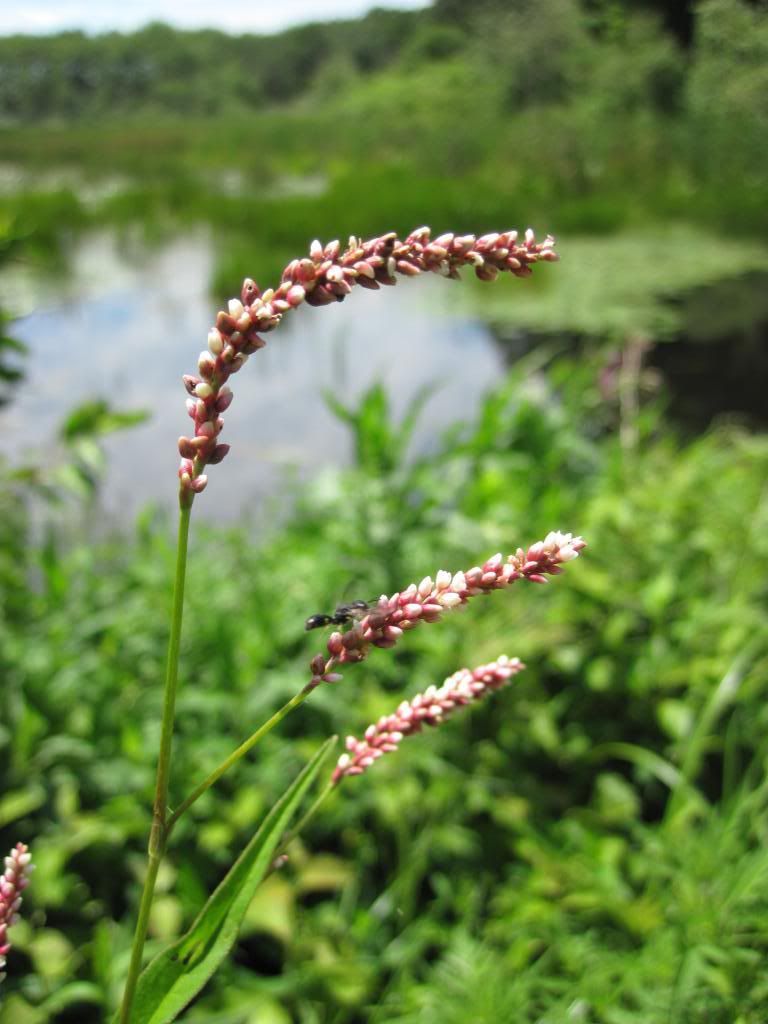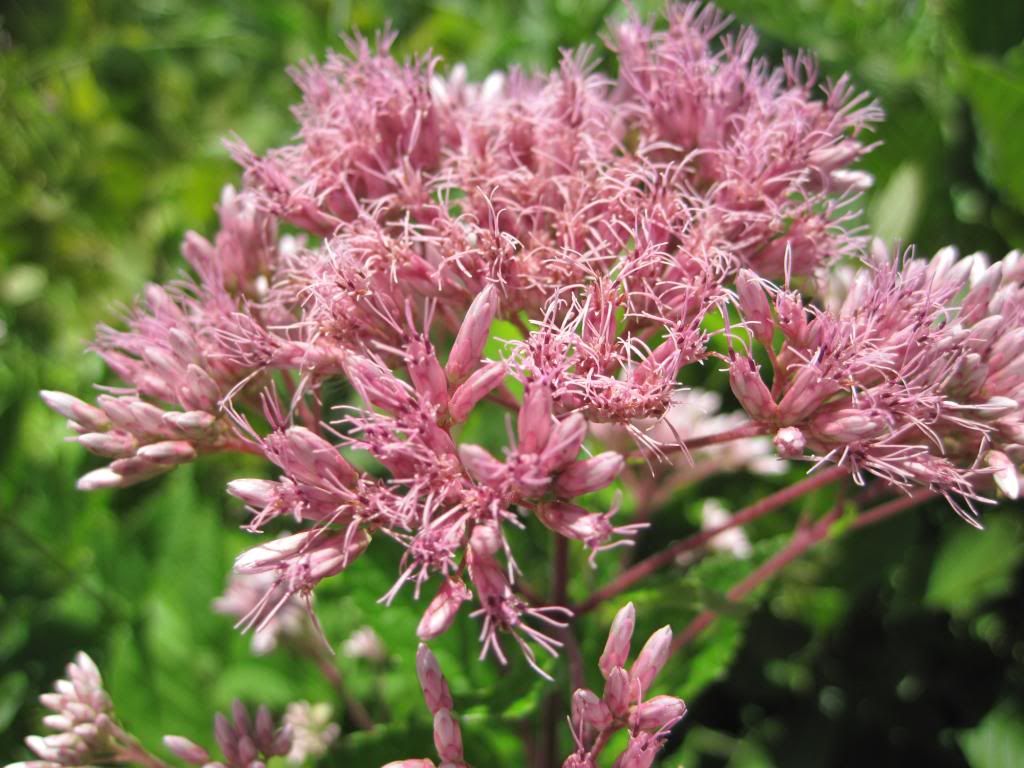 "In Julius Smith's yard, a striped snake (so called) was running about this forenoon, and in the afternoon it was found to have shed its slough, leaving it halfway out a hole, which probably it used to confine it in. It was about in its new skin. Many creatures. . . cast their sloughs now. Can't I?"
-Thoreau, June 10th, 1857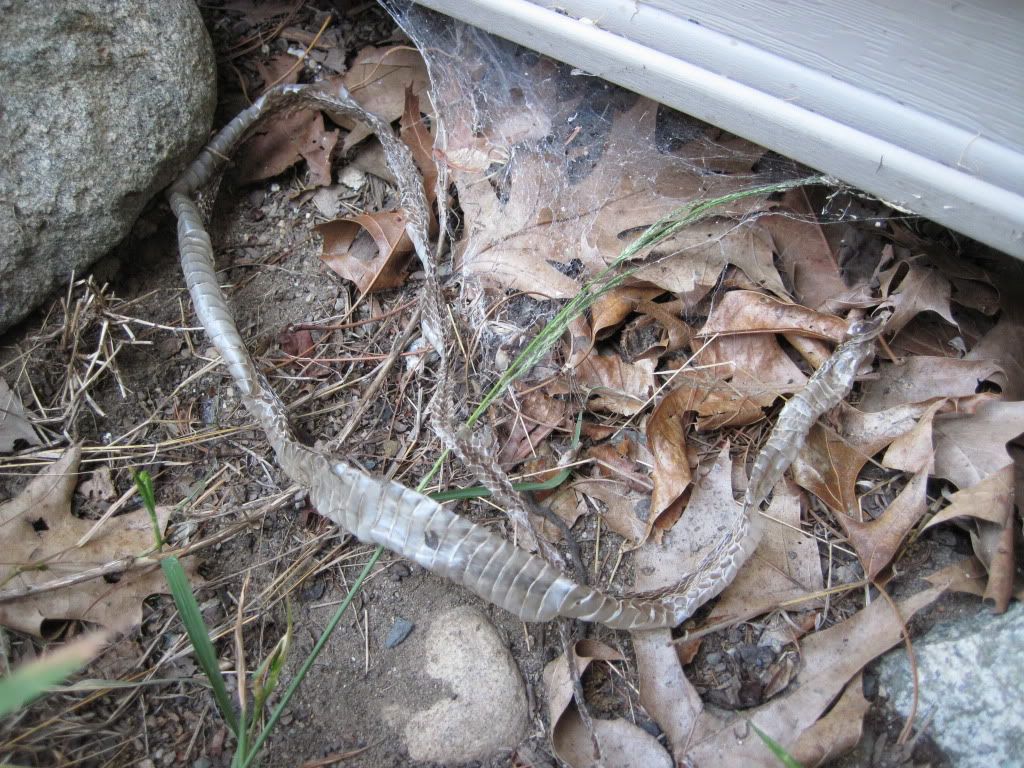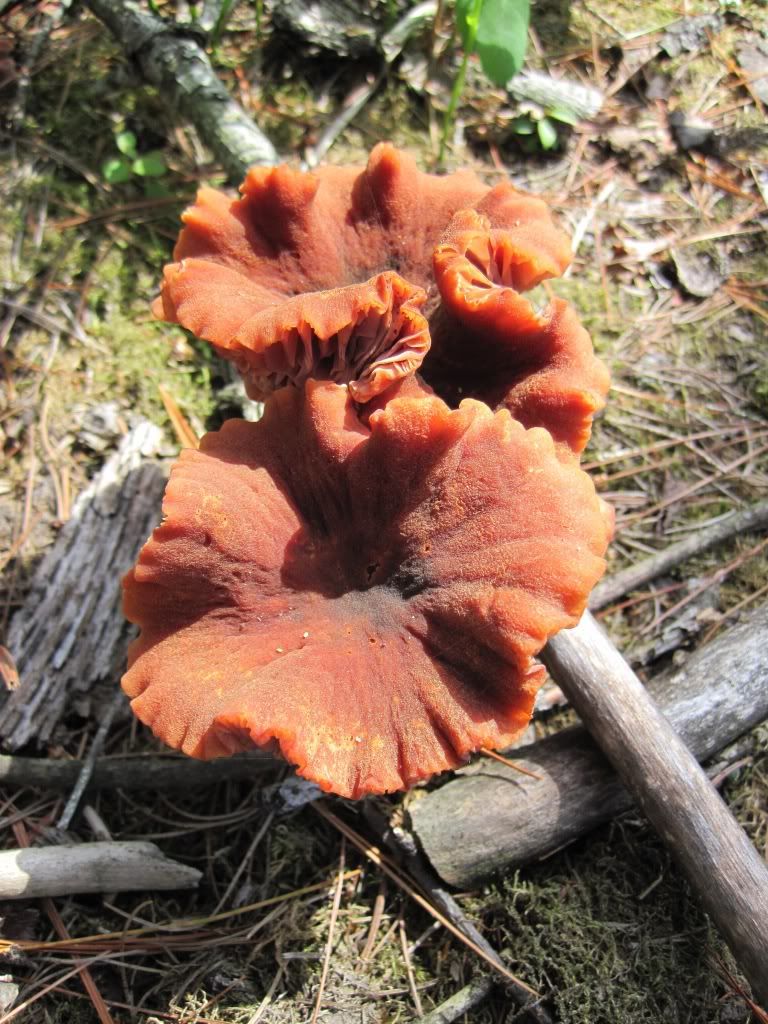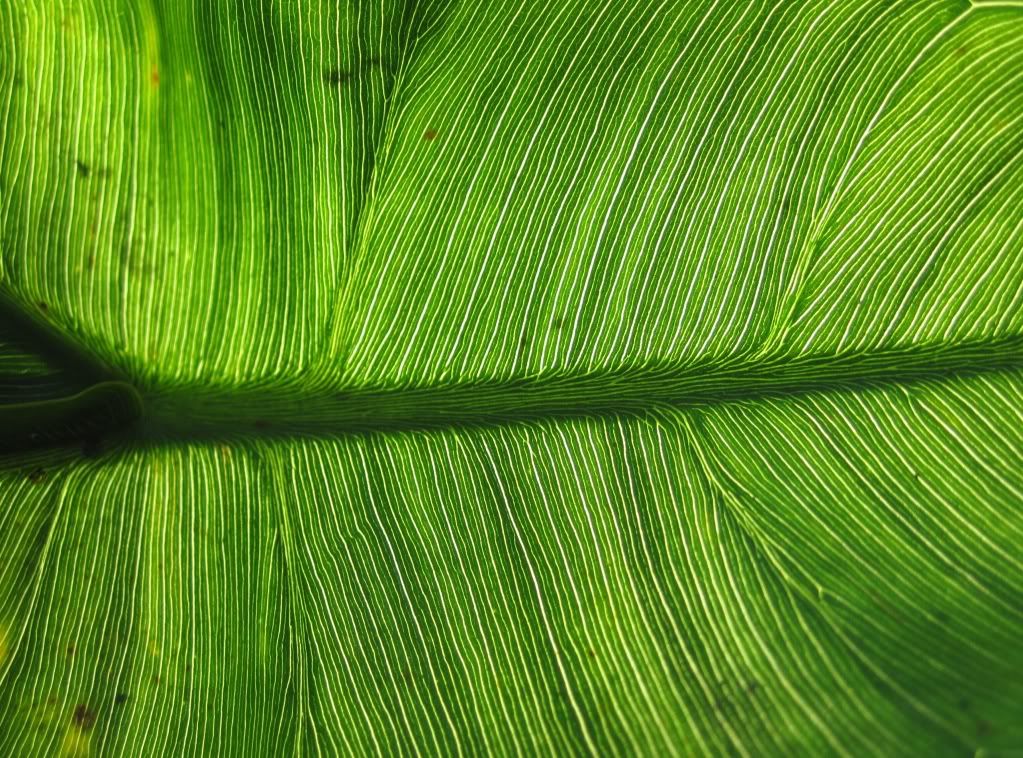 "I saw an old bone in the woods covered with lichens, which looked like the bone of an old settler, which yet some little animal had recently gnawed, and I plainly saw the marks of its teeth, so indefatigable is Nature to strip the flesh from bones and return it to dust again. No little rambling beast can go by some dry and ancient bone but he must turn aside and try his teeth upon it. An old bone is knocked about till it becomes dust; Nature has no mercy on it. It was quite too ancient to suggest disagreeable associations. It was like a piece of dry pine root. It survives like the memory of a man. With time all that was personal and offensive wears off."
-Thoreau, November 11th, 1850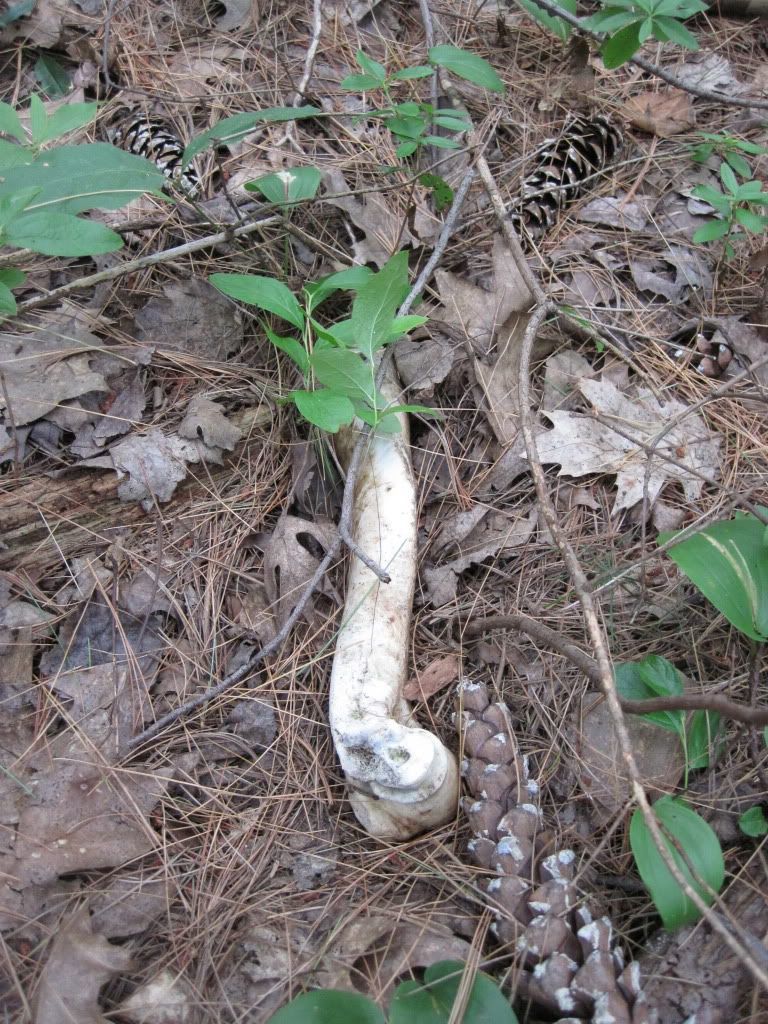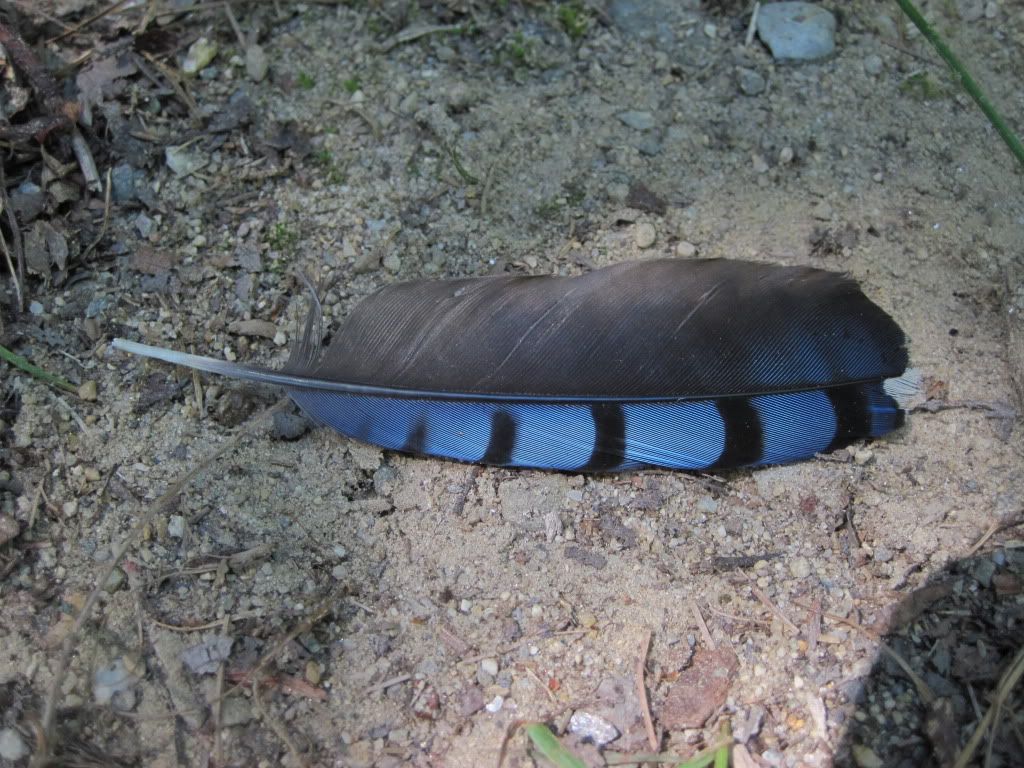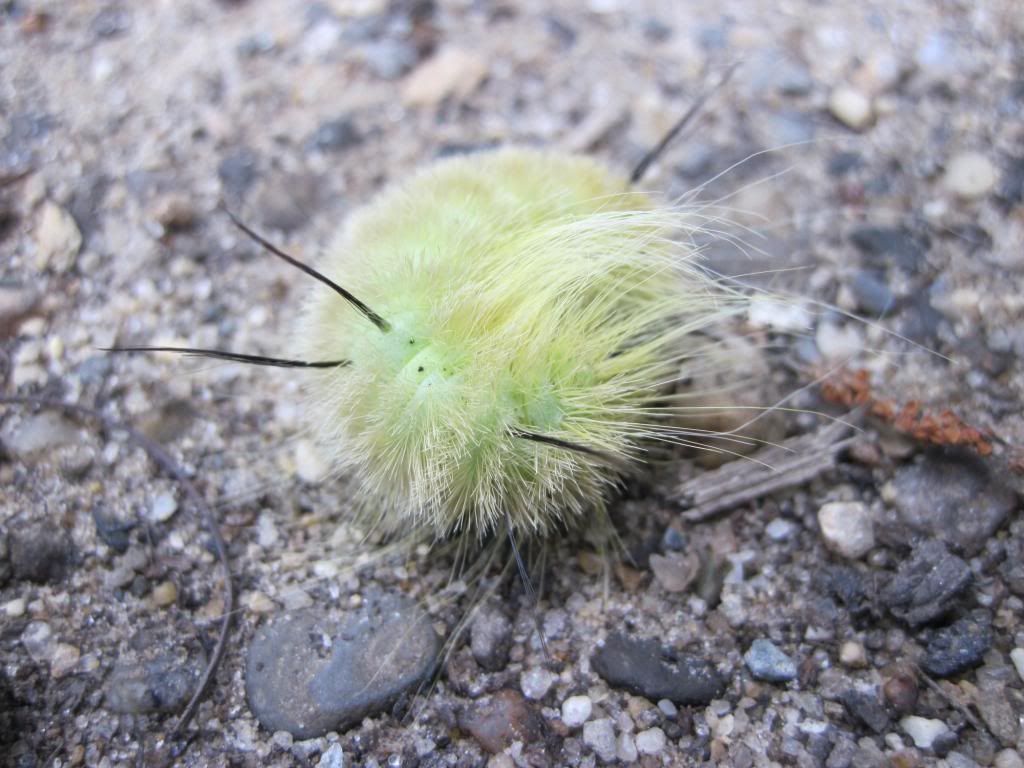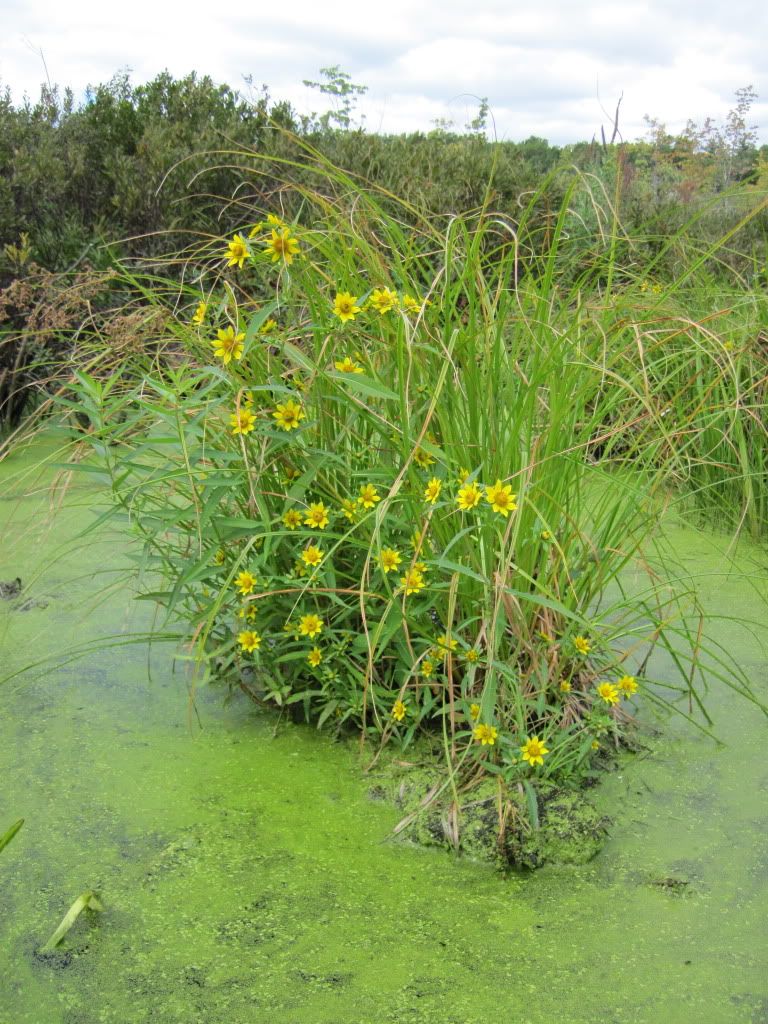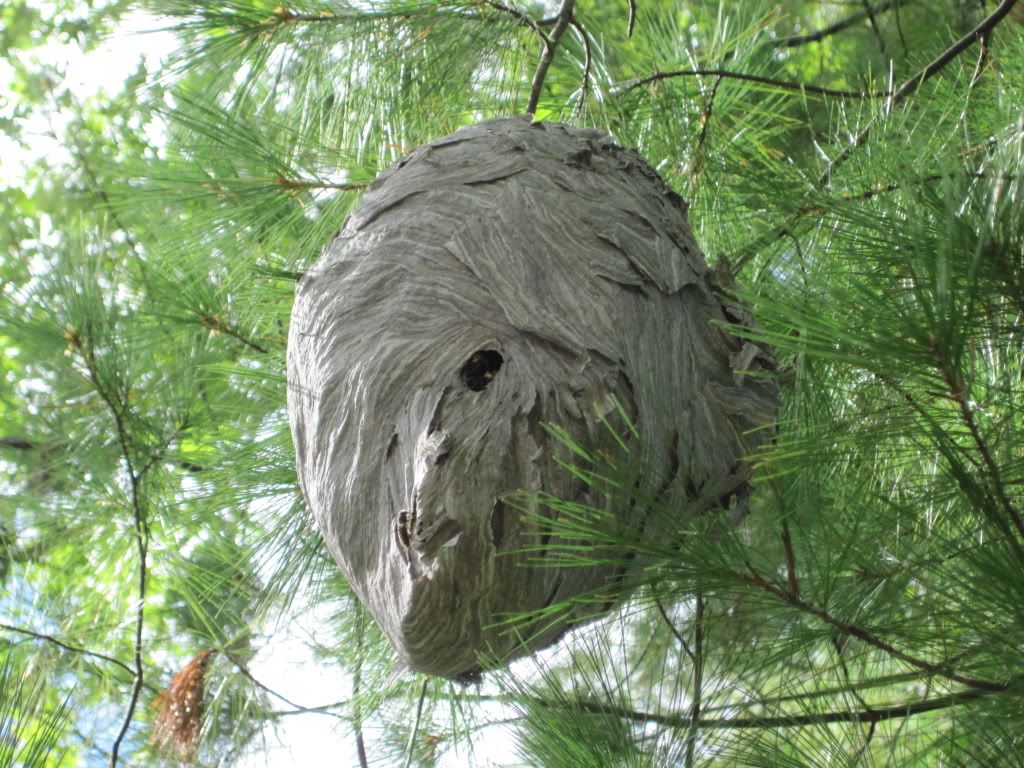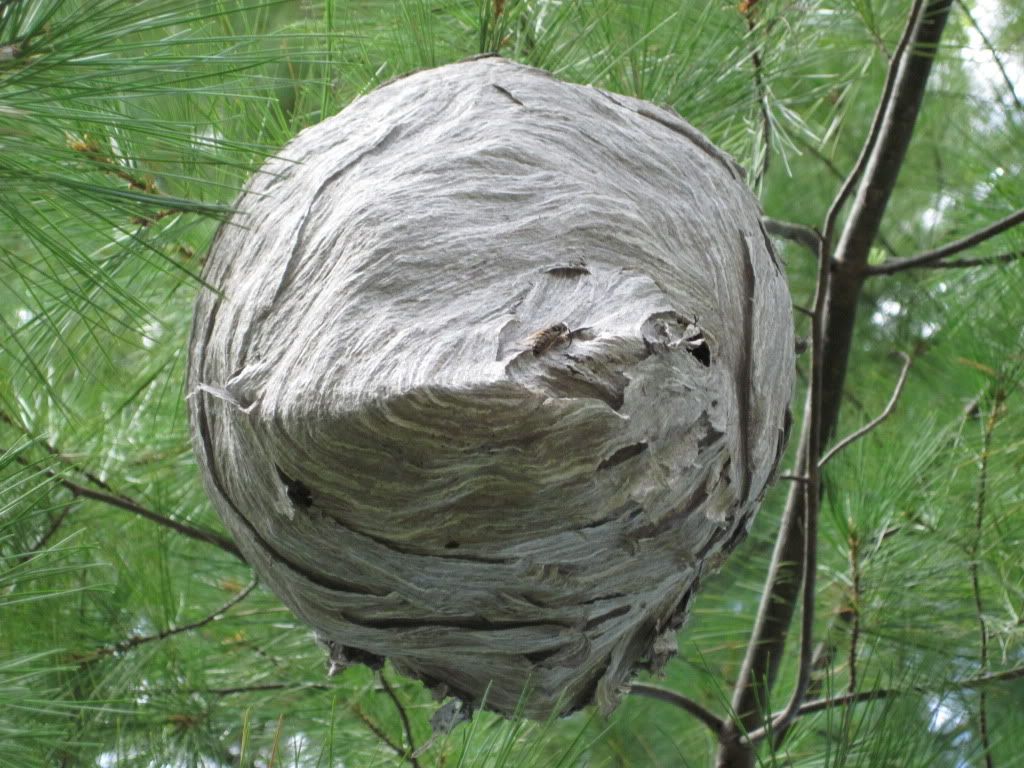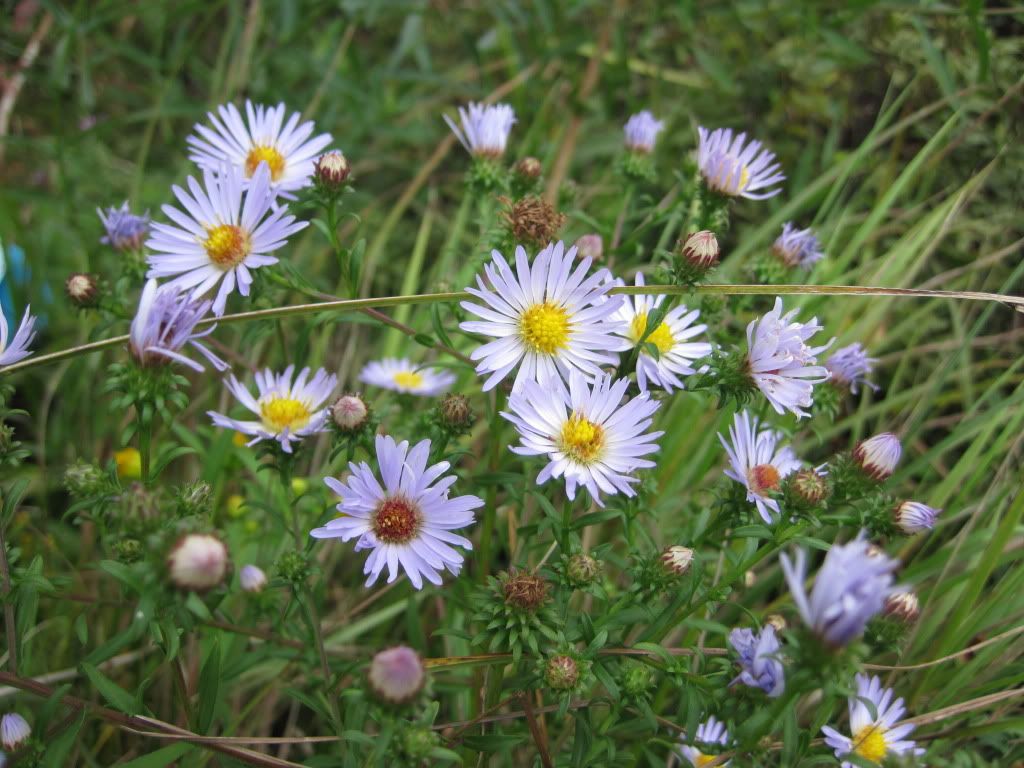 Might as well get the gory stuff out of the way… unfortunately this was my first sighting of a Spotted Turtle (
Clemmys guttata
) in the "wild," found on the way back from work.
C. guttata
is a small aquatic species of turtle (carapace length = 9–13.8 cm), easily identifiable by its yellow-spotted carapace. While the number and pattern of spots varies by individual, there is generally at least one spot per scute. Though not pictured, the plastron resembles that of
E. blandingii
, with black blotches at the edge of each yellow/orange scute.
Spotted turtles migrate between different habitats depending on season – they are generally found in vernal pools in the spring, upland forests in the summer, and wet meadows, swamps, or bogs during the winter. They are long-lived, and have been reported to reach ages exceeding 40 years in the wild. Males are known to travel great distances (>1 mile) in search of females (the individual pictured was determined to be a male based on its concave plastron).
No doubt, such life history traits have made the species particularly susceptible to habitat loss/fragmentation and associated road mortality. Invasive wetland plants, subsidized predators, and commercial collection have also impacted this species. Despite evidence that spotted turtles are declining throughout
their range
, the species was delisted by the
Massachusetts Division of Fisheries & Wildlife
in 2006.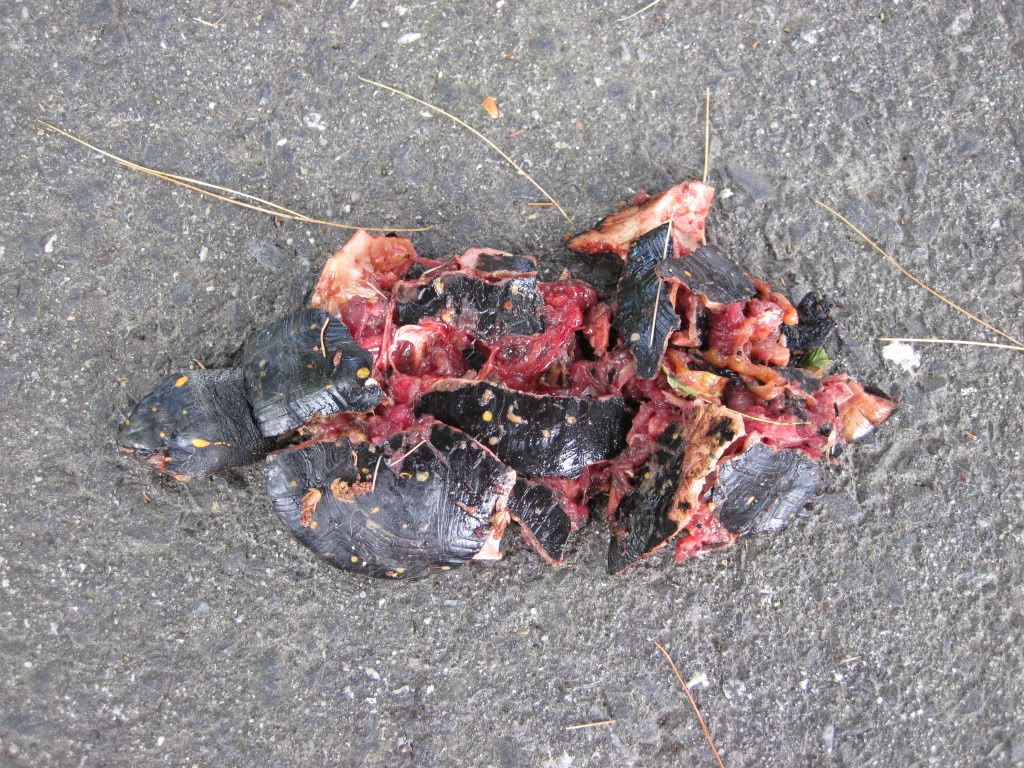 Road-killed Gartersnake (
Thamnophis sirtalis
)
"This snake was two feet and eleven inches long; the tail alone, seven and a quarter. There were one hundred and forty-five large abdominal plates, besides the three smaller under the head, and sixty-five pairs of caudal scales. The central stripe on the back was not bright-yellow, as Storer describes, but a pale brown or clay-color. Beneath the tail in the centre, a dark, somewhat greenish line.

This snake was killed about 2 P.M.; i.e., the head was perfectly killed then; yet the posterior half of the body was apparently quite alive and would curl strongly around the hand at 7 P.M. It had been hanging on a tree in the meanwhile.

I have the same objection to killing a snake that I have to the killing of any other animal, yet the most humane man that I know never omits to kill one."
-Thoreau, April 26th, 1857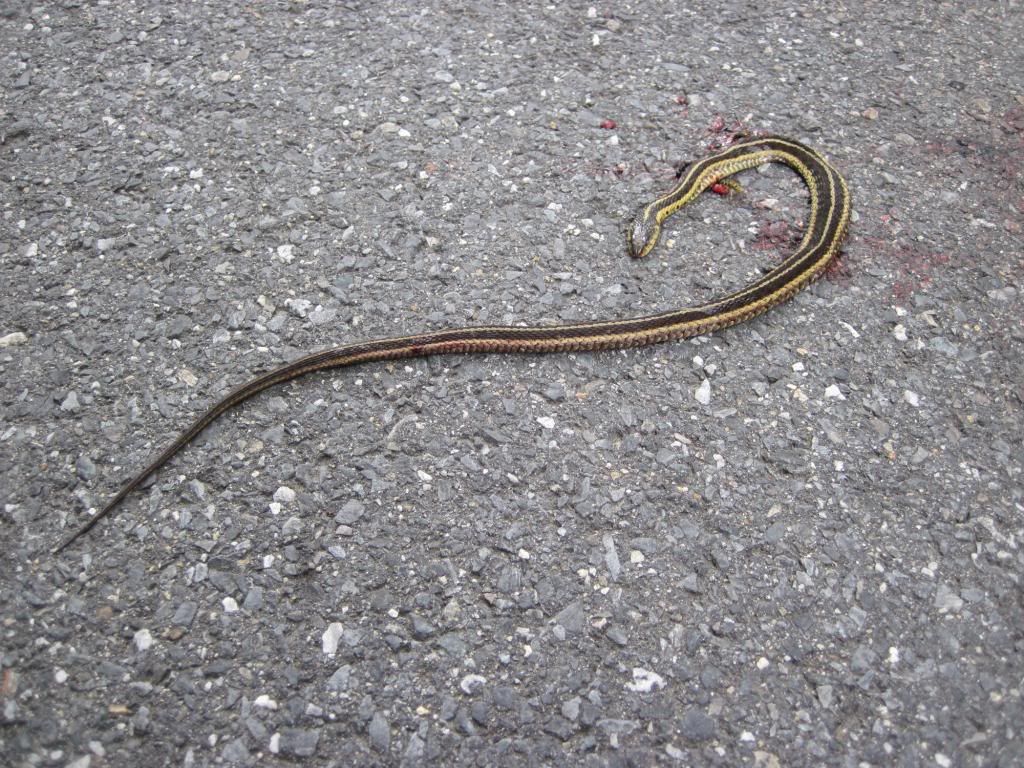 Meet "Two-Face," a juvenile Canada Goose (
Branta canadensis
) that had recently experienced a pretty severe head injury (maybe from a snapping turtle?), but appeared to be doing just fine.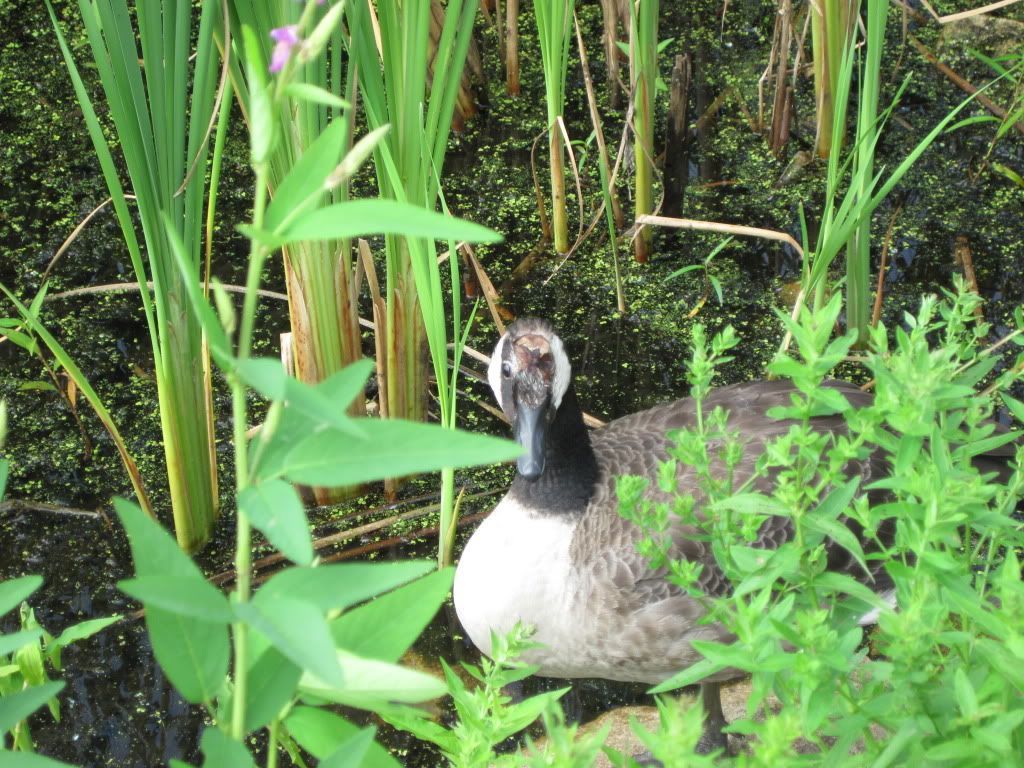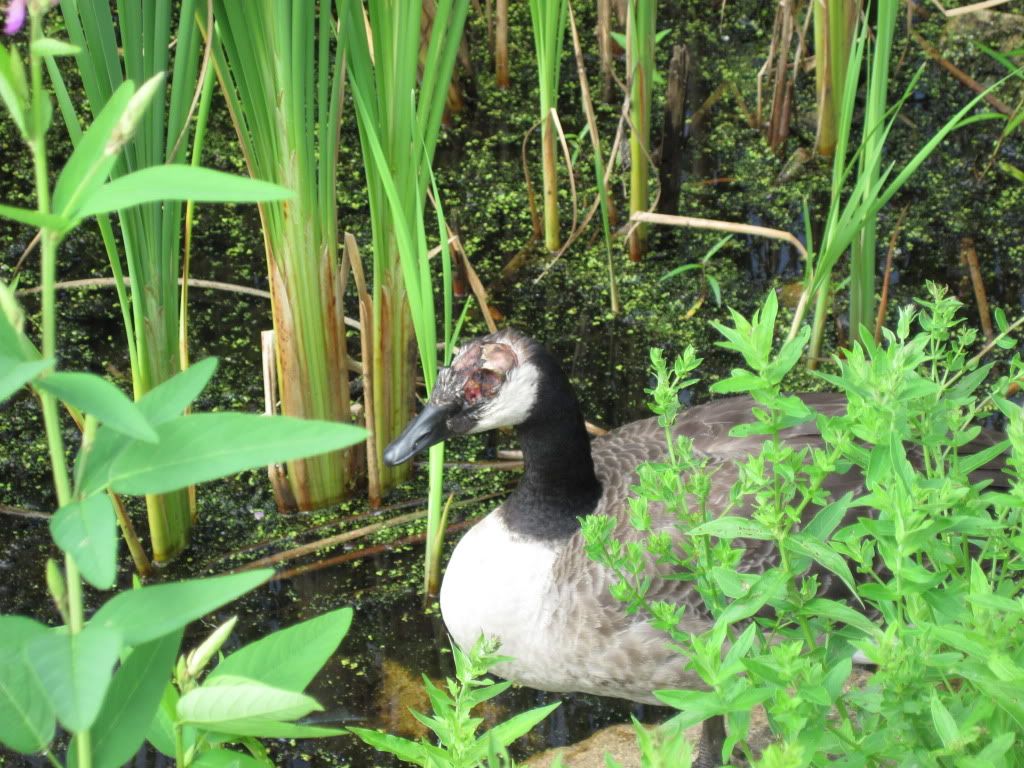 Ok, that's it for nasty stuff. In continuing with the theme from my previous post, here are some more local amphibian species. (more info to come)
Wood Frog (
Lithobates sylvaticus
)
"Caught a wood frog (Rana sylvatica), the color of a dead leaf. He croaked a I held him, perfectly frog-like."
-Thoreau, May 27th, 1852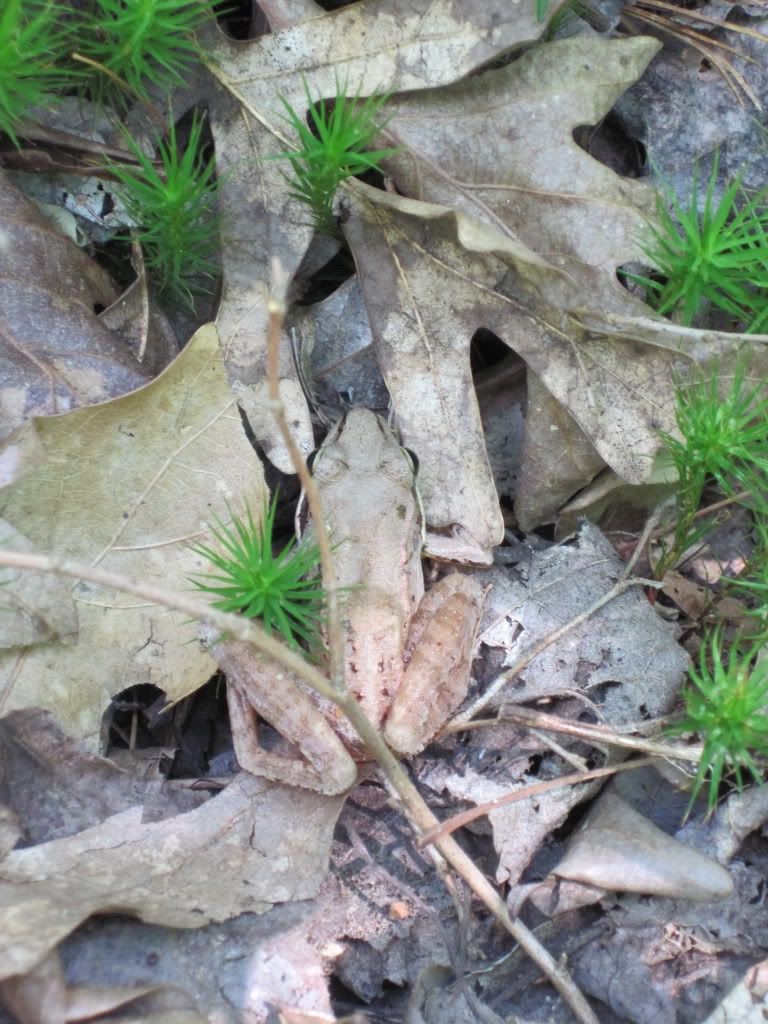 "In an open part of the swamp, started a very large wood frog, which gave one leap and squatted still. I put down my finger, and, though it shrank a little at first, it permitted me to stroke it as long as I pleased. Having passed, it occurred to me to return and cultivate its acquaintance. To my surprise, it allowed me to slide my hand under it and lift it up, while it squatted cold and moist on the middle of my palm, panting naturally. I brought it close to my eye and examined it. It was very beautiful seen thus nearly, not the dull dead-leaf color which I had imagined, but its back was like burnished bronze armor defined by a varied line on each side, where, as it seemed, the plates of armor united. It had four or five dusky bars which matched exactly when the legs were folded, showing that the painter applied his brush to the animal when in that position, and reddish-orange soles to its delicate feet. There was a conspicuous dark-brown patch along the side of the head, whose upper edge passed directly through the eye horizontally, just above its centre, so that the pupil and all below were dark and the upper portion of the iris golden. I have since taken up another in the same way.*

*Indeed they can generally be treated so. Some are reddish, as burnished copper."
-Thoreau, September 12th, 1857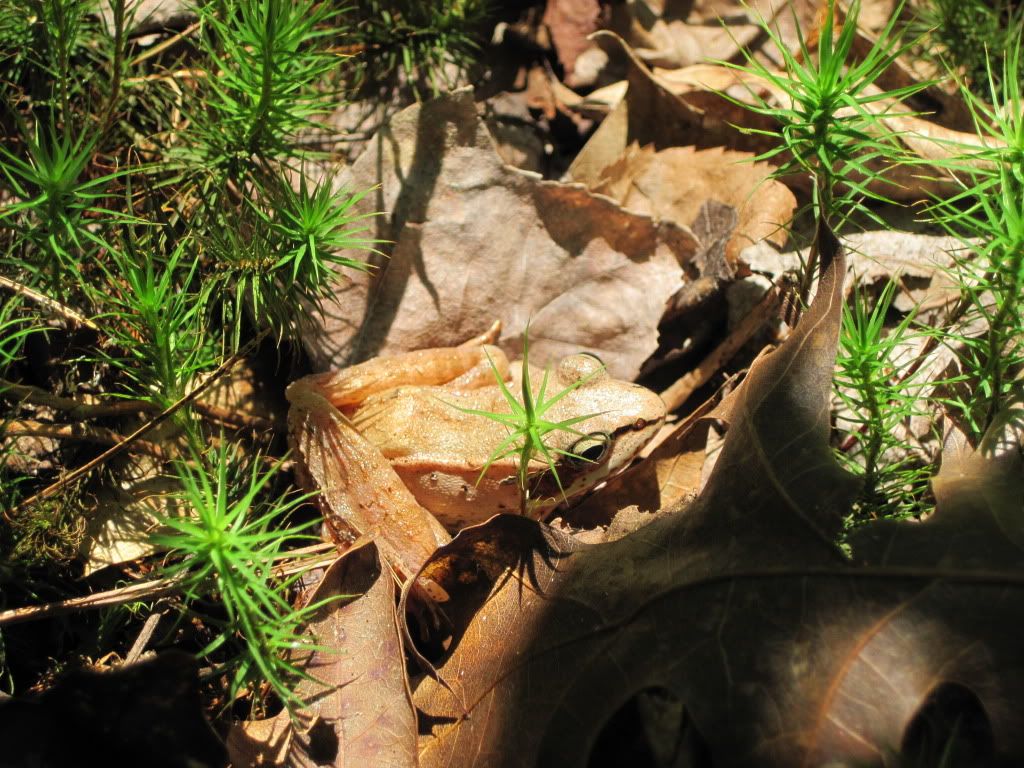 Green Frog (
Lithobates clamitans
)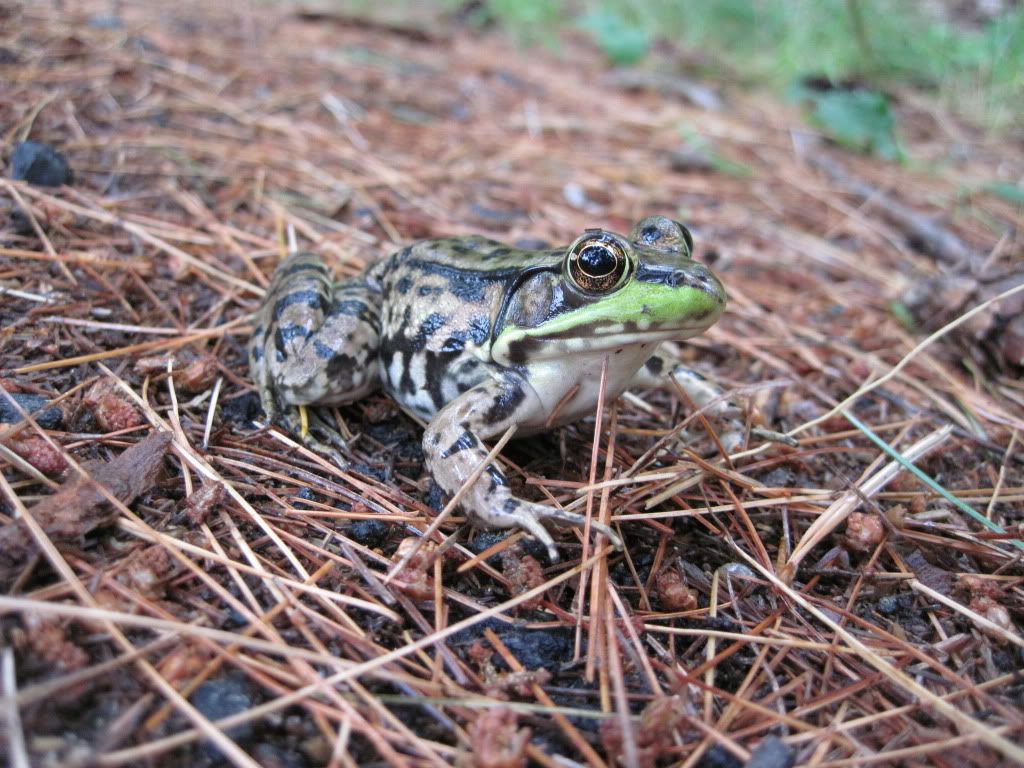 Pickerel Frog (
Lithobates palustris
)
"I went to the edge of the river to hear the frogs. Each shore of the river now for its whole length is all alive with this stertorous purring. In the mornings now, I hear no
R. palustris
and no hylodes, but a few toads still, but now, at night, all ring together, the toads ringing through the day, the hylodes beginning in earnest toward night and the
palustris
at evening. I think that the different epochs in the revolution of the seasons may perhaps be best marked by the notes fo reptiles. They express, as it were, the very feelings of the earth or nature. They are perfect thermometers, hygrometers, and barometers."
-Thoreau, May 2nd, 1858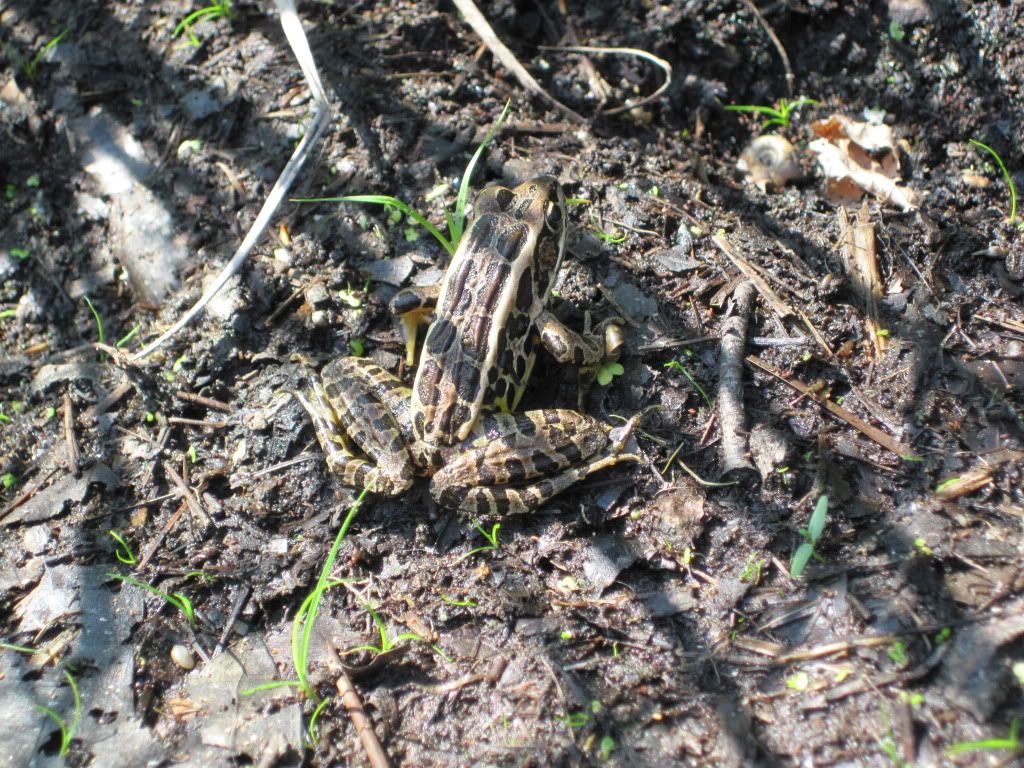 Toad (
Anaxyrus
sp.). Can someone tell me if this is an American or Fowler's?
"My dream frog turns out to be a toad. I watched half a dozen a long time at 3.30 this afternoon in Hubbard's Pool, where they were frogging (?) lustily. . . One, which I brought home, answers well enough to the description of the common toad (Bufo Americanus), though it is hardly so gray. Their piping (?) was evidently connected with their loves. Close by, it is an unmusical monotonous deafening sound, a steady blast,⎯not a peep nor a croak, but a kind of piping,⎯but, far away, it is a dreamy, lulling sound, and fills well the crevices of nature. Out of its place, as very near, it would be as intolerable as the thrumming of children. The plower yesterday disturbed a toad in the garden, the fist I have heard of. I must catch him and compare them. Their heads are well above the water when they pipe."
-Thoreau, May 6th, 1852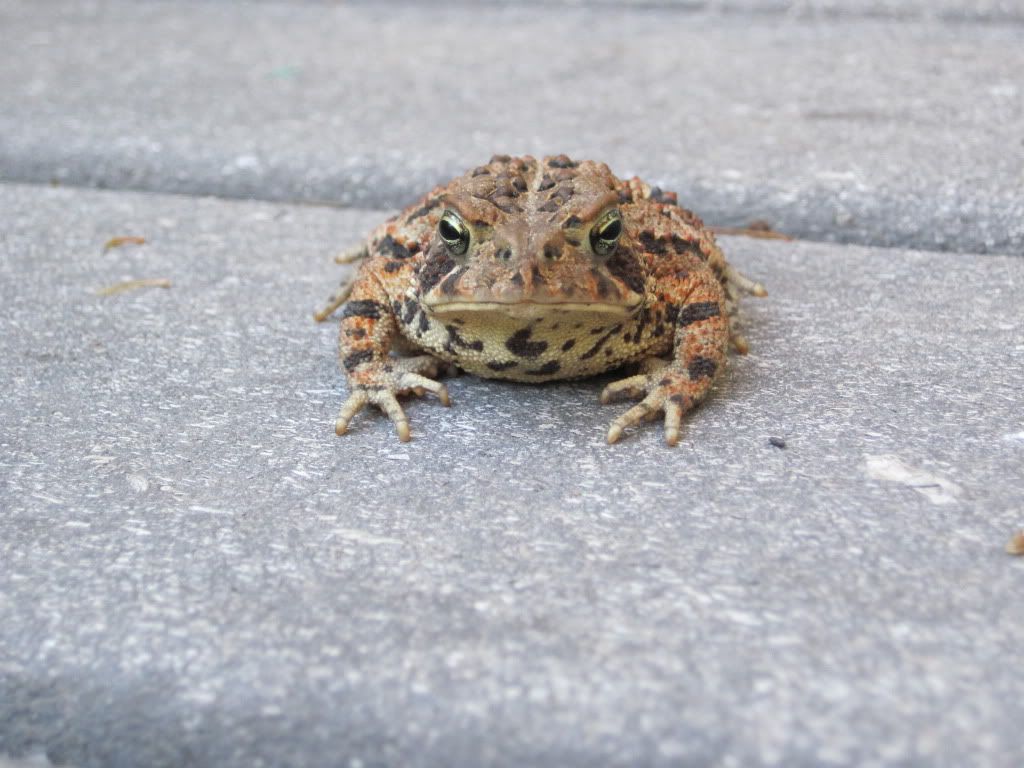 Interestingly, from his notes it appears that Thoreau had distinguished
A. americanus
from
A. fowleri
, long before
A. fowleri
was officially recognized as a separate species by Hinckley (1882):
"The common toad, with which I compared the dream toad I brought home, has two horn-like dark marks reaching over the eyes. It is not depressed, but rather has a tubercle, on the top of the head between the eyes. It is also much wider in proportion to length, and is triangular, as I have drawn in report. Yet they are probably the same. The garden toad made the same faint chicken-like musical croak, when I held him in my hand, with the other, and in the same manner swelling his bag. The garden toad was yellowish beneath, the other white with some small spots. The latter turned much lighter-colored,⎯from brown to a yellowish and light-brown green, or rather greenish-brown,⎯while I had him. They have a bright eye, with coppery or golden-coppery iris. It is their redeeming feature. But why do I not hear them in the garden? They appear to frequent the water first, and breed there, then hop to the gardens, and turn lighter and grow thicker."
-Thoreau, May 6th, 1852
Eastern Red-backed Salamander (
Plethodon cinereus
)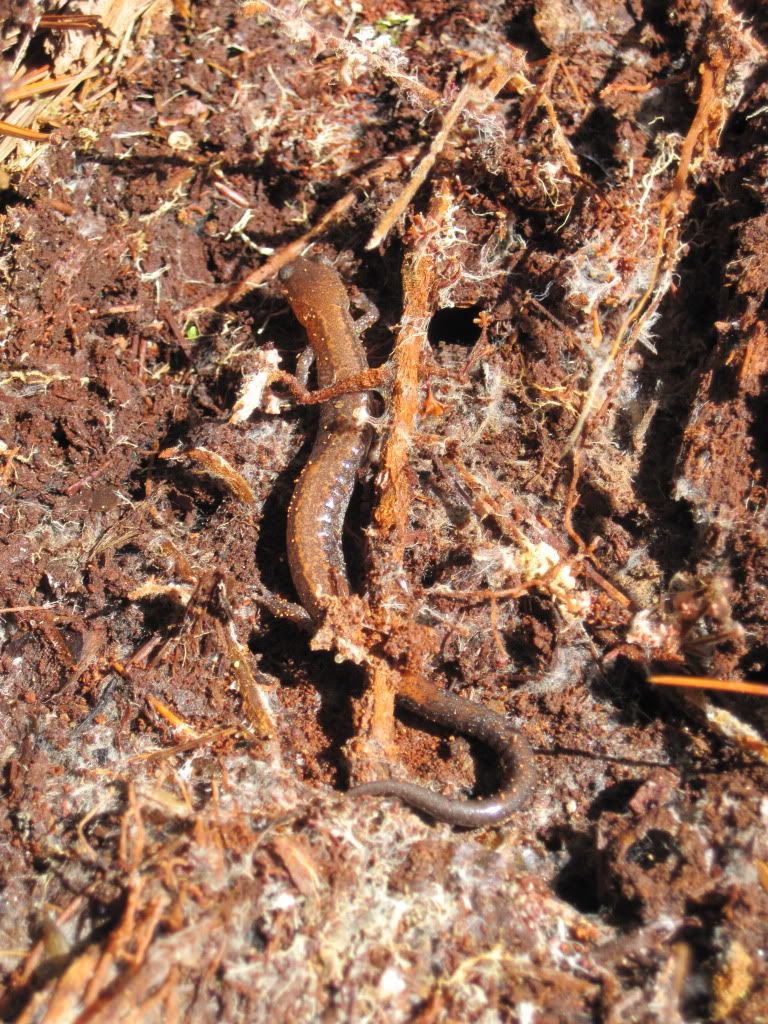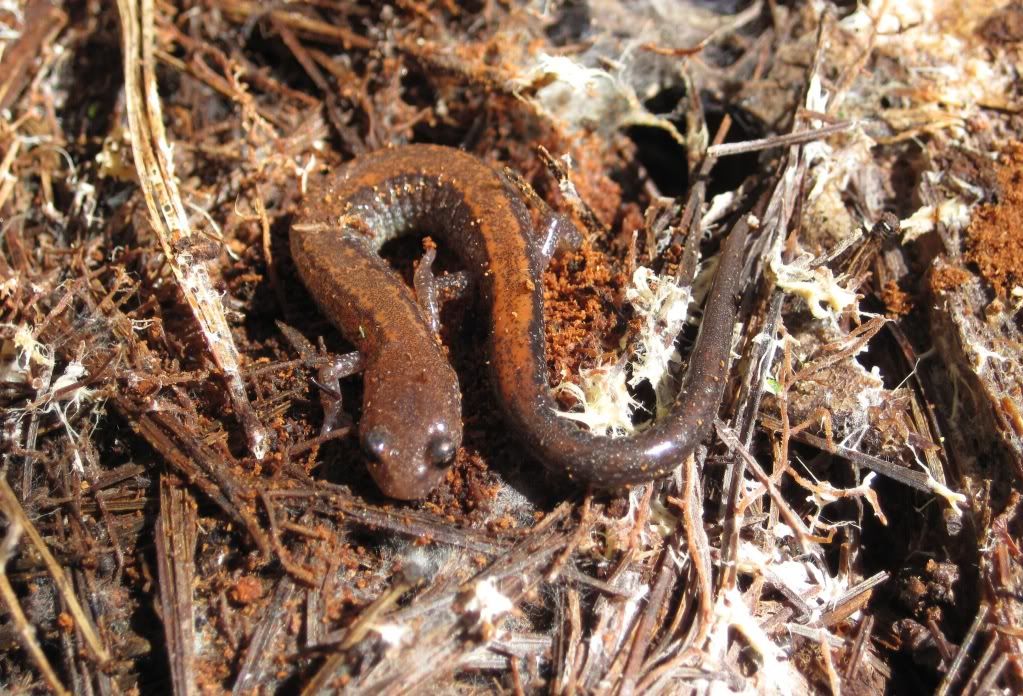 These next two species were both firsts for me.
Four-toed Salamander (
Hemidactylium scutatum
)
H. scutatum
is the smallest salamander species in MA (total length = 5-9 cm), with females growing slightly larger than males. Four-toed salamanders have reddish-brown backs with dark flecking, grayish sides, and white bellies with black flecks. Unlike most other plethodontid salamanders,
H. scutatum
has only four toes on each hind foot.
The species is found in moist forests, often associated with sphagnum swamps, and adults live under stumps, logs, etc. within 300 ft of water. Four-toed salamanders are known to eat springtails, ants, fly larvae, spiders, midges, beetles, snails, and ticks. They in turn fall prey to snakes, larger salamanders, birds, and mammals. This species' tail is constricted at the base, and if attacked, a four-toed salamander can drop its tail, which will continue to wriggle and serve as a distraction to the predator. The tail will eventually regenerate, and as you can see, the individual pictured here must have recently lost its tail.
Four-toed salamanders have a widespread, but patchy distribution, owing to the fact that they are both difficult to find, and habitat specialists. Such specialization makes this species vulnerable to local extirpation from habitat loss/modification. According to the Massachusetts Division of of Fisheries & Wildlife/Natural Heritage Endangered Species Program:
"The four-toed salamander was removed from the MESA list in 2006. This species is rare, but rather widespread in the state. As of 2006, there were 144 towns in Massachusetts where four-toed salamanders have been observed. Two-hundred and twenty-eight occurrences were documented between 1981 and 2006, as well as 43 historic occurrences that were documented prior to 1981. Some of these historic localities no longer support populations due to urbanization and development. Due to its nocturnal habits and reclusive behavior, this species is difficult to observe and, though rare, additional "populations" may occur in locations not yet recorded." (see the full document
here
)
As of 2006, four-toed salamanders had been reported from all counties in MA except Nantucket (detailed in map below). However, the species has since been documented on the island (McKenna-Foster and Smyers 2010).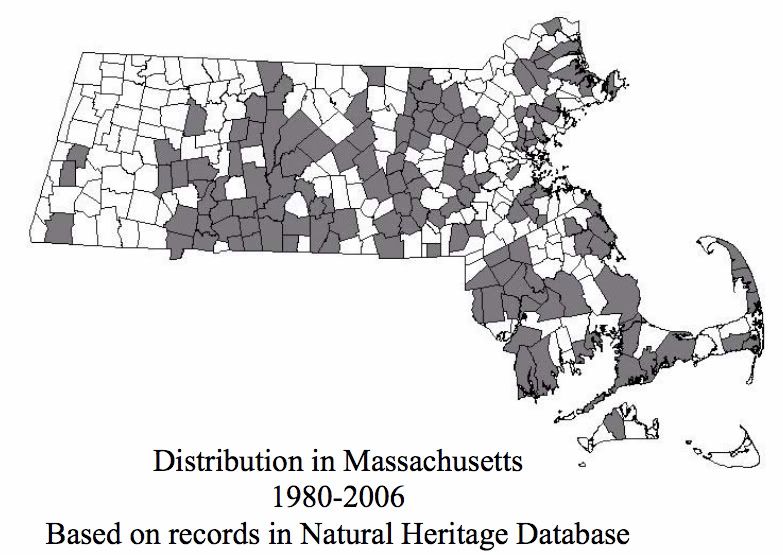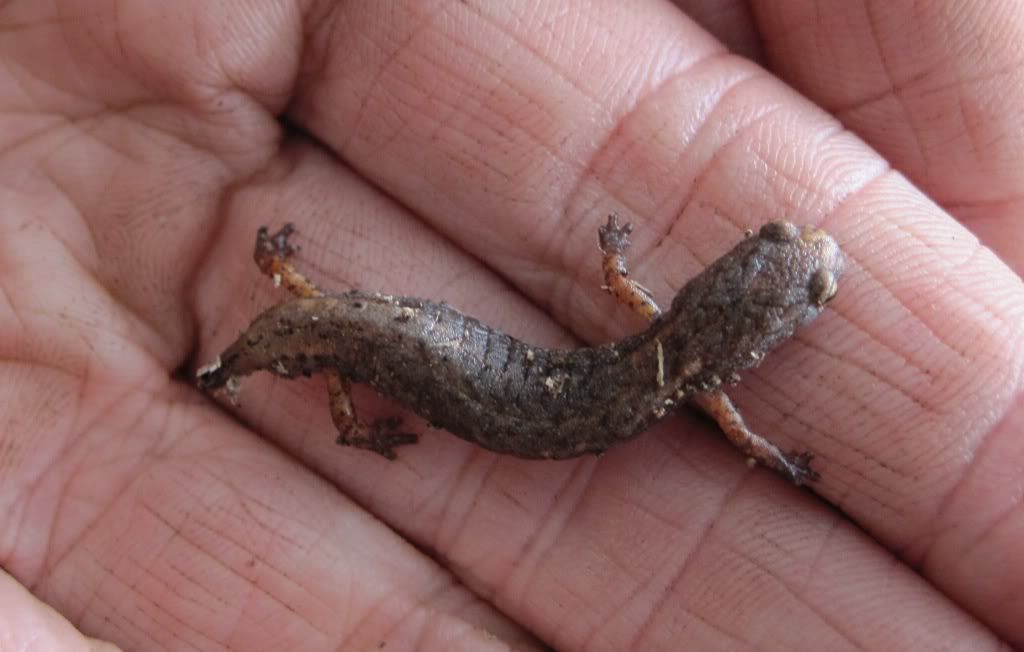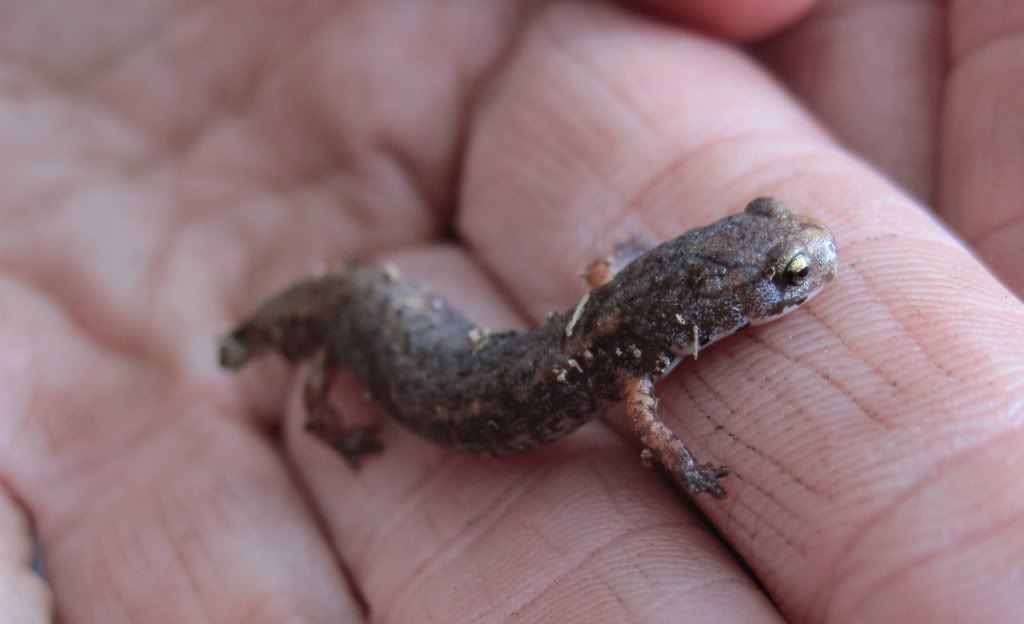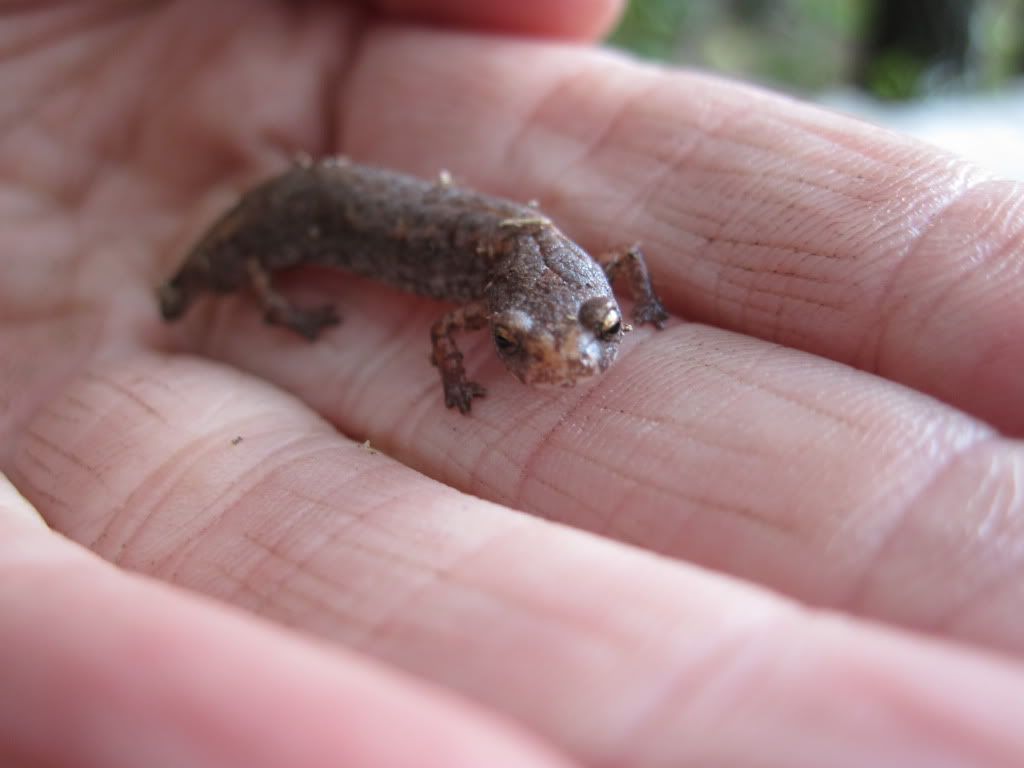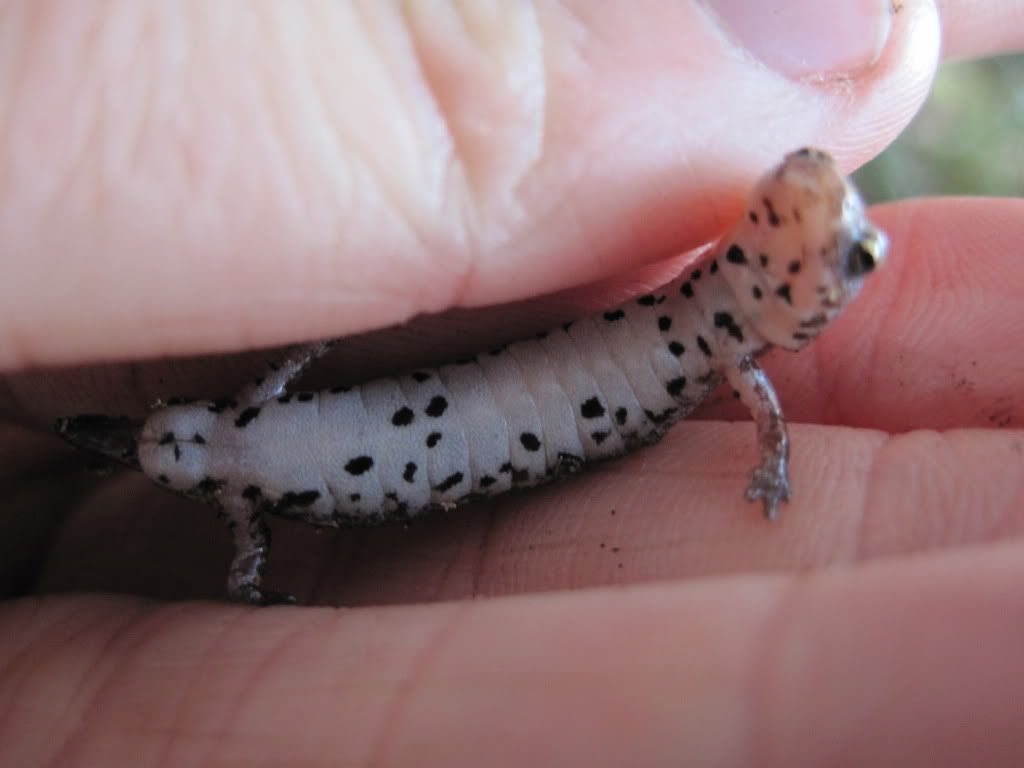 Blue-spotted Salamander (
Ambystoma laterale
)
A. laterale
is a medium-sized (total length = 9.8 – 12.7 cm; excluding hybrids) mole salamander (genus
Ambystoma
) named for its distinctive blue spotting/flecking.
Like spotted salamanders (
A. maculatum
), blue-spotted salamanders are most frequently found in damp deciduous/mixed deciduous forests with vernal pools, which they require for reproduction.
A. laterale
is one of the earliest amphibian species to breed in the spring, and metamorphosis usually occurs July – August, depending on rainfall and temperature. Recent metamorphs measure 5 – 6.5 cm in total length (I'm guessing this individual was a new metamorph from this season)
While mole salamanders are generally fossorial,
A. laterale
is the most likely ambystomatid to be found directly beneath cover objects, as they are not powerful diggers (but will often utilize the burrows of other animals). This species is reported to feed on insects, spiders, centipedes, pillbugs, worms, slugs, and snails.
Throughout much of its range, there is extensive hybridization between
A. laterale
and the closely related Jefferson Salamander (
A. jeffersonianum
), which have resulted in the production of unisexual forms possessing a variable number of chromosome sets (an exceedingly complex and controversial issue that goes far beyond the scope of this blog)
Blue-spotted salamanders are listed as a "Species of Special Concern" in Massachusetts. The following passage/distribution map is from the Massachusetts Division of of Fisheries & Wildlife/Natural Heritage Endangered Species Program (see the full document
here
).
"There are 102 towns in Massachusetts where blue-spotted salamanders have been observed. One hundred and seventy-two occurrences have been documented since 1981, as well as 27 historic occurrences that were documented prior to 1981. The major threat to this species—and most salamanders in general—is the loss, degradation and fragmentation of both aquatic breeding pool habitat required for reproduction and terrestrial habitat needed for foraging, overwintering, growth and development to development and urbanization."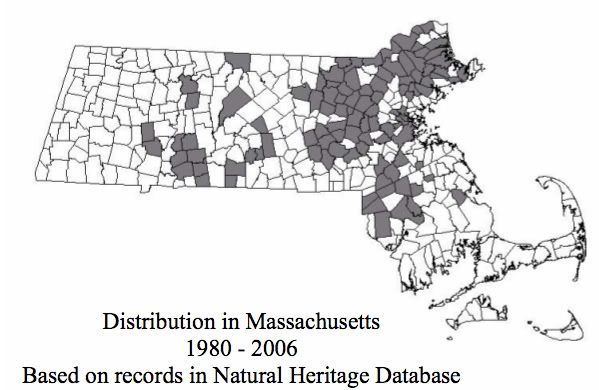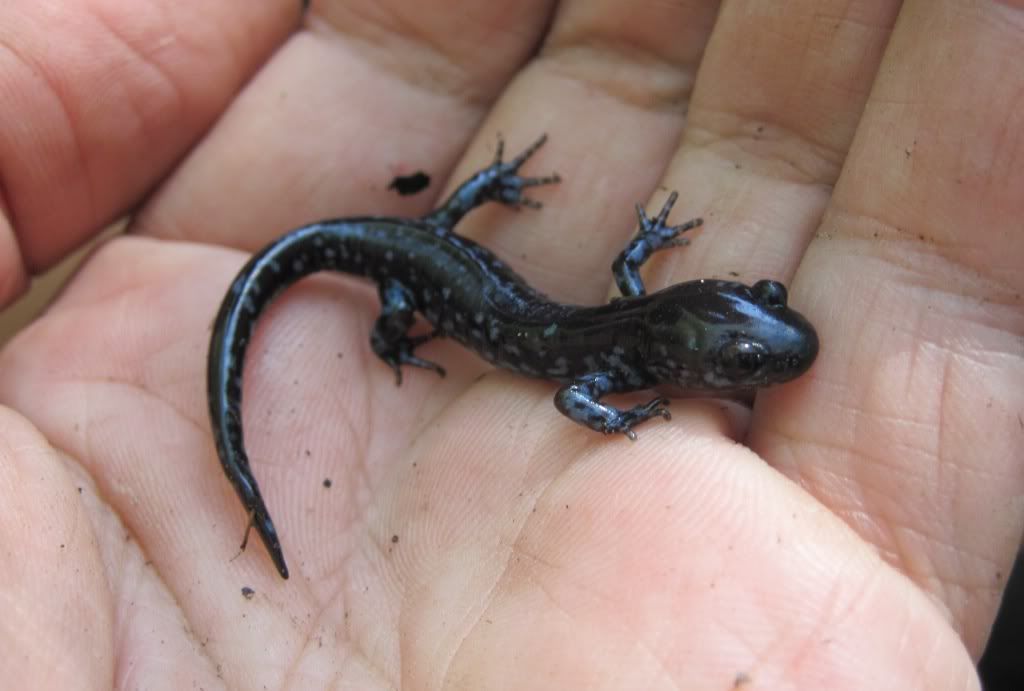 Kristin and I took a trip down the river to try and get signals on some radioed Blanding's Turtles that had gone M.I.A.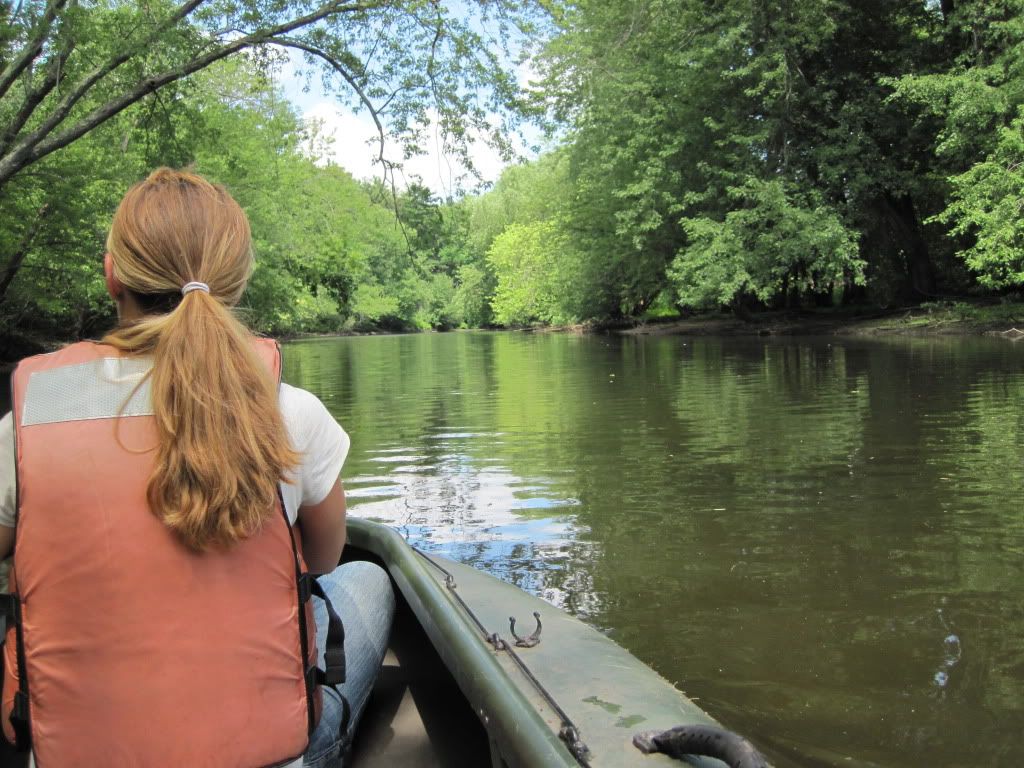 Local herpetologist Bryan Windmiller joined us for the day to help with tracking and trapping.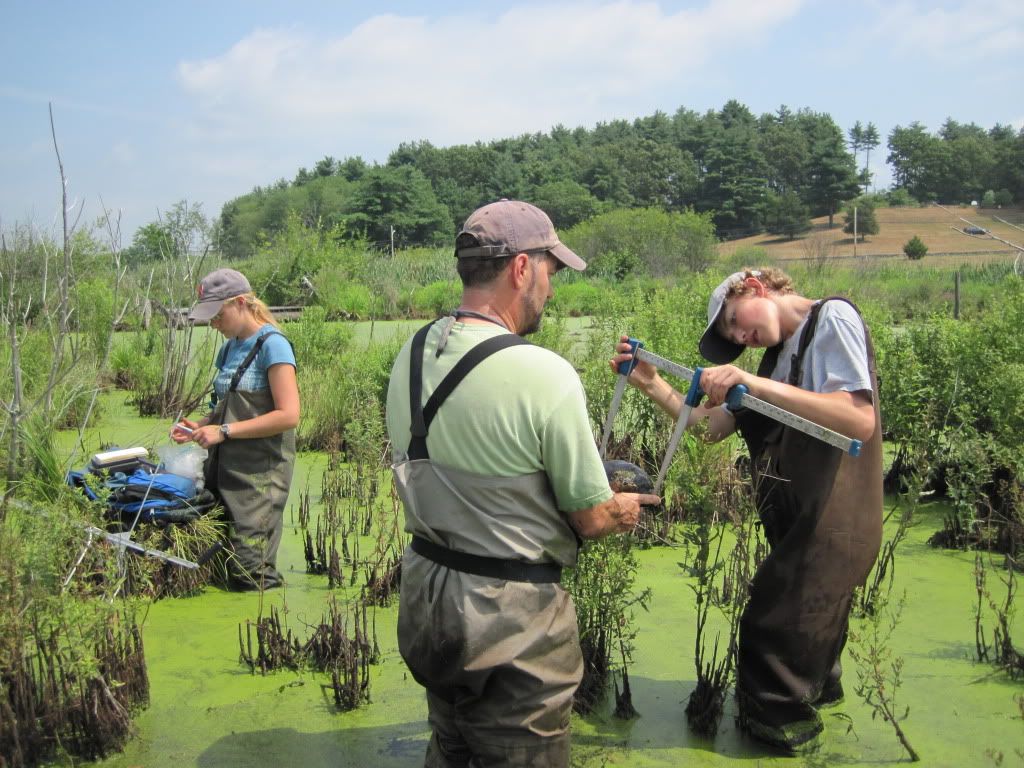 This particular female had traveled over a mile to nest in front of an office building, and somehow managed to survive crossing several major roads along the way.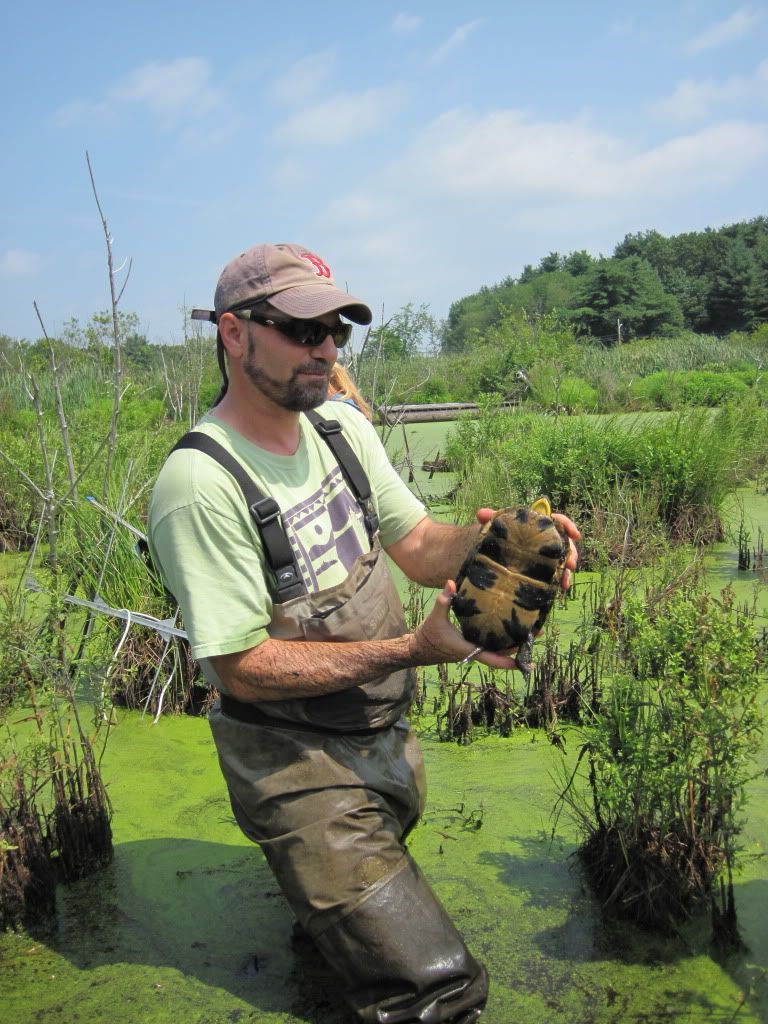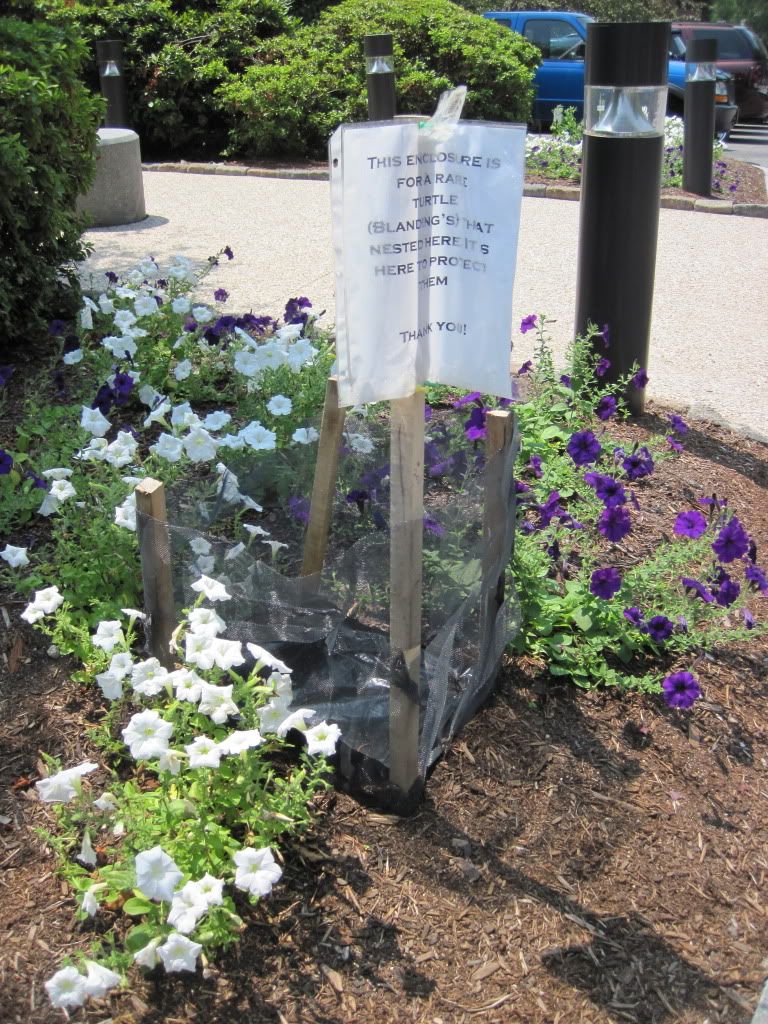 This girl was missing her front leg.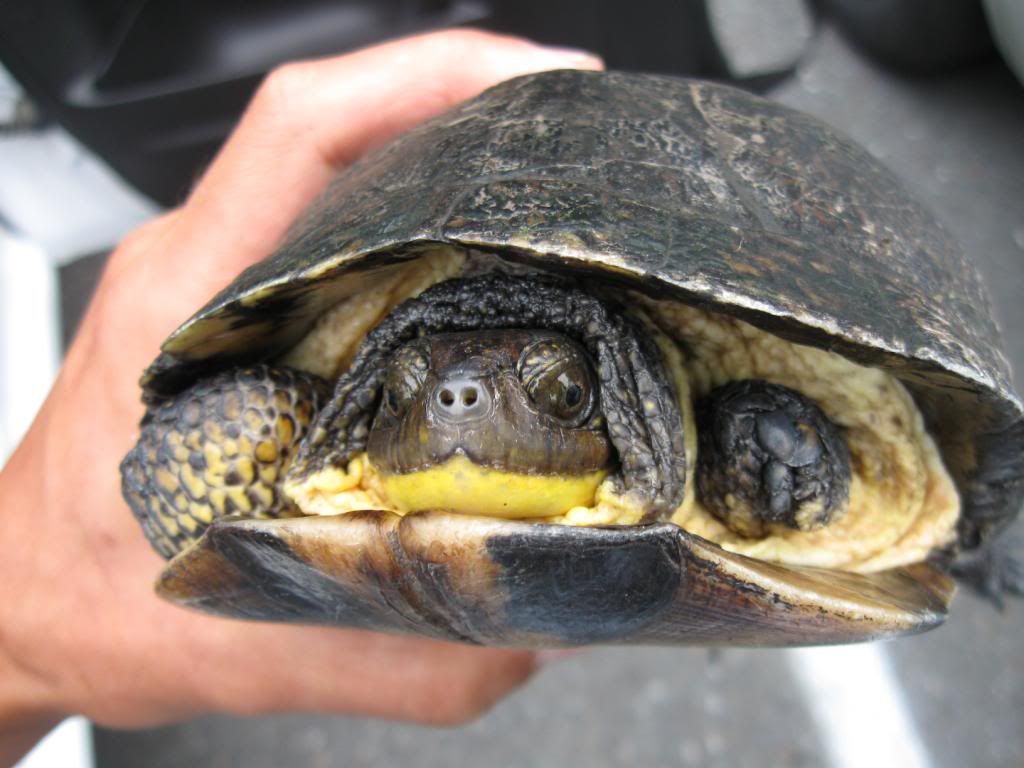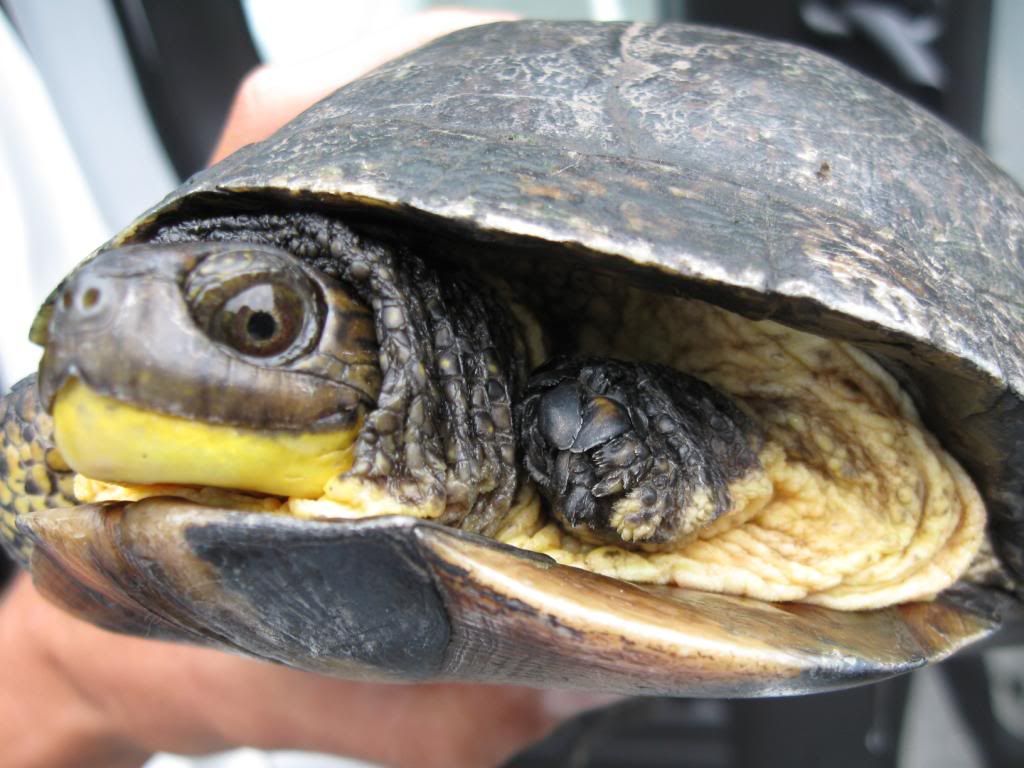 Juvenile snapper crossing the road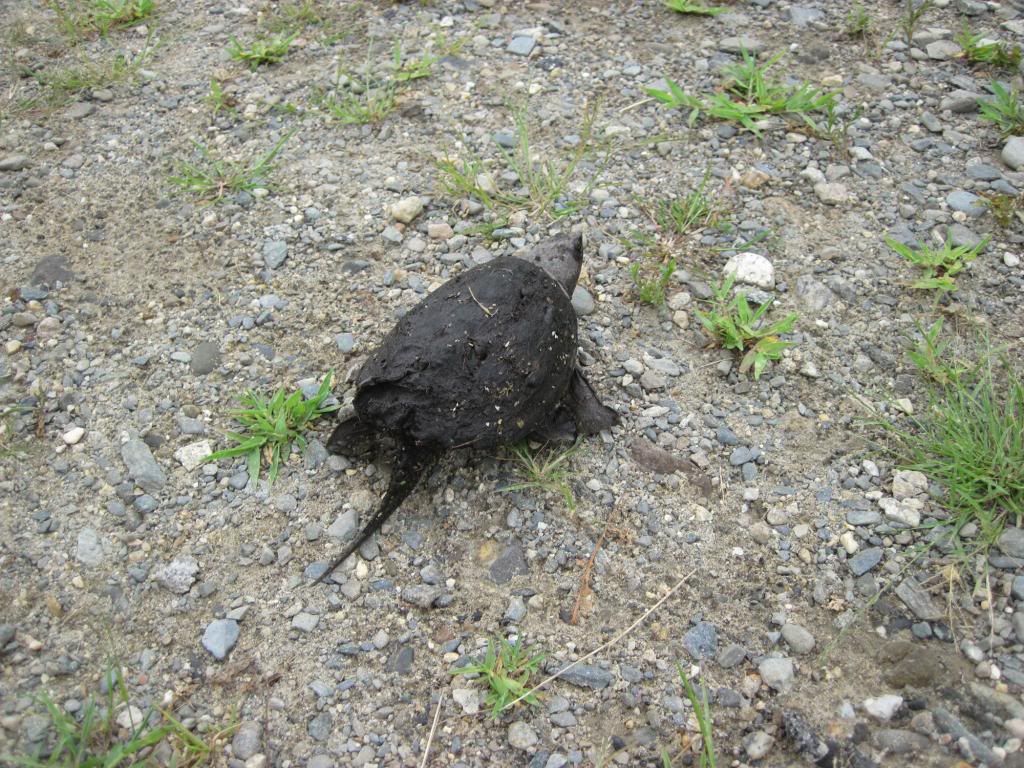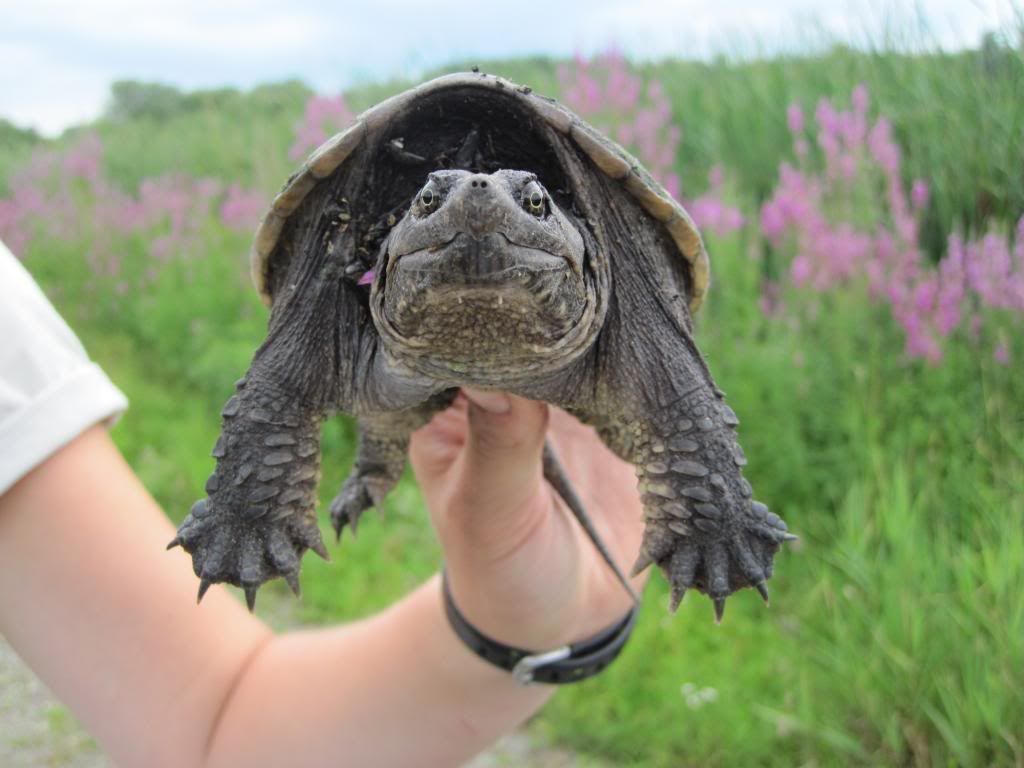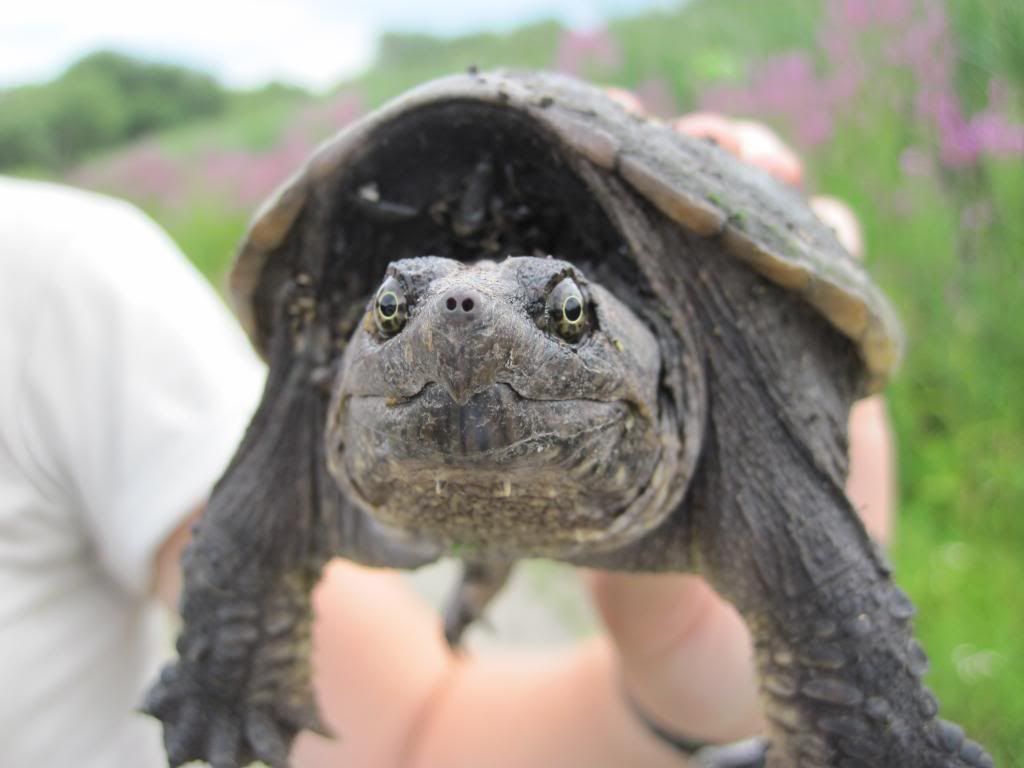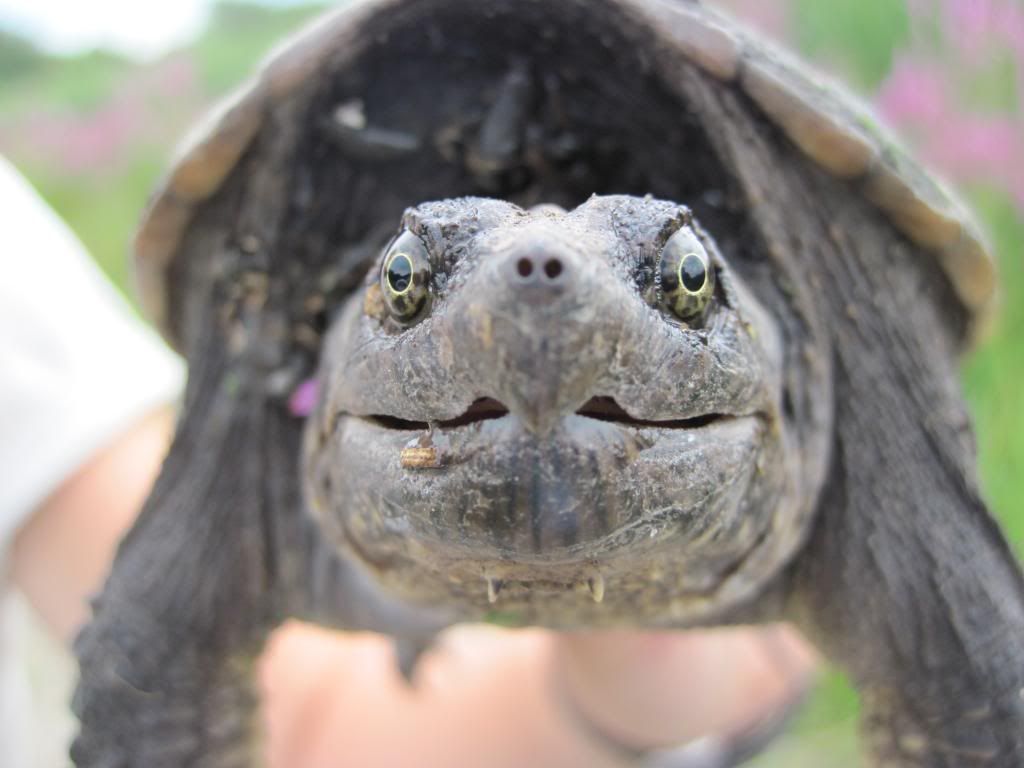 Trapping for juvenile Blanding's at our donor site to translocate as part of a repatriation project
A large haul of Blanding's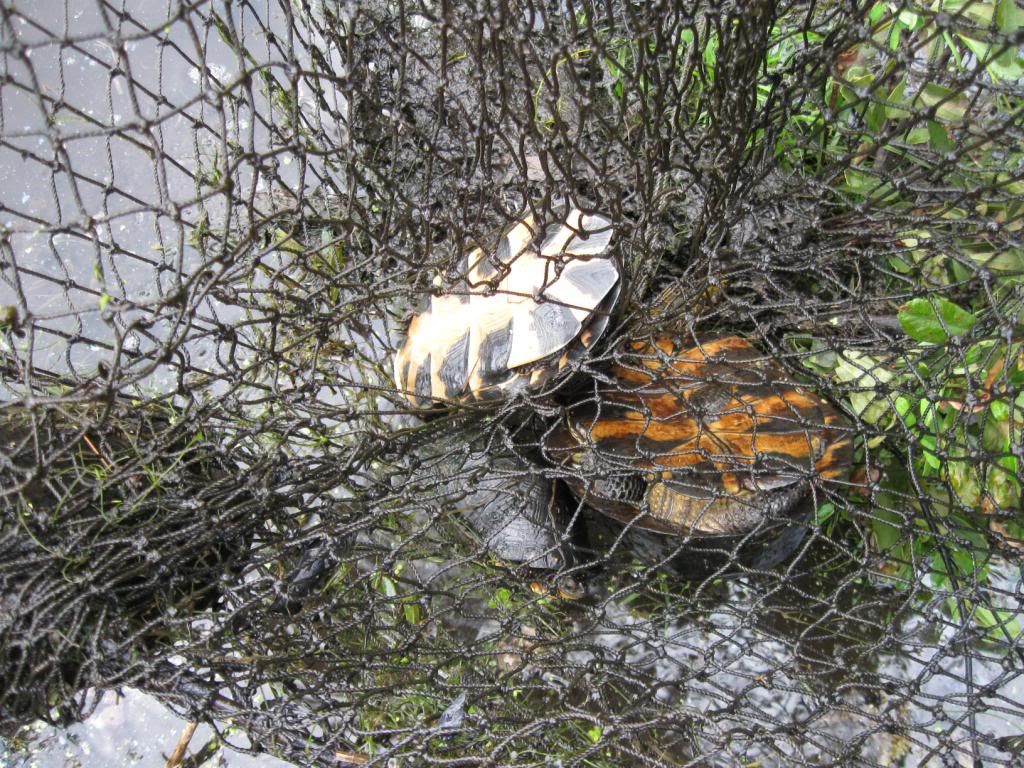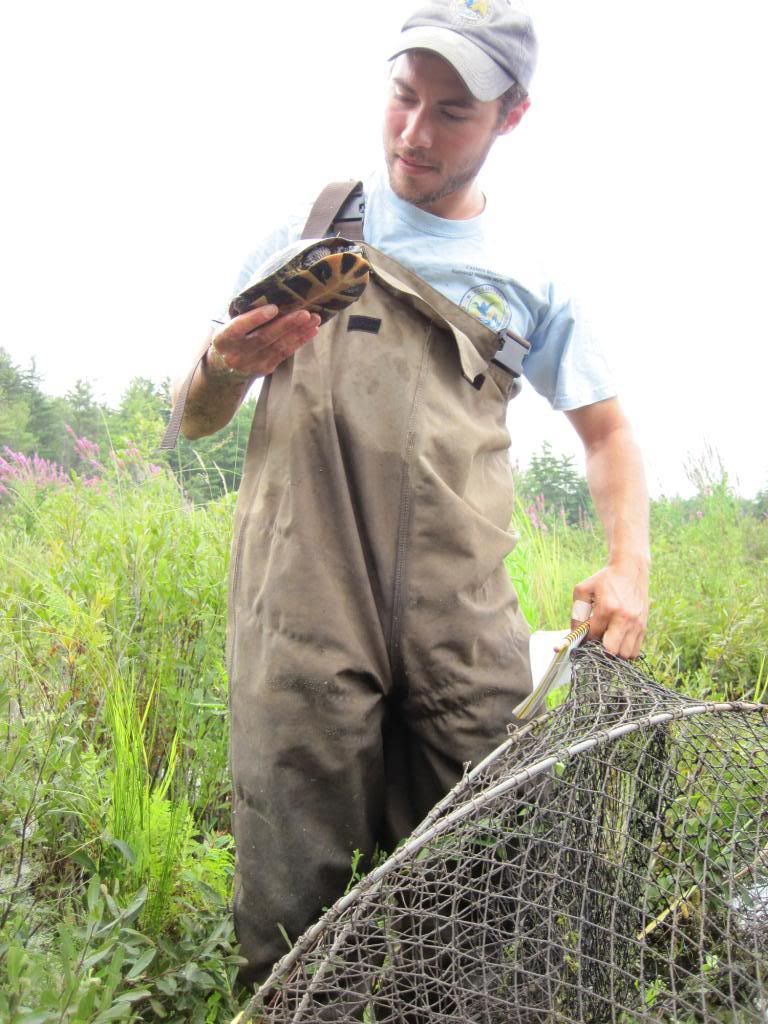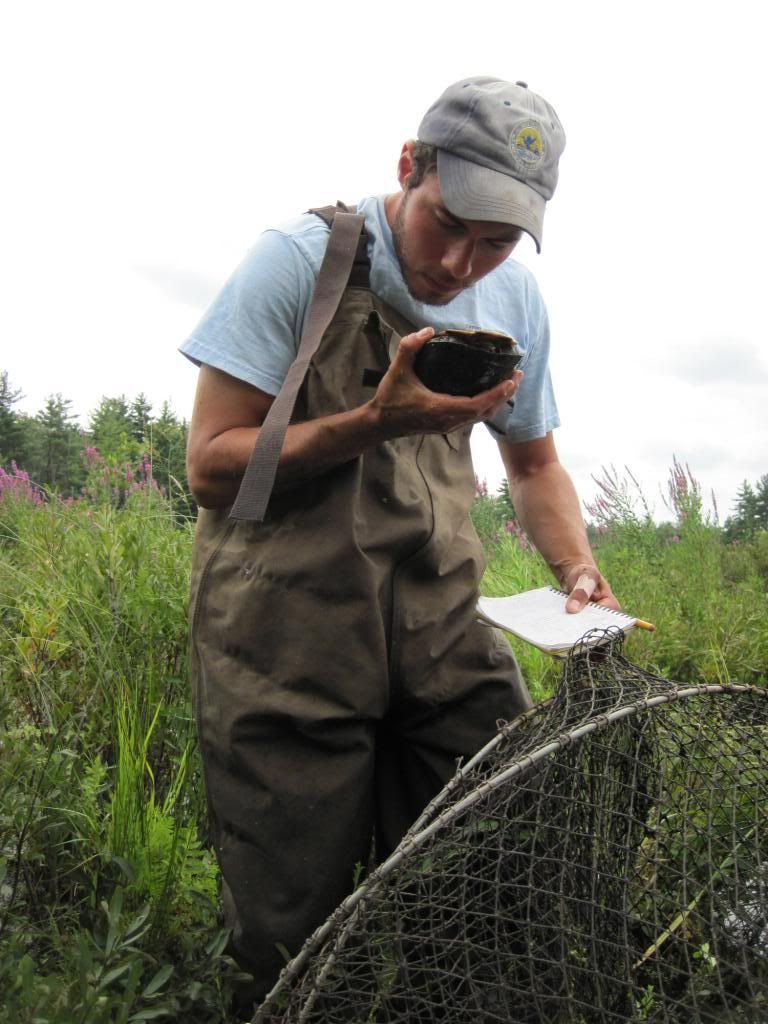 This large male had really nice carapace pattern/coloration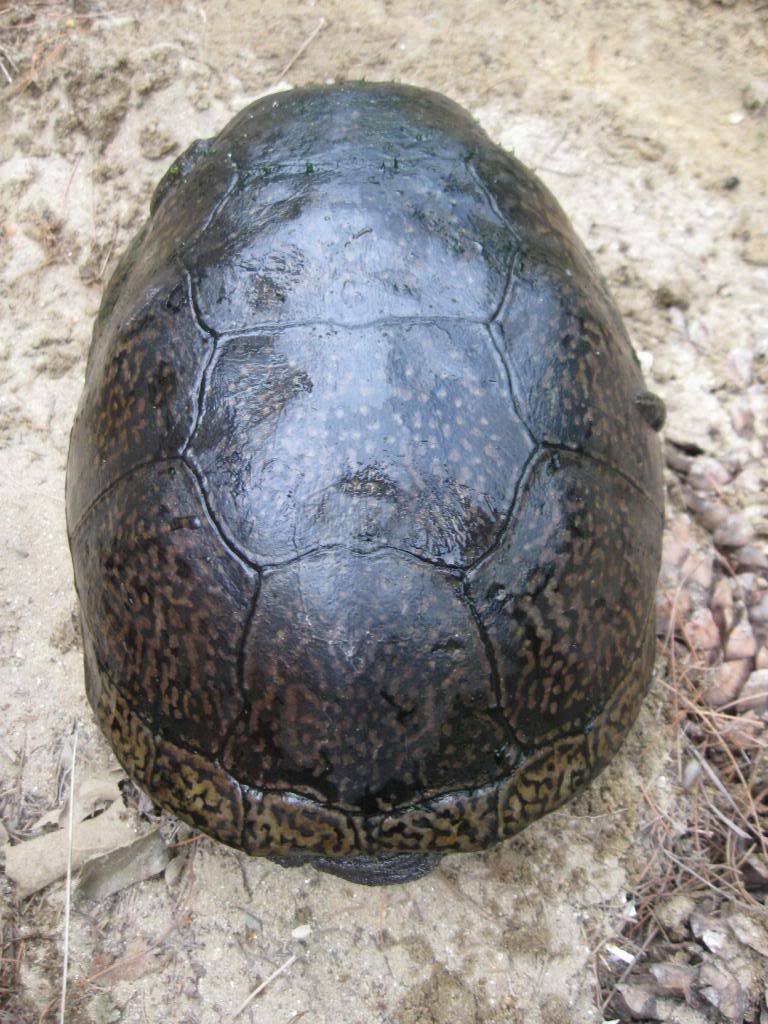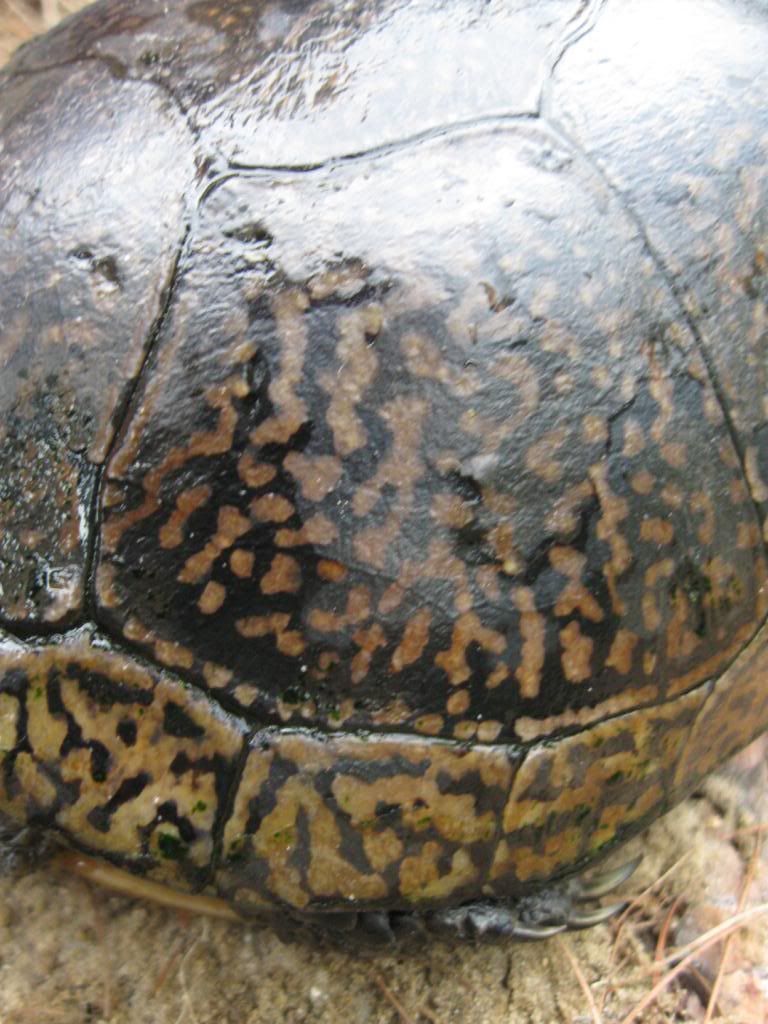 These two were young enough to be outfitted with radios and relocated. Interestingly, one of the two had been notched as a direct-release hatching back in 2004.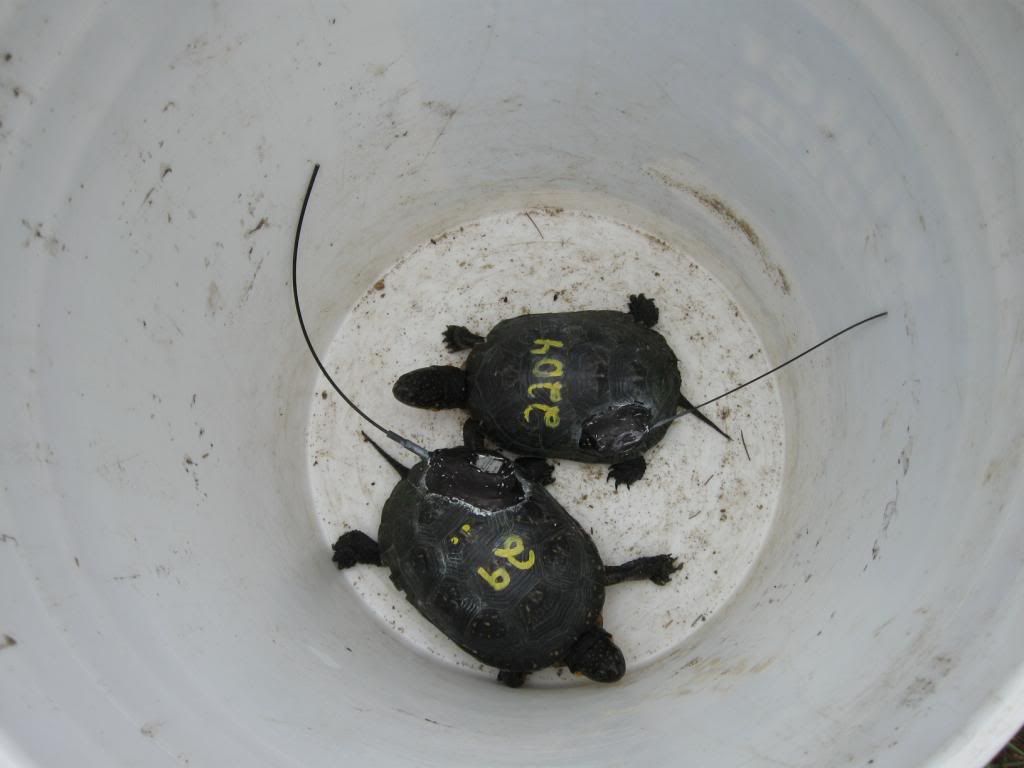 My parents came to visit for the weekend, so I brought them for the full swamp experience.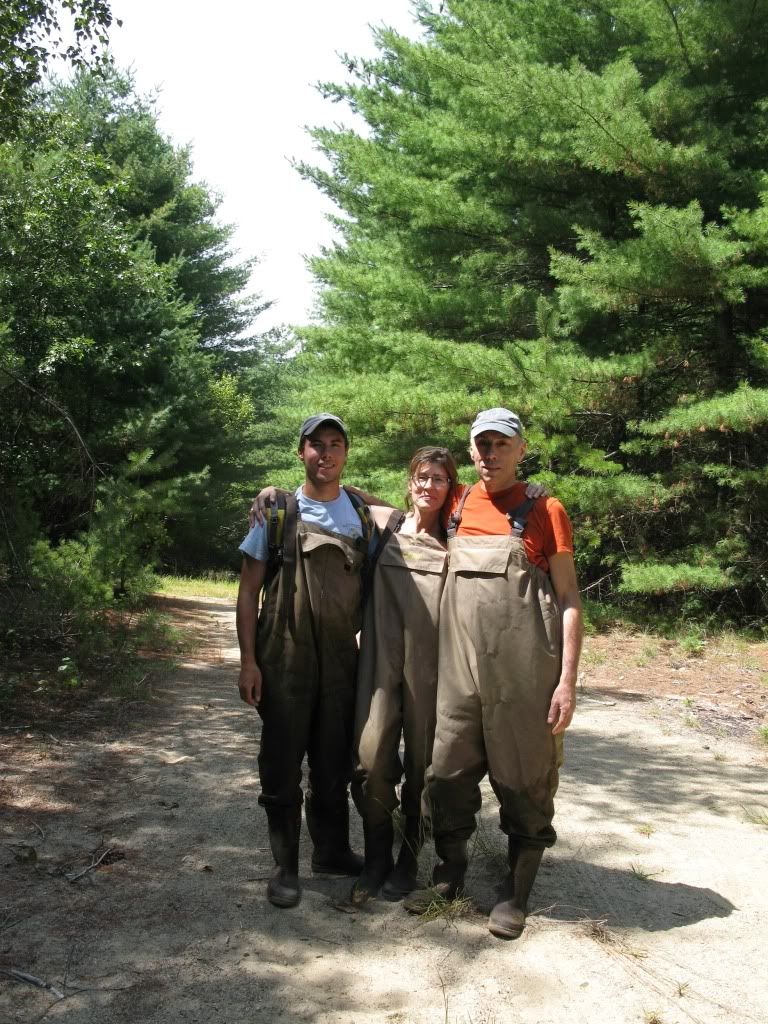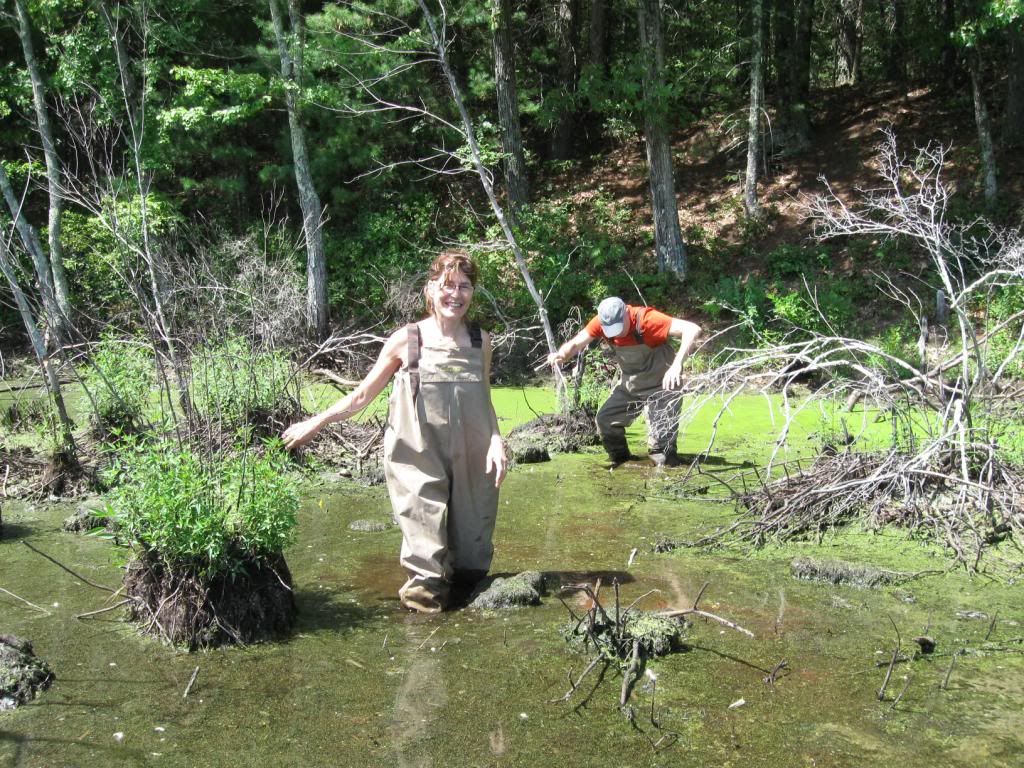 We caught a very large, ancient-looking snapper that was missing an eye.
"On Hubbard's meadow, saw a motion in the water as if a pickerel had darted away; approached and saw a middle-sized snapping turtle on the bottom; managed at last, after stripping off my coat and rolling up my shirt-sleeve, by thrusting in my arm to the shoulder, to get him by the tail and lift him aboard. He tried to get under the boat. He snapped at my shoe and got the toe in his mouth. His back was covered with green moss (?), or the like, mostly concealing the scales. In this were small leeches. Great, rough, but not hard, scales on his legs. He made a pretty loud hissing like a cross dog, by his breathing. It was wonderful how suddenly this sluggish creature would snap at anything. As he lay under the seat, I scratched his back, and, filling himself with air and rage, his head would suddenly fly upward, his shell striking the seat, just as a steel trap goes off, and though I was prepared for it, it never failed to startle me, it was so swift and sudden. He slowly inflated himself, and then suddenly went off like a percussion lock snapping the air. Thus undoubtedly he catches fishes, as a toad catches flies. His laminated tail and great triangular points in the rear edge of his shell. Nature does not forget beauty of outline even in a mud turtle's shell."
-Thoreau, May 16th, 1854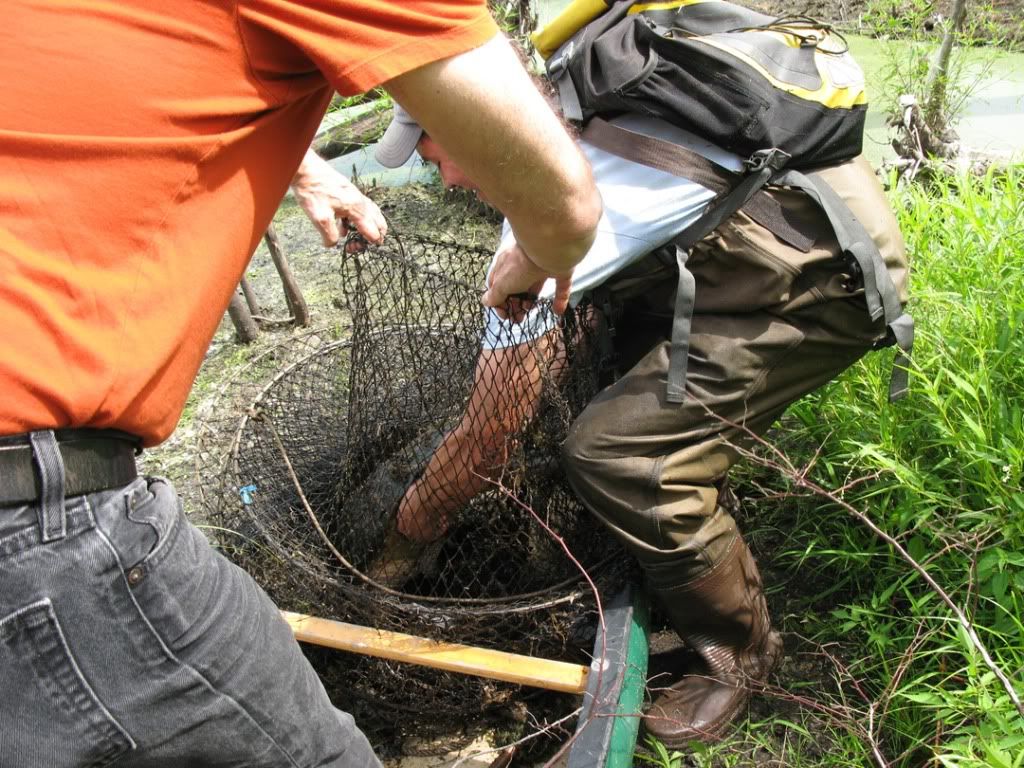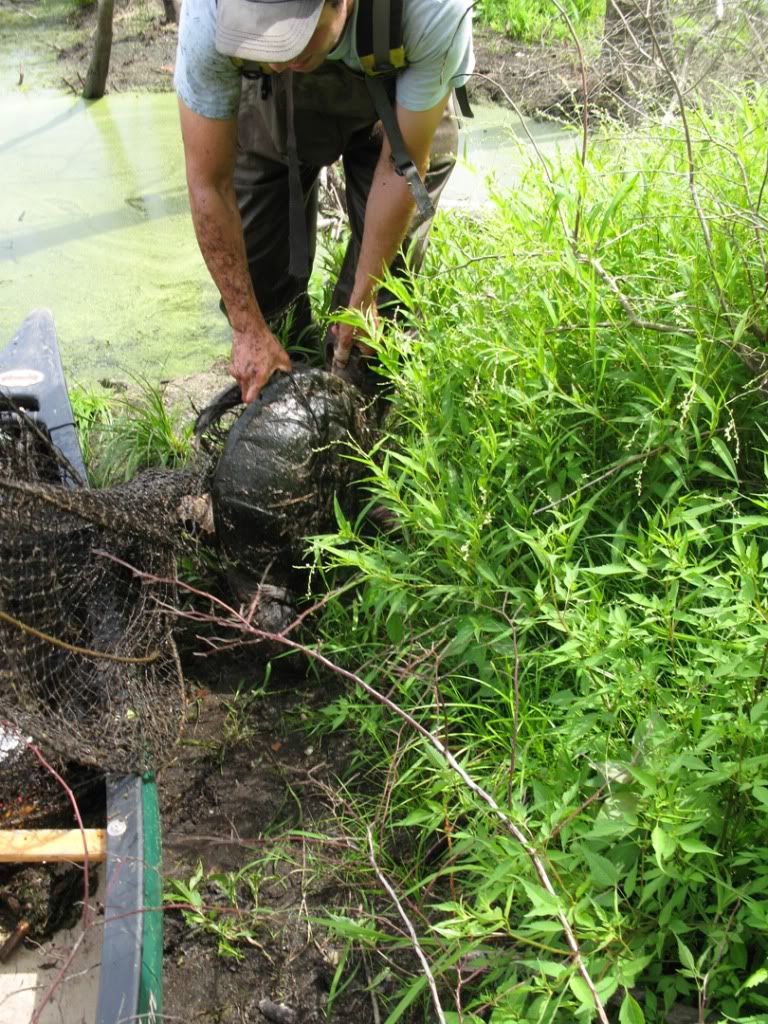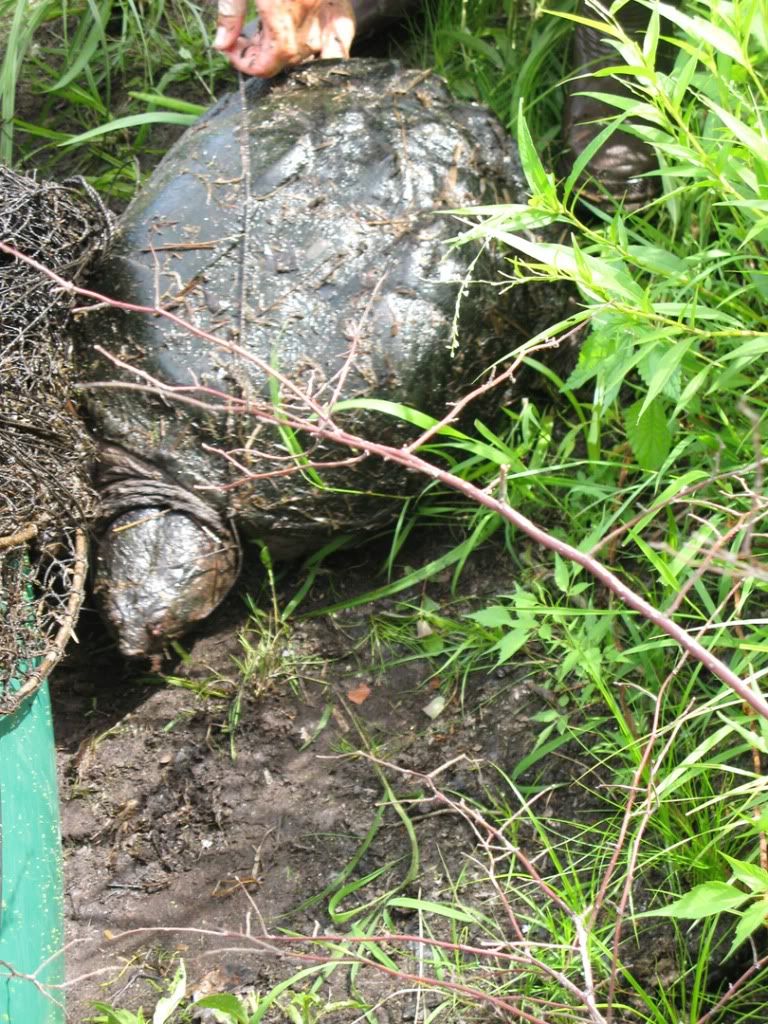 Here are a couple more big snappers I caught this summer
"When I awake in the morning, I remember what I have seen and heard of snapping turtles, and am in doubt whether it was dream or reality. I slowly raise my head and peeping over the bedside see my great mud turtle shell lying bottom up under the table, showing its prominent ribs, and realize into what world I have awaked. Before I was in doubt how much prominence my good Genius would give to that fact. That the first object you see on awakening should be an empty mud turtle's shell!! Will it not make me of the earth earthy? What life, what character, this has shielded, which is now at liberty to be turned bottom upward! I can put specimens of all our other turtles into this cavity. This too was once an infant in its egg. When I see this, then I am sure that I am not dreaming, but am awake to this world. I do not know any more terrene fact. It still carries the earth on its back. Its life is between the animal and vegetable; like a seed it is planted deep in the ground and is all summer germinating. Does it not possess as much the life of the vegetable as the animal?"
-Thoreau, August 27th, 1854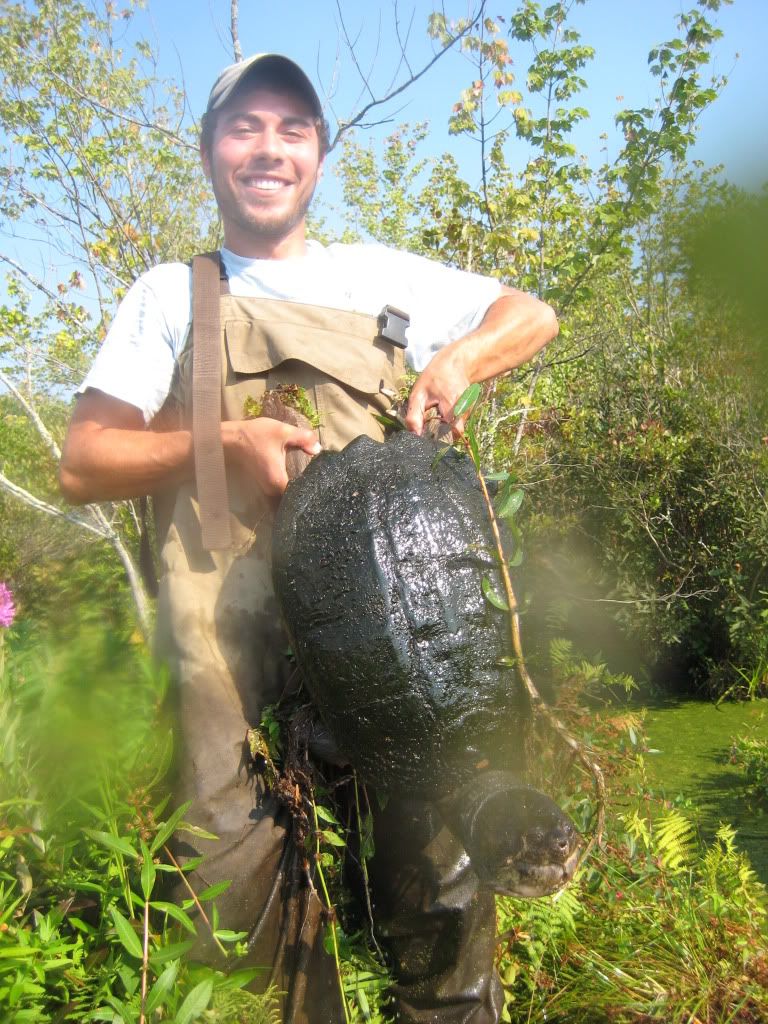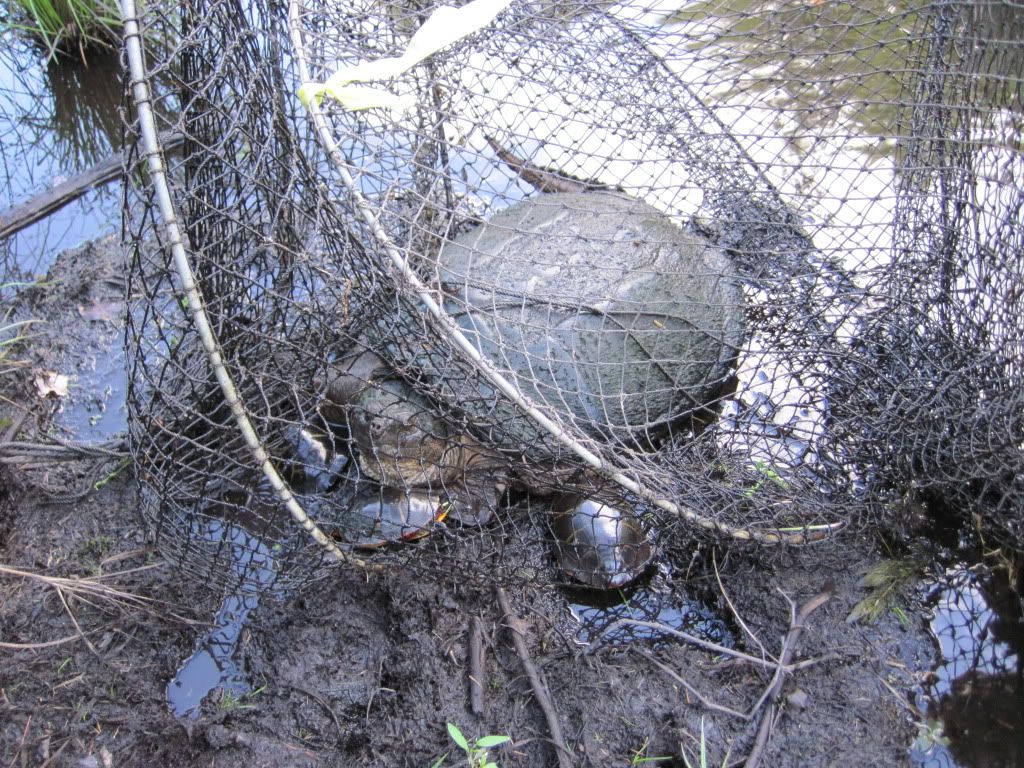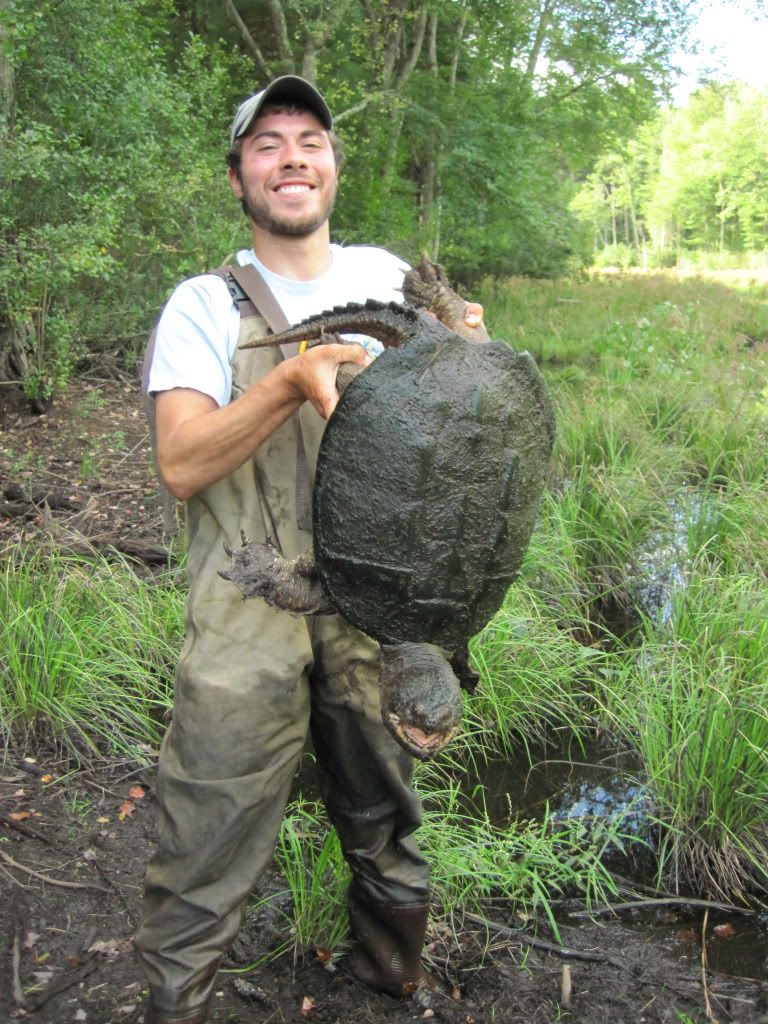 Of course, I also caught tons of painteds. This one had a bite taken out of it sometime in the past.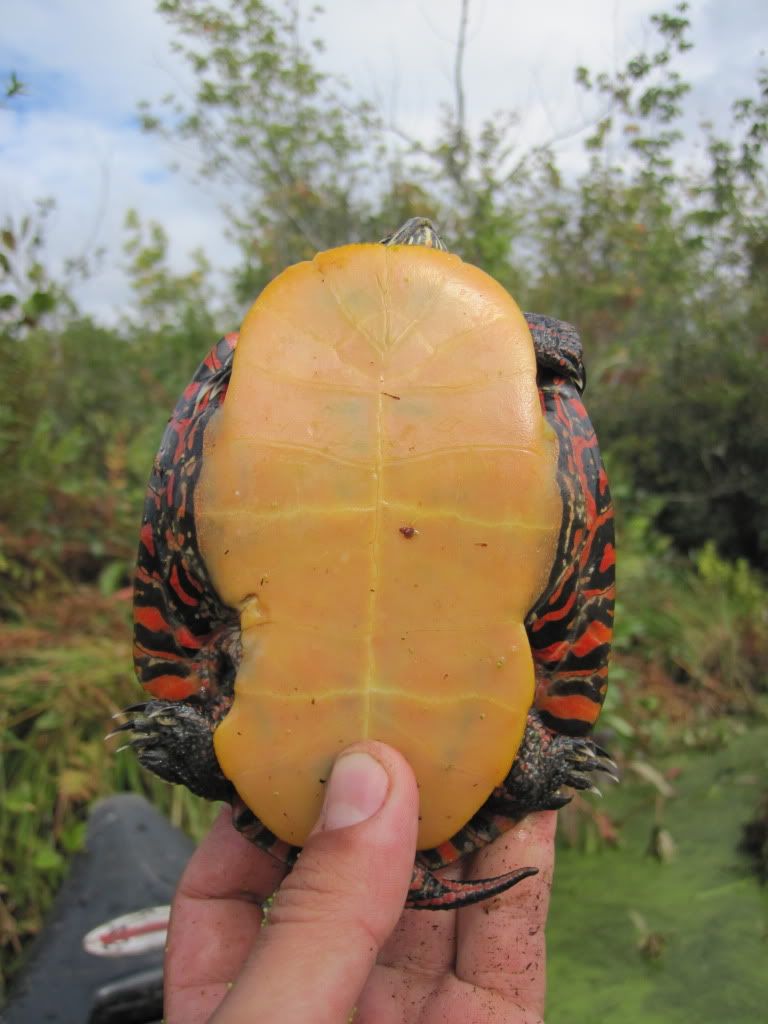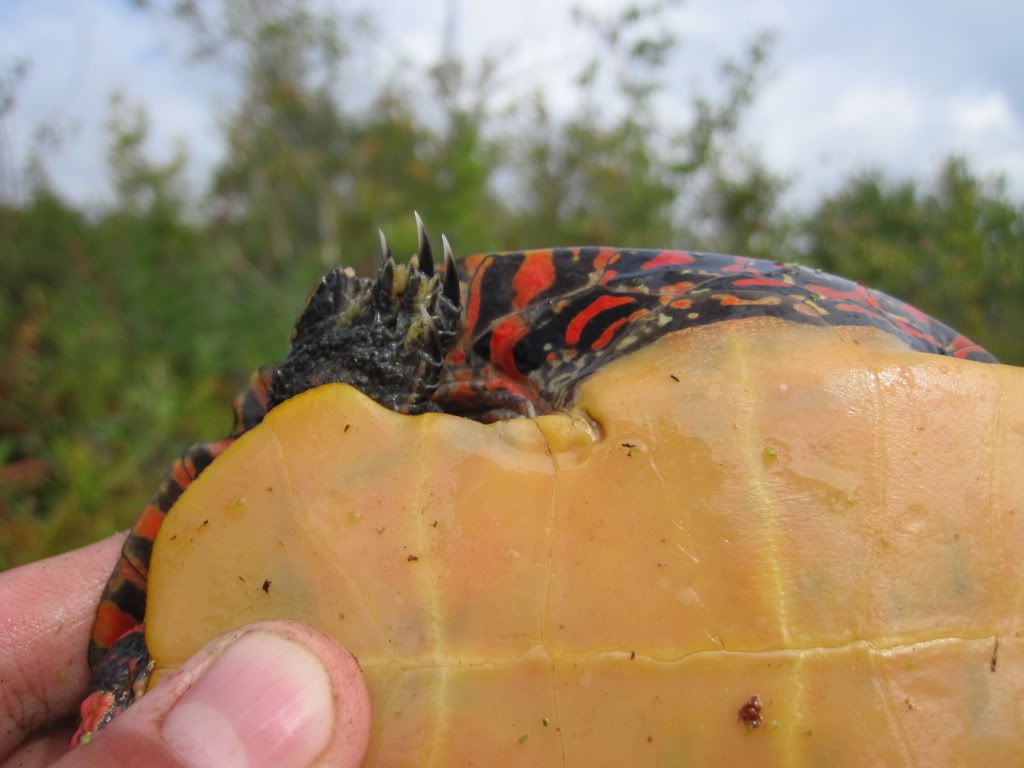 Here's one with some weird "cracking" on the plastron. Anyone know what this could be from?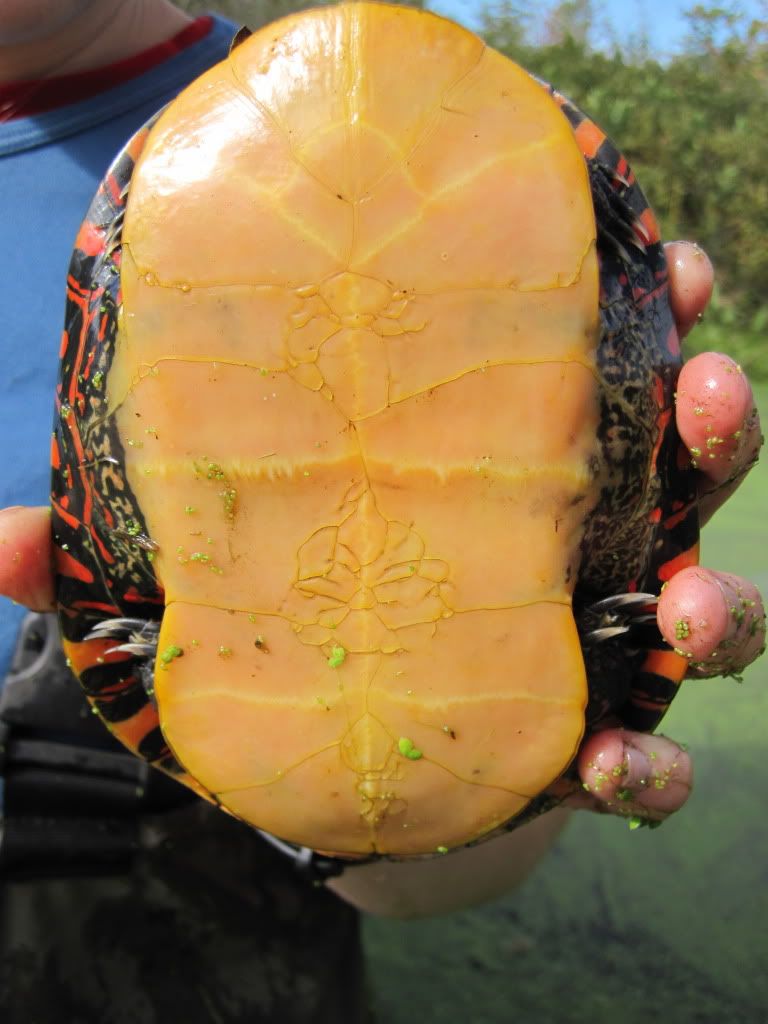 While Kristin and I were searching for one of the translocated Blanding's turtles in need of a radio swap, we were both pretty surprised when Kristin pulled up this small,
non-radioed
(but notched) turtle! Initially we assumed it was a released head-start, which would have been great news anyhow, as we have yet to recapture any of the headstarted turtles released at this site and don't know how they're doing. However, we were even more pleased when we learned it was
direct-released
as a hatchling back in Fall of 2008, and had not only managed to survive, but grow significantly in a relatively short amount of time, and somehow end up within the same square meter as one of the translocated turtles here! (Clearly, the animals are honing in on something out here in the swamp, as they have been found in close proximity before – we just don't know what, exactly. There are plans to further investigate the underlying mechanism behind this behavior). The turtle was big enough for a radio, so we put one on. This was the first non-radioed Blanding's turtle to be (re)captured at the translocation site, despite extensive trapping efforts this season. Hopefully more will be found next year!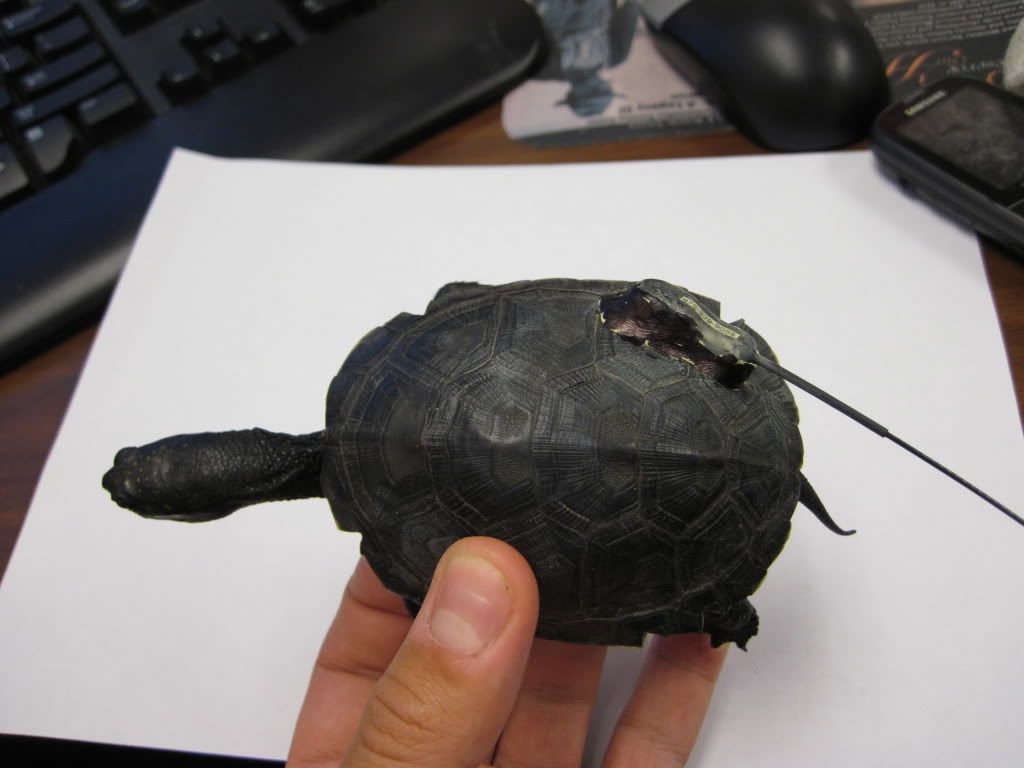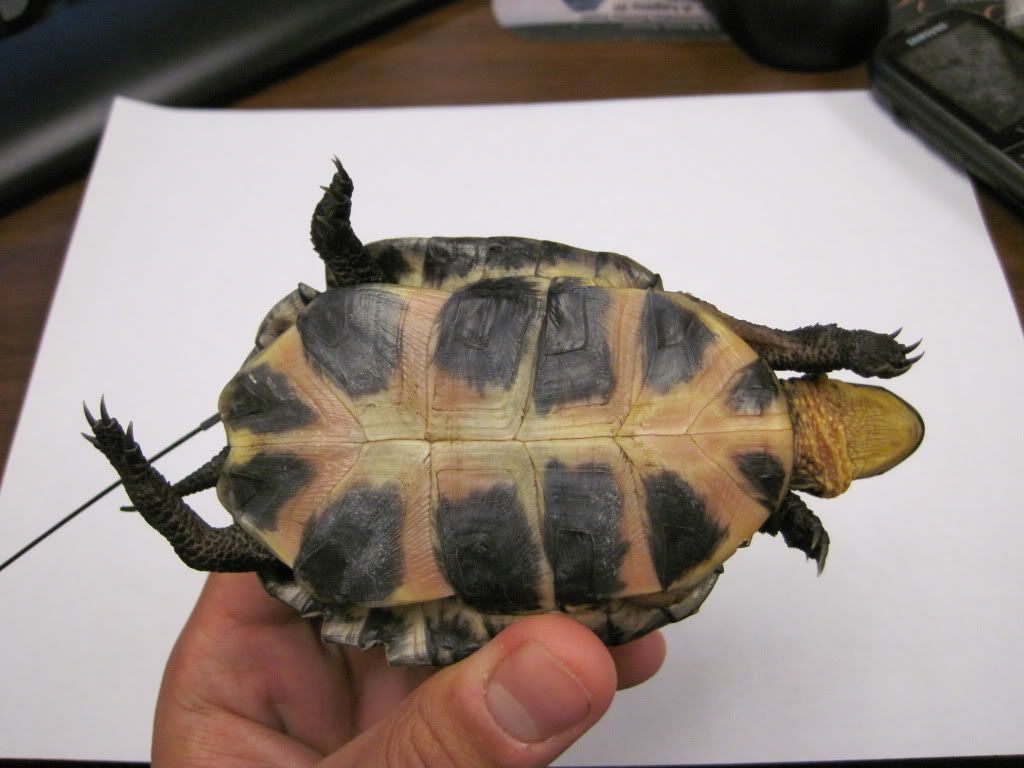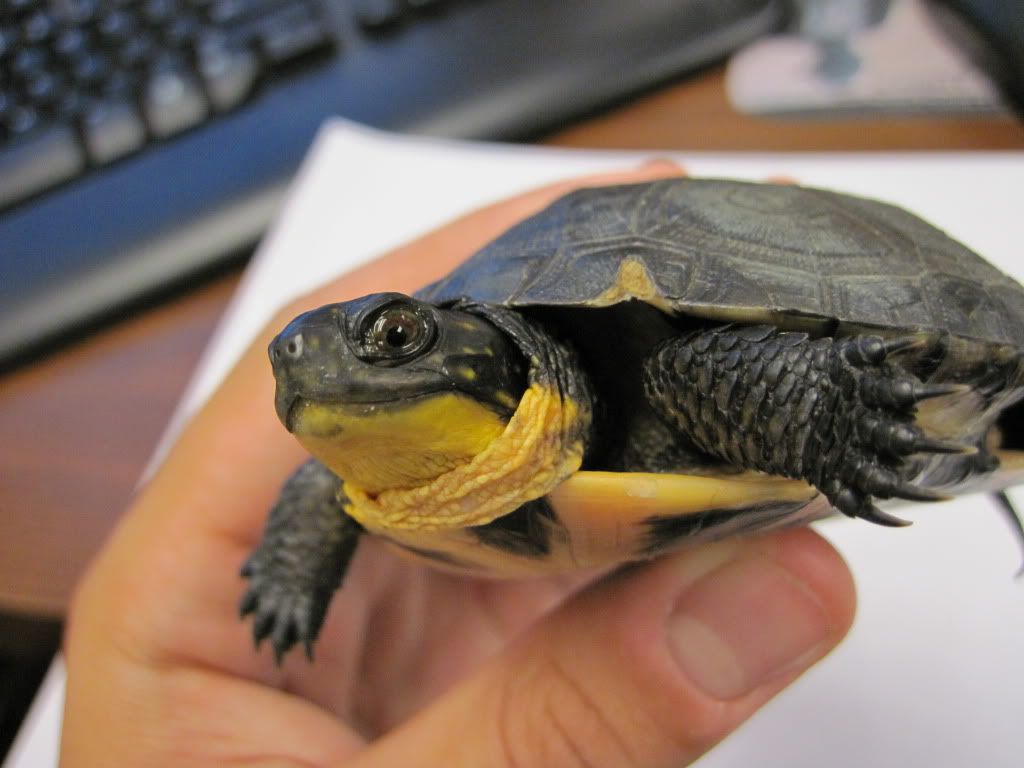 As expected, hatchling Blanding's turtle emergence, like everything else this year, was really early. Also of note, is that aside from hatching early, many of this year's clutches had some of the
shortest
incubation periods documented from these populations within the last decade.
I checked the nests for babies on a daily basis.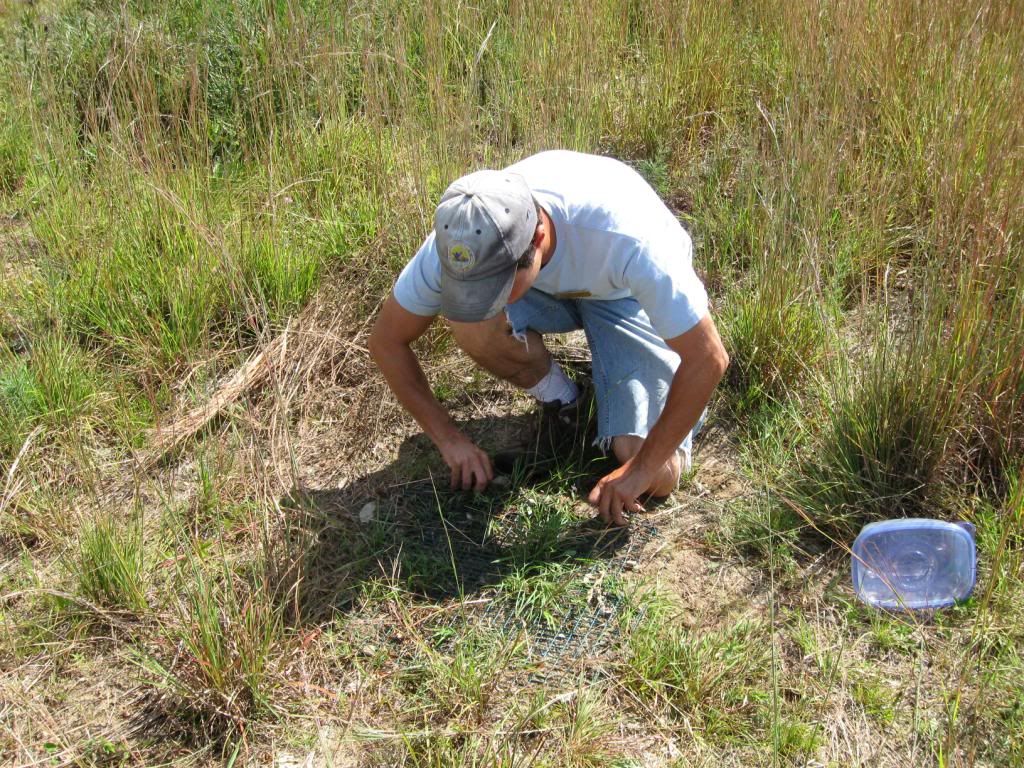 Once any of the hatchlings from a particular clutch had emerged, I would remove the exclosure, excavate the nest, and collect all of the hatchlings.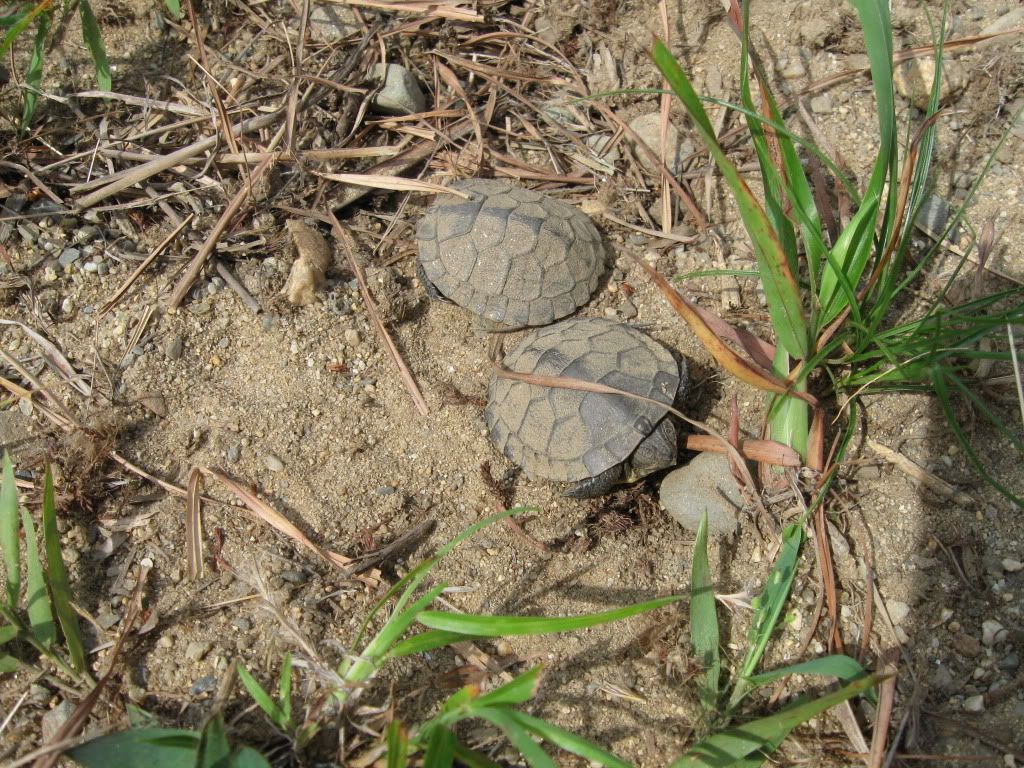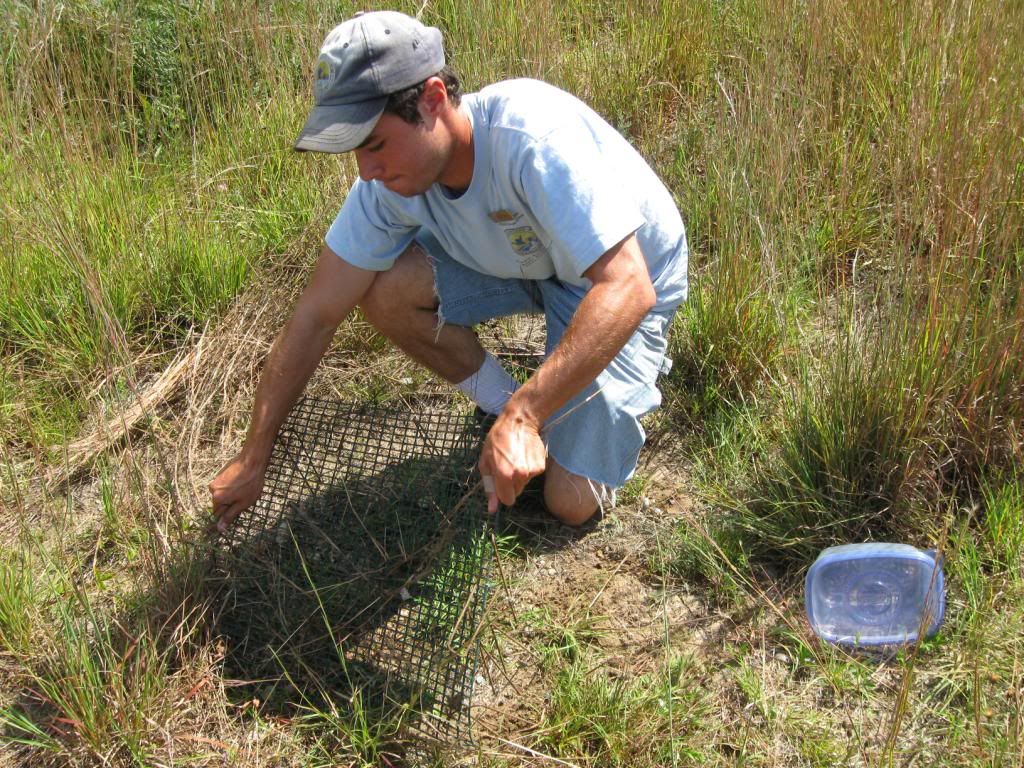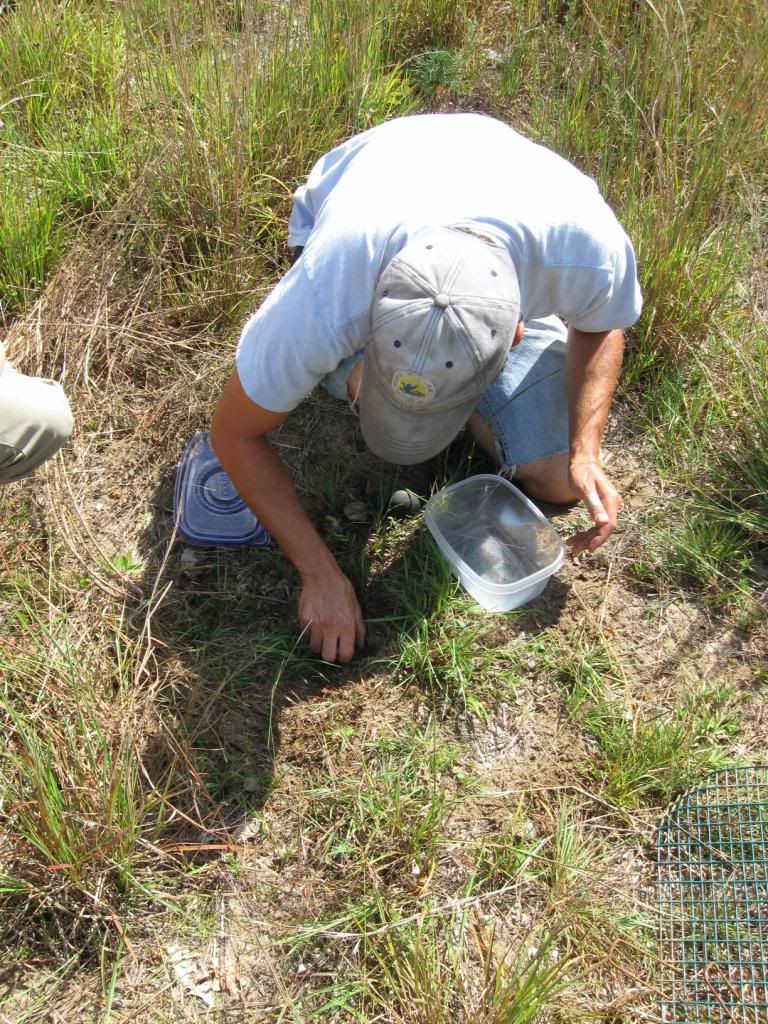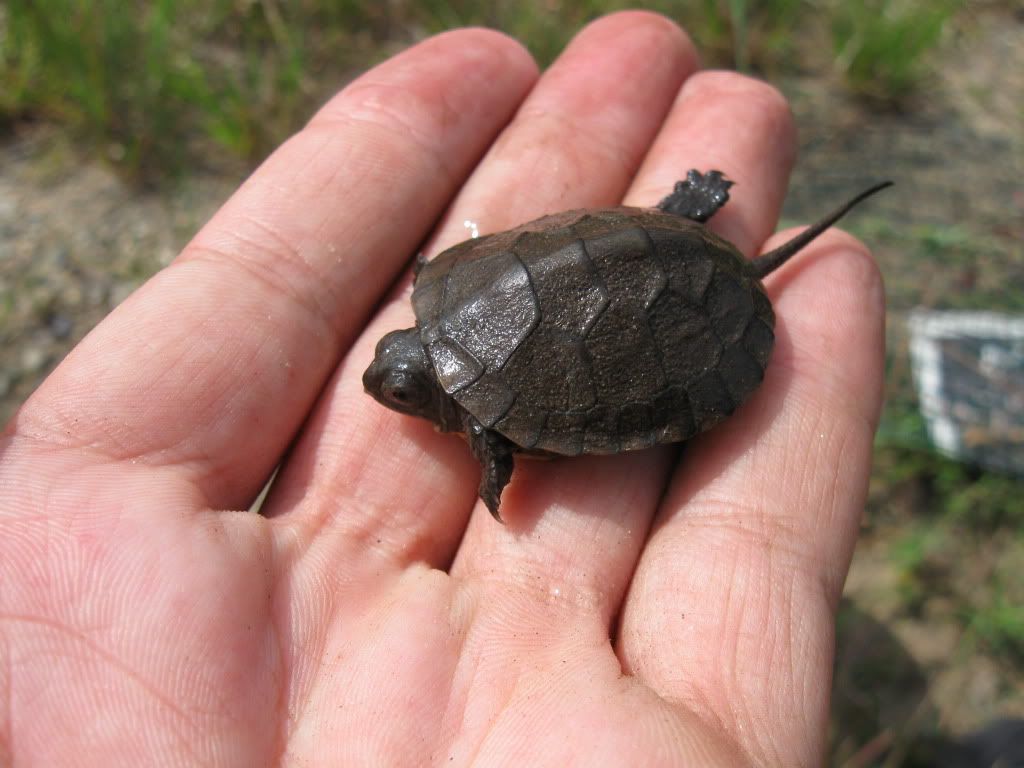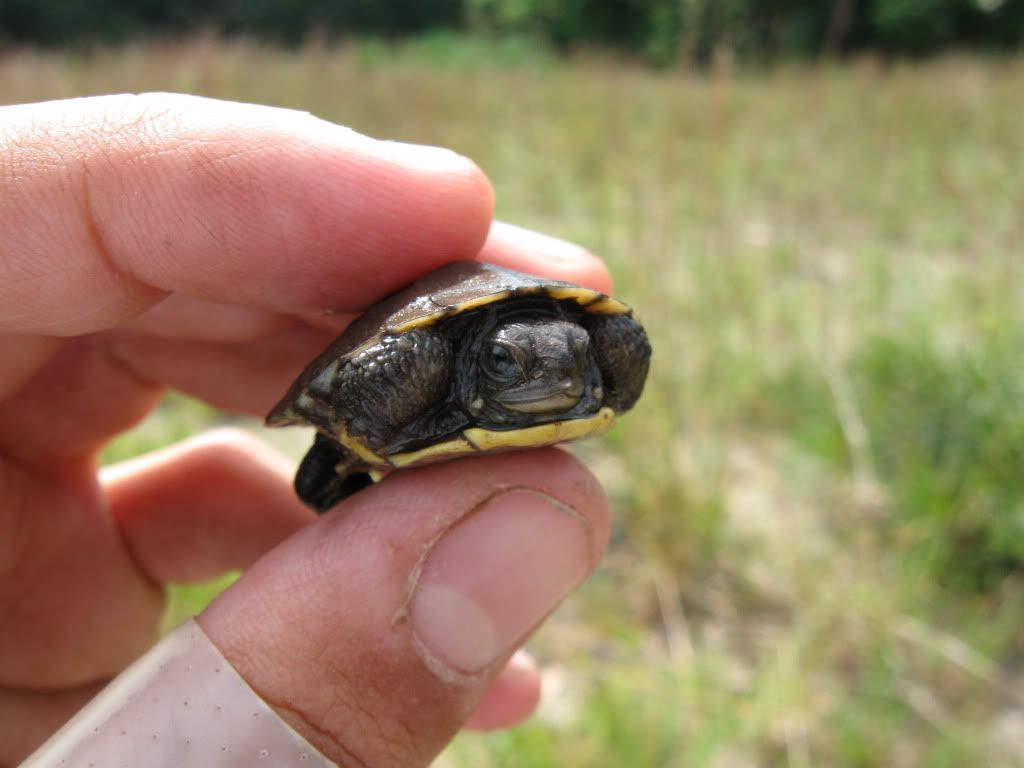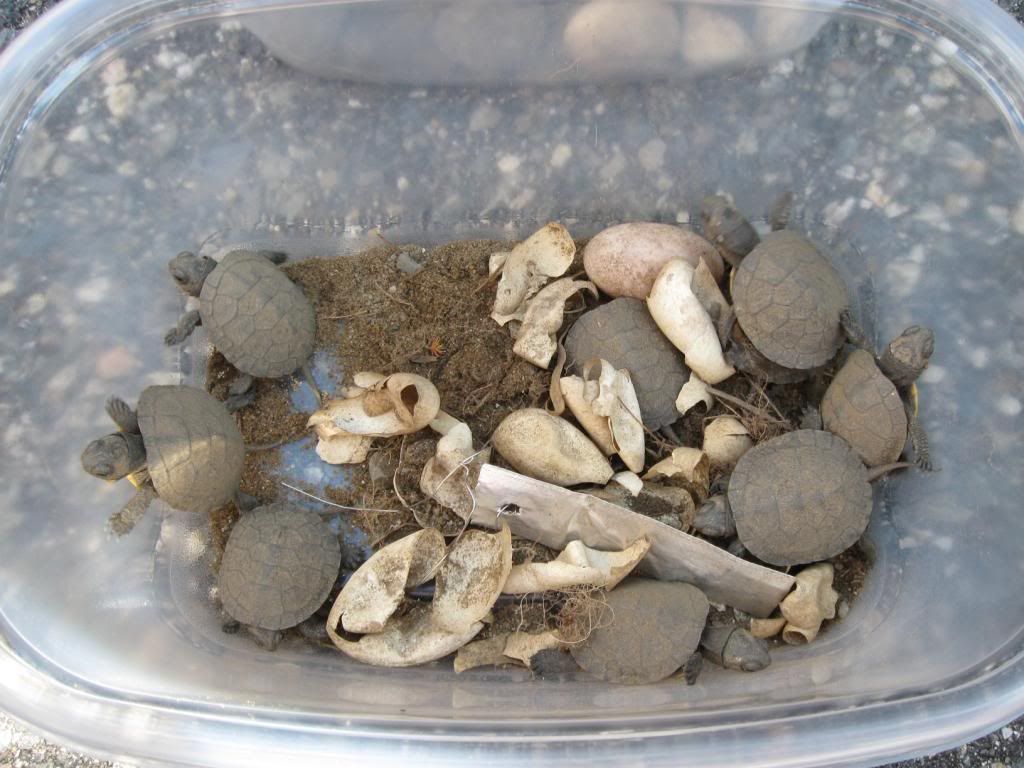 Halfway out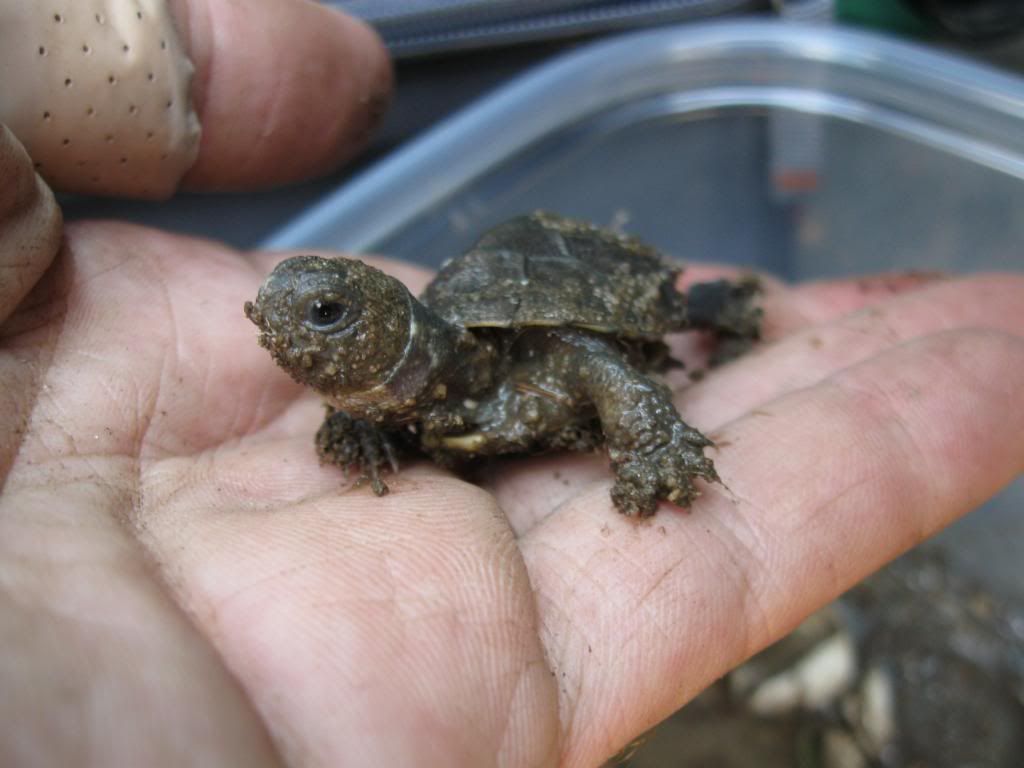 Trying to crawl back into its egg
Of the total number of hatchlings recovered from the donor population, half were "batch notched" and released directly back at this site.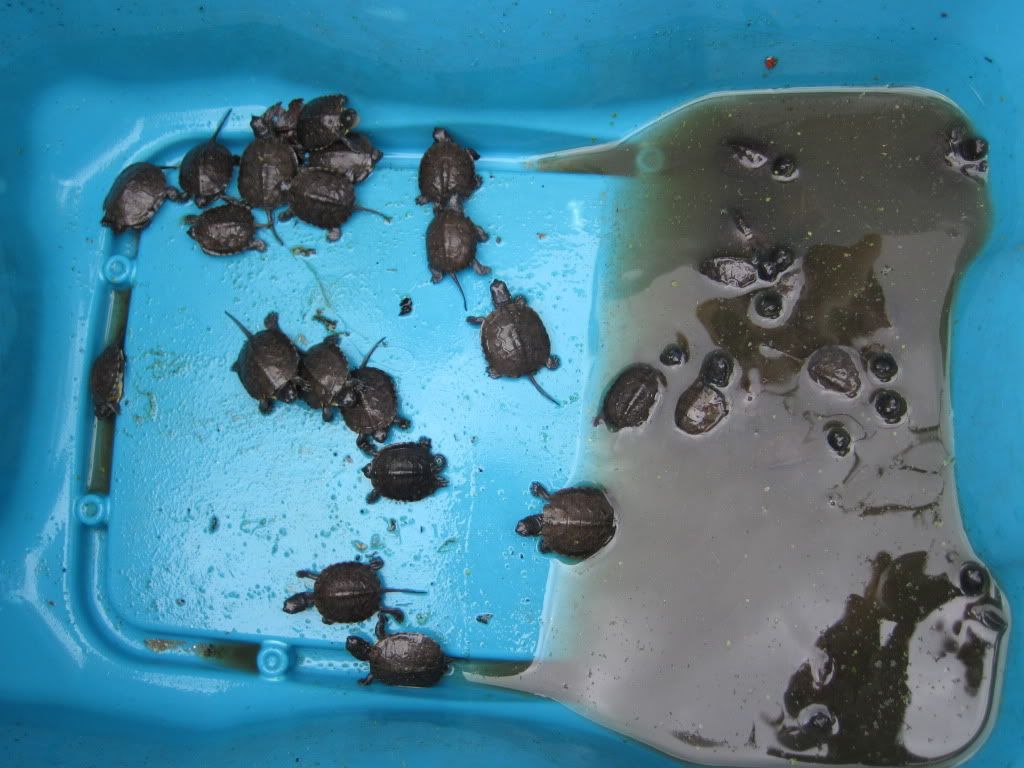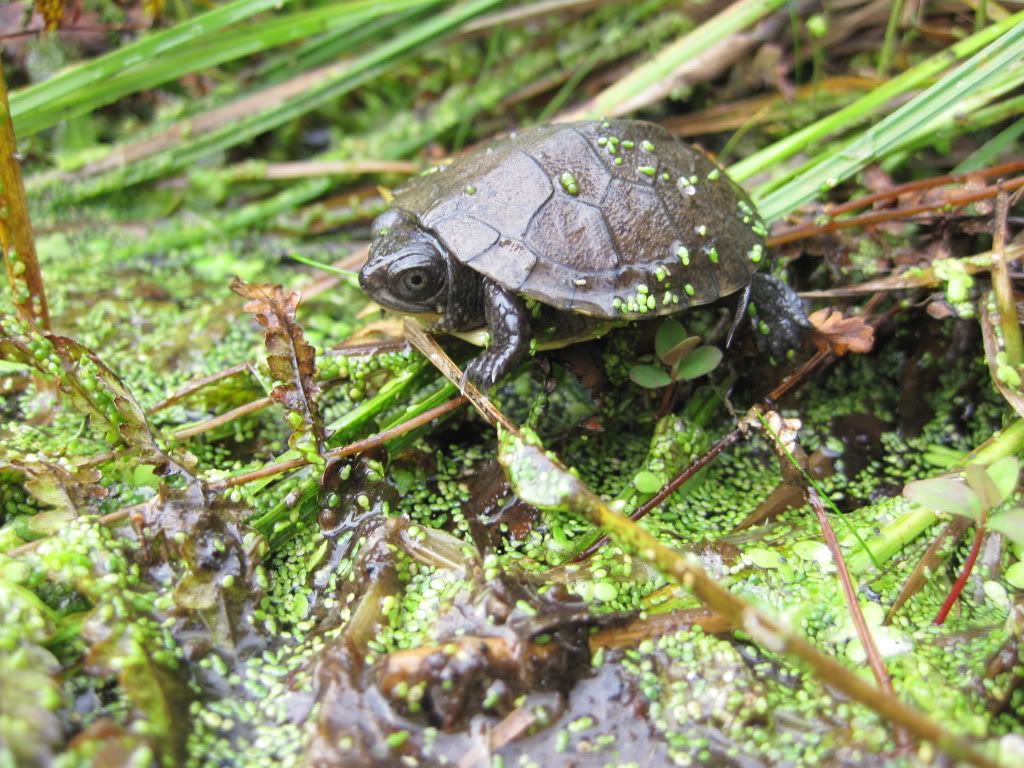 The remaining turtles were each given a unique ID number and brought over to Bristol County Agricultural High School, where they will be head-started for a year, before being released at the recipient site as part of an ongoing repatriation project. I was happy to have the opportunity to tag along for the turtle drop-off.
First, Brian Butler gave a brief talk about the project.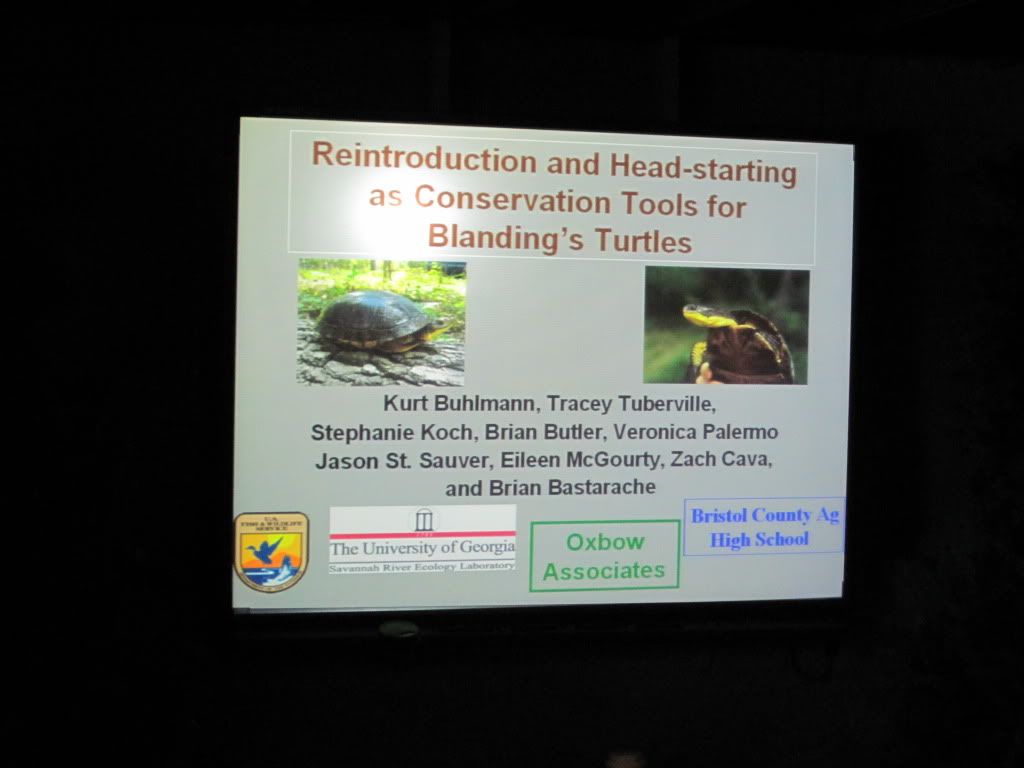 Brian and Kurt Buhlmann (who also came to visit for the release of last year's head-starts in May; see
Part 3
) speak about the project with Charles Winokoor of the Taunton Daily Gazette. See Charles' article
here
.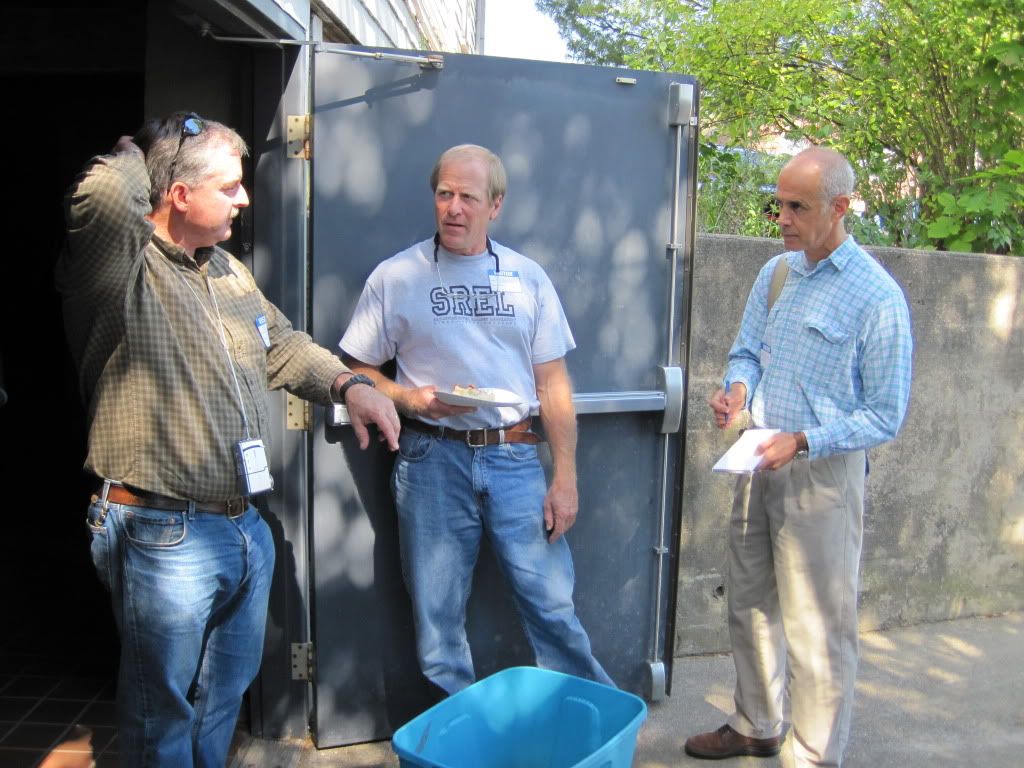 Then, Brian Bastarache (right), who is in charge of the head-starting efforts at Bristol Aggie, took us over to the school's greenhouse for a tour of the head-starting facilities.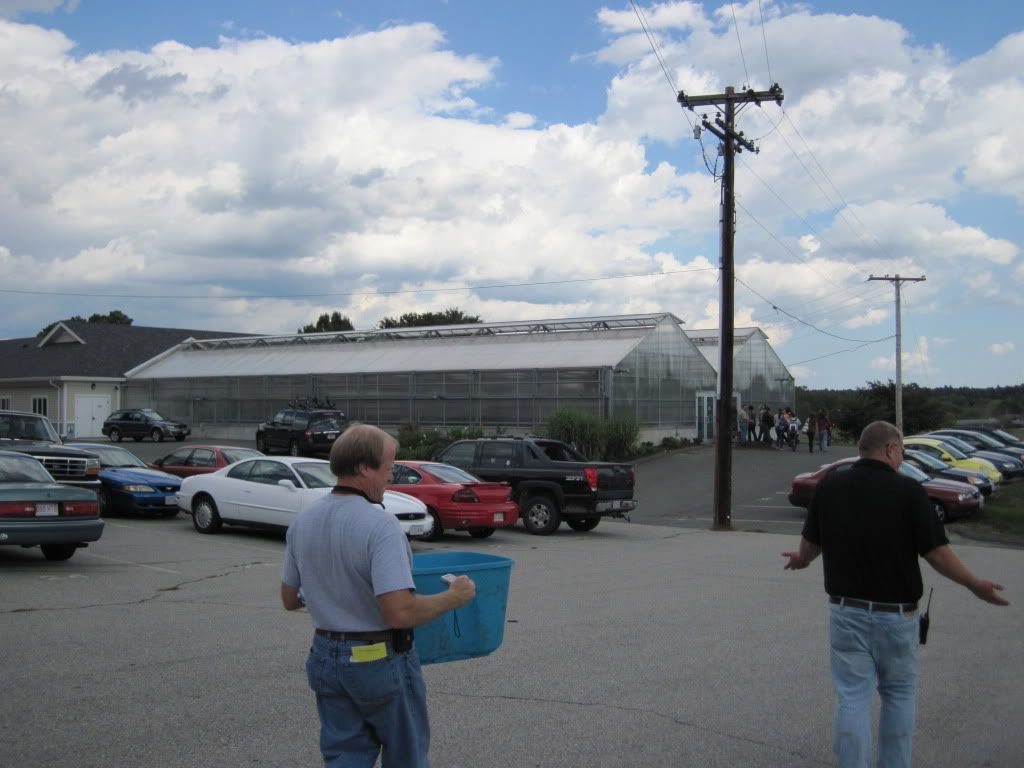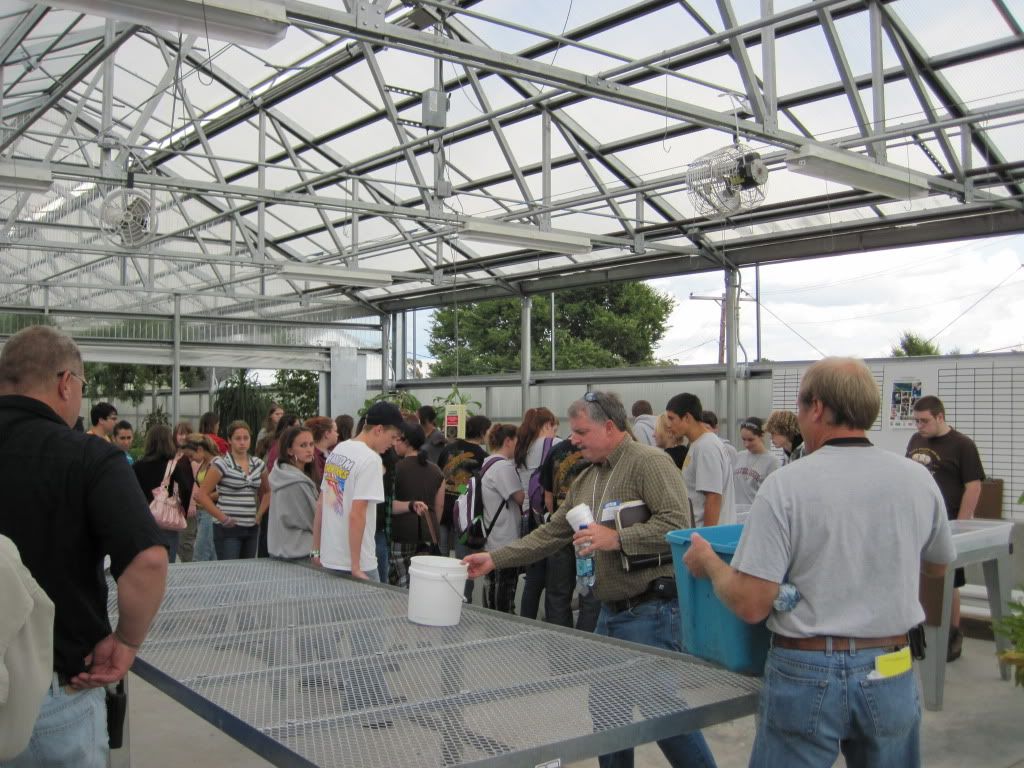 Lots of turtle tubs. Aside from Blanding's, Bastarache's students also raise painted, snapping, and wood turtles. I wish I could have gone to a high school like this!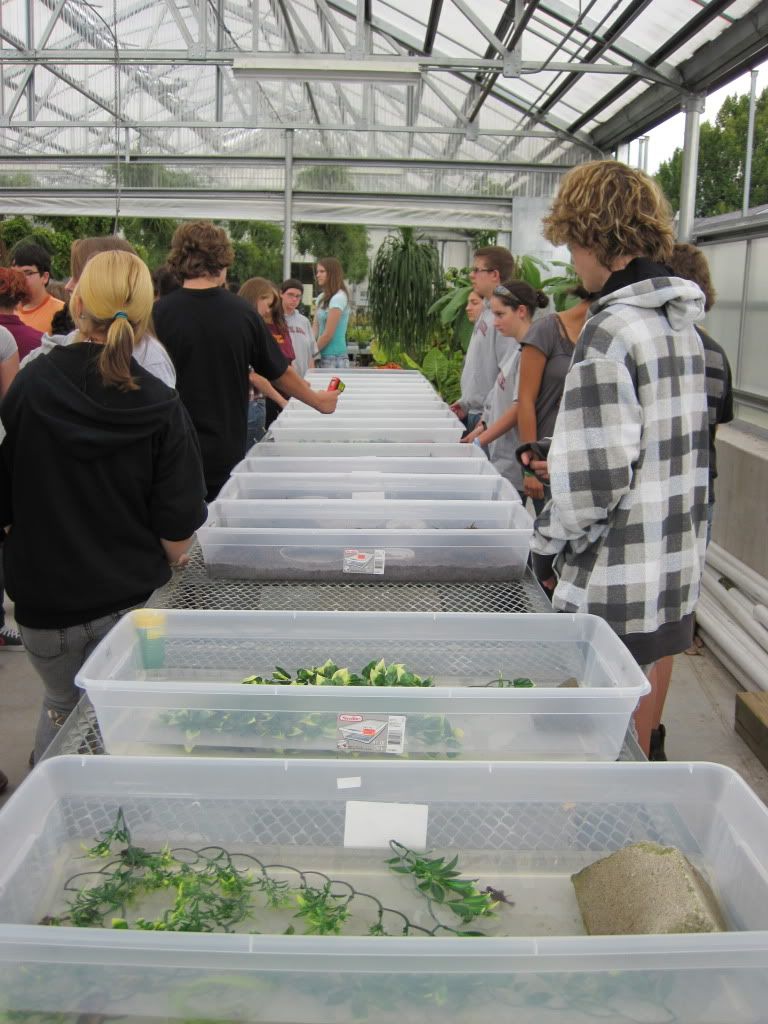 Students line up to process the new arrivals.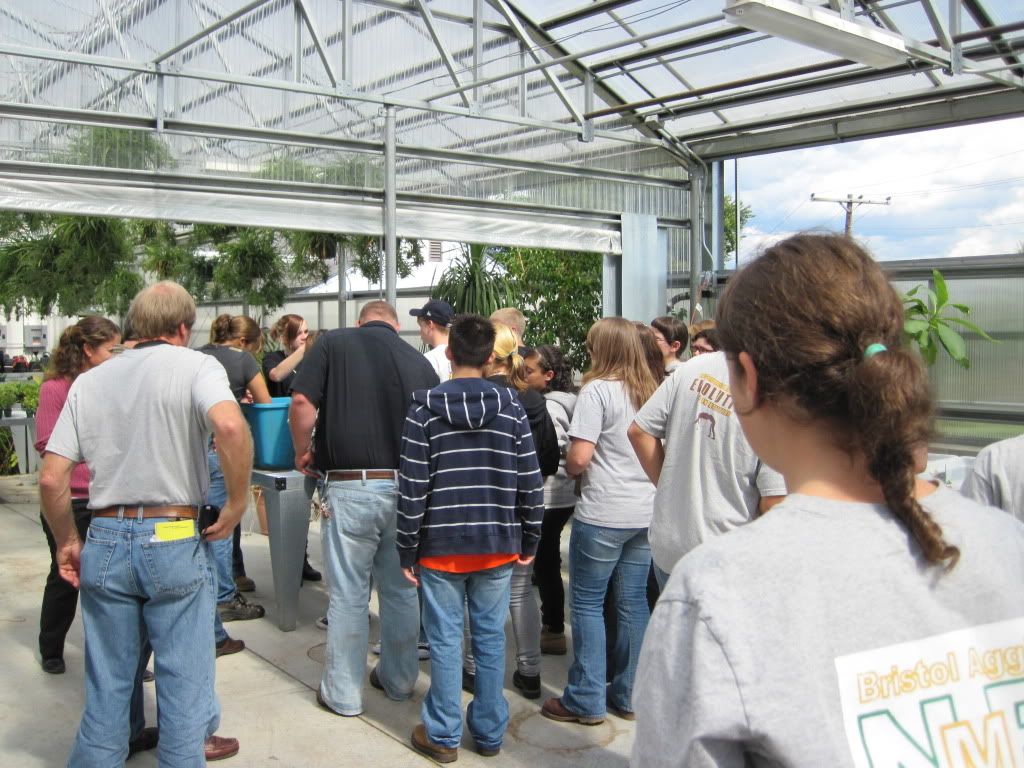 The turtles are placed into their new homes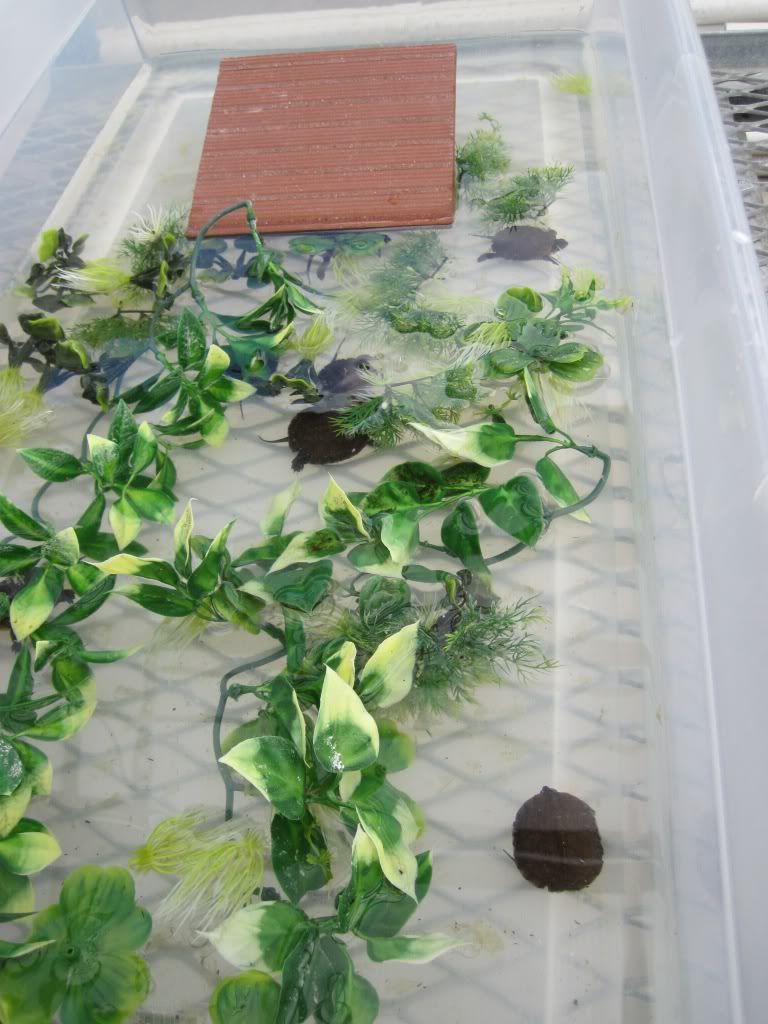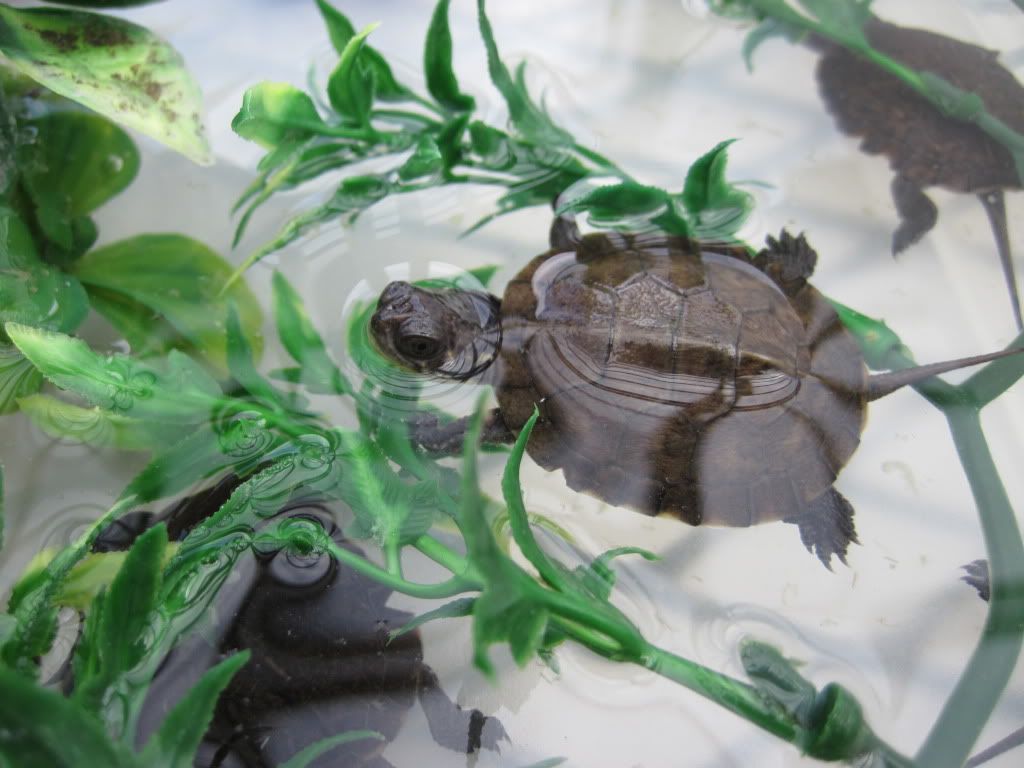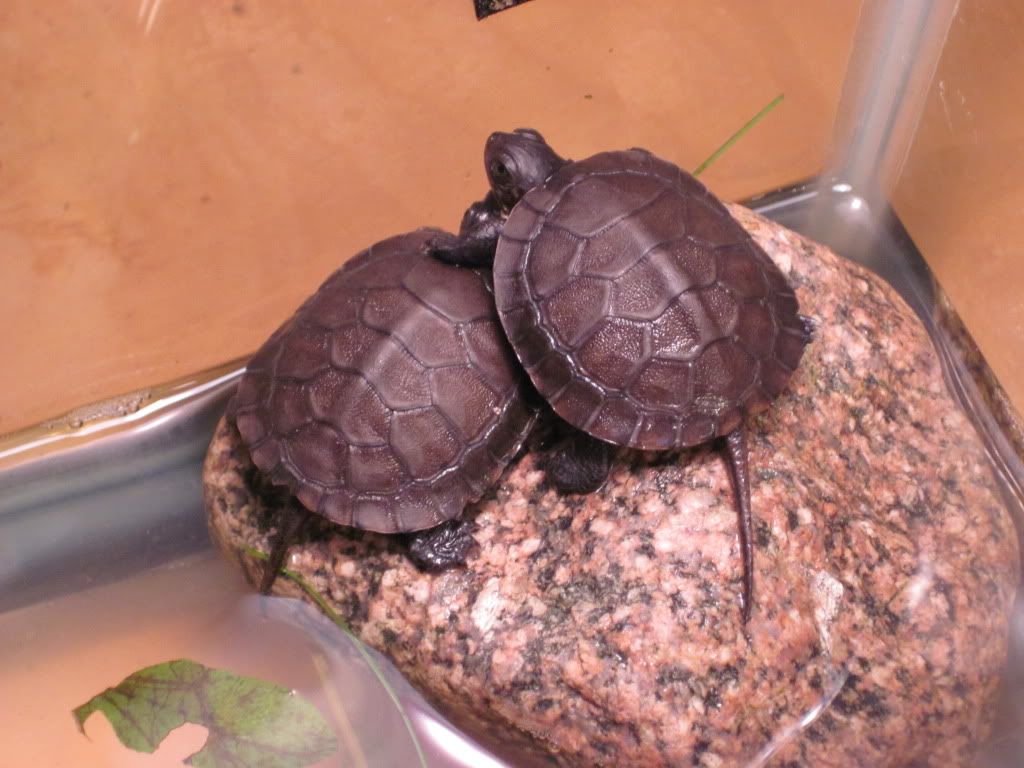 This will be my last post for a while, so thanks to everyone for following over the last few months, it's been fun!
-Zach
"The kings of England formerly had their forests 'to hold the king's game,' for sport or food, sometimes destroying villages to create or extend them; and I think that they were impelled by a true instinct. Why should not we, who have renounced the king's authority, have our national preserves, where no villages need be destroyed, in which the bear and panther, and some even of the hunter race, may still exist, and not be 'civilized off the face of the earth,' ⎯our forests, not to hold the king's game merely, but to hold and preserve the king himself also the lord of creation,⎯not for idle sport or food, but for inspiration and our own true recreation? or shall we, like the villains, grub them all up, poaching on our own national domains?"
-Thoreau,
The Maine Woods
(1864)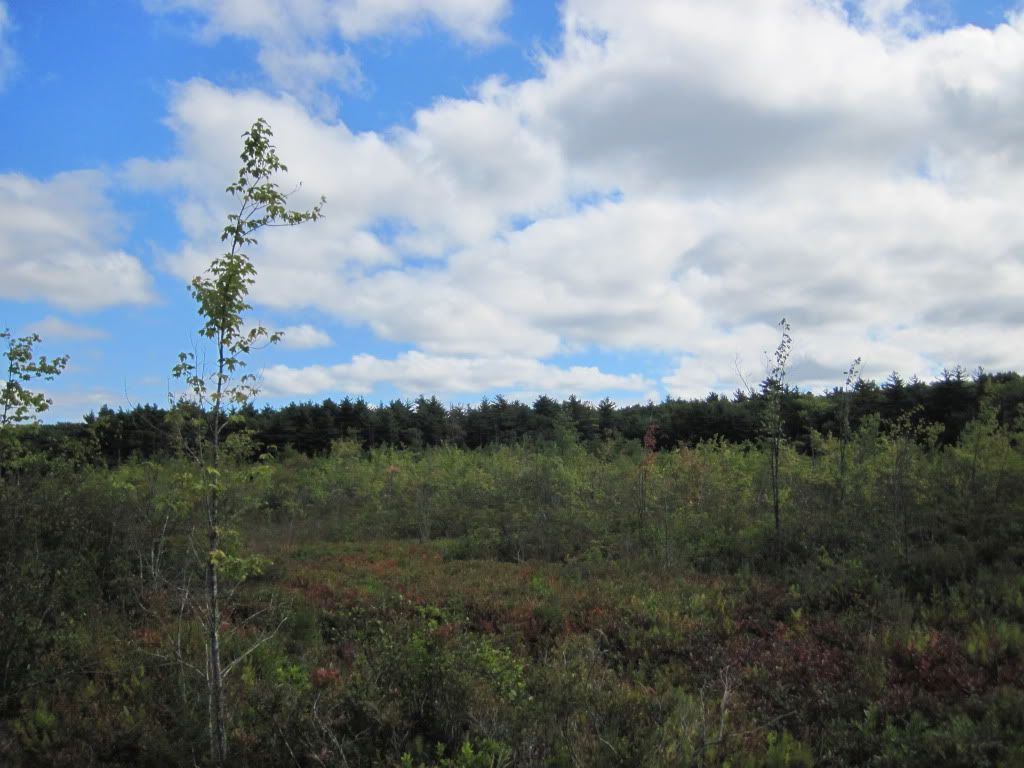 Part 1
Part 2
Part 3
Part 4
Part 5