May was a busy month for reptiles, amphibians, and the field biologists lucky enough to study them. The Blanding's turtles (
Emydoidea blandingii
) I have been tracking have been moving around quite a bit, and in fact, one appears to have disappeared completely. Jason and I attempted to try and get a signal farther up the river by taking a short boat ride, but the mission was soon abandoned after our boat's motor died and we were left out floating – but at least it was a great day for it. (We think one of our turtles has taken a trip down the river before, only to later return to the refuge).
"Rivers must have been the guides which conducted the footsteps of the first travellers. They are the constant lure, when they flow by our doors, to distant enterprise and adventure, and, by a natural impulse, the dwellers on their banks will at length accompany their currents to the lowlands of the globe, or explore at their invitation the interior of continents. They are the natural highways of all nations, not only levelling the ground, and removing obstacles from the path of the traveller, quenching his thirst, and bearing him on their bosoms, but conducting him through the most interesting scenery, the most populous portions of the globe and where the animal and vegetable kingdoms attain their greatest perfection."
-Thoreau (1849)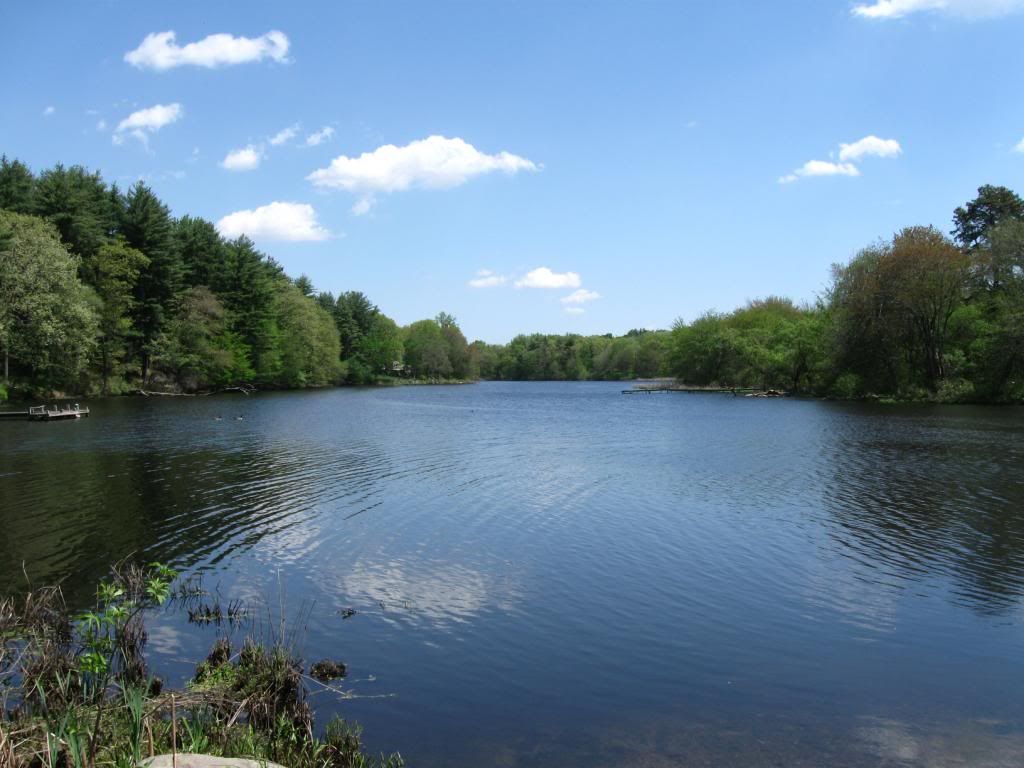 Some more springtime scenery from the area…
"Nations are possessed with an insane ambition to perpetuate the memory of themselves by the amount of hammered stone they leave. What if equal pains were taken to smooth and polish their manners? One piece of good sense would be more memorable than a monument as high as the moon. I love better to see stones in place."
-Thoreau (1854)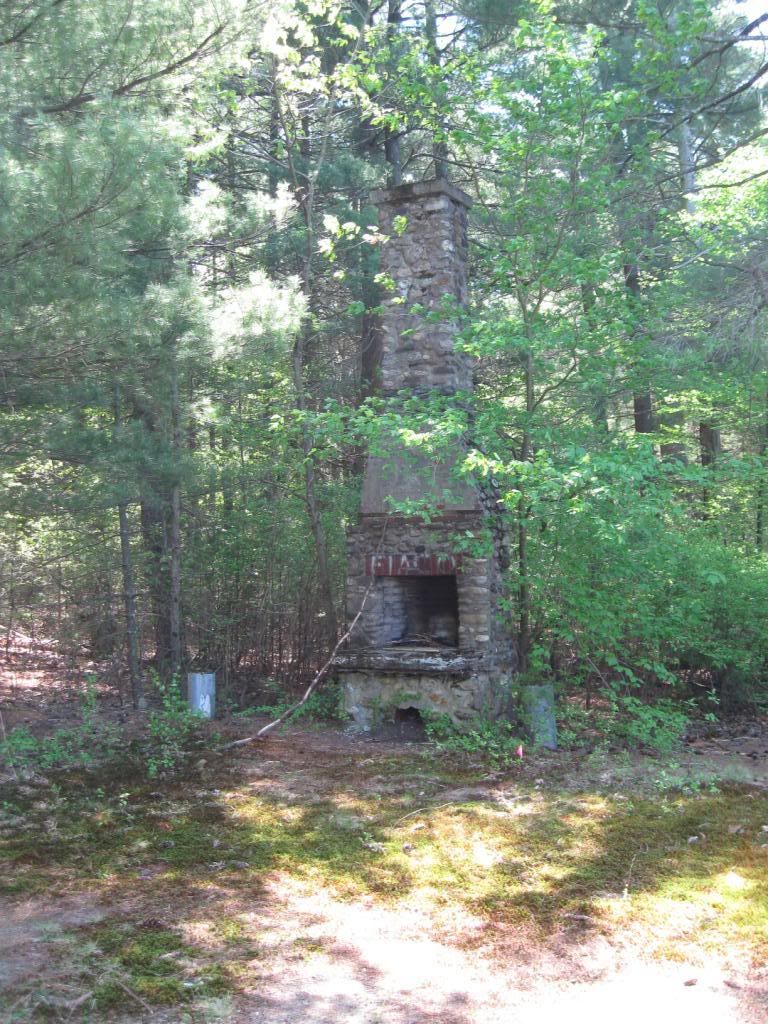 "I have seen how the foundations of the world are laid, and I have not the least doubt that it will stand a good while."
-Thoreau (1849)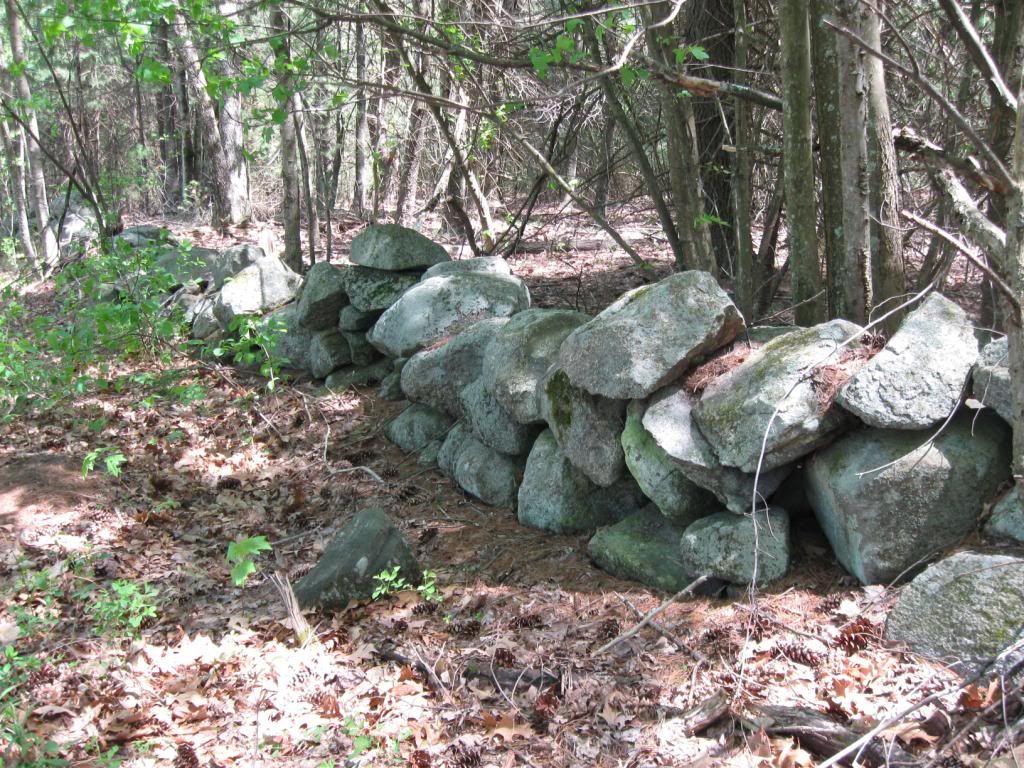 Tent caterpillars (sp.?)
"Who knows what beautiful and winged life, whose egg has been buried for ages under many concentric layers of woodenness in the dead dry life of society. . . may unexpectedly come forth from amidst society's most trivial and hand-selled furniture, to enjoy its perfect summer life at last!"
-Thoreau (1854)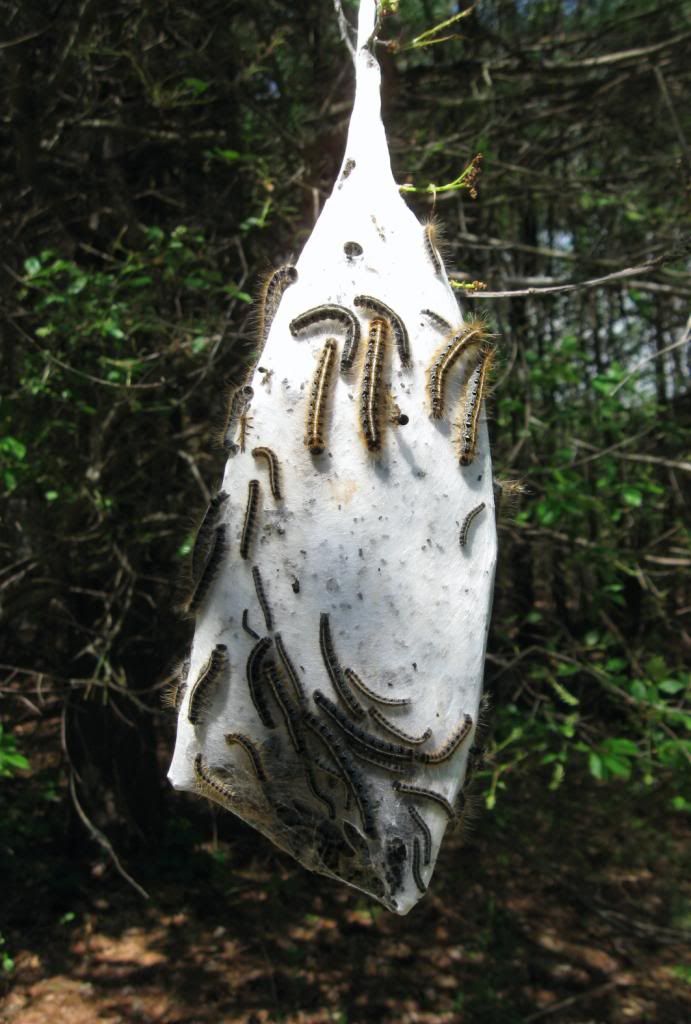 Jason stumbled upon this pair of breeding watersnakes (
Nerodia sipedon
) at the Concord Impoundments (CI) of Great Meadows NWR. Northern Watersnakes can reach sexual maturity by two years of age, and mating generally occurs between May and June. This photo clearly shows the significant sexual dimorphism in this species discussed in
my last post
. Studies have shown that the size disparity between sexes in
N. sipedon
is atleast partly attributed to the fact that for males, mating success is positively correlated with activity level, rather than size. Consequently, males sacrifice energy/growth most of the year in order to achieve concentrated bursts of activity during breeding season.
Young watersnake I found while tracking turtles at. Female watersnakes give birth between August and early September, so this would be a yearling. While litters of 15-30 young are most common, littler size can range from 4-99, with larger females producing larger litters. Also note the strikingly different appearance between juvenile and mature individuals (see
Part 2
for more on this).
Attacking the camera
"I am affected as in a peculiar sense I stood in the laboratory of the Artist who made the world and me, ⎯had come to where he was still at work, sporting on this bank, and with excess of energy strewing his fresh designs about. I feel as if I were nearer to the vitals of the globe, for this sandy overflow is something such a foliaceous mass as the vitals of the animal body. You find thus in the very sands an anticipation of the vegetable leaf. No wonder that the earth expresses itself outwardly in leaves, it so labors with the idea inwardly. The atoms have already learned this law, and are pregnant by it. The overhanging leaf sees here its prototype. Internally, whether in the globe or animal body, it is a moist thick lobe. . . externally a dry thin leaf. . . The feathers and wings of birds are still drier and thinner leaves. Thus, also, you pass from the lumpish grub in the earth to the airy and fluttering butterfly. The very globe continually transcends and translates itself, and becomes winged in its orbit. Even ice begins with delicate crystal leaves, as if it had flowed into moulds which the fronds of water plants have impressed on the watery mirror. The whole tree itself is but one leaf, and rivers are still vaster leaves whose pulp is intervening earth, and towns and cities are the ova of insects in their axils."
-Thoreau (1854)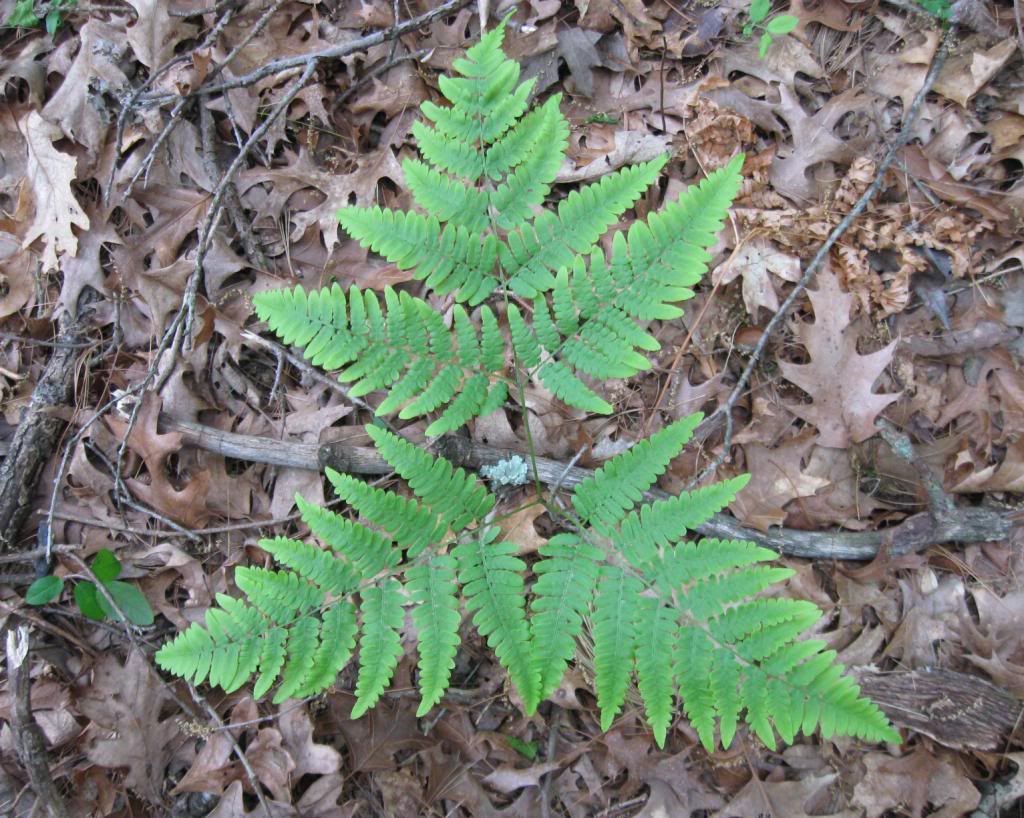 "You here see perchance how blood vessels are formed. . . It is wonderful how rapidly yet perfectly the sand organizes itself as it flows. . . Such are the sources of rivers. In the silicious matter which the water deposits is perhaps the bony system, and in the still finer soil and organic matter the fleshy fibre or cellular tissue. What is a man but a mass of thawing clay? The ball of the human finger is but a drop congealed. The fingers and toes flow to their extent from the thawing mass of the body. Who knows what the human body would expand and flow out to under a more genial heaven? Is not the hand a spreading palm leaf with its lobes and veins?. . . Each rounded lobe of the vegetable leaf, too, is a thick and now loitering drop, larger or smaller; the lobes are the fingers of the leaf; and as many lobes as it has, in so many directions it tends to flow, and more heat or other genial influences would have caused it to flow yet farther."
-Thoreau (1854)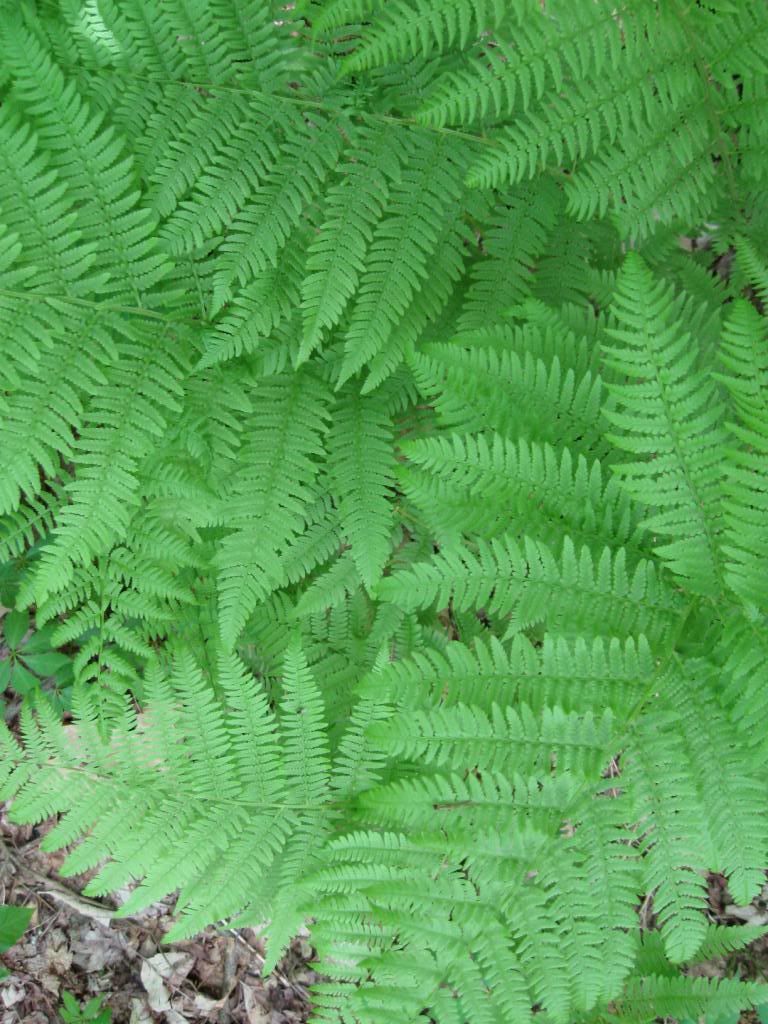 "Thus it seemed that this one hillside illustrated the principle of all the operations of Nature. The Maker of this earth but patented the leaf. What Champollion will decipher this hieroglyphic for us, that we may turn over a new leaf at last? This phenomenon is more exhilarating to me than the luxuriance and fertility of vineyards. . . These foliaceous heaps lie along the bank like the slag of a furnace, showing that Nature is 'in full blast' within. The earth is not a mere fragment of dead history, stratum upon stratum like the leaves of a book, to be studied by geologists and antiquaries chiefly, but living poetry like the leaves of a tree, which precede flowers and fruit, ⎯not a fossil earth, but a living earth; compared with whose great central life all animal and vegetable life is merely parasitic. Its throes will heave our exuviae from their graves. You may melt your metals and cast them into the most beautiful moulds you can; they will never excite me like the forms which this molten earth flows out into. And not only it, but the institutions upon it, are plastic like clay in the hands of the potter."
-Thoreau (1854)
Painted turtle (
Chrysemys picta
) on an early nesting foray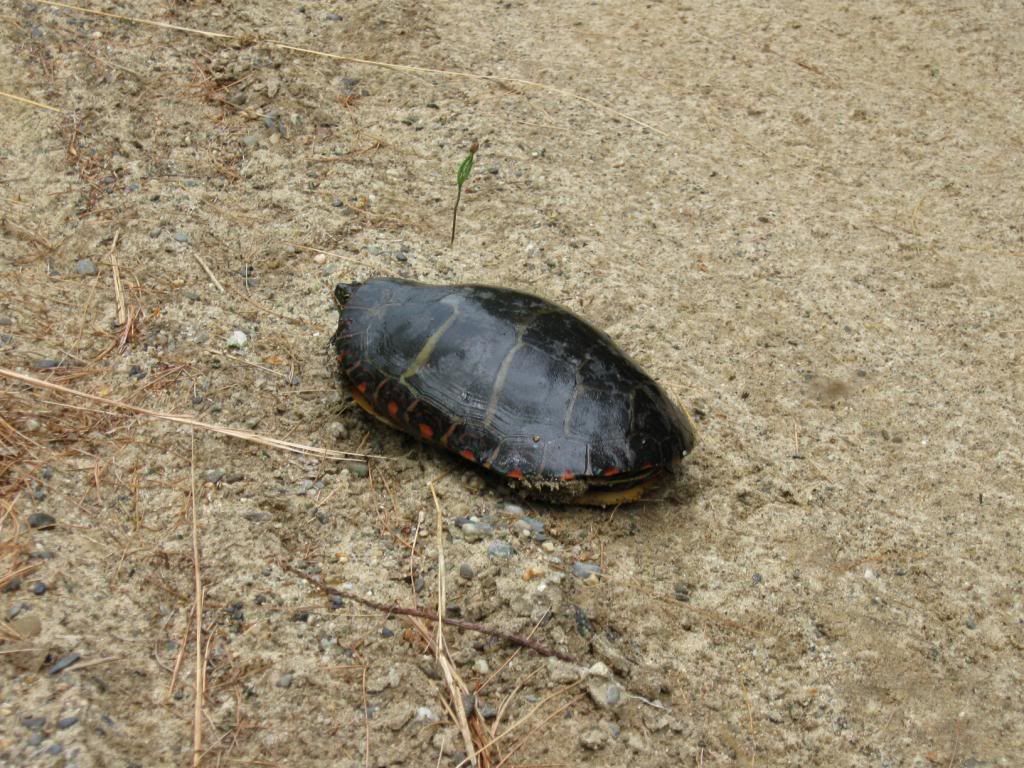 Group of Pink Lady's Slippers (aka "Moccasin Flower;"
Cypridium acaule
)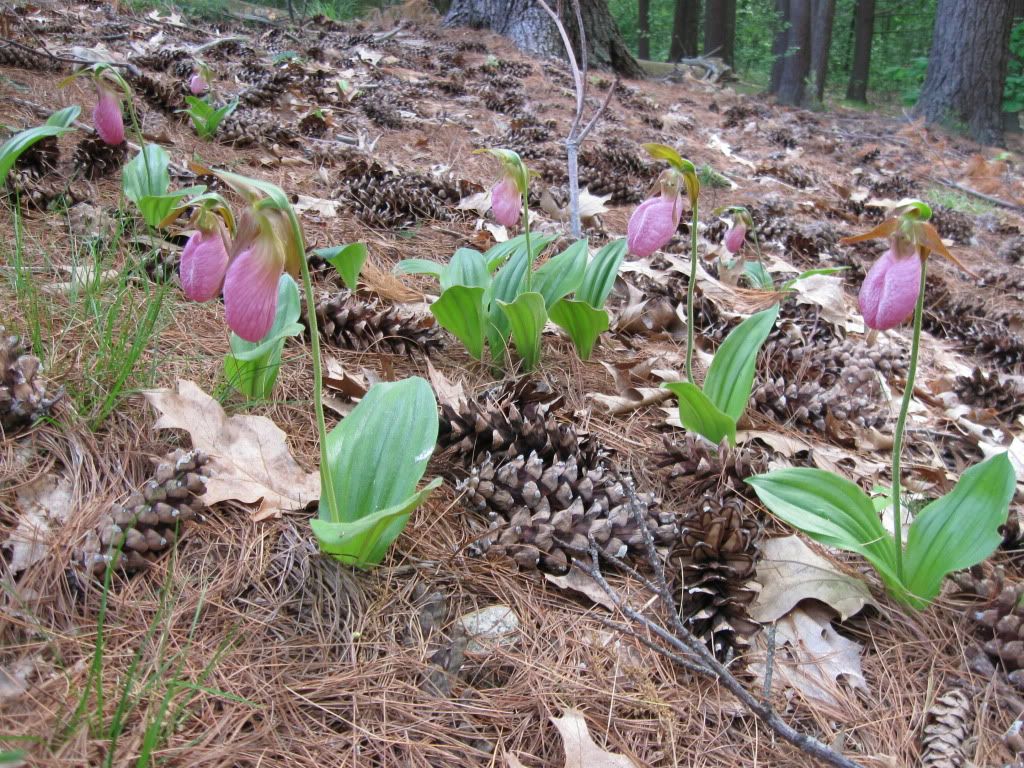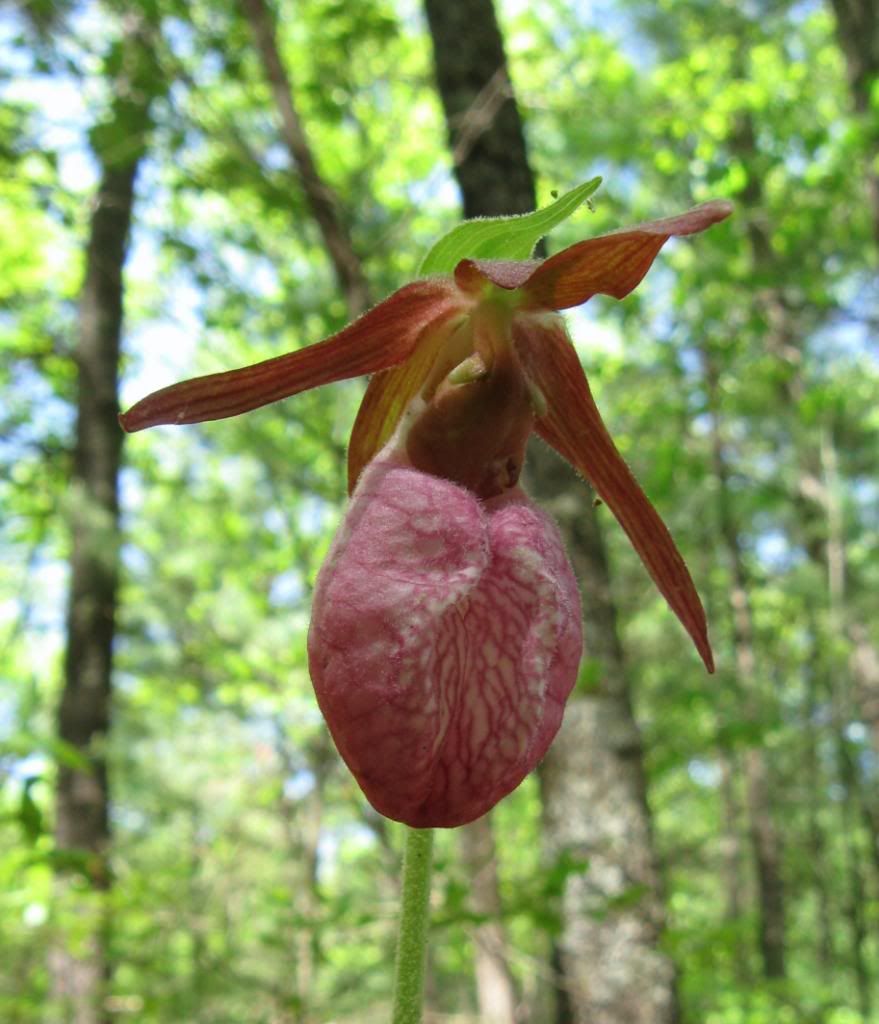 A family of House Finches (
Carpodacus mexicanus
) with some modern architectural sense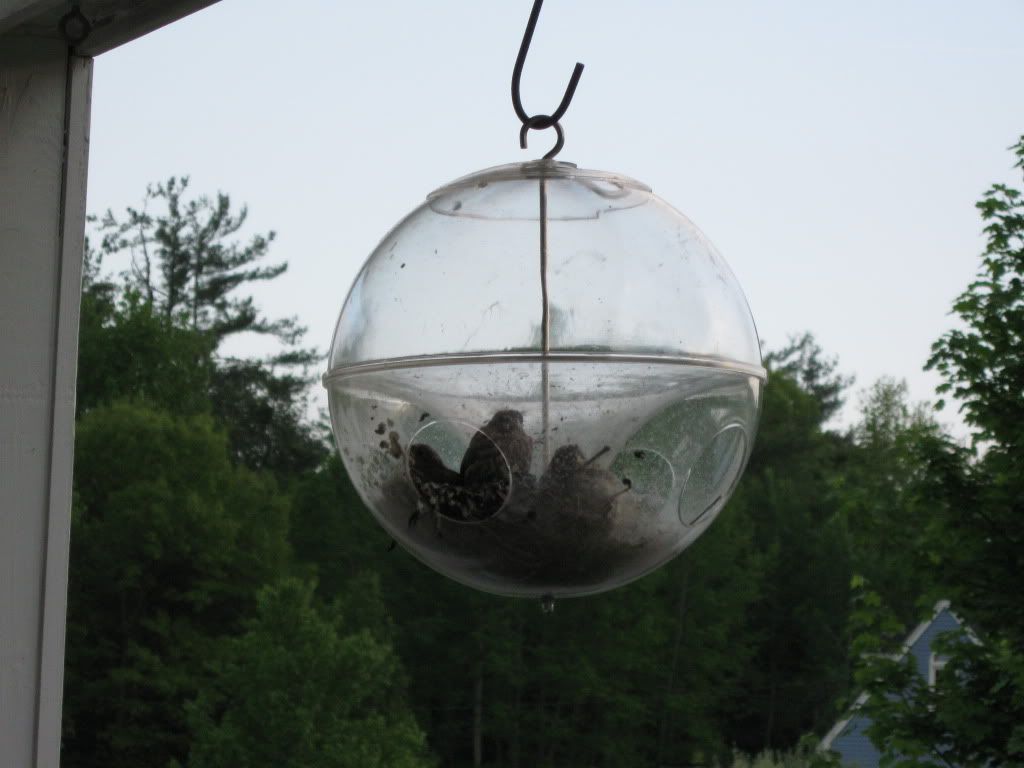 Fledgling
Bramble (genus
Rubus
)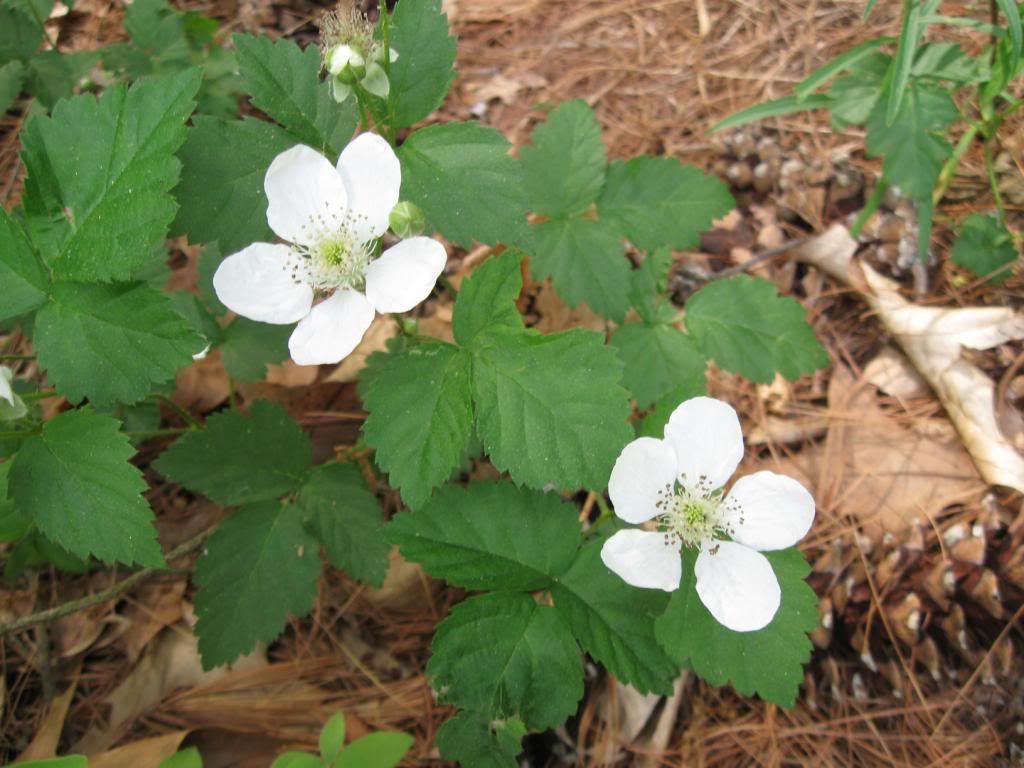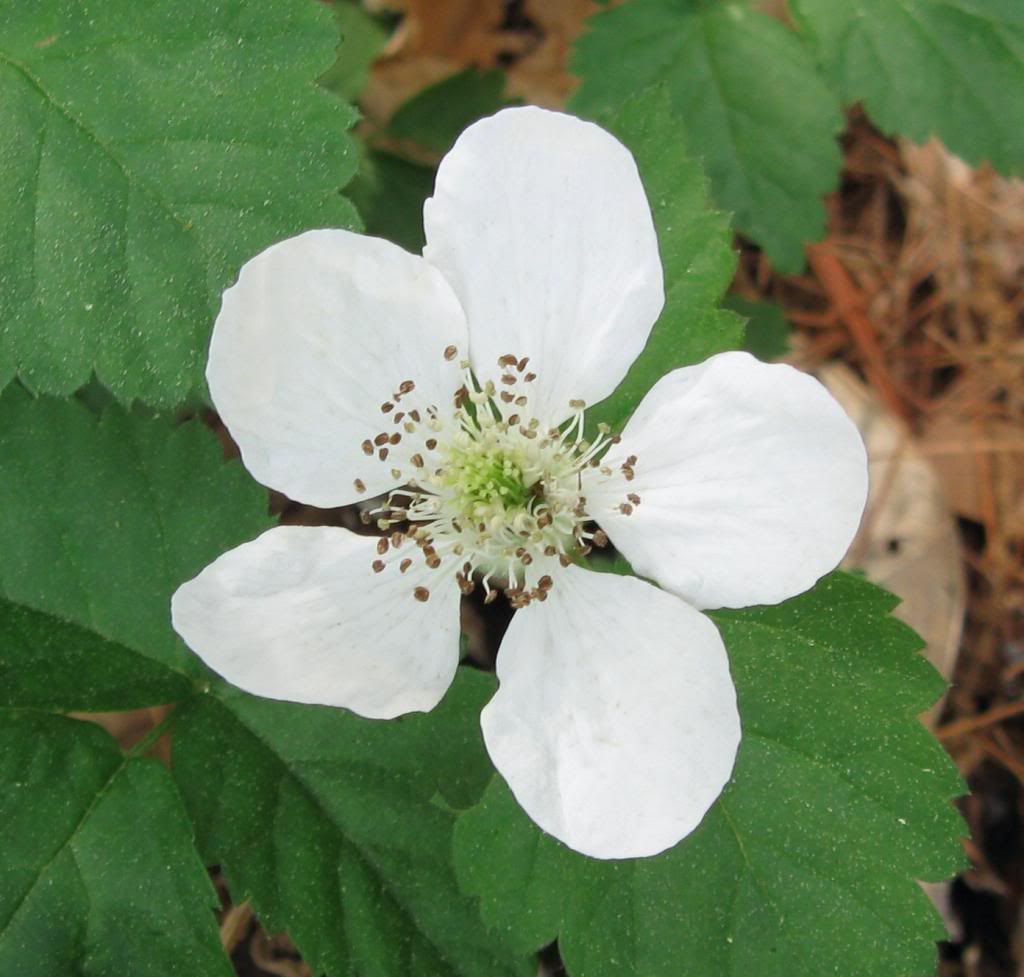 Recently predated painted turtle nest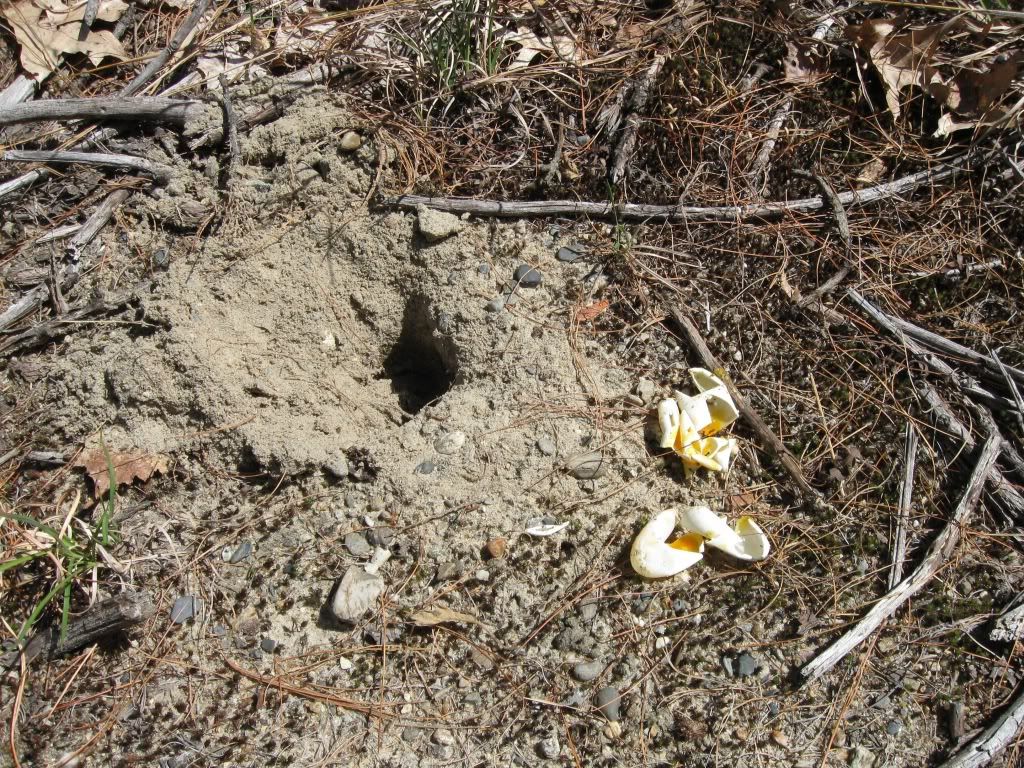 Spider with eyes bigger than its mouth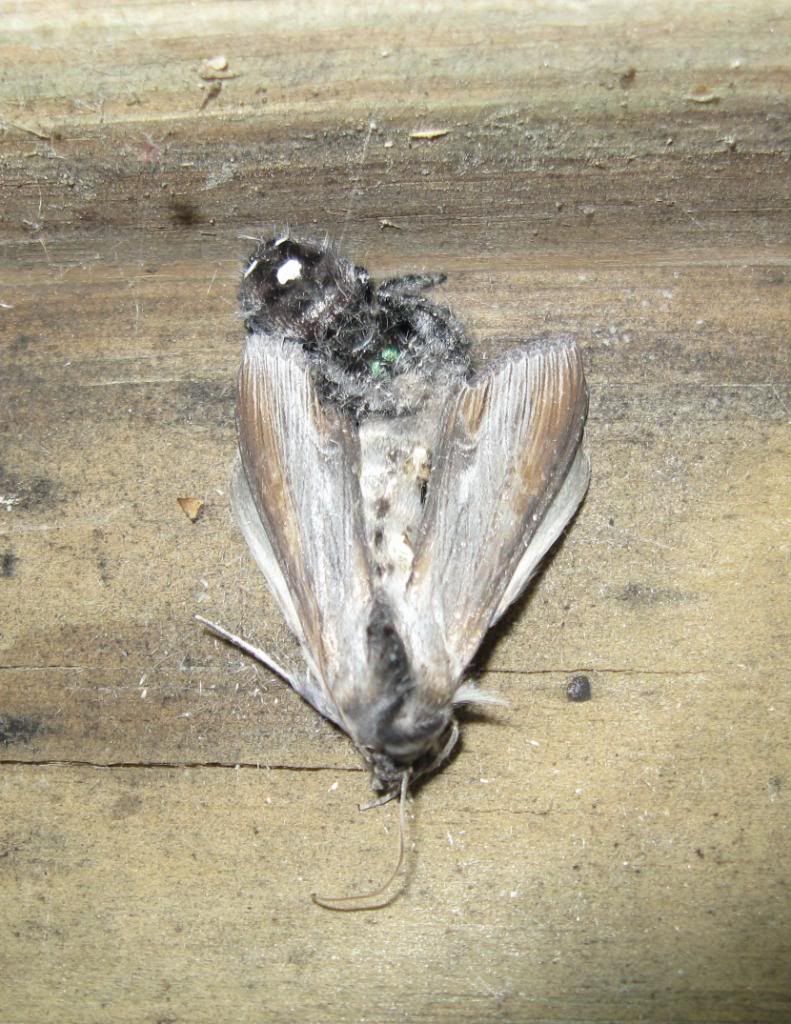 Wild Geranium (
Geranium maculatum
)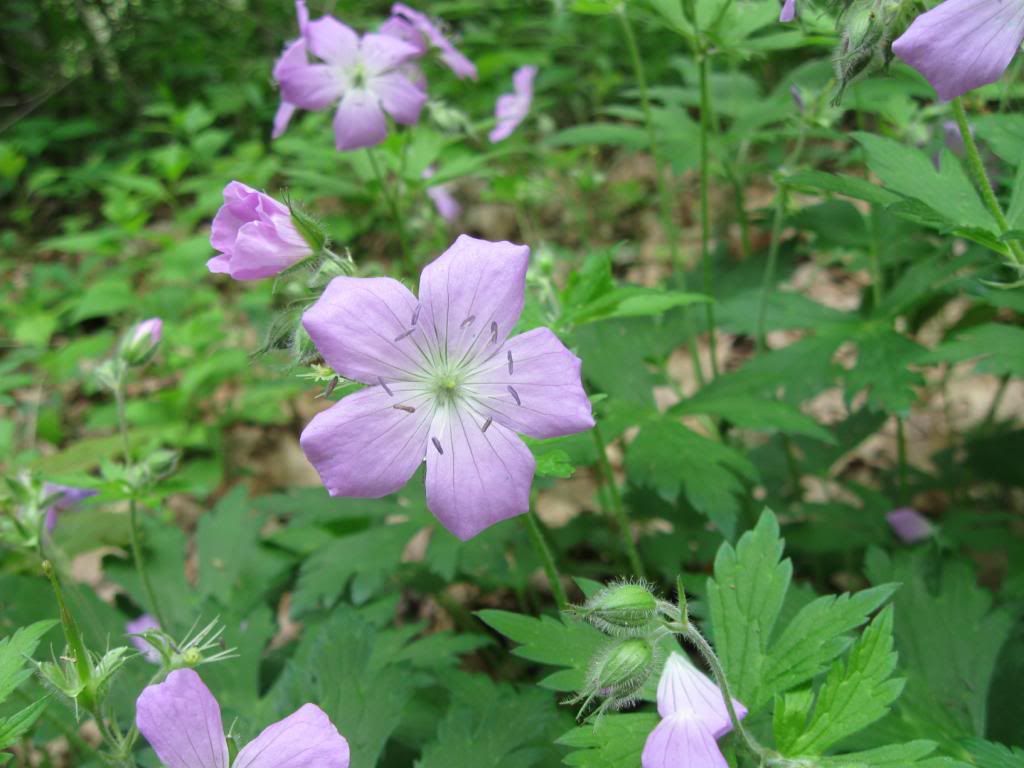 Not having much luck catching one of our Blanding's turtles that needed a radio change, I tried luring him with a couple of baited hoop traps.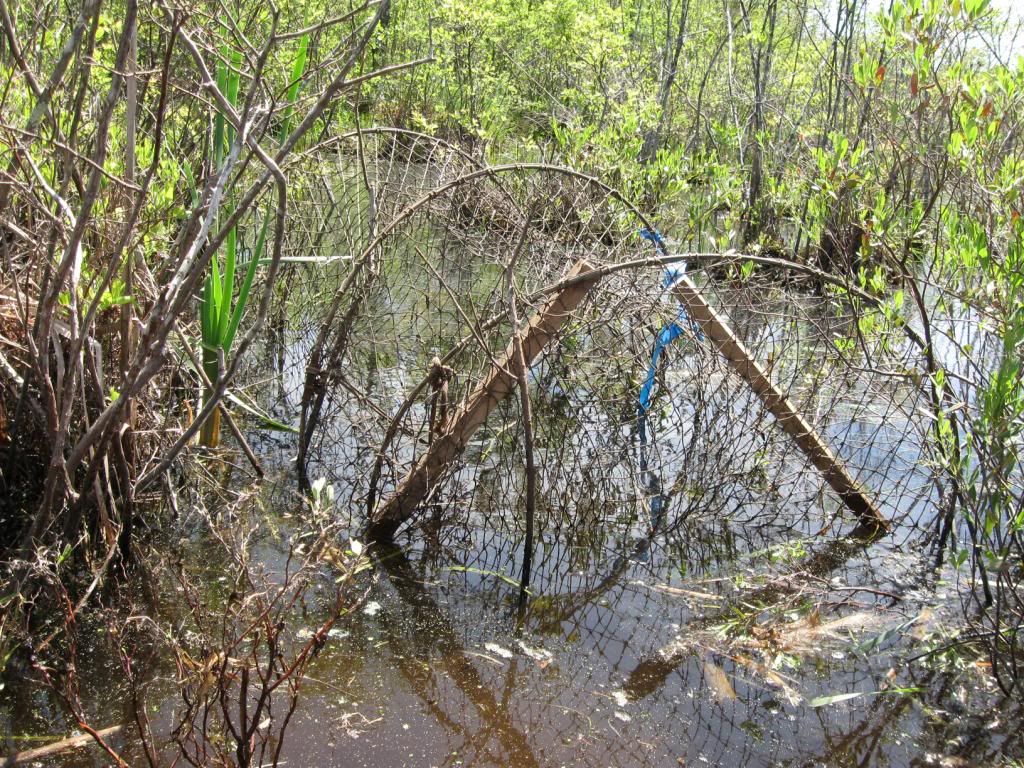 Unfortunately, my only catch was this Golden Shiner (
Notemigonus crysoleucas
)
"Whether we live by the sea-side, or by the lakes and rivers, or on the prairie, it concerns us to attend to the nature of fishes, since they are not phenomena confined to certain localities only, but forms and phases of the life in nature universally dispersed."
-Thoreau (1849)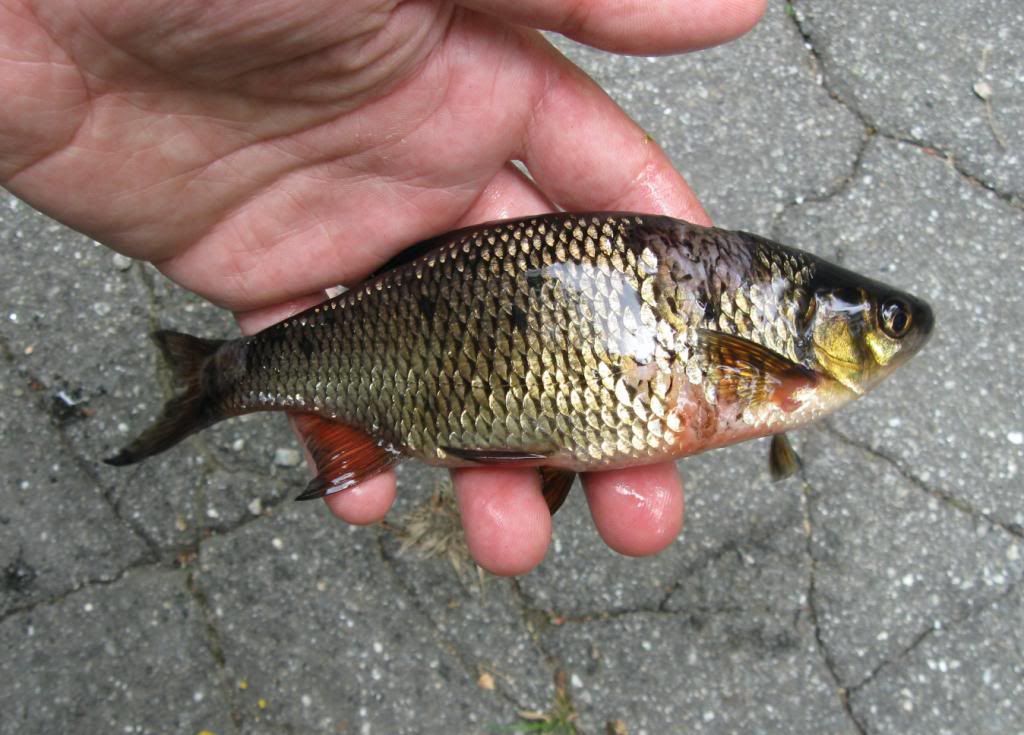 After weeks of eluding me, I finally got him.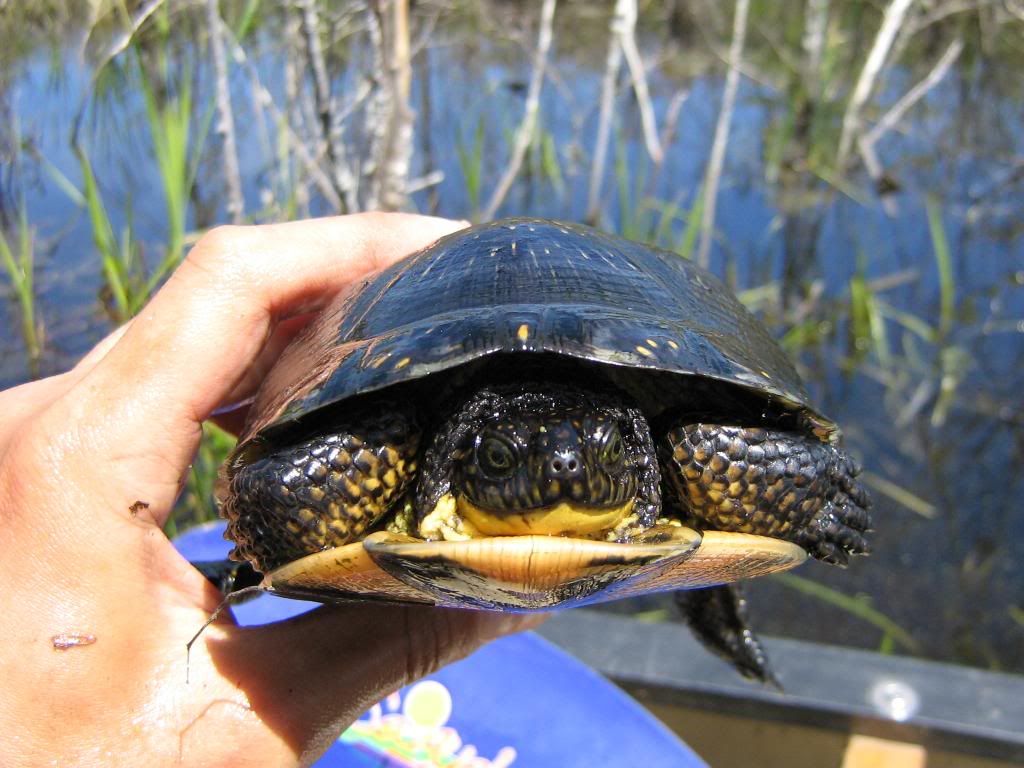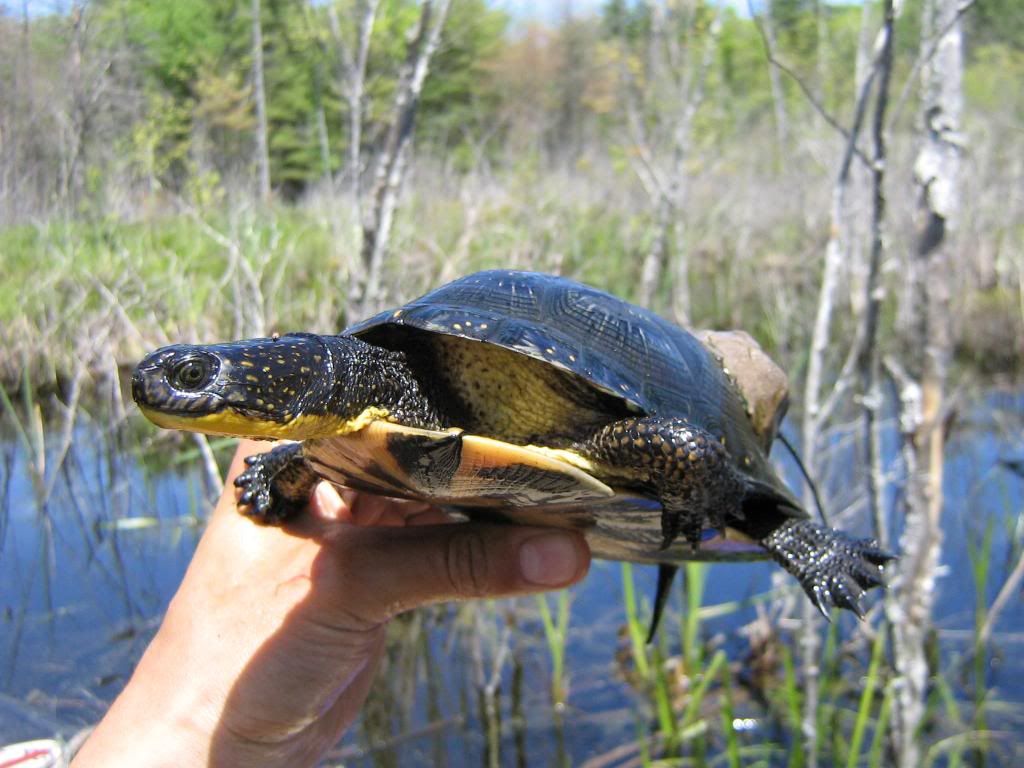 In
Part 1
I mentioned that I would be helping with habitat management for the Plymouth Co. population of the Northern Red-bellied Cooter (
Pseudemys rubriventris
), and we have just recently started working on this. Like
E. blandingii
,
P. rubriventris
has a strange distribution, in which a disjunct population exists only in Plymouth Co., Massachusetts, 250 miles away from the more continuous southern range of the species. Our job was to create/maintain nesting habitat for the species by removing vegetation and tilling the substrate.
"I began to level the ranks of haughty weeds. . . dabbling like an artist in the dewy and crumbling sand. . . Removing the weeds, putting fresh soil about the bean stems, and encouraging this weed which I had sown, making the yellow soil express its summer thought in bean leaves and blossoms rather than in wormwood and piper and millet grass, making the earth say beans instead of grass, ⎯this was my daily work. As I had little aid from horses or cattle, or hired men or boys, or improved implements of husbandry, I was much slower, and became much more intimate with my beans than usual. But labor of the hands, even when pursued to the verge of drudgery, is perhaps never the worst form of idleness."
-Thoreau (1854)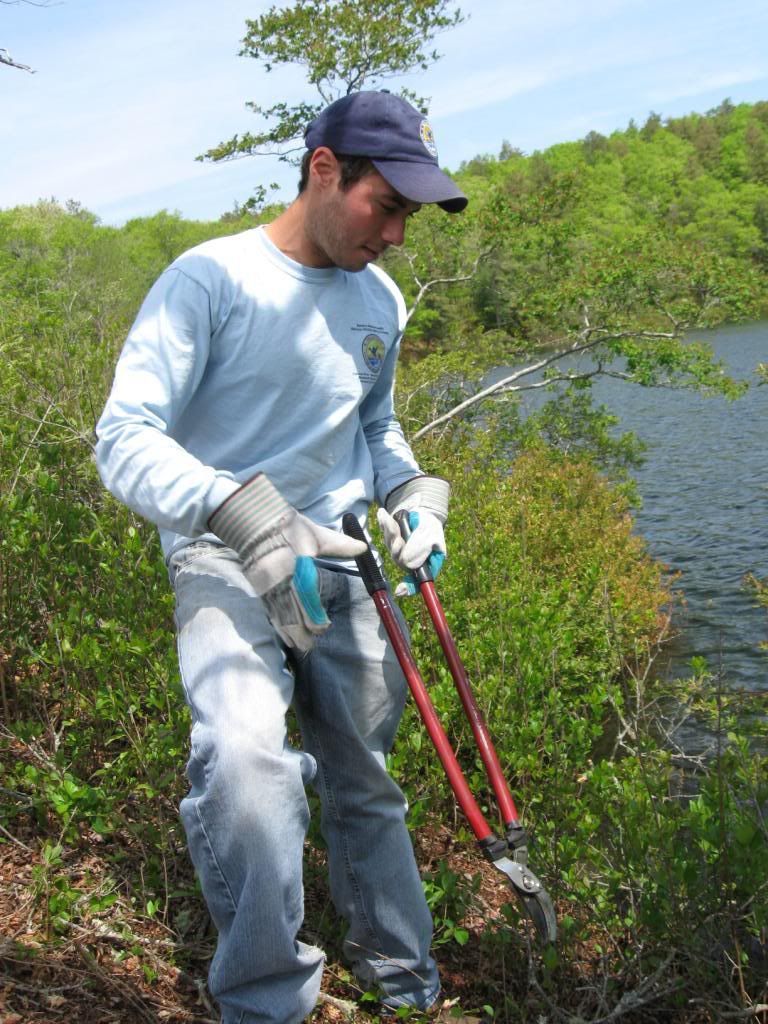 Rather than removing all the vegetation, we were instead focusing on creating several "pathways" for the turtles to easily access the nesting site.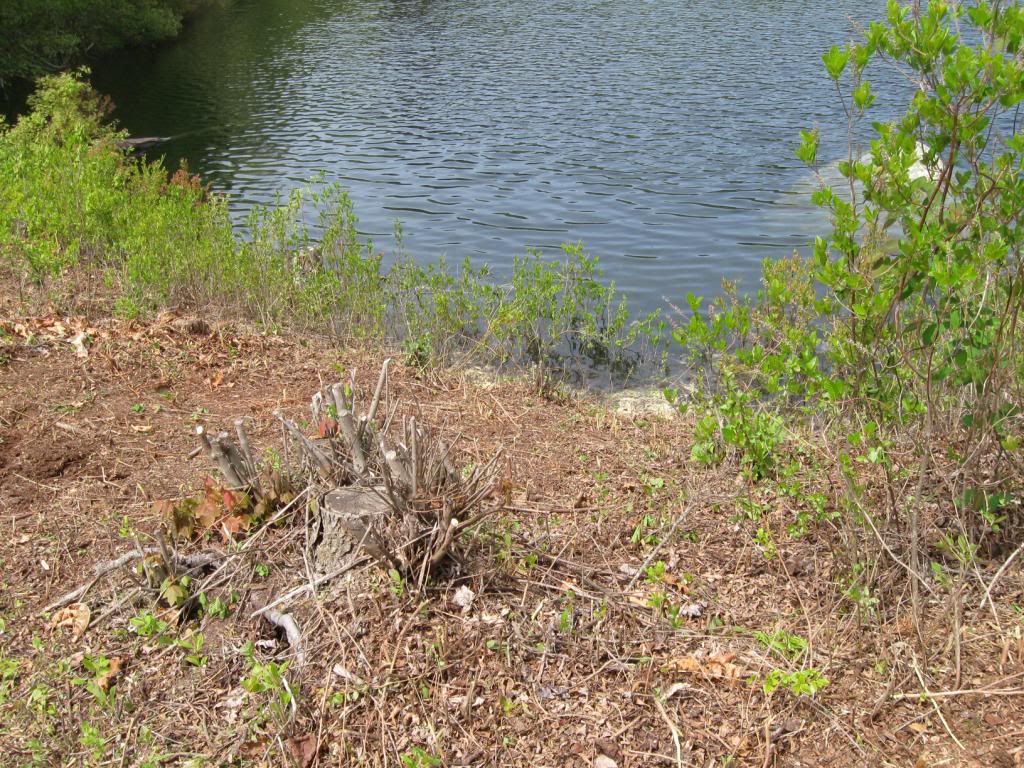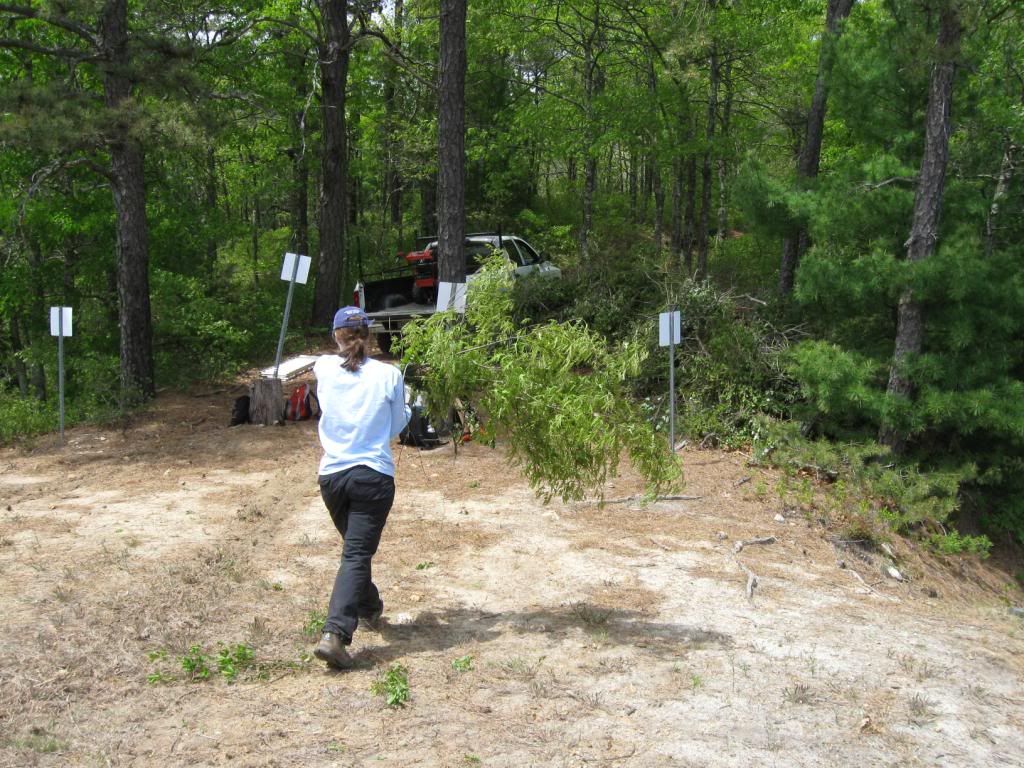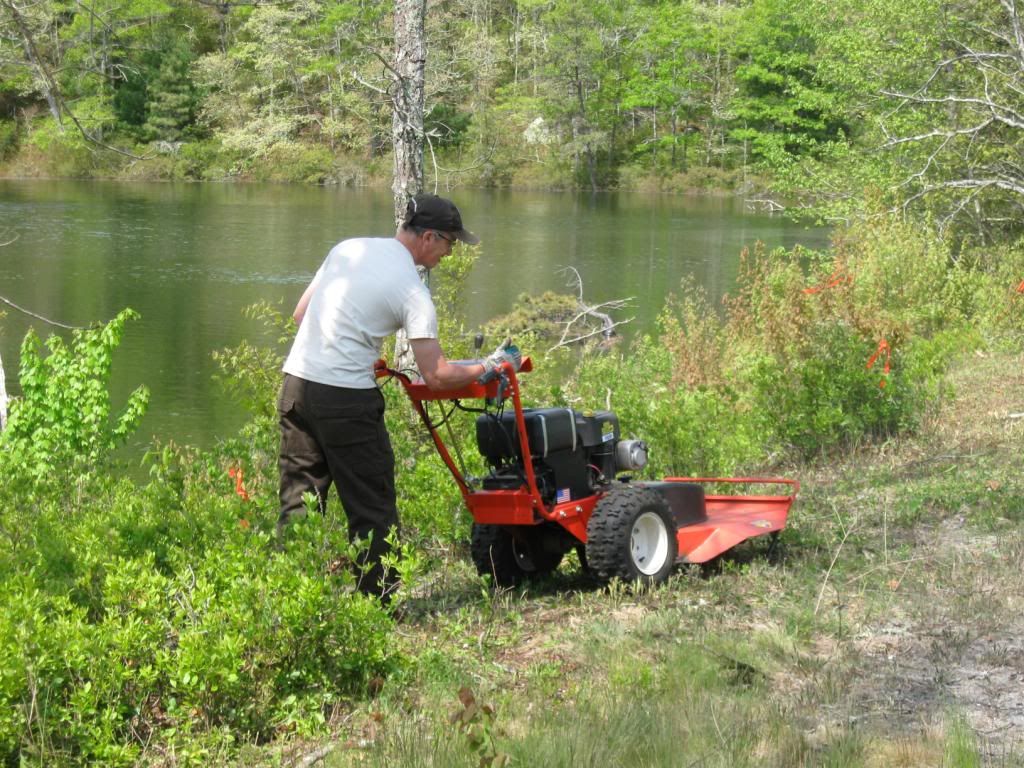 "Consider the intimate and curious acquaintance one makes with various kinds of weeds. . . disturbing their delicate organizations so ruthlessly, and making such invidious distinctions with his hoe, leveling whole ranks of one species, and sedulously cultivating another."
-Thoreau (1854)
Submerged Canada Goose (
Branta Canadensis
) nest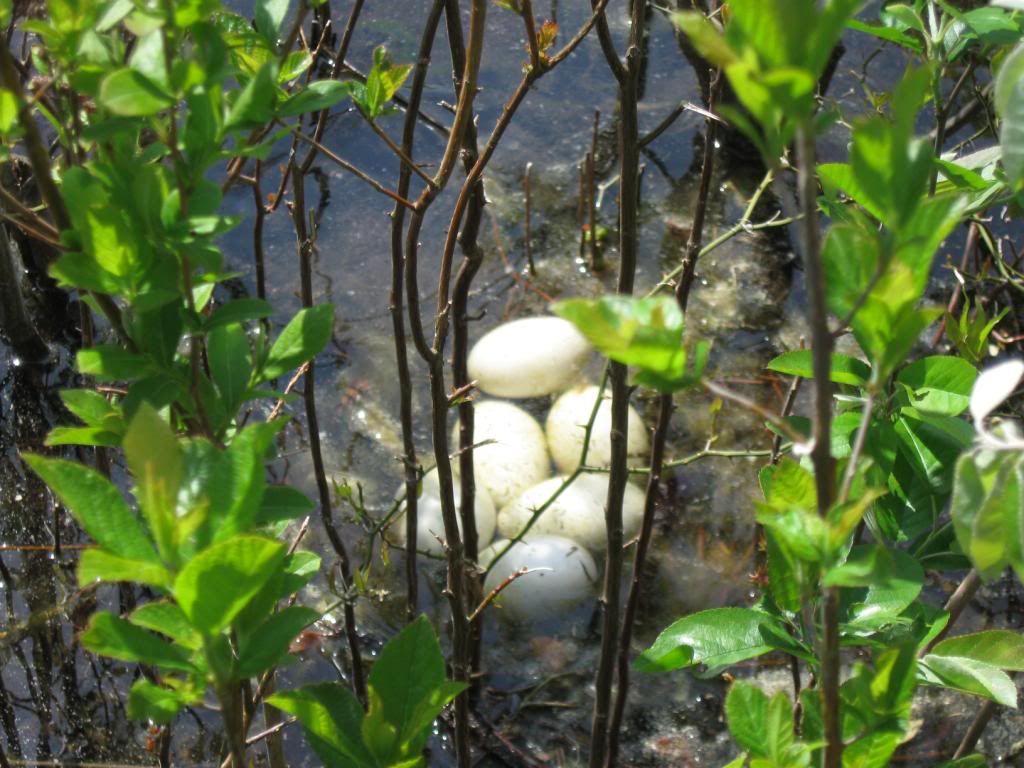 "But why should not the New Englander try new adventures, and not lay so much stress on his grain, his potato and grass crop, and his orchards,⎯raise other crops than these?"
-Thoreau (1854)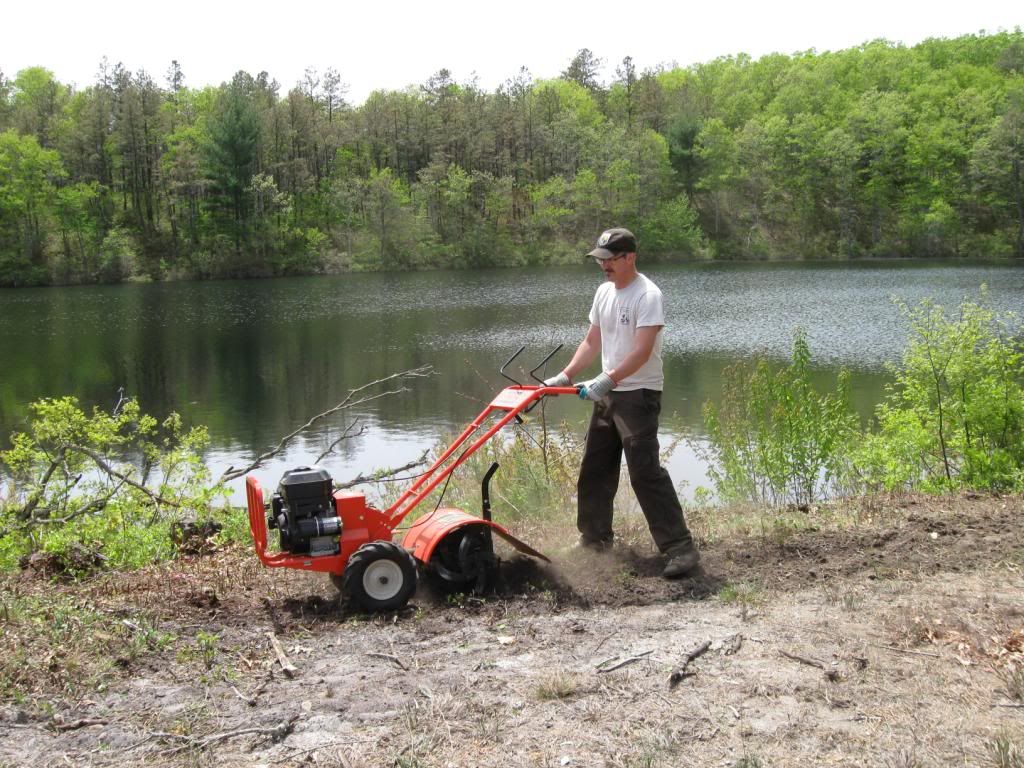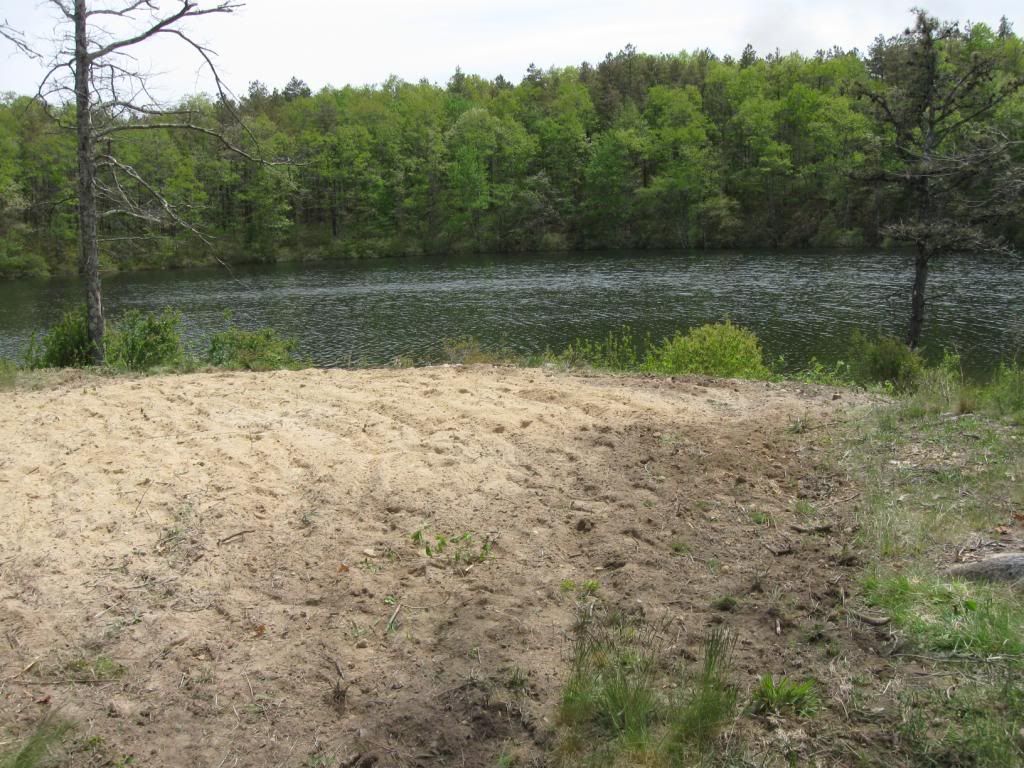 A bicentennial beer can is unearthed
"t appeared by the arrowheads which I turned up in hoeing, that an extinct nation had anciently dwelt here. . ."

"As I drew a still fresher soil about the rows with my hoe, I disturbed the ashes of unchronicled nations who in primeval years lived under these heavens, and their small implements of war and hunting were brought to the light of this modern day."

-Thoreau (1854)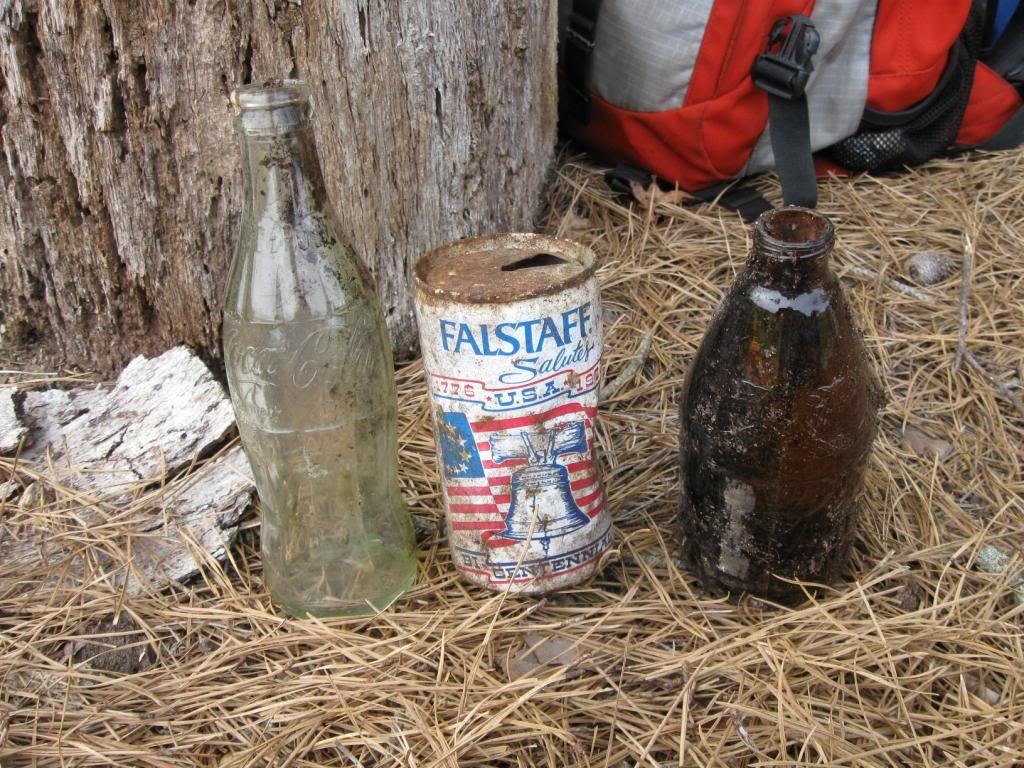 Aside from doing habitat work for P. rubriventris and catching/tracking Blanding's turtles at our primary site, I have also been helping catch Blanding's turtles at another site with Kristin Godfrey, a graduate student at Antioch University New England. Kristin is getting blood samples in order to estimate blood cell counts of turtles in this population, and also nasal lavage (aka "flush") samples to test for bacterial (Mycoplasma) respiratory infection. Last year, one sick turtle tested positive, and we are curious to learn about the prevalence of this disease in the population.

Despite being home to the 2nd largest population of E. blandingii in the region, the habitat at this site (man-made, cattail dominated wetland) is not typical for Blanding's turtles. (see Part 2 for background on this E. blandingii population and info on the habitat preferences of this species). Nonetheless, I found it much easier to catch turtles here than in their more "typical" habitat!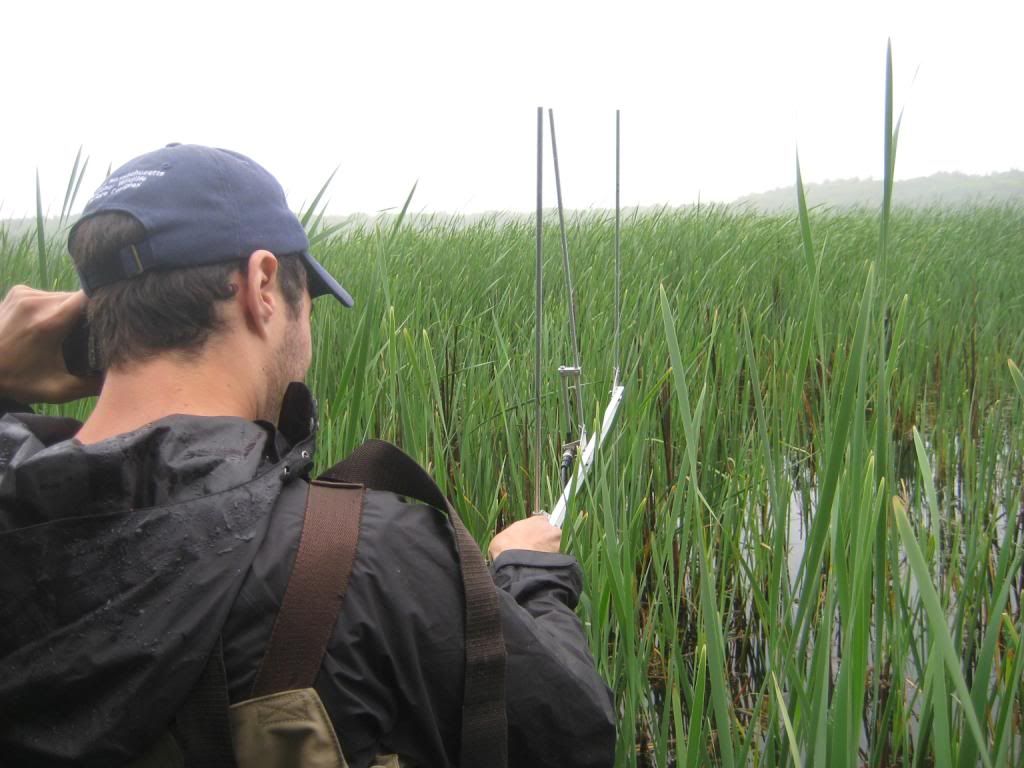 First catch of the day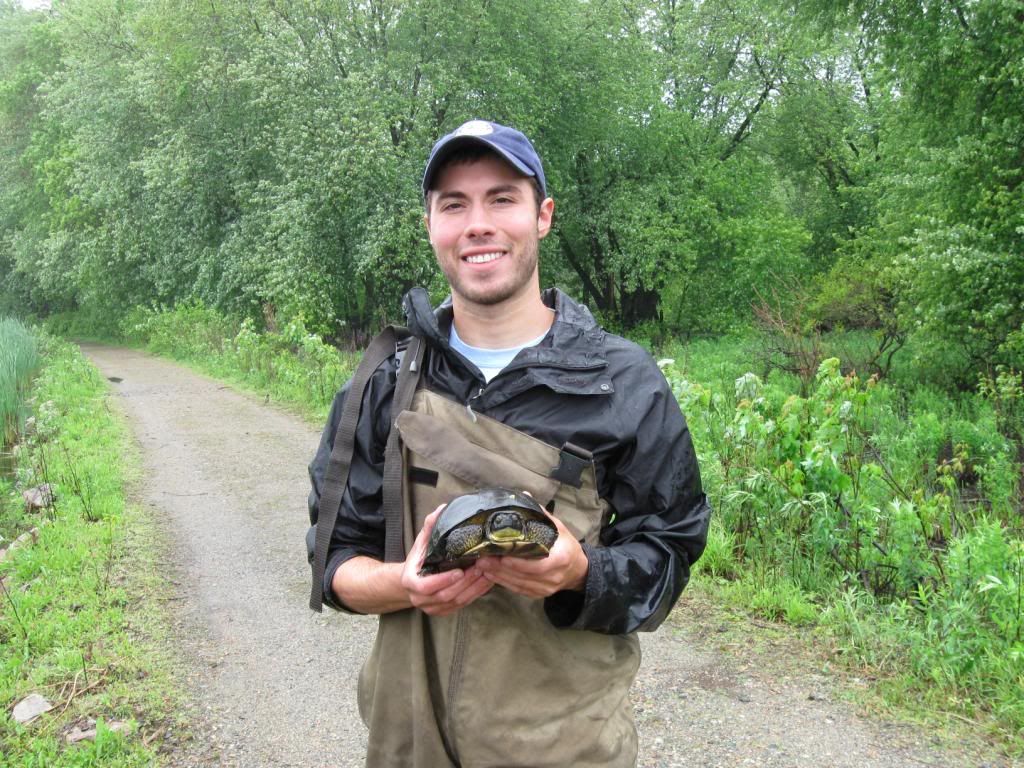 As I mentioned in Part 2, this population has been studied since the 1970s, and many of the individuals being tracked there now have been known for over 30 years. Consequently, these turtles were much larger than the relatively young ones I was catching at our other site.


I come, in the midst of the meadow, on two of the Emys meleagris, much larger than I have found before. Perhaps they are male and female, the one's sternum being decidedly depressed an eighth of an inch, the other's not at all. They are just out of the water, partly concealed by some withered grass, and hiss loudly and run out their long necks very far and struggle a good deal when caught. They continue to scratch my hand in their efforts to escape as I carry them, more than other turtles do. The dorsal shield of each is just seven inches long; the sternum of what appears to be the female is about an eighth inch shorter, of the male near a quarter of an inch longer, yet in both the projection of the sternum is chiefly forward. Breadth of shell in the male four and seven eighths, of female four and a half, in middle, but the female widens a little behind. Height of each about two and three quarters inches. The smoothish dark-brown shells, high, regularly rounded, are very thickly but not conspicuously spotted (unless in water) with small oval or elongated yellow spots, as many as fifty or sixty to a scale, and more or less raying from the origin of the scale, becoming larger and horn-colored on the marginal scales especially of one. The thickly and evenly distributed yellow marks of the head and neck correspond to those of the shell pretty well. They are high-backed turtles. The sternum is horn-color, with a large dark or blackish spot occupying a third or more of the rear outer angle of each scale. The throat is clear light-yellow and much and frequently exposed. Tail, tapering and sharp. The claws are quite sharp and perfect. One closes its forward valve to within an eighth of an inch, but the posterior not so much, and evidently they are not inclined to shut up close, if indeed they can at this season, or at all. The sternum of the male, notwithstanding the depression, curves upward at each extremity much more than the female's. They run out their heads remarkably far and have quite a harmless and helpless expression, yet, from the visible length of neck, the more snake-like. About the size of the wood tortoise. Very regularly and smoothly rounded shells. Voided many fragments of common snail-shells and some insect exuviae."

-Thoreau, May 28, 1858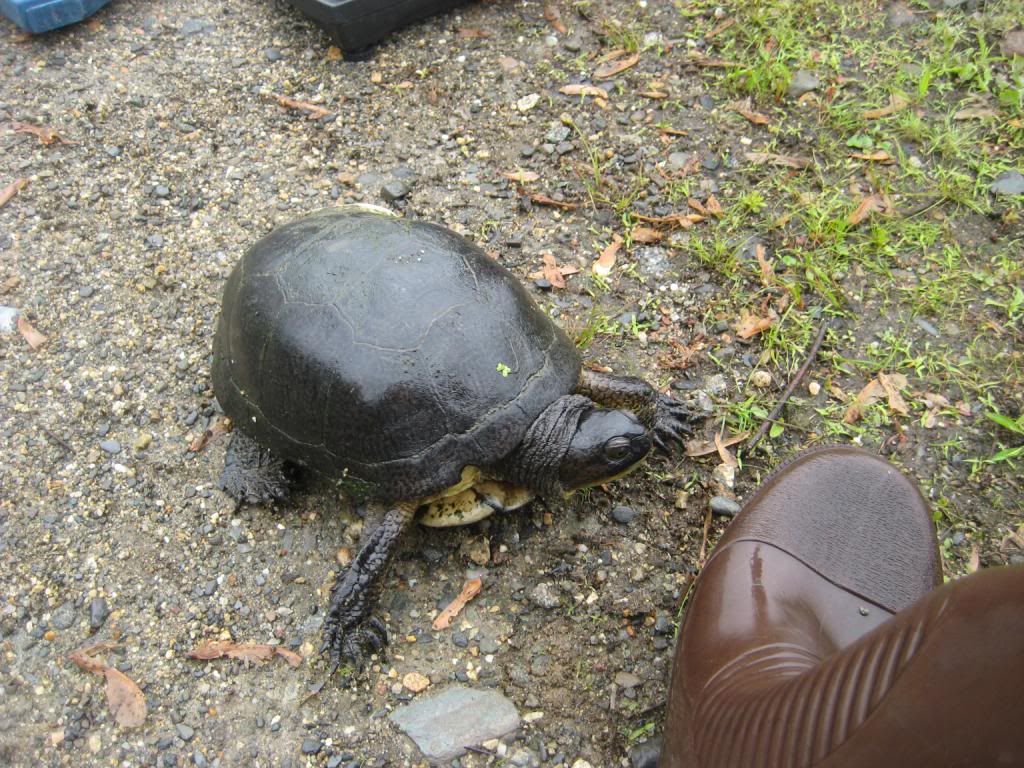 We got lucky with this guy and caught him near the bank – otherwise (as is more often the case) we have to process them out in the marsh, which is a bit more difficult.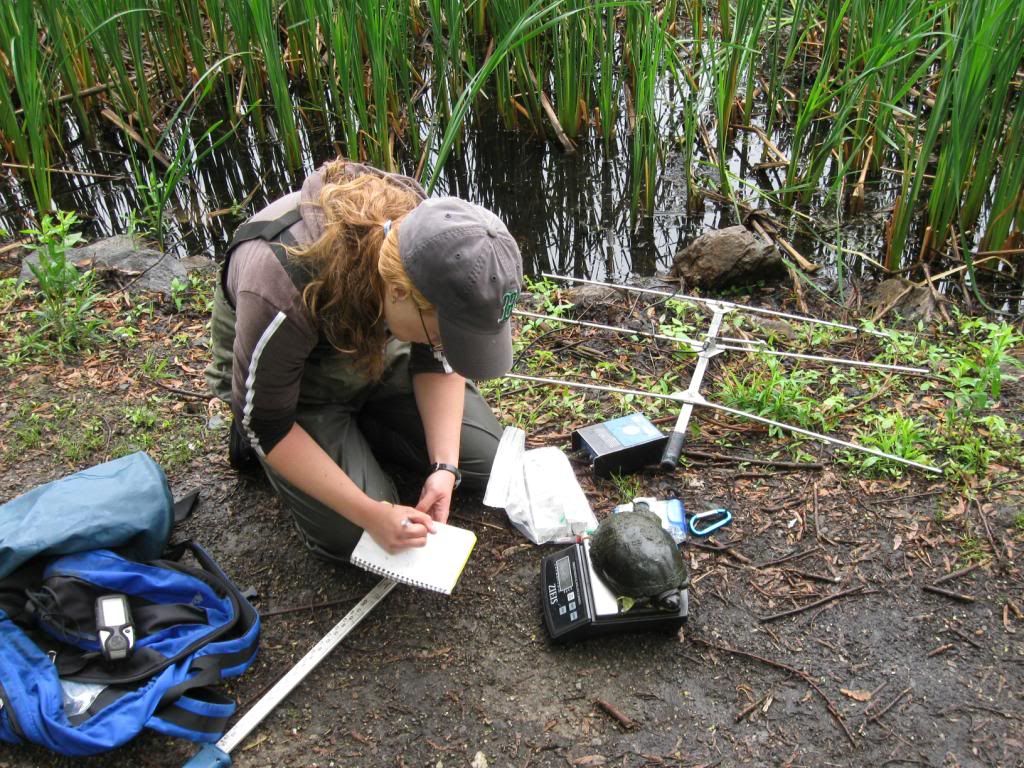 Checking his weight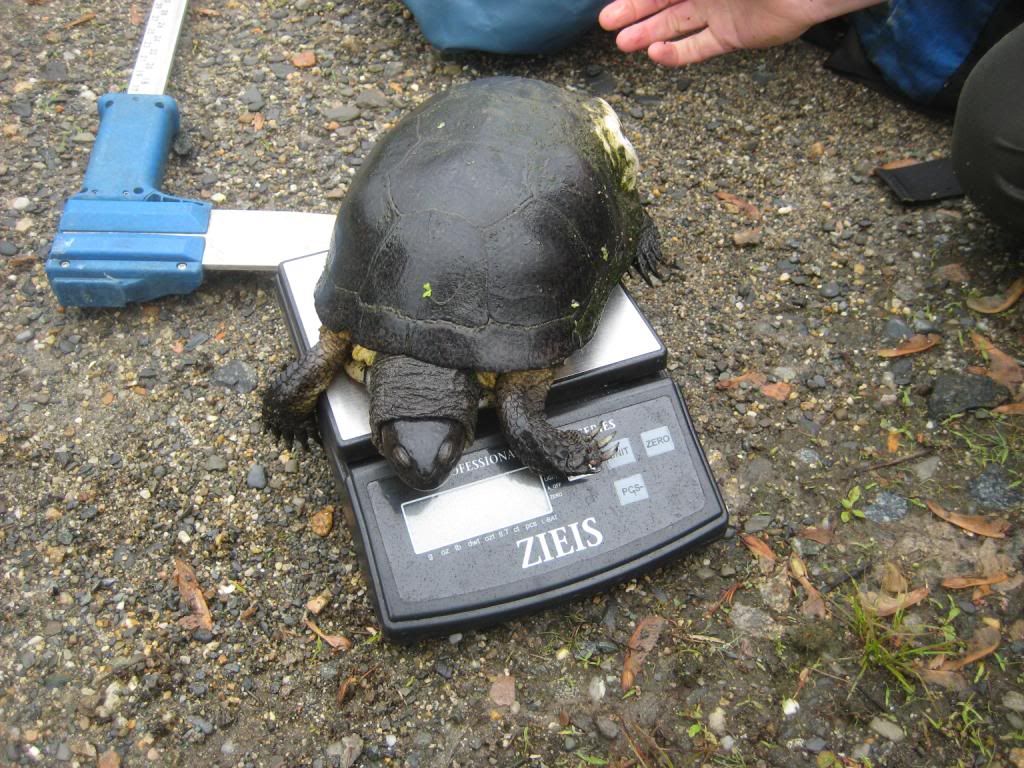 Measuring plastron length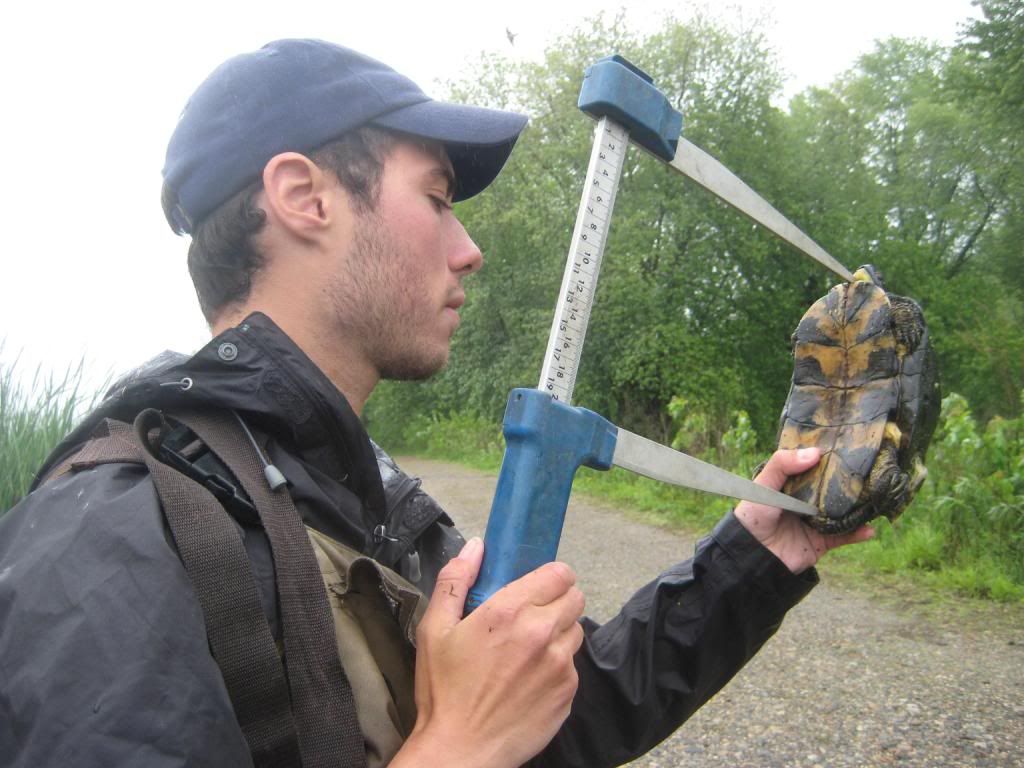 You can tell this one is a male by its concave plastron, which develops with age.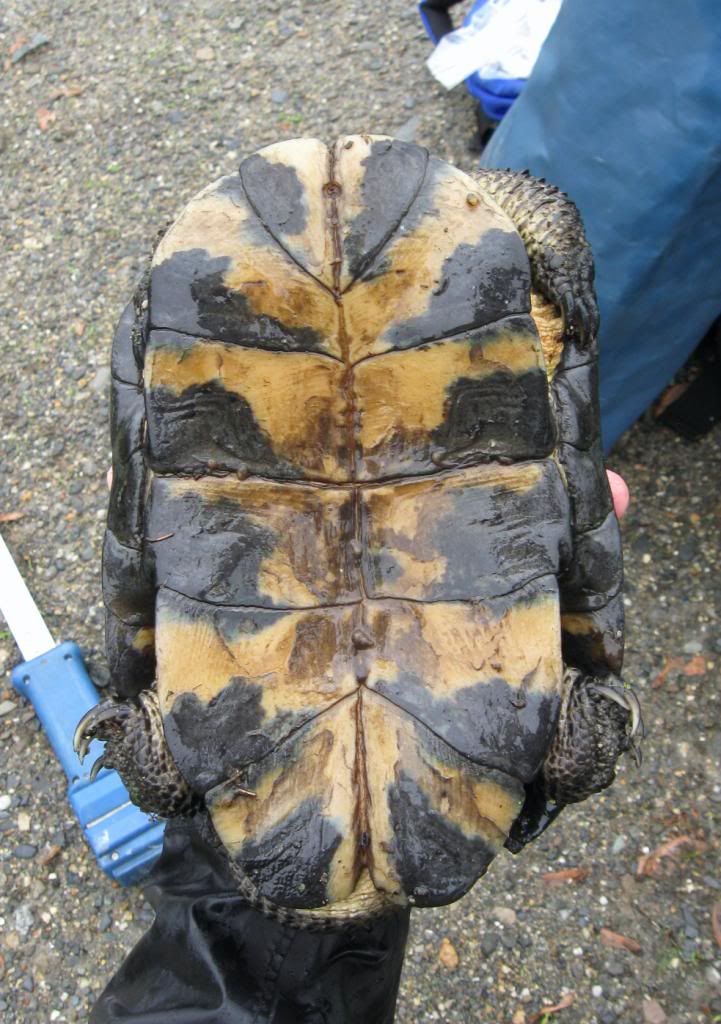 For comparison, here's a female with a flat plastron.







Making sure she looks healthy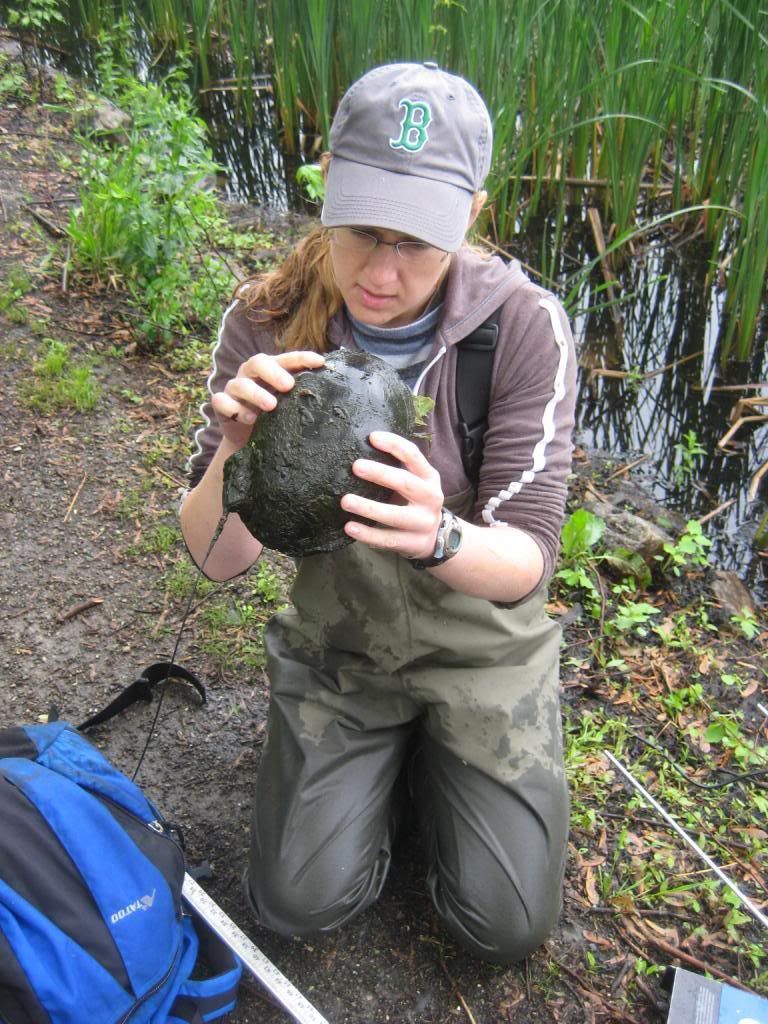 Leeches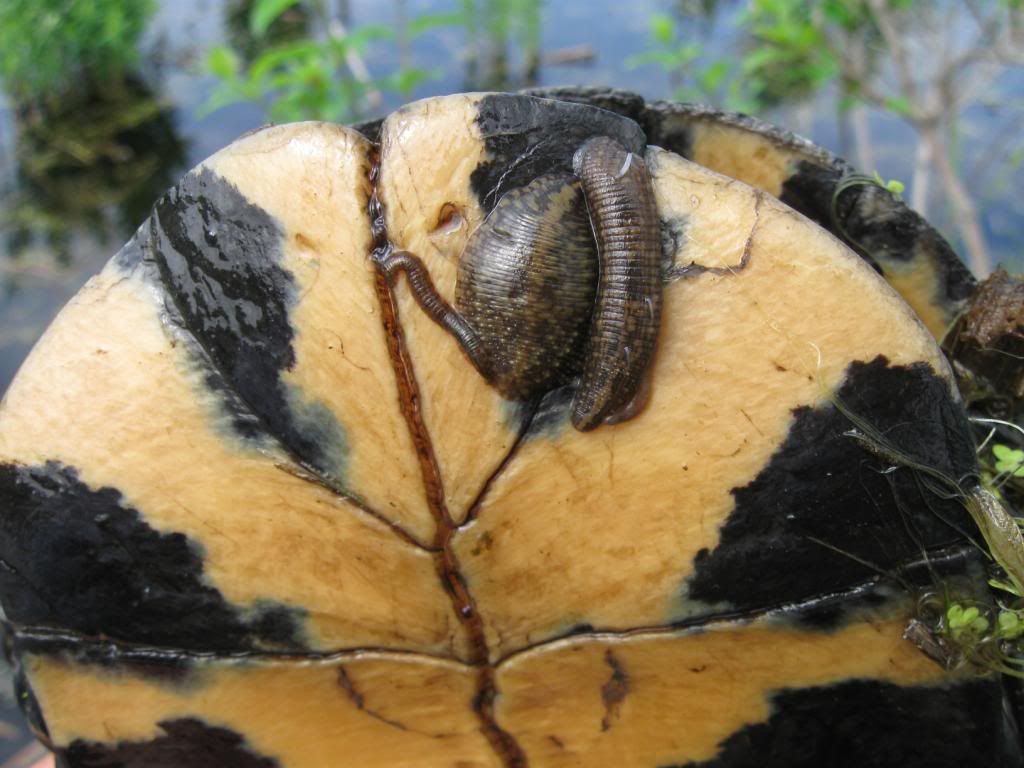 Getting a nasal lavage sample by inserting a narrow, plastic syringe in one nostril, flushing with saline, then quickly sucking the liquid back out.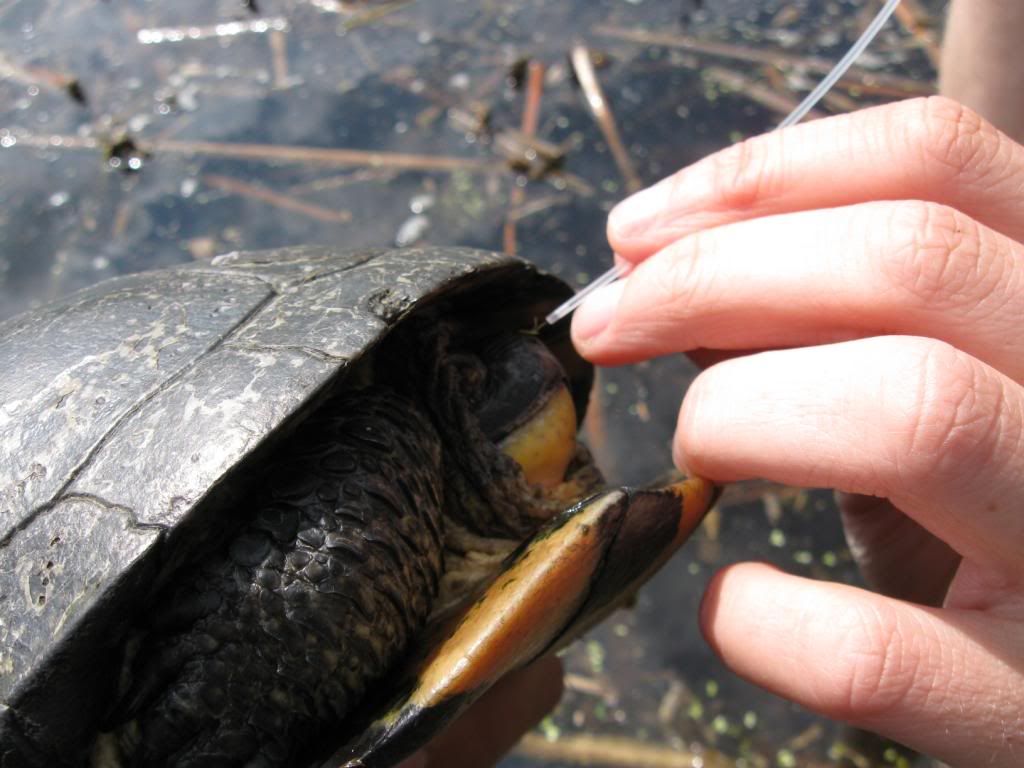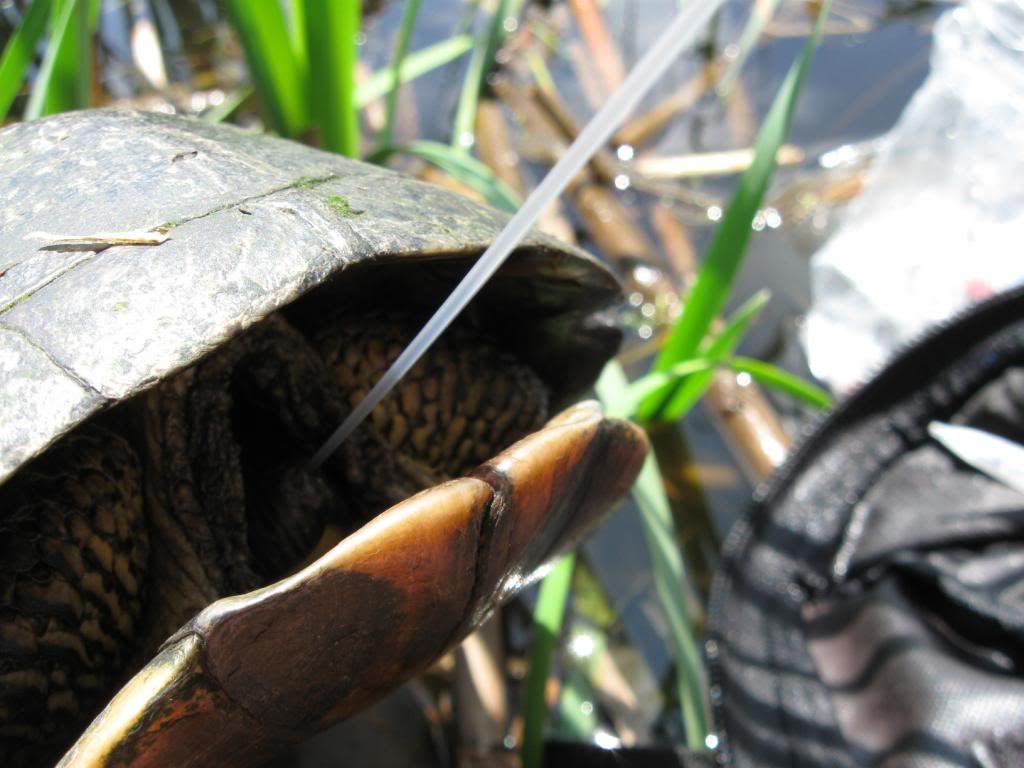 They really enjoy it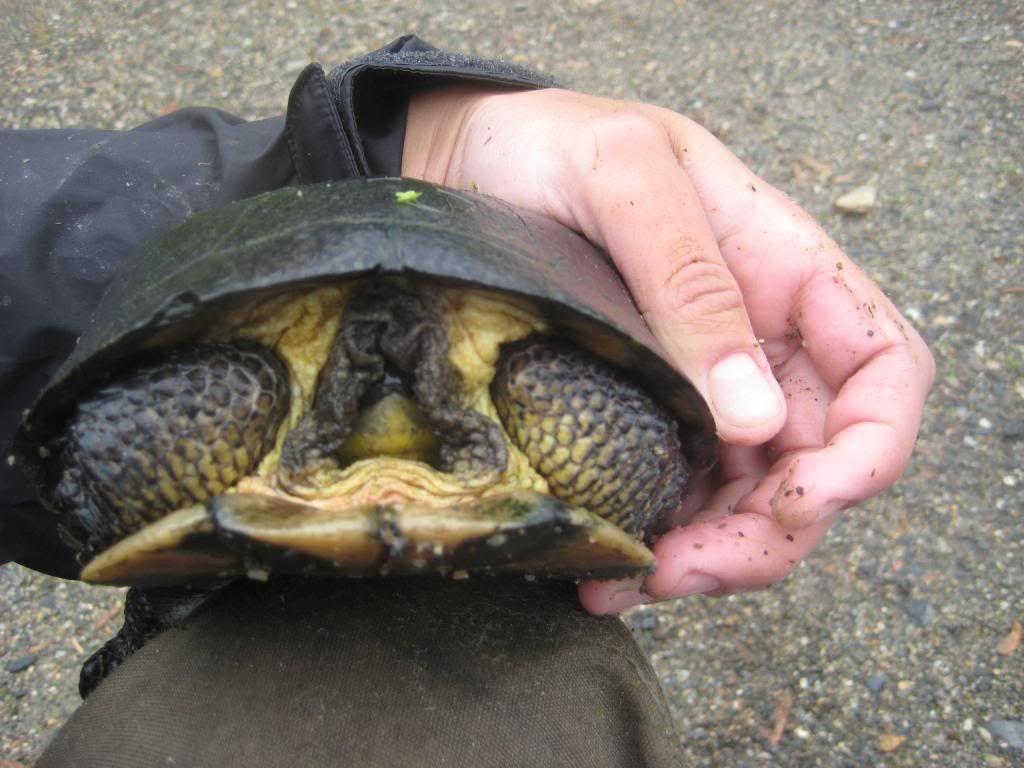 Now on to the blood sample - blood is taken from the tail, and they are very good at holding it in tight.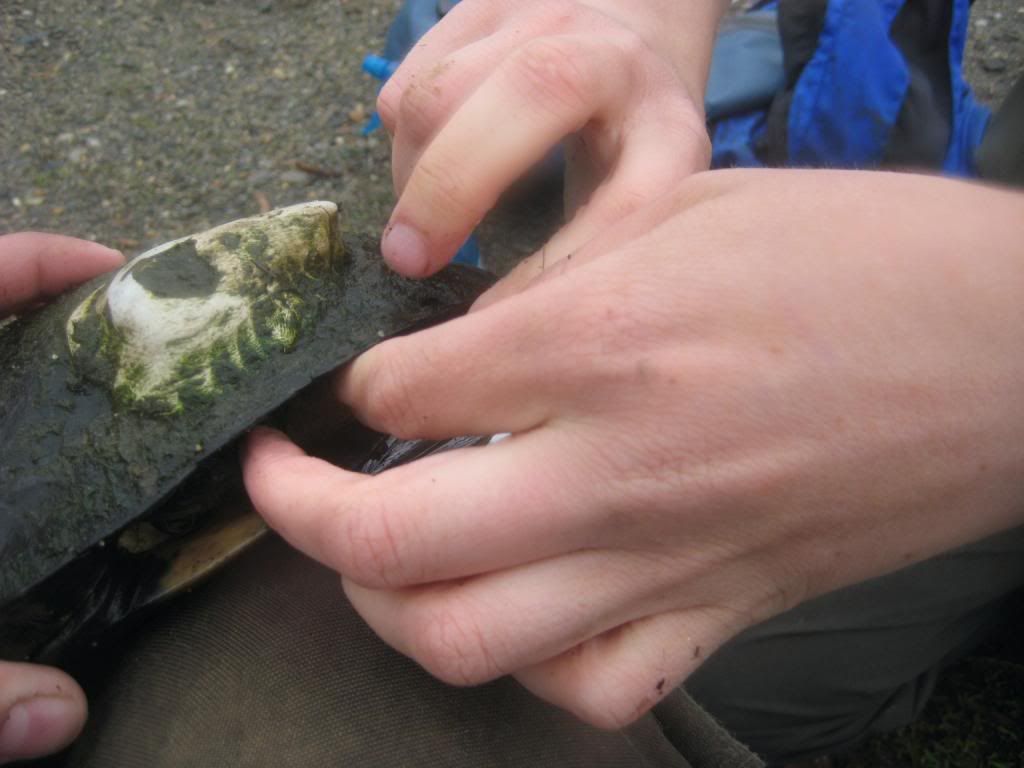 Success!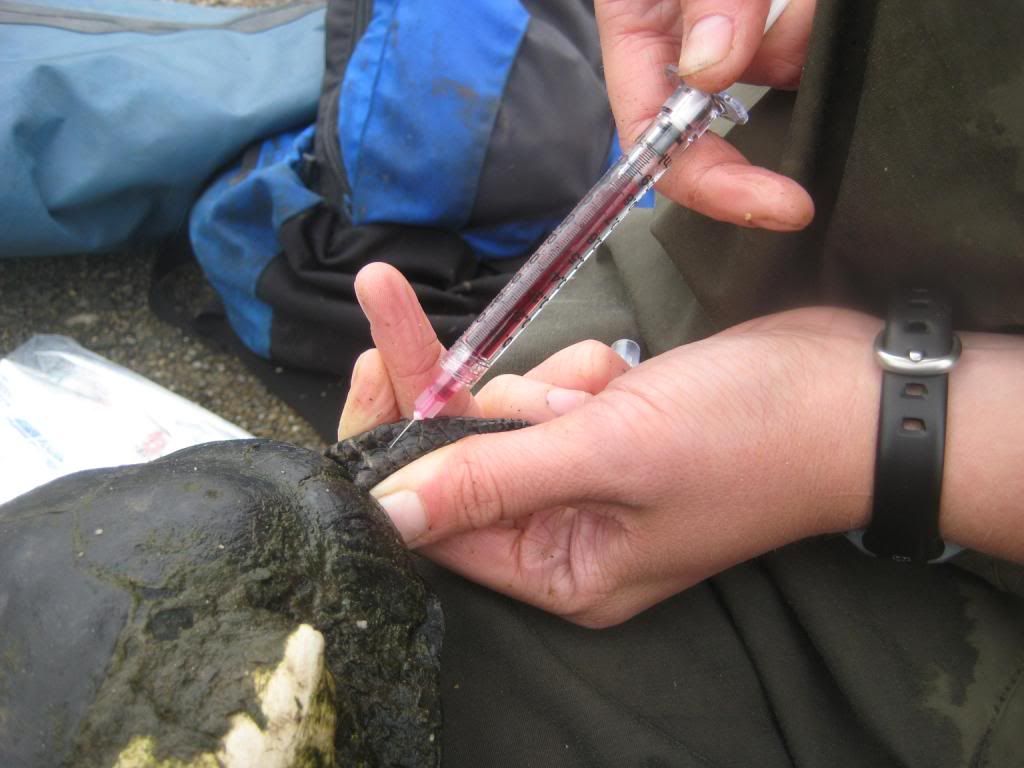 Labeling the tube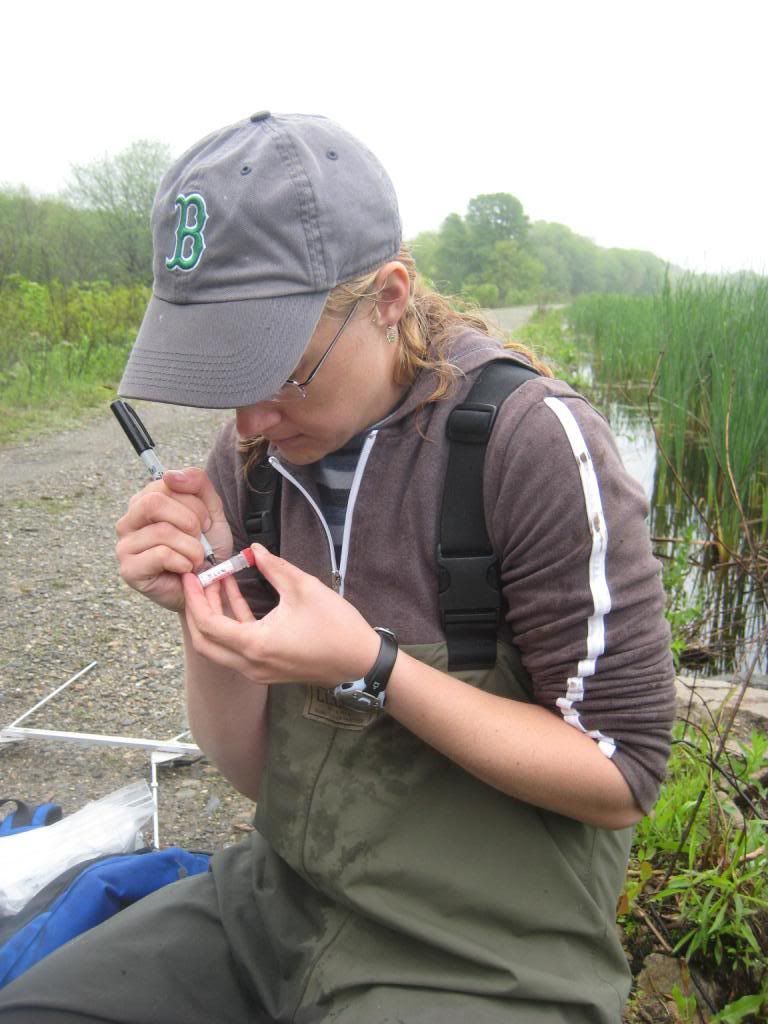 Herpetologist Kurt Buhlmann came to attend a Blanding's turtle head-start release (more on this below), and joined me for a day of tracking and trapping. Kurt is scientist at the Savanah River Ecology Lab (SREL) as well as a professor at University of Georgia, and he is a lot of fun to work with!







There were lots of nesting painted turtles out this day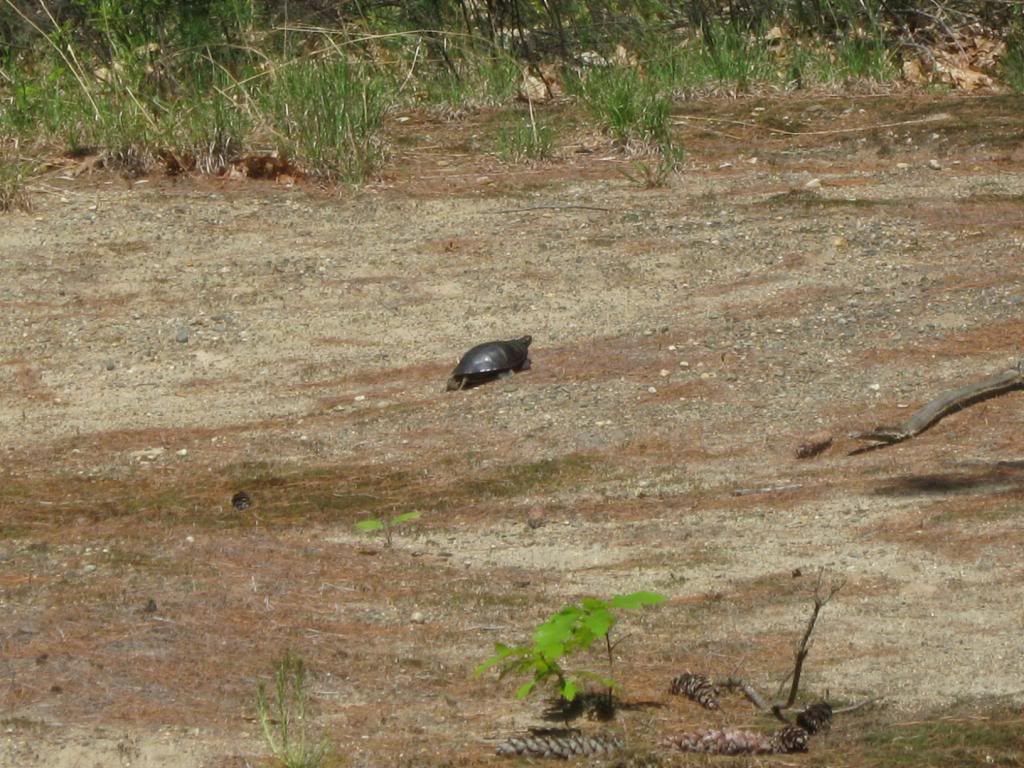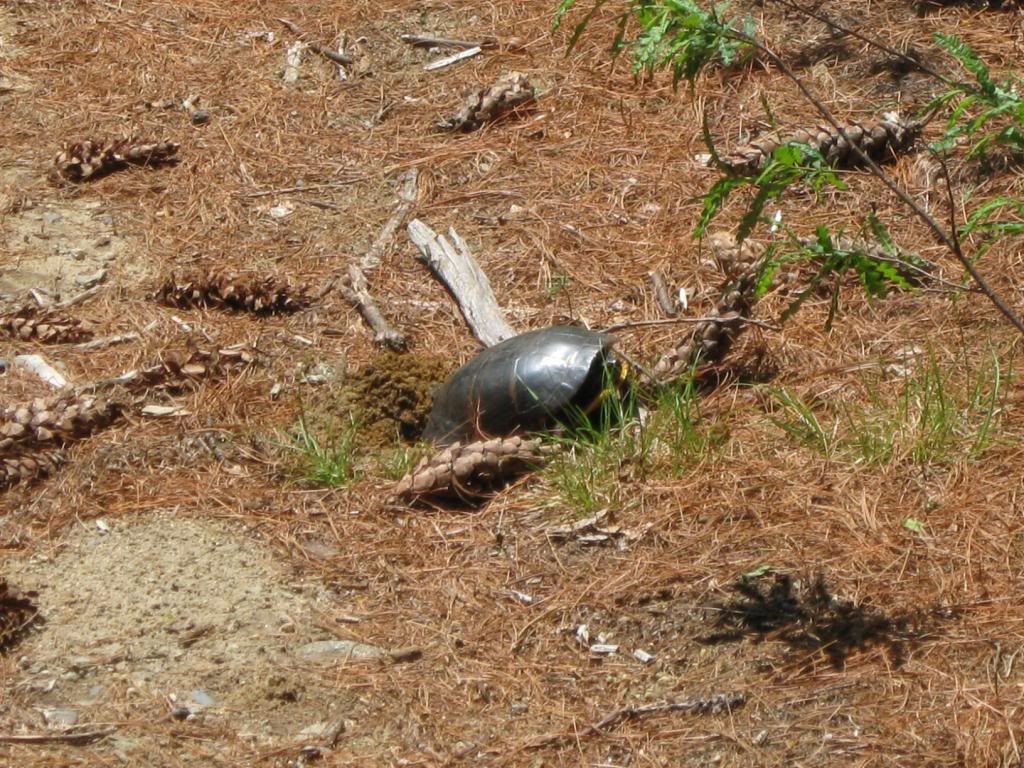 This female looked pretty normal…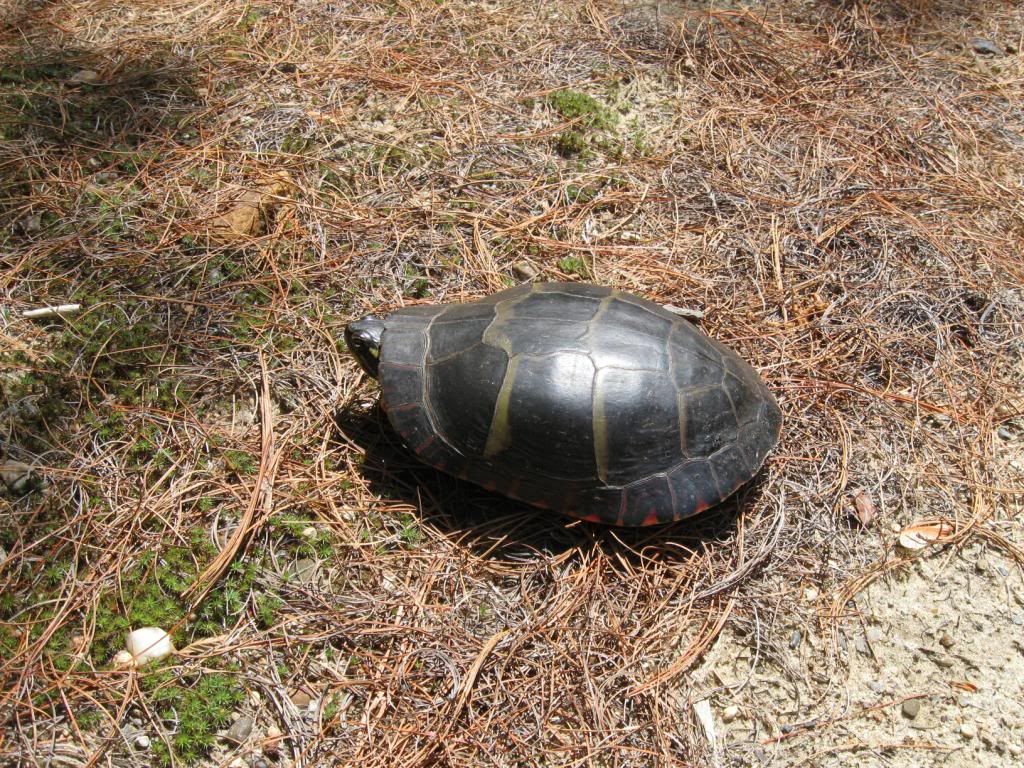 …until we saw this massive abscess on the side of her head







Although aural abscesses are most often associated with box turtles (Terrapene spp.), Gamble (2007) surveyed 22 populations of C. picta in Minnesota and reported the occurrence of aural abscesses in 19 out of 2703 individuals (0.7%), and also found that incidence varied among populations. While the cause of aural abscesses in wild populations of painted turtles remains unclear, insect bites, trauma, and environmental contamination have been implicated as possible contributing factors.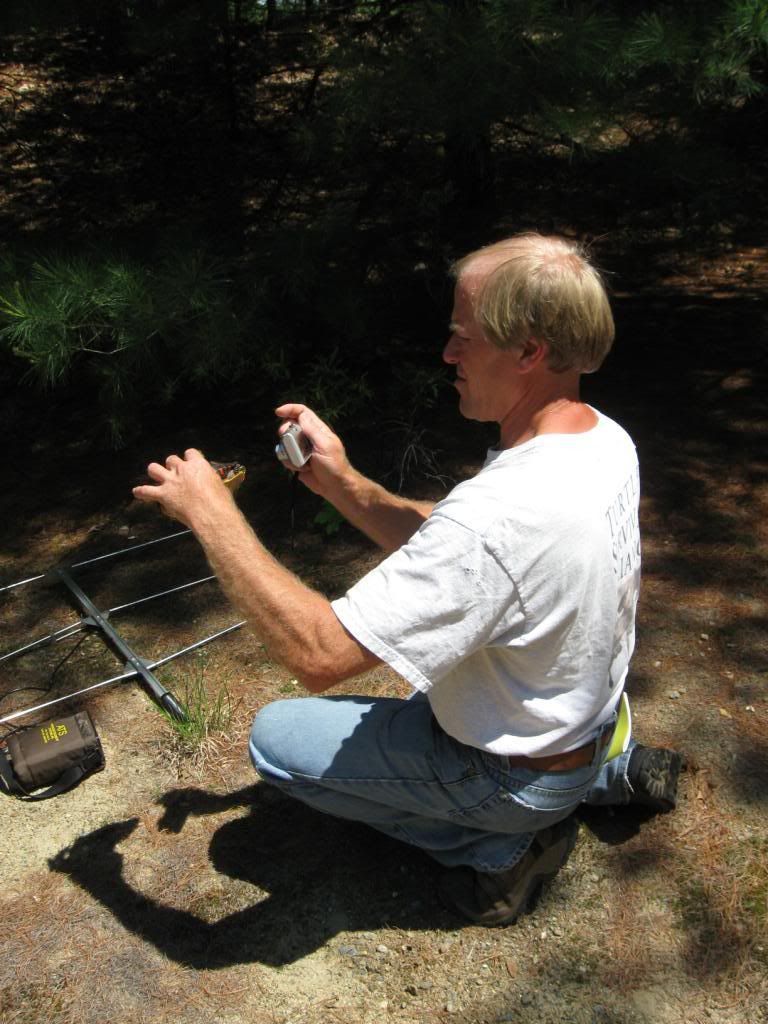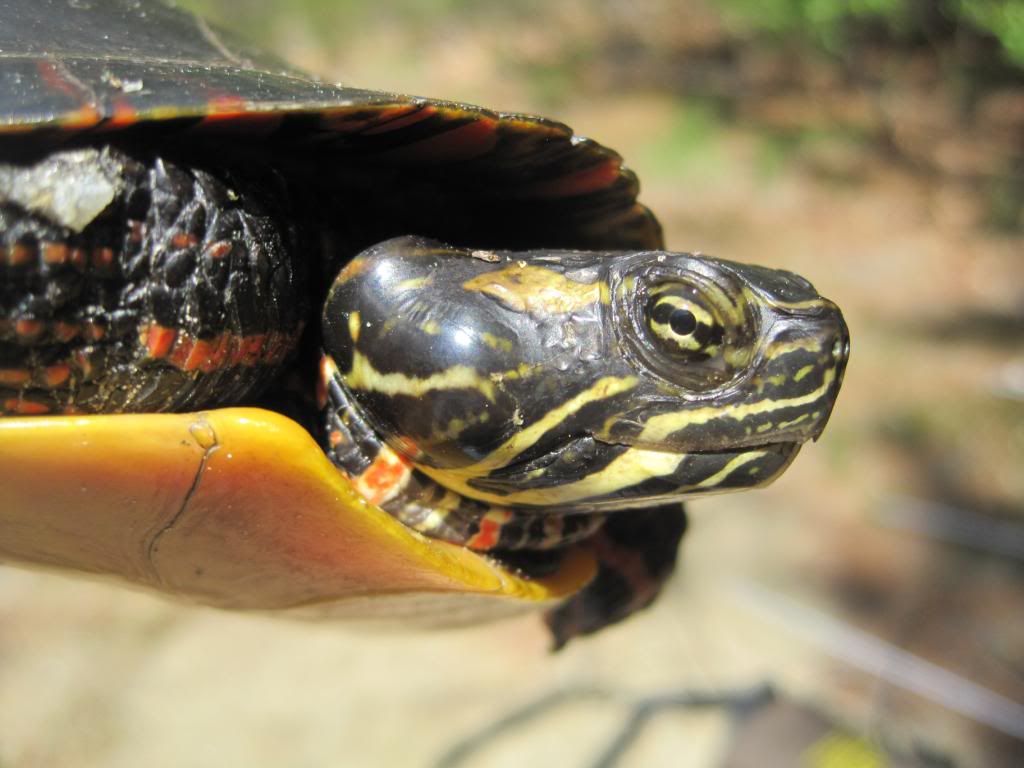 Going after some Blanding's turtles


"I have spent many an hour, when I was younger, floating over its surface as the zephyr willed, having paddled my boat to the middle, and lying on my back across the seats, in a summer forenoon, dreaming awake, until I was aroused by the boat touching the sand, and I arose to see what shore my fates had impelled me to; days when idleness was the most attractive and productive industry. Many a forenoon have I stolen away, preferring to spend thus the most valued part of the day; for I was rich, if not in money, in sunny hours and summer days, and spent them lavishly; nor do I regret that I did not waste more of them in the workshop or the teacher's desk."

-Thoreau (1854)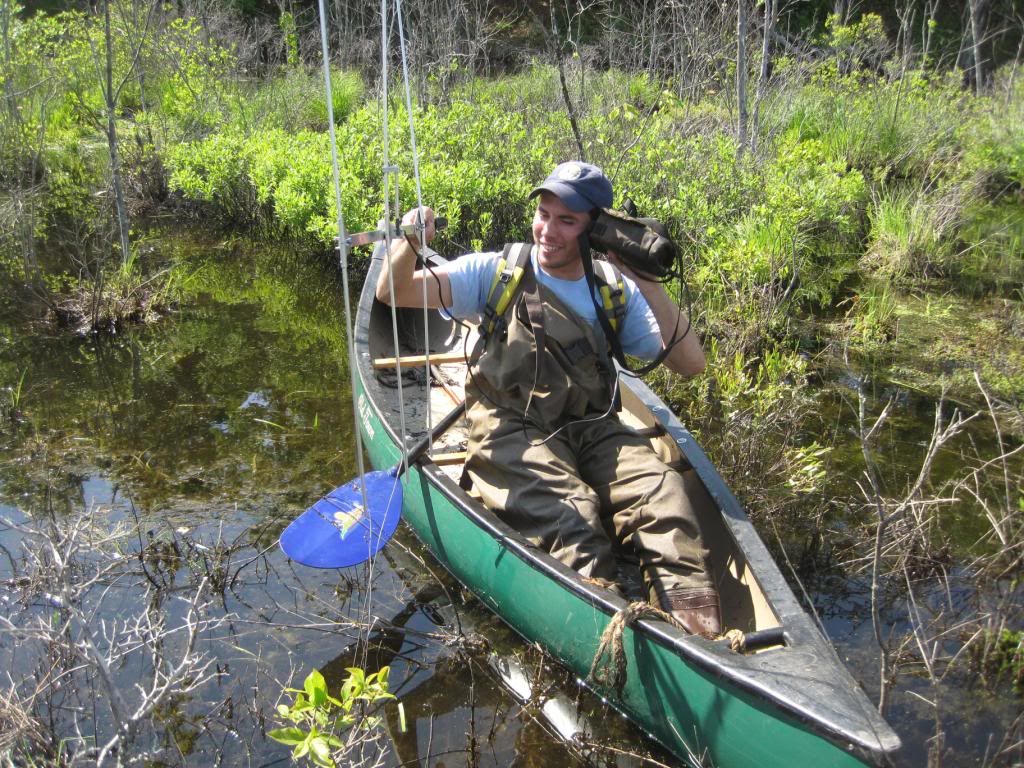 This is what we have to canoe through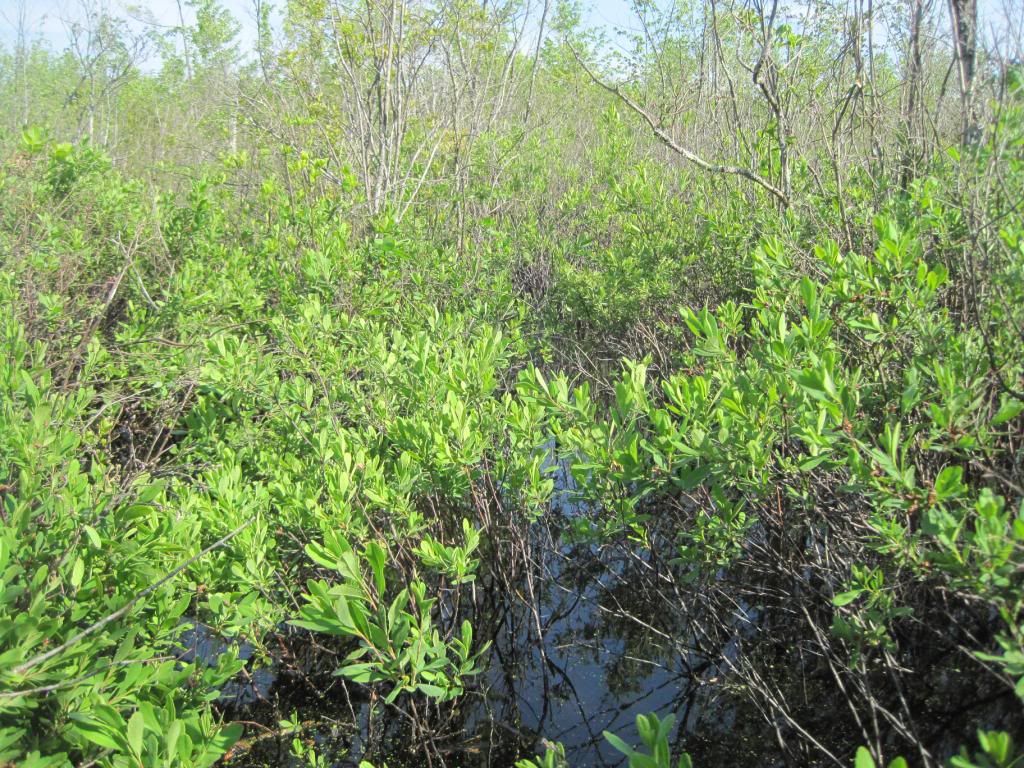 Got one!


"We are conscious of an animal in us, which awakens in proportion as our higher nature slumbers. It is reptile and sensual, and perhaps cannot be wholly expelled; like the worms which, even in life and health, occupy our bodies. Possibly we may withdraw from it, but never change its nature. I fear that it may enjoy a certain health of its own; that we may be well, yet not pure."

-Thoreau (1854)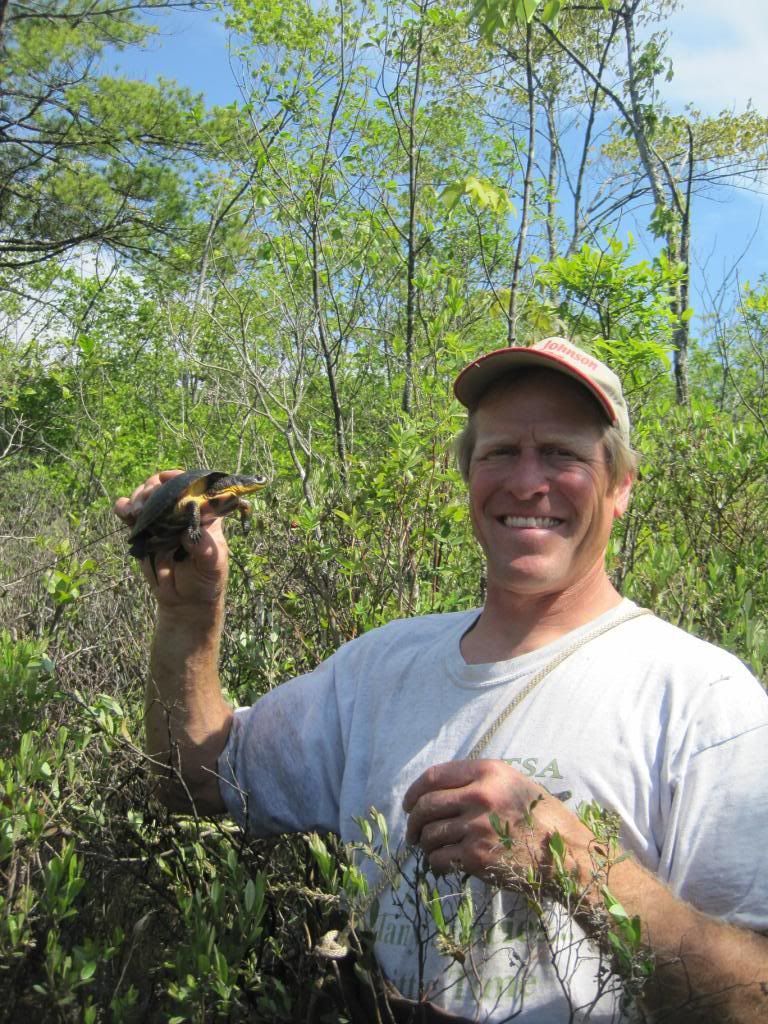 "I like sometimes to take rank hold on life and spend my day more as the animals do."

-Thoreau (1854)







For the last year, students at Bristol County Agricultural High School have been raising dozens of Blanding's turtles obtained as hatchlings from a donor population to be released at elsewhere in hopes of establishing a new population. Last week 50 of these head-starts (now much larger than 1-year-old turtles would be in the wild) were finally released. Last year, The Sun Chronicle published this article about the students' involvement with the project. This event brought back fond memories from my days at The Wetlands Institute, where I participated in similar head-start releases of Diamondback Terrapins (Malaclemys terrapin), as part of the Terrapin Conservation Project back in 2008.




Group shot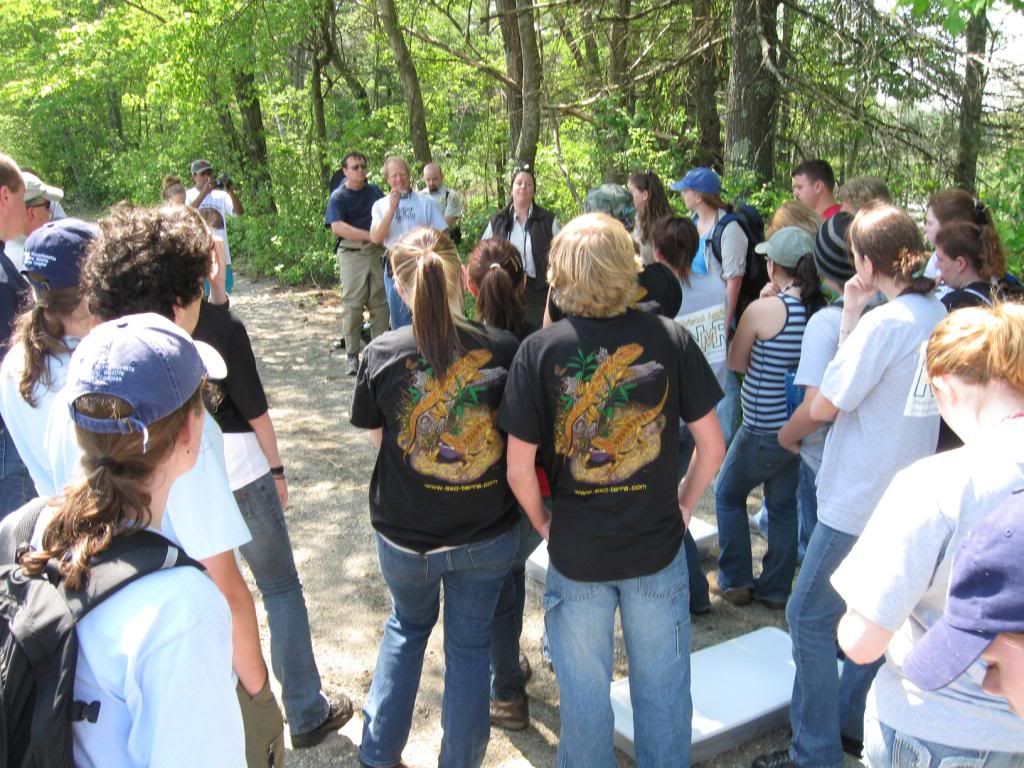 Kurt, Susan Russo (visitor services manager at the Eastern Massachusetts National Wildlife Refuge Complex [EMNWRC]), and Stephanie Koch (head biologist for the EMNWRC) talking about the project.







Tubs of head-starts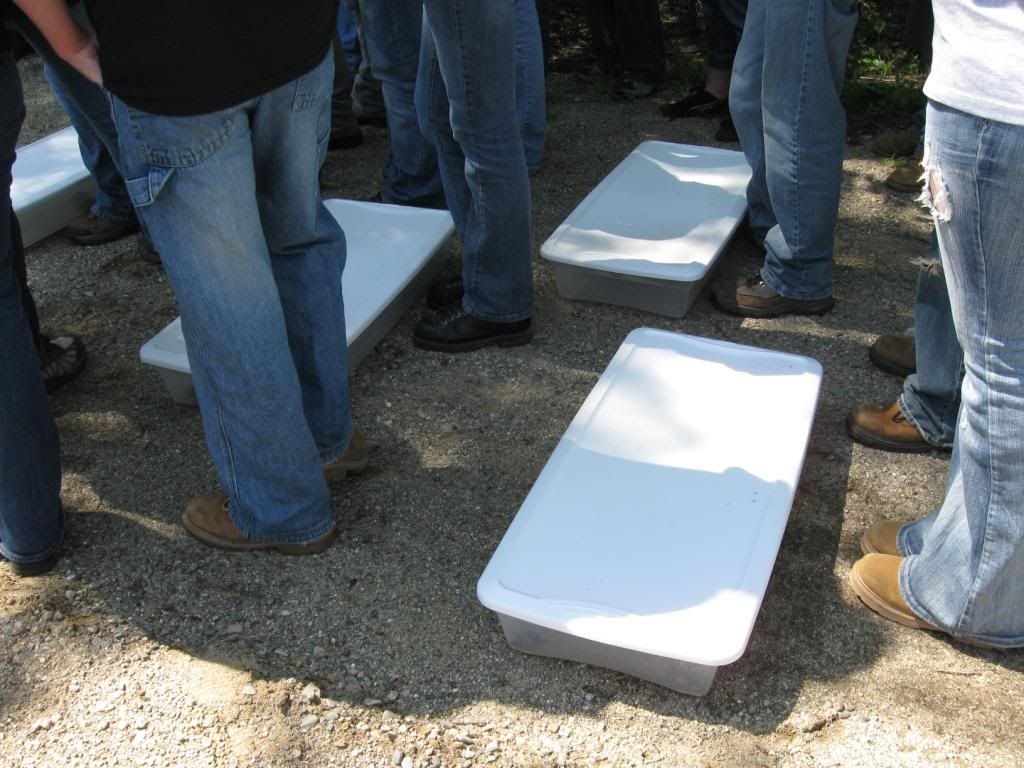 Brian Butler (President of Oxbow Associates, Inc.) speaks to the crowd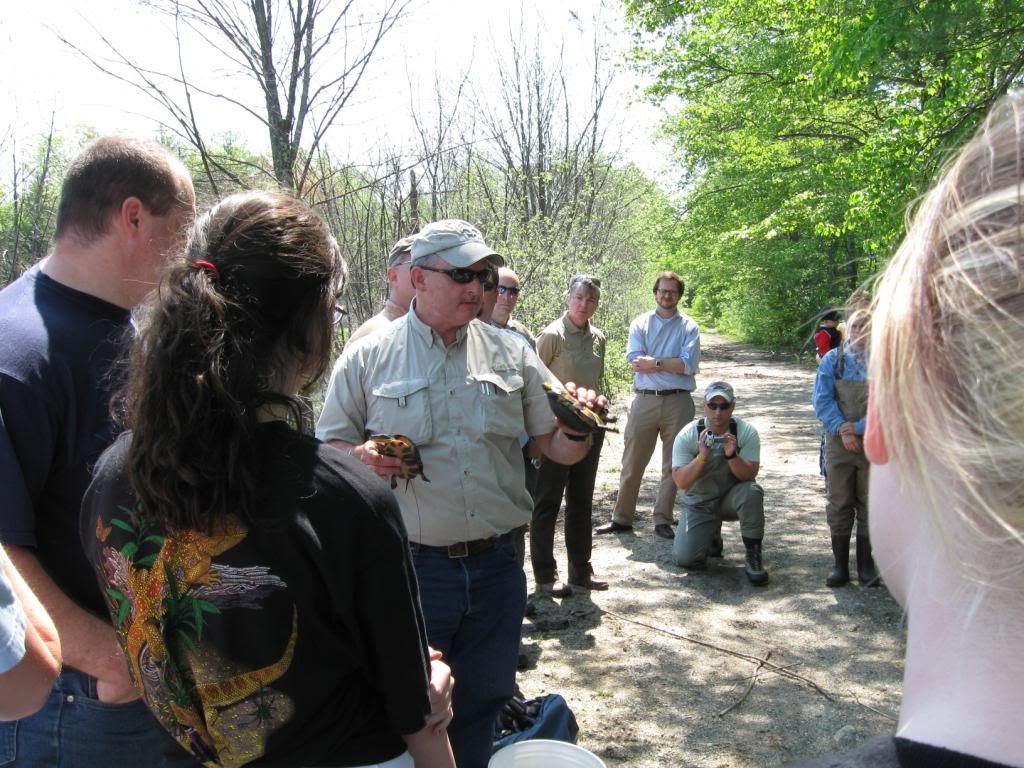 Stephanie presents students with a plaque for their contribution to the project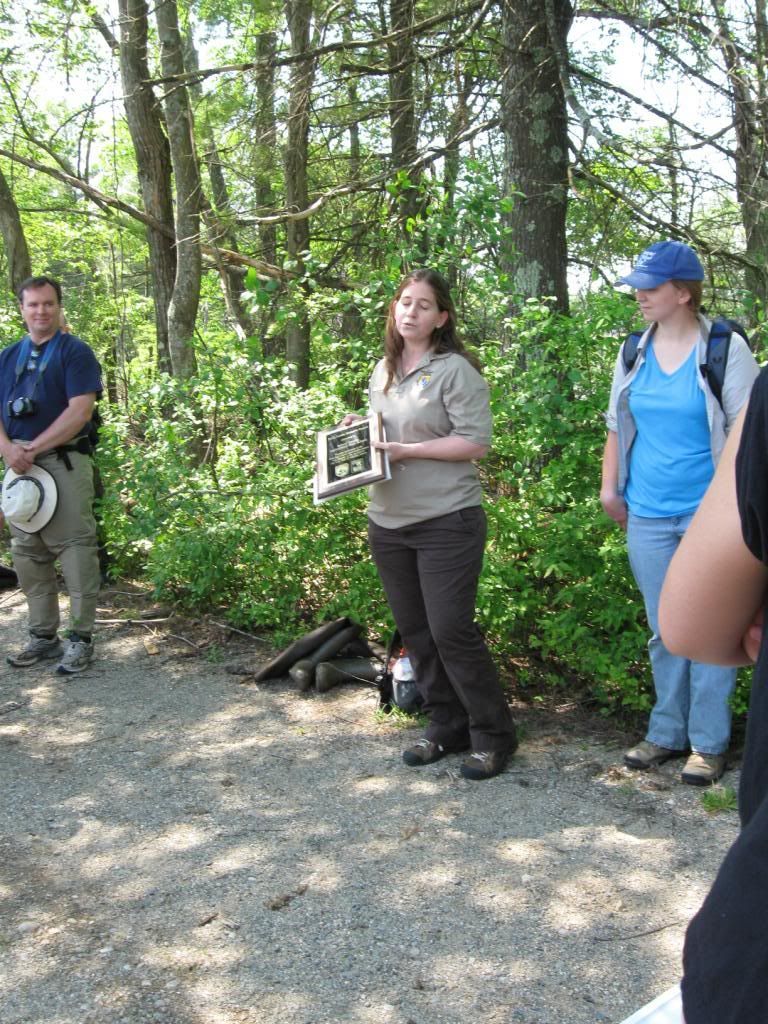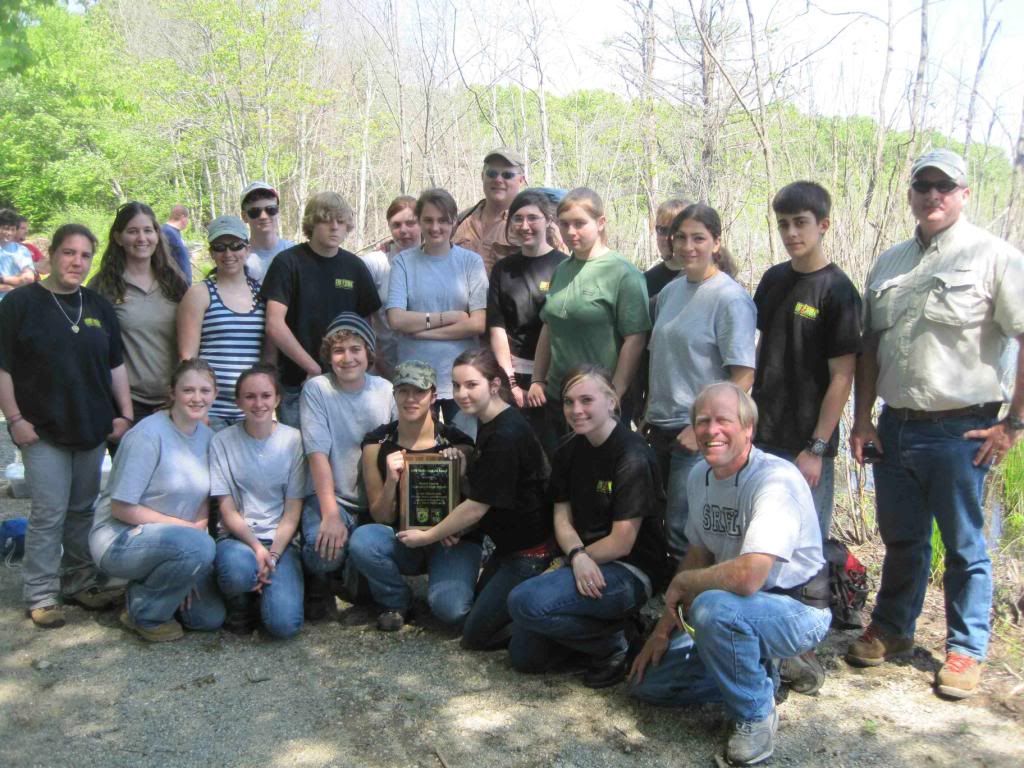 The turtles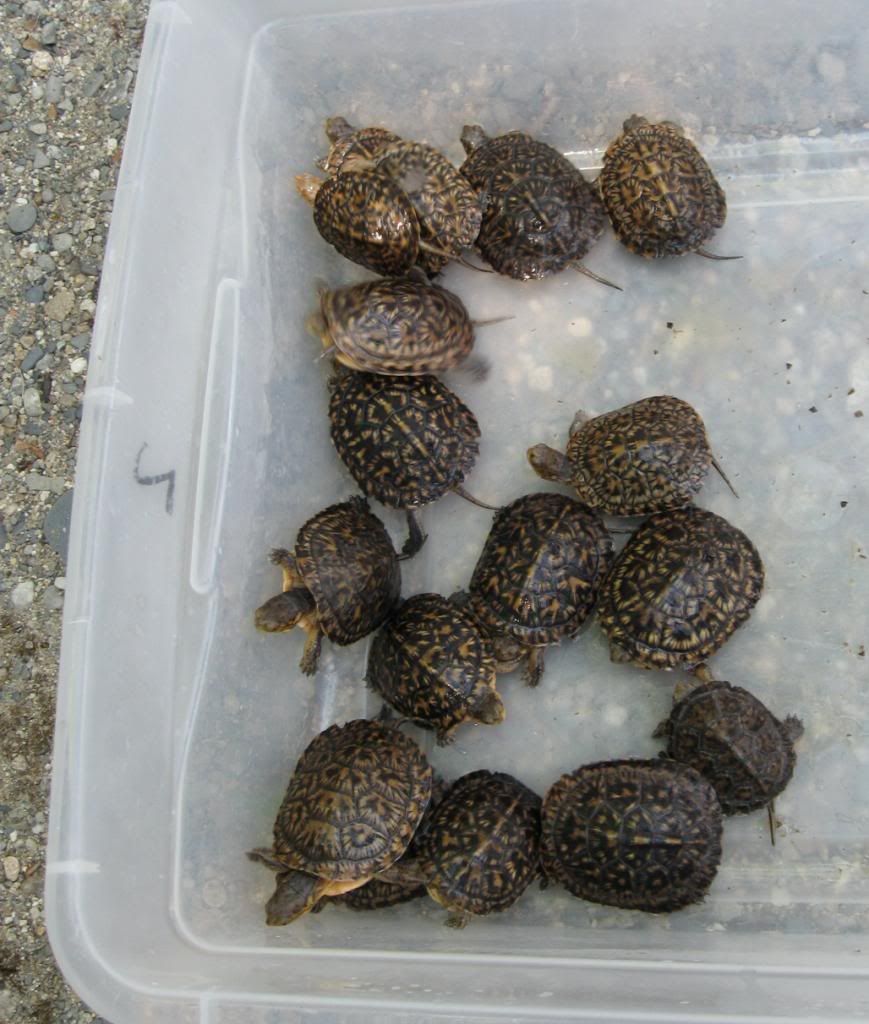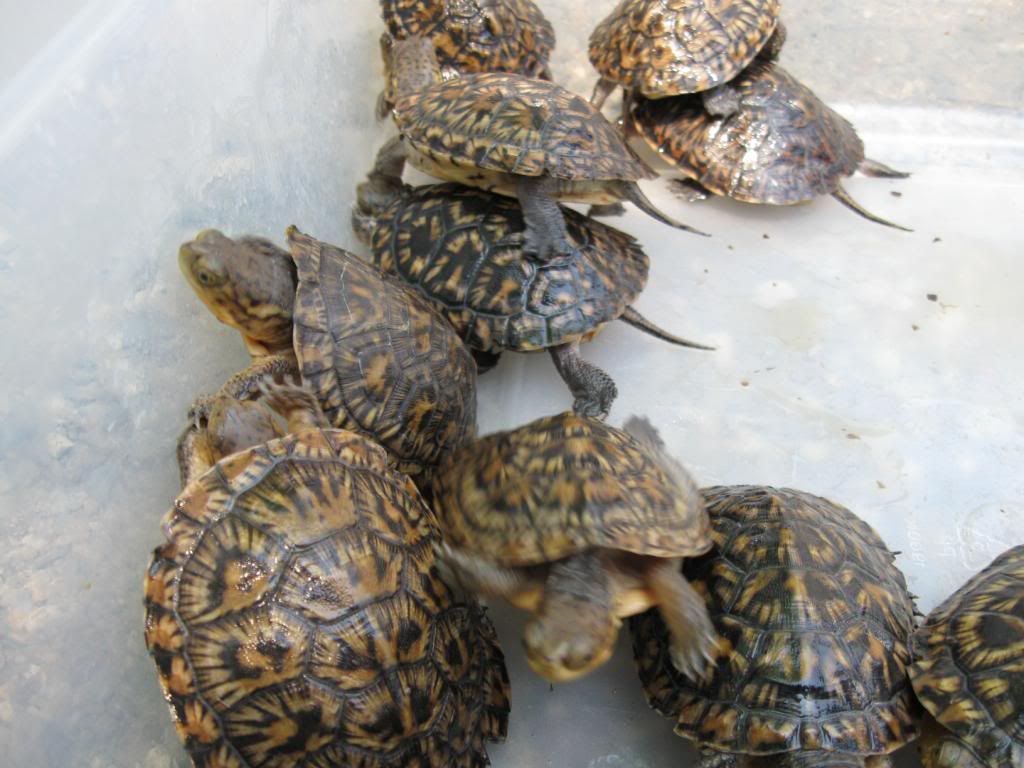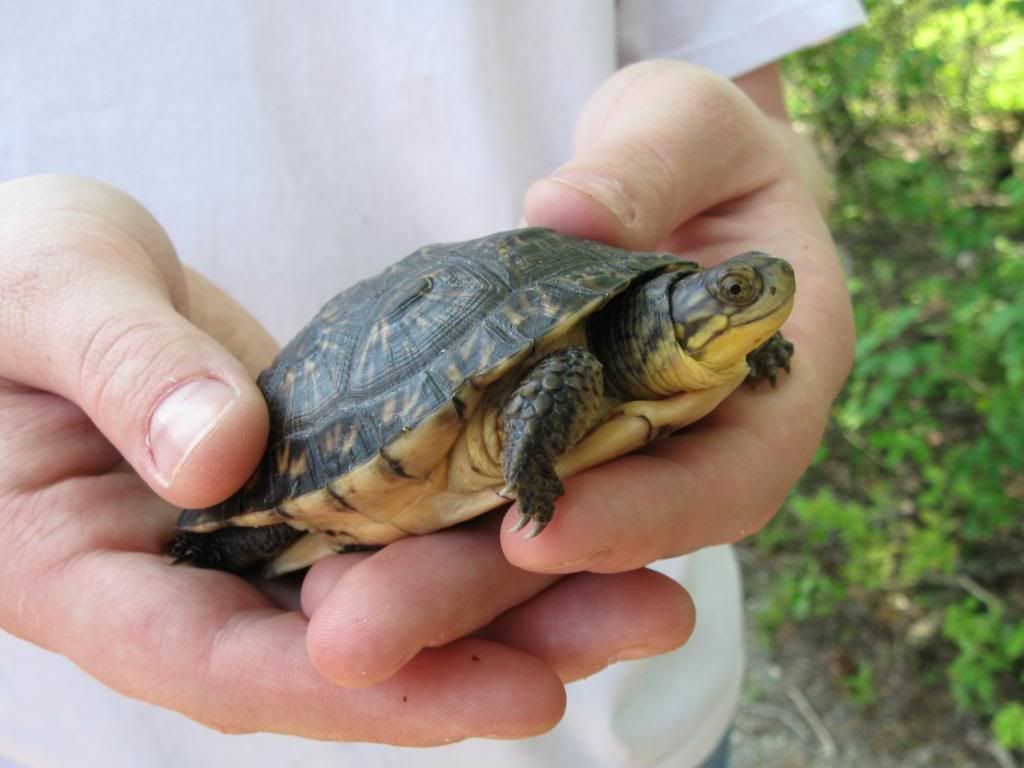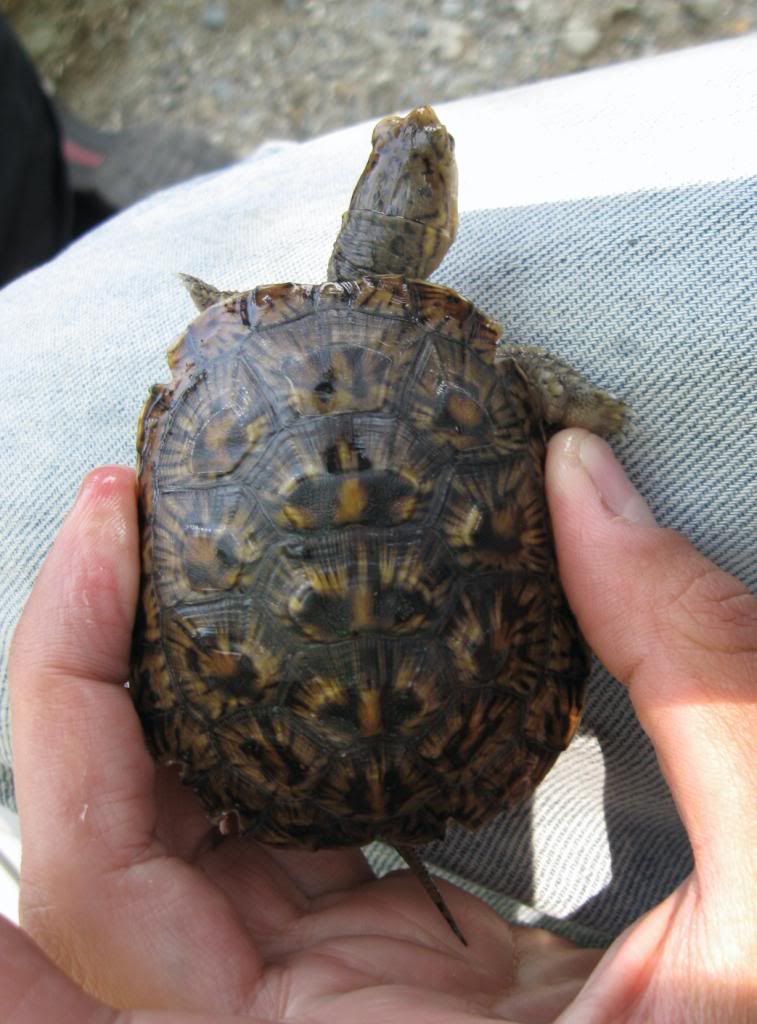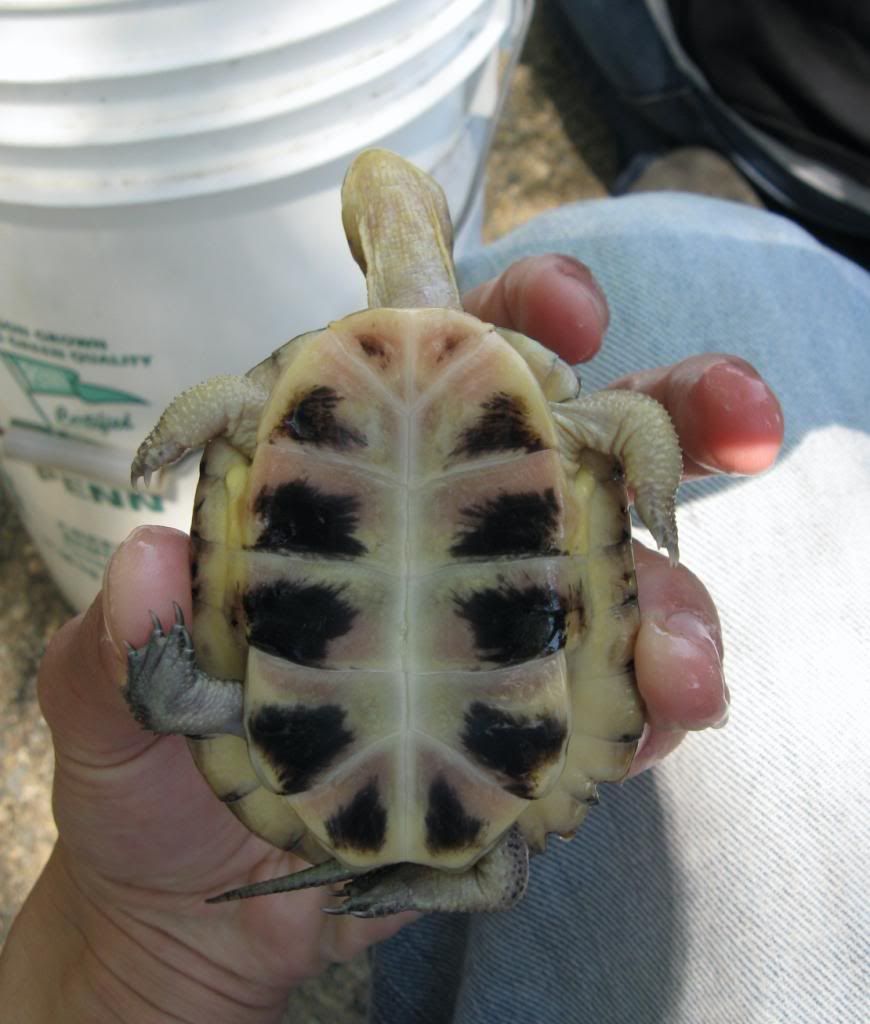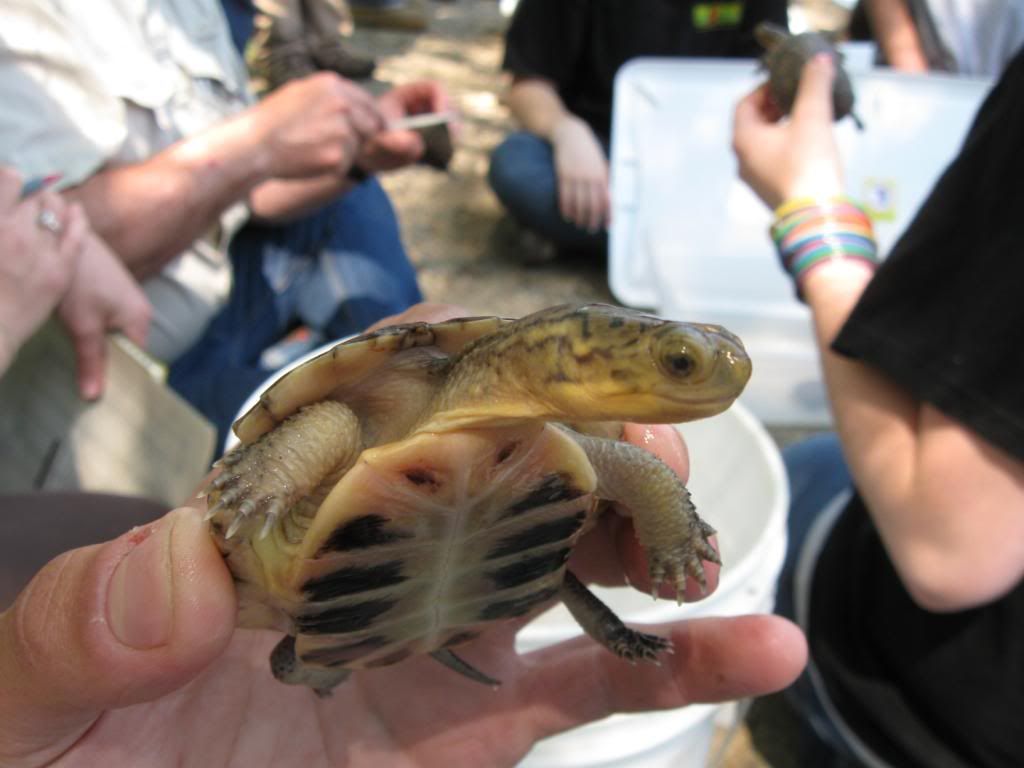 Students help Brian and Stephanie process turtles before the release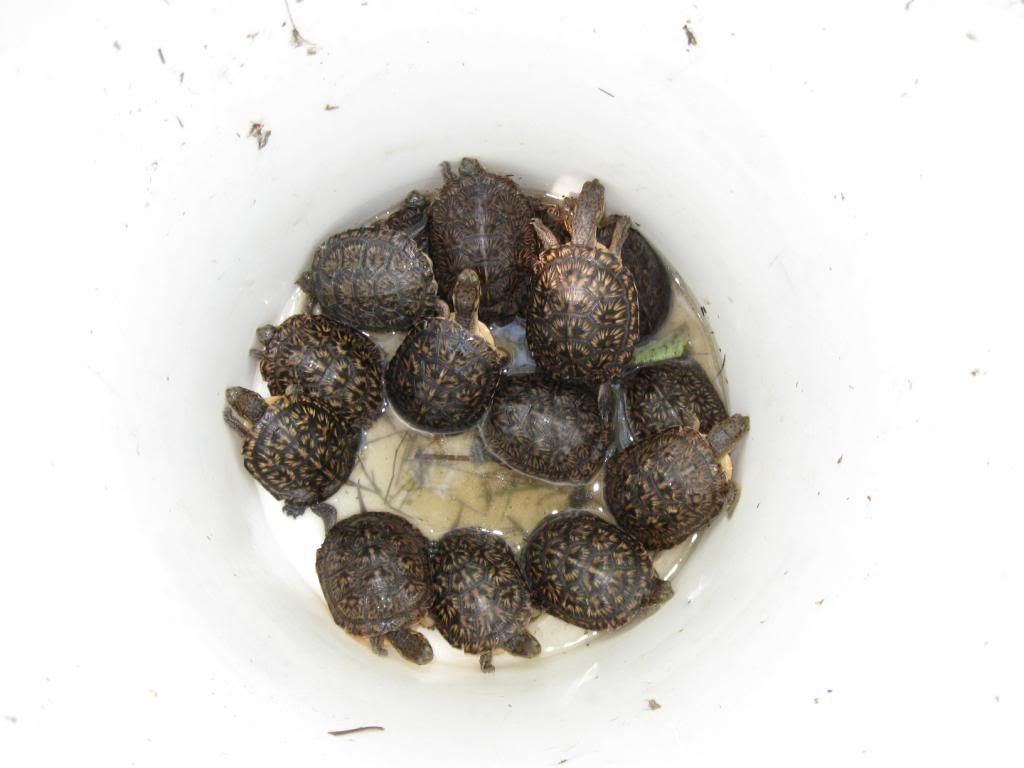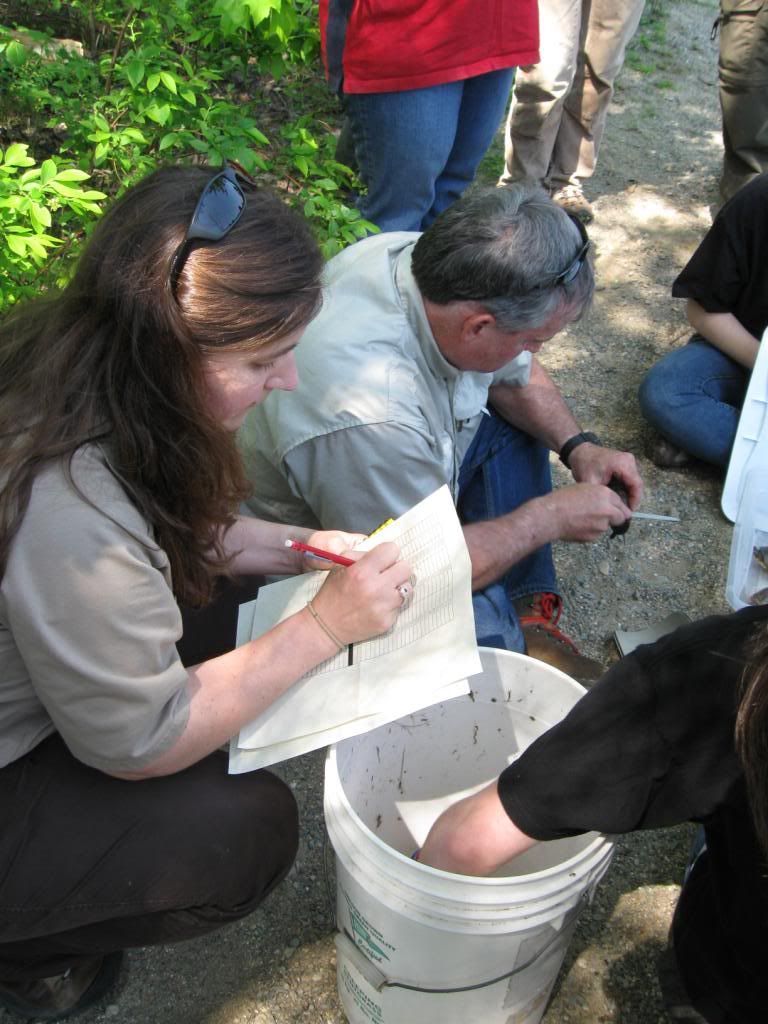 Each turtle is given a unique notching pattern for future identification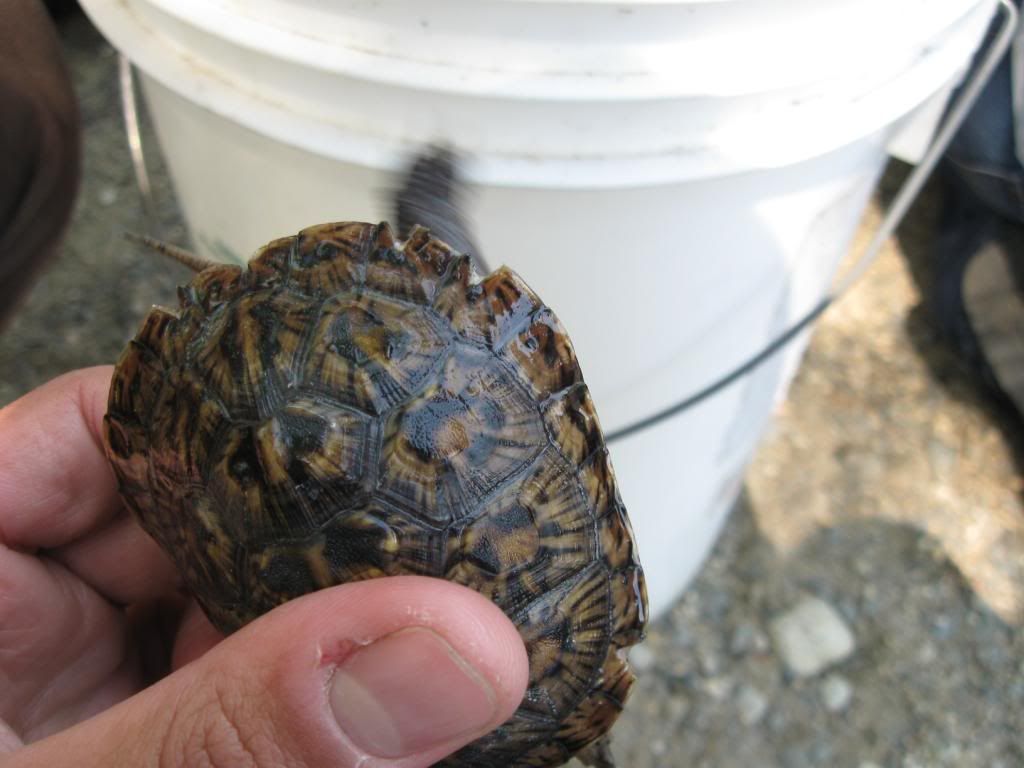 One of the head-starts was big enough for a radio, and Veronica Palermo (field technician at Oxbow Associates) demonstrates the procedure for attaching one.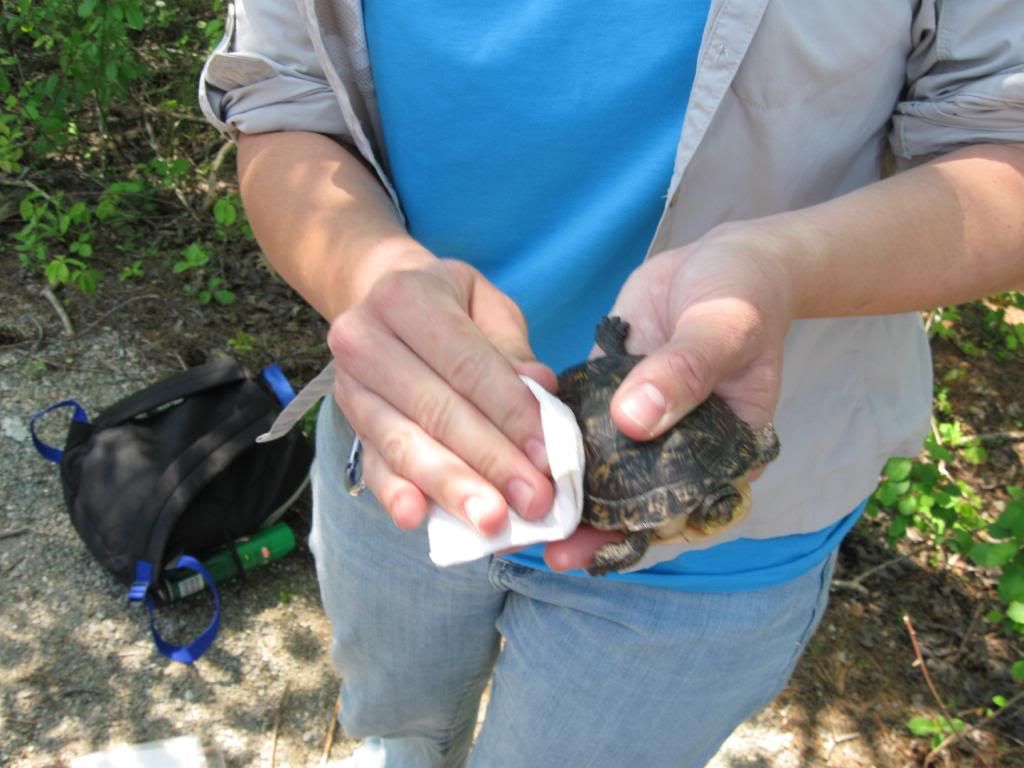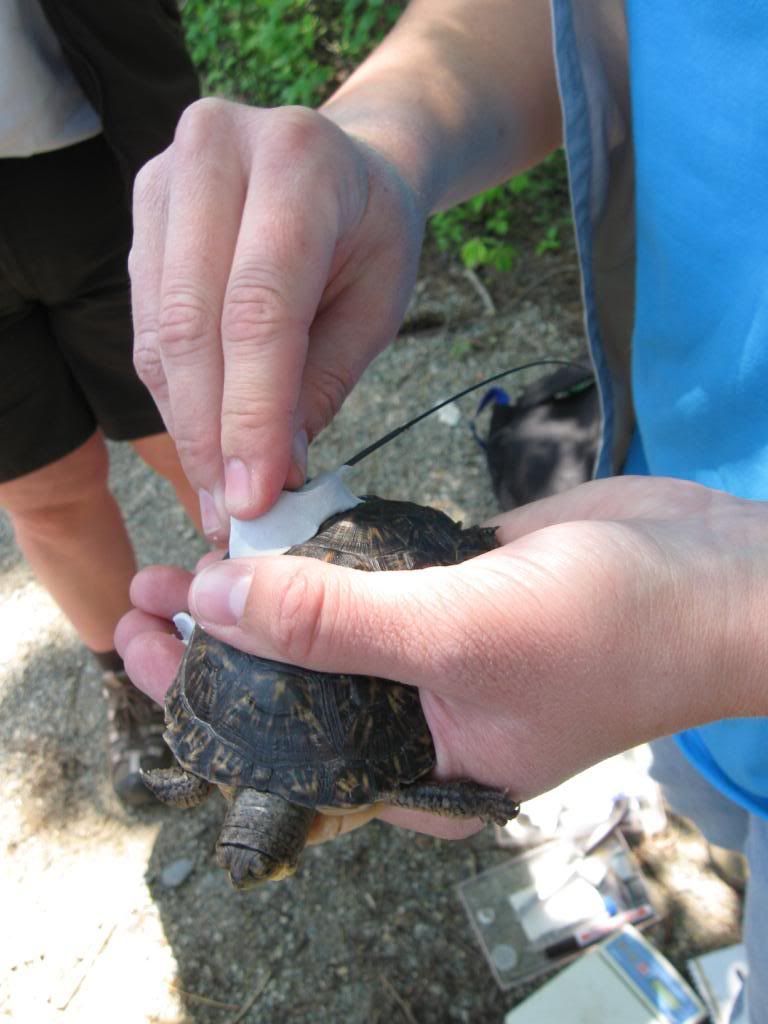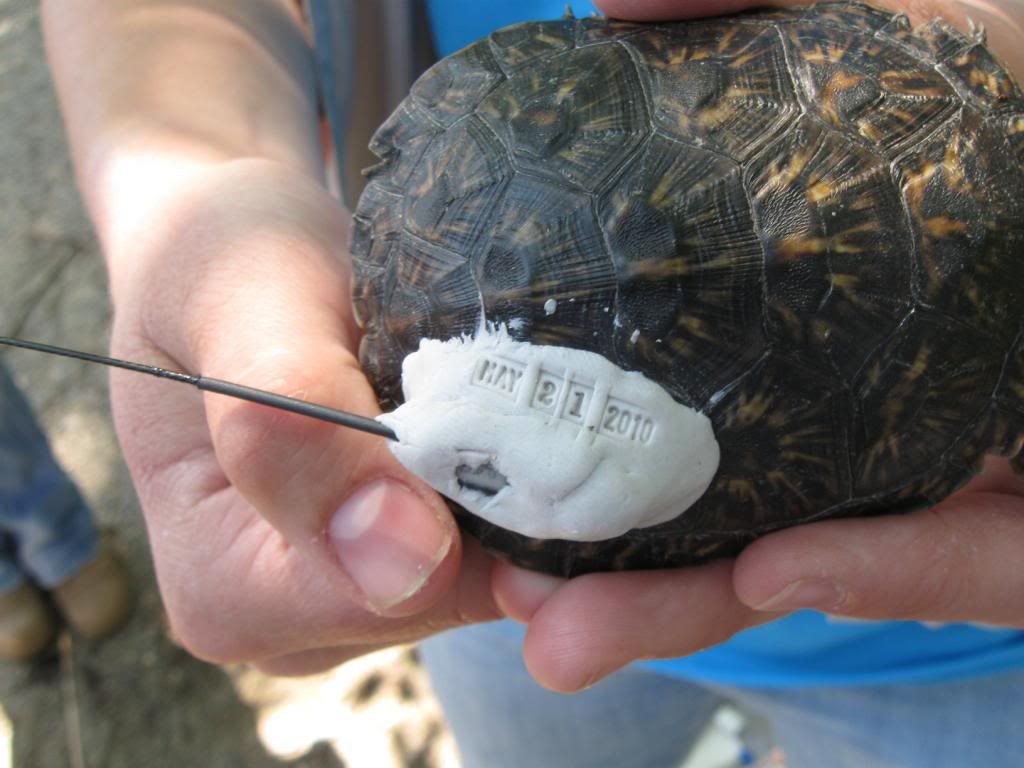 Students took canoes out into the marsh to release the turtles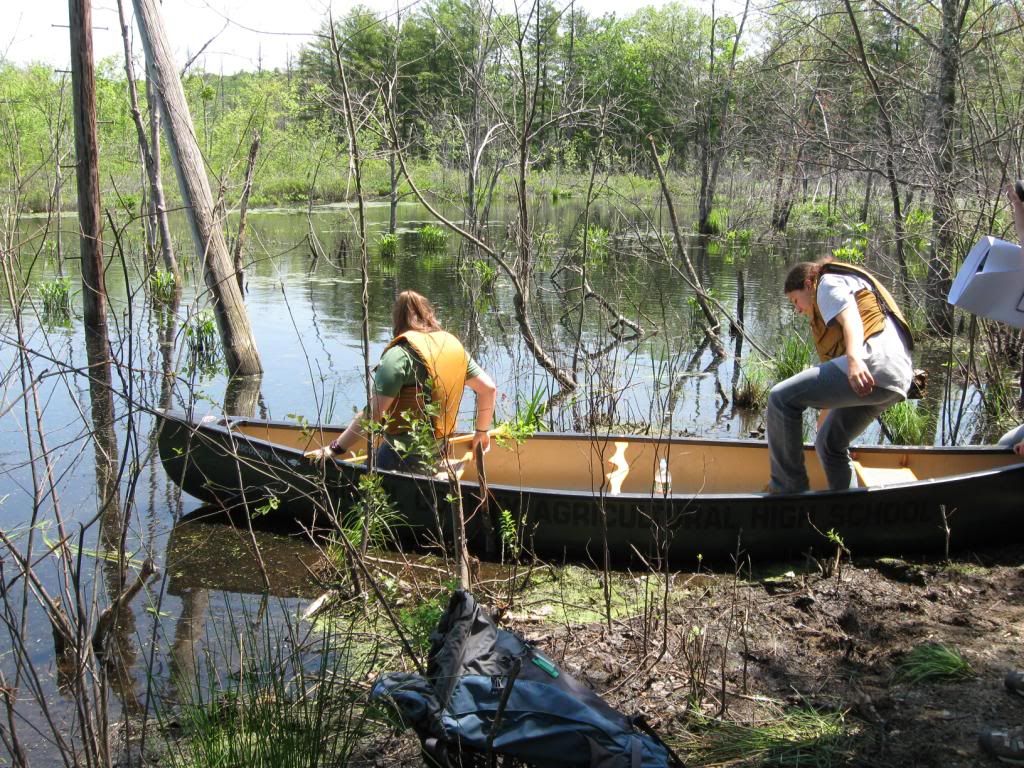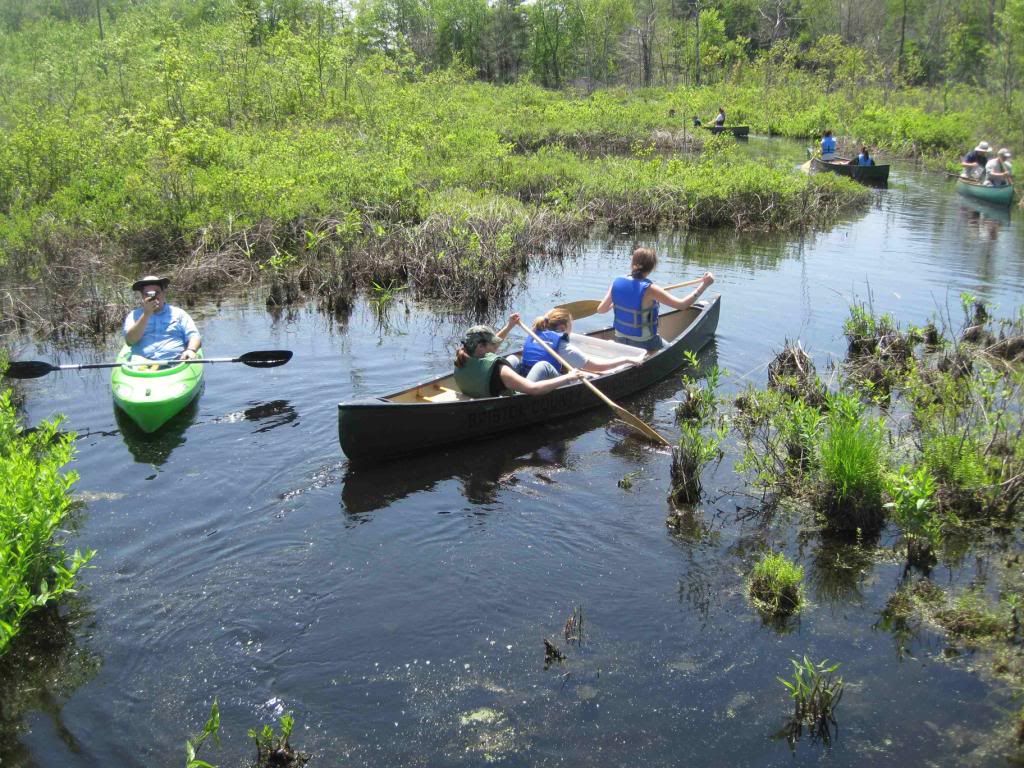 Four of the head-starts were almost big enough for radios, but needed to be beefed-up just a bit more, so we're keeping them at the dorm until they get their weight up.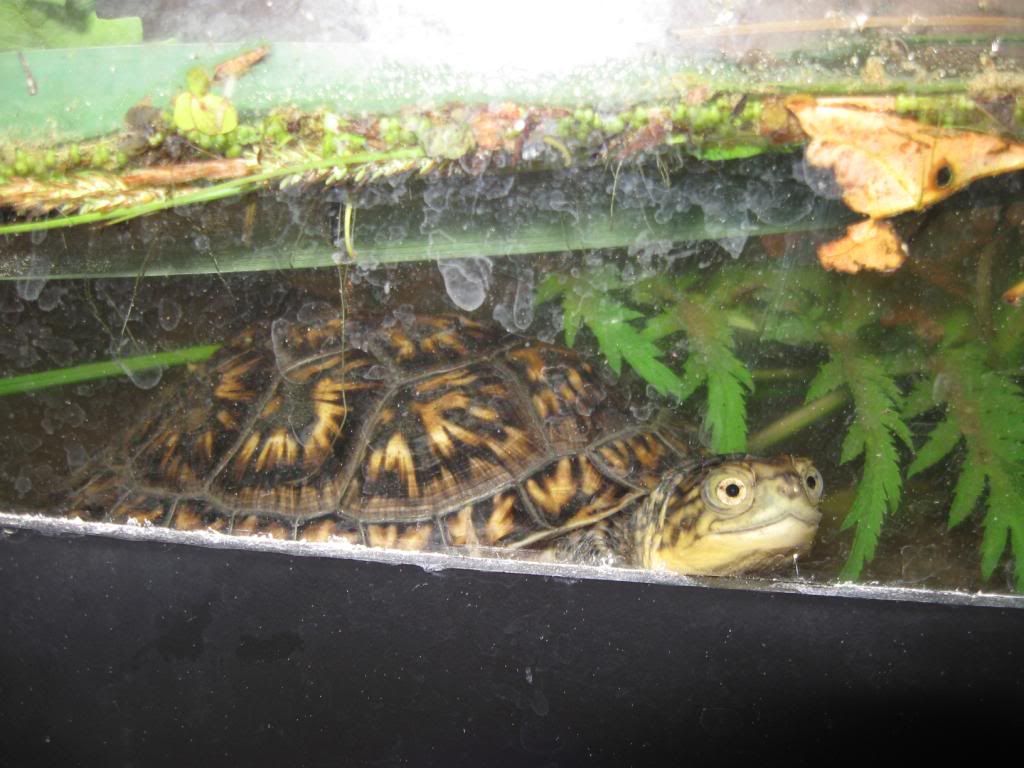 I like to hire the kids next door to dig up grubs for them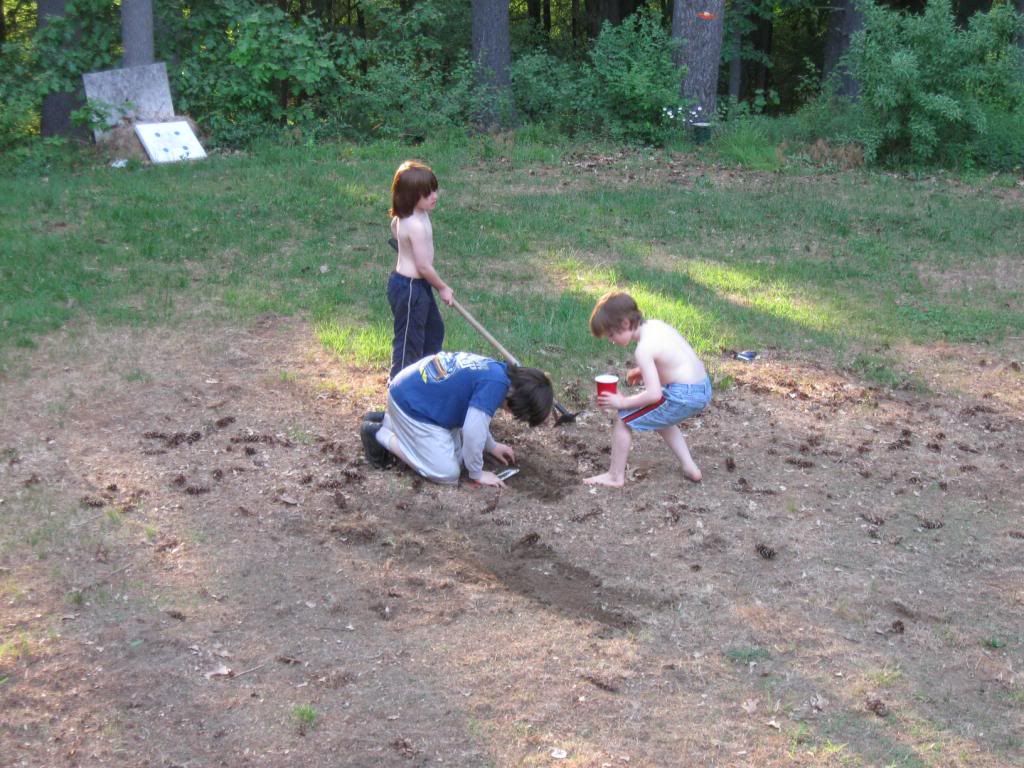 Thanks for looking! Coming up next: Blanding's turtle nesting season, amphibian dipnet surveys, and much more…








"Walden is a perfect forest mirror, set round with stones as precious to my eye as if fewer or rarer. Nothing so fair, so pure, and at the same time so large, as a lake, perchance, lies on the surface of the earth. . . It is a mirror which no stone can crack, whose quicksilver will never wear off, whose gilding Nature continually repairs; no storms, no dust, can dim its surface ever fresh; a mirror in which all impurity presented to it sinks, swept and dusted by the sun's hazy brush. . ."

-Thoreau (1854)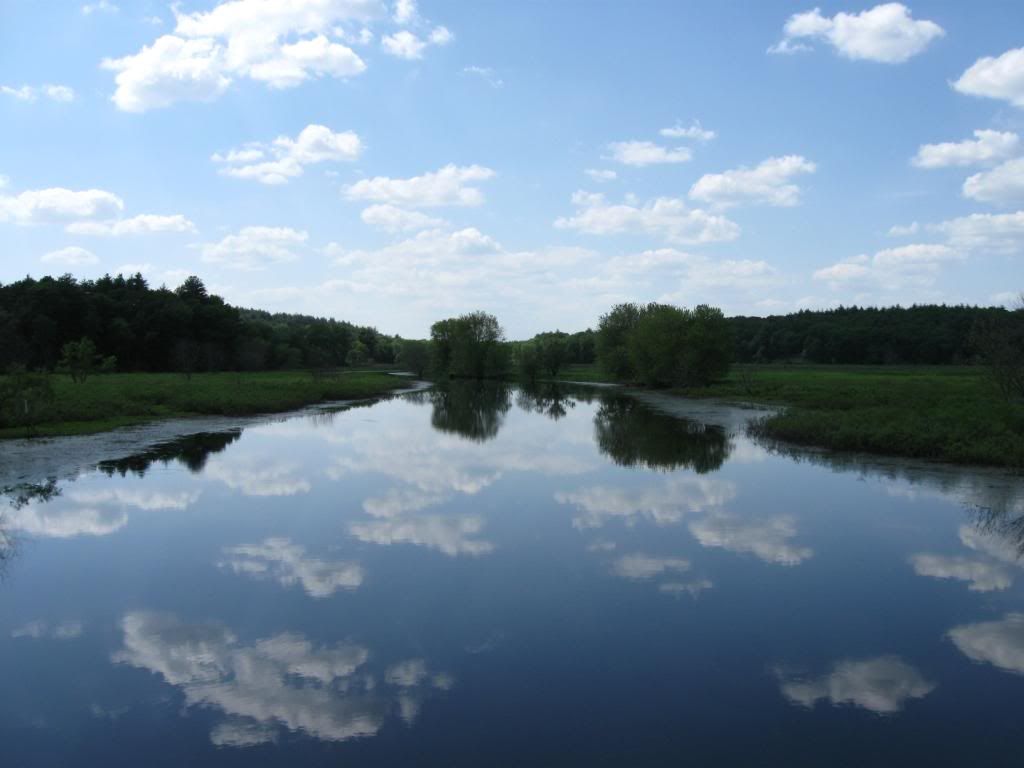 Part 1
Part 2
Part 3
Part 4
Part 5