Don Becker (psyon) has added some personalized functions to the
http://www.naherp.com
database that aren't widely advertised. Here are a few of them:
You can view a map of all the counties you've entered herp records for. Just enter the following link, with your naherp.com user number on the end. (To find your naherp.com user number, just click on "view my records" while logged onto naherp.com and your number will be the number at the end of the URL. Mine, you can see, is 416).
This is what my county map looks like:
http://www.naherp.com/taxon.php?user=416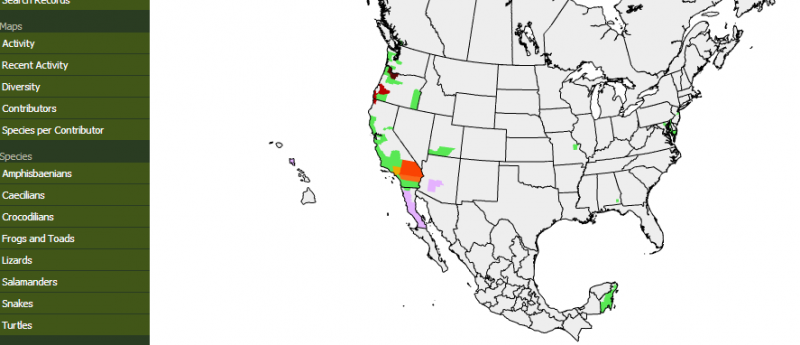 You can also download all your records to your computer so you can see them on Google Earth, which is the best personal function of the database. Not only does it show you where all your records are, but clicking on an icon will give you the data and photos you entered at that spot. You can also download the same information in spreadsheet form. Of course,
ONLY THE USER CAN ACCESS THEIR OWN DATA
. Here's a screenshot Brian Hubbs's posted of what his entries looked like a year ago:
If you want to see your
http://www.naherp.com
life list by taxon instead, just enter the following link while logged into your naherp.com account, which shows your total counts both by species and by county:
http://www.naherp.com/reports/life-list.php
If you want to see the total entries, counties, and species entered for the Northwest this year (along with the numbers of new species, counties, or county records entered), go to the following link. Changing the "2014" to any other year will give you the totals for that year.
http://www.naherp.com/reports/national-contest.php?year=2014&chapter=3
The next link shows the total numbers in the database for all users, all regions, all years. It's a big chart, so it takes a little time to load:
http://www.naherp.com/reports/overall-rankings.php
There are DOR specific charts. For instance, if you want to see all DOR's entered for Oregon:
http://www.naherp.com/reports/dor.php?state=10
For Washington:
http://www.naherp.com/reports/dor.php?state=3
For Idaho:
http://www.naherp.com/reports/dor.php?state=5
A number of other personal and national links and database functions can be found in this thread:
http://www.fieldherpforum.com/forum/viewtopic.php?f=12&t=12862
And if you need any help setting up an NAHERP account or making entries on NAHERP.com, feel free to ask me, or take a look at this post:
http://www.fieldherpforum.com/forum/viewtopic.php?f=12&t=3679