In early February 2011, south central chapter Education Specialist Eric Rittmeyer (ritt) approached me with the idea of undertaking a herpetofaunal survey of a local conservation area owned by the Recreations & Parks Commision of East Baton Rouge Parish (BREC). A meeting was scheduled with the folks at BREC and a week later NAFHA's survey at the Frenchtown Road Conservation Area was born. (see
http://www.nafha.org/south-central-chapter/frenchtown-road-conservation-area
for more on the site).
In the
six
eight months (fell a little behind on putting this together) that have followed, upwards of 150 man hours have been spent scouring the near 500 acres of bottomland hardwood and resulted in the documentation of 48 species of reptile and amphibian (good for 90+ entries into the NAHERP database). A number of NAFHA members and non-members have taken part to date, but Jeff Weinell (jeffro) and John Andermann deserve considerable recognition for the significant time put in working the site with Eric and I. Thanks to the efforts of all involved, we have been able to photograph all but three of the 48 species. Images of all species along with some representative habitat shots are included below.
Up first a few habitat shots: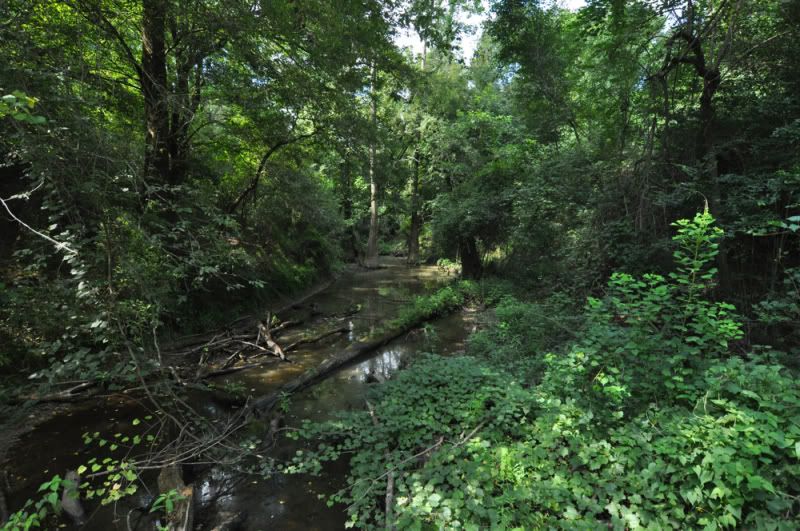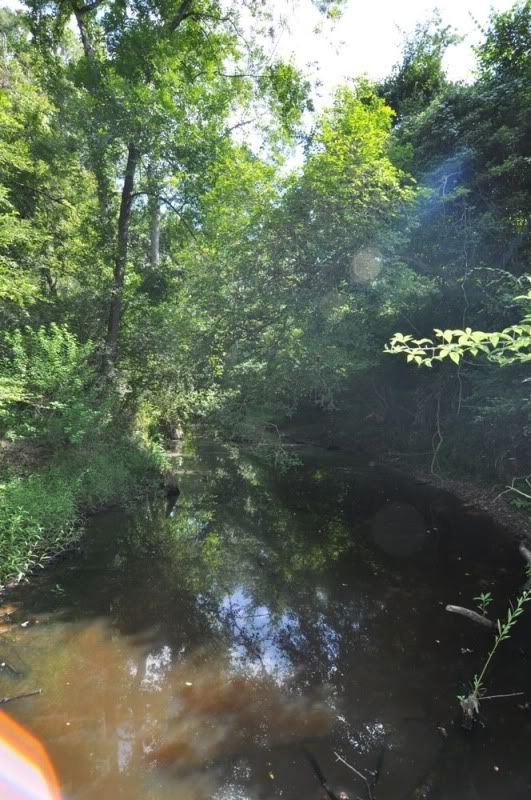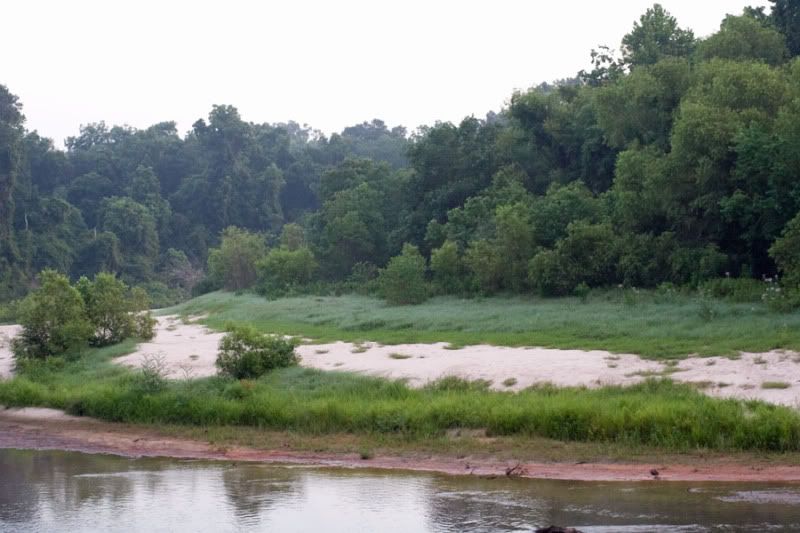 Photo by jeffro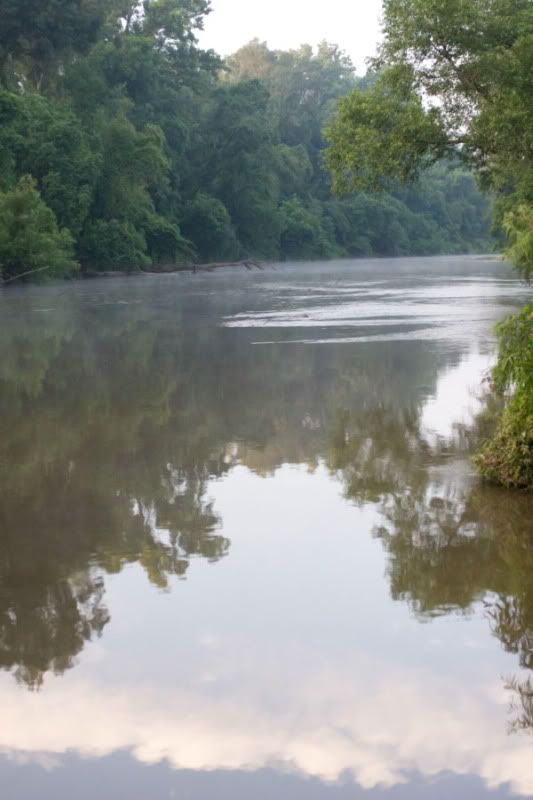 Photo by jeffro
Photo by jeffro
And the herps.
Salamanders:
We've been lucky enough to document four species of salamander to date.
1.
Ambystoma opacum
(Marbled Salamander) were found as late into the year as June and may prove seasonally abundant once breeding season approaches in the coming months.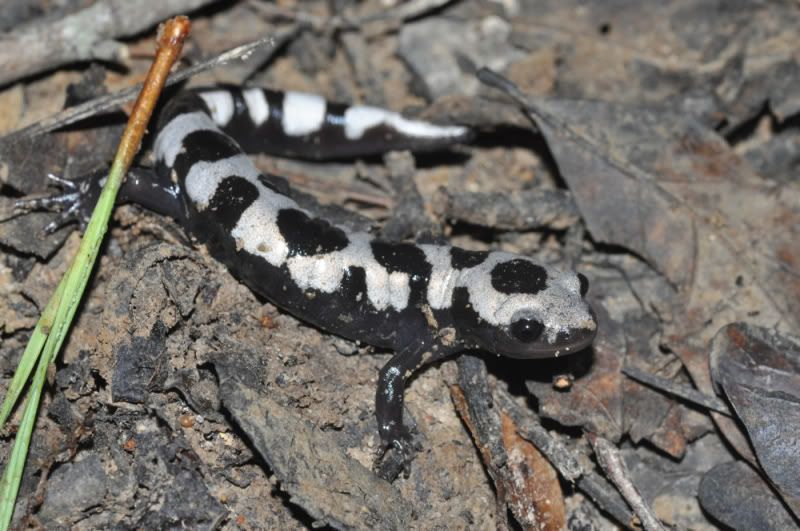 Numerous
opacum
egg masses were uncovered beneath logs in a dry recession during March. With standing water from TS Lee already filling the recess this fall, we expect to see many adults and larvae nearby this winter.
2.
Eurycea quadridigitata
(Dwarf Salamander) are common finds along sloughs throughout the site and have been found during every month of the survey.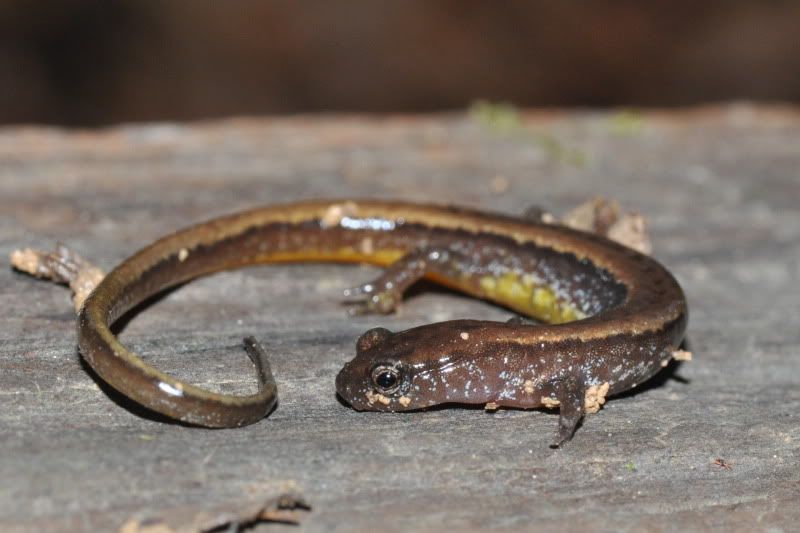 3.
Eurycea guttolineata
(Three-lined Salamander) are abundant throughout the sloughs and wooded, low-lying parts of the site. They have been observed during every month of the survey and are often encountered on the surface after dark.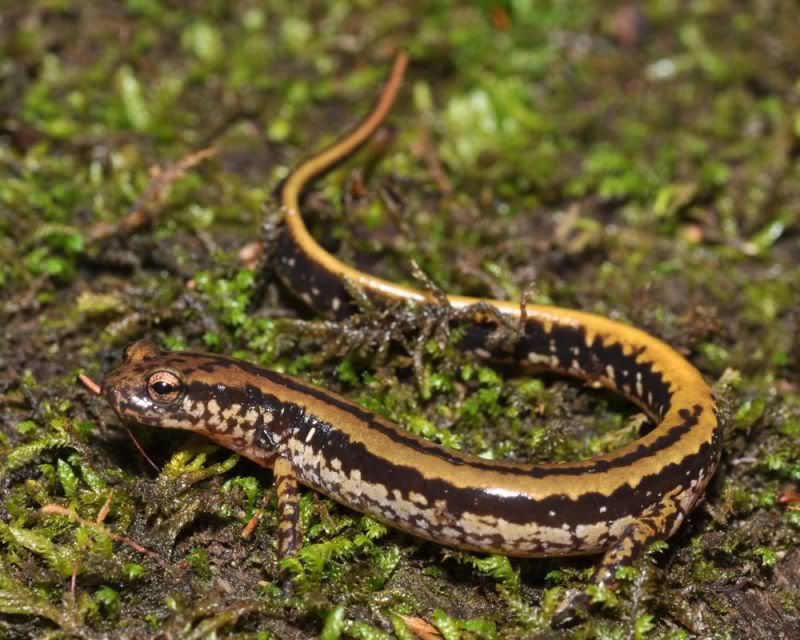 4.
Notophthalmus viridescens louisiadensis
(Central Red-spotted Newt) have been documented on a handful of occasions across the site. All observed have been efts including the most recent in late August.
With the winter breeding season approaching, we hope to add to this number by the surveys reaches 12 months.
Frogs & Toads:
Anurans have proved abundant at the site with 15 species tallied so far.
1.
Anaxyrus (Bufo) fowleri
(Fowler's Toad) are abundant throughout the site.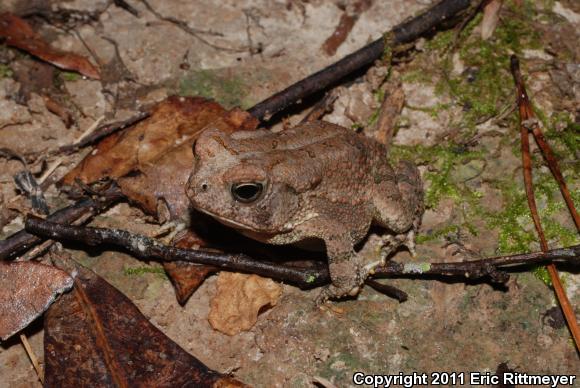 2.
Incilius (Bufo) nebulifer
(Gulf Coast Toad) have proven uncommon/common at Frenchtown. Individuals have been found throughout the course of the survey, but never near the density of the Fowler's.
3.
Acris crepitans
(Northern Cricket Frog) are abundant throughout (no surprise there).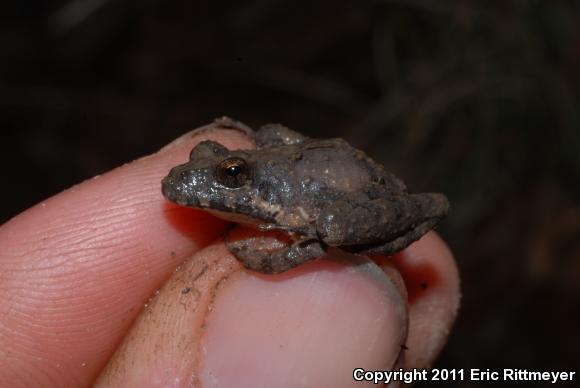 4.
Hyla avivoca
(Bird-voiced Tree Frog) have been heard calling along most permanent sloughs and ponds along the interior of the site during breeding season. Where present they appear to be common with Eric photographing multiple individuals calling in a single shot. Species abundance is extremely seasonal, however, as no observations have been made since the end of breeding season in mid-summer.
5.
Hyla chrysoscelis
(Cope's Grey Tree Frog) have proven seasonally abundant throughout the site with choruses being observed toward the interior and northern edge of the site prior to the end of breeding season in mid-summer.
6.
Hyla cinerea
(Green Tree Frog) are locally abundant at Frenchtown with large choruses proving prevalent along the sites disturbed northern edge. Observations to date suggest they are absent from the sites interior.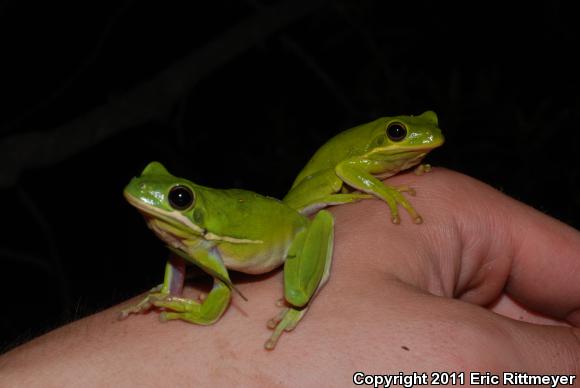 7.
Hyla squirella
(Squirrel Tree Frog) is the rarest amphibian to date with only a single specimen found during the 1st survey.
8.
Pseudacris crucifer
(Spring Peeper) were heard calling throughout the early months of the year, but the first visual encounter did not occur until the month of June.
9.
Pseudacris fouquettii
(Cajun Chorus Frog) were commonly heard calling early in the year, but have yet to be photographed at the site.
10.
Gastrophryne carolinensis
(Eastern Narrow-mouthed Toad) are common throughout and have been documented during all months of the survey. Perhaps more surprising than their abundance is the regularity with which adults and sub-adults have been found active on the surface.
Photo by jeffro
11.
Scaphiopus holbrookii
(Eastern Spadefoot Toad) are a rare surprise near the SW extent of their range with 3 individuals found to date.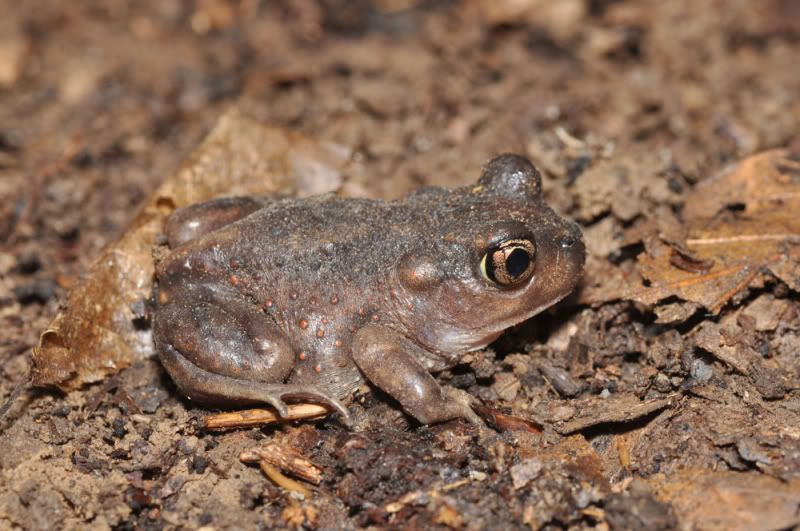 12.
Lithobates (Rana) clamitans
(Bronze Frog) are common to abundant throughout.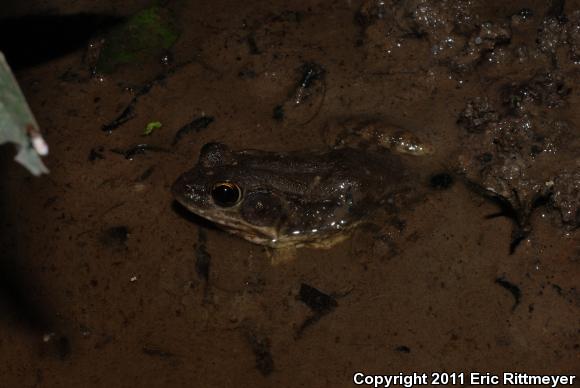 13.
Lithobates (Rana) catesbeianus
(Bull Frog) are uncommon, but have been located in both the interior ponds and along the sandy rivers banks.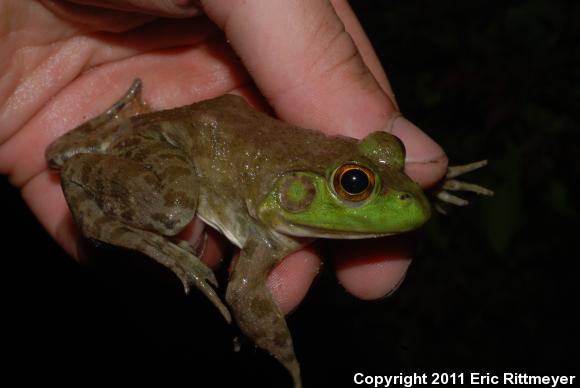 14.
Lithobates (Rana) sphenocephala
(Southern Leopard Frog) are common to abundant throughout.
photo by jeffro
15.
Eleutherodactylus
sp. (Greenhouse frog or Rio Grande Chirping Frog) is the first invasive documented at the site and is only represented by a single individual. There is currently some debate as to whether the specimen photographed is
E.planirostris
or
E.cystignathoides
. We'll be sure to bag the next one to ensure a positive ID.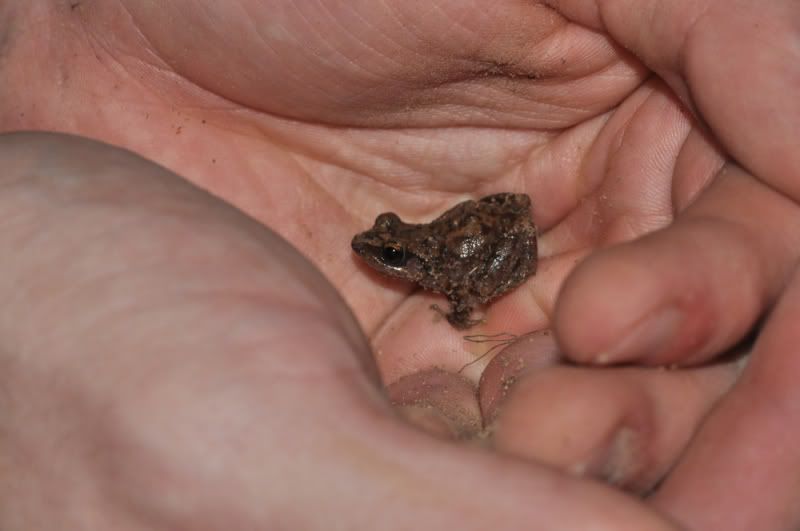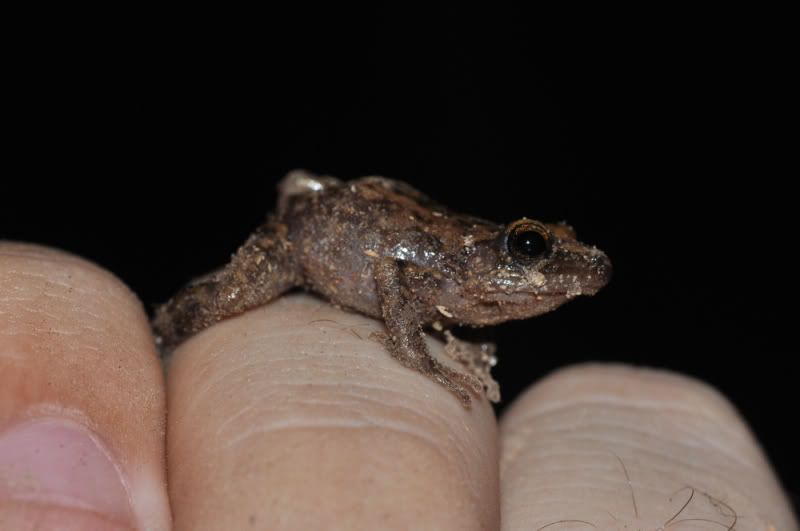 Lizards:
Diversity is somewhat limited in regards to lizards, but we do have most of the basics for the area covered with these five.
1.
Sceloporus undulatus
(Eastern Fence Lizard) are absent throughout most of the site, but are common along the disturbed railroad ROW bordering the site to the north.
2.
Anolis carolinensis
(Green Anole) are common to abundant throughout.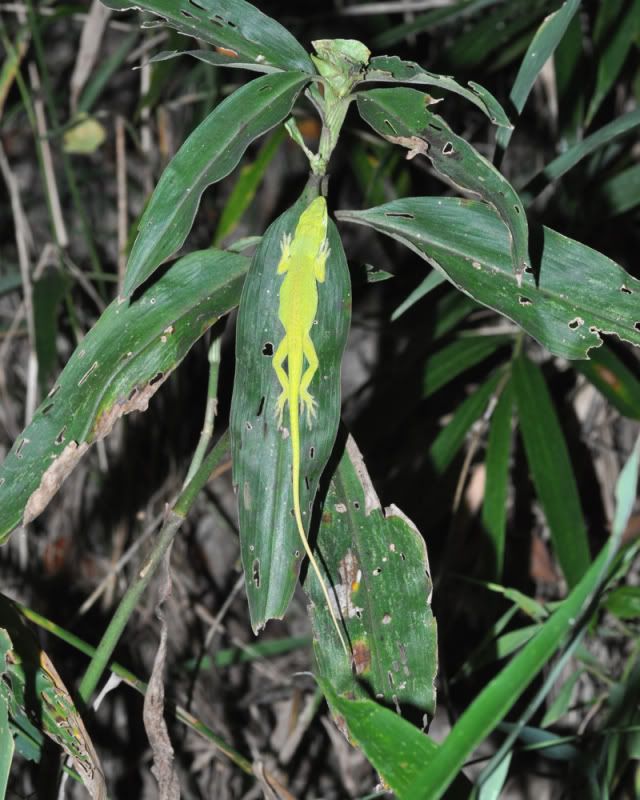 3.
Plestiodon fasciatus
(Five-lined Skink) are uncommon to common showing up with some consistency, but never in significant numbers.
4.
Plestiodon laticeps
(Broad-headed Skink) have proven uncommon with only a handful of individuals documented thus far. We've yet to voucher one to date.
5.
Scincella lateralis
(Ground Skink) are common/abundant throughout.
Snakes:
For all the snake fans, we've finally reached that part of the list. To date 14 species have been documented at Frenchtown. For the most part they have proven a rare treat, but a few have been found to be relatively common.
1.
Coluber constrictor
(North American Racer) have popped up twice in the first eight months. One actually held still long enough for a few shots.
2.
Diadophis punctatus strictogenys
(Mississippi Ring-necked Snake) are the most commonly flipped snake at the site. Not a huge surprise considering the abundance of salamanders and small anurans.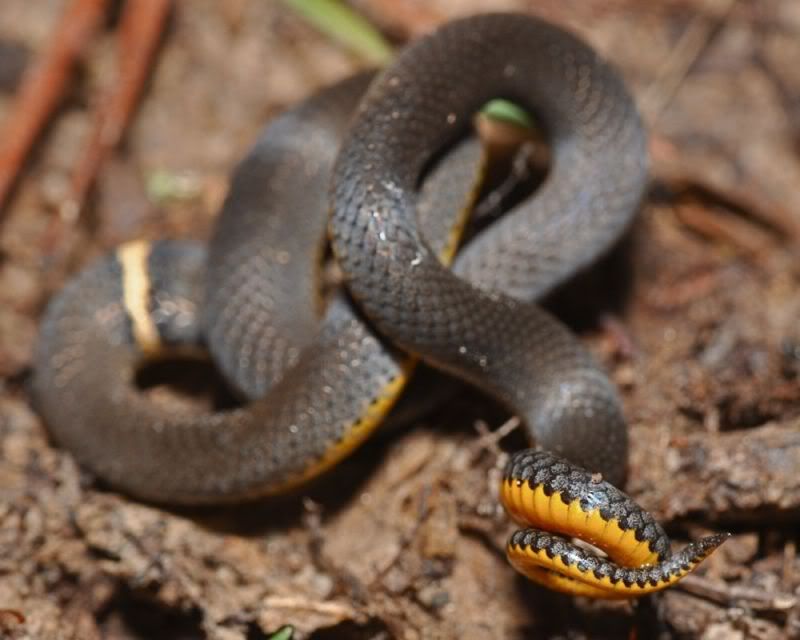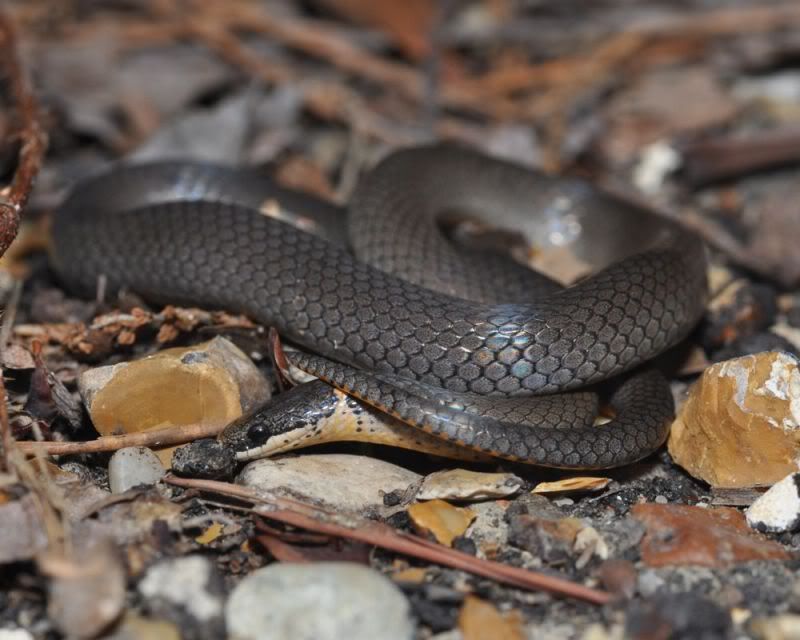 3.
Lampropeltis getula
(Speckled Kingsnake) has only turned up once thus far. And thanks to Eric taking a few dozen fire ant bites for the team, we have a voucher shot.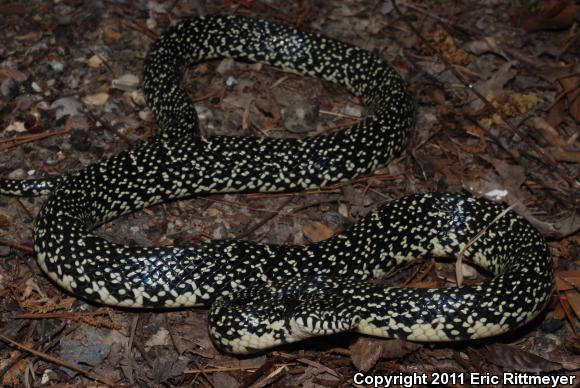 4.
Nerodia erythrogaster flavigaster
(Yellow-bellied Watersnake) are uncommon as watersnakes go, but have turned up a handful of times mainly along Frenchtown's disturbed northern boundary.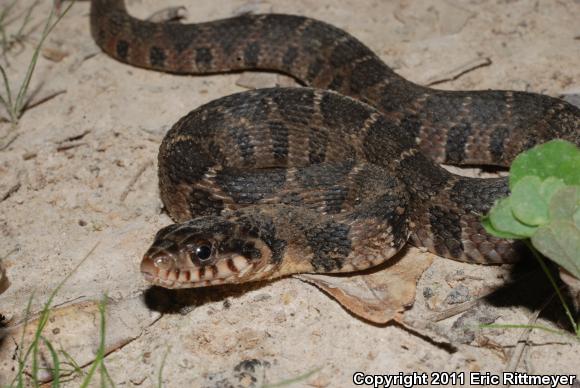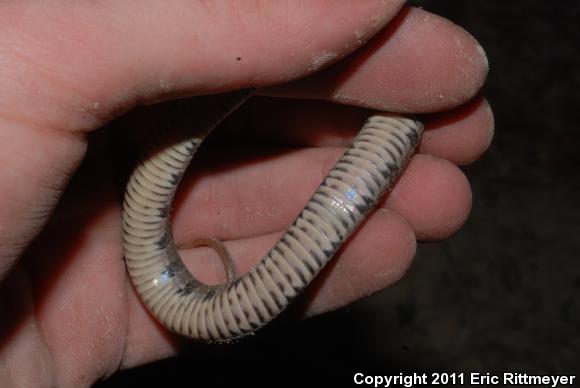 5.
Nerodia fasciata confluens
(Broad-banded Watersnake) are easily the most abundant snake in SE LA. This holds true for the site as well where broad-banded waters are everywhere.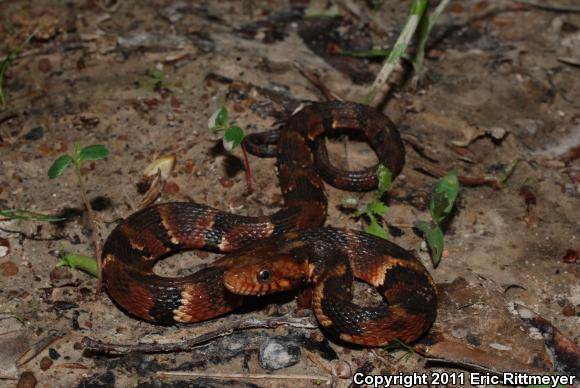 6.
Nerodia rhombifer
(Diamond-backed Watersnake) are another uncommon water, but still present. Oddly, the only photo I've taken of a diamondback was for the comparative shot below. Juveniles of all 4
Nerodia
sp. present at the site were collected from a single pond.
7.
Nerodia sipedon
(Midland Watersnake) were a presumed rarity at the site until we paid attention to our field guides and began targeting the sandy rivers after dark. Though habitat specific, they have proven common along the sites eastern edge.
8.
Pantherophis spiloides
(Grey Ratsnake) is likely more common than present observations indicate, but to date only a handful have been encountered.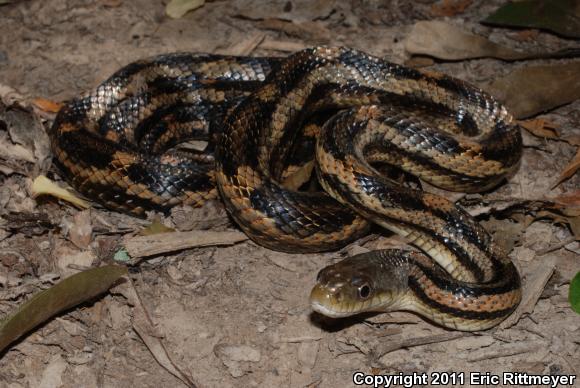 9.
Opheodrys aestivus
(Rough Greensnake) was known only from prior observation (BREC staff) until an August night of spotlighting overhanging brush from the river finally produced one.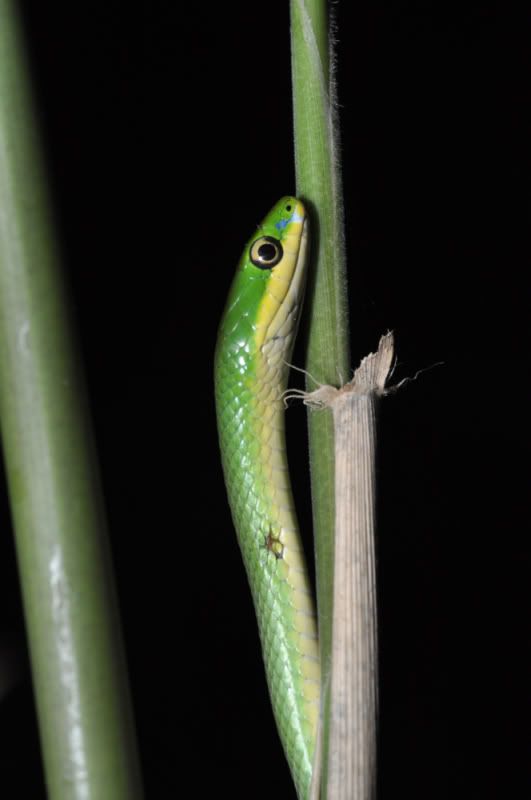 10.
Storeria dekayi
(Dekay's Brownsnake) is an uncommon find at the site, but both neonates and adults have been flipped and spotted on the cruise over the course of the survey.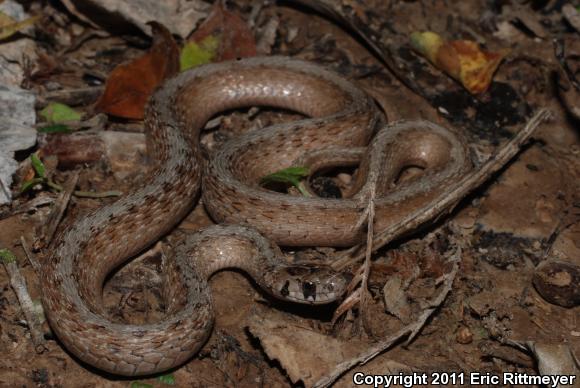 11.
Thamnophis proximus
(Western Ribbonsnake) is a common swamp denizen in SE LA, but have only been documented at our site on a handful of occasions.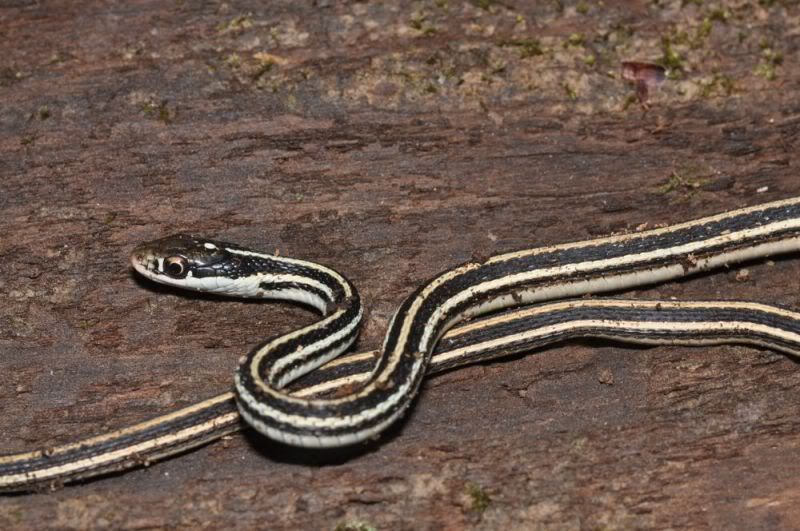 12.
Thamnophis sirtalis sirtalis
(Eastern Gartersnake) were found on multiple occasions early in the spring, but have remained largely absent during the warmer months.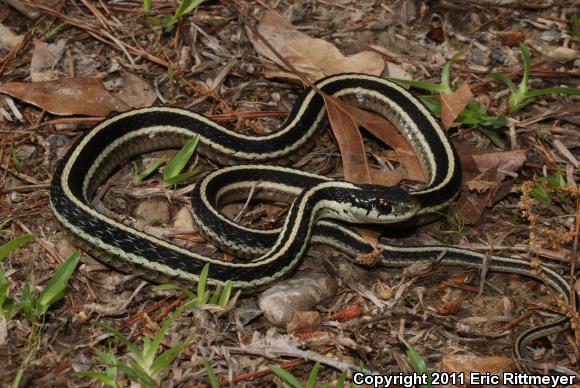 13.
Agkistrodon contortrix contortrix
(Southern Copperhead) are an uncommon find at the site, but have been documented on two or three occassions.
14.
Agkistrodon piscivorus leucostoma
(Western Cottonmouth) are common to abundant at the Frenchtown site with individuals being recorded during the majority of survey outings. They have been found day and night along sloughs, the rivers, and interior ponds.
Turtles:
Last up are the turtles. With two sandy rivers and their confluence bordering the site and a vast array of internal ponds and sloughs, we entered the survey expecting an interesting mix of turtles. Through a combination of trapping and chance encounter, we have recorded 10 species of turtle at Frenchtown.
1.
Chelydra serpentina
(Common Snapping Turtle) has been a rare find thus far with only a single individual turning up while trapping the interior ponds. With all aquatic species, however, true abundance may be difficult to judge with such a limited sample size. We expect given time and further trapping efforts that Chelydra will likely qualify as an uncommon to common find.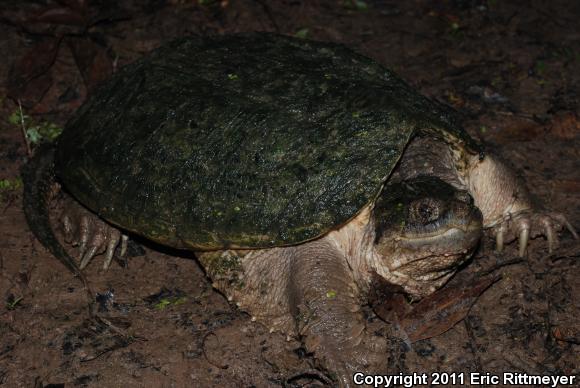 2.
Graptemys
sp. (Map Turtle) are a common sight along the sandy rivers, but have avoided our traps and cameras to date.
G.kohnii
appears the most likely culprit, but
The Amphibians and Reptiles of Louisiana
by Dundee and Rossman makes reference to
G.pulchra
as a possibility. No pic sorry!
3.
Pseudemys concinna
(River Cooter) appear common at the site as they have showed up with some frequency while trapping the interior ponds.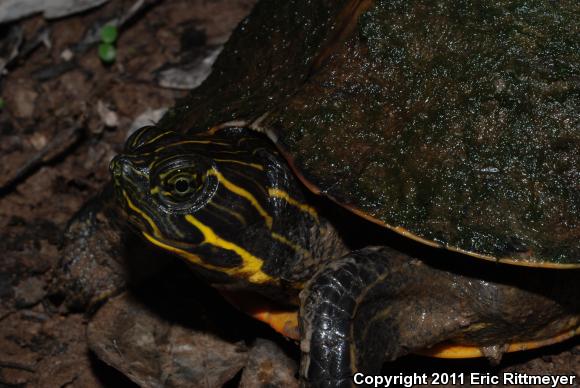 4.
Terrapene carolina
(Eastern Box Turtle) are uncommon to common throughout Frenchtown. They were reported with some frequency by BREC staff prior to the survey, but have since eluded me personally (excluding two dead specimen). The other guys have done better, however.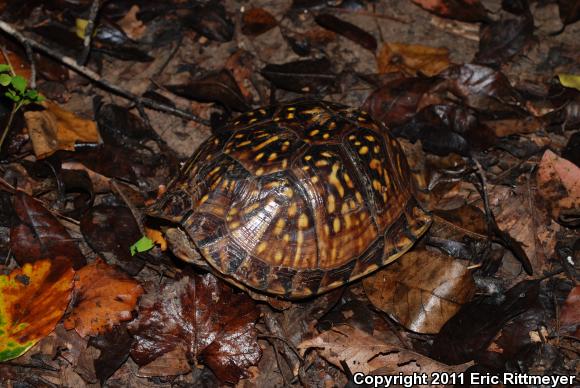 5.
Trachemys scripta elegans
(Red-eared Slider) are another common find along the interior ponds and showed up in numbers during early trapping efforts.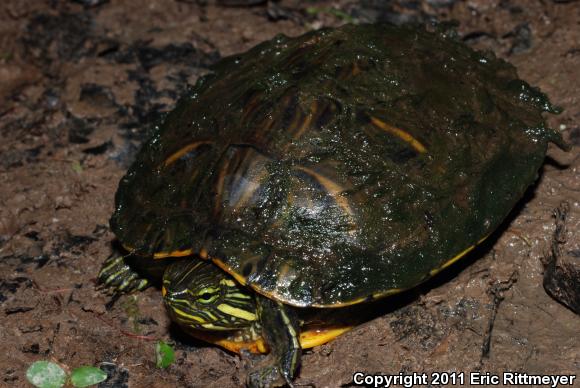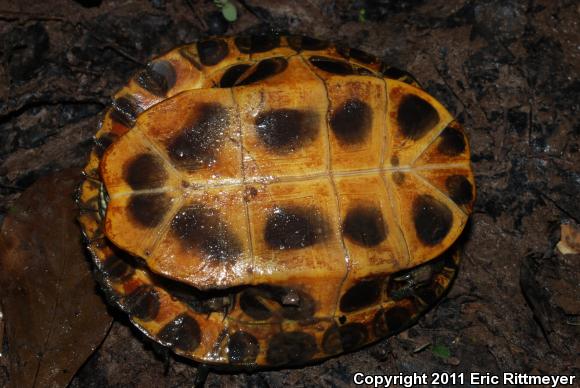 6.
Kinosternon subrubrum
(Mississippi Mud Turtle) are uncommon to common in the interior ponds and permanent sloughs throughout the site. A single turtle trap produced the four shown below along with the
Trachemys
.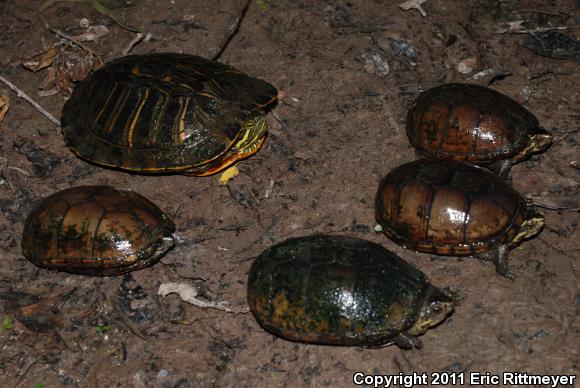 7.
Sternotherus carinatus
(Razor-backed Musk Turtle) have proven common along the sandy river bottoms and after tropical storm Lee one individual was even found on the crawl a half mile in land.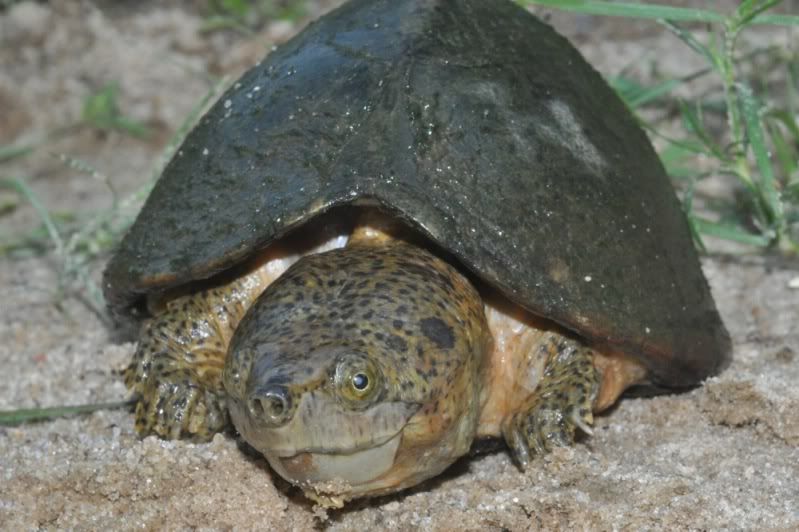 8.
Sternotherus odoratus
(Eastern Musk Turtle) appear to be common to abundant in the interior ponds based on early trapping efforts.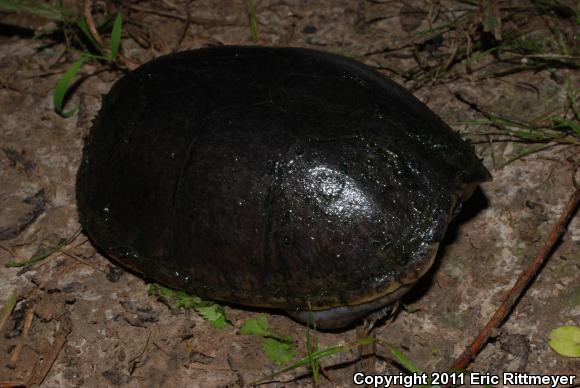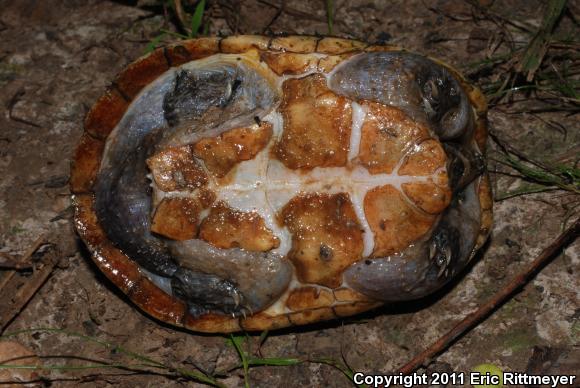 9.
Apalone mutica
(Smooth Soft-shelled Turtle) appear to be rare based on early trapping efforts. Only a single individual has been documented during multiple trappings along the sandy rivers bordering the site.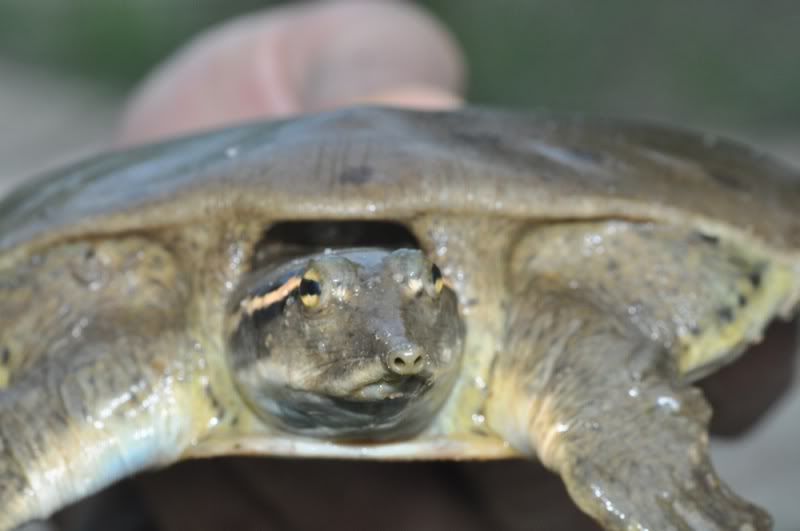 10.
Apalone spinifera
(Spiny Soft-shelled Turtle), like
A.mutica
, are limited to the sandy river bordering the site. In contrast to
A.mutica
however, they are extremely abundant. In fact, five
A. spinifera
were collected in the same trap that produced the surveys only
A.mutica
.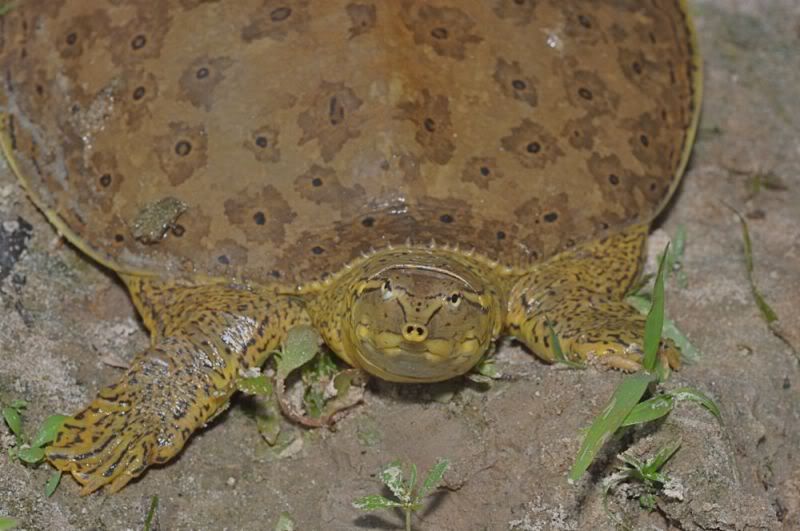 ----
That about wraps it up for now. With some luck the list should be a little longer by the time we get around to posting a 12 month update (almost
Ambystoma
season down here). I'm sure Eric and Jeff will chime in below when they have a chance.
Thank