Hi all,
I finally got to explore outside of my home province (KwaZulu-Natal) last week, when I went to a town called Wakkerstroom. The purpose of the trip was to co-lead a public frogging event, with BirdLife South Africa (
http://www.wakkerstroom.co.za/birdlife-south-africa/
) and my friends from The LionHeart Experience (
http://www.thelionheart.co.za/
).
The event was a huge success! On top of that, we ended up turning it into a sort of 'bio-bash' weekend. During the day, before an evening of frogging, we were out birding and flipping rocks, in the hope of finding some snakes- and we certainly did.
This gave us hope. 'Slang', is the Afrikaans word for snake.
Here are some photos of some our reptile and amphibian finds. I've saved the best for last!
FROGS:
Rattling Frog (Semnodactylus wealii)
This was the species I had most hoped to see! They're really special frogs, which aren't all that widespread. Adorable little creatures!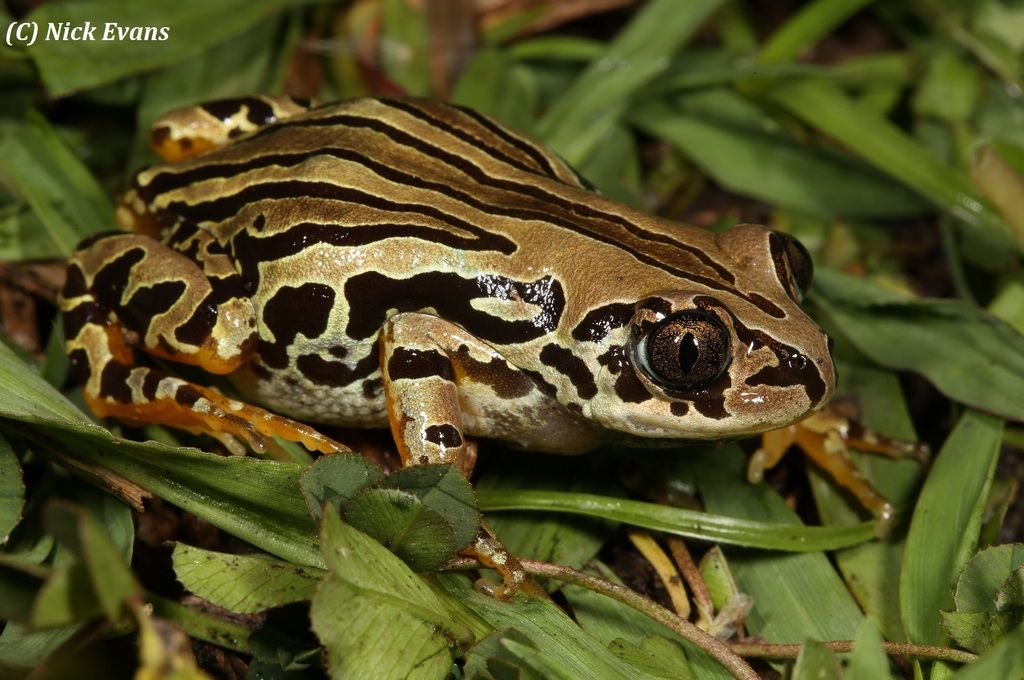 Then, an unexpected find...
Rhythmic Caco (Cacosternum rhythmum)
This recently described species has been known to only occur in the KZN Midlands, about 270km away, give or take. This makes for a huge range extension, and they were abundant throughout the area. It was an exciting discovery!
Karoo Toad (Vandijkophrynus gariepensis)
A new one for me.
Bubbling Kassina (Kassina senegalensis).
Similair to the Rattling Frog in appearance, but lacks the bright orange undersides.
Rain Frog (Breviceps spp). An interesting find, which we have yet to identify.
Poynton's River Frog (Amietia poyntoni)
Another new one for me...
Juvenile Clicking Stream Frog (Strongylopus grayii)
Raucous Toad (Scleophrys rangeri)
We only found two lizard species, the prettiest being the Common Crag Lizard (Psuedocordylus melanotus)
SNAKES
Rhombic/Spotted Skaapsteker (Psammophylax rhombeatus)
We found a good few of these.
Cross-marked Whip Snake (Psammophis crucifer)
Herald Snake (Crotaphopeltis hotamboeia). One of the prettiest individuals I've seen.
Brown Water Snake (Lycodonomorphus rufulus)
And then this, the highlight...
Yesterday morning, our group at the Wakkerstroom Frogging event were all left gobsmacked, when some youngsters in our group flipped a rock and found this: Spotted Harlequin Snake(Homoroselaps lacteus)!!!!!
What an outstandingly beautiful creature! We could not believe our luck! Thrilled, delighted, ecstatic, mind-blown (especially at the fact that these kids immediately identified it)- some of the words to describe how we were feeling
Myself with the Harlequin finders. These kids were machines, they found frog after frog, snake after snake. It was incredible!
It was one of my most memorable trips yet! Apart from all the amazing reptiles and frogs, we were treated to sightings of Meerkats, an Otter, beautiful wild flowers, and a whole stack of wonderful birds!
Thanks for looking!
~Nick Evans
https://www.facebook.com/KZNHerpConservation/
http://www.kznamphibianreptileconservation.com