Snow is falling here in Michigan and the herping season has finally come to end. 2010 was the best year to date in the field for me and produced many unforgettable finds and moments with good friends in the field. So here it is, my wrap up post for the 2010 field season.
March
March gave me my first chance to get out in the field on my annual spring break trip to Florida. The weather was in the 80s all week and this gave me and my cousin a chance to get some good hours of herping in around the central and southern parts of the state. The trip produced a few awesome lifers including an Eastern Mud Snake and what could be my favorite find of 2010, an Eastern Diamondback Rattlesnake. Here's a few photos from the Florida trip.
Florida Cottonmouths -
Agkistrodon piscivorus conanti
Scarlet Snake -
Cemaphora coccinea
Yellow Rat Snakes -
Pantherophis quadrivittatus
Corn Snake -
Pantherophis guttatus
And possibly the find of the year for me...
Eastern Diamondback Rattlesnake -
Crotalus adamanteus
As I returned home to Michigan, I was welcomed to 38 degree weather with heavy rain as my plane landed. I received a call from a herpetologist I interned with over the summer and headed out to look for a species of Salamander in Michigan I had not seen, the Smalllmouth Salamander. Smallmouths are common throughout their range, but in Michigan they are listed as an Endangered species. the species reaches its northern range limit in southeast Michigan, and is only found in a few counties. This couples with habitat fragmentation and development has reduced their numbers so only a handful of breeding populations. We were able to locate more than twenty individuals at one site.
Smallmouth Salamander -
Ambystoma texanum
In 2010, I was able to observe Eastern Massasaugas active earlier and later than I've ever seen them, March and Novemeber respectively. On March 21st my dad and I spotted this female out basking in the late afternoon in 54 degree temperatures.
Eastern Massasauga Rattlesnake -
Sistrurus catenatus catenatus
Late March & early April also give great opportunities to observe breeding activity in the
Ambystomatids
in vernal pools and other breeding sites. Its a time of the year that is always one of my favorites. Cold, rainy nights can be heavenly. This breeding season, I was able to observe breeding activity in all four of Michigan's Mole Salamander species.
Spotted Salamander -
Ambystoma maculatum
Eastern Tiger Salamander -
Ambystoma tigrinum
Blue-spotted Salamander -
Ambystoma laterale
April
April brought a few surprises as well, along with a few of the regulars. The first weekend of April was extremely warm, and it brought up the rattlesnakes in numbers for the first time in 2010. I saw 6 on the first weekend of April, here's a few shots of them.
On the second weekend of April, Jason Folt and I had the opportunity to meet up with some researchers that were working with an amphibian that I hadn't seen and Jason hadn't seen in Michigan, the Mudpuppy. These completely aquatic amphibians have been on my list for a long time, and I was excited to finally have the chance to target some. When we arrived at our site, it was quite different than I was expecting to find mudpuuppies.
We began flipping rocks along the river bank and before long, we turned up our first mudpuppy. We ended up finding a total of five on the afternoon.
Mudpuppy -
Necturus maculosus
Another species I got the opportunity to spend a lot of time looking for in April was the Blue Racer. I was able to scout some areas over the winter, and was pleased when they produced well in the spring. Here's a few photos of Blue Racers foudn during the month of April, they're a gorgeous species.
Blue Racers -
Coluber constrictor foxii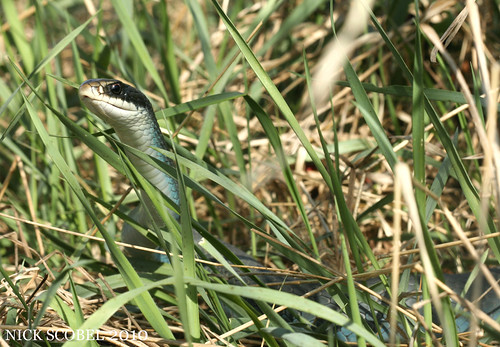 May
In early May, I took a trip to the Smoky Mountains with my sister and friend Brian after exam week. We spent a few days there and did a bit of herping along the way, we found some awesome species including another candidate for the find of the year for me, the Hellbender. Here's some of what we found down in the Smokies and surrounding areas.
Northern Copperhead -
Agkistrodon contortrix mokasen
Jordan's Salamander -
Plethodon jordani
Black-chinned Red Salamander -
Pseudotriton ruber schenki
Shovel-nosed Salamander -
Desmognathus marmoratus
Black-bellied Salamander -
Desmognathus quadramaculatus
Smooth Earth Snake -
Virginia valeriae
Eastern Milk Snake -
Lampropeltis triangulum
Eastern Hellbender -
Cryptobranchus alleganiensis
Back in Michigan, herp activity was in full swing. One day, I decided to visit a high quality fen which is home to an extremely secretive turtle species that is tough to find throughout its range. Out east, Spotted Turtle can be found in and around vernal pool systems, but in Michigan they are restricted to fen systems with channels of water like this one. I was able to find and photograph one individual on this particular day.
Spotted Turtle -
Clemmys guttata
Another species that I was able to target in May is one of my favorites. Its Michigan's second largest snake species, and arguably its most attractive species. It occurs only in the southeast part of the state in coastal marsh habitats and adjacent areas. That snake is the Eastern Fox Snake, a Threatened species in Michigan. On one particular evening I decided to check out a stretch of rip rap that has produced Fox Snakes in the past.
I walked along the edge of the riparian area with no luck, but then I noticed this scaling a the small tree in the previous photograph.
Its not uncommon for this species to scale trees, especially in search of birds or bird eggs. This was a large four foot individual, and easily on of the nicest Fox Snakes I've ever seen.
Eastern Fox Snake -
Pantherophis vulpinus gloydi
Here's a few other random herp species that were found in the month of May...
Gray Tree Frog -
Hyla versicolor
Unisexual Hybrid Salamander -
Ambystoma dontknowwhatyouare
And a helping of Eastern Massasauga Rattlesnakes from May of 2010...
Eastern Massasauga Rattlesnakes -
Sistrurus catenatus catenatus
June
June is generally an unproductive month for me in Michigan. The temperatures soar, and the vegetation reaches its lushest and thickest point. This combination leads to very difficult herping in Michigan, but with a little dedication things can still be found in good numbers. At this time of the year, Massasaugas begin to move upland to grasslands and meadows in search of food and mates. Gravid females are especially drawn to these areas because they must bask often in order to help gestate their young. June proved to be my worst month for rattlesnakes, though many were still found. Here's a few shots of Massasaugas found in the month of June.
June was the first time I was able to target one of my favorite Michigan snakes, the Queen Snake. On one particular afternoon, I took Jim Harding, Dave Mifsud, and a few others out to look for them. We ended up finding 6 in a matter of a few minutes as well as a nice Northern Brown Snake.
Queen Snakes -
Regina septemvittata
Northern Brown Snake -
Storeria dekayi
Late May & early June is also one of the peaks of turtle activity in Michigan as many species are on the move in search of nesting sites. Its one of my favorite times of the year in Michigan and this year was no different. Here's a few turtles from early June.
Blanding's Turtle -
Emydoidea blandingii
Snapping Turtle -
Chelydra serpentina
Midland Painted Turtle -
Chrysemys picta marginata
Eastern Box Turtles -
Terrapene carolina carolina
July
And here is part two to my year in the field, the dog days of summer and the fall. On fourth of July weekend, I decided to head out of the country to northern Ontario to meet up with Josh Vandermuelen to enjoy my first Canadian field experience. As we were moving about in and out of the stands of Junipers, a high pitched buzz sounded from near a low lying Juniper bush. It was the unmistakeable sound of an aroused Eastern Massasauga Rattlesnake, one of three found on the day and my first in Ontario.
Eastern Massasauga Rattlesnake -
Sistrurus catenatus catenatus
As the day pressed on, we made many more finds in alvar habitat and adjacent Conifer Swamp areas. The scenery made for a great backdrop for some of the in habitat photos.
Northern Leopard Frog -
Rana pipiens
Northern Brown Snake -
Storeria dekayi
The finds of the weekend were several Smooth Green Snakes, I hadn't seen any all year and Josh had never seen them around this area in Ontario, so it was equally exciting for the both of us. Here's one of five that was spotted out on the crawl.
Smooth Green Snake -
Opheodrys vernalis
After returning home to Michigan. I met up with friends Chris & Matt to check out a new site that has a wonderful fen complex. It's an area that had old records for Massasaugas so I decided it was worth a look. Along our way around the lake margin, we spotted this small snapper moving about.
Snapping Turtle -
Chelydra serpentina
After startling a few Ribbon Snakes and Water Snakes nearby, I spotted this gorgeous snake doing its best to hide in the sedges, it was going a great job.
Eastern Massasauga Rattlesnake -
Sistrurus catenatus catenatus
The rest of the month of July was equally as productive as the beginning had been, here's a few random finds from the month in southeast Michigan.
Northern Red-bellied Snake -
Storeria occiptomaculata
Eastern Milk Snake -
Lampropeltis triangulum
Eastern Garter Snake -
Thamnophis sirtalis
Queen Snake -
Regina septemvittata
Pickerel Frog -
Rana palustris
Common Musk Turtle -
Sternotherus odoratus
Farther south in their range, Box Turtles are traditionally known as a woodland species. But in Michigan, they prefer a mosaic of community types. Michigan Turtles often are found along woodland edges in grasslands but they occasionally wander into wetlands such as fens. They are often found in some sort of cover and are rarely out in the open except after summer rainstorms. Here's some Michigan EBTs that were found at several locations in July.
Eastern Box Turtles -
Terrapene carolina carolina
This gorgeous adult male found sitting a few feet from another adult male in an upland forest in southwest Michigan.
This sub-adult EBT was found moving about some vegetation along a powerline cut in an upland forest in southwest Michigan.
Adult female found on the move in a small clearing of a woodland after a heavy rainstorm in southeast Michigan.
An adult found moving through a roadside pool after a heavy afternoon thunderstorm.
And a smattering of Eastern Massasauga Rattlesnakes to close out the month of July.
August
By the end of August, I was back up at school. In late August, my girlfriend and I met up with my friend Dan from Michigan State to kayak a beautiful river in northern Michigan. We found a place to drop in at and kayaked the river one quiet morning. The sun was out and the temperature was in the low 70s, we couldn't have asked for a better morning.
This particular river has a very sandy bottom and averages 2-3 feet in depth, with some pockets of 8-10 feet of water. There are plenty of sandy "beaches" along the switchbacks in the river which are great for nesting purposes. After about ten minutes, we spotted this.
An adult male Wood Turtle found basking on a log jam on a cutback in the river. We were able to get a good look at him and snap a few shots. This individual was our first of five on the day. It appears that this river system is home to a rather healthy population of Wood Turtles as several juveniles were seen. Later on in the morning, we noticed a healthy adult female out on a mucky bank moving about, so we decided to get a better look at her.
Wood Turtle -
Glyptemys insculpta
The next morning, my good friend Alex and I headed out to a different river system. This river runs through some highly developed areas, but the upper branch is much more remote and holds some excellent Wood Turtle habitat. We dropped in around 11:30AM and within five minutes I spotted a large turtle near the bank of the river, sure enough it was our first of three Wood Turtles on the day.
Wood Turtle -
Glyptemys insculpta
September
September ended up being one of the best months of the year for me. On the first weekend of the month, I headed over to the west side of the state with my friend Kara, who knew of an abandoned property that could produce snakes. Upon arrival, I was blown away at the amount of cover in the area to flip.
We spent the next hour or so flipping through tin, boards, and anything else that had been left out on the property. We managed to turn up a few Blue Racers under cover.
Blue Racers -
Coluber constrictor foxii
After leaving the site, we found another Blue Racer that was freshly hit no more than five minutes before we past, it was still writhing when we drove past it.
Later on, I stumbled across this guy trying to cross the road in the late afternoon.
One weekend at, I met up with good friend Chris and Colin to see if we could find any rattlesnakes in september. It turned out to be a great weekend as we found 6 on Saturday and 4 on Sunday. Here's a few photos.
Later on in the month, Curtis Hart met up with me for a day on a northern Michigan river. We dropped in around 11 AM and set off. We had a great day and managed to see seven Wood Turtles, two Blanding's Turtles, and a bunch of other species. Here's some photos from our kayak trip.
Wood Turtles -
Glyptemys insculpta
\
Midland Painted Turtles -
Chrysemys picta marginata
Blanding's Turtle -
Emydoidea blandingii
Northern Map Turtles -
Graptemys geographica
October
For the past two years, I've been fortunate enough to make trips to the Shawnee National Forest in southern Illinois for the annual fall snake migration that goes on at and in the vicinity of Snake Road. This year I was fortunate enough to make two separate trips on the first and third weekends of October and managed to turn up some cool stuff. One species that had eluded me in Illinois for sometime was the Black Kingsnake. We headed over to a tinsite in the early morning and flipped a few sheets and turned up two of these beauties.
Black Kingsnake -
Lampropeltis getula nigra
After spending a good amount of time photographing the two Kings, me moved over to Snake Road to spend the rest of the day herping. We got the usual smattering of Cottonmouths. A lot of people consider Cottons to be a trash snake, however I've always found them interesting and they're one of my favorite North American pitvipers.
Western Cottonmouths -
Agkistrodon piscivorus leucostoma
We saw a Black Rat Snake, Rough Green Snake, and Ribbon Snakes throughout the rest of the day, but for the most part things were pretty quiet. We headed back to camp and were up early once again the next morning. One of the coolest things from the trip was finding an Eastern Box Turtle right in the campground we were staying at.
Eastern Box Turtle -
Terrapene carolina carolina
For Snake Road standards, this weekend was pretty slow. However I did pick up a lifer with the Kingsnakes. A few weeks later I returned with good friends Chris and Matt and met up with Dylan from HWD. I arrived at Snake Road by myself and waited for others to arrive by walking the road a bit. My first snake, was of course a Cottonmouth found crossing Snake Road around one in the afternoon.
About an hour later, Dylan & his girlfriend Amanda arrived gave me a buzz that they were near the south end of Snake Road, so I decided to walk the bluffs on my way back to them. As I was walking along the bluffs, I noticed this large Cottonmouth that was coiled in a large crevice in the bluff wall.
A little farther up the bluffs, I noticed a snake ahead of me that was pretty dark in color. From a distance I figured it was another cottonmouth out on the move. But as I moved closer to it, it didn't look quite right for it to be a cottonmouth. As I stood next to hit, the snake began to hiss loudly and spread its neck light a cobra and I couldn't believe my eyes.
Eastern Hognose Snake -
Heterodon platirhinos
This species of snake has eluded me for a long time and the only one I had ever seen in my lifetime was near Sleeping Bear Dunes in Michigan when I was 12-13 years of age. For the past few years I've put in lots of time in Michigan for them and have come up empty handed time and time again. So for me, this find was real special. The snake hooded and hissed for a few minutes and eventually I decided to poke it and see if it would go into its textbook "playing dead" routine. I touched the snake and it immediately turned over, writhed about wildly on its back with its tongue sticking out and played dead.
Finding the Hognose made the trip well worth it and everything from there on out was icing on the cake. I called Dylan & Amanda and they came up to where I was and spent some time photographing the snake. Things were slow after that snake-wise, so we decided to be on the lookout for the amphibian species in the area and we managed to spot a few.
Cave Salamander -
Eurycea lucifuga
Green Tree Frog -
Hyla cinerea
We spotted a few Ribbon Snakes out, but nothing much more. As we were leaving the north end of the road, we noticed a large dark shape that was the unmistakable shape of a large Cottonmouth fresh out of the swamp laying in the road. We ran up to it and managed to snap some really nice shots of it in the late afternoon sun.
I had to leave by noon the next day, but we decided to flip some tin in the early morning at an abandoned barn nearby. We flipped another nice Kingsnake and for me it was a great way to close the trip.
One a unseasonably warm October weekend, I met up with good friends Chris and Colin one morning at one of our favorite spots to have a look around. Before Chris and Colin arrived, I noticed a dark stick in the middle of trail which turned out to be much more than a broken branch.
This adult female was calmly making her way across the trail towards a tamarack swamp area and was extremely sluggish. She is a snake that I had seen several times over the summer and she was obviously thin which indicated she has been gravid in the summer and dropped a clutch of babies. She was obviously a freshly shed snake as well, as indicated by her bold coloring.
As the morning progressed, more rattlesnakes made appearances on this unusually warm October day. We noticed two rattlesnakes that were basking side my side only a few feet apart. We snapped a few photos and then both of the snakes proceeded to dart down burrows that were right next to them, indicated these snakes were at their hibernation sites.
And a few other random finds from the chilly month of October here in Michigan.
Eastern Garter Snake -
Thamnophis sirtalis
Wood Frogs -
Rana sylvatica
November
Temps again soared in early Novemeber. So I decided to meet up with my friend Chris at one of our favorite sites to see if any snakes were out. Temperatures were in the low 60s and the string of days before had been around the same temperature. We walked a lot of trails and habitat and eventually we were fortunate enough to stumble across a lone rattlesnake basking in the late afternoon.
On a somewhat warm November afternoon, I decided to go for a walk along the river and spotted this big fella in the shallows moving about.
Wood Turtle -
Glyptemys insculpta
And that rounds out the year for me in the field. I'd like to thank all the people I had the opportunity to herp with this season including Dylan, Jake, Josh, Tim, Josh (FL), Curtis, Jason, and others. Looking forward to next year, stay warm everyone.