I enjoy keeping a lifelist of certain groups of animals I see (mammals, birds, reptiles, amphibians and freshwater fishes) and it was all nice and easy until I went to Costa Rica. I really don't care about ABA, but want to designate the country(ies) I see the species in. I am also interested in relationships among species, so I try to call that out too in my list (I am not interested in where/when I listed my first one). Recently the format has evolved into the following screenshots, but I am not sure if I like this or not.
Since this is on the bird forum, here is the first page of the bird lifelist.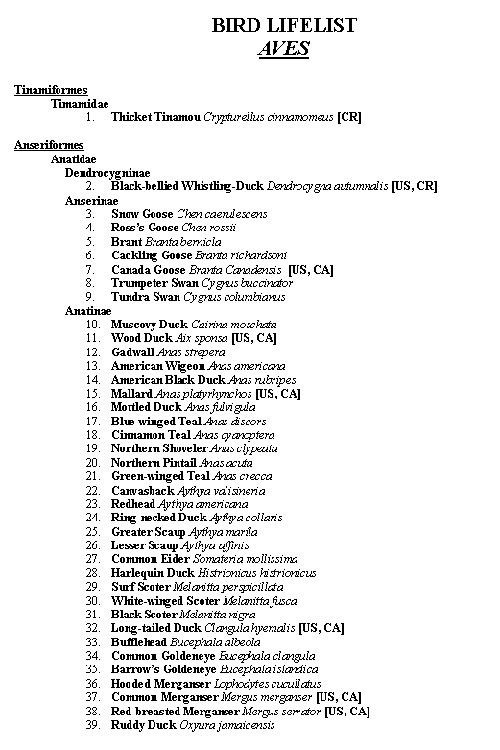 As you can see, I list at the end other countries I have seen the species in, which is only Canada and Costa Rica. It defaults to the US unless I have also seen it in another country.
Here is a sample from the end of the lizards and beginning of the snakes. With herps, and only herps, I keep track of subspecies.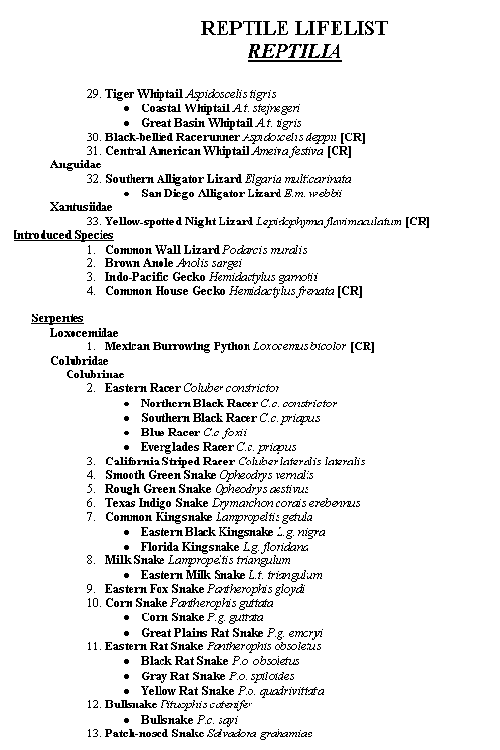 So, if for no other reason than to give me different formatting options for my lifelist, how do you keep your lists? And if possible post part of one up.
Thanks,
Andy
ps. I should say these are made in Word on standard 8.5x11" pages. I was doing 2 columns, but some species names are so long that with the added countries they sometimes are on 2 lines and, well, that just bugs me.