Since Florida only has one native gecko, the Reef Gecko (Sphaer
odactylus notatus
), the House Geckos in this state are a "not from 'round here", species.
I commonly see the genus
Hemidactylus
misidentified with other conspecific species. So, I figured I'd do a post to see if I could succeed in perpetuating the confusion.
Depending on what part of Florida you are in, depends what the most common
Hemidactylus
is. However, they can all be found the same way; at night, circling the lights in search of invertebrates.
South Florida is the land of the Tropical House Gecko (
H. mabouia
). This gecko is the largest of this genus in Florida (exceeding seven inches in some examples) and also the most aggressive, thus the most commonly seen gecko from about Central Florida southward.
The main distinguishing characteristic of this species is four or five rear-facing dorsal chevrons. Even at night, when the gecko is overall paler, there is usually still a hint of these markings. While tubercles are present, they are not extremely prominent.
This next picture illustrates a light individual.
Hemidactylus mabouia
And a darker example found during the day under a trashcan:
And intermediate:
The Mediterranean Gecko (
H. turcicus
) once ruled supreme over most of Florida. Since it's not likely that house geckos will co-exist (filling the same niche) in the same vicinity, one has got to go. Tropical House Geckos (
H. mabouia
) ended up outcompeting these geckos in the south and central part of Florida to the point of – almost – extirpation. However, in northern Florida they remain the dominant species and
H. mabouia
are nonexistent.
I feel these geckos are the most distinguishable from the other four I'm mentioning. They have enlarged tubercles, a heavy body and multiple irregular blotches/spots. They rarely have extreme color shifts from night to day.
Hemidactylus turcicus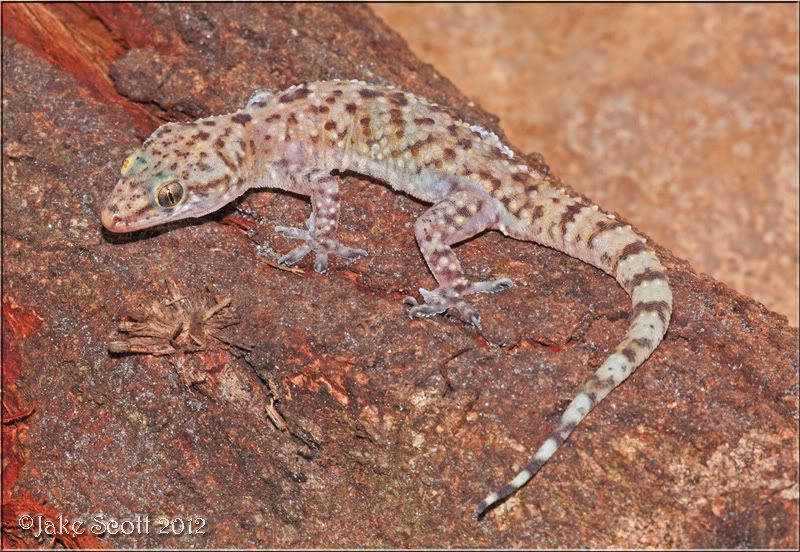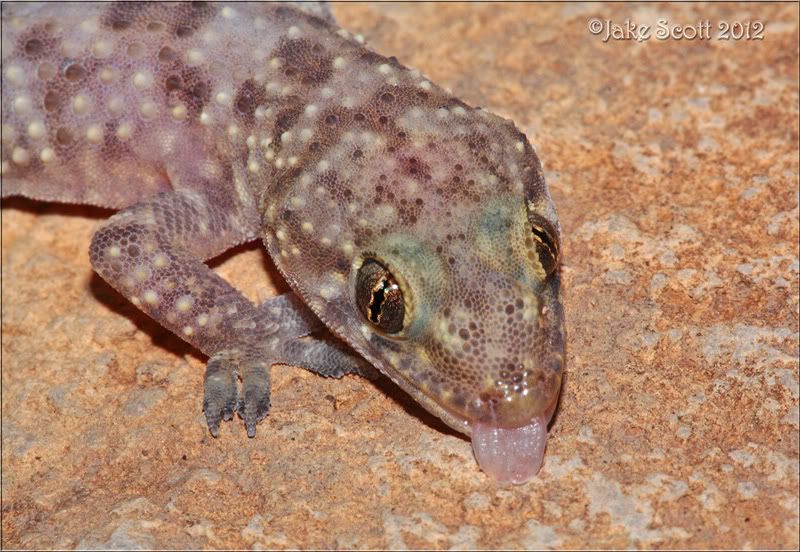 Indo-Pacific Geckos (
H. garnotii
) also seemed to have fallen victim to
H. mabouia
(likely fell victim to
H. turcicus
first). They were once fairly common in south and east Florida, but now only remain in small, scattered pockets.
A gas station in Bradford County has had these geckos present for at least 15 years (likely longer). I have been watching them for over five years and they remain extant. However, five years ago they were the only Hemidactylus on the walls of this building. The last few trips to this locale, I have been noticing H. turcicus. I have a feeling I am witnessing the final days of H. garnotii at this location.
They are a generally a smaller gecko – in length and build. Their dorsal color is usually uniformly tan/brown with a few white flecks, and a smooth surface. On the darker side, they can have a marbled look with a lot of dark specks. They are the only Hemidactylus to have a yellow belly, which gains in intensity as they age, and red tail, that fades as they age. Adults will obtain two yellow calcium pouches on both sides of the neck.
Since these geckos reproduce with parthenogenesis, one individual can start a population. If not for larger geckos, these geckos could easily spread far and wide in Florida, and elsewhere.
Hemidactylus garnotii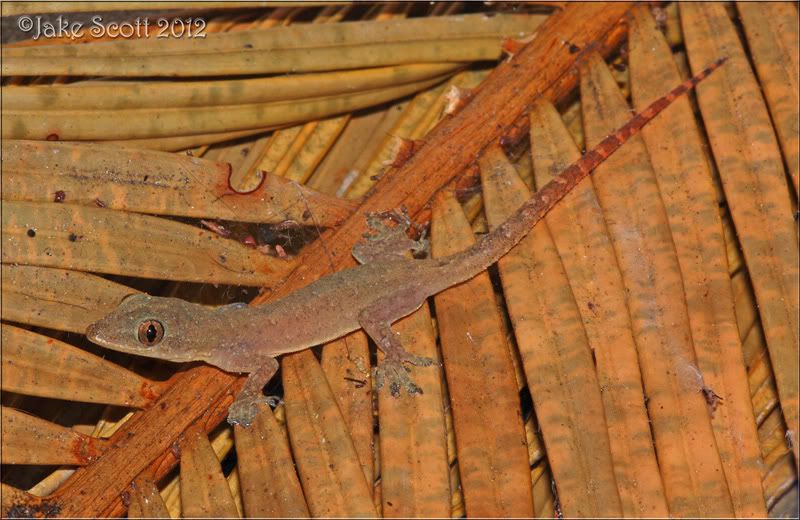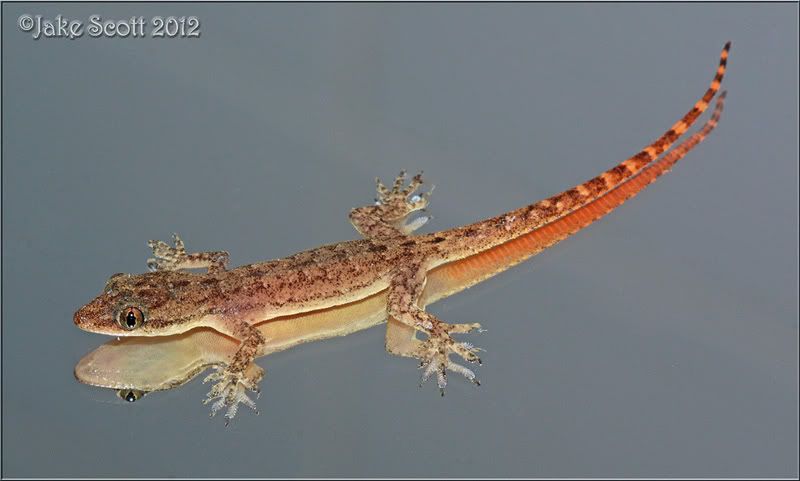 These next two species seem to have a scattered distribution.
The Common House Gecko (
H. frenatus
) now only seems to be present in a few locations in extreme south Florida.
Like
H. garnotii
, this gecko has a smooth dorsum and white flecks, but differ in that they are a heavier animal, have a broader head and have dark stripes that run the length of the body.
Hemidactylus frenatus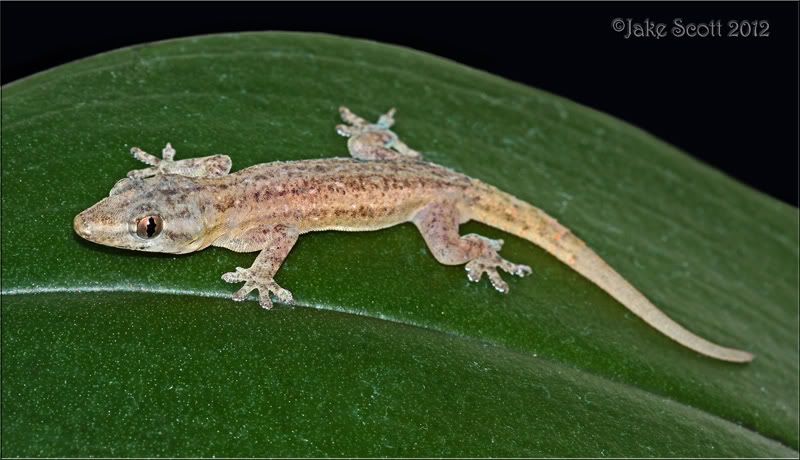 Asian Flat-tailed Geckos (
H. platyurus
) are common as a feeder gecko (food for other animals) so they are mainly found around pet dealerships or pet stores. A location in NE Gainesville, Florida is just such a place. A pet store that has been closed for over 10 years has these geckos (as well as Tokay Geckos) still present and breeding. In recent years, like with
H. garnotii
, I have seen more and more H. turcicus at this location.
They are distinguishable from the other geckos by a flat tail with enlarged, keeled scales at the edges. They also have a dark stripe that runs from the eye, down the length of the body, on each side and dorsal saddles. There is also webbing between each toe.
Hemidactylus platyurus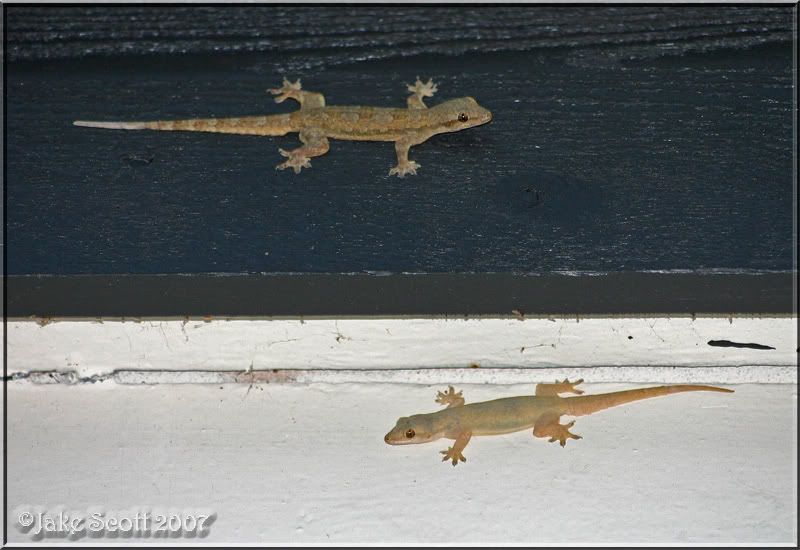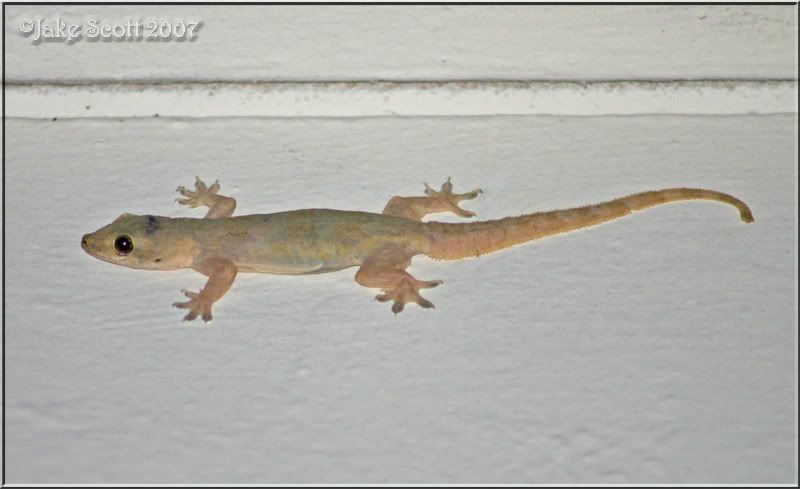 I hope you are thoroughly confused now.
-Jake Scott